A couple of weeks ago I first wrote about Norse Atlantic Airways, a new Norwegian low cost long haul airline startup (sounds like a familiar concept, eh?). Well, are now a couple of updates regarding Norse Atlantic Airways — the airline has officially reached an agreement to lease nine Boeing 787s, but will they be allowed to fly to the US?
Let's cover the basics about the airline, and then we'll talk about the latest updates.
Norse Atlantic Airways basics
Norse Atlantic Airways is a newly announced airline startup, and it sounds like the founders are pretty serious:
The airline has been founded by Bjorn Kljos, Bjørn Kise, and Bjørn Tore Larsen (that's a lot of Bjorns/Bjørns — reminds me of the Saudia flight where I had captain Mohammed, first officer Mohammed, and cabin supervisor Mohammed), who own 90% of the airline combined; they're industry veterans who previously held top positions at Norwegian Air Shuttle and OSM Aviation
The airline plans to use Boeing 787s to operate transatlantic routes
In Europe the airline will operate out of cities like London, Oslo, and Paris, and in the US the airline will operate out of cities like Los Angeles, Miami, and New York
The airline hopes to launch operations by December 2021 (December is a fantastic time to launch transatlantic leisure flights, eh?) 😉
The airline would like to collaborate with airlines like Norwegian to provide feed
The airline has already raised $24 million from shareholders, and eventually wants to be listed on the Oslo Stock Exchange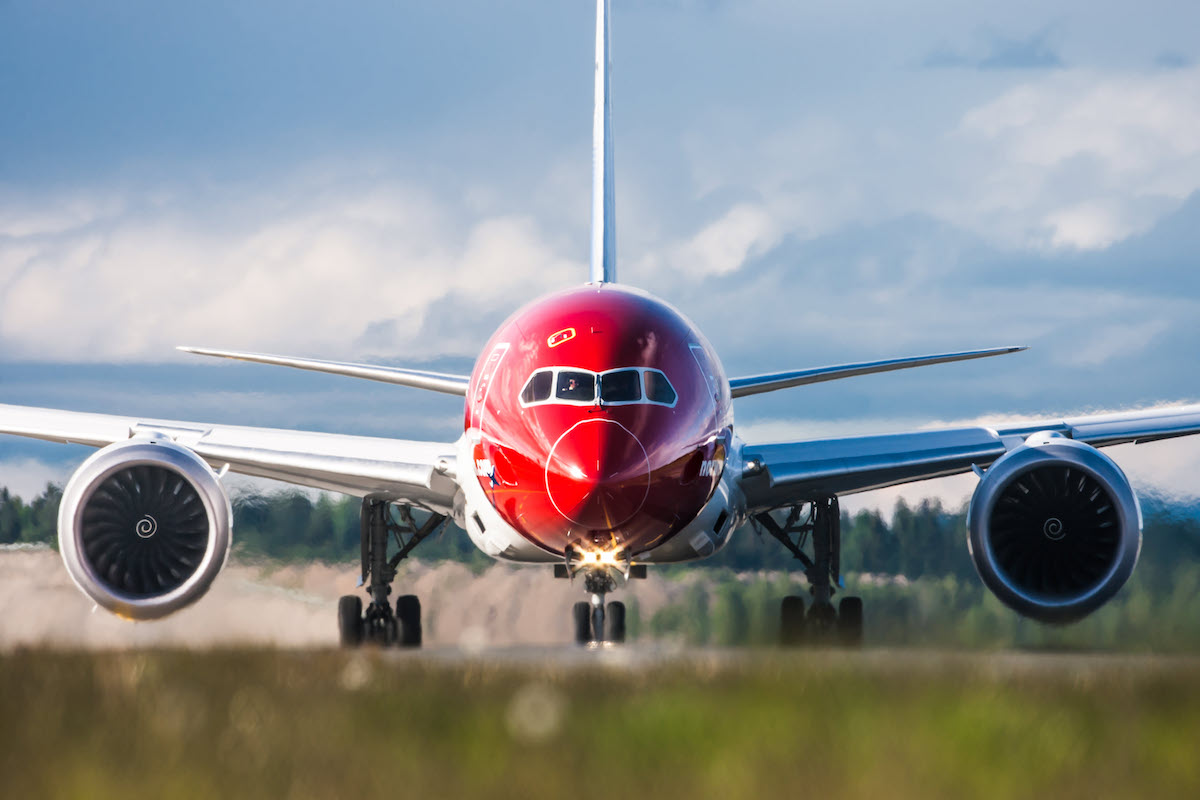 Norse Atlantic Airways would fly former Norwegian 787s
Norse Atlantic Airways secures Boeing 787 leases
Today it has been announced that AerCap and Norse Atlantic Airways have signed a lease agreement for nine Boeing 787s, with deliveries scheduled to begin in 2021. The planned lease includes six Boeing 787-9s and three Boeing 787-8s.
As Bjørn Tore Larsen, CEO of Norse Atlantic Airways, describes this deal:
"We are thrilled to be partnering with a market leader in AerCap to lease our initial fleet of Dreamliners. Norse Atlantic Airways looks forward to providing our passengers with comfortable, affordable, intercontinental travel aboard these state-of-the-art aircraft."
I would imagine that these 787s will simply maintain the same interiors that they previously had with Norwegian, given that it's the most cost efficient option. I'd say that's good for consumers.
Norwegian's 787s had a solid premium economy product, with recliner seats in 2-3-2 configuration. Norwegian premium economy was certainly a good value.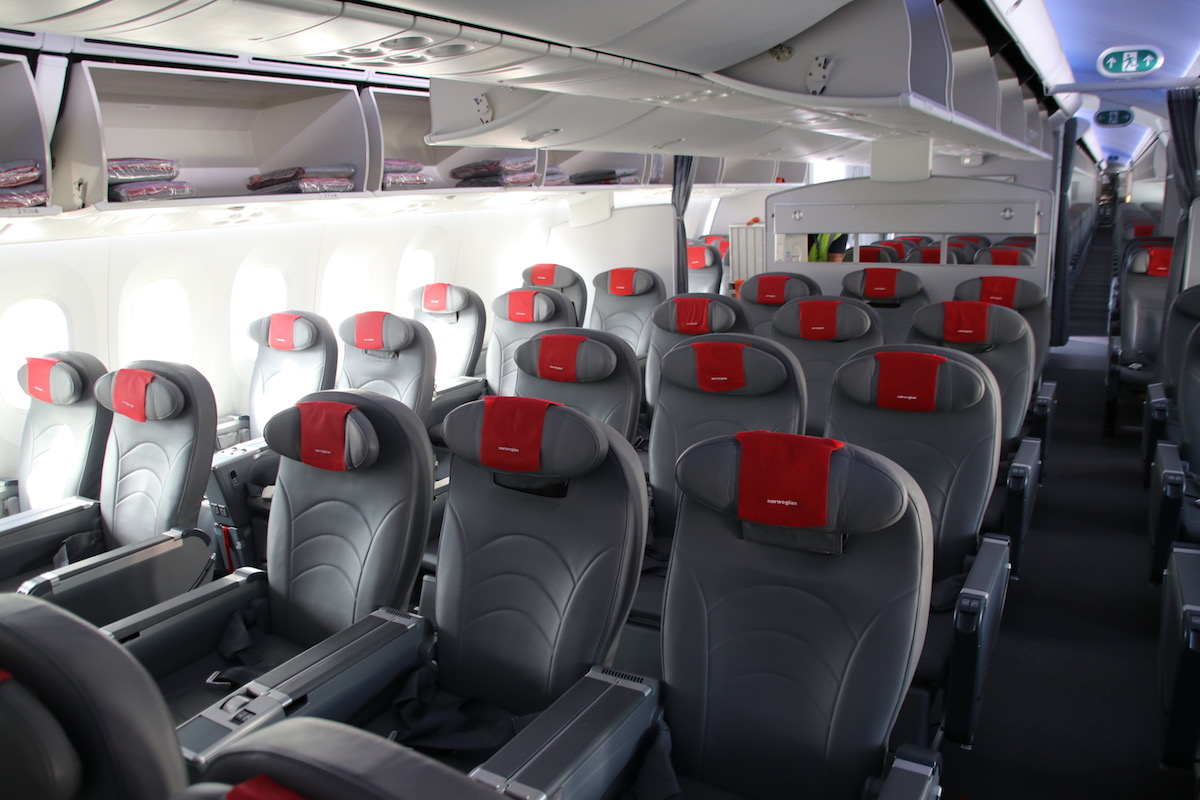 Norwegian 787 premium economy
Meanwhile Norwegian's economy was in a 3-3-3 configuration. While not the most spacious out there, the personal entertainment, mood lighting, power ports, and internet, were ultimately a solid offering for an ultra low cost carrier (I'm curious to see if Norse Atlantic plans to offer Wi-Fi).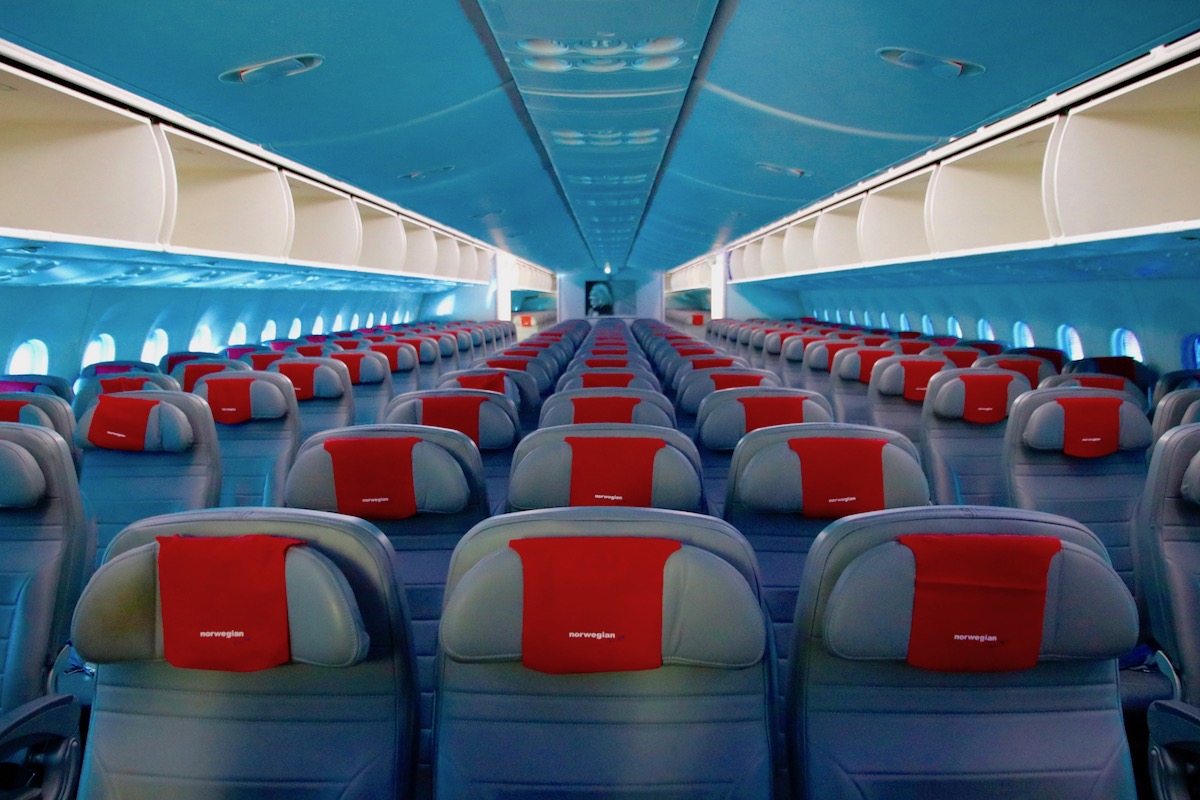 Norwegian 787 economy
Could the US block Norse Atlantic Airways flights?
In order to fly to the United States, Norse Atlantic Airways will need to gain approval from the US Department of Transportation, as is the case with all airlines looking to serve the US.
Last week the Chairman of the House Transportation and Infrastructure Committee, Peter DeFazio, urged Transportation Secretary Pete Buttigieg to block Norse Atlantic Airways from flying to the United States:
"At the end of 2016, the outgoing administration imprudently issued a foreign air carrier permit to Norwegian Air International — an airline that was 'Norwegian' in name only and established itself in Ireland under a flag of convenience to avoid Norway's strong labor protections. Norwegian is bankrupt, and its U.S. services have ceased, but its founder is forming a new carrier that will likely seek a permit—Norse Atlantic—and it is imperative that you correct the error of 2016 and deny this airline's application."
There's no denying that Norwegian took advantage of every tax & labor opportunity available to it, but at the same time should that be grounds for blocking the airline from flying to the US? Because if so, I have a few other airlines I'd like to bring to DeFazio's attention.
Also, it's not like US airlines don't take advantage of every opportunity they have — just look at how Delta has avoided tariffs on Airbus planes, or how many tens of billions of dollars worth of aid US airlines have received, which Norwegian hasn't.
To be clear, I don't have issues with any of these individually, I just think there's some cherry-picking going on here.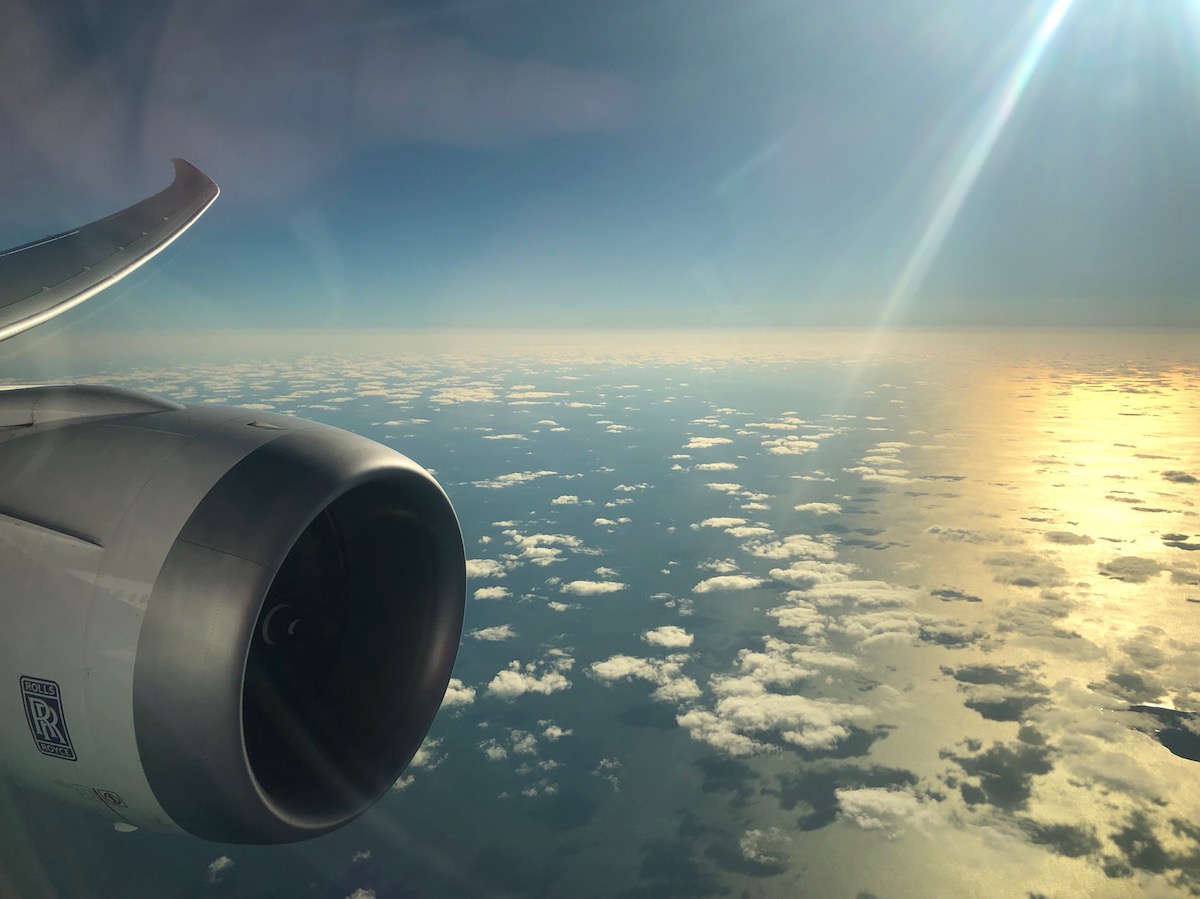 Could Norse Atlantic Airways be blocked from flying to the US?
Why low cost, long haul airlines don't work
At the beginning of 2021 it was announced that Norwegian would discontinue long haul flights, as the airline is in bankruptcy protection. Norwegian was struggling for years even pre-pandemic, and has basically already had its nine lives.
The intentions for Norse Atlantic Airways are pretty clear — some investors (including a former Norwegian executive) with a clean balance sheet are trying to take over where Norwegian left off when it comes to long haul. There's only one small problem — history has shown that low cost long haul airlines generally don't work.
Now, to give some credit to this idea in general, or to perhaps express some hope:
Having an airline like Norse Atlantic Airways would be great for consumers, since it will keep legacy airlines in check, and will keep fares low
The general timeline for launching this airline isn't terrible, especially if the plan is to launch in about a year; the airline probably got a great deal on planes, and can get a great deal on labor, and hopefully within a year there will be a significant recovery, with several competitors having gone out of business or scaled back during the pandemic
The biggest issue with a transatlantic low cost carrier is how seasonal traffic is, as Norwegian could make money in summer, but was losing a significant amount the rest of the year; is there any way that Norse Atlantic Airways could learn from Norwegian's mistakes and do a better job with a counter seasonal route network (though that concept has its own challenges)?
This is going to be an interesting one to watch. While the airline has now secured leases for planes, it otherwise has an uphill battle, between general profitability and regulatory concerns.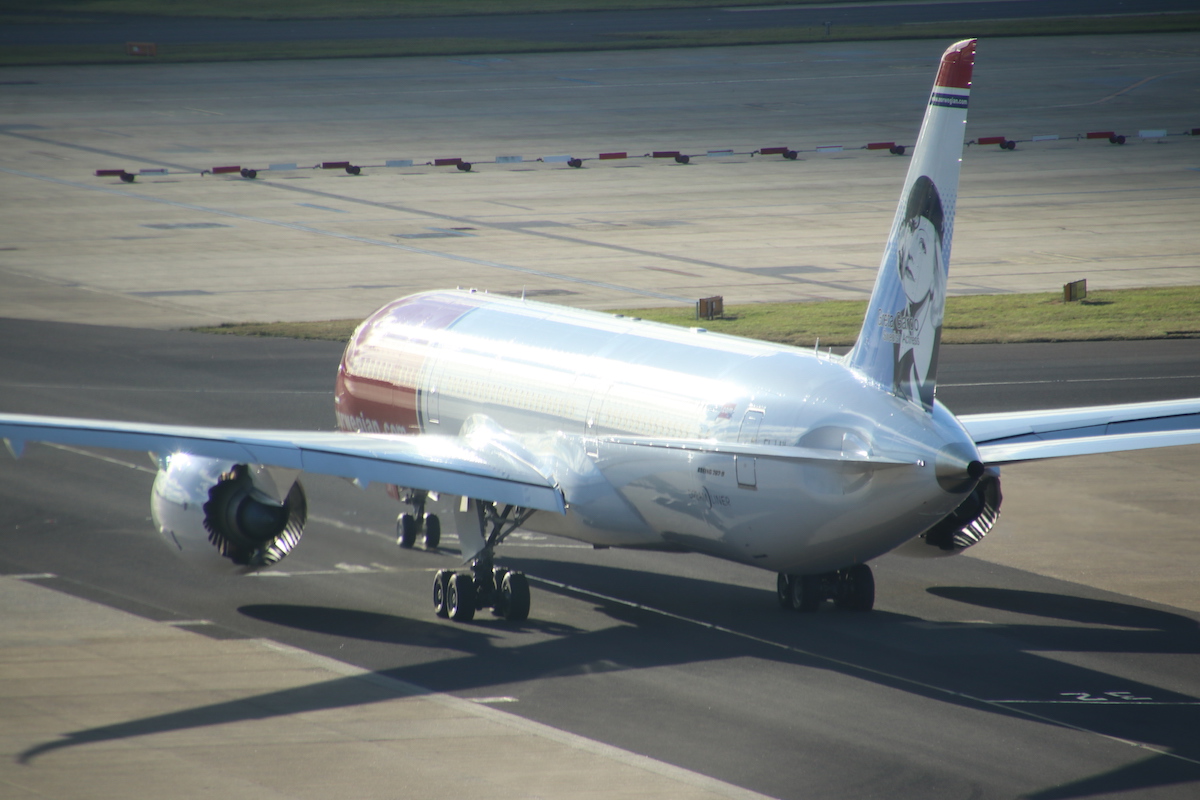 Norwegian 2.0 will be entering the transatlantic market
Bottom line
Norse Atlantic Airways is the newest airline startup. The airline essentially plans to take over where Norwegian left off with its long haul network — the airline will fly former Norwegian 787s across the Atlantic using a low cost business model.
Only time will tell if this airline actually takes off, between the general challenges associated with this business model, and concerns from US regulators. My favorite Richard Branson quote comes to mind with this — "the quickest way to become a millionaire in the airline business is to start out as a billionaire."
What do you make of Norse Atlantic Airways?