---
Norwegian 7013
London (LGW) – New York (JFK)
Sunday, November 11
Depart: 6:05AM
Arrive: 9:20AM
Duration: 8hr15min
Aircraft: Boeing 787-9
Seat: 7A (Premium)
I boarded through the second set of doors, where I was greeted by two very friendly flight attendants and pointed left into the premium economy cabin.
Norwegian's 787-9 has a total of 56 premium economy seats, spread across eight rows in a 2-3-2 configuration. The seats take up the entire space between doors one and two, so they're in the same area that many other airlines would put 30 reverse herringbone business class seats, for example.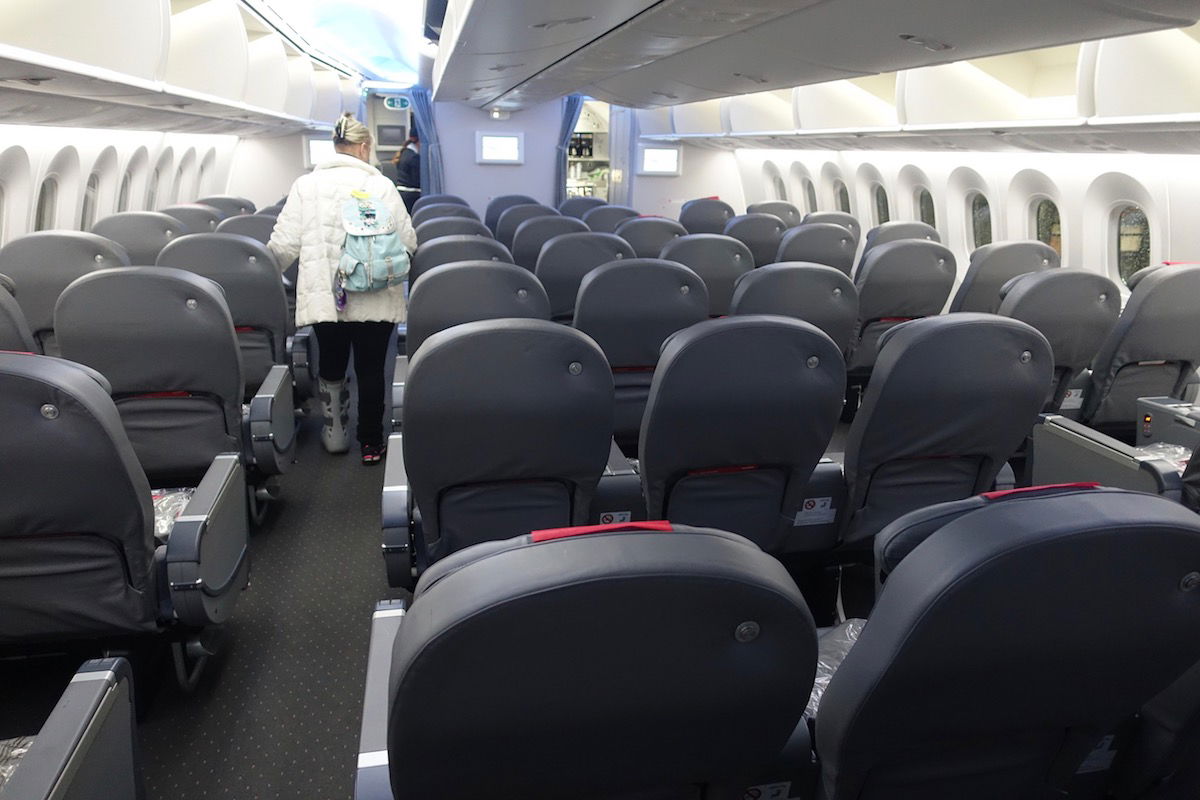 Norwegian 787 Premium cabin
The legroom in these seats is pretty solid. I'd say these seats are more comfortable than what you'd find in domestic first class within the US, for example, and certainly above average for international premium economy.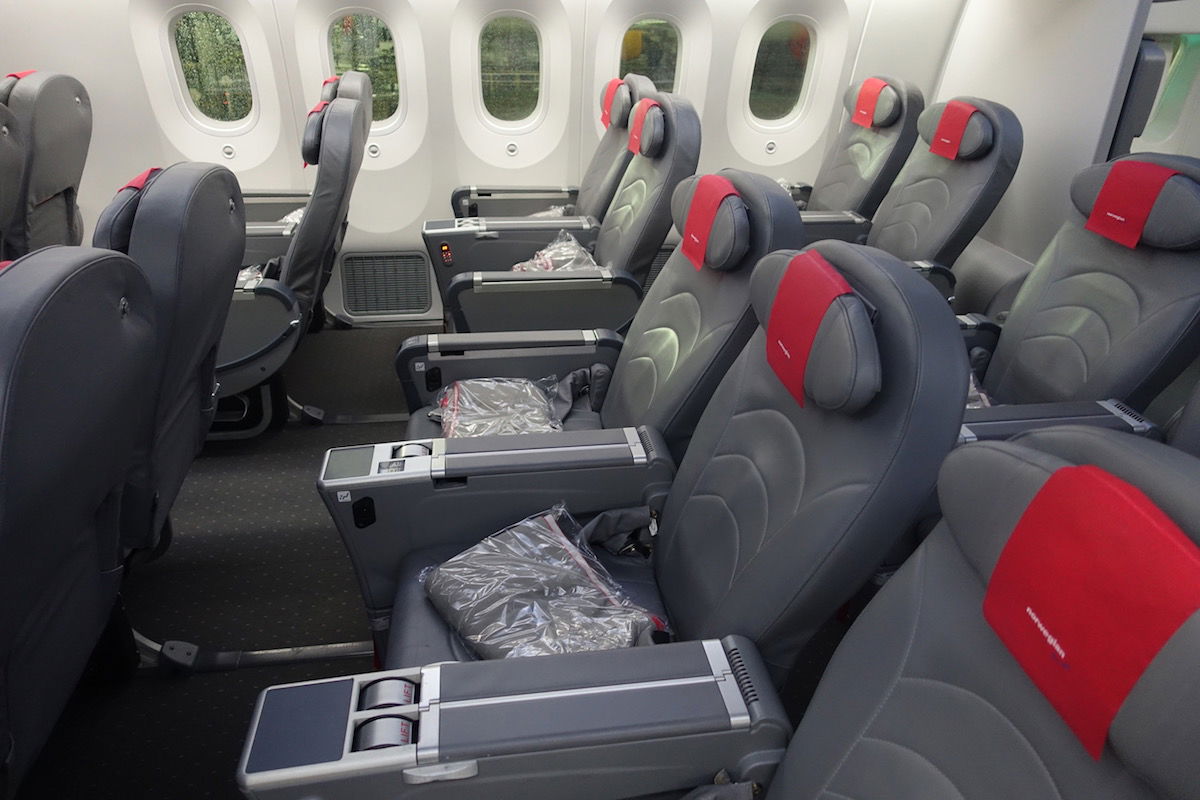 Norwegian Premium seats 787
The only downside to these seats compared to a domestic first class seat within the US is that the armrest between seats is a bit smaller, so you don't have that much shoulder space.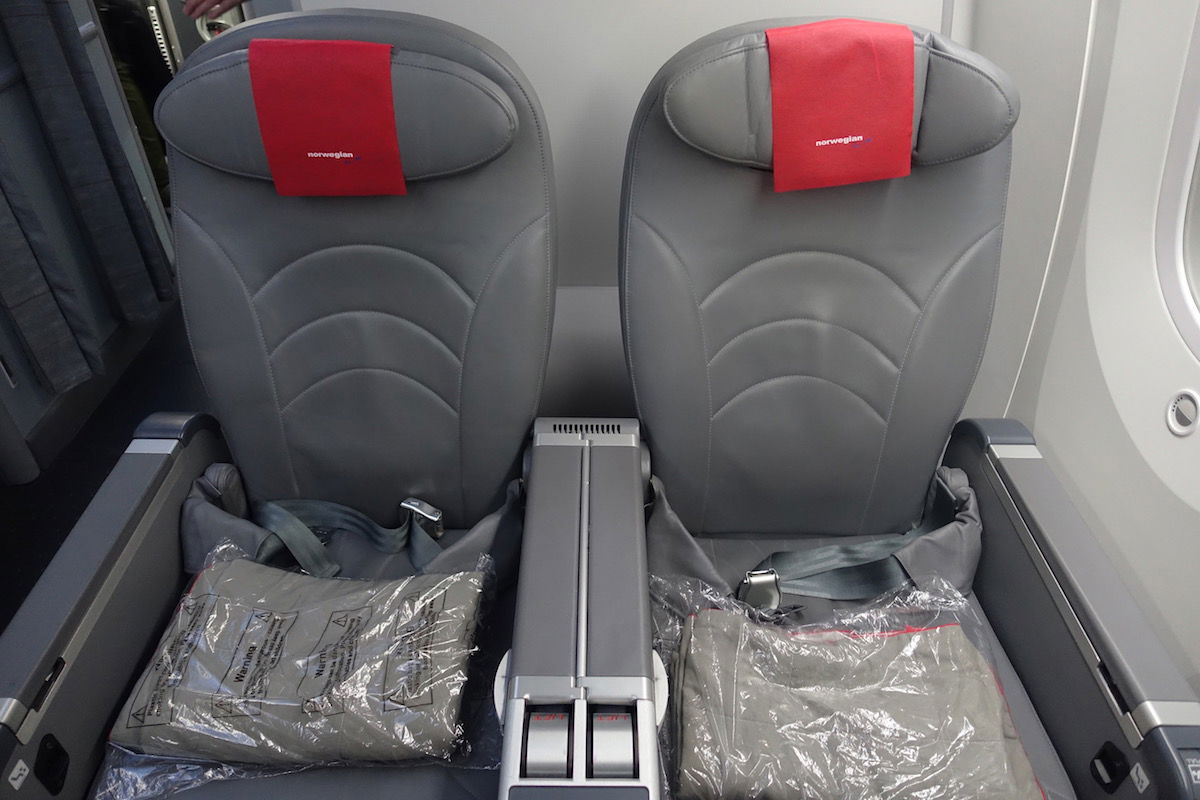 Norwegian 787 Premium seats
I had assigned myself seat 7A, the window seat in the second to last row on the left side. The cabin was only a bit over half full, so I knew that the seat next to me would be empty, which was ideal.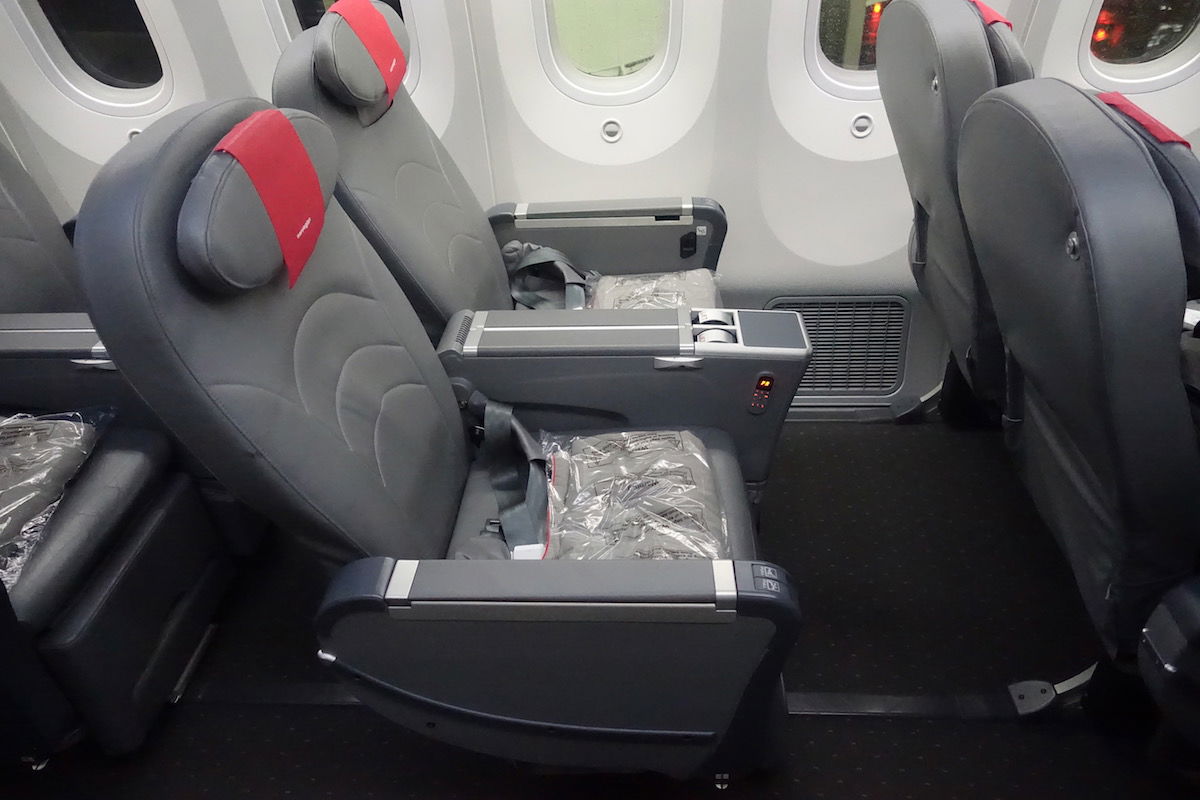 Norwegian Premium seats 787
So having two seats to myself was awesome, though I imagine I would have enjoyed the experience less if I found myself in a full cabin in the center seat.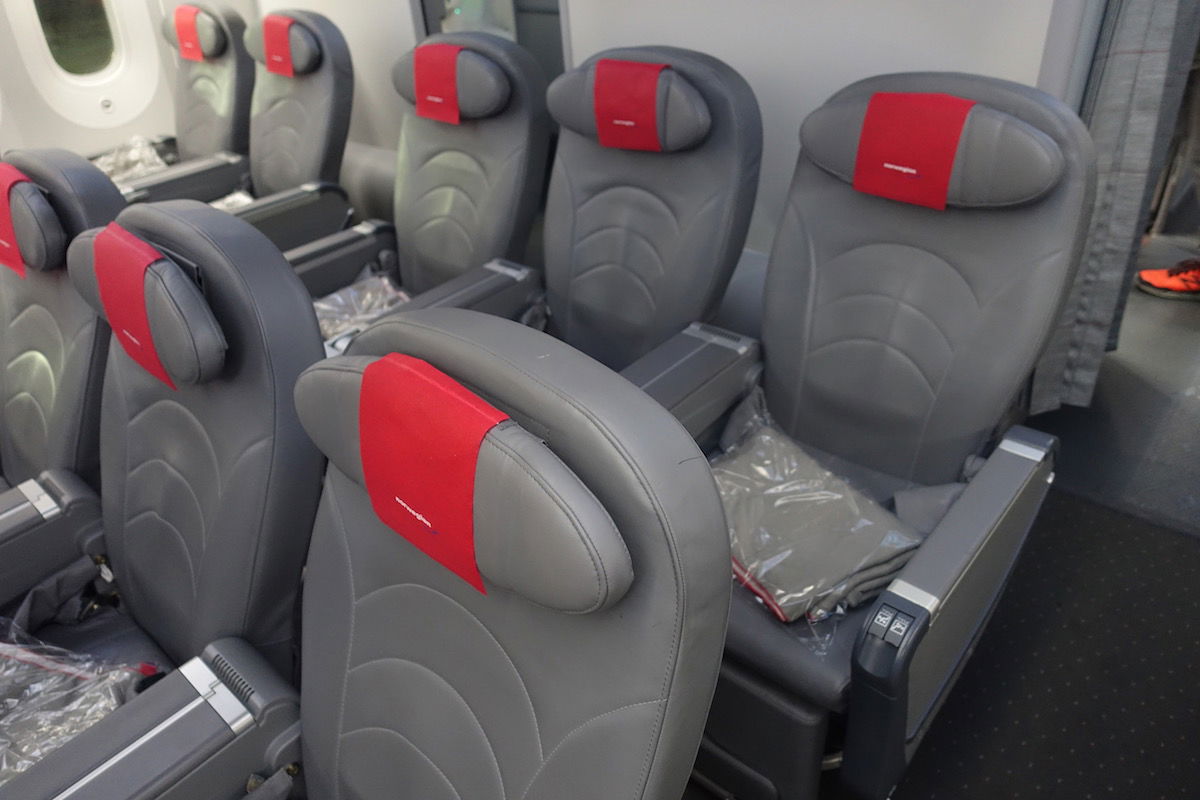 Norwegian 787 Premium cabin
The legroom in these seats is truly very good, and that's in spite of the fact that Norwegian recently reduced legroom in premium economy.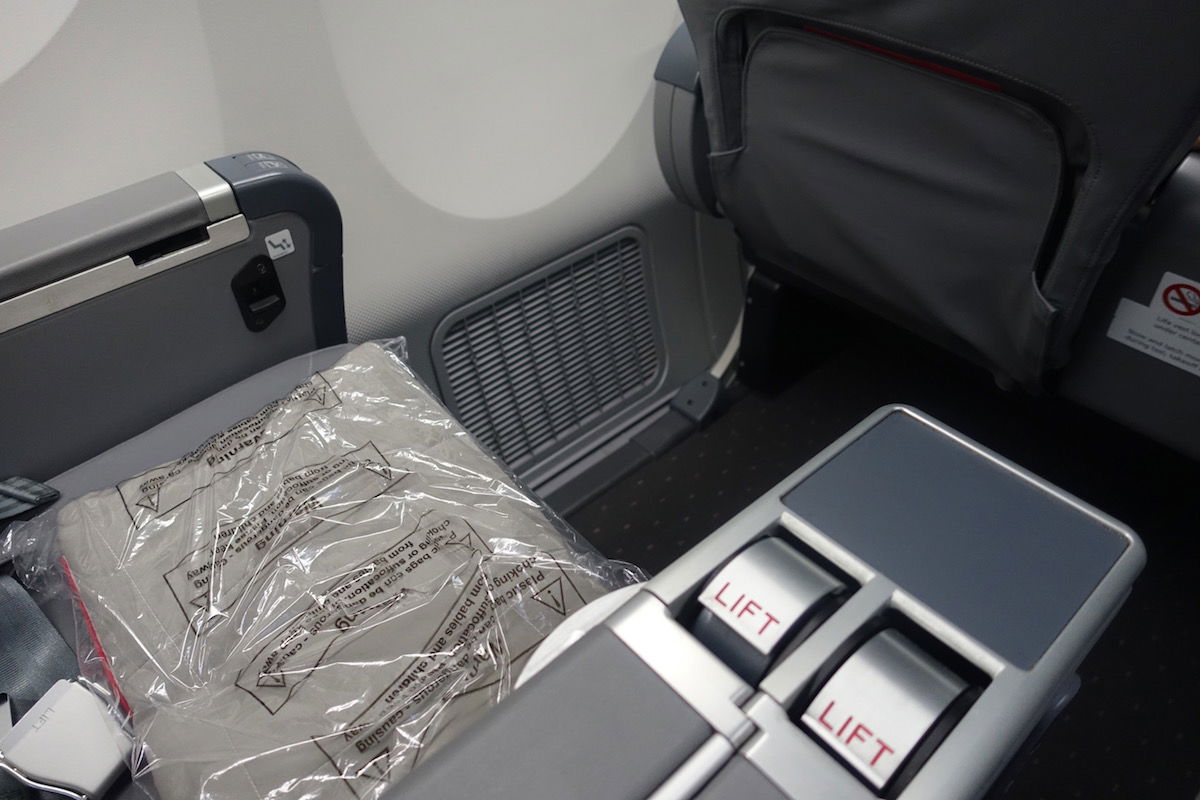 Norwegian Premium legroom
I also appreciate the huge amount of unobstructed space underneath the seat in front, regardless of whether you want to store a bag there or just really stretch out your feet.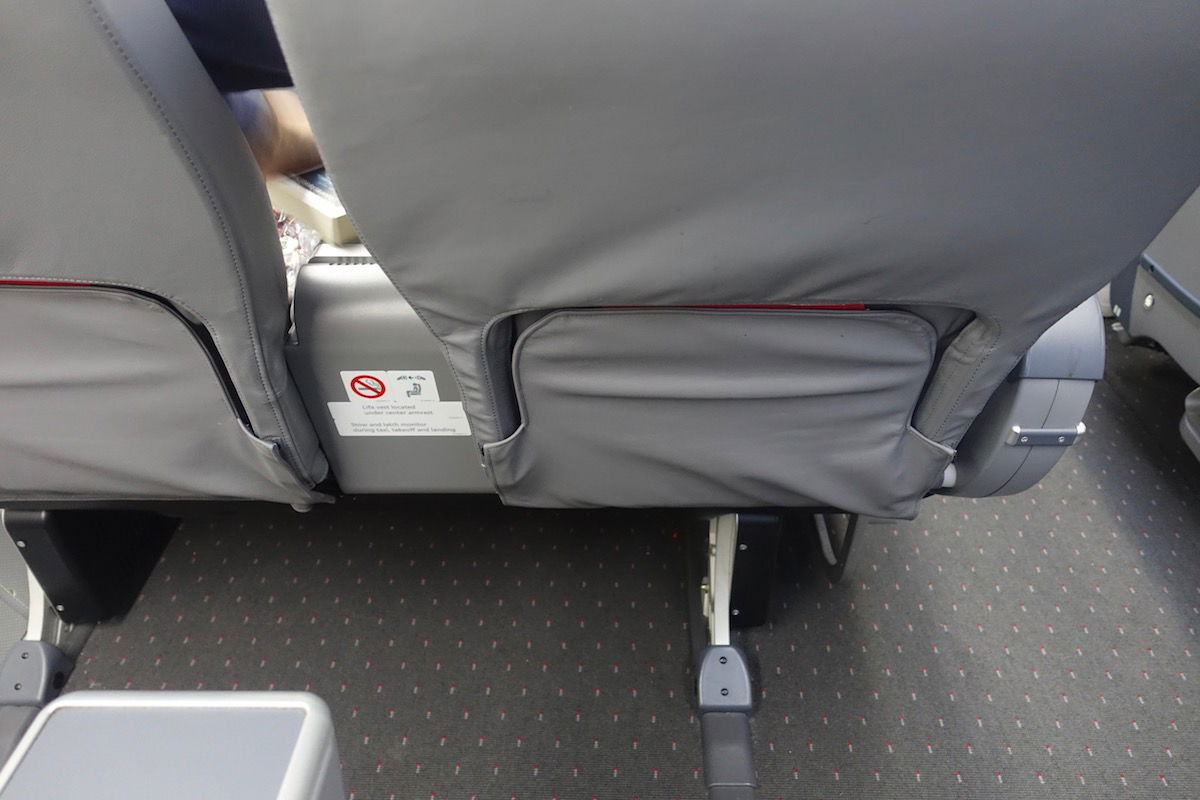 Norwegian Premium legroom
The seat controls were on the outer armrests, and consisted of two simple levers — one could be used to recline the seat, while the other could be used to raise the footrest. I did find the lever for the footrest a bit tough to use, since you really had to apply a lot of pressure to adjust the position.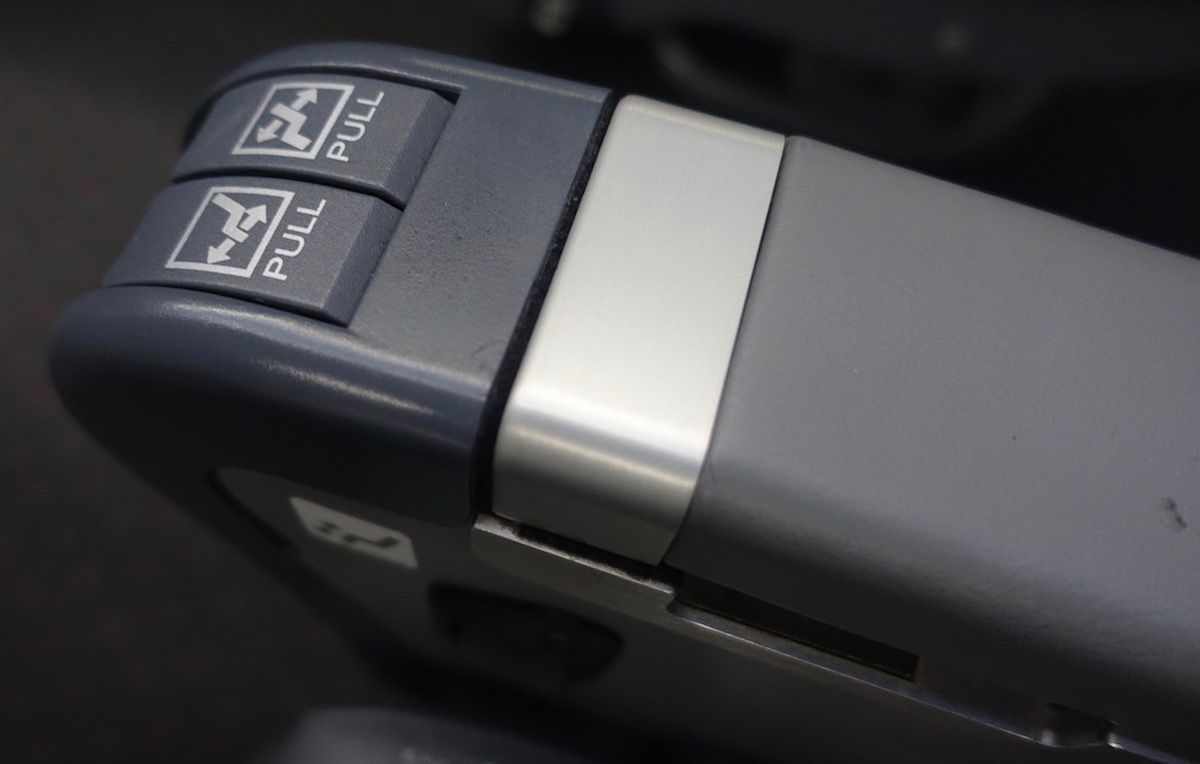 Norwegian Premium seat controls
The tray table also extended from the far armrests, and could be folded over in half.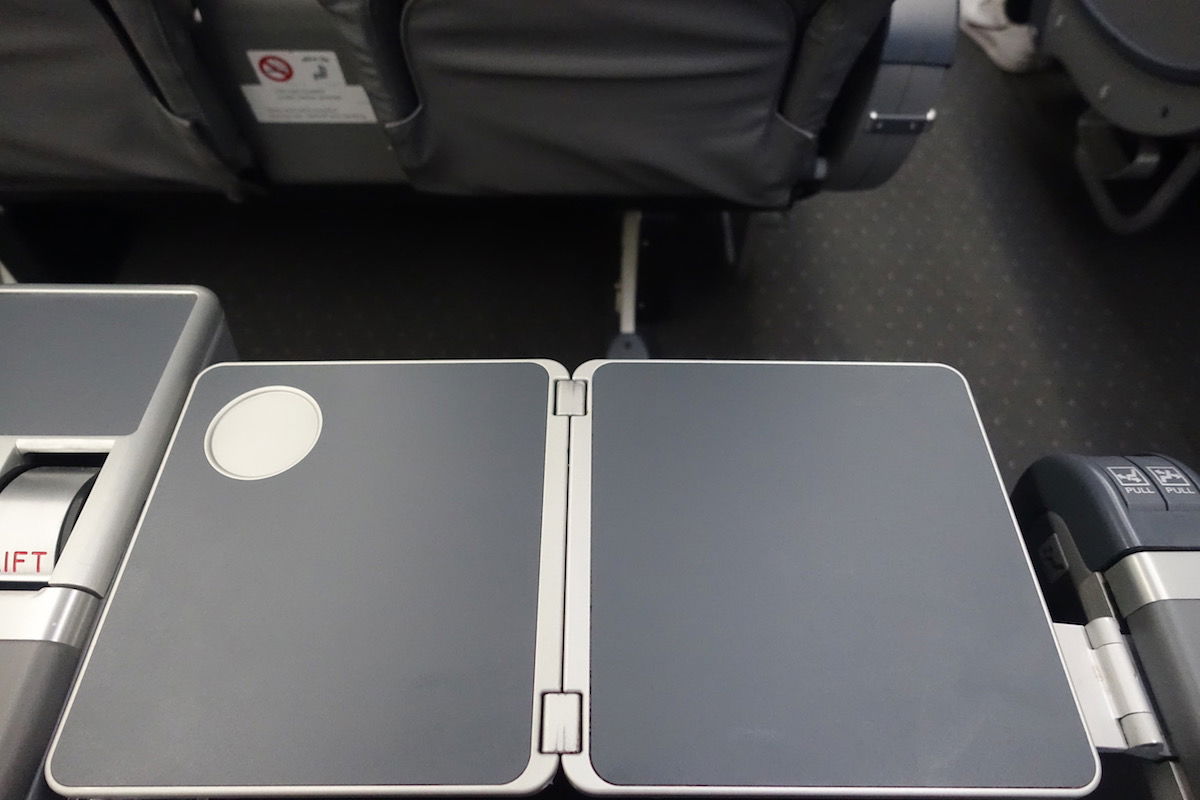 Norwegian Premium tray table
In the center armrest was a personal television. While I always prefer a seatback television, that's really not practical here, given how much the seats recline.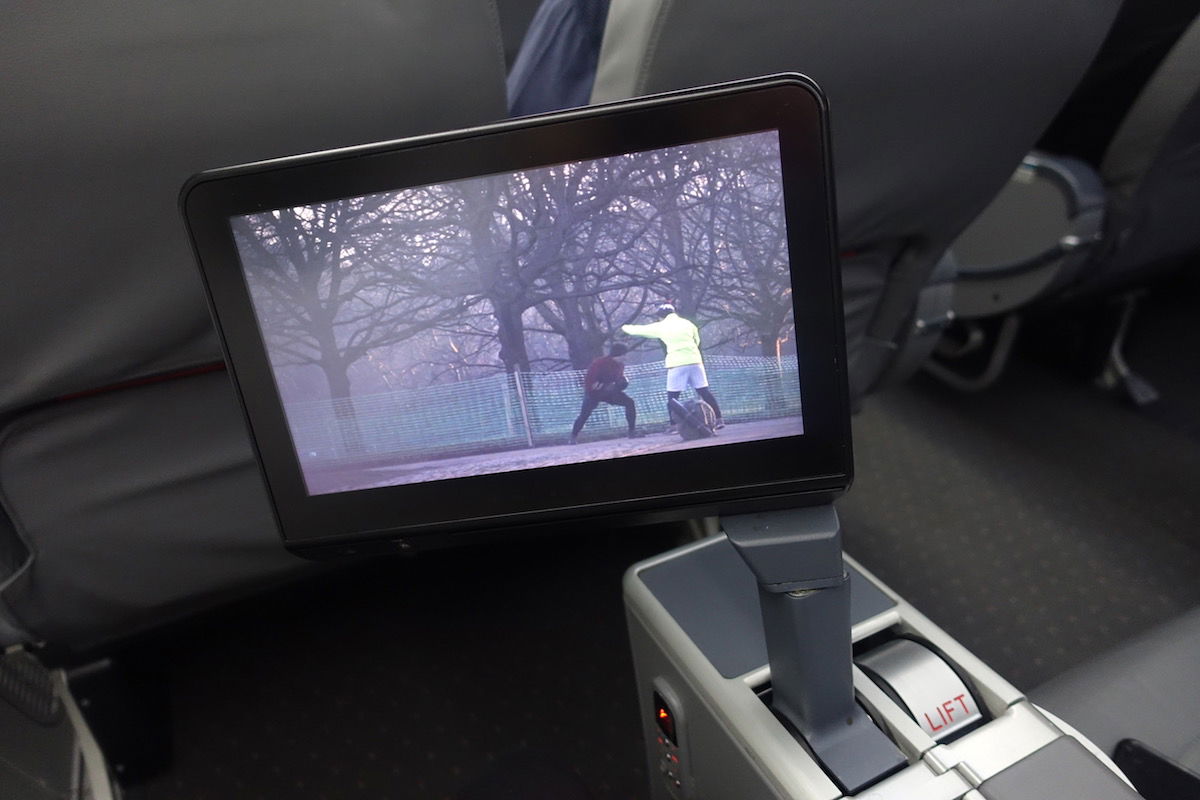 Norwegian Premium personal television
At the bottom of the IFE screen was the headphone jack and USB outlet.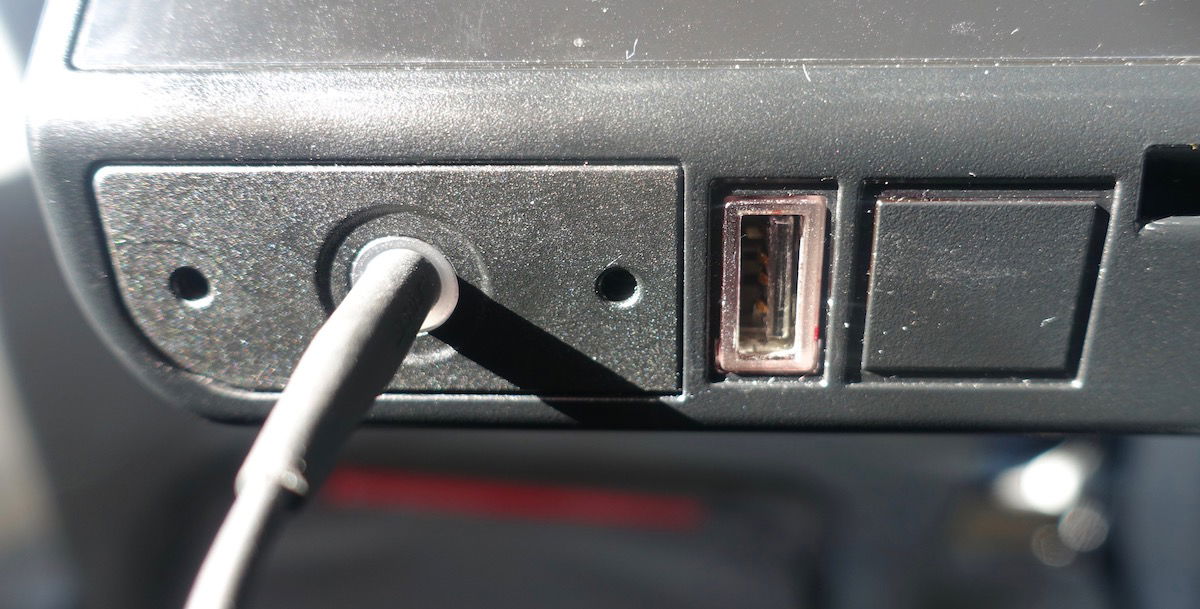 Norwegian Premium USB outlet & headphone jack
Then along the center armrest was the easy to use entertainment controller.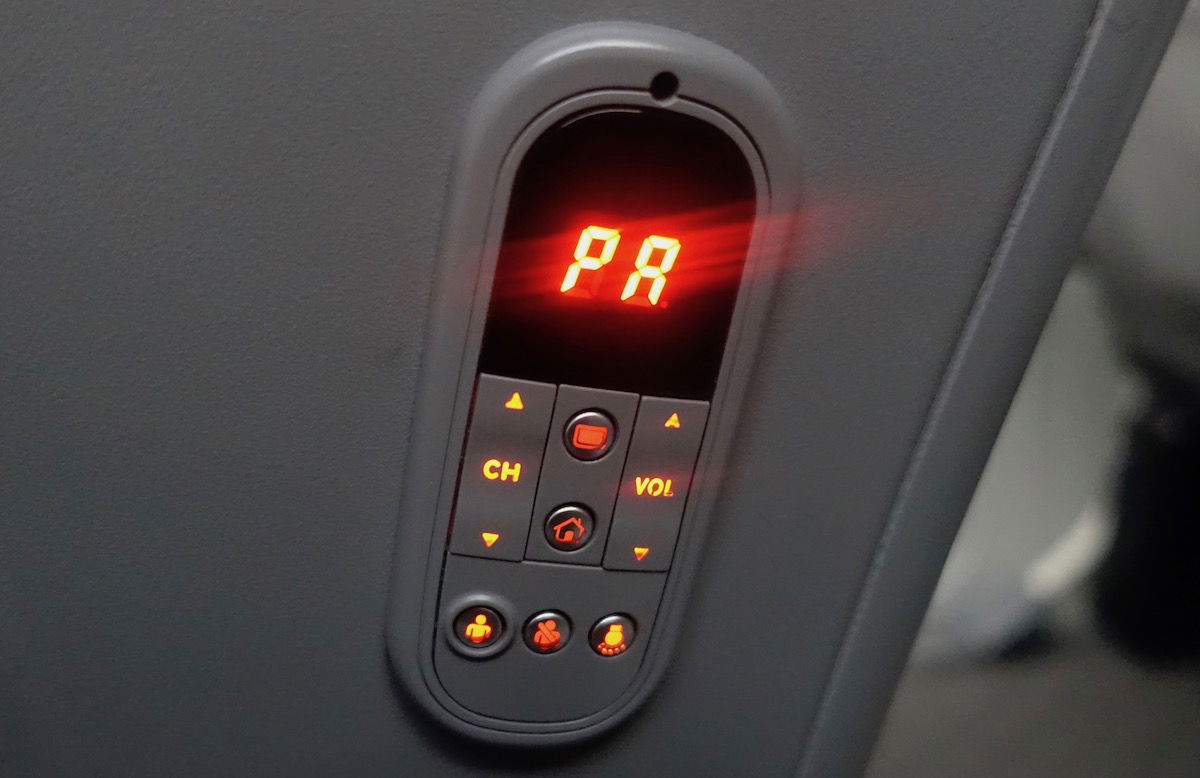 Norwegian Premium entertainment controls
Underneath the center armrest were two 110v outlets.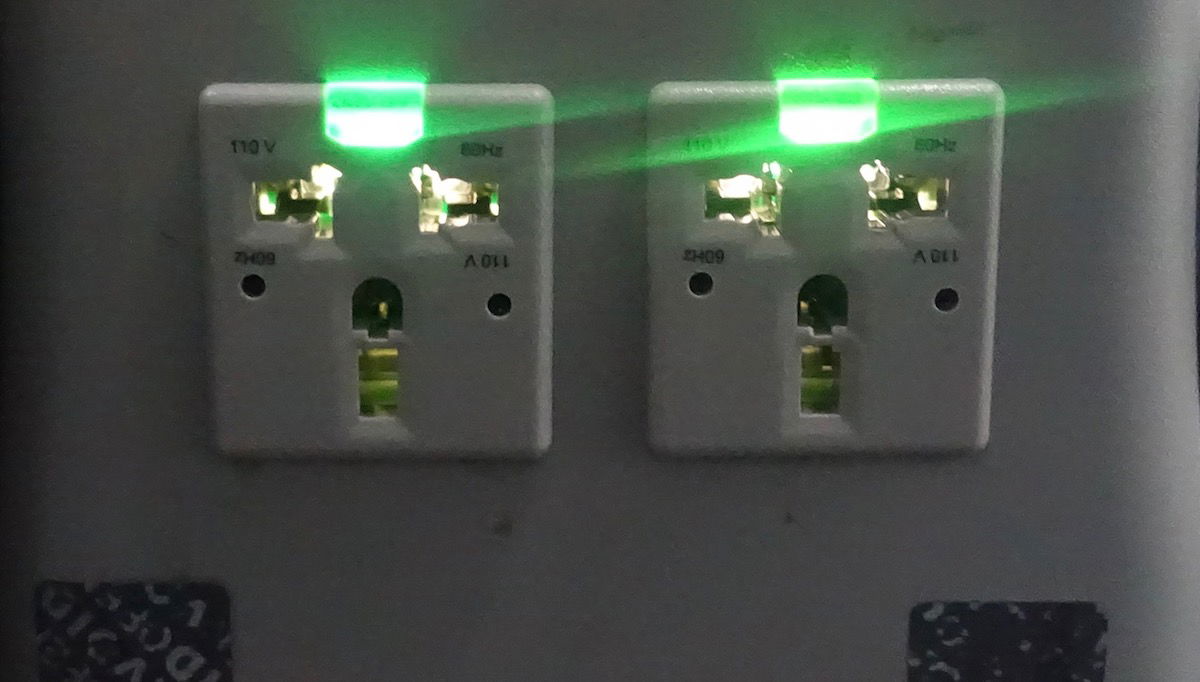 Norwegian Premium power outlets
One other thing I really appreciated was that there were individual air nozzles at every seat.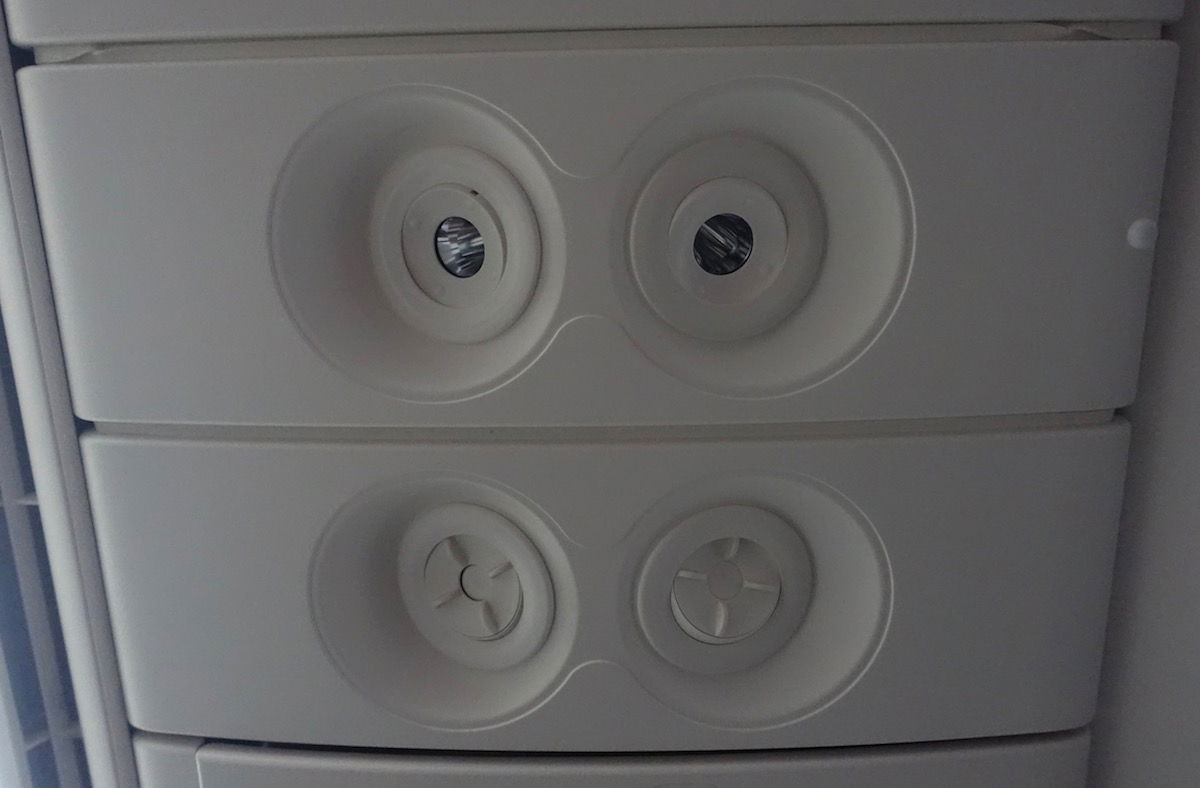 Norwegian Premium air nozzles
While there were no pillows, there was a very comfortable blanket at every seat.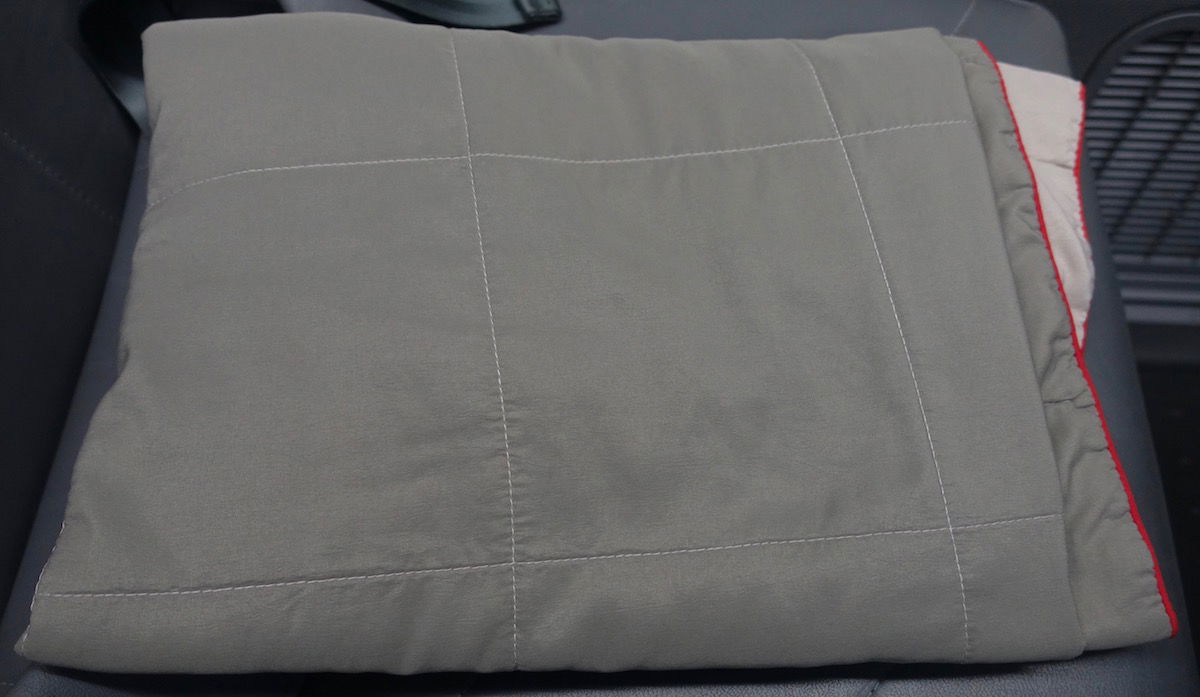 Norwegian Premium blanket
Boarding in premium economy was nice and calm, given that everyone was boarding through the second set of doors, so it was only about the 30 premium economy passengers passing through the cabin.
Norwegian also does a great job with creating a great ambiance onboard. In addition to swanky mood lighting, there's also soothing boarding music. I also appreciate that virtually all of the announcements are automated, unlike on other airlines, where the flight attendants often yell into the PA constantly.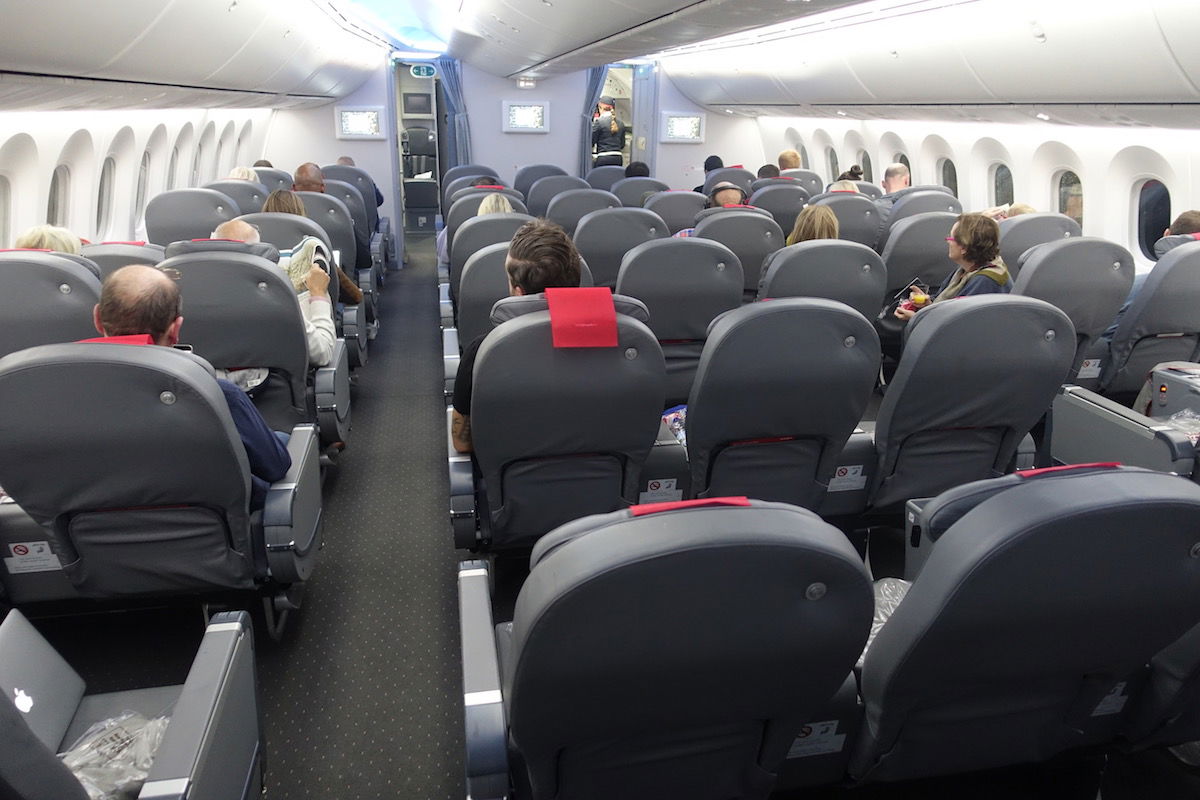 Norwegian Premium cabin 787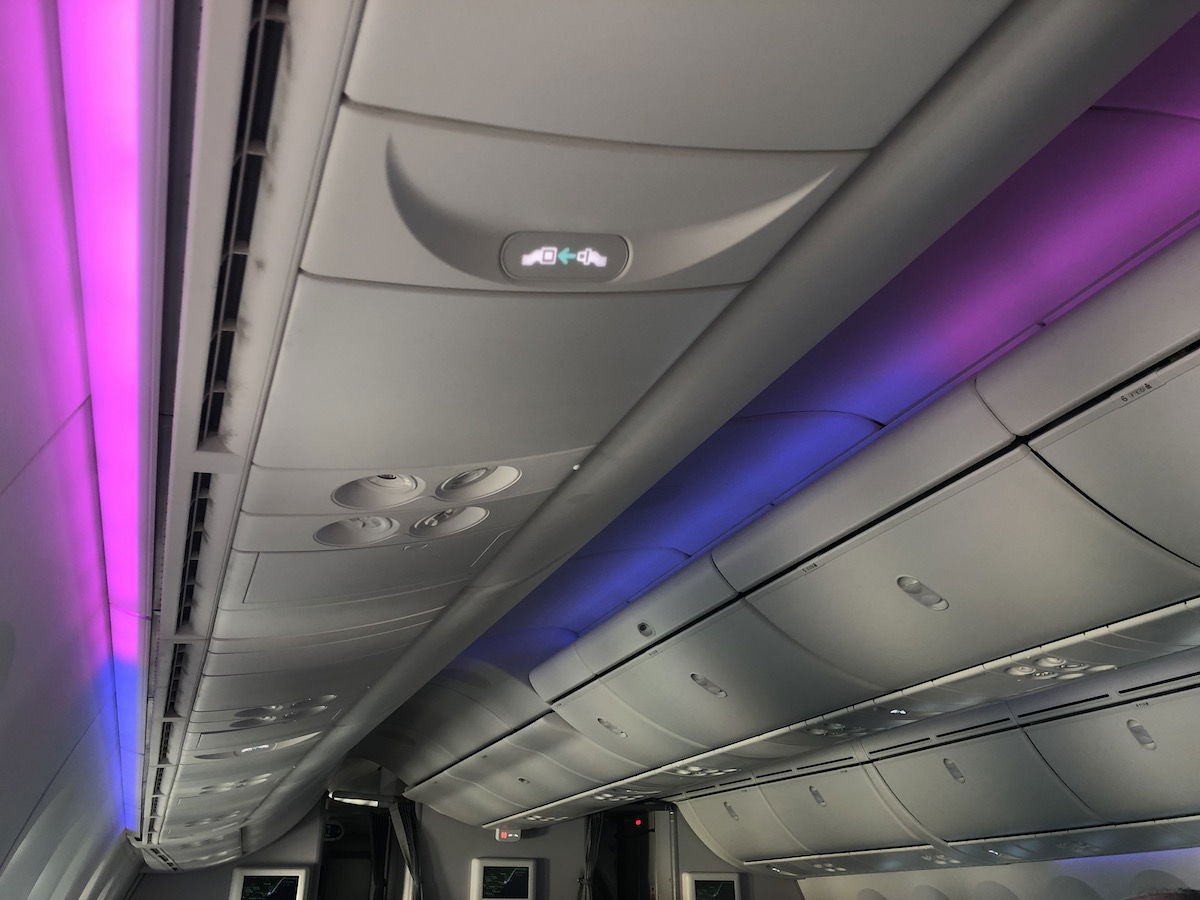 Norwegian 787 mood lighting
I believe this is the boarding music and video that they had:
About 20 minutes after boarding, pre-departure drinks were offered, with the choice between water and orange juice.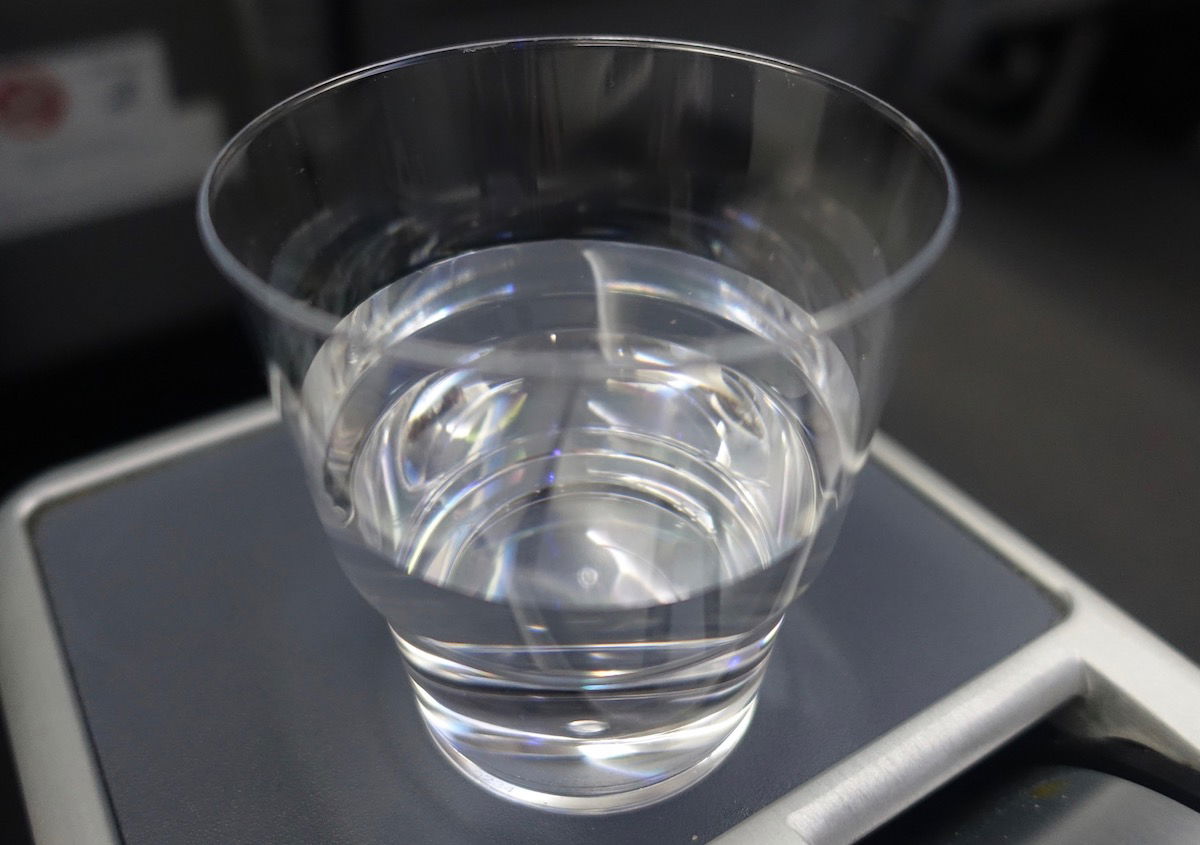 Norwegian Premium pre-departure drink
I was also offered a small case with earbuds. These were quite low quality, so I didn't end up using them.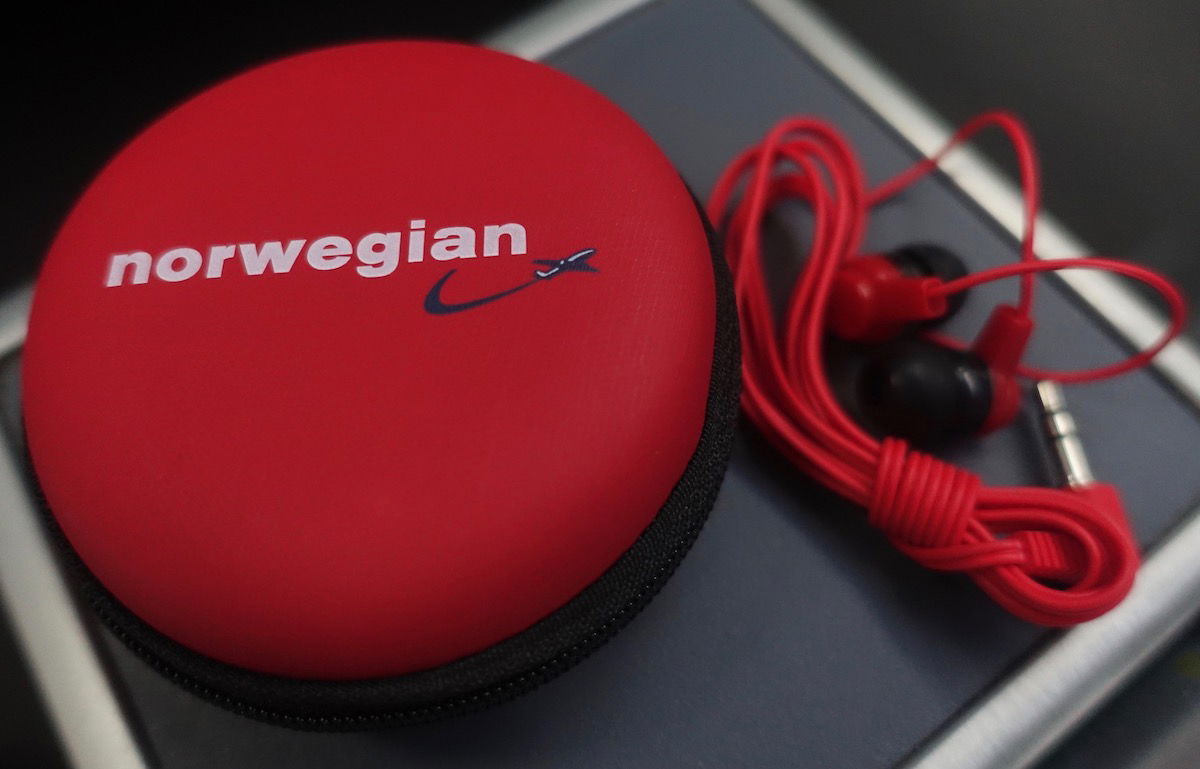 Norwegian Premium headphones
This was my first time on Norwegian, and one of the things that I had always heard about the airline is the unique techniques they use to take advantage of labor laws, like that they have Thai crews operating many of their longhaul services.
In the case of this flight, the entire cabin crew was British.
At around 5:55AM the Irish captain welcomed us aboard on behalf of himself and the Spanish first officer, and informed us of our flight time of 7hr32min, which he said was longer than usual. He said the flight should be smooth for the first 3-4 hours, but it would then get bumpier.
At 6AM the main cabin door closed, and then immediately the safety video was screened. We were a bit delayed on departure, and only ended up pushing back at 6:15AM. Then we just stood there for another 20 minutes after pushing back, and only started our taxi around 6:35AM.
Fortunately from our gate to the runway was just a very short taxi. We taxied past a Wamos A330, which I believe is a plane that Norwegian is leasing, given their 787 issues.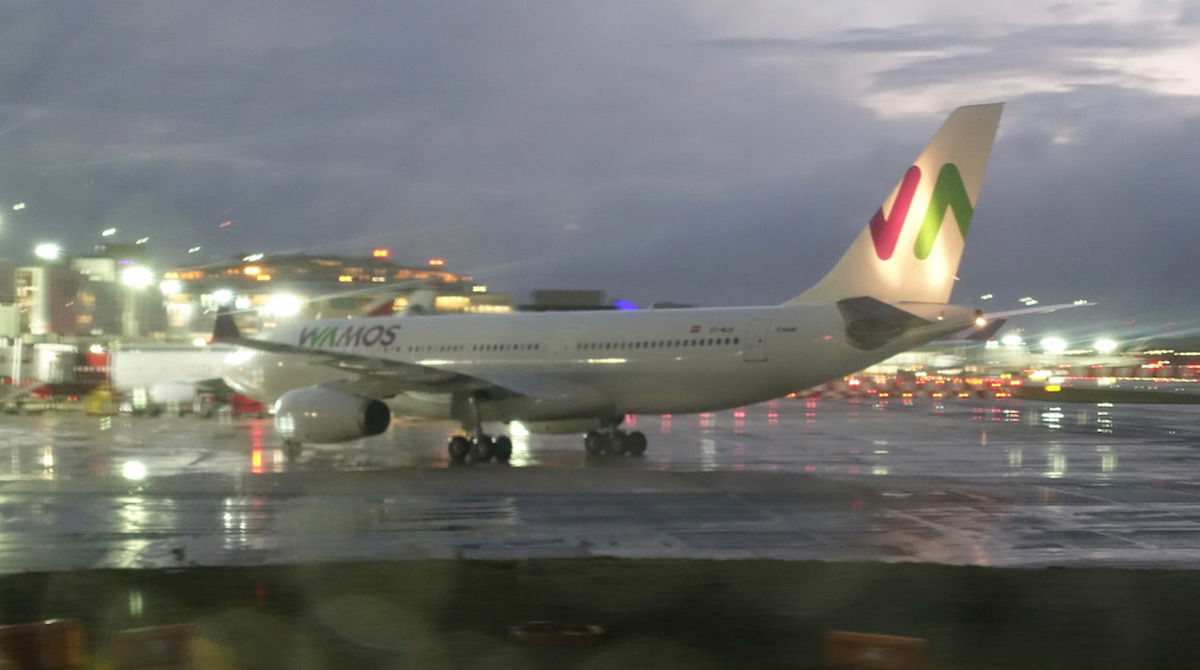 Wamos A330 London Gatwick
By 6:40AM we were cleared for takeoff.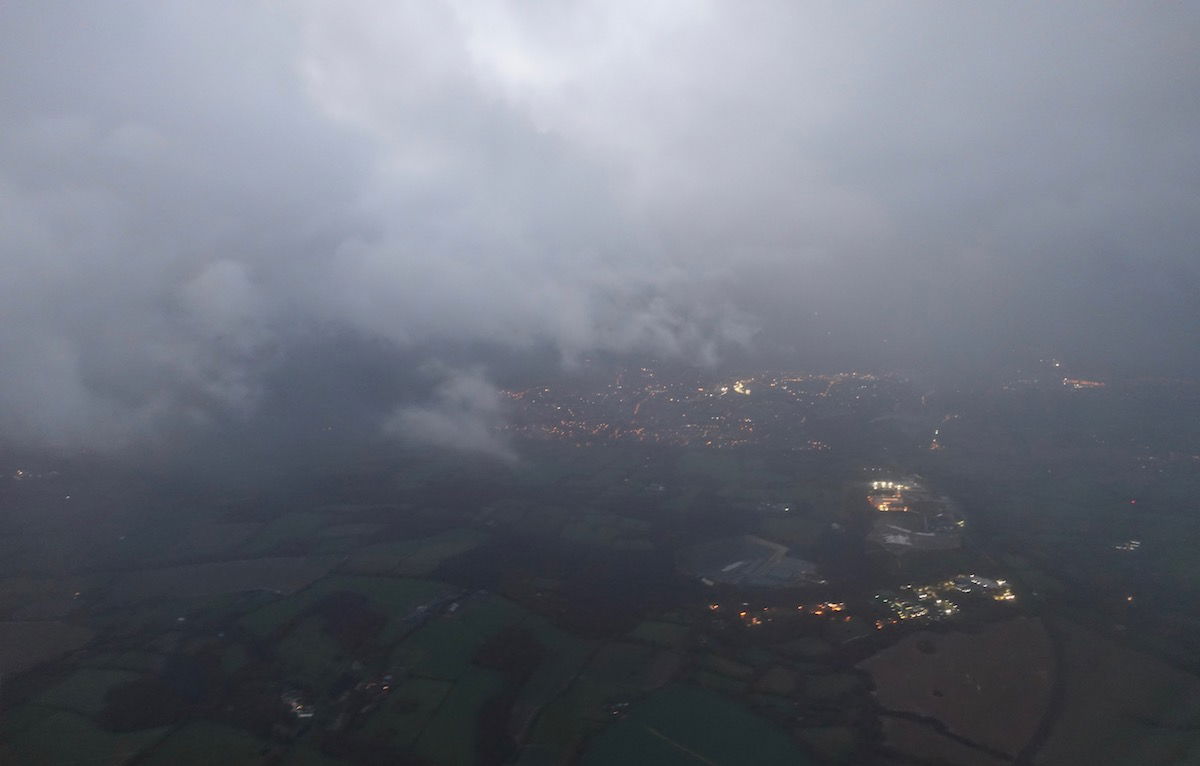 View after takeoff from London
While we hit some bumps on the initial climb out, the ride eventually got smoother, and five minutes after takeoff the seatbelt sign was turned off.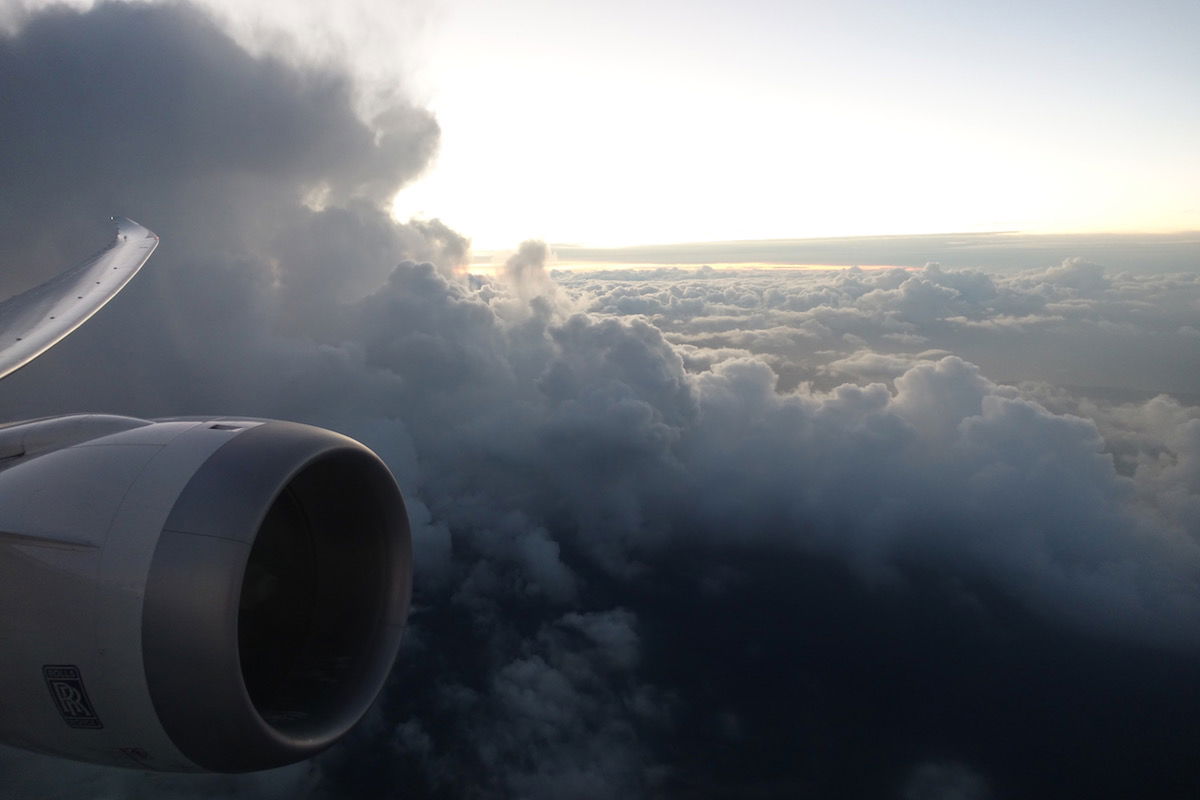 View after takeoff from London
As we climbed out I also checked out the entertainment selection. The personal television has the entertainment selection, moving map, food and drink selection, and duty free selection, so a lot is controlled through this.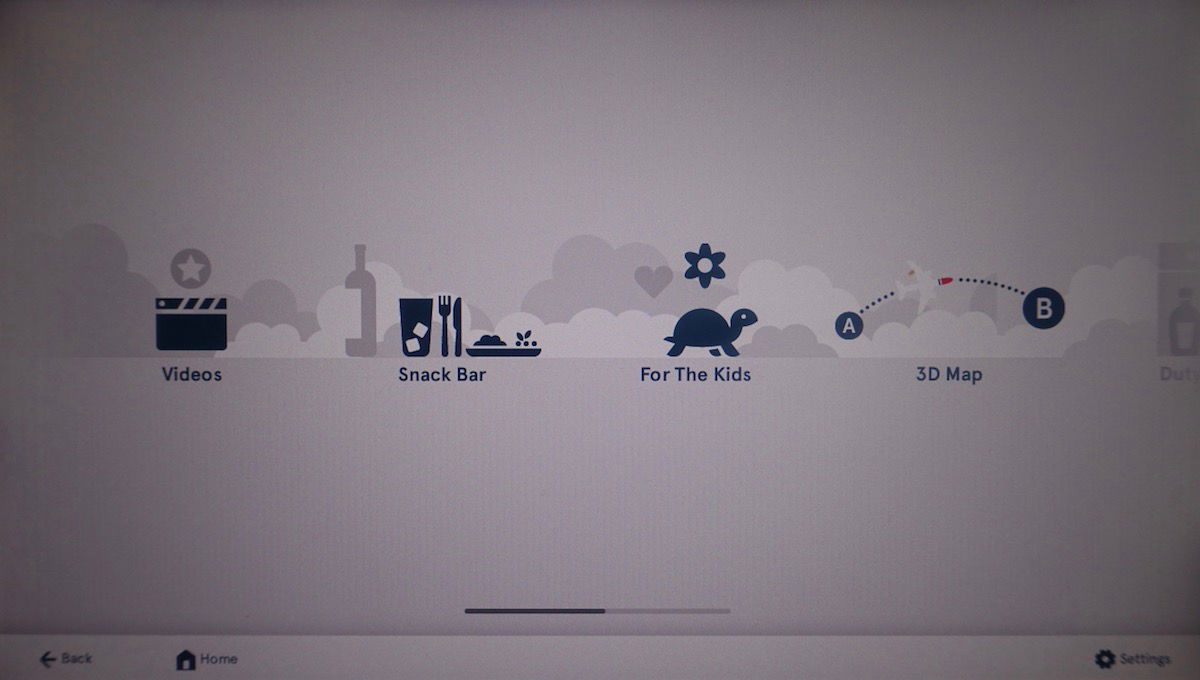 Norwegian entertainment system
I started by first checking out the map for our flight to New York. I'm a fan of this specific format, given how customizable it is.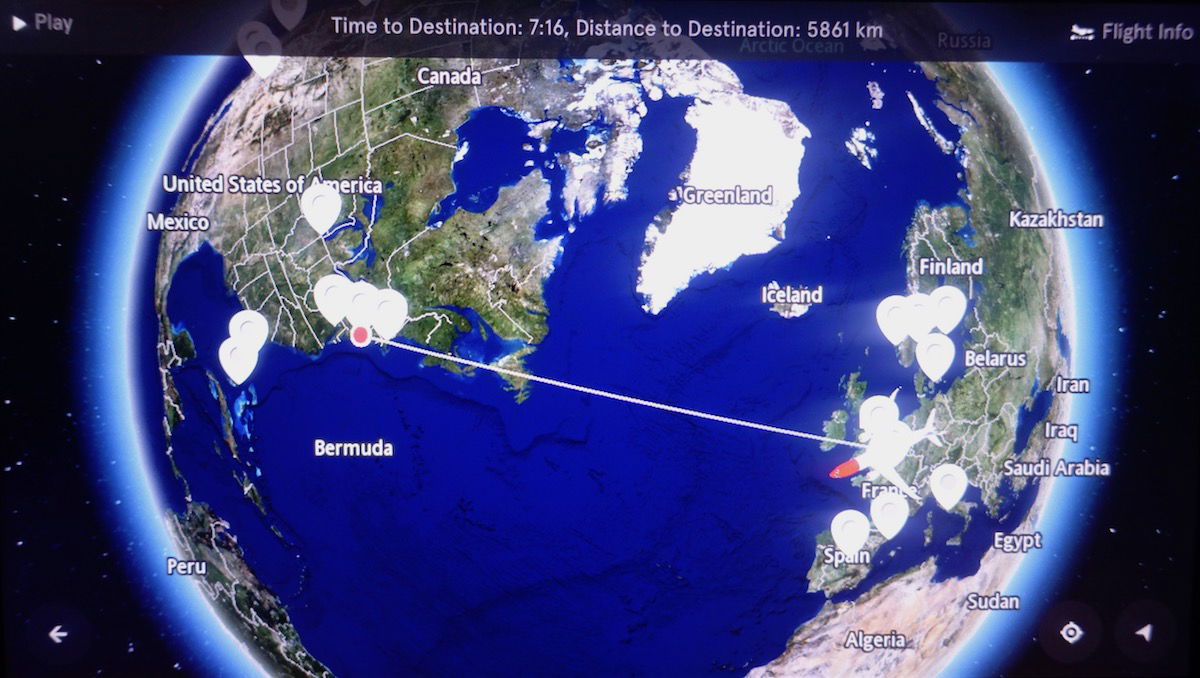 Norwegian moving map for flight to New York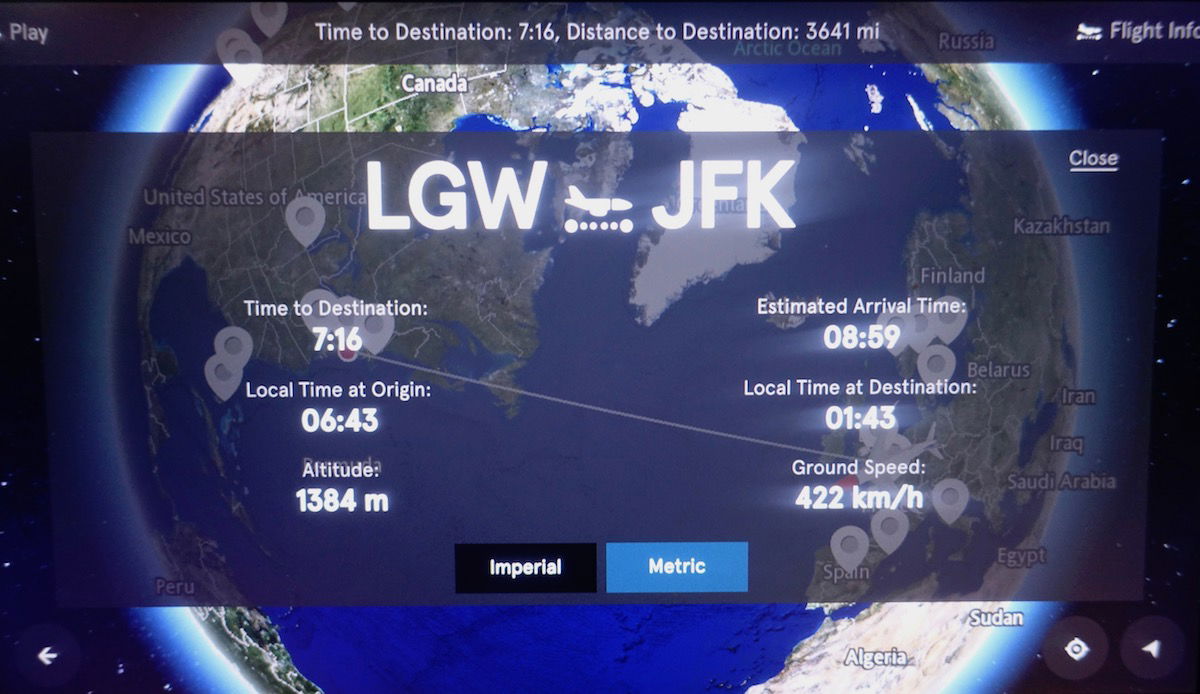 Norwegian moving map for flight to New York
The entertainment selection was solid but not amazing. There were about 40 movies and also about 40 TV shows, which I'd say is decent but not amazing.
I know that Norwegian also plans on installing Wi-Fi on their 787s, though I don't believe they've started that process just yet.
I ended up watching "Crazy, Stupid, Love," which I thought was pretty funny.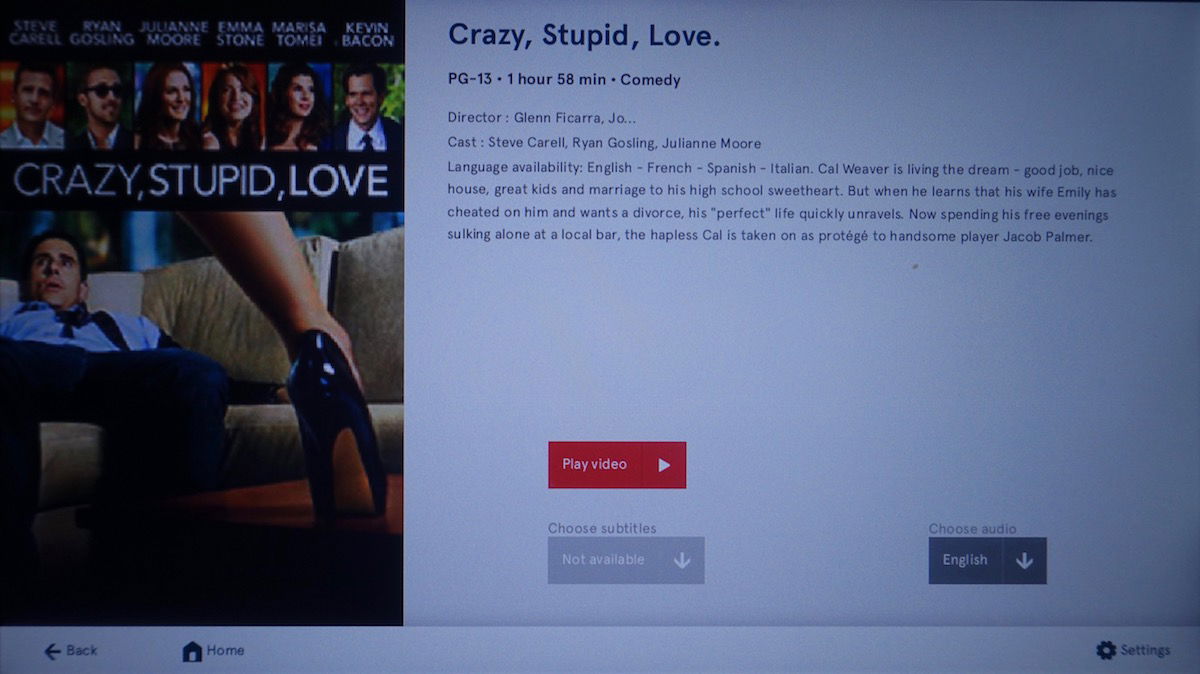 Norwegian entertainment selection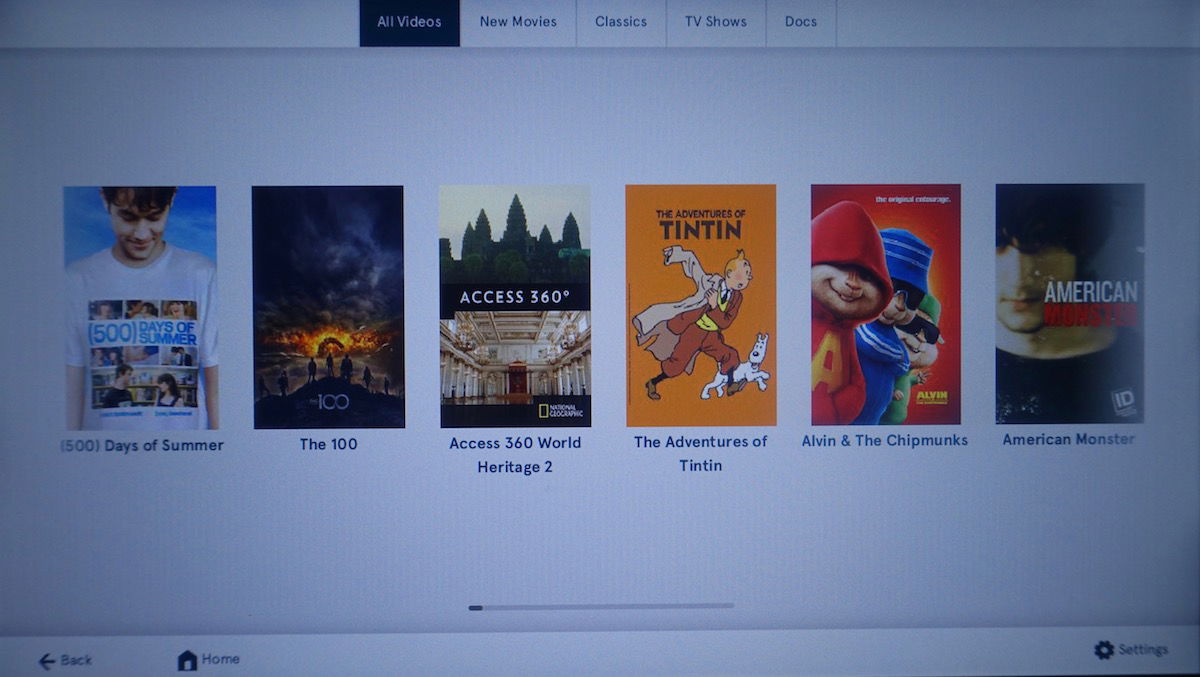 Norwegian Premium entertainment selection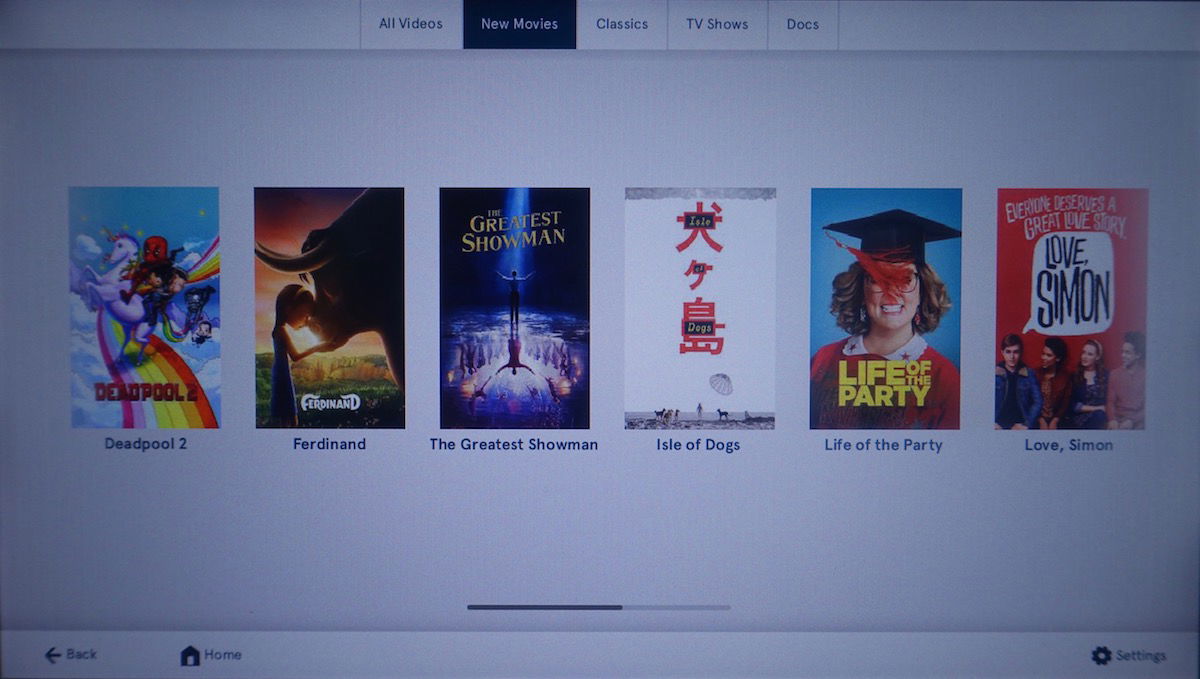 Norwegian Premium entertainment selection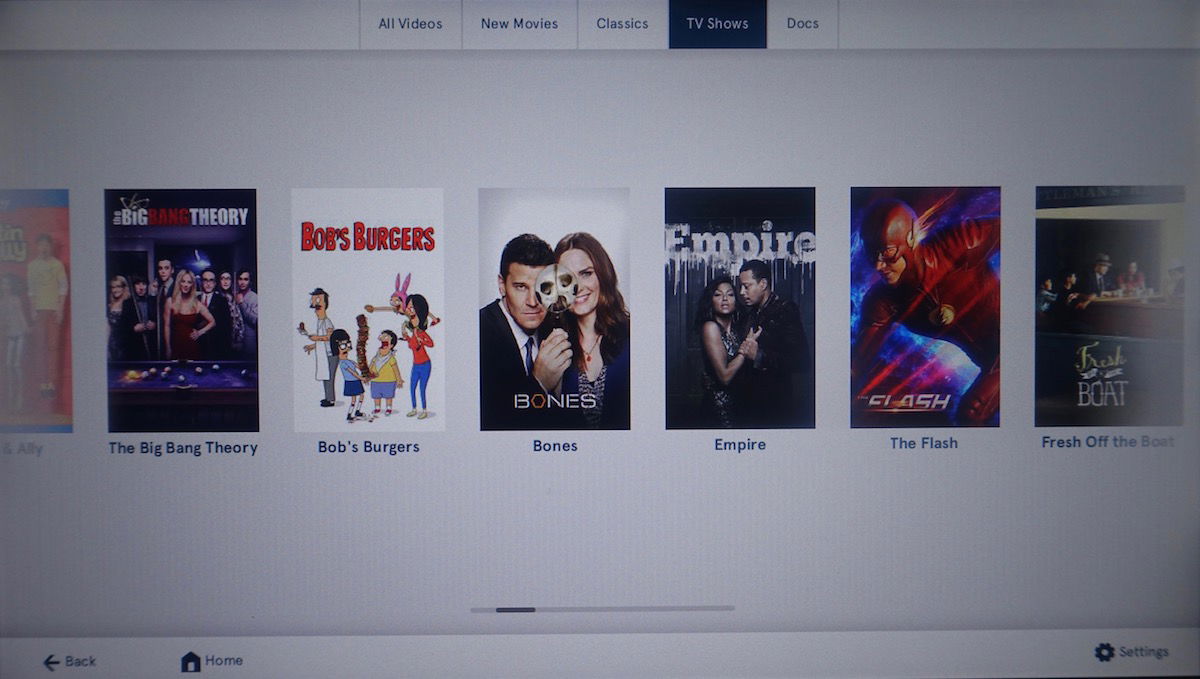 Norwegian Premium entertainment selection
The service model in Norwegian Premium is interesting. On transatlantic flights you get two free meals (one after takeoff and one before landing) and unlimited free drinks (alcoholic and non-alcoholic). However, if you want any other snacks, you have to buy them just as you'd have to do in economy.
The crew started their service about 30 minutes after takeoff. This began with a round of drinks. Interestingly they only had water, coffee, and juice on the cart, though I'm sure you could have also asked for something else. I ordered a still water and a coffee with some milk.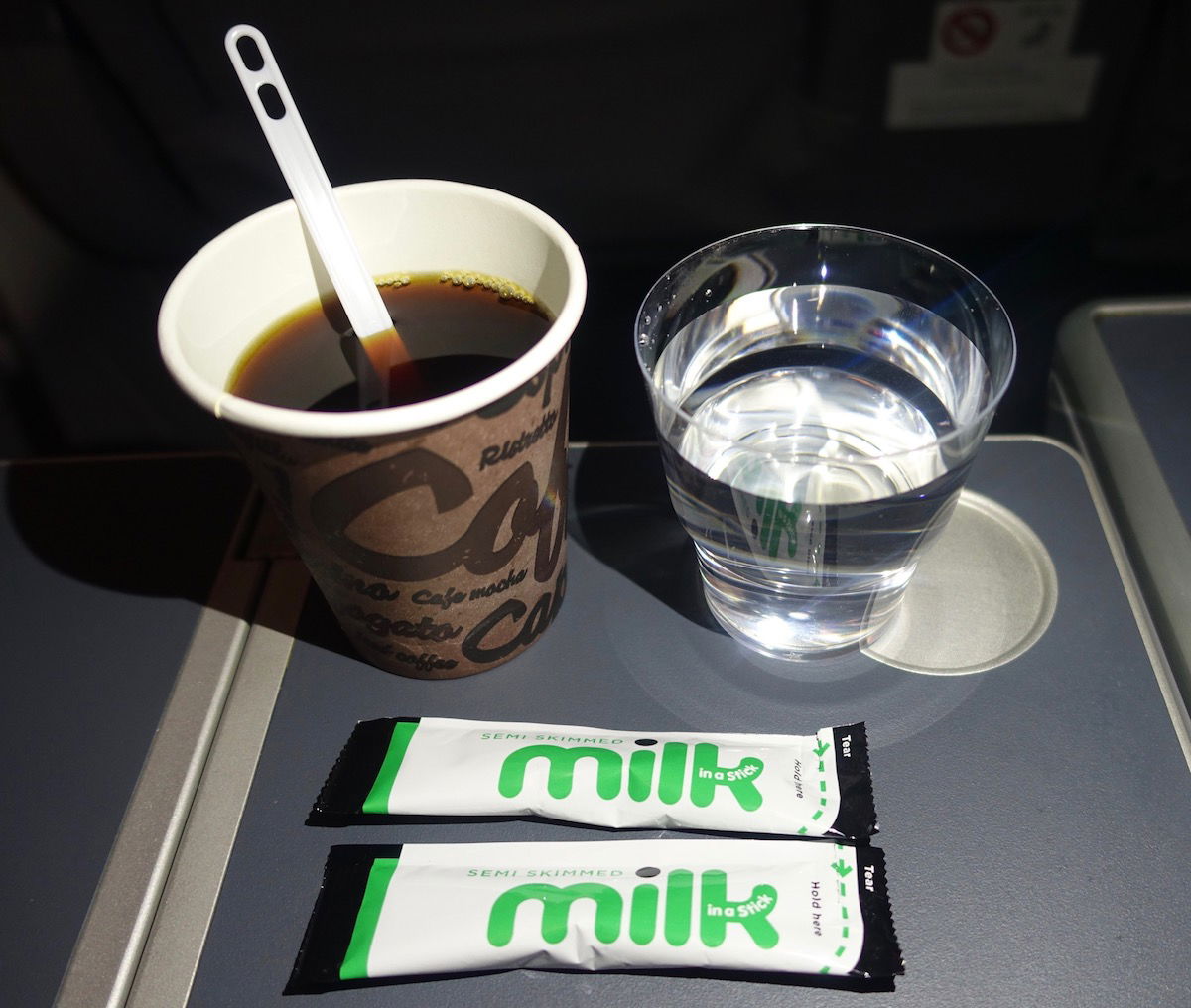 Norwegian Premium drink service
Then 55 minutes after takeoff the cart was rolled down the aisle again with a breakfast service. There was no choice for the breakfast option, and everything was served in one box.


Norwegian Premium breakfast box
The breakfast offering was certainly modest. In addition to the hot dish, there was a croissant and a small side of fruit.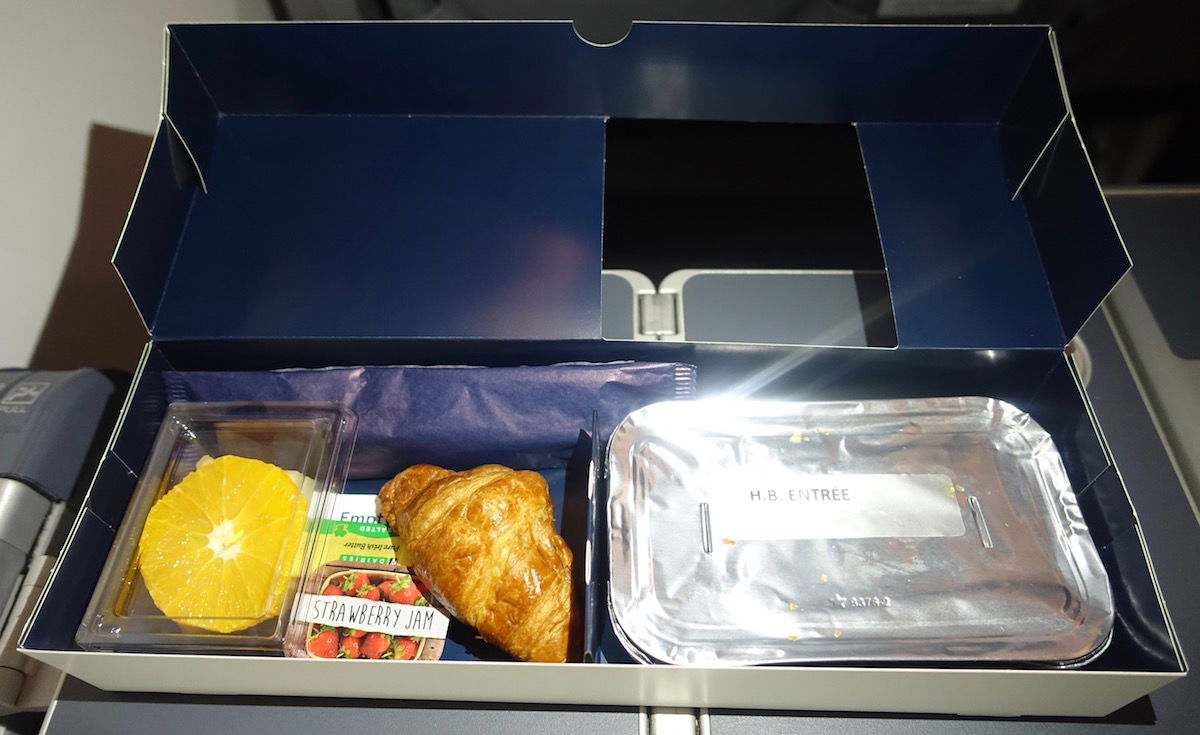 Norwegian Premium breakfast box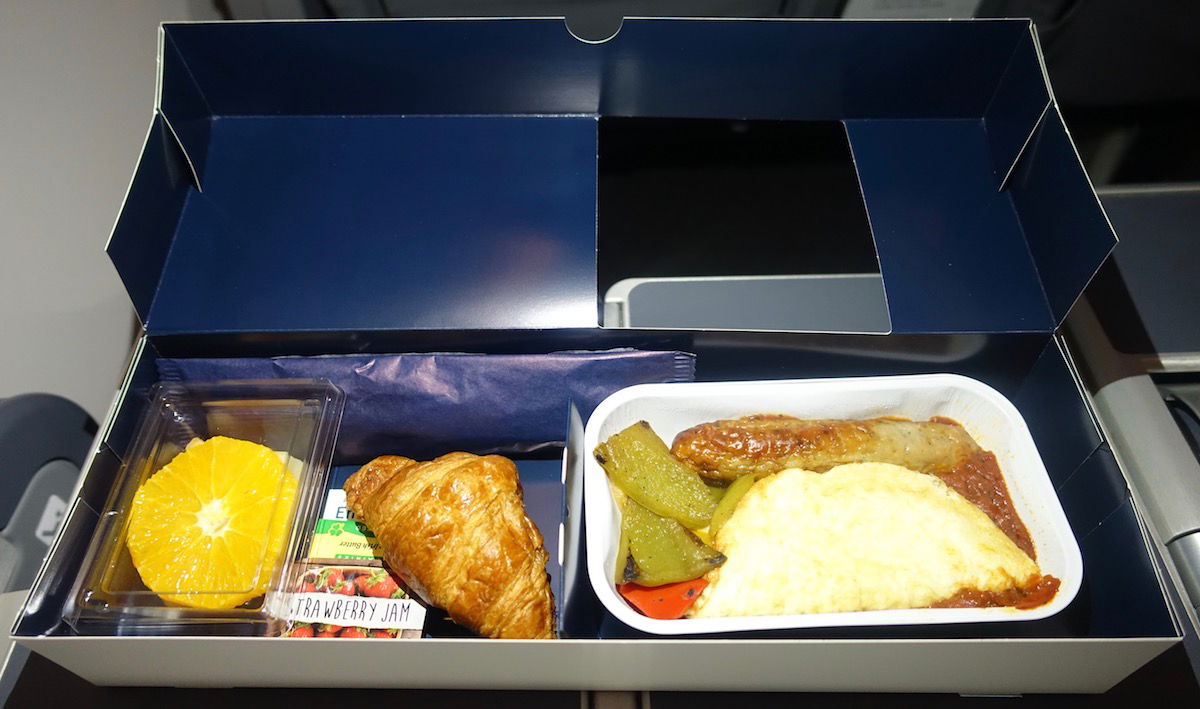 Norwegian Premium breakfast box
The main course consisted of an omelet with sausage. It was alright, probably what I'd expect in economy.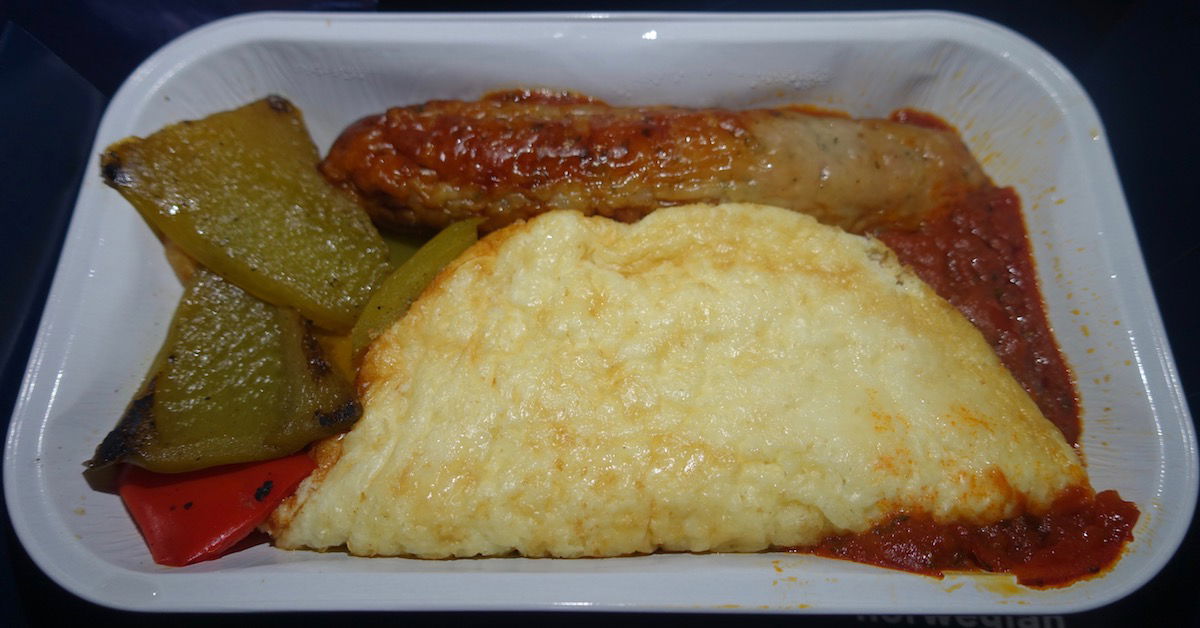 Norwegian Premium breakfast
I picked at the eggs and then had the fruit and croissant.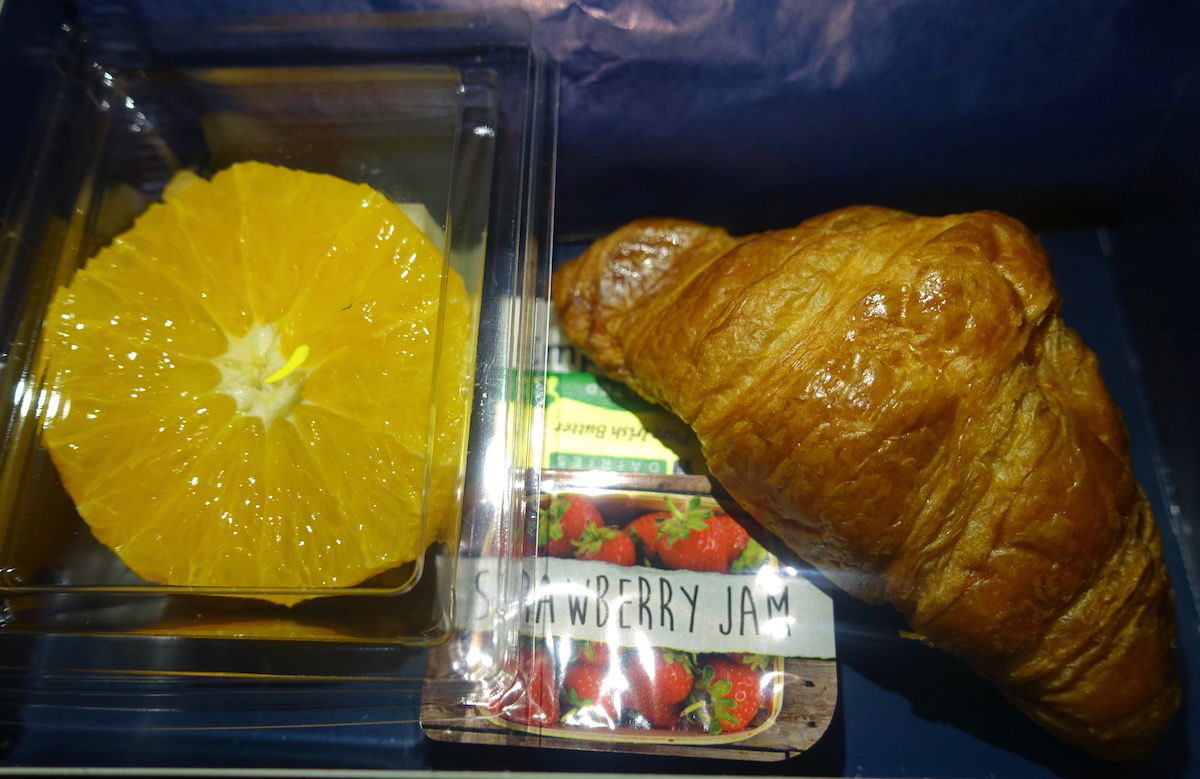 Norwegian Premium breakfast
I have to say that the crew was absolutely lovely. They almost provided a business class service in terms of how friendly and attentive they were during the meal service.
For example, the guy in front of me was vegetarian but hadn't pre-ordered a vegetarian meal. The lead flight attendant ended up giving him her crew meal so that he could eat, which was a very nice gesture.
The breakfast service was cleared pretty quickly, and about 75 minutes after takeoff cabin lights were dimmed so everyone could get some rest.
The way the service on Norwegian works is high tech. Rather than ordering anything from the flight attendant, all orders outside of the main meal services are placed through your inflight entertainment. So you just order something there, and then it will quickly be brought to you.
This included a huge selection of drinks, including water, juice, soda, liquor, beer, wine, and cocktails. They were all complimentary in premium economy, as you can see (while you'd have to buy them in economy).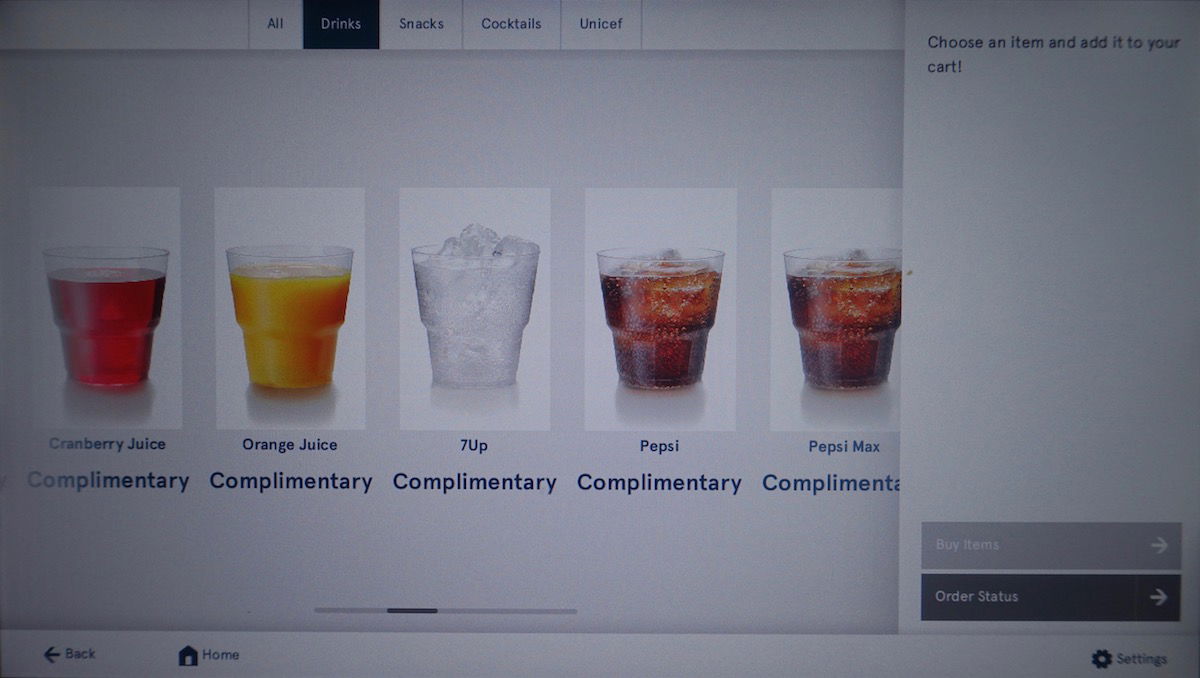 Norwegian Premium drink selection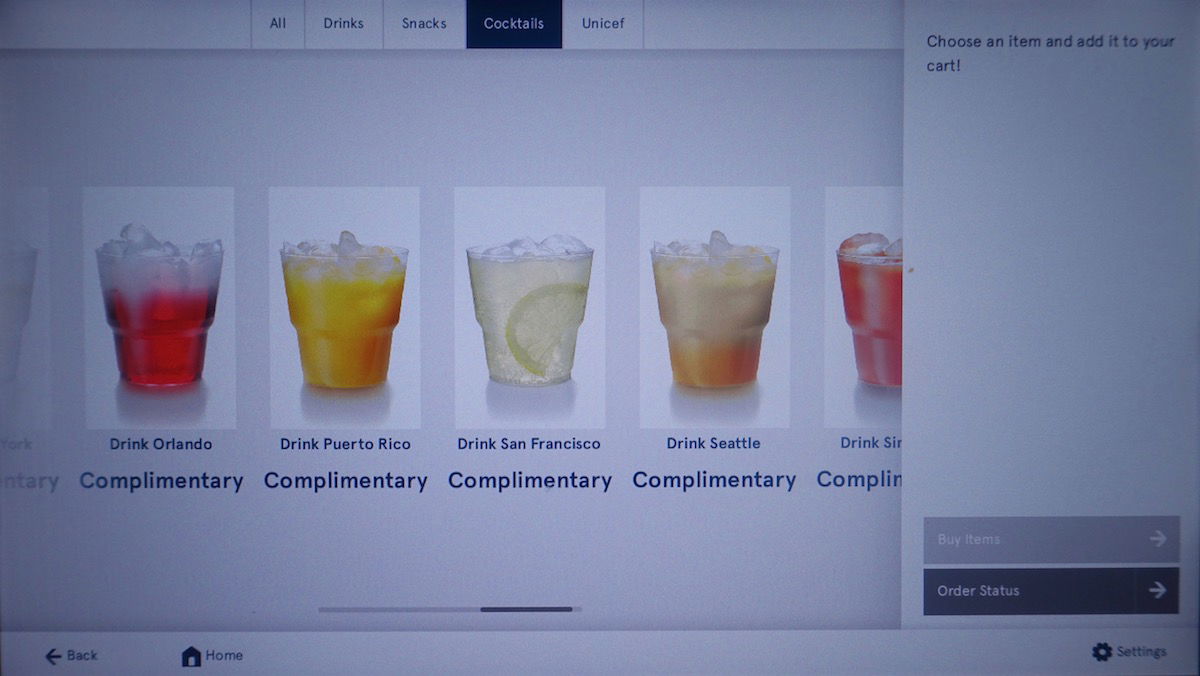 Norwegian Premium drink selection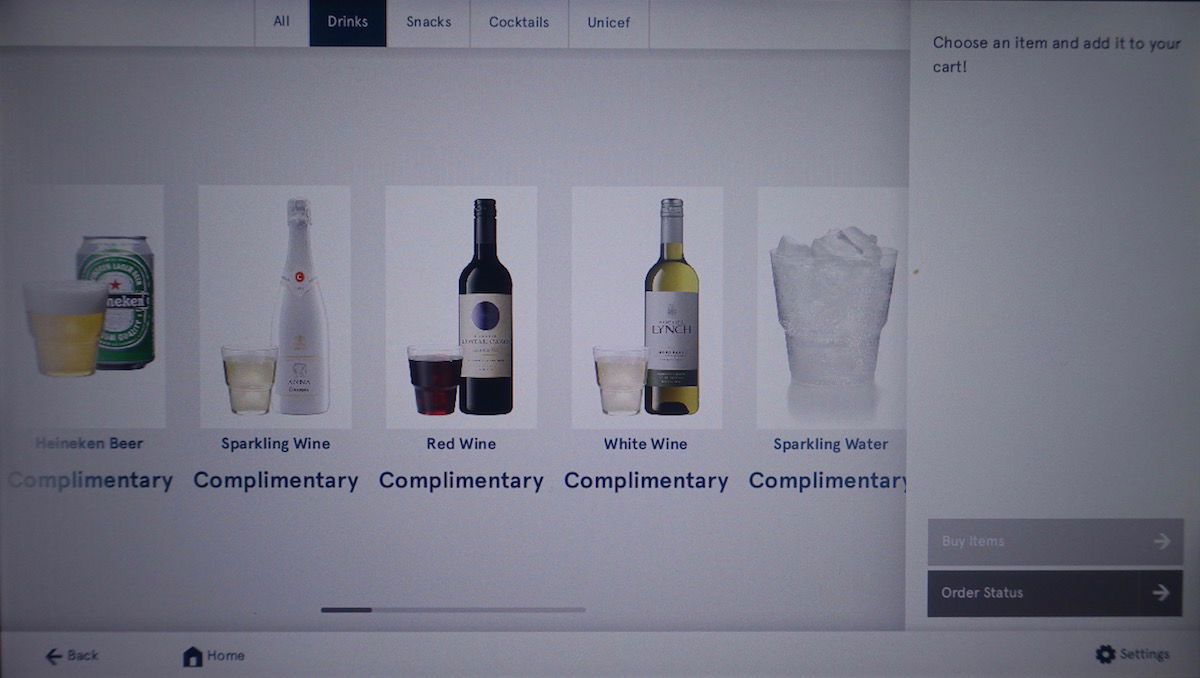 Norwegian Premium drink selection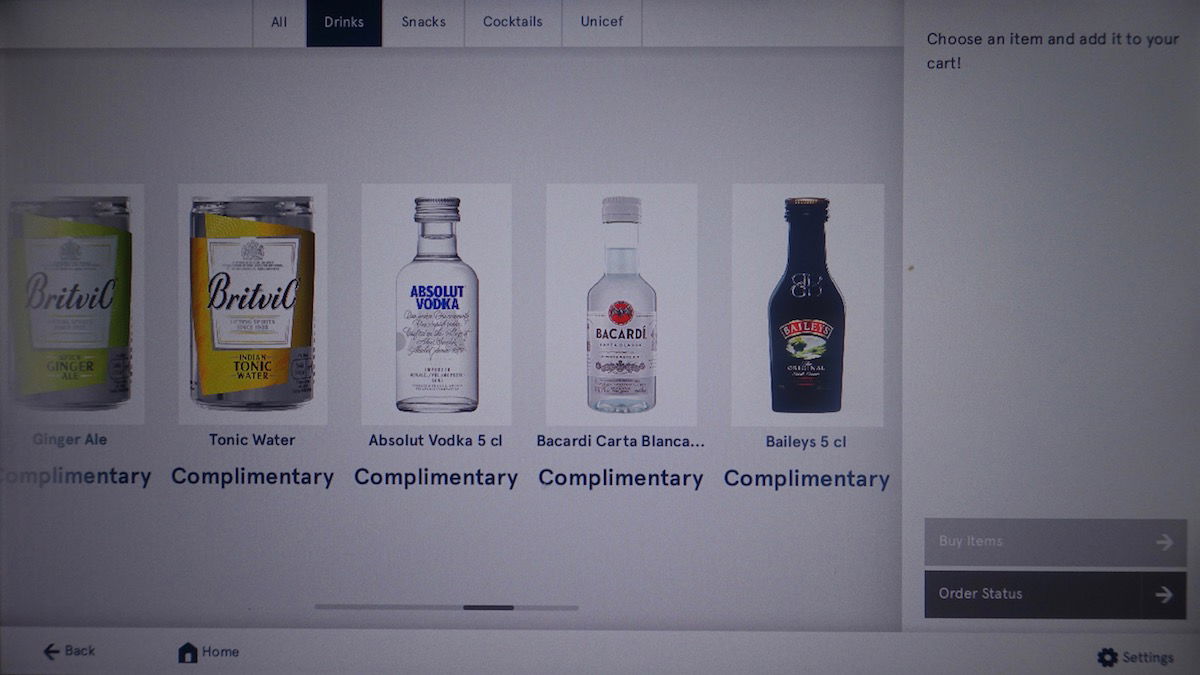 Norwegian Premium drink selection
There was also a selection of snacks and meals for purchase. This ranged from sandwiches to packaged nuts.
One thing I'd note is that the system doesn't do a very good job describing what the fresh options are. In other words, the "hot vegetarian snack" shows a picture of a flat bread (or something), but that's not necessarily what it is.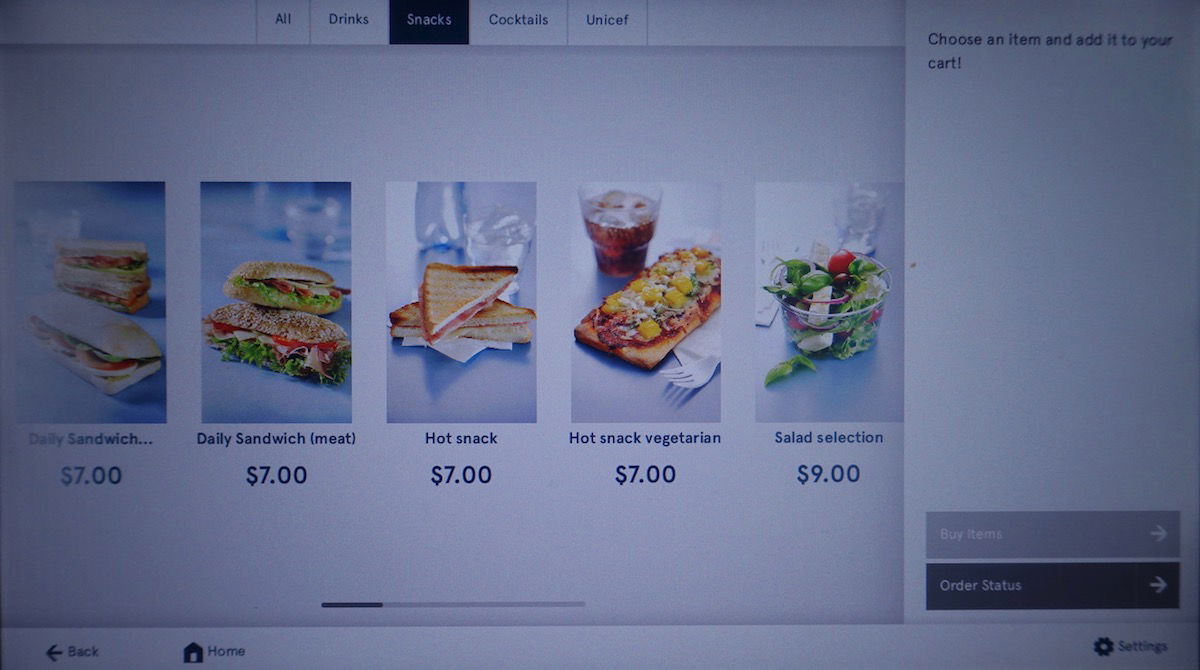 Norwegian Premium food selection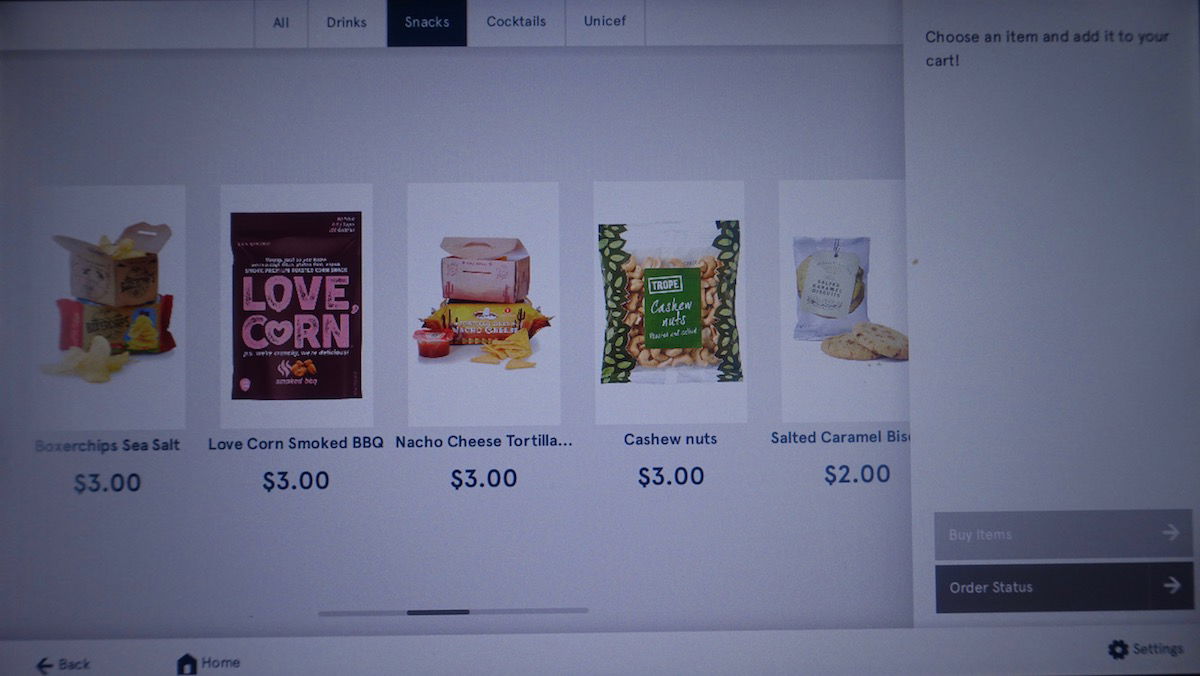 Norwegian Premium food selection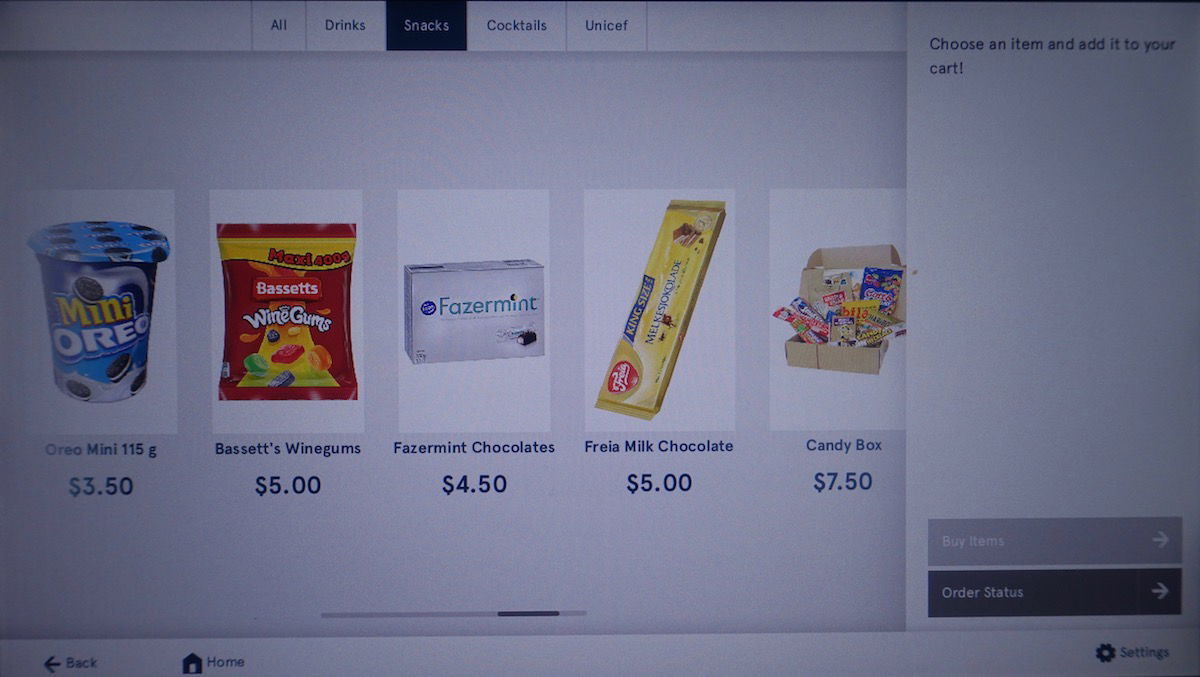 Norwegian Premium food selection
Even the duty free selection is available through the inflight entertainment, so you can buy Bose headphones through there.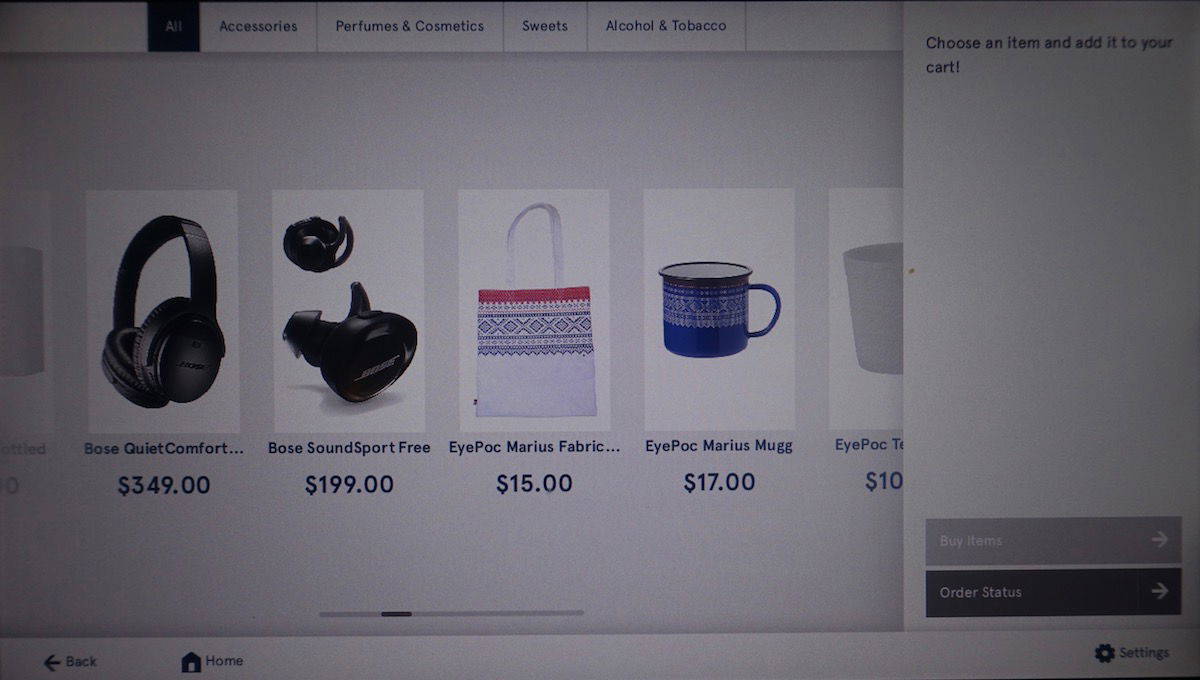 Norwegian Premium duty free
After breakfast I tried to get some rest. Here's the thing — I'm someone who really struggles to sleep if I don't have a flat bed, so I'm happy I booked a daytime flight, because these seats are perfect for that. But there's no way I could have slept on an overnight flight.
The seat recline itself is very good.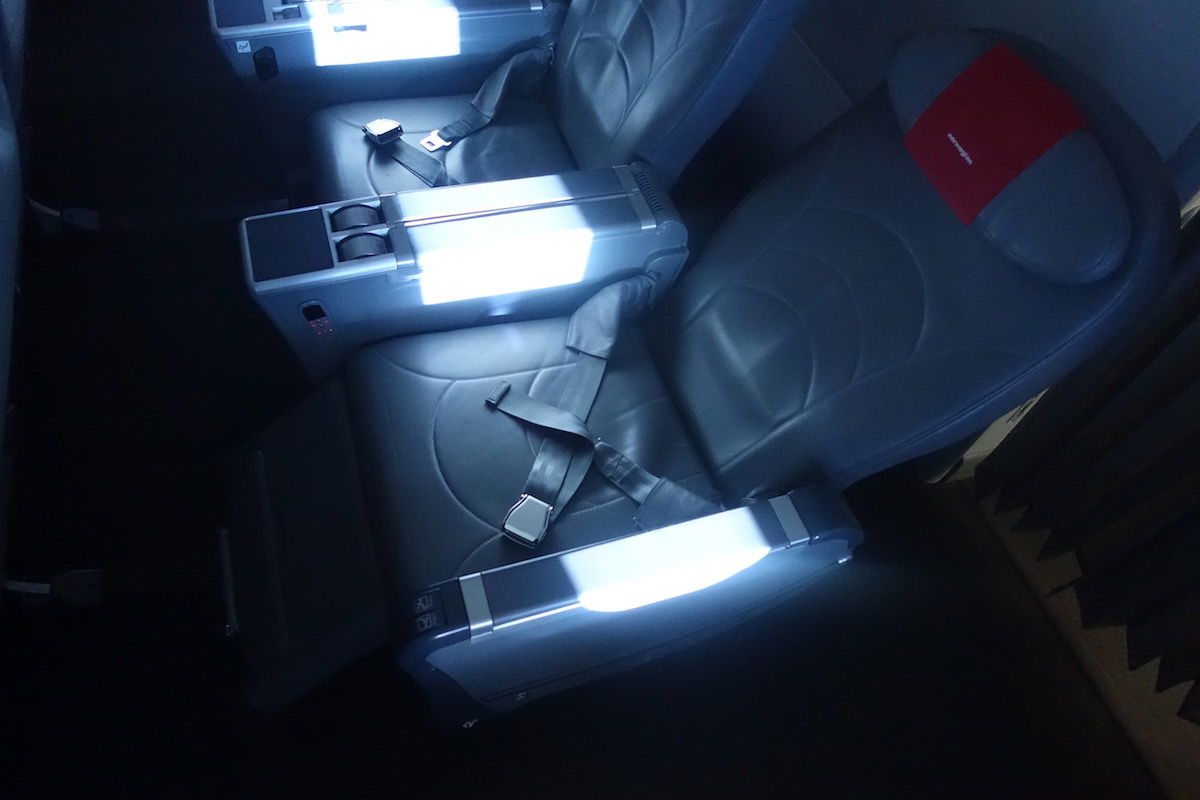 Norwegian Premium seat recline
Perhaps it's almost too good, because it was hard to get out of the window seat with the person in front of me reclined, and that was even with an empty aisle seat.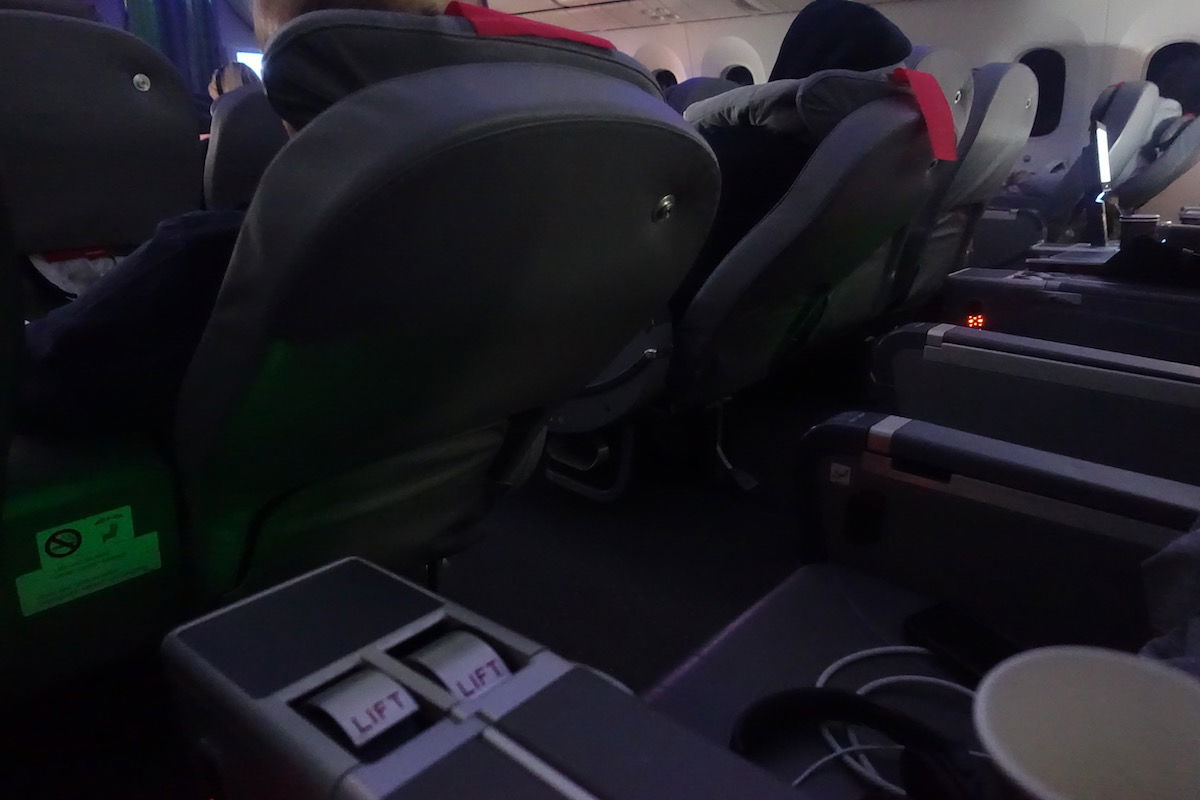 Norwegian Premium seat recline
Probably my biggest criticism of the seat is that the legrest doesn't actually extend out. Rather it can only be pulled up rather than out, so if you're relatively tall, the seat really feels too short. I found that strange, because there was definitely room for the legrest to potentially be pushed out more, but they just didn't make that possible. The seat is also quite hard.
I did manage to rest for a bit, until about four hours into the flight, when we were hitting quite a bit of turbulence, which lasted for about an hour.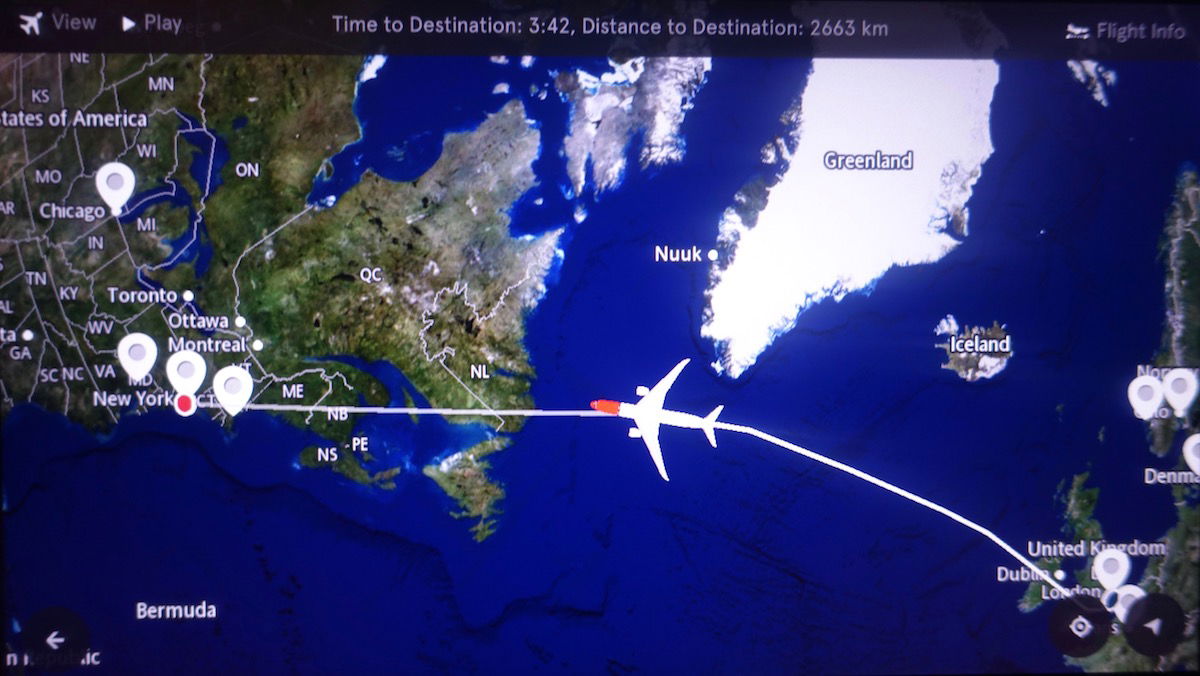 Progress to New York
I was a bit hungry at this point, so decided to order the "hot snack vegetarian." The snack cost $7, and then I also ordered a Pepsi Max (complimentary).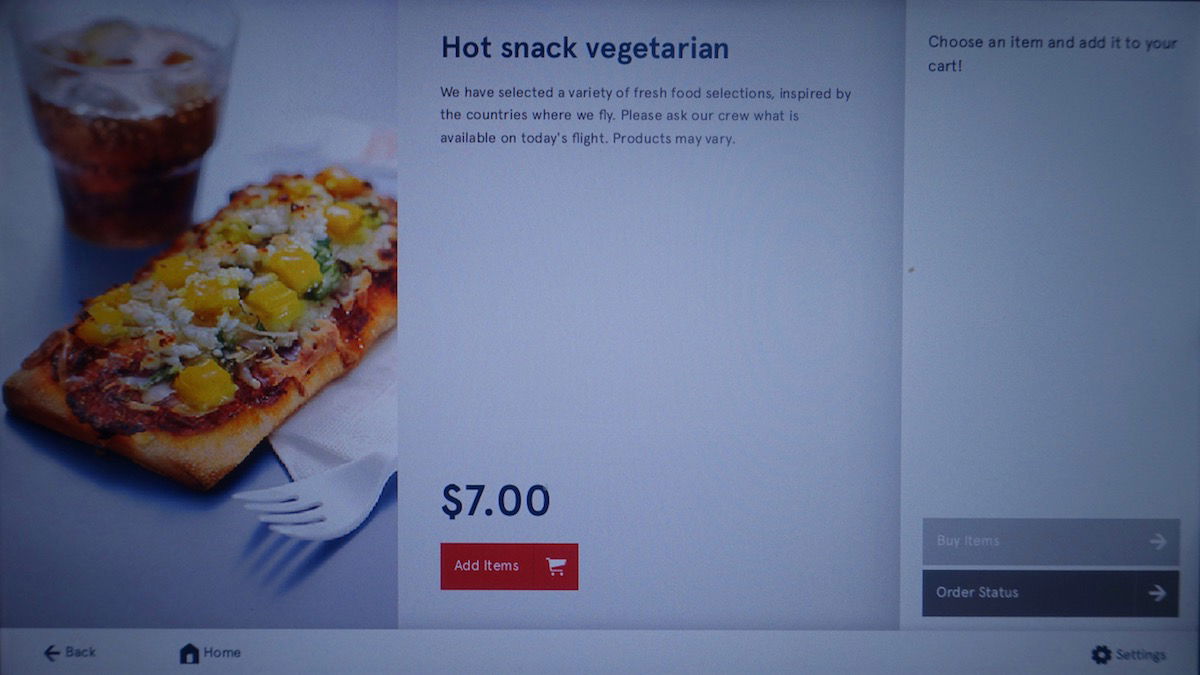 Norwegian food ordering system
This was added to my "cart," and then I had the option of either leaving a tab open, or closing it out.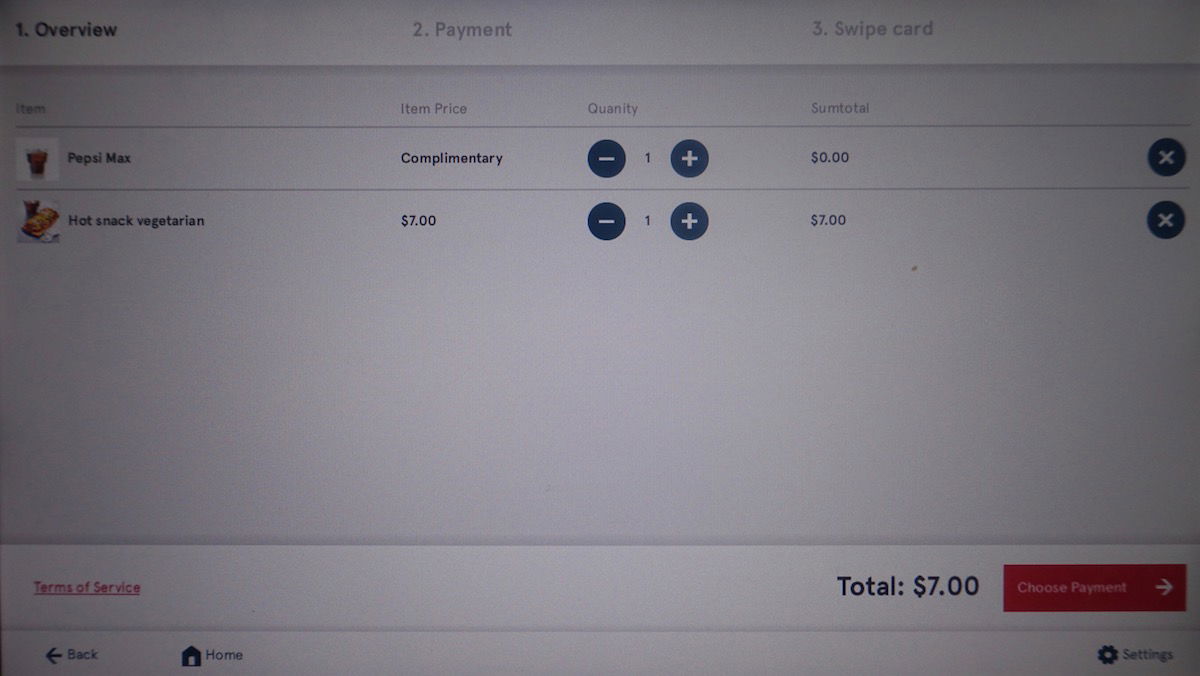 Norwegian food ordering system
The process of swiping my credit card was easy, and I found the whole system to just be really easy to use.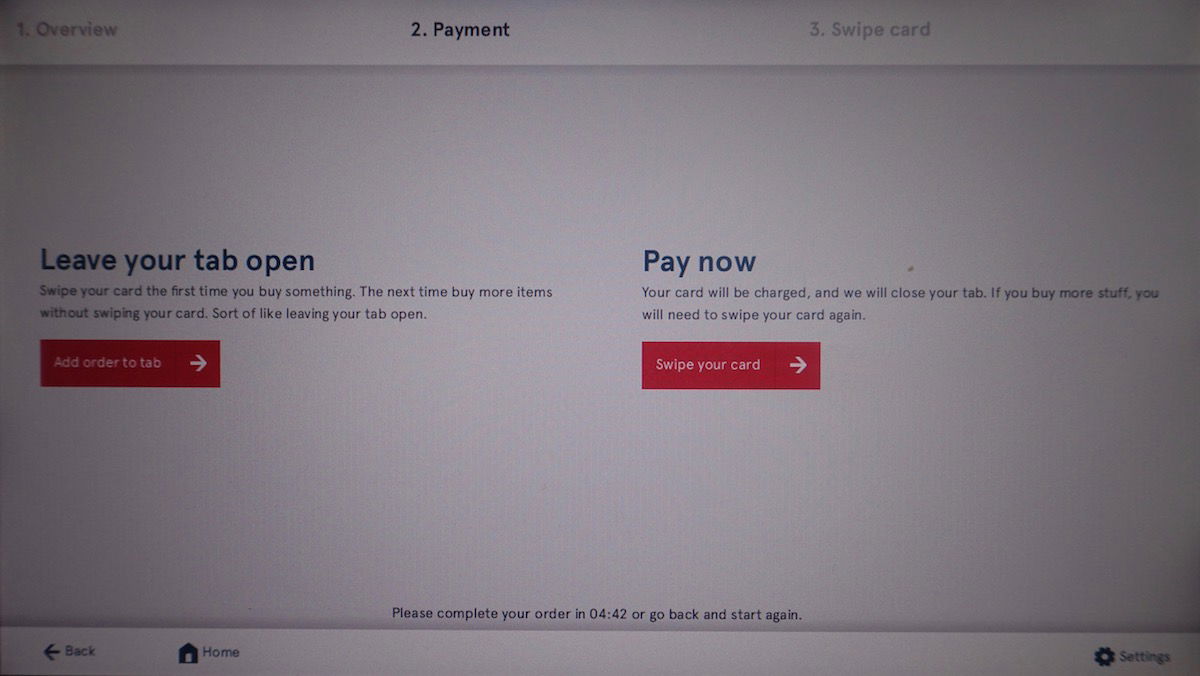 Norwegian food ordering system
It took less than 10 minutes for my snack and drink to be served.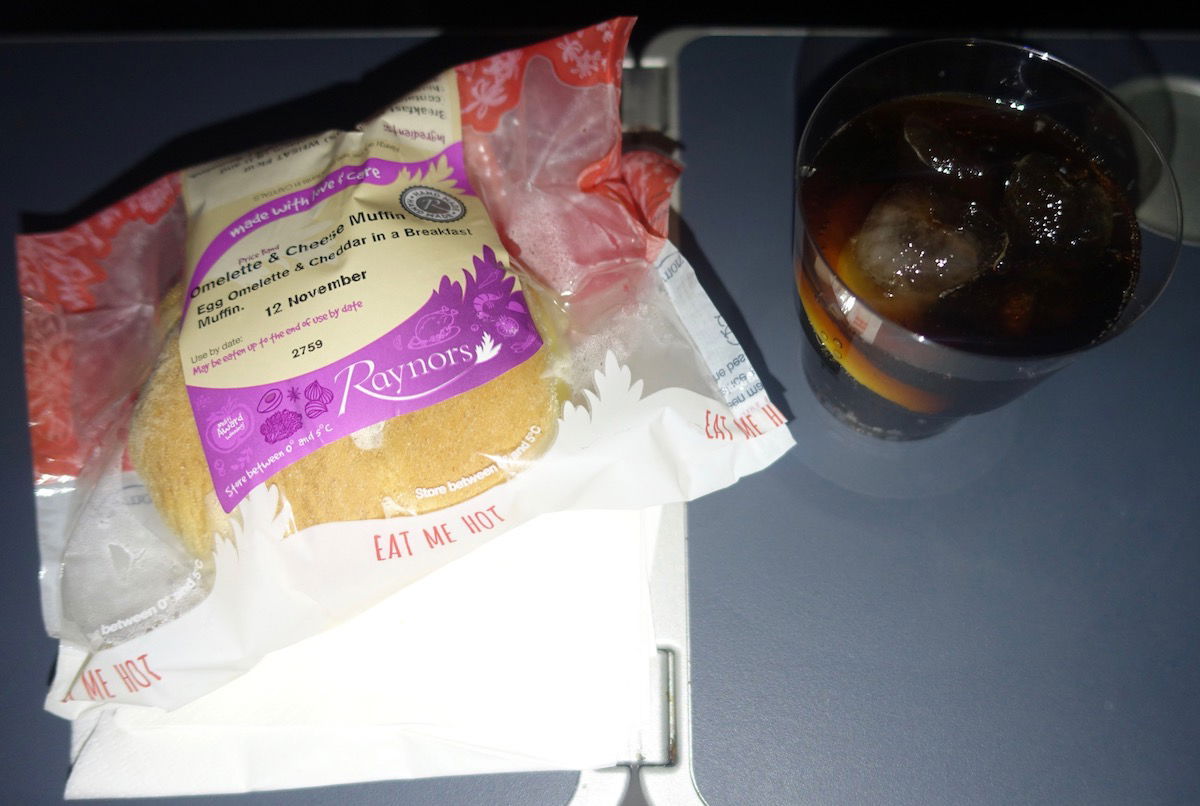 Norwegian snack
The snack ended up being an omelet & cheese muffin. I was expecting something more lunch-like based on the picture, but obviously that wasn't the case. The muffin was not great — it tasted like something you'd buy in the frozen section of a supermarket, and the biggest issue was that it was still cold in the center.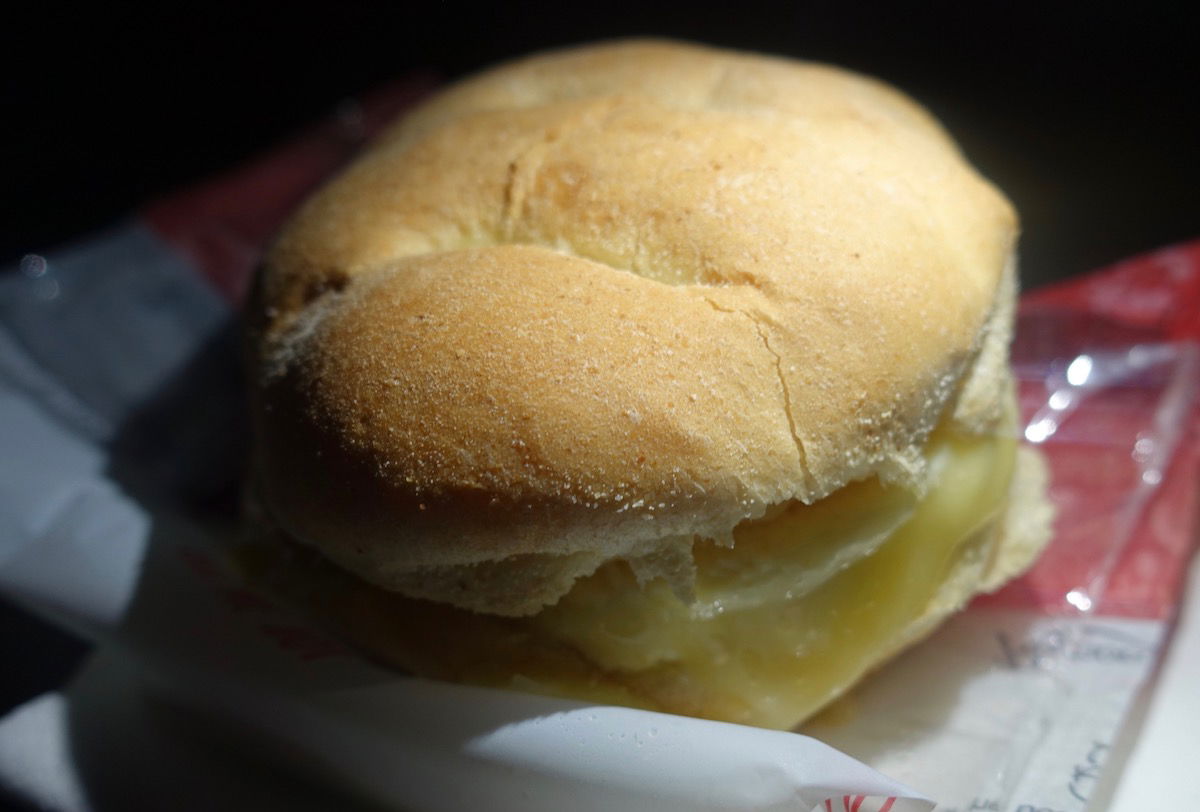 Norwegian snack
One of the magical things about this flight was that we left so early in the morning, and we just had a beautiful sunrise for hours and hours, which was so pretty to watch. Unfortunately the 787 has auto dimmers and the crew mostly kept them "locked" on the darkest mode, so I couldn't fully enjoy the views.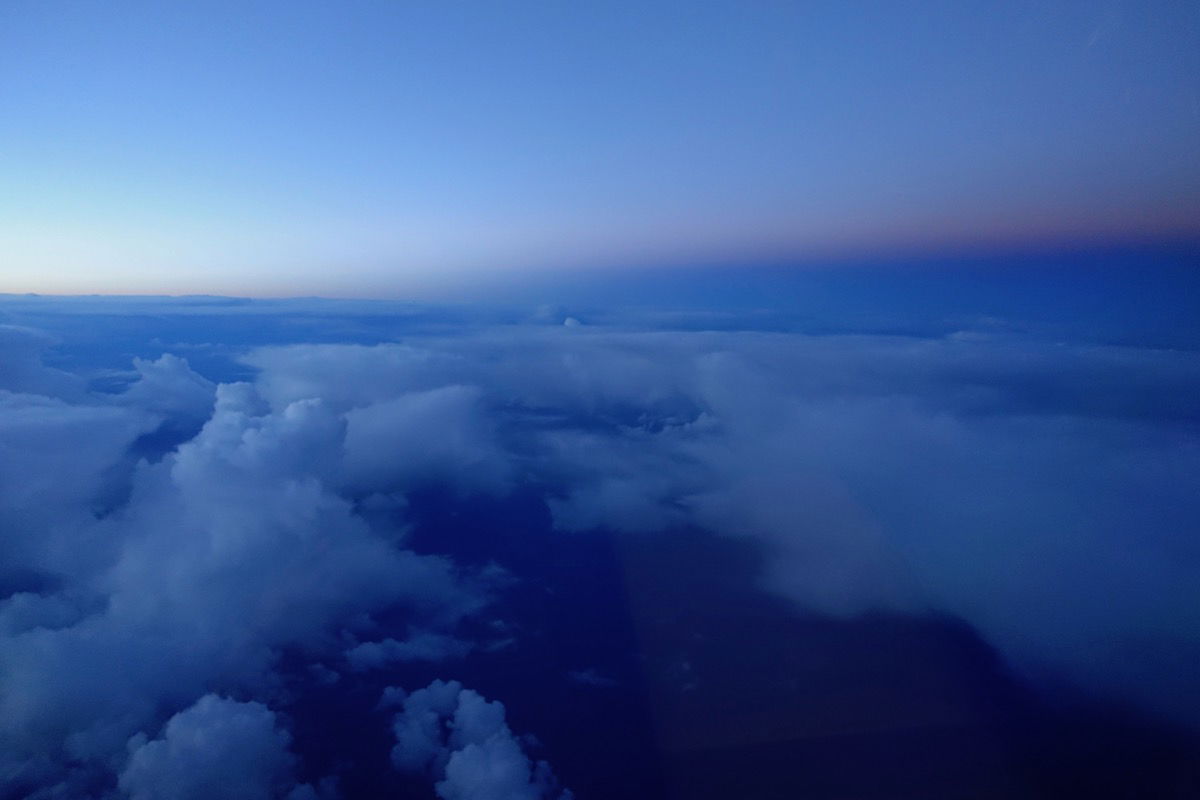 View enroute to New York
As far as the lavatories go, there were two at the front of the cabin, and they were your typical 787 ones, without any sort of frills.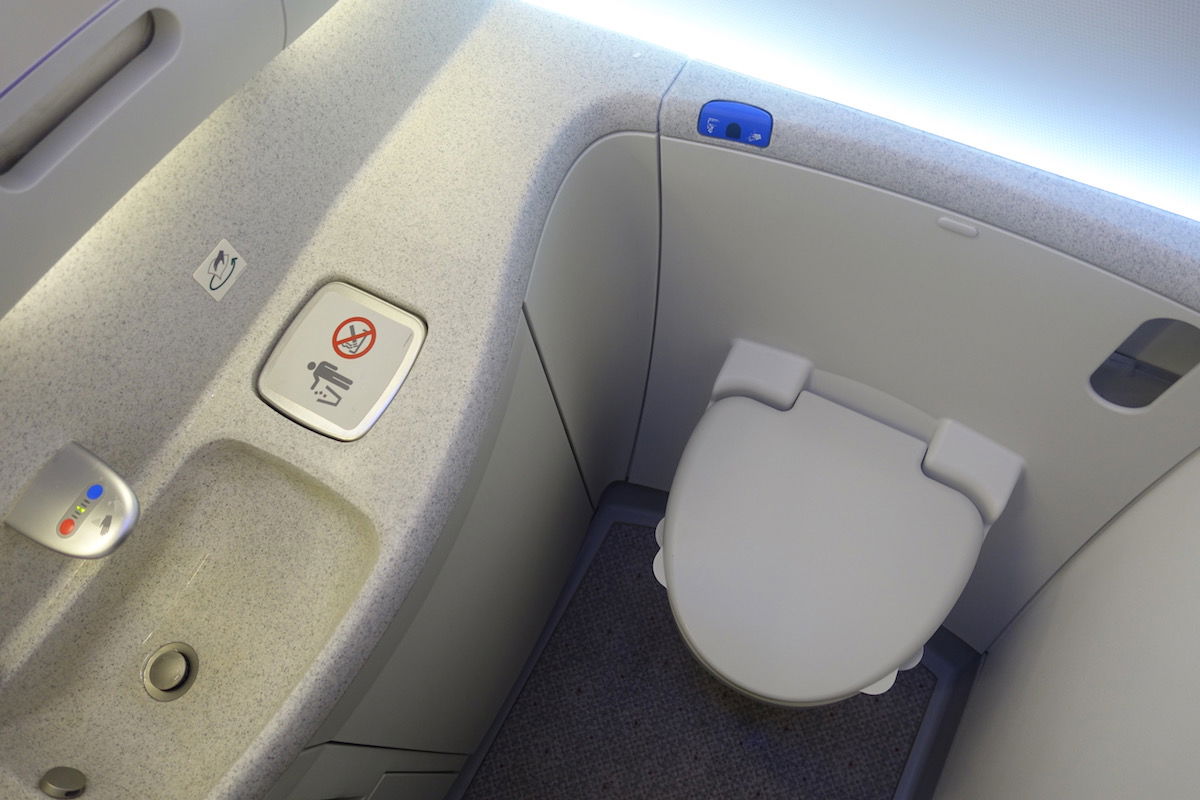 Norwegian 787 lavatory
The one odd thing to happen during this flight is that about three hours before landing someone yelled "HELP" at the top of their lungs. Like at. the. top. of. their. lungs.
The entire cabin woke up, the crew came running, and everyone looked around. The lady who had yelled it seemed completely unfazed, which leads me to believe she may have just had a bad dream.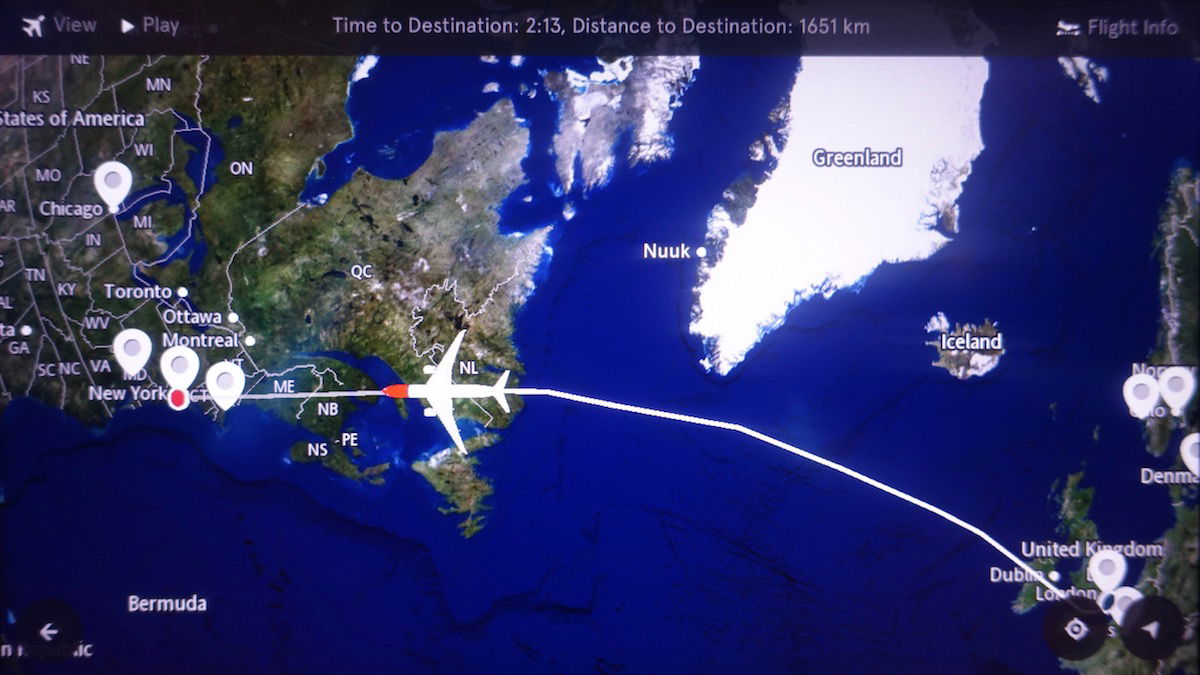 Progress to New York
About two hours before landing the pre-arrival meal service began. This time around there was a choice for the meal. For lunch there was either a beef in a red wine sauce with mashed potatoes, a thyme chicken with potatoes au gratin, or a salmon with pumpkin risotto.
It's interesting that they have no choice for the first meal, but had three choices for the second meal. I selected the salmon. As before, the meal was served in a box.

Norwegian Premium lunch service
I had a glass of sparkling wine to go along with it, because why not. 😉 I can assure you it wasn't Krug. Quite to the contrary, it tasted like battery acid.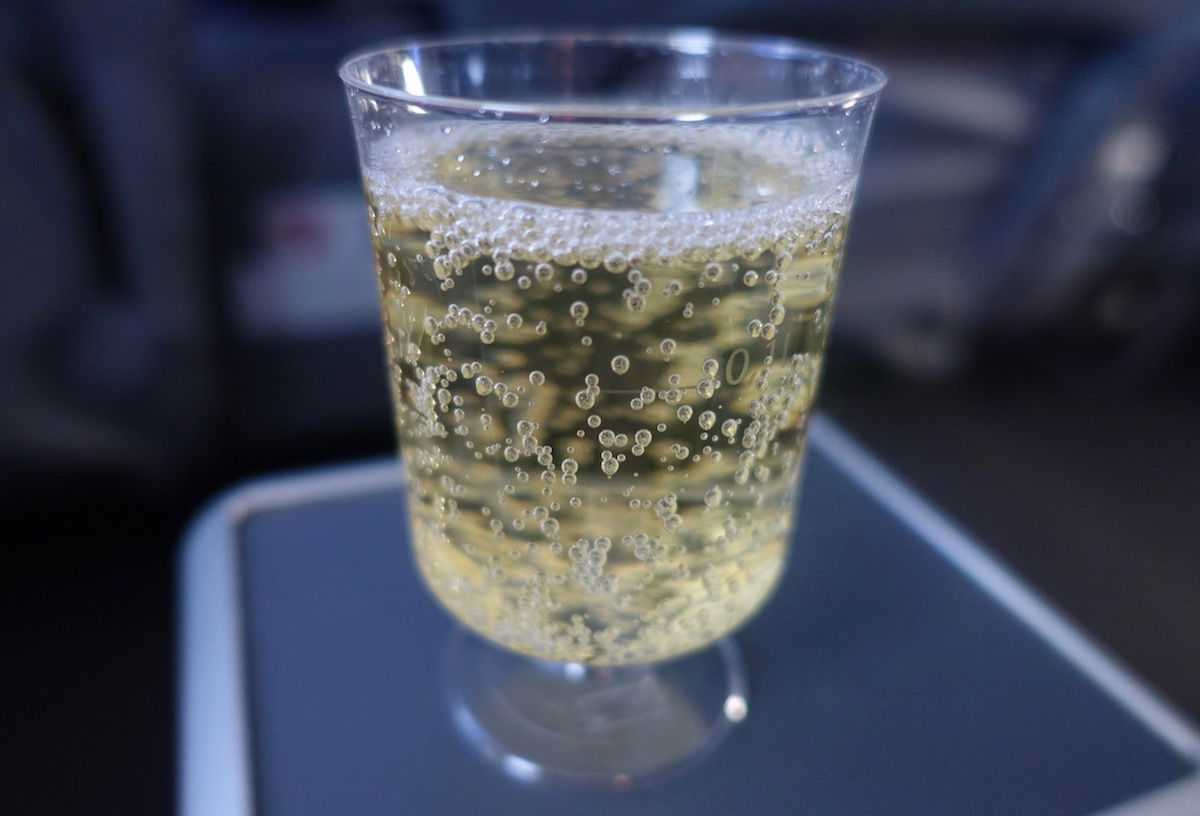 Norwegian Premium sparkling wine
The meal consisted of a hot dish, a bread roll, a small salad, and a dessert.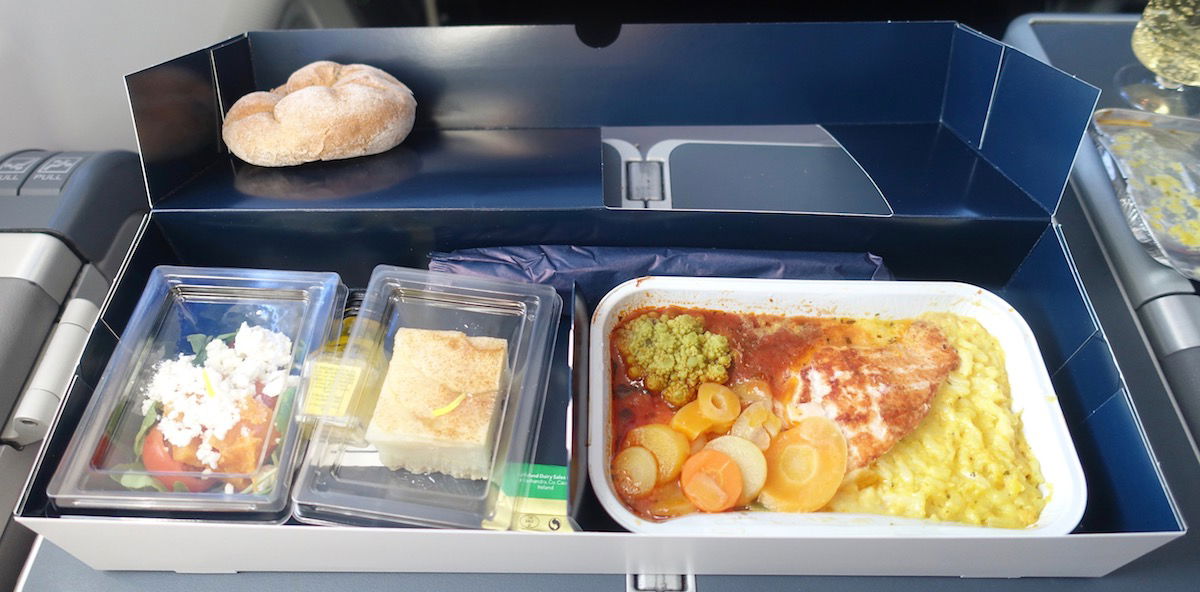 Norwegian Premium lunch service
Truth be told, the salmon was actually sort of satisfying, in a mushy-saucy-flavorful-but-not-actually-good kinda way.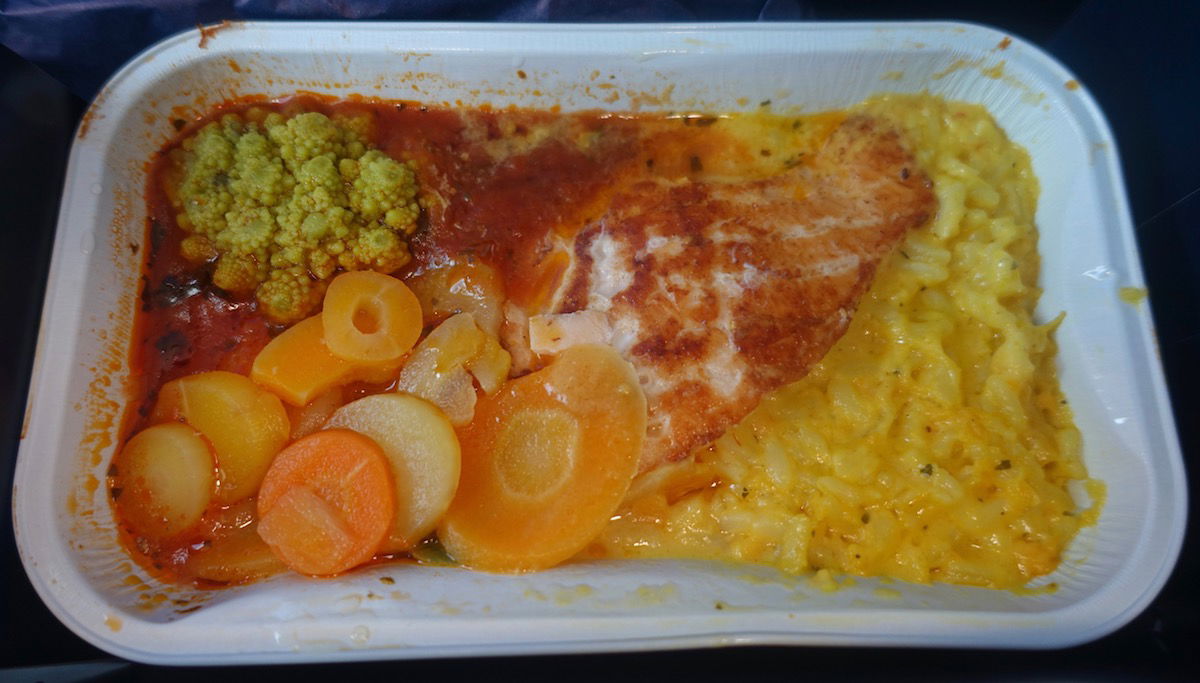 Norwegian Premium lunch
This came with a very small salad with tomatoes and feta cheese, as well as a small apple tart.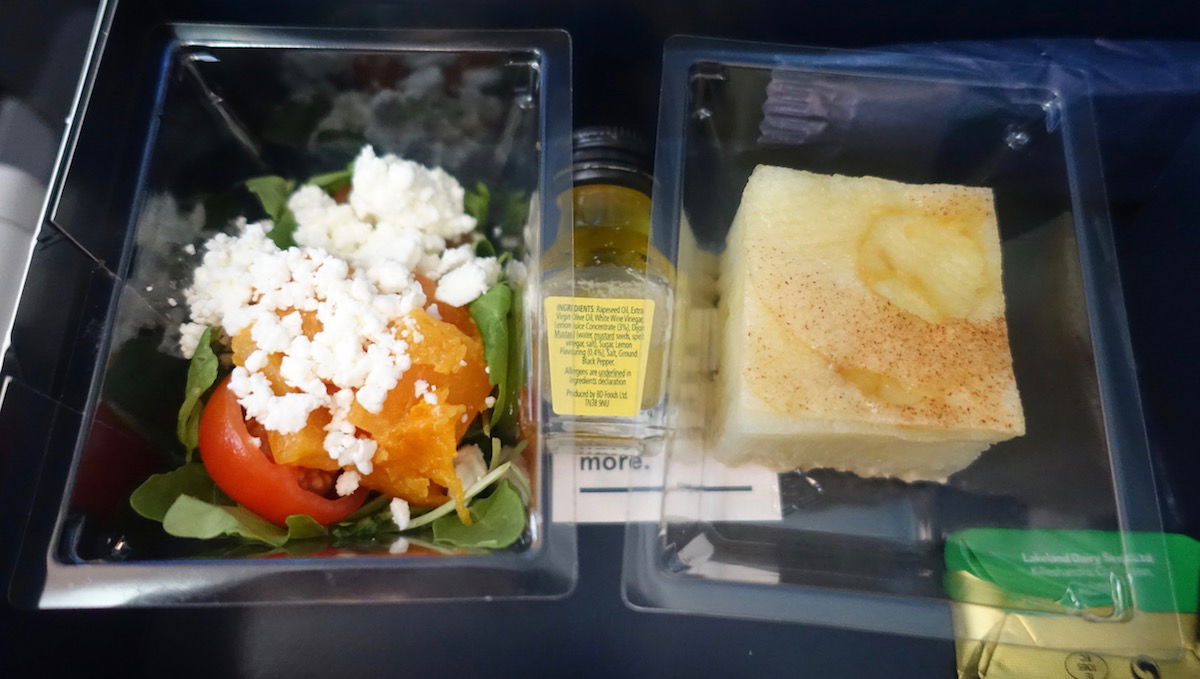 Norwegian Premium lunch
While the first round of drinks came with the meal itself, there was then a coffee and tea cart after lunch, and then after that a cart with Baileys and cognac, so in that sense it really did feel like a business class service. I had a cup of tea at this point.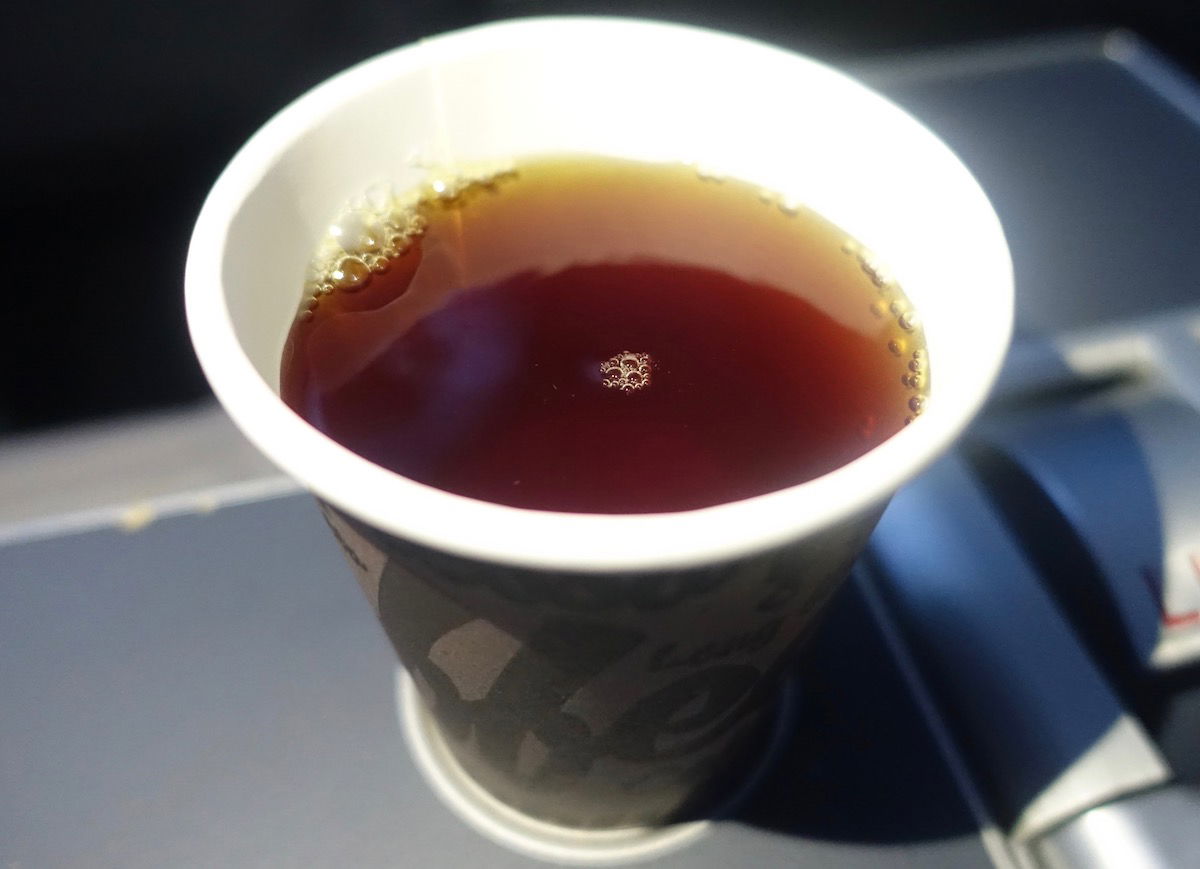 Norwegian Premium tea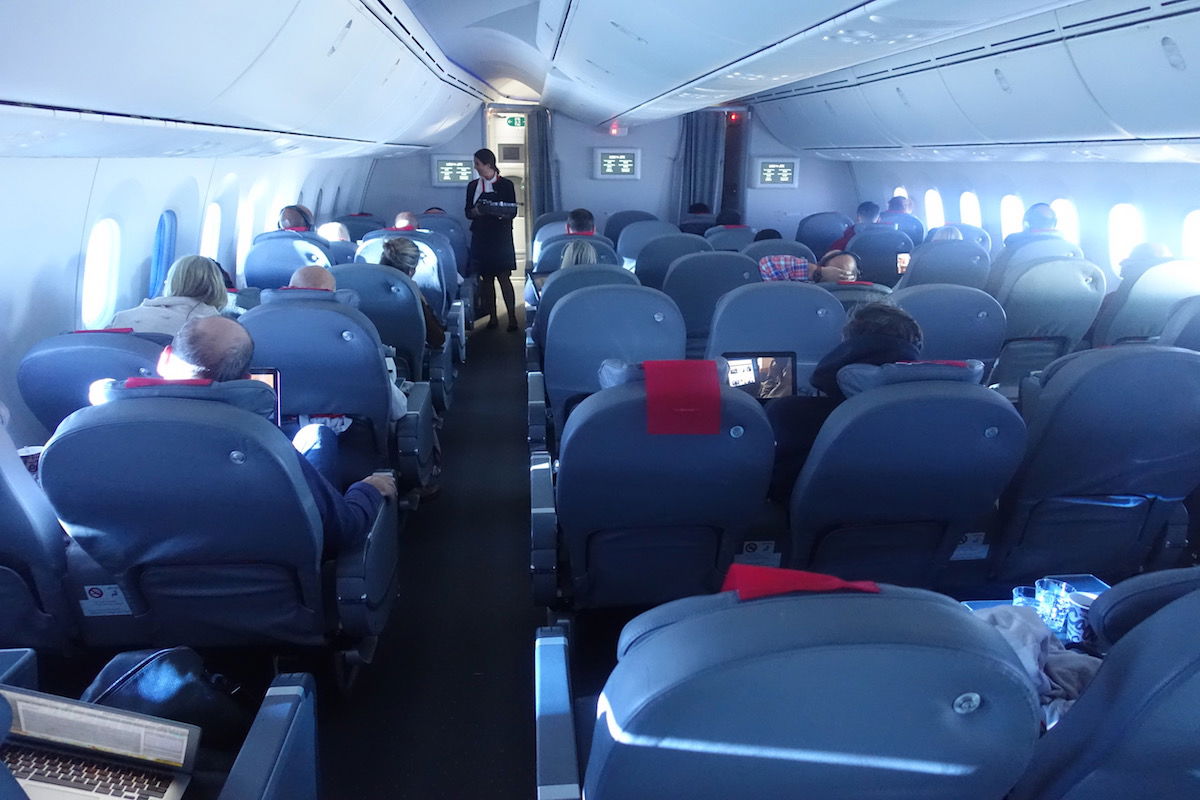 Norwegian cabin enroute to New York
Towards the end of the flight I watched a TV show about street performers, which I found to be interesting.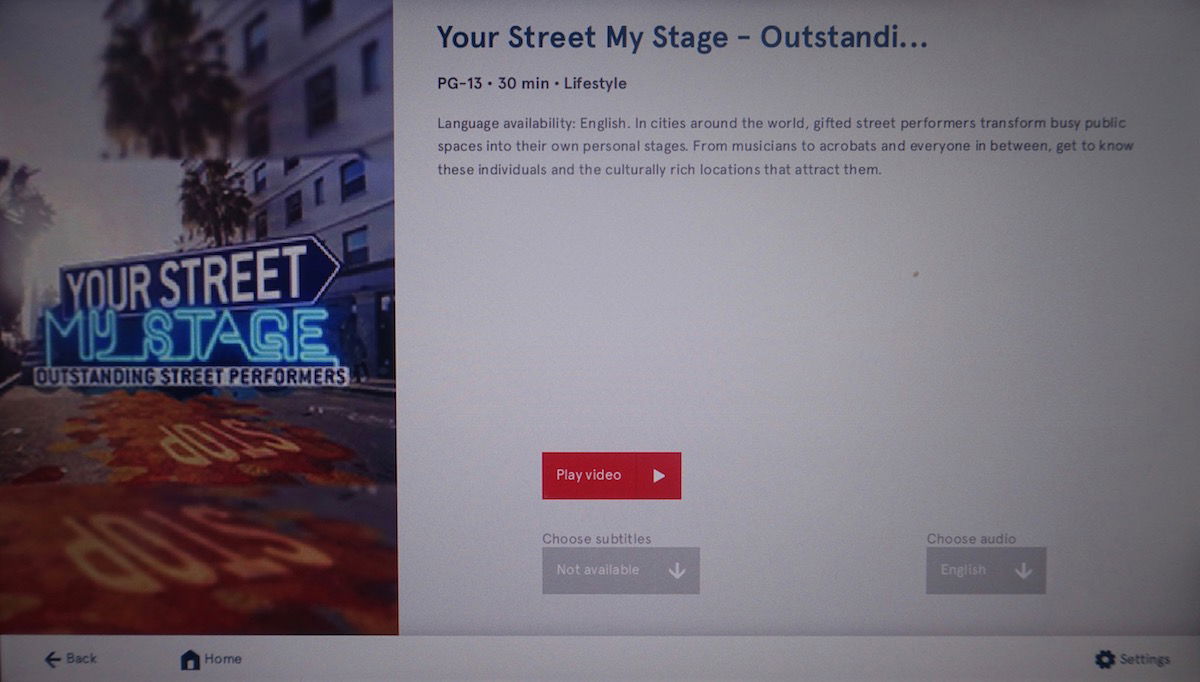 Norwegian entertainment selection
At 8:40AM ET the captain announced that we'd be landing in about 30 minutes. The views for the last 30 minutes of the flight were great.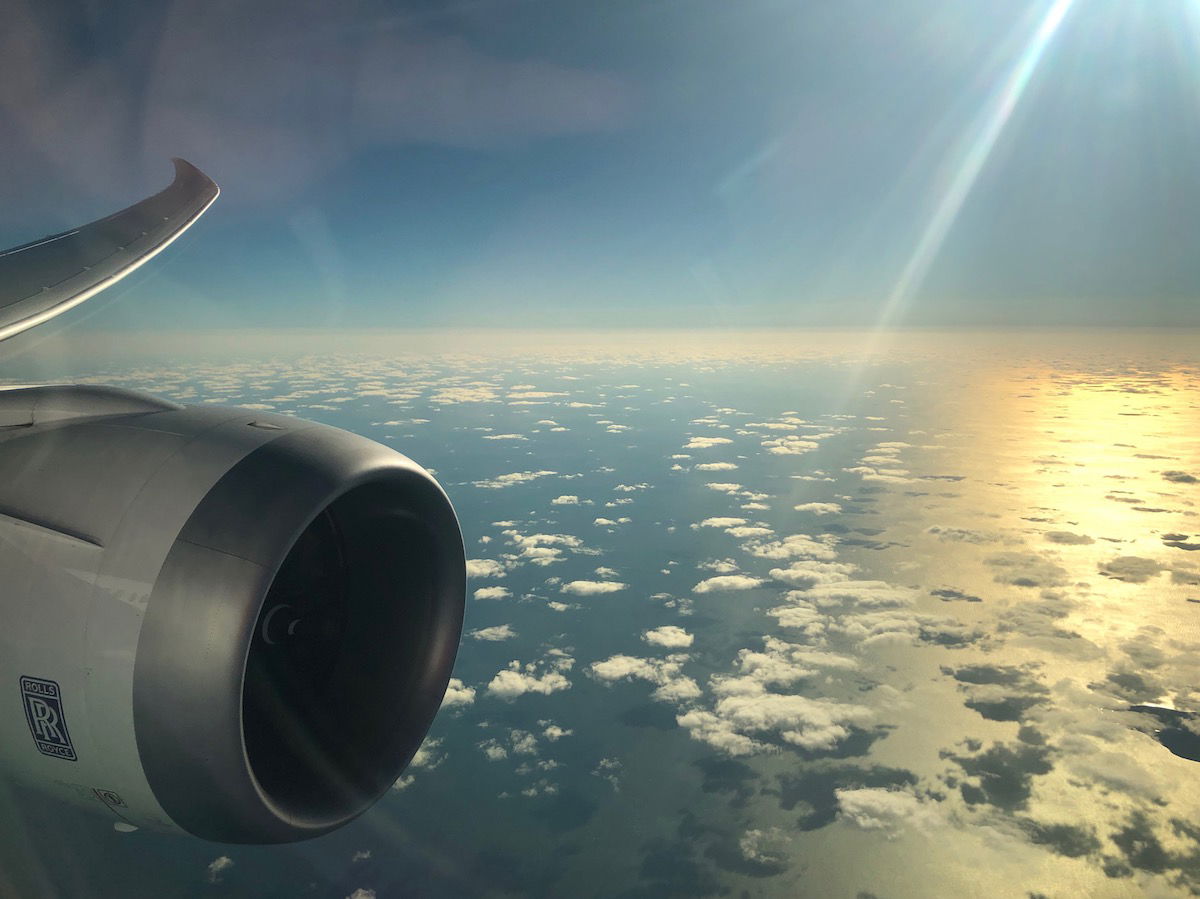 View enroute to New York
About 20 minutes before landing the seatbelt sign was turned on, and also around this time the crew came through the cabin to collect blankets. I'm not sure if this was for "safety" reasons, or simply to prevent people from stealing them.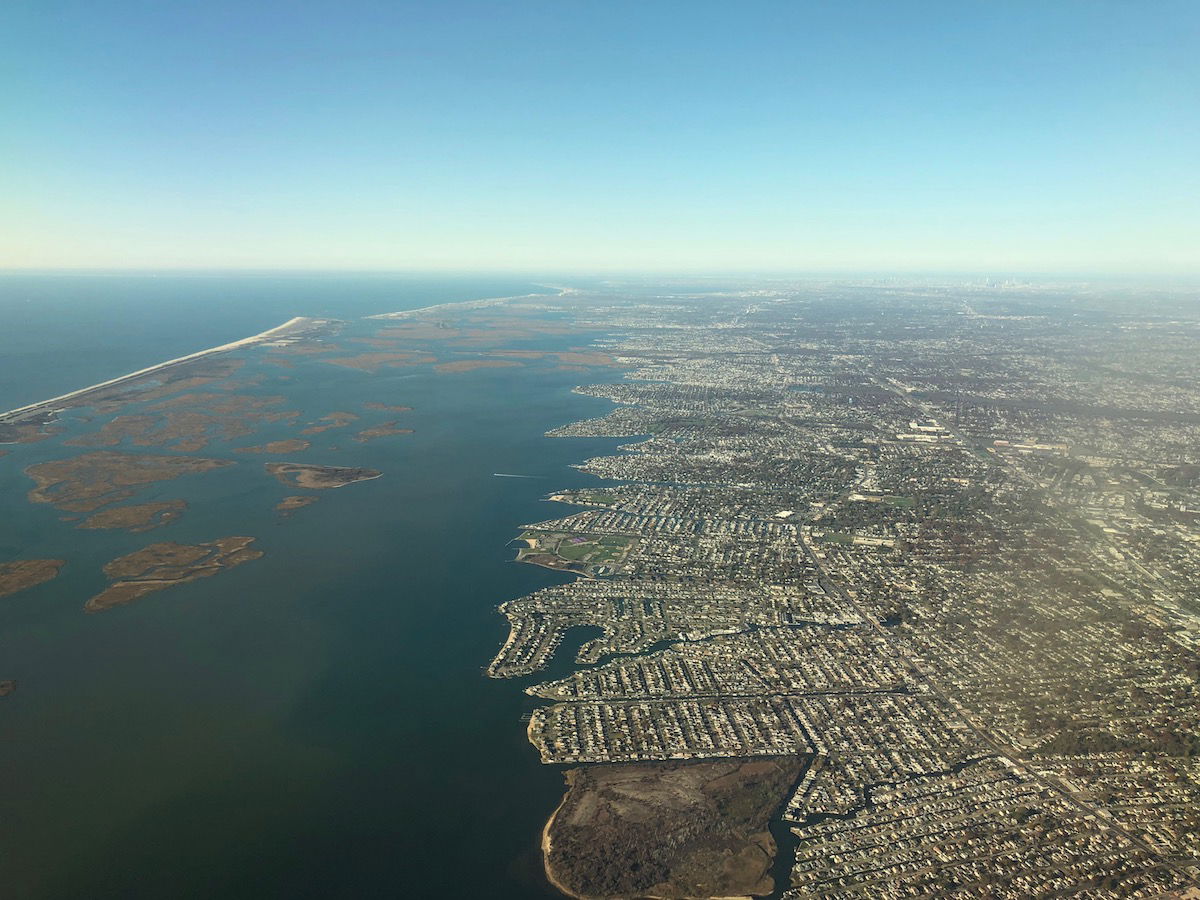 View approaching New York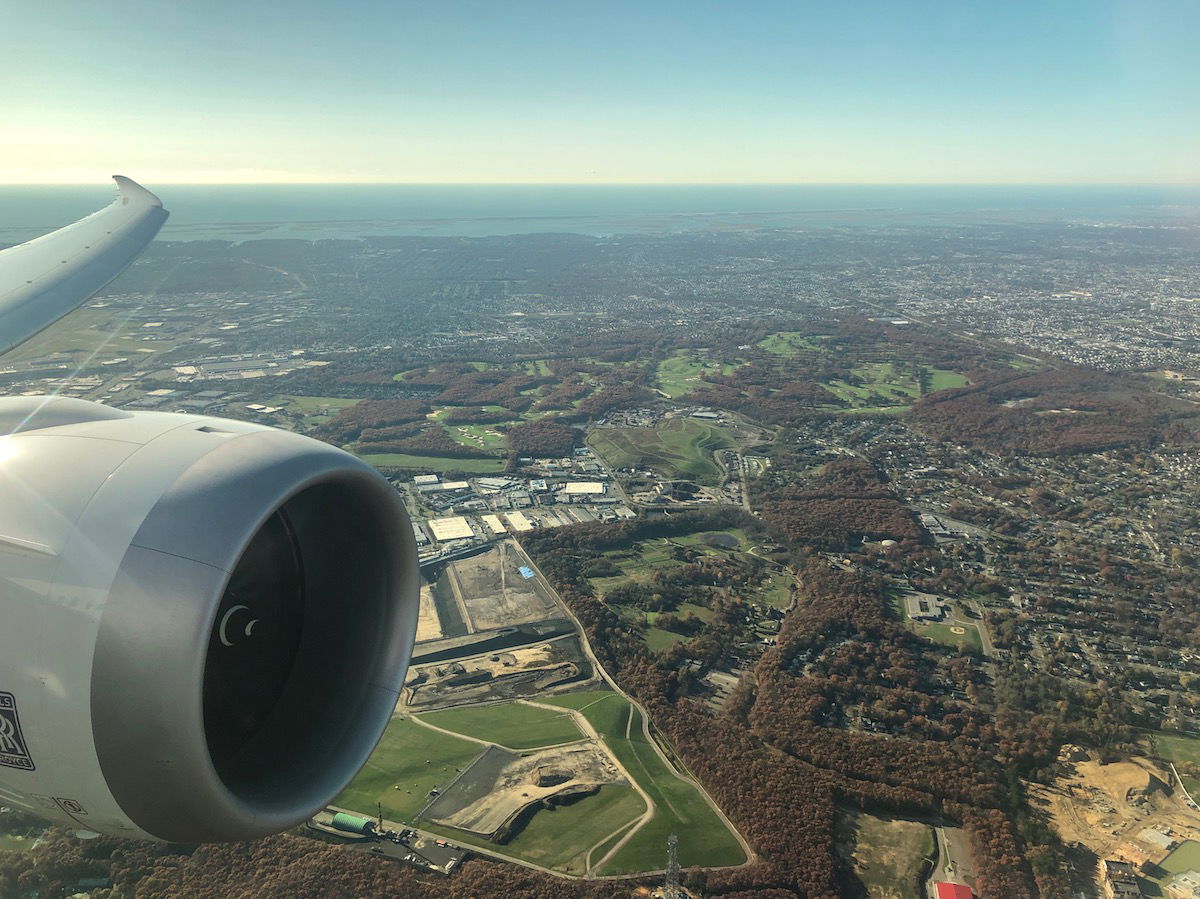 View approaching New York
Can anyone identify this airport?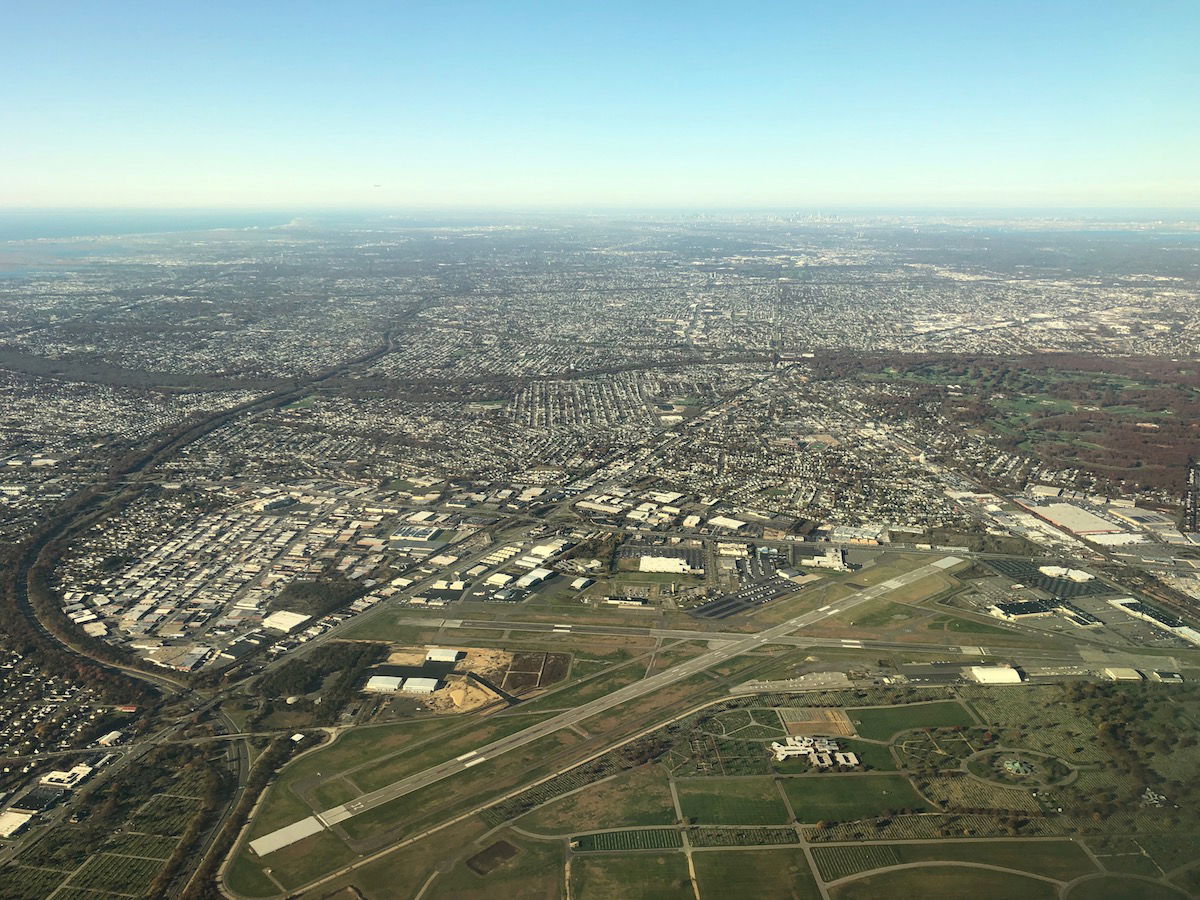 View approaching New York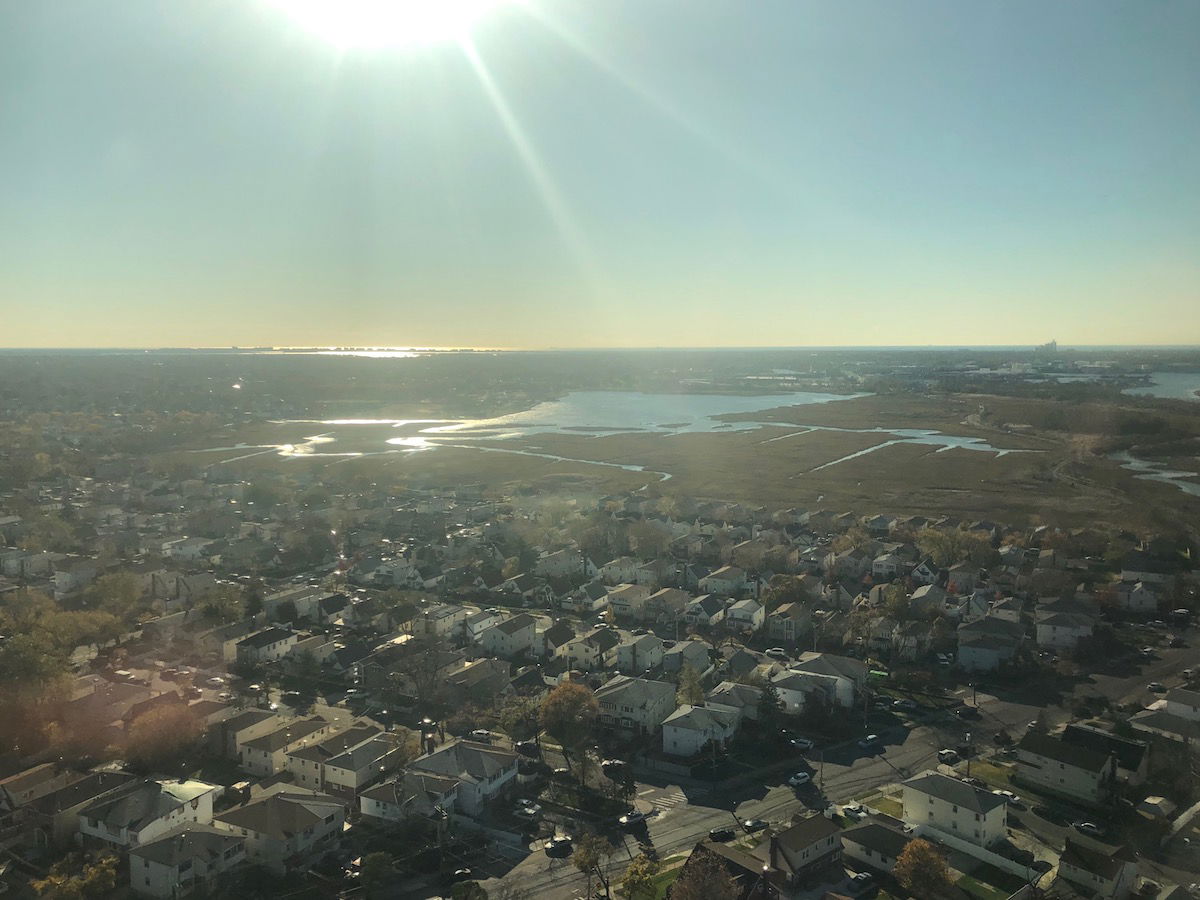 View approaching New York
Sure enough we touched down at 9:10AM, but from there it took 15 minutes until we were at our arrival stand at Terminal 1, as we had to be towed into our specific gate.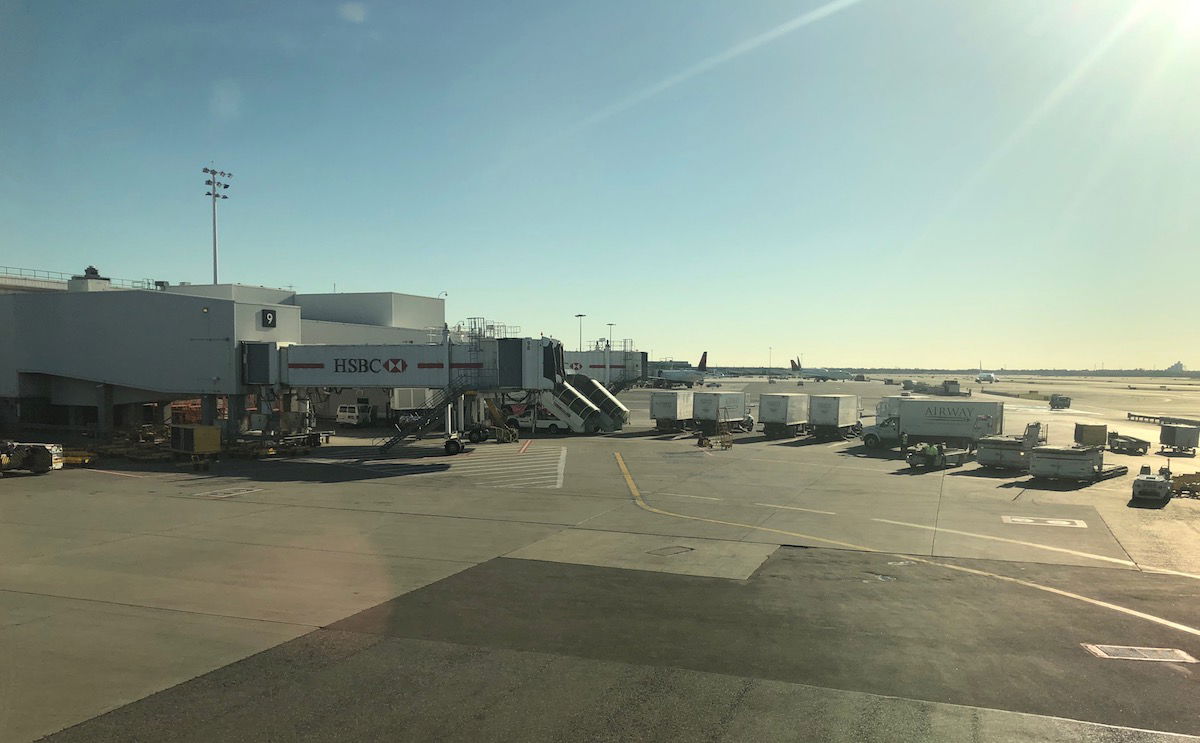 Arrival gate JFK
I was through Global Entry in no time.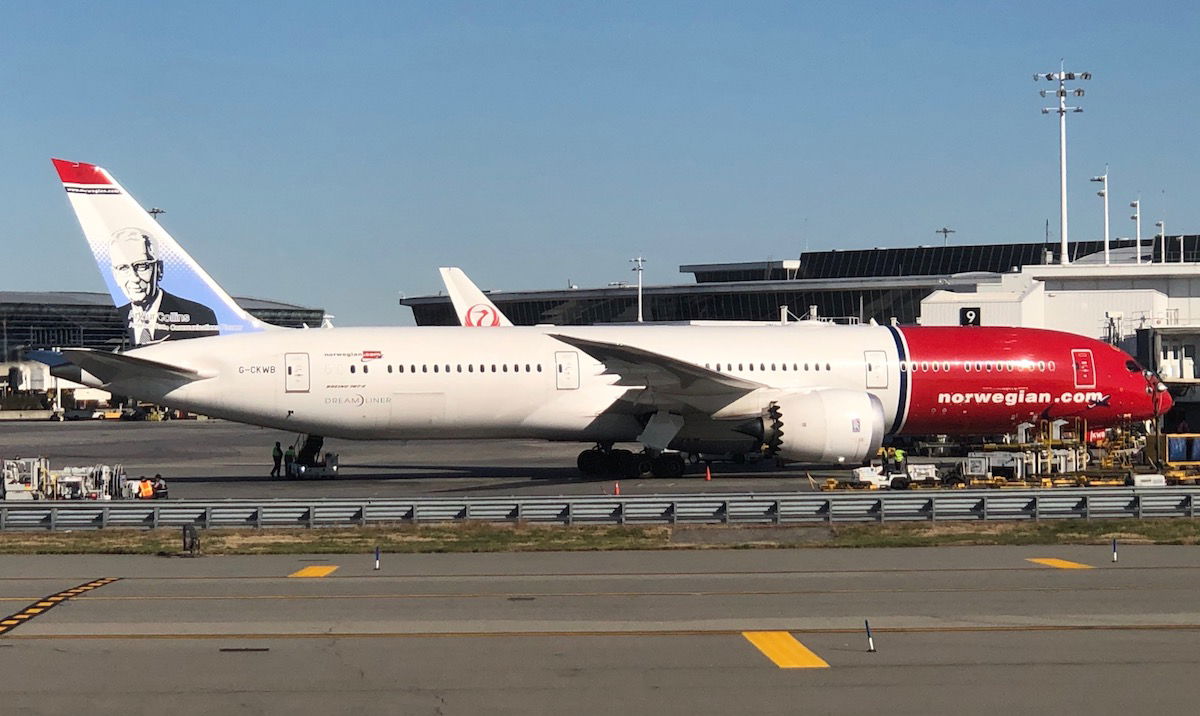 Norwegian 787-9 upon arrival in New York
Norwegian Premium bottom line
Norwegian has been a disruptive airline in the transatlantic market, and I'm glad I finally had the chance to fly with them.
All things considered, I was impressed by the experience. The crew was extremely friendly, the cabin felt fresh and modern, the seats were spacious, and the flight represented an excellent value.
The entertainment was also solid, and I'd say the food and drinks were about what I expected.
I will say that while the seats have more legroom than many other premium economy seats, I still didn't find them to be that comfortable. I thought they lacked padding, and also wish that the legrest extended out, rather than just moving up and down.
All things considered I'd fly Norwegian again in a heartbeat, at least on a daytime flight. I'd find it even more worthwhile to fly with them once they have Wi-Fi, which should hopefully be happening soon.
If you've flown Norwegian Premium, what was your experience like?