The newest transatlantic airline has just put flights on sale for travel as of this summer.
The basics of Norse Atlantic Airways
For those not familiar, Norse Atlantic Airways is a transatlantic airline startup that will be launching flights this year. The airline will operate a fleet of Boeing 787s from major European gateways to major gateways in the United States, using a low cost business model.
If the idea behind the airline sounds familiar, it's for good reason. This is exactly what Norwegian did, until Norwegian decided to cut its 787 fleet and focus on short haul flying, as the airline was on the verge of liquidation. For that matter, Norse is run by some former Norwegian executives, and the airline is even flying former Norwegian 787s.
It remains to be seen if Norse is more successful than Norwegian when it comes to long haul flying.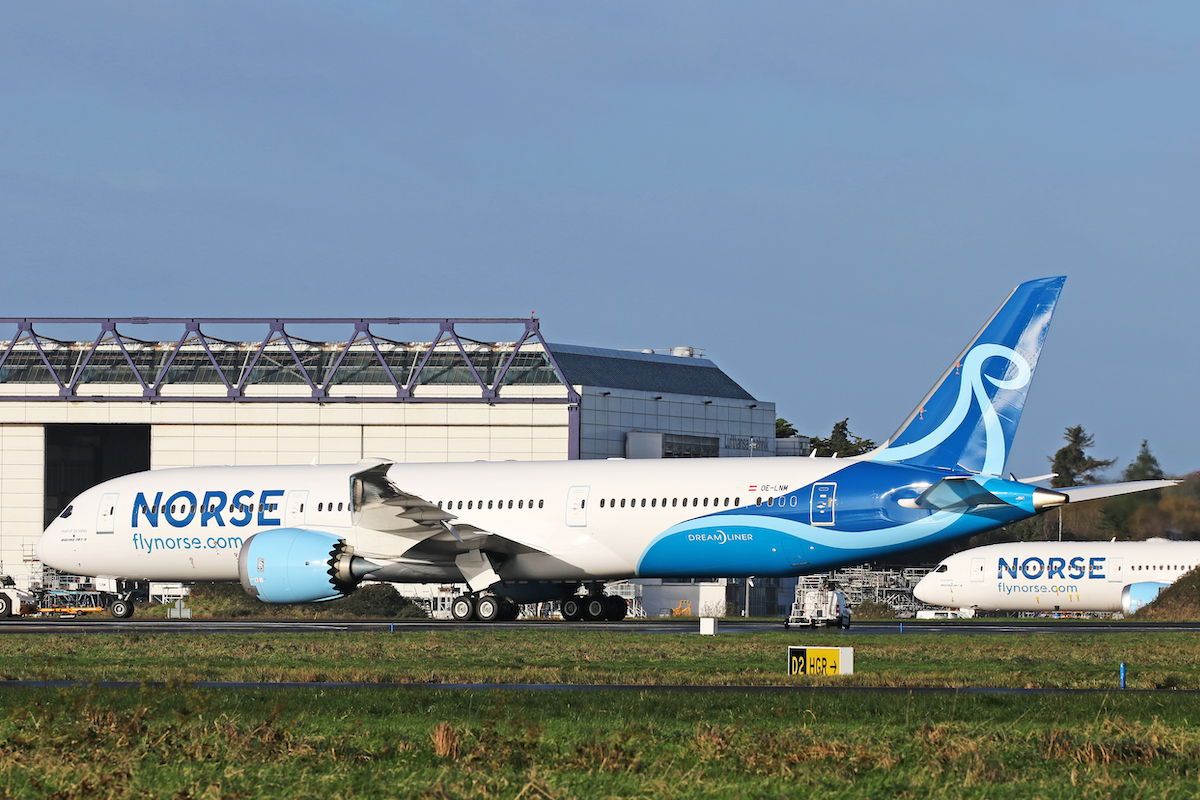 Norse Atlantic Airways' first routes & launch dates
Norse has slightly delayed its launch due to higher fuel prices and travel restrictions, but is finally ready to start selling tickets. Norse Atlantic Airways has put tickets on sale for travel between Oslo (OSL) and four airports in the United States, for travel as of the following dates:
Flights to New York (JFK) start as of June 14, 2022
Flights to Fort Lauderdale (FLL) start as of June 20, 2022
Flights to Los Angeles (LAX) start as of June 20, 2022
Flights to Orlando (MCO) start as of June 20, 2022
These are only the first routes, and you can expect many more routes to be added in the coming months. It's interesting to see that the airline will fly to more "premium" airports than initially planned. The initial plan was for Norse to fly to Stewart (SWF) rather than New York John F. Kennedy (JFK), and to fly to Ontario (ONT) rather than Los Angeles (LAX).
Norse Atlantic Airways fares
Norse tickets are now on sale at flynorse.com, and fares are attractive. Fares start at just $129 one-way based on booking roundtrip travel, which is pretty tough to beat.

Norse will offer both economy and premium economy (very similar to what Norwegian offered), and as you'd expect from an ultra low cost carrier, there are several different fare types. The basic fares just include one small bag that goes underneath your seat. You can expect to pay an extra $90 each way if you want a carry-on bag, a checked bag, and a meal.
And if you want to be able to select a seat, get priority boarding, and have your ticket be changeable or refundable, you'll have to pay an extra $270 each way over the base fare.

Premium economy fares are reasonable as well, and start at just $349 each way. These fares automatically include a carry-on bag, two meal services, premium boarding, and priority check-in. However, if you want a checked bag you'll pay $90 more, and if you want the ticket to be changeable plus an extra checked bag, you'll have to pay $270 more.

Bottom line
Norse Atlantic Airways has just put flights on sale for travel as of this summer. The airline will initially fly from Oslo to four destinations in the United States using Boeing 787s. The introductory fares are reasonable, though as is standard with ultra low cost carriers, expect that you'll have to pay a lot more for any "frills" (bags, food, etc.).
There's no denying that Norse will be fantastic for consumers, especially with the increases in airfare we've seen lately. I do question the viability of this business model, given that ultra low cost long haul airlines don't exactly have a great track record. At least Norse has a lower cost structure than Norwegian did, so hopefully the airline can use that to its advantage.
What do you make of Norse's initial routes and fares?