TAM is an airline that I've always thought has a pretty cool looking first class product, though up until recently was completely unattainable on miles. Up until last month I don't think I saw a single first class award seat available to partner airlines ever. So as far as I was concerned they'd join my beloved Transaero as the two airlines I'd never have the chance to fly in first class.
That all changed in early February, when, for whatever reason, TAM opened up a ton of first class award space. Overnight they went from not releasing any first class award space whatsoever, to releasing virtually every available first class seat into award inventory.
My assumption was that this was some huge glitch, similar to the Singapore Airlines first & business class award glitch in July of 2012, or the Lufthansa first class award glitch between Toronto and Munich in November of 2013.
Much to my surprise TAM is still releasing a ton of first class award space, for reasons I can't quite wrap my head around.
Almost every flight with seats for sale has award seats remaining, and in many cases all seats in the cabin are available for awards (keep in mind TAM's first class cabins have just four seats, which is the smallest of any airline I know of).
I mean, I've shared award reimbursement rates between airlines in the past, and they don't give airlines much of an incentive to release premium cabin award space, to put it lightly. So at this point I'm not sure what to think — whether it's a glitch or intentional.
Anyway, I couldn't pass on the opportunity to try TAM first class, so later this week I'll be taking it for a ride.
What did I end up booking?
Outbound: Korean Air 777-300ER First Class Los Angeles to Sao Paulo
Cost: 70,000 Korean Air SkyPass miles + $120.90 taxes/fuel surcharges

Last month I flew Korean Air A380 first class from Seoul Incheon to Los Angeles. I was blown away by their product. I always assumed Korean Air was style over substance, but the soft product was one of the best I've had on any airline.
The hard product was solid as well, though definitely not cutting edge.
Anyway, one of Korean Air's more interesting "fifth freedom" routes is Los Angeles to Sao Paulo, which they operate on a 777-300ER.
What makes this route so awesome?
Korean Air (probably) offers the best first class product between the US and South America. For the most part airlines flying between the US and South America are pretty lackluster, so I'm fairly certain this is the best first class product flying between the US and South America. Of course the only way to find out for sure is to test it!
First class award space on the route is phenomenal. Korean Air SkyPass fairly consistently releases 2-3 first class award seats per flight on this route.
Korean Air SkyPass is a Chase Ultimate Rewards transfer partner. Chase Ultimate Rewards points are one of the easiest credit card points currencies for US based members to rack up.
Korean Air SkyPass has very reasonable redemption rates between Los Angeles and Sao Paulo. They charge just 70,000 SkyPass miles for a one-way in first class, which is pretty darn good given what a great product it is and how great award availability is.
So I'm very excited to fly Korean Air again, not only to make sure that my great flight on them wasn't a one off, but also to compare the 777-300ER to the A380. Now I assume there won't be quite as many amenities as on the A380 (given that Korean Air's A380 configuration is the most spacious of any airline), but if the seat, food, and service rival what I had on my A380 flight, I'll be one hell of a happy camper.
Check out my post on redeeming Korean Air SkyPass miles for more information on the booking process. For what it's worth I ticketed this award online, so I'll be writing a tutorial on how to do that shortly.
Return (Part 1): TAM 777-300ER First Class Sao Paulo to New York
Cost: 62,500 American AAdvantage miles + $90.40 taxes
TAM is in a unique situation in that they're leaving the Star Alliance on March 30 and joining OneWorld on March 31, 2014, as a result of their merger with LAN.
Right now you can still redeem Star Alliance miles (such as United, US Airways, and Aeroplan) for travel on TAM given that they're still in that alliance, though as of last year it's also possible to redeem American AAdvantage miles for travel on TAM.
So I decided to redeem American miles since they charge just 62,500 AAdvantage miles for a one-way first class ticket. The added benefit is that they allow a stopover at the North American gateway city on an award, which brings me to my favorite North American fifth freedom route…
Return (Part 2): Cathay Pacific 777-300ER First Class New York to Vancouver
Cost: 62,500 American AAdvantage miles + $90.40 taxes
I love the fact that Cathay Pacific flies between New York and Vancouver. And I love how close Seattle is to Vancouver. And I love how American lets you do a stopover at the North American gateway city on a one-way award.
So I'll be flying from Sao Paulo to New York, stopping over, and then continuing from New York to Vancouver a few days later in Cathay Pacific first class. I've flown the route before and sure enjoyed it.

Cathay Pacific 777-300ER first class
It's hands down the most comfortable flight within North America, and the only one that serves Krug, for that matter.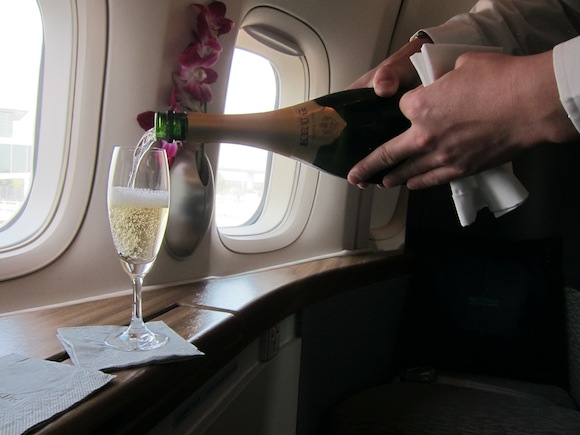 Krug in Cathay Pacific first class
Bottom line
While I've flown Korean Air first class just recently, I hope it will be an interesting review nonetheless. It will allow me to compare the 777-300ER and A380 hard product, and see if the catering and service are as good on this flight as on the last one. Furthermore, I think it's a really unique fifth freedom route.
TAM I'm excited about for obvious reasons. Up until now it has been the "forbidden fruit," so I'm excited to try it regardless of how the product is (much like I was excited to try China Southern, and we saw how that turned out).
And Cathay Pacific I'm excited to fly again, because, well, they're Cathay Pacific. Hopefully I get one of their 777s with the refreshed first class cabin.
Stay tuned for updates a bit later this week, and safe travels to everyone!
(In the interest of full disclosure, I earn a referral bonus for anyone approved through some of the above links. Thanks for your support!)