Update: As of August 25th, 2018, Korean Air SkyPass is no longer a Chase Ultimate Rewards transfer partner.
If you're only used to booking award tickets through US programs, you'll be surprised by how different the process of booking a Korean Air SkyPass award is.
Why would you want to redeem SkyPass miles?
As I mentioned in the introduction to this trip report, the usefulness of redeeming through Korean Air SkyPass has increased drastically. That's because probably the best personal credit card and best small business credit cards accrue Chase Ultimate Rewards points, which can be transferred at a 1:1 ratio to Korean Air SkyPass.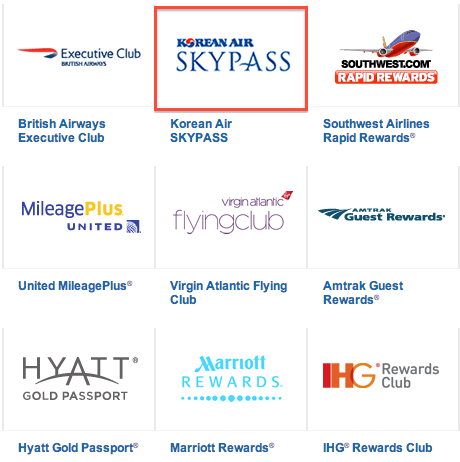 One of the best uses of Chase points has traditionally been in making transfers to United MileagePlus. As United devalued their award chart recently they are no longer the single most compelling transfer partner (though there are still some great uses of United miles).
Because the MileagePlus program has been so lucrative, the other transfer partners of Ultimate Rewards haven't received as much attention, which has naturally led to many questioning if Ultimate Rewards cards are even worth it anymore.
I still think there is a ton of value to be found in Ultimate Rewards points, partly because they are so easy to accrue, and there actually some really interesting redemption options outside of United.
One of those is through Korean Air SkyPass transfers. What makes Korean Air SkyPass such a unique program is that they allow you to redeem miles for first class on SkyTeam carriers, while those with Delta SkyMiles can redeem miles for business class at most.
As a result, award availability in first class is typically spectacular, since there aren't nearly as many people competing for those few available award seats.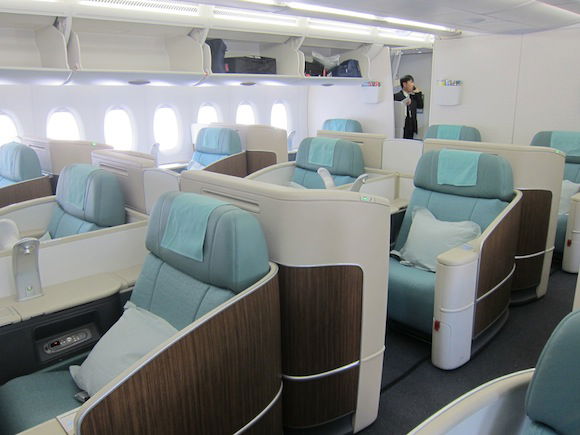 Basics of redeeming Korean Air SkyPass miles for travel on Korean Air:
The italics are important here, as Korean Air SkyPass has different rules on award tickets based on whether you're traveling exclusively on Korean Air, or traveling on a combination of Korean Air and their SkyTeam partners.
One-way awards are permitted for half the mileage of a roundtrip award
In addition to the destination you're allowed one stopover on a one-way award, or two stopovers on a roundtrip award (one in each direction)
Since award tickets are basically booked as "one ways," you can also have an open jaw at the turnaround point
Korean Air has "peak season," so additional miles will be required if traveling during the those dates (the peak season dates can be found below)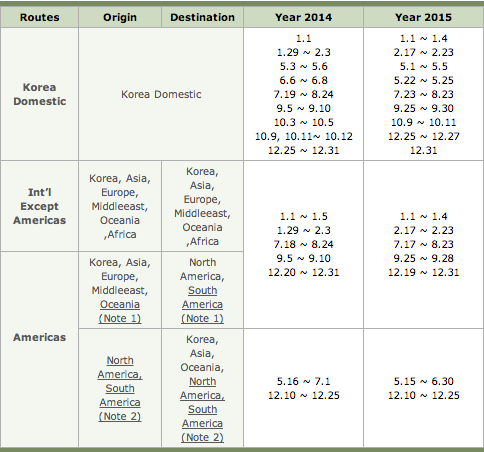 Korean Air has a horrible website in that you can't link directly to a page of the site, since it all just shows as koreanair.com for the URL. That being said, if you go to koreanair.com and click on the "SkyPass" tab, then "Redeem Miles," and then "Award Tickets," you'll be brought to the Korean Air award chart.
It's worth noting that they do have a slight award chart change kicking in on April 1, 2014, though it's nothing radical for US based travelers.
Just to give you an idea of their mileage levels, here's how many miles are required one-way in non-peak season for travel in Korean Air first class:
North America to Korea, Japan, China, or Northeast Asia: 80,000 miles
North America to Southeast Asia: 95,000 miles
North America to Southwest Asia: 105,000 miles
North America to Oceania: 120,000 miles
North America to South America: 70,000 miles
Basics of redeeming Korean Air SkyPass miles for travel on SkyTeam partner airlines:
Redeeming SkyPass miles for travel on Korean Air's partners is a whole different game. If you are redeeming Korean Air SkyPass miles for travel on a combination of Korean Air and SkyTeam partners, or exclusively on SkyTeam partners, the rules are as follows:
Partner awards must be booked for roundtrip travel
In addition to the destination you're allowed two stopovers on a partner award (one in each direction)
You can mix SkyTeam carriers on an award, including Korean Air
The nations of departure and arrival cities must be identical (meaning you can do an open jaw between New York and Los Angeles, for example, but not between New York and Toronto)
The mileage cost of the highest class of service flown will apply for the entire roundtrip journey (so if one direction is in business class and one in first class, you'd still pay the roundtrip first class price)
There's no "peak season" award chart for travel on partner airlines, so you pay the off-peak price assuming you can find flights with award space (however, if you include a Korean Air segment during their peak pricing season, then the higher peak season pricing would apply)
Here's the SkyPass award chart for travel on SkyTeam partner carriers: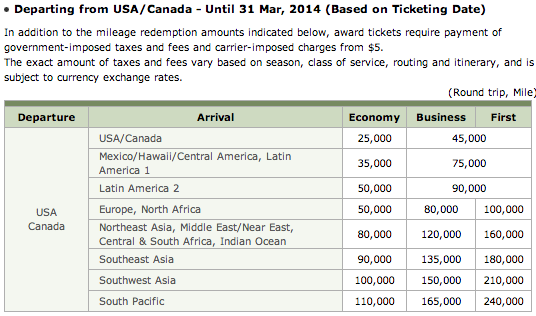 Since I'm sure someone will ask, note that you can't redeem Korean Air SkyPass miles for travel in Air France first class. I know the 100,000 mile roundtrip first class award between the US and Europe sounds tempting, but there aren't actually any airlines you can redeem miles on at that cost.
Basics of redeeming Korean Air SkyPass miles for travel on non-SkyTeam partner airlines:
Note that the rules and costs for redeeming miles on SkyTeam partners are totally different than the rules and costs for redeeming miles on their non-SkyTeam partners. Korean Air SkyPass partners with the following non-SkyTeam airlines:
For awards on non-SkyTeam partner airlines:
Roundtrip travel is required
Each partner carrier has a different award chart
You are not allowed to mix carriers on an award
To put this into perspective a bit, here are the award charts for travel on these airlines: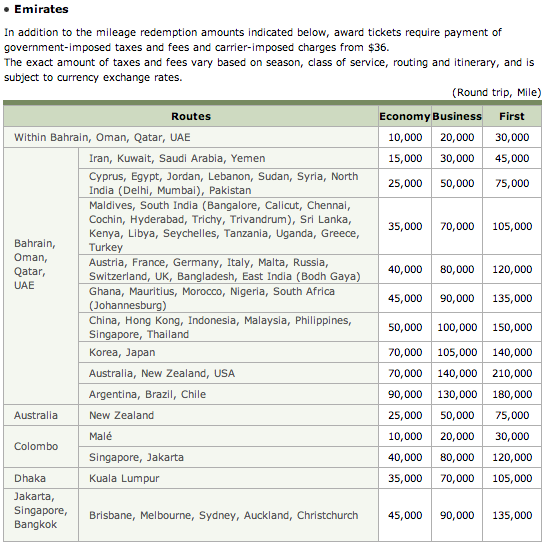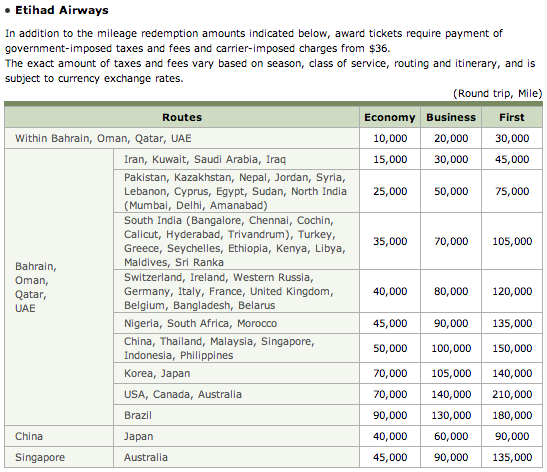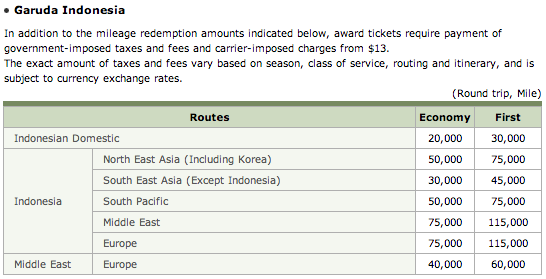 In most cases those don't represent amazing values, though it's definitely at least worth knowing about your options.
How to find Korean Air SkyPass award availability:
For this trip, I knew going in that I really wanted to fly Korean Air and China Southern A380 first class, since those are the two airlines on which I hadn't yet flown the A380.
Searching for award space in first class on both carriers is really easy if using ExpertFlyer. Both airlines show up under the "Award & Upgrade Availability Search" page, so you just select the route, dates, and fare class (for China Southern you'll want to select "P" for first class, and for Korean Air you'll want to select "A" for first class). You can always search availability plus or minus three days at a time, meaning you can easily search space for a week at a time.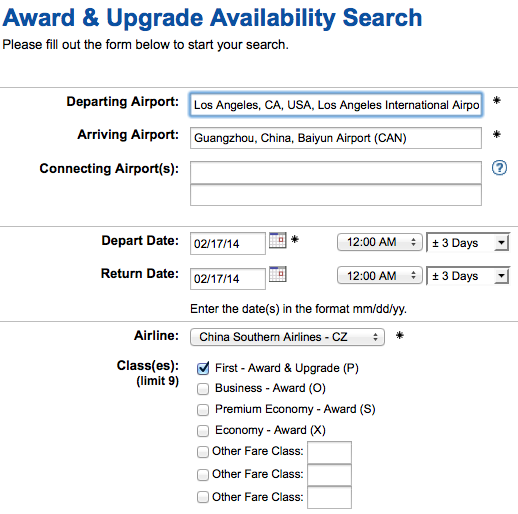 For China Southern's route between Los Angeles and Guangzhou, they typically release two first class award seats per flight when the schedule opens, and often more as the departure date approaches.


Korean Air releases an almost obscene amount of first class award seats, whether you're booking far in advance or close to departure. It's not unusual to see 3-4 first class award seats per flight. For example, picking some random dates later this year, New York > Seoul has 3-4 first class award seats per flight:

While Los Angeles > Seoul has three award seats per flight:

Sometimes close to departure award space is even better than that. For example, take a look at the six first class award seats on an A380 flying from Los Angeles to Seoul next week:

The Korean Air SkyPass award ticketing process:
The process of booking a Korean Air SkyPass award is much different than booking an award through a US program. You don't just get to call up and issue the ticket immediately. Instead the process is as follows:
Step 1: Place the ticket you want on a courtesy hold. Korean Air will let you place an award ticket on hold for up to five days. You must hold the SkyPass award ticket by phone.
If you're in the US, the Korean Air SkyPass phone number is (800) 438-5000. Any reservations agent can help you place the ticket on hold.
For what it's worth, I found a lot of the agents had no clue what I was talking about when I said "award ticket" or "reward ticket," but when I used the term "bonus ticket" they all understood me.
When you hold the ticket be sure you tell them that you'll be transferring points from Chase Ultimate Rewards once the ticket is on hold.
Step 2: Complete the SkyPass Family Mileage Pooling Plan/Bonus Award Application. In order to book an award ticket you have to complete an application, in which you include all your personal information. You must also attach a copy of your passport.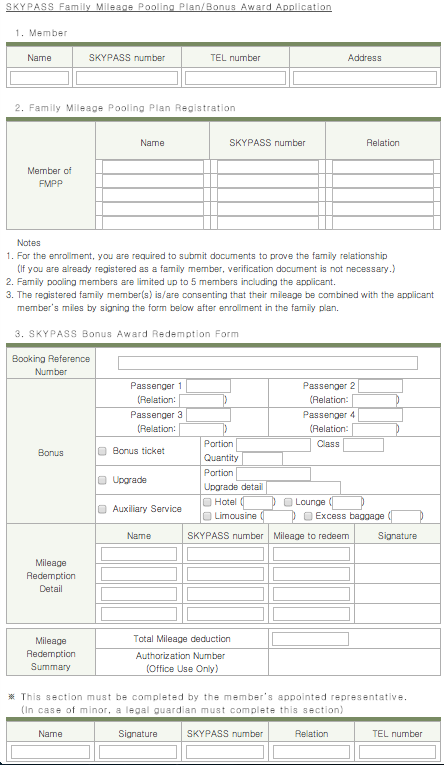 It's worth noting one of the single biggest caveats of Korean Air SkyPass awards is that you can only book award tickets for family members.
If your award ticket is for a family member then you have to submit documentation proving your relationship. That's right, you can't redeem your SkyPass miles for a boyfriend, girlfriend, unmarried partner, or any other relation not included in their chart: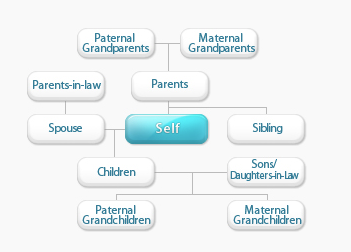 Once you complete the form and have the required documentation, you can email it to engskypass — at — koreanair.com.
Step 3: Call to issue your SkyPass ticket. There are two ways to go about this. One, you can wait for SkyPass to call you, though I wouldn't necessarily count on that happening.
The other option is to call them once you submit your information via email. The reservations agent will go into their email inbox to confirm that they received your email, and then transfer you to a SkyPass agent that will take down your credit card information and issue your ticket.
I'm not even joking.
In the end, my roundtrip award ticket cost 160,000 SkyPass miles plus about $400 in taxes and fuel surcharges. It's worth noting that Korean Air does pass on fuel surcharges on award tickets, though to Asia they're usually quite mild. For example, here's the cost breakdown for my ticket to Asia: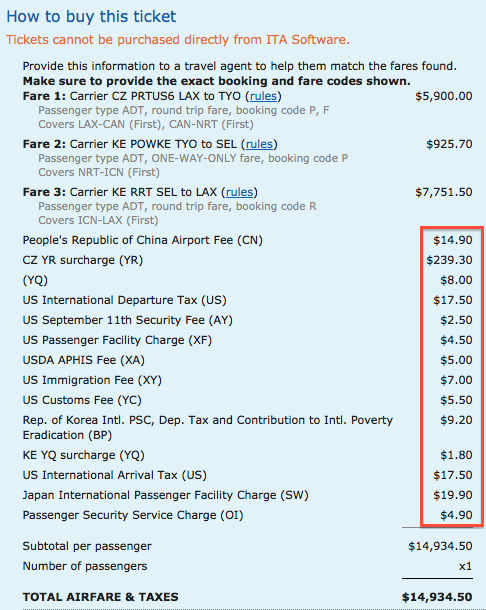 The taxes and fuel surcharges in the red box are what I had to pay. Not bad for a ticket that would have retailed for ~$15,000!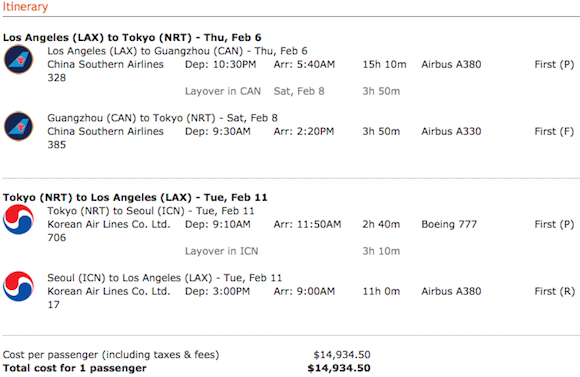 Booking Korean Air SkyPass awards online:
I should add one slight caveat to the above. You can search and book Korean Air awards (though not partner awards) directly through Korean Air's website, though it requires you to have enough miles for the award in your account. Partner airlines aren't bookable on Korean Air's website no matter what, though. Generally I still prefer booking by phone so I can hold the reservation, then transfer points, and then issue the ticket.
Bottom line:
Korean Air has incredible first class award space. Not to spoil the rest of the trip report, though I've hinted at it enough with my China Southern Los Angeles to Guangzhou summary and my Korean Air Seoul Incheon to Los Angeles summary — Korean Air's A380 first class is a world class product.
And with their award rates, amazing amount of availability, and how easy it is to rack up Ultimate Rewards points, they're an amazing option for travel to Asia. At 80,000 miles one-way with a stopover allowed, that's pretty tough to beat!