My parents and I flew to New York the last weekend of July for my brother's engagement and needed to stay in a hotel for two nights. I've come to love Andaz hotels in general, so in New York the two most practical options were the Andaz 5th Avenue and the Andaz Wall Street. The Andaz Wall Street was only $190 per night plus tax, while the Andaz 5th Avenue was $230 per night plus tax. Both are phenomenal deals.
If it were just me I would have gone with the Andaz Wall Street given the price difference, though my mom preferred a midtown location, so we went with the 5th Avenue location.
Like I said the rate was $230 per night plus tax, and I was able to apply a confirmed Diamond suite upgrade, so it was a great value. A quick tip, for those of you not too savvy with Hyatt. When I first booked there was no suite available, though closer to my arrival date a suite opened up, so keep checking back. Much like a sold out flight that has space open up last minute, the same applies to hotels, be it suite upgrades, rooms on points, cash and points through Starwood, etc.
As some of you may recall I stayed at the Andaz 5th Avenue in April and had an… interesting stay. I'd like to think my expectations as an elite member are reasonable, though I was literally assigned the worst room in the hotel. That was the first time it had ever happened to me, so I did share feedback with the "host" immediately upon checking in, and he insisted they were sold out. Fair enough, though he admitted they had upgraded non-elites ahead of Diamond members based on check-in time, which is a big no-no, in my opinion. After a few minutes he upgraded me to a massive two bedroom suite, which was totally awesome yet over the top.
So in the end I was pleased, though obviously that upgrade to a $3,000+/night room wasn't a good basis on which to judge a hotel. I was curious how this stay would compare, and simply put, this stay was flawless from the moment we checked in.
At check-in I was warmly welcomed back. The "host" explained to me the Diamond benefits and gave me the keys to room 1412, a suite on the top floor.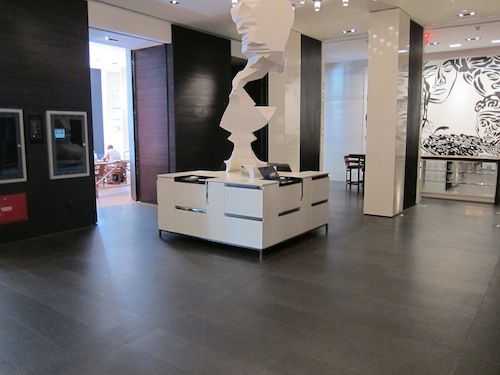 Lobby
I was curious if this would be a real suite or just a very large executive room, and was pleased to find that it was in fact a "real" suite.
Upon entering was a decent sized living room with a couch, chair, and a desk with two chairs. I love the design, which is very minimalistic, which I realize isn't everyone's style.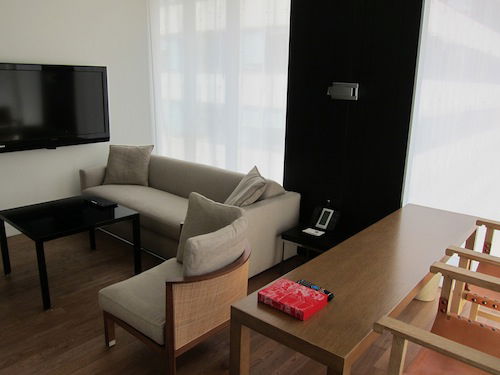 Living room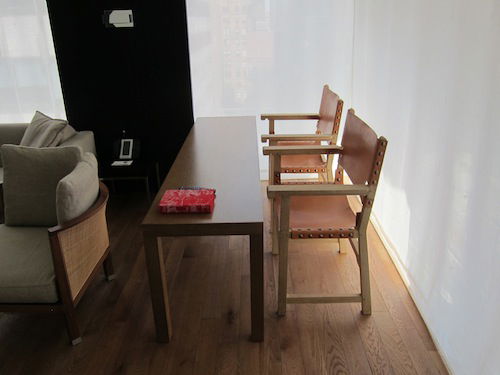 Desk
In the living room was a full sized fridge, microwave, and serving area. One of the nice things about Andaz hotels is that the soft drinks and snacks are complimentary for everyone. It's a little touch that makes a big difference, and one of the things that sets Andaz hotels apart.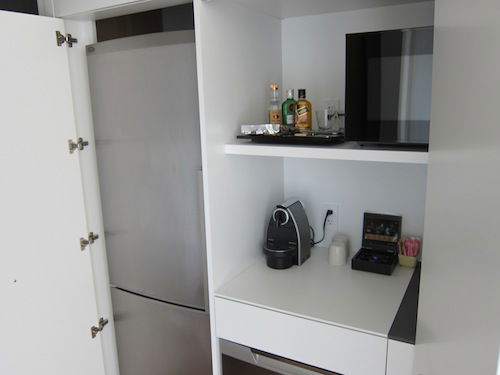 Fridge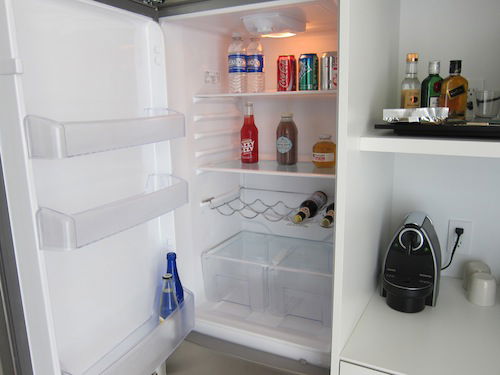 Fridge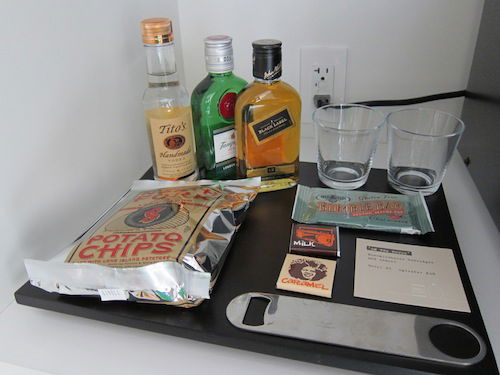 Alcohol and snacks
Also connected to the living room was a balcony with views of 41st street and the public library.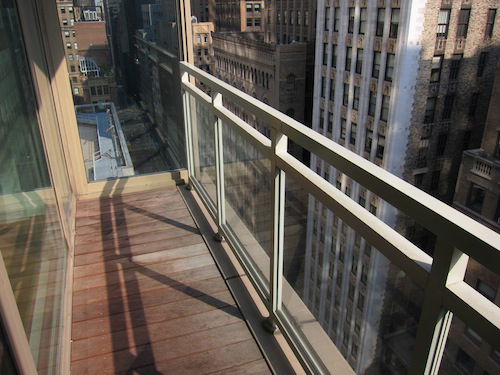 Balcony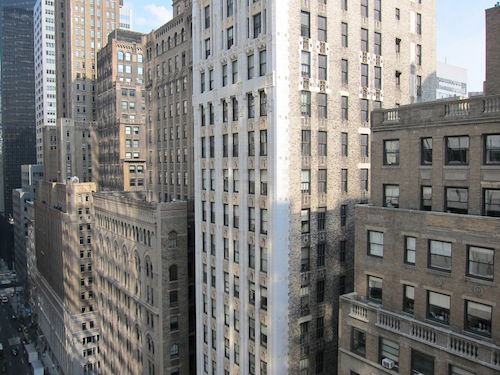 View from balcony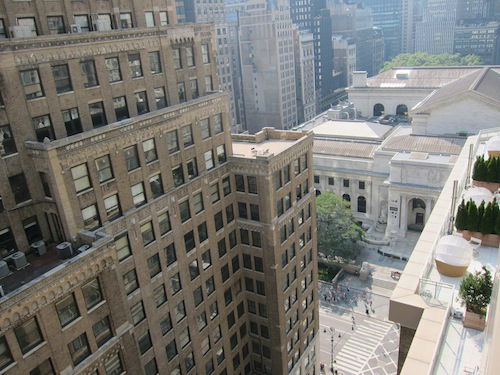 View from balcony
What I loved about the suite was how well divided the two rooms were. The living room had a door which led to the bedroom, and then you had to turn and walk down a small hallway to get to the bedroom and bathroom. So there was great separation between the two rooms.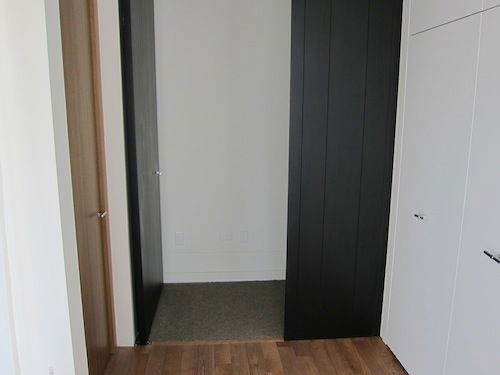 Door separating two rooms
The bedroom featured a super-comfortable king sized bed and huge flat screen TV.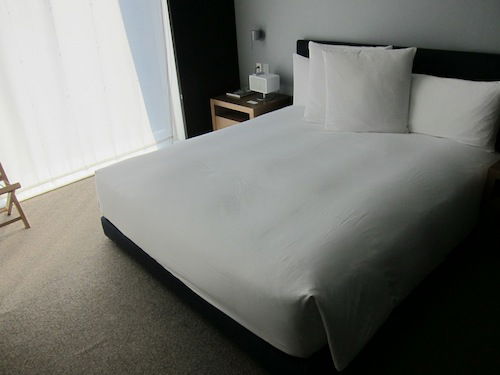 Bed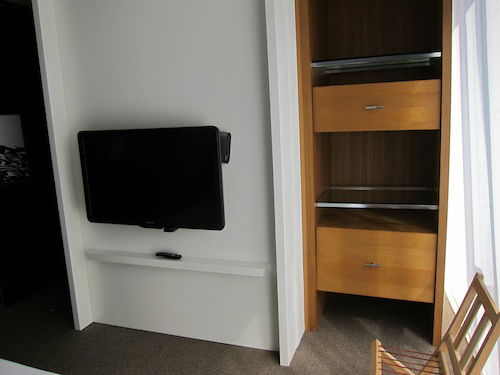 TV in bedroom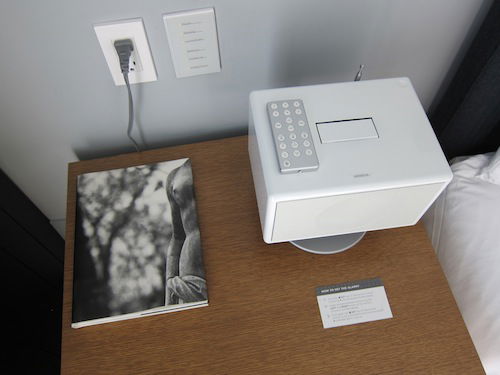 Nightstand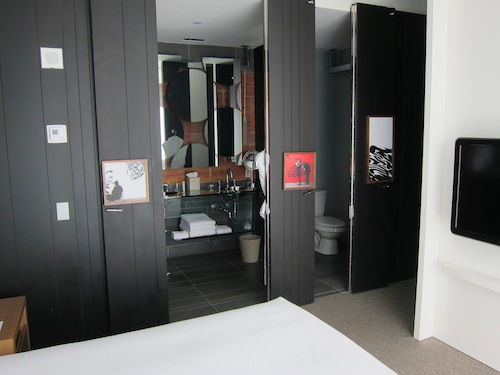 View of bathroom from bedroom
That led to the bathroom, which featured a walk-in shower, two sinks, and partitioned off toilet.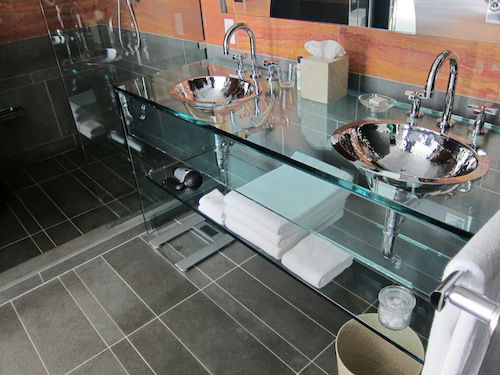 Sinks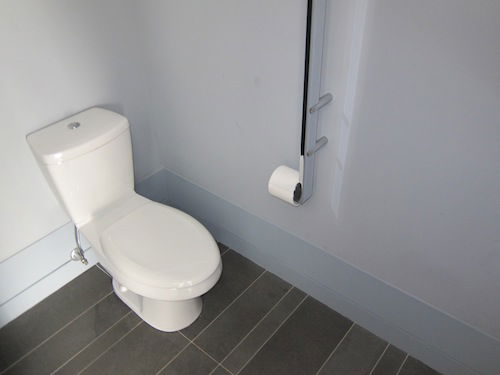 Toilet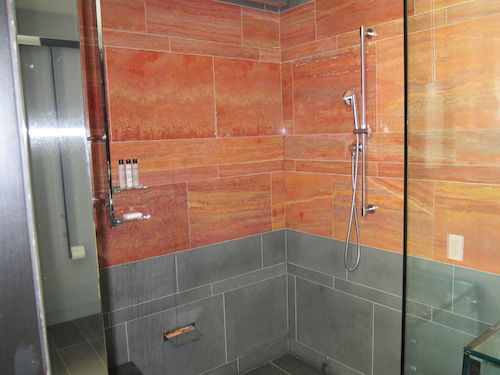 Shower
The shower is very high tech with several knobs and water flowing out of three different faucets.
One of the other great things about the Andaz 5th Avenue is that they allow Diamond members to have their complimentary breakfast via room service, and don't impose any sort of limit on what you can order.
We ordered orange juice and coffee, and then my mom ordered a spinach omelet with multi-grain toast and I ordered their famous lemon poppy seed pancakes and an order of berries. The service was prompt, friendly, and food quality was top notch.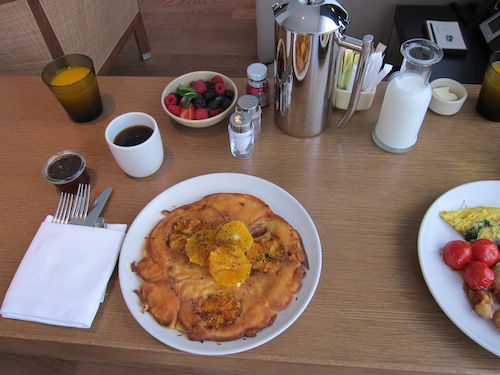 Lemon poppy seed pancakes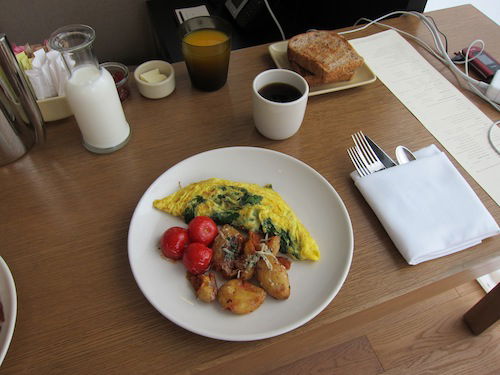 Spinach omelet
But what really set the stay apart for me was the consistent friendliness and professionalism of the "hosts" (Andaz's version of front desk agents). For example, we were trying to get a cab at 6:30PM on a Friday night. If you've ever been to New York and tried to hail a cab at that time, you'll know it's very tough to get a cab since it's a generally busy time of the night and there's also a taxi shift change right around then.
The host offered the hotel car, which would have been $45, for what would be a $10 cab ride (at most). We refused, yet the host offered to try and hail a cab. While it took a while, he did eventually hail one down for us and couldn't have been more gracious in the whole encounter. When we got back to the hotel he welcomed us back and asked how our evening was.
To sum it up, back when the Andaz brand was introduced I was really skeptical of it. I felt the hosts lacked training, which is understandable for a brand that new. Funny enough, my first stays at all the Andaz hotels I've been to (West Hollywood, Wall Street, and 5th Avenue) were sub-par. However, in the meantime I feel like they really ironed out the service issues and are among my favorite hotels.
Where will I stay the next time I'm in New York? I'm thinking if I'm just booking a regular room without using a confirmed suite upgrade I'll go to the Wall Street hotel, as they regularly upgrade Diamond members to their "XL" rooms, while the Andaz 5th Avenue isn't quite as good with "free" elite upgrades. If I'm using a suite upgrade, however, I'll likely stay at the 5th Avenue hotel. Then again, I had a great suite stay at the Andaz Wall Street last time I was there. So I guess I love 'em both. The thing I take away from this is that for me, the two Andaz hotels in New York are the place to stay, based on value, elite benefits, and the quality of the hotels themselves.