I typically feel like I have a good "sense" as to which airlines release award space, and how often, so had pretty much written off TAM as an airline I'd never be able to fly. TAM has a great new first class product on their 777-300ER with just four seats in a 1-2-1 configuration.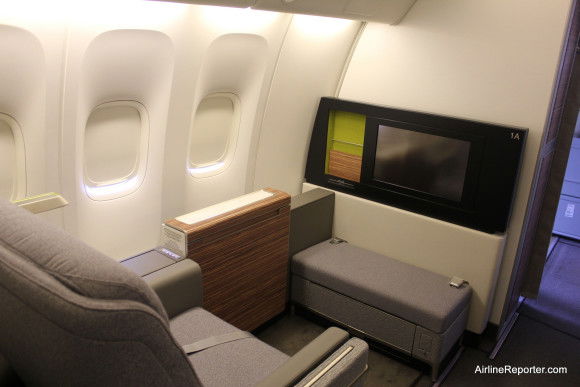 I have never seen TAM release first class award space.
In fact, I'd gone so far as to tell a friend of mine that if he ever saw first class award space on TAM, I'd book it for him.
Well, as usually happens when I make bets, this is going to end up being expensive for me, because TAM has released an unreal amount of award space to their partner airlines, at least to their US destinations!
In looking at award availability, there seems to be tons of space available between New York or Miami and Sao Paulo, and beginning mid-February there is at least one seat nearly every day through the end of the schedule.

There's even first class award space to Brazil for Carnival, and it should be relatively easy to get a flight between Sao Paulo and Rio de Janeiro. There is also sporadic availability around the World Cup, so if you're looking to book flights to Brazil and haven't, this is probably your best chance.

Similarly, there is an unheard of amount of space between New York and Sao Paulo the week of Christmas, which is convenient if you're considering South America over New Years.

Interestingly, TAM operates multiple frequencies from both New York and Miami, and in both cases one flight a day has plentiful award space, while the other has significantly less. If you don't live in Miami you'll likely need to look at overnighting in order to take advantage of this flight, while the New York flight is timed better for connections.


If you are going to take advantage of this space, it's worth noting that one of the New York frequencies has an equipment change from the 777-300 to the A330 between September 7th and November 1st, though award space is still great.

There's also plenty of availability on the return route as well, which will come in handy for those who are looking for more than just positioning flights to Brazil. 😉
TAM is a current member of the Star Alliance, so you can book these flights using any Star Alliance miles, such as United MileagePlus, Air Canada Aeroplan, US Airways Dividend Miles, or ANA Mileage Club.
You can also use American AAdvantage miles for flights on TAM, as they have a reciprocal agreement in advance of TAM leaving the Star Alliance and joining OneWorld in April.
You can search for available space using the ANA tool, but in almost every instance you will need to call to book TAM flights with partner airlines. Given that there are so many options, I thought it might be helpful to go through what I consider to be the best values for travel between North America and Brazil.
US Airways Dividend Miles – 125,000 round-trip
US Airways may actually be the best program to use if you'll be traveling later in the year. US Airways miles are easy to procure, and while this isn't one of the "sweet spots" on their award chart, it's worth keeping in mind that US Airways and TAM are both leaving Star Alliance and joining OneWorld.
This means that in the event of schedule changes, it is going to be more difficult for Star Alliance airlines to rebook you, as they will most likely no longer have access to TAM space after March 30th. US Airways, on the other hand, will potentially have more flexibility, as part of their merger with American.
Air Canada Aeroplan – 67,500 miles one-way
If you have American Express Membership Rewards points, Aeroplan is going to be your best option. Transfers are usually instant, and you should be able to book most itineraries on aeroplan.com, though the website often struggles with complex routings.
United MileagePlus – 70,000 miles one-way
With United's new award chart most partner awards are more expensive than a similar route on United metal. South America is an exception, however, and partner awards are priced identically to those on United.
This is a great use of Chase Ultimate Rewards points, especially considering that United has generous routing rules, so there's a lot of potential flexibility.
American AAdvantage – 62,500 miles one-way
There is great value to be had here, particularly if you're looking at only connecting in Sao Paulo. American has a strong route network in South America, in particular with their partner LAN, but award space between North America and the South America hubs has been extremely limited otherwise.
ANA Mileage Club – 100,000 miles round-trip from Miami, 120,000 round-trip from New York
ANA has a distance-based award chart, so you'll pay a bit more for awards to New York than Miami. They are also a transfer partner of American Express, and I'd typically say this is a great value. However, the transfers can take several days to process, so unless you have ANA miles already I wouldn't consider this as a "safe" option.
Beyond Brazil
Besides the obvious South American carriers, it's worth keeping in mind some fun "Fifth Freedom" routes as well. Turkish Airlines and Qatar fly to Buenos Aires, so those would be great additions to any of these awards.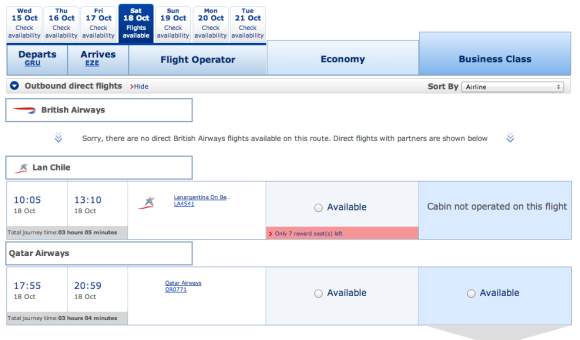 Overall – If you are at all interested in flying TAM First class, I would absolutely do so immediately. I have literally never seen TAM first class award space, much less this plentifully!
Happy booking, and please let me know what questions I can answer!
(Tip of the hat to Jimmy and Carlos)