Time flies. It's crazy to think that I graduated college over 2.5 years ago.
Damn. It really wasn't till I started writing that sentence that I realized just how fast time has gone by.
After living in Tampa for more than a year after graduating college I decided I wanted to move somewhere else. I stayed in Tampa because that's where my parents live, and I didn't want to be too far from them. After much thought I decided to move to Seattle/Bellevue, a decision I don't for a second regret. On one hand I do miss my parents, though on the other hand it also made me realize just how crappy Tampa is.
After over a year in the Pacific Northwest I started plotting my next move. Not because I don't like the area, but because for now I'd like a change of scenery.
In October I somewhat flippantly threw around the idea of moving into hotels full time. I'm at home maybe 10 days a month at most, so when you factor in what I pay in rent and for my car/car insurance, it was certainly easy to justify living in hotels full time. But still, actually being "homeless" seemed kind of terrifying.
But the more I thought about it, the more I decided to actually give it a try:
I'll do it for a year, and will reevaluate at that point.
It'll hopefully make for some interesting stories and tons of flight and hotel reviews (in case I didn't fly enough last year).
I decided I wanted to try and go at it with the perspective of going places for a couple of weeks at a time. In other words, rather than being a permanent nomad, why not take the opportunity to live all over the world for a couple of weeks at a time?
Up until now it has all kind of felt like an abstract possibility. But now that I look at my calendar it's finally hitting me — I'll actually be "homeless" in four weeks.
There's a lot of stuff running through my head, of course:
How many bags do I want to travel with?
In the simultaneously awesome and depressing movie "Up in the Air," Ryan Bingham gives the "What's In Your Backpack?" speech, intended to be a metaphor for the things in life that weigh you down:
Well, I'd like to ask the literal version of the question — if you live in hotels full time, how much should you carry? Usually I just travel with my 20″ rollaboard and laptop bag, but is that really all I want to have with me when "permanently" traveling? Does it make sense to travel with a checked bag or duffel as well? It's certainly a tradeoff, since the more bags, the tougher it is to move around, and the higher the chance that things go wrong.
My biggest concern still involves laundry
I've gotten good recommendations about this since I first mentioned living in hotels full time. Even so, one of my biggest concerns is still how to do laundry when you're living in a hotel. It's funny how there are some things you take for granted when you have an apartment that become a major challenge when you live in hotels.
Hotel laundry is ridiculously expensive, so I guess I'll be best off going to a laundromat. That's still kind of the biggest roadblock I see with all of this, in addition to the above question about how many bags to take.
What do I do with my furniture?
I really only brought my car, my computer, and some clothes when I moved from Tampa. I purchased all my furniture here in Seattle, most of which is from Ikea. Now I kind of don't know what to do with it.
On one hand I don't think you can sell Ikea furniture for much. On the other hand I'm thinking maybe I should put it in storage, but I'm not sure when I'll move out of hotels and also not sure where I'll end up moving to, so I would not only be paying to store it, but potentially also be paying to move it.
I dunno…
It'll be a while before I stay in one place for long
My goal over the next year is to live places for a couple of weeks at a time so I can really get a feel for different cities.
However, staying places for long periods of time will have to wait for a bit, since I have a ton of travel planned between mid-April and mid-August. I'm not quite sure how my schedule filled up so quickly, but I doubt I'll be anywhere for more than five or six days, which will be interesting. Once I actually move out of my apartment in mid-April I'll start brainstorming more and blocking out chunks of time to actually station myself places.
What hotel strategy should I take?
Hopefully one of the more interesting aspects of this for you guys will be the number of hotel reviews I'll hopefully be writing. I'm trying to figure out the best way to maximize value while living in hotels full time, and have a general strategy.
At least 50 nights with Hyatt Gold Passport
So I love, love, Hyatt, they're hands down my favorite hotel chain.
If it made sense I'd probably park most of my nights there. At the same time there's zero marginal value for exceeding 50 nights with Hyatt. You get four Suite Night Upgrade Awards for achieving Diamond status, so if anything there's negative marginal value the more you stay, since a smaller percentage of nights will be in suites, without any other major benefits.
Hyatt does have Courtesy Card, which is their invitation only status. Theoretically it intrigues me, except the requirements are unpublished and at times qualification for it seems arbitrary. I'd hate to spend 250 nights at Hyatts only to not get Courtesy Card, so I'm a bit torn on just how far to go with Hyatt…
At least 75 nights with Starwood Preferred Guest
While Starwood Platinum only takes 50 nights per year, if living in hotels full time I see the value of going for 75 nights.
That's not only because you earn an extra Starpoint per dollar spent, but more importantly because you have access to Your24, whereby you can choose when you want to check-in, and then you have your room for 24 hours. That seems really valuable if living in hotels full time.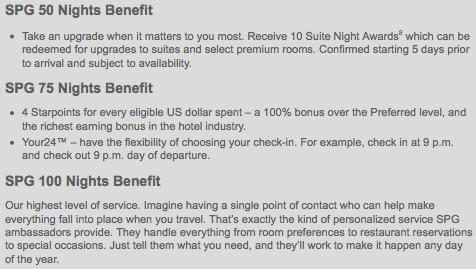 Use Club Carlson to fill in gaps
Club Carlson's co-branded Club Carlson Premier Rewards Visa Signature® Card is one of the most lucrative hotel credit cards out there. When your redeem points for a two night award stay, the second night of your stay is free.
Given that lots of their properties have very reasonable award redemption rates, I suspect this will really come in handy.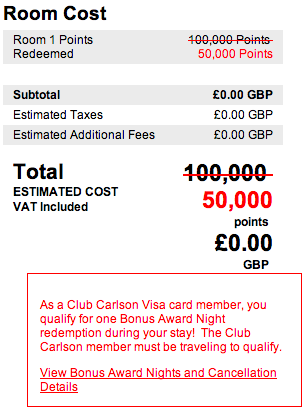 Use Hilton Honors to fill in gaps as well
I'm presently an Honors Diamond member through spend on the Citi® Hilton HHonors™ Reserve Card. Even if I don't put $40,000 of spend on the card this year, I'll still have Honors Gold status as long as I have the card, which gets me the most important hotel elite benefits (complimentary breakfast and internet).
And as much as Hilton HHonors' award chart devaluation was epically bad for my typical redemption patterns, there are still some great deals out there for non-aspirational redemptions.
For example, the Doubletree Beijing is a Category 2 Honors property, making it 10,000 Honors points per night. The fifth night is free, meaning if you stay five nights it averages out to 8,000 points per night.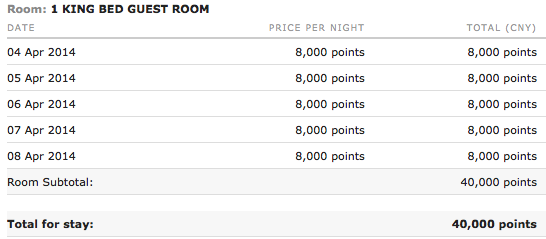 I value Hilton points at about 0.4 cents each, so consider that to be a really good deal.
Take FULL advantage of IHG Rewards Club PointBreaks
Okay, I probably already have too many hotel chains I'm "sleeping around with" above, but the single best award value in the hotel industry is IHG Rewards Club's PointBreaks promotion, which are published every few months. They offer select hotels for 5,000 points per night, which are worth $30.

Some lists aren't great, but in the past there have been some awesome InterContinental properties on the list, so if I ever see one I'll gladly book it for a month. Can't beat that when it comes to hotel living!
Is there anything you want to see me do, living in hotels full time?
Ultimately part of the reason I'm doing this is so I can share my experiences here.
I'm not limiting that simply to objective hotel reviews, but I'll also periodically be sharing my thoughts on the mental aspects of being "homeless" and permanently wandering.
If I weren't blogging I probably wouldn't be doing this, because I think it has the potential to feel lonely. That being said, I know it'll be an unforgettable experience, and at the end of the day I'm not really one to feel lonely as long as I have you guys to talk to. 😉
If there's anything you'd like to see me do or if you have any creative ideas, I'd love to hear them!