Often when airlines introduce a new inflight experience, they start promoting it months (or in the case of Lufthansa, years) before it actually launches. Etihad Airways has taken a different approach with its new Airbus A350, which is entering regularly scheduled passenger service as of today.
The airline has now formally unveiled its new business class and economy class experiences, and the interiors look pretty awesome to me!
Etihad's new Airbus A350-1000 interiors
Etihad Airways' Airbus A350-1000s feature a total of 371 seats, including 44 business class seats and 327 economy class seats. While the Abu Dhabi-based airline brought one of its Airbus A350-1000s to the Dubai Airshow in November 2021, the airline hasn't done anything to promote the cabins since then.
Before we go into more details on specifics of the cabins, a few general things to note about the Etihad A350: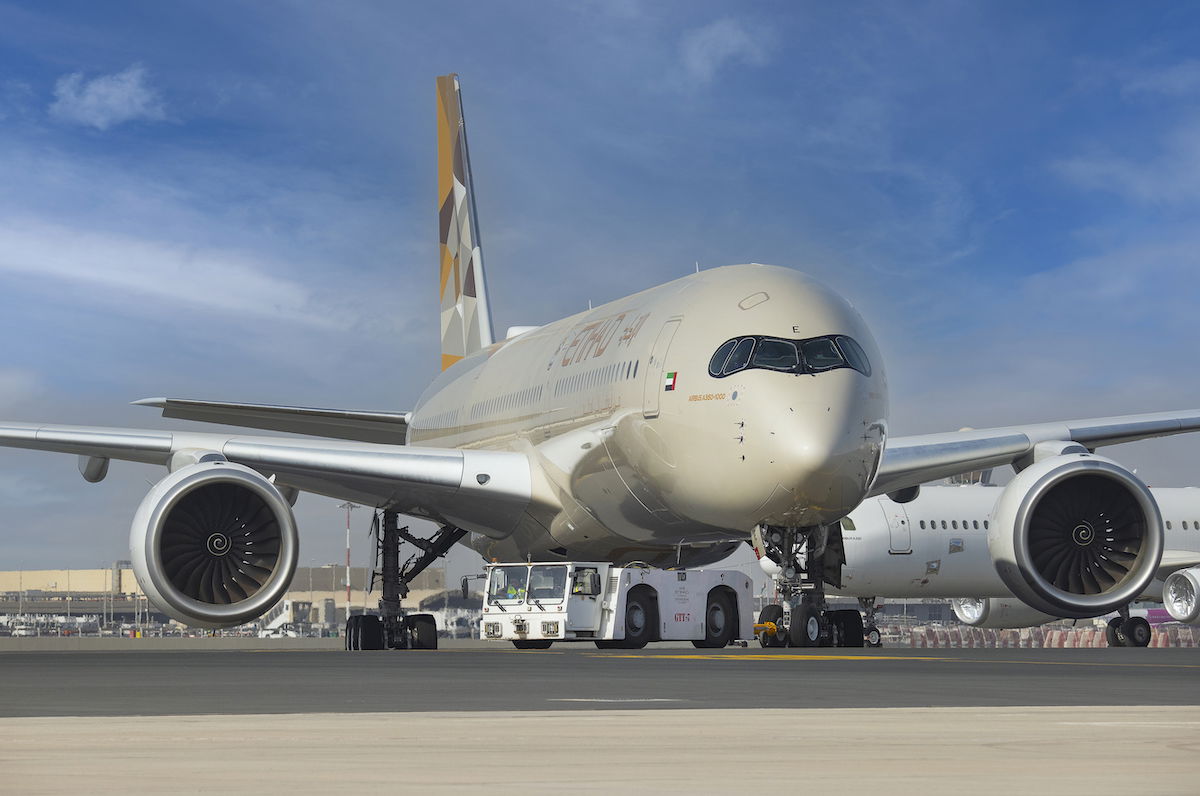 New Etihad A350 business class suites with doors
Here are the basics of Etihad's new Airbus A350-1000 business class, which features 44 seats:
Much like on the Boeing 787, business class seats will be marketed as Business Studios
These are Collins Aerospace Super Diamond seats with sliding doors, providing a high level of privacy to each suite
Every seat faces forward with direct aisle access, in a 1-2-1 configuration
The seat turns into a 79″ flat bed, and is over 20″ wide
The seat features storage compartments
Each seat has an 18.5″ TV screen, plus bluetooth headphone pairing, USB and AC power, a built-in wireless charging dock, and noise-canceling headphones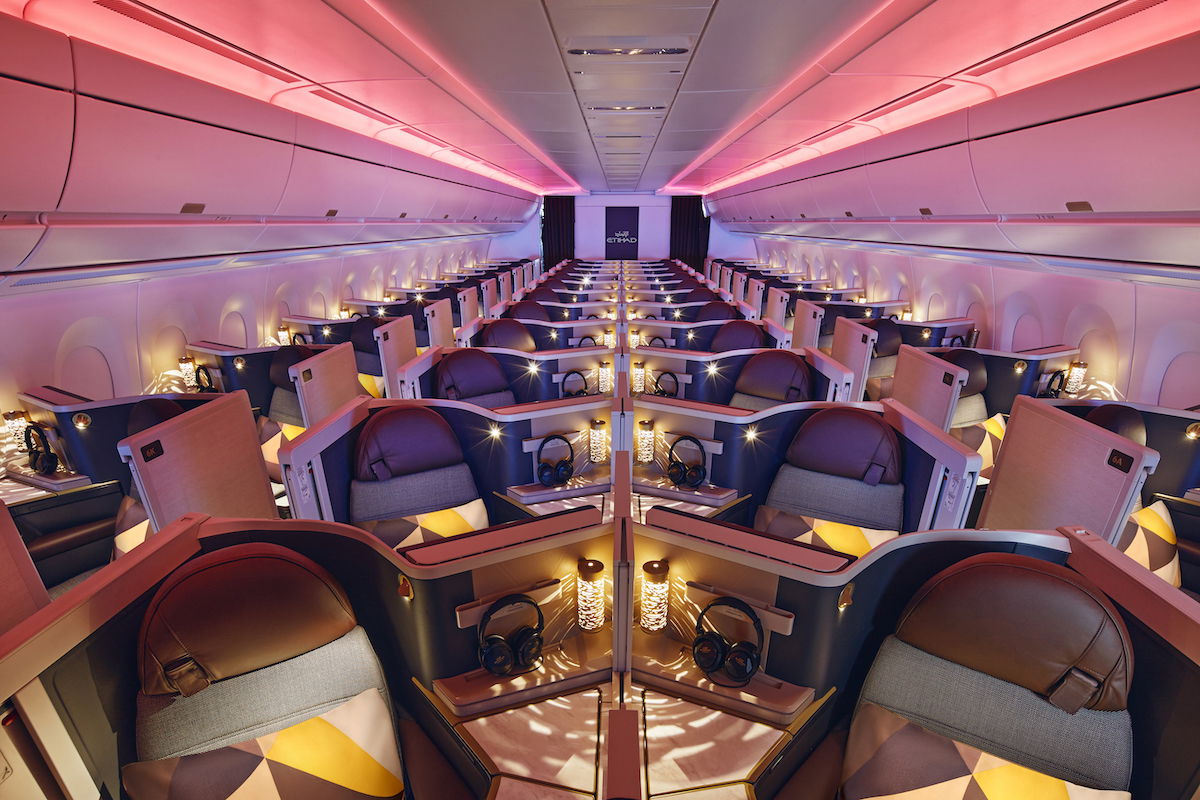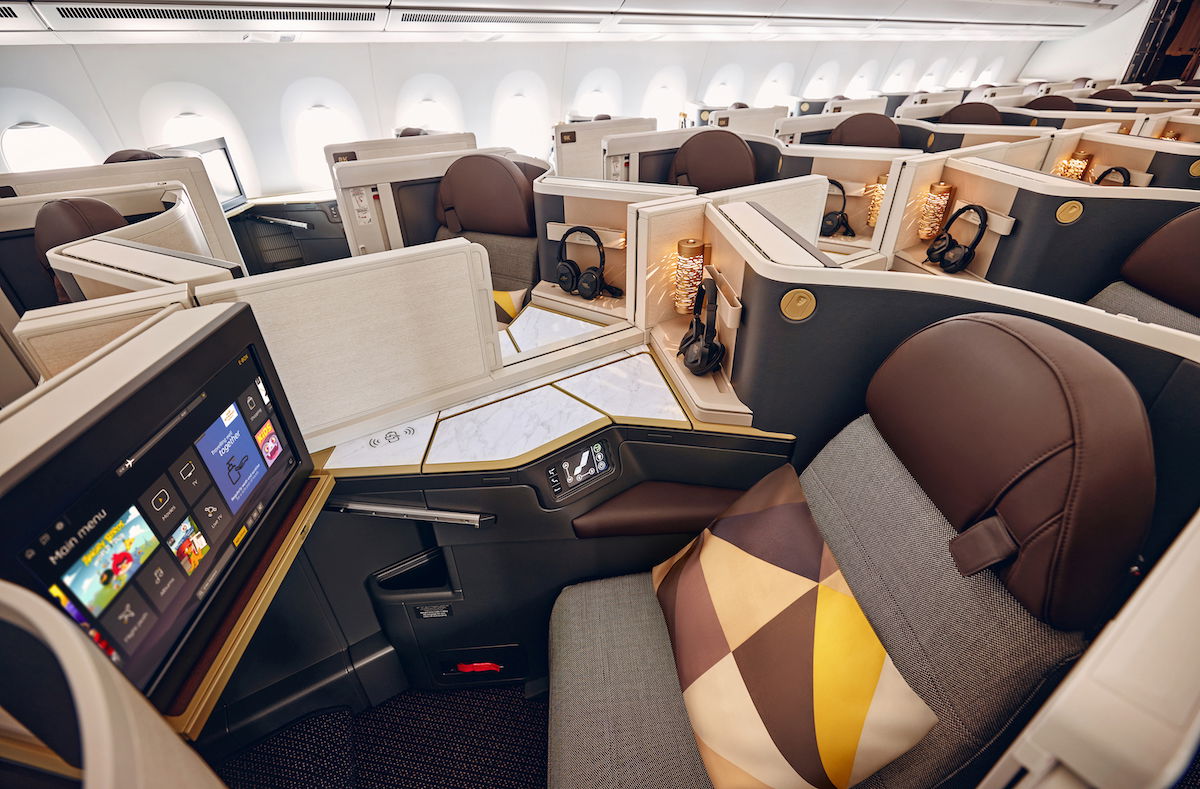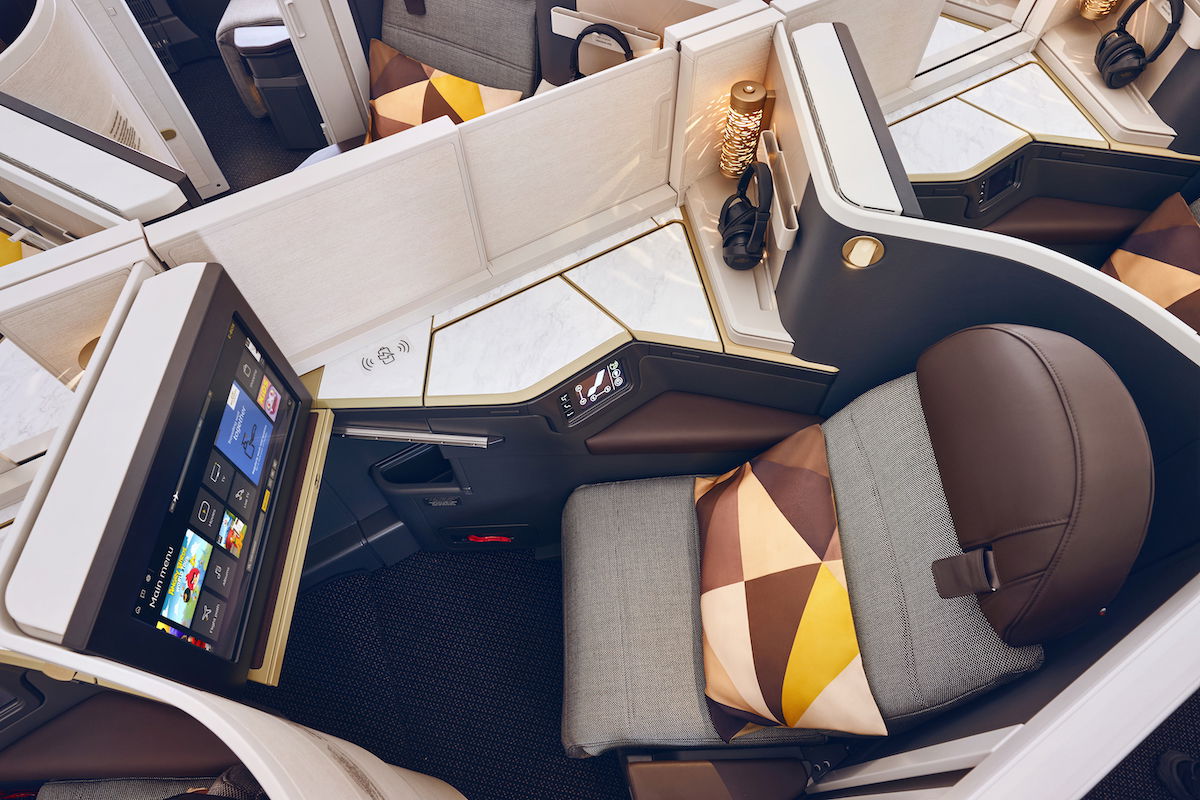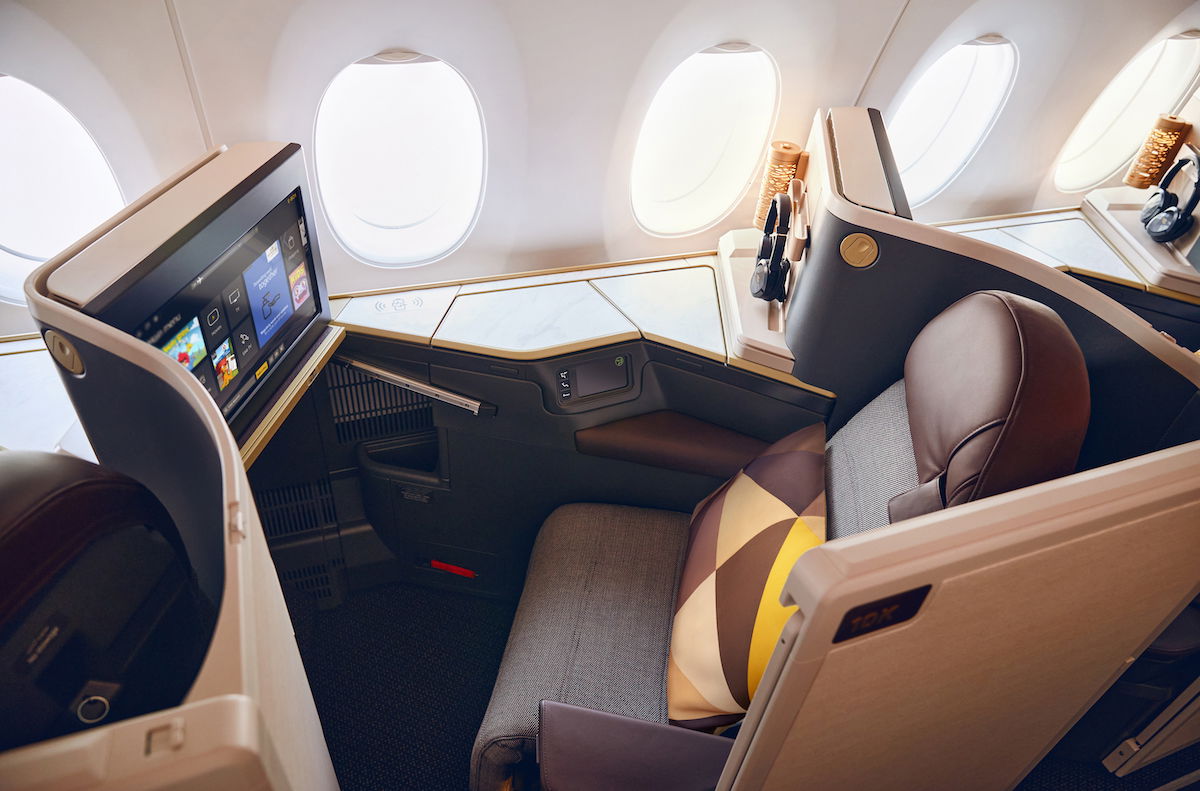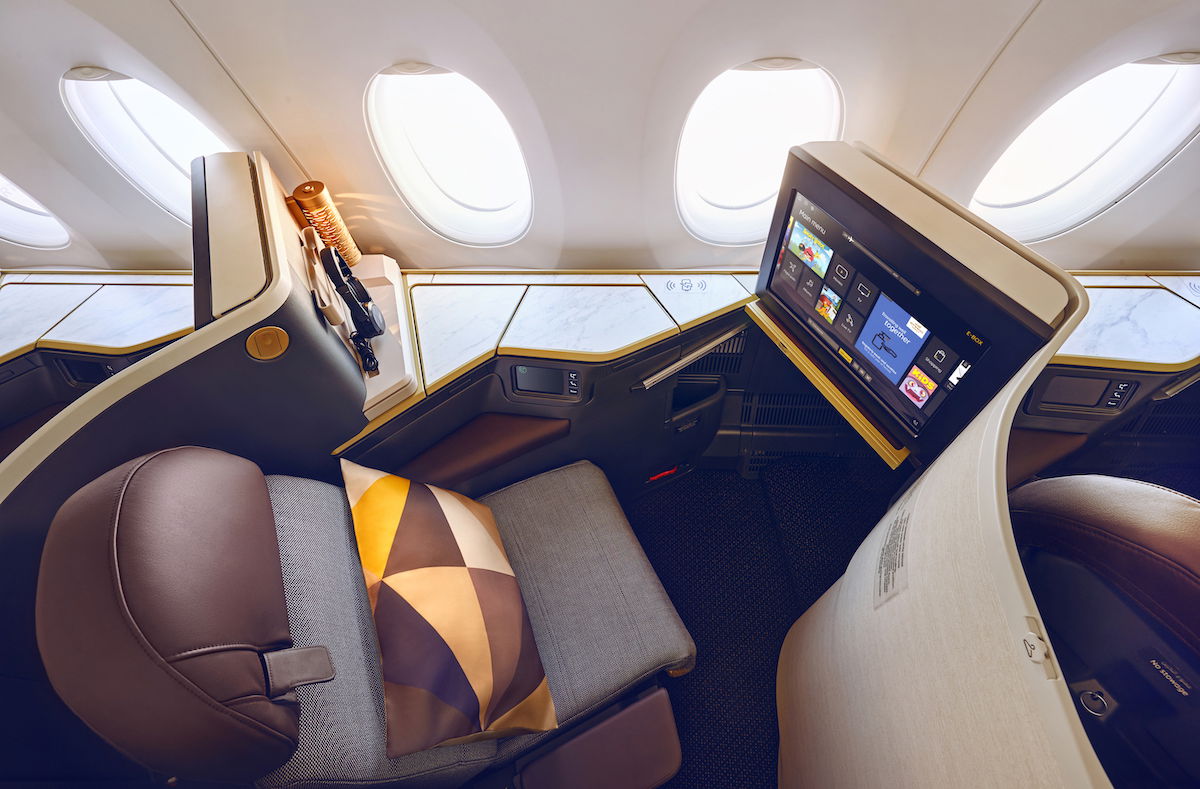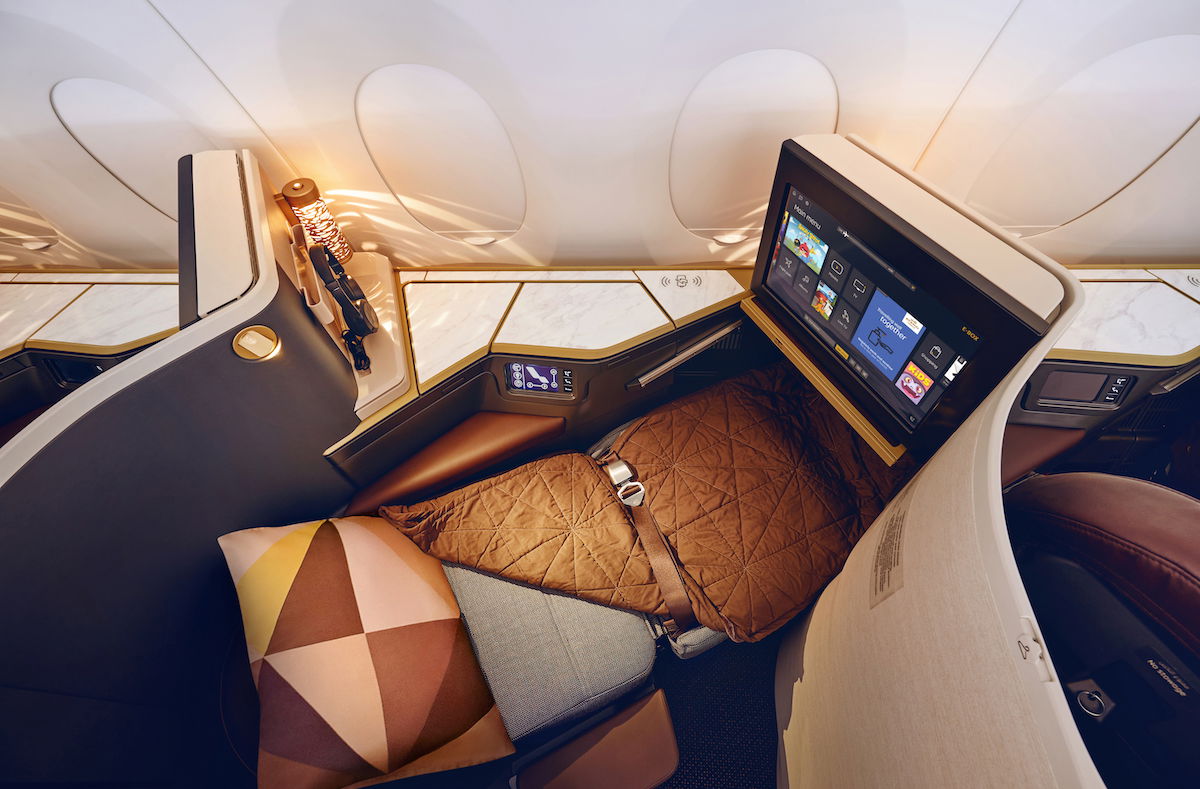 I've gotta say, this cabin looks gorgeous, and I love the color scheme, finishes, and customized features. Reverse herringbone seats are a good business class product, and the door being added makes this even better. Personally I rank this type of seat as the world's fourth best business class.
In fairness, Etihad's Boeing 787s also feature a great business class, which is a very comfortable staggered seating arrangement. So while this new seat is probably a bit better, I liked the old product as well.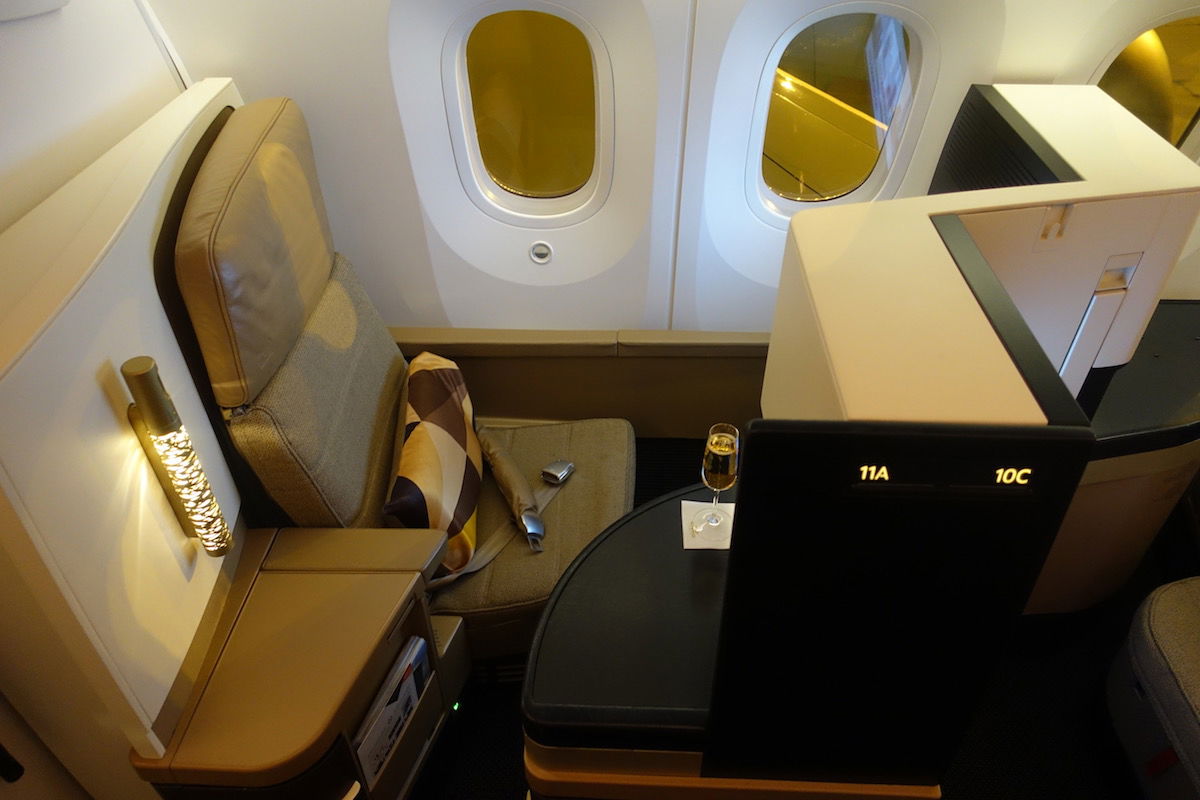 New Etihad A350 economy class seats
Here are the basics of Etihad's new Airbus A350-1000 economy class, which features 327 seats:
Seats are in a 3-3-3 configuration, which is standard for the A350
There are 45 "Economy Space" seats, featuring an extra 4″ of legroom
Seats feature 13.3″ personal televisions, USB charging, bluetooth headphones, and a supportive headrest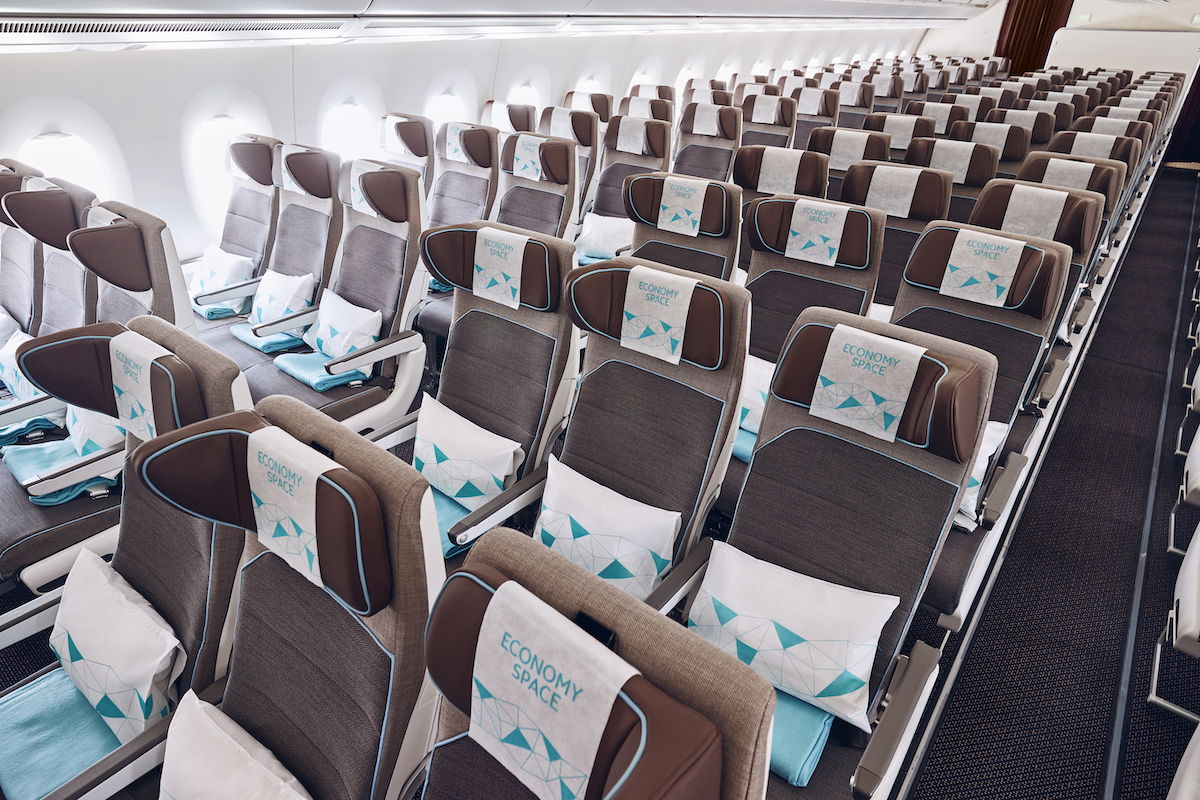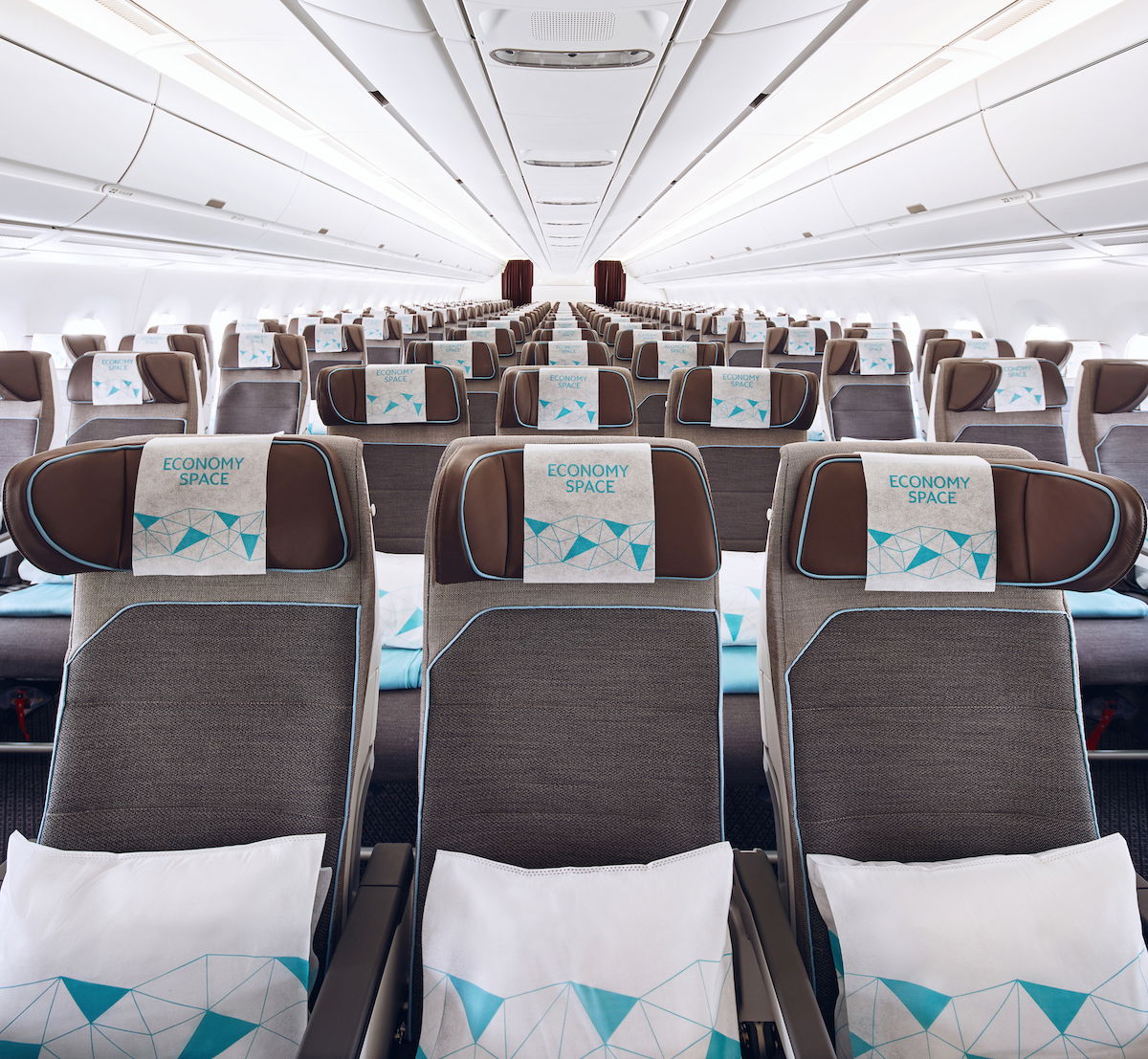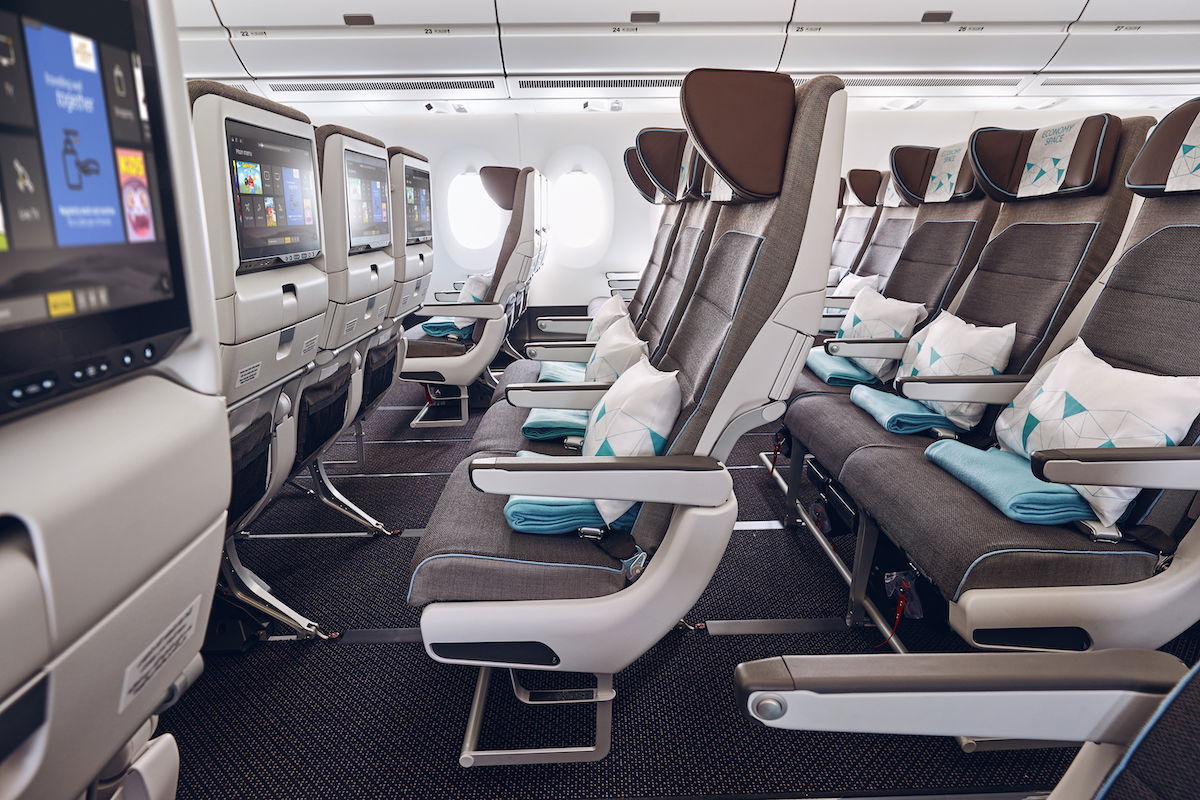 As far as economy class goes, this looks pretty good. That's on top of the fact that the A350 is generally a lovely plane to fly, given the quiet and spacious cabin. My only criticism is that economy seats don't have AC power. I don't really get that, especially with the types of USB chargers being used changing over time.
The story of Etihad's Airbus A350
While Etihad Airways has just put its A350s into service, the airline has actually had some of these planes for over two years. Why is that?
Back in the day Etihad Airways had endless growth plans, and more or less wanted to compete head-to-head with Emirates. After a failed strategy of trying to invest in global airlines and losing many billions of dollars, the company's management decided to pursue a more sustainable strategy.
The issue is that Etihad had ordered a bunch of planes, way more than would be needed if the airline didn't want to become huge. So while Etihad has significantly shrunk its future aircraft orders, the airline continues to have 21 Airbus A350-1000s on order.
The airline started taking delivery of these planes back in 2019, but put them straight into storage, given the lack of demand for them. With a slow recovery in demand, plus Etihad retiring A380s and 777s, the airline is finally putting these planes into service. A350s also have the benefit of having great economics, and burn 25% less fuel than previous generation aircraft.
As you can see, the A350 will be used alongside the 787 for key long haul routes in the long run. This spring the plane will first fly to Delhi, Istanbul, Jeddah, and Mumbai, and as of July the plane is expected to fly to Chicago and New York.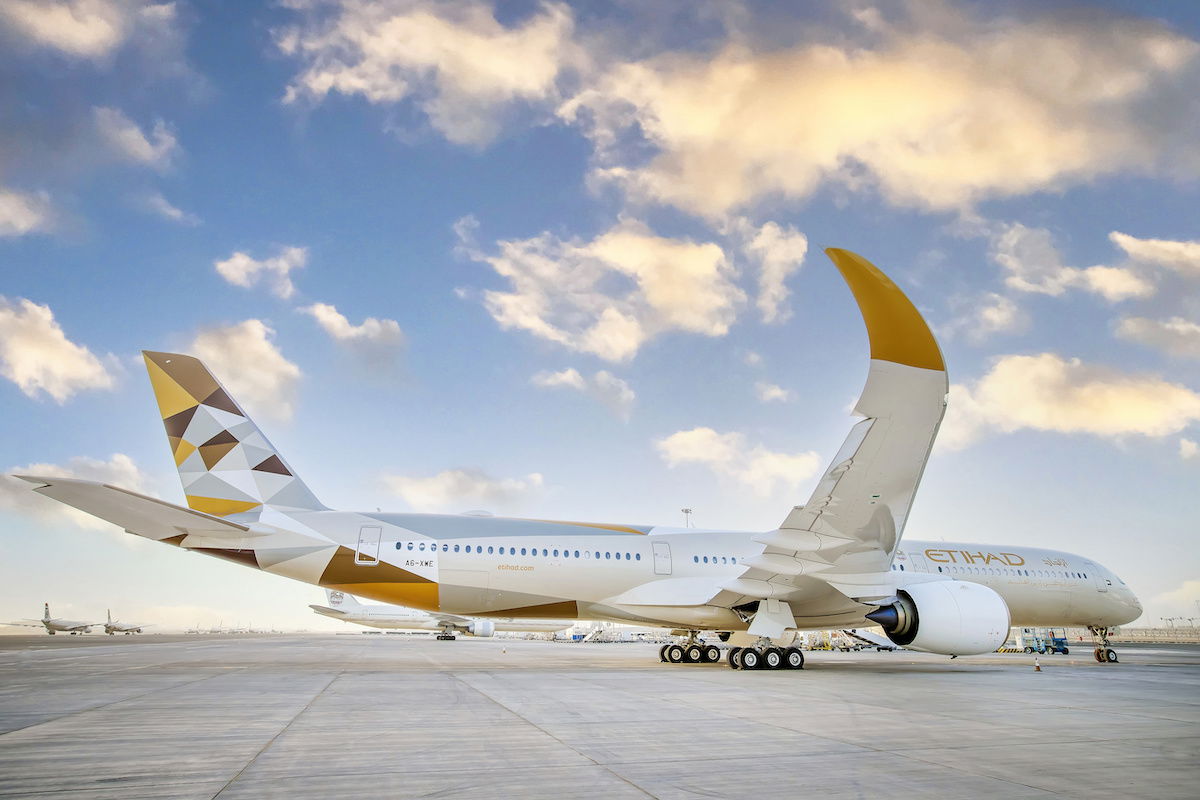 Bottom line
Etihad Airways has finally formally unveiled the interiors of its new A350s, coinciding with the plane entering service. The airline is installing Collins Aerospace Super Diamond reverse herringbone seats with doors on these planes. This is an excellent business class product, especially with Etihad's customization, including bluetooth audio pairing, wireless charging, and more.
Still, I can't help but be sad about how far Etihad has fallen in general. The carrier is also retiring its A380s, and decided to not even install a small first class cabin on the A350s. Don't get me wrong, that's probably the right move for the airline financially, but none of us ever really fell in love with Etihad for its business model, right? 😉
What do you make of Etihad's A350 cabins, and in particular business class?