Update: Etihad has now loaded the A350 into the summer schedule, and Chicago, New York, and some other routes, now reflect the A350. Below you can find an updated post that was initially published on March 31.
It's an exciting time for Etihad Airways, as the airline has operated its first passenger flight with the A350-1000. Etihad Airways has five Airbus A350-1000s, which have been delivered to the airline in the past couple of years. However, up until now the planes hadn't flown a single commercial flight. That has finally changed, and we now also know the first long haul routes that will get the plane.
Etihad Airways' first Airbus A350 routes
Etihad Airways' Airbus A350s have now started to enter service. Specifically, the A350 is initially scheduled on the following routes:
Istanbul (IST) — daily between April 1 and June 30, 2022
Mumbai (BOM) — daily between April 1 and the end of the schedule
Jeddah (JED) — 6x weekly between April 3 and June 30, 2022
Delhi (DEL) — daily between April 30 and the end of the schedule
Cairo (CAI) — 4x weekly between May 2 and June 30, 2022
Chicago (ORD) — daily between July 1 and the end of the schedule
New York (JFK) — daily between July 1 and the end of the schedule
As you can see, the airline is initially flying these planes regionally. Presumably that's at least in part for crew familiarization and training, which is standard when an aircraft enters service. Then starting in July, Etihad will be operating the A350 on long haul routes, as those have now been loaded into the schedule.
Why hasn't Etihad flown Airbus A350s yet?
Some people are probably wondering why Etihad would park brand new A350s for a couple of years after taking delivery of them. Well, Etihad has been undergoing a massive restructuring in an effort to control costs. While a decade back Etihad hoped to become a huge global airline and ordered all kinds of aircraft, that trend has very much been reversed in the past few years.
Etihad's fleet has been shrinking, and even though the A350 is incredibly efficient, I'm guessing the economics have worked out better to just keep the planes parked, to save money on insurance, crew training, maintenance, etc.
That has finally changed, though, presumably because Etihad is retiring its Airbus A380s, Airbus A330s, and Boeing 777s. The plan is that in the future Etihad's wide body fleet will consist exclusively of Boeing 787s and Airbus A350s.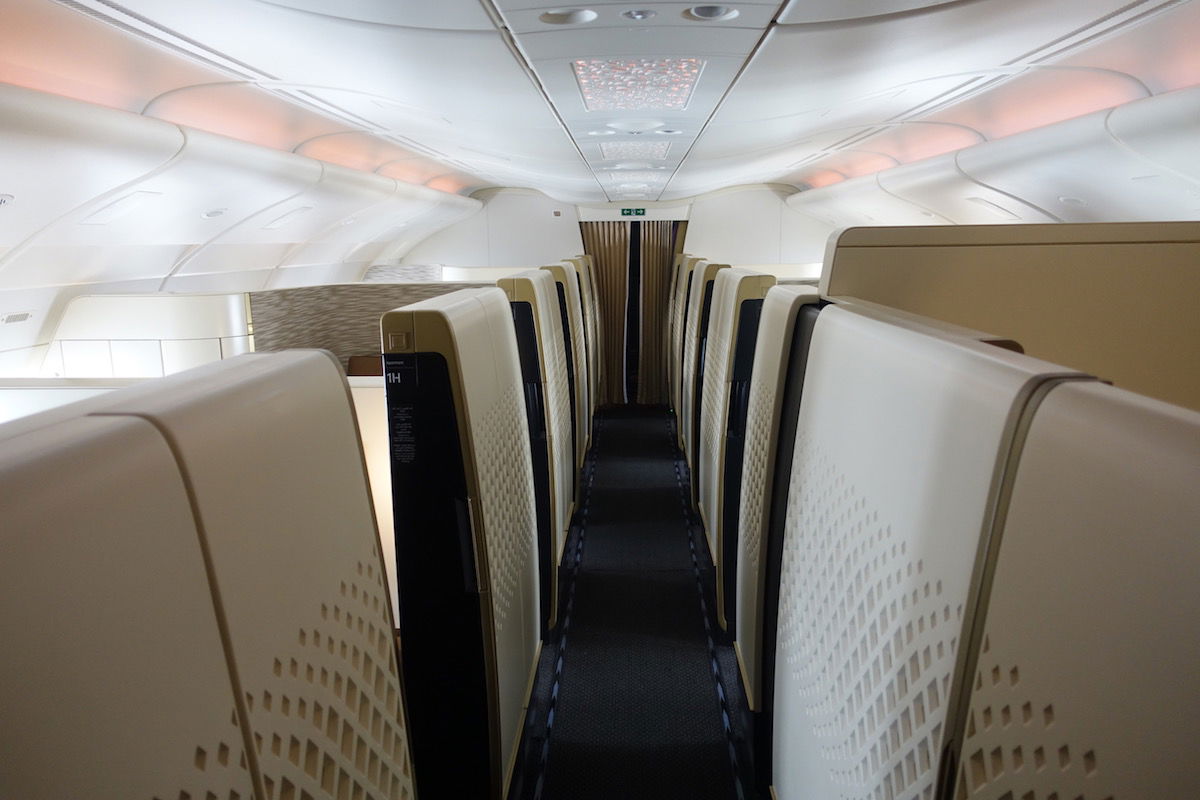 Etihad currently has roughly 40 Boeing 787s in its fleet, with a total of 60 having been ordered (so roughly 20 are yet to be delivered). On top of that, Etihad had ordered 20 Airbus A350-1000s.
What are Etihad's A350-1000 like?
What should we expect from Etihad's Airbus A350-1000s?
Etihad's A350s don't feature first class
Etihad's A350s feature Collins Aerospace Super Diamond reverse herringbone seats with doors in business class, similar to British Airways' A350 Club Suites; there are 44 business class seats, featuring 79″ fully flat beds, 18.5″ screens with bluetooth audio pairing, and wireless charging ports
Etihad's A350s don't feature premium economy
Etihad's A3350s have economy seats in a 3-3-3 configuration, in what looks like a pretty decent product (the A350 is a joy to fly in general); there are 327 economy class seats feature 13″ screens with bluetooth audio pairing, charging ports, and personal device holders
As I've written about before, one has to wonder about the future of Etihad first class. At this point the airline has just five Boeing 787-9s featuring first class, and there are no plans for any other planes in the fleet to feature the cabin. I can't imagine the economics make sense to keep around such a small first class fleet, so I suspect that will eventually be eliminated.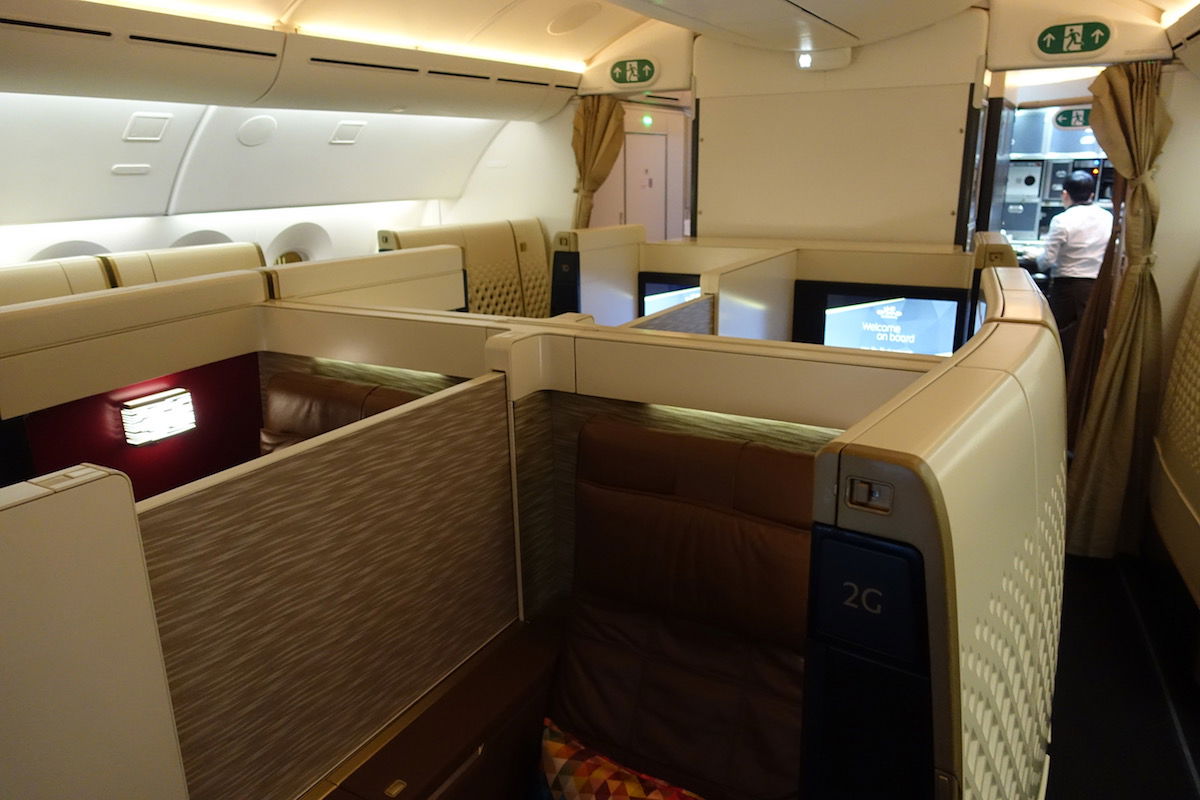 Bottom line
Etihad Airways' A350s have entered passenger service for the first time. The Abu Dhabi-based carrier is flying these planes consistently on short haul routes as of April 2022, with long haul routes coming as of July 2022.
Unfortunately so much of the allure of Etihad Airways is gone after all these changes. I no longer really think of the "big three" Gulf carriers, as I don't really think of Etihad as being in the same league as Emirates Airline and Qatar Airways anymore. And of course that's fair enough — if the government of Abu Dhabi wants to stop lighting money on fire, that's their prerogative.
What do you make of Etihad's A350 routes?