Aeroflot is installing new business class seats on its 777s, though the seats aren't exactly what we had expected.
Aeroflot 777s get reverse herringbone business class seats
In August 2019 it was announced that Aeroflot's 777 would get new interiors. This came as the airline signed a contract with Boeing at the Moscow Air Show to modify passenger cabins on 18 Boeing 777-300ER aircraft.
Currently the airline has Collins Aerospace Diamond seats in business class, which aren't particularly competitive.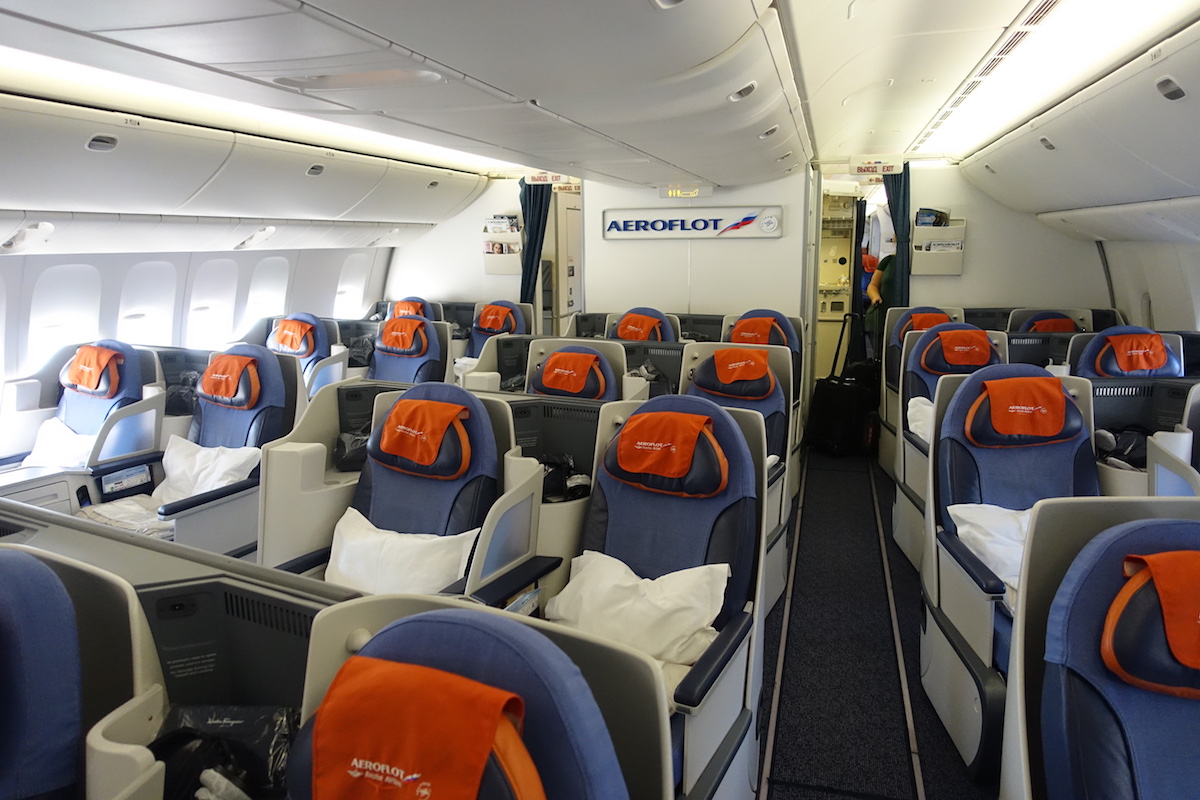 Aeroflot's current 777 business class
While the new seats aren't yet in service, the always observant @AirlineFlyer notes that Aeroflot's media webpage has seatmaps of the reconfigured 777s. This very clearly shows that Aeroflot will have 28 reverse herringbone business class seats on its 777s.
Since the airline currently has Collins Aerospace Diamond seats, I'm guessing that we'll see Collins Aerospace Super Diamond seats installed, which you'll find on quite a few other airlines.
Collins Aerospace Super Diamond seats on China Airlines A350
Though perhaps @AirlineFlyer's even cooler observation is the number of media images that Aeroflot has of dogs, or foxes, or fox dogs, or something.
I found myself on the @aeroflot media images page and under in the safety section there are a bunch of extremely high resolution pics of dogs and for some reason foxes (or is it a very fox-ish Sulimov dog? https://t.co/kRG2R5h2rs)

I ❤️ this pic.twitter.com/5IVxlz3NkR

— Jason Rabinowitz (@AirlineFlyer) April 12, 2021
Aeroflot's inconsistent new business class
What's fascinating here is that Aeroflot has 15 Airbus A350-900s on order (some of which have already been delivered), and this will be the carrier's new flagship aircraft. Aeroflot introduced a new business class product on the A350, which are essentially staggered seats with doors.
Aeroflot's new A350 business class

Aeroflot's new A350 business class
Logically you'd think that if you're going to reconfigure existing aircraft with a new business class product, you'd use the same seats you're using on new aircraft.
However, that's often not how it works, and Aeroflot is far from being alone in taking an approach like this. For example, Ethiopian Airlines is also currently introducing two new long haul business class seats.
My guess is that there was a significant cost difference in retrofitting existing planes with these seats, so the airline decided on reverse herringbone seats on 777s, and these new seats for A350s. Ultimately both products are great.
Bottom line
Aeroflot will be installing reverse herringbone seats in business class on its 777s. While no planes are in service with these new seats yet, it's my understanding that planes should start to be reconfigured in the coming months.
As strange as it may seem to introduce two new business class seats at once, this is quite common.
What do you make of Aeroflot's new 777 business class?