Etihad Airways has just unveiled its new business class product, and it looks pretty good to me!
Etihad's new business class suites with doors
Abu Dhabi-based Etihad Airways brought one of its Airbus A350-1000s to the Dubai Airshow, and that included showing off the carrier's new business class product. We now know that Etihad Airways' Airbus A350s will feature reverse herringbone seats with doors:
Etihad has selected Collins Aerospace Super Diamond seats with doors, similar to what you'll find on British Airways' A350s and Aeroflot's 777s
Etihad's A350s won't have first class; with Etihad retiring its Airbus A380s and Boeing 777s, that means the only planes in the fleet with first class will be five Boeing 787-9s, which makes me wonder if first class might eventually be discontinued
Etihad's A350s don't have premium economy either; it's not that we were promised premium economy, but there had been rumors that Etihad might launch that cabin on the A350
In the long run, Etihad will use A350s for long haul routes, meaning the 787s and A350s will be the backbone of the carrier's long haul fleet
While Etihad hasn't yet put out a press release about the new seats, on Twitter you'll find pictures of the new product, from people touring the plane.
The finishes as such look quite nice, and I like the color scheme and some of the customized features. Reverse herringbone seats are a good business class product, and the door being added makes this even better. Personally I rank this type of seat as the world's fourth best business class.
In fairness, Etihad's Boeing 787s feature the Business Studio, which is a very comfortable staggered seating arrangement. So while this new seat is probably a bit better, I liked the old product as well.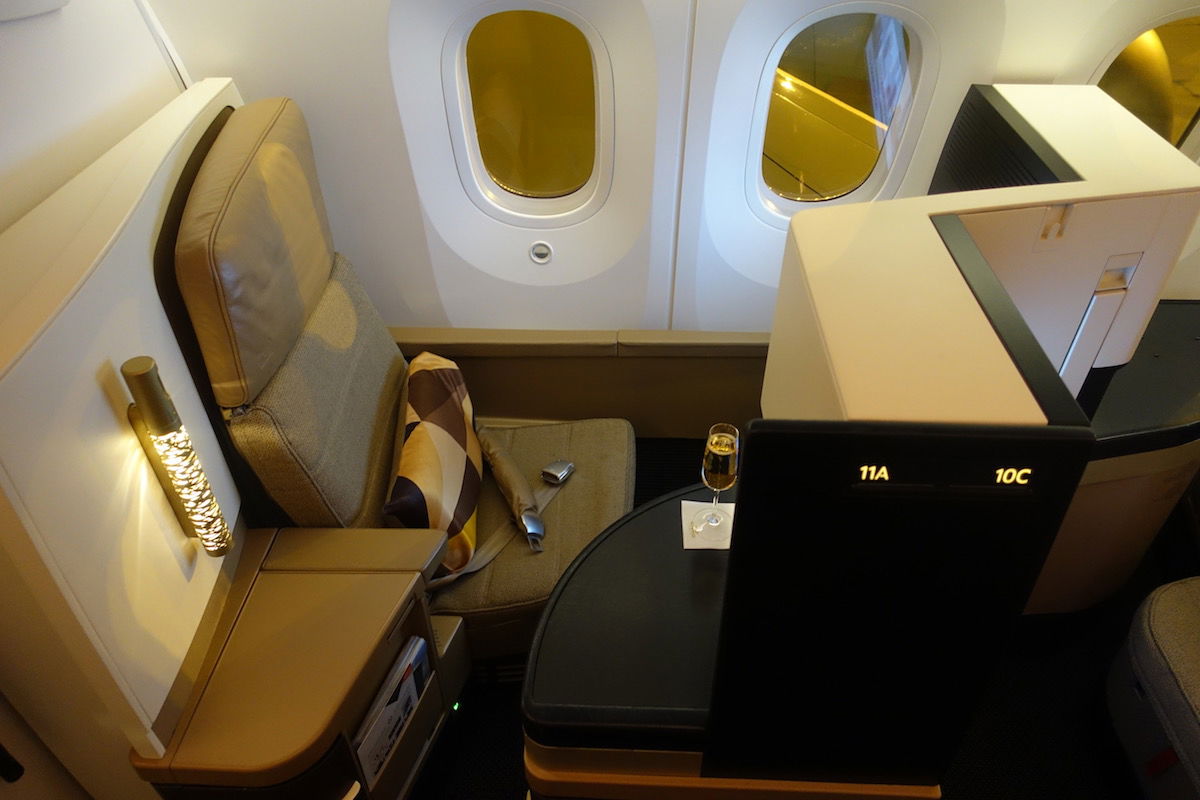 The story of Etihad's Airbus A350
Back in the day Etihad Airways had endless growth plans, and more or less wanted to compete head-to-head with Emirates. After a failed strategy of trying to invest in global airlines and losing many billions of dollars, the company's management decided to pursue a more sustainable strategy.
The issue is that Etihad had ordered a bunch of planes, way more than would be needed if the airline didn't want to become huge. So while Etihad has significantly shrunk its future aircraft orders, the airline continues to have 21 Airbus A350-1000s on order.
The airline started taking delivery of these planes back in 2019, but put them straight into storage, given the lack of demand for them. It seems that Etihad is ready to start flying these planes in the coming months. With Etihad retiring both A380s and 777s, there should be sufficient demand for these planes to finally enter service.
I would imagine the A350 will be put on some key long haul routes, given that it's a higher capacity jet than the 787-9 (Etihad also has the 787-10, but that plane isn't as long range).
Bottom line
Etihad Airways has finally revealed the interiors of its new A350s. The airline is installing Collins Aerospace Super Diamond reverse herringbone seats with doors on these planes. This is an excellent business class product, and I'm excited to see these planes hopefully enter service soon.
Still, I can't help but be sad about how far Etihad has fallen. The carrier is also retiring its A380s, and decided to not even install a small first class cabin on the A350s. Don't get me wrong, that's probably the right move for the airline financially, but none of us ever really fell in love with Etihad for its business model, right? 😉
What do you make of Etihad's A350 business class?