About a month ago a friend and I were flying American Airlines out of LAX, and since I'm a oneworld Emerald member, I am allowed oneworld lounge access with one guest to the international first class lounge. Flying American Airlines out of Terminal 4 at LAX, the best lounge available is the AA Flagship Lounge located in the Admirals Club.
As we entered the lounge, we were greeted by a very friendly AAgent who took our boarding passes and invited us to use the Flagship Lounge. We were handed a white key card and were directed to the second floor. The key card was used to open the sliding doors that revealed the lounge.
We were yet again greeted at a desk with some more of the finest Admirals Club agents where we checked in and returned our white key card.
The atmosphere of the lounge was quite nice, especially because of the architecture. The huge windows provided lots of light, and the ceilings were high giving the lounge a very open feel. It was also very quiet in the lounge and it wasn't crowded either.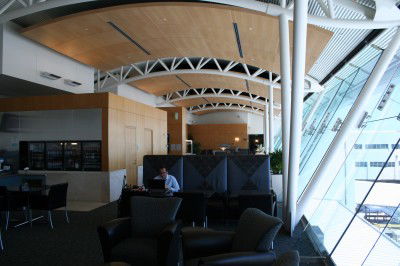 Flagship Lounge LAX
The lounge offers complimentary Wi-Fi internet, showers, places to relax, materials to read, and food. In terms of food, the lounge offers hot and cold light meals, lots of drinks in refrigerators, and lots of alcohol.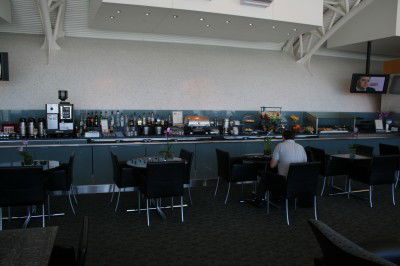 Food serving area

Drink selection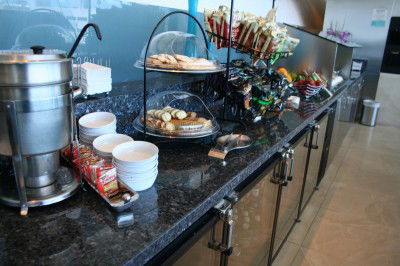 Snacks and soup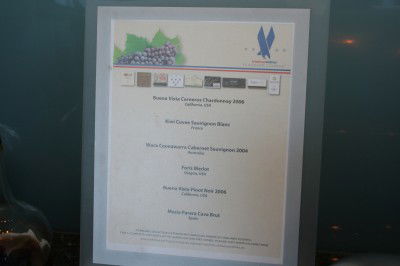 Wine selection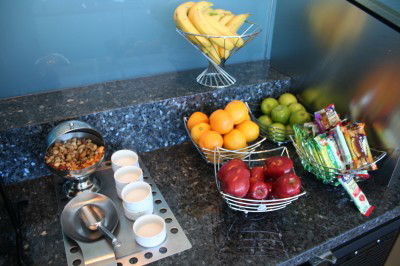 HOT NUT SERVER!!!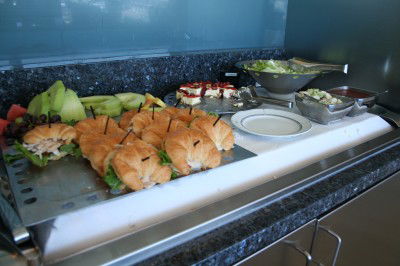 Snacks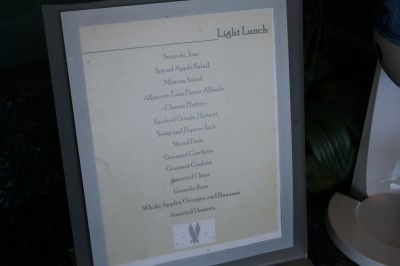 Menu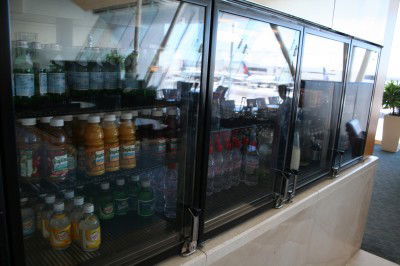 Drink selection
The highlight, of course, was the huge hot nuts bowl, which kept them nice and warm, accented by a handful of ramekins.
There were plenty of areas open to sit, and since we were hungry we went to one of the tables by the window and "sampled the selection."
The food was pretty tasty and washed down quite well with Diet Coke with lime. Although nothing was gourmet, it did the job.
Comparing this lounge to United IFLs (International First Lounges), this blows United out of the water. The AAgents, atmosphere, food and drink selection, and design were much nicer. I'm hard on United because I like to call them "my airline," but I think it might be worth flying American a bit more if I'm connecting through a city with a Flagship Lounge (New York/JFK, Miami, Chicago, Los Angeles, etc).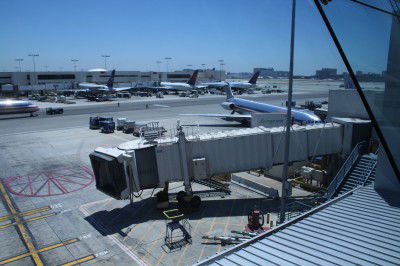 Tarmac view
And by the way, did I mention how much more enjoyable it is to a use an international first class lounge when traveling domestically vs. internationally? Before an international first class flight I don't want to ruin my appetite with the lounge food, but when traveling up to San Francisco on a quick hour-long flight right around lunch time, this is a great place to eat. Perhaps an even better dining experience than Encounter…