---
I don't have a whole lot to say about a 30 minute flight with a buy on board menu in economy, but I figure some review is better than none.
I've long been intrigued by Riga-based AirBaltic. Interestingly the airline was the launch customer for the CSeries 300 (now known as the Airbus A220-300), even though it's an airline many aren't familiar with. The airline is also known for their interesting social media presence, like the first ever ballet performed by an airplane, as they described it:
So is there anything special about their onboard experience?
AirBaltic 312
Tallinn (TLL) – Riga (RIX)
Saturday, August 18
Depart: 10:45AM
Arrive: 11:35AM
Duration: 50min
Aircraft: Boeing 737-500
Seat: 10A (Economy Class)
Our flight was operated by a 737-500, and sadly not an A220. For that matter we were lucky because most of the flights between Tallinn and Riga seem to be operated by turboprops.
First of all, it's interesting that AirBaltic has a business class cabin, but it was outrageously priced for our flight (5x the price of economy), and they didn't have any sort of reasonably priced upgrade offer (which many airlines do).
Since we had booked a "priority ticket" (which includes a checked bag and priority boarding) we could select seats in advance, so I decided to assign us seats 10A & 10C. 10A is the seat in the exit row with no seat in front, so I had the most legroom of anyone on the plane. We were hoping 10B would stay empty, but the plane was fully booked, so there was someone seated between us.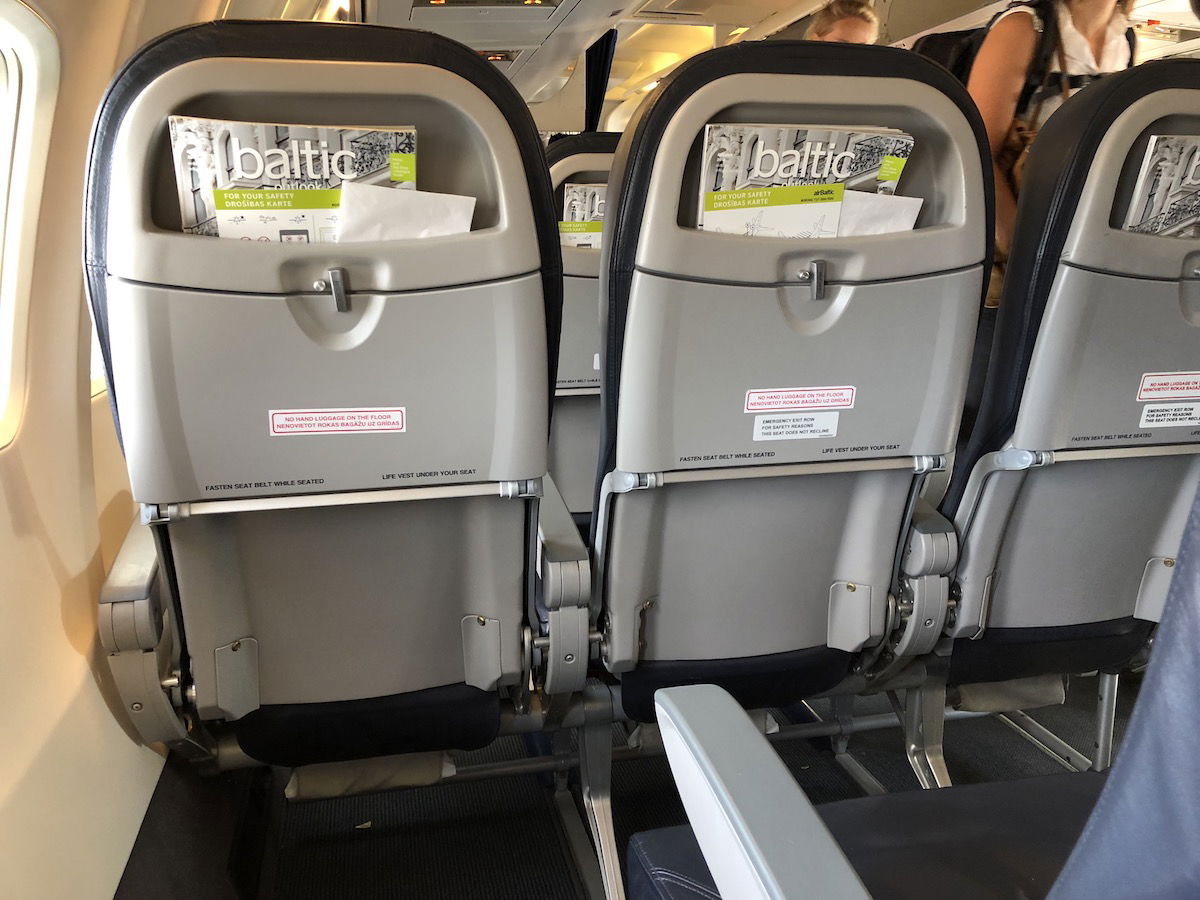 AirBaltic 737 economy cabin
Other than my seat, the legroom in the cabin didn't look very good.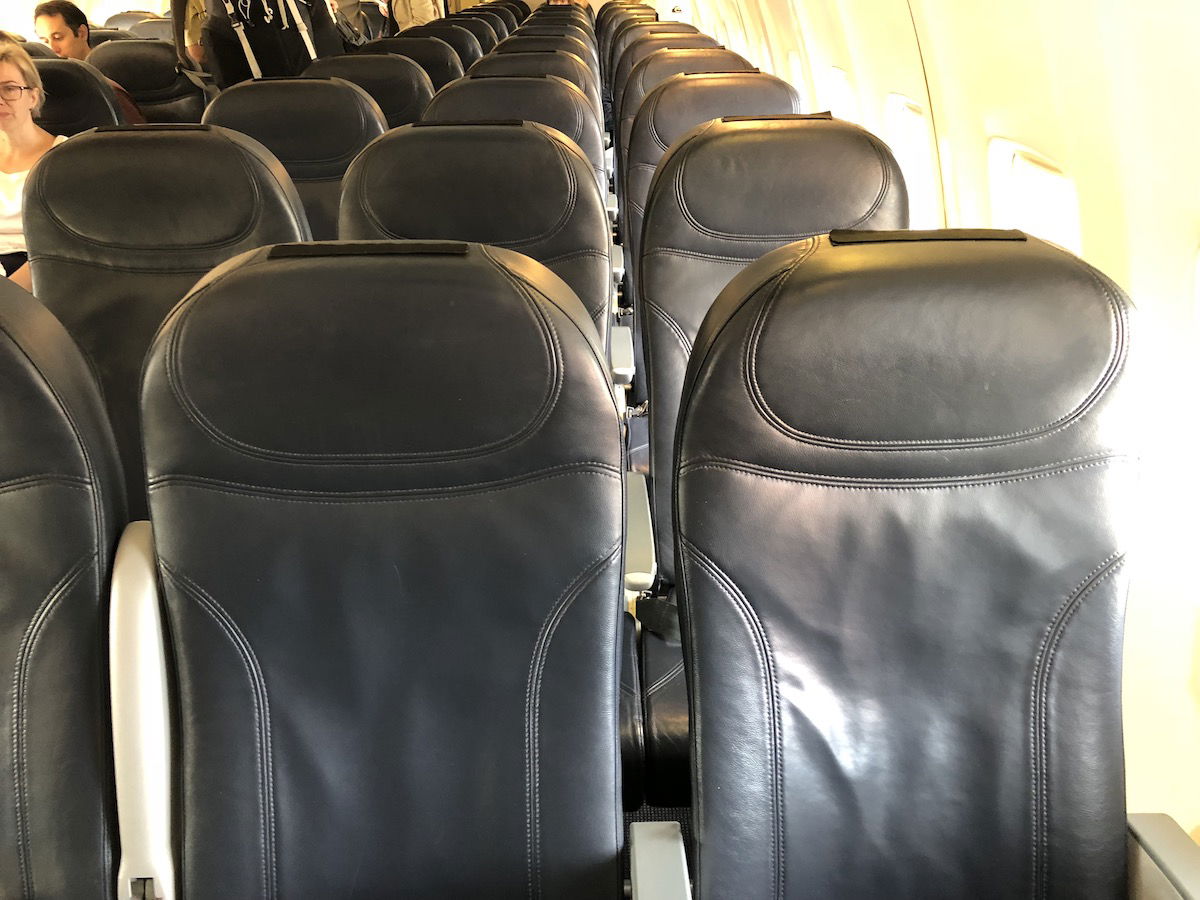 AirBaltic 737 economy cabin
The boarding process was fairly efficient, and at 10:35AM the captain added his welcome onboard and informed us of our flight time of 30 minutes. At that moment the door closed, and five minutes later we began our pushback.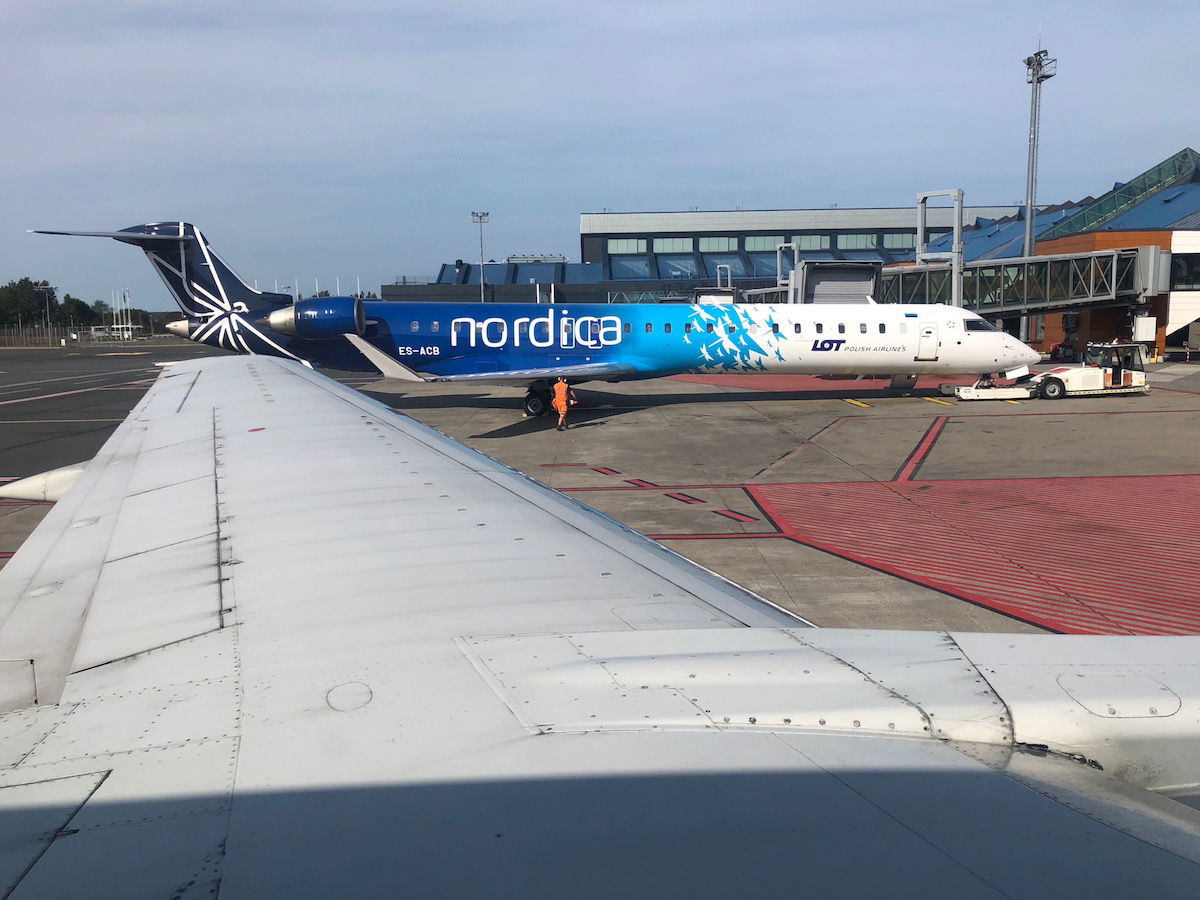 Pushing back Tallinn Airport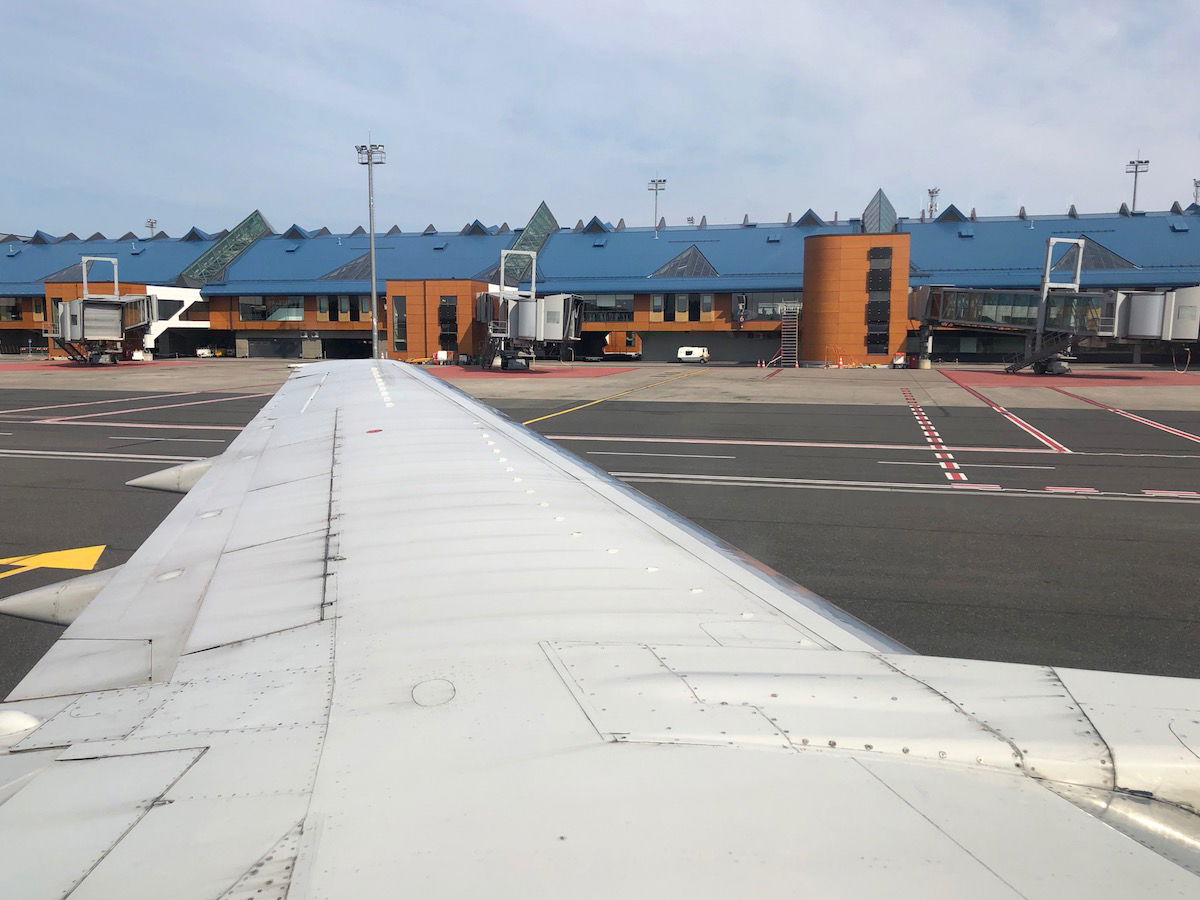 Taxiing Tallinn Airport
As we pushed back the crew performed a manual safety demonstration. The crew was totally fine, though not especially friendly or full of smiles. I found it interesting that the guy next to me was asked to wear the sweater he had in his lap. The flight attendant said that because he was in the exit row he could have nothing in his lap. I know different airlines have different policies, though being told you can't hold a sweater is a new one for me.
We had a really quick taxi to our departure runway, which was runway 8, and were airborne at 10:45AM.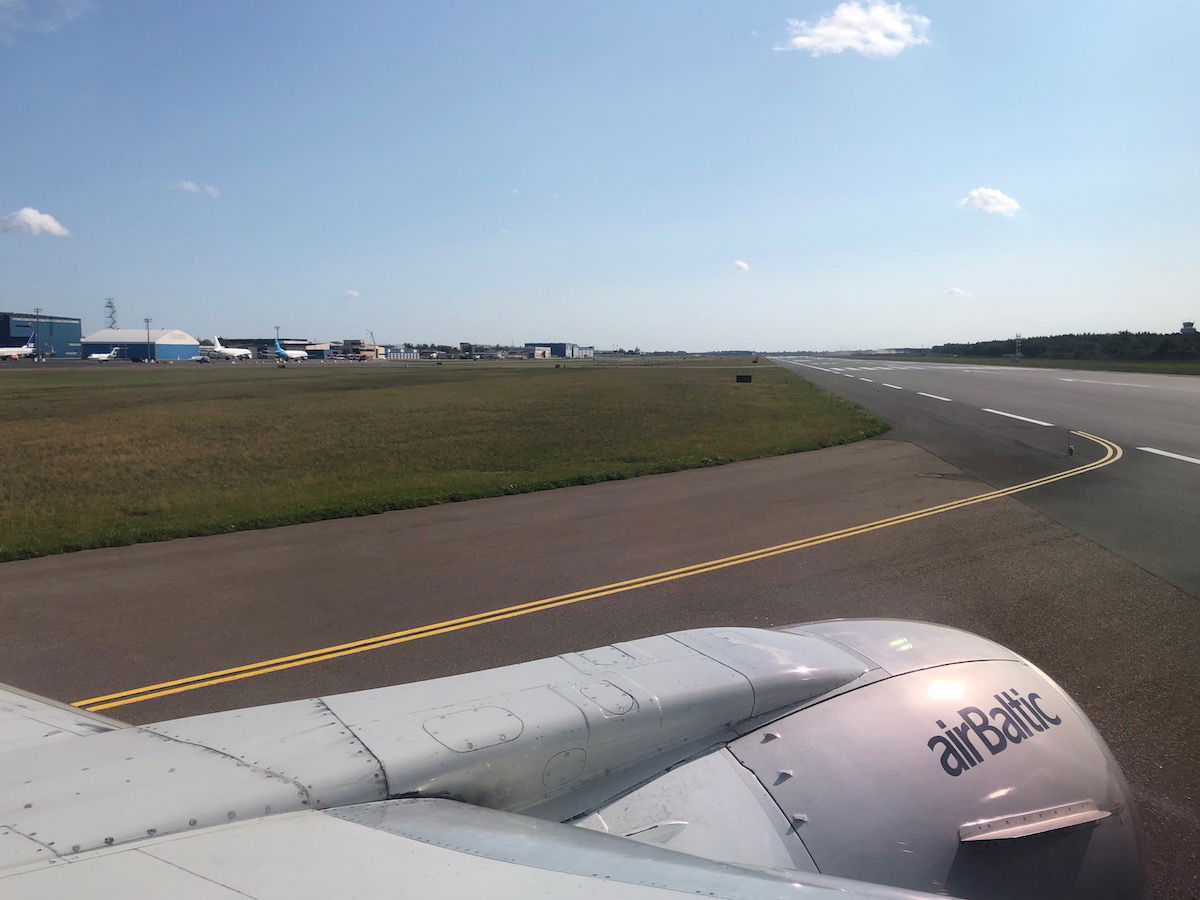 Taxiing Tallinn Airport
The 737-500 is a pretty powerful aircraft, so we were quickly airborne.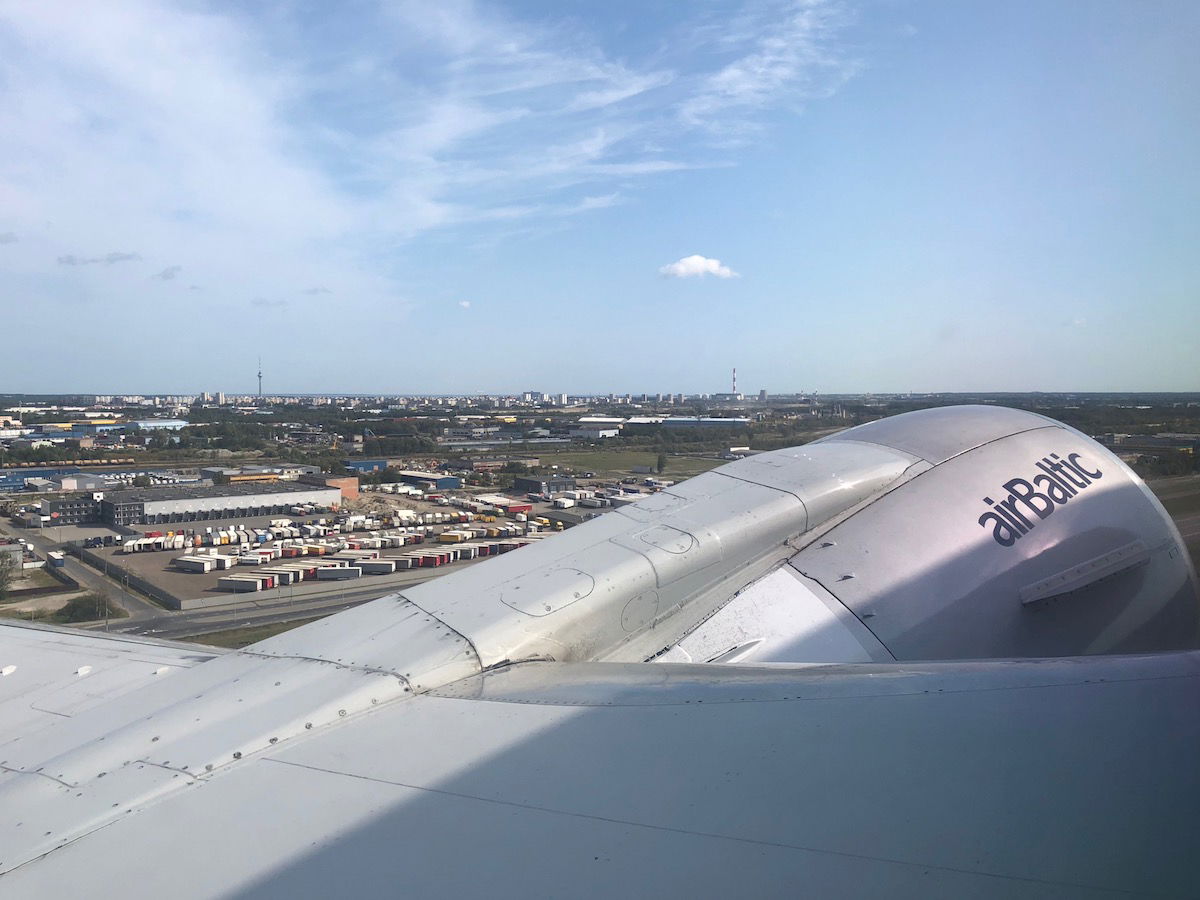 View after takeoff from Tallinn
The seatbelt sign was turned off about five minutes after takeoff, at which point the crew commenced their service. That took all of three minutes, because AirBaltic has a buy on board service in economy, so nothing is free. I didn't see anyone buy anything.
Despite the short flight the curtain was closed between economy and business, and I imagine there was a meal service up there.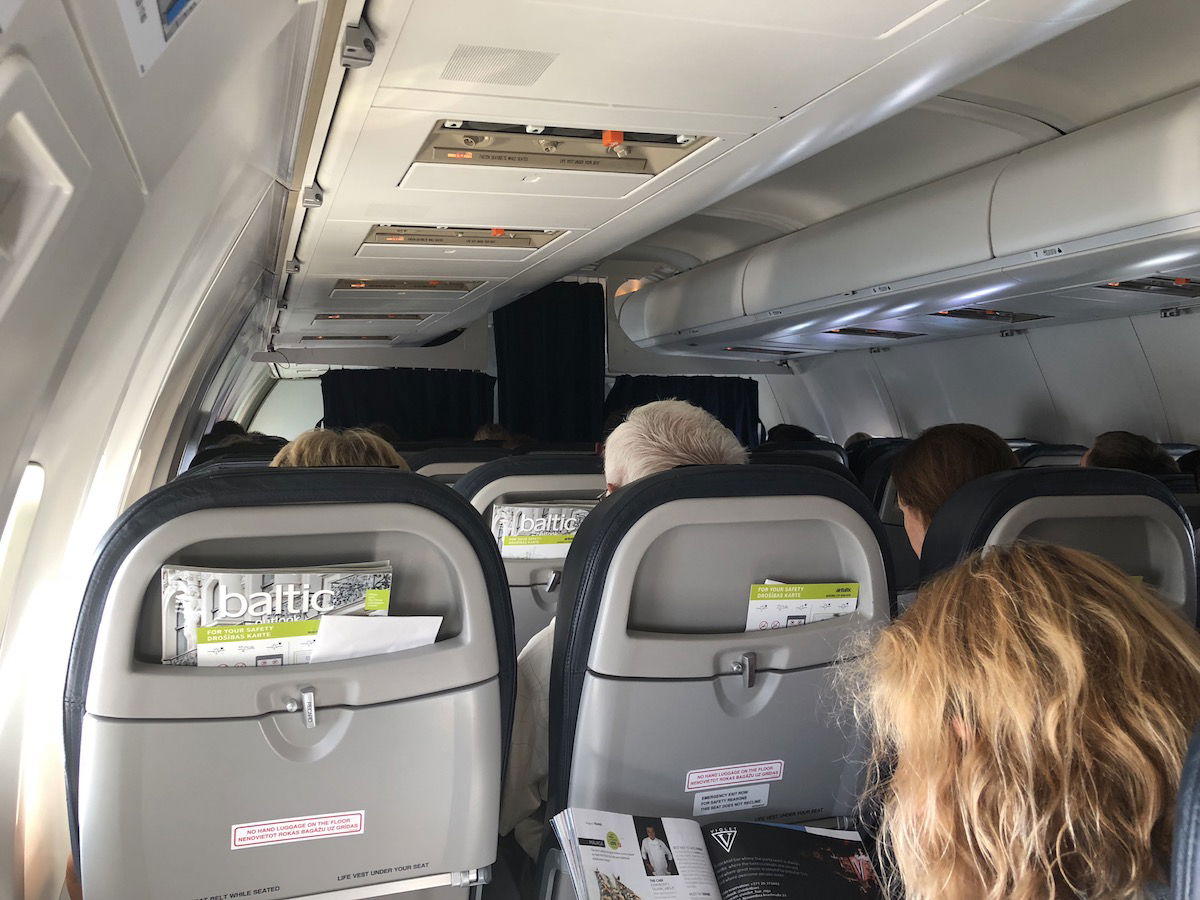 AirBaltic 737 cabin enroute to Riga
I spent most of the 175 mile flight just looking out the window, though the landscape wasn't that remarkable, as we were over the Gulf of Riga for much of the flight.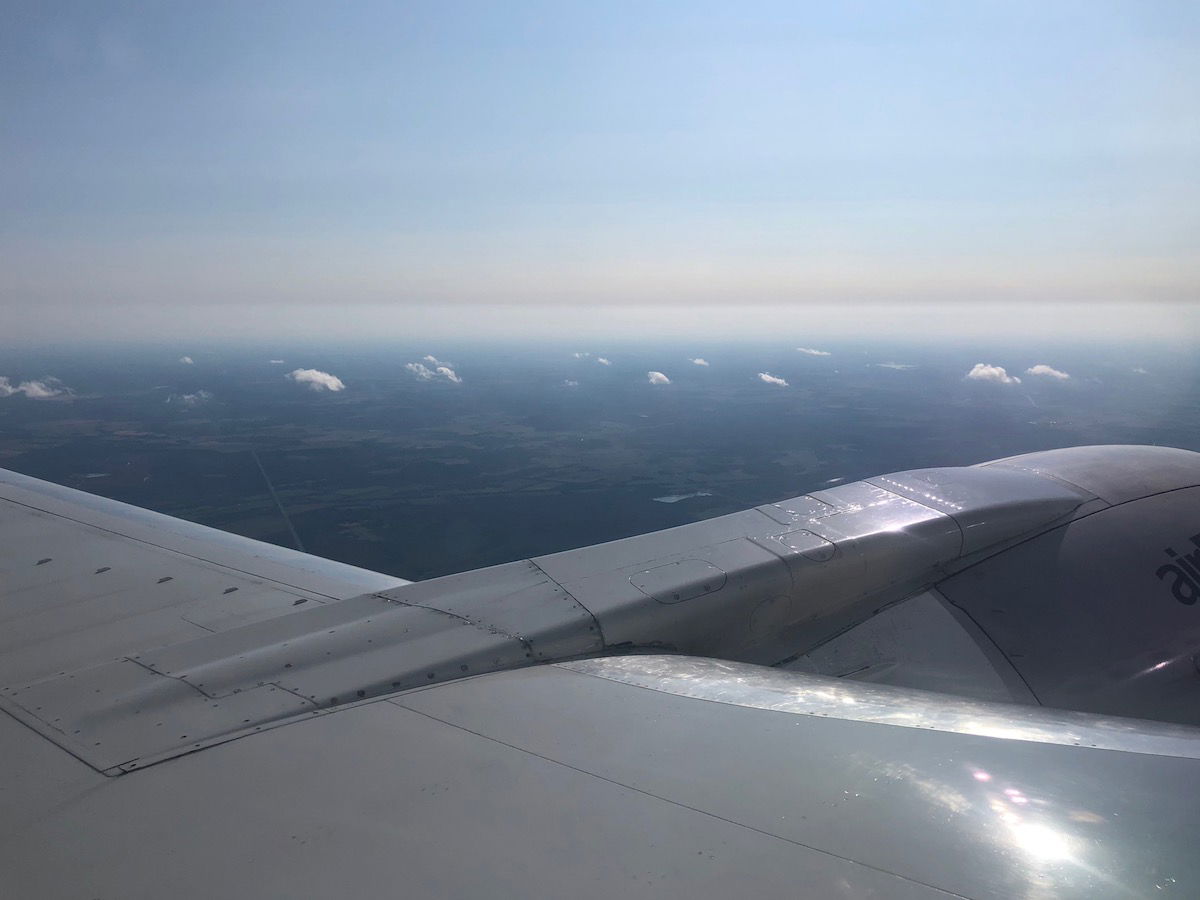 Climbing out of Tallinn
Soon enough we were starting our descent, and the Daugava River (I believe) came into sight.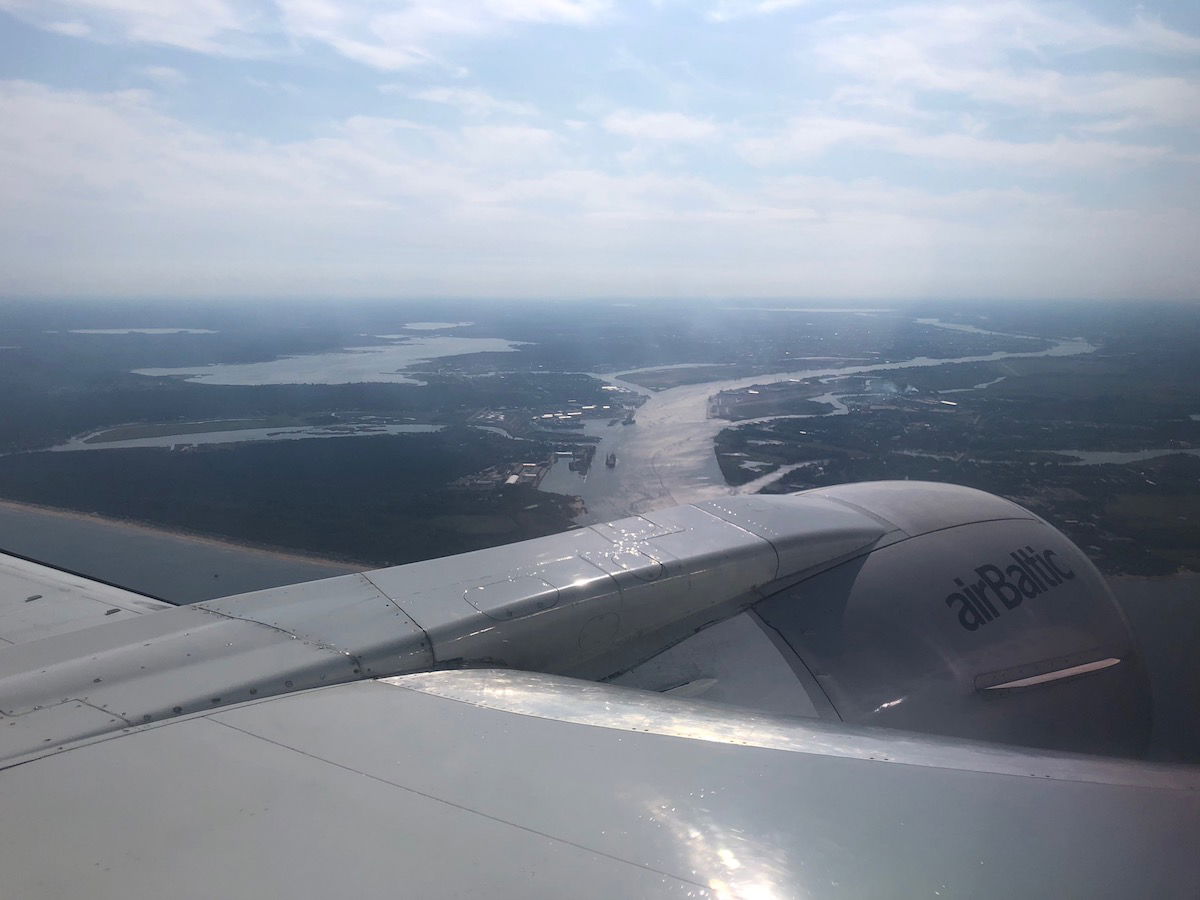 View approaching Riga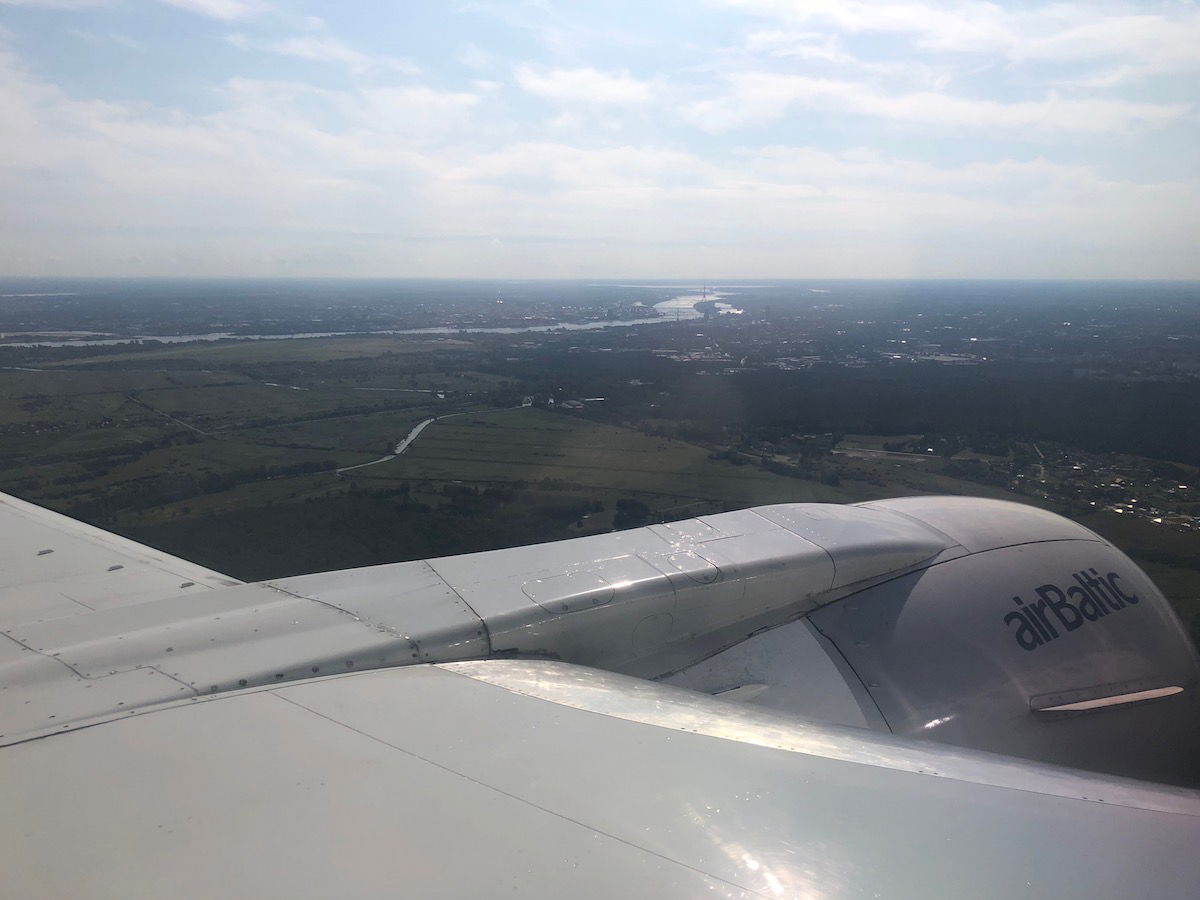 View approaching Riga
We touched down in Riga at 11:20AM on runway 36. The flight took a bit longer than expected, presumably because we landed into the north.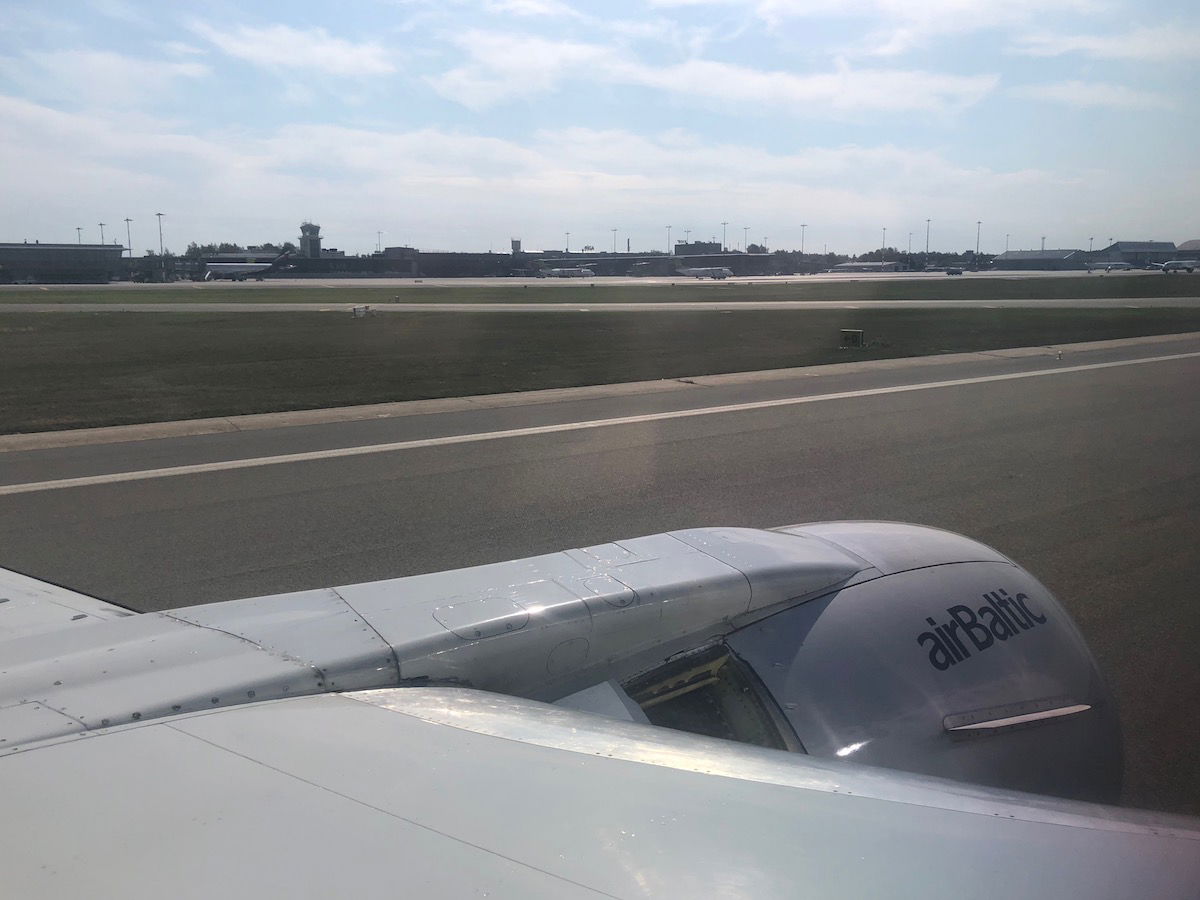 Touchdown Riga
After landing we had a short five minute taxi to our arrival stand.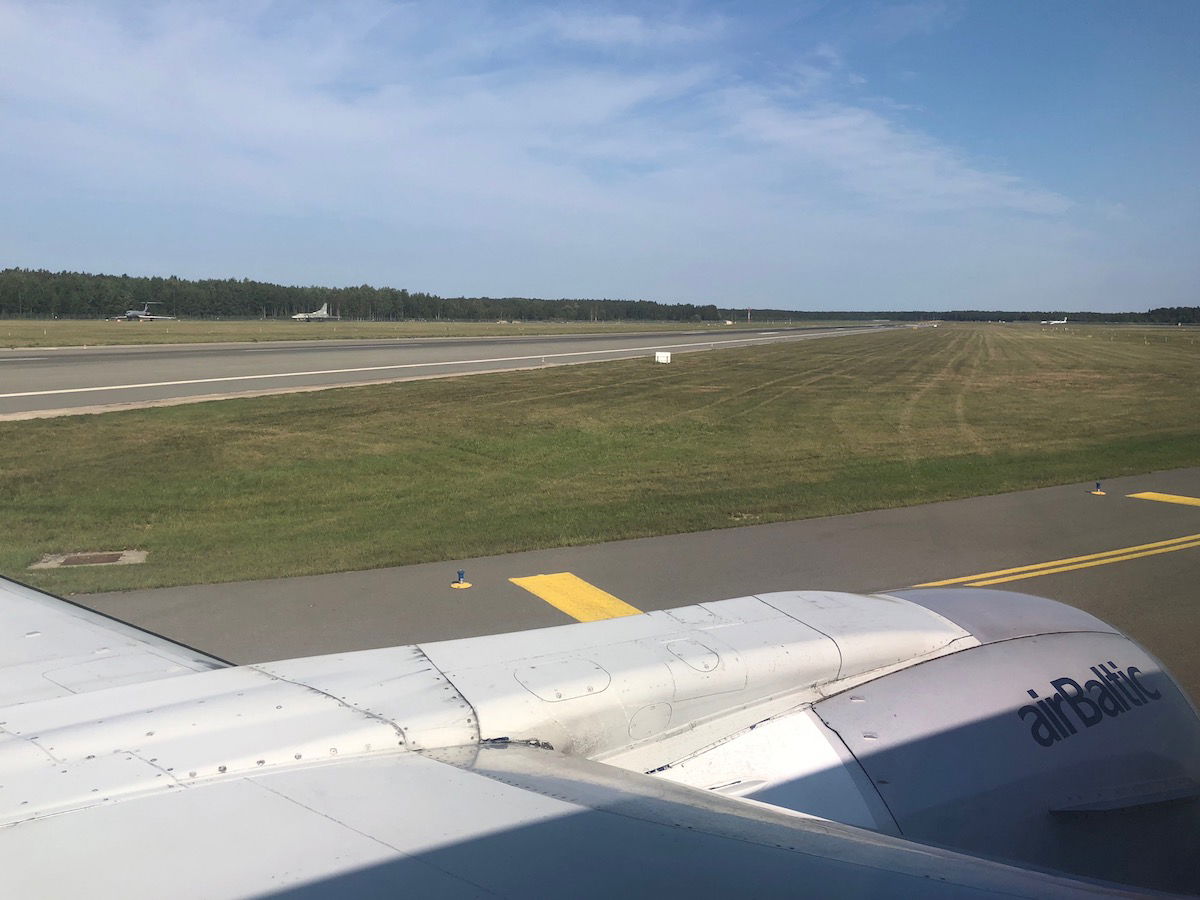 Taxiing Riga Airport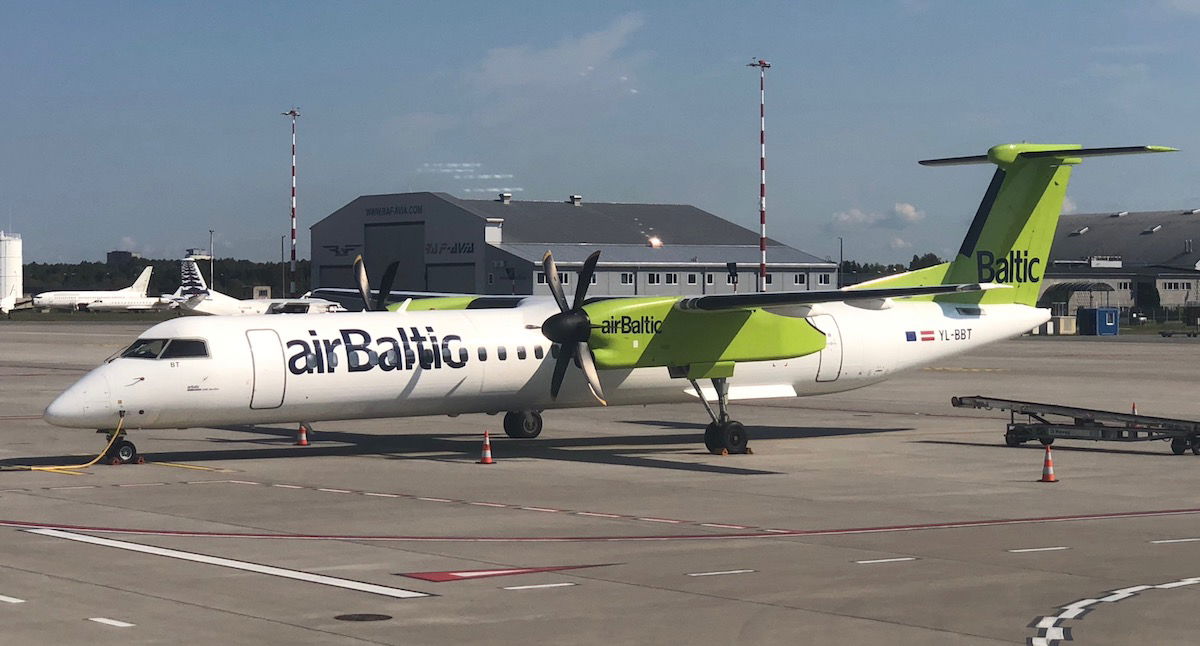 AirBaltic Dash 8 Riga Airport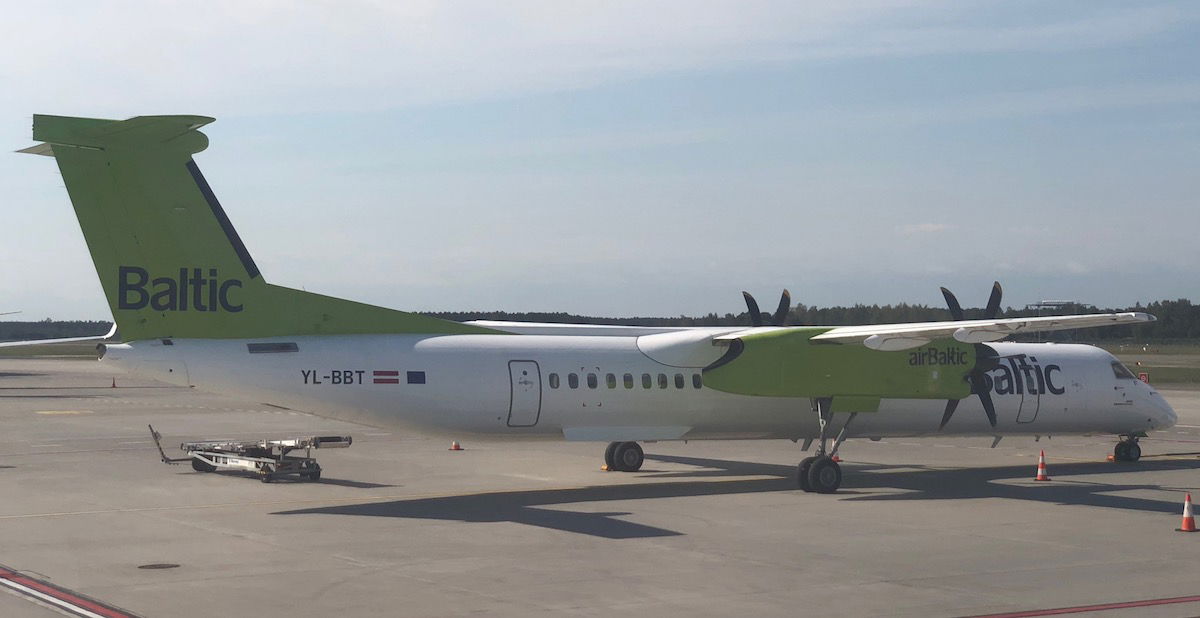 AirBaltic Dash 8 Riga Airport
Unfortunately we were arriving at a remote stand, which isn't ideal. At the same time I wasn't able to grab a good picture of the exterior of the plane on departure, so I was sort of happy to get one while walking out.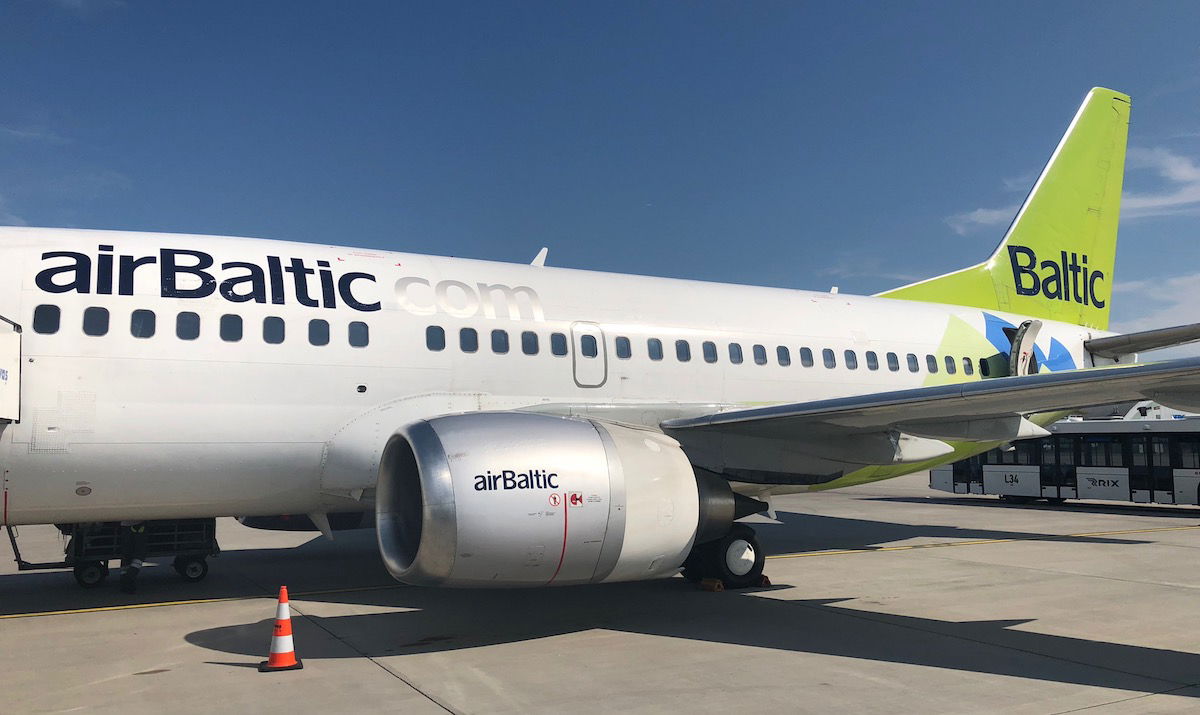 AirBaltic 737 Riga Airport
Upon arriving at the terminal we headed into the arrivals hall, where we were met by a driver from our hotel.
AirBaltic economy bottom line
AirBaltic's experience is pretty no frills, but then again, most travel within Europe is. AirBaltic doesn't offer any complimentary food or drinks on these flights, and the crew was just alright. On the plus side, the flight was punctual, so I really can't complain.
Perhaps what makes AirBaltic unique is that they have A220s, so I'd try to fly one of those next time, since the plane offers a great passenger experience.