JetBlue has just become the third US carrier, after Frontier and American, to order the A321LR, which was just launched at the Paris Air Show this week.
JetBlue's A321XLR order
JetBlue's acquisition of A321XLRs isn't coming in the form of a new order. Rather JetBlue has converted 13 of their existing A321neo orders into A321XLR orders, with deliveries scheduled to begin in 2023.
With this order, JetBlue now has the A321neo, A321LR, and A321XLR on order:
JetBlue has 59 A321neos on order, with deliveries to begin this year
JetBlue has 13 A321LRs on order, with delivery to begin in 2021
JetBlue has 13 A321XLRs on order, with delivery to begin in 2023
JetBlue says that this A321XLR order will allow them to implement further expansion to additional European destinations from Boston to New York, while also providing added fuel efficiency.
The A321LR has a range of about 4,000 nautical miles, while the A321XLR has a range of about 4,700 nautical miles.
JetBlue's CEO, Robin Hayes, said the following about the order:
"The incredible extended range of the A321XLR allows us to evaluate even more overseas destinations as we think about JetBlue's expansion into European markets plagued by high premium fares and subpar service."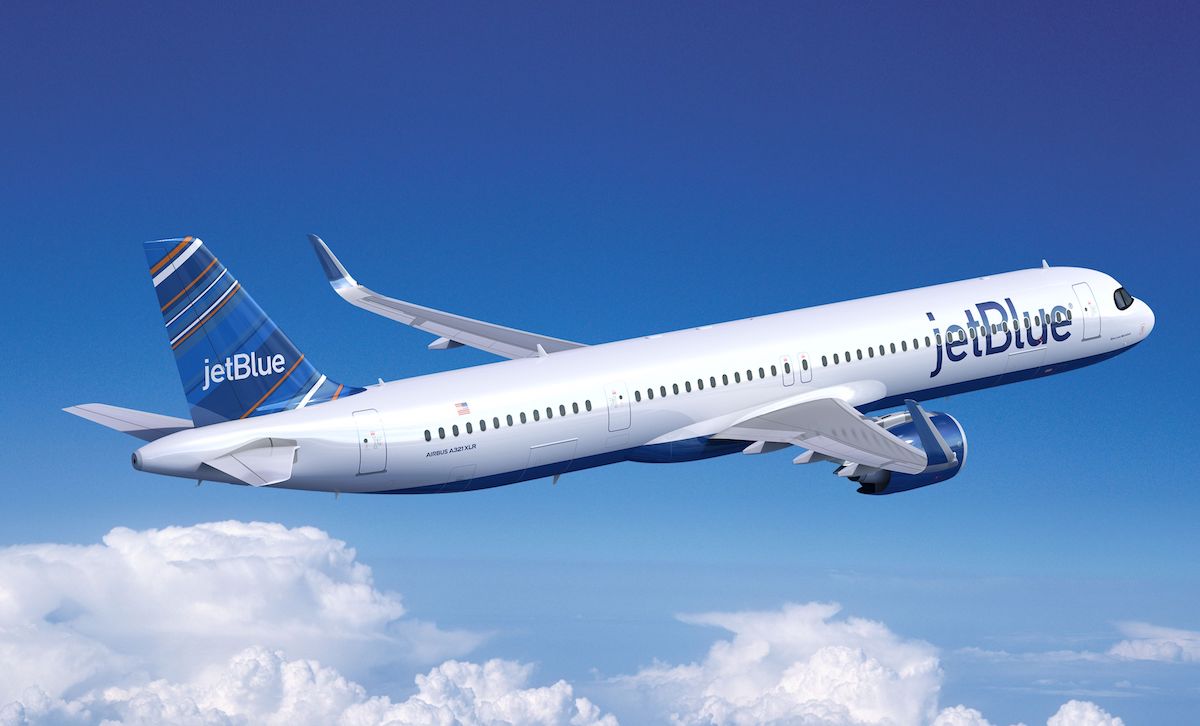 JetBlue doesn't need these A321XLRs to fly to Europe
Many of you may recall that earlier this year JetBlue announced their intentions to start flying to London as of 2021.
While details are still limited regarding exactly when flights will launch, the frequencies with which they'll operate, and which London airport they'll use, it seems like they intend to operate the flights from Boston and New York JFK.
Today's order conversion has nothing to do with that announcement. The Boston and New York to London flights can be flown with JetBlue's A321LRs, which they'll take delivery of starting in 2021.
So it's not that JetBlue needs the A321XLR to fly to London, even if they do maybe eventually use these planes for the routes.
What could JetBlue do with A321XLRs?
The A321XLR has a range of 4,700 nautical miles, so here's the theoretical range for the plane from Boston: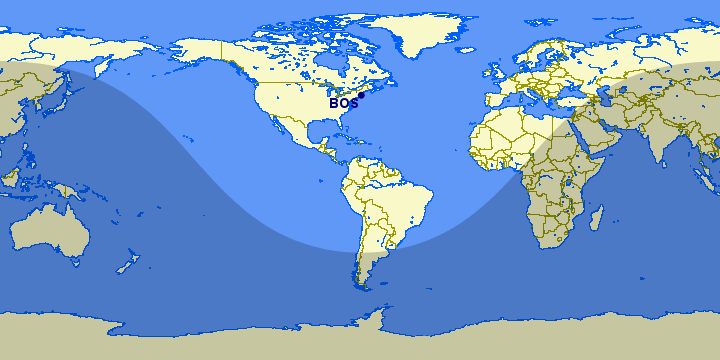 And the theoretical range from New York: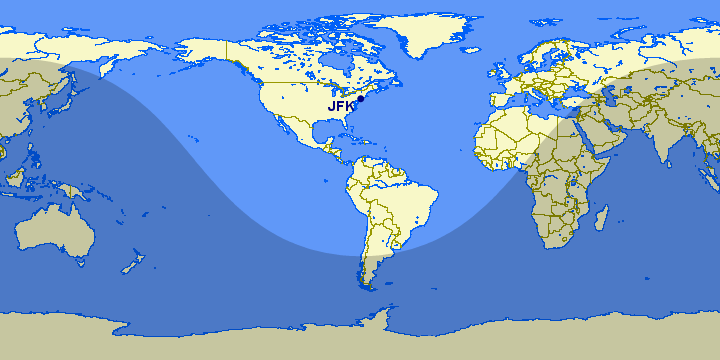 In reality it won't ever fly quite that long:
Planes never operate routes anywhere close to their absolute range, since they need fuel reserves
The range doesn't factor in winds, and on transatlantic flights winds can be brutal going west depending on the season
But it does make you wonder what JetBlue could potentially be considering that isn't practical with the A321LR. The A321LR should be able to fly year-round with a fully payload to London, Dublin, Amsterdam, Paris, etc.
So, what could JetBlue be thinking with the A321XLR? I'd say anything further East than London starts to get to the point where an A321XLR could come in handy, including to Rome, Frankfurt, Munich, etc.
I suppose we could eventually see JetBlue fly from Fort Lauderdale to London, or even from Fort Lauderdale to South America. However, as of now they're saying these planes are intended for Boston and New York.
I doubt JetBlue has any concrete plans for flying "deep" into Europe as of now, though I think they ordered these planes because they given them the flexibility to add those routes.
Bottom line
It's not too surprising to see JetBlue order the A321XLR. They're actually one of the airlines that asked Airbus for a longer range version of the A321.
While the A321LR does the trick for JetBlue's immediate plans for Northeast to London service, expansion beyond that could benefit from the flexibility offered by the A321LR.
My guess is that JetBlue doesn't have anything specific in mind as of now. Rather I think they'll launch London flights in 2021 and see how they go, and then they have a couple of years to figure out what to do with the A321XLR.
What do you make fo JetBlue's A321XLR order, and where do you think they'll fly them?