---
I'm going to keep this review relatively short, given that I've reviewed Lufthansa first class many times before, including on the exact same plane on the exact same route (so check out that post for the most comprehensive 747-8 first class review).
We arrived at the Lufthansa First Class Terminal at around 11AM for our 1:05PM flight. We had lunch and of course requested a duck or two from the shower attendant, as usual.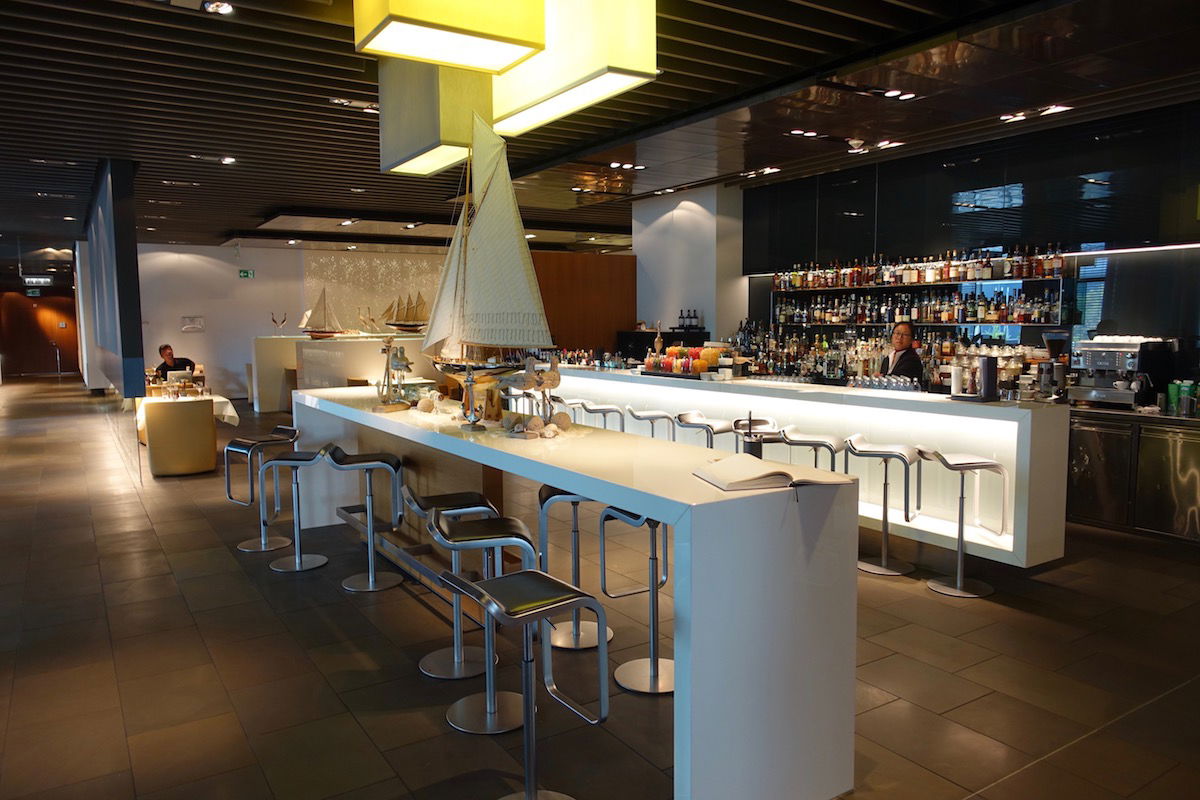 Lufthansa First Class Terminal Frankfurt
Our flight was scheduled to board at 12:20PM from gate Z54 (according to our boarding passes), though since the First Class Terminal isn't connected to the terminal, you're just driven around the start of boarding. Our PA told us she'd fetch us when our flight was ready, and sure enough we were approached at 12:35PM.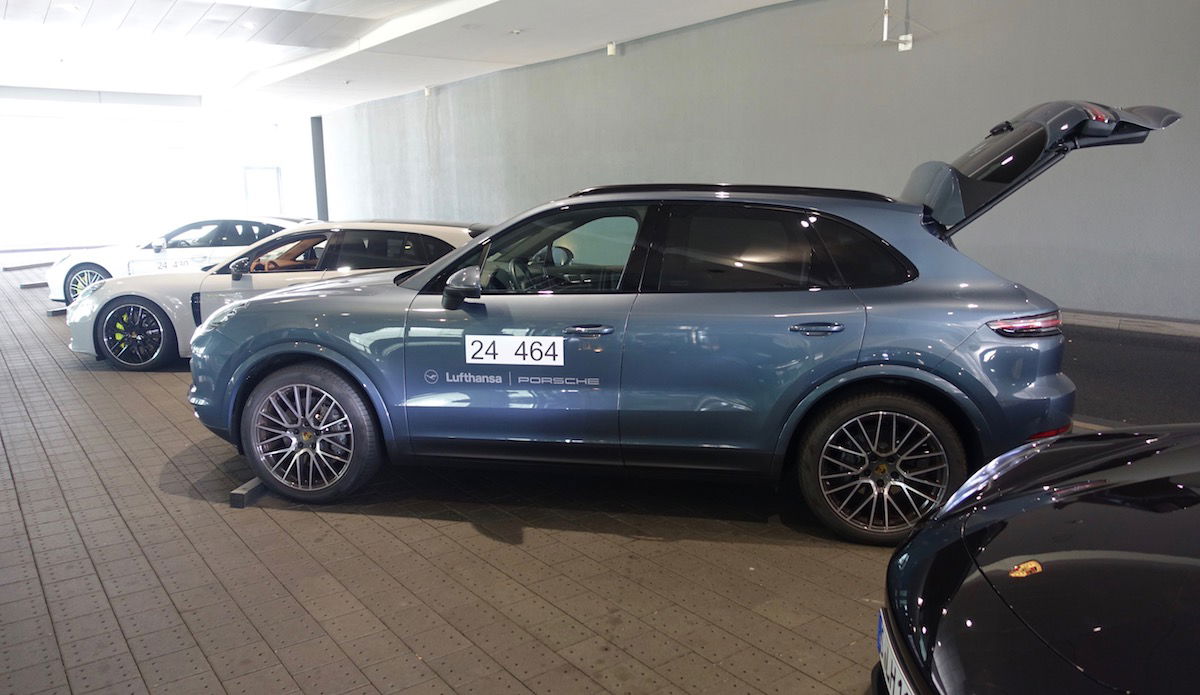 Lufthansa First Class Terminal fleet
Unfortunately there were a total of five first class passengers on the bus, so we got a Mercedes minivan, rather than one of the nicer private rides. It was a pretty tight fit, since the Mercedes has a total of five passenger seats (four in the back and one next to the driver).
On the plus side, we got to walk next to the beautiful 747-8 before boarding. While I've been resistant to Lufthansa's new livery, I still think it's a beautiful looking plane.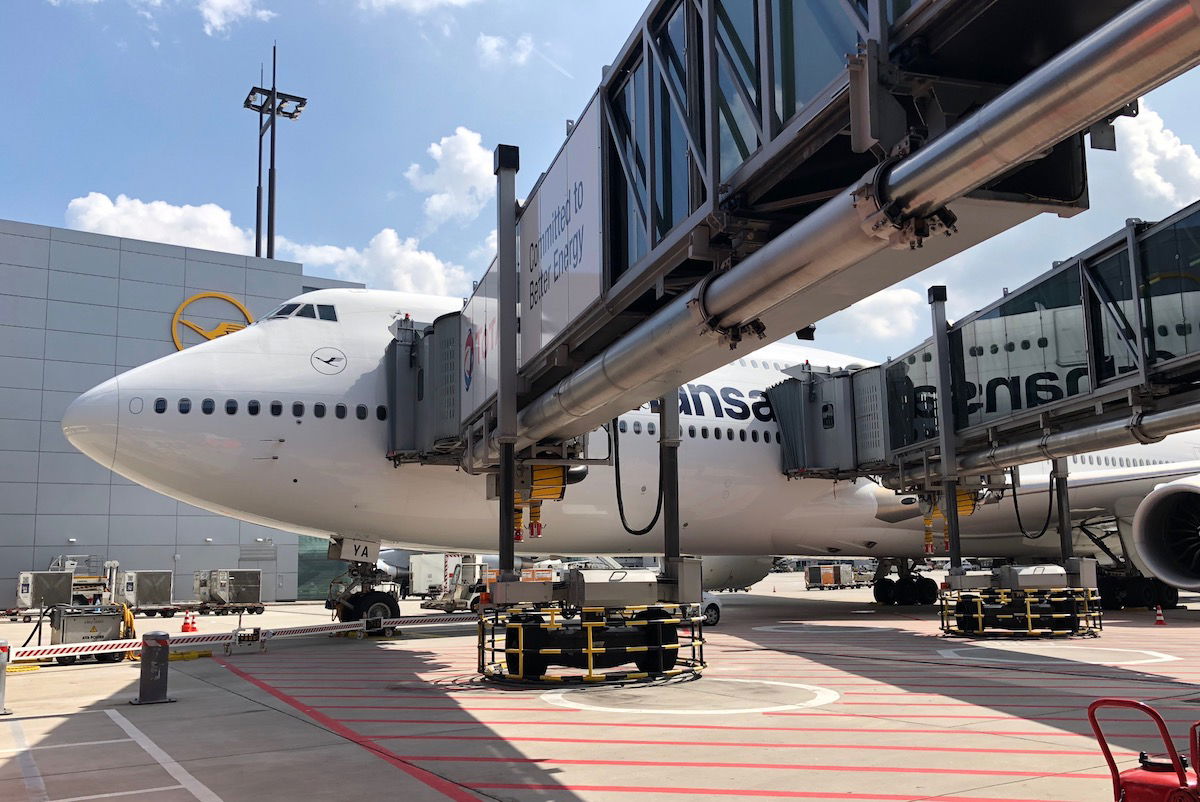 Lufthansa 747-8 taking us to Boston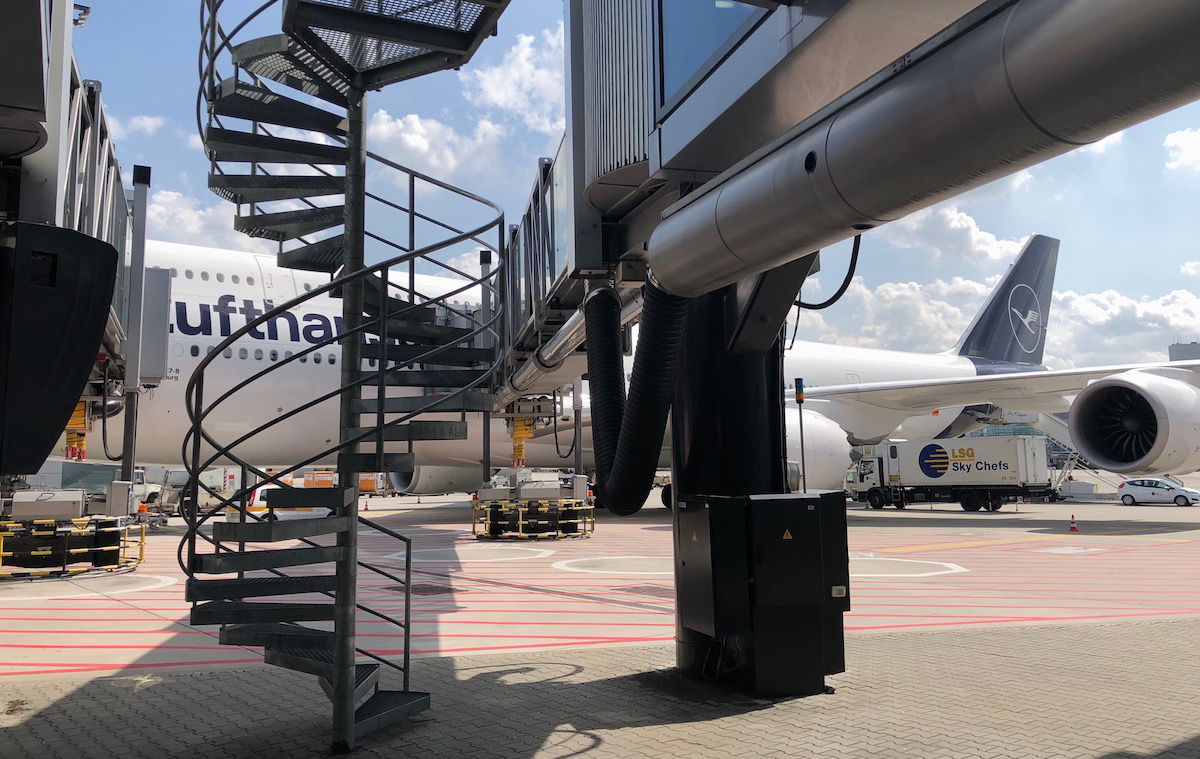 Lufthansa 747-8 taking us to Boston
We were brought to an elevator and then that let out in the jet bridge, where the driver escorted the first class passengers past everyone else (which is always a bit awkward).
Lufthansa 422
Frankfurt (FRA) – Boston (BOS)
Tuesday, August 21
Depart: 1:05PM
Arrive: 3:00PM
Duration: 7hr55min
Aircraft: Boeing 747-8
Seat: 3D (First Class)
While I always like to be the first onboard to get good pictures, you don't have much control over that when you're being driven to the plane from the First Class Terminal, as several first class passengers were boarding at the same time. So for full cabin pictures, see my previous 747-8 first class review.
While all of Lufthansa's longhaul aircraft with first class have the same seats and the same number of seats, the 747-8 has a different configuration. Other planes have two rows of first class in a 1-2-1 configuration, while the 747-8 has three rows in a 1-1 configuration, with two center seats in the last row. I assigned the two center seats for us.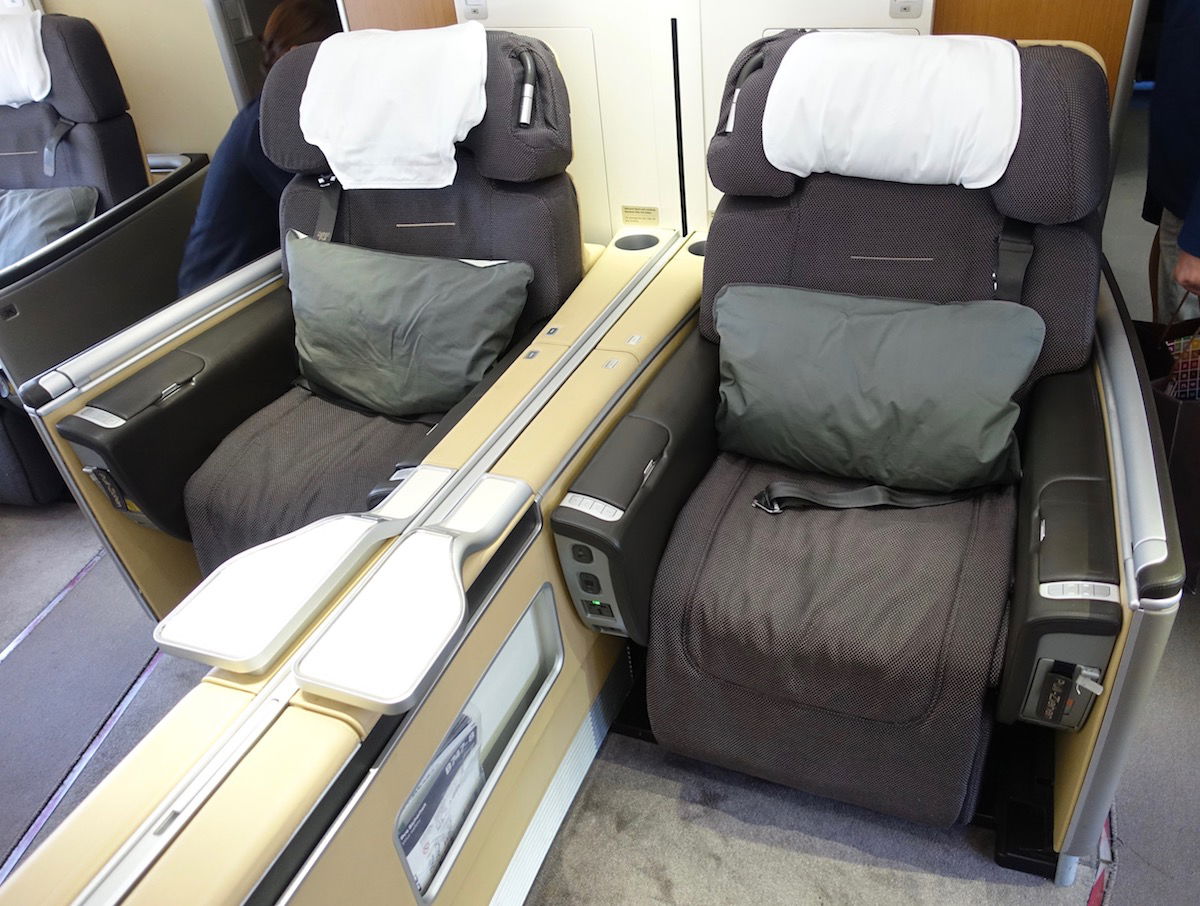 Lufthansa 747-8 first class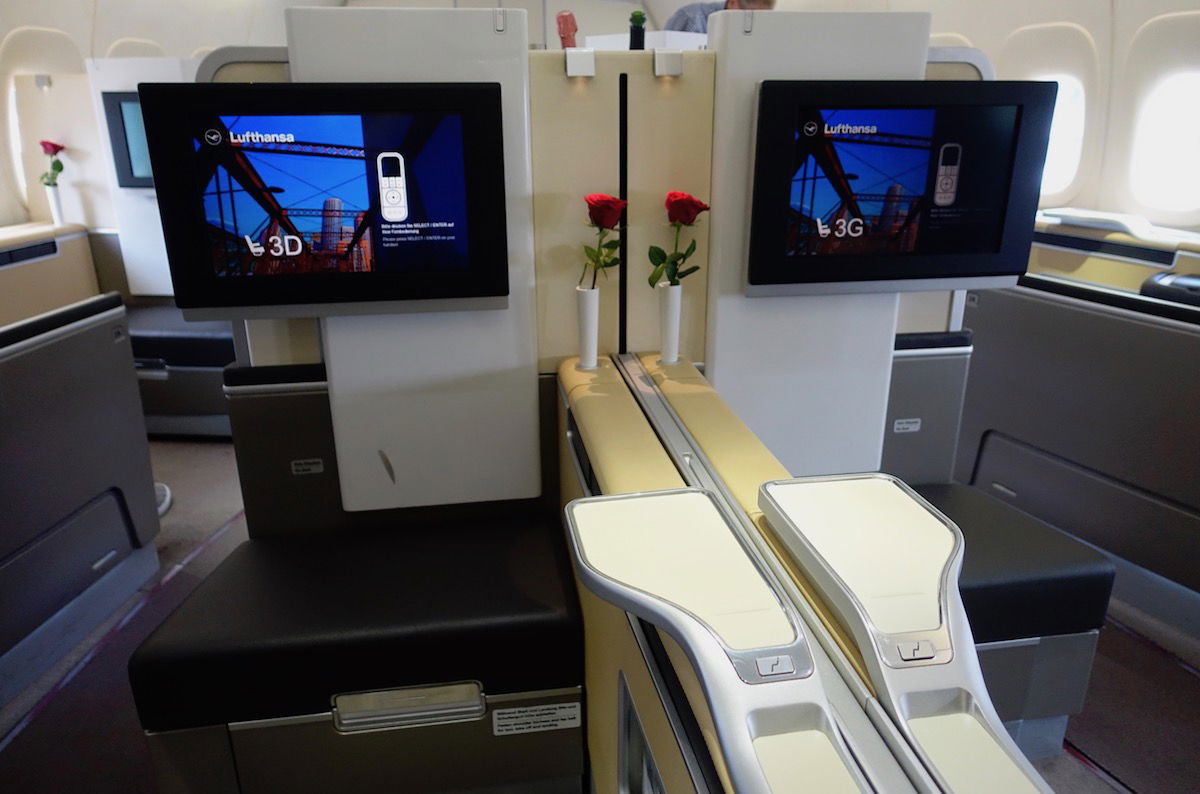 Lufthansa 747-8 first class
While having only eight seats in the nose of the 747 is a sparse configuration (British Airways has 14 seats in the nose of the 747-400), the cabin does still feel a bit tight in row three, where you have four seats.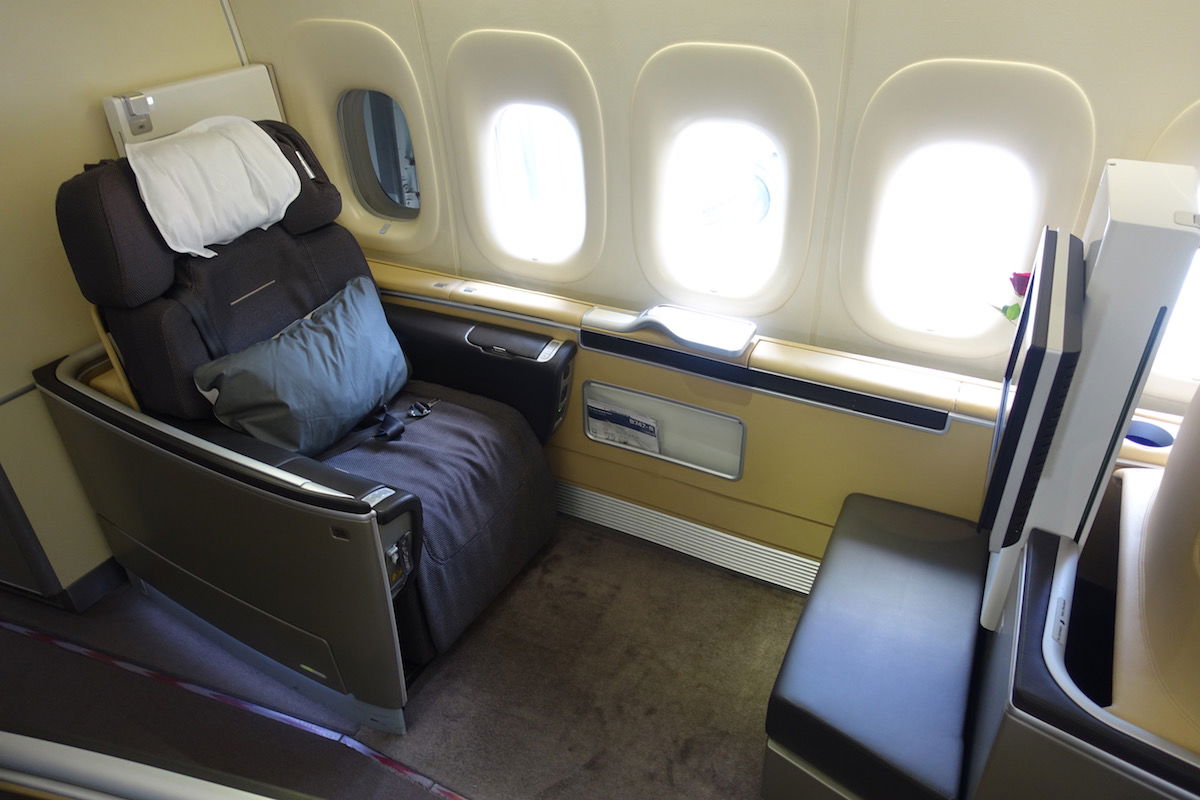 Lufthansa 747-8 first class
As soon as we were settled in, a flight attendant came by to offer us pre-departure beverages of choice. We both ordered champagne and sparkling water, which came with some mixed nuts (rather than the macadamia nuts we were offered on the outbound).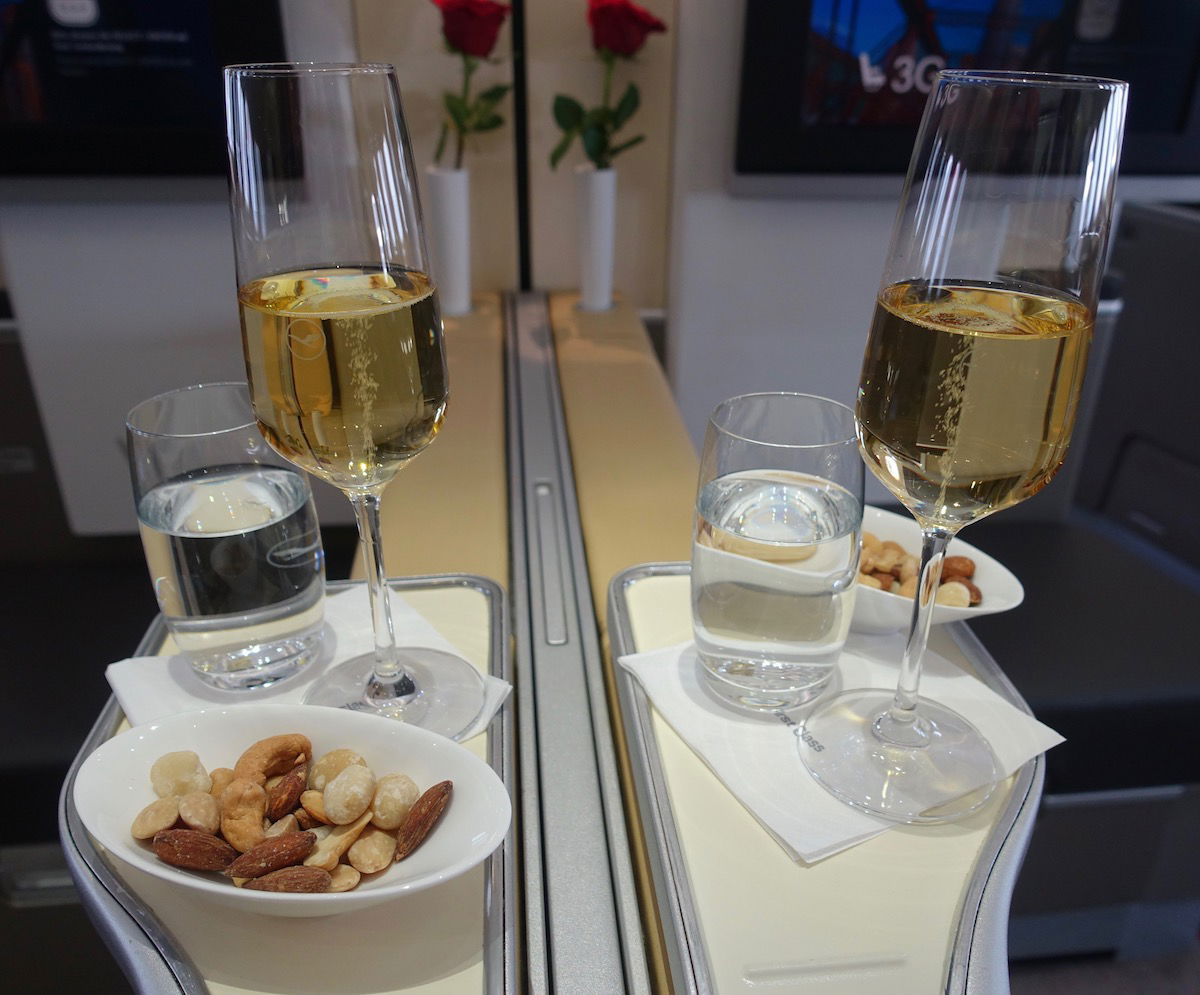 Lufthansa first class — champagne & mixed nuts
After that we were presented with the amenities for the flight, including pajamas, amenity kits, slippers, and menus.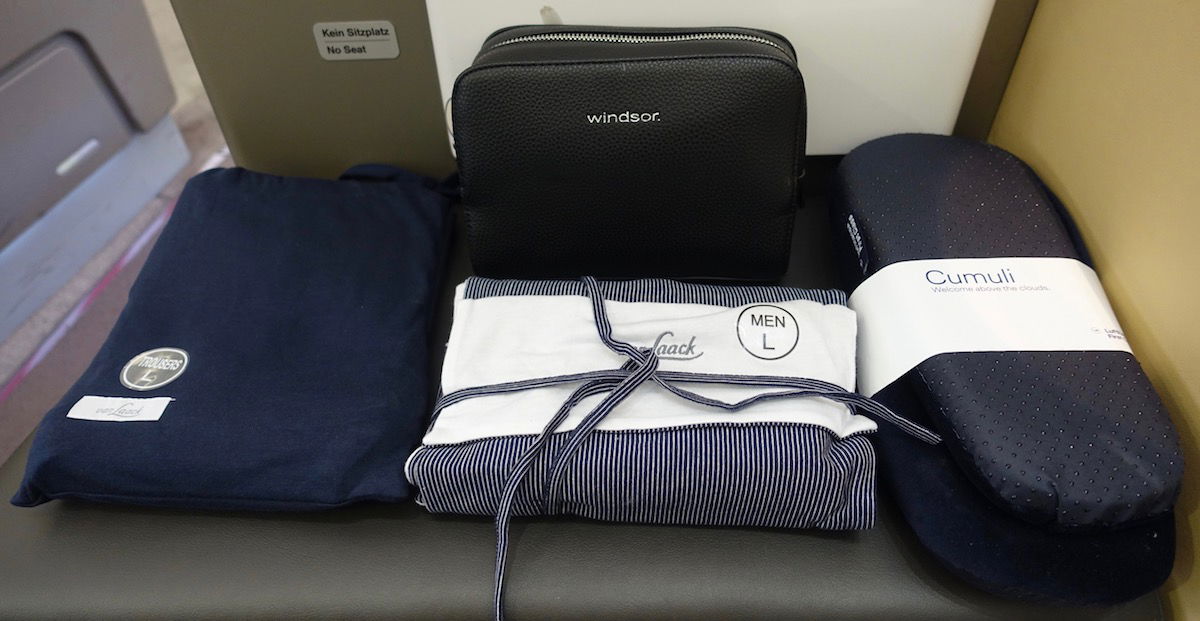 Lufthansa first class — amenities
Boarding was quick, and by 1PM it was announced that boarding was complete, with every seat on the plane taken. Shortly thereafter the captain announced our flight time of 7hr15min, and that we should be departing shortly. At 1:10PM the safety video was screened, but we ended up only pushing back at 1:30PM, due to congestion around our gate.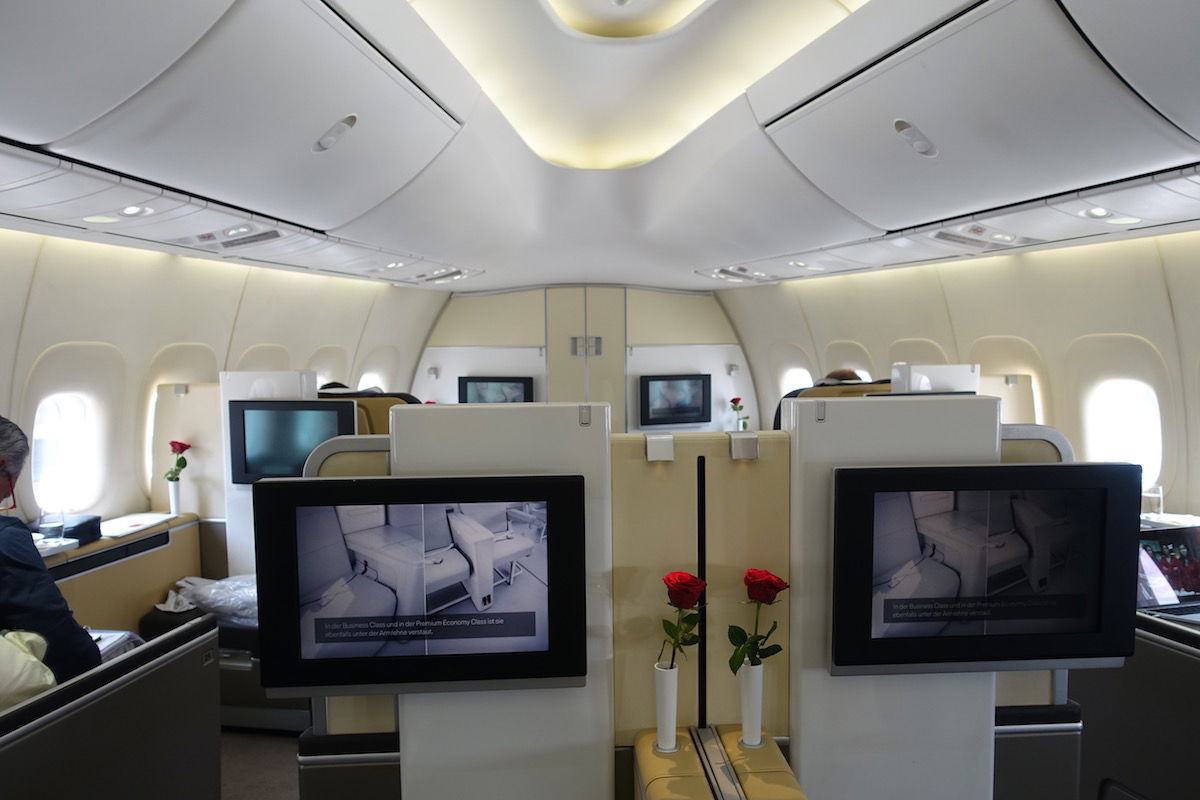 Lufthansa 747-8 first class cabin
Once we pushed back our taxi was quick, and by 1:45PM we were cleared for takeoff on runway 7C.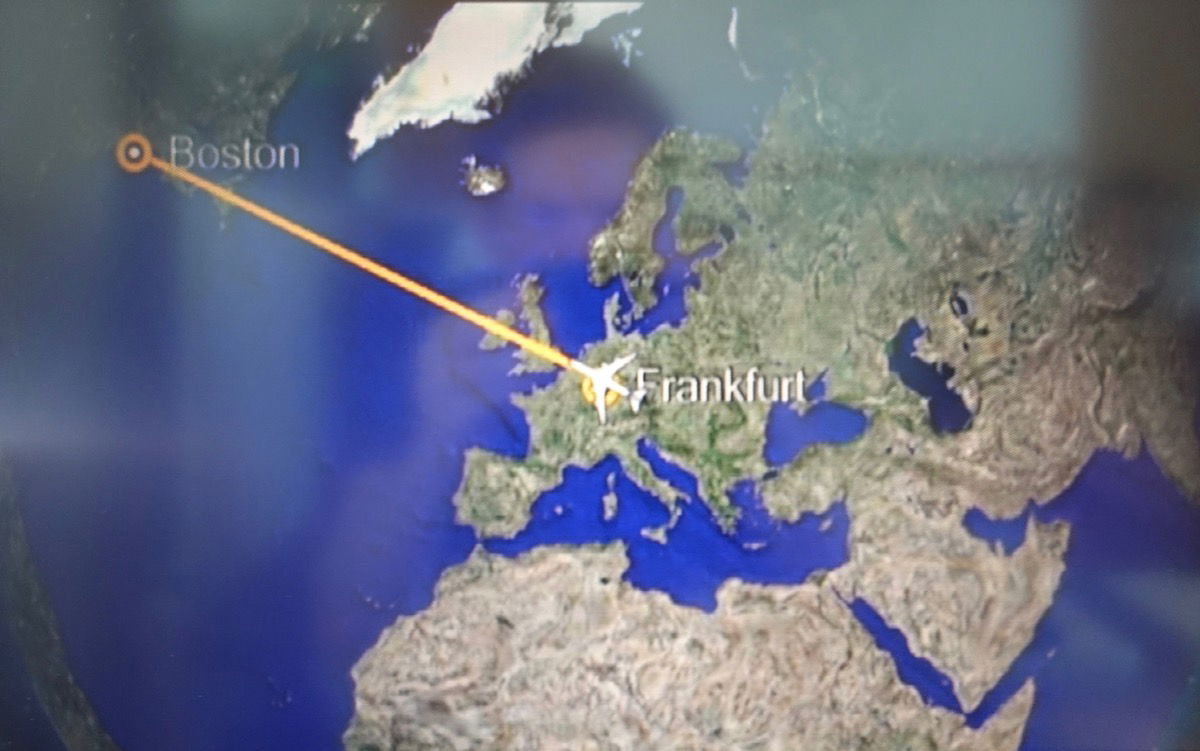 Lufthansa airshow enroute to Boston
The seatbelt sign was turned off just five minutes after takeoff, and a few minutes later the purser passed through the cabin to welcome aboard first class passengers and distribute cards for free Wi-Fi. Around the same time flight attendants offered warm towels.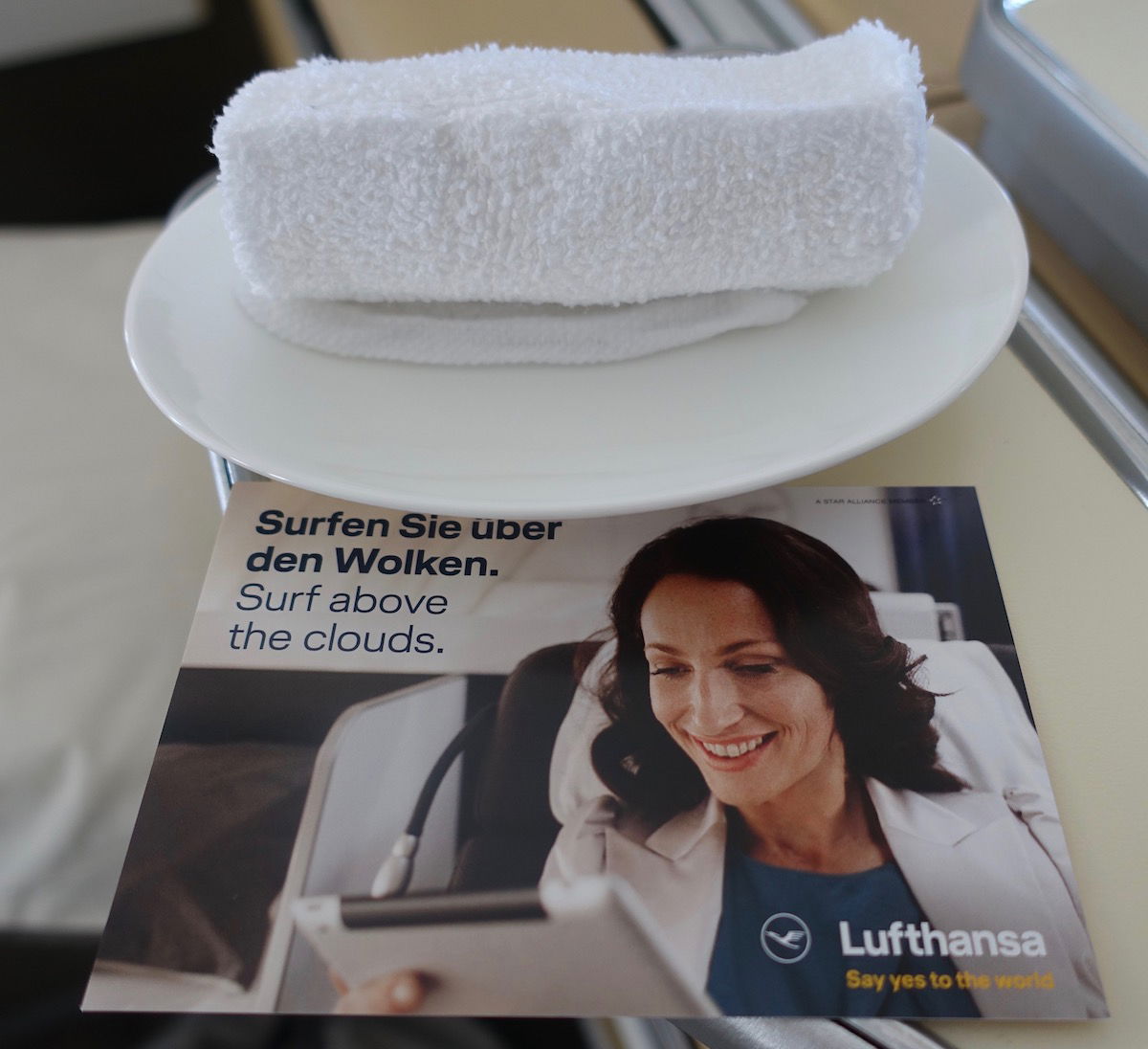 Lufthansa first class warm towel and free Wi-Fi code
The meal service began just 20 minutes after takeoff. The lunch menu read as follows: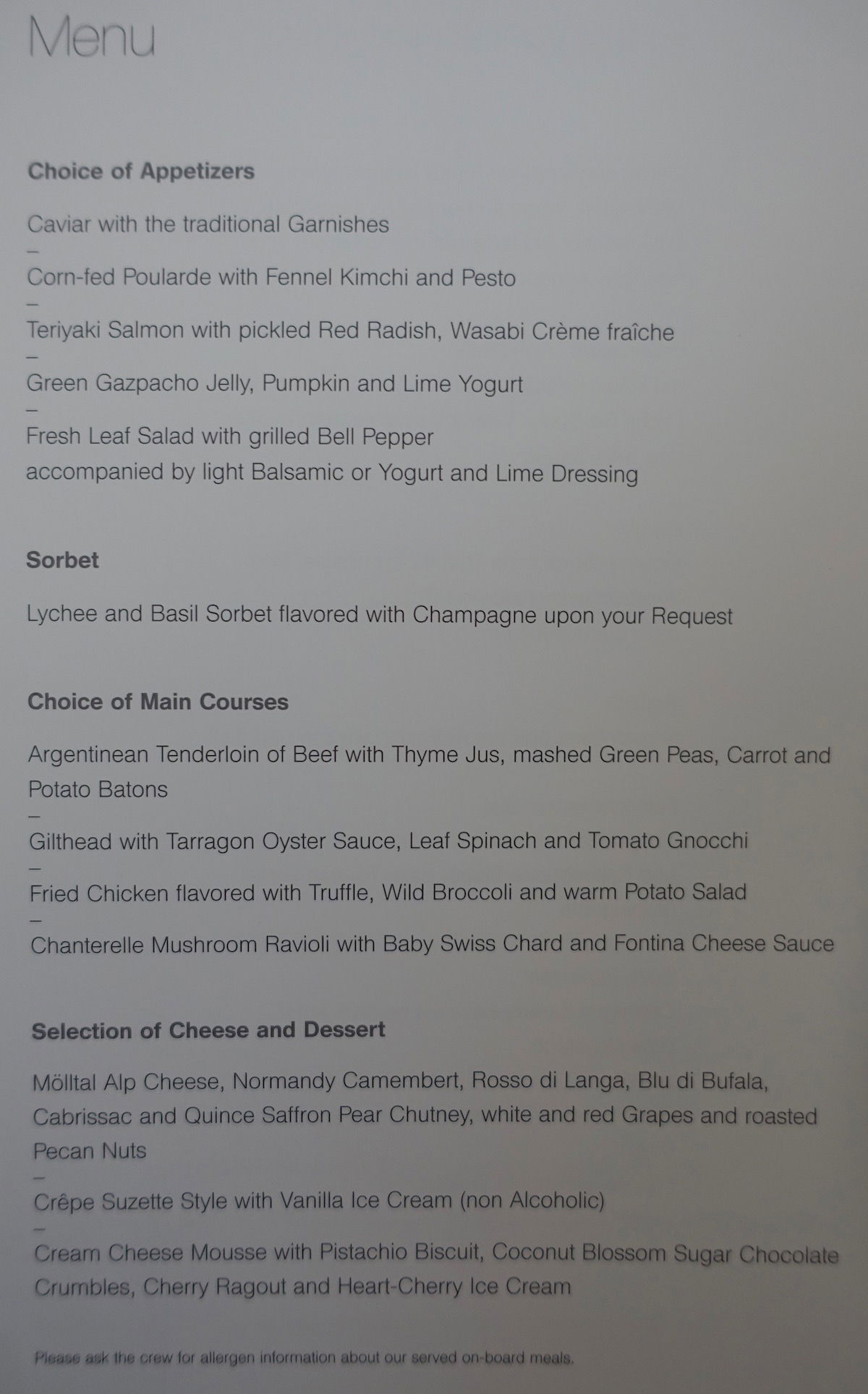 The drink list read as follows: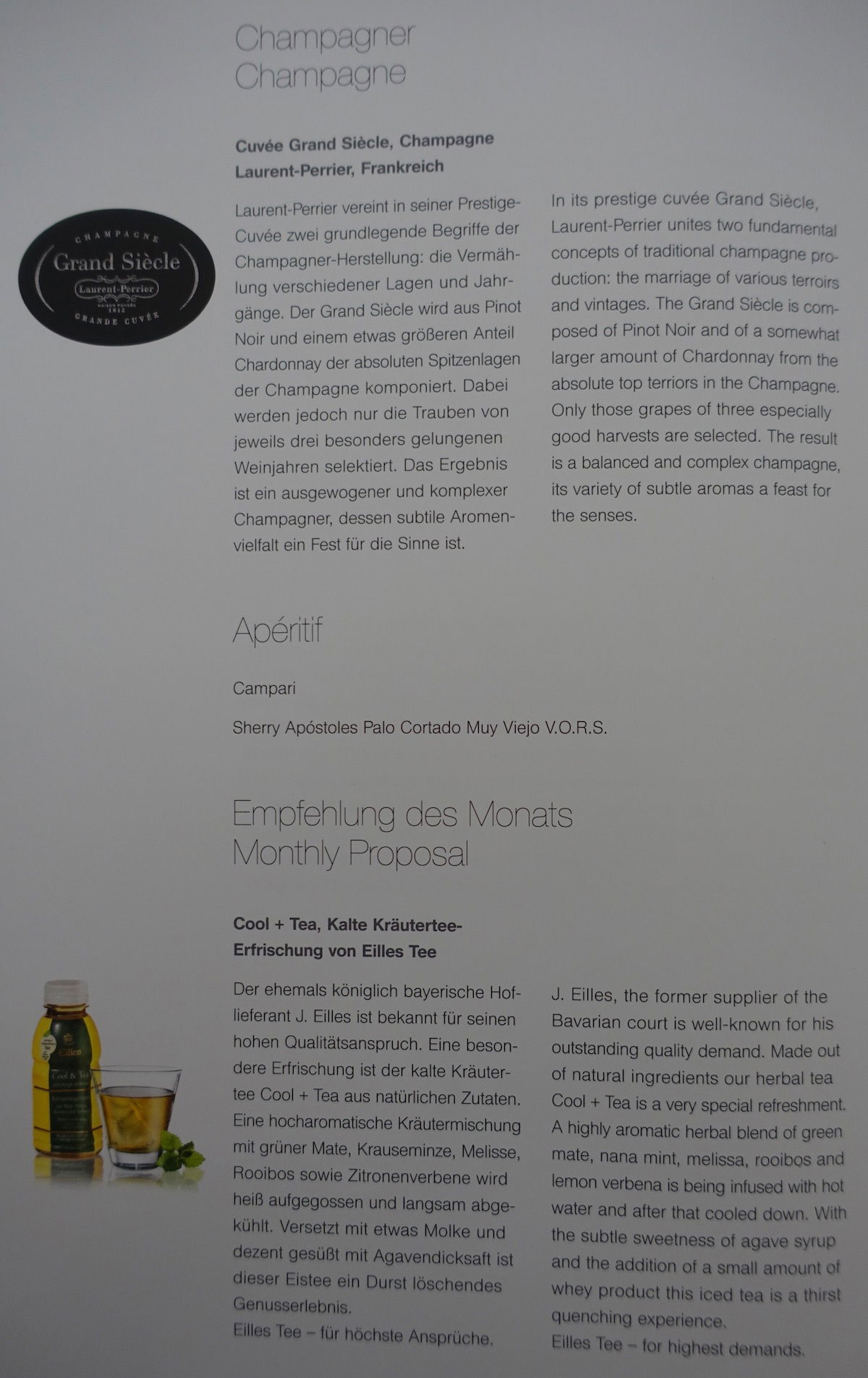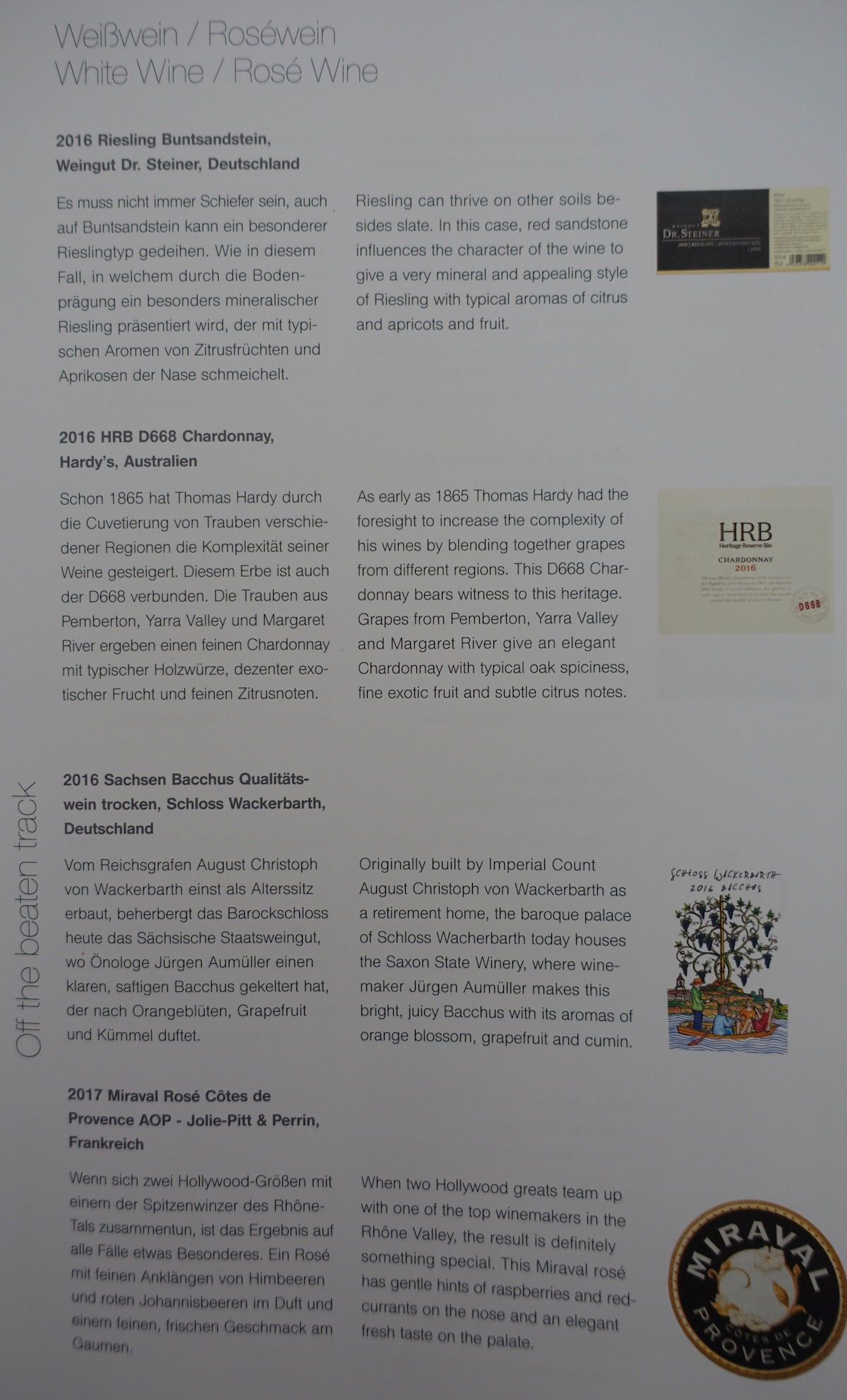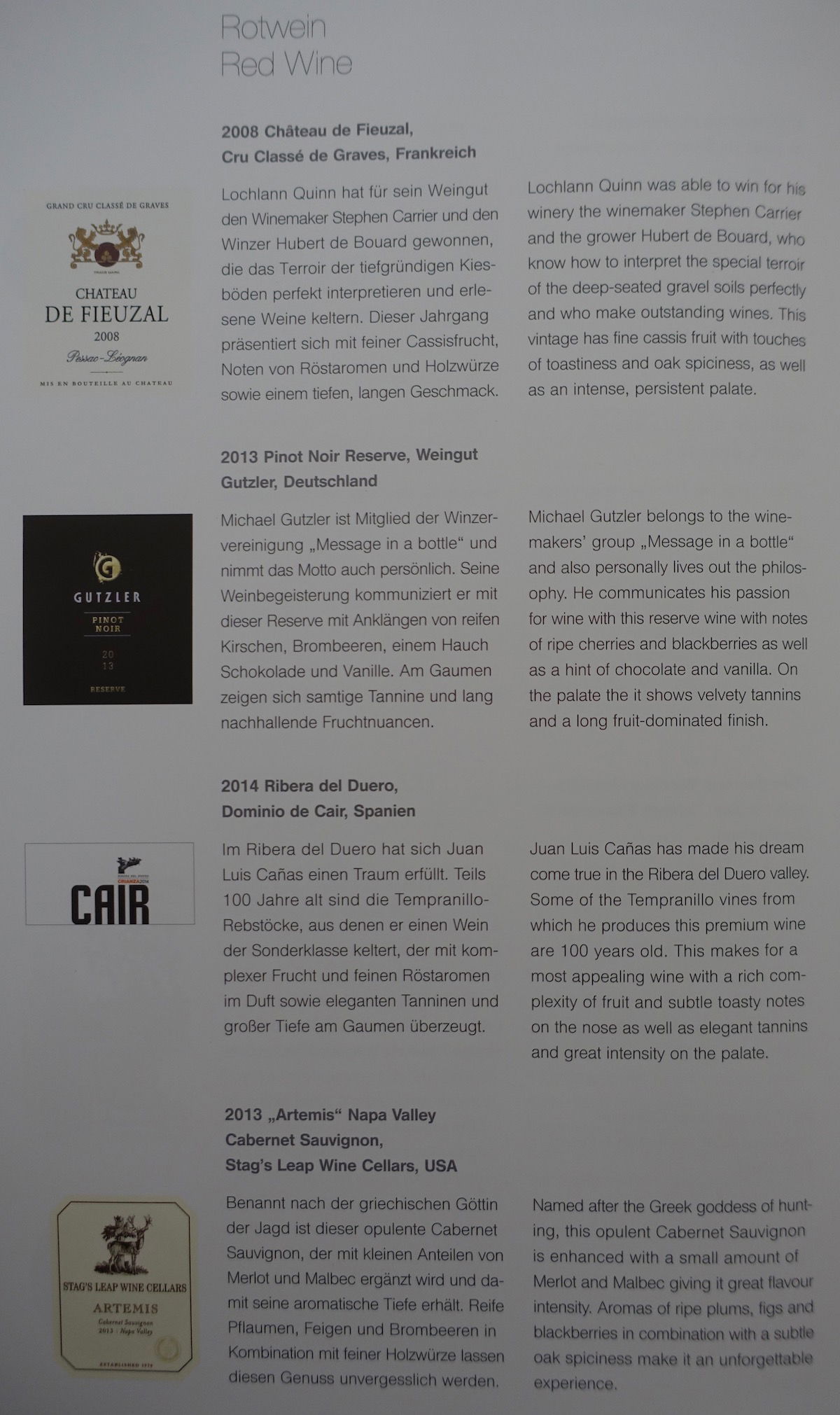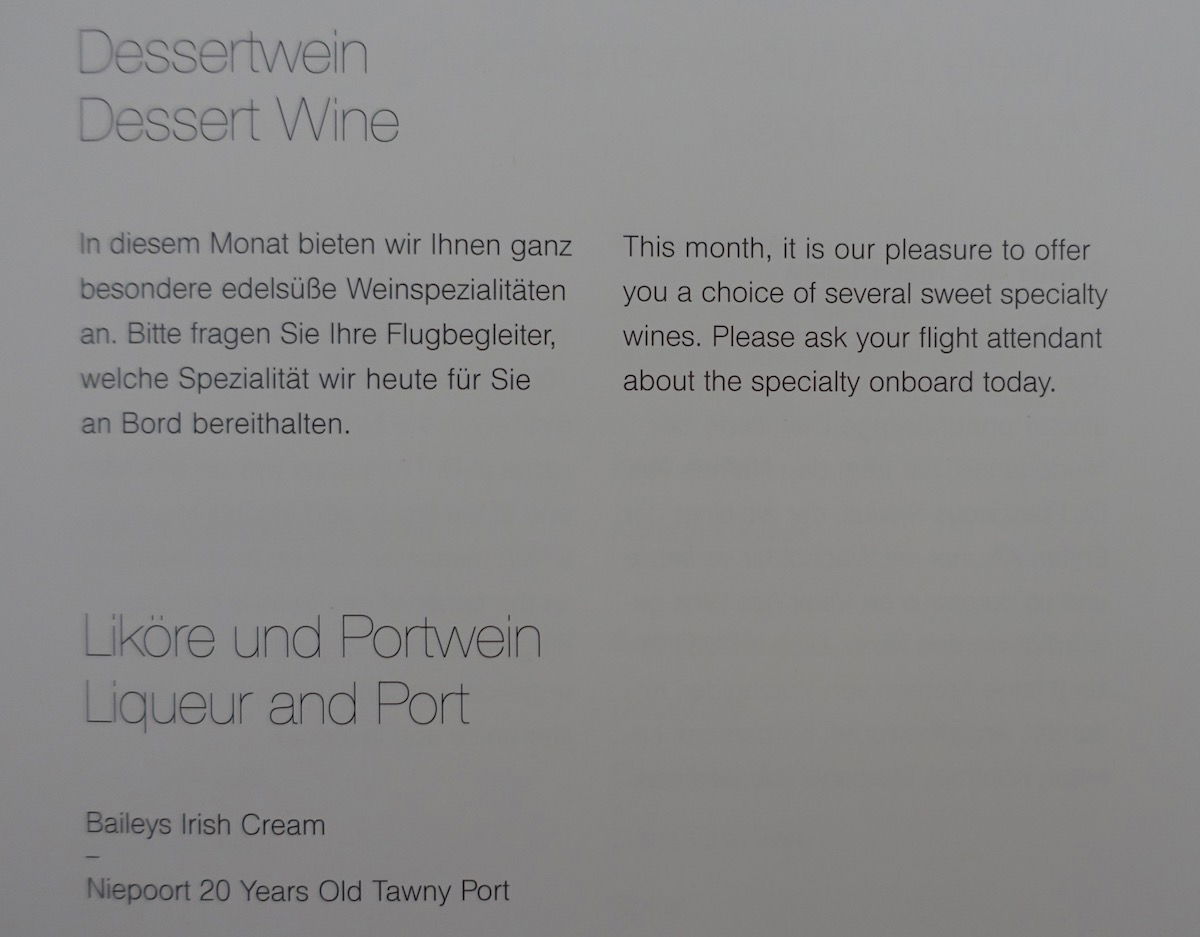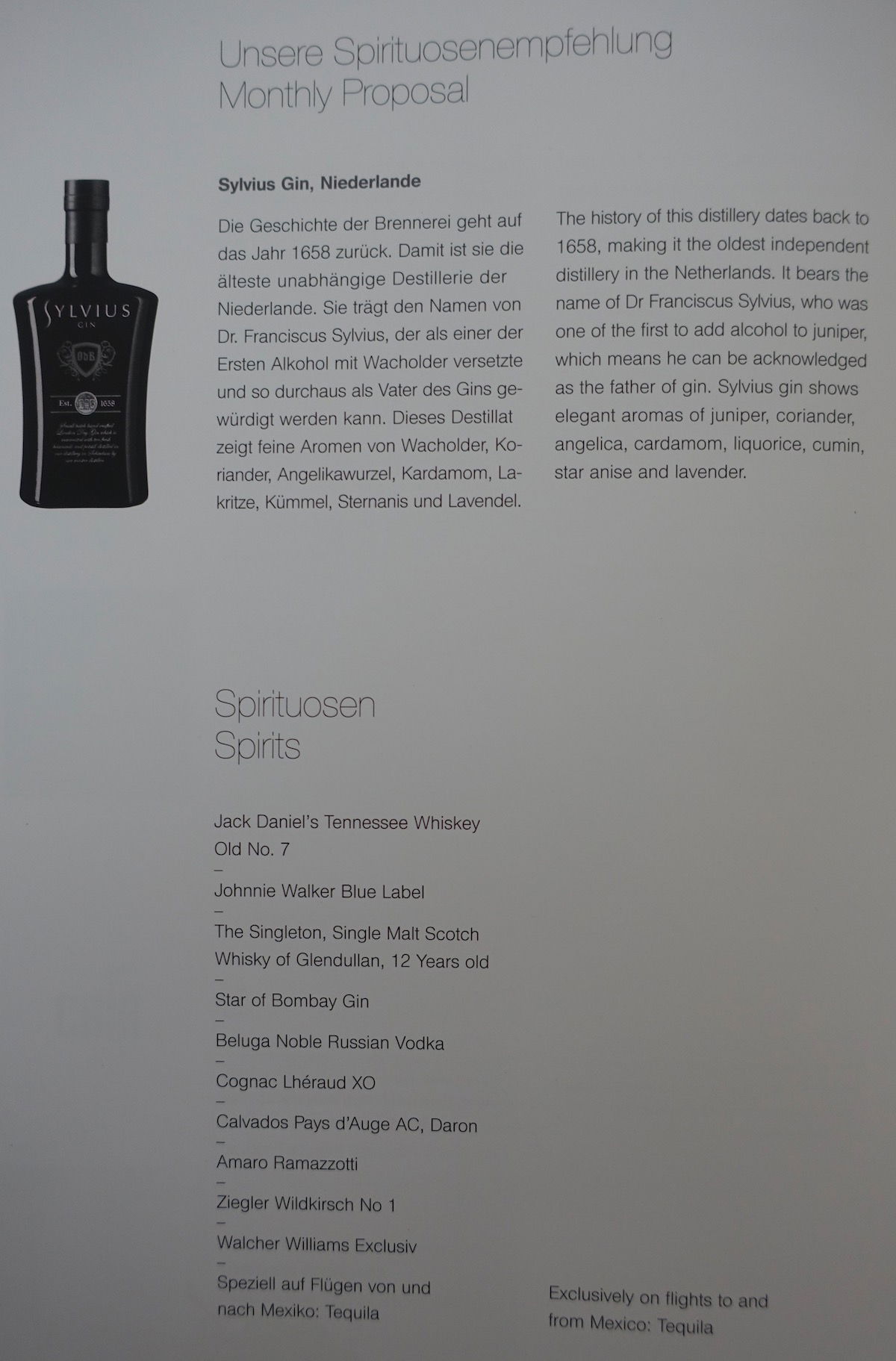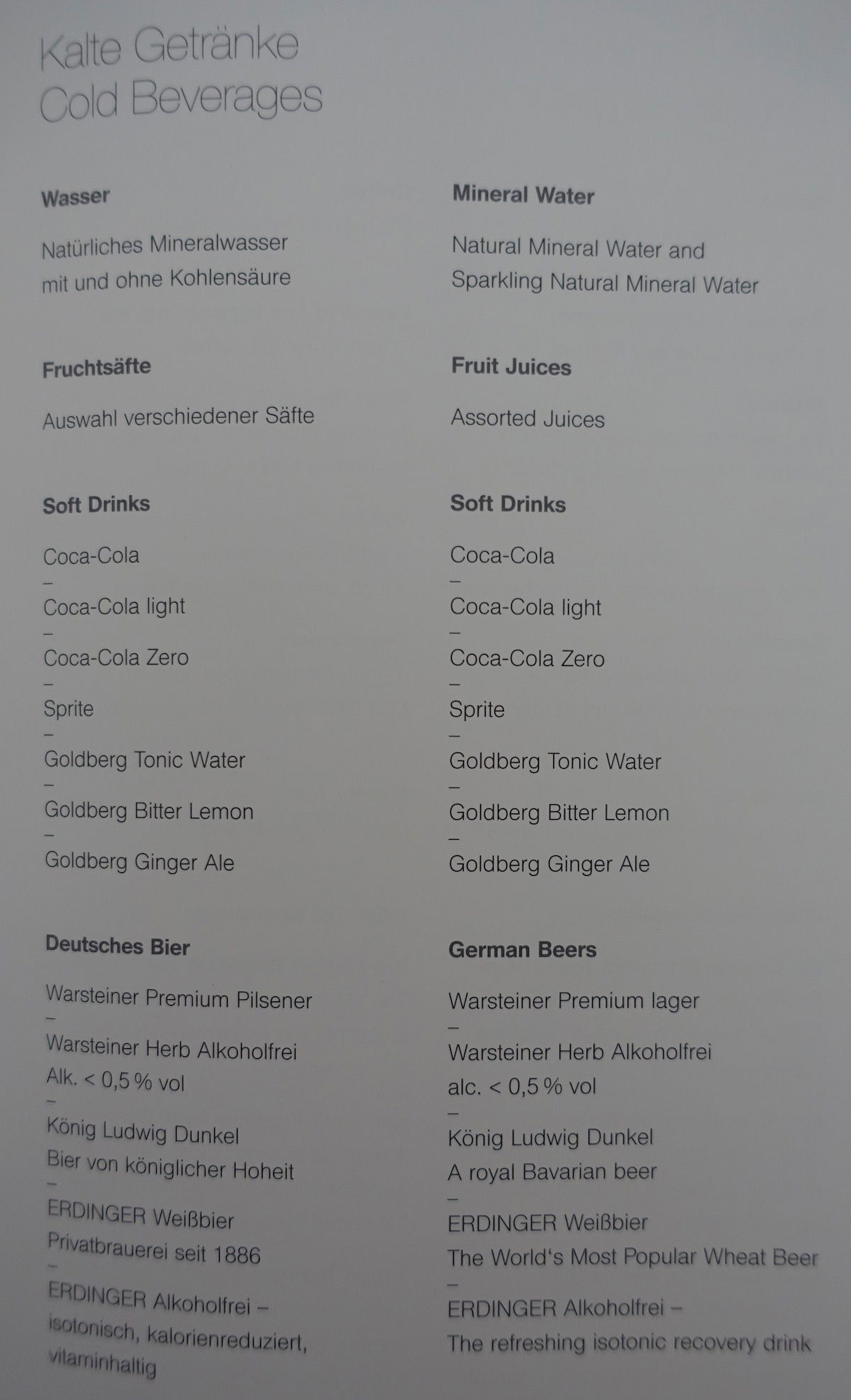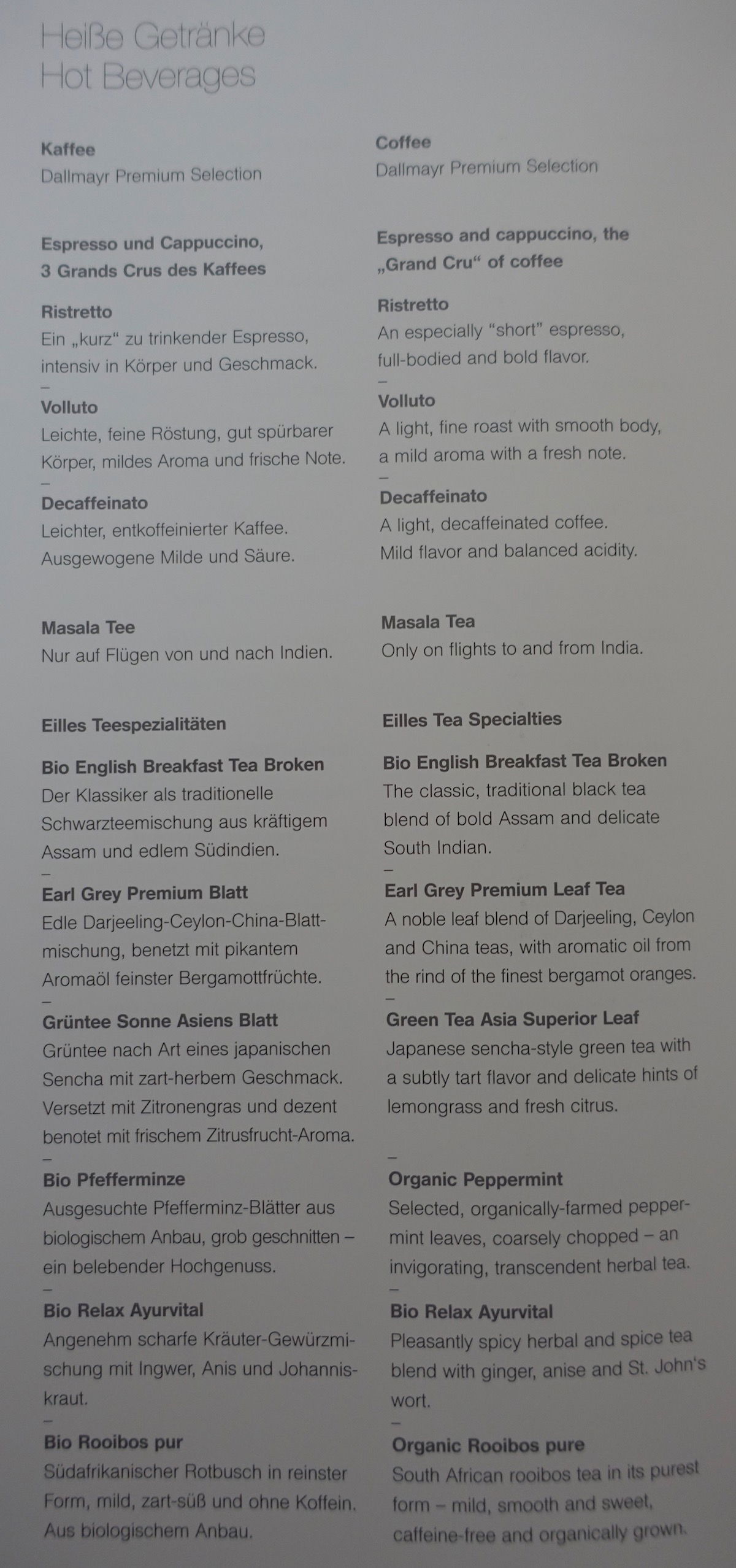 Tablecloths were distributed, along with the amuse bouche. Since I was planning on working the entire flight (given that it was a Tuesday and I had Wi-Fi), I just had a glass of water. I wasn't a huge fan of the amuse bouche, but that's more personal preference than anything.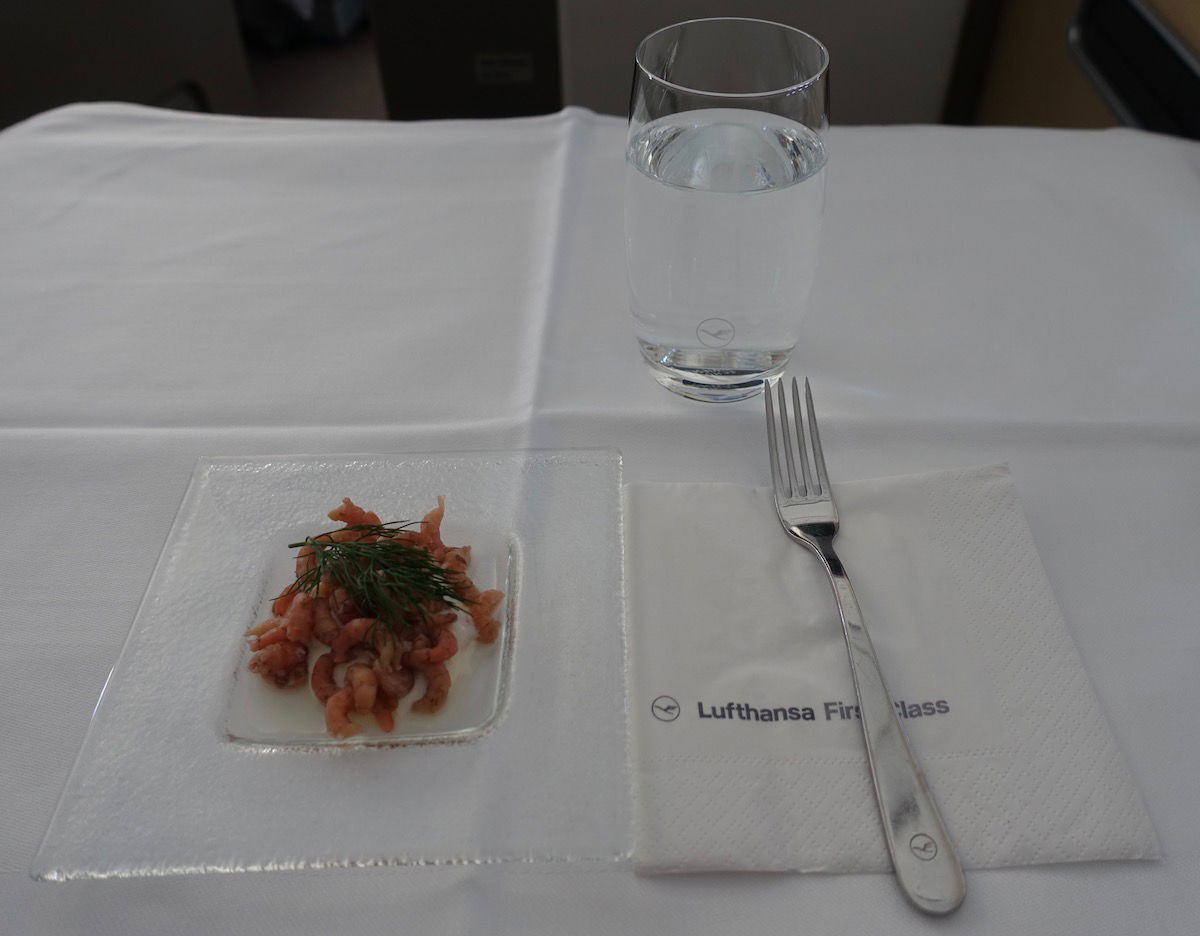 Lufthansa first class lunch — amuse bouche
Next up the silverware, bread, salt and pepper shaker, and olive oil, were distributed.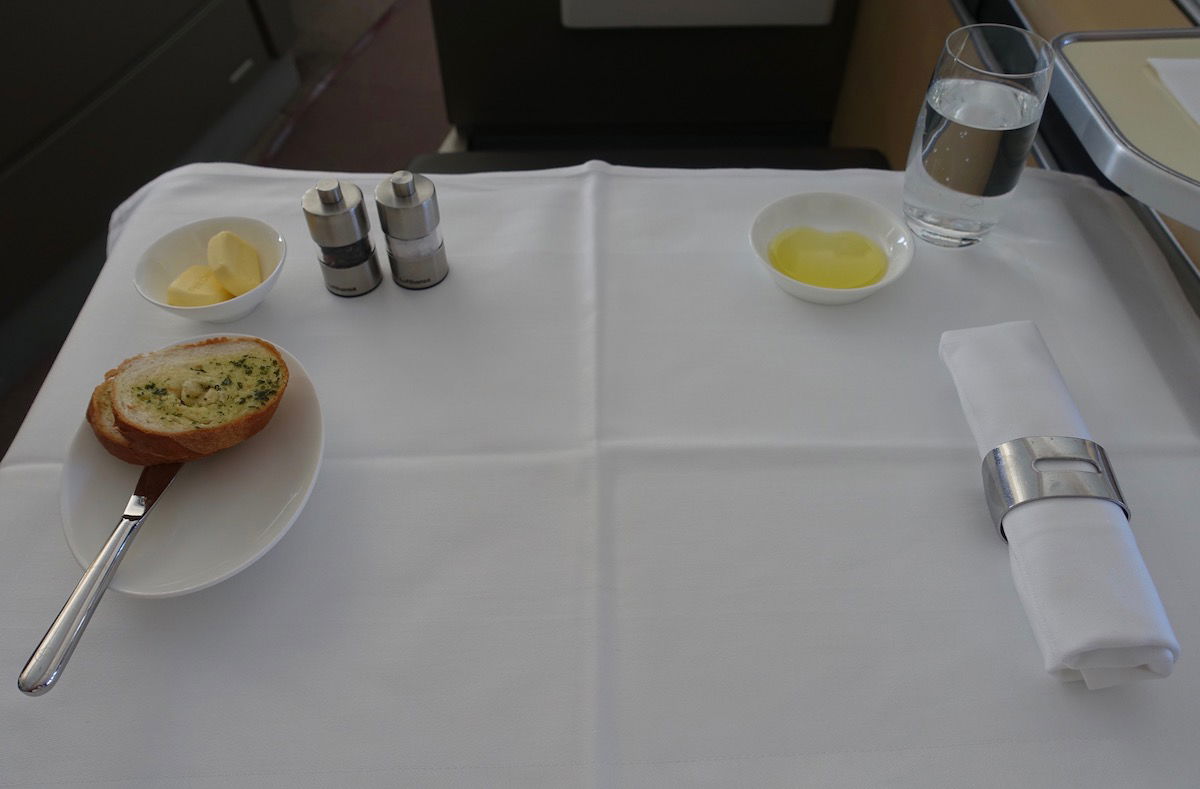 Lufthansa first class lunch — table setting
I love the attention to detail of the butter having "First Class" written on it (Lufthansa only does this on flights departing Germany, and not flights to Germany).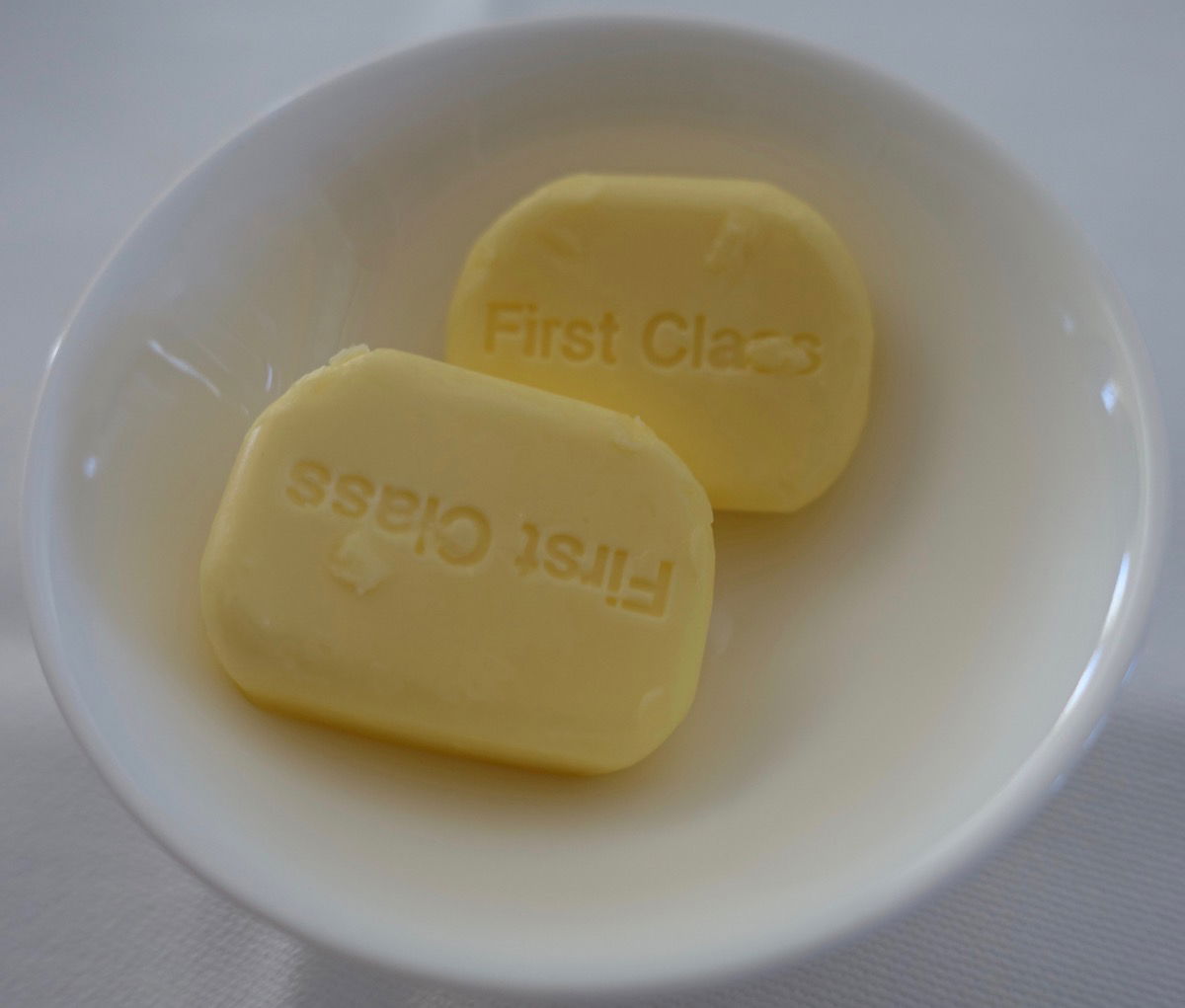 Lufthansa first class lunch — first class butter
First a cart was rolled through the cabin with caviar. Rather than giving each passenger their own small tin, Lufthansa plates the caviar out of a larger tin. I also had some delicious garlic bread and toast.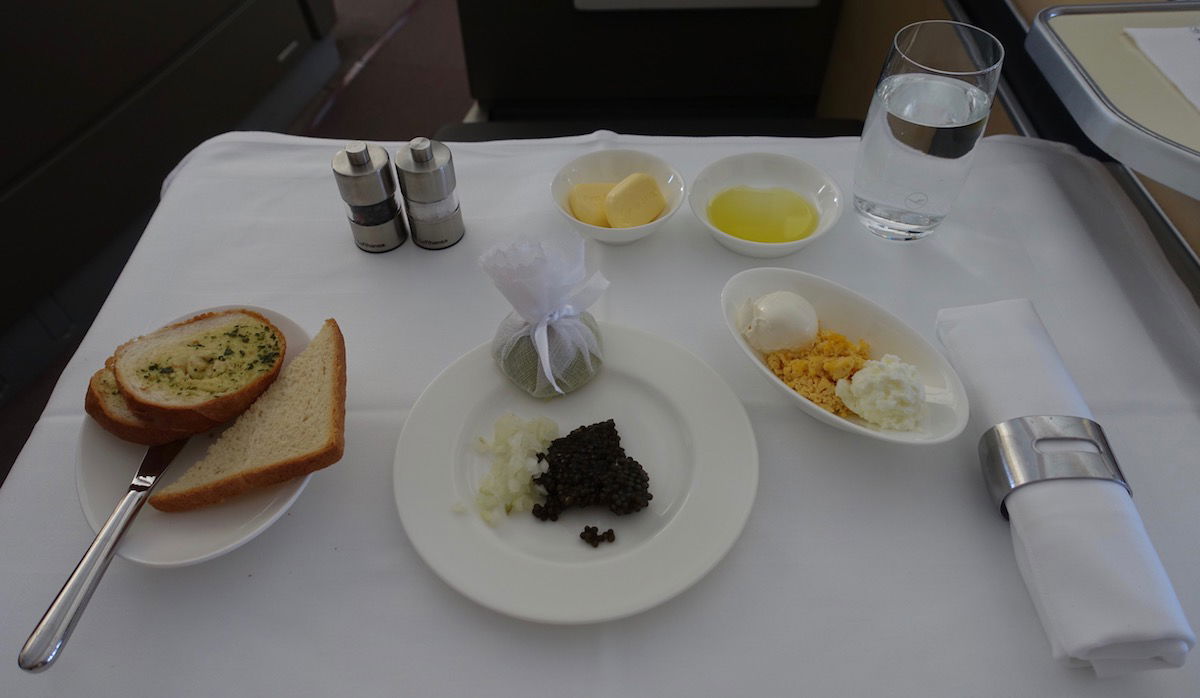 Lufthansa first class lunch — caviar
Next up the appetizer trolley was rolled down the aisle, where you can have as many or as few things as you'd like. My dad had all the appetizers and the salad, which included:
Corn-fed poularde with fennel kimchi and pesto
Teriyaki salmon with pickled red radish and wasabi creme fraiche
Green gazpacho jelly, pumpkin and lime yogurt
Fresh leaf salad with grilled bell pepper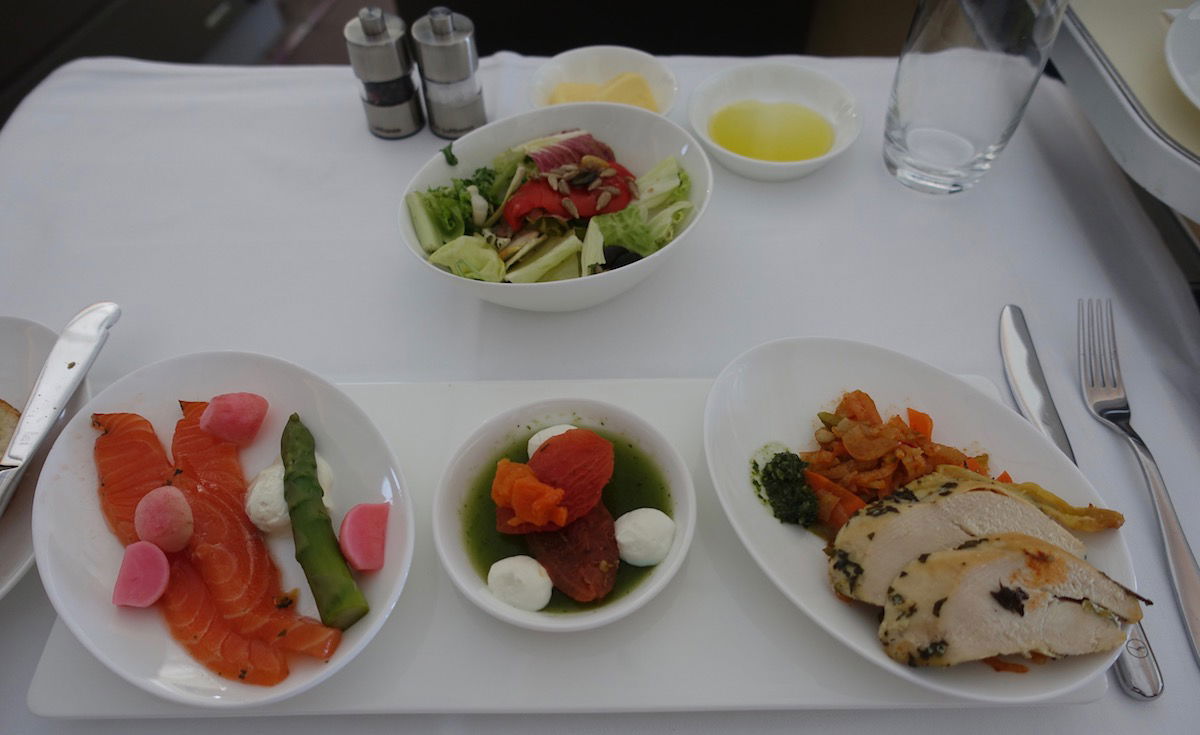 Lufthansa first class lunch — appetizers
I wasn't that hungry, so I just had the salad and salmon.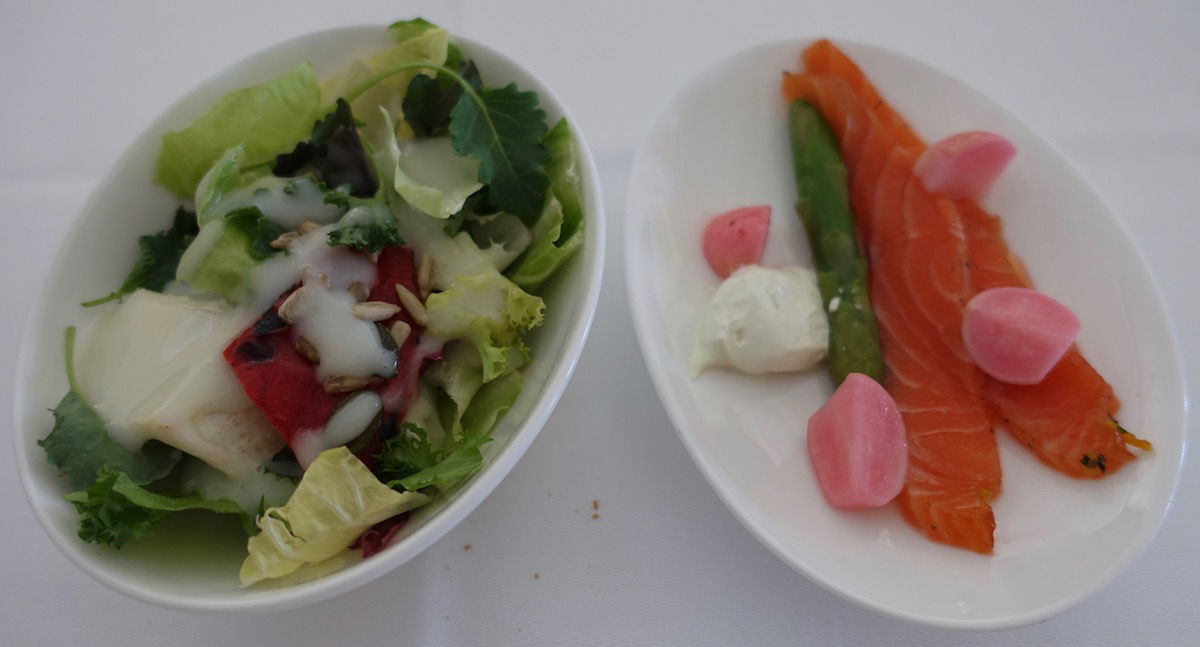 Lufthansa first class lunch — appetizers
Next up was a palate cleanser.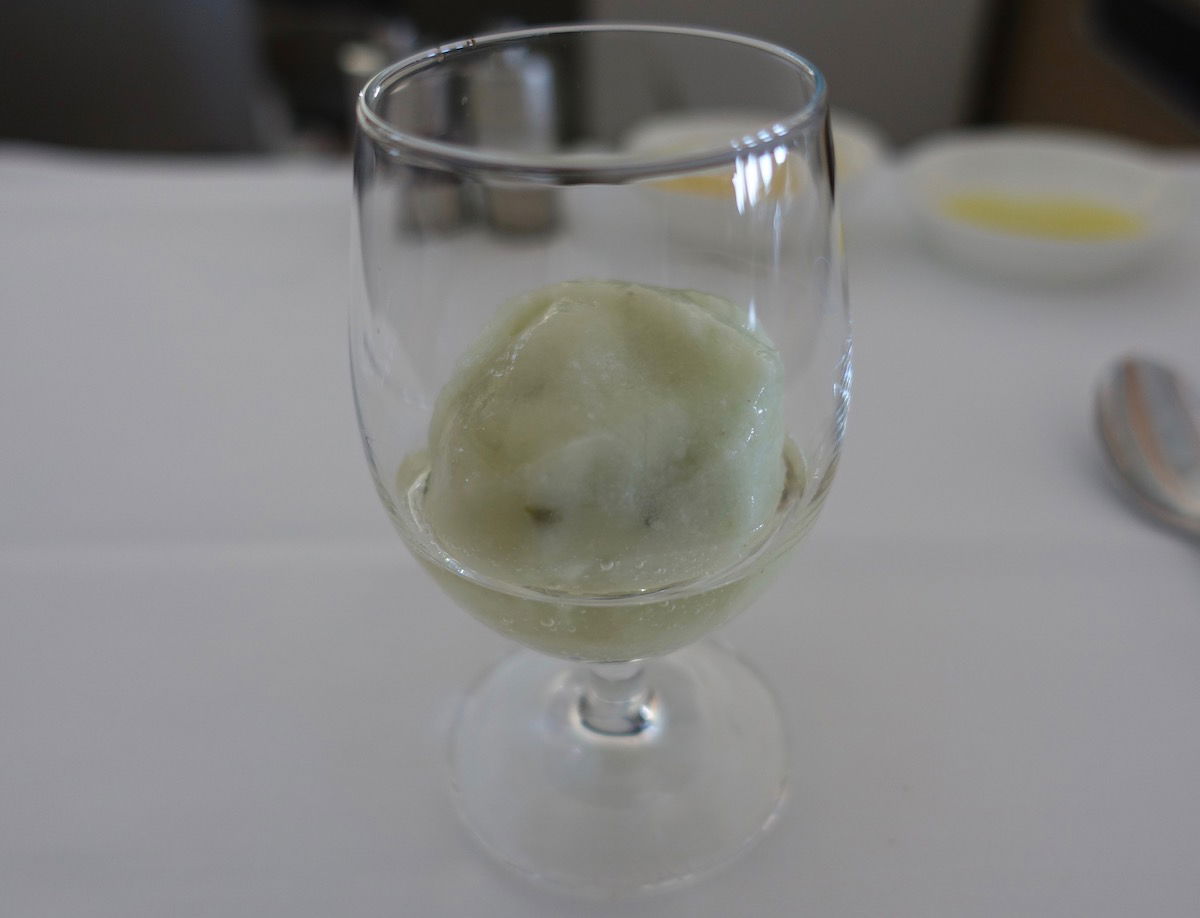 Lufthansa first class lunch — palate cleanser
For the main course my dad had the fried chicken flavored with truffle, wild broccoli and warm potato salad.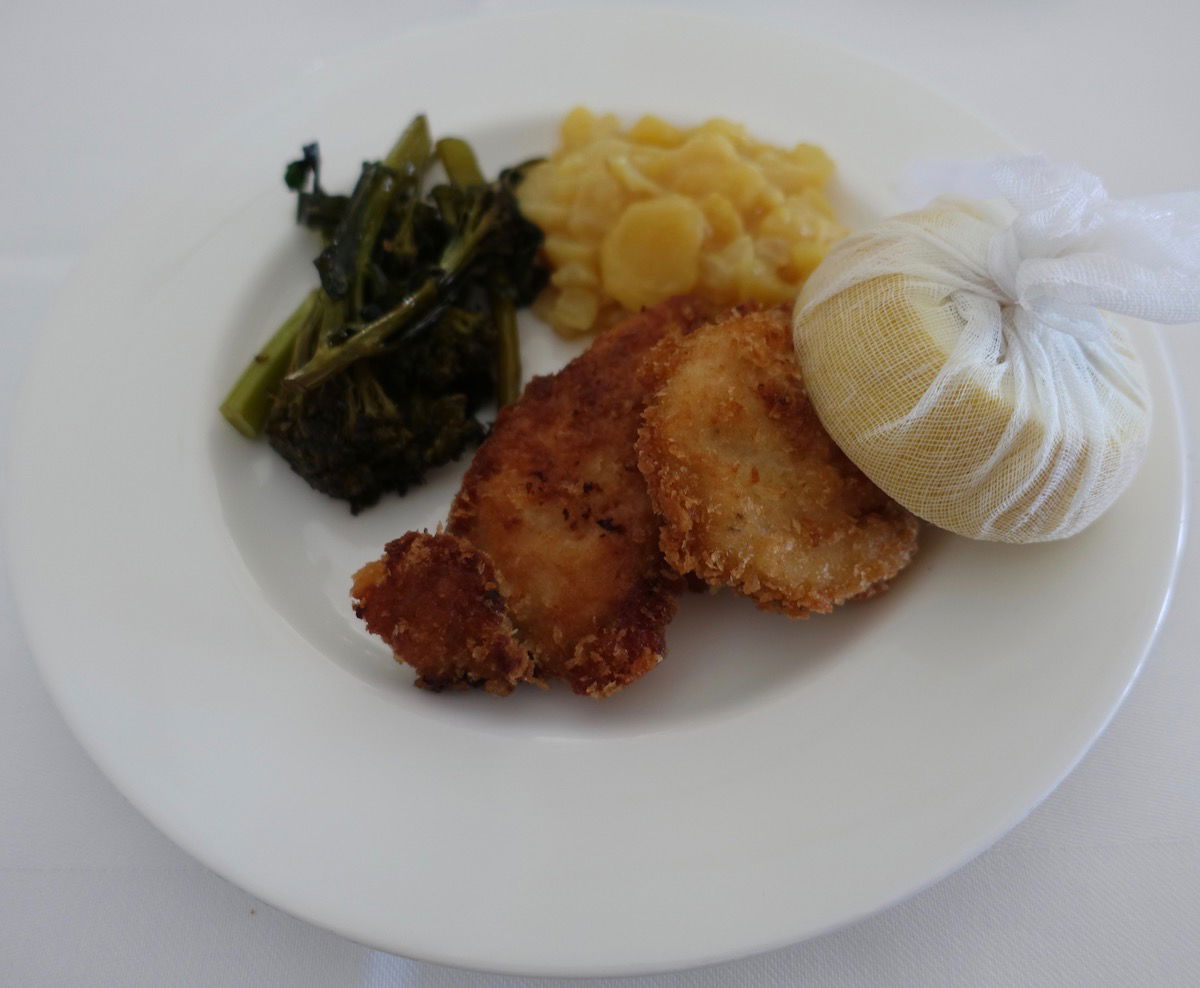 Lufthansa first class lunch — main course
I had the chanterelle mushroom ravioli with baby Swiss chard and fontina cheese sauce.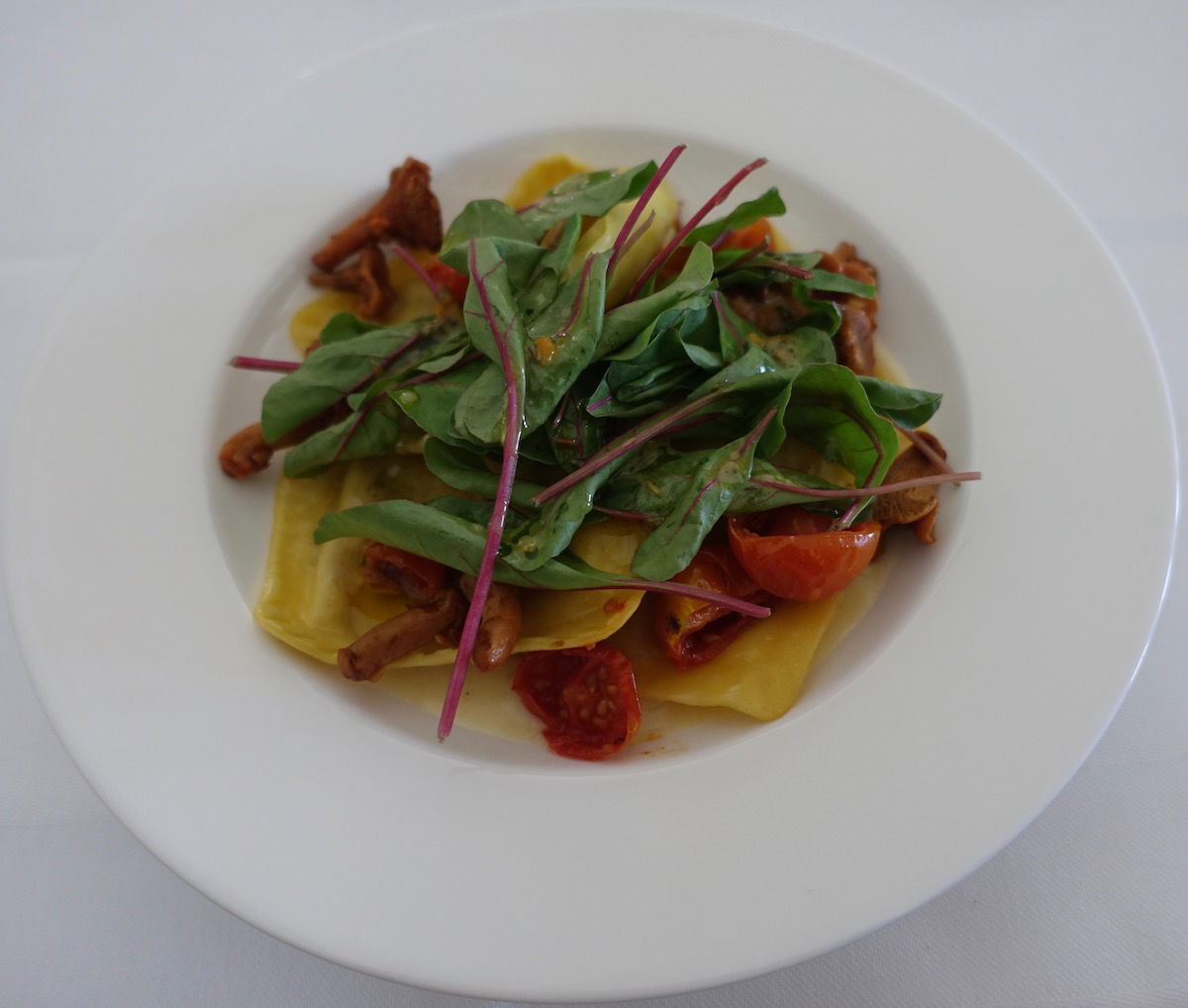 Lufthansa first class lunch — main course
Then my dad had a cheese course for dessert.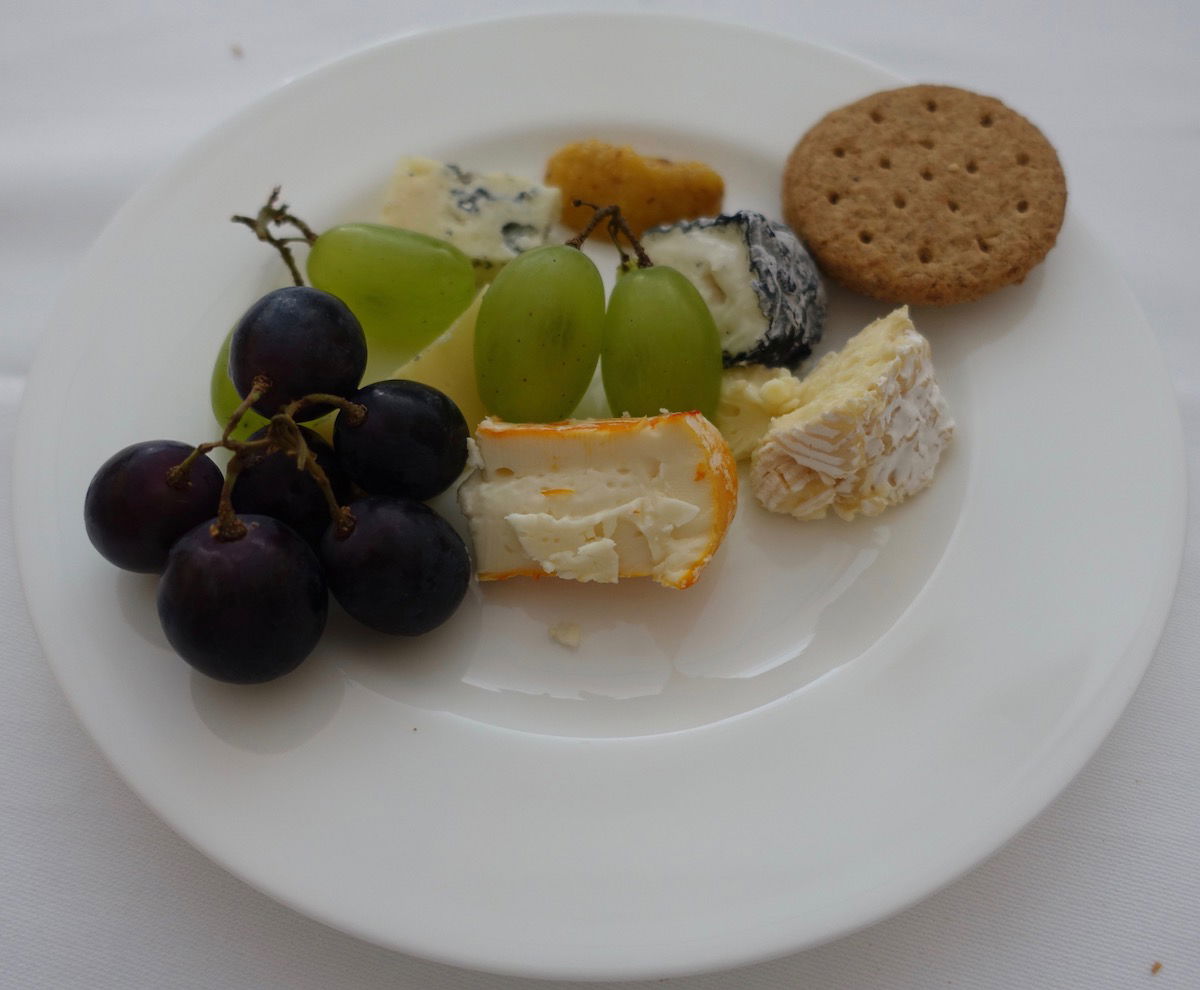 Lufthansa first class lunch — cheese course
I had the crepe suzette style with vanilla ice cream.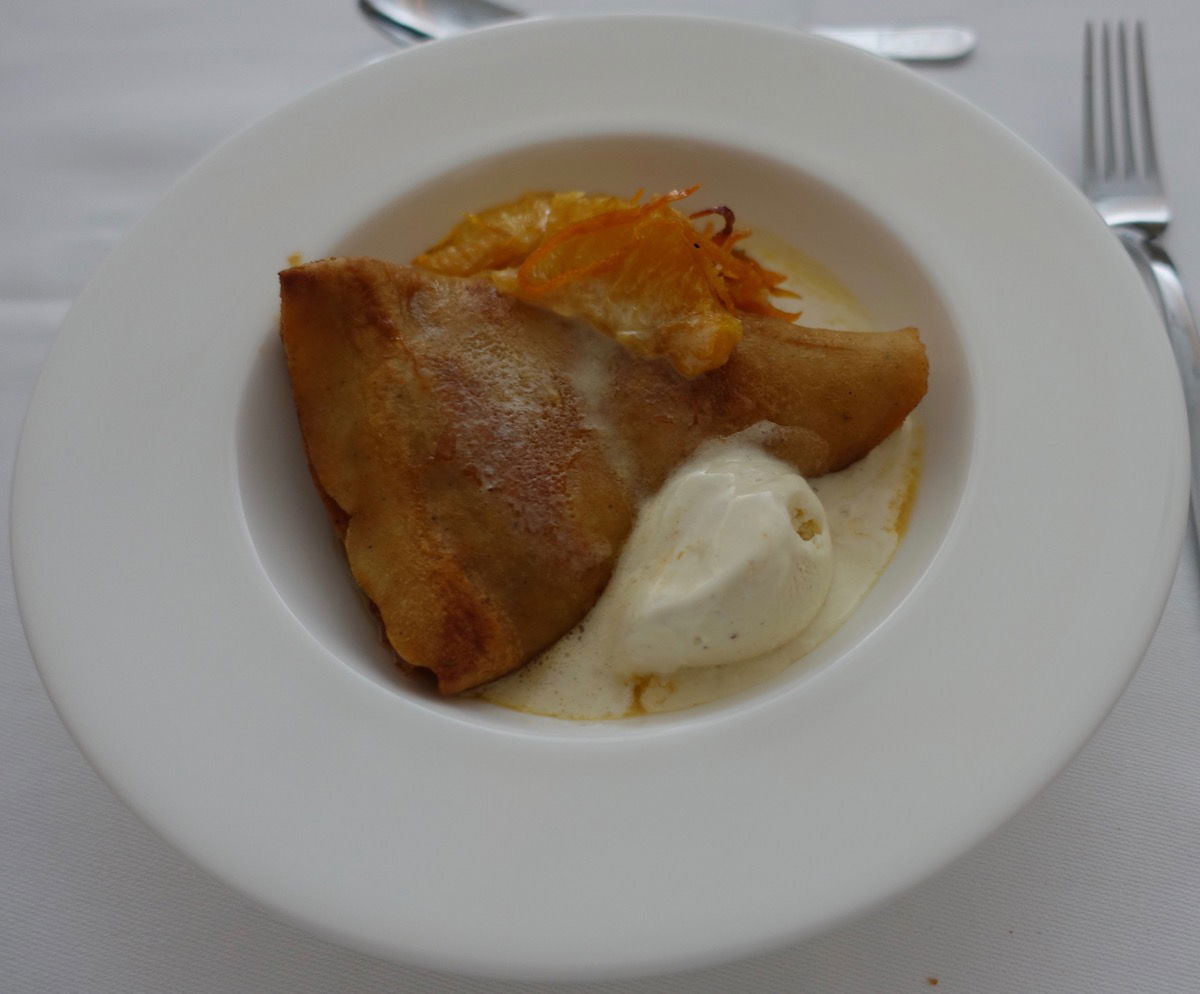 Lufthansa first class lunch — dessert
Overall I thought the meal was pretty good, though I think at times Lufthansa just tries too hard with their menu, and I wish they had a simpler selection. The meal was done about 2hr30min into the flight.
As far as the service goes, I found the crew was professional and attentive, as usual in Lufthansa first class. However, I couldn't help but feel like the service lacked the sincerity I usually find on Lufthansa. It could be that I just had a bad read on the flight attendant's personality, but there was something about the way she spoke that just made it seem like she wasn't being sincere.
Anyway, after the meal the cabin lights were turned down, and we had under five hours remaining to Boston. So I took out my laptop and got working!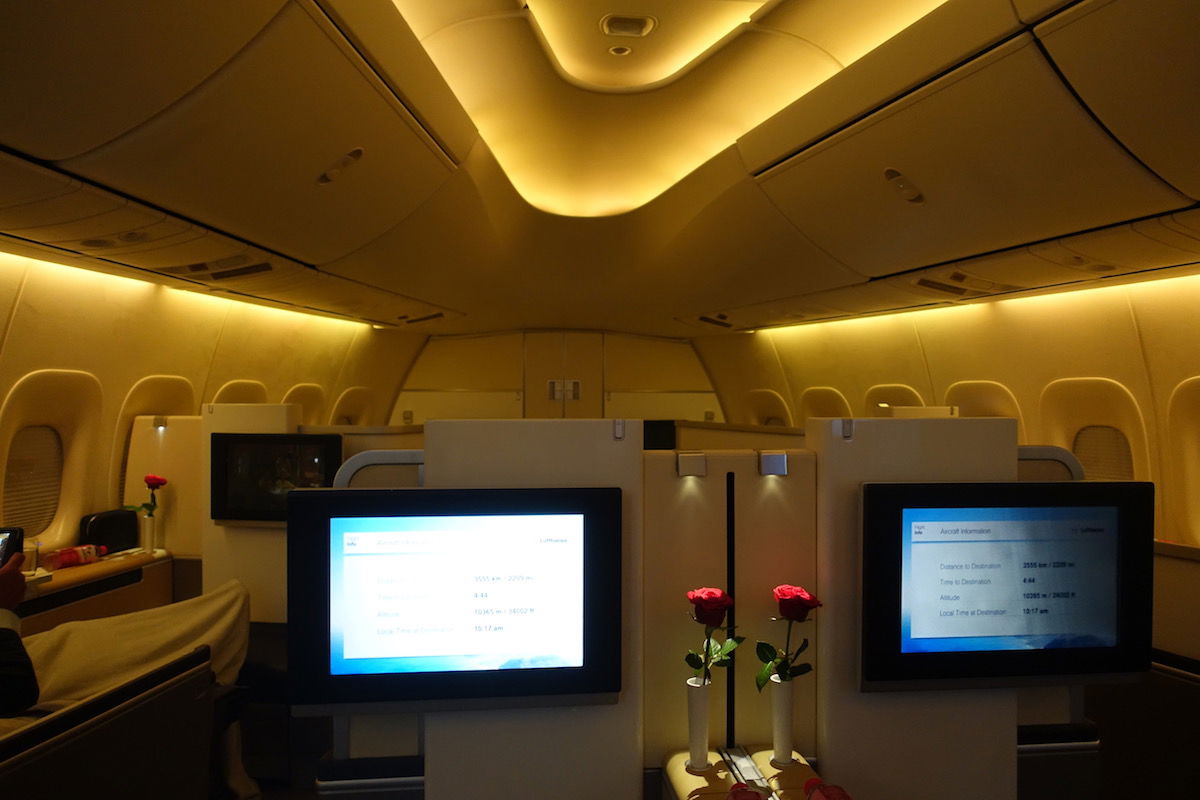 Lufthansa first class cabin
One other thing to note. The two first class lavatories are behind the cabin, and they're a decent size, though not as big as on the A380. However, I found the odor in both of them to be horrible, and this isn't the first time I've noticed this on the Lufthansa 747-8 (and only on the 747-8). It wasn't that someone had a rough trip to the bathroom, but rather the bathrooms as such just didn't smell good. Has anyone else noticed this, or do I just have really bad luck?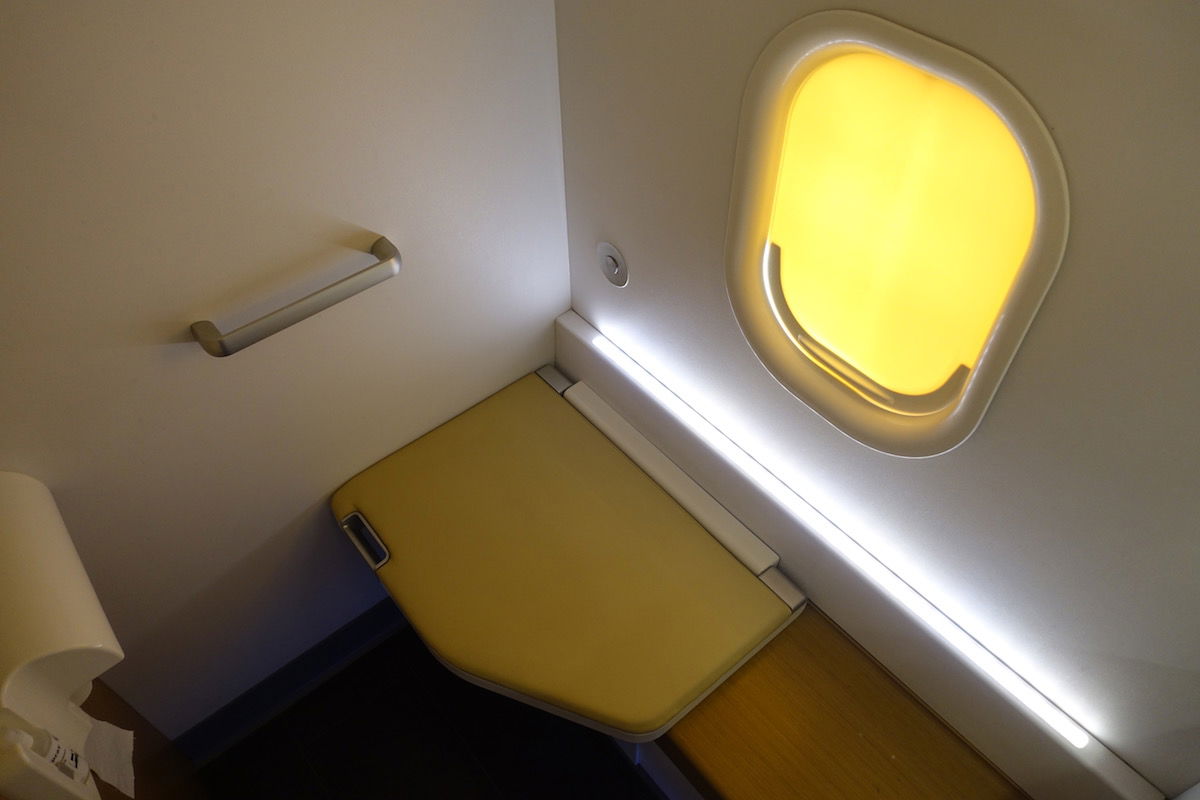 Lufthansa first class lavatory 747-8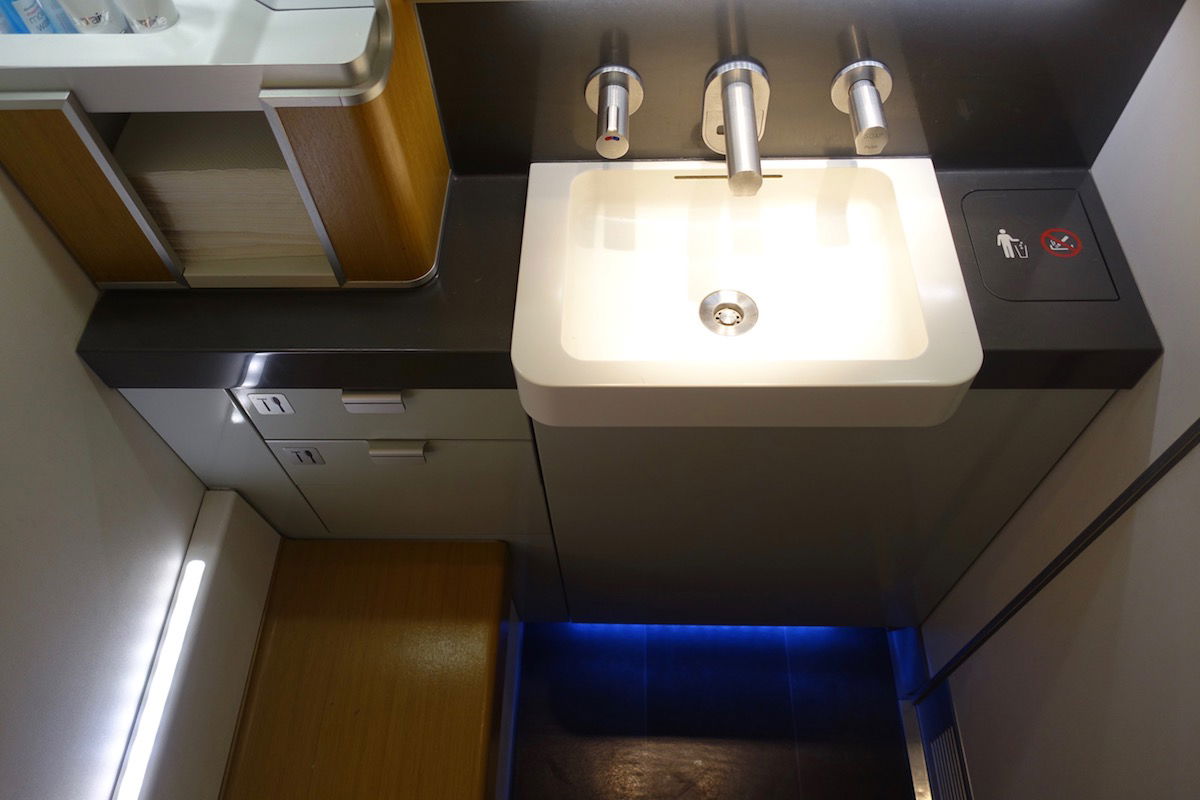 Lufthansa first class lavatory 747-8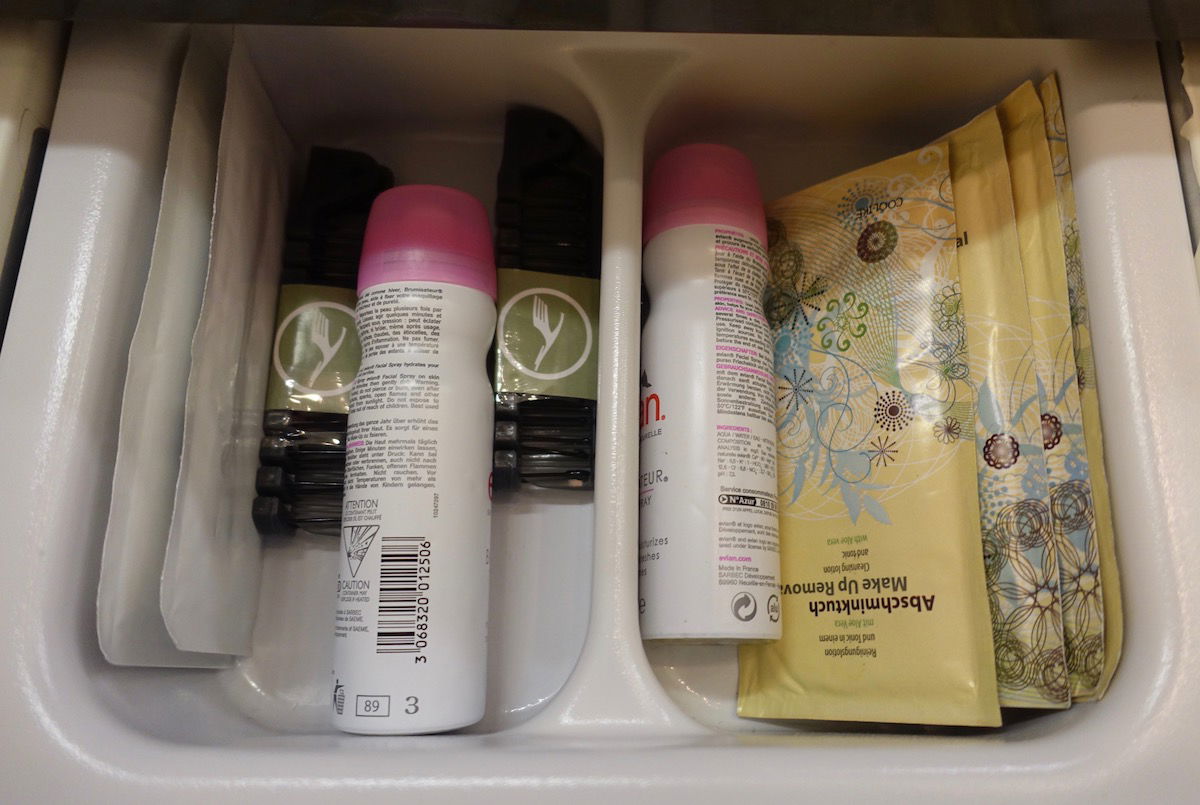 Lufthansa first class lavatory 747-8
A bit over two hours before landing I ordered a coffee.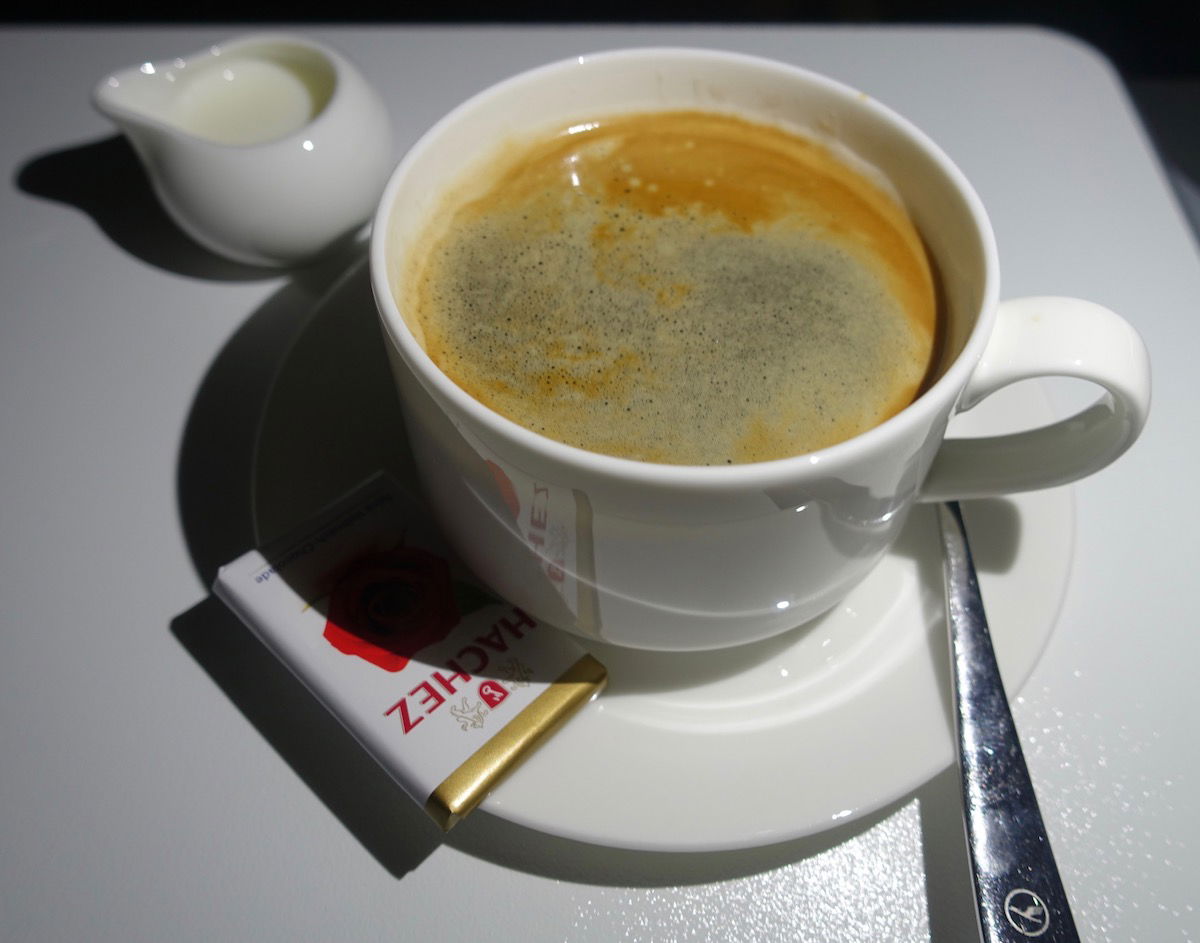 Lufthansa first class coffee
At this point we were approaching Newfoundland — that was a quick Atlantic crossing!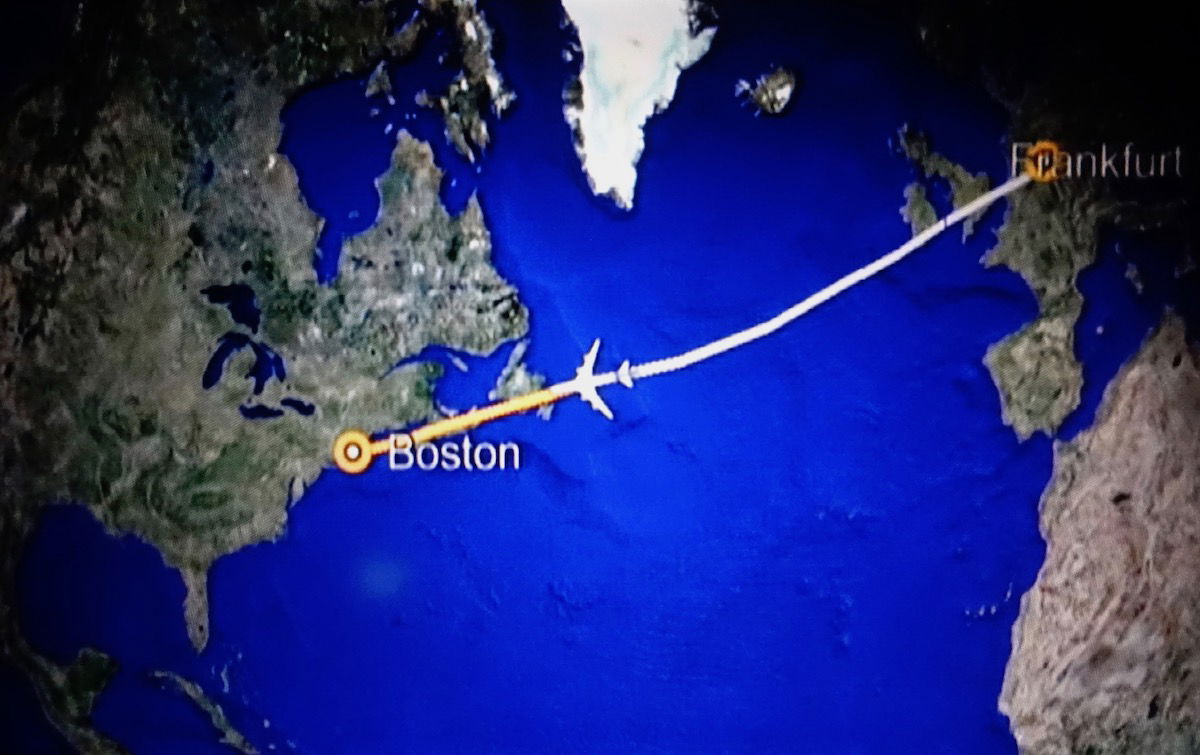 Airshow enroute to Boston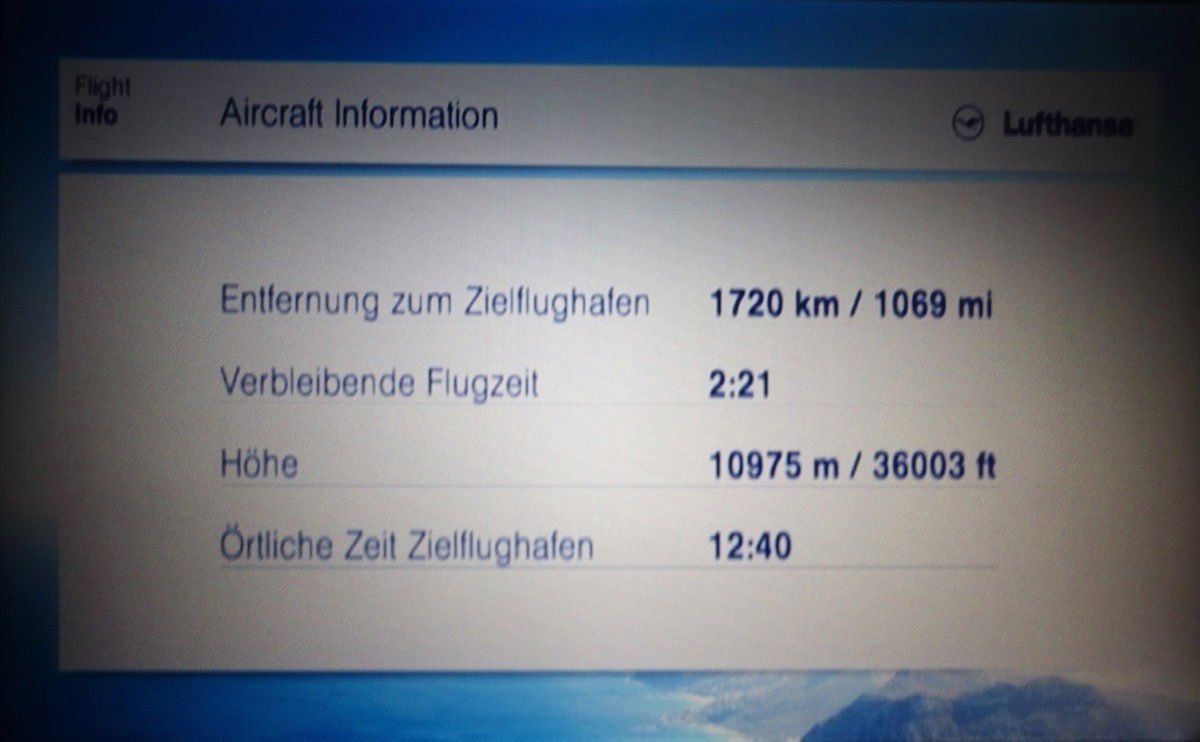 Airshow enroute to Boston
Around this time a bit of drama unfolded with the guy in 3A. He somehow managed to drop in a lithium ion battery into the console next to the seat. Like, not into the seat, but somehow he dropped it into the "casing" next to the seat along the fuselage. I'm not sure how on earth that happened, but given the general concern with battery fires on planes, this turned out to be a rather big ordeal.
He called over the flight attendant, and she tried to find the battery. She couldn't. He insisted he dropped it. So then the flight attendant called over another flight attendant. And another one. And the purser. And the first officer. Soon enough they had five people standing there trying to figure out what to do, given the fire risk. In the end they weren't able to find it, but said they'd have maintenance take the seat apart upon landing.
The crew started to serve the pre-landing meal around 90 minutes out, though they took orders as people were ready, so some people only ordered food less than an hour out.
The pre-landing menu read as follows: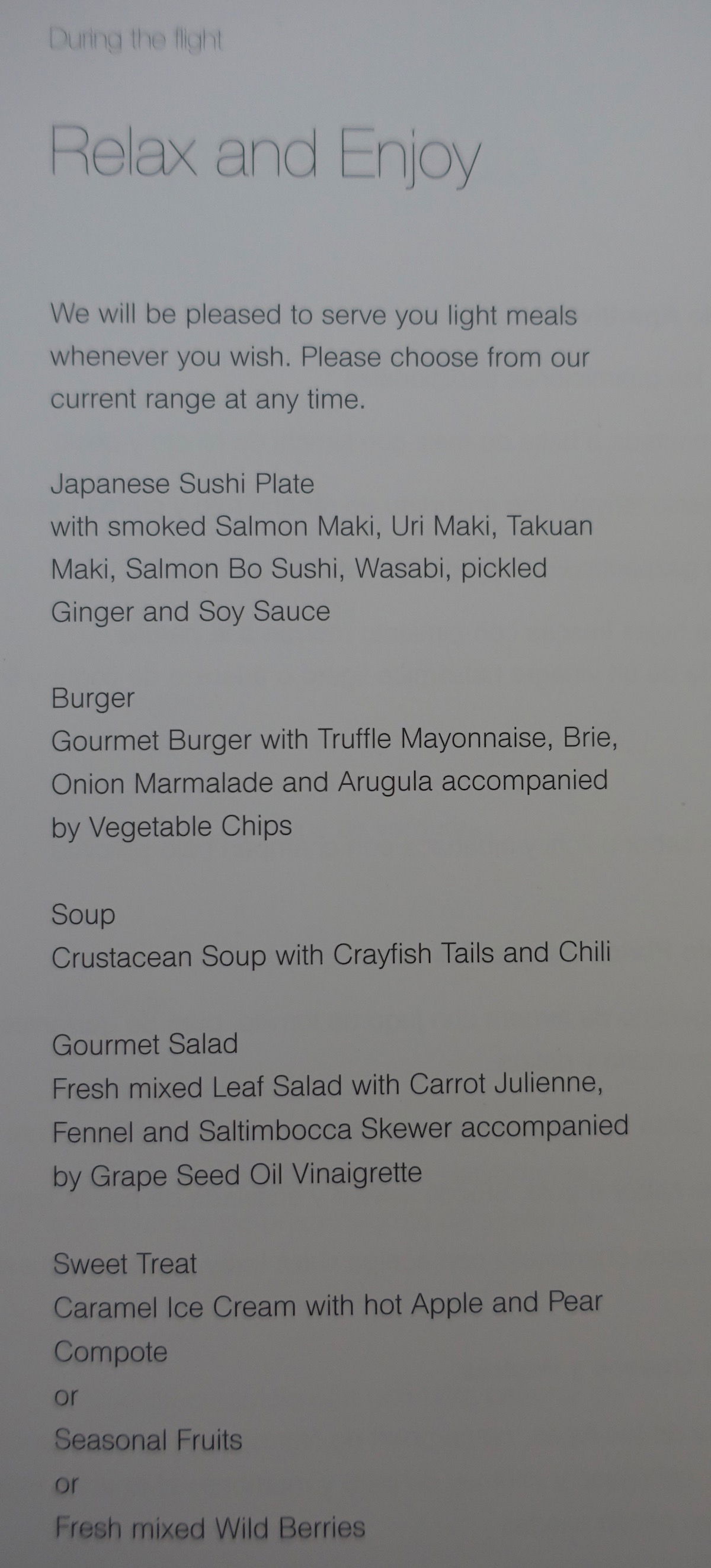 I found that to be a really odd menu…
Service began with a warm towel, and I had a glass of water to drink.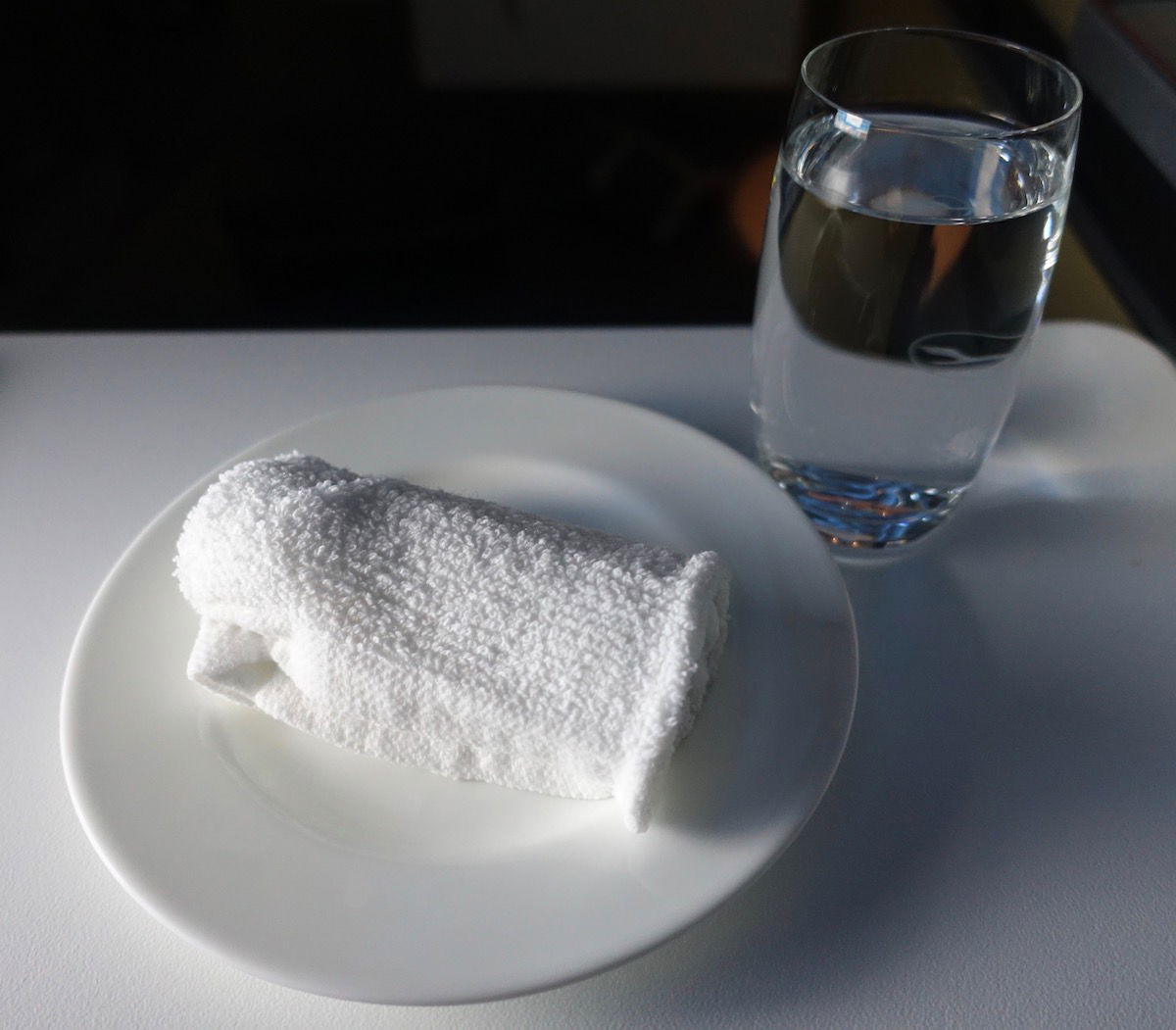 Lufthansa first class pre-landing snack — warm towel and water
Against my better judgment I ordered the sushi. I wasn't expecting it to be very good, but was curious what kind of quality Lufthansa would have on a US-bound flight from Frankfurt. The sushi just wasn't very good at all. It was supermarket quality at best, and that's being generous.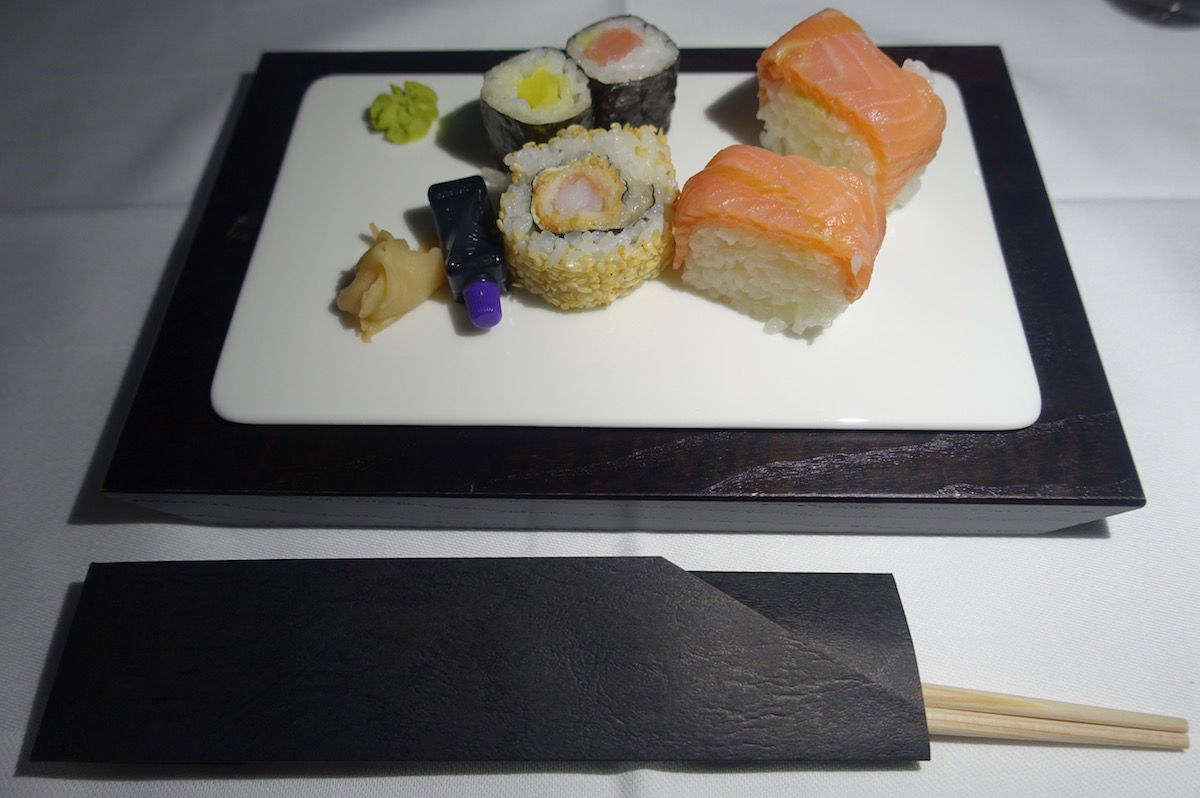 Lufthansa first class pre-landing snack
My dad had the crustacean soup, which he enjoyed.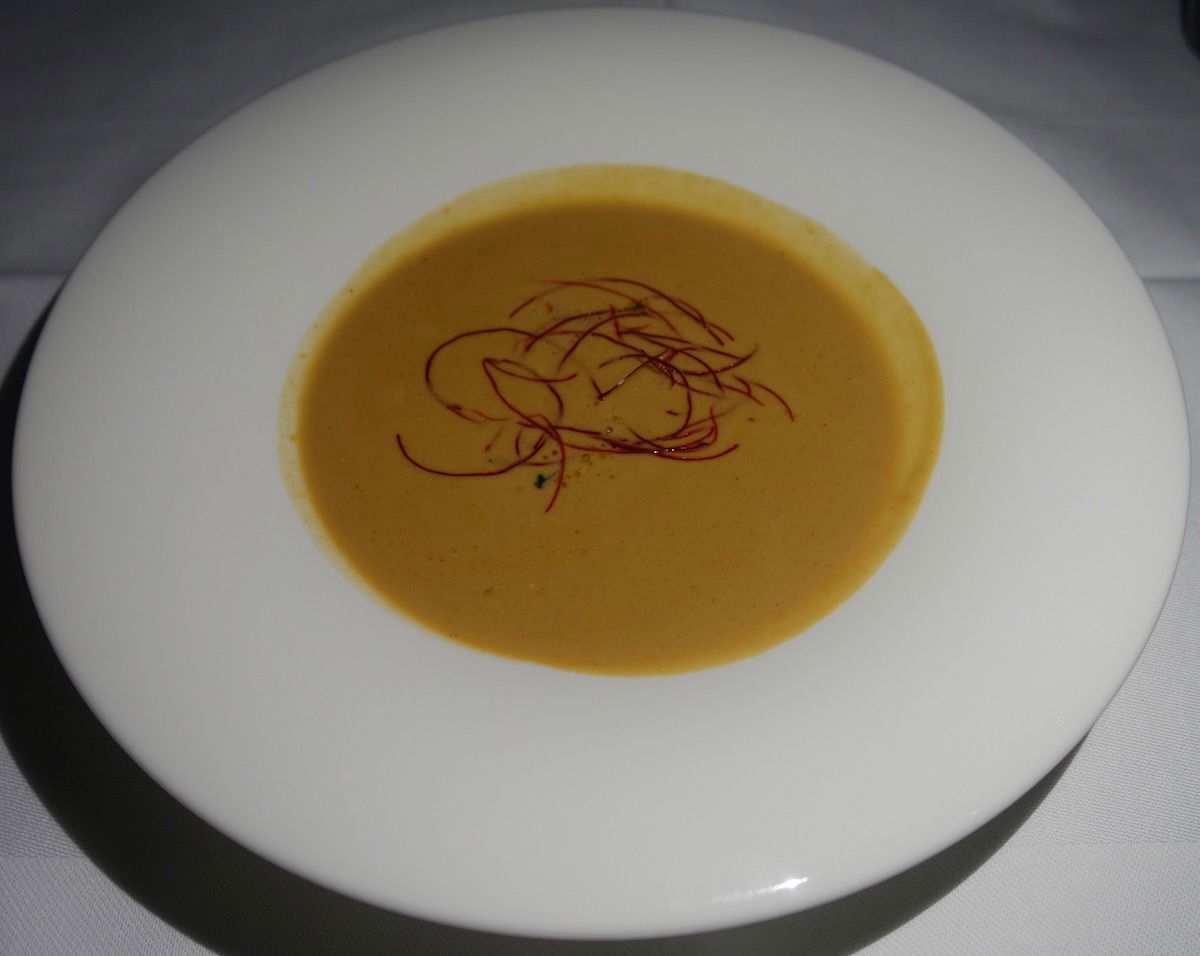 Lufthansa first class pre-landing snack
He then ordered a burger with vegetable chips.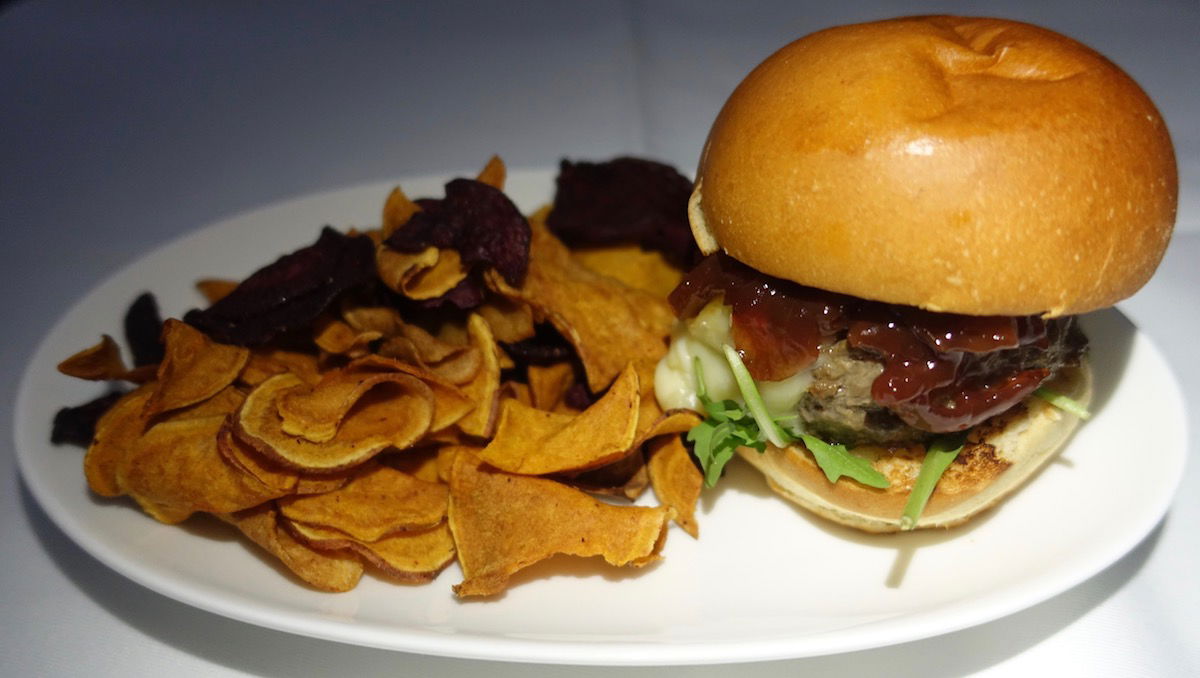 Lufthansa first class pre-landing snack
At 2:30PM the captain announced we'd be descending shortly and landing in about half an hour. Sure enough, at 3PM sharp we touched down in Boston, and five minutes after that we pulled into our arrival gate.
Clearing immigration was quick, and we headed towards Terminal C for our connections on JetBlue.
Lufthansa first class bottom line
Lufthansa offers an incredibly consistent product, and on a westbound transatlantic flight, I view a Lufthansa first class seat as a great "office" for the day, thanks to their reasonably fast Wi-Fi, which is even free for first class passengers.
The food on this flight was just alright, and the service wasn't the best, but overall there's still something that makes the Lufthansa experience incredibly special, in my opinion.