---
I've reviewed Lufthansa first class many times before, though it has been years since I've reviewed their A380 first class.
Our flight was departing from gate D9 and was scheduled to depart at 3:50PM, though the inbound flight was delayed, so the departure time was rescheduled for 4:15PM.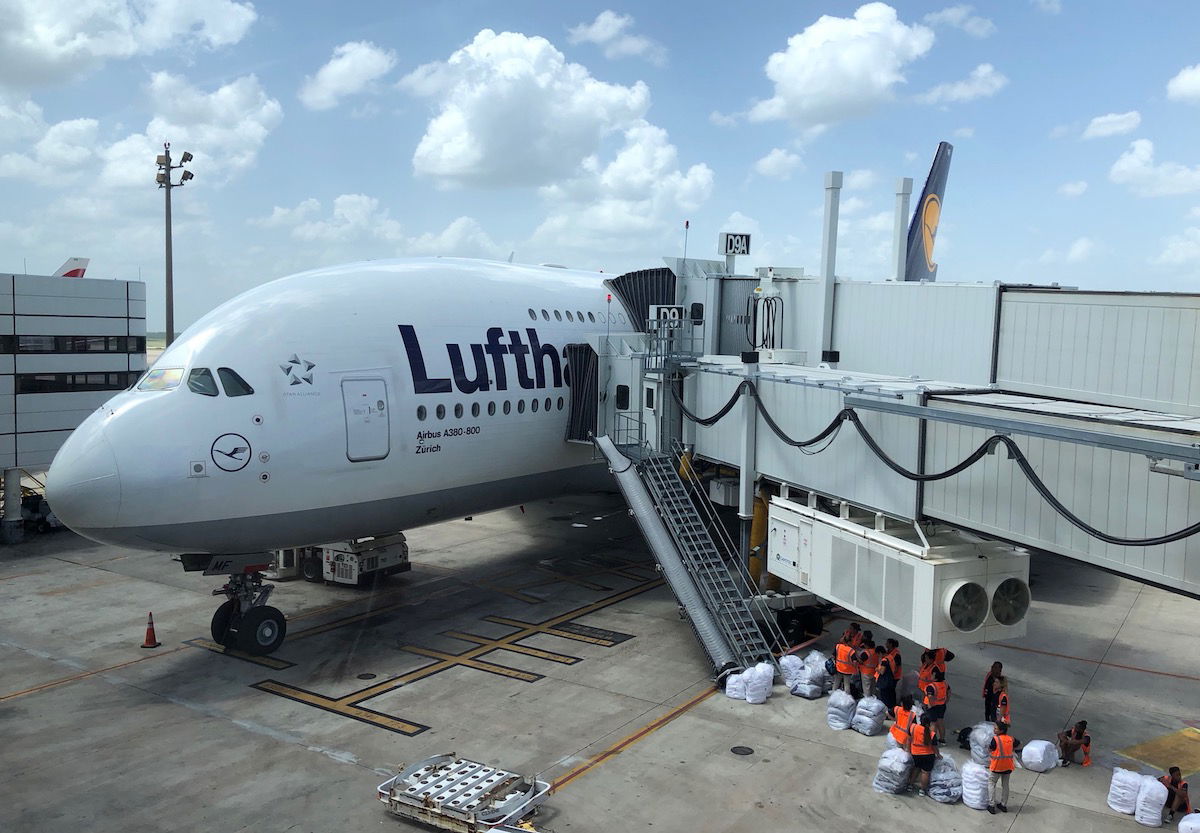 Lufthansa A380 Houston Airport
Fortunately they turned around the plane pretty quickly, and boarding started at 3:45PM.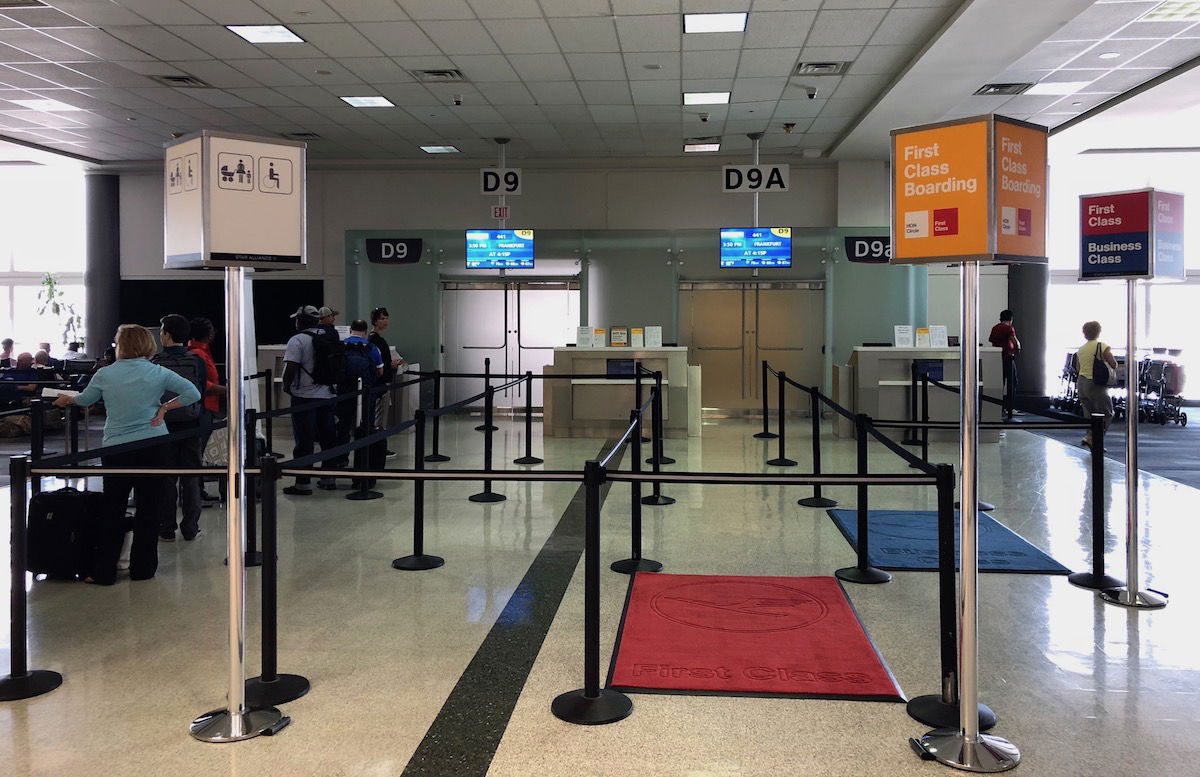 Lufthansa departure gate Houston Airport
Lufthansa 441
Houston (IAH) – Frankfurt (FRA)
Tuesday, August 14
Depart: 3:50PM
Arrive: 8:35AM (+1 day)
Duration: 9hr45min
Aircraft: Airbus A380
Seat: 2G (First Class)
I always love boarding through the upper deck of the A380, as it really puts into perspective how massive the plane is. At the upper deck door we were greeted by one of the first class flight attendants and escorted to our seats.
Nowadays Lufthansa's first class cabin is consistent across their fleet. All planes with first class have an eight seat cabin, and the layout on the A340 and A380 is identical, while the 747-8 has the same seats but has them arranged differently, as they're in the nose.
On the A380, the first class cabin consists of two rows in a 1-2-1 configuration.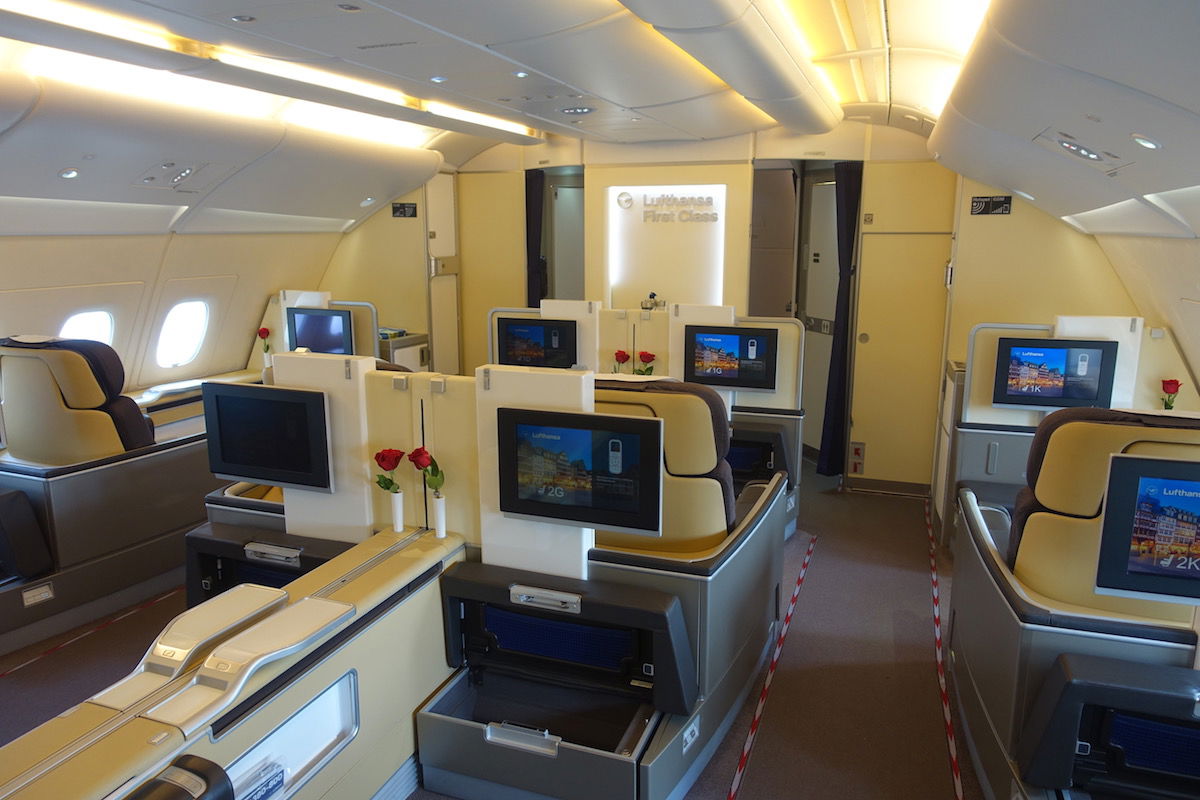 Lufthansa A380 first class cabin
The seats obviously look exposed, though the good news is that there are privacy shields that can be raised at seats for added privacy. Still, it's probably not quite the most over-the-top hard product out there.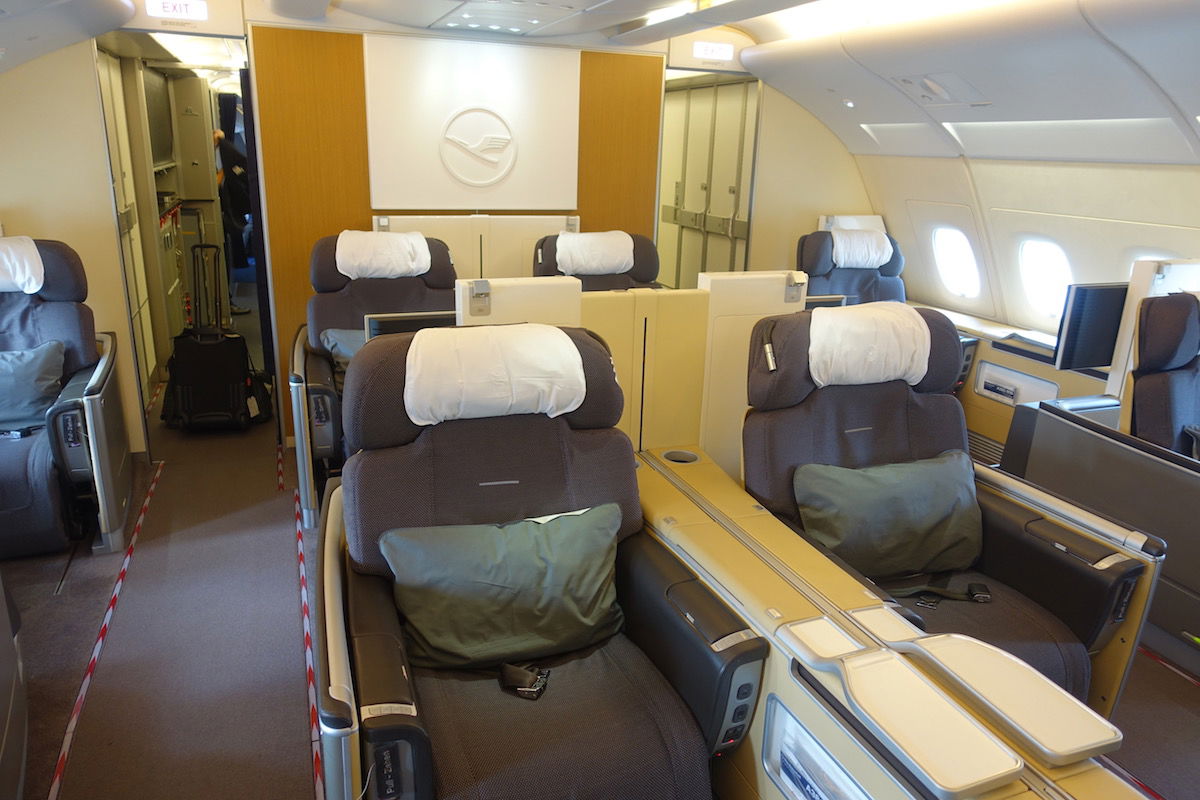 Lufthansa A380 first class cabin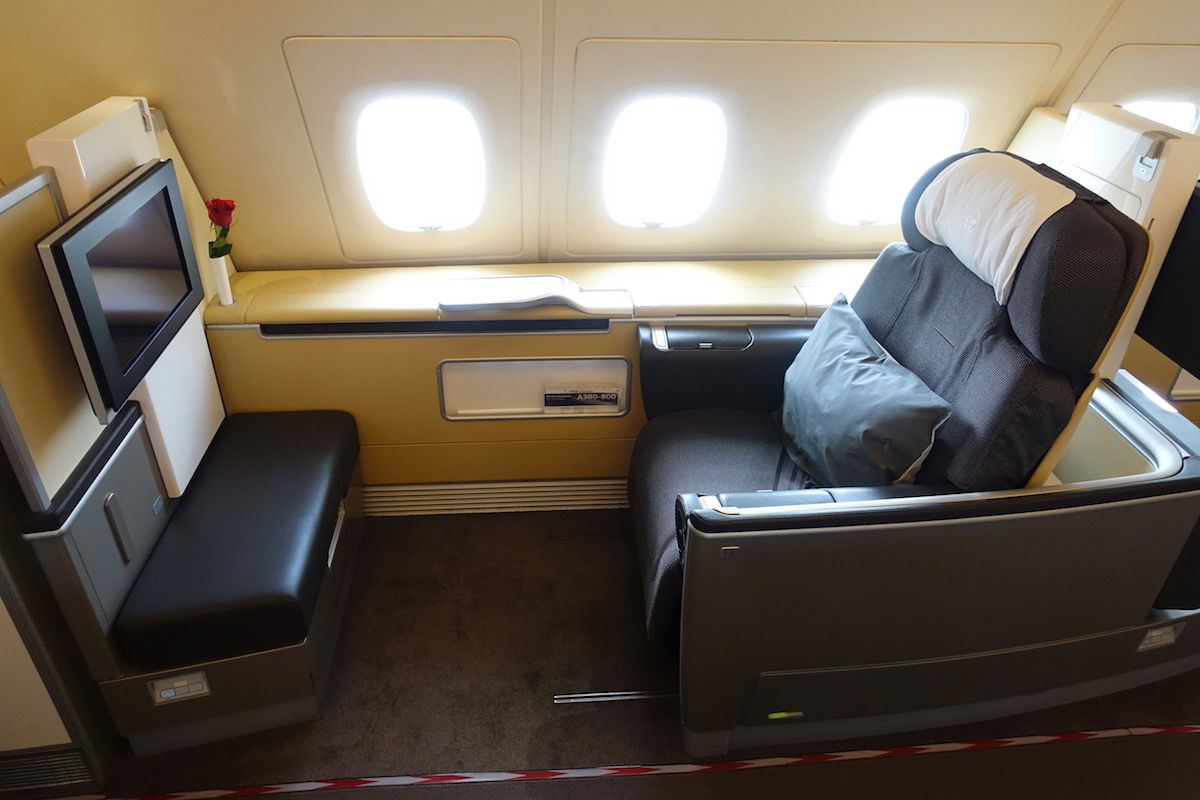 Lufthansa first class seat
My dad and I were seated in 2D & 2G, which are my preferred seats if traveling with someone. Like I said, it's not the most private product, though it's lovely especially when traveling with someone, since you can easily communicate during the flight and enjoy a meal together.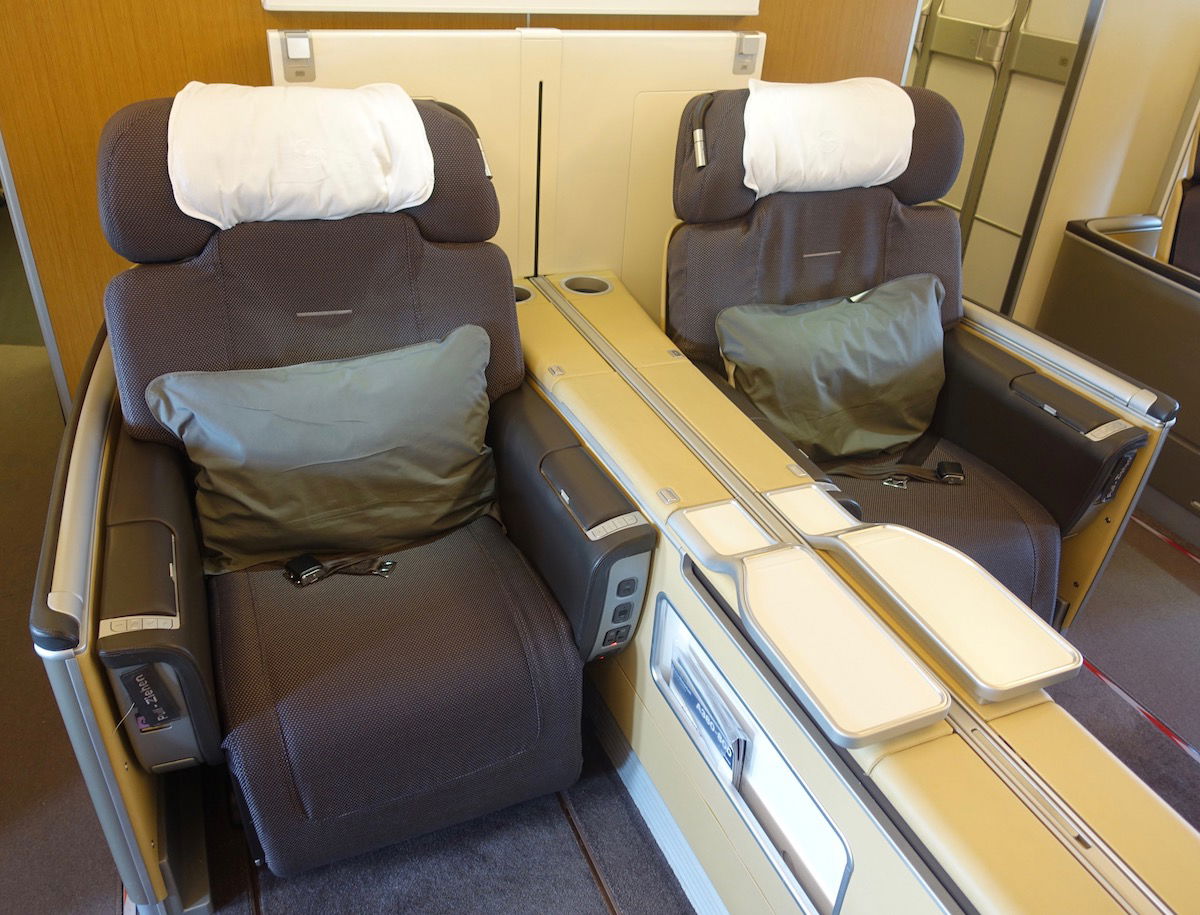 Lufthansa first class seats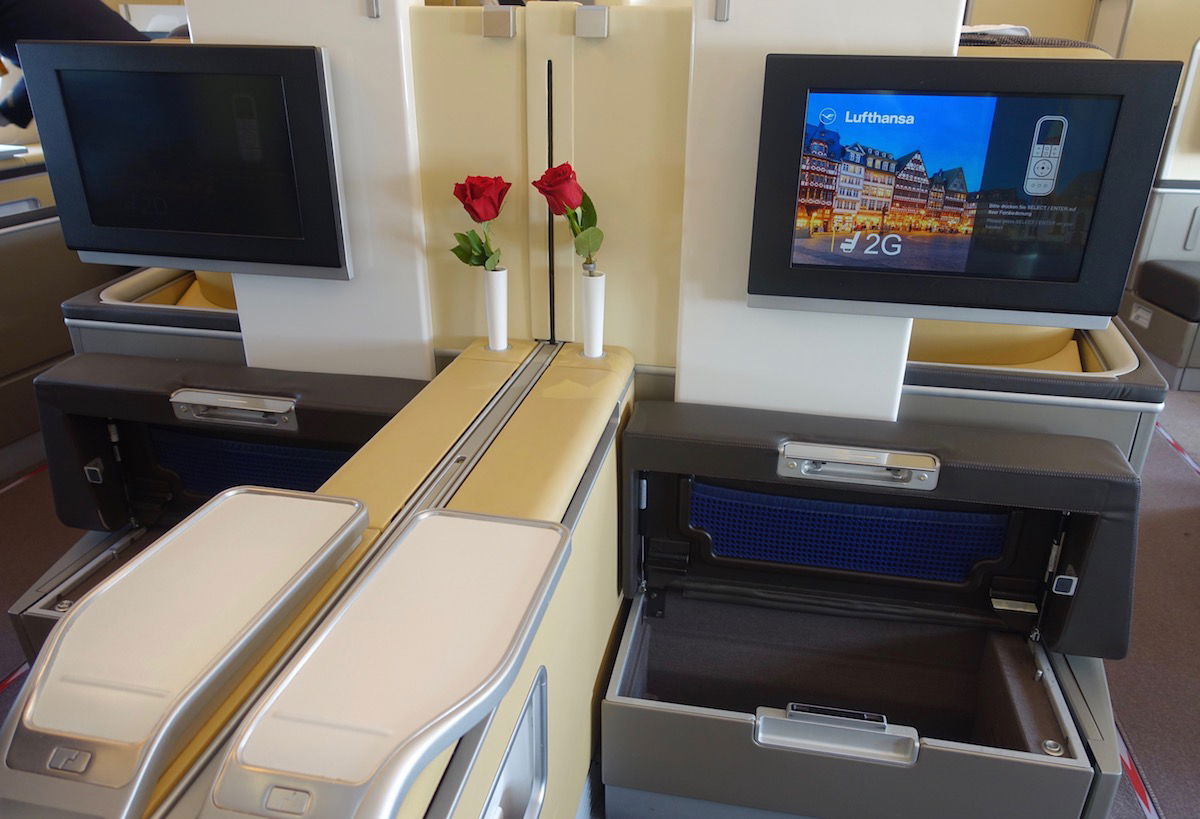 Lufthansa first class seats
For anyone wondering, here's what the privacy shield looks like when raised.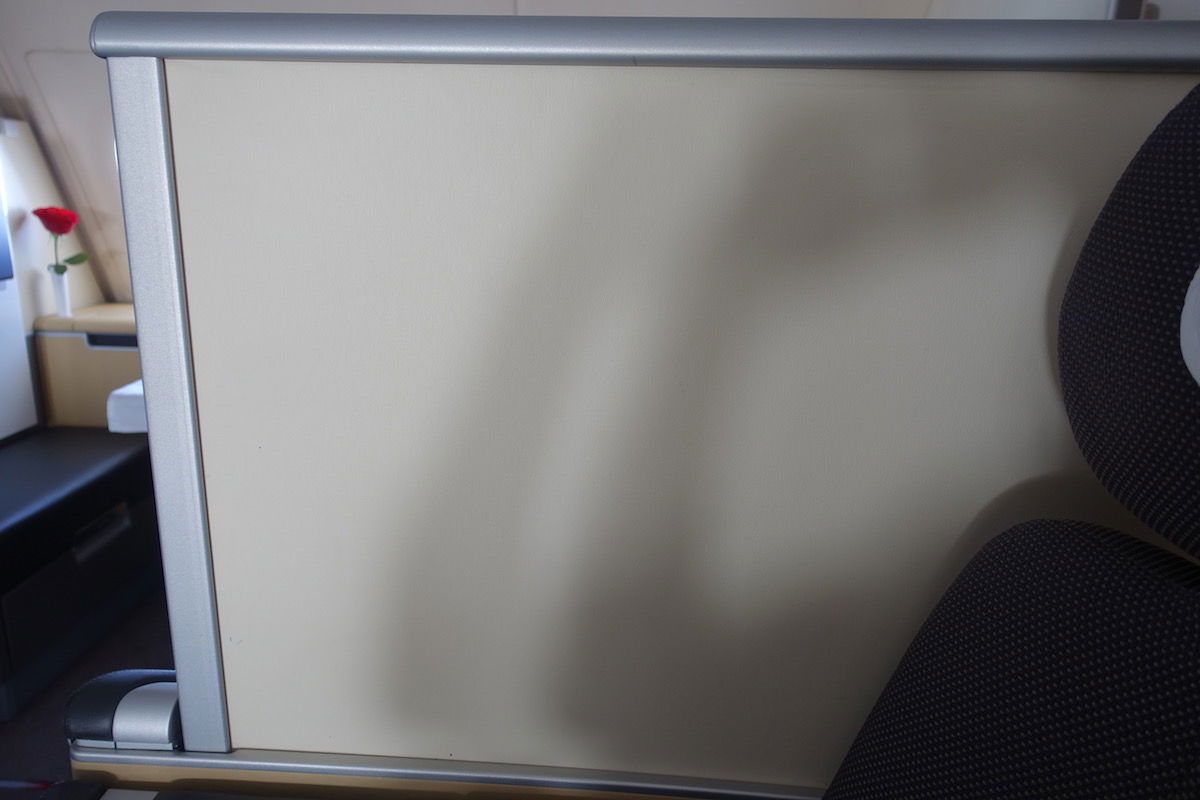 Lufthansa first class privacy shield
At the foot of each seat is an ottoman, which doubles as a storage compartment. The ottoman becomes part of the bed when the seat is reclined, though you can also move it closer to the seat so you can rest your feet on it while sitting up.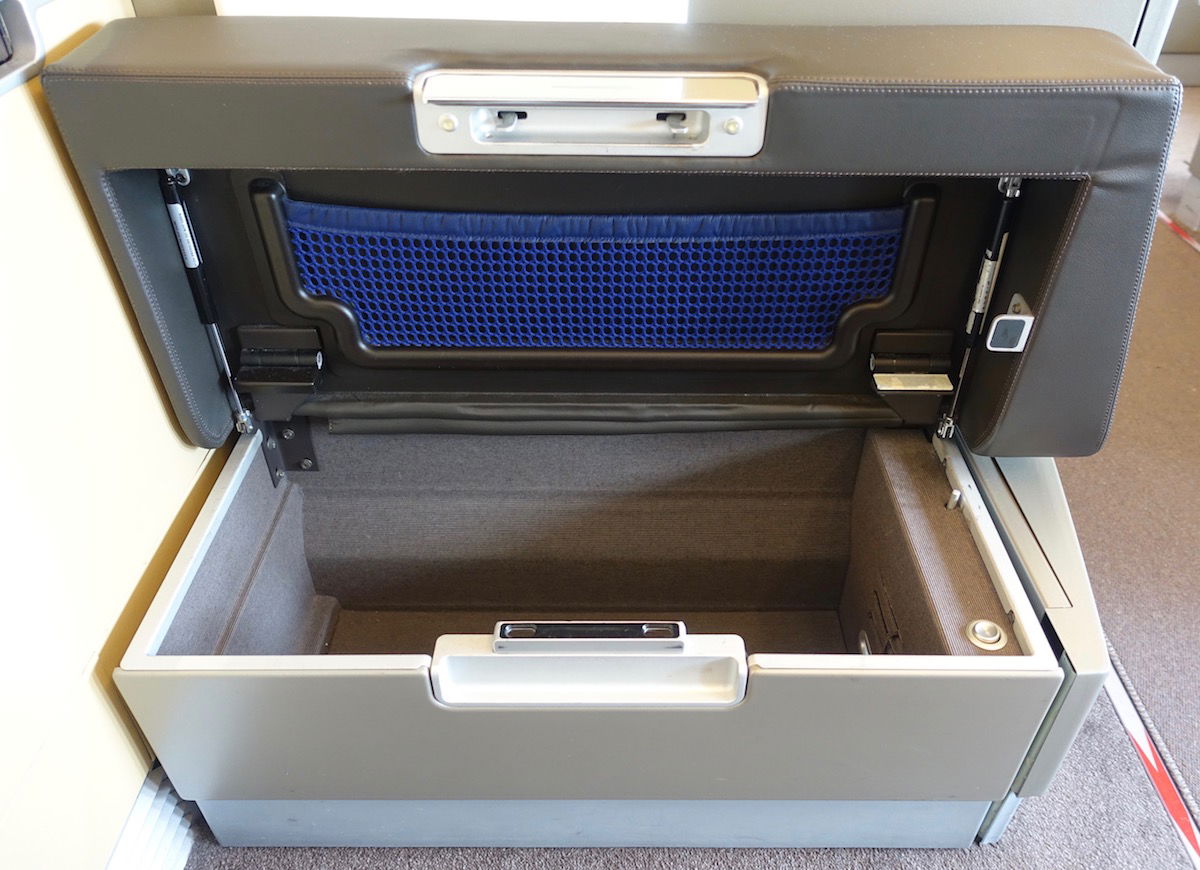 Lufthansa first class ottoman
The tray table folds out from the forward part of the seat, and can be slid back and forth. I like the ability to slide the table, since it means you can easily get up and go to the bathroom during the meal service.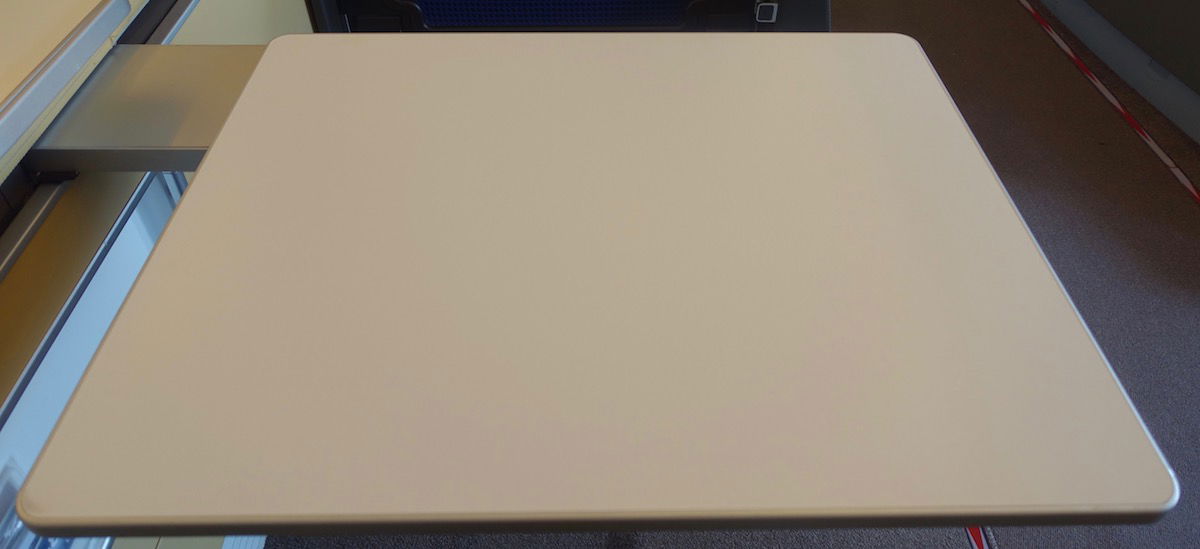 Lufthansa first class tray table
On the left side of the seat were the entertainment controls, and on the right side of the seat were the seat controls.


Lufthansa first class entertainment controls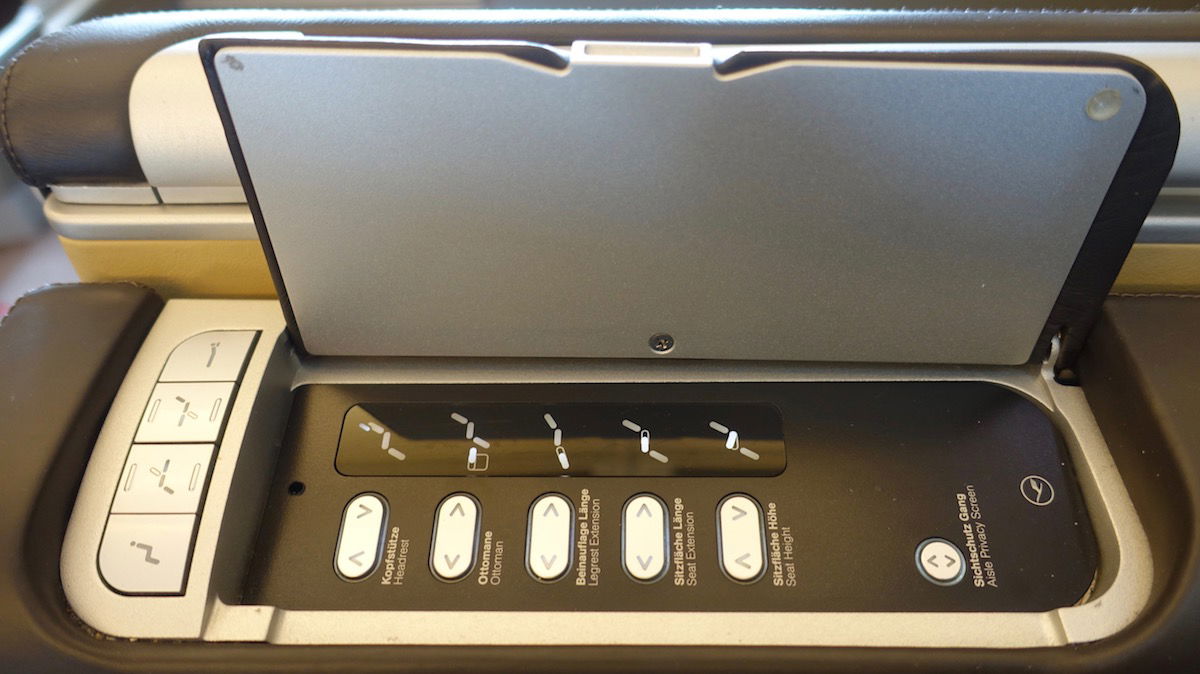 Lufthansa first class seat controls
Lufthansa has Bose headphones in first class, and the wires are attached to the seat so that the headphones can't be removed.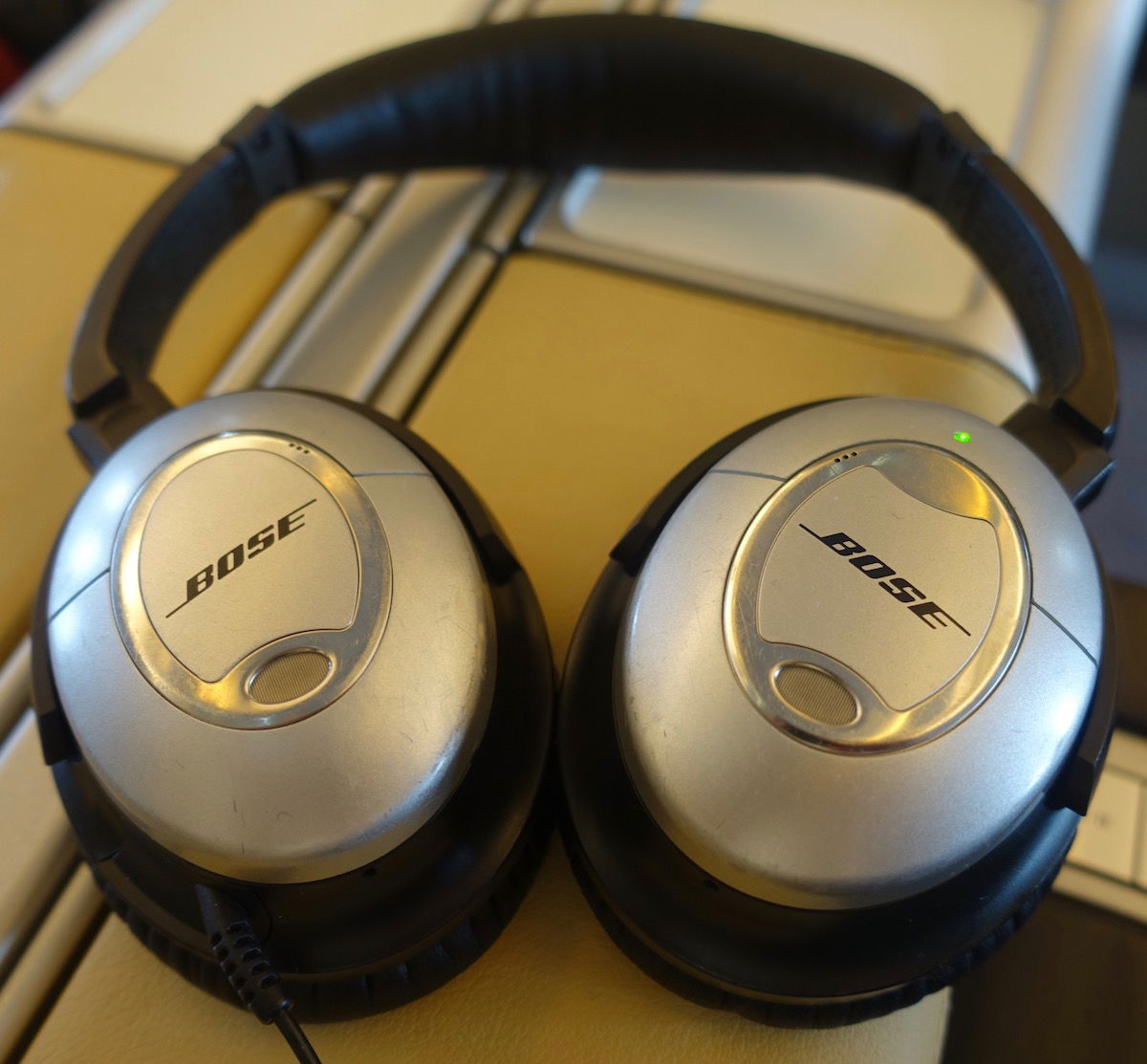 Lufthansa first class Bose headphones
There was a pillow at each seat, and then a light blanket in the storage compartment at the front of the seat.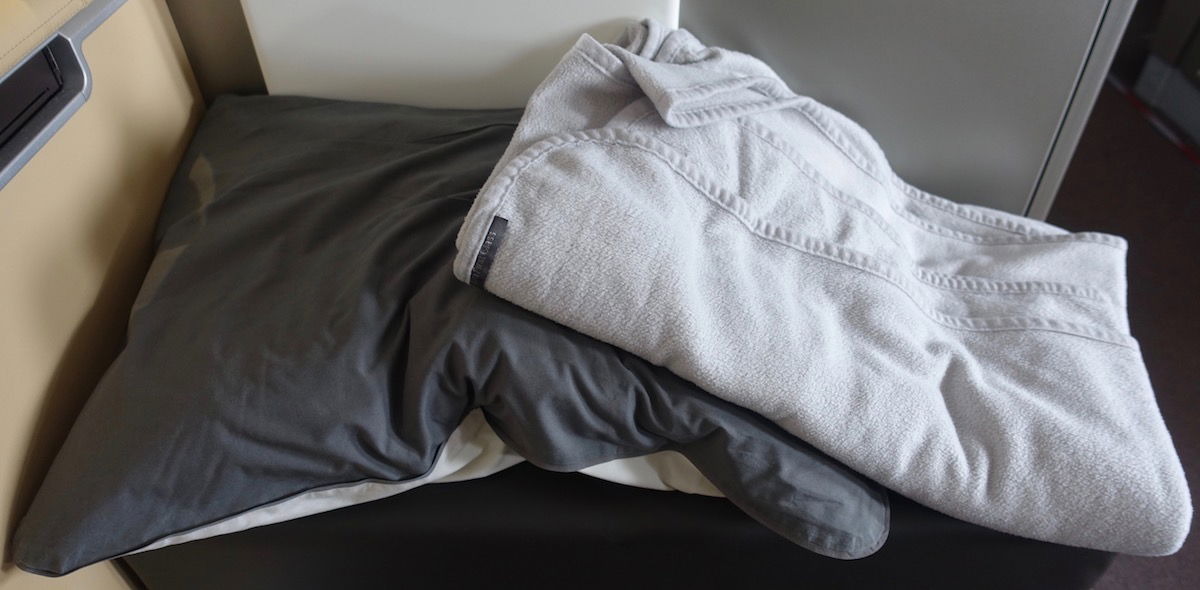 Lufthansa first class pillow & blanket
As you may have noticed based on the cabin pictures, the A380 doesn't have any overhead bins in first class, which makes the cabin feel more spacious. Instead there are individual storage lockers behind the cabin for each seat, which are large and can easily accommodate a carry-on of any size.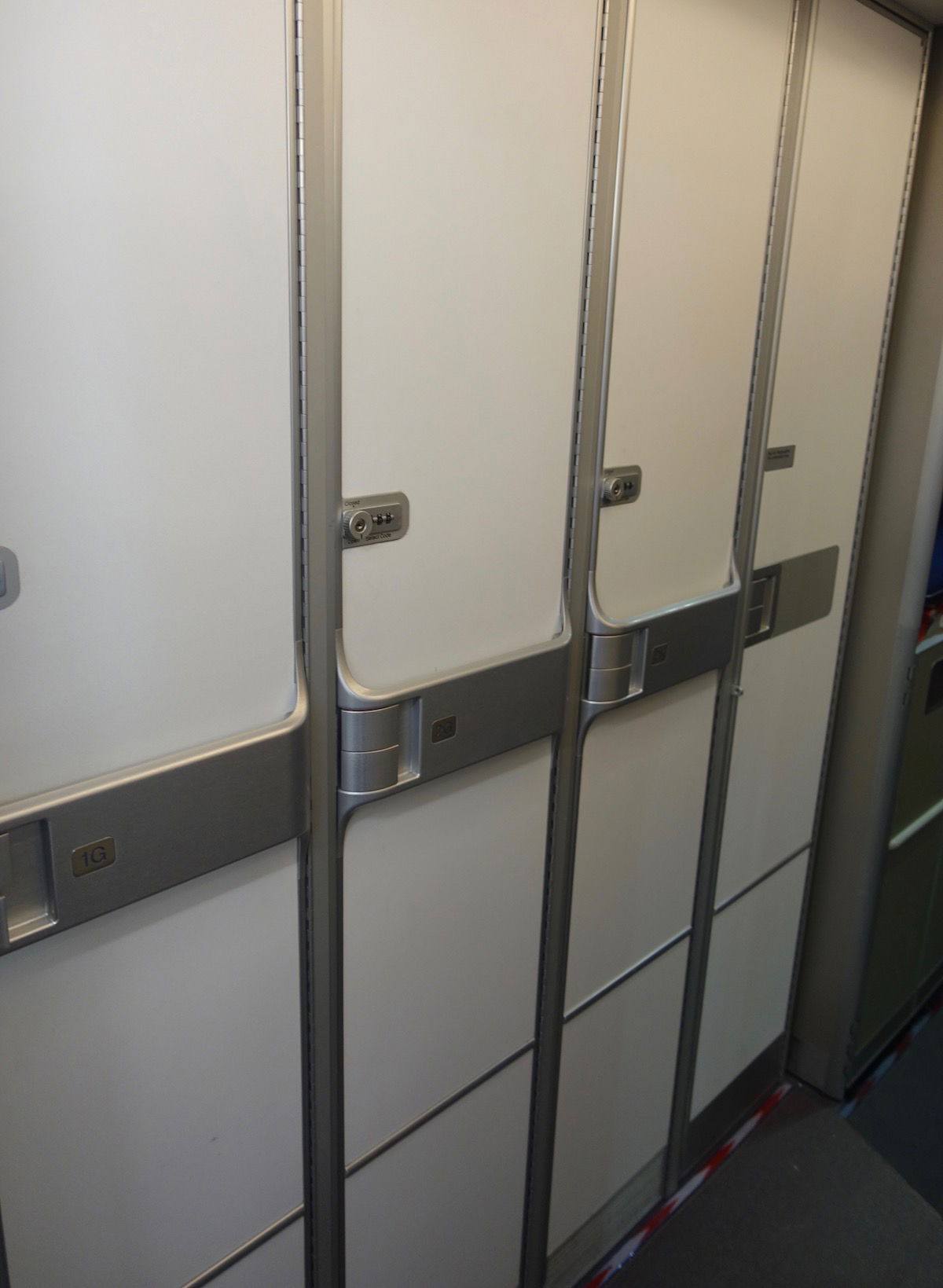 Lufthansa first class lockers
Within a moment of settling in, we were formally welcomed by one of the first class flight attendants. Both of the flight attendants working first class were excellent — they were charming, professional, and attentive.
My dad and I both ordered some champagne, which was served with macadamia nuts. For anyone wondering, the champagne on offer was Laurent-Perrier Grand Siecle (Lufthansa has a tendency to switch up their champagne selection every few months). There's something about the picture of the rose, the champagne, and the macadamia nuts that I just love and that makes me so nostalgic for Lufthansa.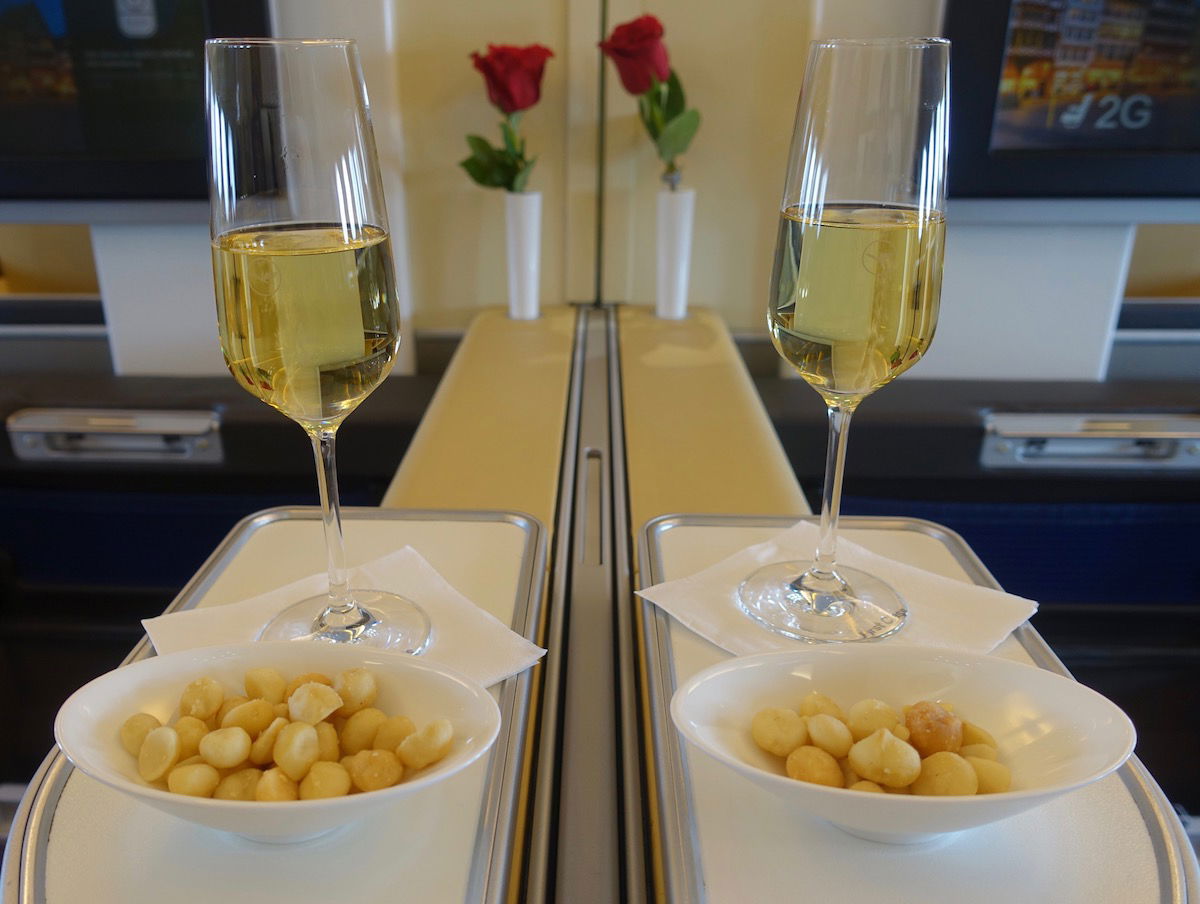 Lufthansa pre-departure champagne
A few minutes later we were presented with the amenity kit, slippers, and pajamas for the flight.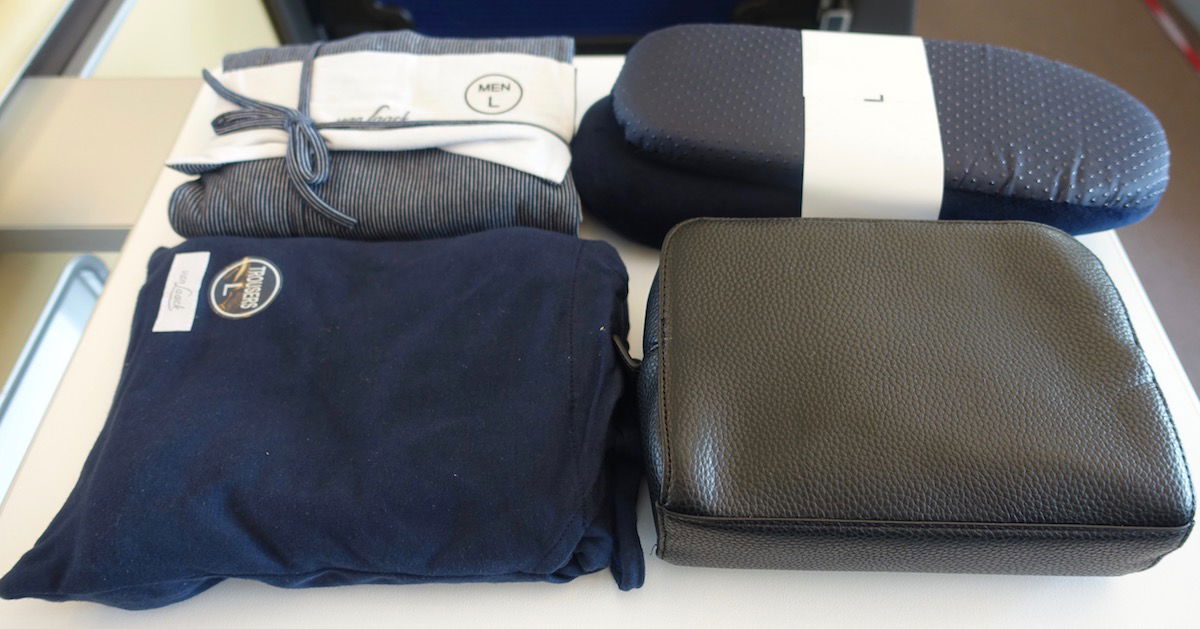 Lufthansa first class amenities
While they've changed up the pajamas slightly (they no longer have pants that look like scrubs), the tops are the same as before. They also have new slippers that are really thick. On one hand they're so well padded and comfortable, though the issue is that the actual area you put your feet in is small, so if you have big feet they might be tight.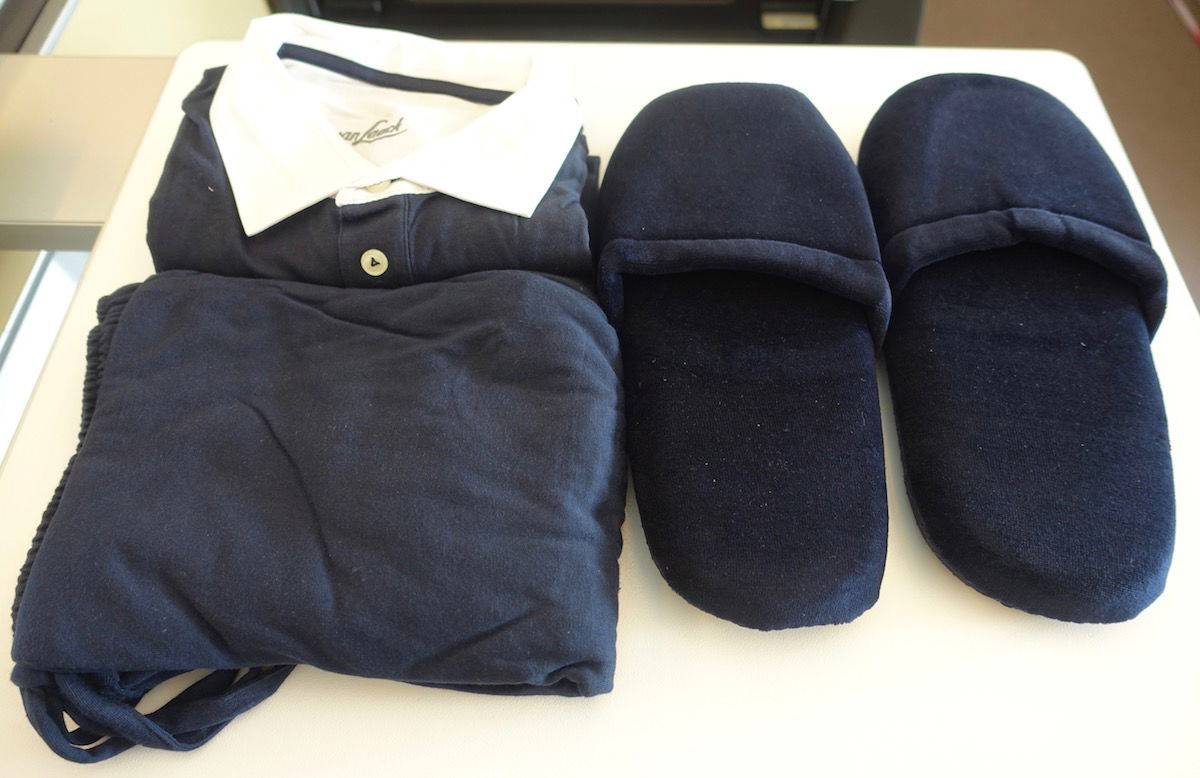 Lufthansa first class pajamas & slippers
We were also presented with amenity kits, which were in a different case than what I've had in the past, though the contents were the same as always, and included some La Prairie toiletries.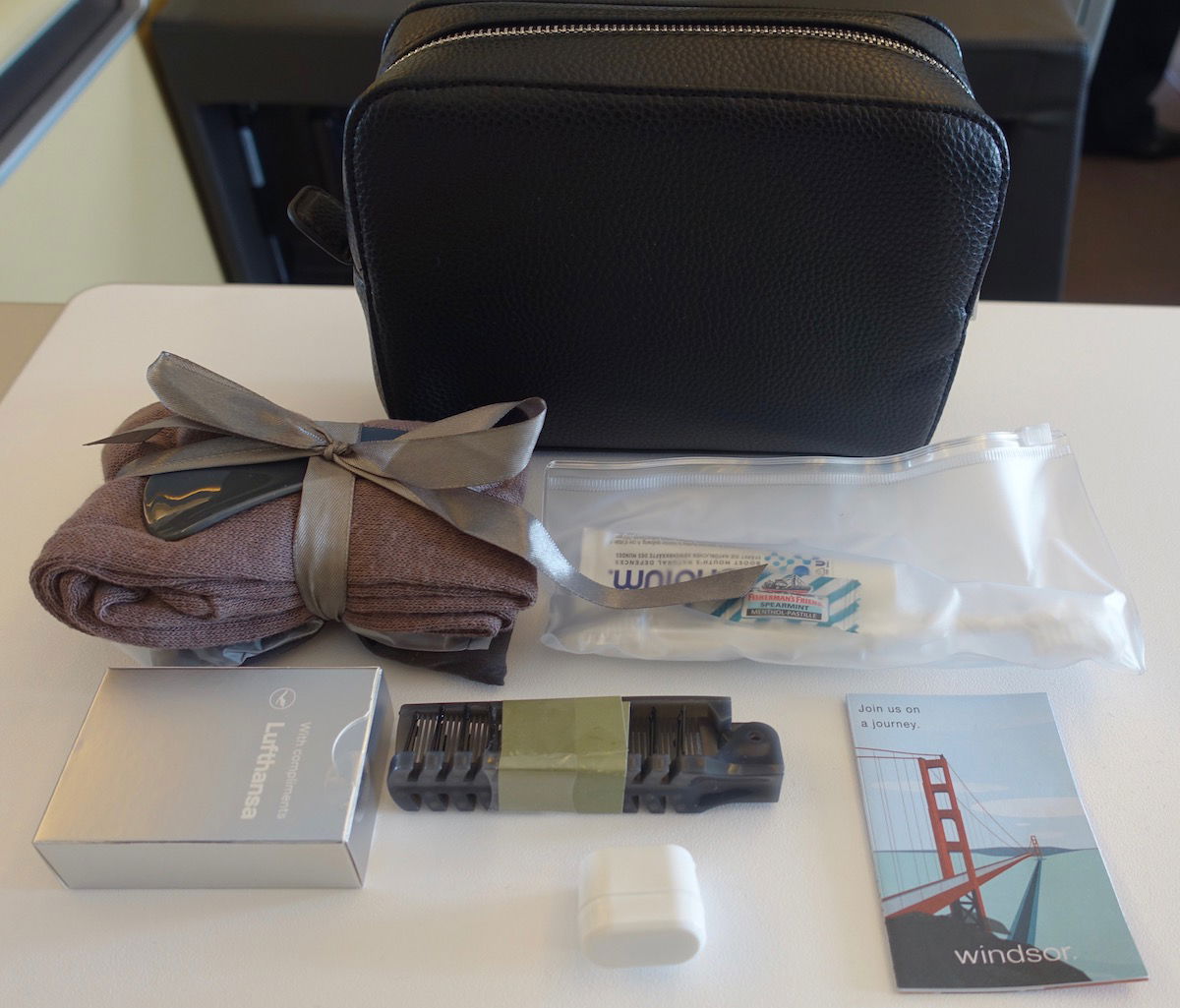 Lufthansa first class amenity kit contents
Next up we were brought the menu and wine list, with the usual explanation that we could order what we wanted when we wanted.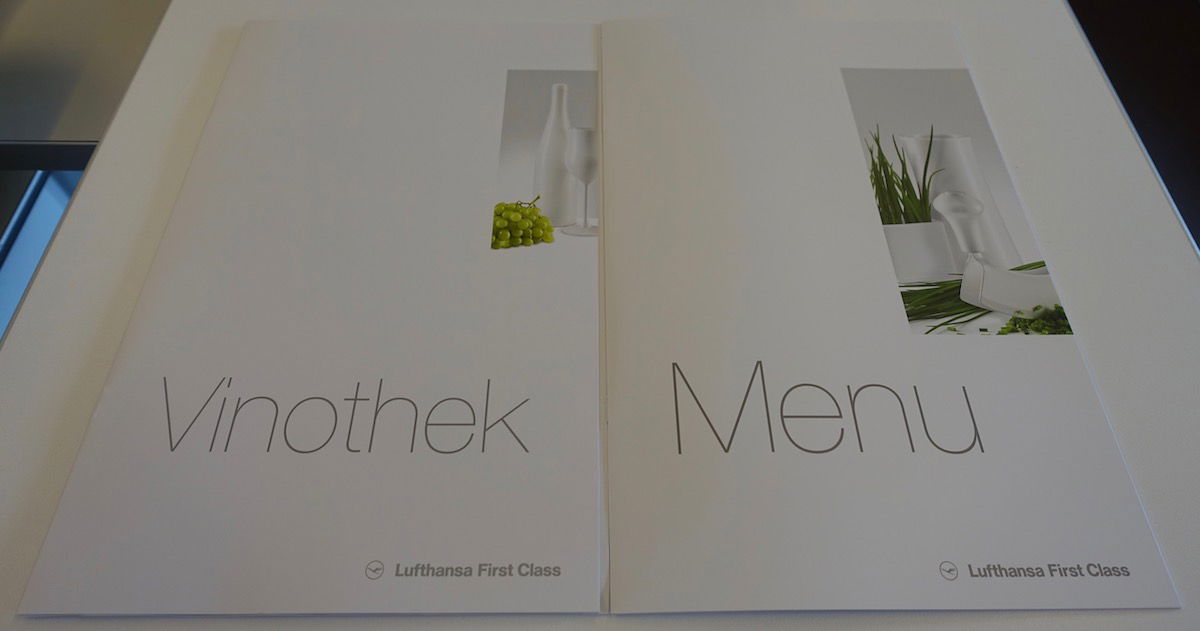 Lufthansa first class menus
Towards the end of the boarding process we were brought warm towels on a plate, with a rose petal.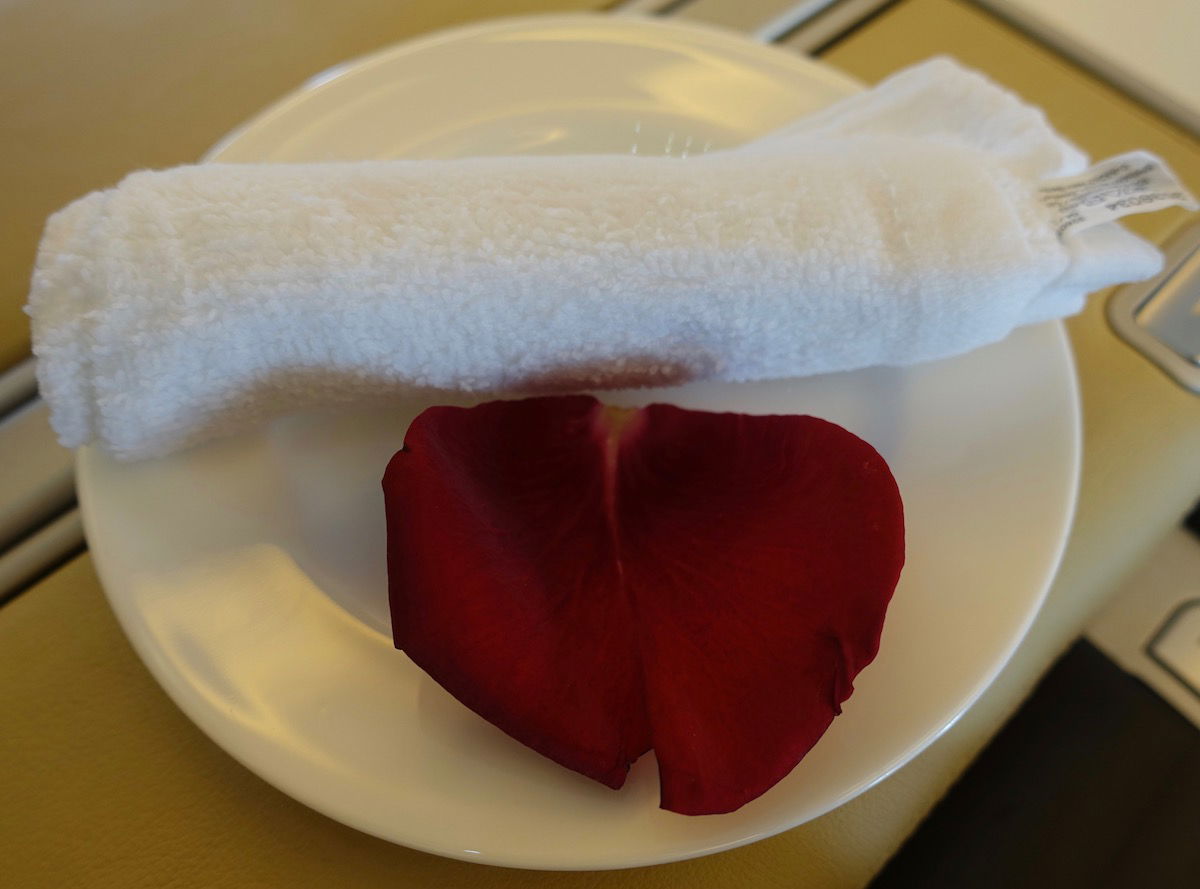 Lufthansa first class warm towel
First class on the flight was full, and there were two guys in front of me who nearly got into an argument with the crew over the freshness of Lufthansa's juice. They wanted orange juice as the pre-departure drink, but they insisted it be fresh. They asked over and over to confirm it was fresh, and even called over the purser to ask if it was fresh. The crew stated that it was (and I believe Lufthansa does serve it in first class), but then when they were served it, they complained it wasn't fresh enough for them. Hmmm…
The boarding process was extremely efficient, and by 4:05PM boarding was complete, and five minute after that the door was closed. At that point the captain added his welcome onboard, and informed us of our flight time to Frankfurt of nine hours. Moments later the purser made her welcome aboard announcement, and after that the safety video was screened.
At 4:15PM we began our pushback and a few minutes after that we started our taxi. The Lufthansa A380 has a tail camera, so I of course turned that on. Lufthansa's inflight entertainment on the A380 feels extremely low definition, and that includes for movies and the tail camera.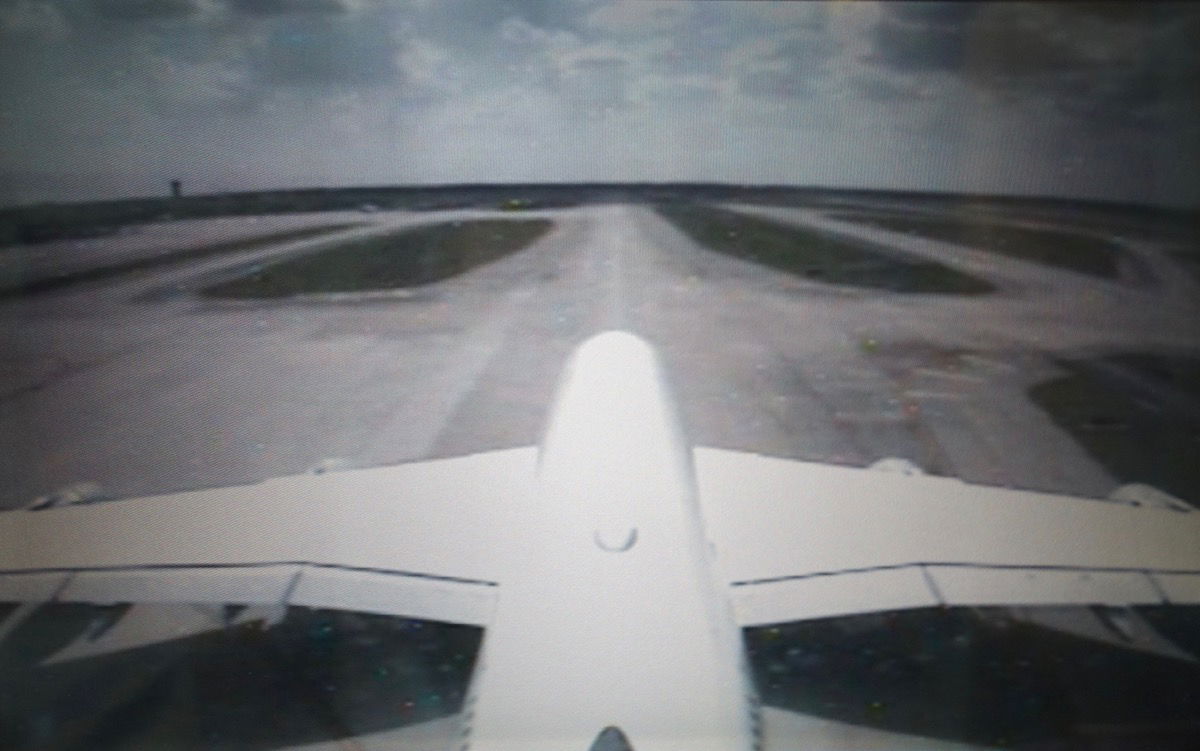 Tail camera while taxiing
We had a fairly long taxi, and by 4:40PM we were cleared for takeoff on runway 15L. By the way, as a general seating preference on this flight, if seated in row one I'd prefer to sit on the left side of the cabin rather than the right side, since there's a flight attendant jumpseat facing the cabin right at 1K.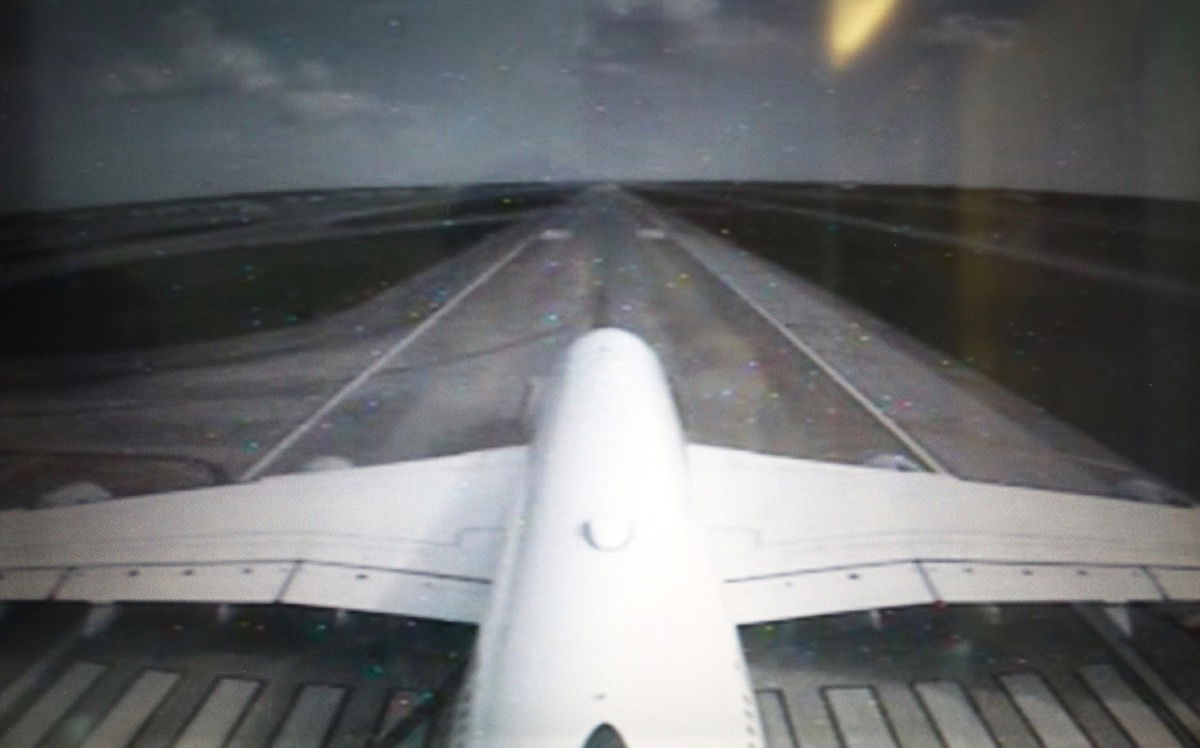 Tail camera while taking off
As we climbed out I checked out the entertainment system. While the selection of movies as such was fine, I found the system to be embarrassingly low definition. While I think Lufthansa's first class product as such is still quite nice, I'd really love to see them update their IFE.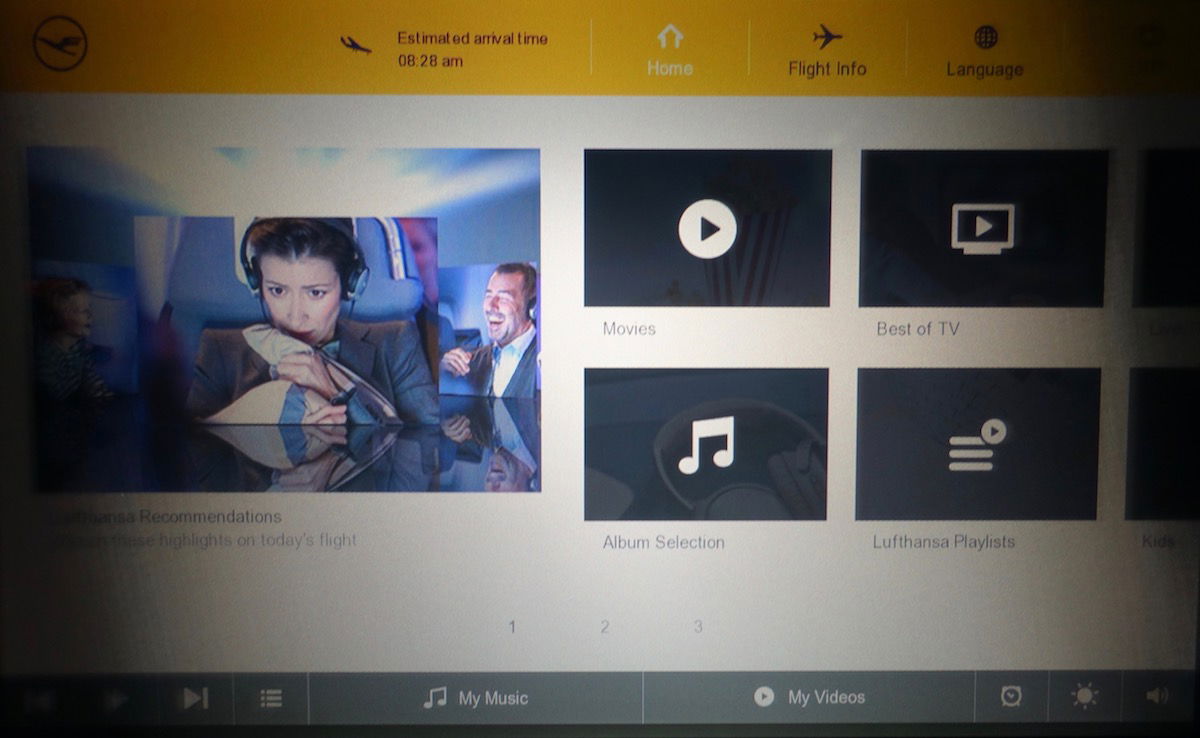 Lufthansa entertainment system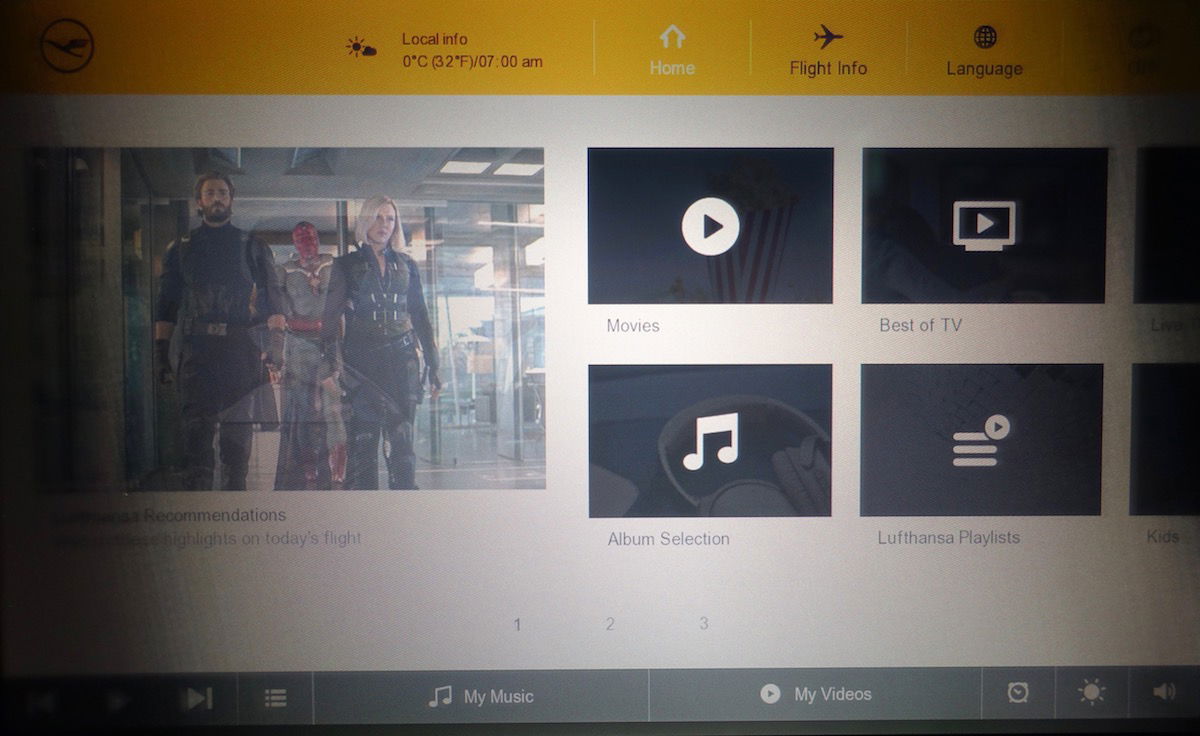 Lufthansa entertainment system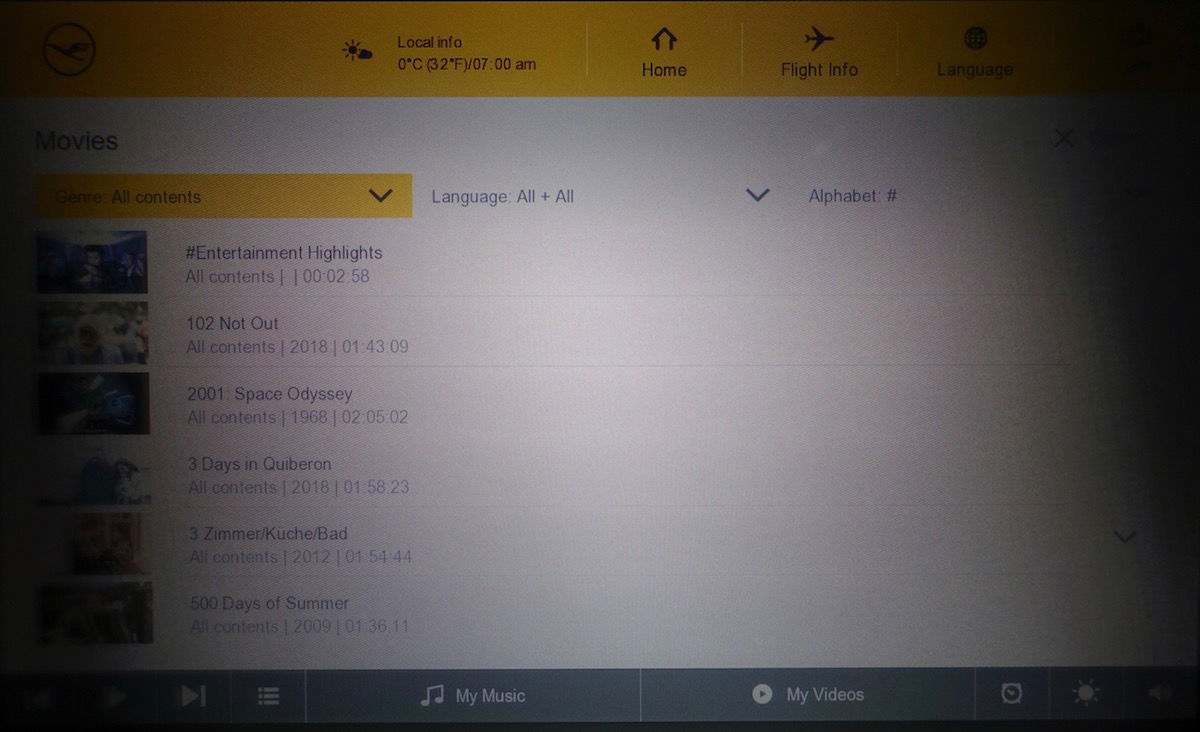 Lufthansa entertainment system
Our climb out was smooth, and about 15 minutes after takeoff the seatbelt sign was turned off. At this point the purser made the rounds through the cabin to welcome aboard passengers and distribute free Wi-Fi cards to first class passengers. This is a nice feature, though I ended up not using the Wi-Fi at all, since I preferred just spending quality time with my dad.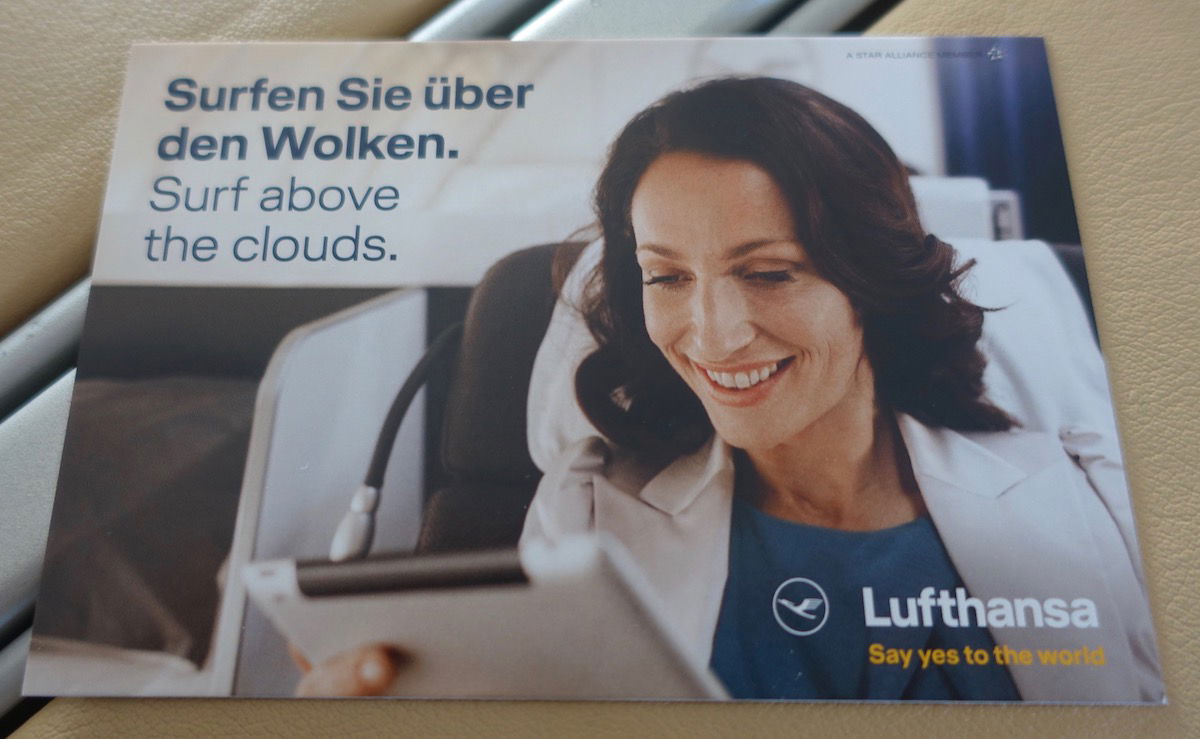 Lufthansa first class free Wi-Fi
The crew was quick to get the service started, as just 20 minutes after takeoff the drinks and amuse bouche were served, followed by dinner.
The menu read as follows: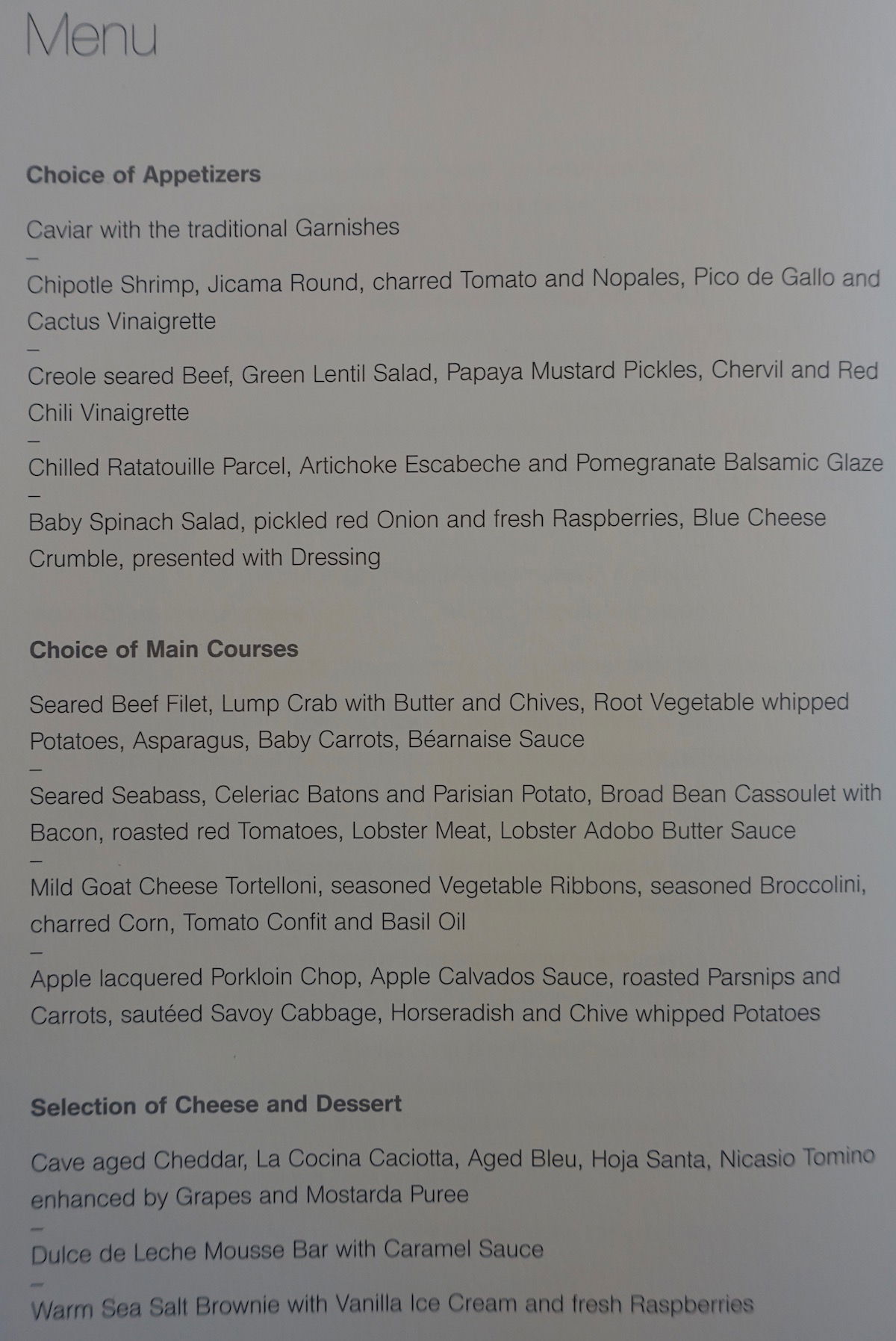 The drink list read as follows: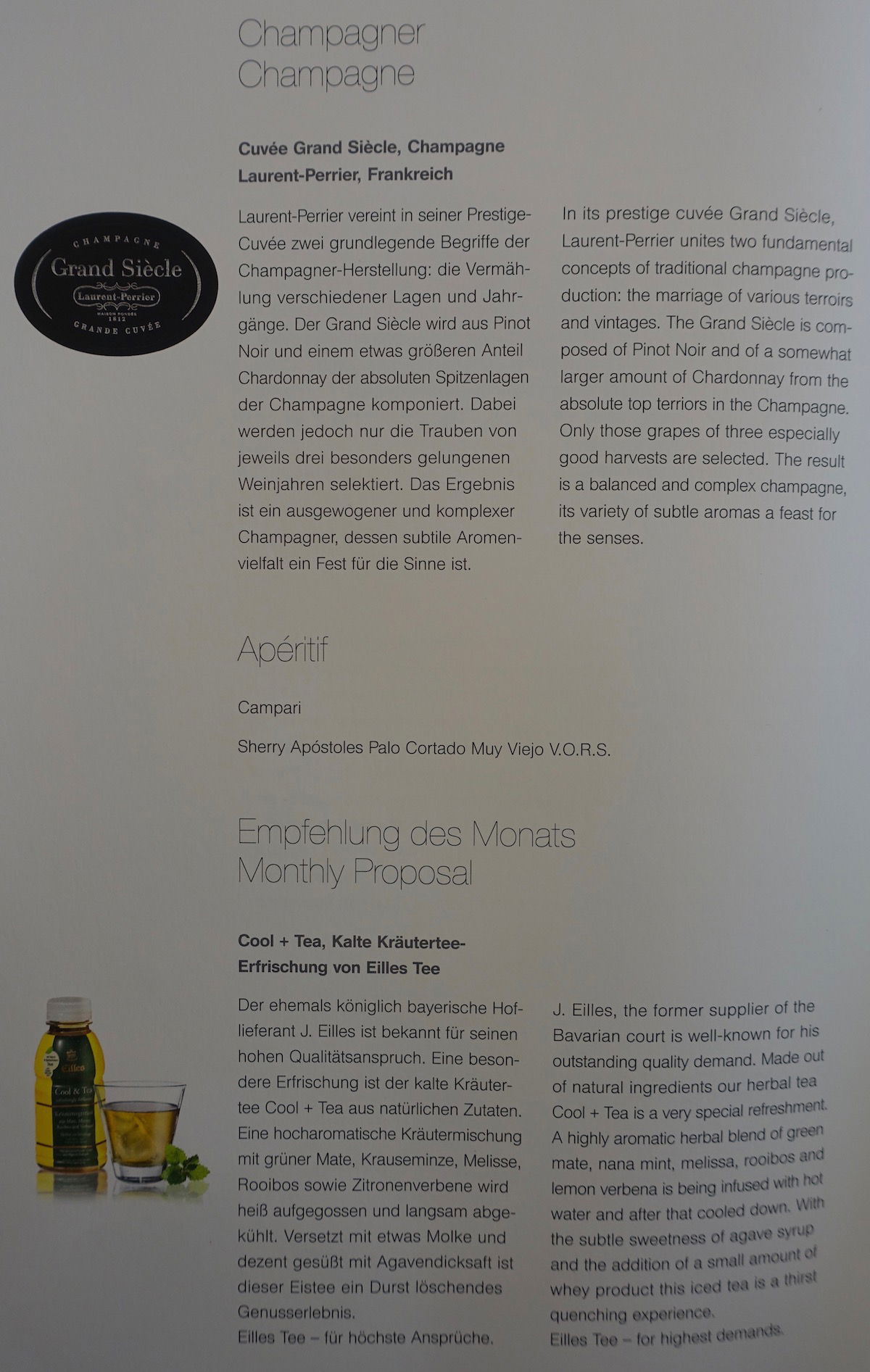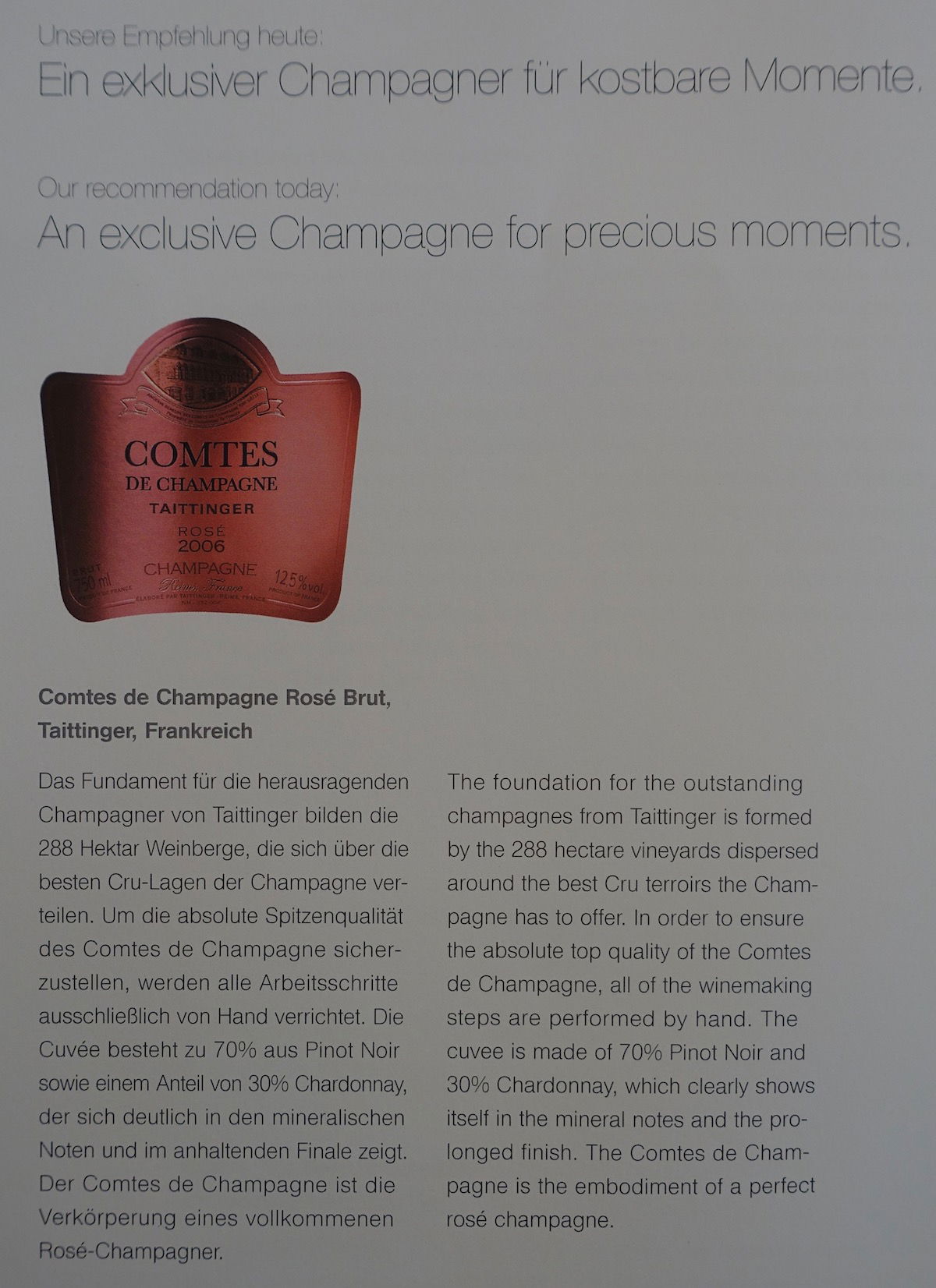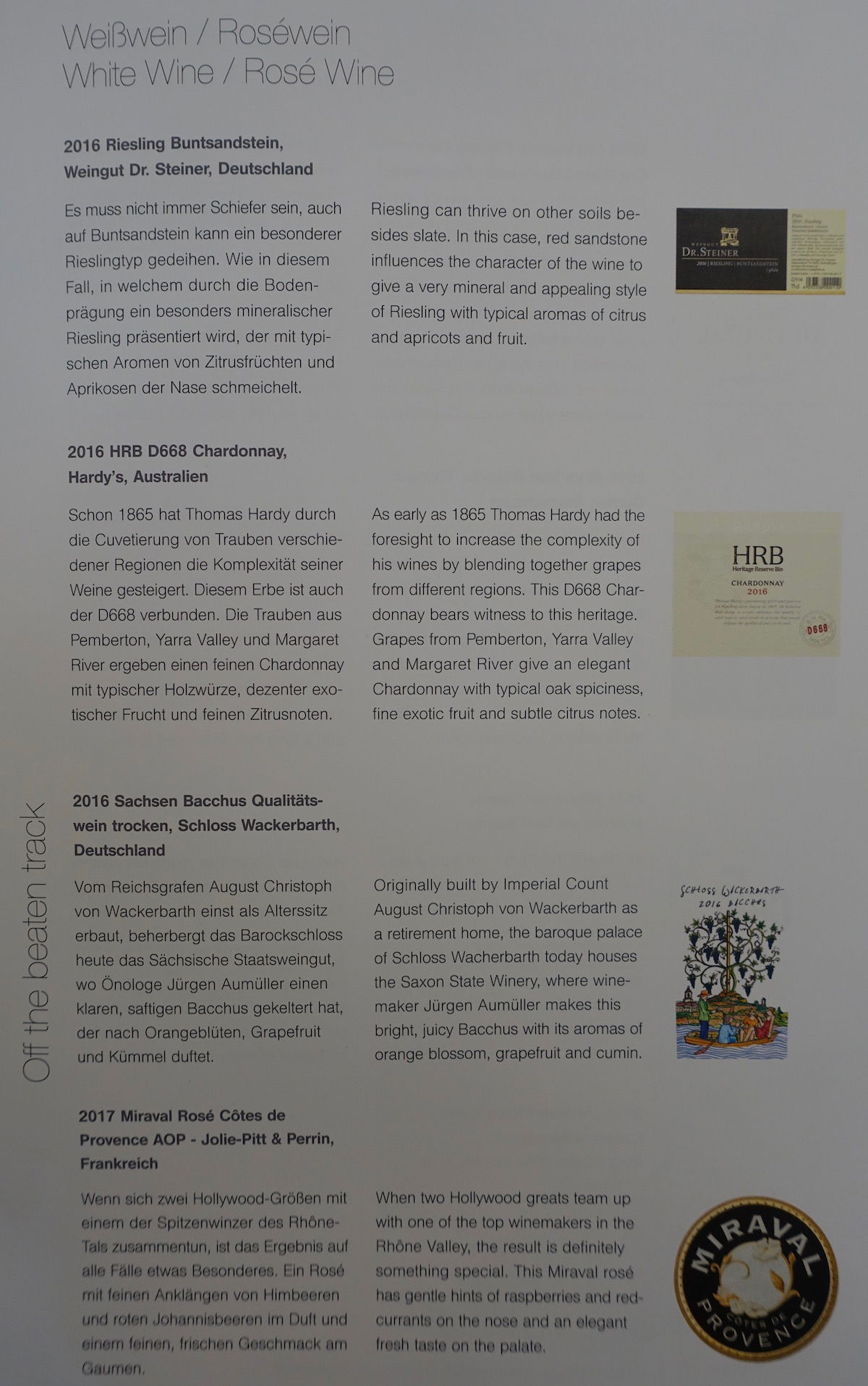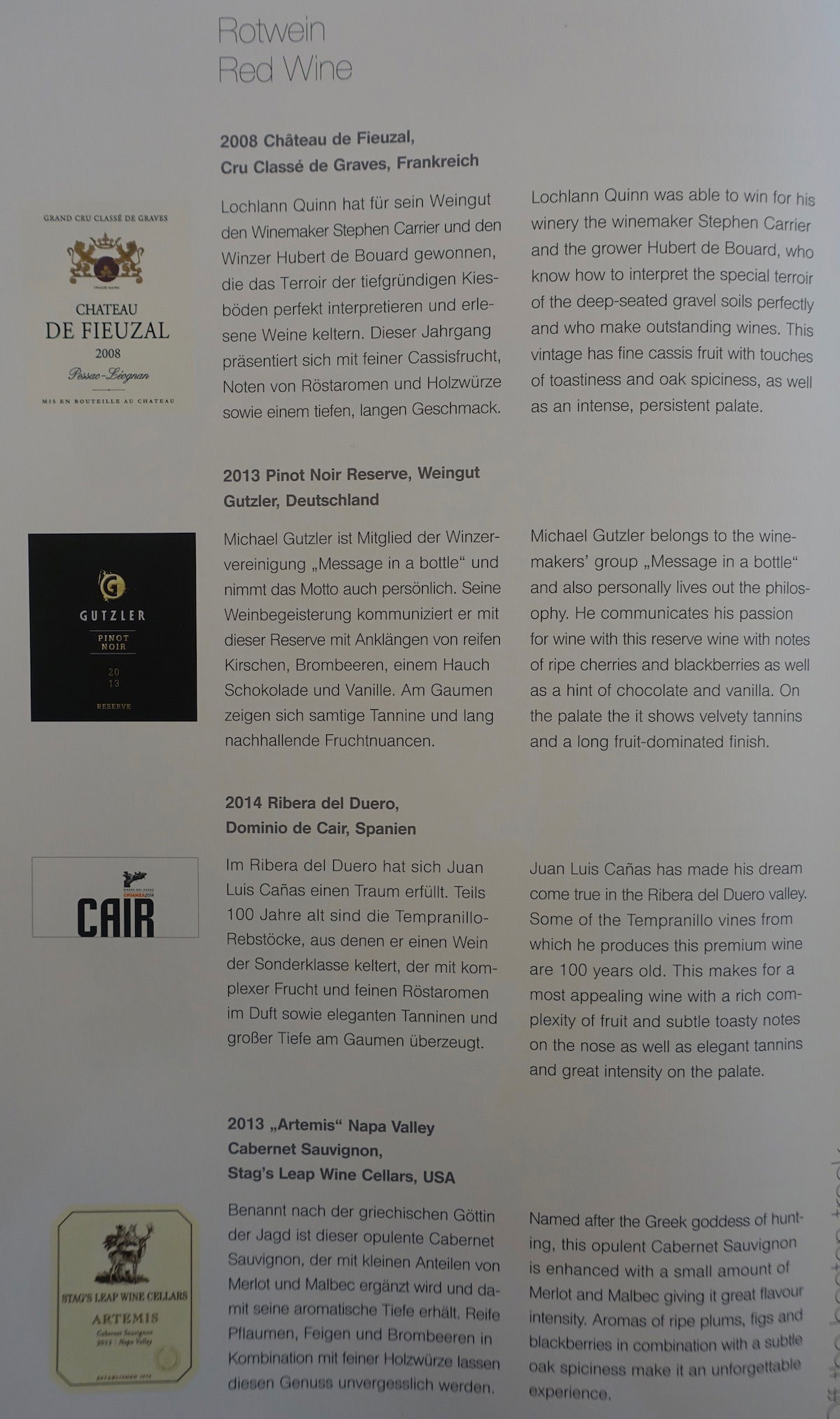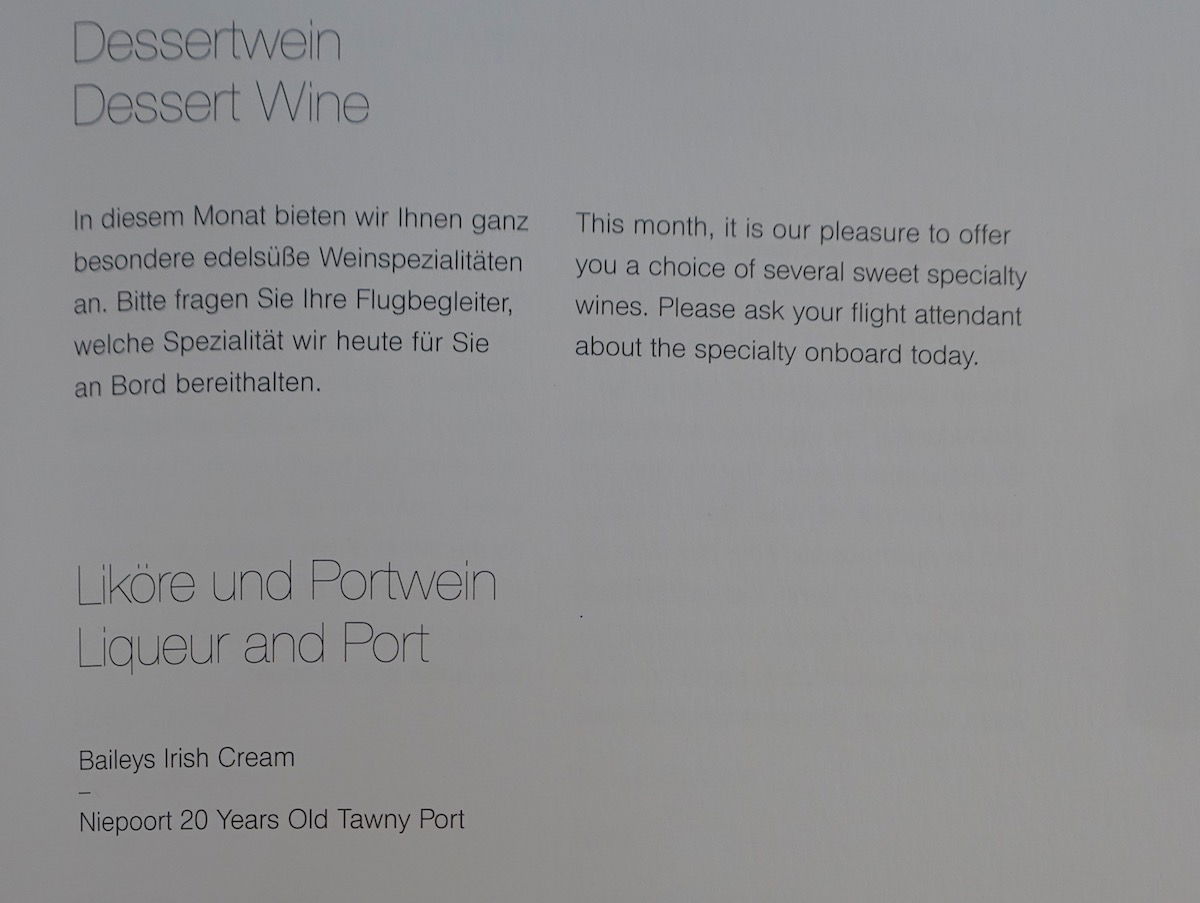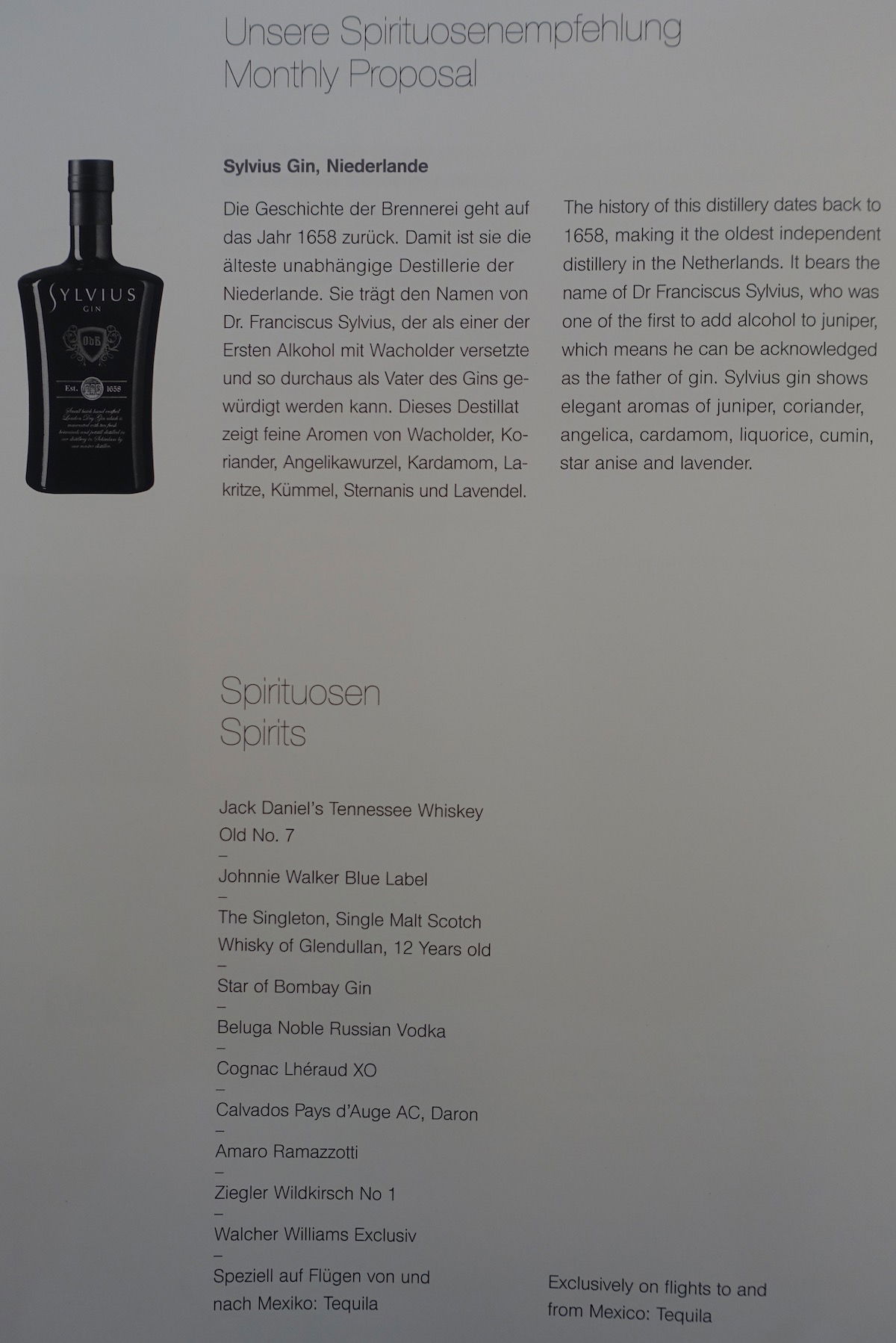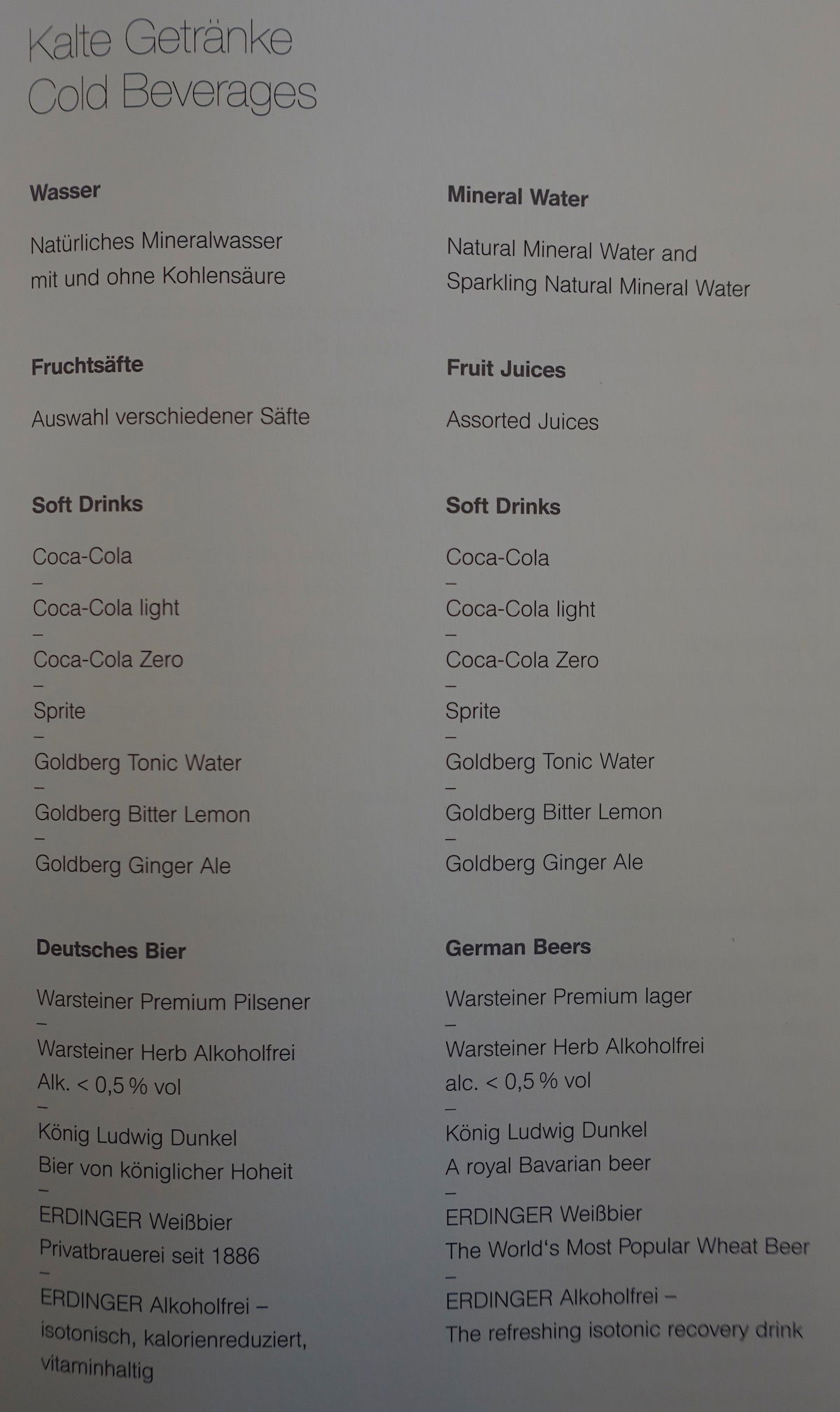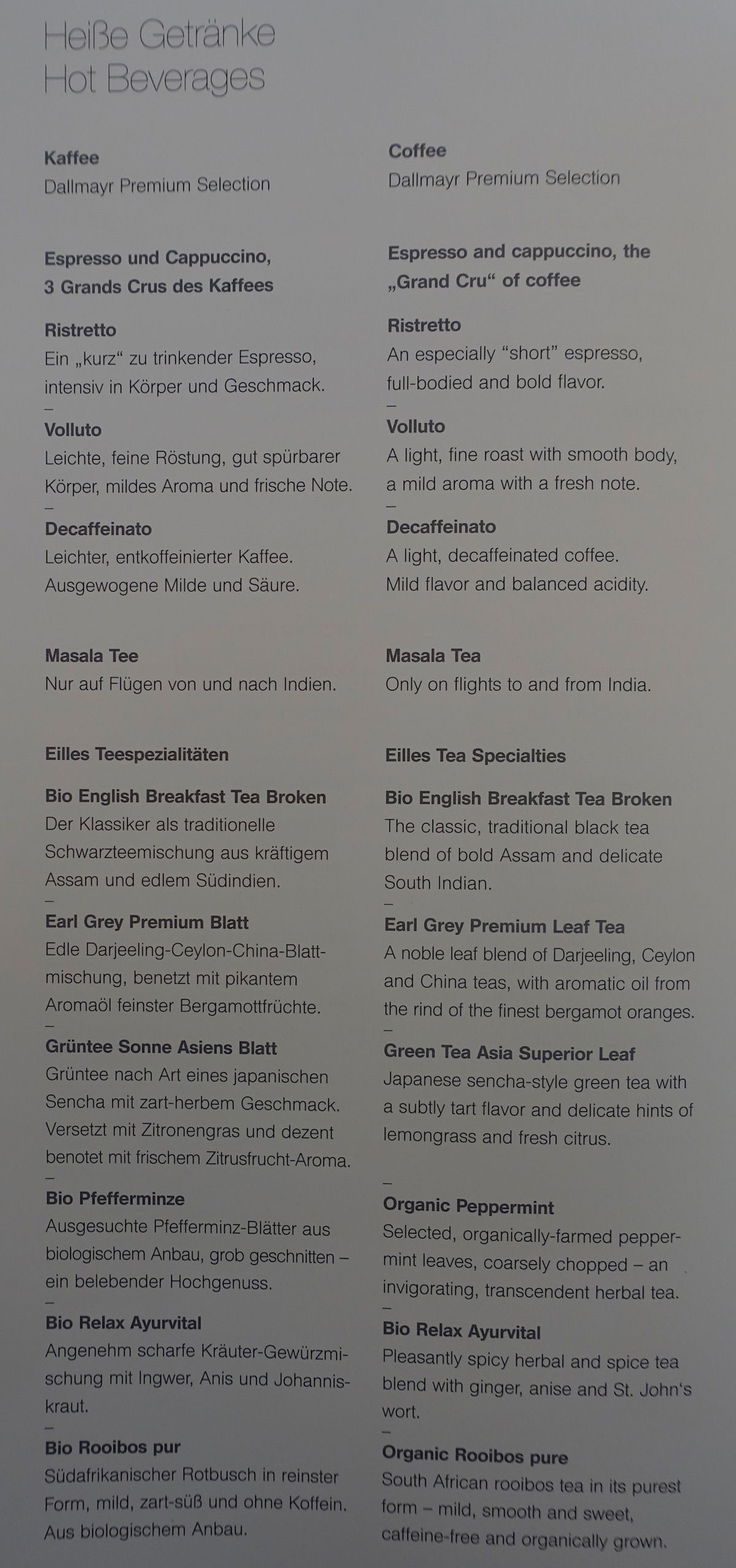 I decided to stick with champagne. On today's flight the amuse bouche was just a very simple vegetable medley, which I found to be pretty boring.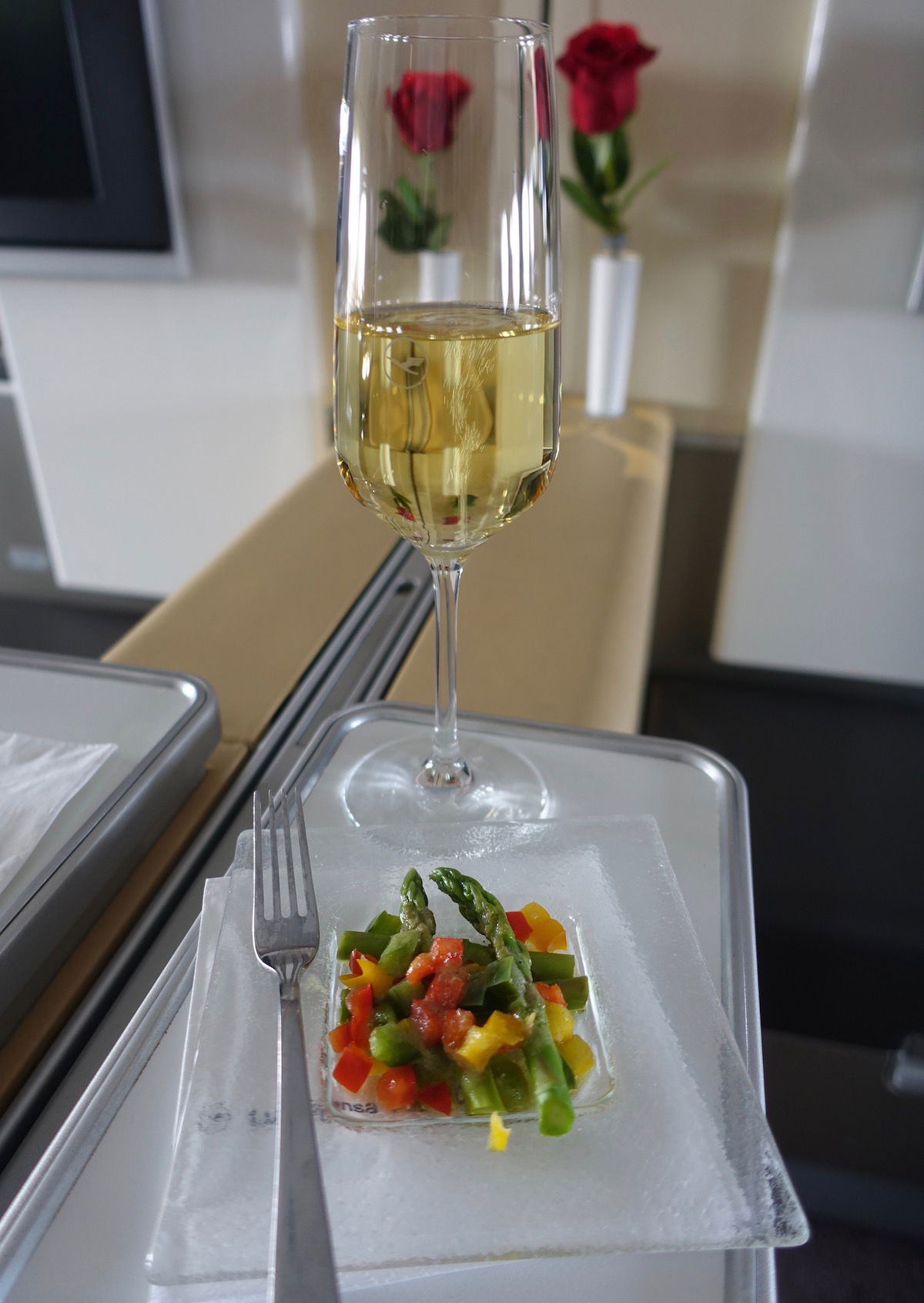 Lufthansa first class amuse bouche & champagne
After that was cleared, my table was set for dinner. I was brought a tablecloth, salt and pepper grinders, olive oil, butter, and was also offered a selection of bread.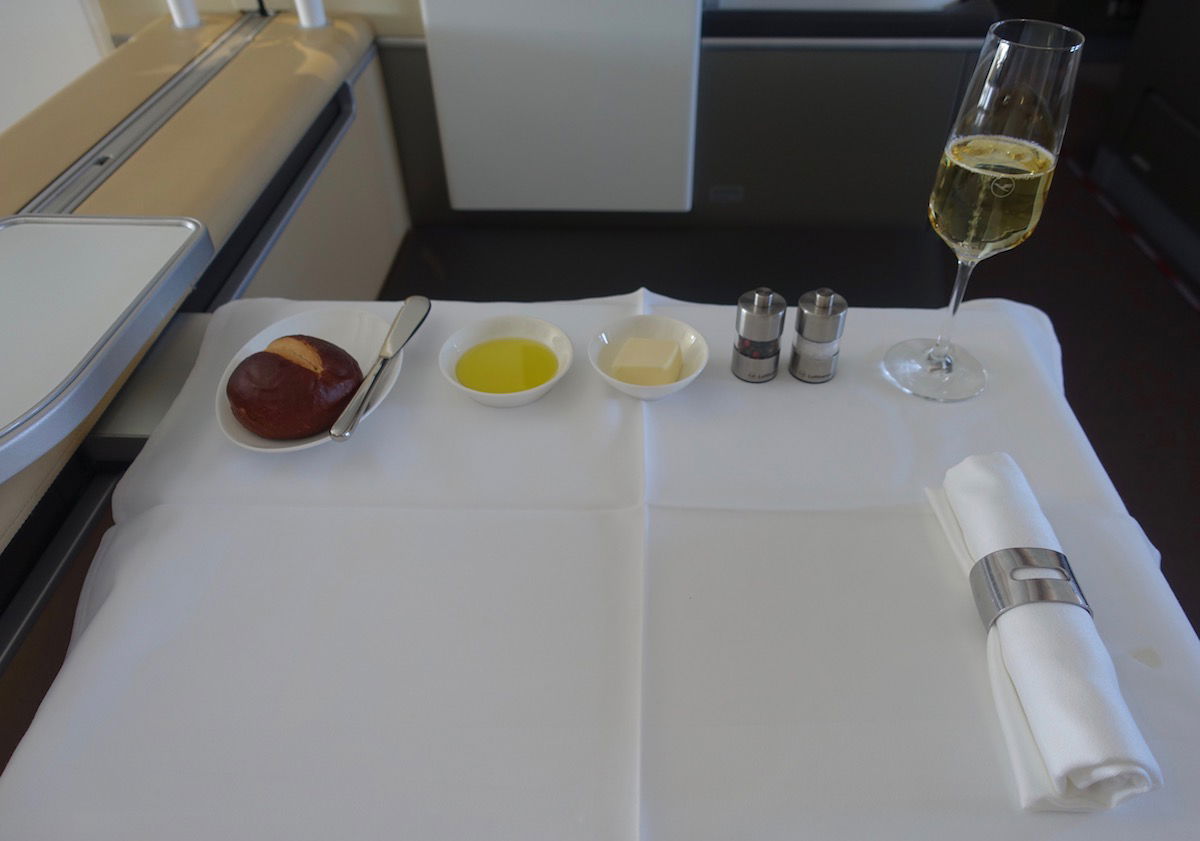 Lufthansa dinner service — table setting
About 55 minutes after takeoff the first course was served, which was caviar. Lufthansa serves this off a trolley, so they plate it right in front of you.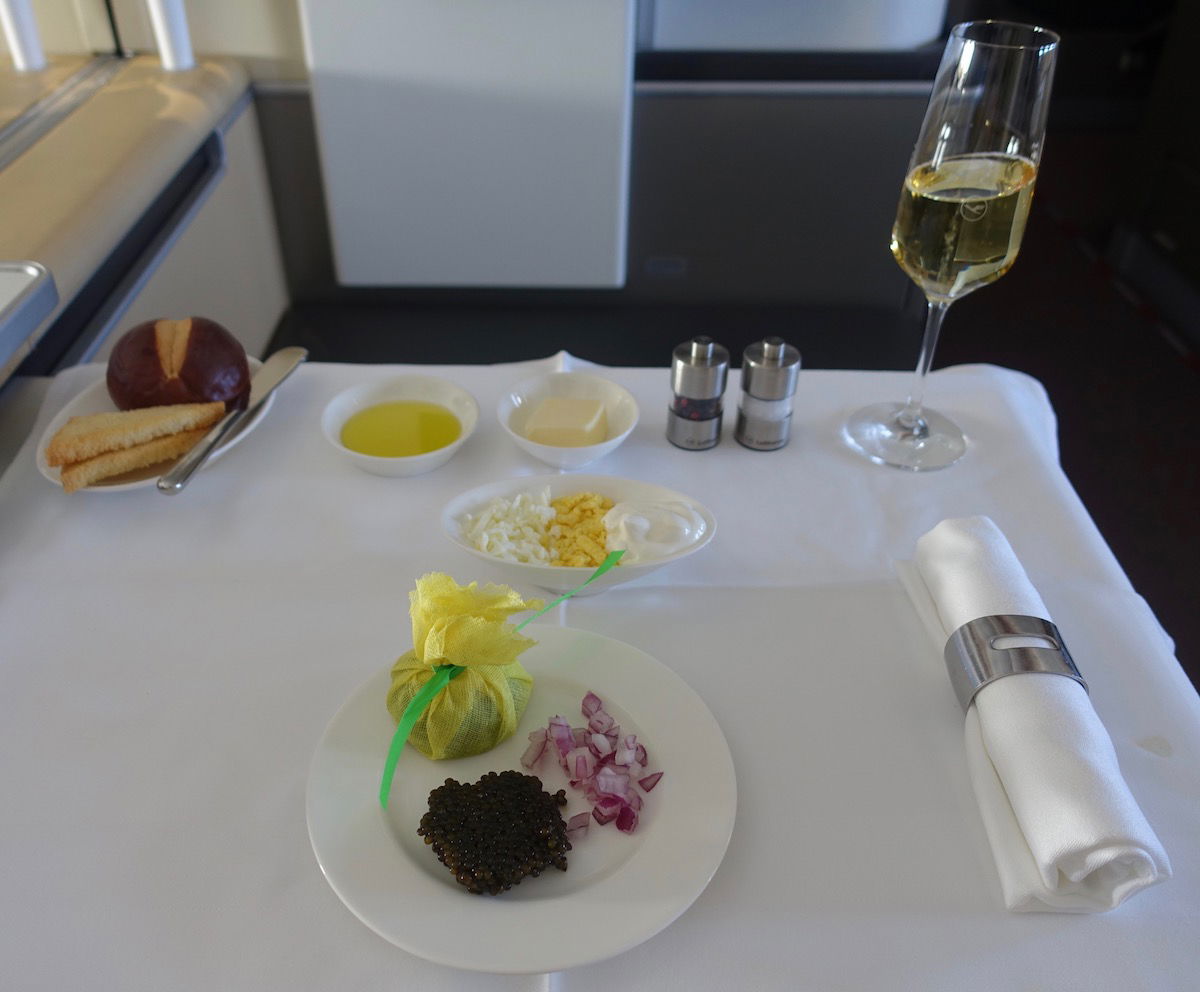 Lufthansa dinner service — caviar service
Next up the appetizer trolley was rolled down the aisle. Lufthansa has a little display with three appetizers, and you can select one, two, or all three of them, and then can also have the salad.
Nowadays my strategy is to just have the caviar on appetizers on Lufthansa and then go straight to dessert, since that's plenty of food, and I also rarely find Lufthansa's main courses to be great.
On this flight appetizers included the following:
Chipotle shrimp, jicama round, charred tomato and nopales, pico de gallo and cactus vinaigrette
Creole seared beef, green lentil salad, papaya mustard pickles, chevril and red chili vinaigreette
Chilled ratatouille parcel, artichoke escabeche and pomegranate balsamic glaze
Then the salad was a baby spinach salad with pickled red onion, fresh raspberries, and blue cheese crumble.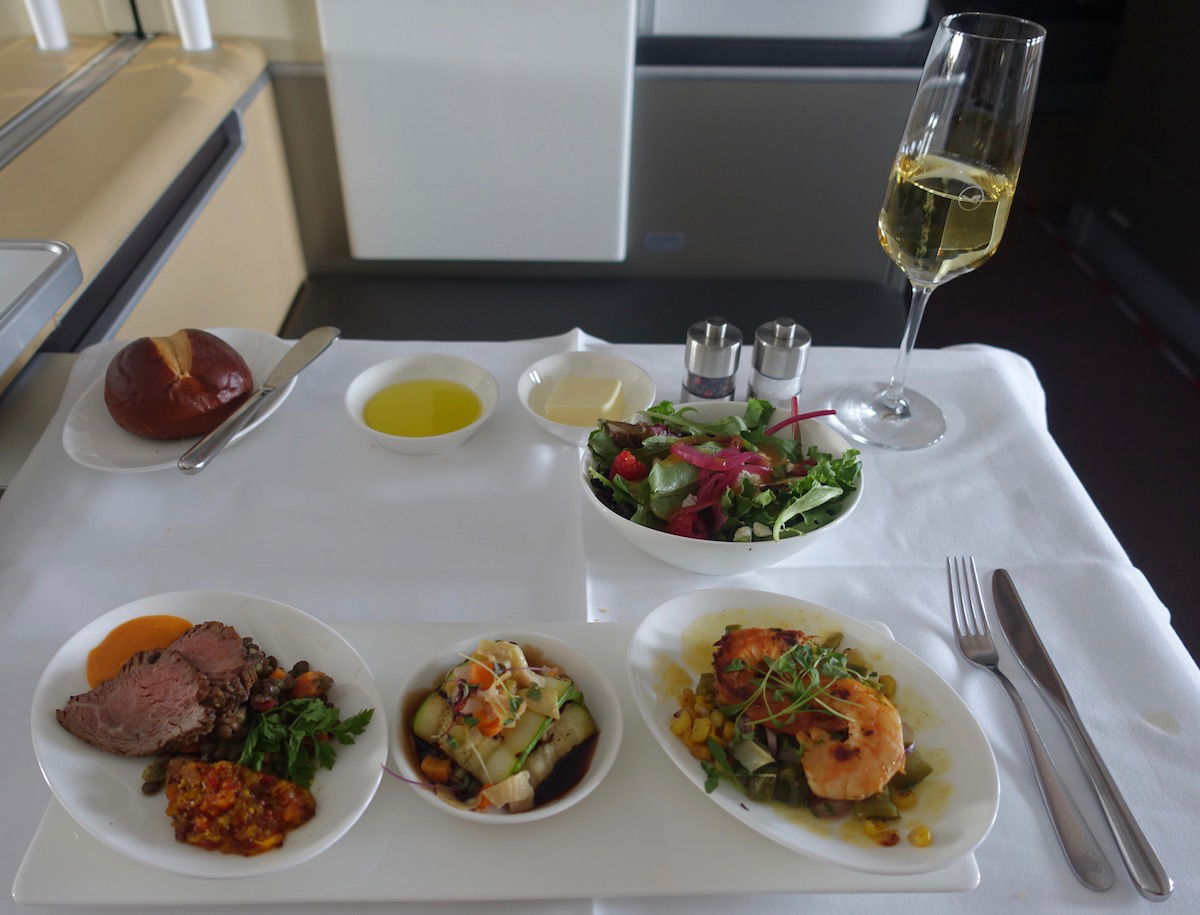 Lufthansa dinner service — appetizers & salad
All of the appetizers were excellent.
For the main course my dad had the seared beef fillet, lump crab with butter and chives, root vegetable whipped potatoes, asparagus, baby carrots, and bernaise sauce.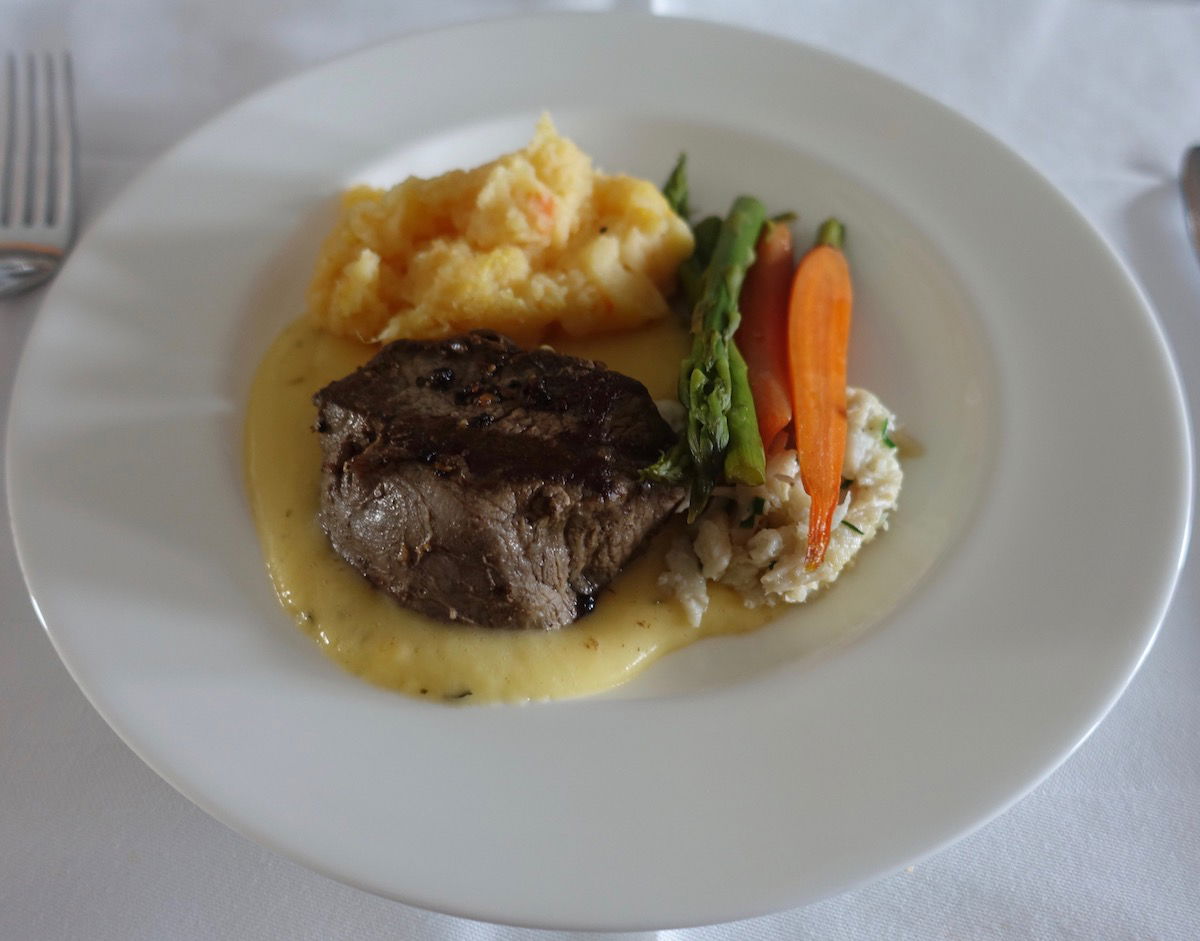 Lufthansa dinner service — main course
After the main courses were cleared a cheese trolley was brought through the cabin. My dad had a small selection of all the cheeses, while I passed.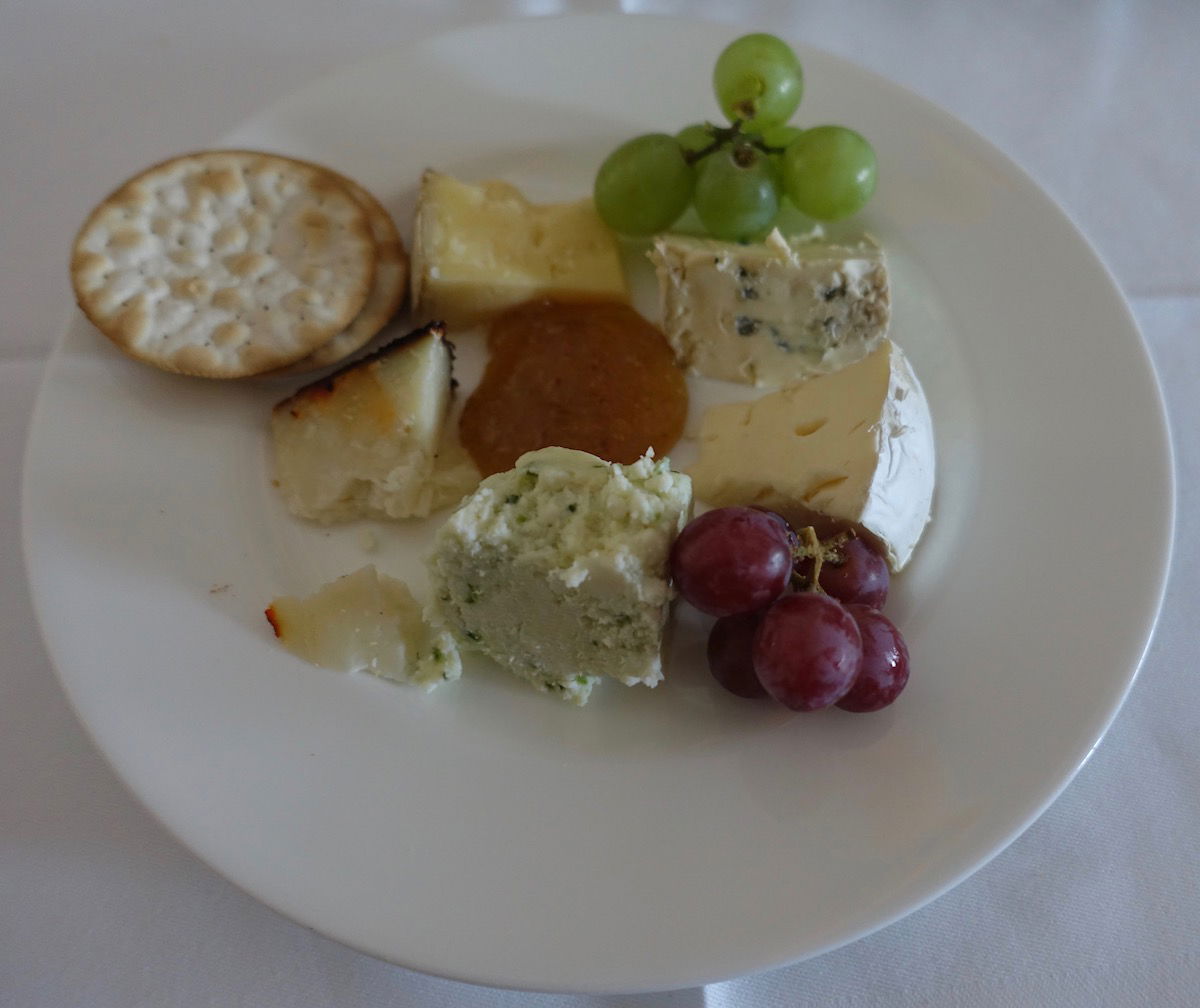 Lufthansa dinner service — cheese course
I did, however, have the dessert, which consisted of a warm sea salt brownie with vanilla ice cream and fresh raspberries.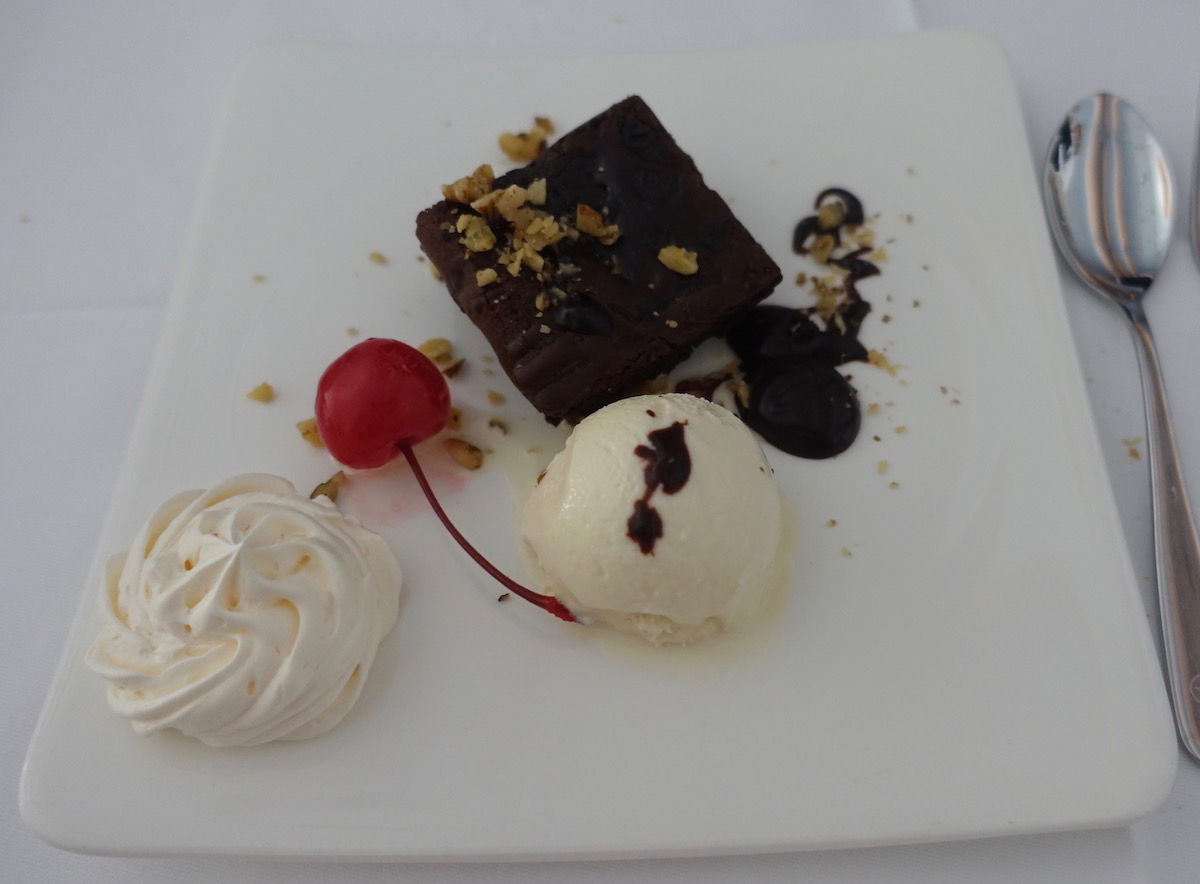 Lufthansa dinner service — dessert
To finish off the meal a box of chocolates was brought around.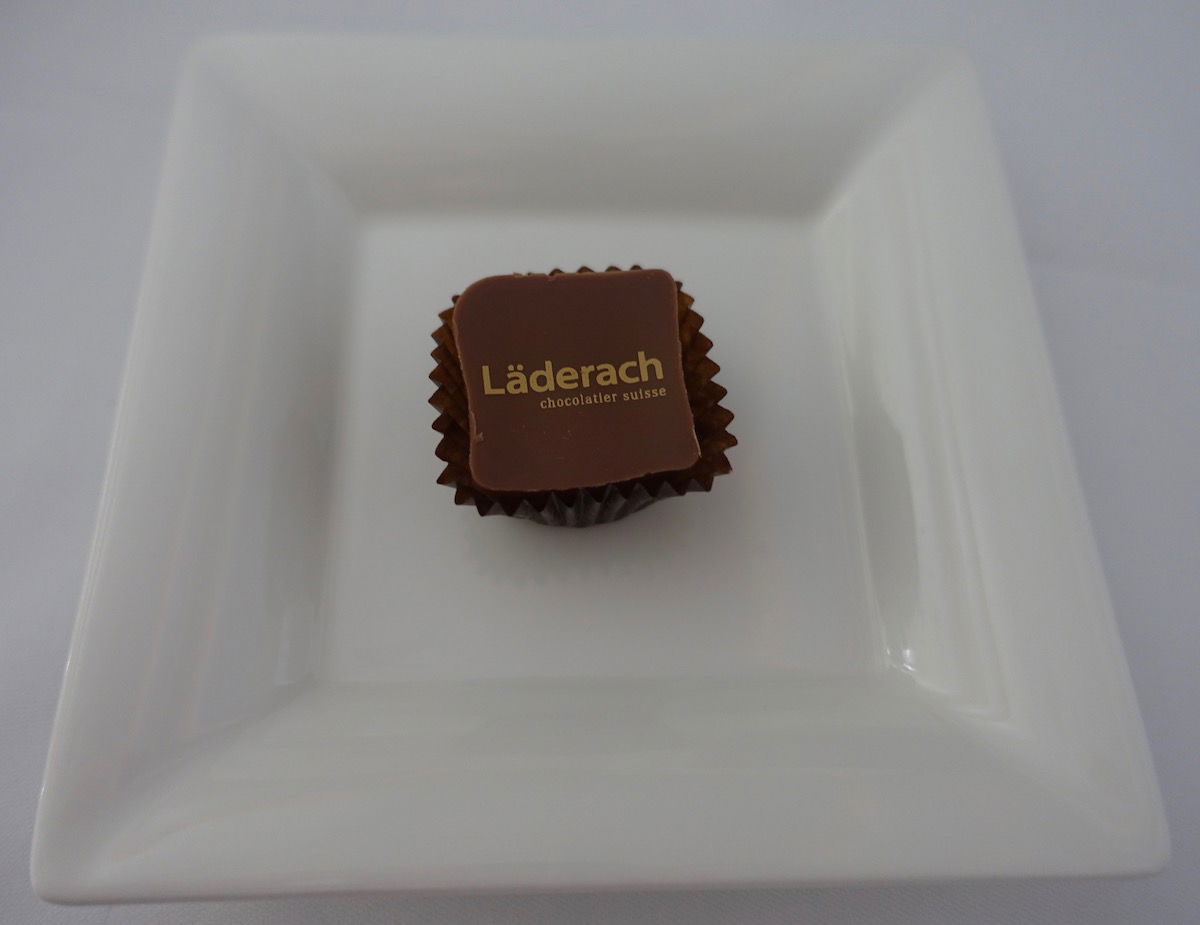 Lufthansa dinner service — chocolate
I didn't want any coffee or dessert wine, but I was intrigued by the iced tea, which was one of the "monthly proposals" on the wine list. I wondered if there was anything special about it, so ordered a glass. It tasted just like any other iced tea you might order, so I'm not quite sure I get that.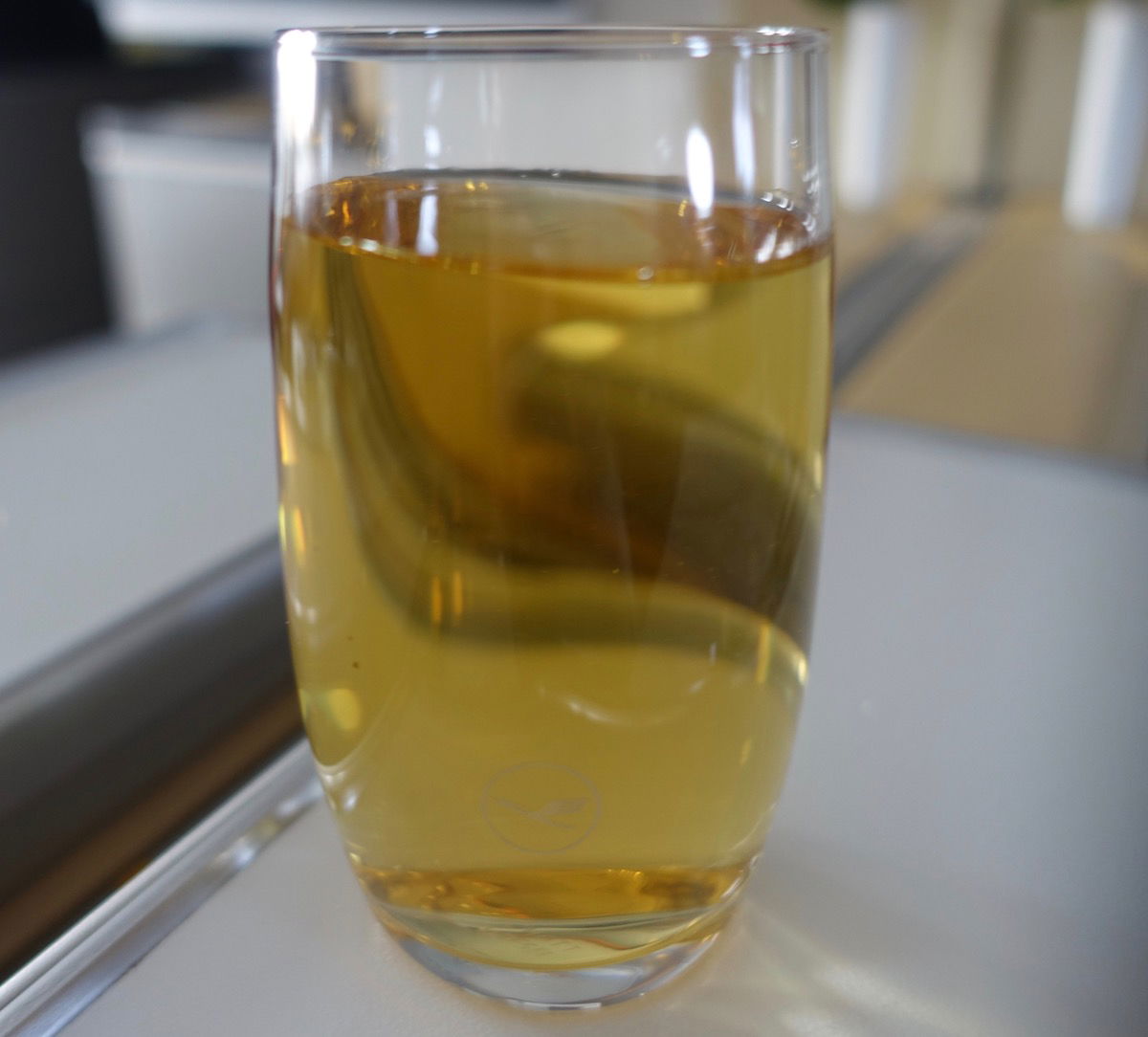 Lufthansa dinner service — tea
The service was friendly and efficient, especially taking into account the full cabin. The entire dinner service was finished within two hours of takeoff. After that I asked to have my bed made, in hopes of getting as much sleep as possible.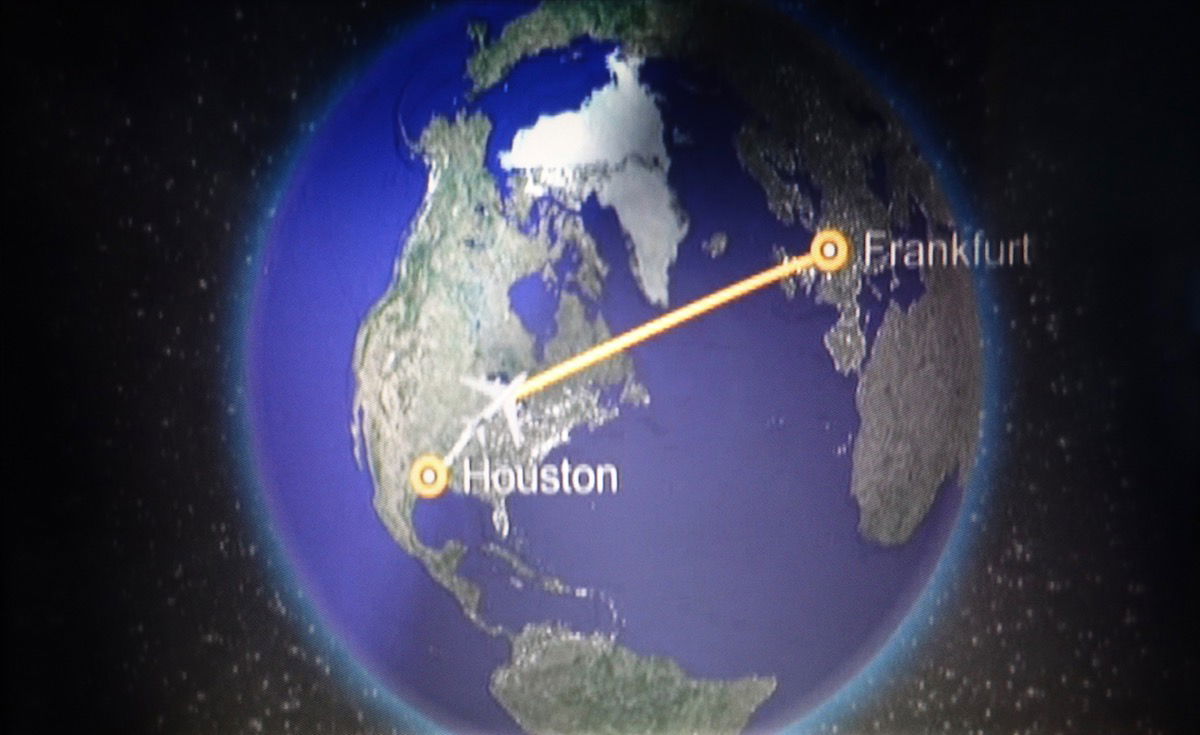 Airshow enroute to Frankfurt
While the crew made my bed, I headed to the front of the cabin, where there are two lavatories. While Lufthansa's first class cabins are almost identical across the fleet, one of the unique aspects of the A380 is that they have special lavatories. While not as innovative as Emirates' shower suites, Lufthansa does have very big lavatories in first class, which have a bench.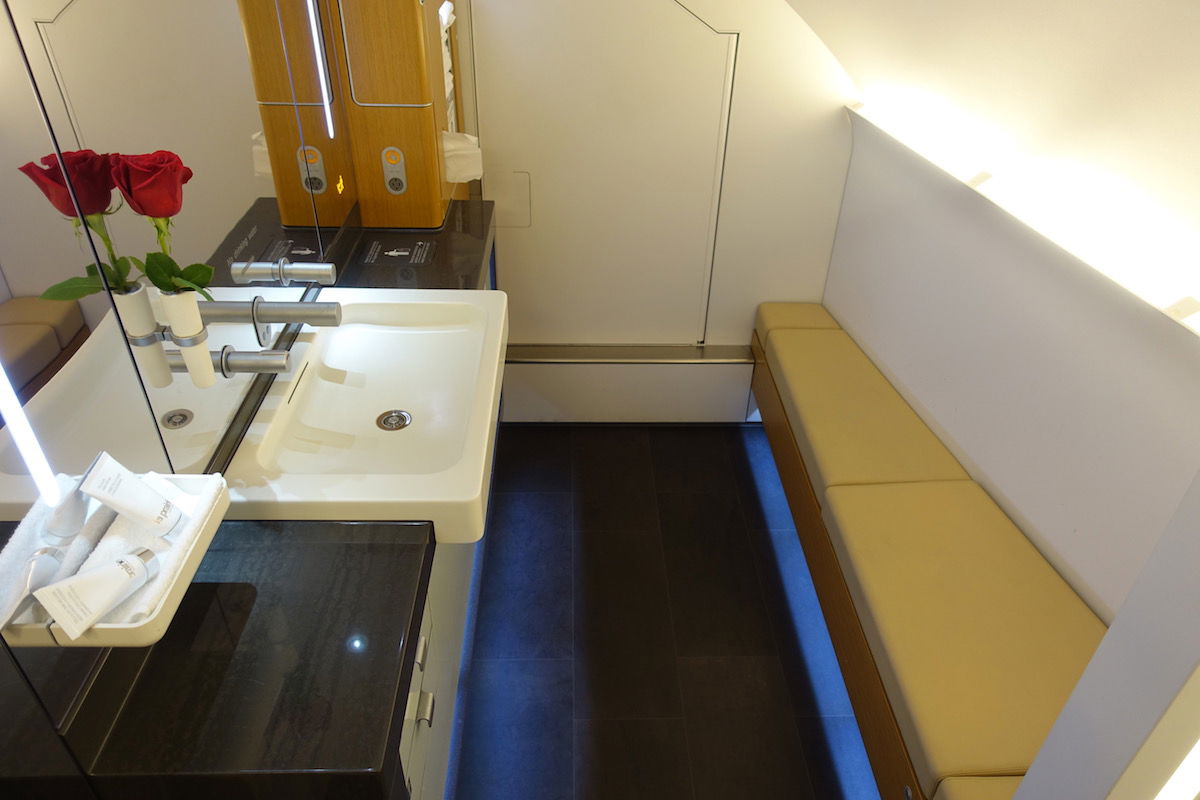 Lufthansa first class lavatory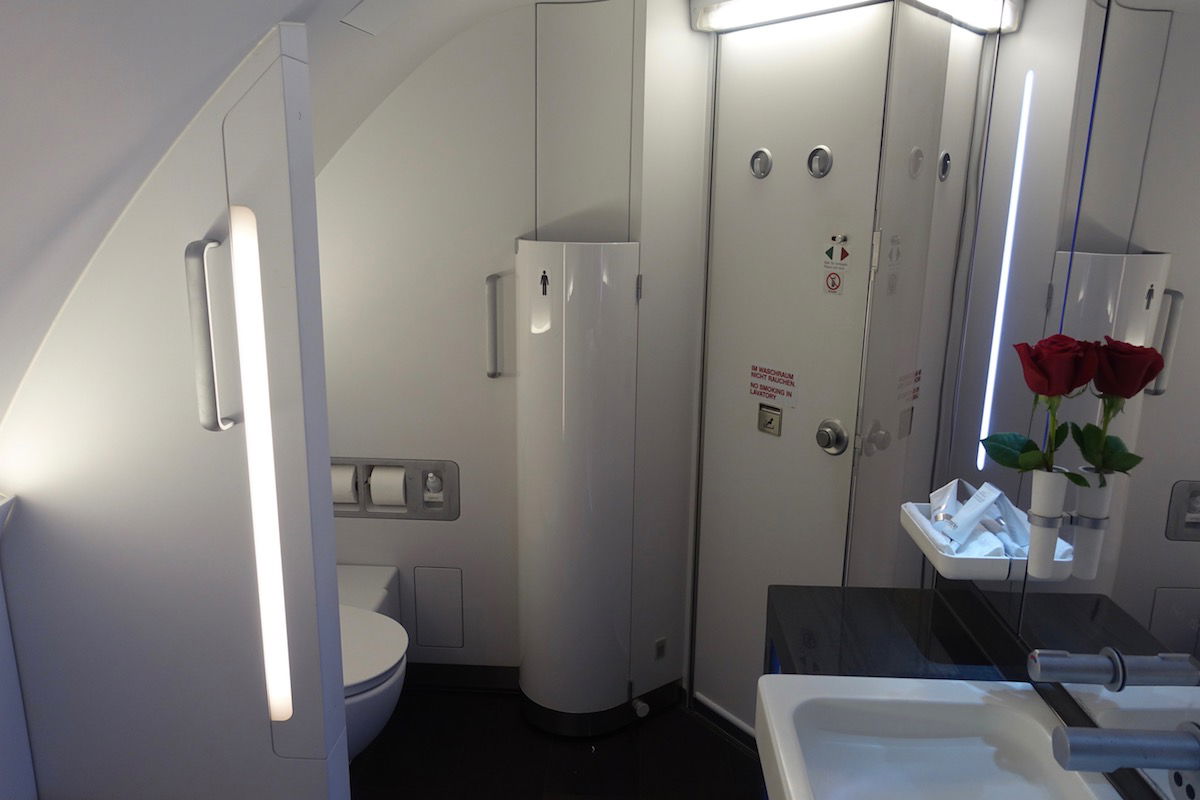 Lufthansa first class lavatory
What's most unique about the lavatories is that they have urinals. A lot of people miss this, since there's a cover around it, and you have to know to flip it open.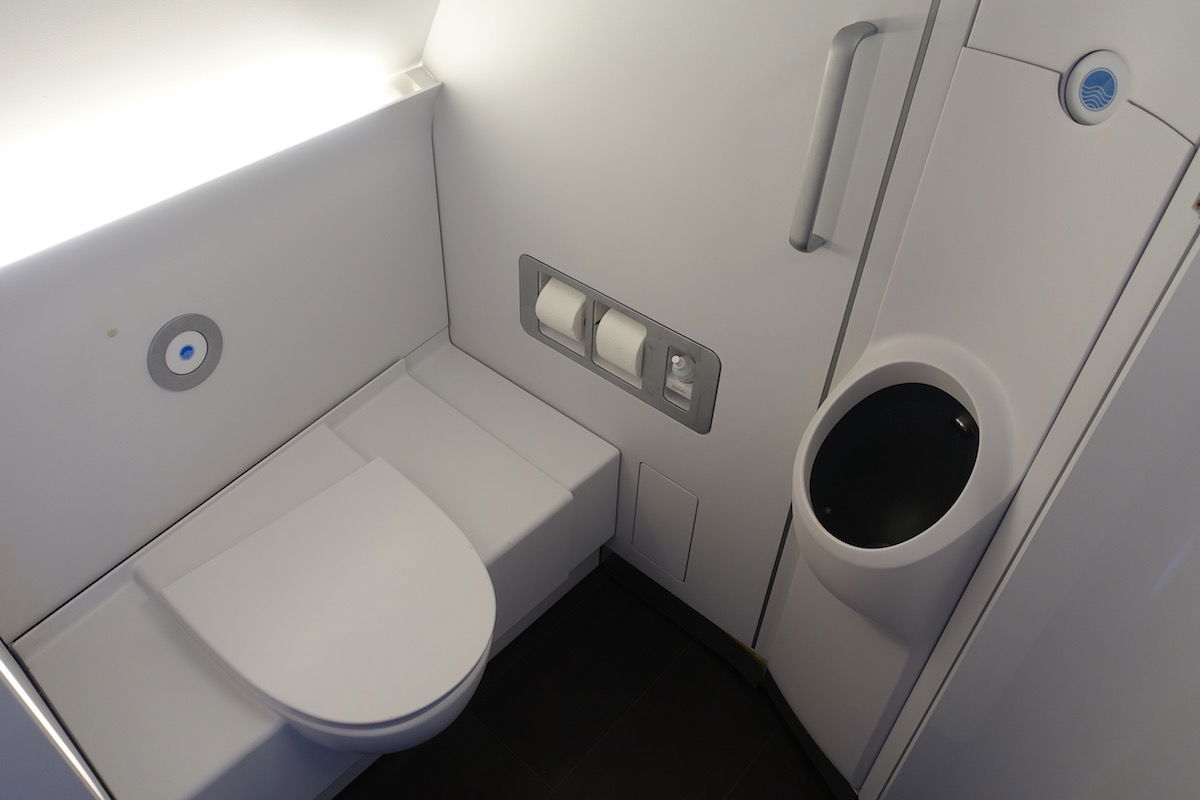 Lufthansa first class urinal
Lufthansa has excellent bedding.My bed was made by the time I was back at my seat, and we had just under seven hours remaining to Frankfurt.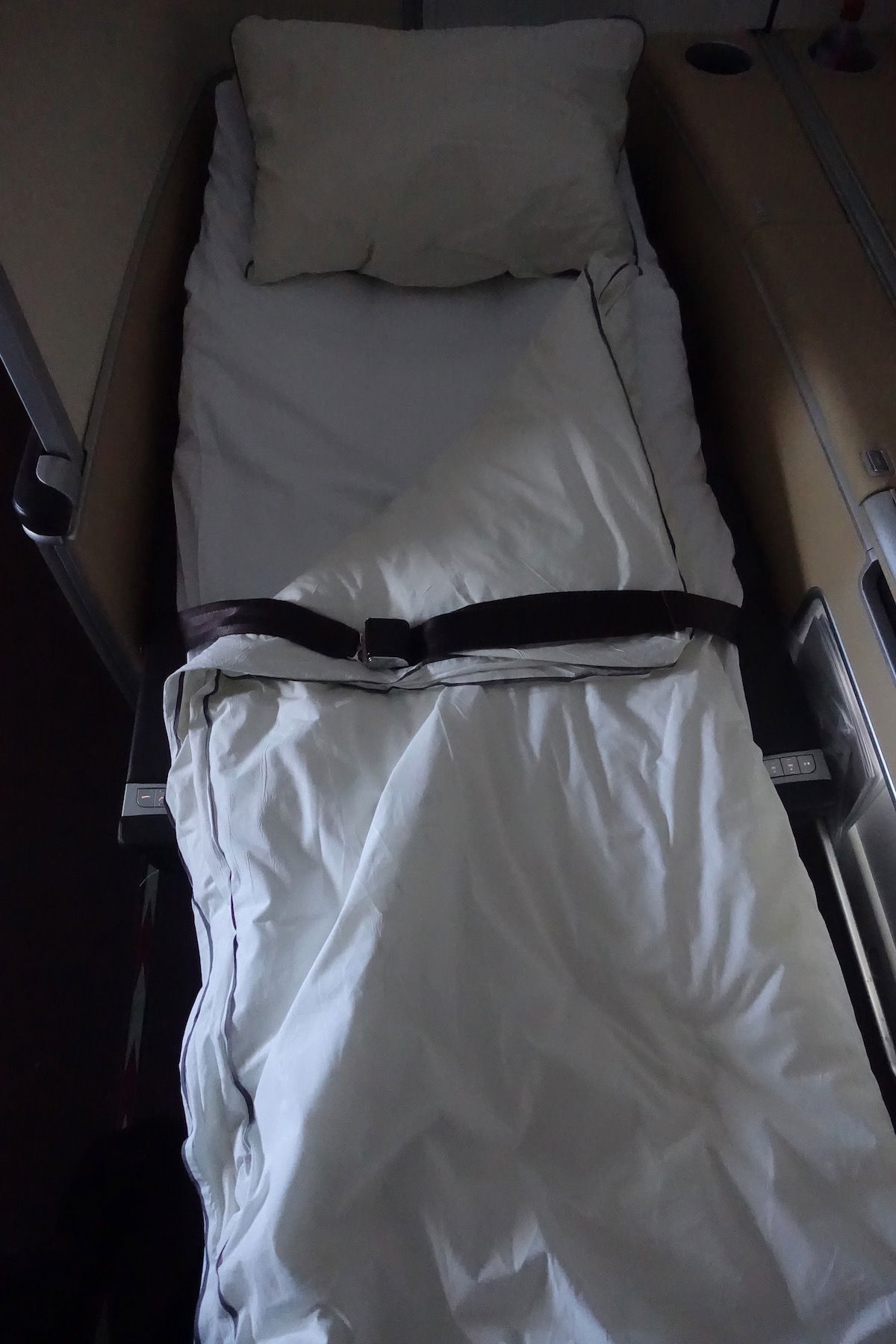 Lufthansa first class turndown service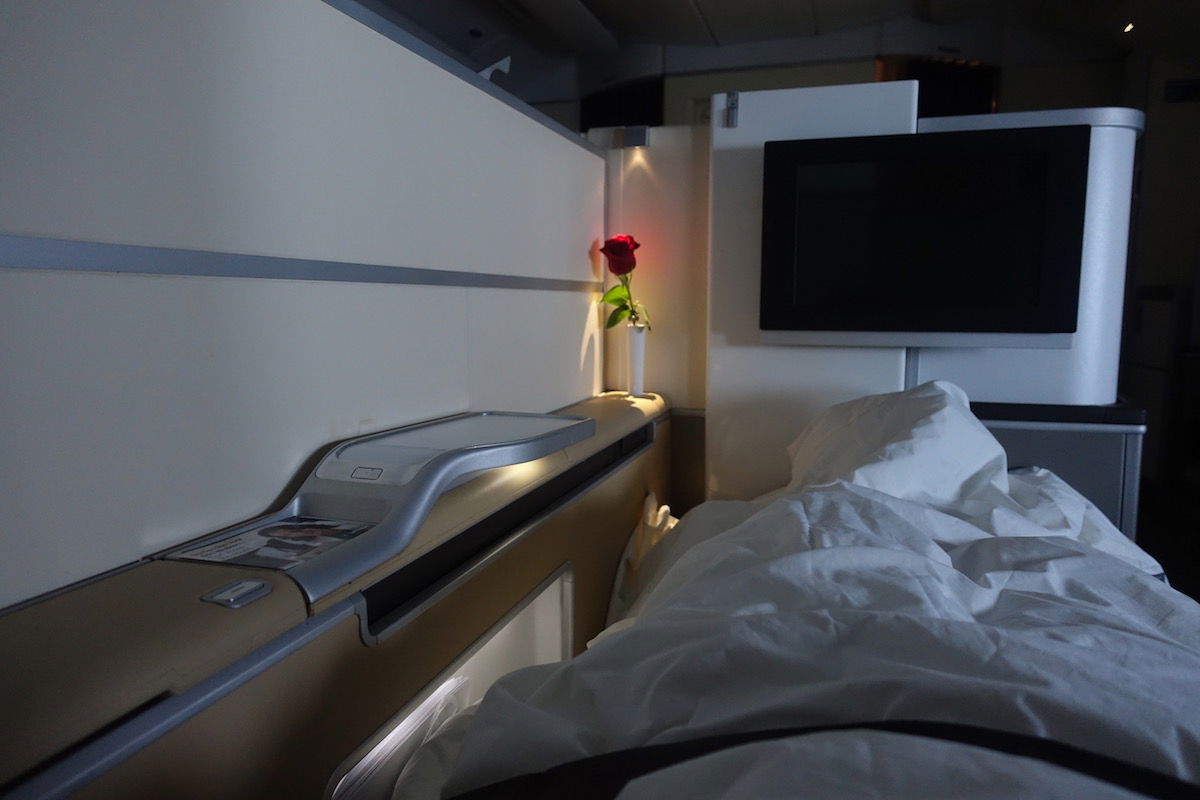 Lufthansa first class bed
I slept extremely well for about five hours, and woke up just over 90 minutes outside of Frankfurt.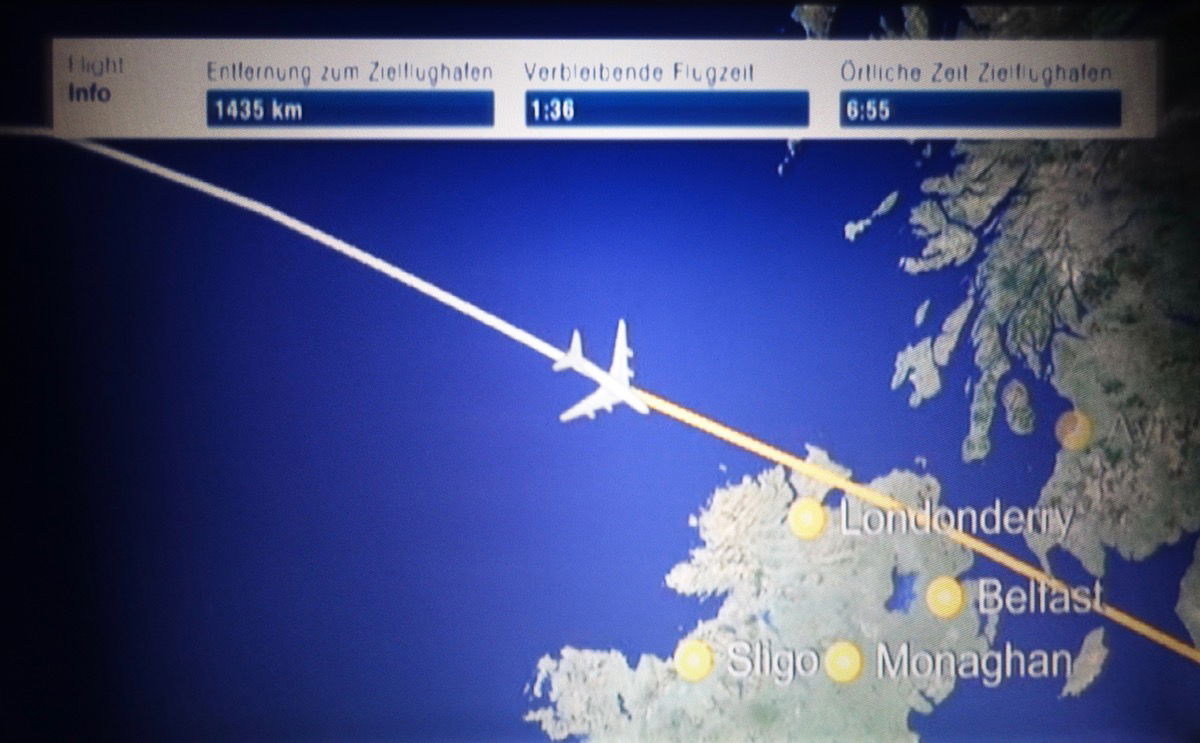 Airshow enroute to Frankfurt
Within a few minutes of waking up I was offered breakfast. The breakfast menu read as follows: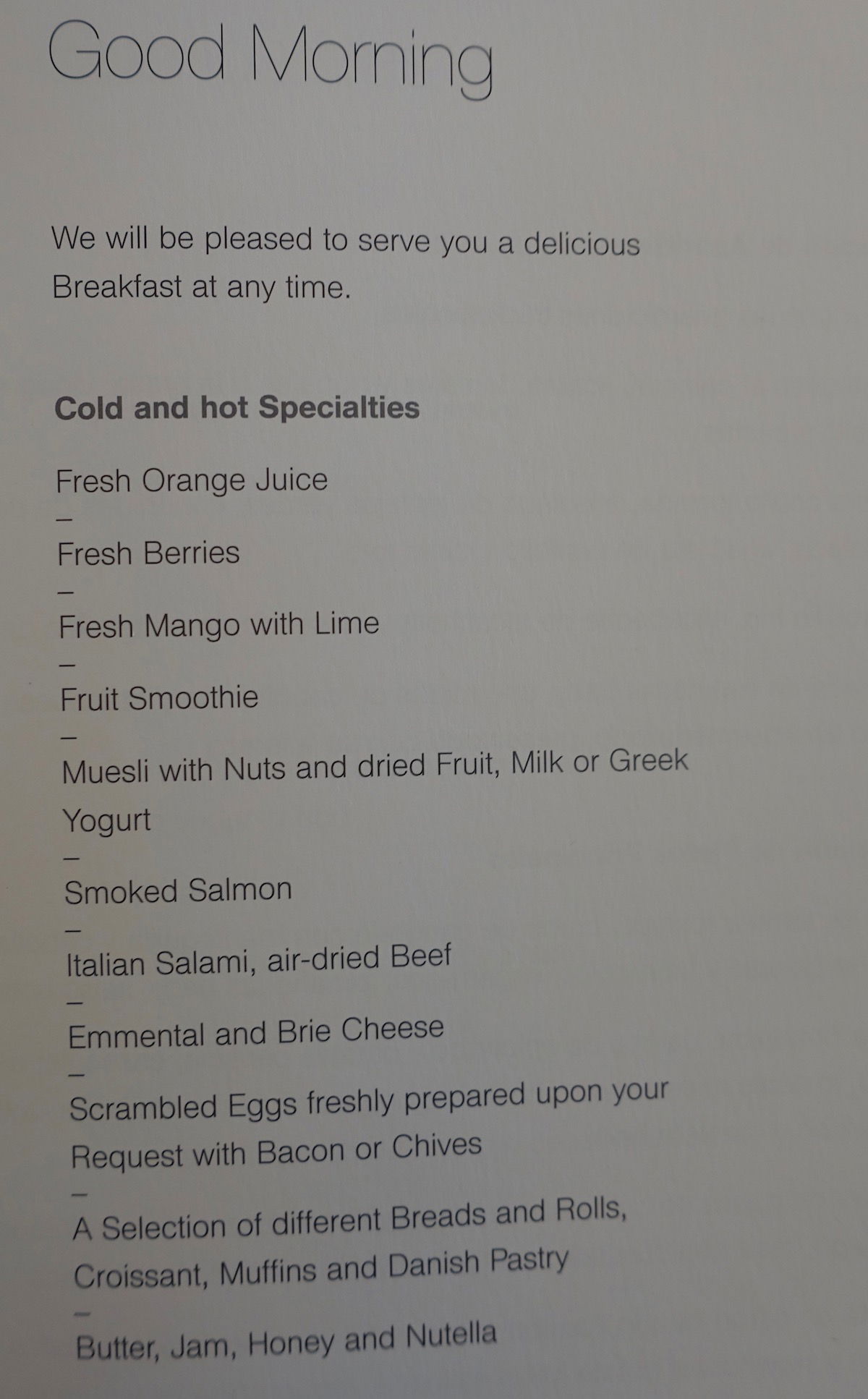 I was first offered a warm towel and the choice between orange juice and a fruit smoothie, and I chose the smoothie.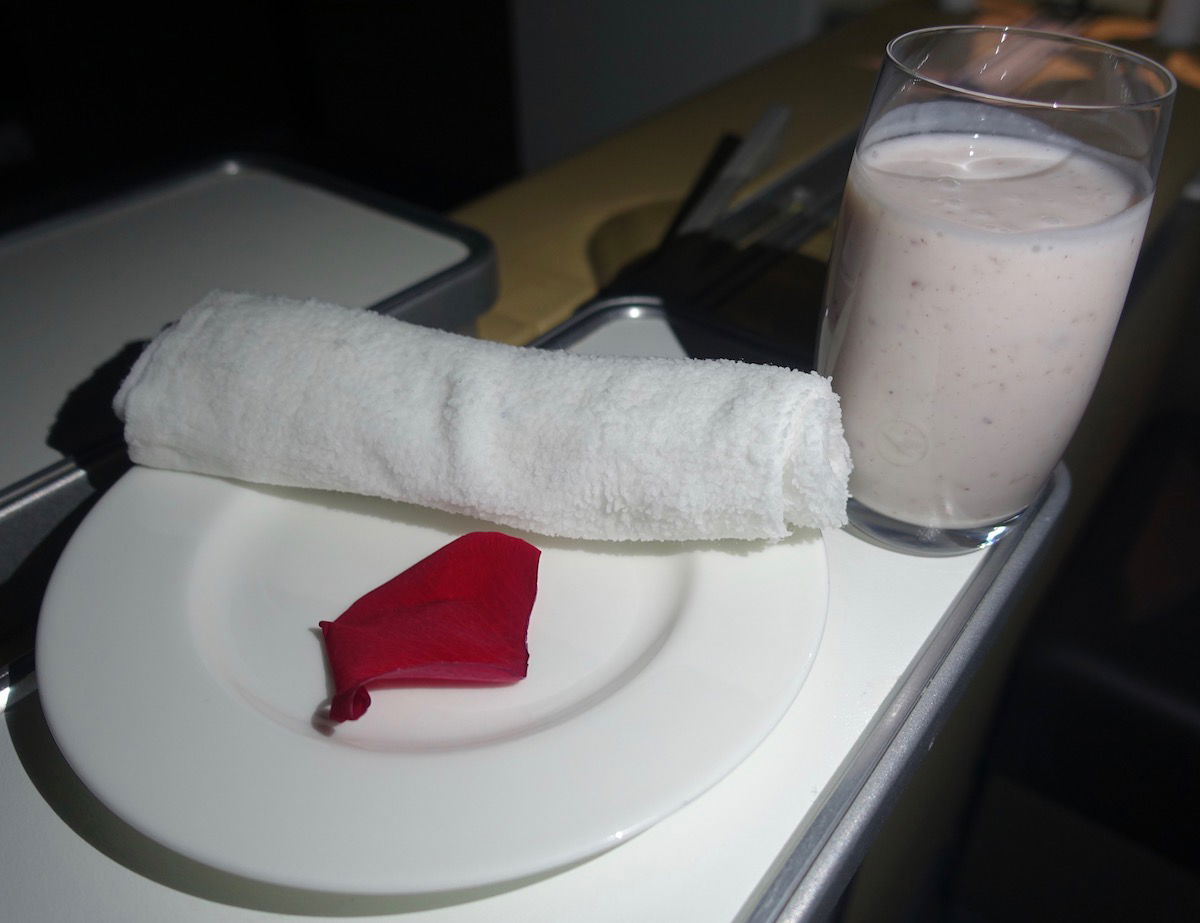 Lufthansa breakfast service — warm towel and smoothie
Breakfast on Lufthansa is mostly served off a trolley, and you can choose what you want. I started with a selection of fruit as well as some muesli, and ordered a cappuccino to drink.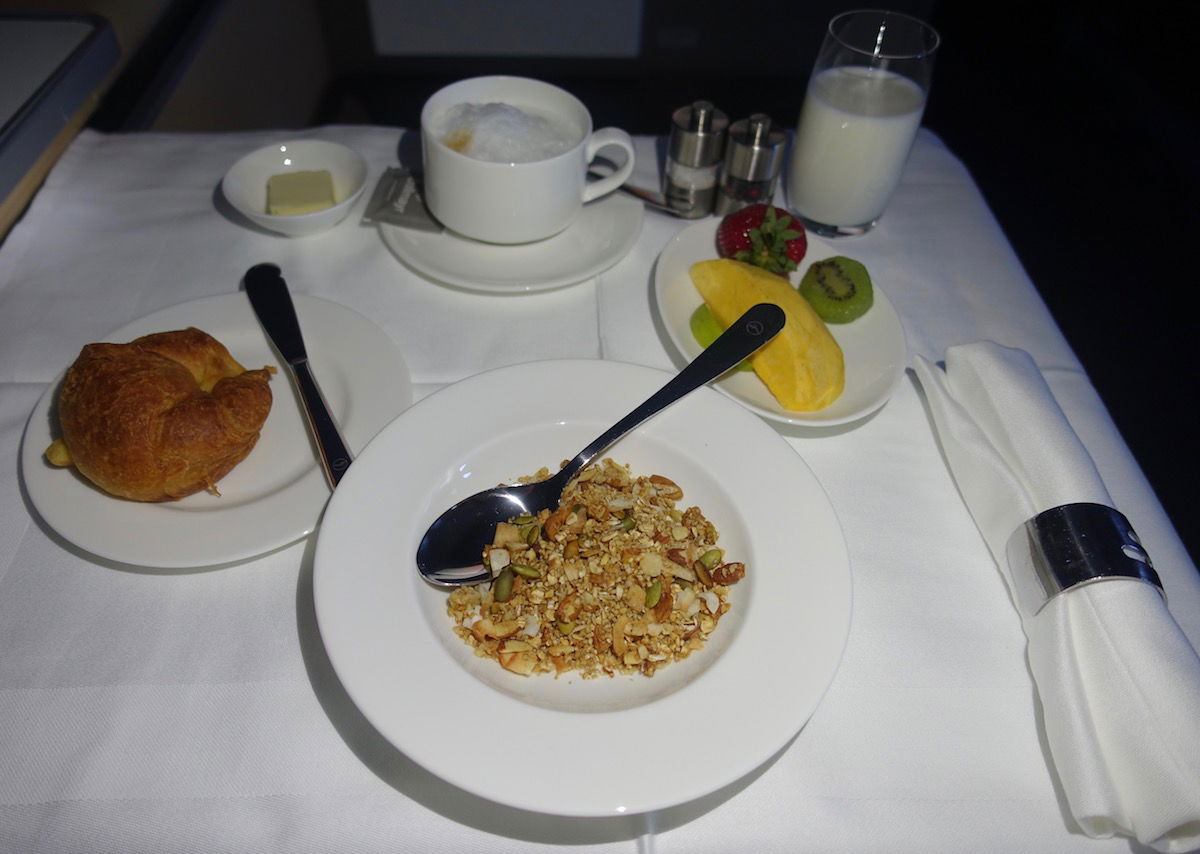 Lufthansa breakfast service — muesli & croissant
Then you can always order scrambled eggs that are freshly prepared onboard, with the choices of chives and/or bacon (I ordered it with chives).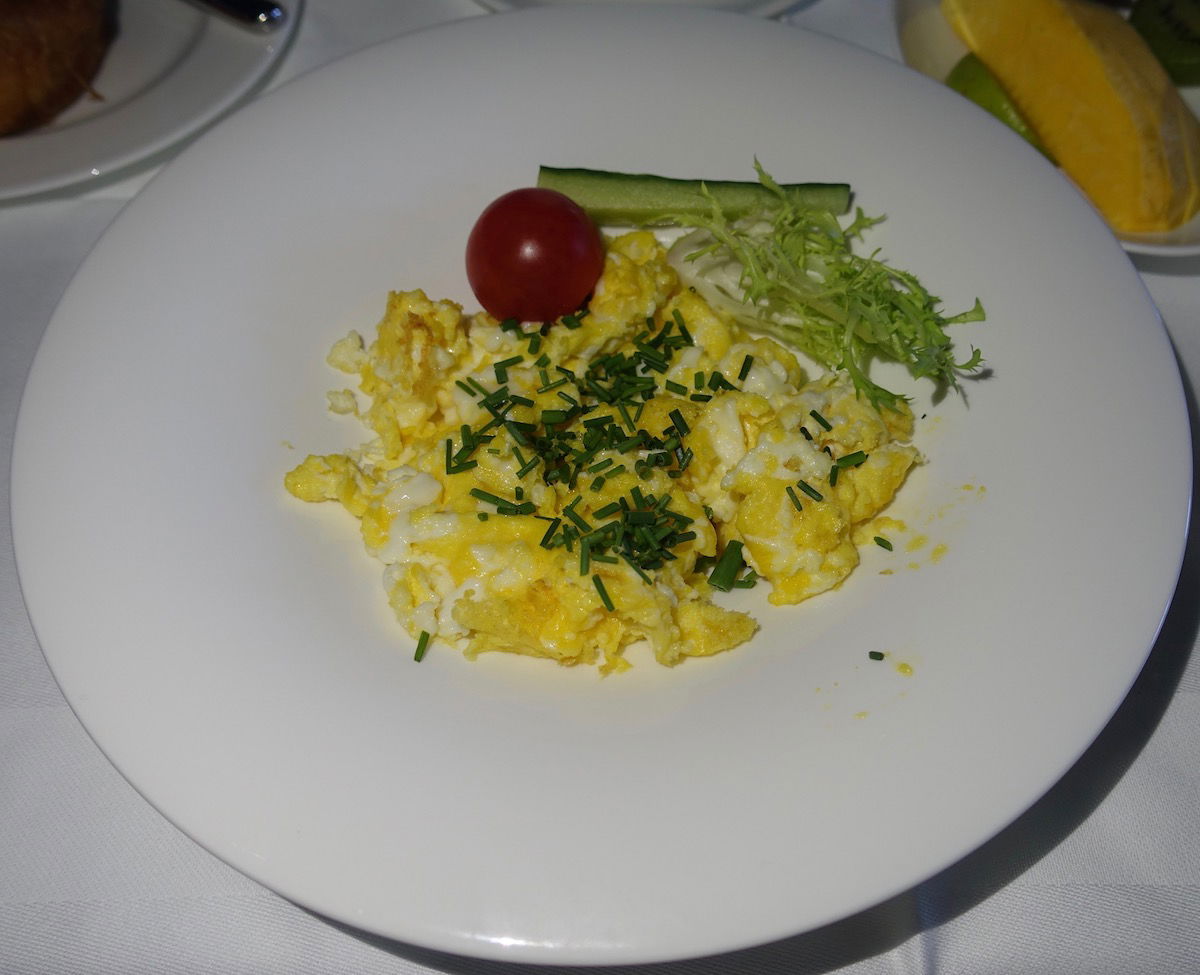 Lufthansa breakfast service — scrambled eggs
All too soon the captain announced we'd shortly be starting our descent, and that we'd be landing at 8:40AM. About 15 minutes later the cabin was prepared for landing, and a few minutes after that the seatbelt sign was turned on. I freshened up for landing, and then retuned to my seat and watched the tail camera for the remainder of the flight.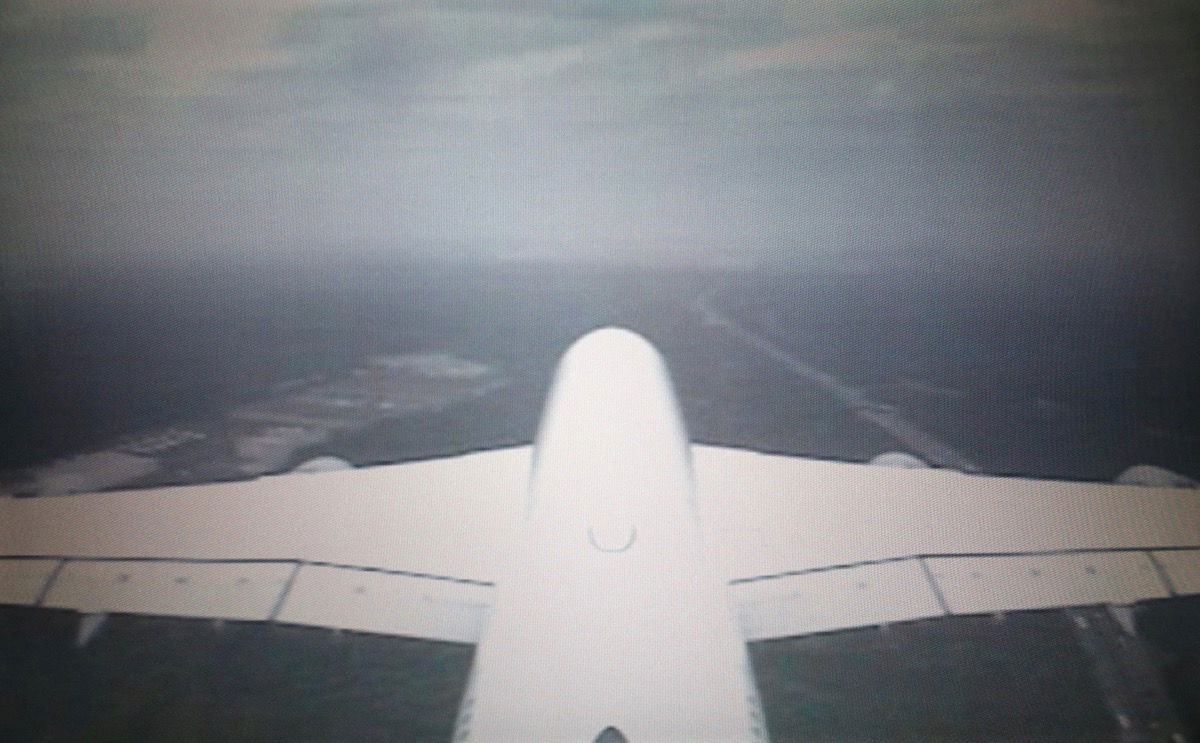 Tail camera approaching Frankfurt
We touched down in Frankfurt at 8:40AM, and then had a 10 minute taxi to our arrival gate, which was B26.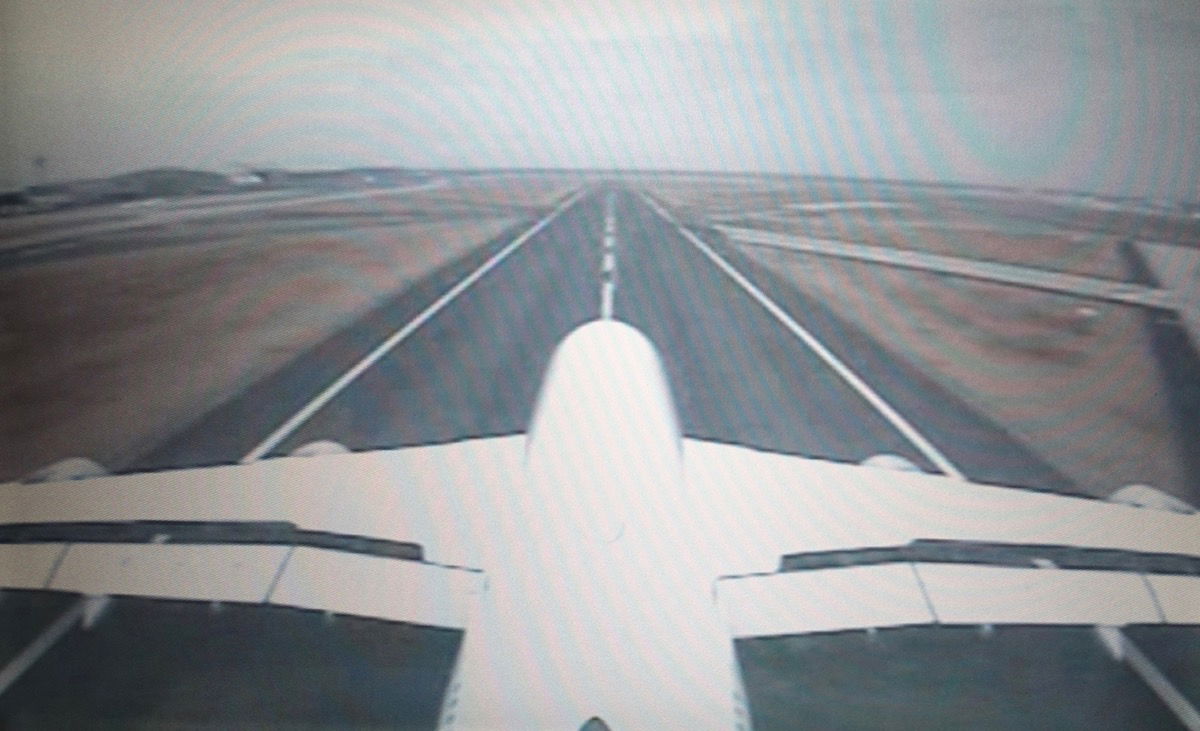 Tail camera landing in Frankfurt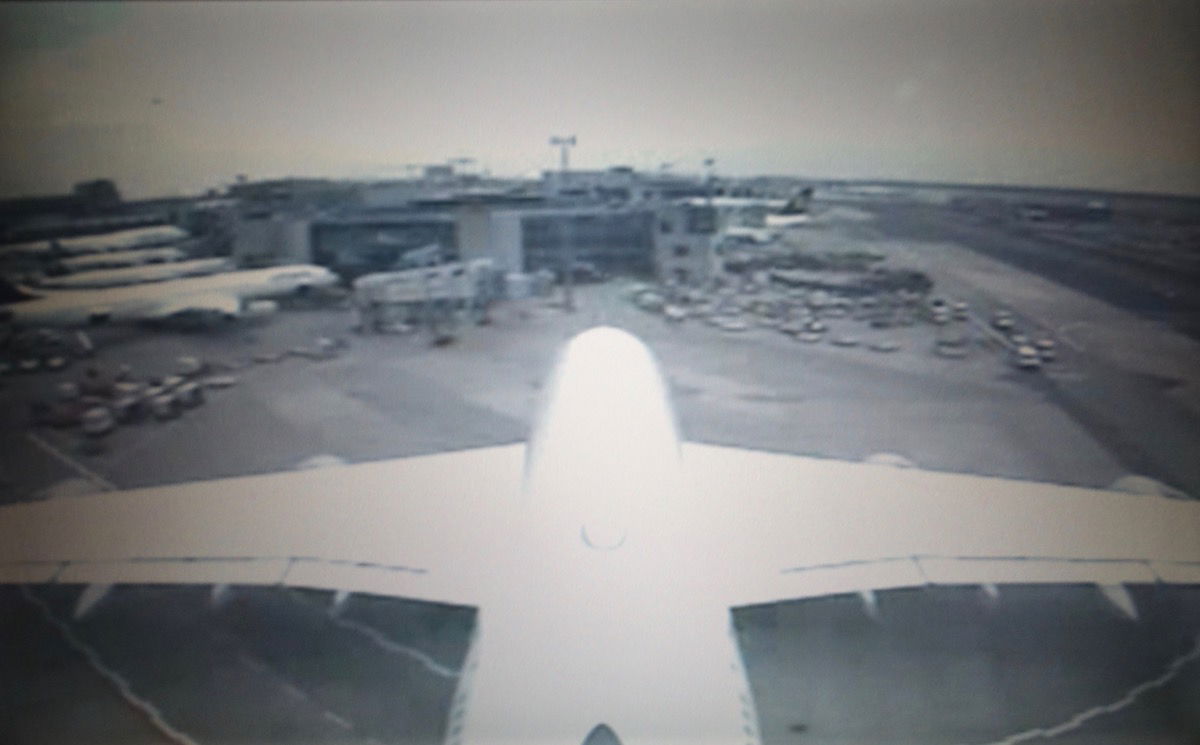 Tail camera taxiing Frankfurt
My dad and I had such a fun flight together, and were looking forward to visiting the First Class Terminal on our fairly long layover.
Lufthansa A380 first class bottom line
While not the world's most cutting edge hard product, Lufthansa's first class is remarkably consistent. Almost consistent to a fault, because I wish they'd mix it up a bit.
As I always say, this is probably the best attainable way to cross the Atlantic using miles, and I always love Lufthansa. The seats are comfortable for sleeping, the food (mostly) good, the service professional and friendly, and I love how they have among the best Wi-Fi of any transatlantic airline.
I do wish they'd improve the IFE, and I also do wish they'd sometimes mix things up a bit, because I feel like the product almost hasn't changed at all in the past decade, for better or worse.