---
We arrived in Frankfurt shortly before 9AM, while our connecting flight to Tallinn was shortly after 2PM. Given that we were arriving in first class we of course headed straight for Lufthansa's First Class Terminal. I won't be fully reviewing the First Class Terminal since I've done so before, though I'll be sharing a few thoughts.
The FCT is about a five minute walk from the main terminal.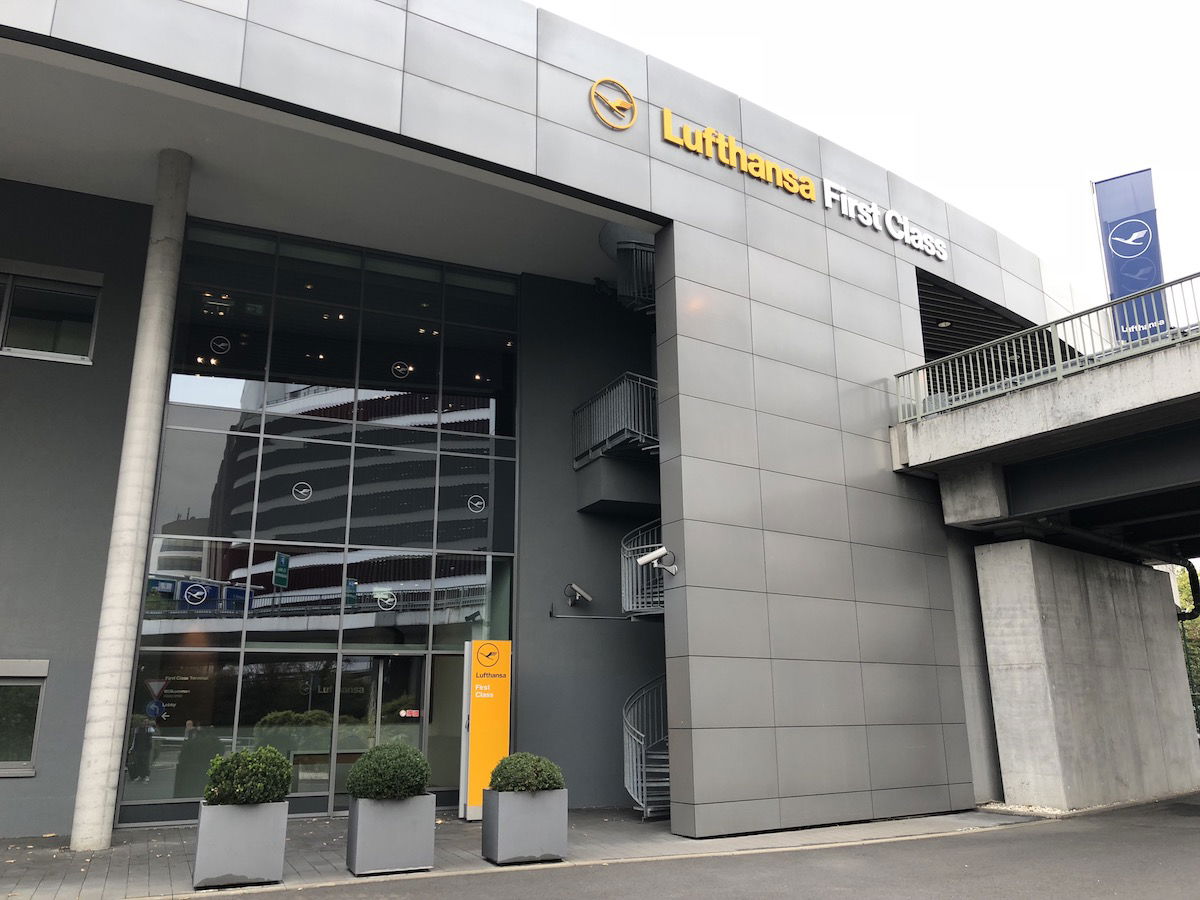 Lufthansa First Class Terminal exterior
Once there we went through security, and just past that and to the left is the FCT's collection of ducks. How tempted I always am to find a way to break into the case and stuff them all in my carry-on. No one would notice, right? 😉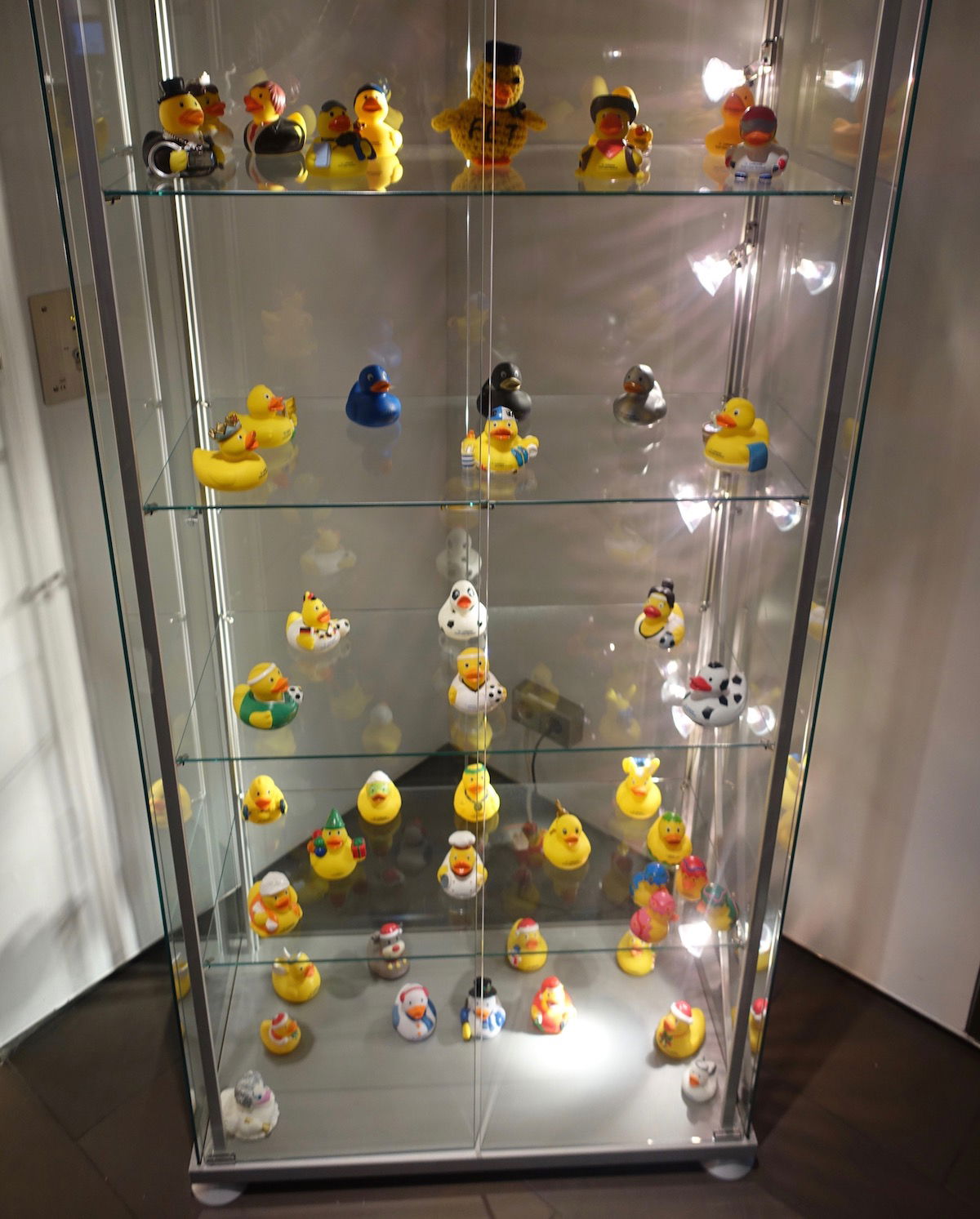 Lufthansa First Class Terminal ducks
The First Class Terminal always has a different theme, and during our visit it had a nautical theme.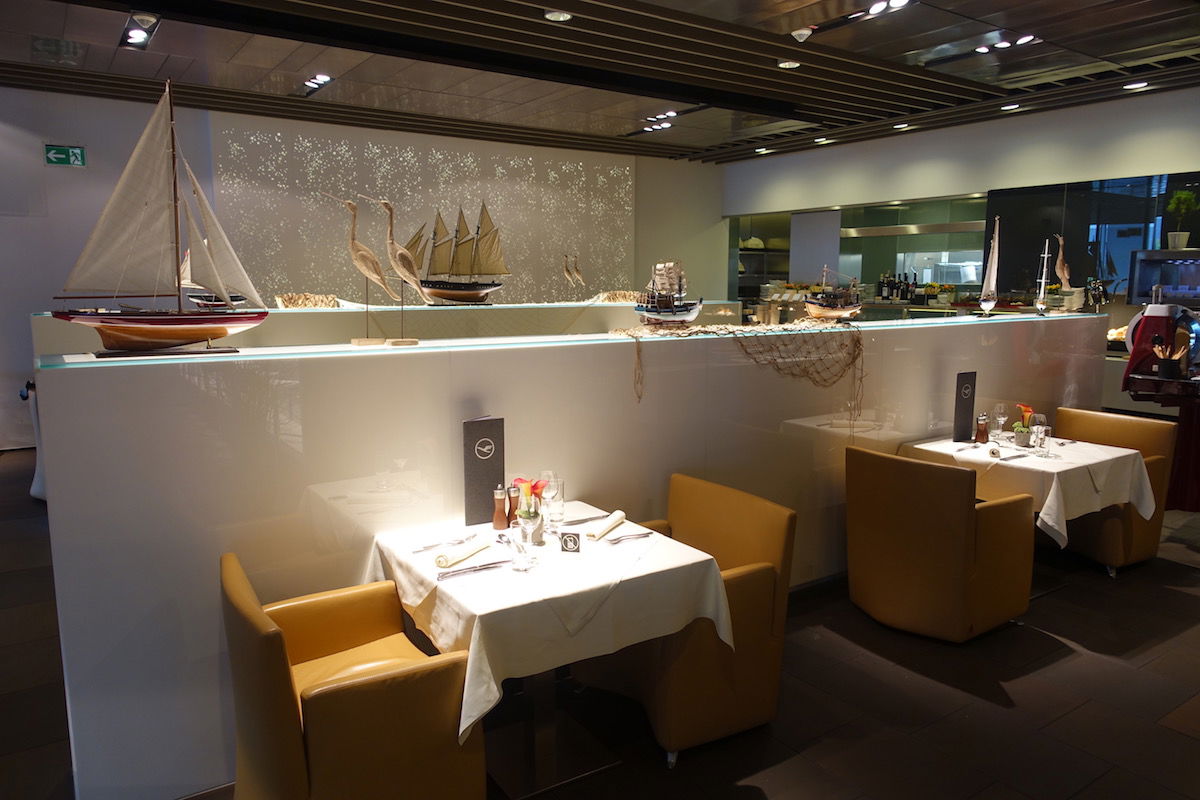 Lufthansa First Class Terminal dining area
I sat down in one of the offices, ordered a cappuccino, and got some work done.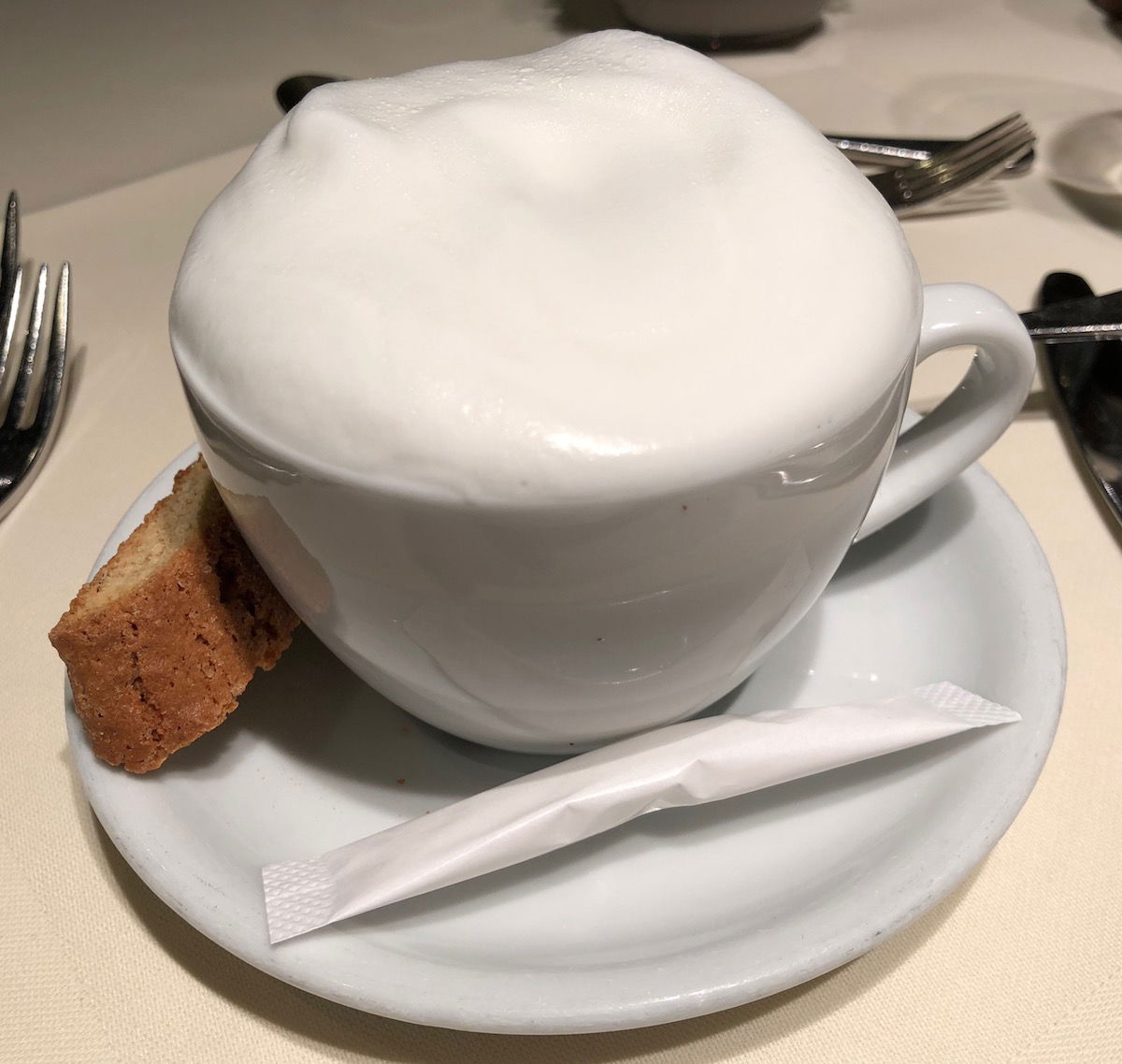 Lufthansa First Class Terminal cappuccino
Meanwhile my dad just sat there and enjoyed "zhe ambiente," as he likes to say. 😉 He's like a 70-something year old kid in a candy shop when he's here. Speaking of kids in a candy shop, when you're here you do have access to quite a selection of gummy bears.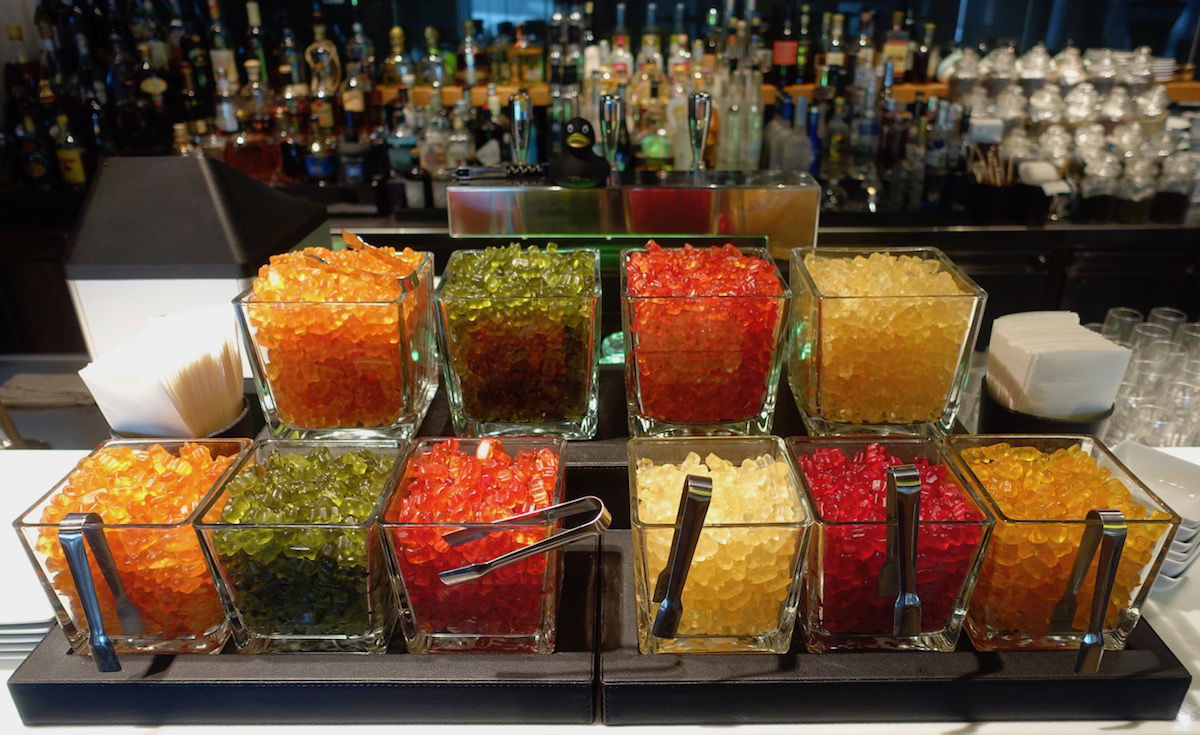 Lufthansa First Class Terminal gummy bears, just because
Then at around noon my dad and I sat down in the restaurant for lunch.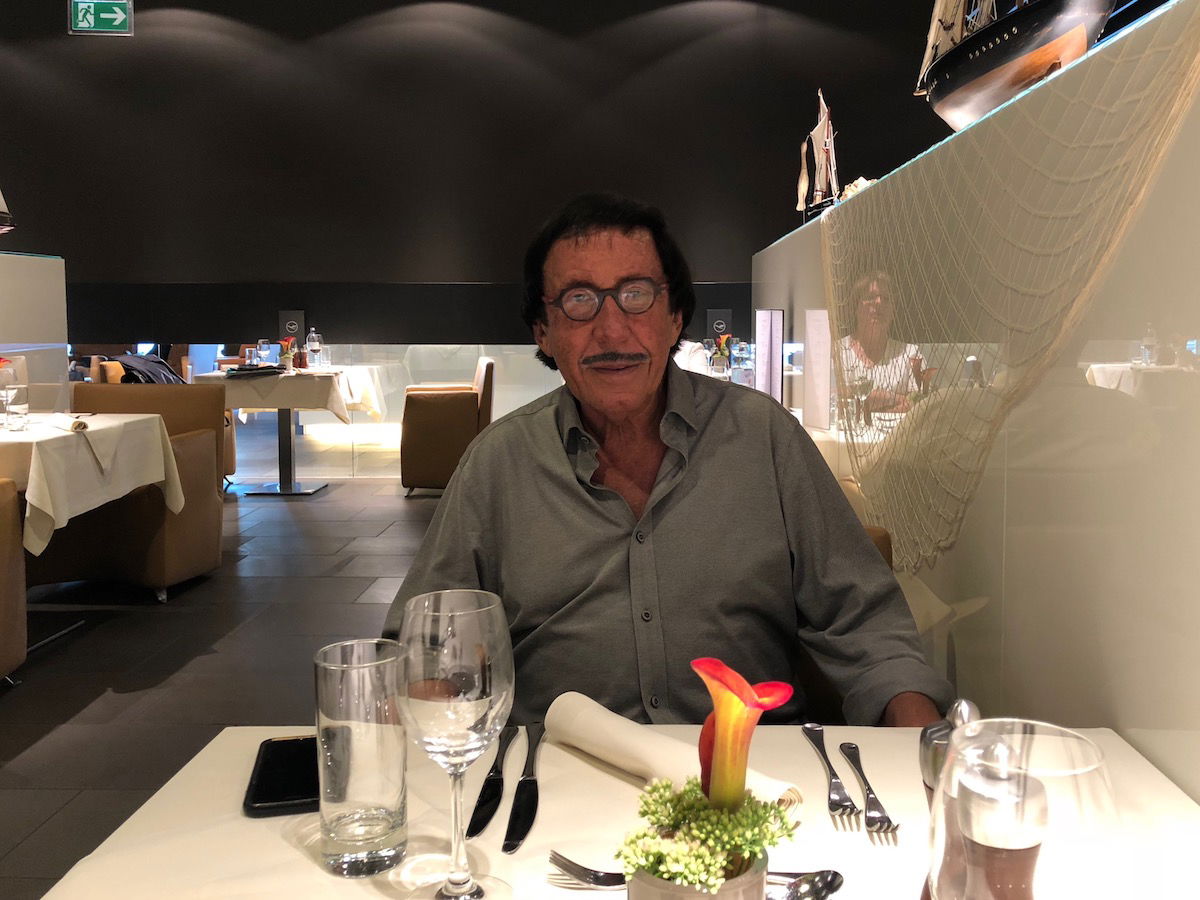 Dad enjoying the Lufthansa First Class Terminal
After lunch I took a shower, and of course requested a duck, which sadly was just the standard black one this time around.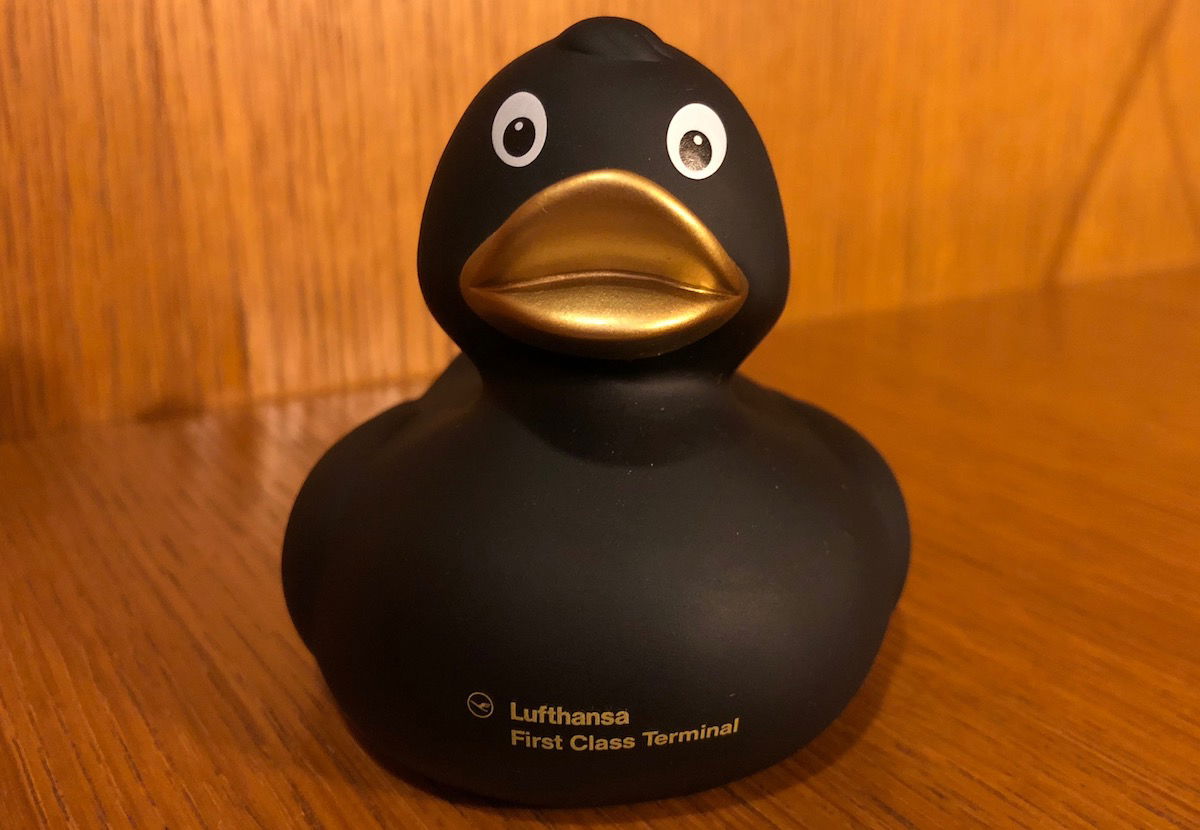 Lufthansa First Class Terminal duck
With our flight scheduled to depart at 2:05PM, we were fetched by our PA at 1:35PM, and she escorted us to the lower level of the FCT and introduced us to the driver.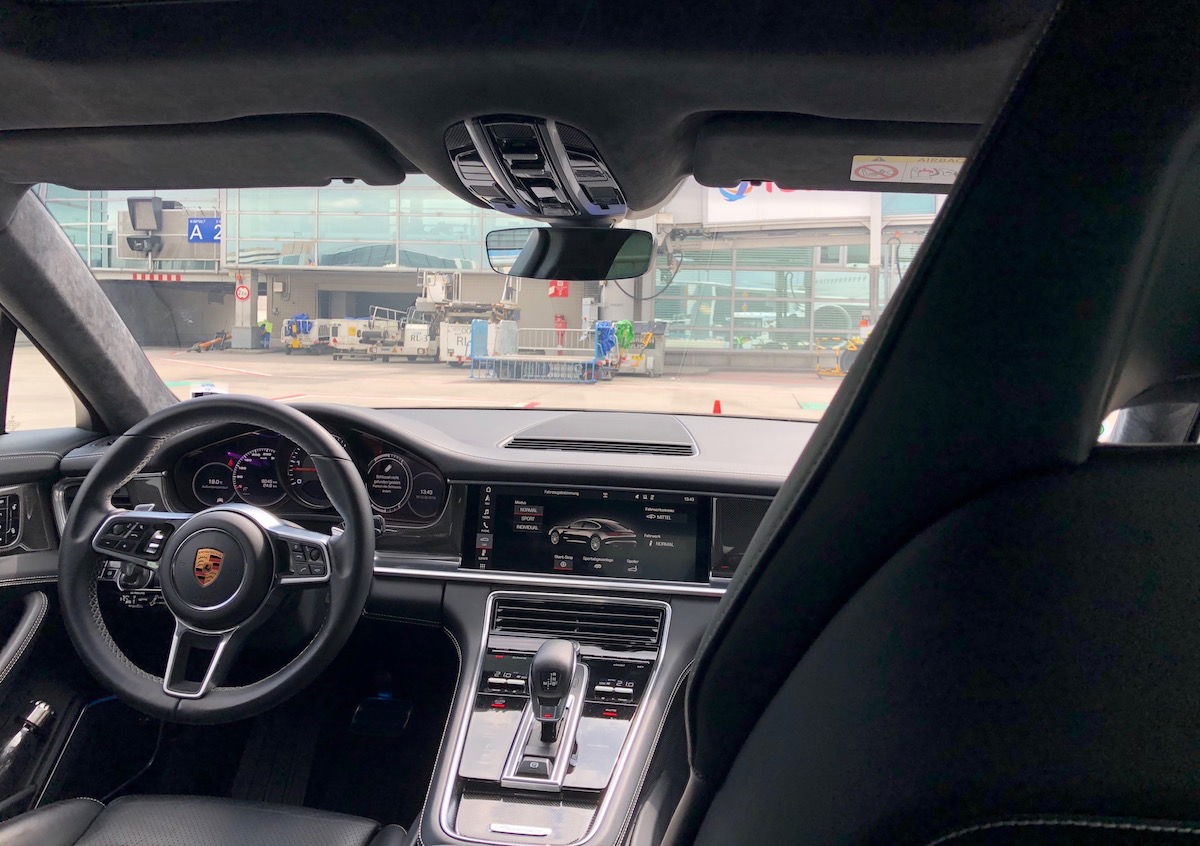 Being driven to our plane from the First Class Terminal
Ah, talk about a view that never gets old!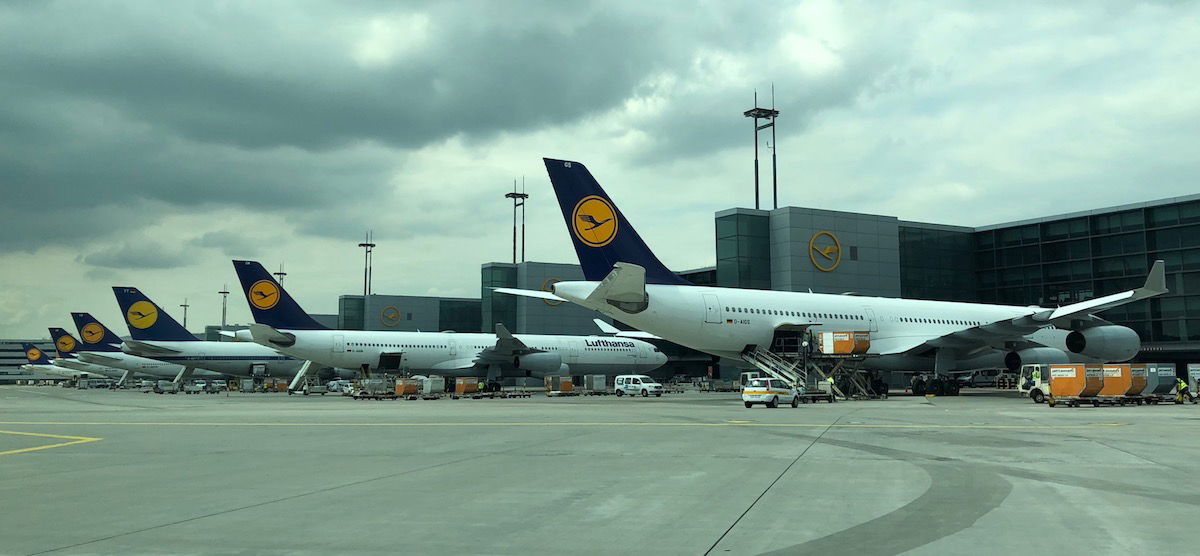 Lufthansa planes at Frankfurt Airport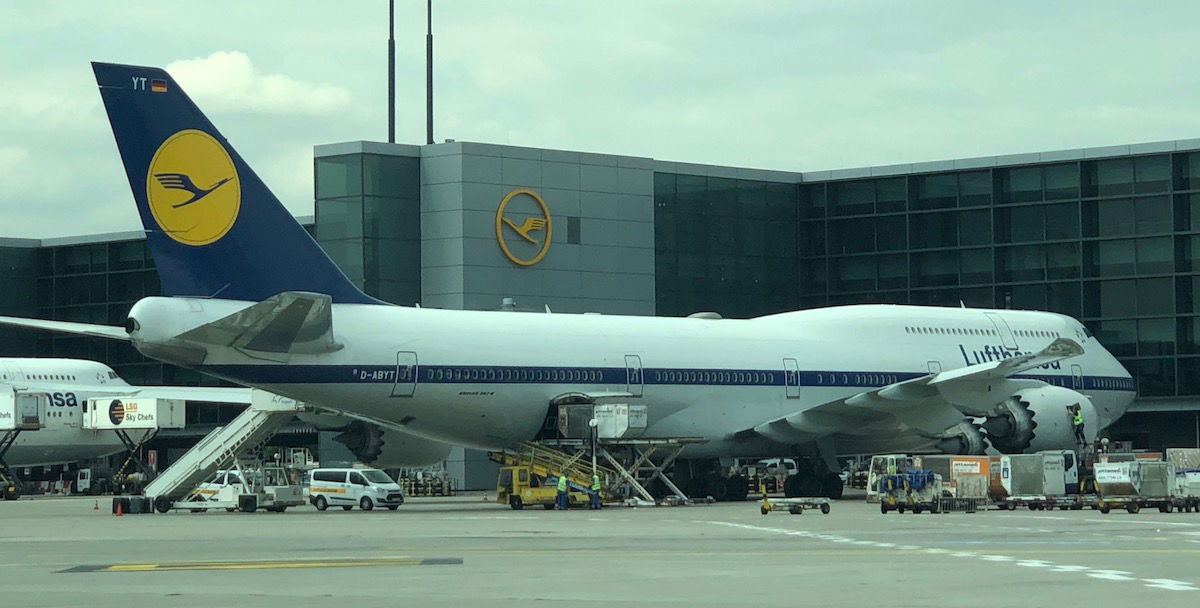 Retro livery Lufthansa 747-8
Rather oddly our plane was actually parked at a gate (as opposed to a remote stand), yet they weren't using the jet bridge. I'm not sure if this was a Schengen/non-Schengen issue or what, but that was strange.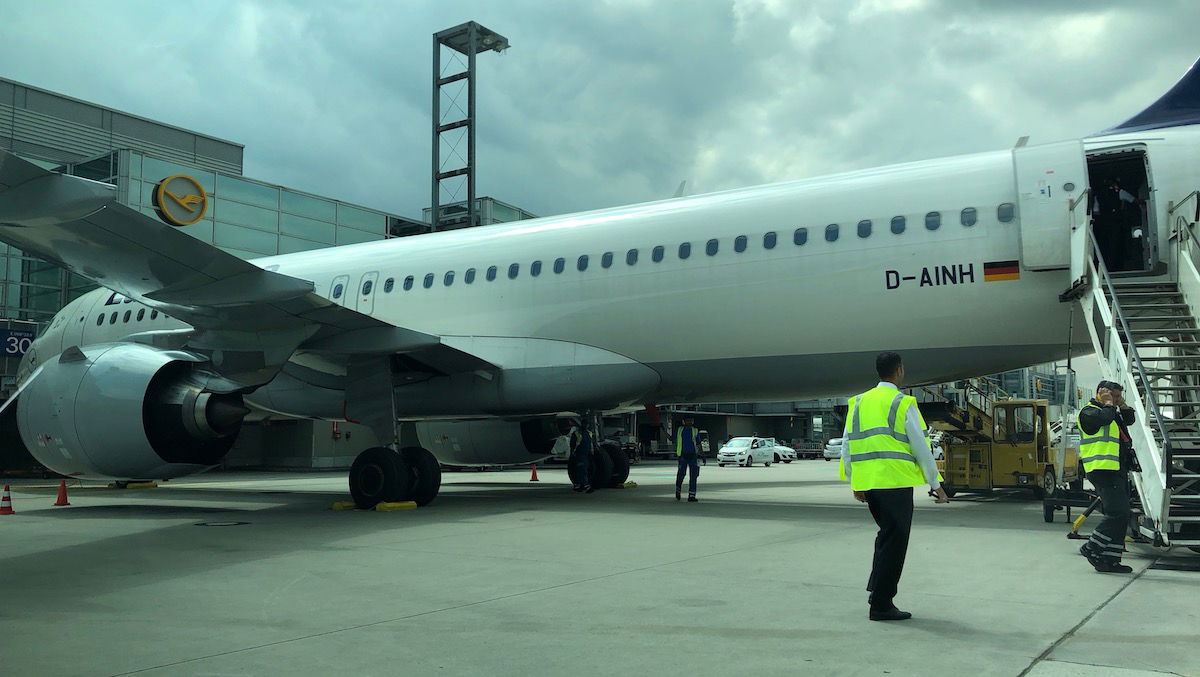 Our plane to Tallinn
When we arrived at the plane the driver asked us to wait for a moment while he check with the crew. The crew wasn't quite ready, though within five minutes we were invited onboard, and boarded through the rear door.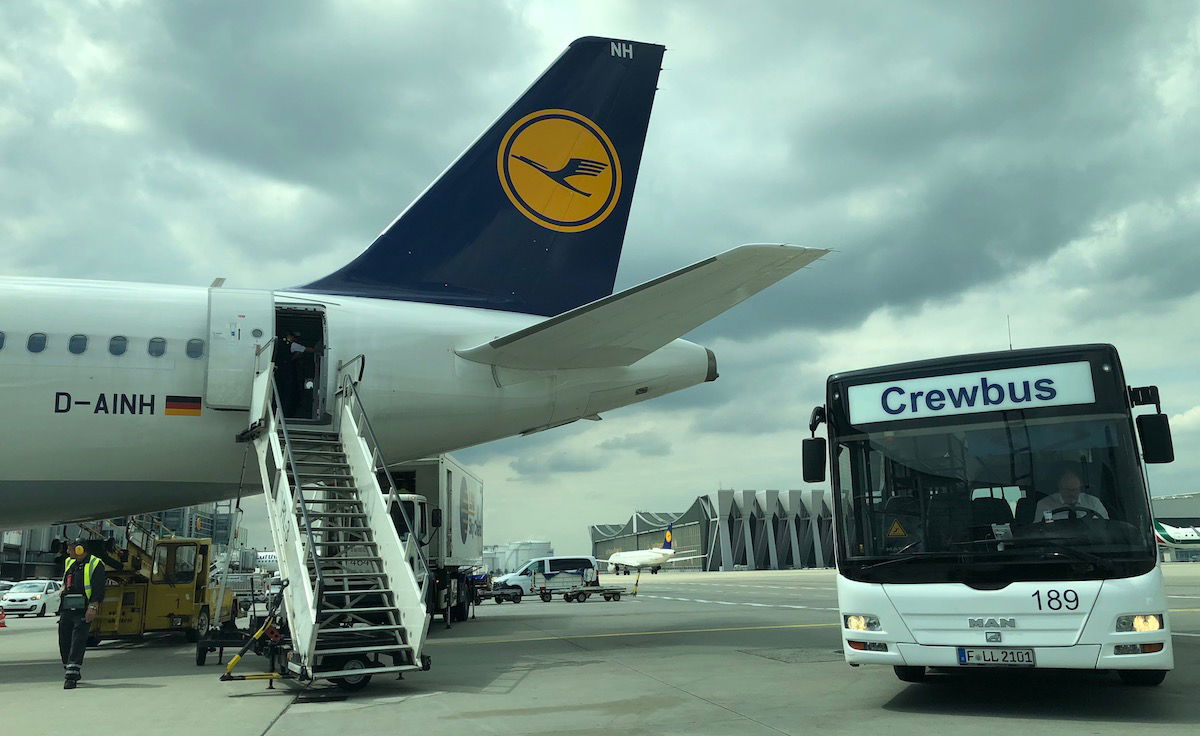 Our plane to Tallinn
Lufthansa 882
Frankfurt (FRA) – Tallinn (TLL)
Wednesday, August 15
Depart: 2:05PM
Arrive: 5:20PM
Duration: 2hr15min
Aircraft: Airbus A320neo
Seat: 4A (Business Class)
At the rear door we were greeted by two friendly flight attendants, and then made the long walk to the front of the plane. The A320 isn't actually that big, but with how many seats Lufthansa crams into the cabin, it sure feels it. 😉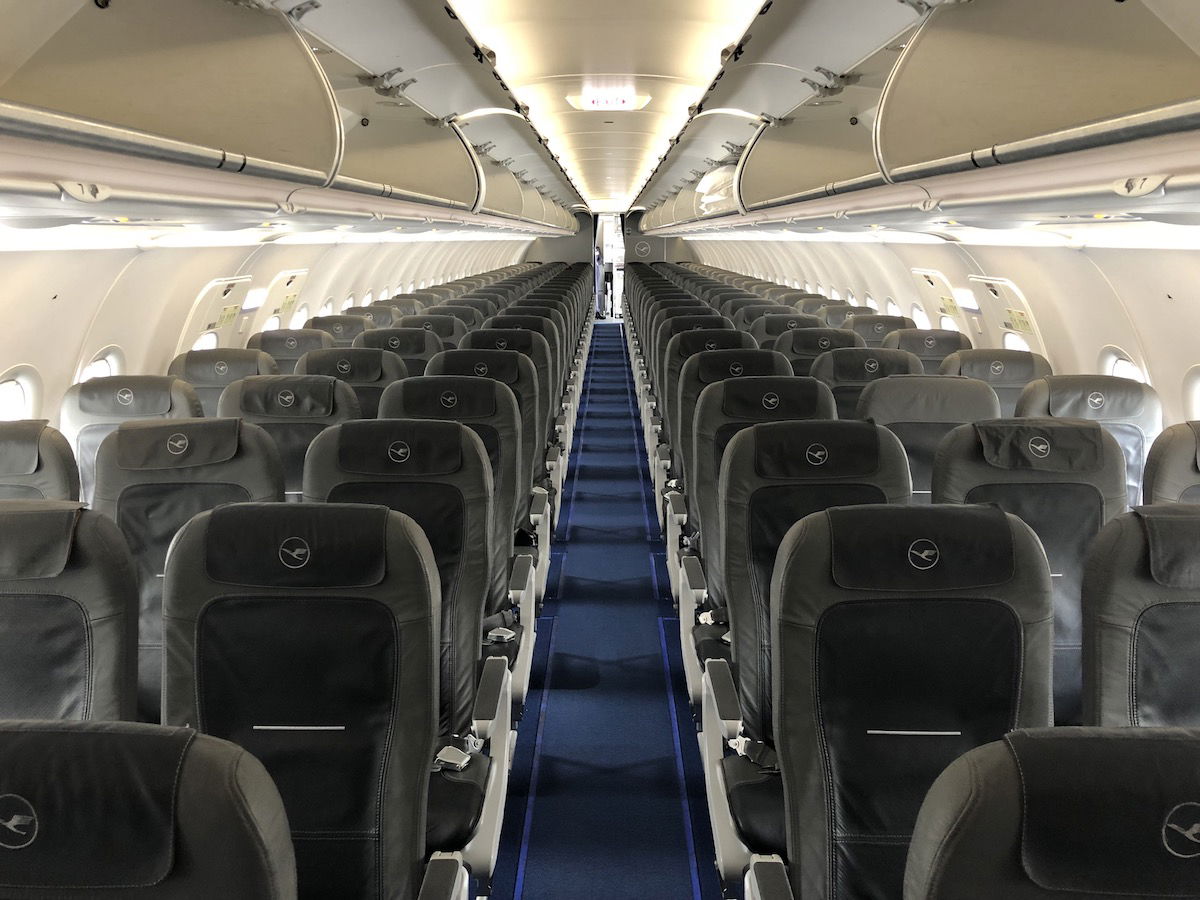 Lufthansa A320 cabin
Intra-Europe business class on Lufthansa (and most airlines, for that matter) is among the worst business class you'll find anywhere in the world, plain and simple. It's simply economy with limited pitch and a blocked middle seat, so there's very little redeeming about it (note that in the meantime Lufthansa has installed new seats on their A321neos, though I'm not sure they're actually better).
There are a few airlines that offer a "proper" business class within Europe, but they're the minority. On this particular flight there were four rows of business class (the configuration can be adjusted on each flight based on demand).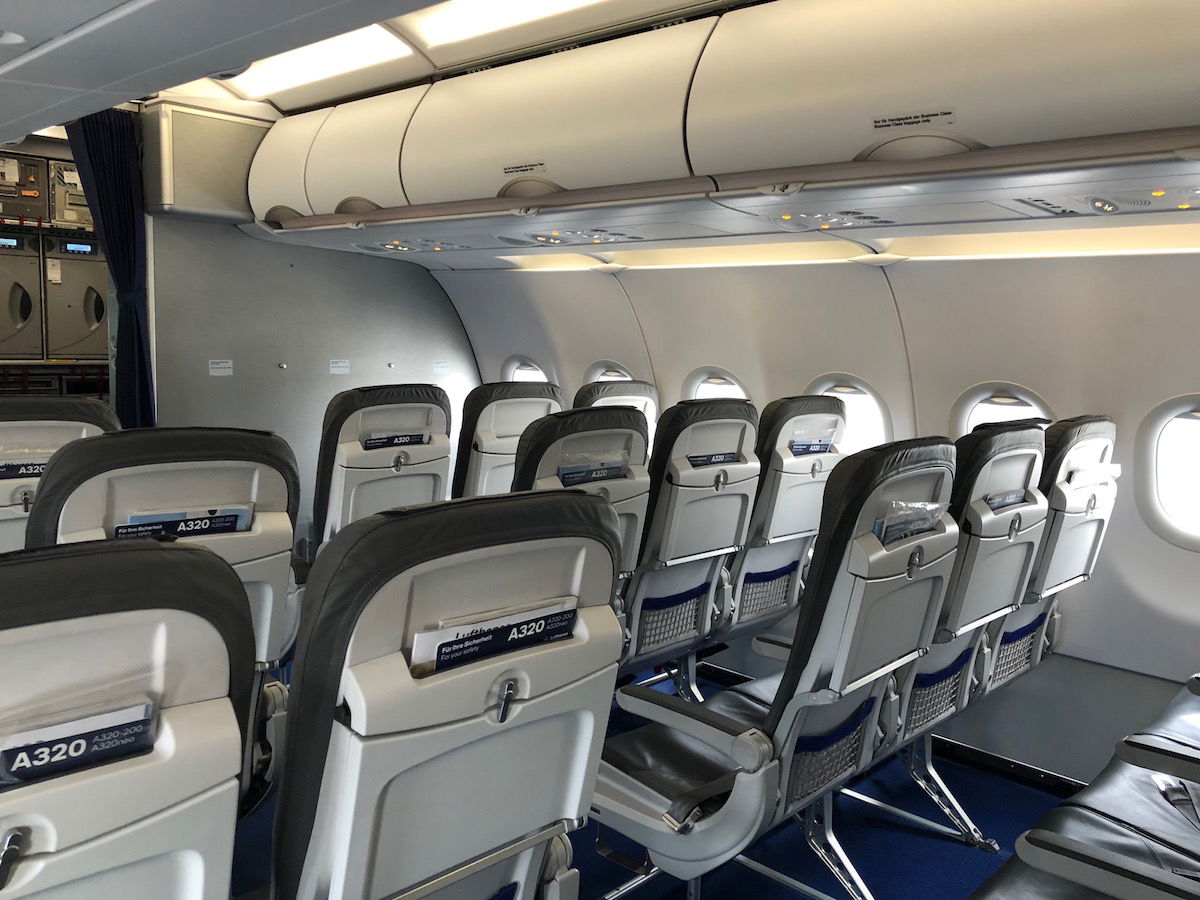 Lufthansa A320 business class cabin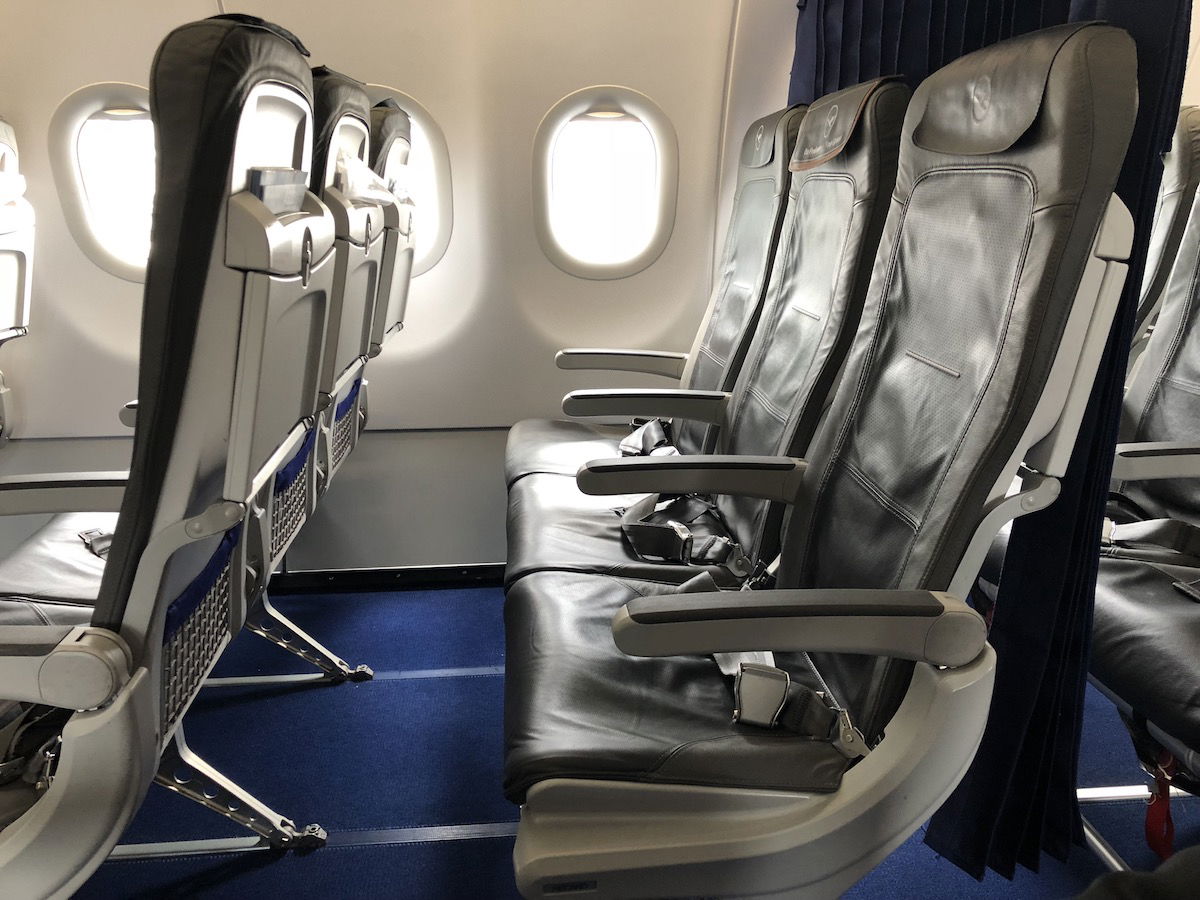 Lufthansa A320 business class cabin
The purser on the flight was a really friendly guy, and chatted with us for a few minutes. No other passengers boarded yet, so we had the plane to ourselves for a few minutes. Then five minutes later another car showed up, except it wasn't one of Lufthansa's first class cars. Rather it was a car from the airport's VIP service.
As it turned out, Plácido Domingo, the famous Spanish tenor, was on our flight. He was seated in 1D, and the crew seemed pretty star struck. He couldn't have been nicer to everyone he interacted with. He even gave the ground escorts kisses and hugs goodbye, and indicated he'd see them tomorrow.
Funny enough he wasn't the only VIP on the flight, though. Gianni Infantino, the president of FIFA, was also on the flight in business class, and he and Plácido talked for quite a bit. As I later discovered, the Super Cup was being held in Tallinn that night. I imagine that's why Gianni was on the flight, though I wonder if Plácido was also on the flight to watch the match, or what, because the two guys talked so much.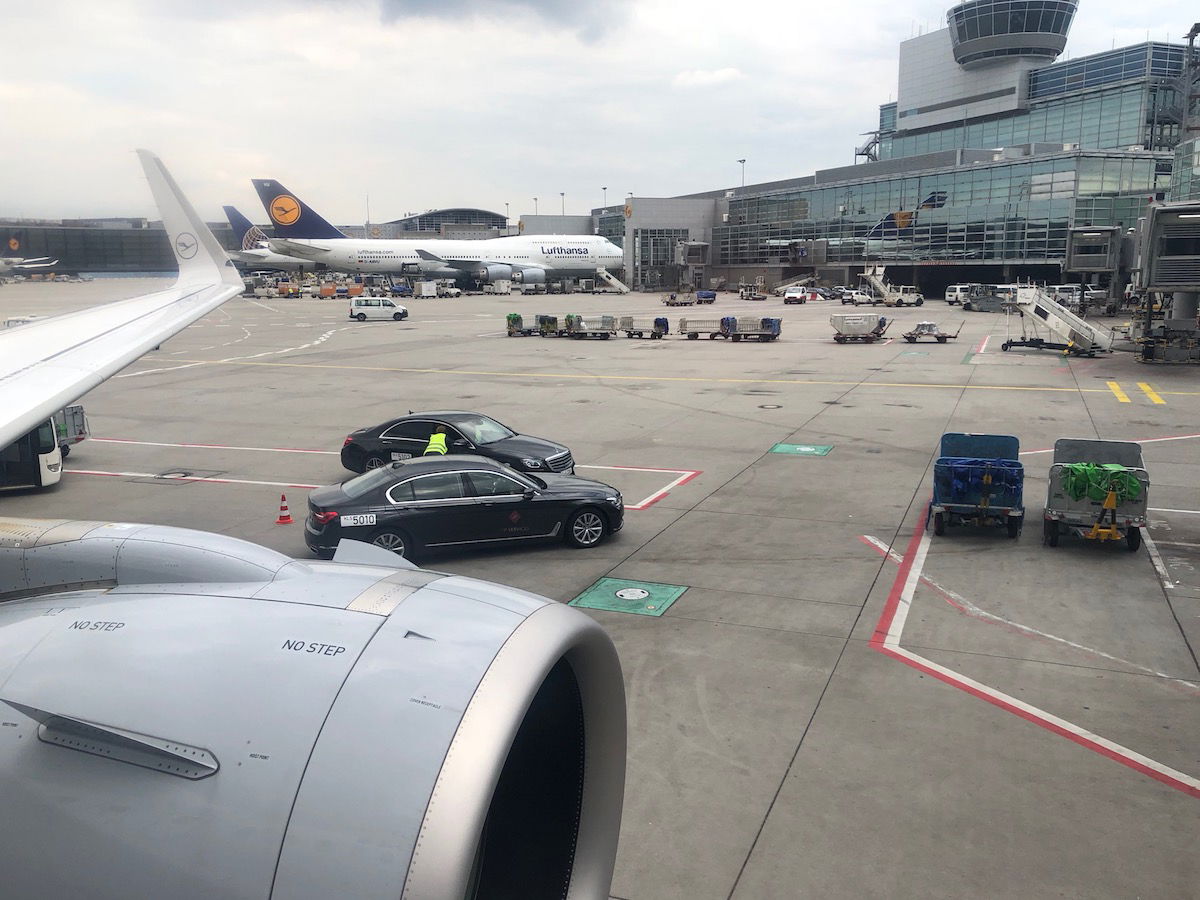 VVIP passenger arriving
Finally at around 1:50PM the first bus full of passengers arrived, and within 15 minutes boarding was complete. At 2:10PM the door closed, and at that point the manual safety demonstration was performed. A few minutes later we began our taxi.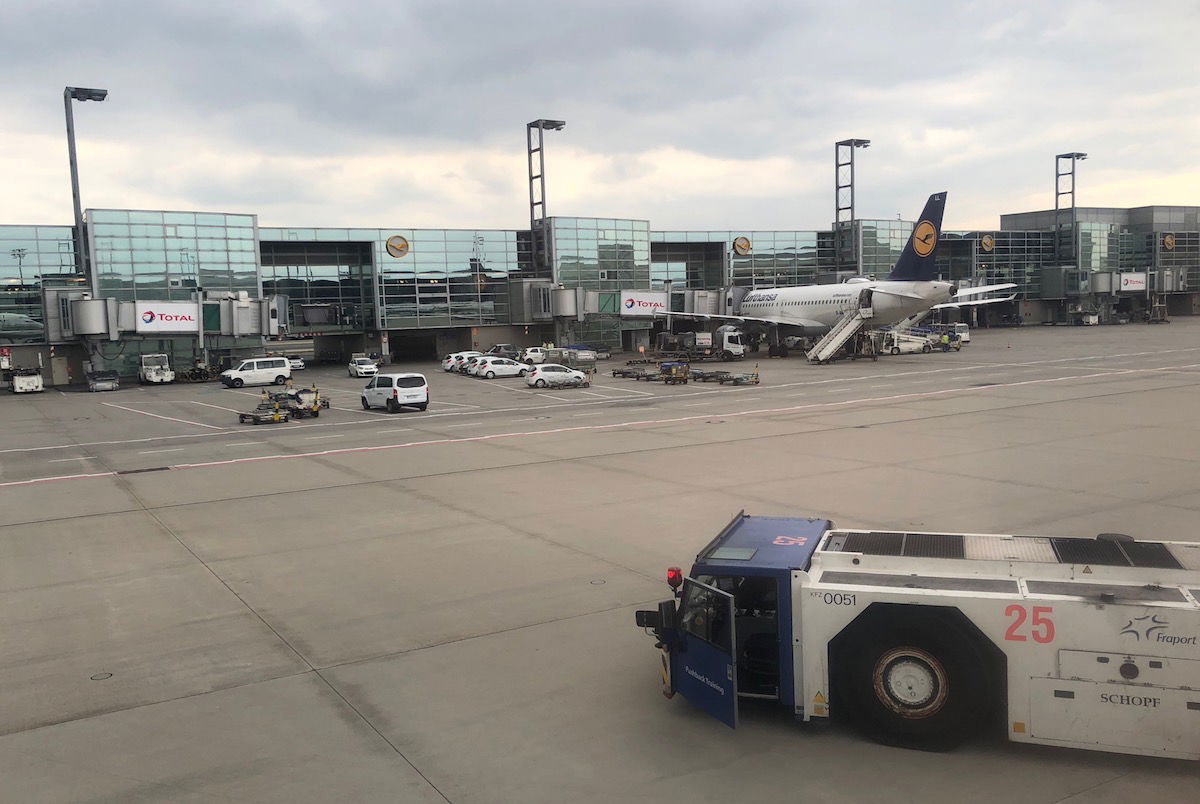 Pushing back from Frankfurt Airport
We had a very short taxi to our departure runway, 25C, where we were cleared for takeoff at 2:25PM.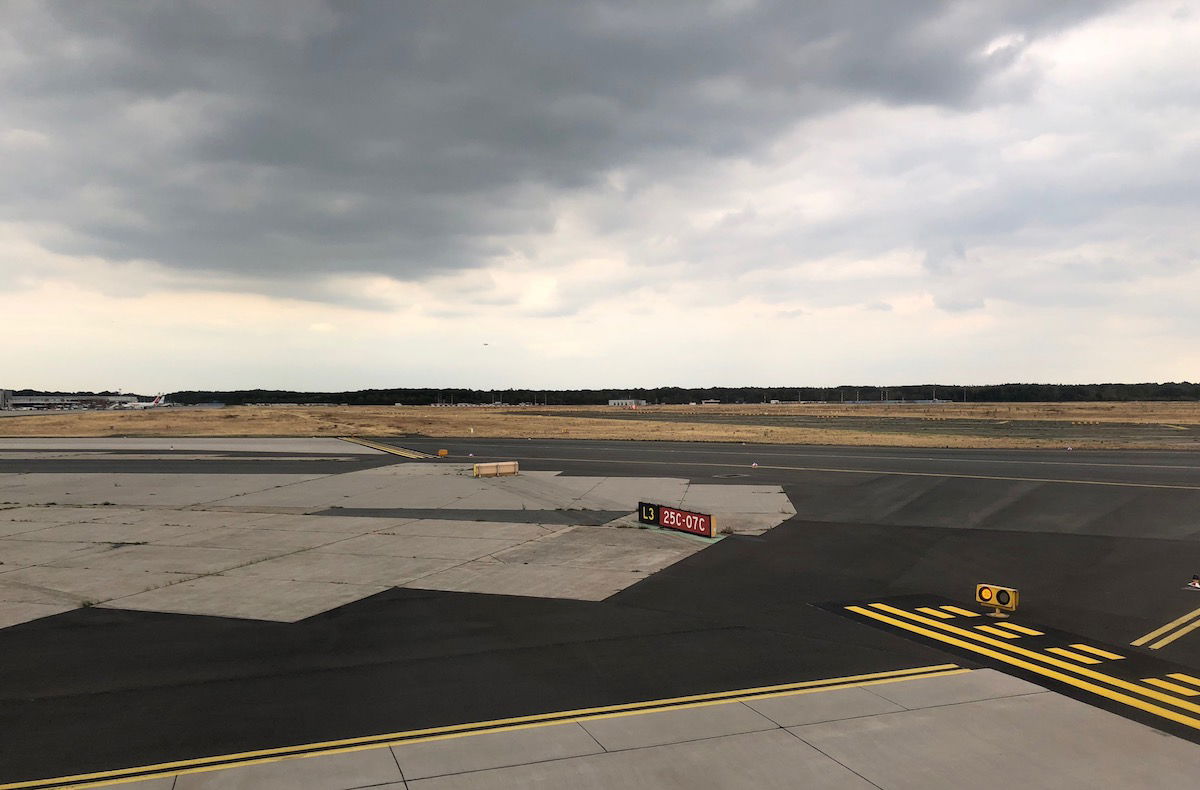 Taxiing Frankfurt Airport
There were some great views of the airport out of the windows on the left on the climb out.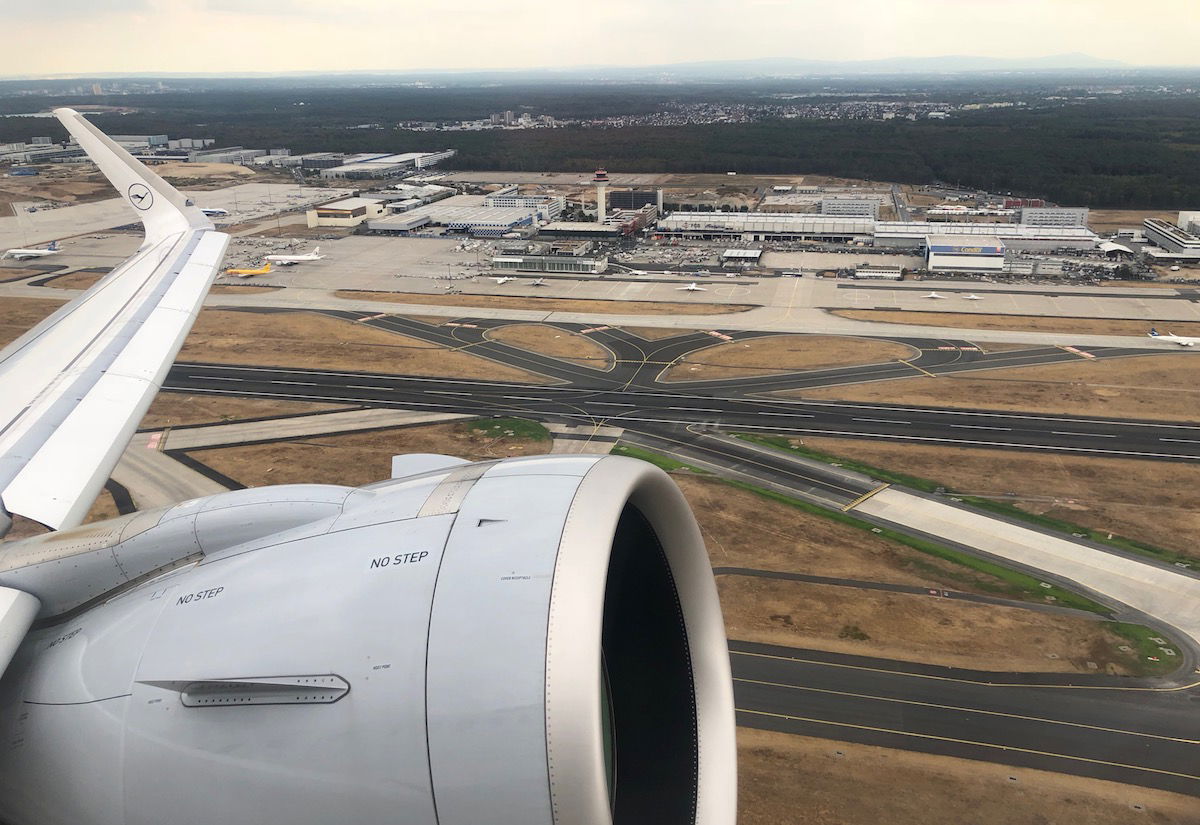 View after takeoff from Frankfurt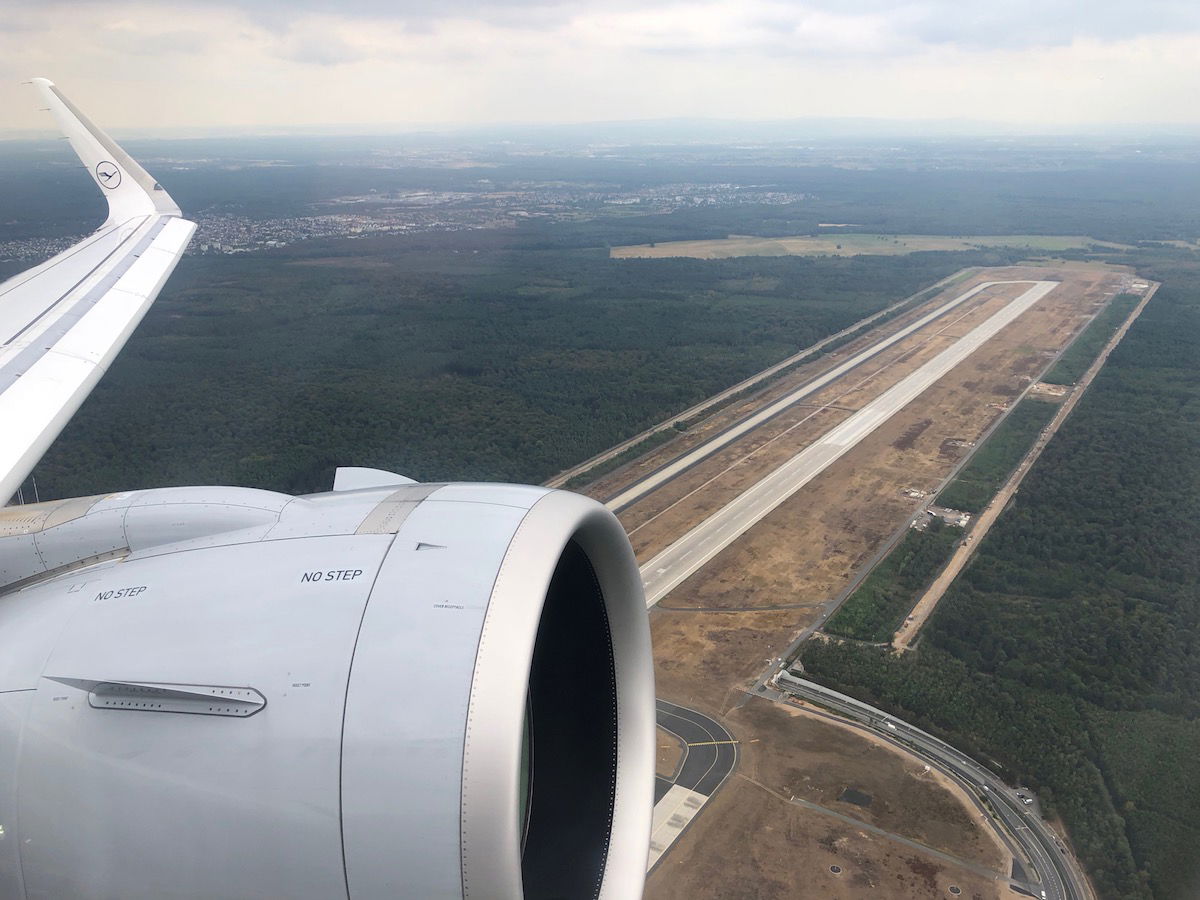 View after takeoff from Frankfurt
The seatbelt sign was turned off just 10 minutes after takeoff. Five minutes after that the "meal" service began. In my opinion Lufthansa has one of the weakest offerings of any airline when it comes to their short-haul business class catering.
You'd think on a two hour flight they could serve a hot meal, or at least a substantial cold meal, but they don't. Even US airlines, which aren't exactly known for their service, serve hot food in first class on flights of this length.
Not only that, but Lufthansa also seems to play a game of making the food they serve as mysterious as possible, as I'm never quite sure what they're serving on intra-Europe flights. On this flight they had some prosciutto, pineapple, and something I wasn't able to identify.
The dessert was some sort of pudding something-or-another with raspberry, as well as cookies.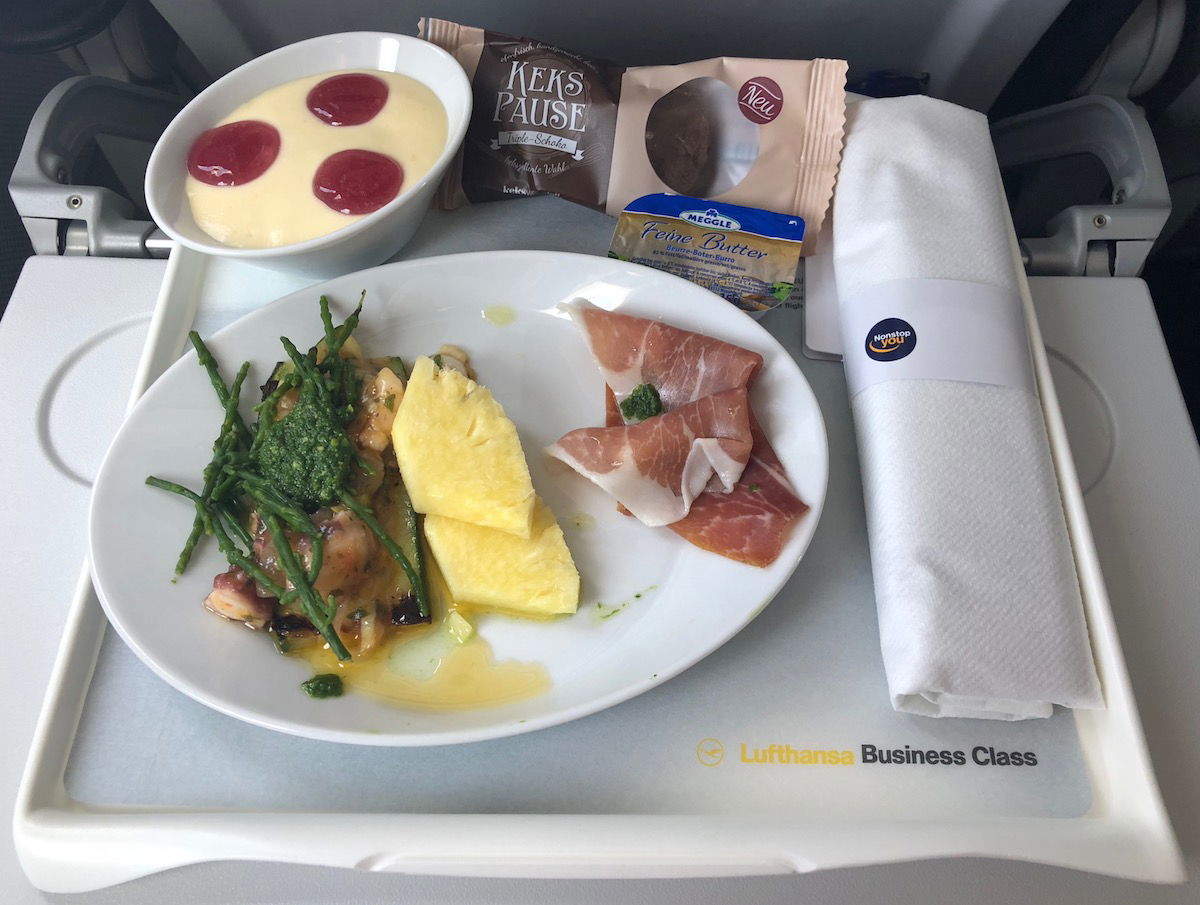 Lufthansa business class lunch
On the plus side, the crew was excellent, both in terms of their friendliness and the number of times they offered drink refills. I just had some water and coffee, while my dad had a glass of wine.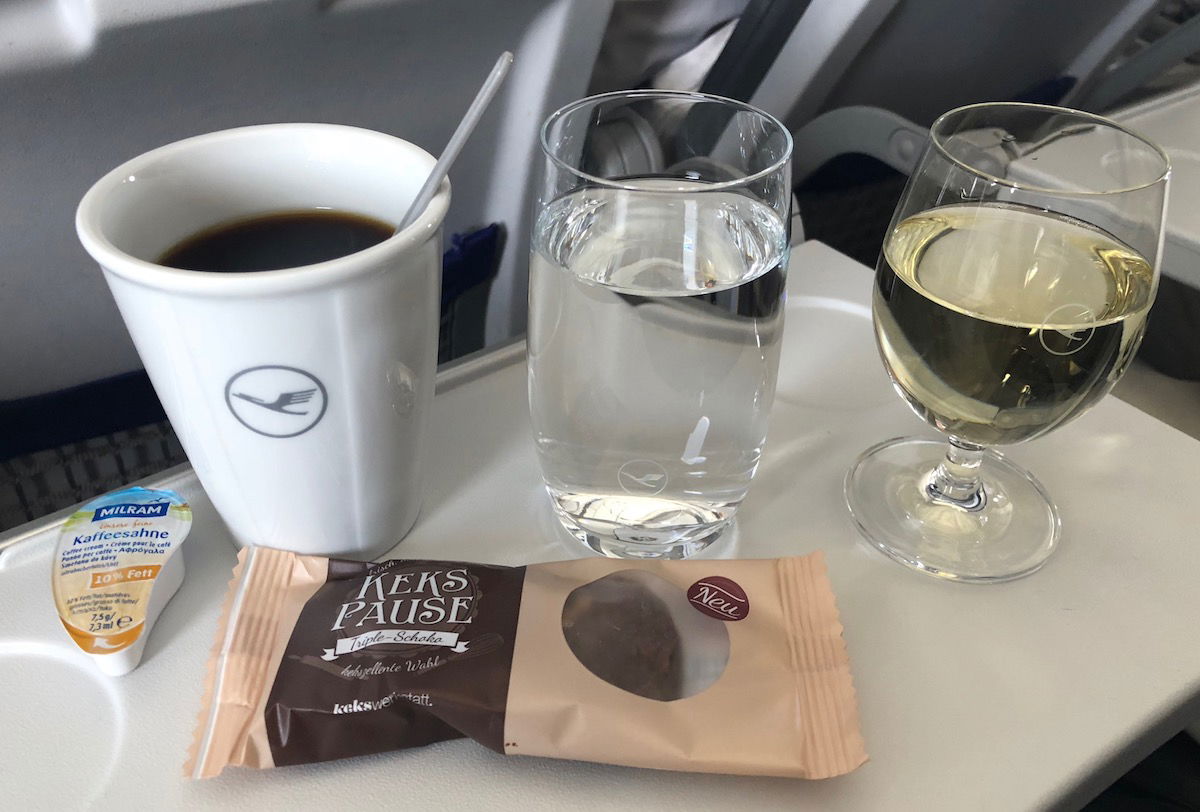 Lufthansa business class dessert and drinks
Then once the meal was done the crew came through the cabin with ice cream sandwiches, which I've never been served on Lufthansa before.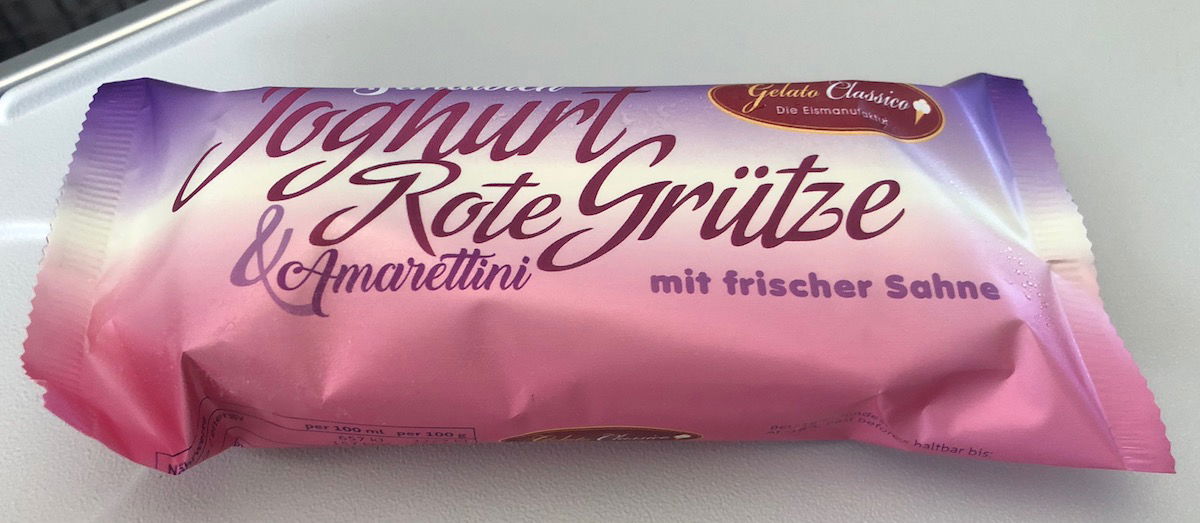 Lufthansa business class ice cream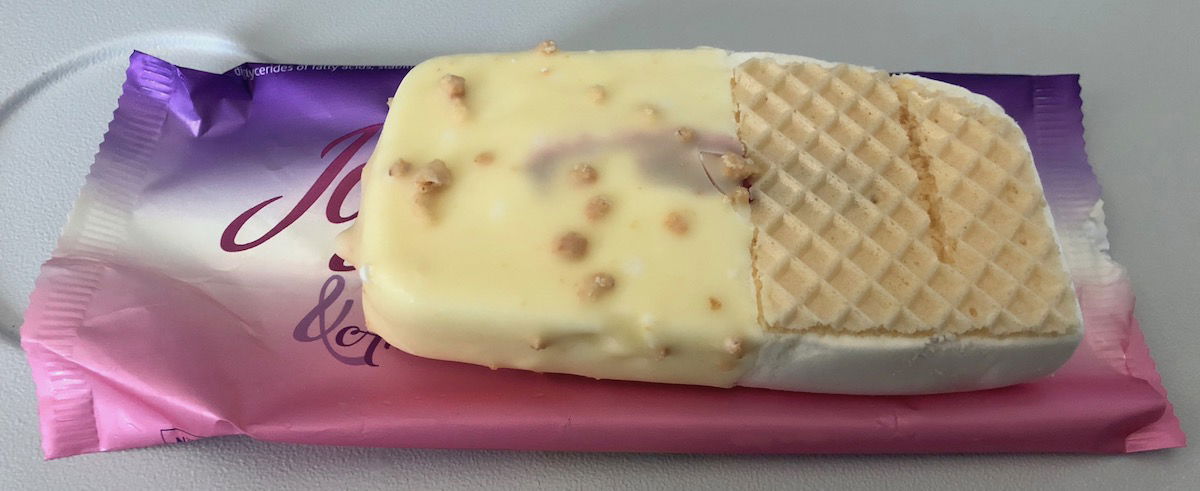 Lufthansa business class ice cream
This sure was a dessert-heavy flight, between the pudding-of-sorts, cookies, and ice cream.
Some of Lufthansa's A320s have Wi-Fi, though this one didn't, so there wasn't much else to do. So I just worked on my laptop for a while.
At around 5PM in Tallinn (it's one hour ahead of Frankfurt) we began our descent, and the captain informed us we'd be landing in 30 minutes. While it wasn't a particularly beautiful afternoon, we had some cool views.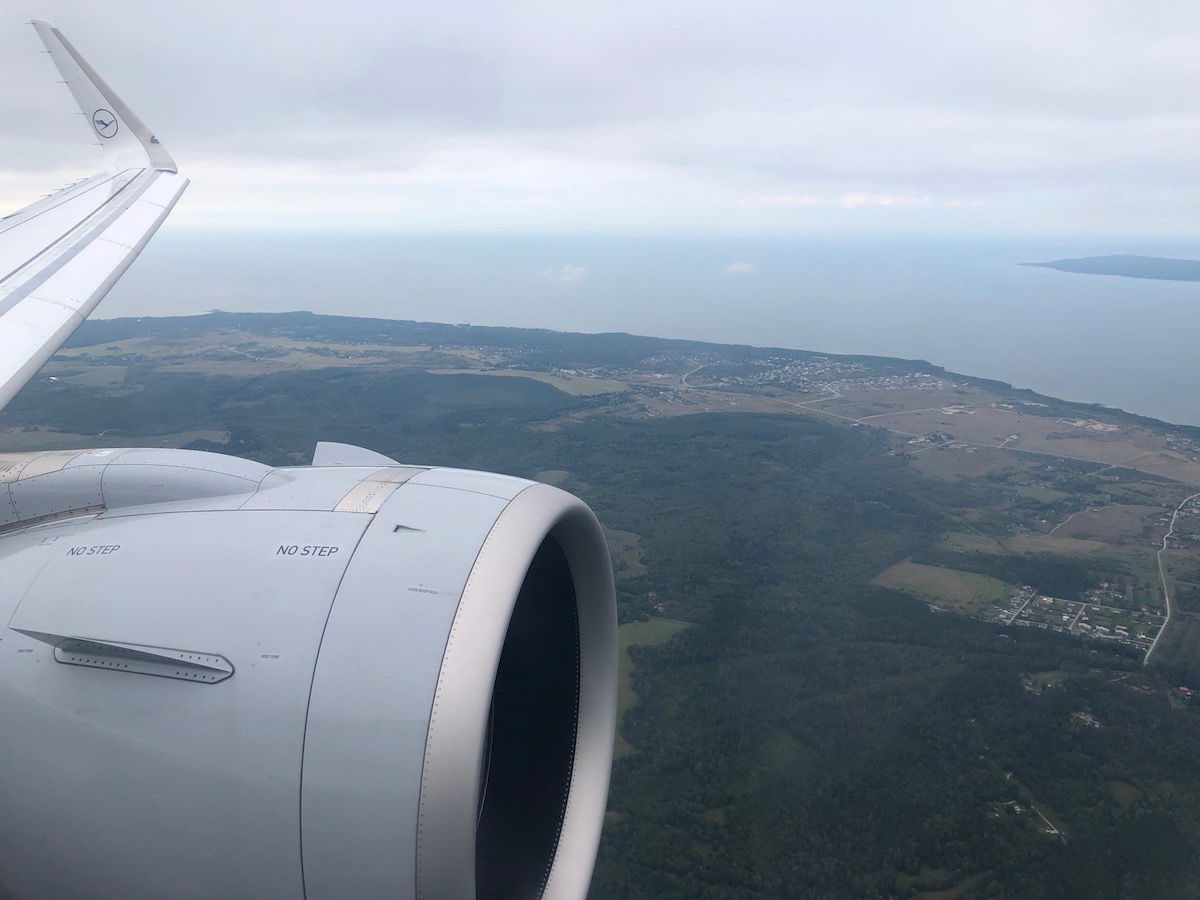 View descending into Tallinn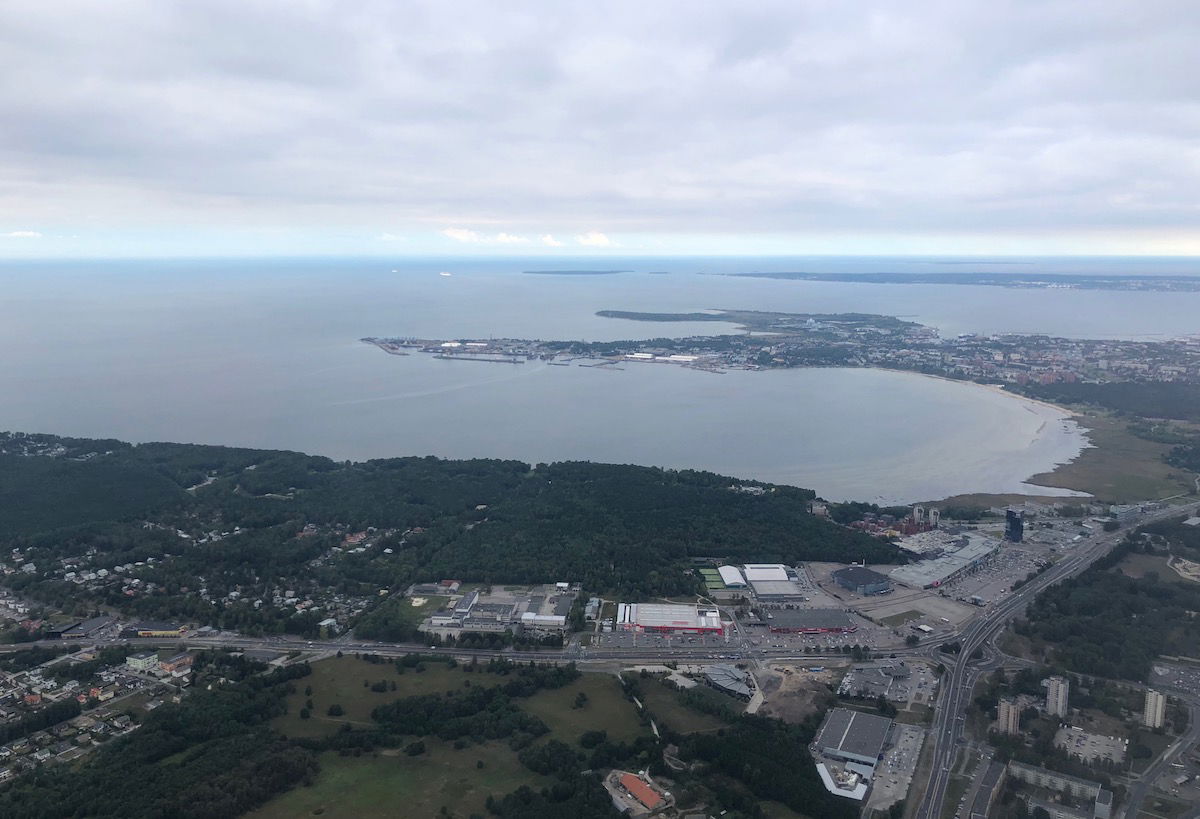 View descending into Tallinn
The below picture is of the city of Tallinn, which shows you just how close the airport is to the city.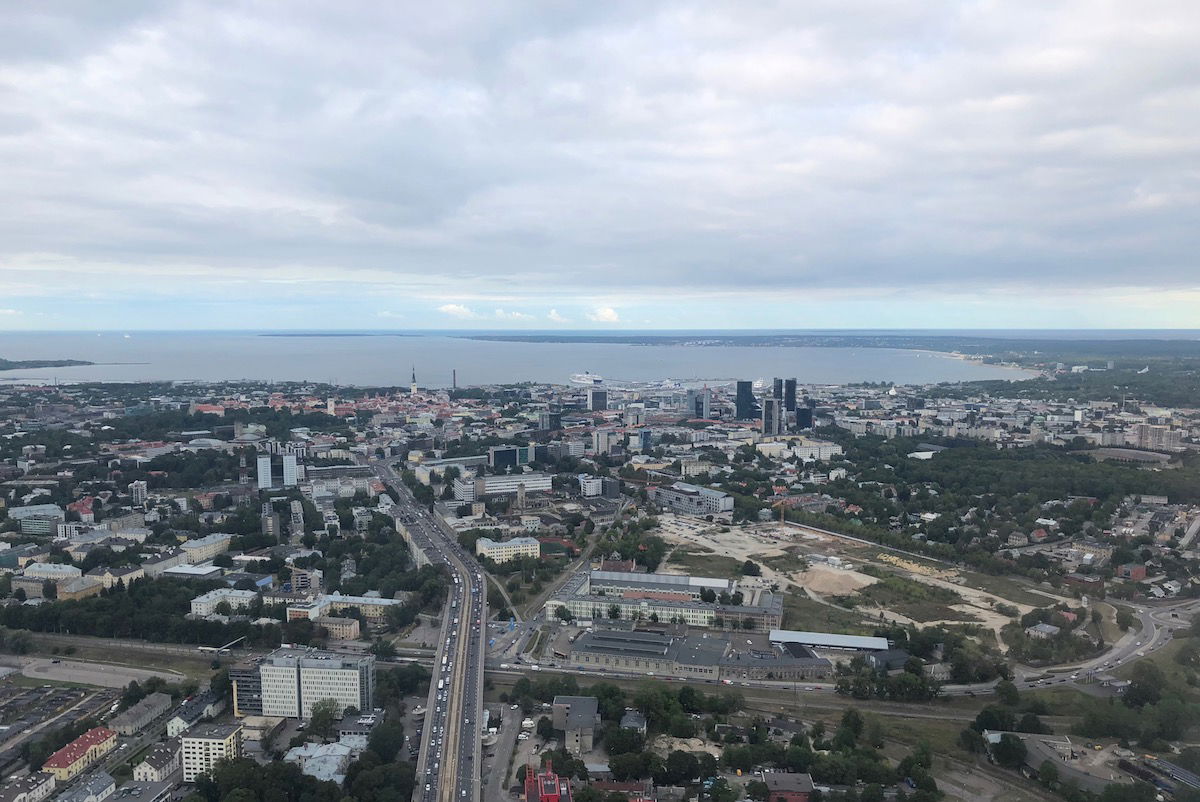 View descending into Tallinn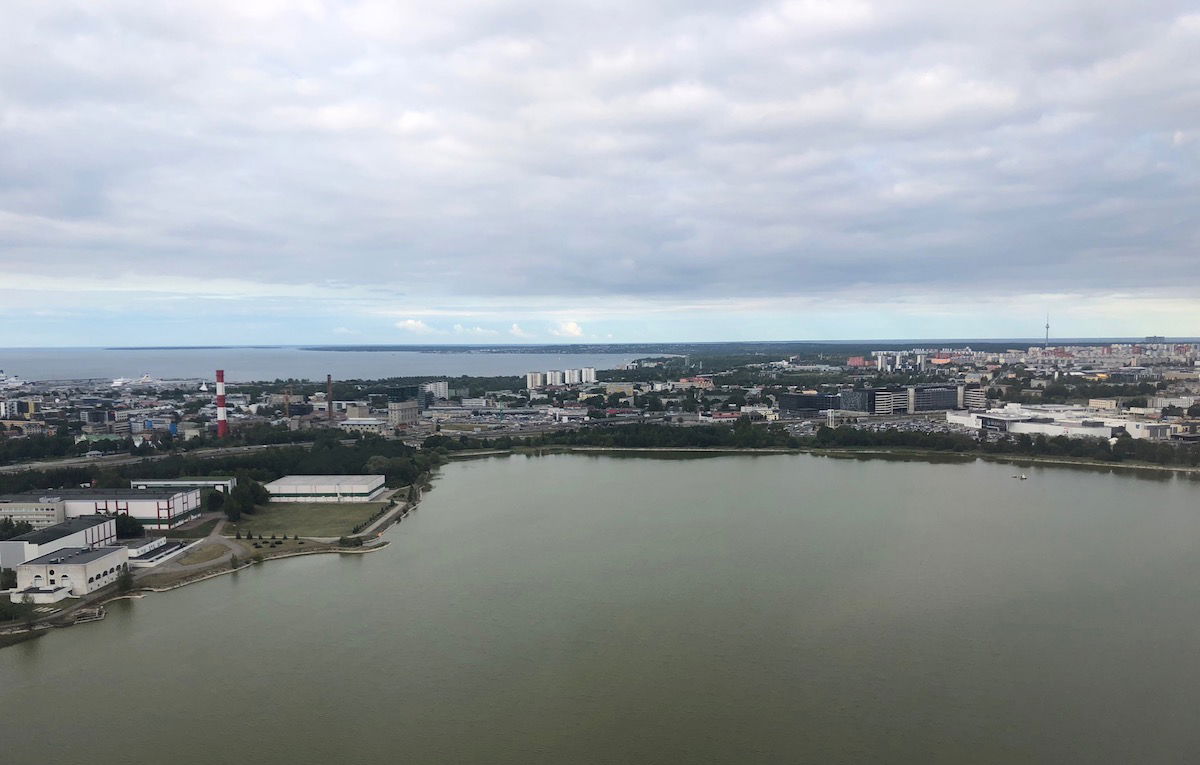 Final approach to Tallinn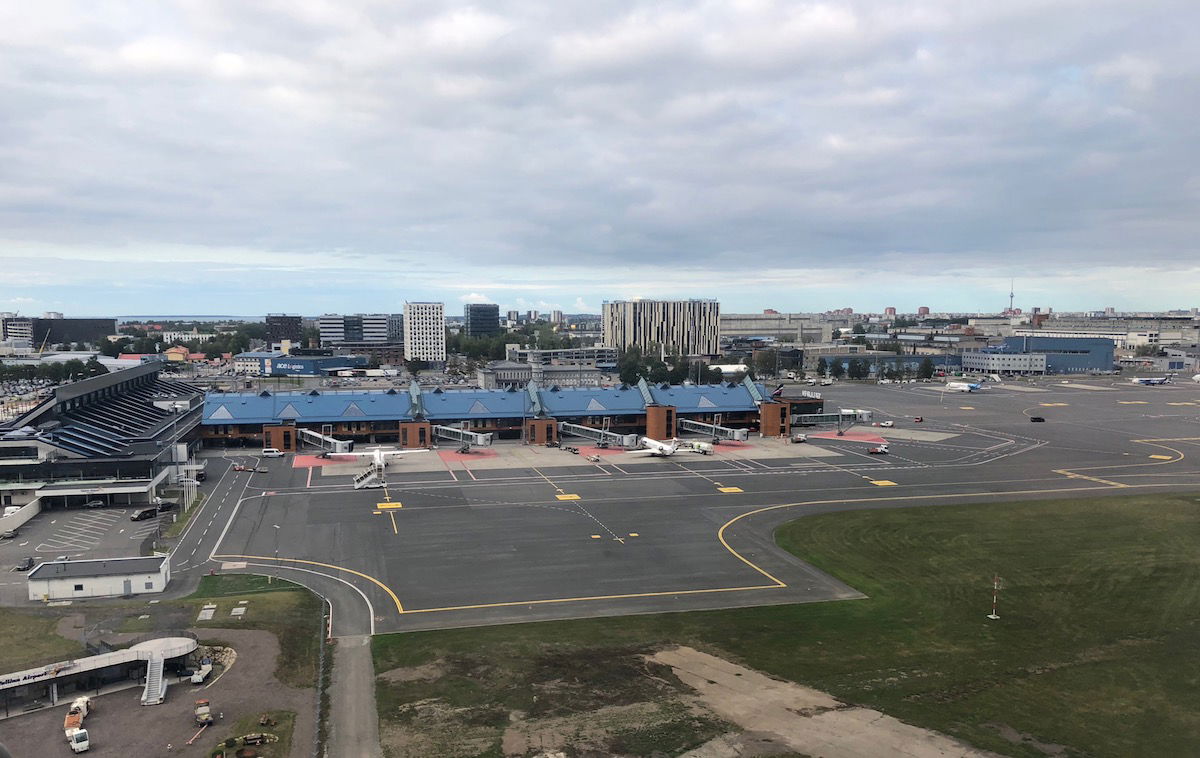 Final approach to Tallinn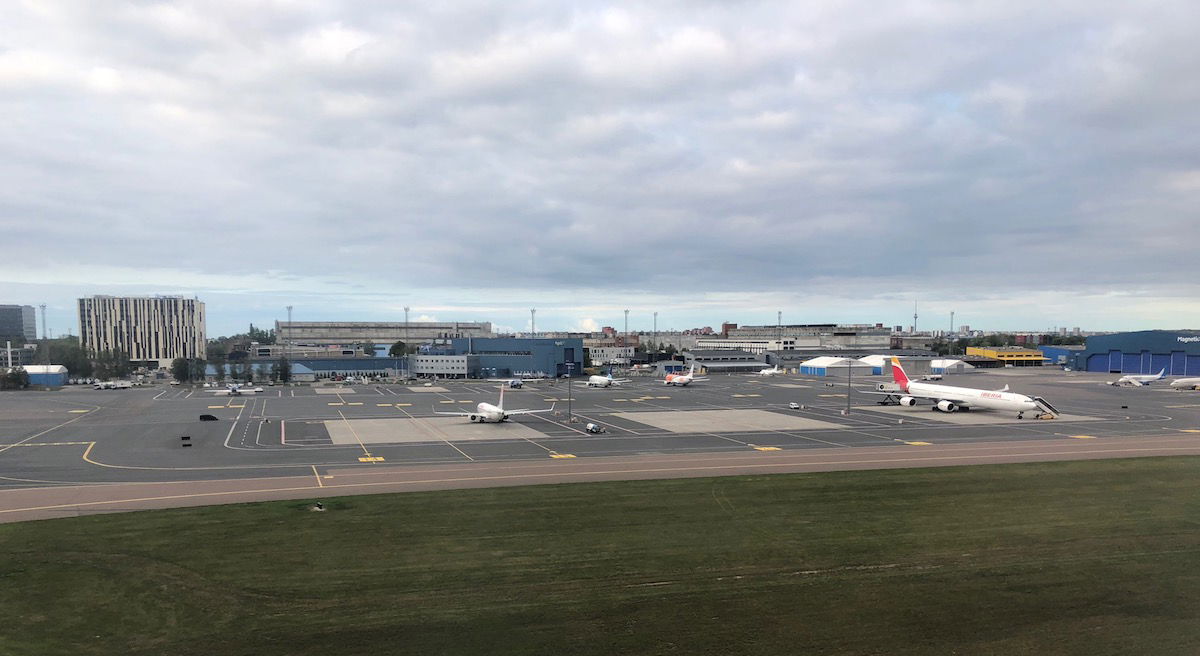 Landing in Tallinn
Sure enough we touched down at exactly 5:30PM, and from there had a very short taxi to our arrival gate.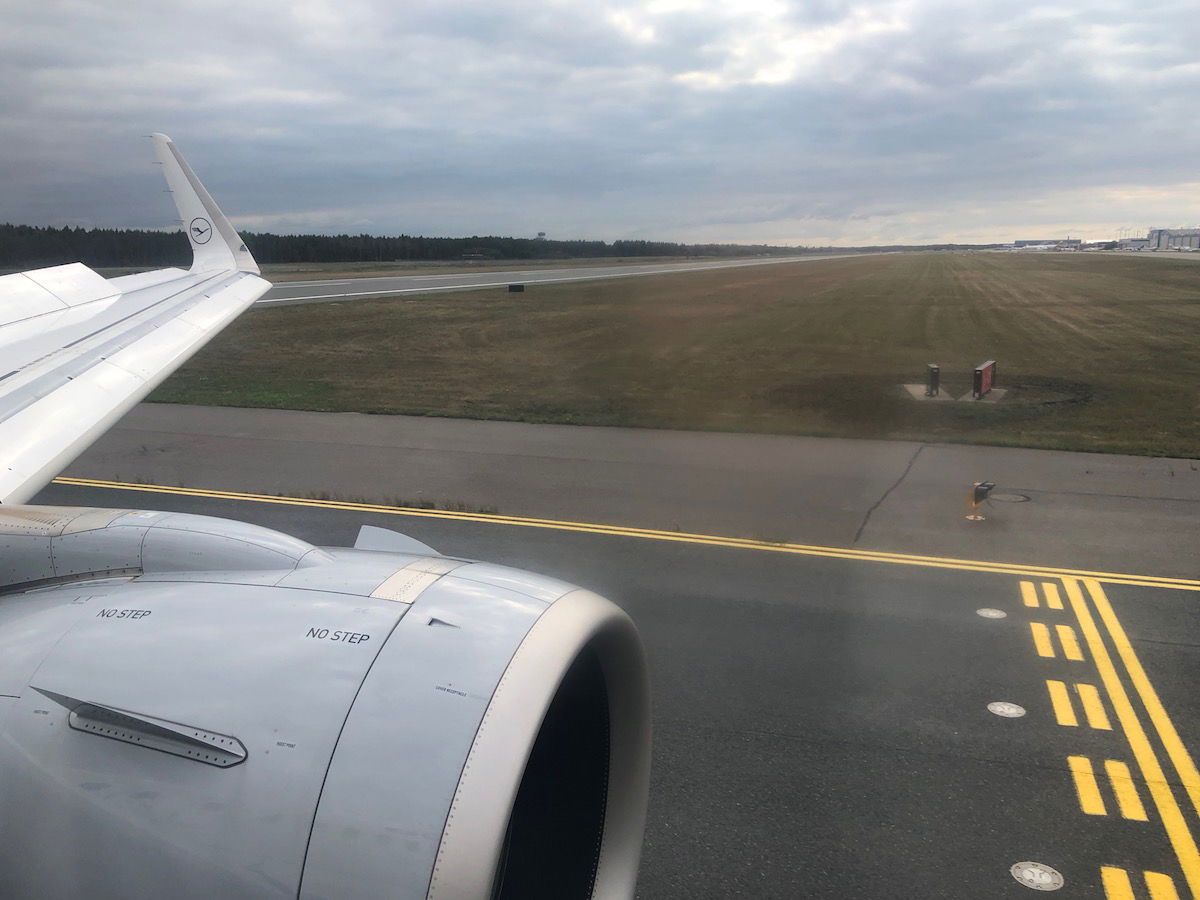 Taxiing Tallinn Airport
There we parked next to a Nordic Regional Airlines turboprop.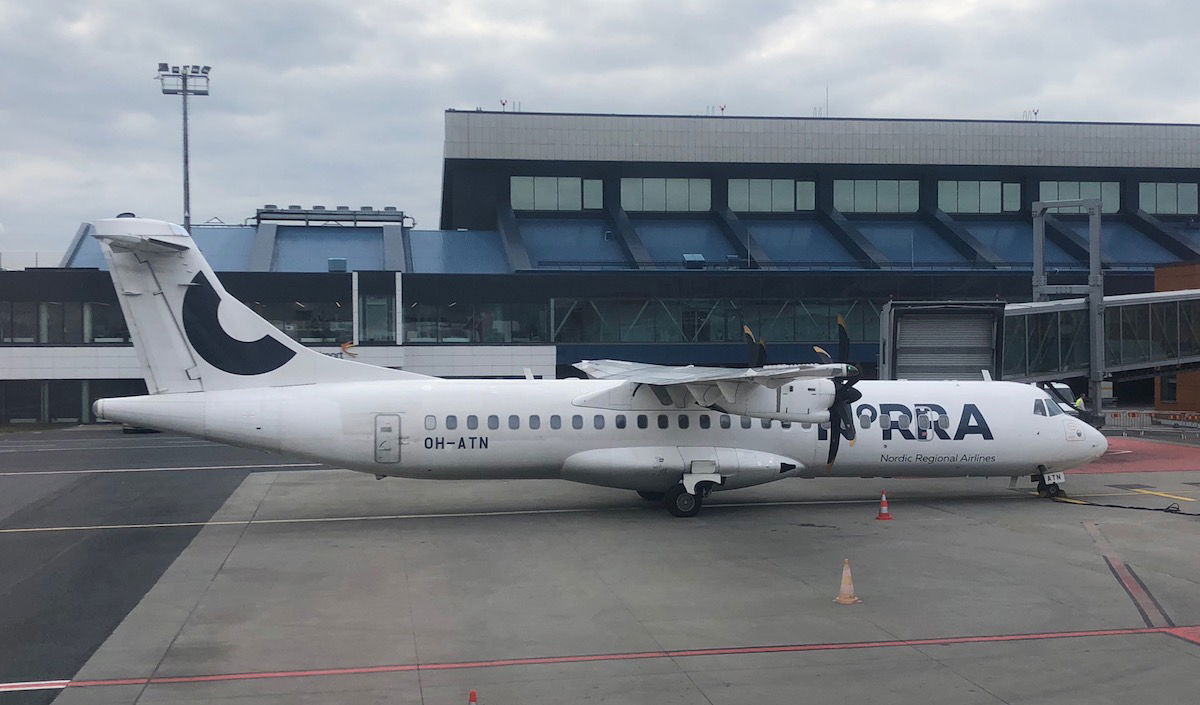 Arrival gate Tallinn Airport
Not surprisingly there was an entourage waiting for Plácido once the door opened. We bid farewell to the crew, and were excited to explore Tallinn.
Lufthansa A320 business class bottom line
Lufthansa's short-haul business class is nothing to get excited about, and I'd probably never pay cash for it unless part of a connecting itinerary.
However, the reality is that it does make a big difference. European airlines keep squeezing more seats onto short-haul planes, to the point that sitting in a "regular" seat on a full flight can be uncomfortable. In business class you can at least sit at an angle and have your feet near the center of the cabin.
I also wish Lufthansa would spruce up their intra-Europe catering. I find it to be consistently disappointing, and I feel like they've been offering the same types of things for years.