I'm a huge fan of Taiwan's Starlux Airlines, as it's one of my favorite airline brands. The company launched operations right before the pandemic (I had the chance to fly Starlux's A321neo business class at the time), and it's simply such an awesome, premium airline.
Starlux Airlines will shortly be launching transpacific flights, and I can't help but note just how steep fares are. I'm trying to figure out the best strategy for flying with the airline across the Pacific, and I'm curious if any OMAAT readers have ideas.
Basics of Starlux's TPE to LAX flights
Starlux Airlines recently took delivery of Airbus A350s, which feature all new first & business class cabins. The airline will be using these planes for long haul service, with the first route being between Taipei (TPE) and Los Angeles (LAX). Starlux will launch these flights as of April 26, 2023, initially operating 5x weekly, before ramping up operations to daily as of June 4, 2023.
Starlux will be facing a lot of competition in this market, as Taiwan is an incredibly competitive aviation market. Both SkyTeam's China Airlines and Star Alliance's EVA Air also operate this route, with higher frequencies as well.
Starlux has interesting premium products on its A350s. These planes have a single row of first class, consisting of four seats in a 1-2-1 configuration. The seats look spacious, but not revolutionary. Oddly there's not a partition between first and business class, taking away from the exclusivity of the product.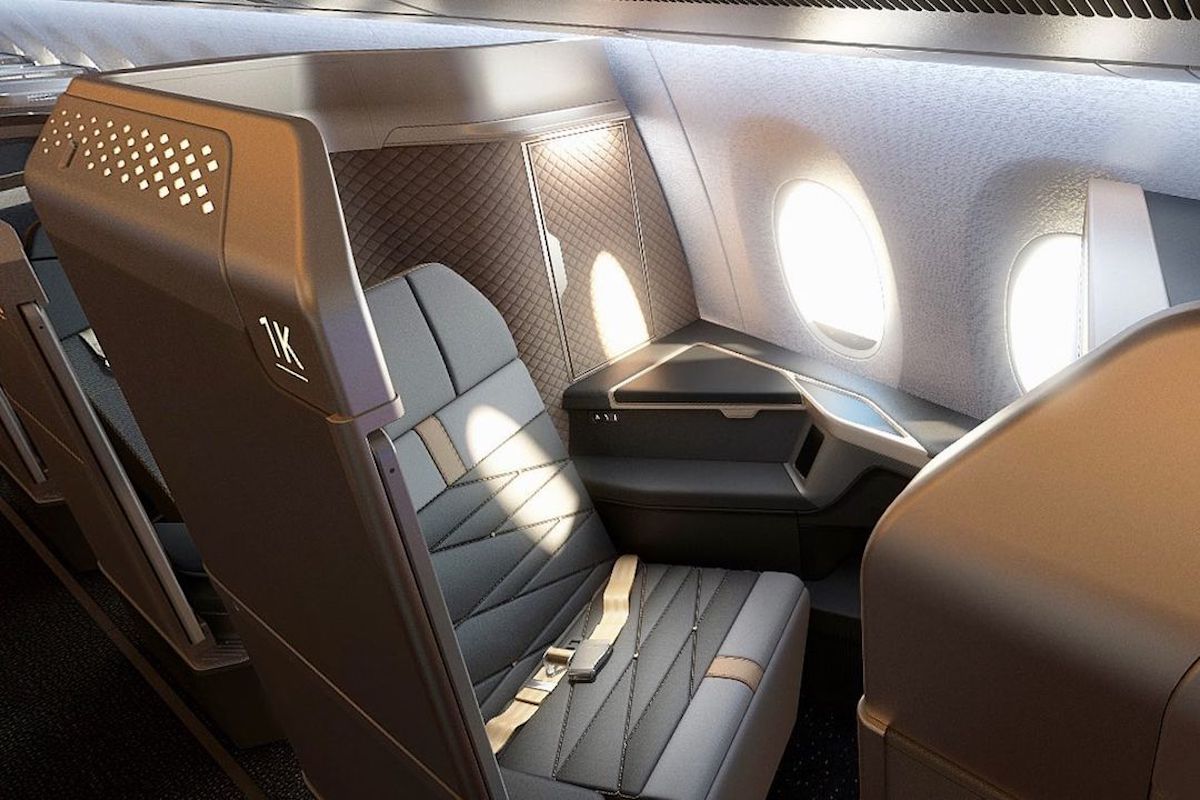 Meanwhile business class looks excellent, with 26 reverse herringbone seats that have doors, plus all kinds of amazing tech. When you add in Starlux Airlines' exceptional service, this should be a very nice premium experience.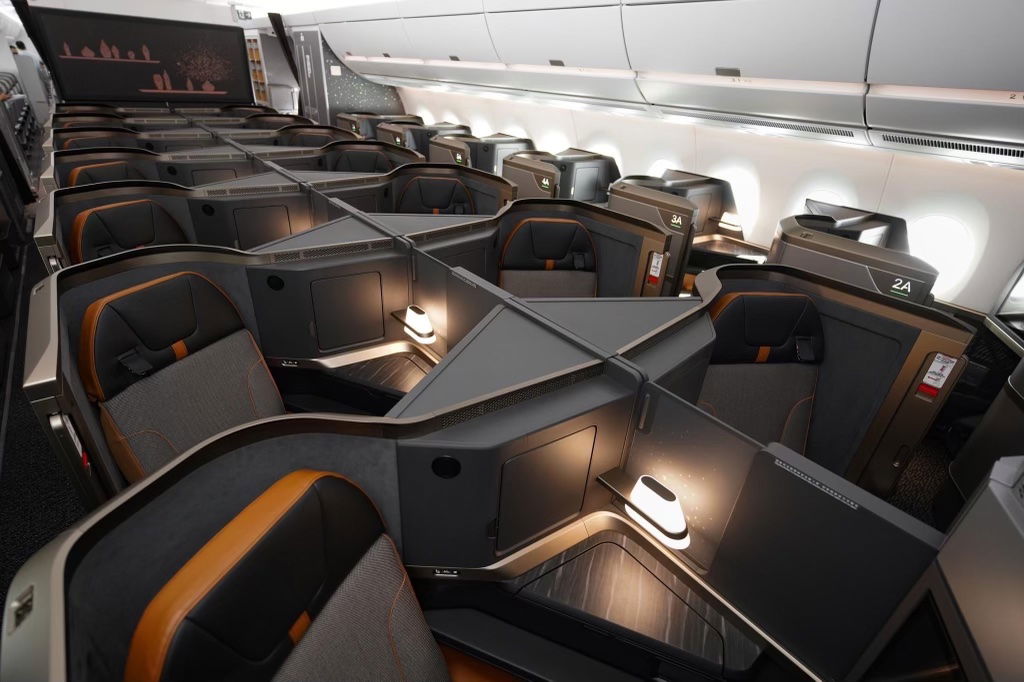 Where are Starlux's decent premium fares?
For savvy travelers, there's usually a way to get a deal on a flight by simply positioning yourself to a market that has lower fares. For example, if you were to travel between Los Angeles and Bangkok, the fare would generally be a lot cheaper if originating in Bangkok rather than originating in Los Angeles. That's just how airline pricing works.
Heck, differential pricing based on the market you're originating in is one of the important strategies airline revenue management use. Pricing is based on competition in a market, the willingness of people in a market to pay, etc.
I've had great luck positioning myself strategically to take advantage of great fares. Heck, several years back I flew the incredible Etihad A380 Residence for a fraction of the normal cost by originating in Cairo.
And that brings me to Starlux Airlines, where I'm seeing almost no opportunities when it comes to value. While there are some pricing differences based on where you originate, Starlux's LAX pricing ranges from high to very high.
As you'd expect, fares are highest if traveling just between Taipei and Los Angeles — a one-way business class ticket costs ~$3,200, while a one-way first class ticket costs ~$9,400.

Pricing is even higher in the other direction — a one-way business class ticket costs ~$5,180, while a one-way first class ticket costs ~$11,700.

Often tickets are significantly cheaper if originating in Bangkok, but not on Starlux Airlines. From Bangkok to Los Angeles, a one-way business class ticket will cost you ~$2,150, while a one-way first class ticket will cost you ~$9,760.

As normal, pricing is even higher in the other direction — a one-way business class ticket costs ~$3,930, while a one-way first class ticket costs ~$10,200.

I'm not finding a single transpacific fare on Starlux Airlines that I'd consider to be attractive. That applies regardless of whether traveling one-way or roundtrip, and regardless of where you originate. The business class pricing isn't that outrageous, it's the first class pricing that seems really steep, as I'm not even seeing any one-way first class fares under $5,000.
Am I missing something?
What about redeeming miles for Starlux Airlines?
I have top-tier elite status with Starlux Airlines thanks to a status match a while back, but go figure that actually earning miles with Starlux isn't easy. The program has very reasonable redemption rates. One-way across the Pacific, first class costs 120,000 miles, while business class costs 90,000 miles.

The issue is, living in the US, I can't figure out any reasonable ways to earn miles in the Starlux COSMILE frequent flyer program. It looks like the program doesn't even sell miles directly? I don't think there are any opportunities here that I'm missing, but please let me know if I am!
I guess our only hope may be that Air Canada Aeroplan tries to launch a partnership with Starlux. That's probably unlikely given EVA Air's Star Alliance membership, but Aeroplan has more airline partners than any other program, so who knows…
What is Starlux Airlines' pricing strategy?
I have to say that I don't really get Starlux Airlines' pricing strategy. The airline is a new entrant to a market, doesn't have much name recognition in the United States, and continues to have a fairly limited network compared to China Airlines and EVA Air.
I wondered if I might be missing something. Admittedly Starlux has generated quite a bit of buzz in Taiwan, so I wondered if maybe there was a lot of demand for this service ex-Asia?
I did some digging, looking at the fare buckets for the service between Taipei and Los Angeles for the month of May (the first full month of service).
Since there are only four first class seats, it's easy to figure out how many seats have been sold (since inventory will show as "F4" if four seats are for sale, "F3" if three seats are for sale, etc.). Of the 21 flights operating between Taipei and Los Angeles in the month of May:
A total of three of the 84 first class seats have been sold from Taipei to Los Angeles
A total of four of the 84 first class seats have been sold from Los Angeles to Taipei
So of 168 first class seats available for sale, seven have been sold, meaning first class currently has a load factor of ~4%.
What about in business class? Well, since there are 26 seats in the cabin, you can't as easily tell just how full the cabins are. What I can say is that inventory can only be as high as "J9C9" (meaning there are at least nine seats in the "J" and "C" fare buckets), and on every single flight all of those are available.
My point is simply to say that all signs point toward Starlux not selling all that many premium tickets on these flights yet, and I can't say I'm surprised given the pricing.
Bottom line
Starlux Airlines will shortly launch transpacific flights, with a new service between Taipei and Los Angeles. I absolutely love this airline, and desperately want to fly this route. In almost all cases I'm able to find a decent deal by routing creatively or starting in a cheaper market.
However, Starlux seems to have consistently high fares on these routes. In particular, I find the first class pricing to be ridiculously steep, given that it's not even a separate cabin. It seems I'm not alone in thinking the pricing is aggressive, given how few people seem to be buying this product.
What do you make of Starlux Airlines' transpacific pricing? Are there any opportunities to get a deal that I'm missing?