A couple of days ago I wrote about how I was struggling to control my excitement over a gift that was on the way, and felt like a kid on Christmas Eve. Well, the gift that I was so excited about has finally arrived, so as promised I wanted to share some pictures, along with my impressions.
Starlux Airlines is my favorite airline in the world
First a bit of background might be valuable. I think Starlux Airlines is my favorite airline in the world. That's despite the fact that I've only flown with Starlux once.
Why am I so excited about Starlux? This Taiwanese airline is in a league of its own among startups. While most new airlines are low cost carriers, Starlux bills itself as a "detail oriented luxury airline," with the slogan "born with luxury, shining like stars."
I had the privilege of flying with Starlux Airlines in early 2020 from Taipei to Penang, and the experience was incredible.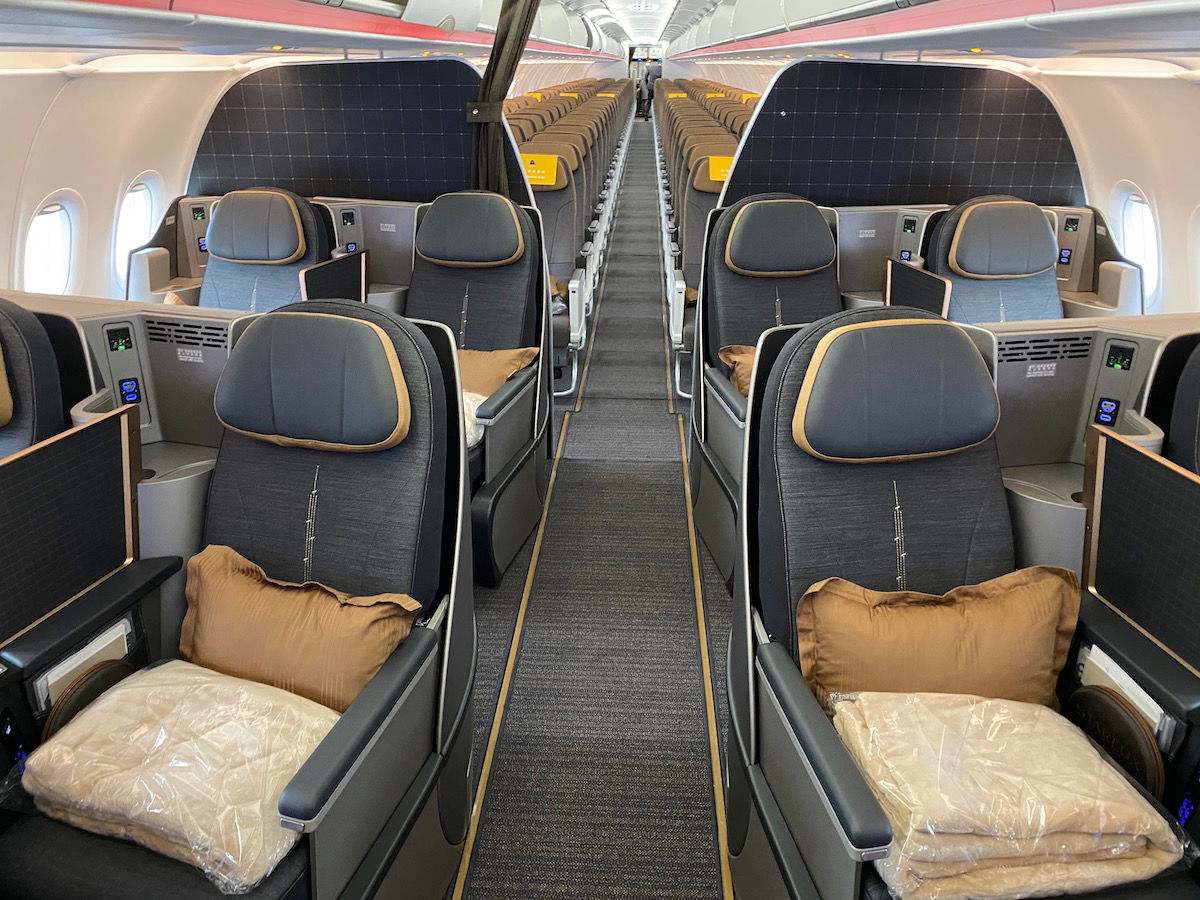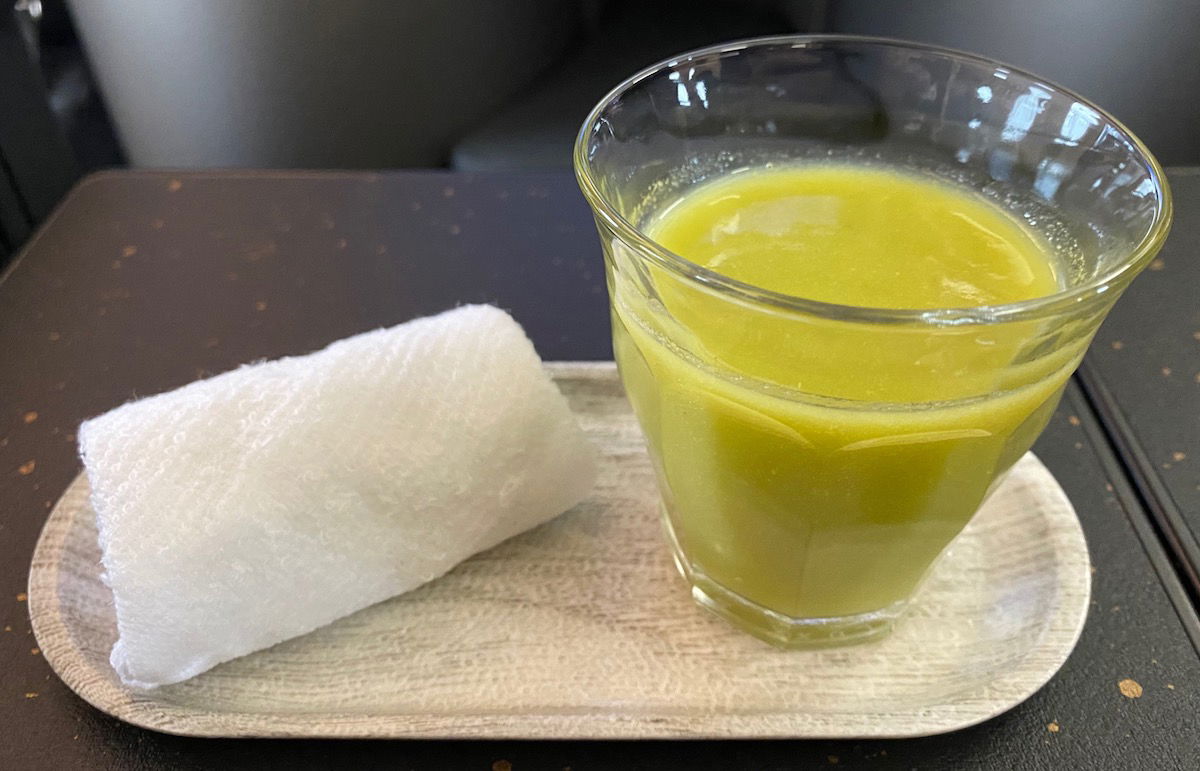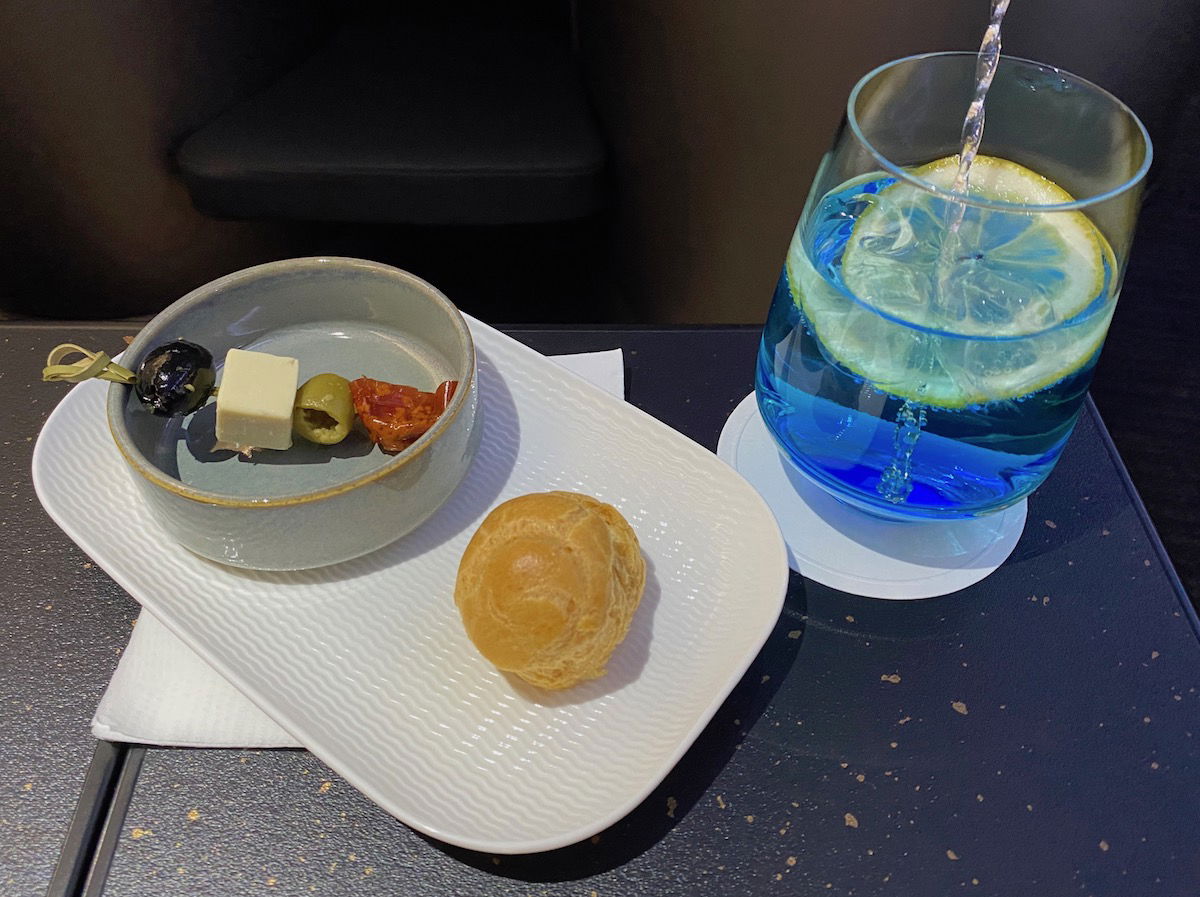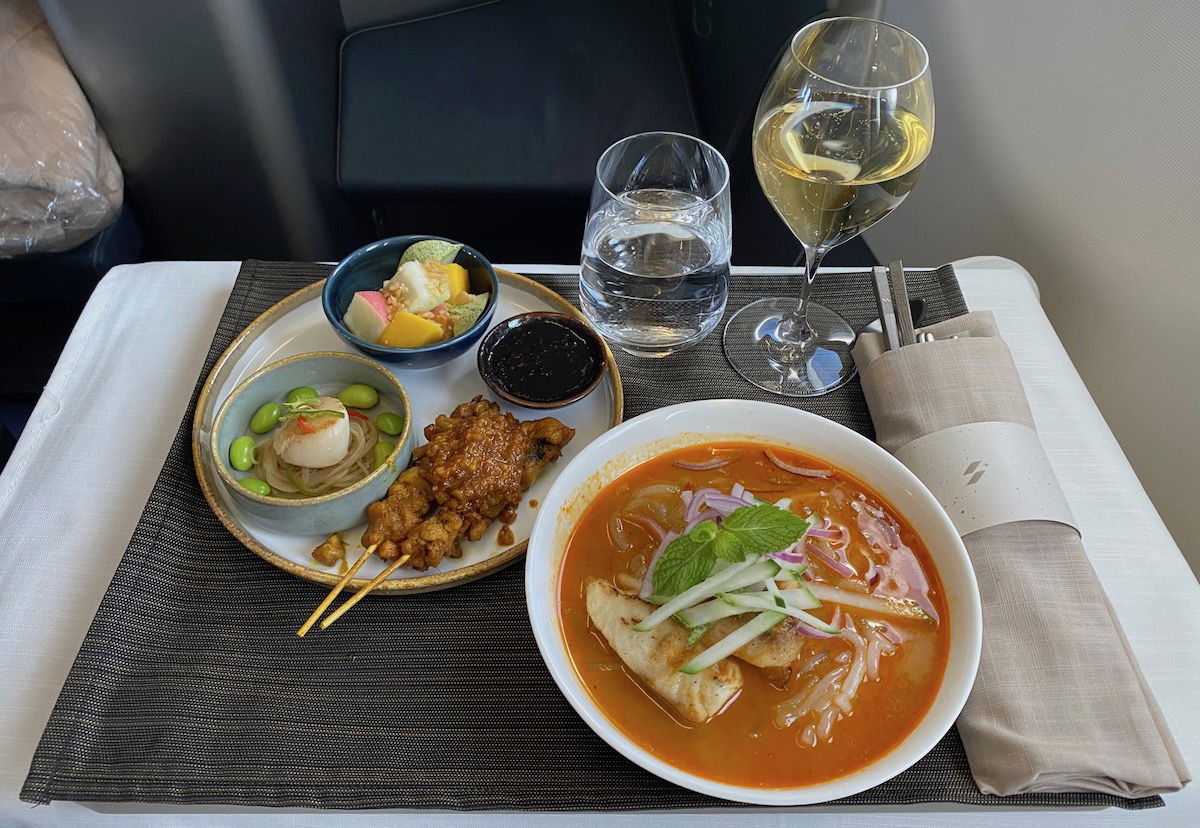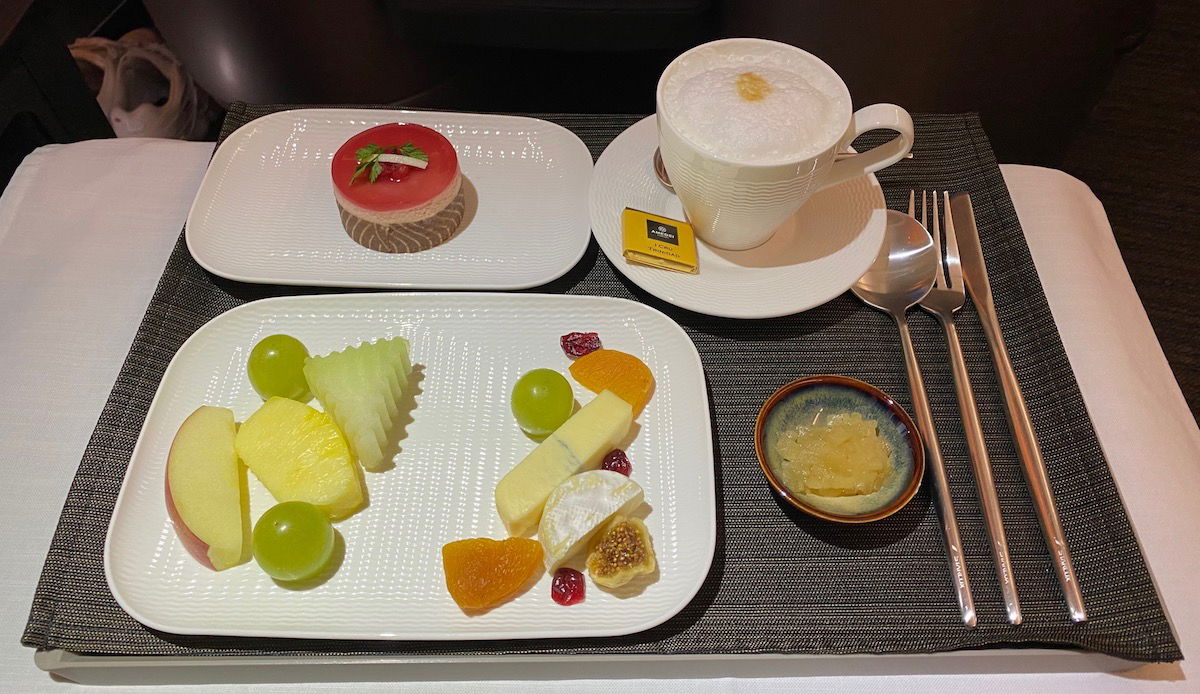 I can't wait until the airline takes delivery of A350s, and starts flying to the US. I know there's a lot of bad stuff going on in the world right now, but as someone who loves aviation and the passenger experience, thinking about Starlux Airlines just makes me smile, and is such a welcome distraction.
When Starlux Airlines launched, it also offered status matches. While I'm not usually a big status matcher, I couldn't help myself, given how much I love this airline. I'm a top tier Insighter member in the COSMILE frequent flyer program, and the status is even valid for the next few years.
Starlux Airlines' gift for COSMILE Insighters
On Monday morning I received an email from DHL saying there was a shipment headed my way from Starlux Airlines. That caught me off guard, since I wasn't expecting anything.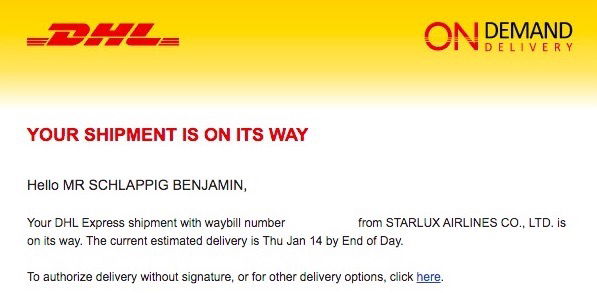 I wondered what they could be sending me, and a morning later that question was answered, as I received a separate email from Starlux Airlines, with the subject line "An Exclusive Gift for INSIGHTER."
In it, Starlux Airlines revealed the two gifts that Insighter members are receiving (by the way, based on other data points it appears that only Insighter members who have actually flown with Starlux are getting this gift). The email went on to state the following:
Thank you for becoming Insighter of COSMILE and waiting patiently.

STARLUX has prepared an exclusive handmade gift box containing a physical member card and a leather luggage tag engraved with your name.

The gift box has been delivered to your registered address and the tracking number is: XXXXXXX. Estimated delivery time is 5 to 10 working days with possible delay due to the regulation of your local governments. Thank you for your patience. You may track your package at DHL Express Tracking.

The name shown on member card and luggage tag is your registered name in COSMILE. We have checked the quality and member information thoroughly before delivery. If there is any problem, please contact STARLUX Customer Service Center within 10 days of receipt. Thank you.

May the handmade gift brighten your journey with warmth.
What's the gift? There's a commemorative membership card, along with a luggage tag.
Unboxing my Starlux Airlines gift
As expected, my gift from Starlux Airlines arrived today. It came packaged in a cool box with all kinds of Starlux branding.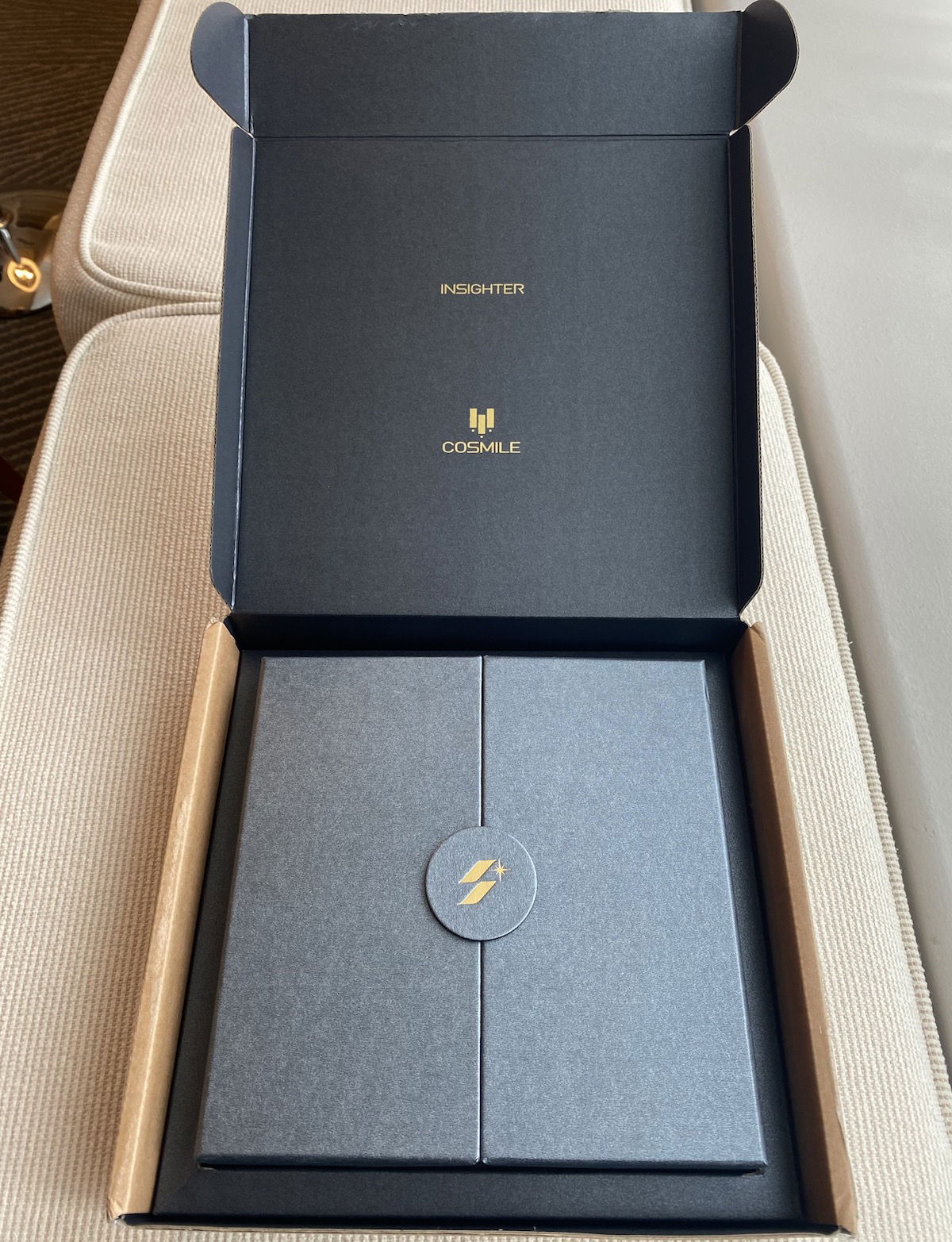 When I first opened the box, there was the commemorative membership card. Here's how that's described:
For commemorative purposes only. When accessing airport VIP lounge or any card tier benefits, your current card tier should be applied. Please present your e-membership card or the member ID.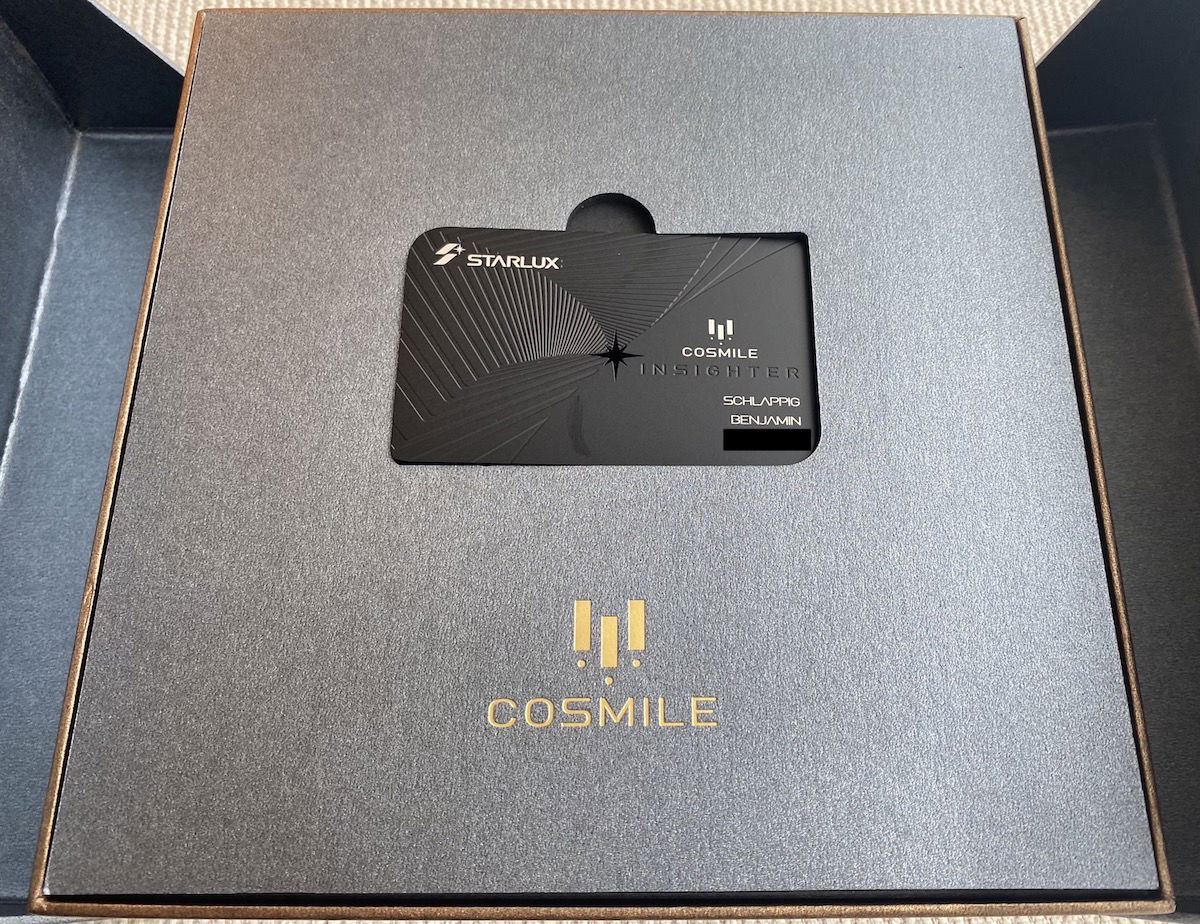 I love the fact that Starlux didn't actually send a normal membership card, which is kind of an outdated concept when it should be electronic. Rather the airline sent a commemorative membership card.
My gosh, this is the coolest card airline elite card ever. For that matter, it's cooler than any other credit card I've ever seen. Not only is this the heaviest card I've ever received, but I also loved the design, with a star in the middle, and a really cool ribbed pattern on top of it.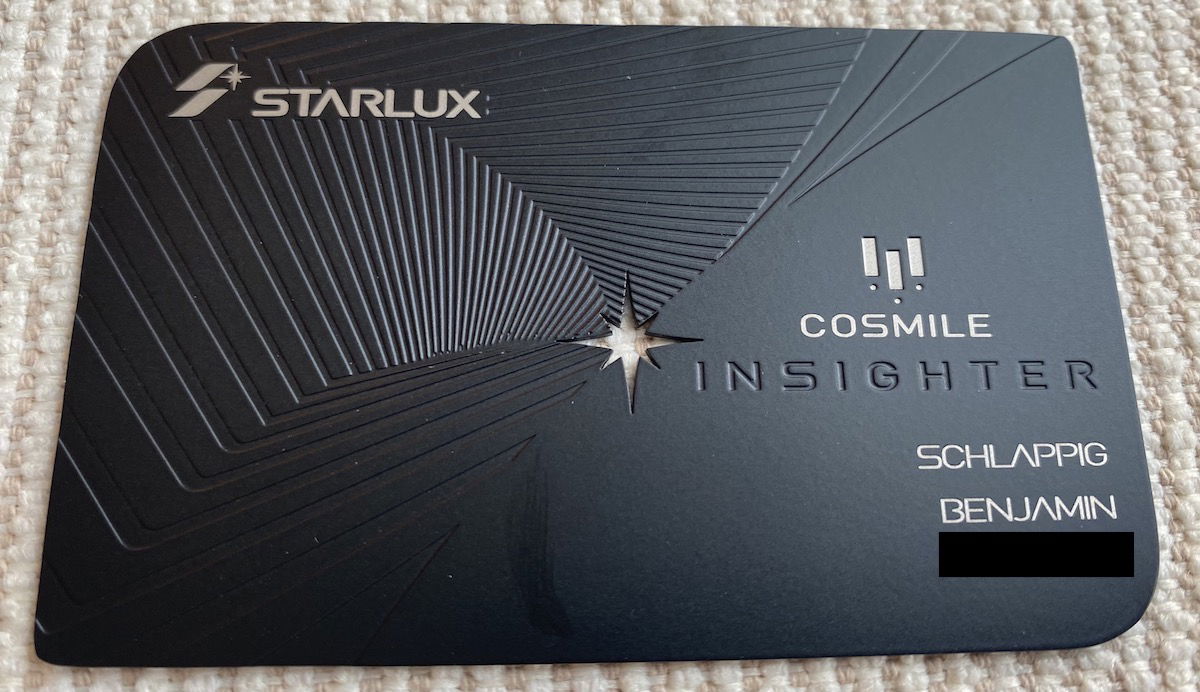 Underneath the card it said "Let the journey begin," and then when I lifted that I found the luggage tag.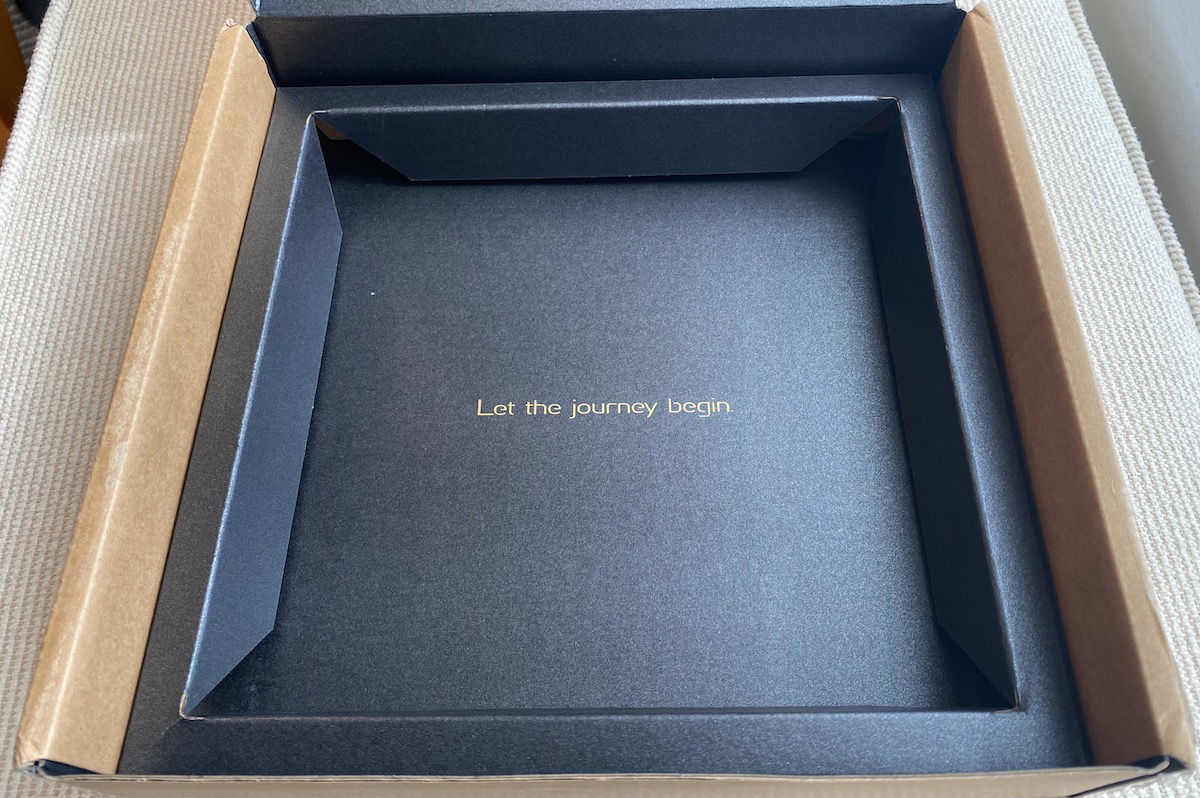 Here's how the luggage tag is described:
Made of vegetable-tanned leather, presenting its natural skin and texture. The usage and maintenance of the leather creates its own uniqueness. For any improper usage causing it damaged or mold, return or exchange will not be accepted.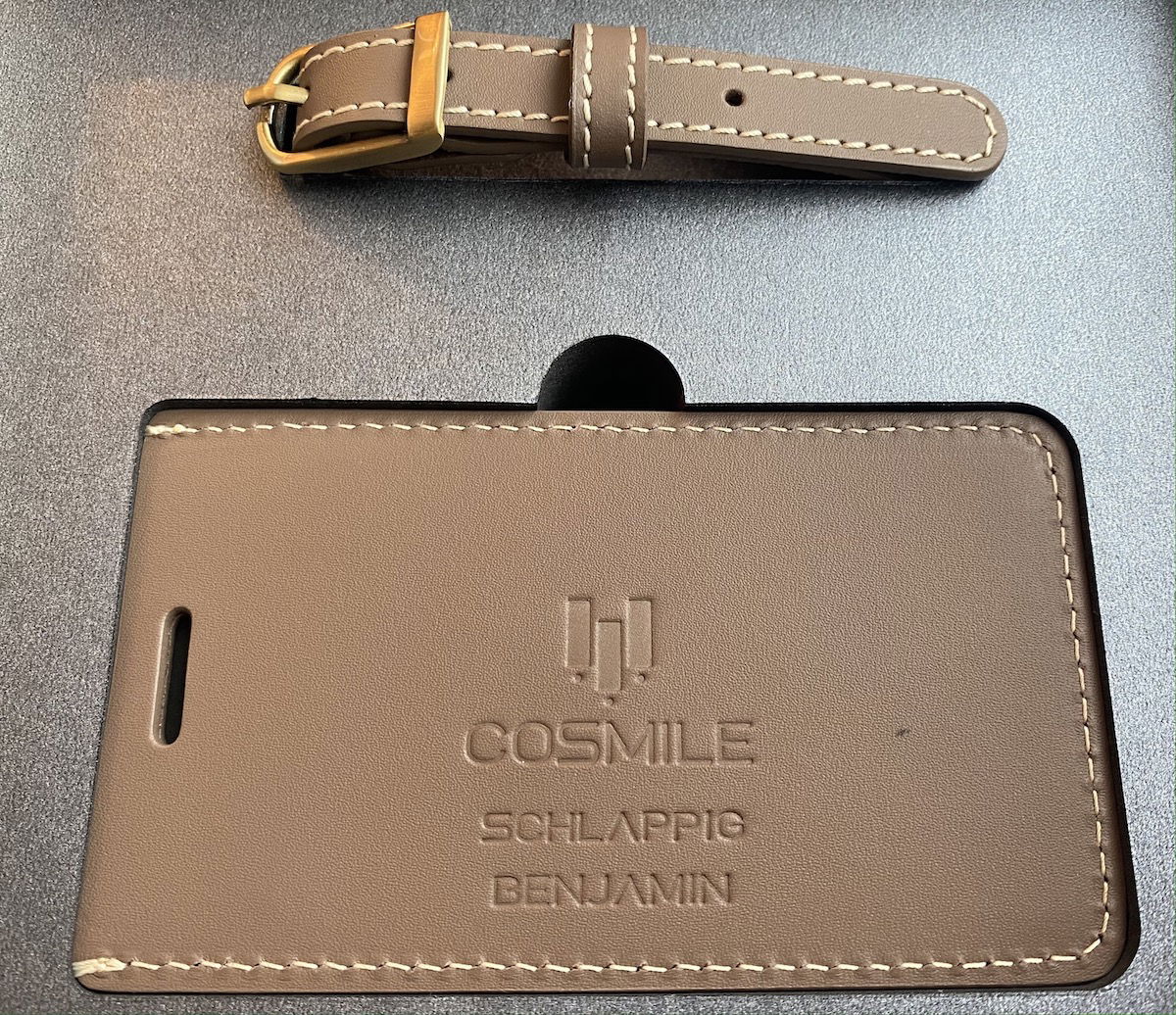 And here are the two items together: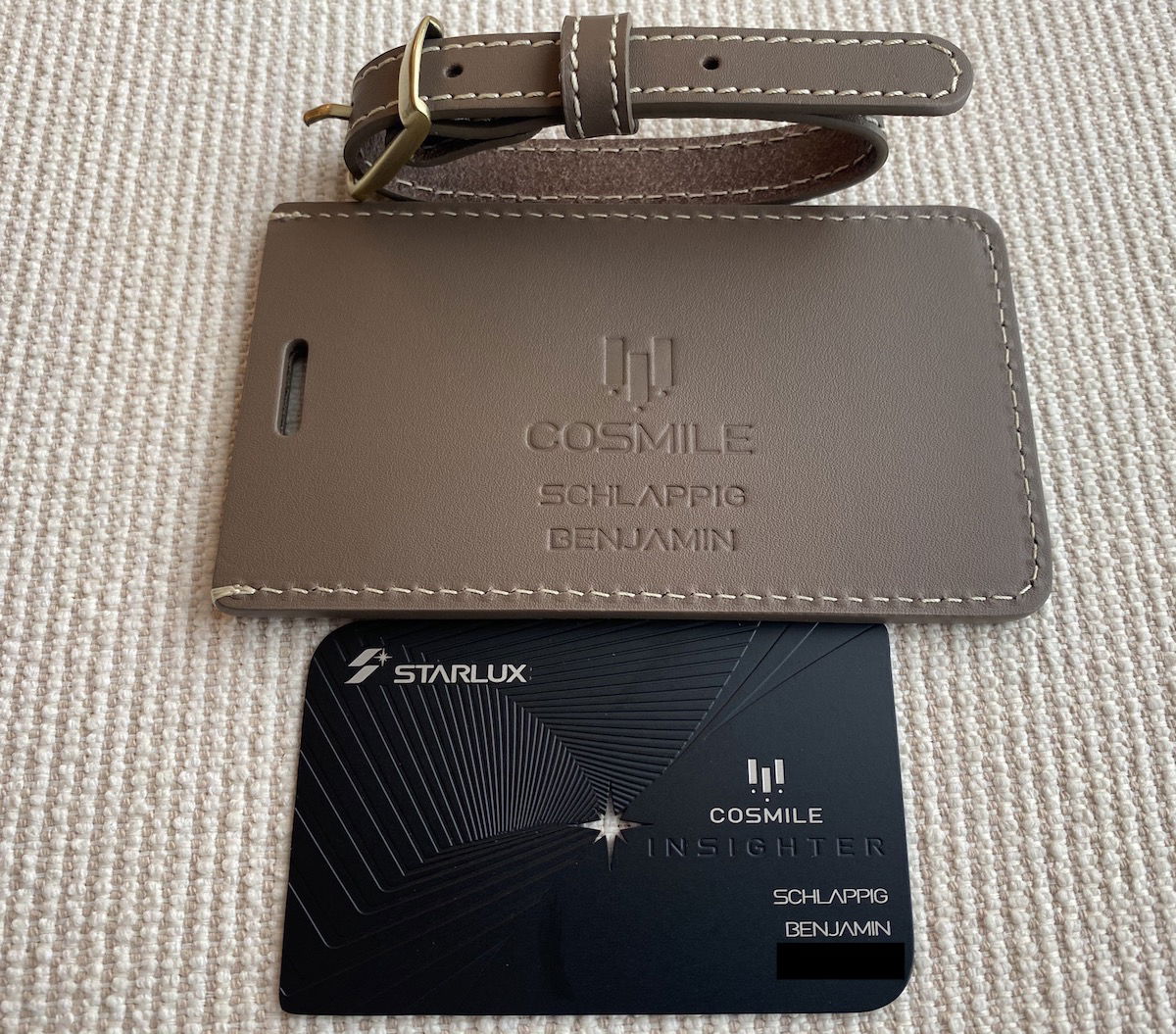 Yes, I'm genuinely this giddy & excited
When I first wrote about my excitement a couple of days ago, some people were wondering if I was being sarcastic. Nope, I was being completely serious.
I totally understand not everyone can relate to my excitement. Heck, that's kind of the story my household. When I showed the kit to Ford, he looked at me weird and said "I'm so happy for you… I guess?" When I showed the kit to Winston, he was angry I woke him up, and showed no enthusiasm.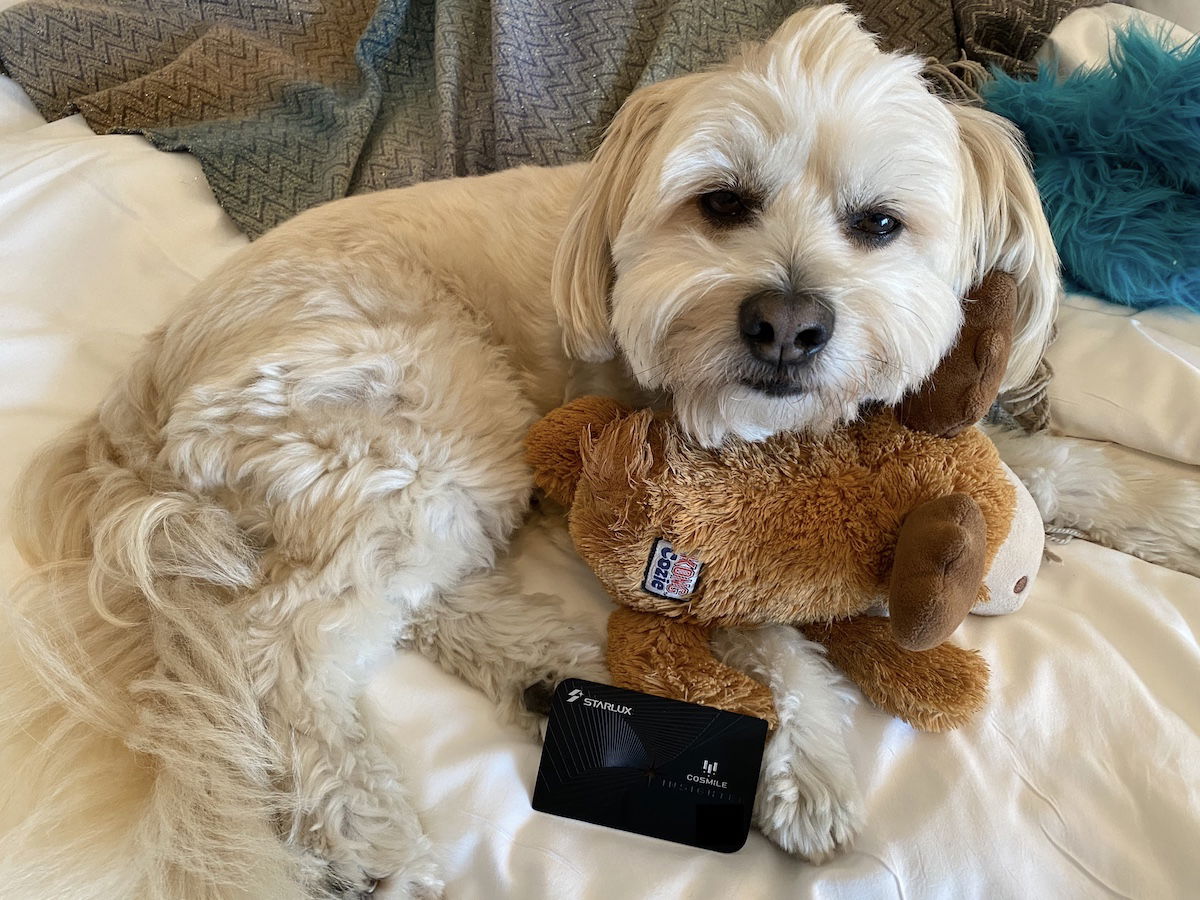 I'm a huge avgeek, and while all flying makes me happy, there are certain aviation related things that get me disproportionately excited. Your Super Bowl is my TAAG Angola or Pakistan International Airlines flight.
Starlux is to me genuinely such an incredible brand, from the CEO being an avgeek who is rated to fly the carrier's planes, to the attention to detail and pride that goes into every aspect of the experience.
Some readers commented "well X airline also sent me a membership card, what are you so excited about?" See, you're missing the point — Starlux didn't send a membership card. The airline sent a commemorative membership card that you're not actually supposed to use for anything, because it believes membership cards should ordinarily be electronic. Is that the most avgeeky gift ever, or what?
I don't actually plan on using my Starlux Airlines commemorative membership card or luggage tag. Rather I plan on putting them somewhere that reflects the sentimental value to me. Now I just need to wait for Starlux Airlines to come out with super-huge model airplane. I'm sure Ford will be delighted when I turn our living room into a Starlux Airlines shrine.
Bottom line
Starlux Airlines is sending COSMILE Insighter members who have flown with the airline a commemorative membership card and luggage tag. I only have top tier status through a status match, which I'm guessing is how most people have the status, given how few flights the airline has operated due to the pandemic.
I can't wait until Starlux Airlines launches long haul flights. I think Starlux Airlines might just be an airline I'd mileage run on to maintain status, just because of how much I love the brand. I usually hate material possessions and gifts, but I'll make a major exception for Starlux.
Can anyone else appreciate my Starlux Airlines excitement?!