---
Etihad 454
Abu Dhabi (AUH) – Sydney (SYD)
Saturday, May 13
Depart: 9:50PM
Arrive: 5:55PM (+1 day)
Duration: 14hr5min
Aircraft: Airbus A380
Seat: 1A (The Residence)
As I explained at the end of the last installment, Johan, "my" butler, escorted me down the jet bridge and onto the plane, where I was greeted by the cabin manager and first class crew. I can't even begin to describe how excited I was at this point.
As we walked through the first class cabin I had flashbacks to having sat in every single one of those nine seats over the years. I've flown Etihad's A380 first class many times before, including between Abu Dhabi and London, Abu Dhabi and New York, and Abu Dhabi and Sydney.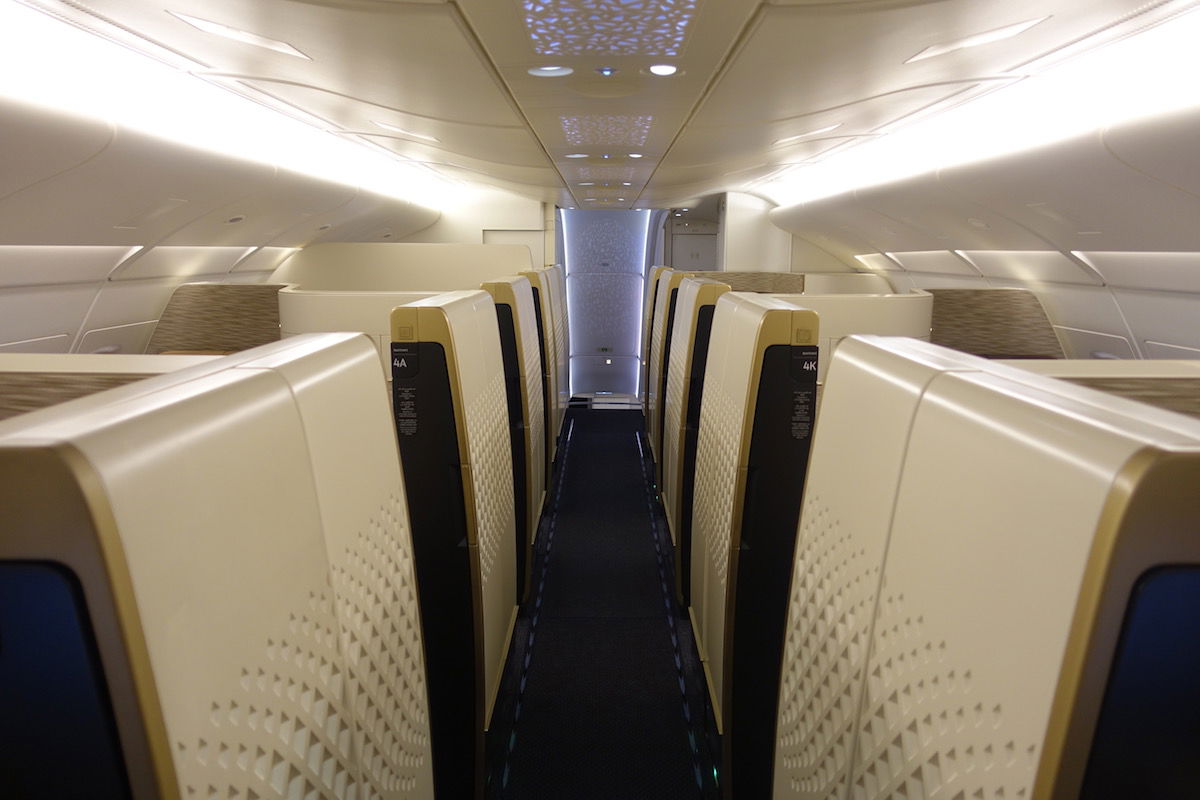 Etihad A380 first class cabin
However, today's experience would be a bit different, as I'd be flying in the Residence. While the doors to all the other suites typically remain open, you'll notice that the doors to the Residence are (almost) always closed. So as we approached, Johan opened the doors for me, and said "welcome to the Residence." *deep breath*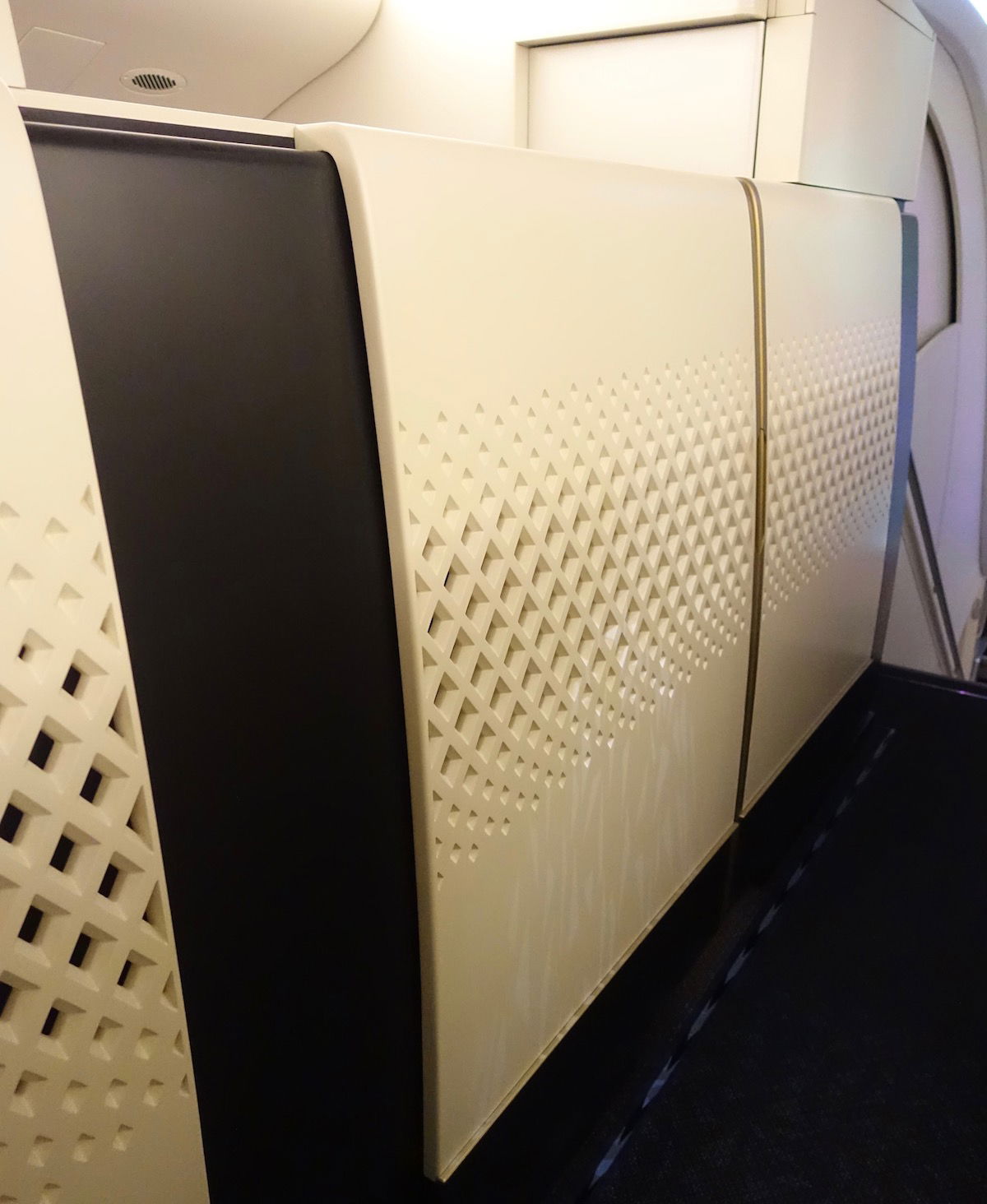 Door to the Etihad Residence
The Residence is a three room private suite, and when you enter you'll first find yourself in the living room. The Residence can accommodate up to two people, so there's a gorgeous couch that easily seats two.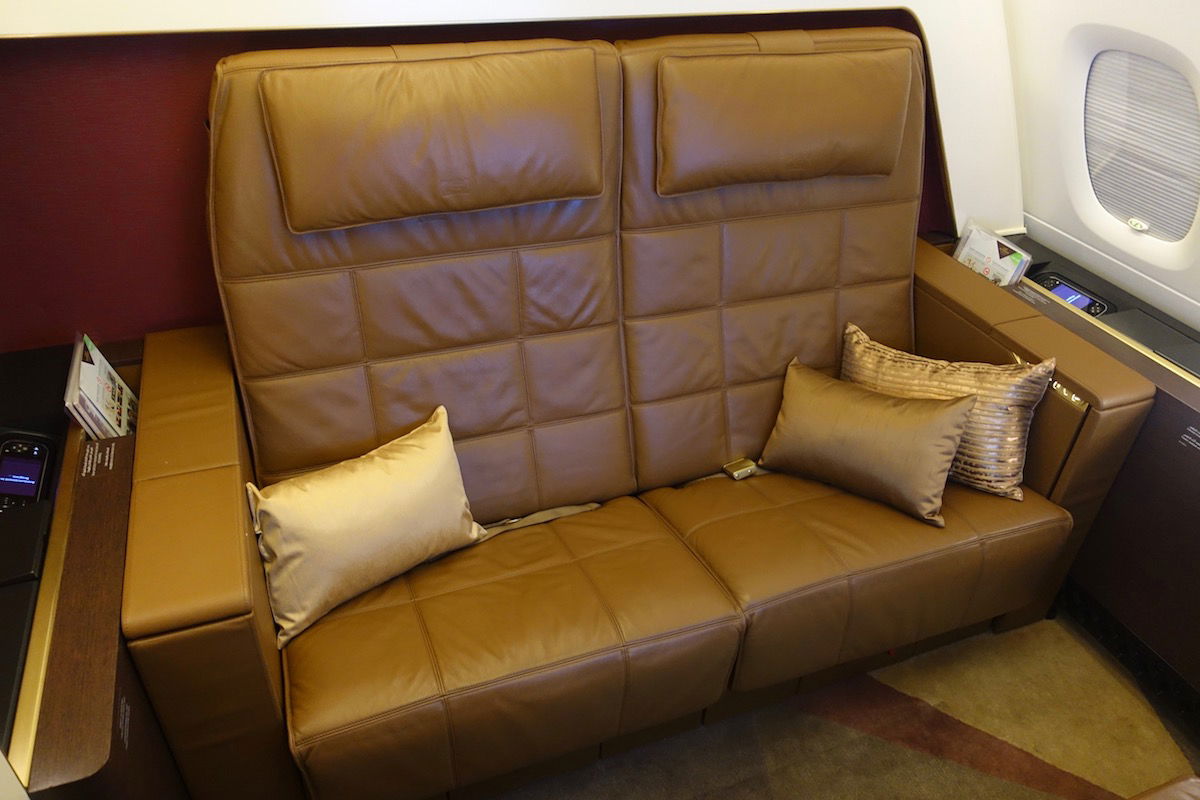 Etihad Residence living room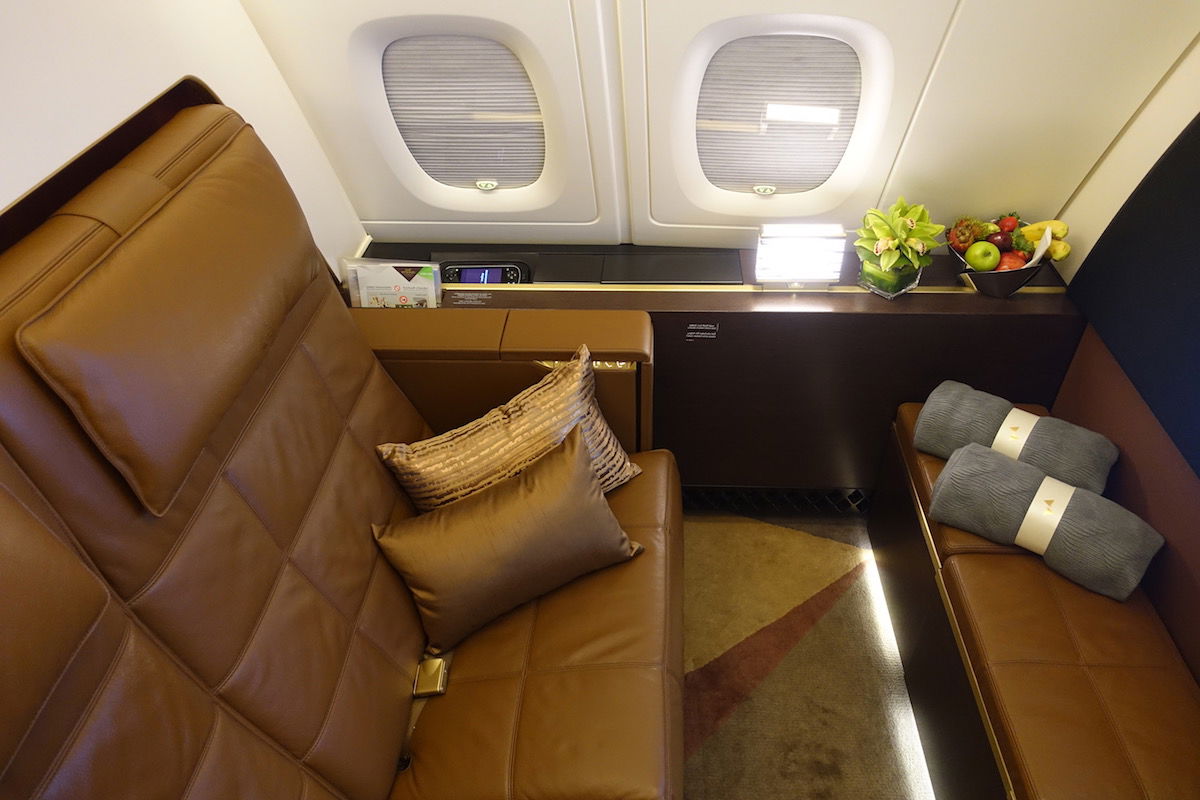 Etihad Residence living room
Across from the couch is a large ottoman, as well as a massive TV.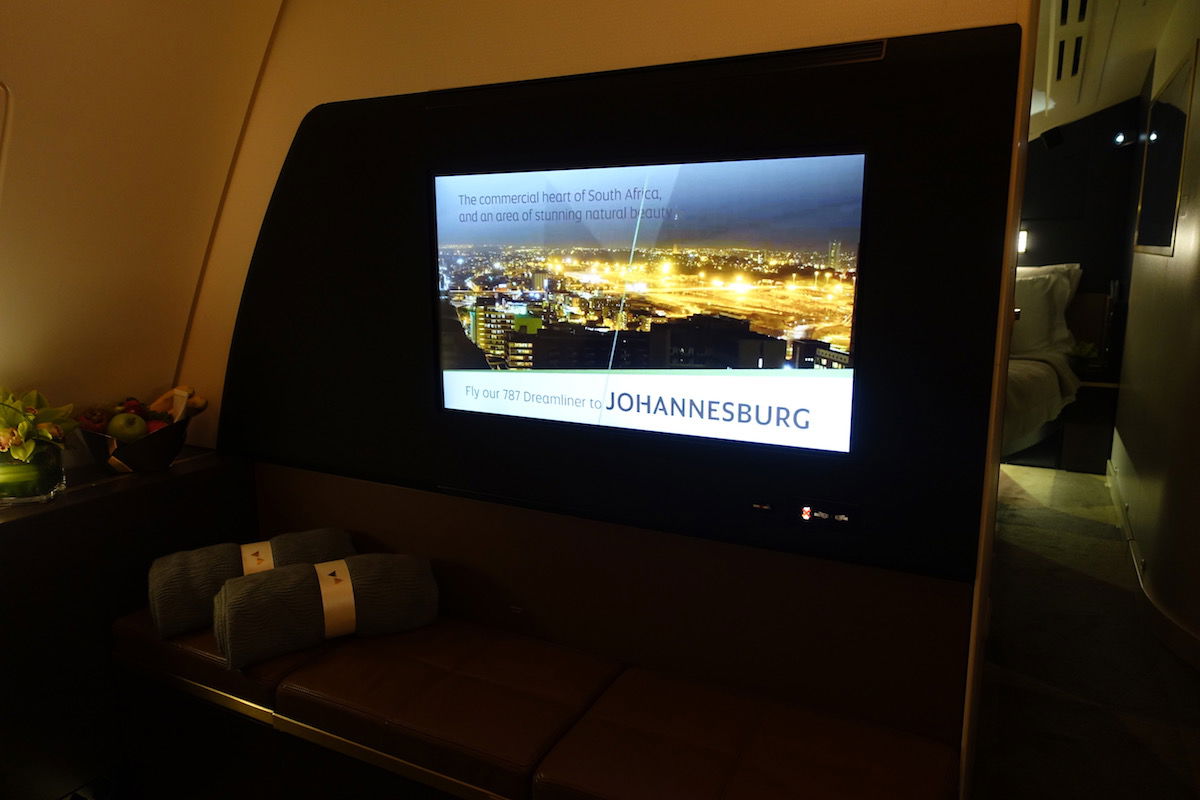 Etihad Residence living room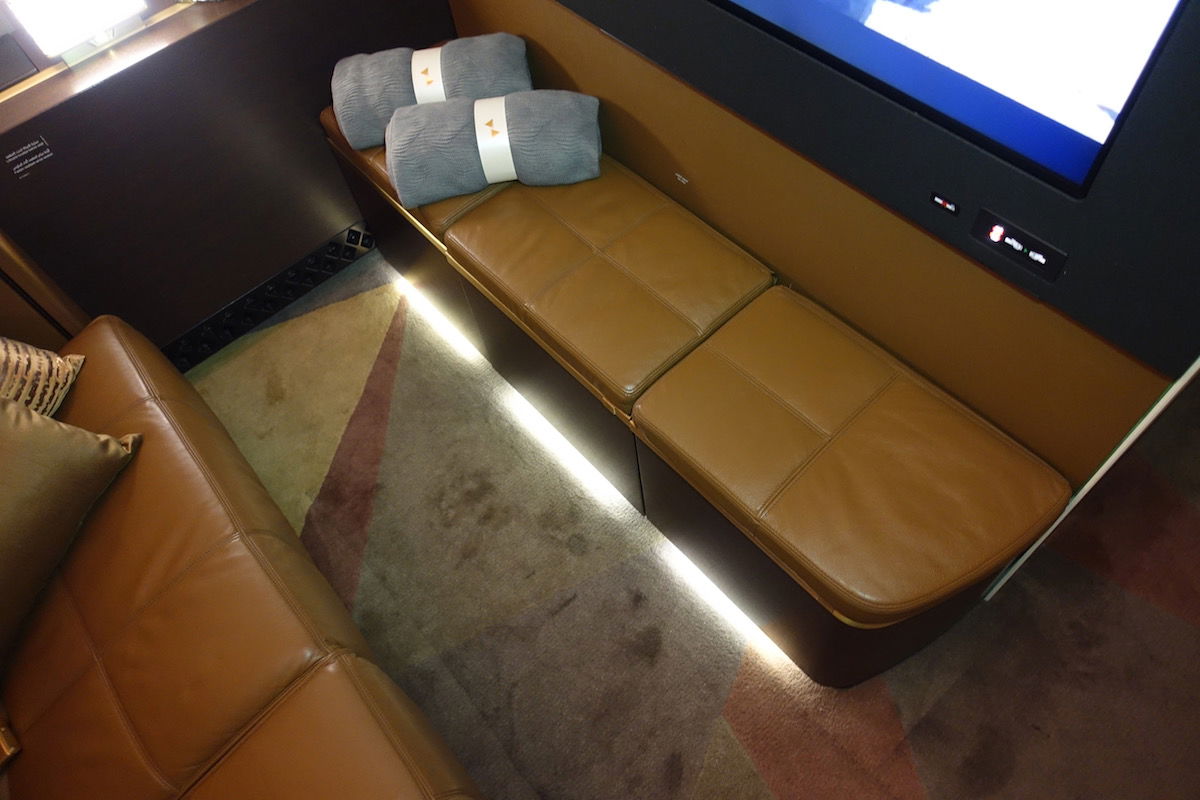 Etihad Residence living room
Then there's a hallway leading to the bedroom, which is probably the coolest part of the Residence. After all, who gets a private bedroom on a plane?!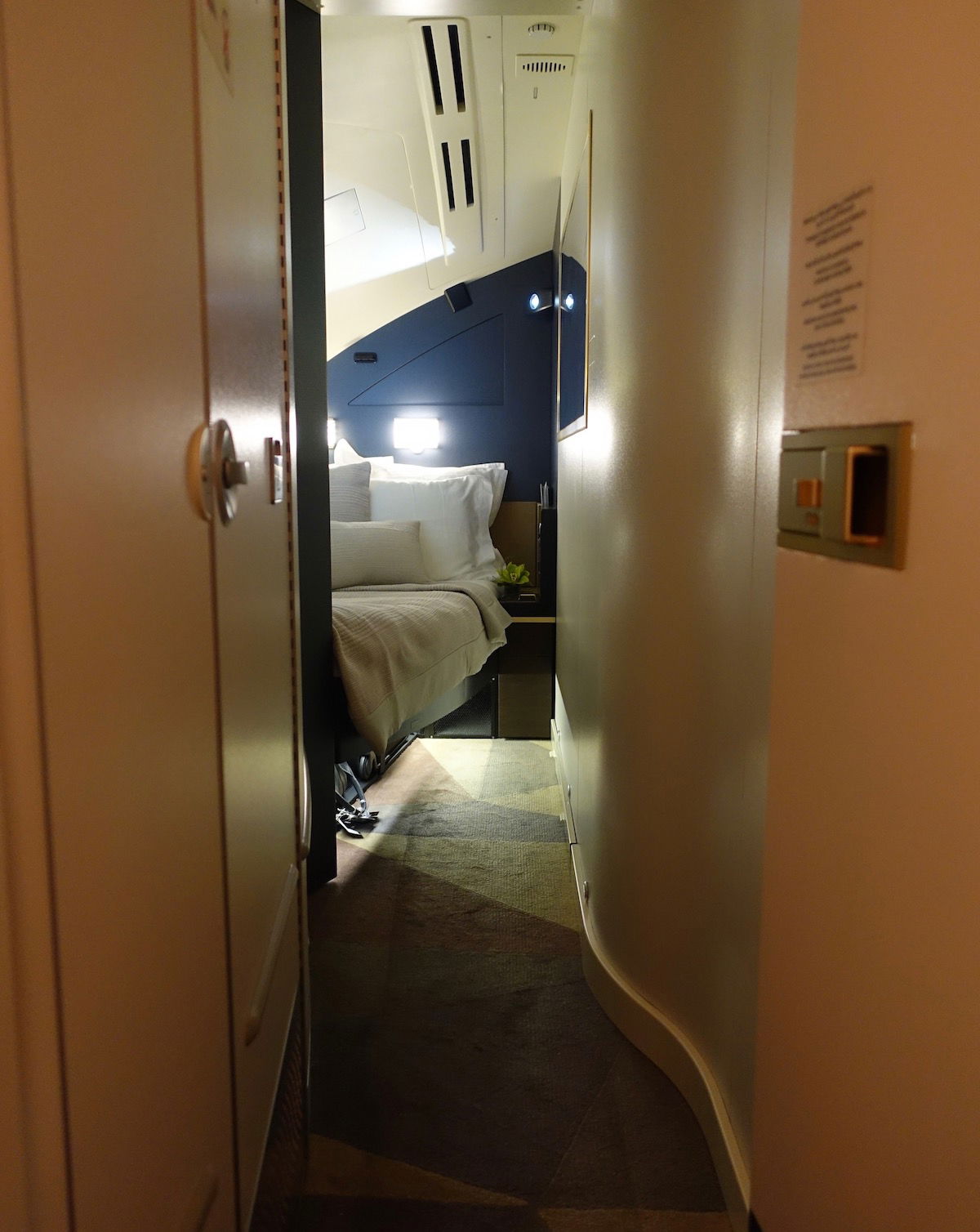 Hall leading to the Etihad Residence bedroom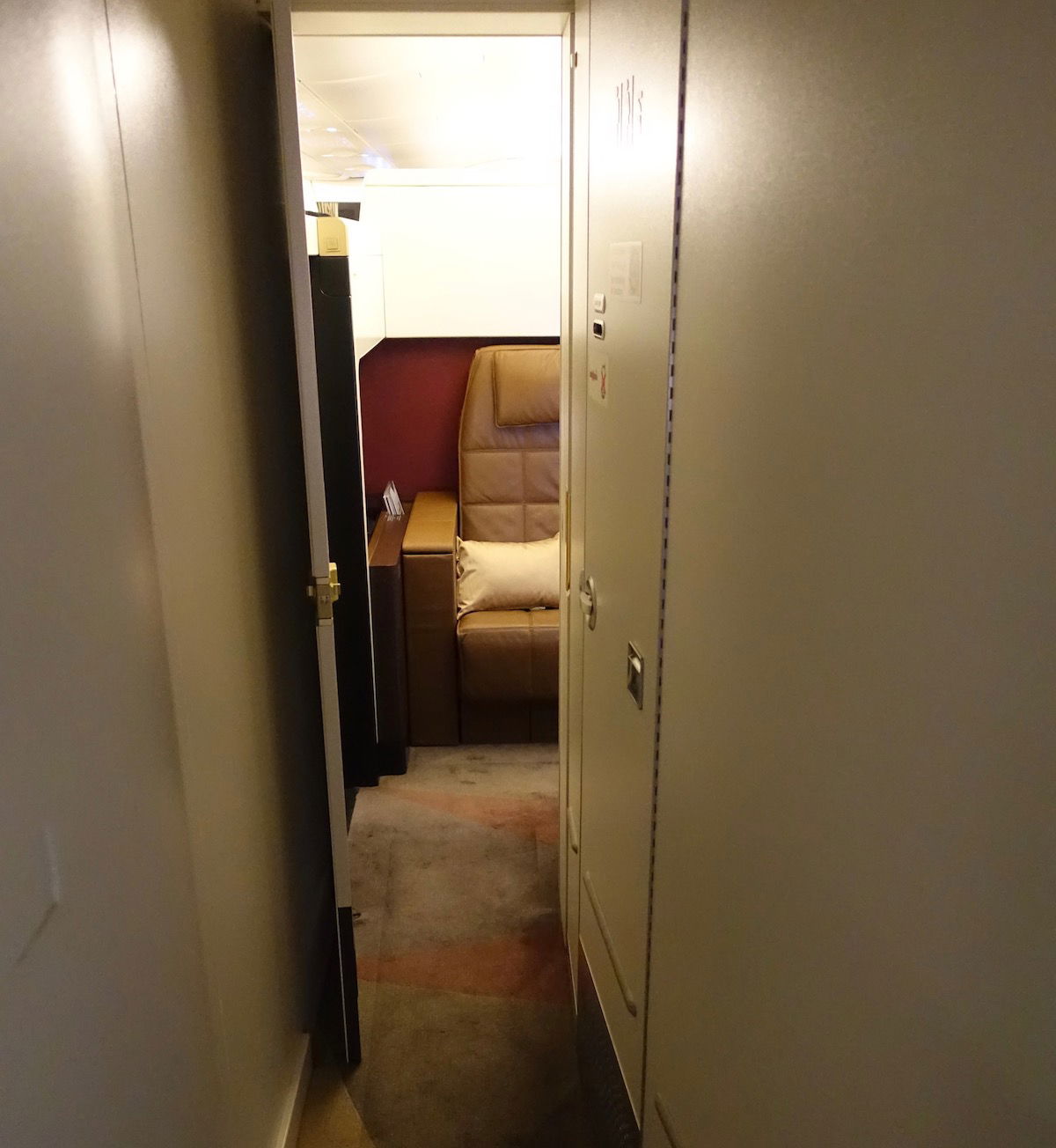 Hall leading to the Etihad Residence living room
I had been inside the Residence before, but this time around it felt very different. In the past I sort of had a "meh" reaction, but when I realized that I'd actually get to sleep in this space, I was grinning from ear to ear.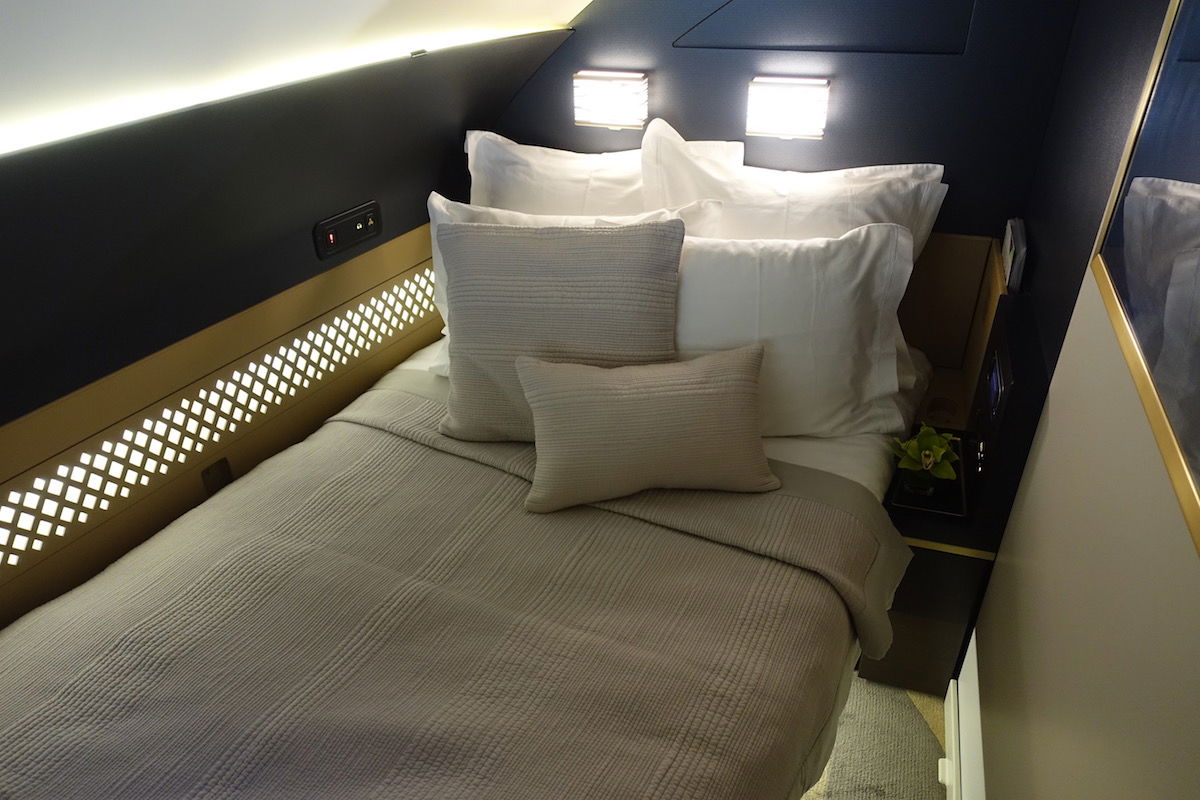 Etihad Residence bedroom
The bedroom also has a large TV screen.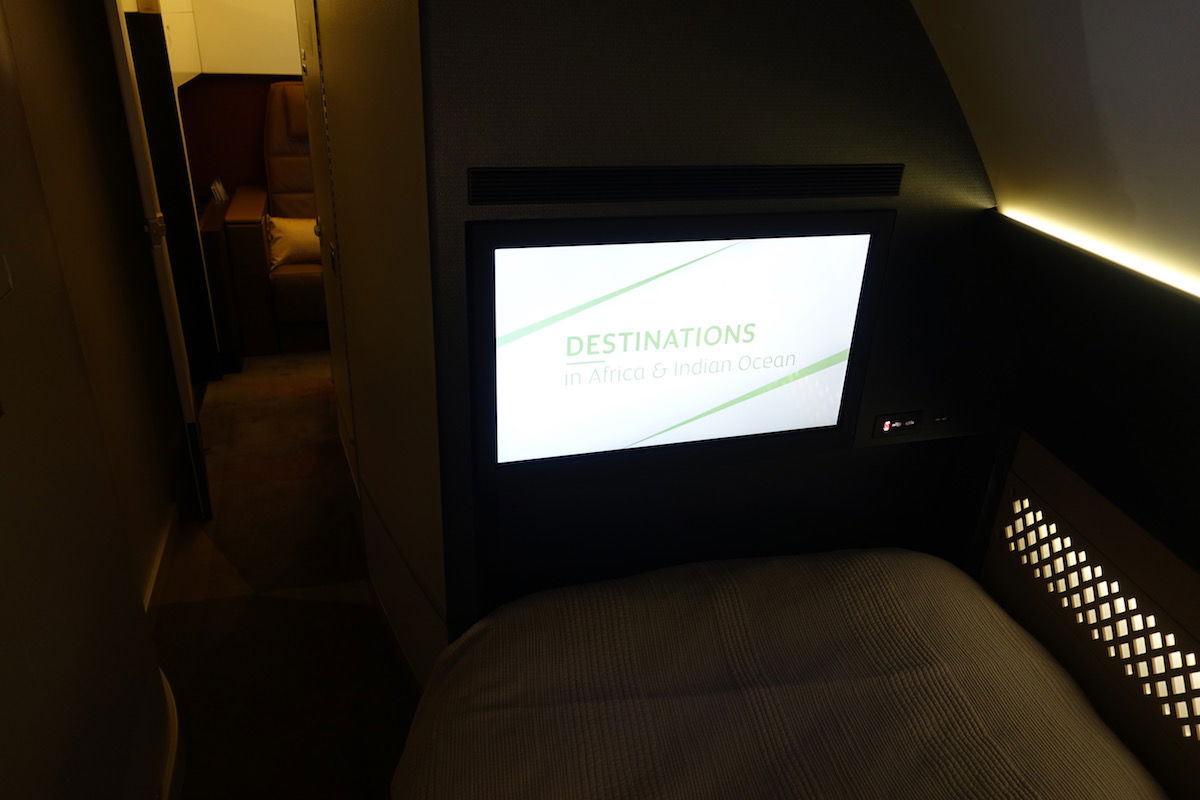 Etihad Residence bedroom
Between the living room and bedroom is a private bathroom with shower. This is very similar to the bathroom that other first class passengers have access to, except this one is private.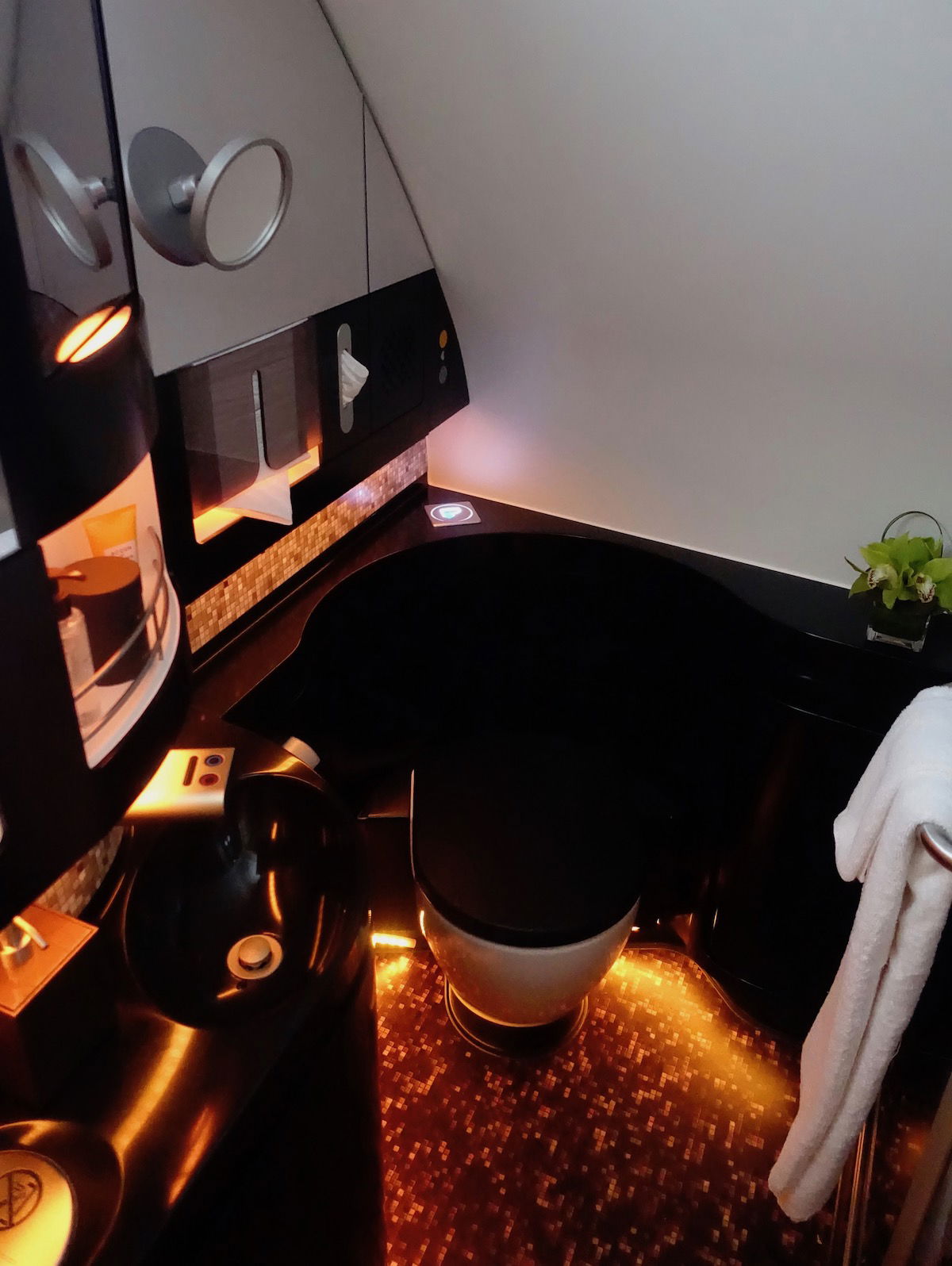 Etihad Residence private bathroom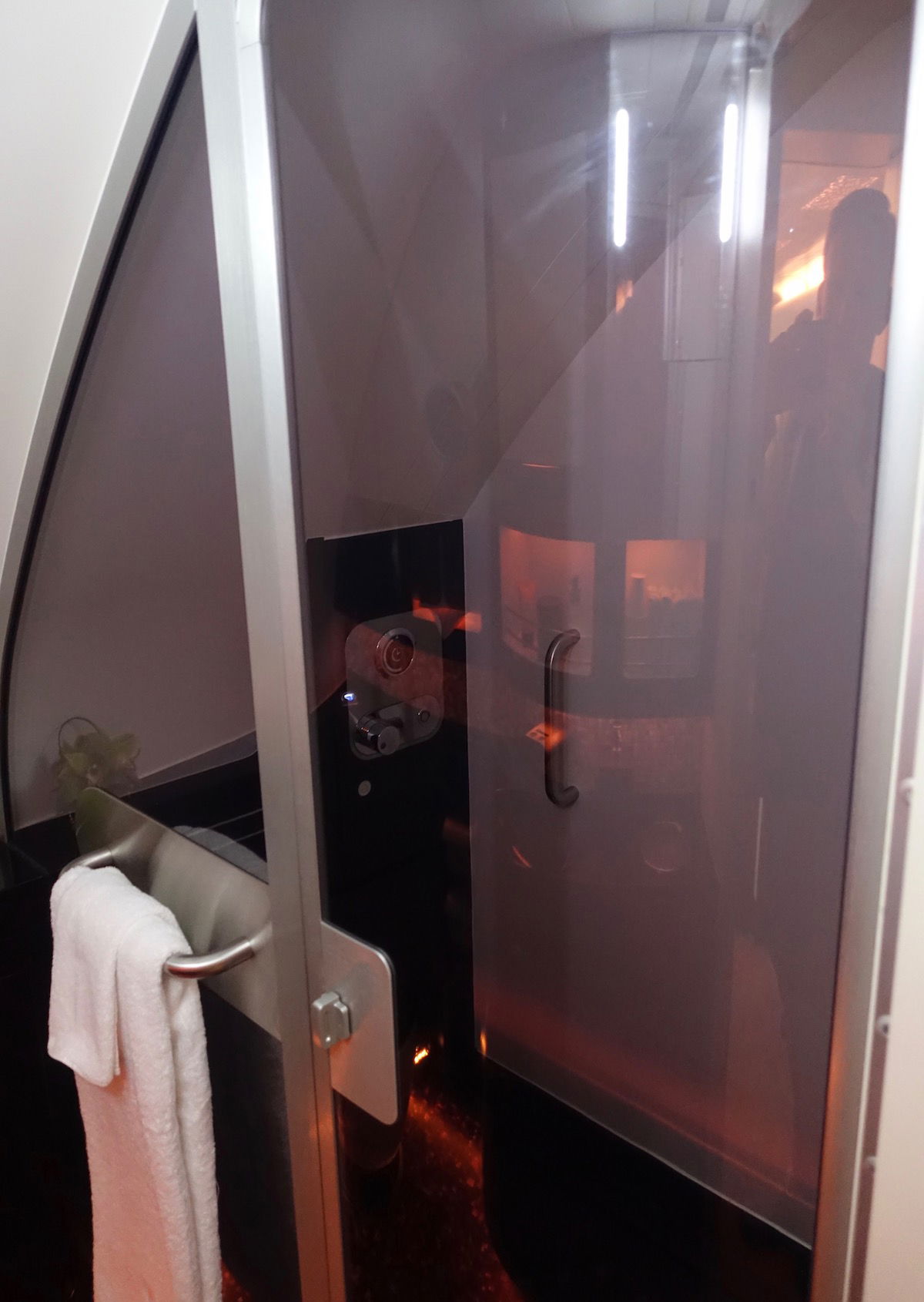 Etihad Residence private shower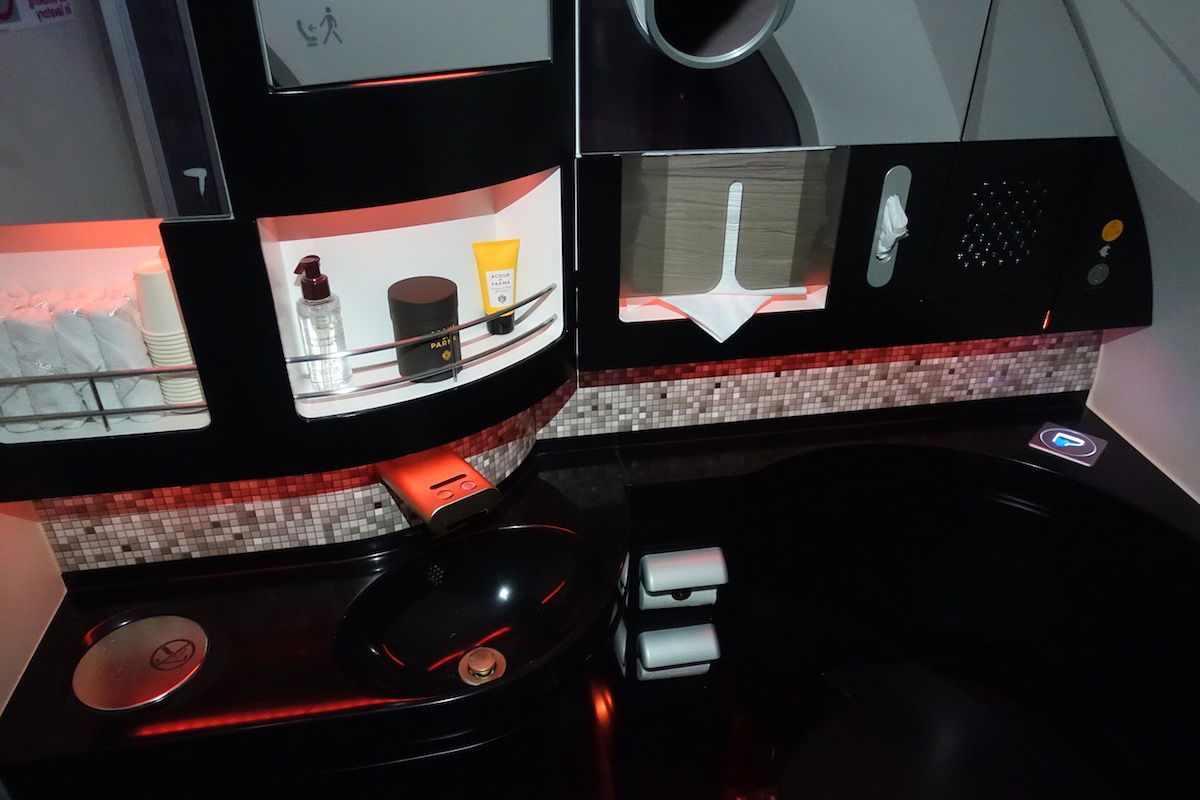 Etihad Residence private bathroom
From the moment I met Johan, I could tell he would be incredible. Johan (pronounced "you-one," or at least that's how he explained it to me) is from South Africa, though has lived in Abu Dhabi for years. I tend to think you can tell within minutes of boarding how good a crew will be, and in this case I could immediately tell that Johan would be exceptional.
Prior to the flight, this was my biggest "fear" about flying the Residence. If I didn't find the service to be good, I'd feel pretty bad writing a negative review about one person's service specifically. It's one thing if I just generically refer to "the first class crew," but I'd feel horribly saying that one specific person wasn't great at their job.
Fortunately that fear was unfounded, and quite to the contrary, Johan was phenomenal. It's so great to see people who are passionate about what they do, and I really can't imagine Etihad has any better butlers than Johan. Keep in mind that if you fly the Residence you can request your butler, and I'd highly recommend requesting Johan.
What made Johan so great? For one, he was genuinely such a nice and sincere guy. Beyond that, the service he provided was incredibly polished. But I think it's important to draw a distinction between service in the Residence and service in a typical first class product. In a typical first class product you want to constantly be looked after and pampered, while in the Residence service is a bit more nuanced.
In the Residence you don't constantly want to be looked after. After all, you're paying for privacy. So you want service to be attentive and proactive, but not overbearing. I pay very close attention to service, and I was very impressed by how deliberate Johan was with everything he did. The service was like a beautifully choreographed performance.
Seriously, this guy is top notch, and Etihad should feel fortunate to have him.
While we're on the topic, Etihad's butlers also perform the role of food & beverage managers. So if the Residence is occupied then that's the butler's sole job, while if the Residence is empty, the butler will be the food & beverage manager in first class. So if you see Johan ever working first class, that's why (and be sure to say hi to him).
Anyway, back to the actual flight.
Johan gave me a five minute orientation of the Residence — he explained where everything was located, how the service works, etc. At that point he offered me a pre-departure drink, and proactively suggested champagne. Smart guy. 😉
The default position for the Residence is that the door remains closed at all times, including during boarding, etc. So he'd always close the door as he left, and then would knock when he returned. By the way, notice the ashtray next to the door. Of course smoking isn't allowed, but I suppose it's there so that cigarettes can safely be disposed of in the event that someone decides not to follow the policy.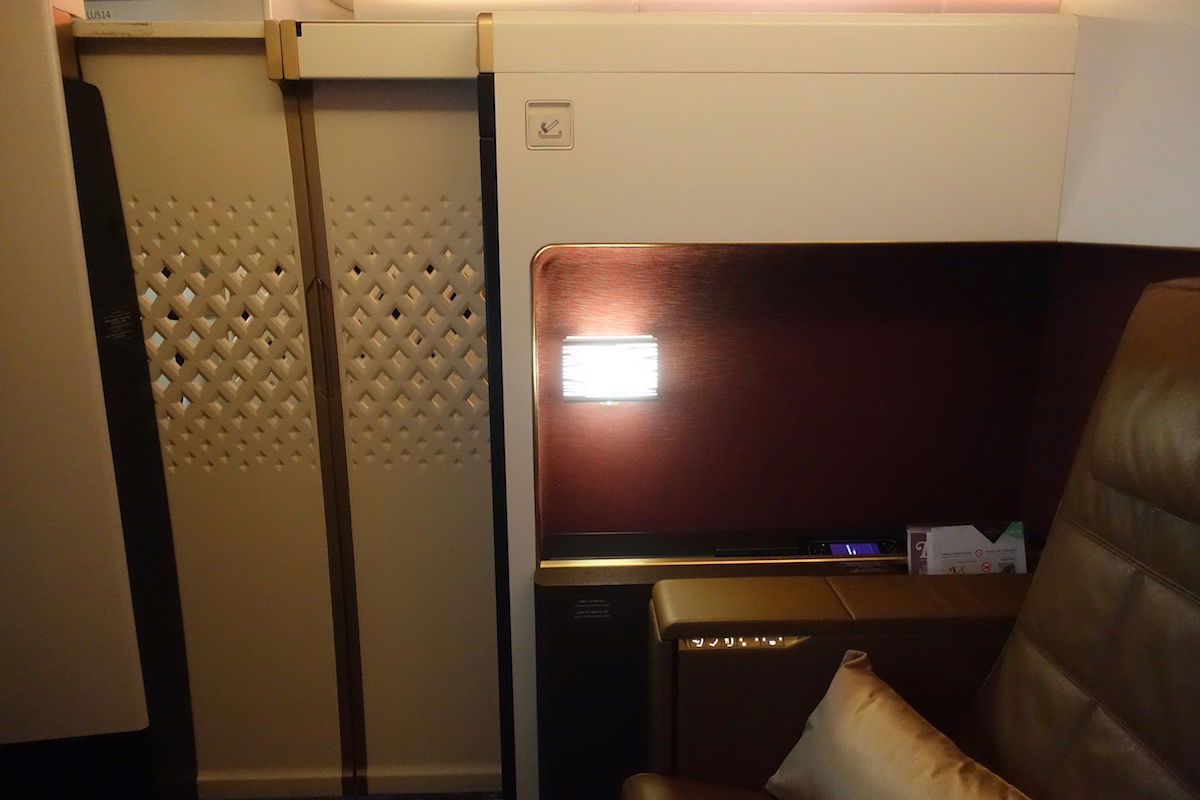 Etihad Residence living room
There was a large ottoman across from the seats, and that created a nice storage area, where I placed all the things I'd need during the flight. My actual bags went underneath the bed.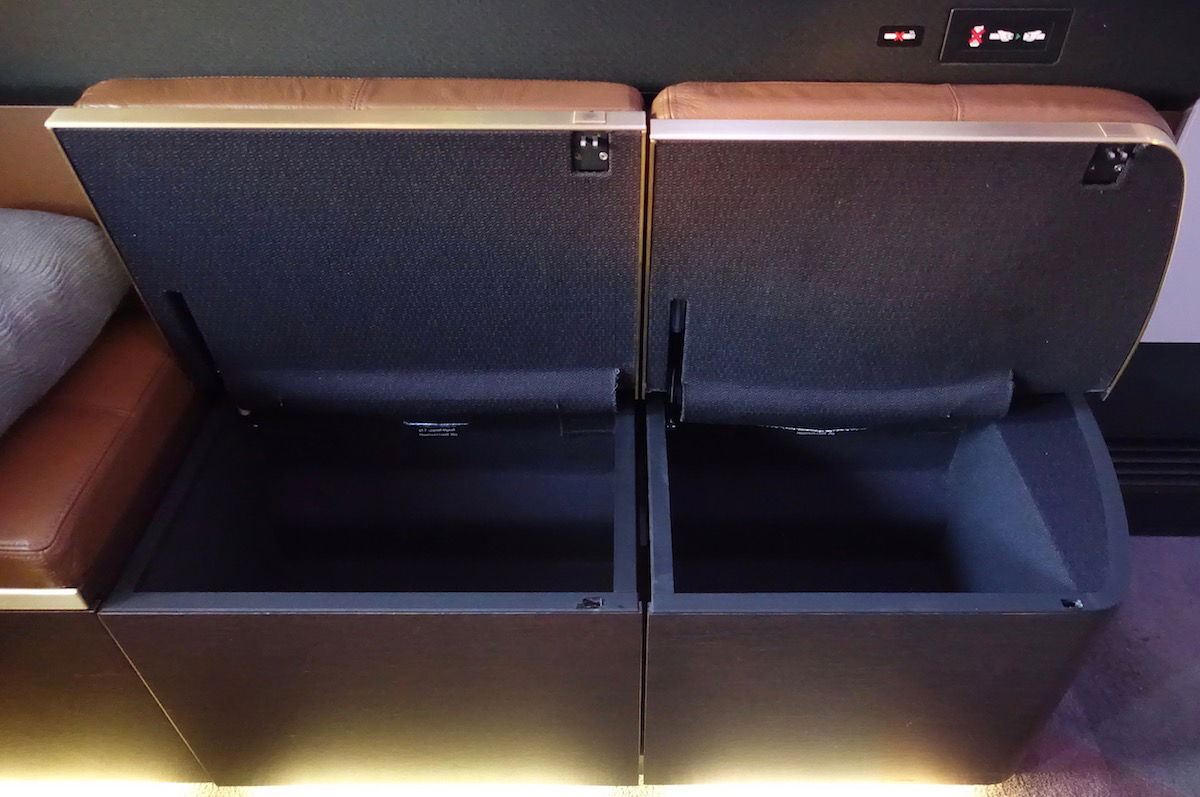 Etihad Residence living room storage
Then to the left of the storage compartments was a small minibar, with six cans of soda and three bottles of water.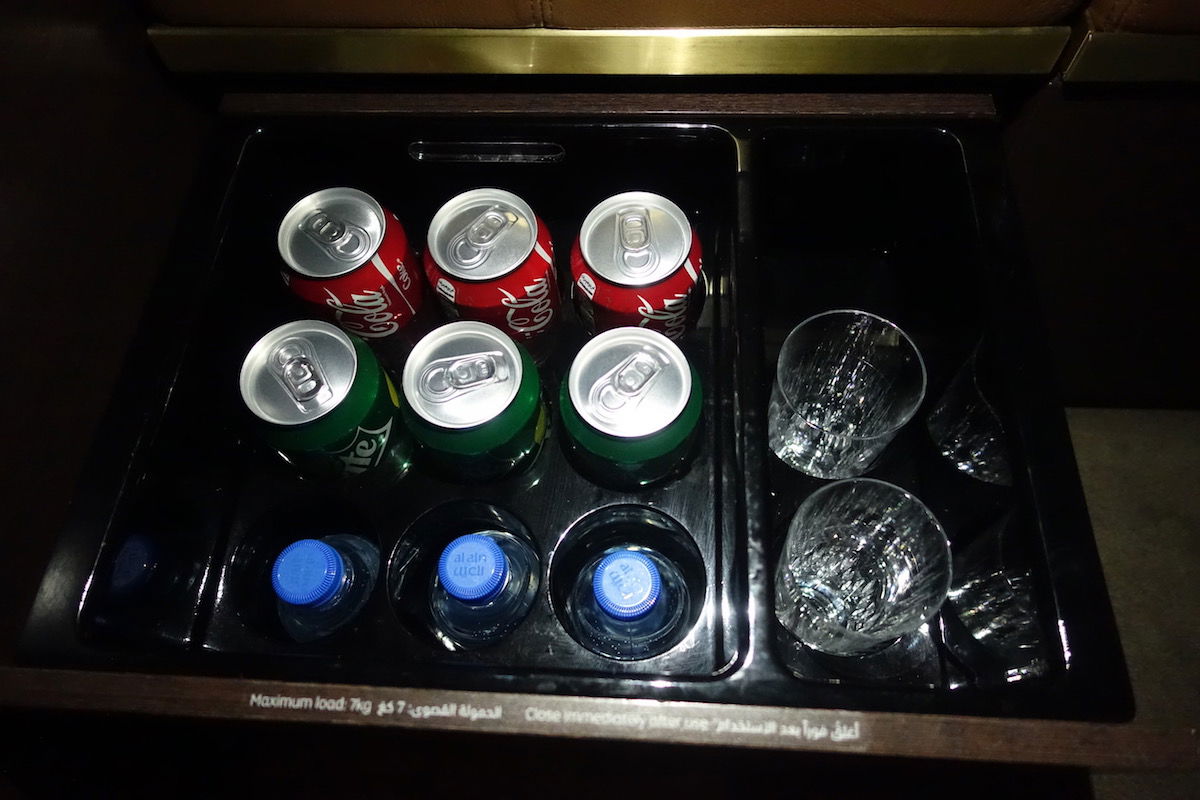 Etihad Residence minibar
Then there were two tray tables. The attention to detail in everything is so impressive — the tray table even had the Residence logo on it.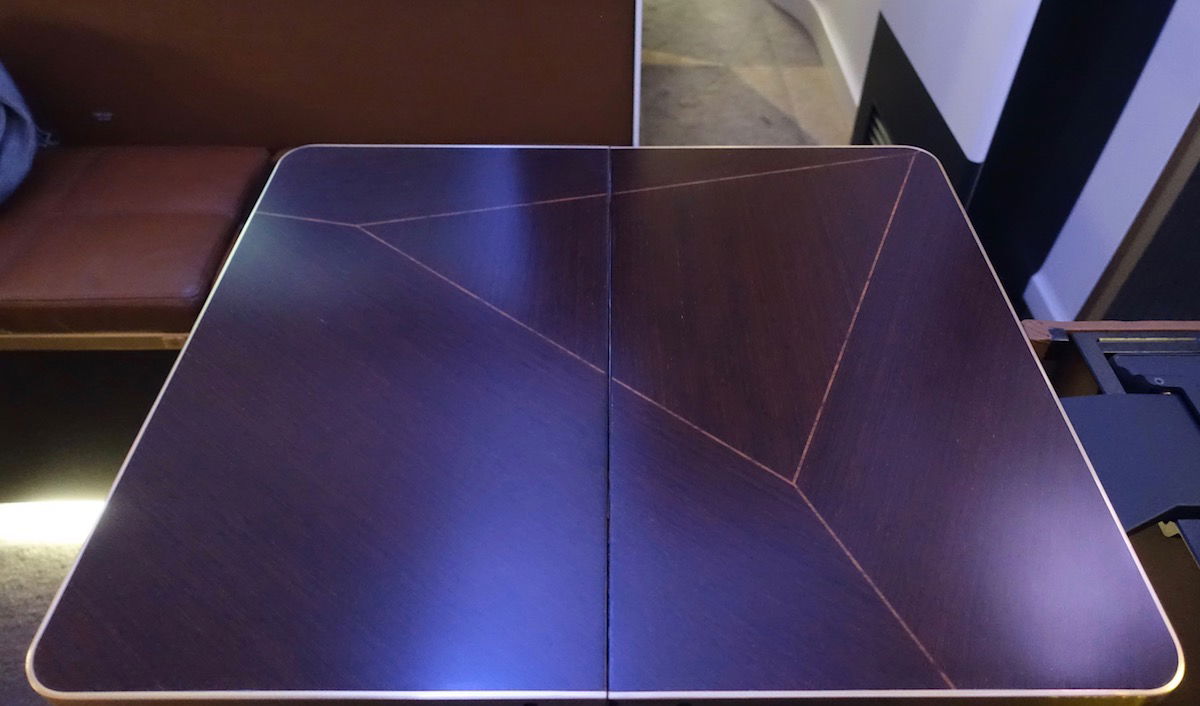 Etihad Residence living room dining table
Then at the side of the seat were the seat controls — again, both sides of the seat had this.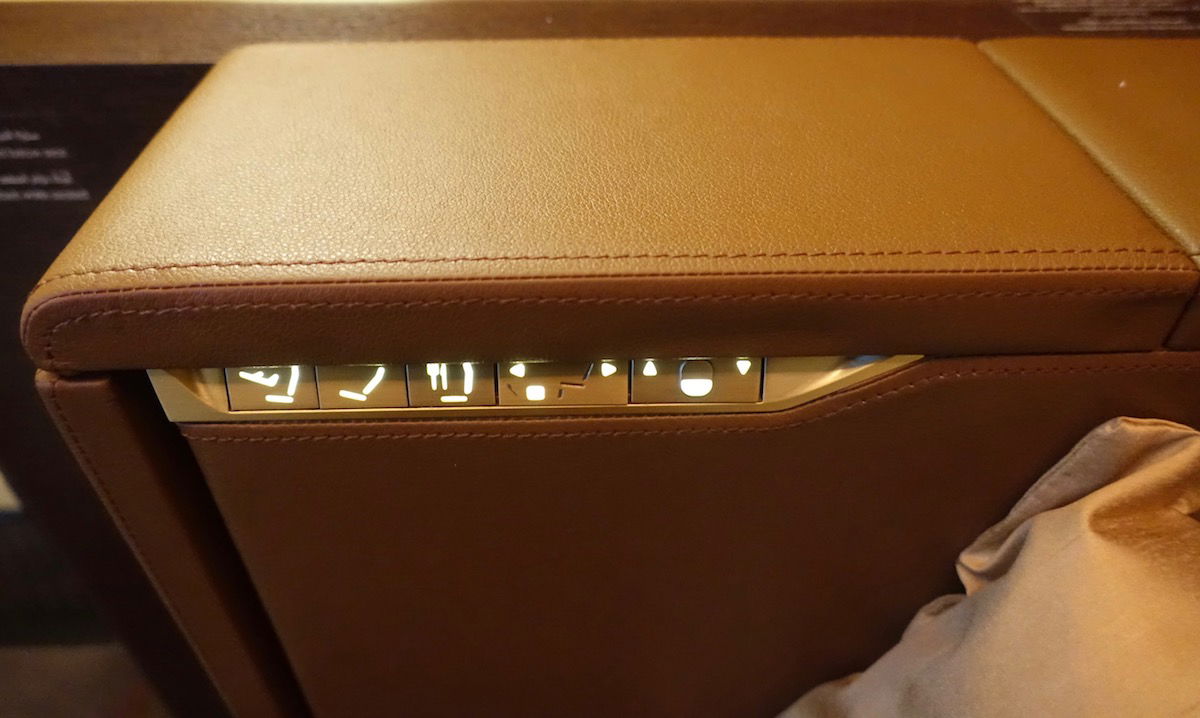 Etihad Residence seat controls
There was also a small storage compartment, as well as more specific seat controls.


Etihad Residence seat controls
Next to that was one of the two entertainment controllers.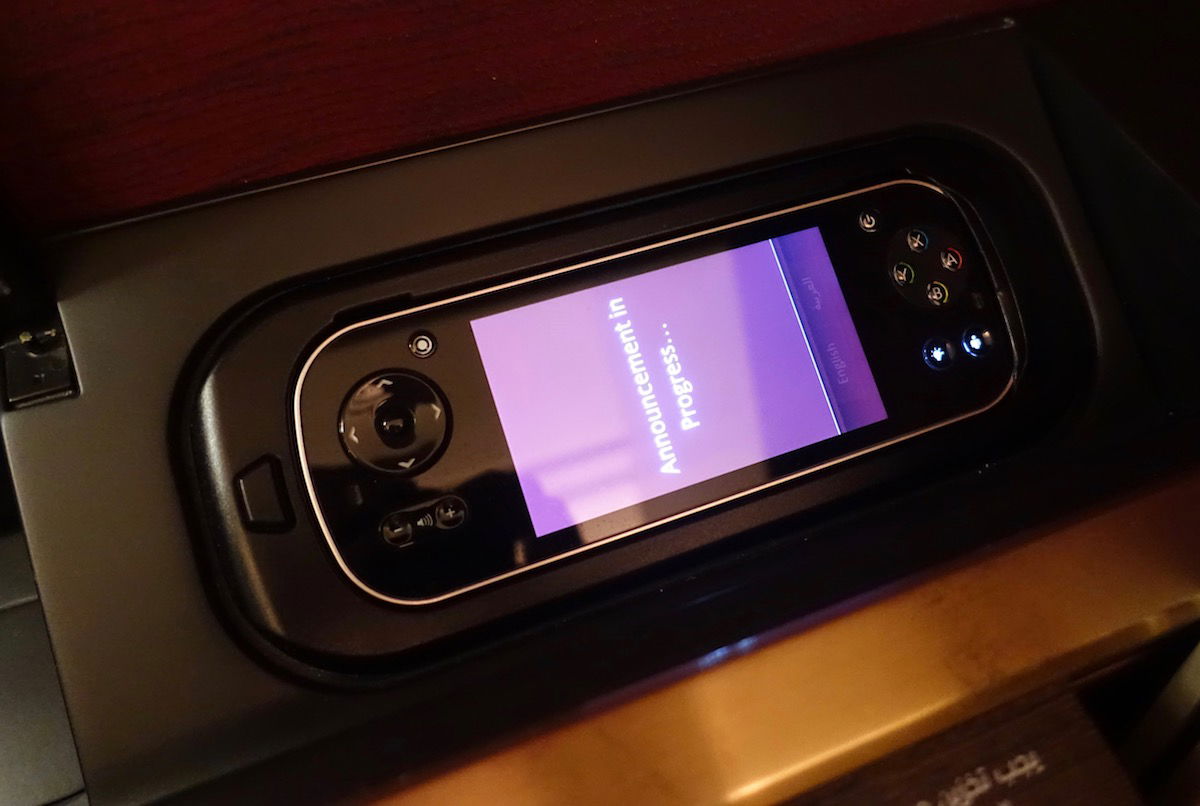 Etihad Residence entertainment controls
There were two light blankets on the ottoman.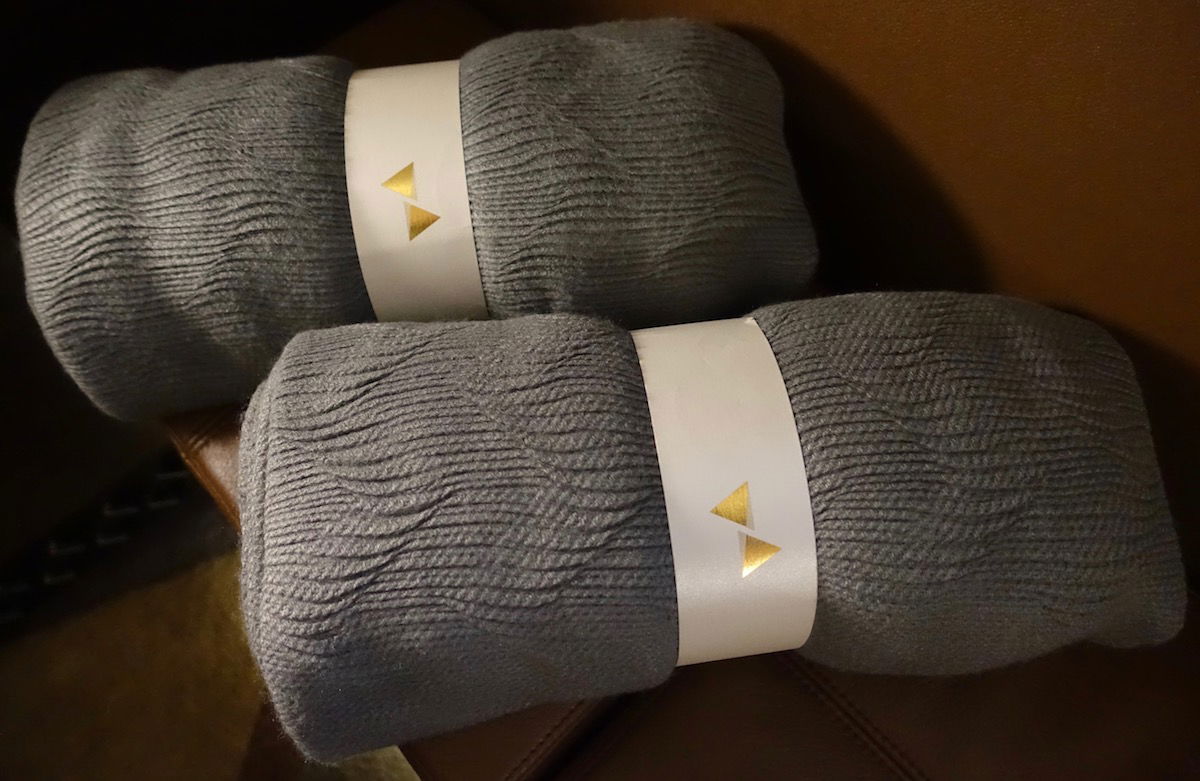 Etihad Residence blankets
Within a few minutes, Johan returned with a tray containing a champagne glass, a small ramekin with dates, a warm towel, and a personalized letter.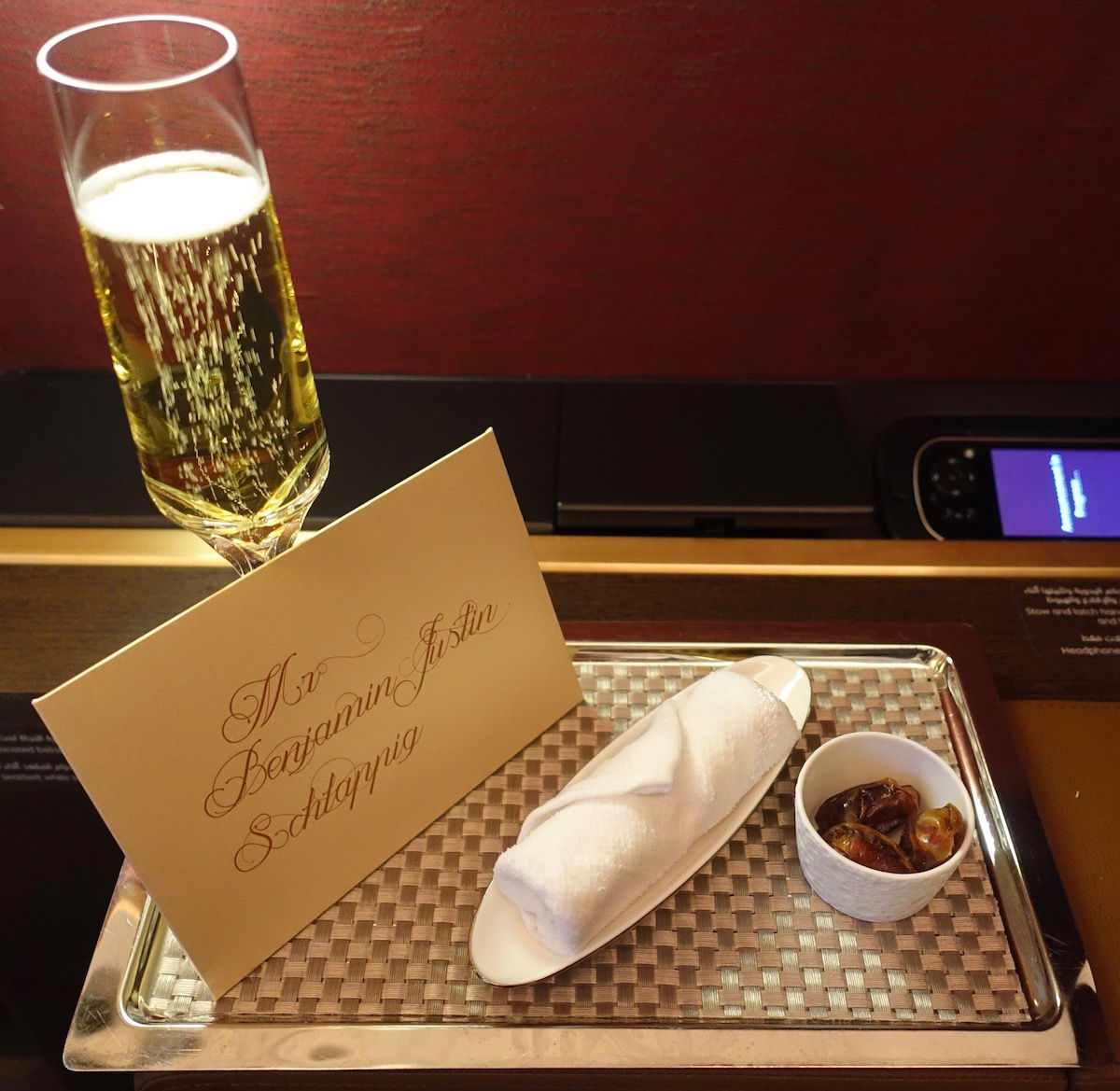 Etihad Residence pre-departure champagne
He poured me a glass of the lovely 2004 Billecart-Salmon Blanc de Blancs. This was the same champagne I was being served in the lounge, and I really enjoyed it. Johan explained that they had also loaded a bottle of Dom Perignon 2006 for me, but I figured I'd stick with the Billecart-Salmon for now, and tackle the Dom later in the flight.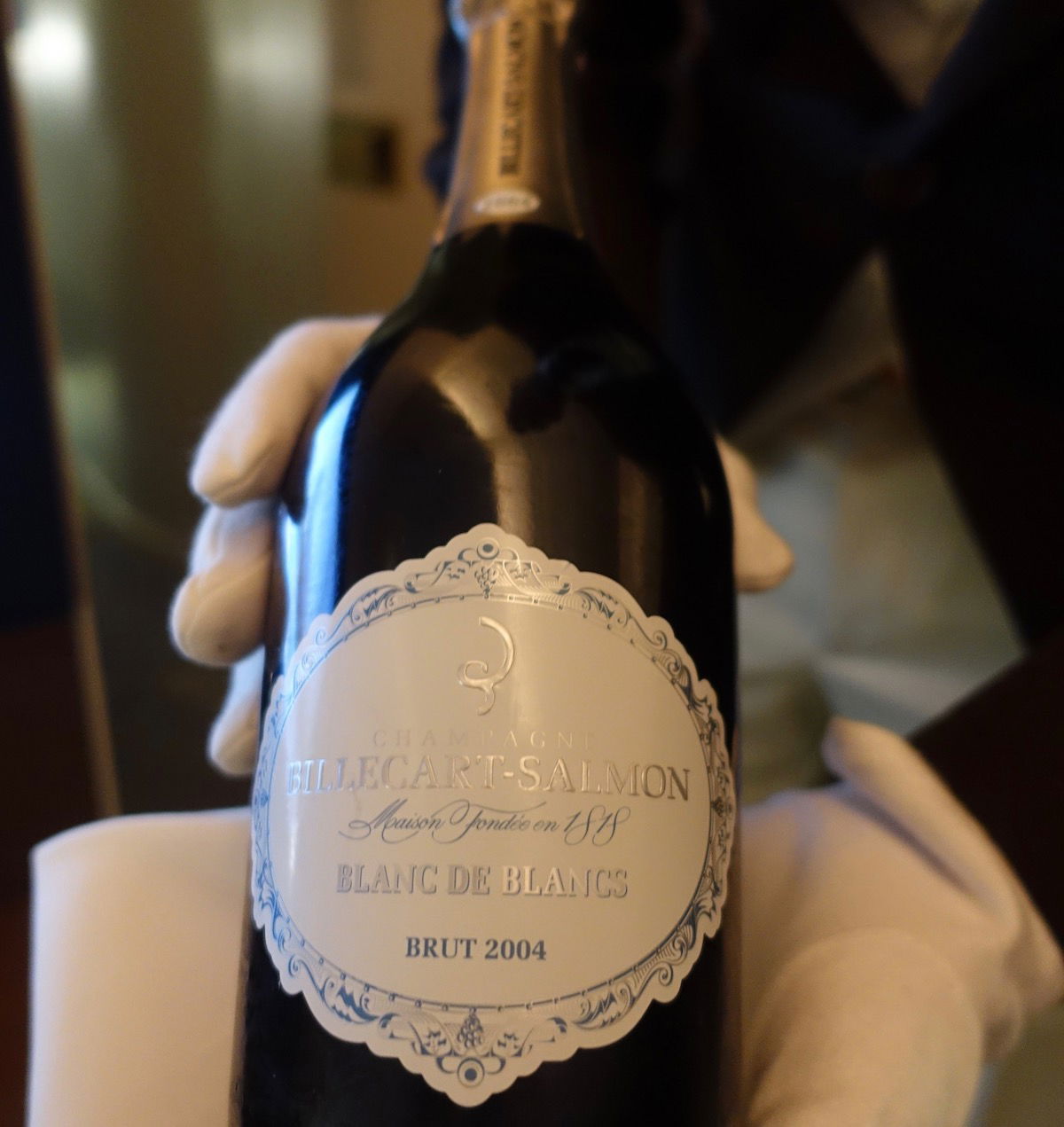 Etihad Residence Billecart-Salmon Blanc de Blancs 2004 champagne
Inside the envelope was a note from the captain.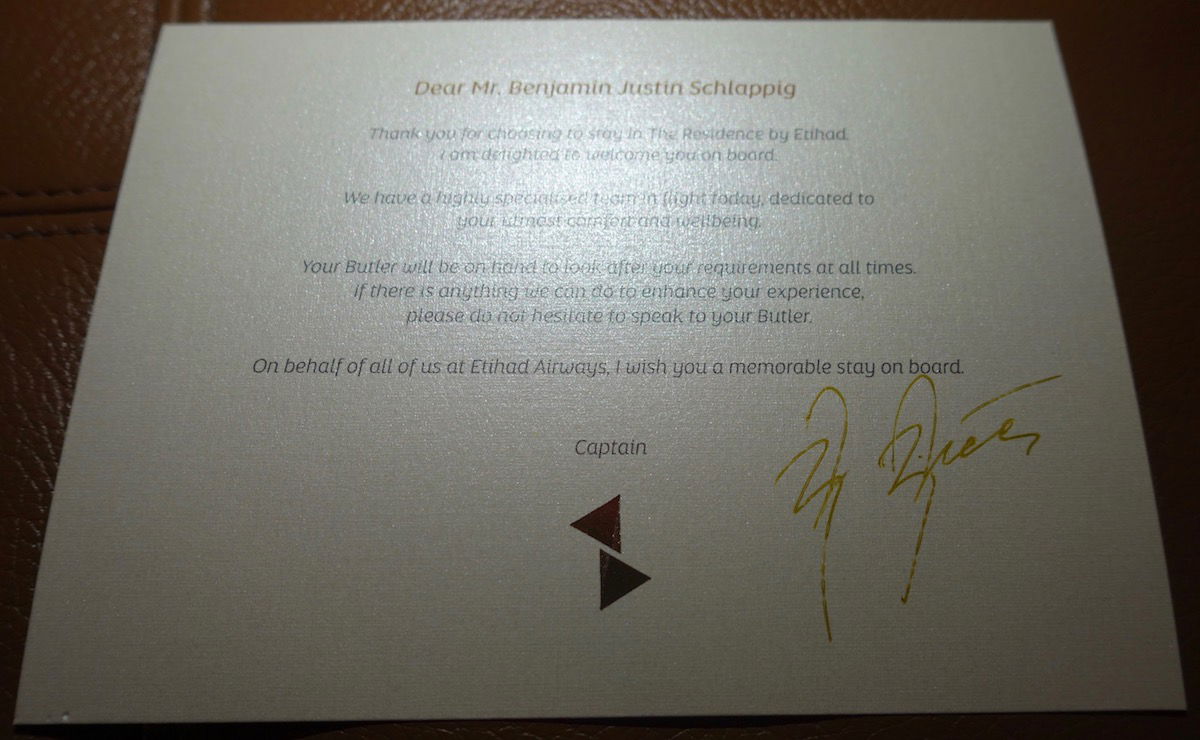 Note from the captain in the Etihad Residence
About five minutes later Johan returned with some Arabic coffee.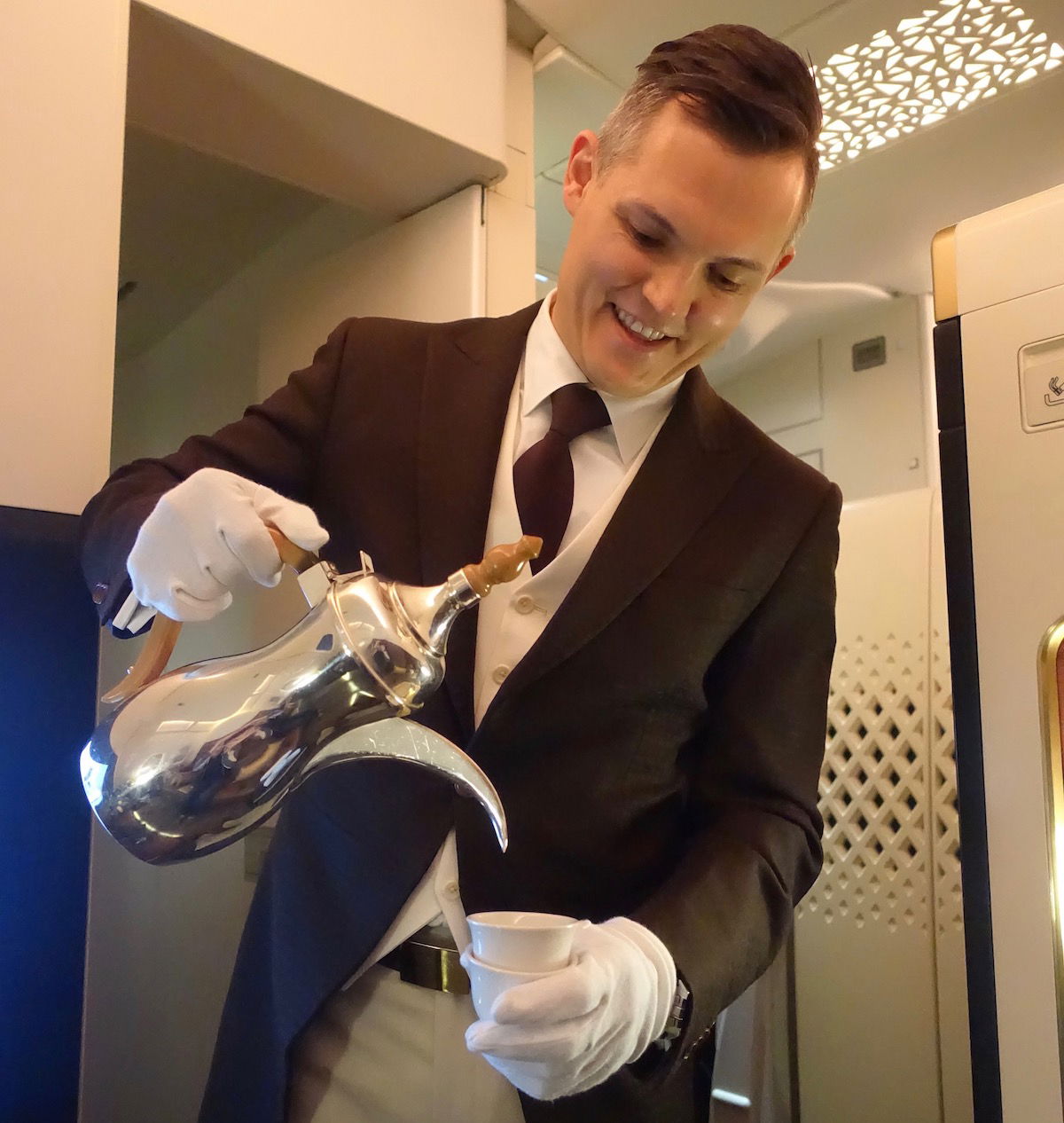 Etihad Residence Arabic coffee
He also presented me with some Bose headphones. I was actually given two of them to use during the flight — one for the living room, and one for the bedroom.

Etihad Residence Bose headphones
He also presented me with the menu and wine list for the flight, which were in beautiful leather folders with the Residence logo.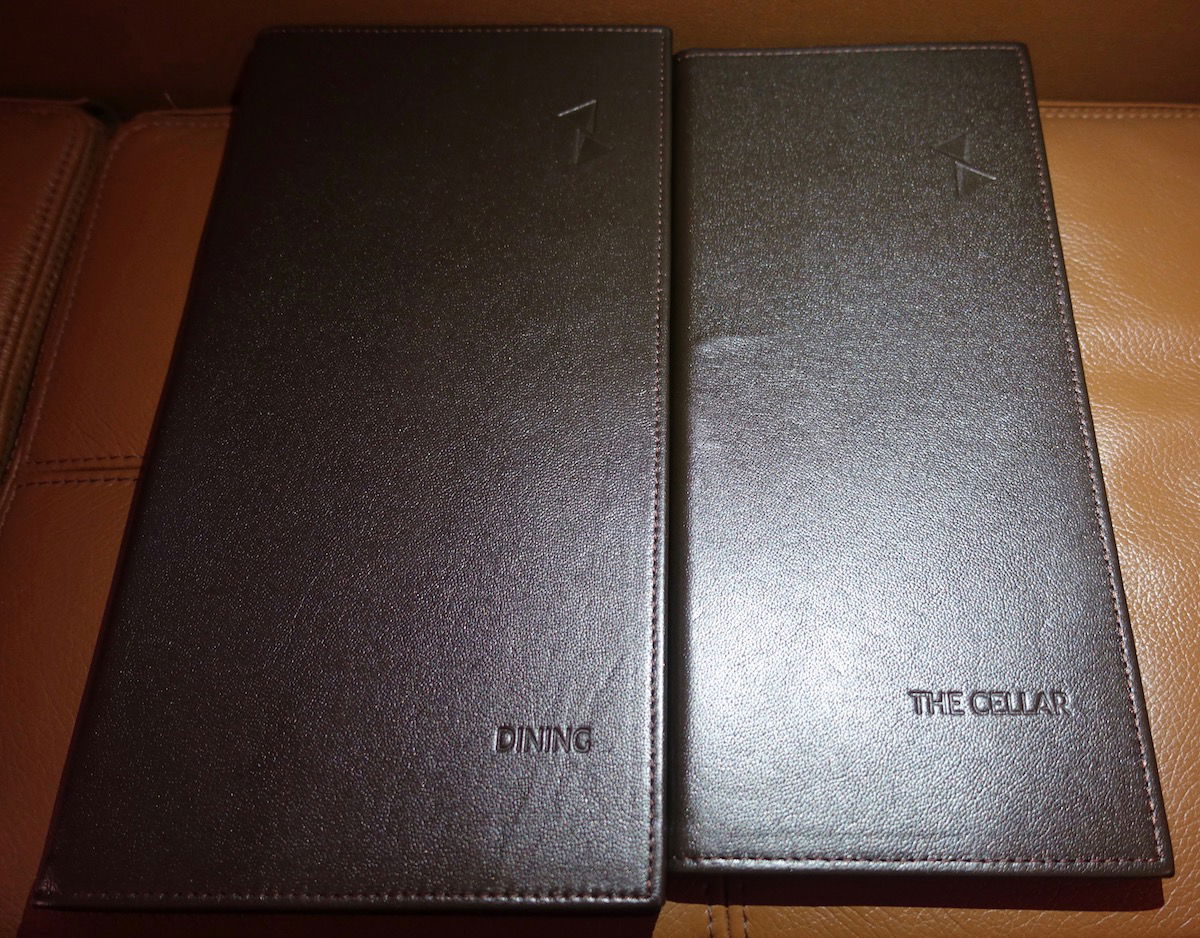 Etihad Residence menu & wine list
The coolest part is that the menu was customized. At the front was a page with my name on it, and then the menu itself was customized to include the preferences I shared before my flight.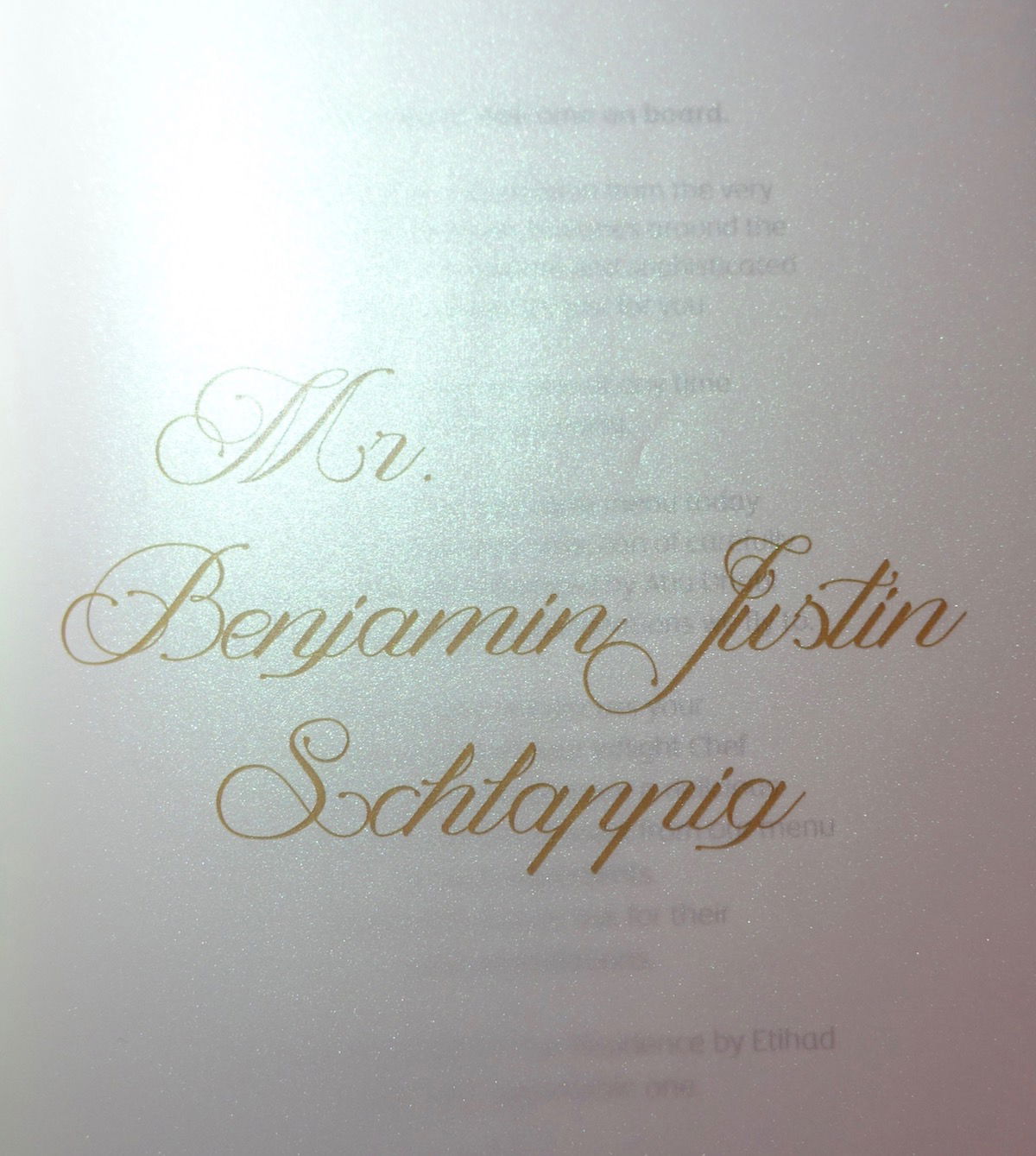 Etihad Residence personalized menu
Boarding seemed to be finished in no time, though it probably just felt that way because of how excited I was and how many pictures I was taking. By 9:30PM an announcement was made that all passengers were onboard. At that point Captain Roberto added his welcome aboard, on behalf of himself, his co-captain, and the two senior first officers. He informed us of our flight time of 13hr7min, and that we'd be cruising initially at 35,000 feet, and would eventually work our way up to 41,000 feet as we got lighter.
He said that due to congestion it would be a few minutes before we could push back, though we should still arrive on time.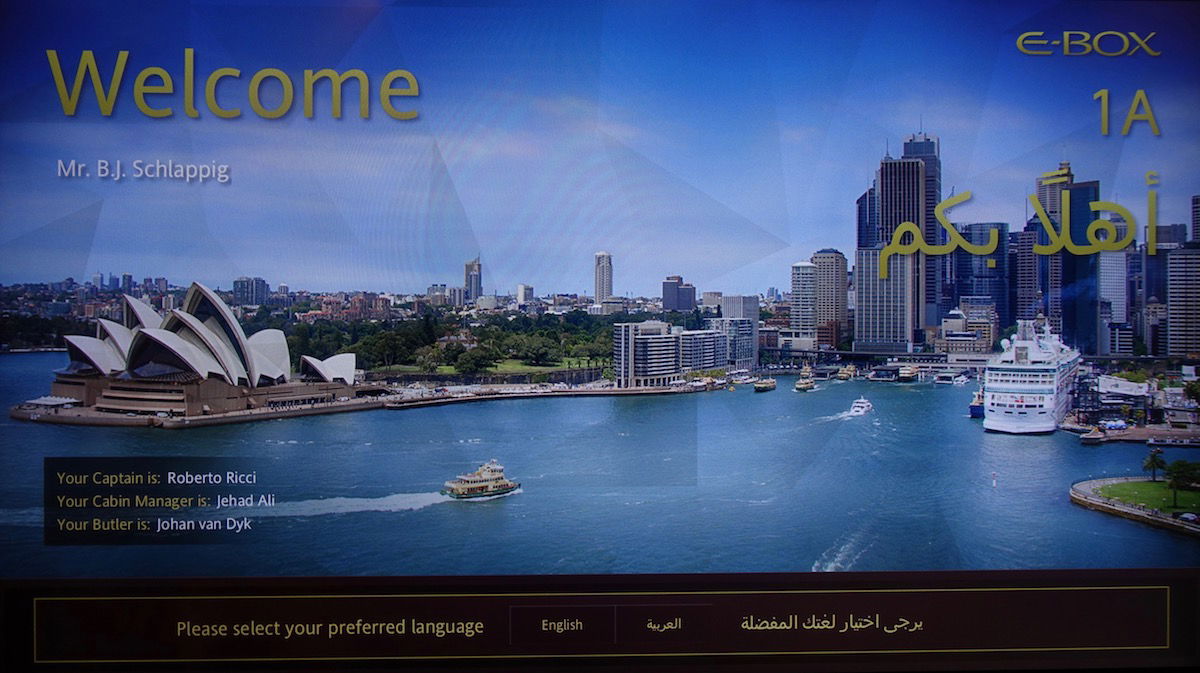 Etihad Residence television screen
By around 9:50PM we began our pushback, at which point the prayer and safety video were screened. While the Residence door otherwise always remains shut, they do have to open it for takeoff and landing.
Our taxi to the runway took about 25 minutes, though that included waiting for about 10 minutes for planes ahead of us to take off.
By 10:15PM we were cleared for takeoff. I of course turned on the tail camera for this. We had a very long takeoff roll, and a smooth climb out.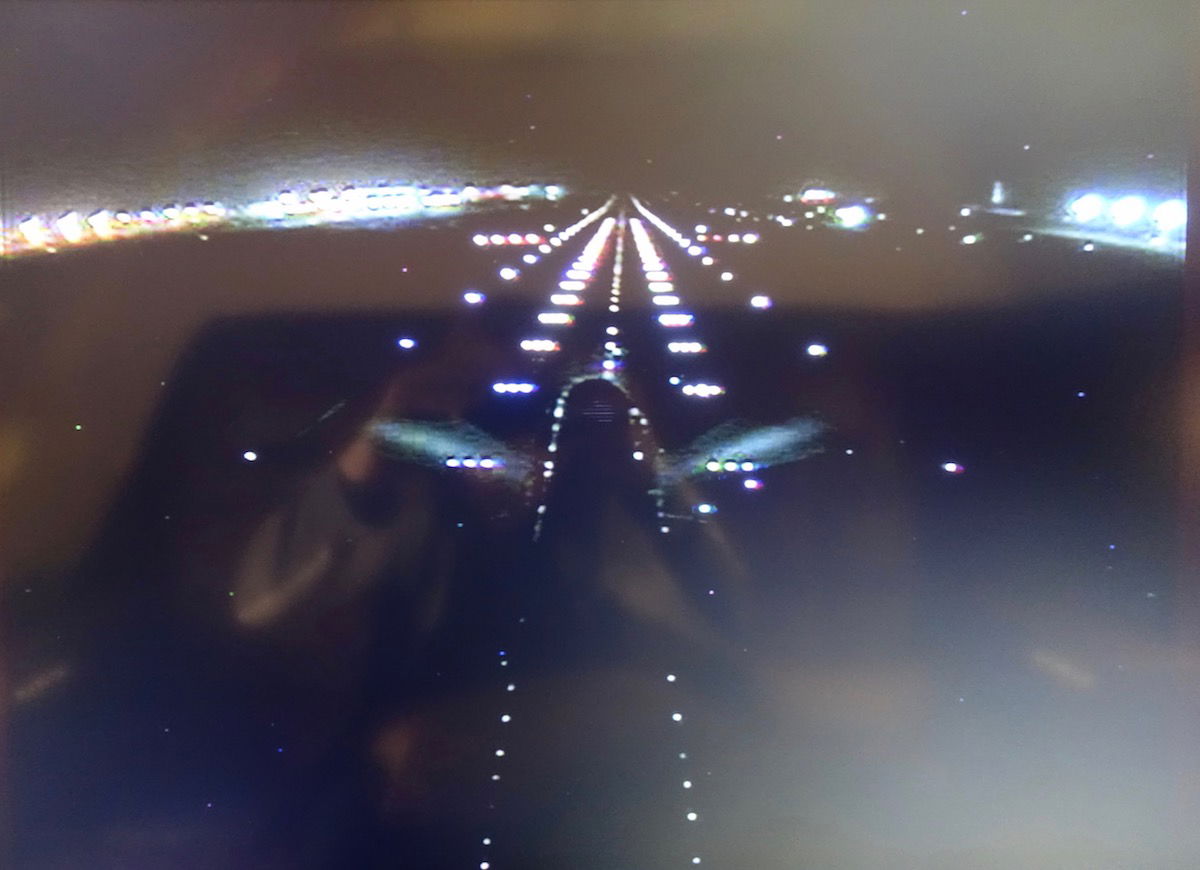 Taking off from Abu Dhabi
About 10 minutes after takeoff the seatbelt sign was turned off. Johan's first order of business was once again closing the door to the Residence. 😉
Shortly thereafter Johan presented me with two codes for free Wi-Fi. Etihad's Wi-Fi is already reasonably priced, but this is a nice touch. More than anything I loved the attention to detail, once again — even the little envelope in which the codes were presented had the Residence logo.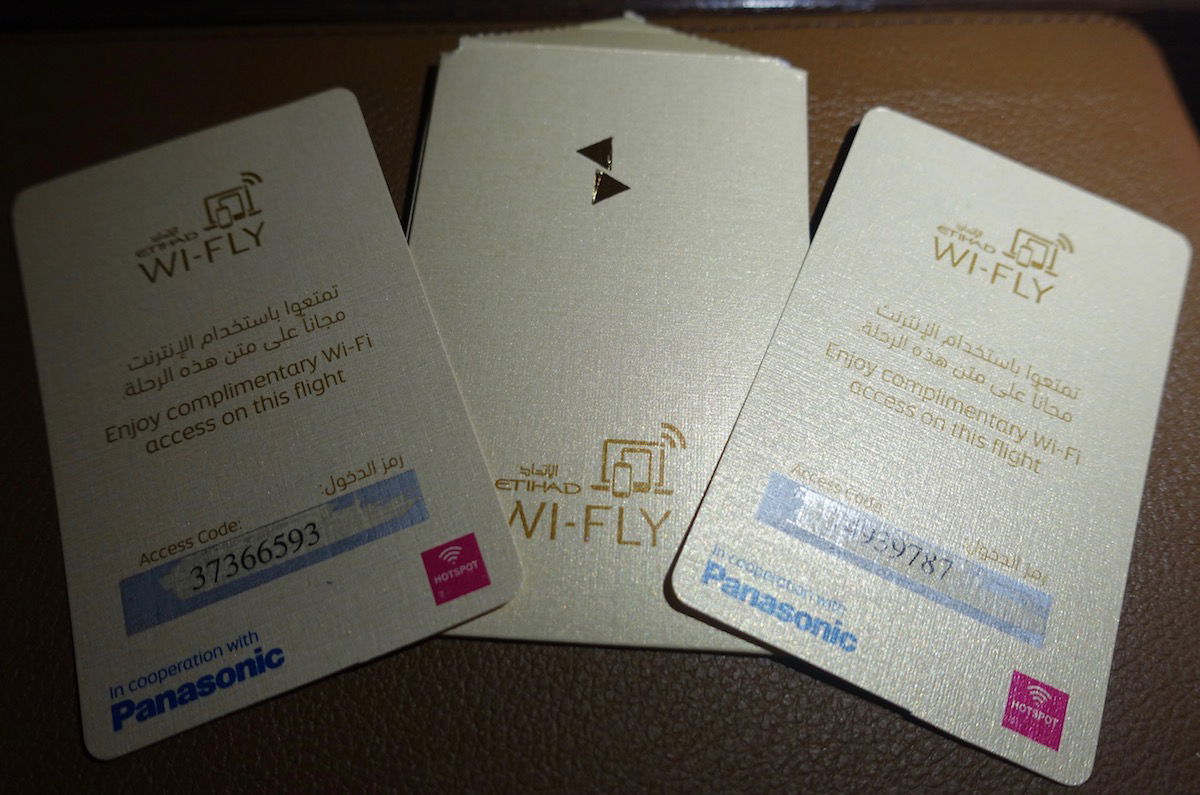 Etihad Residence free Wi-Fi codes
Johan also asked if he should place the pajamas on the bed. That sounded good to me. Etihad has special pajamas in the Residence.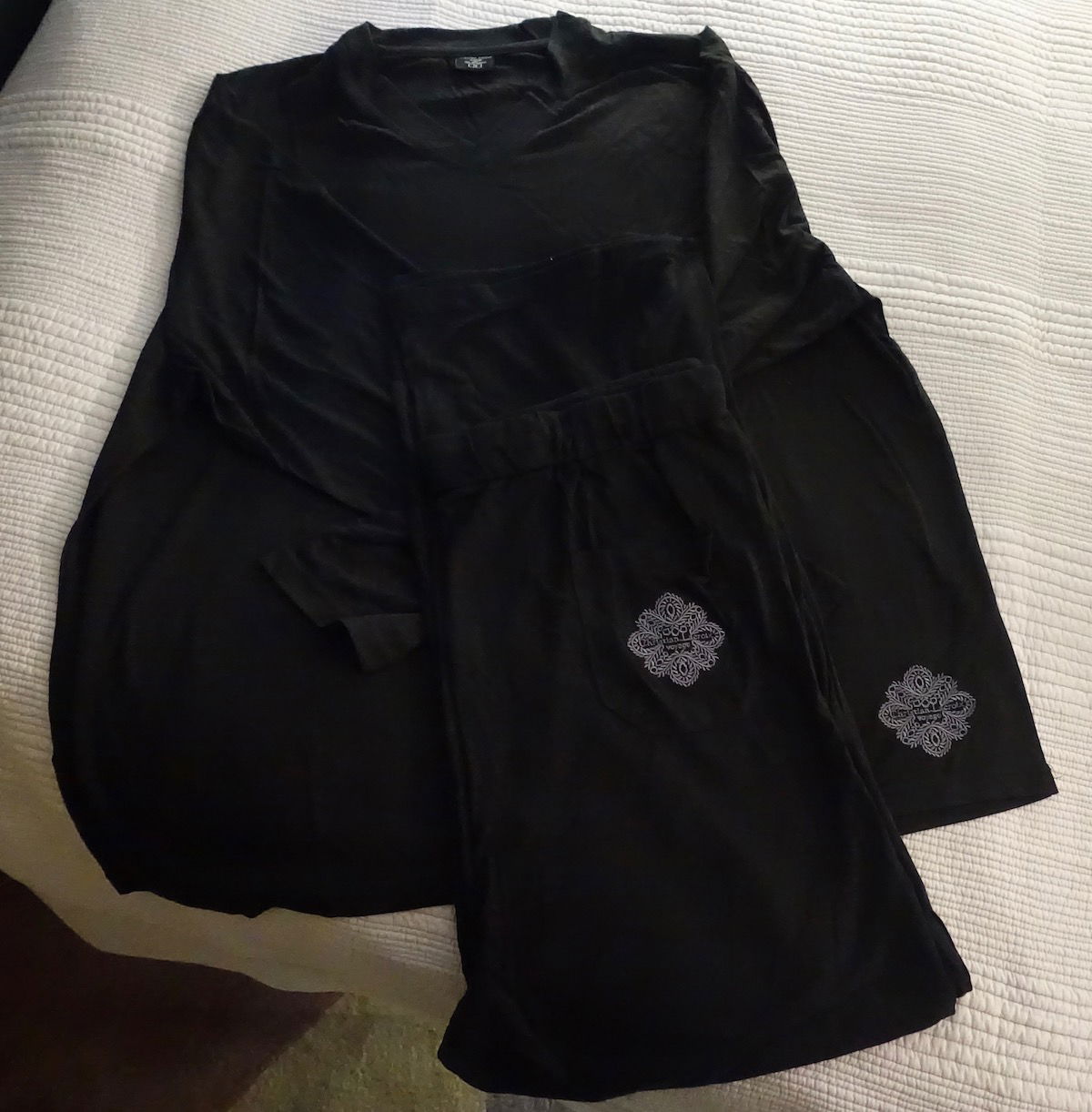 Etihad Residence pajamas
I was also given a pair of slippers, and was told that I could have shoes shined during the flight if needed.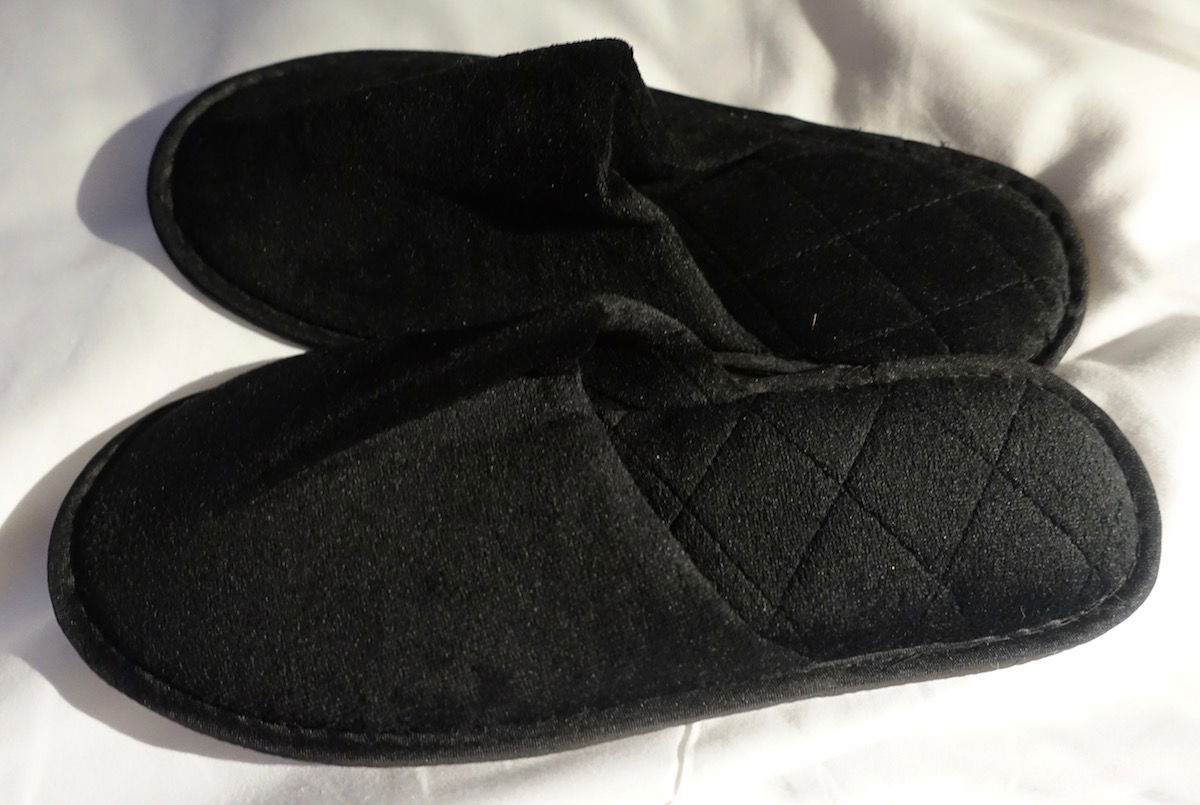 Etihad Residence slippers
I asked about an amenity kit, more out of curiosity than anything. Johan explained that the Residence is intended to be more like a hotel than a traditional airline product, so rather than having an amenity kit they just have everything when you need it. That's a good concept, actually, and sure enough, they had everything I asked for.
Johan also mentioned that they had two gifts for me, and asked if I wanted them now. Sure! They came in gold wrapping, as you'd expect from a Gulf carrier.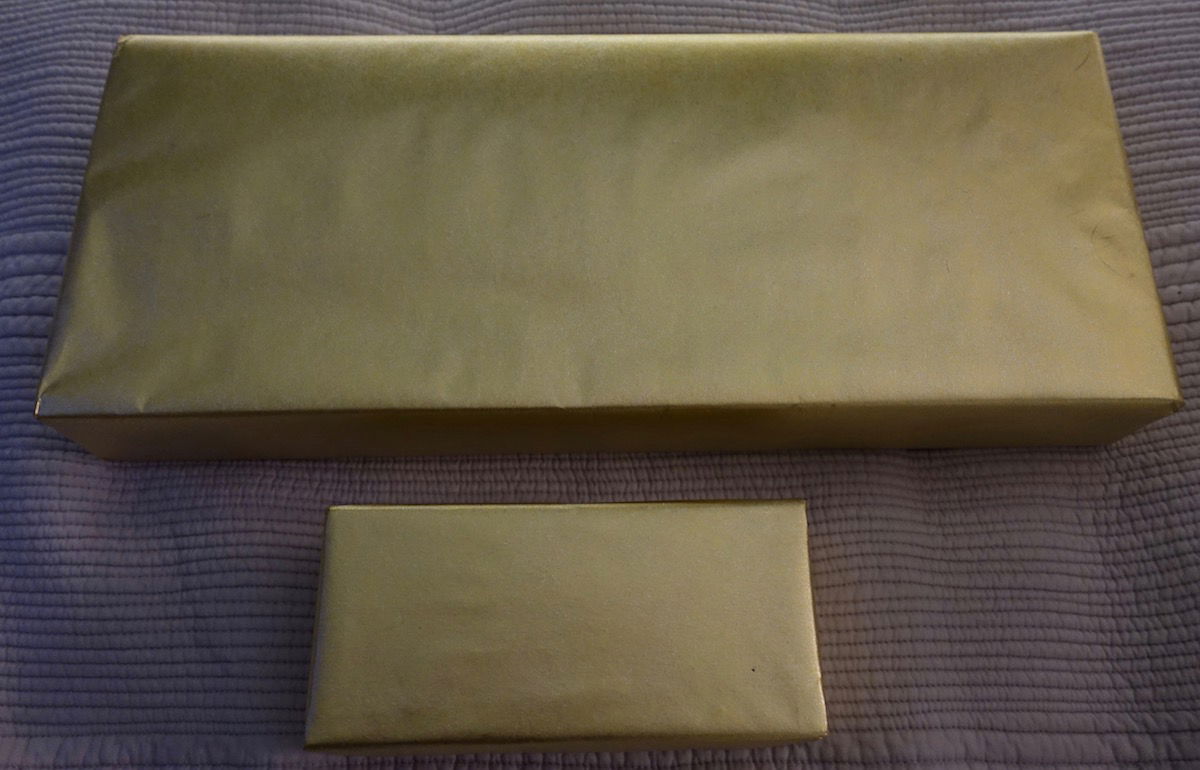 Etihad Residence gifts
Inside were two Etihad A380 model airplanes (one 1:200 scale, one 1:500 scale), as I had asked about before the flight. WOW!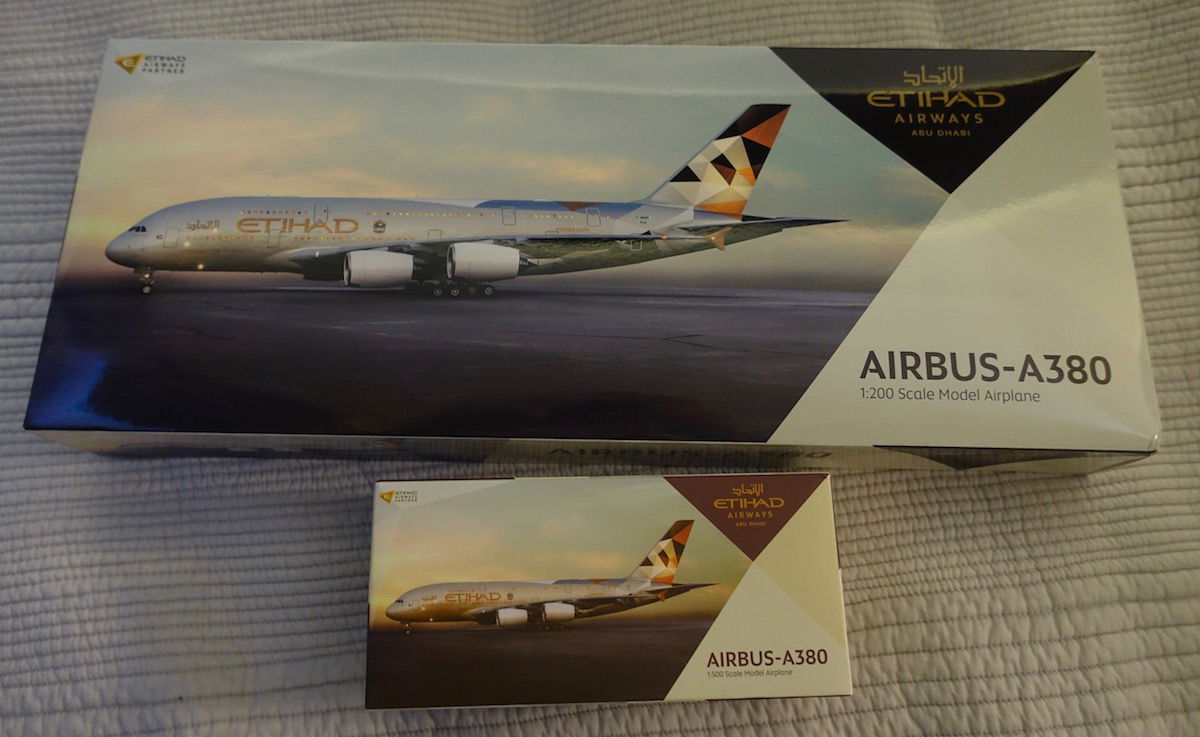 Etihad Residence gifts — model airplanes
It was time for another glass of champagne.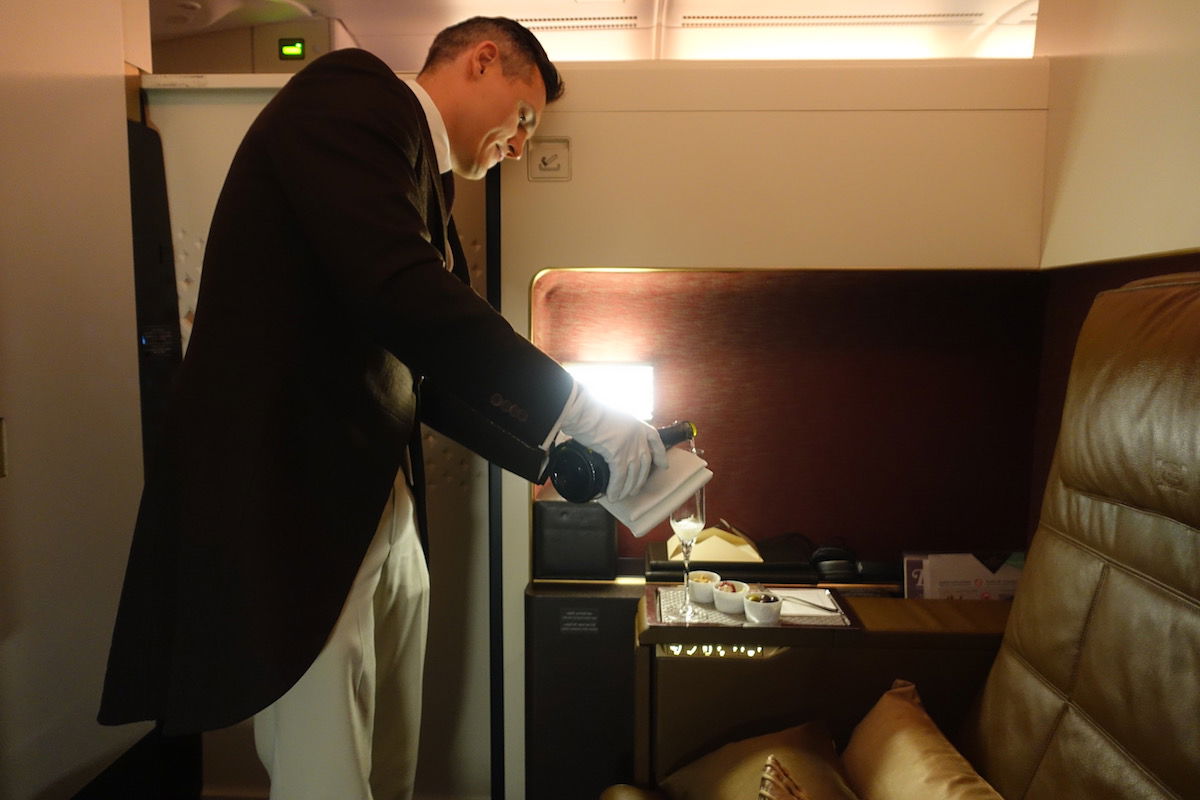 Etihad Residence after takeoff champagne
That was served with nuts, olives, and stuffed veggies.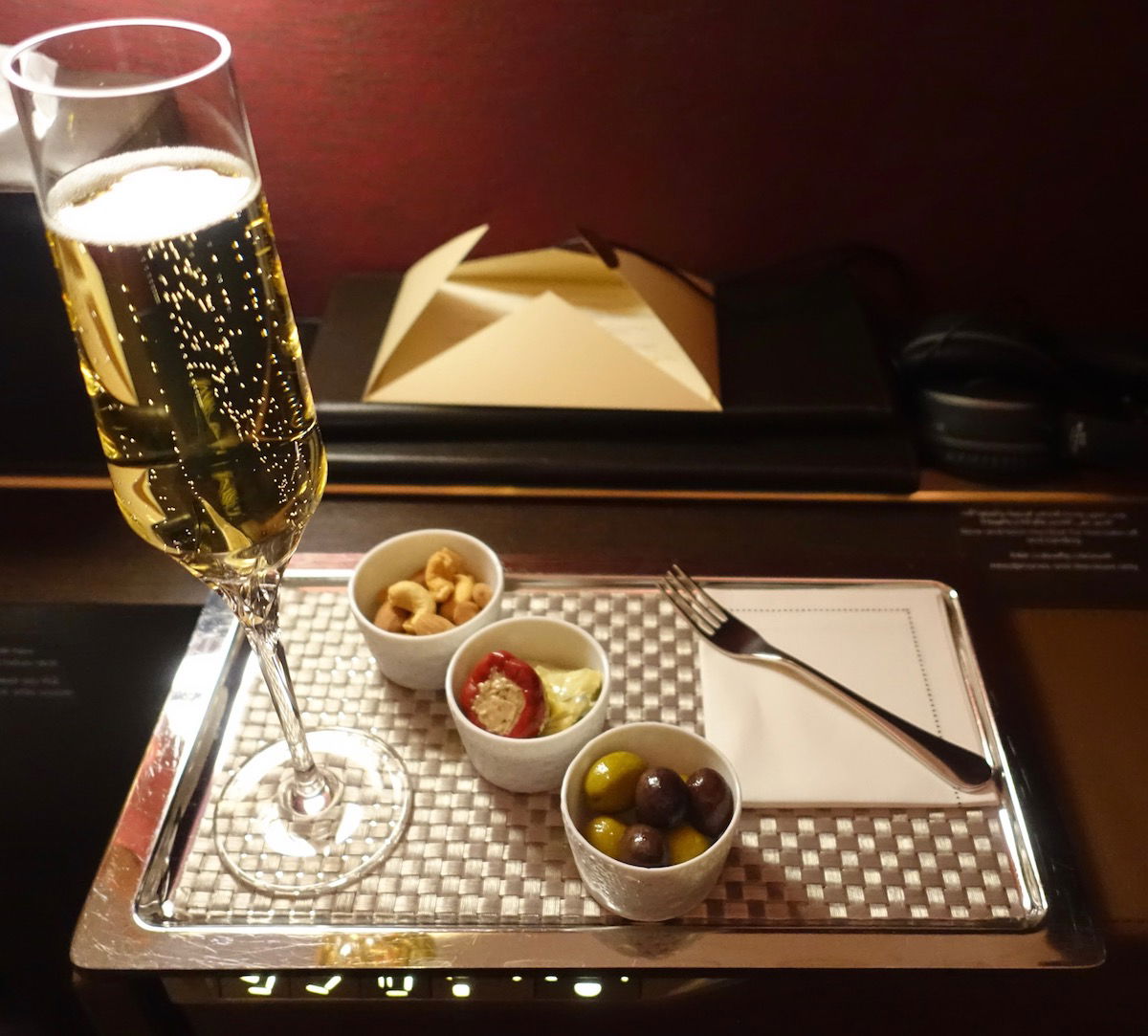 Etihad Residence champagne and snacks
Dining in the Residence is on demand, though I figured I'd have dinner after takeoff, since I was hoping to get some rest.
The menu read as follows (notice how they actually customized it for me — I had requested a lobster roll as a snack, and that made it on the printed menu):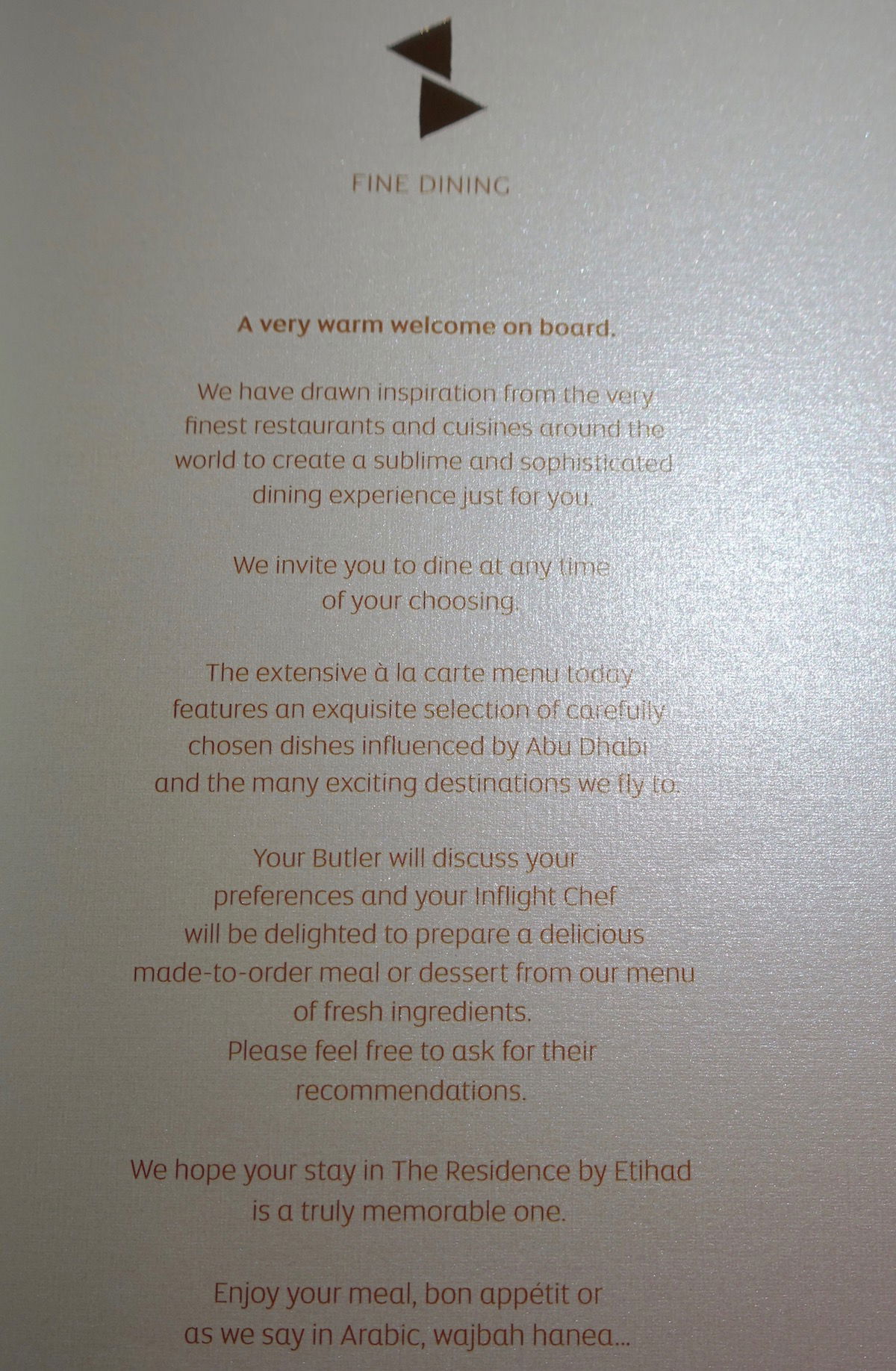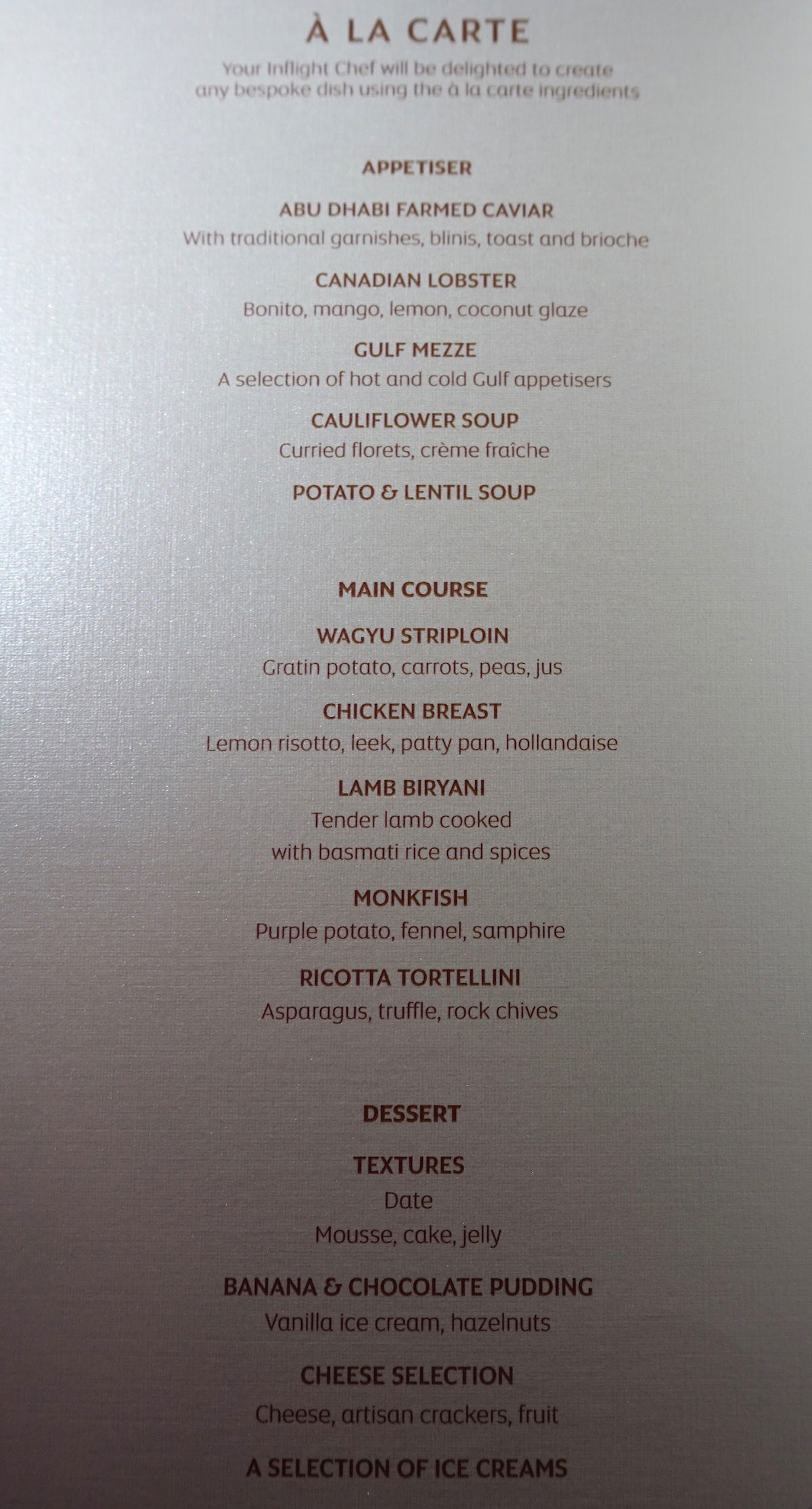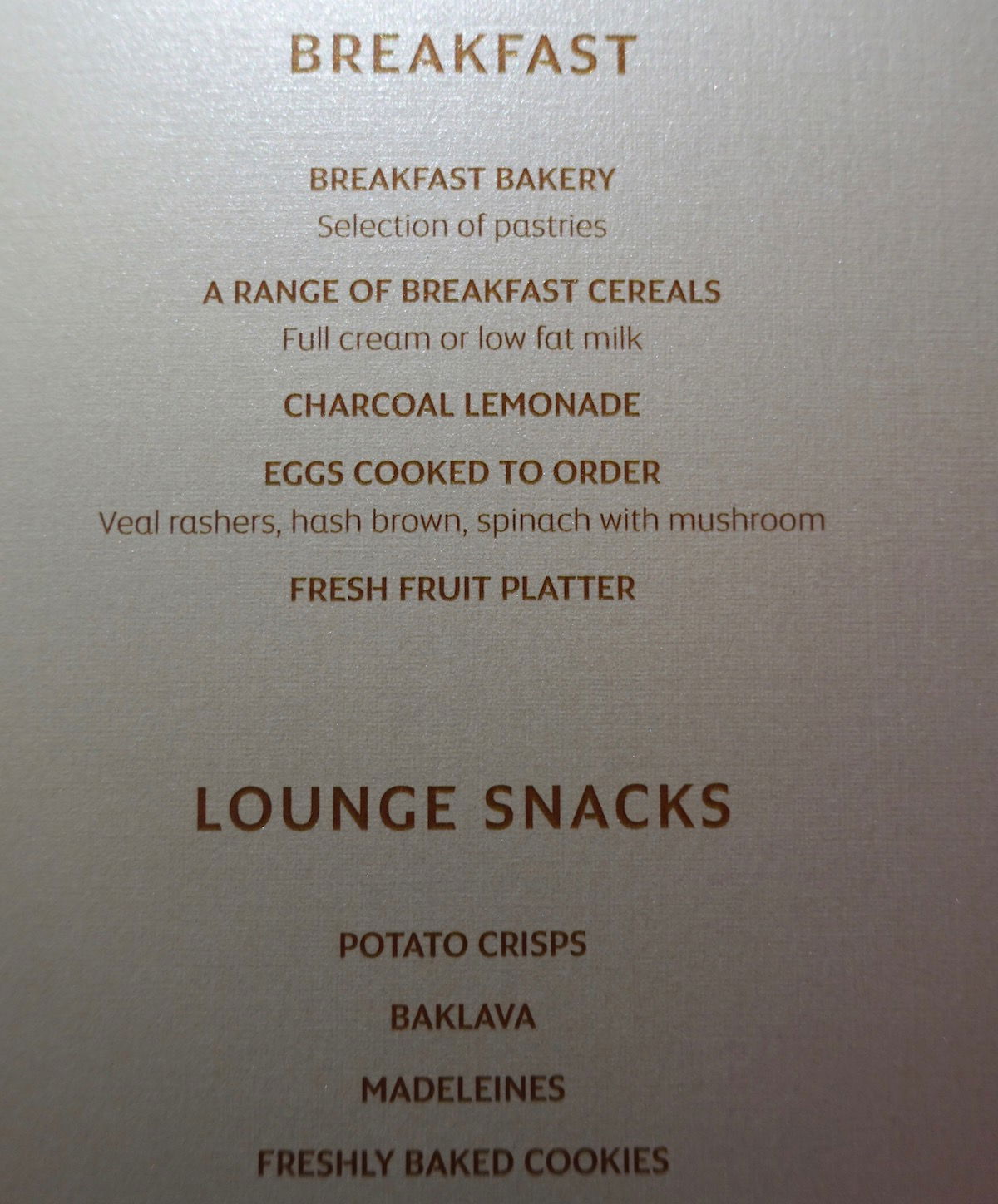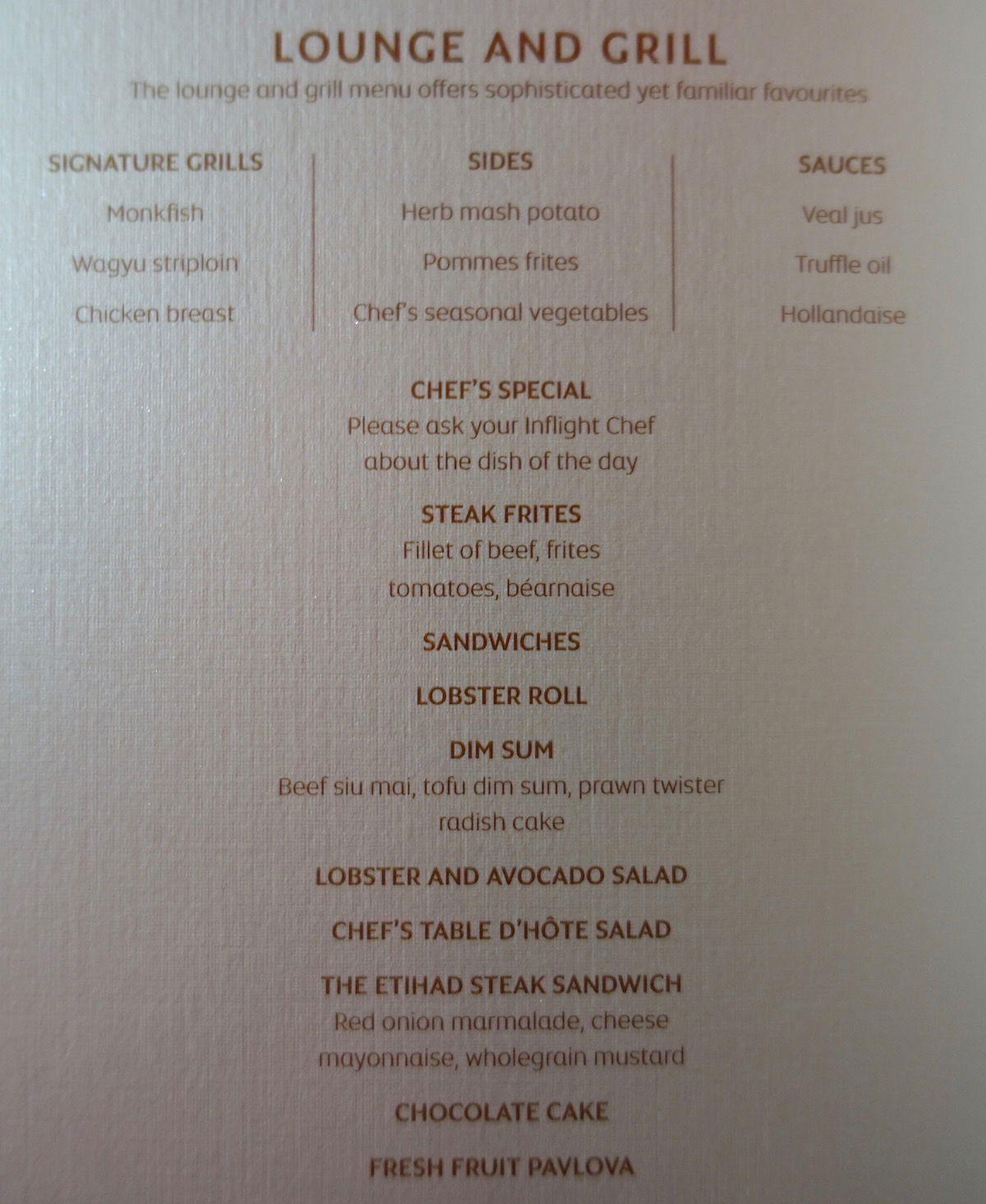 The drink list read as follows: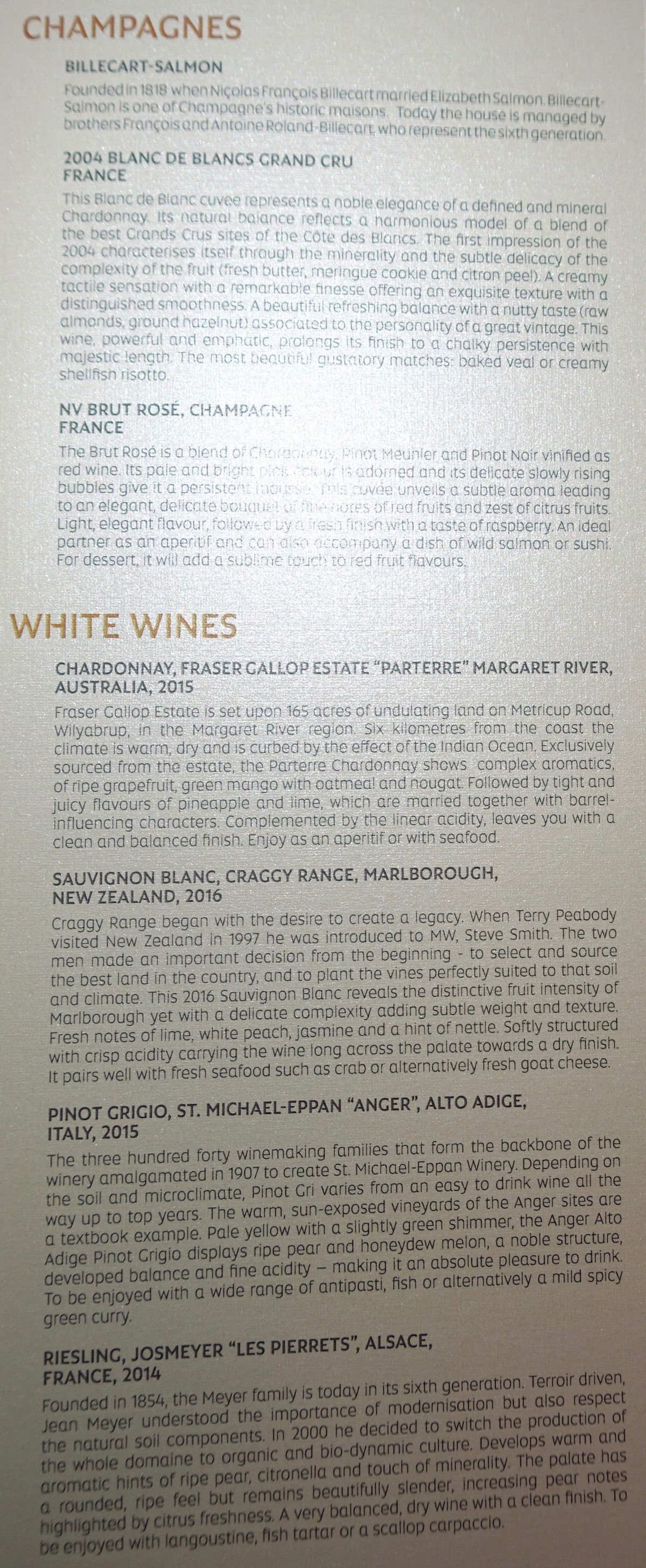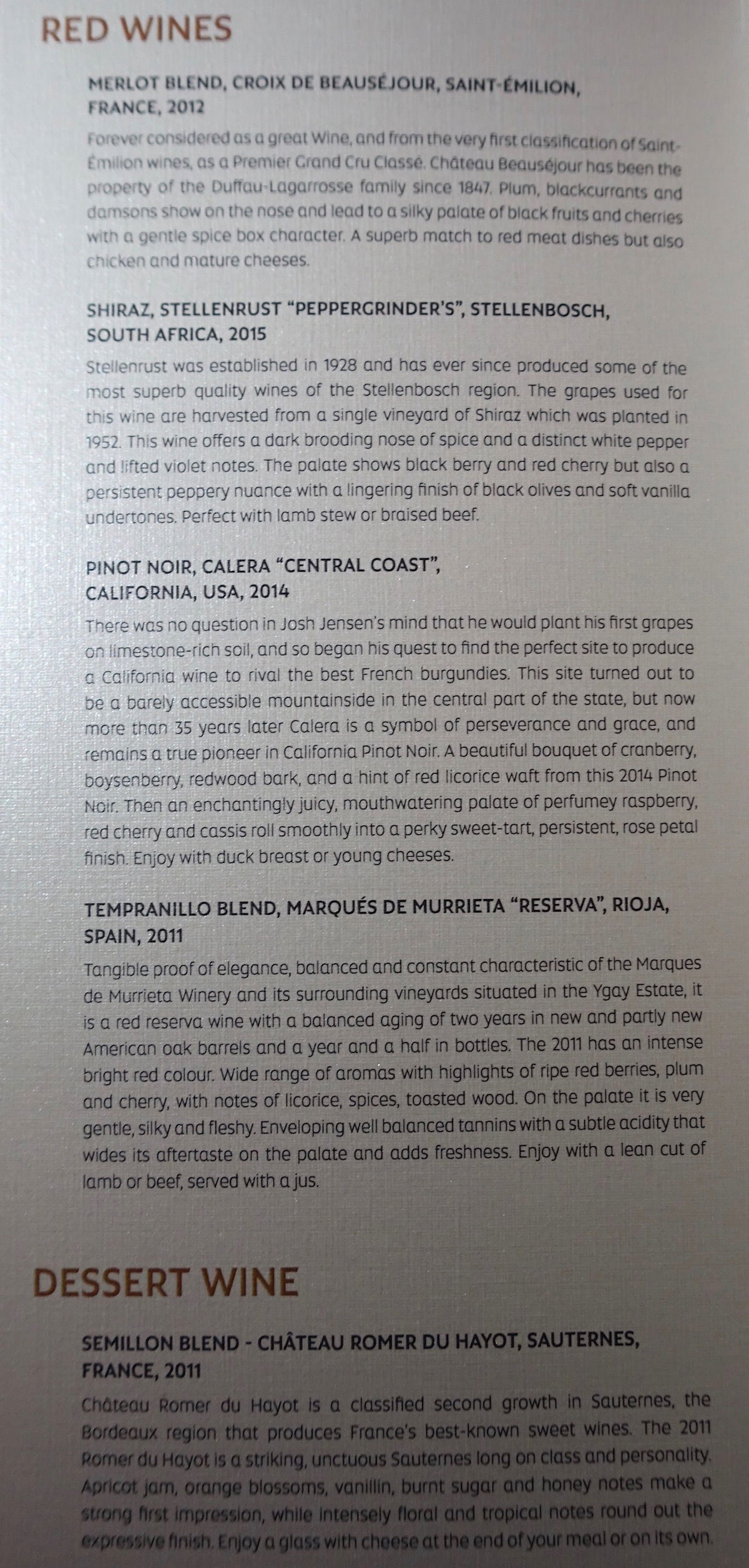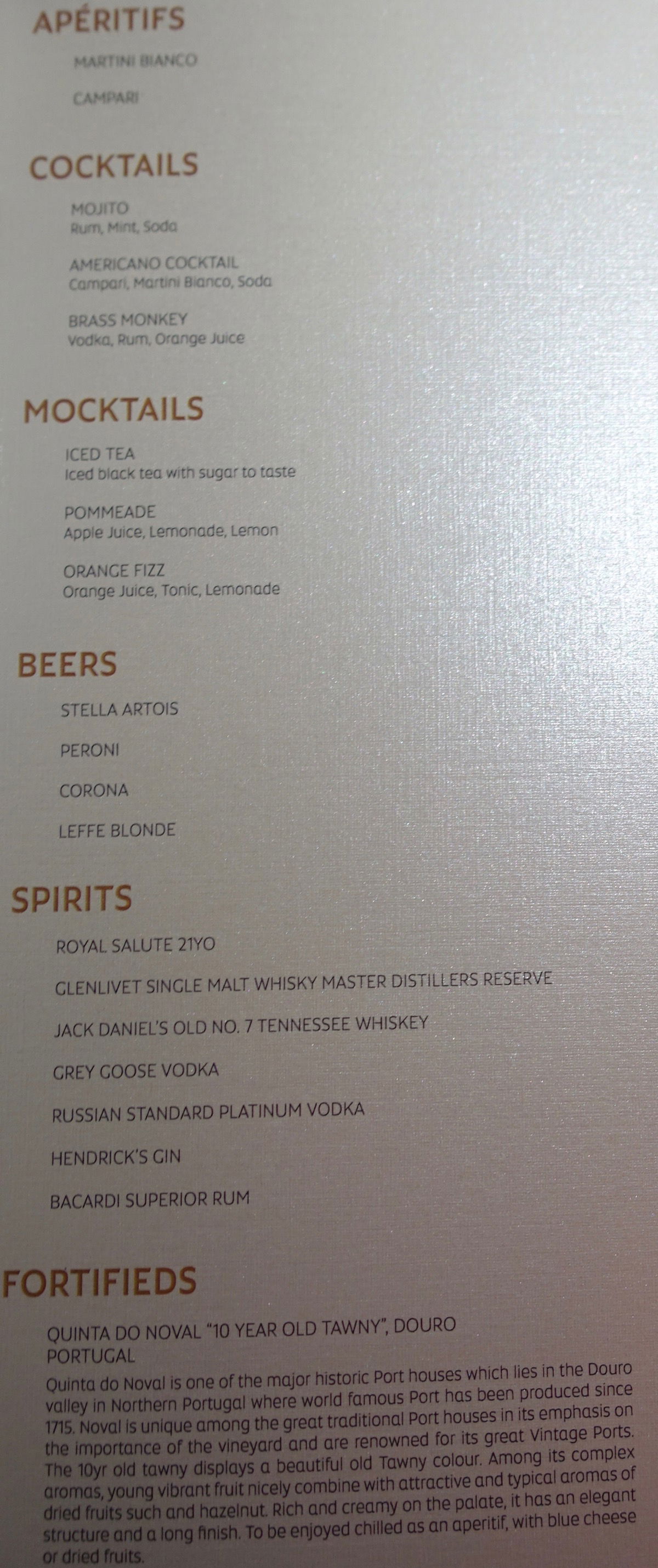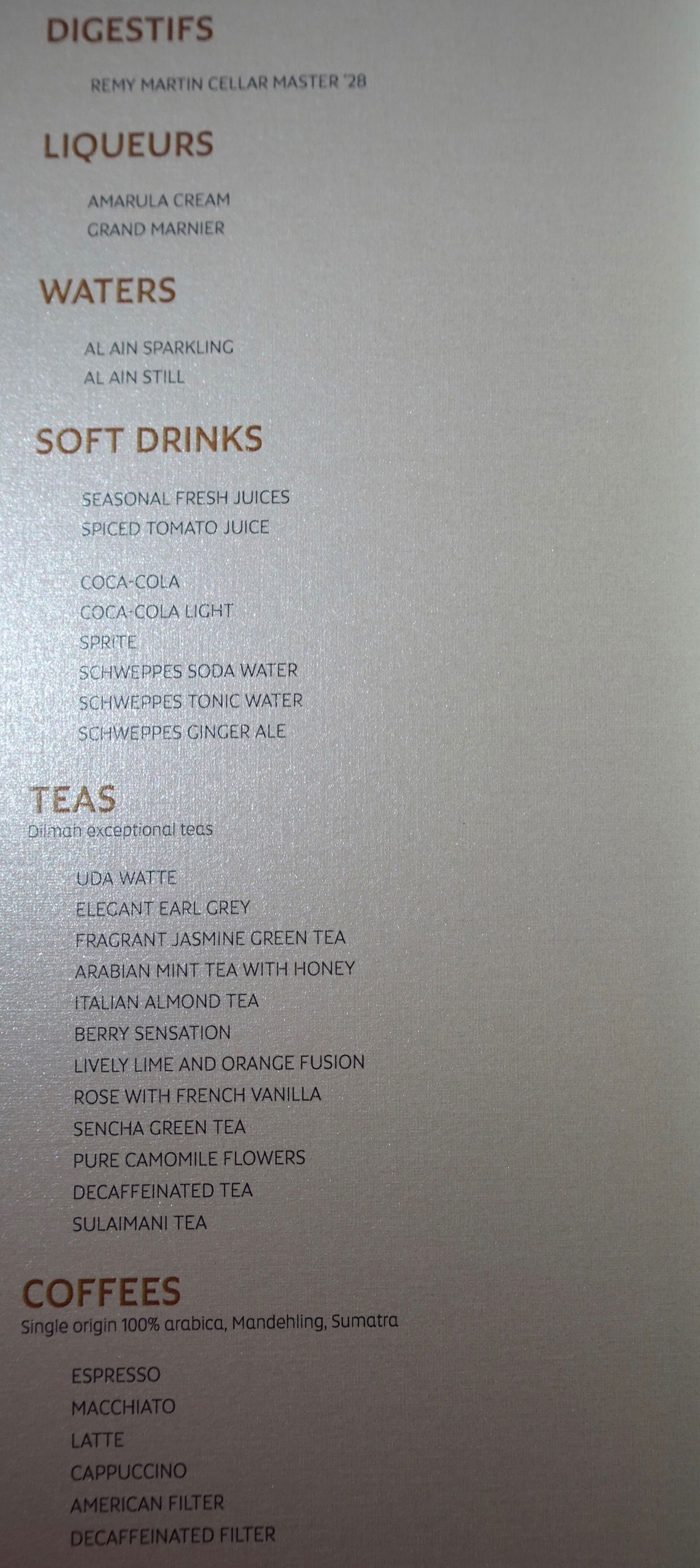 A lot of the menu does overlap with the first class menu, though there are a few distinctions:
The champagne is better
You get caviar
Most importantly, the menu is merely a backup plan, and if you want something else you can request it before the flight, so the menu can be every bit as special as you'd like it to be
To start the meal I was offered an amuse bouche of silken tofu with black and white wasabi with sesame seeds.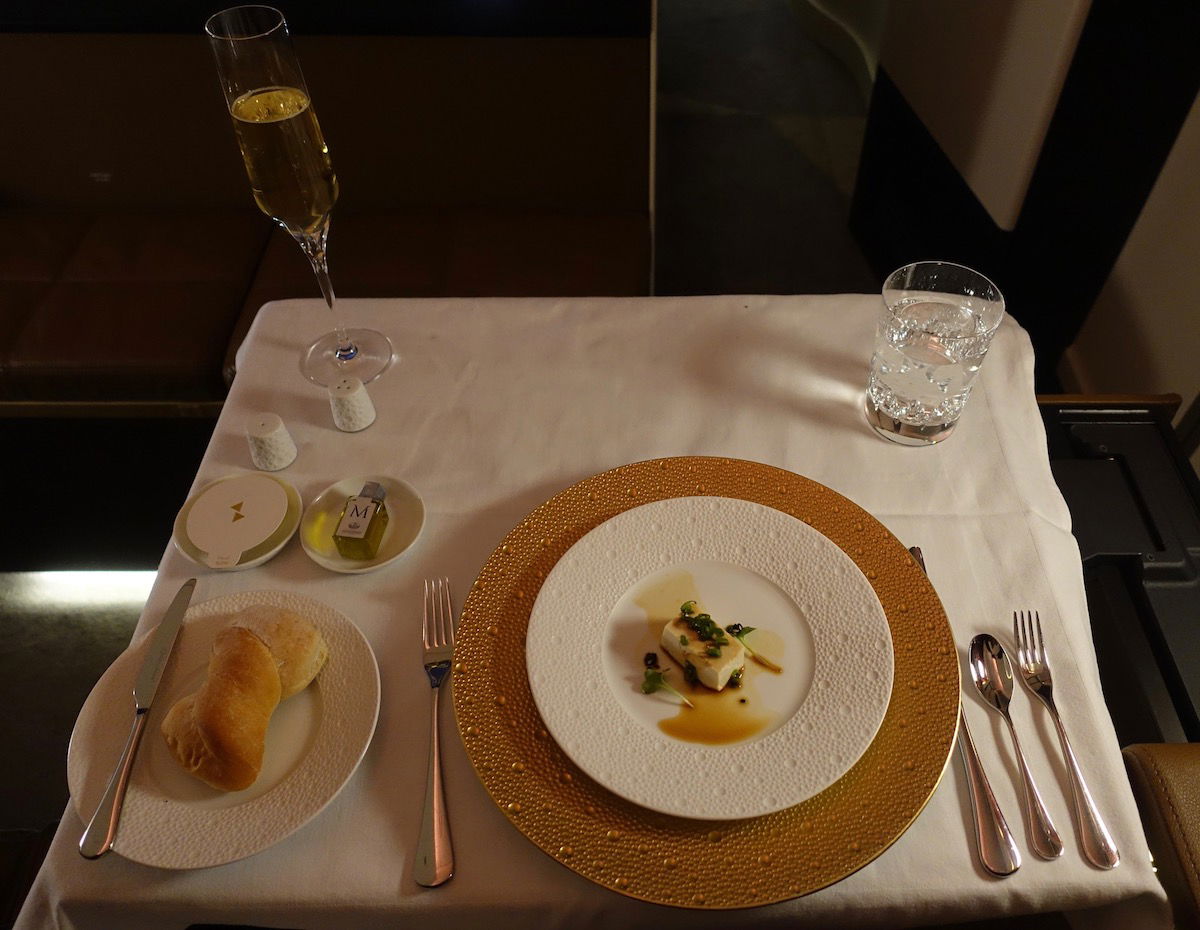 Etihad Residence dinner — amuse bouche
It was tasty, and as you'll see, the Residence plating is very different than in first class.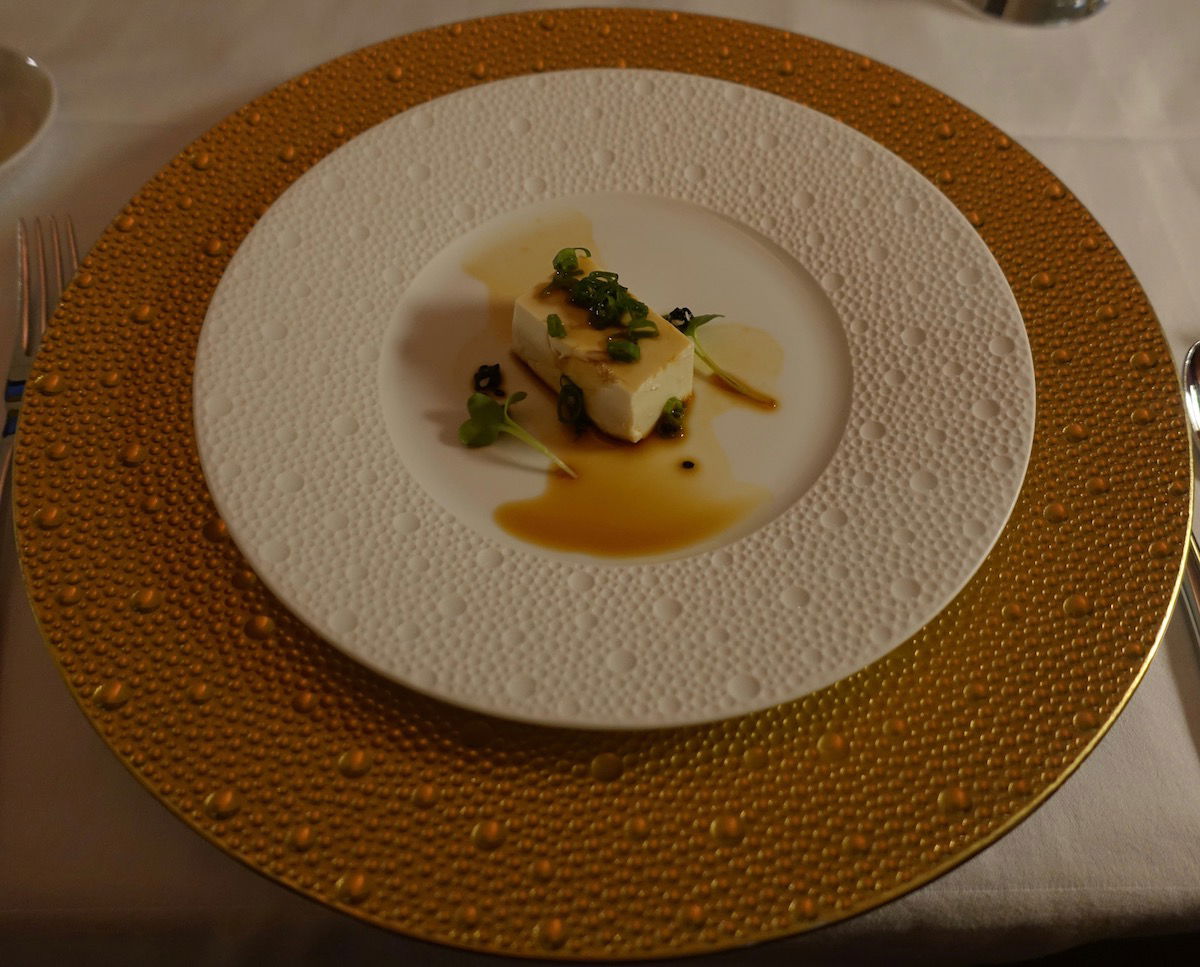 Etihad Residence dinner — amuse bouche
I was offered a selection of bread as well.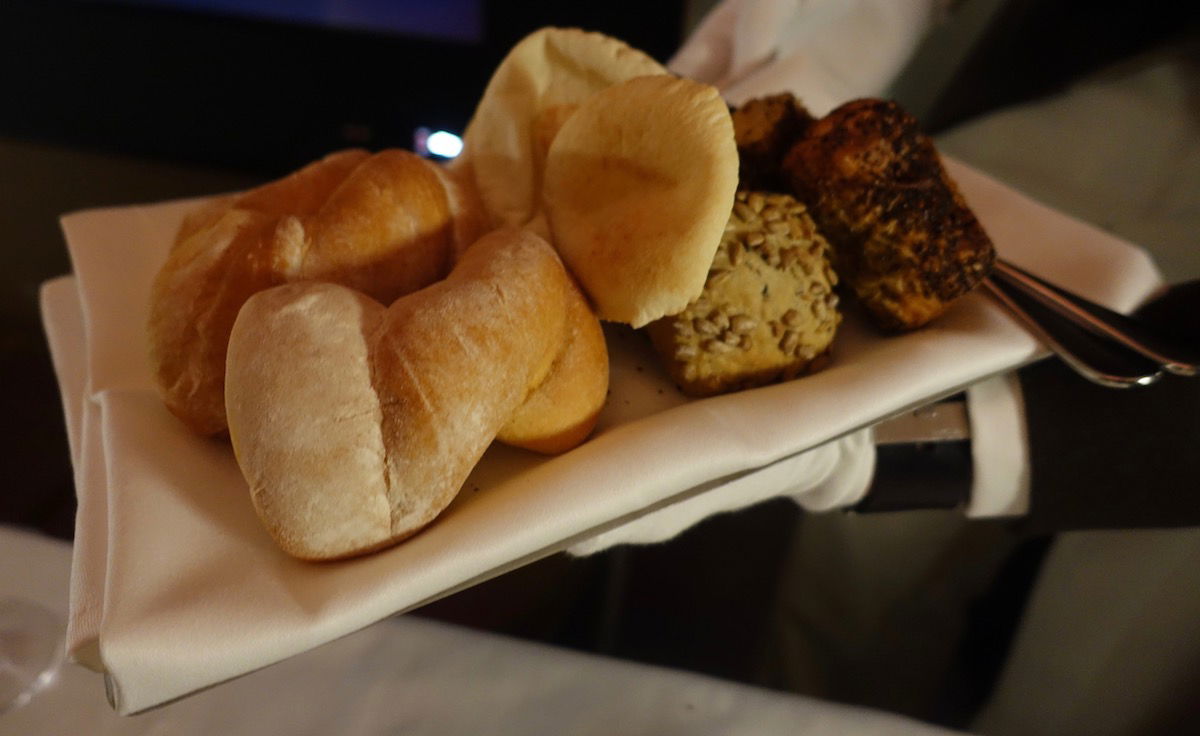 Etihad Residence dinner — bread selection
I know I've said this a million times already, but the attention to detail in the Residence is impressive — even the butter has the Residence logo on it.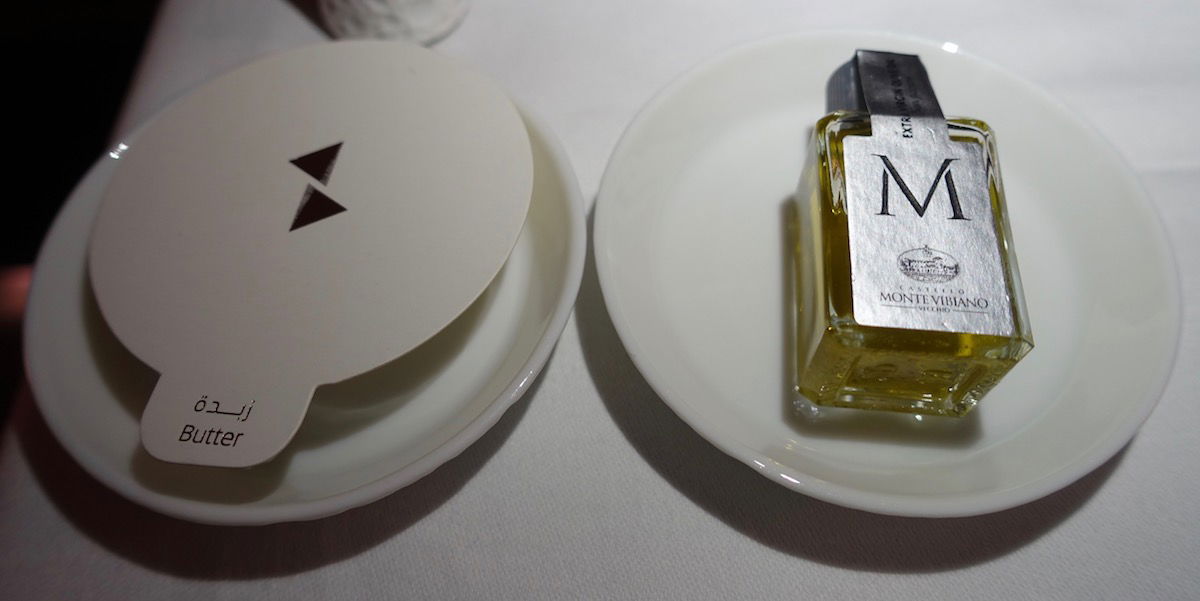 Etihad Residence dinner — butter and olive oil
Next I ordered some caviar. Etihad serves Abu Dhabi farmed caviar in the Residence, which is the same served on the ground. It's a bit saltier than some other types of caviar I've had, though also much more delicate. The caviar presentation was gorgeous, I thought.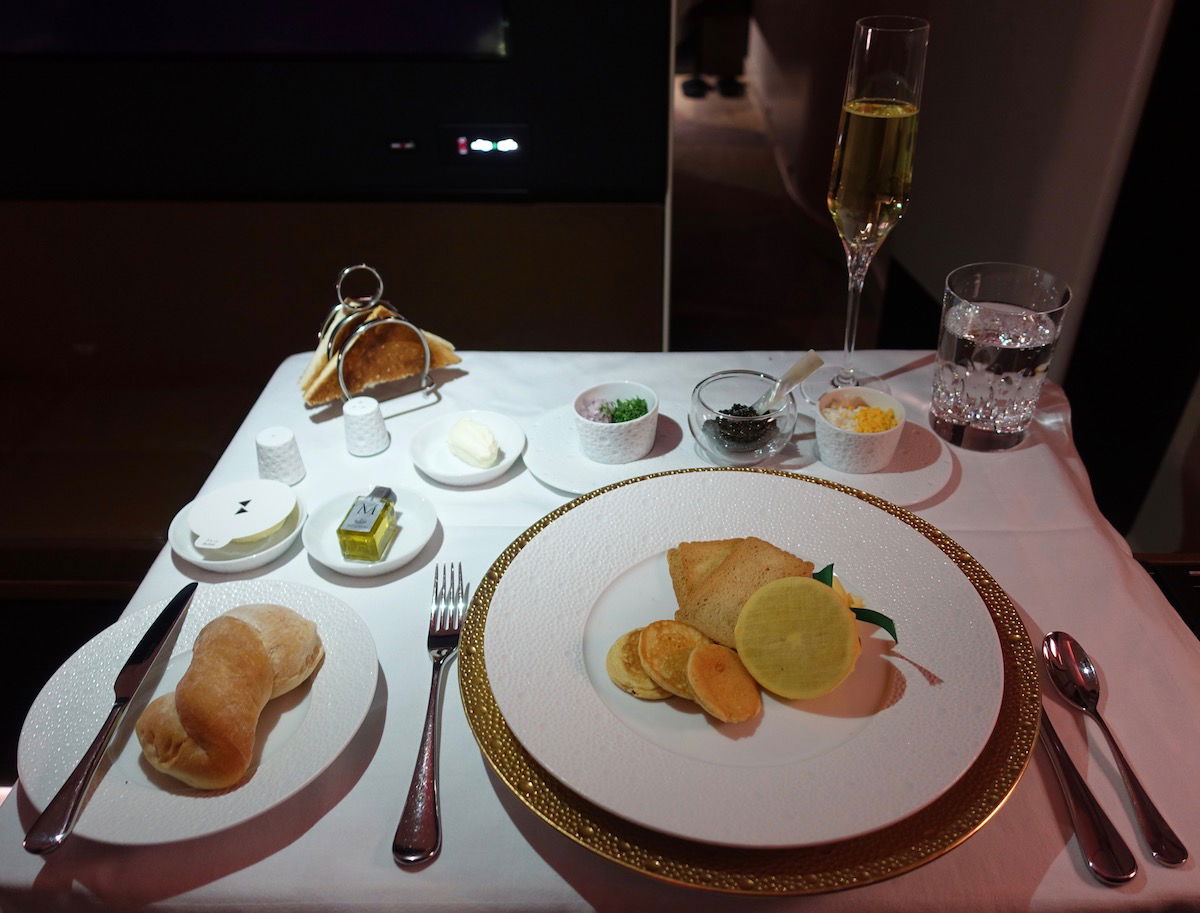 Etihad Residence dinner — caviar service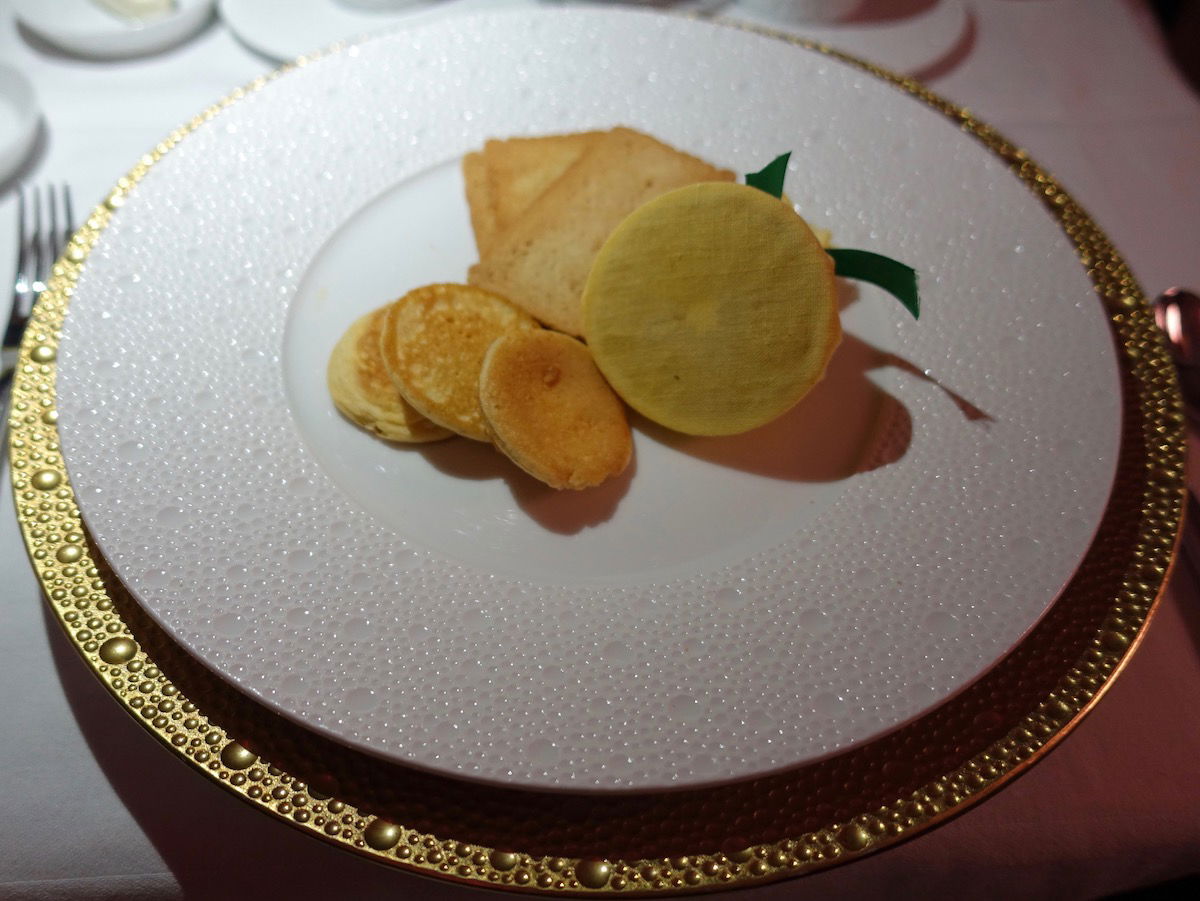 Etihad Residence dinner — caviar service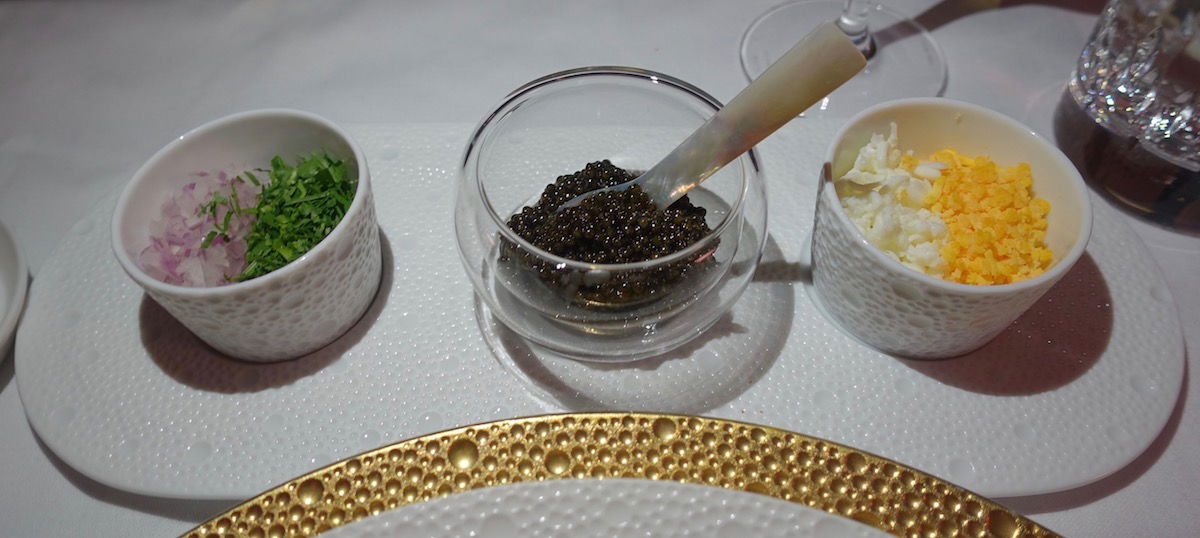 Etihad Residence dinner — caviar service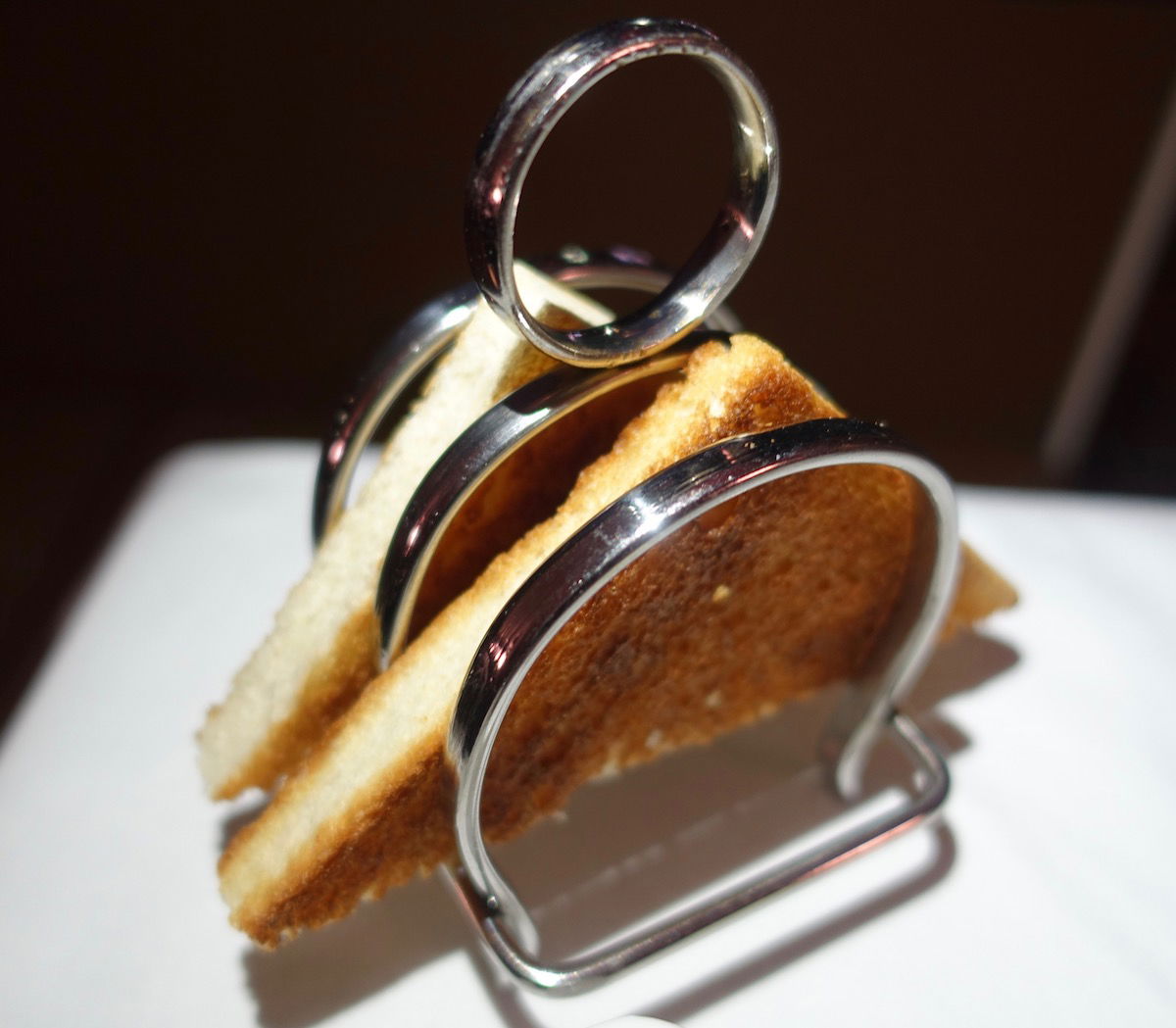 Etihad Residence dinner — caviar service
Next I decided to order the Canadian lobster, which was exceptional. My gosh, this was my second lobster and caviar dish over the course of a few hours.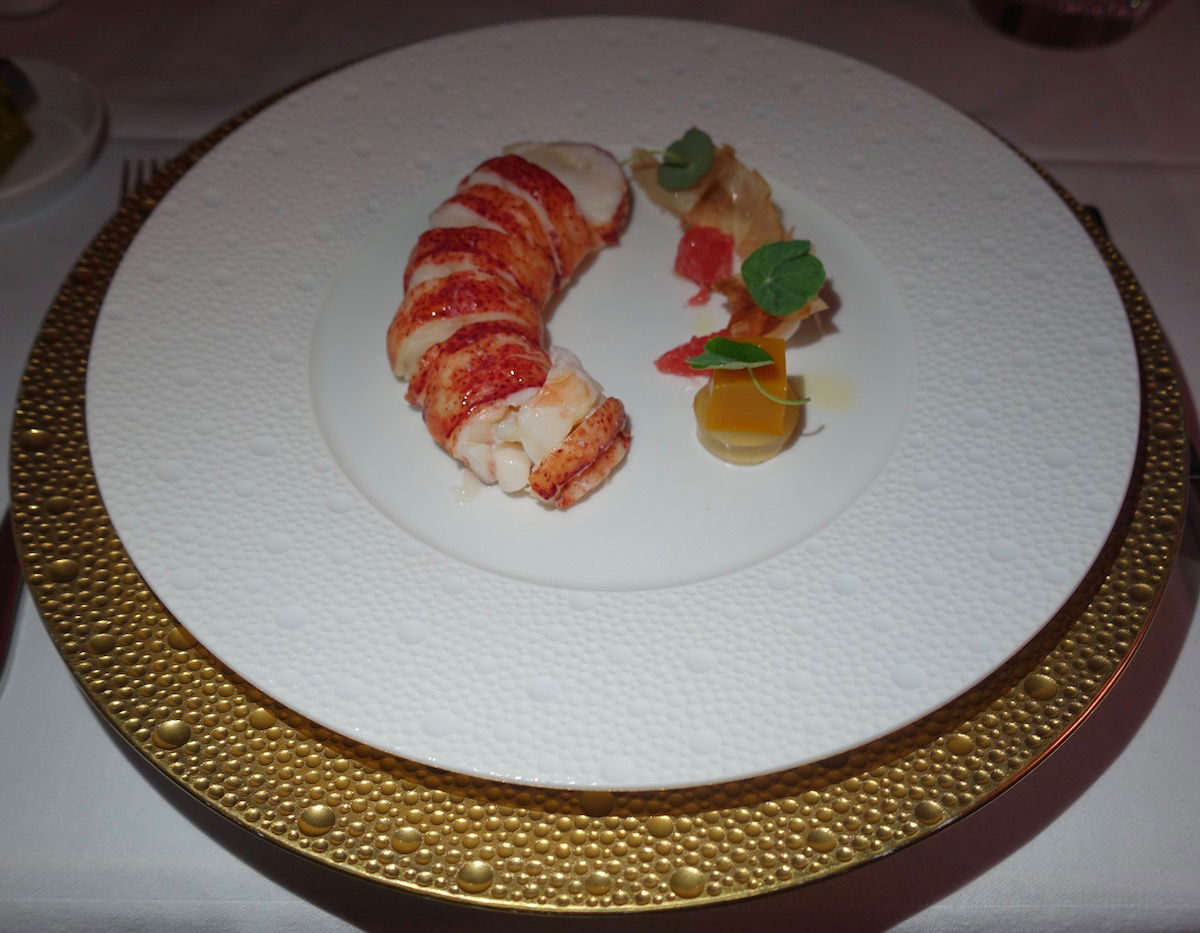 Etihad Residence dinner — Canadian lobster
I was stuffed at this point, so couldn't bear the thought of having a main. This is one of the problems when they feed you well both in the air and on the ground.
However, I couldn't turn down the opportunity to have some dessert. The banana and chocolate pudding with vanilla ice cream was both stunningly beautiful and delicious.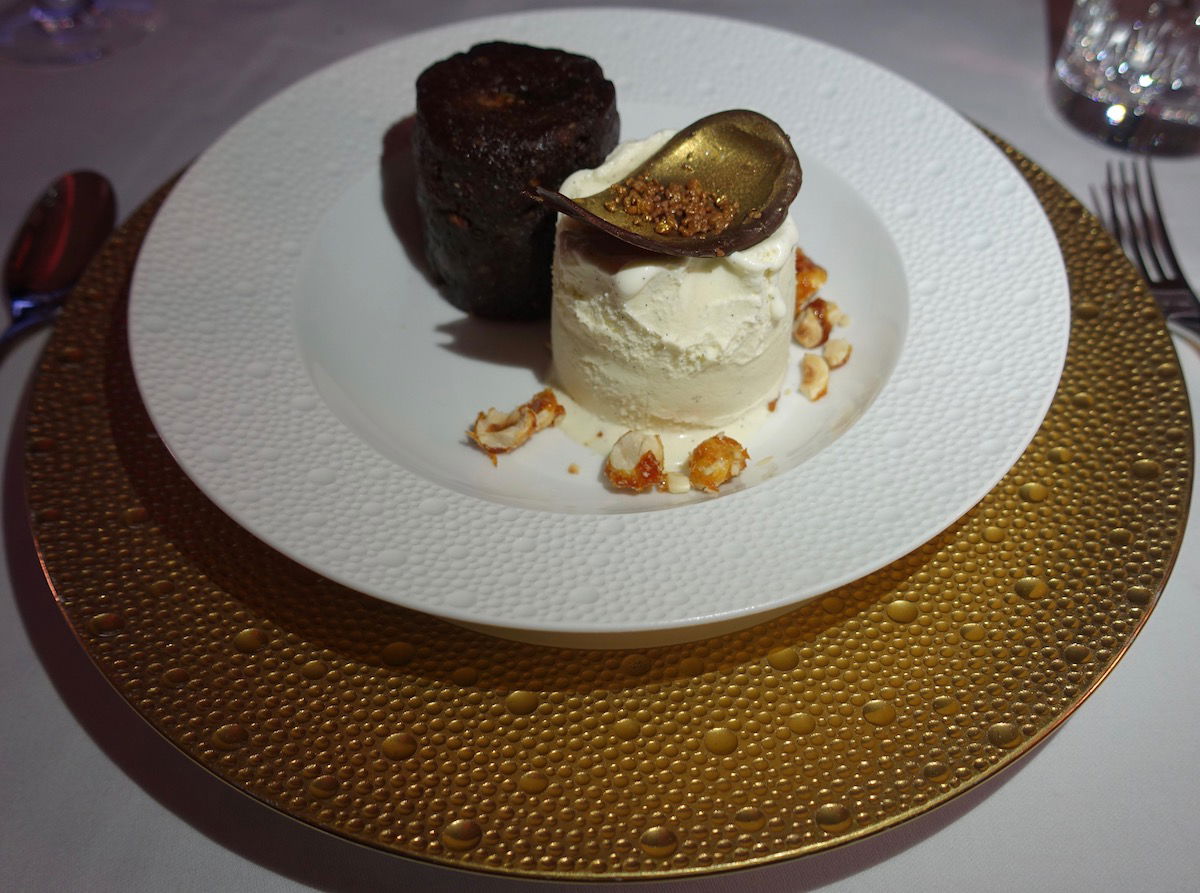 Etihad Residence dessert — banana & chocolate pudding
The meal service was done about two hours into the flight, and Johan struck a fantastic balance of being attentive without being overbearing. The meal was excellent, though I really wasn't that hungry after how much they fed me in the lounge.
By the time the meal was done we were just over 11 hours from Sydney, just west of Bengaluru.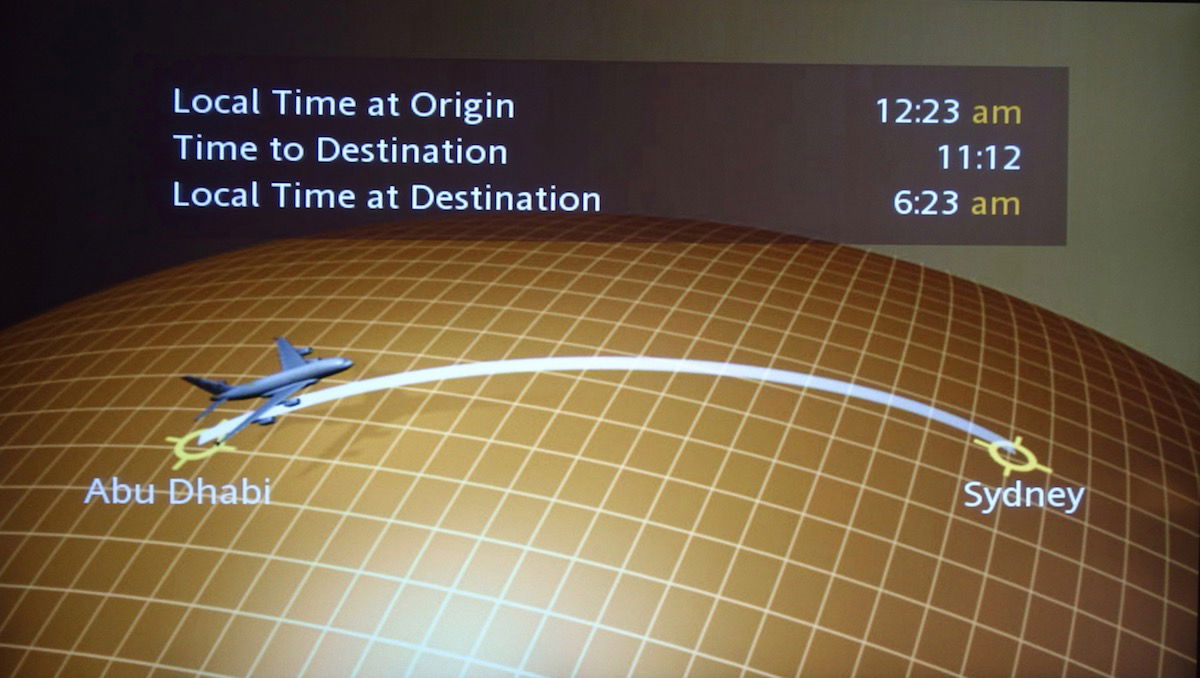 Airshow enroute to Sydney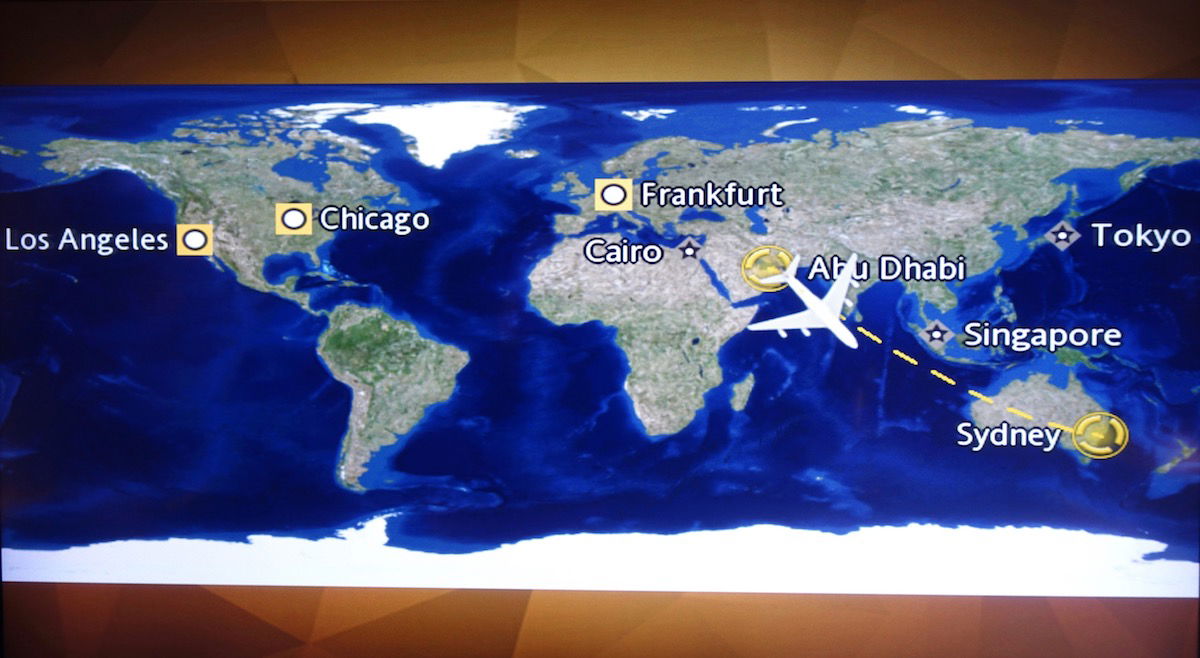 Airshow enroute to Sydney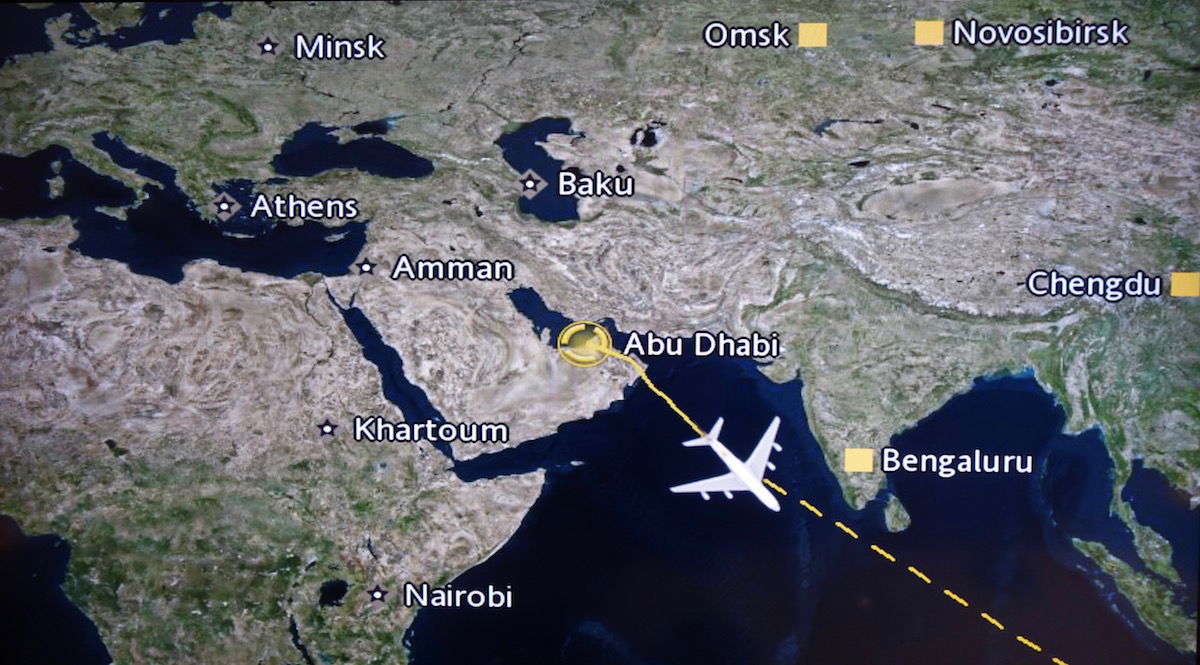 Airshow enroute to Sydney
Speaking of proactive service, during the dessert course Johan asked if he could go ahead and turn down my bed, so that it was ready for me when the meal was done. I of course took him up on that.
After dinner I stepped into my bedroom, closed the door, and giggled. As someone who has tried just about every first class product in the world, I was still in disbelief. I was on a plane (the world's biggest, to be specific), in the sky, in a private bedroom. What the hell?!?
The bed looked extremely comfortable, though I almost didn't want to get in it. It was that beautiful.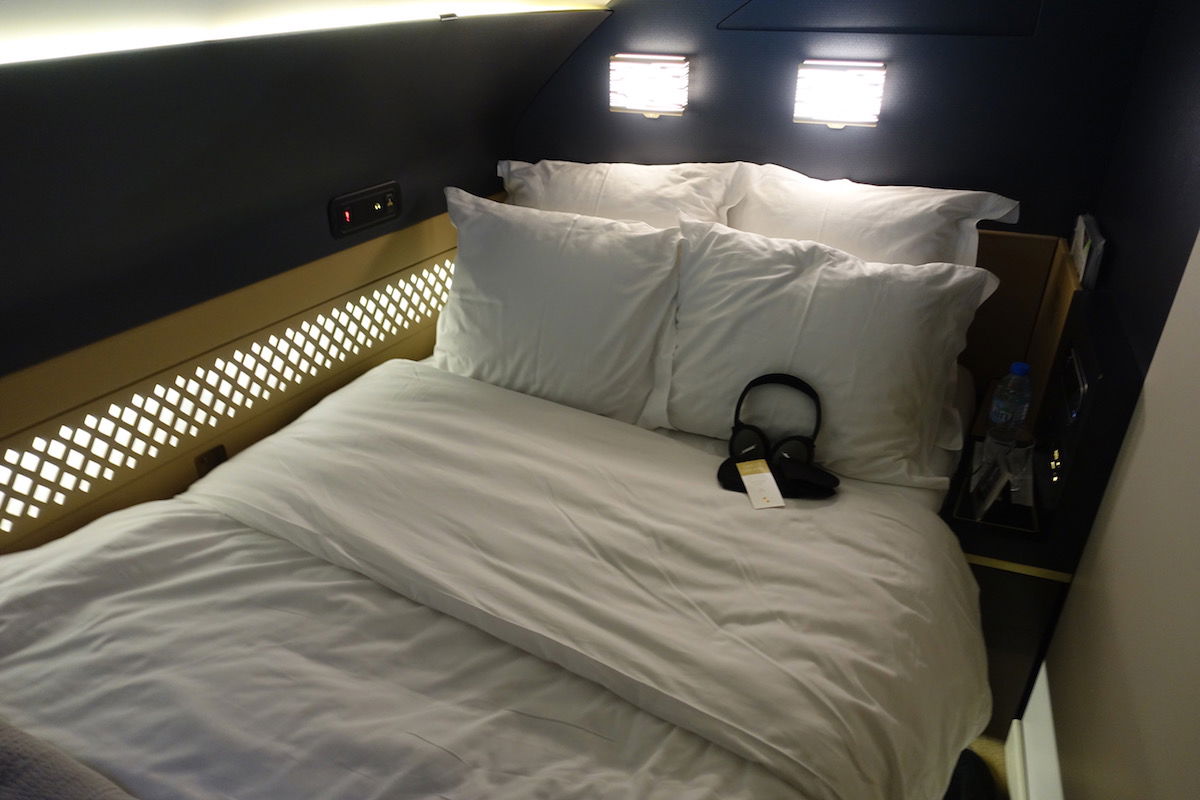 Etihad Residence bed turndown service
The bed had four pillows, which were just perfect. They were plush without being too soft, and being able to create a little pillow fortress on a plane made for a great night of sleep.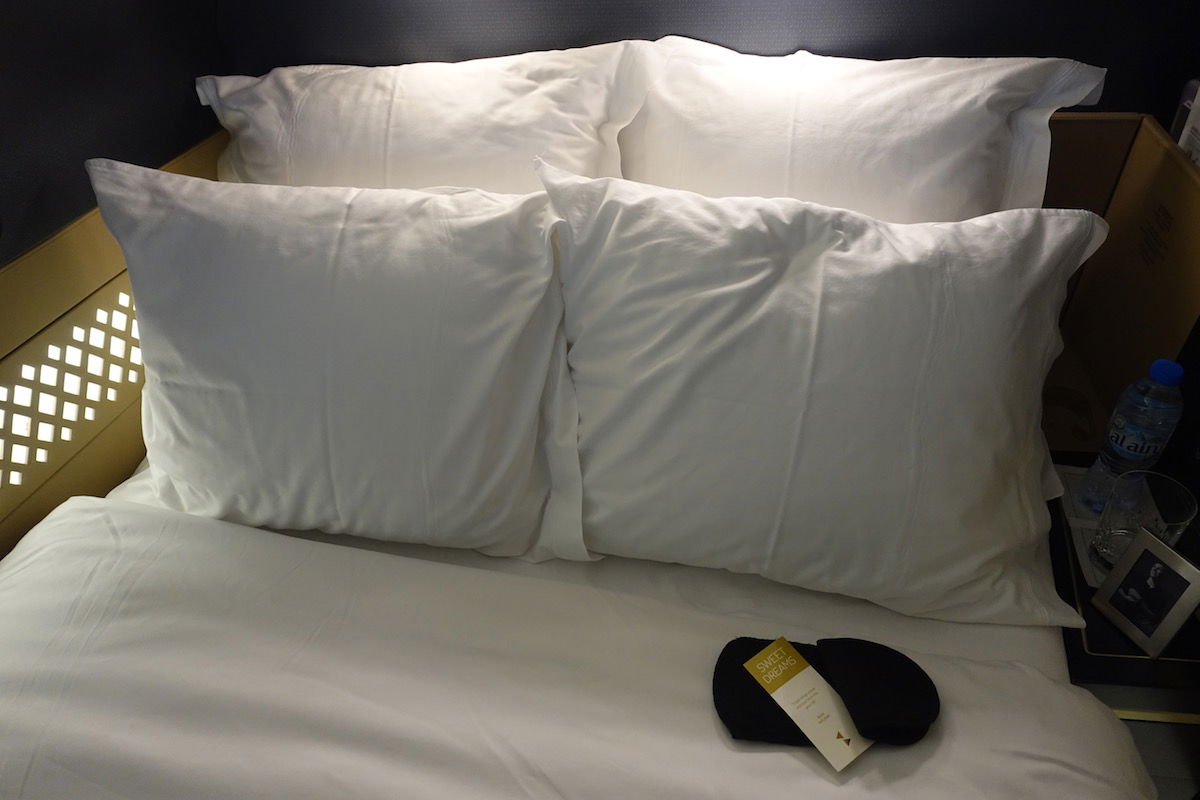 Etihad Residence bed turndown service
Now, here's one thing to be aware of. This is marketed as a "double bed," though there's no way it's the same width as a standard double bed. I'd say the bed is somewhere between a twin and a double in terms of size. This is of course not a problem when traveling alone, but I do think this would be a tight squeeze if two people were traveling together.
The living room doesn't convert into a bed, so this isn't a product you'd probably find especially comfortable if traveling with a friend and you both wanted to sleep.
On the plus side, the bed was oh-so-comfortable. The bed had a legitimate mattress, so this isn't just the case of them placing a thin sheet on a hard bench and calling it a bed. The Residence bed is every bit as comfortable as any bed you'd find on the ground. I also didn't find the room to be the least bit claustrophobic.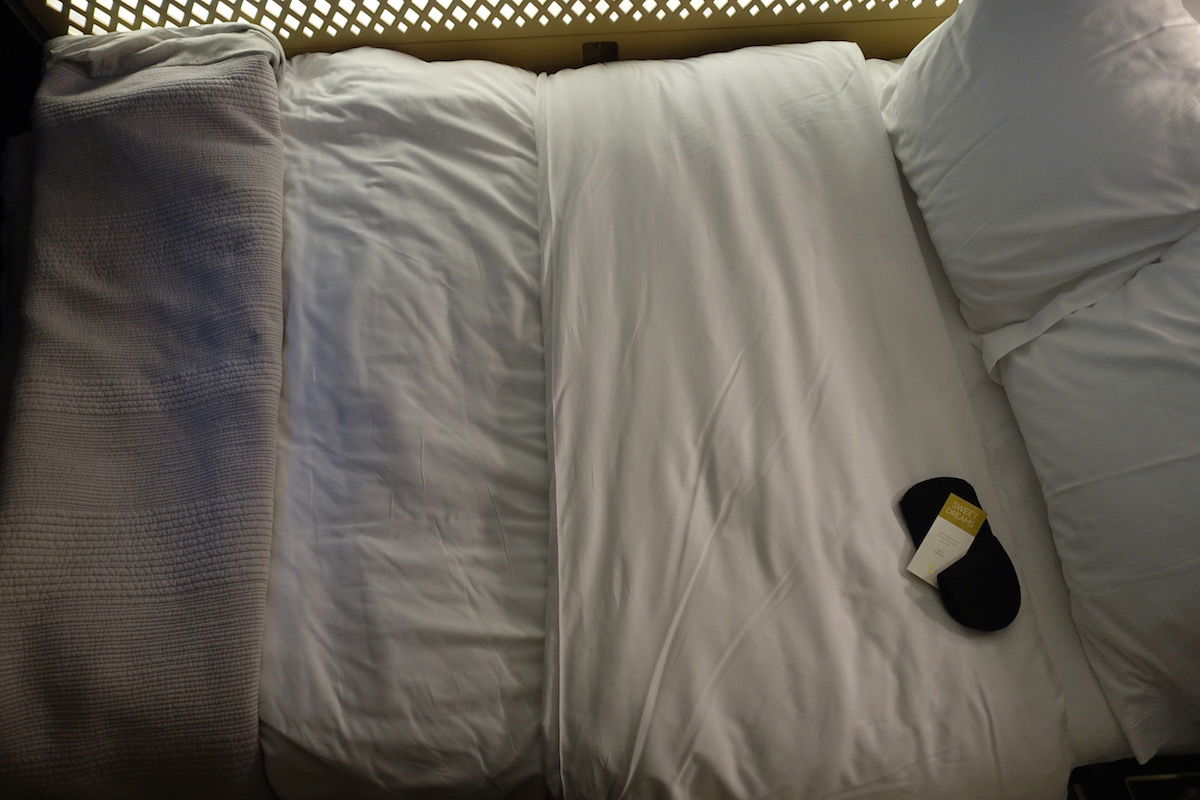 Etihad Residence bed width
Next to the bed was an entertainment controller as well as a whole bunch of buttons and outlets. There was even an emergency button.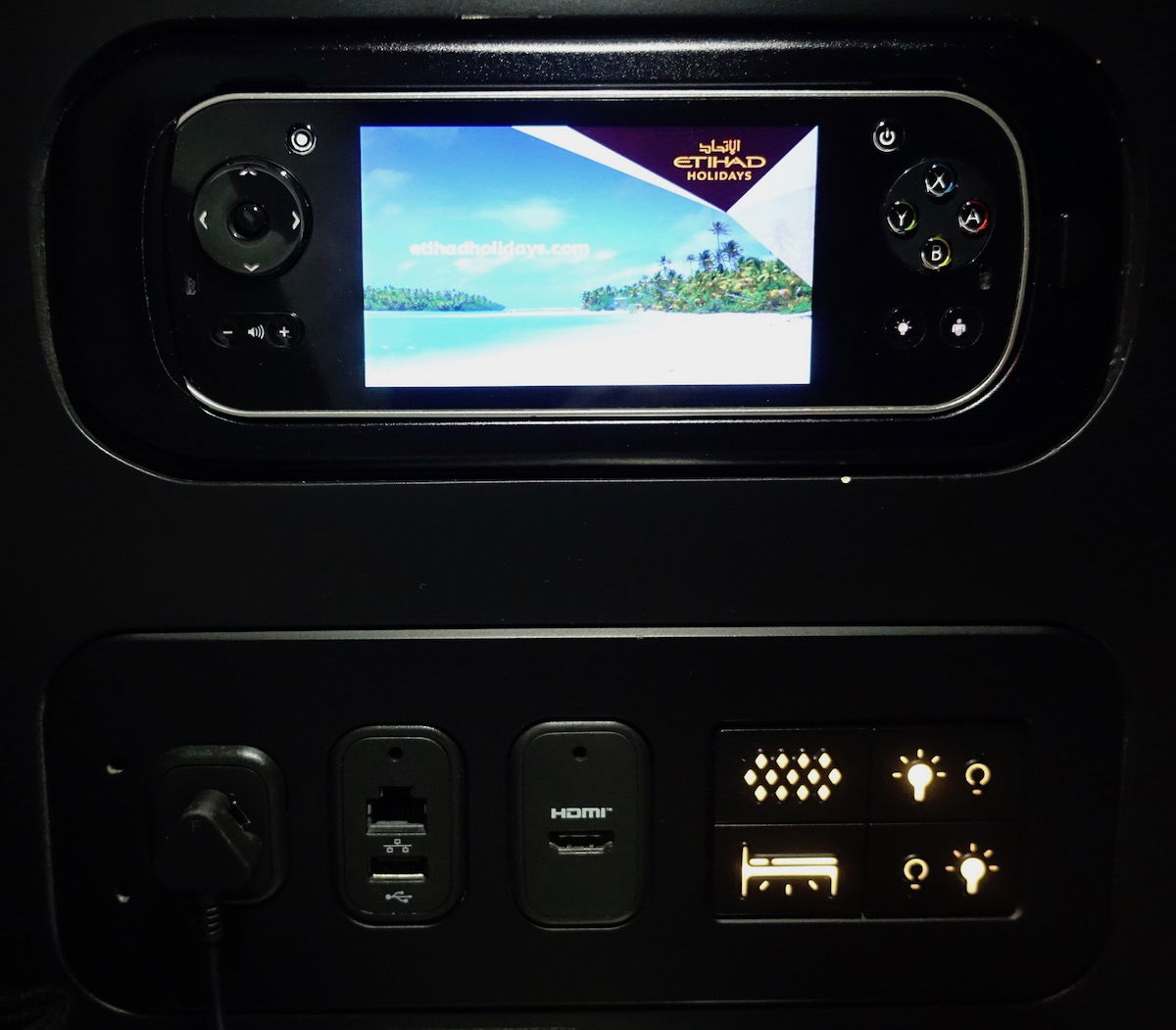 Etihad Residence bedroom outlets and entertainment controllers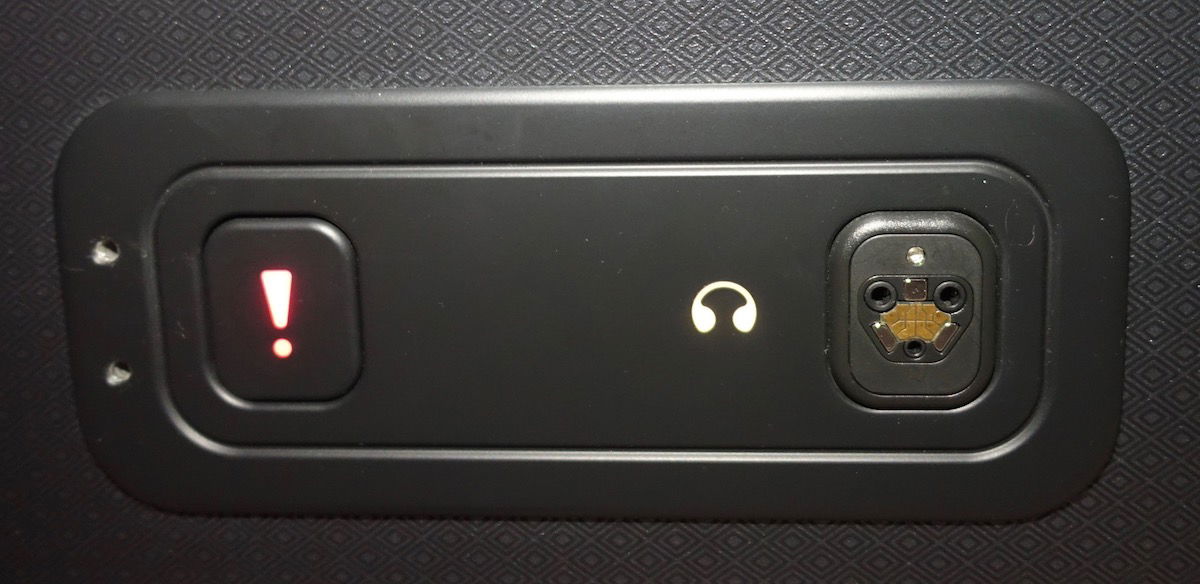 Etihad Residence bedroom emergency button
Fun fact — the Residence has a peephole, though I'm told it's not used when the Residence is occupied. Instead it's intended so the crew can look inside in the event that someone tries to sneak in there. If the seatbelt sign goes on during the night they seem to use the honor system for the Residence. You're told to fasten your seatbelt when you go to bed, and that's that.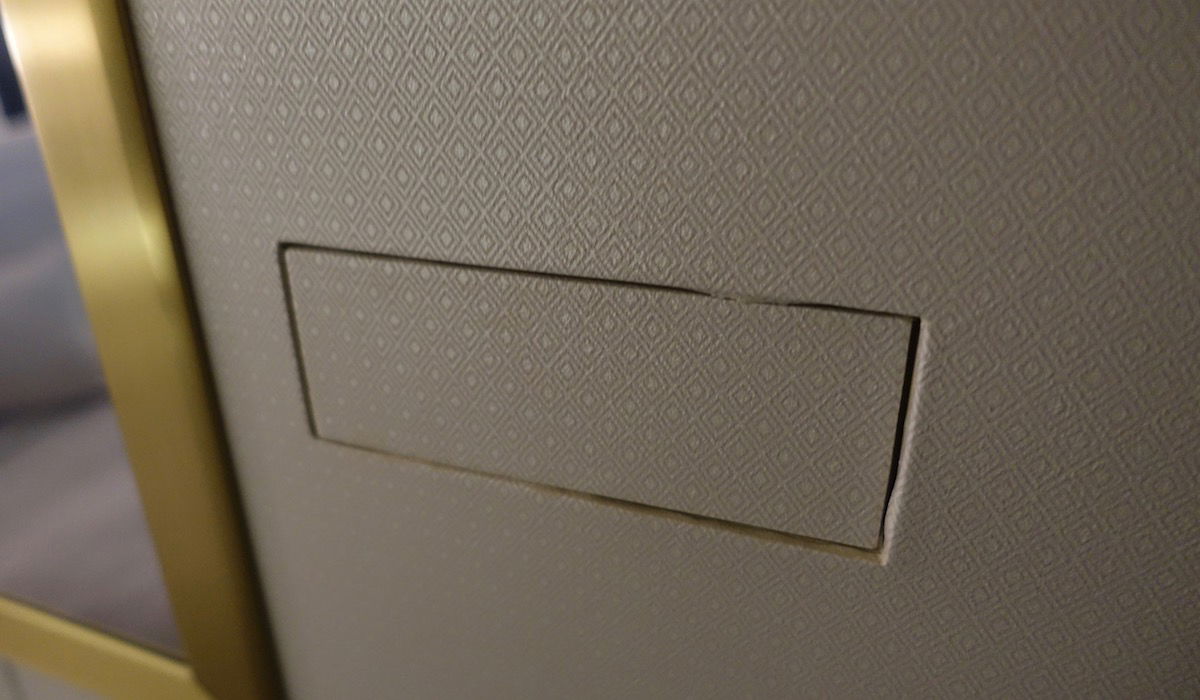 Etihad Residence bedroom peephole
I was already on cloud nine when I saw the bed, so you can imagine my excitement when I saw what they placed next to the bed — A SIGNED SHAWN MENDES PICTURE.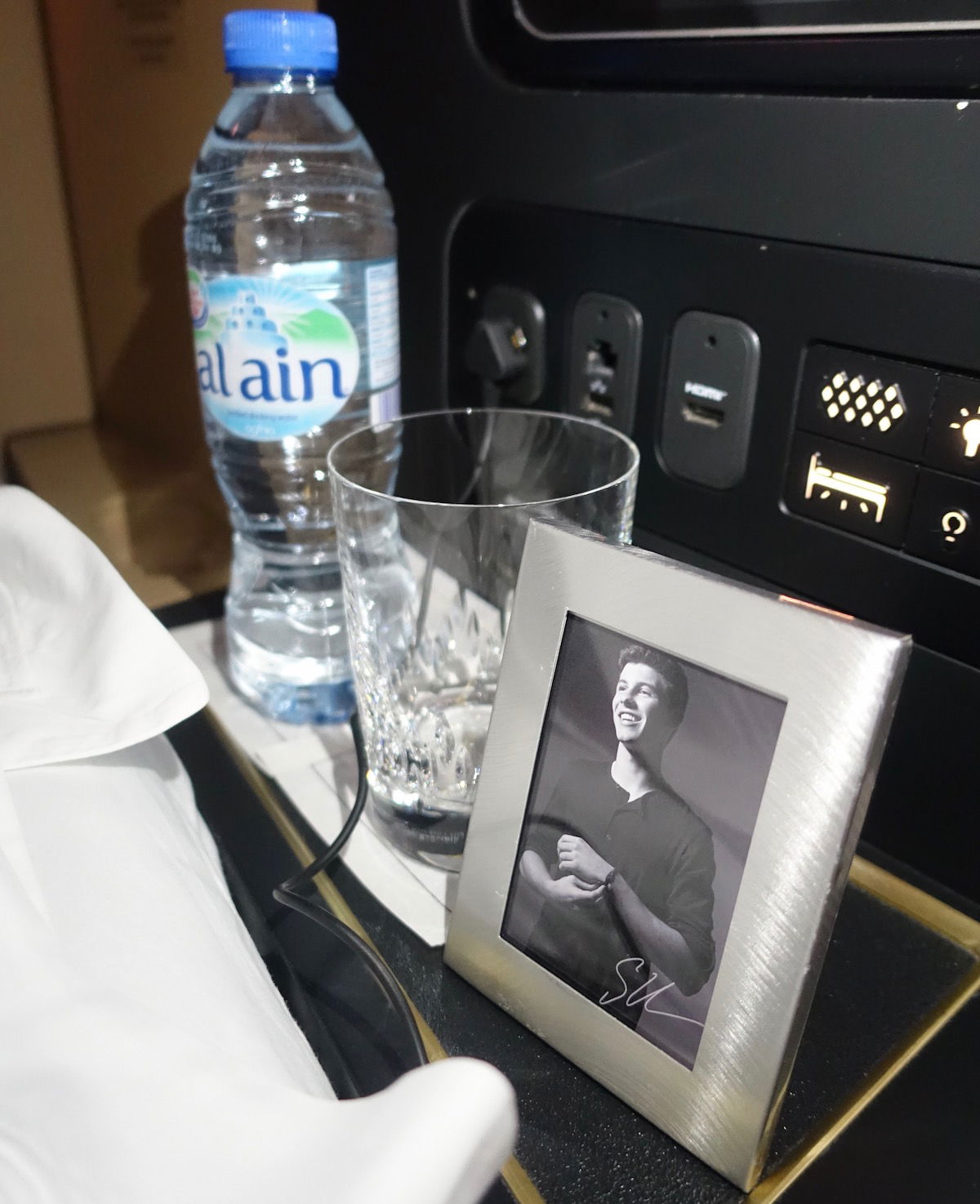 SHAWN MENDES in the Etihad Residence (sort of)
<3 <3 <3 <3 <3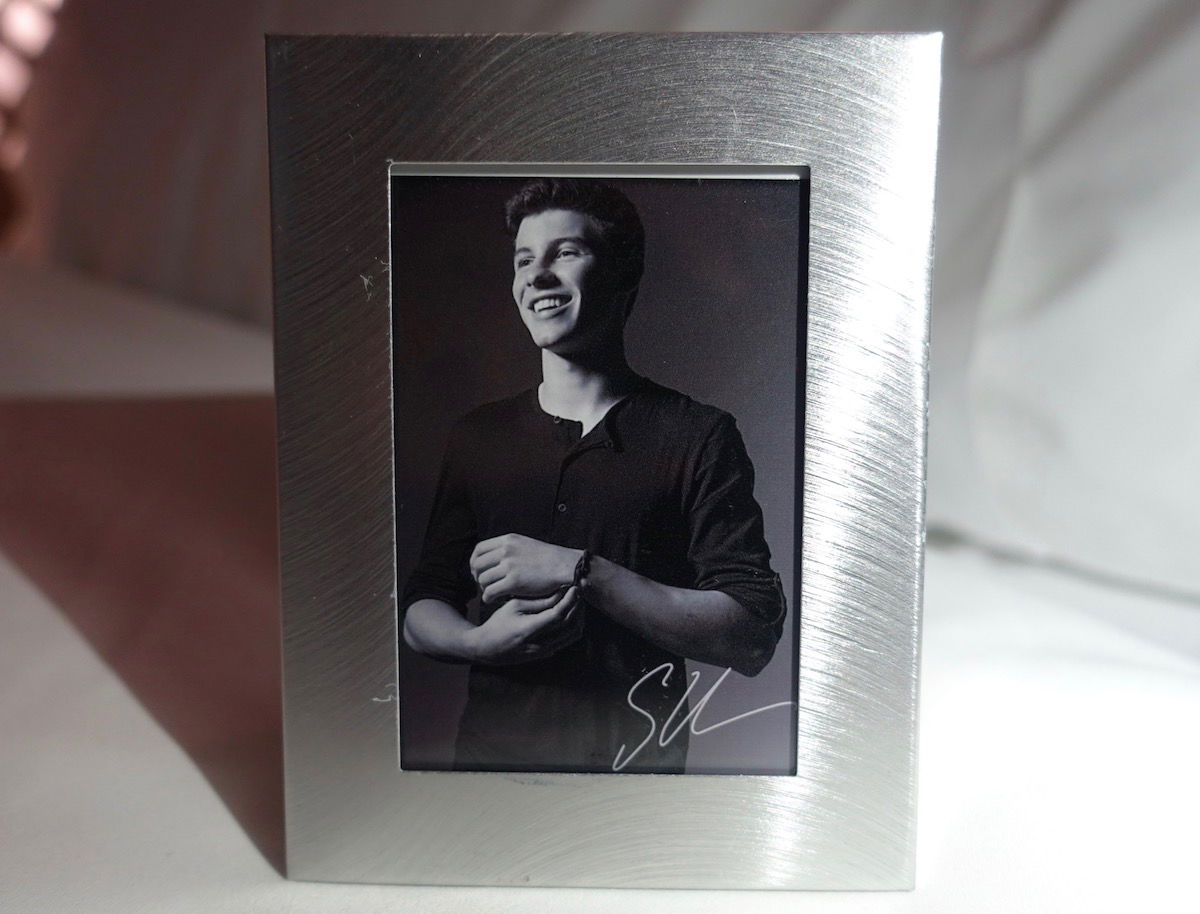 !!!!
After I managed to catch my breath and let the fact that I was flying the Residence sink in, it was time to get some sleep. We had about 10 hours left to Sydney at this point, and I decided to set an alarm so that I wouldn't sleep for the entire flight, because I could have easily done so with how comfortable the bed was. So I set an alarm for six hours before landing. I fell asleep almost immediately, and woke up feeling refreshed as the alarm went off, as we were approaching the west coast of Australia.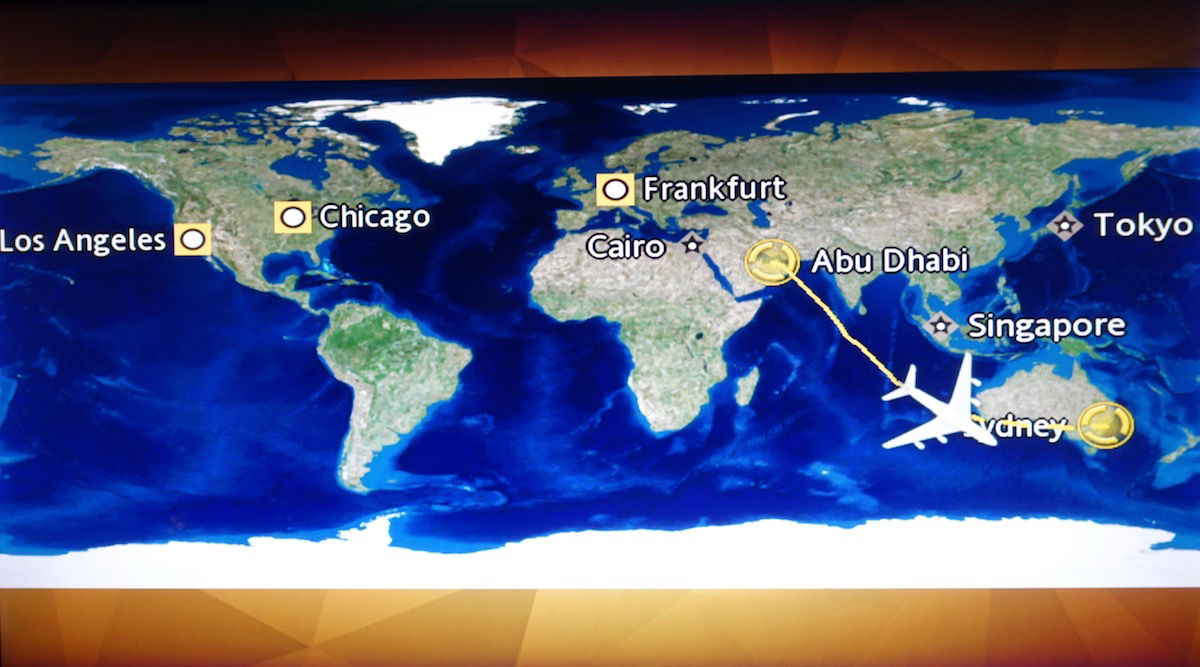 Airshow enroute to Sydney after waking up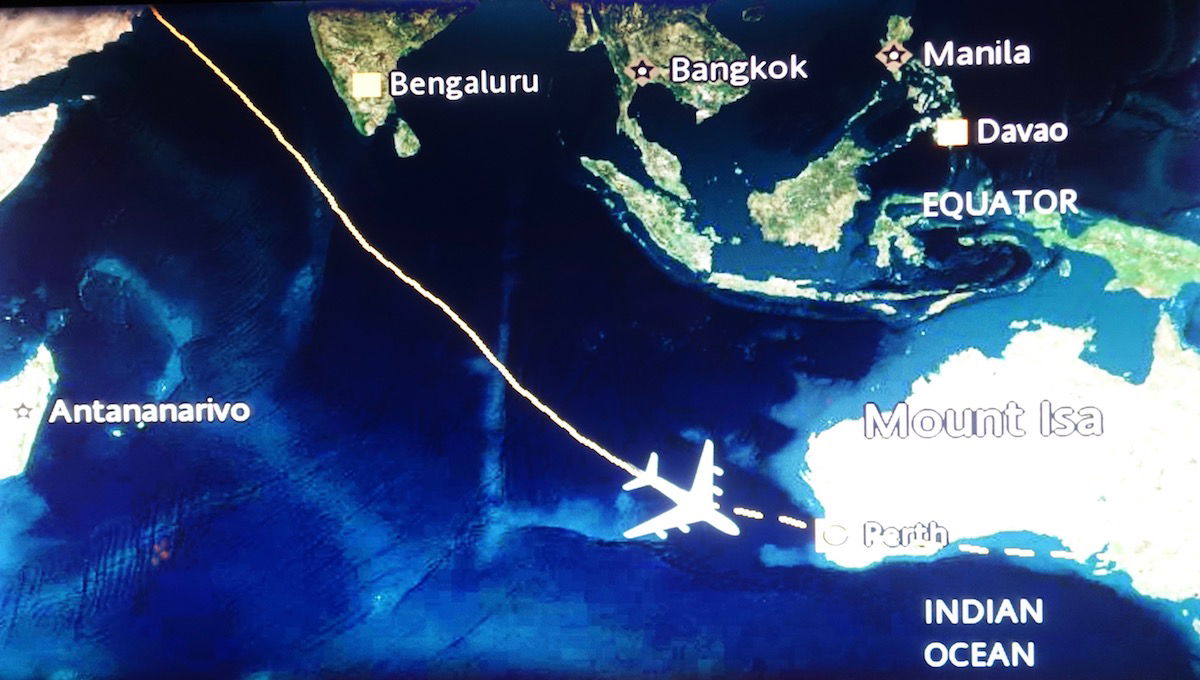 Airshow enroute to Sydney after waking up
When I went to bed, Johan explained that he would also take his rest while I sleep. Obviously the butler needs rest like the rest of the crew, and the butler apparently schedules his or her rest around that of the Residence passenger. He had introduced me to the cabin manager before I went to bed, and said that if I needed anything he'd take care of me.
When I woke up I pushed the call button, and sure enough, Johan was already awake from his rest as well.
I asked for an iced double espresso. And of course I asked to have it delivered to bed, because when you're on a plane and have a private bedroom, you're damn well going to take advantage of that. The iced double espresso was served on a beautiful tray, with a warm chocolate cookie.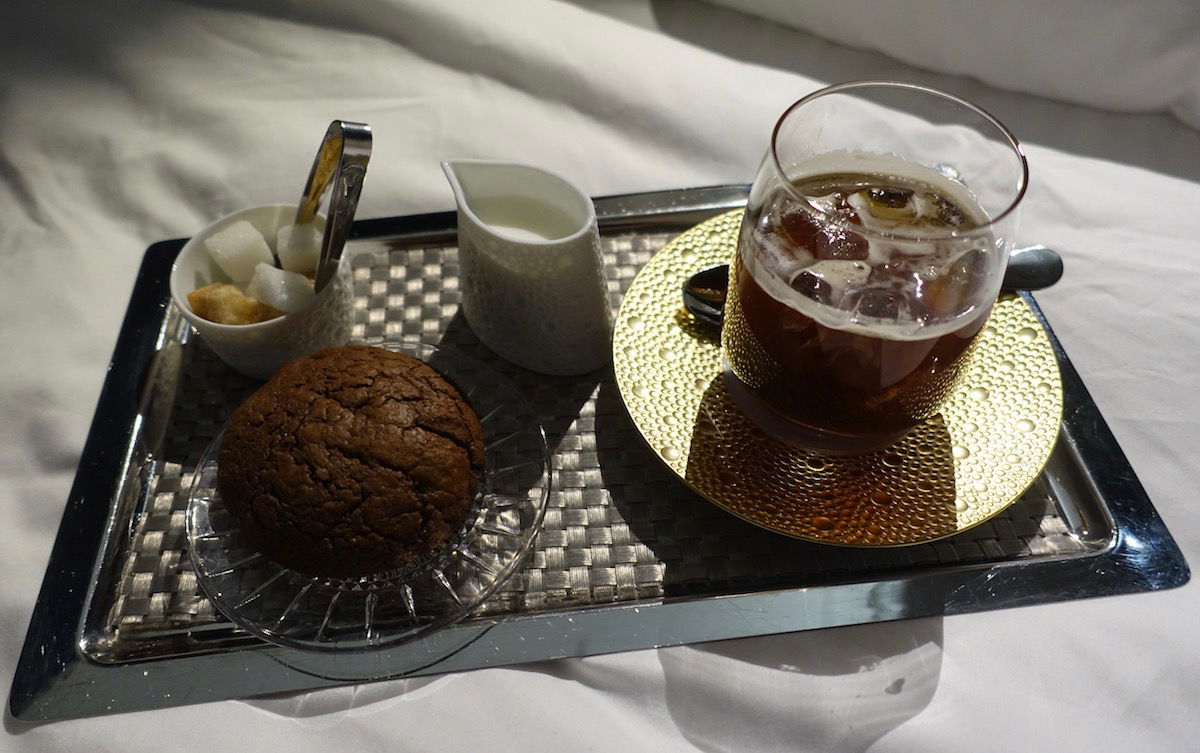 Iced double espresso in the Etihad Residence
After I woke up I decided to briefly walk around the cabin.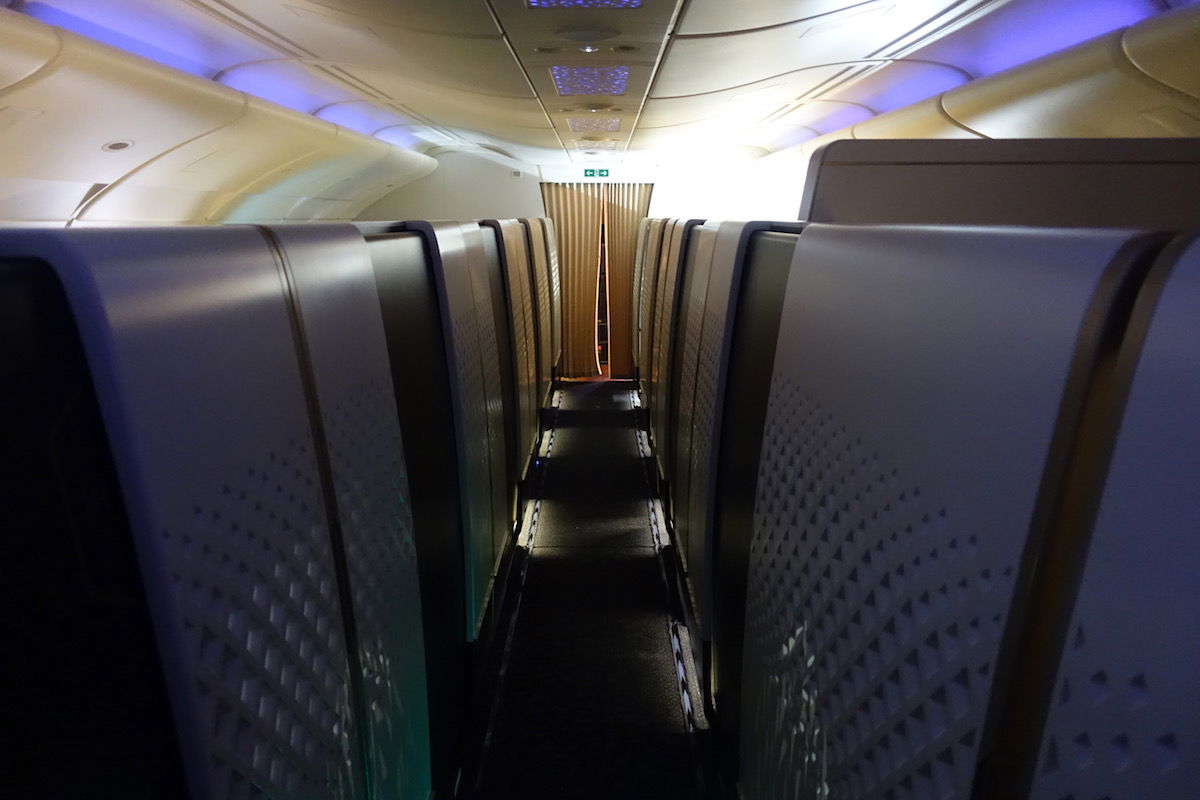 Etihad A380 first class cabin
Then I walked back to the Lobby, located behind the first class cabin. This is a social area shared between first and business class passengers. However, I quickly reminded myself that I was flying the Residence, and that I should spend every minute possible inside of it, as I can visit the Lobby anytime.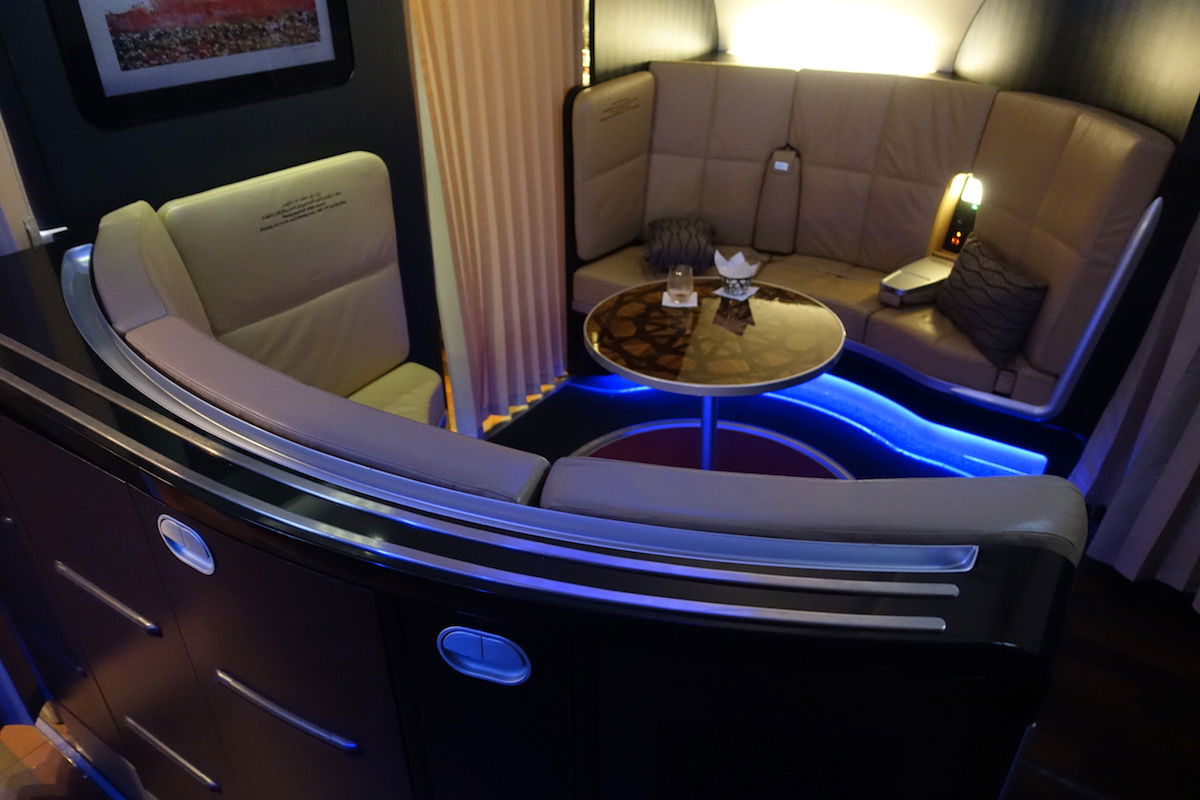 Etihad A380 lobby

Etihad A380 lobby
In the very short time that I visited the Lobby, Johan provided a turndown service of my bed.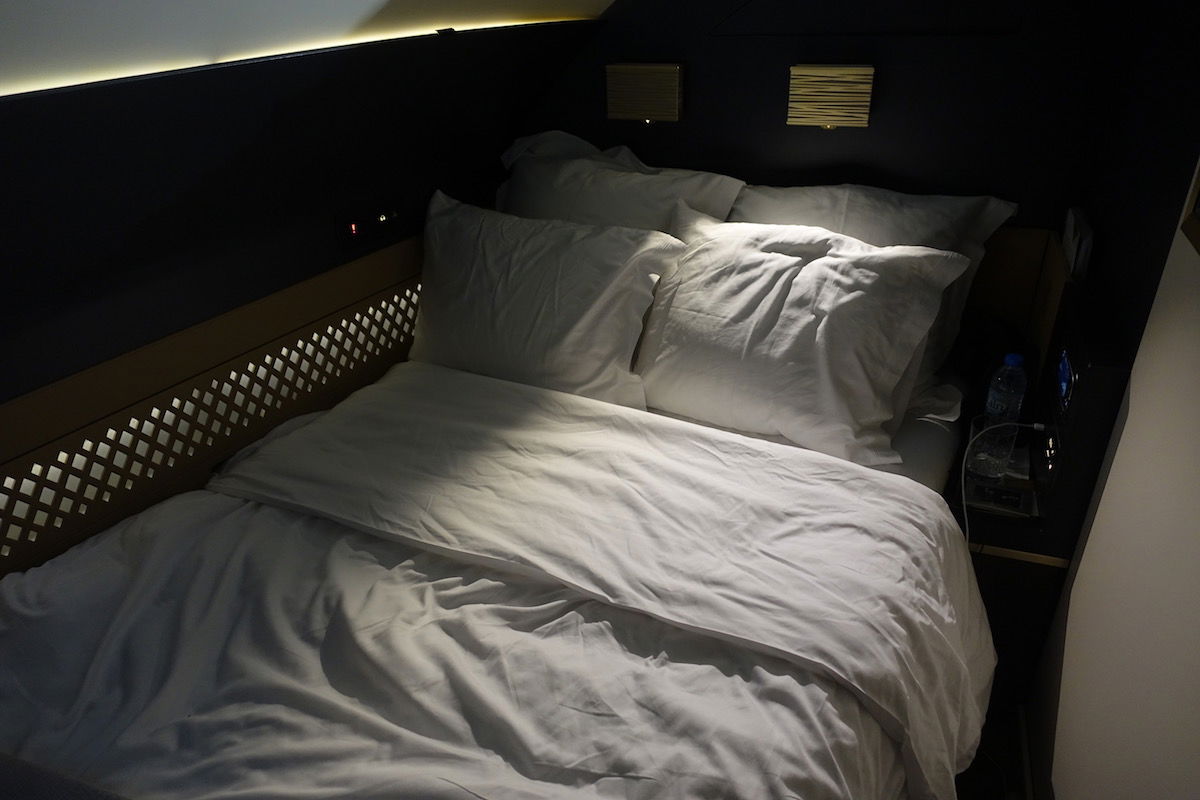 Constant bed turndown service
I decided to get back in bed, and figured I might as well order breakfast in bed. Yep, Etihad will even serve you a meal in bed. I wasn't that hungry, so just asked for scrambled eggs well done, and a cappuccino and orange juice.
I was offered a selection of bread to start, including croissants, cinnamon rolls, chocolate pastries, etc.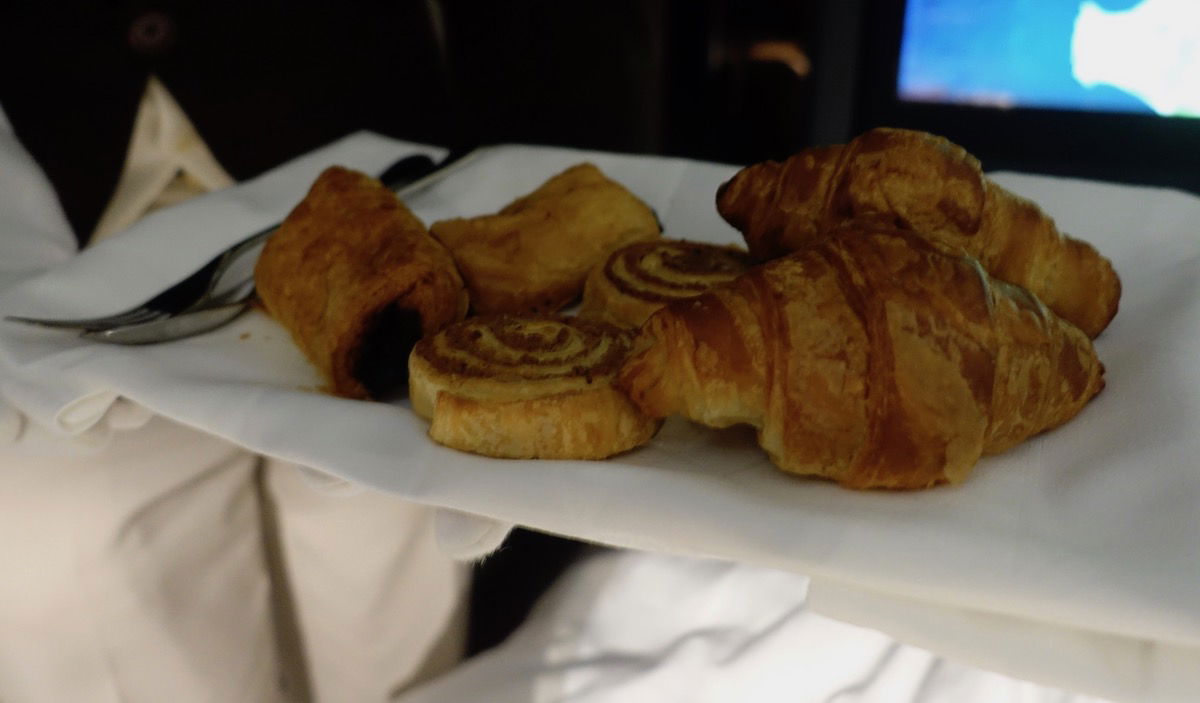 Etihad Residence breakfast service — bread selection
I selected a croissant, and was served everything on a single, gorgeous tray.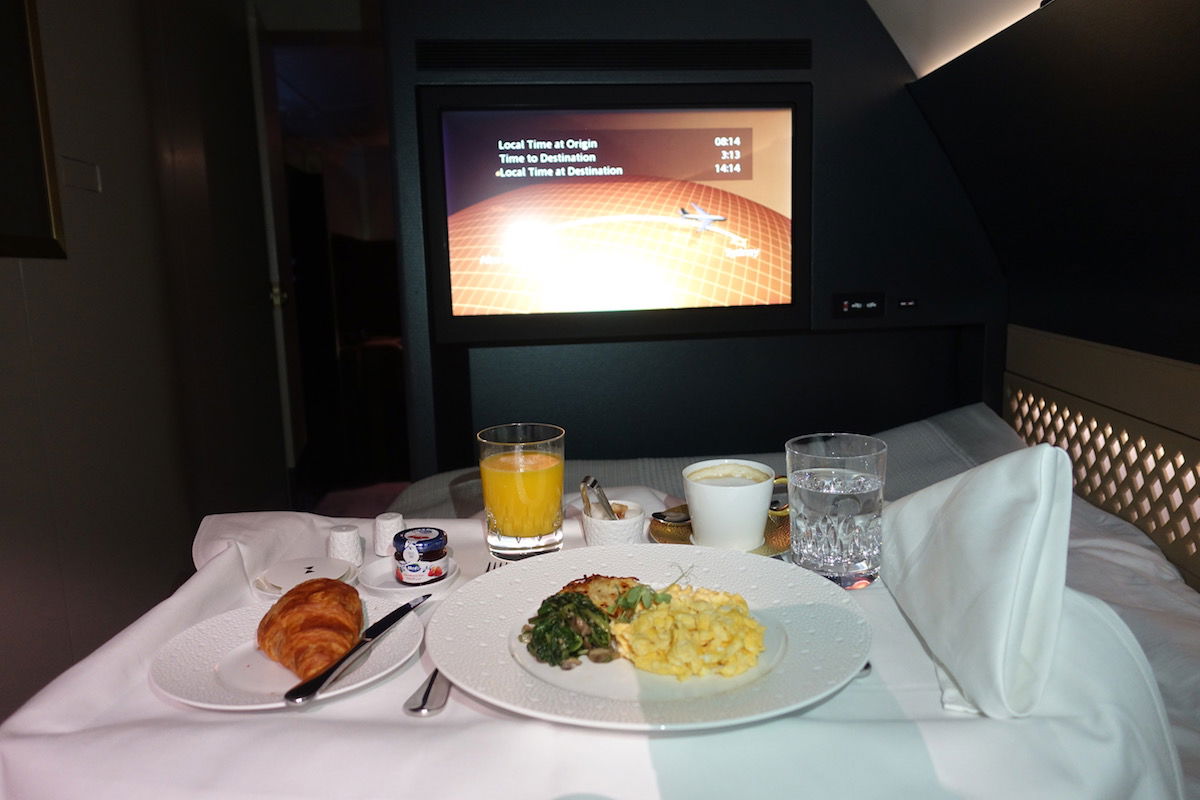 Etihad Residence breakfast in bed
The eggs were perfectly prepared, and came with spinach and hash browns.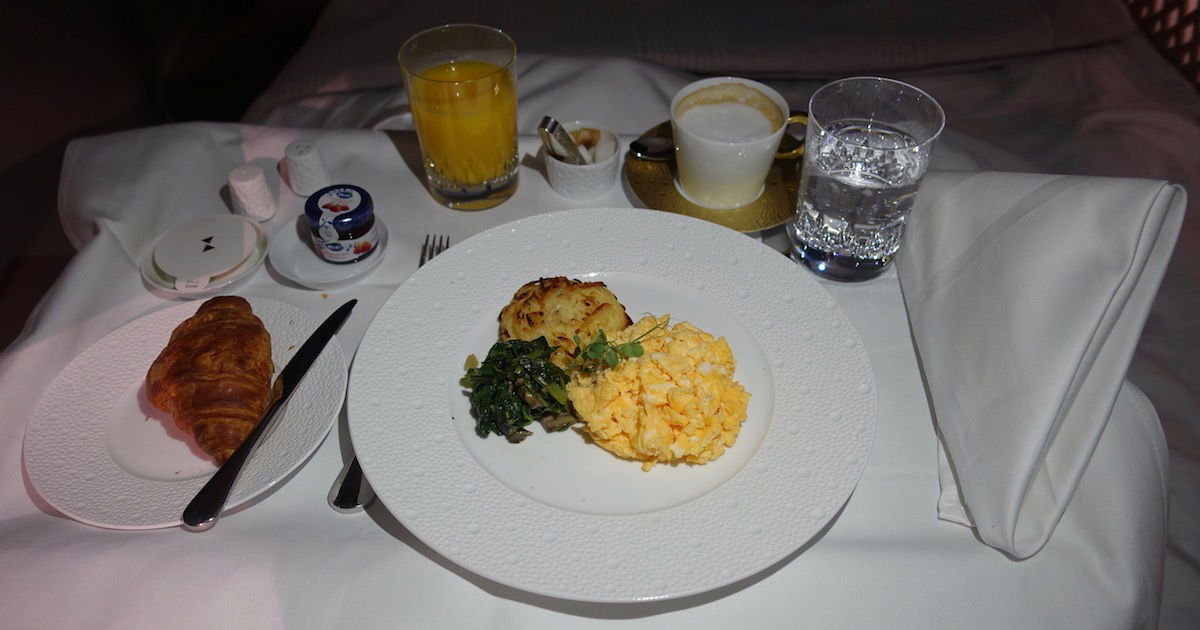 Etihad Residence breakfast in bed
After breakfast I asked Johan if it was possible to shower, so he went ahead and prepared the shower for me.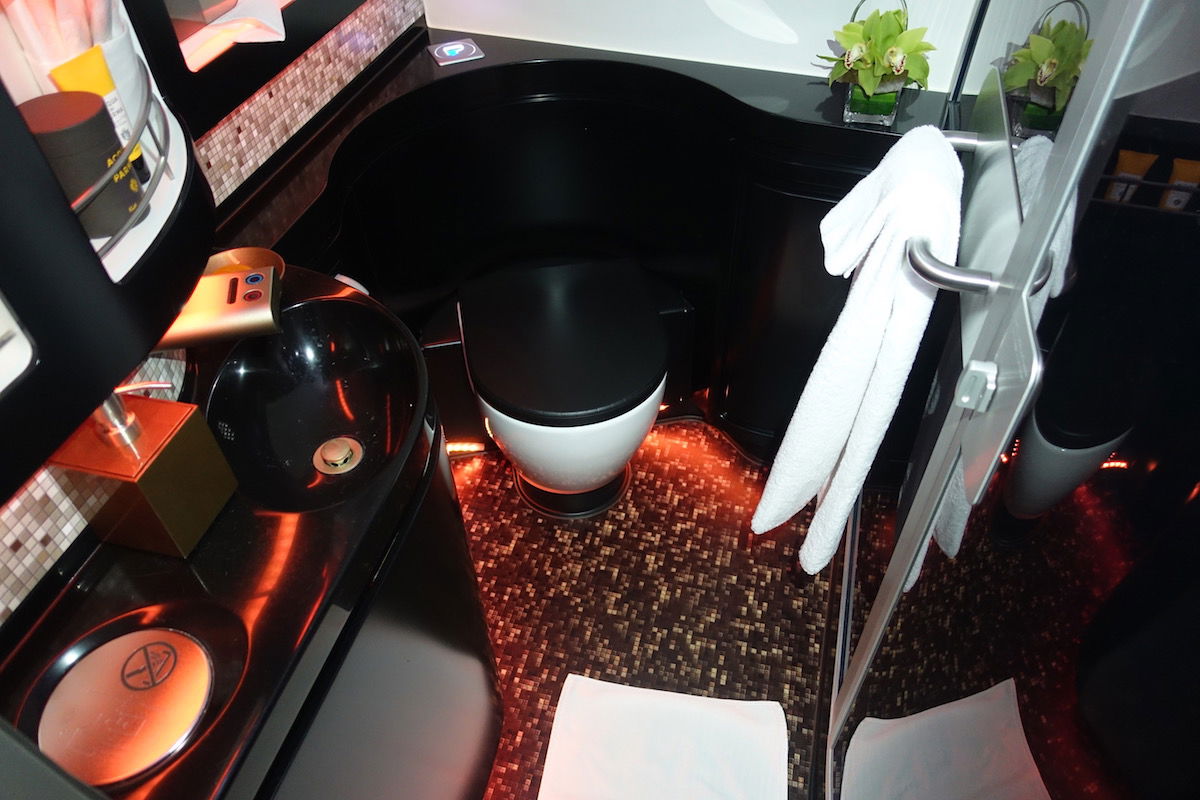 Showering in the Etihad Residence
The number of amenities inside the Residence bathroom is impressive — in addition to a shaving kit, toothbrush, etc., there was a full set of Acqua Di Parma toiletries, and even a loofah!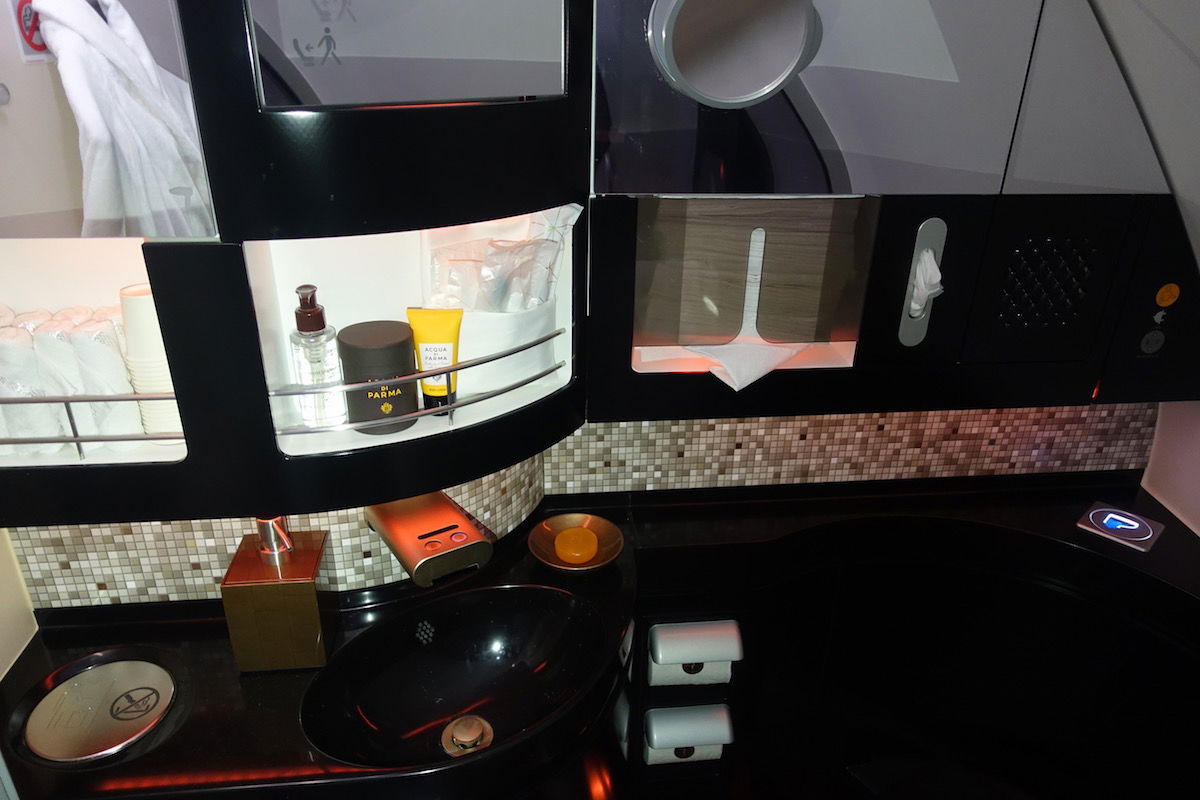 Showering in the Etihad Residence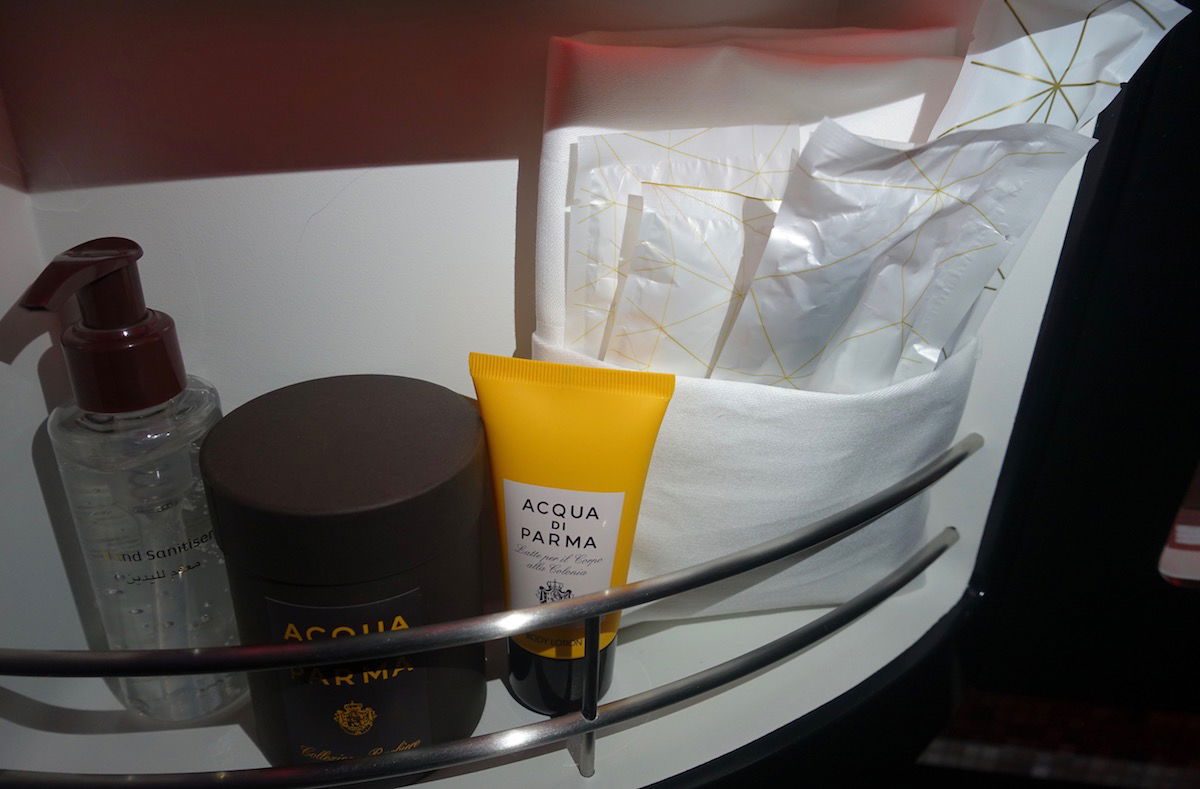 Etihad Residence toiletries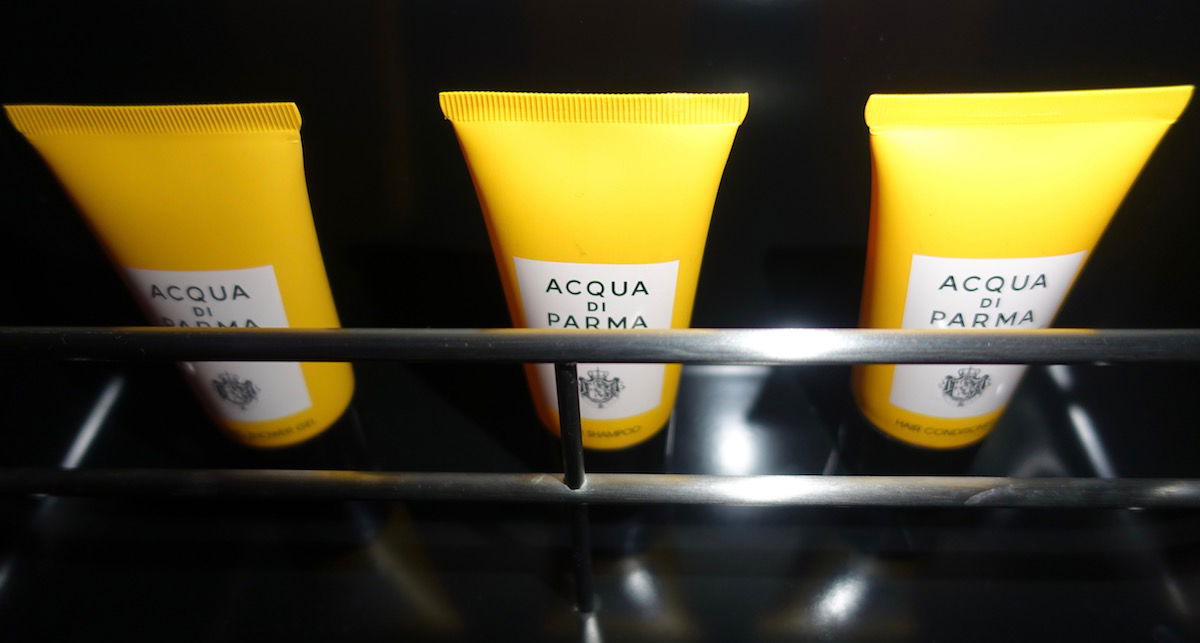 Etihad Residence Acqua Di Parma toiletries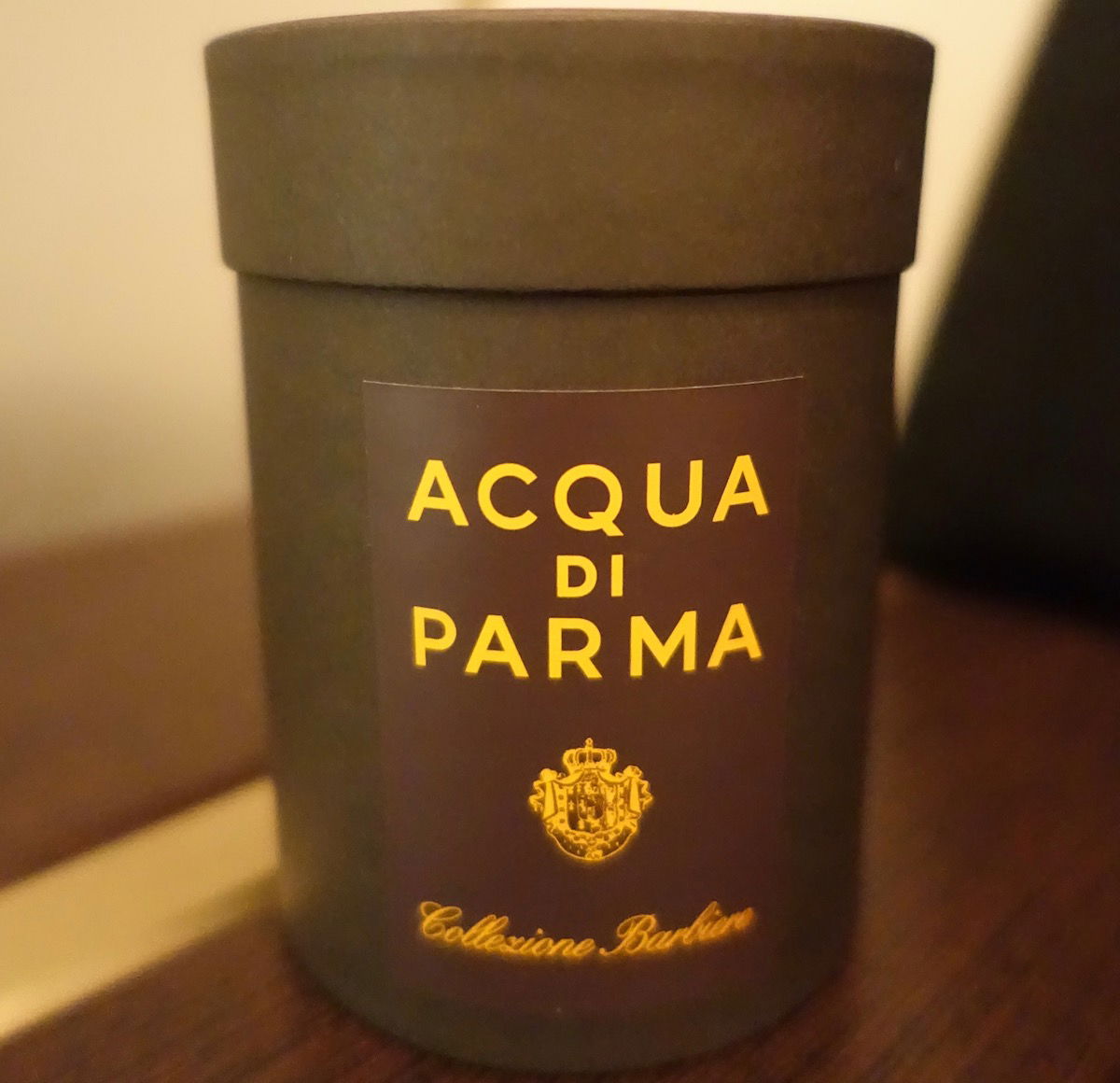 Etihad Residence Acqua Di Parma toiletries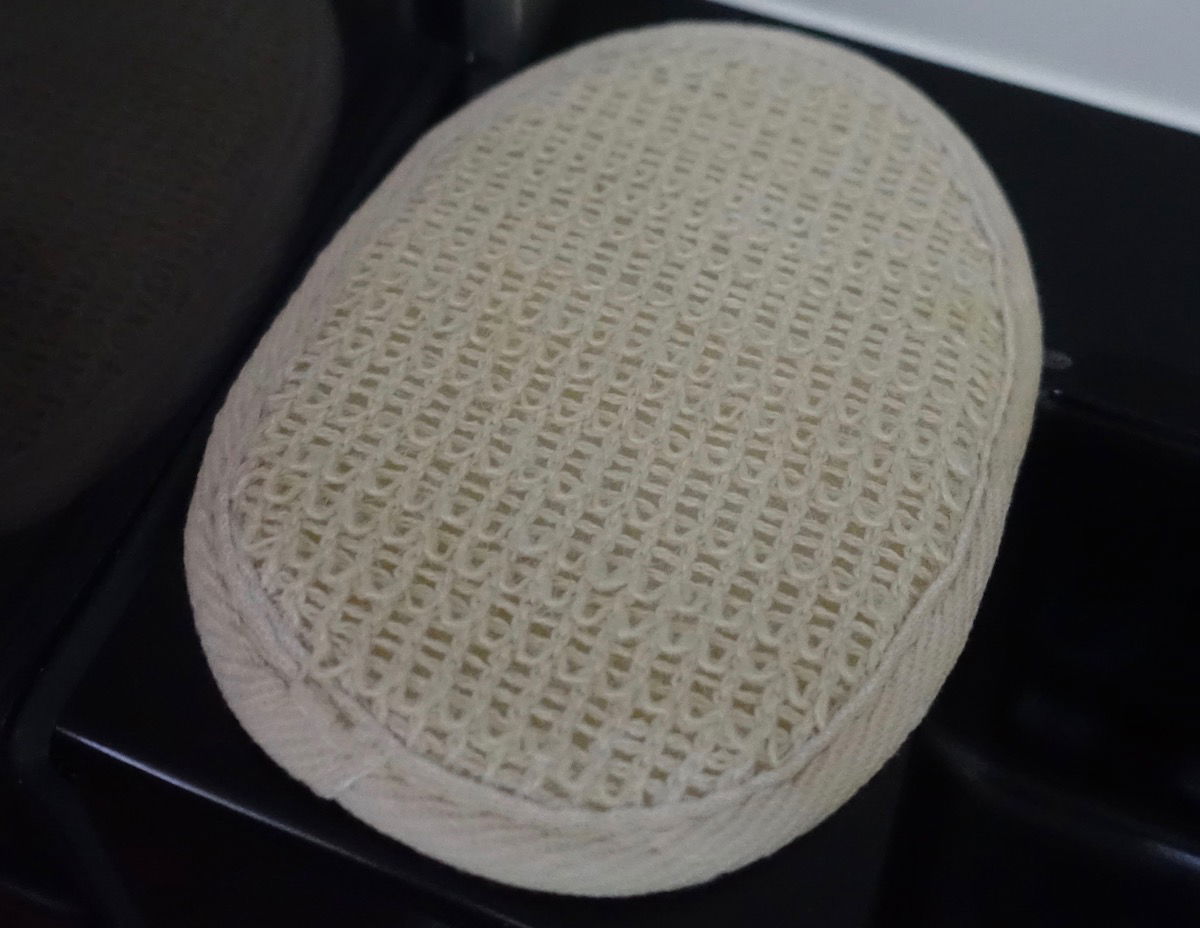 Etihad Residence loofah
There were towels by the shower, and even the towels had the Residence logo on them.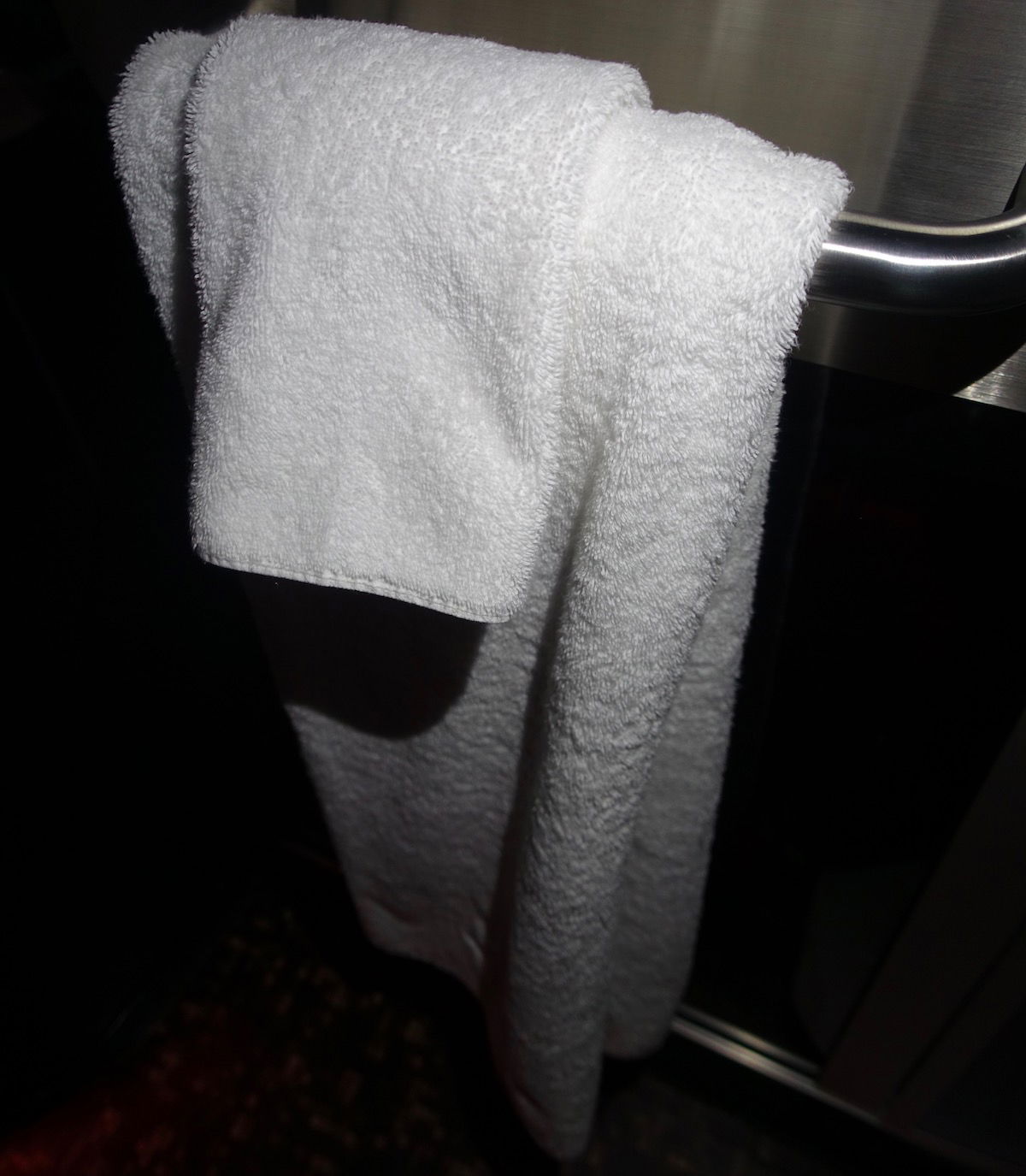 Etihad Residence towels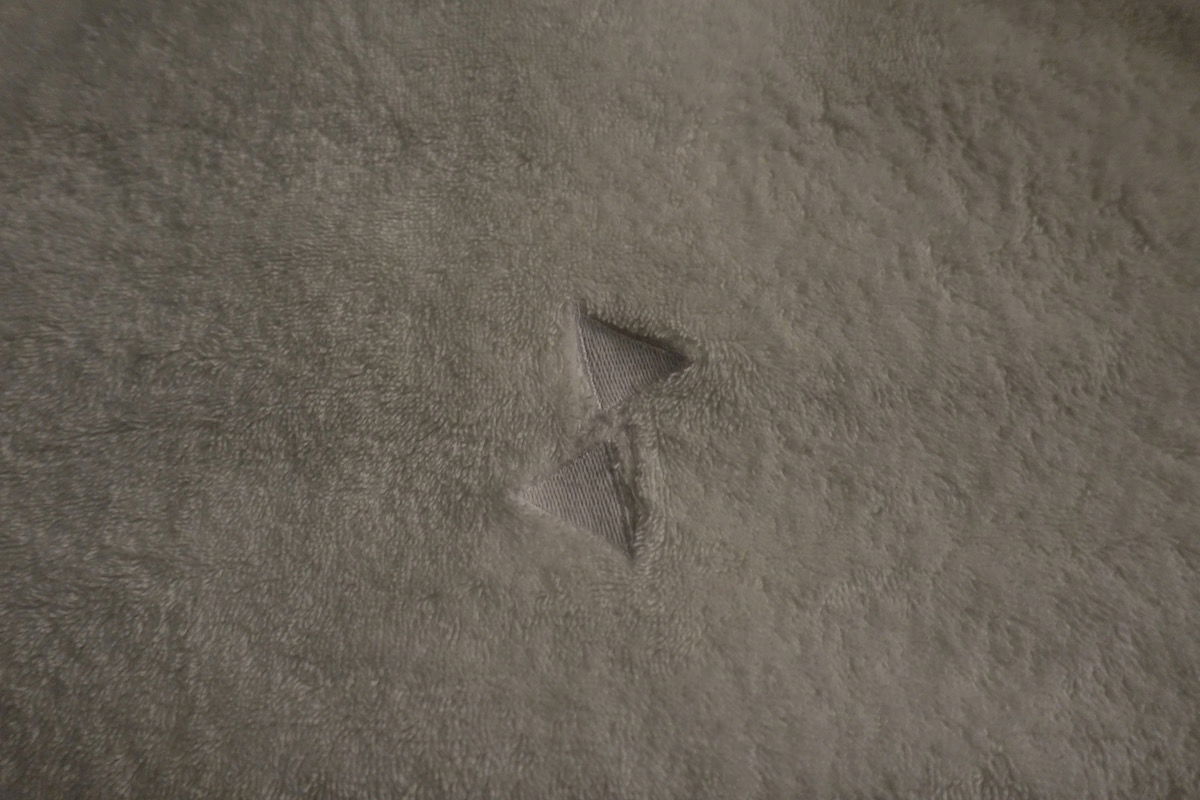 Etihad Residence towels
However, what got me most excited was the Residence bathrobe. They always have one of these in the Residence, which is just so cool — who else gets to wear a bathrobe on a plane without looking like an idiot (well in this case you probably still look like one, but there's no one around to see you, so it doesn't count)? 😉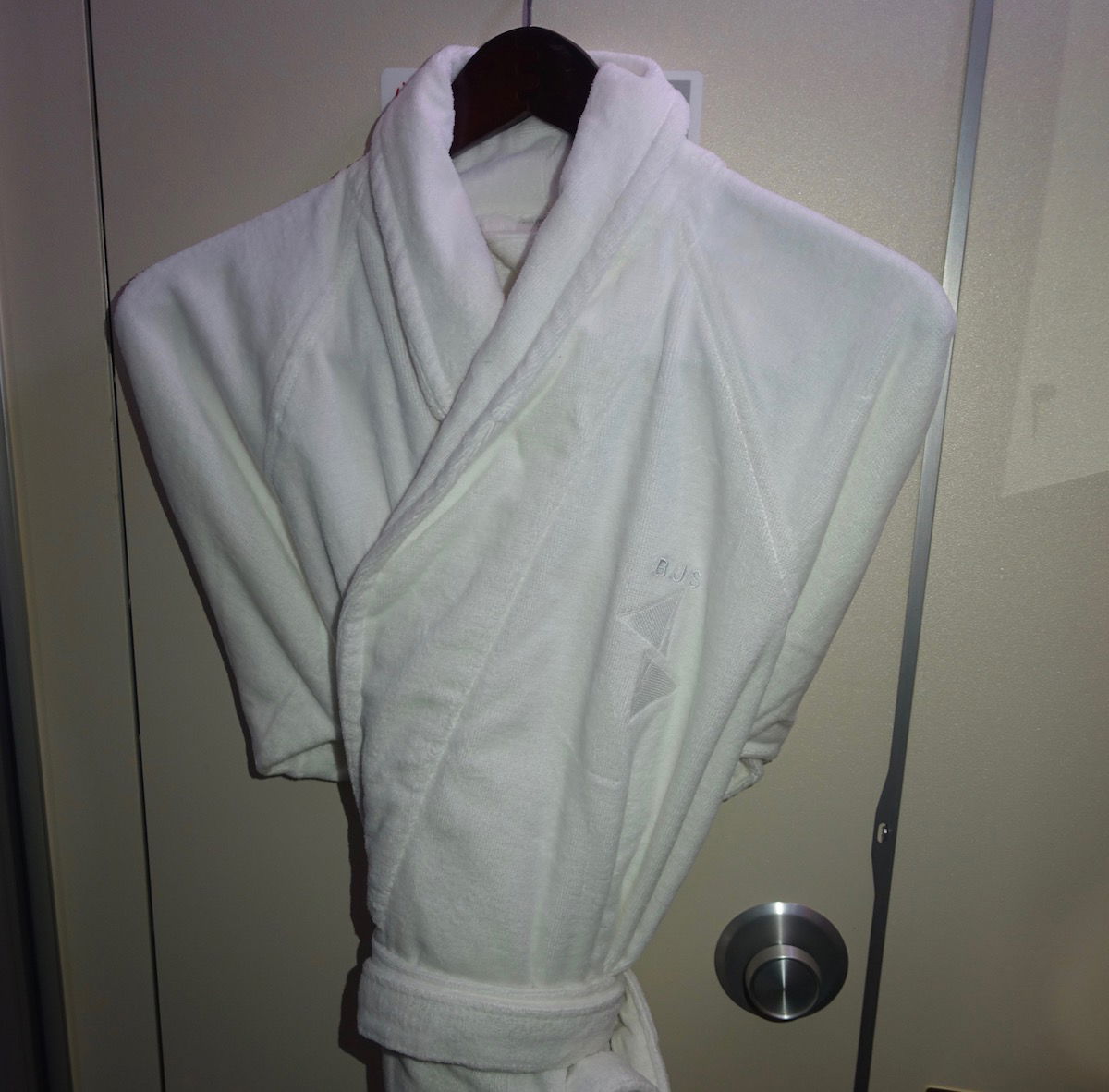 Etihad Residence bathrobe
I squealed when I saw that mine was even monogrammed (yes, my initials are BJS…).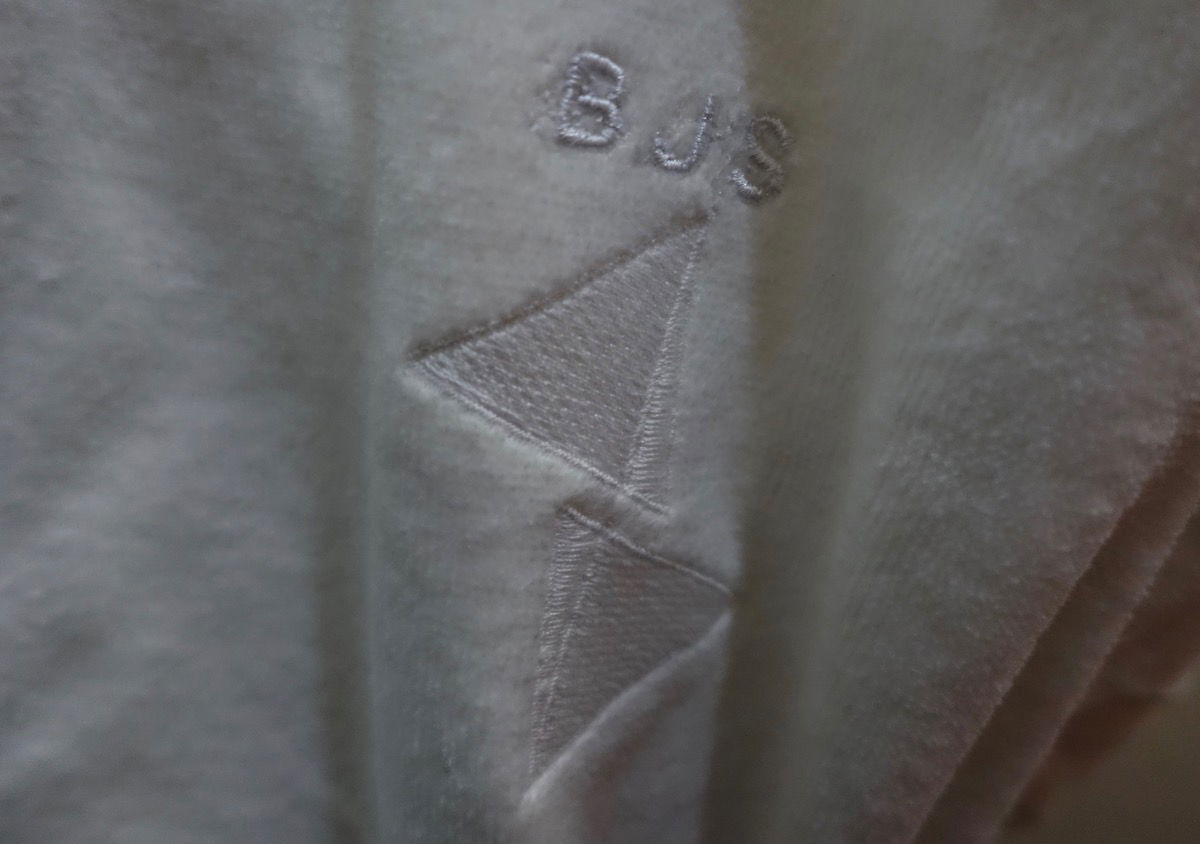 Etihad Residence monogrammed bathrobe
After taking it all in, it was time to shower. I discovered that I had been given up to 10 minutes of water, rather than the normal allotment of five minutes.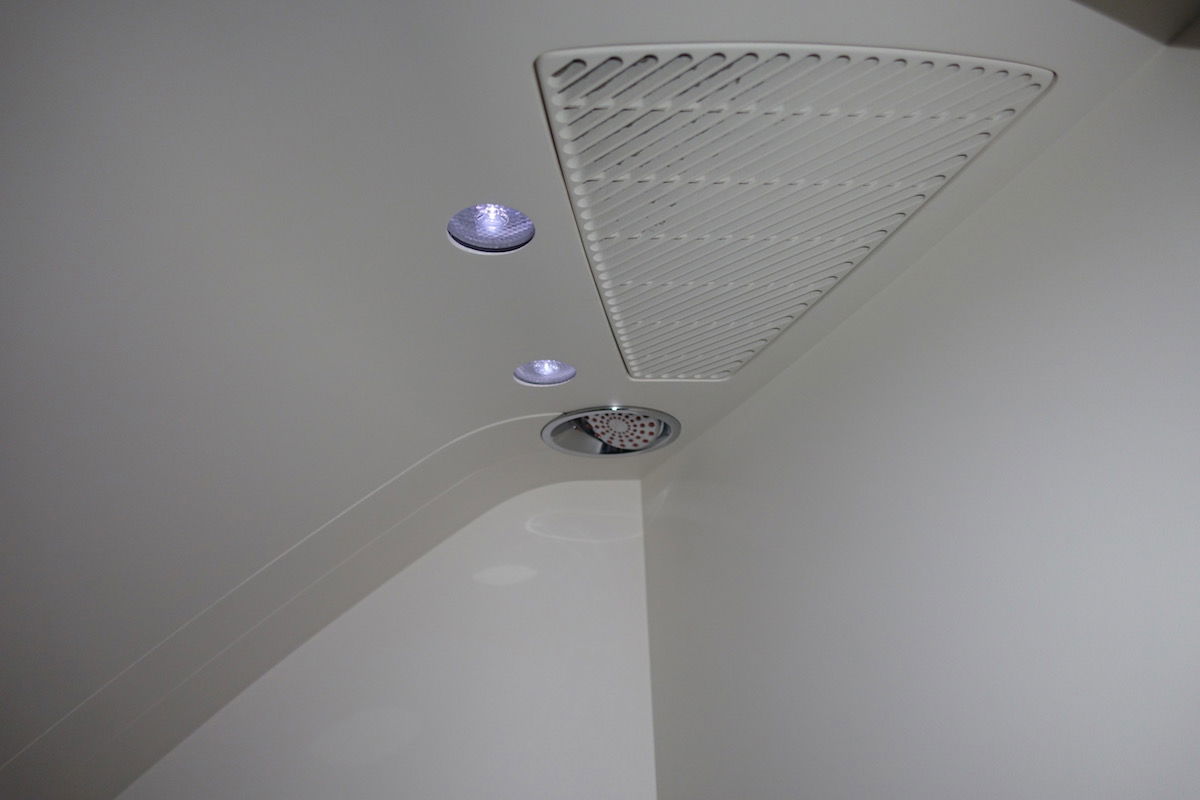 Etihad Residence shower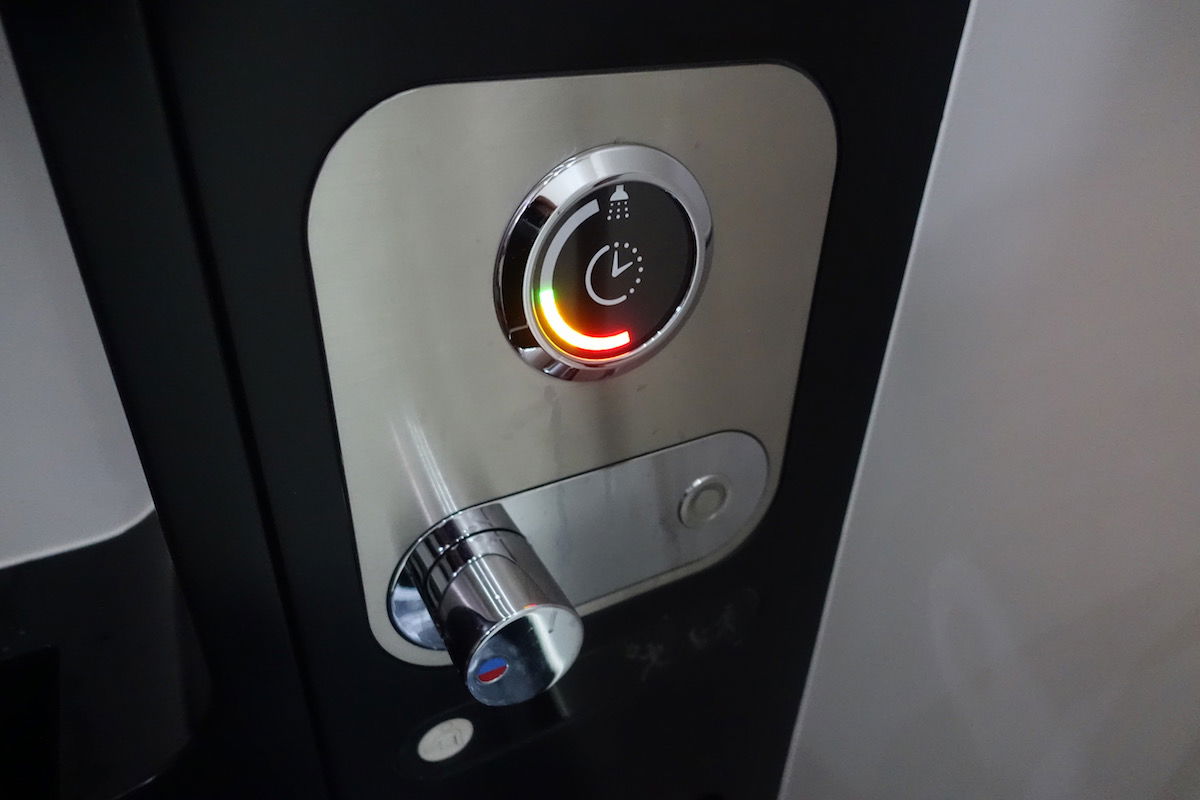 Etihad Residence shower
I only ended up using about five minutes of water. Once I was done with my shower, I emerged to once again find that my bed had been turned down. The never ending attention to detail was so impressive. Similarly, throughout the flight I washed my hands and used the towels, though they were constantly replaced.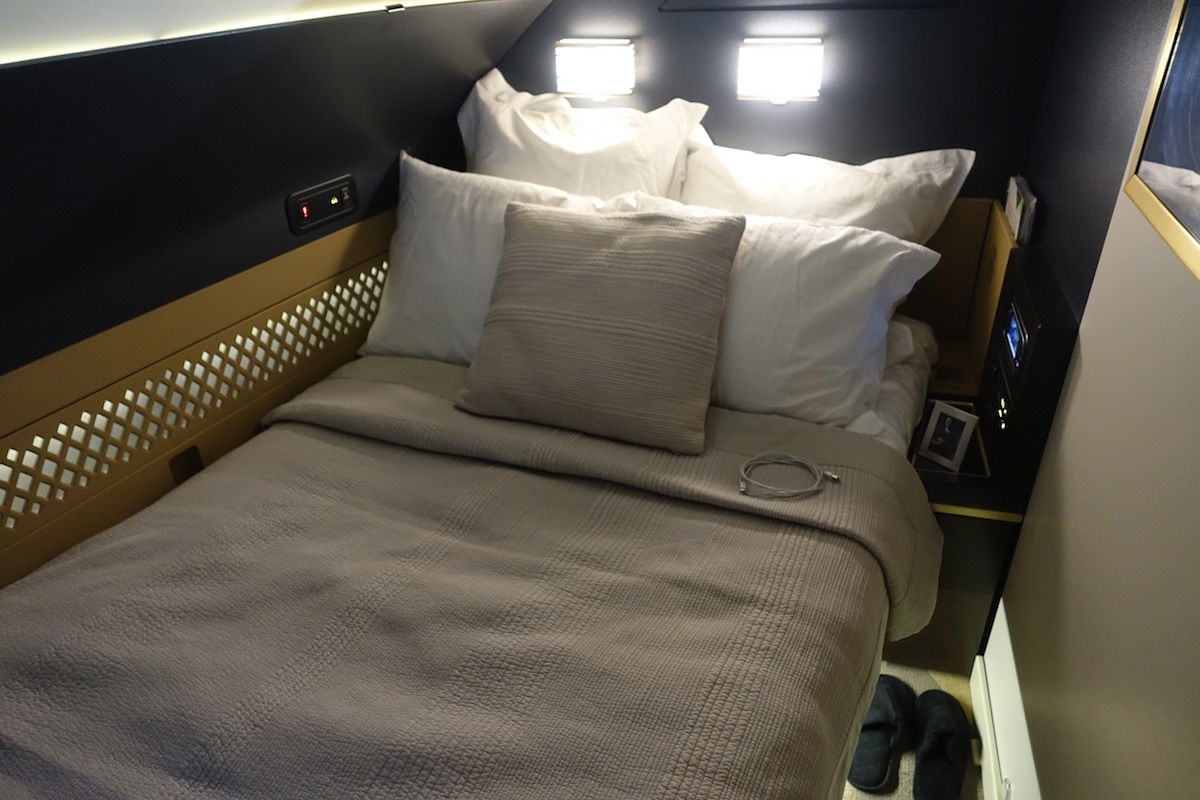 Etihad Residence turndown service (again)
At this point we were just about two hours from landing in Sydney, which made me sad.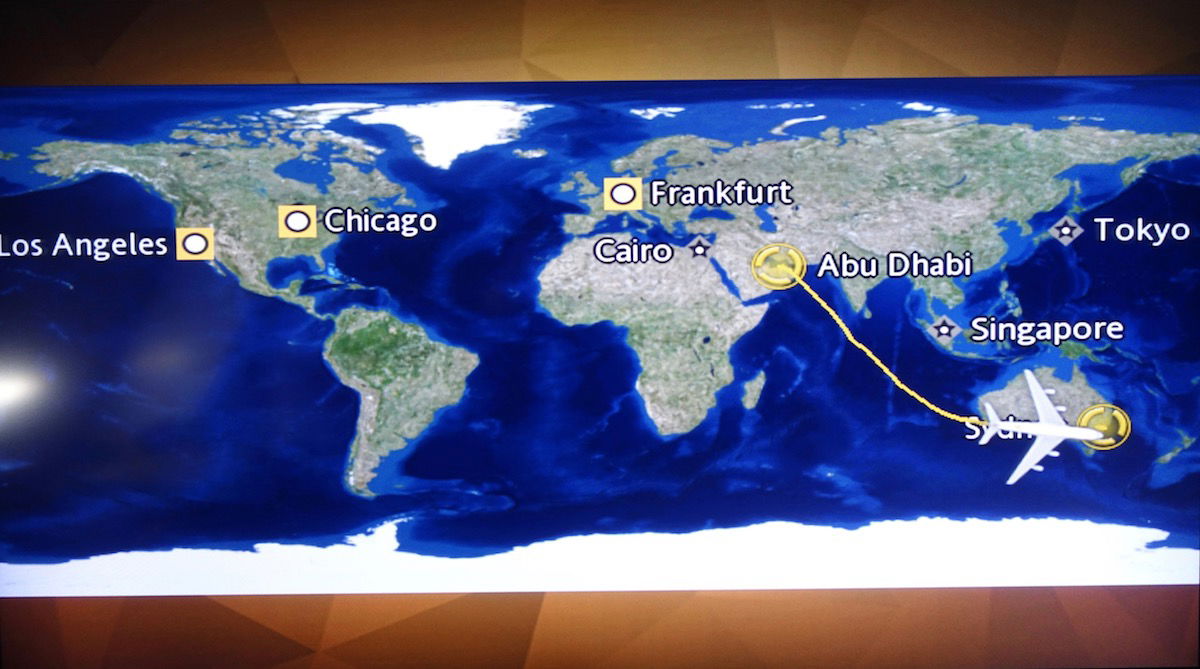 Airshow enroute to Sydney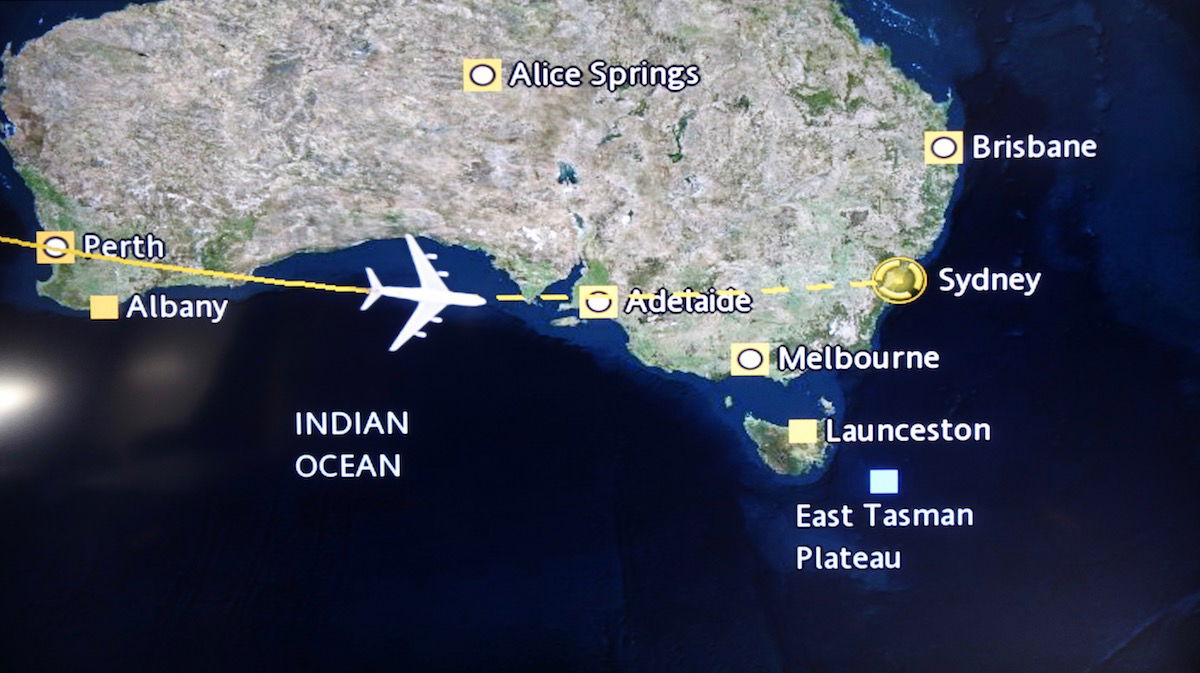 Airshow enroute to Sydney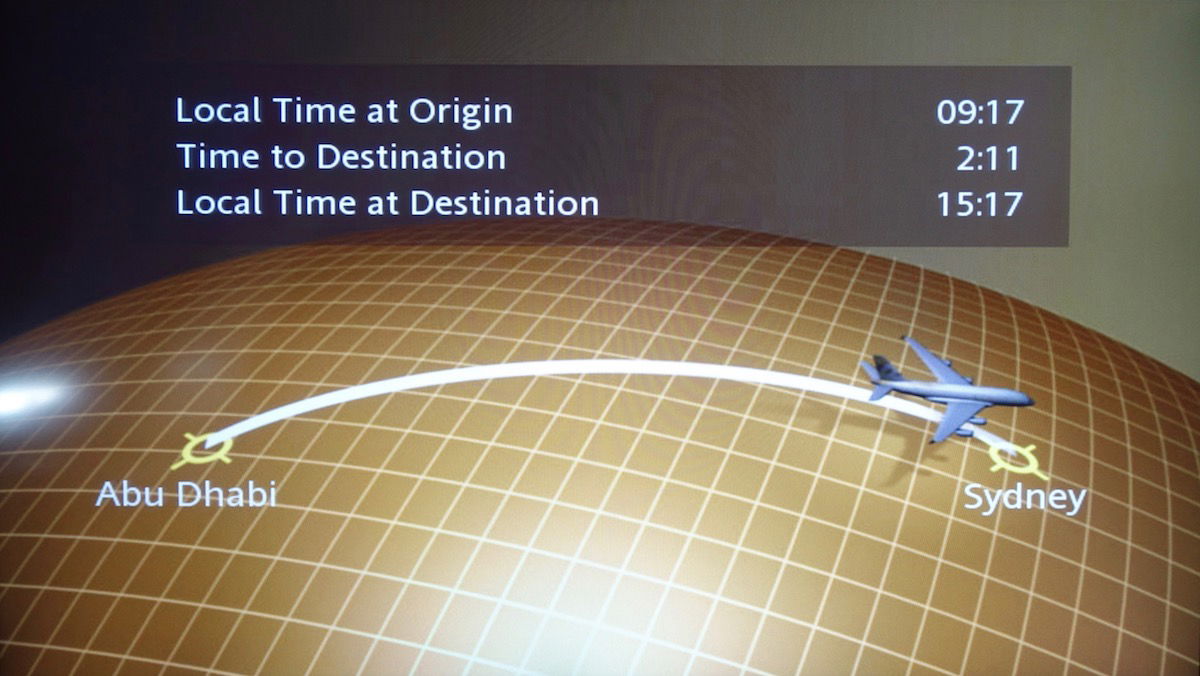 Airshow enroute to Sydney
I asked to have a double shot cappuccino after my shower, and sure enough, that was served within minutes.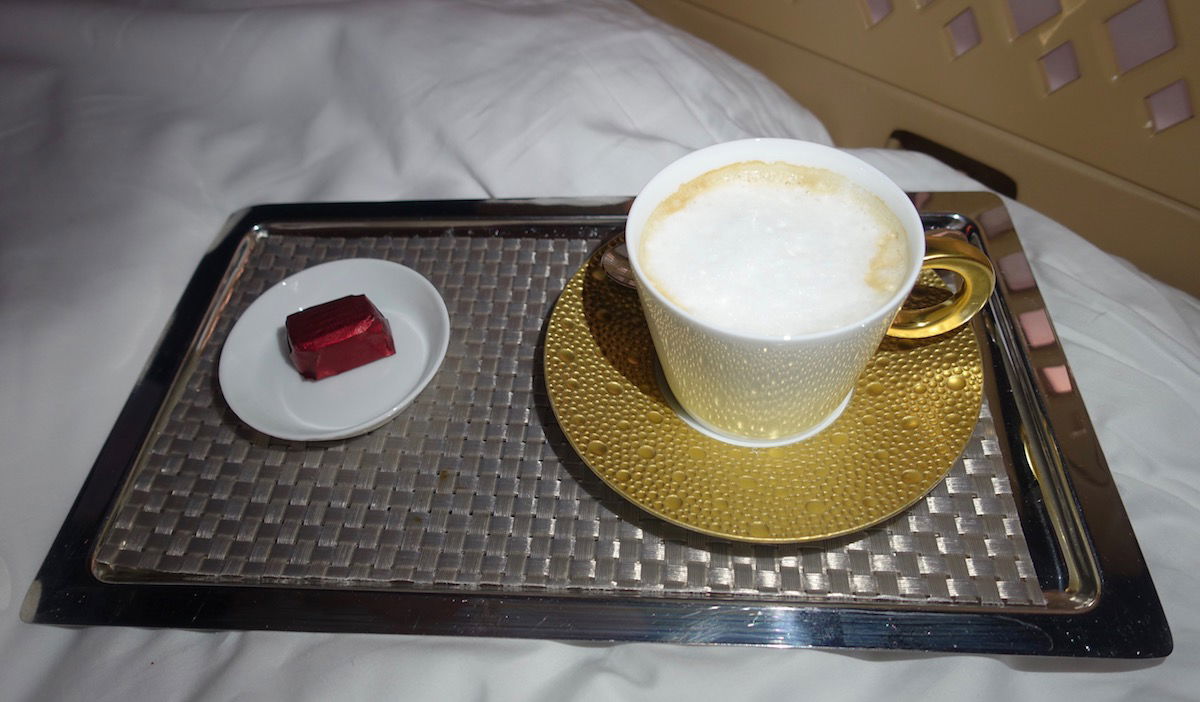 A cappuccino in the Etihad Residence
Finally about an hour before landing I decided to have my last meal of the flight. I had special ordered a lobster roll before the flight, so was curious to see how they did with it. Little did I know that this would be my third lobster dish in just over 12 hours. Oops. The lobster roll was incredible, and I asked for it to be served with pommes frites. It can be tough to make a good lobster roll on the ground, let alone in the air. Kudos to the chef.
The portion was huge, though, so I only finished about half of it.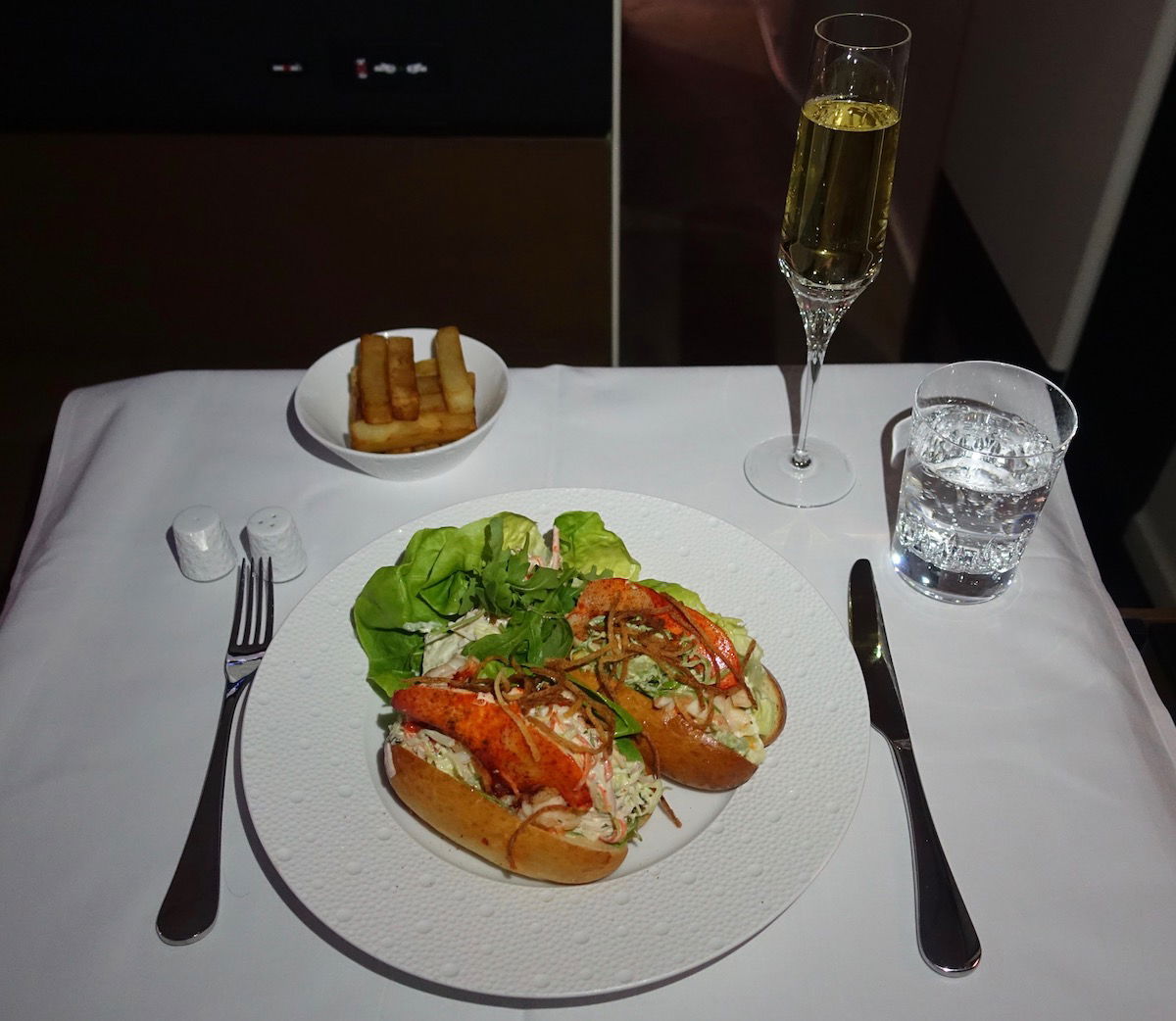 Lobster roll and pommes frites in the Etihad Residence
Lastly, I had requested Laduree macarons before the flight. I was so full at this point that I just had one, and asked that the crew eat the rest of them (I couldn't take them with me due to Australian law on bringing food into the country).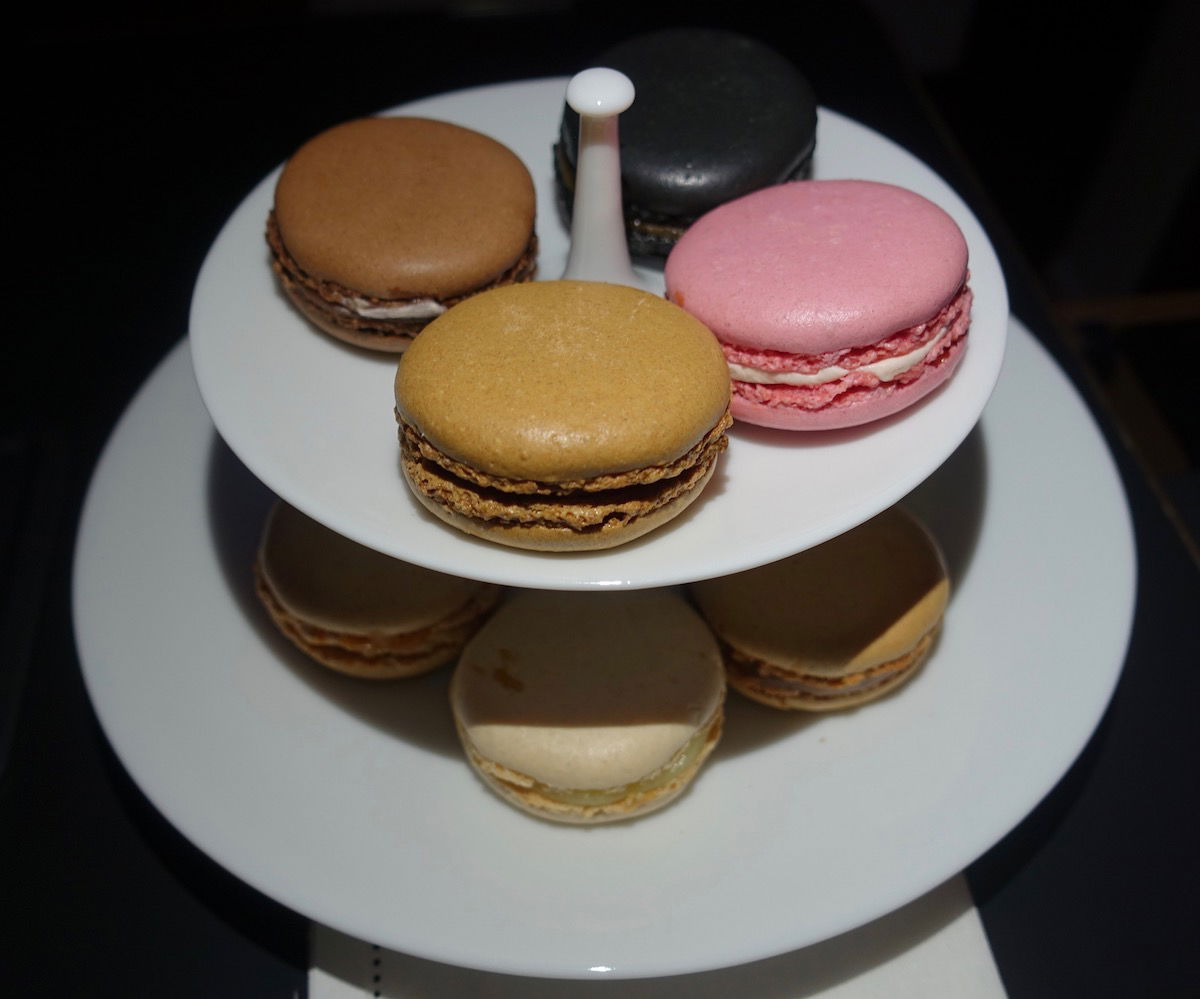 Macarons in the Etihad Residence
Oh, and I also did what I could to polish off the bottle of Dom that had just been opened to me. I love the 2006 vintage.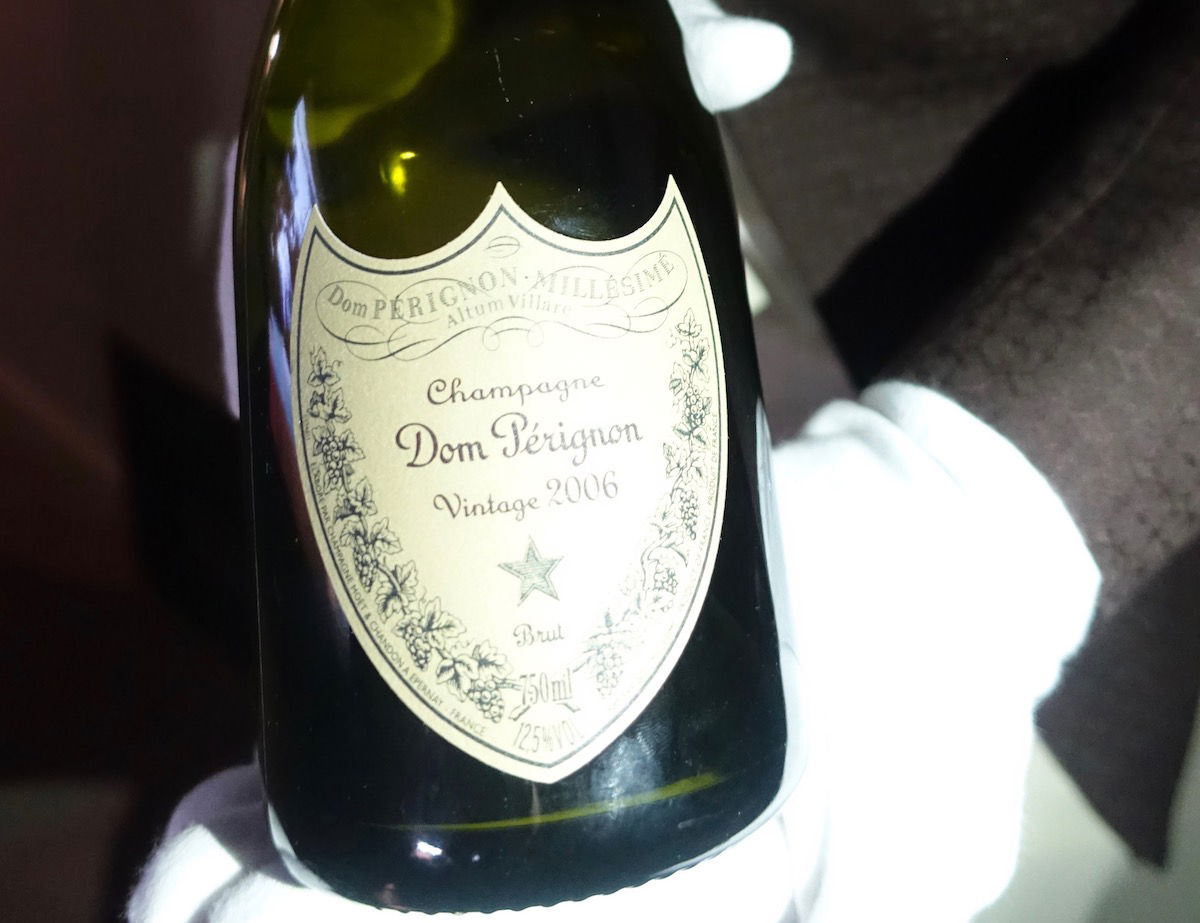 Dom Perignon 2006 in the Etihad Residence
As we slowly began our descent, Johan brought me a deck of Etihad playing cards, a landing card for Australia, a pen, and a fast track card, though he explained that I shouldn't need the card, since I'd be escorted through immigration.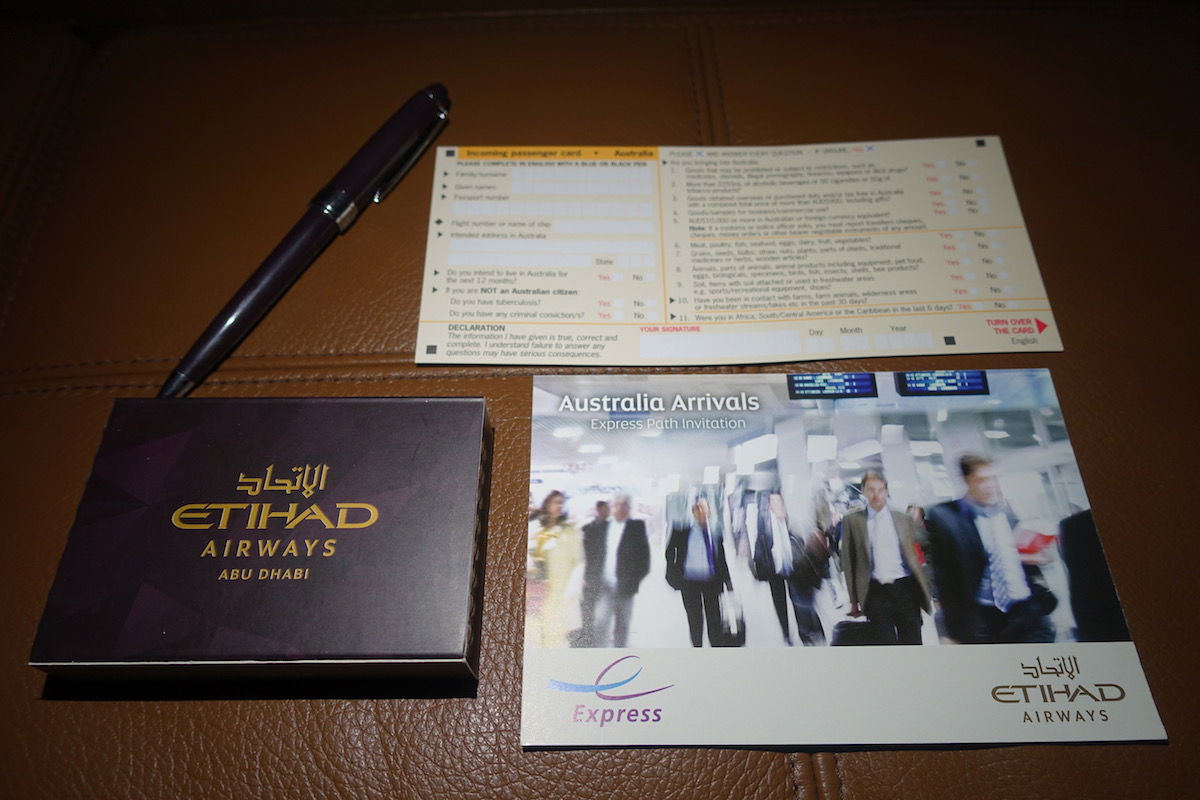 Landing card for Sydney and playing cards
As we descended towards Sydney it started to dawn on me that this whole experience was over as quickly as it started.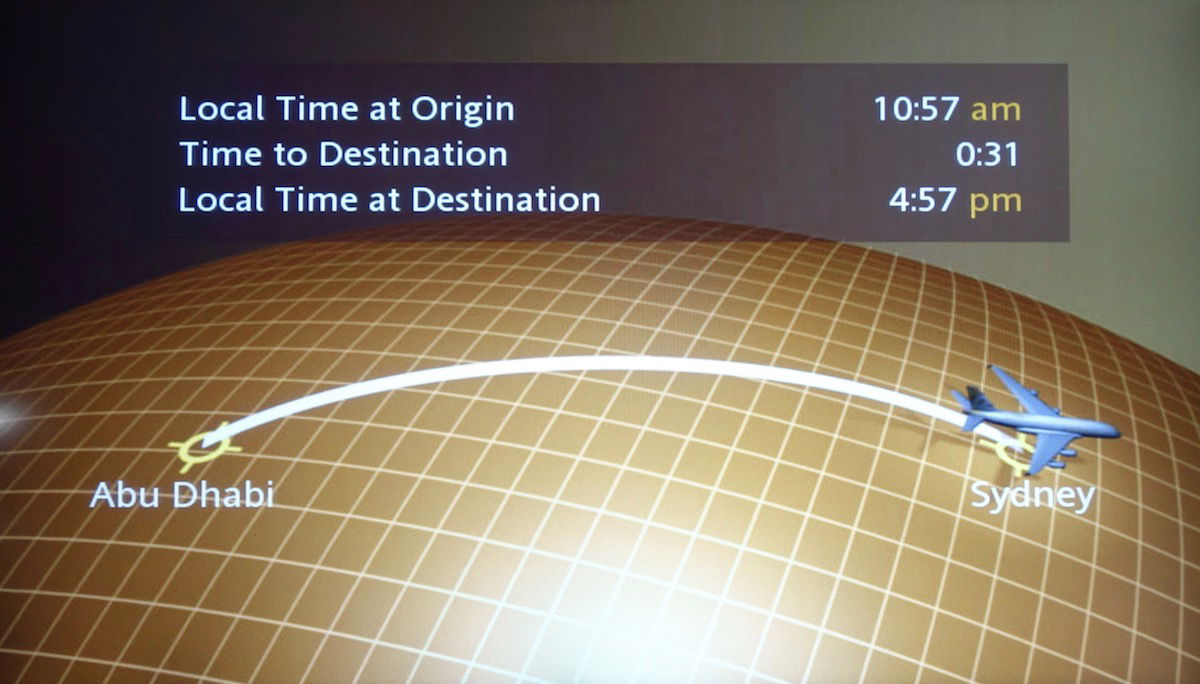 Approaching Sydney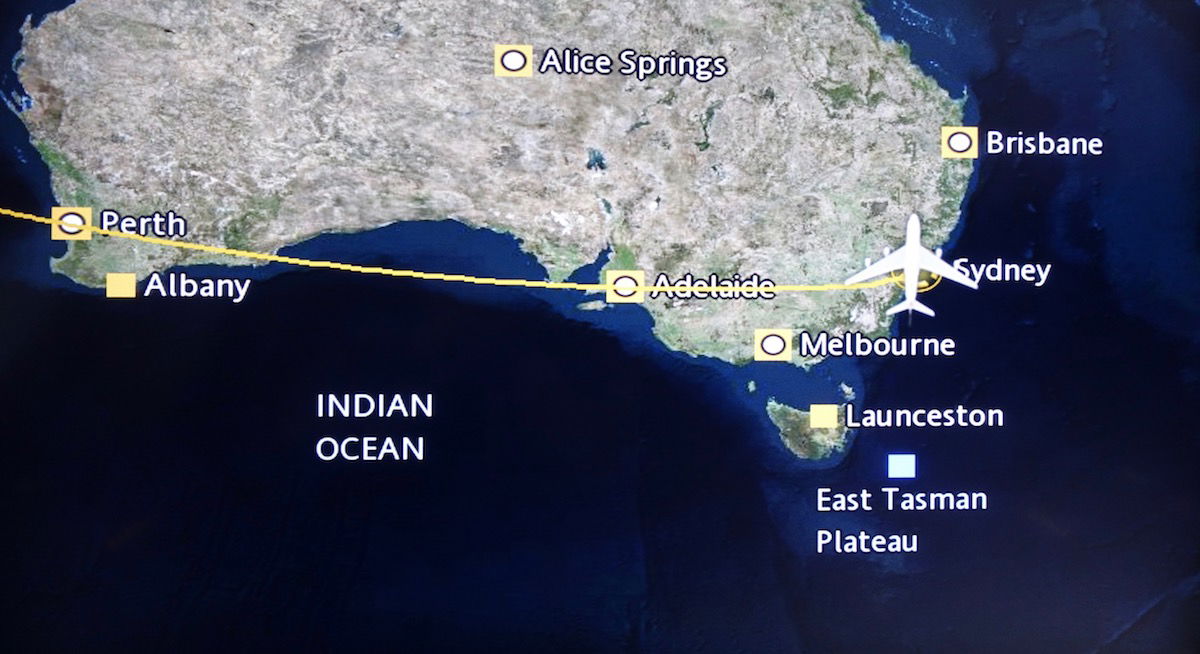 Approaching Sydney
The cabin manager came by to ask how my experience was. Johan bid me farewell, and explained that I should stay in the Residence when we landed, and he'd get me as soon as the door opened.
There was a breathtaking sunset as we approached Sydney.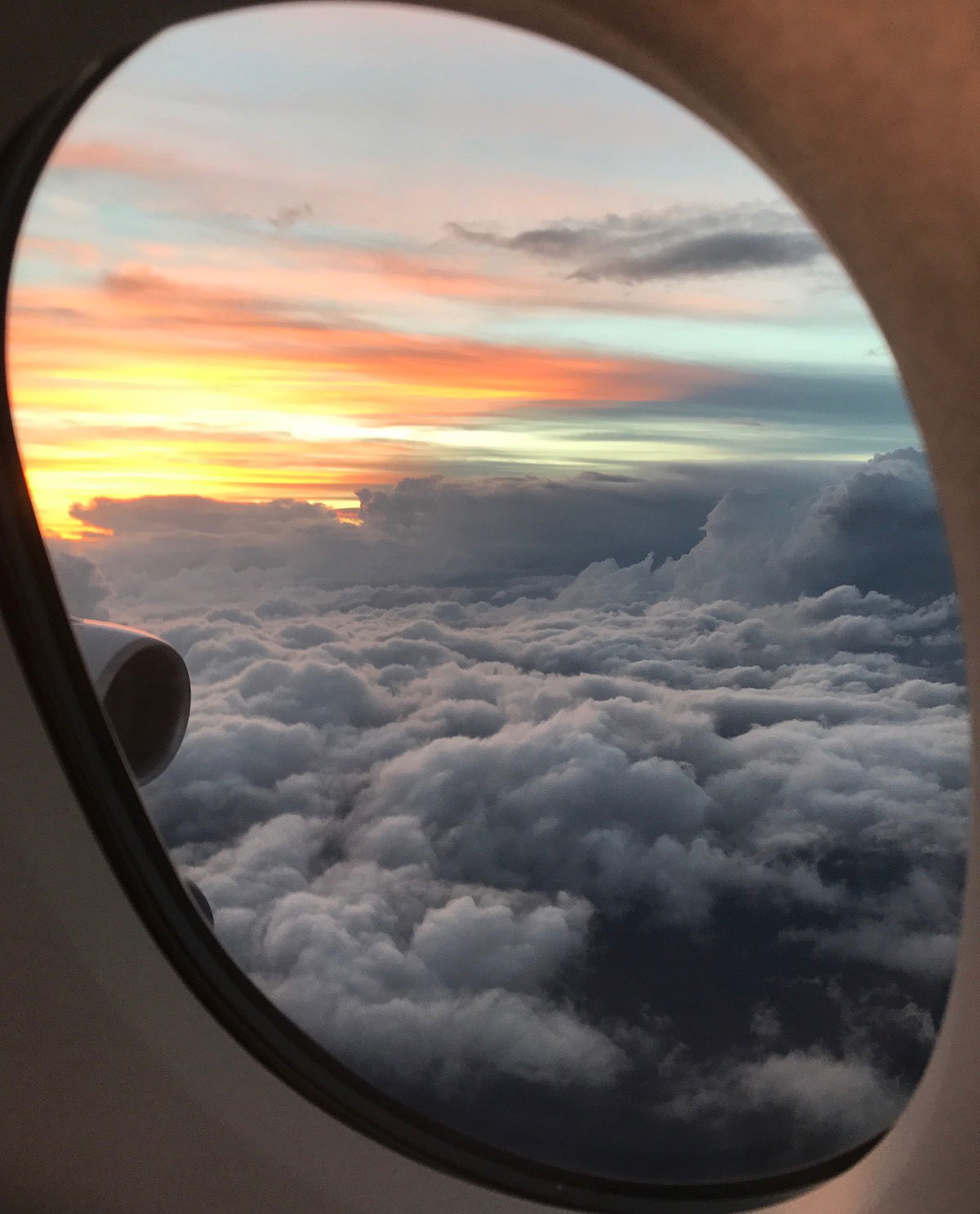 View on descent into Sydney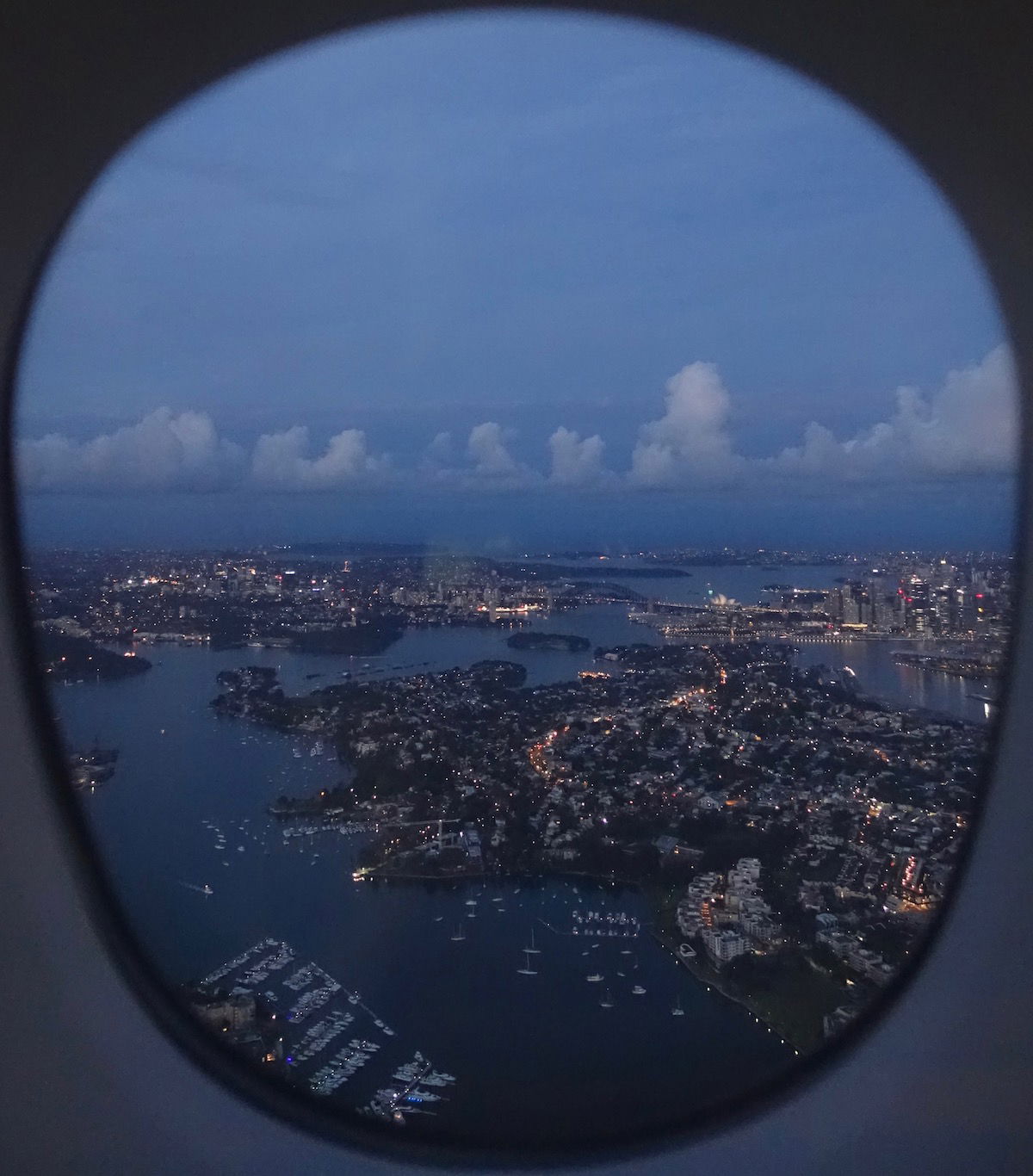 View on descent into Sydney
We had a smooth touchdown at 5:30PM, and from there it was just a short five minute taxi to the gate.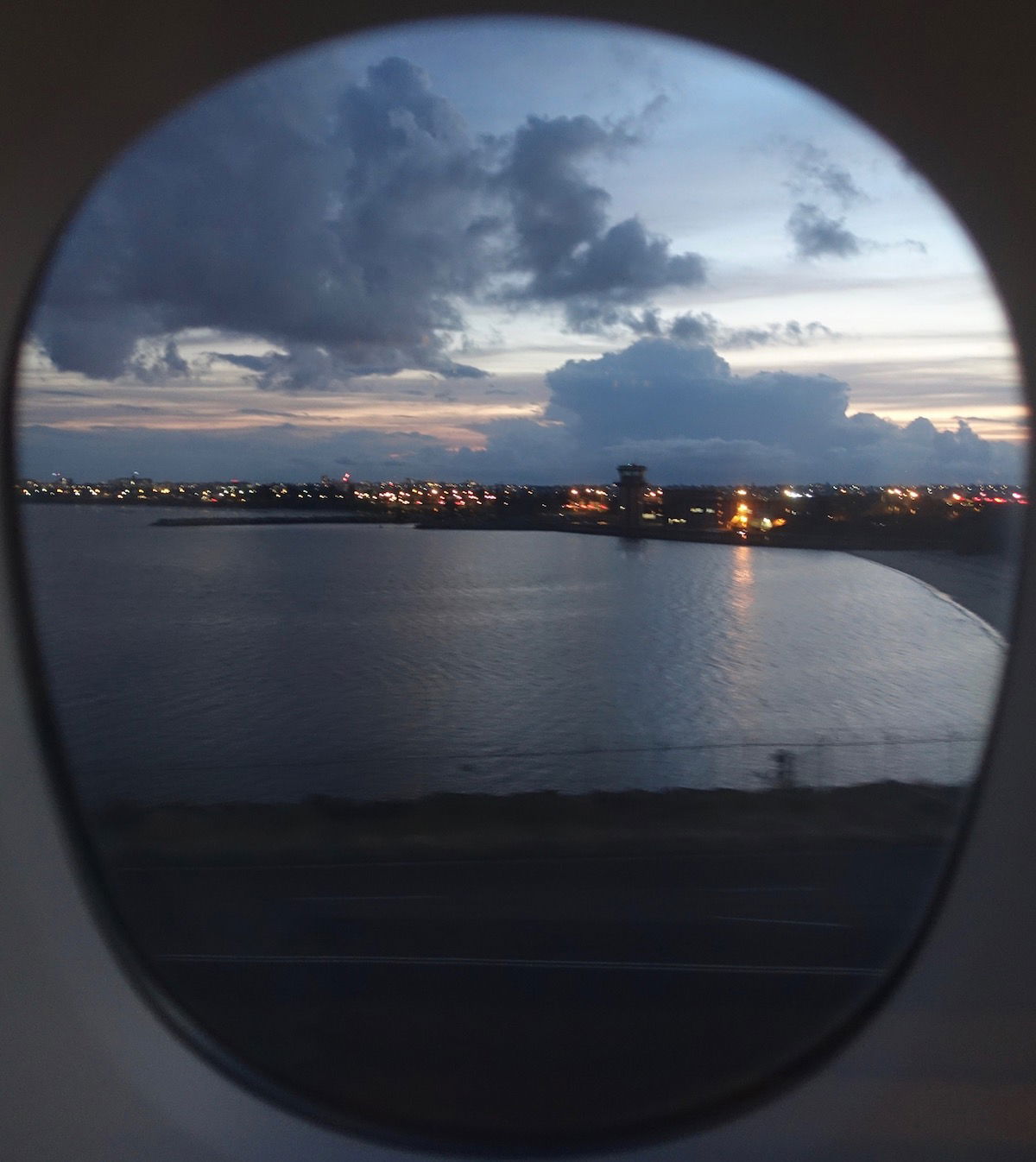 View on descent into Sydney
I was so sad to bid farewell to Johan and leave the Residence, but alas, all good things must come to an end.
Fortunately the experience wasn't quite over. As I got out of the plane I was greeted by Susan and Maddie, who would be escorting me through immigration. There was a golf cart waiting for me, which I hopped in for the quick ride to immigration.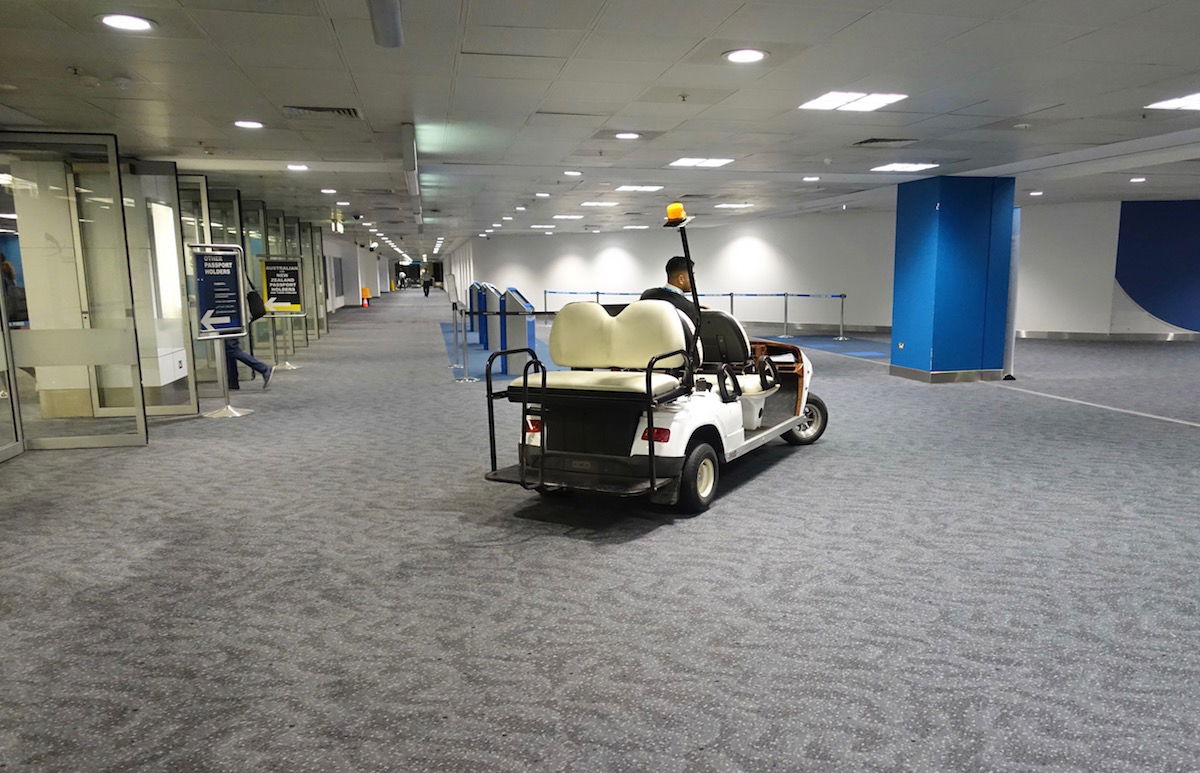 Being driven to immigration in Sydney
They took me through a special immigration checkpoint, and then rather than being picked up in the normal arrivals area, they brought me to some side lot, where my car was waiting for me, with the door and trunk already opened. Less than five minutes after getting off the plane I was in a car headed to my hotel.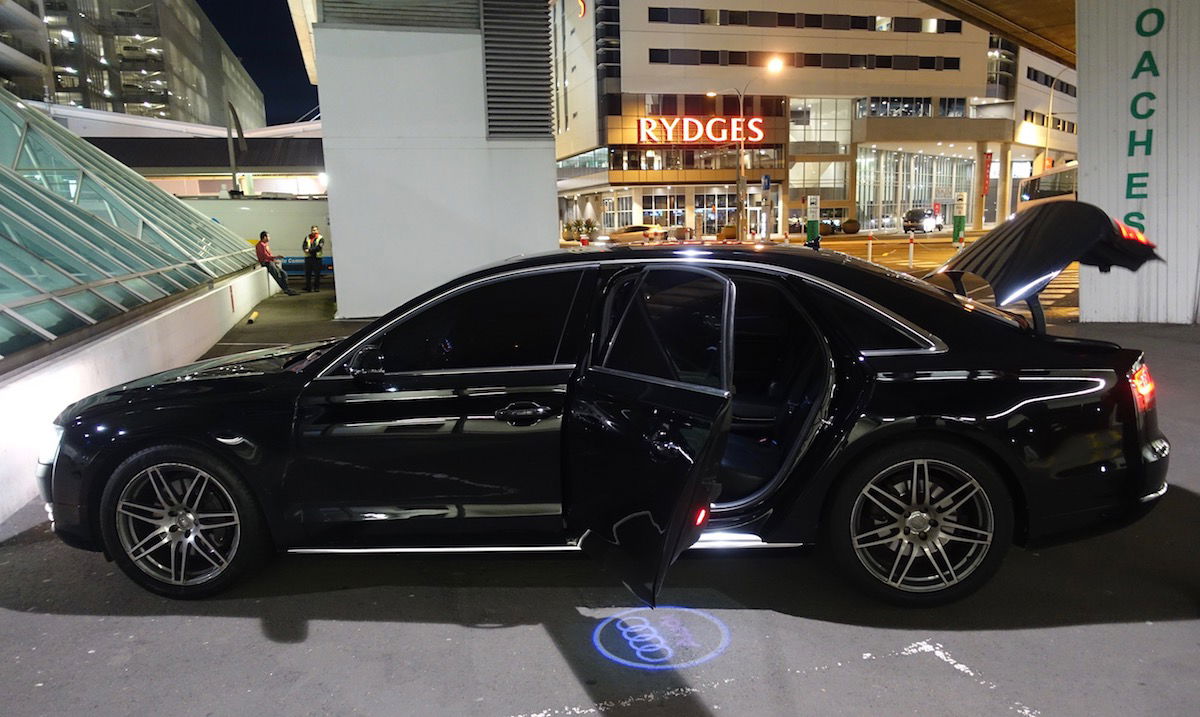 Etihad Residence transfer to my hotel
AMAZING!!!!