In the interest of full disclosure, One Mile at a Time earns a referral bonus for purchases made through some of the below links. These are products and services we use ourselves, and are the best offers we know of. Check out our Advertising Policy for further details. Thanks for your support!
I largely rely on inflight internet to stay connected while traveling. When flying 400,000+ miles per year, the ability to be online while in the sky can greatly improve my productivity.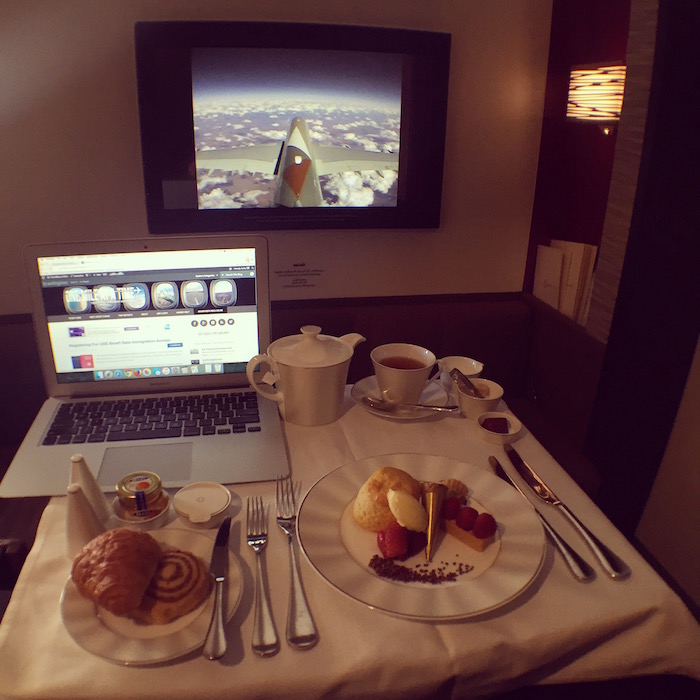 Inflight internet quality can vary greatly by airline, and the difference in offerings can impact which airline I fly. For example, I'll take an airline which charges a flat rate with no data caps on wifi over an airline which charges based on usage, as the latter can get outrageously expensive. American charges just $19 for wifi on their 777-300ERs without data caps, which is a fantastic value, especially for a flight like Dallas to Hong Kong.
But no matter how good inflight wifi gets, you're almost always limited to using one device at a time per "plan." That's true whether you're using Gogo, T-Mobile, etc. You can usually switch between devices, but that requires signing out and then signing in again, which can be time consuming.
But apparently there's a way to use multiple devices at a time and "share" wifi, whether on a plane or in a hotel. I'm not very tech savvy, so this is all very new to me.
View from the Wing points to a tip passed on by reader Ray W, regarding a device which will allow just that:
I know there has been a lot of interest in travel routers lately. This is a really good deal on the HooToo nano.

Before anyone asks, yes you can use this to share gogo or hotel wifi to more than one device. The big catch on this one is that it does not have its own built in battery – you will need to plug it into a power bank (USB battery), or power it from your laptop, or into the airline outlet. On the other hand, it is super duper light (1 ounce!)
So the HooToo Wireless Travel Router will allow you to bridge an existing wireless network and create your own secure wifi network. I can't confirm firsthand this will work (I just ordered mine, so will know soon), but Ray suggests it will. As noted above, this router doesn't have a built-in battery, so you need to have it plugged in to use it. The plus side is that it's tiny and only weighs 1.6 ounces. It costs just $18.99, and if you have Amazon Prime and use promotion code BRQQQI64, you should be able to get a further $4 discount.
Otherwise View from the Wing points to another HooToo Wireless Travel Router, which is marked down to $39.99. This comes with an external battery pack, though also weighs 8.8 ounces. While it's much more convenient to have one with a built-in battery, I guess it comes down to whether you want to carry the extra weight with you or not.
Bottom line
Personally I just ordered the smaller version of the HooToo Wireless Travel Router, and can't wait to try it out on my upcoming flights. Being able to use my laptop and phone at the same time while paying for just one device is awesome. This could also be useful if you're staying at a hotel, but you want to connect more devices than they typically allow.
Has anyone tried this before?