While Delta Air Lines is now offering all SkyMiles members free Wi-Fi on select flights, I think it's worth pointing out that American Airlines is continuing to offer passengers free Wi-Fi on select flights, with one major restriction.
American's free Wi-Fi on Viasat equipped planes
In the spring of 2022, American Airlines started a trial of offering passengers free Wi-Fi. The trial was initially supposed to end within a few weeks. However, while browsing Wi-Fi options on a recent American flight, I saw that this trial never ended, and that free Wi-Fi is still being offered. American has confirmed to me that this is intentional, and that the trial is ongoing.
Here's how American Airlines' complimentary Wi-Fi works:
There's a free Wi-Fi trial at American Airlines, with no published end date
This is available on Viasat-equipped aircraft, which includes a vast majority of the narrow body mainline fleet
Customers have to watch a sponsored 15-30 second ad, and then can be connected to the full Wi-Fi offering for a limited time session; this session is typically 30 minutes
This is being done to drive awareness for American's inflight Wi-Fi offering, and to "help American better understand what inflight experiences are most meaningful to customers"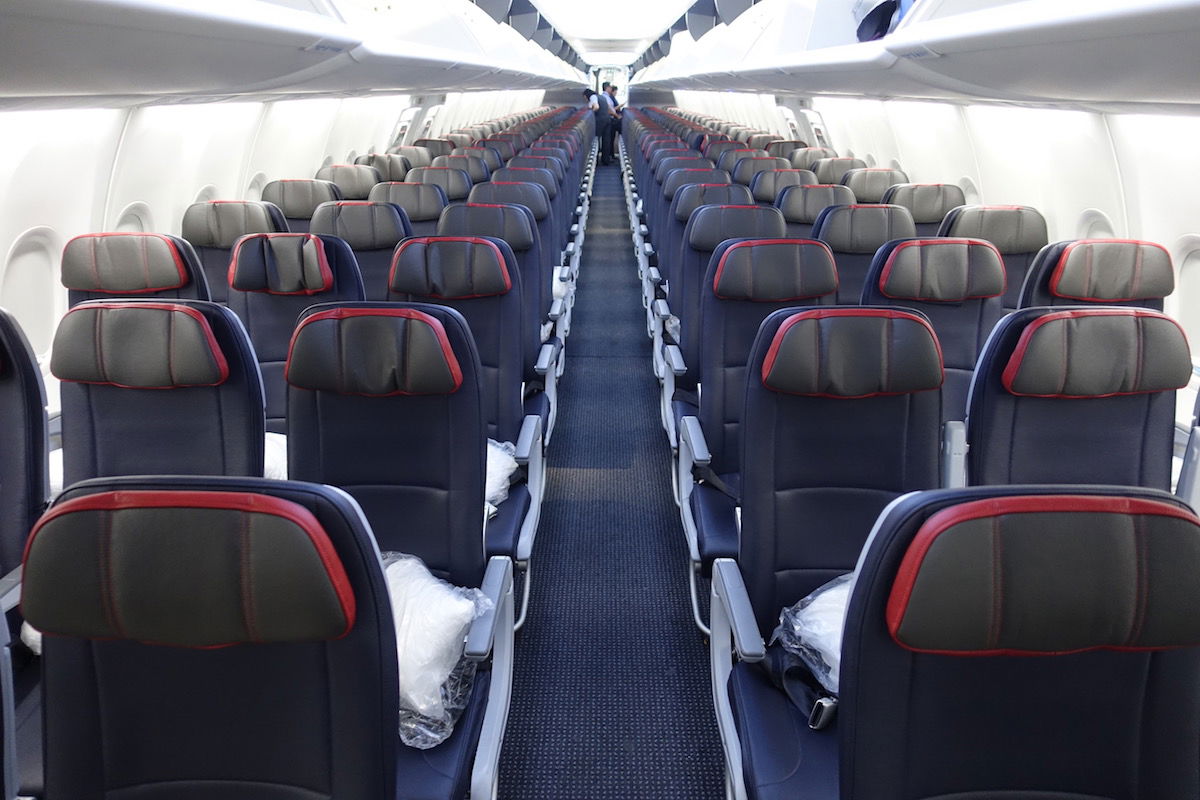 Just to show the process of accessing the free American Airlines Wi-Fi, connect your browser to American's inflight Wi-Fi portal, at aainflight.com. Then click on "Get online."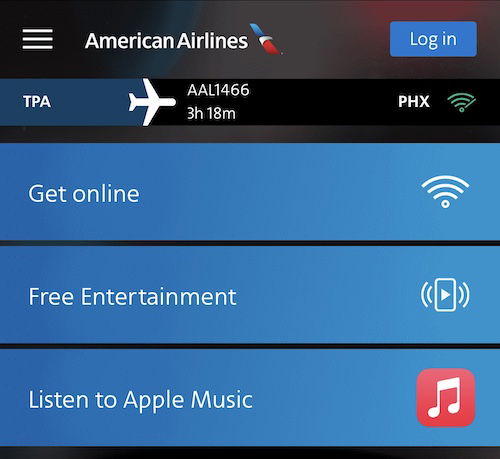 You'll see the paid Wi-Fi pass options ($19 for an hour, seriously?!), but if you scroll down a bit further, you should see the "Complimentary Wi-Fi" section.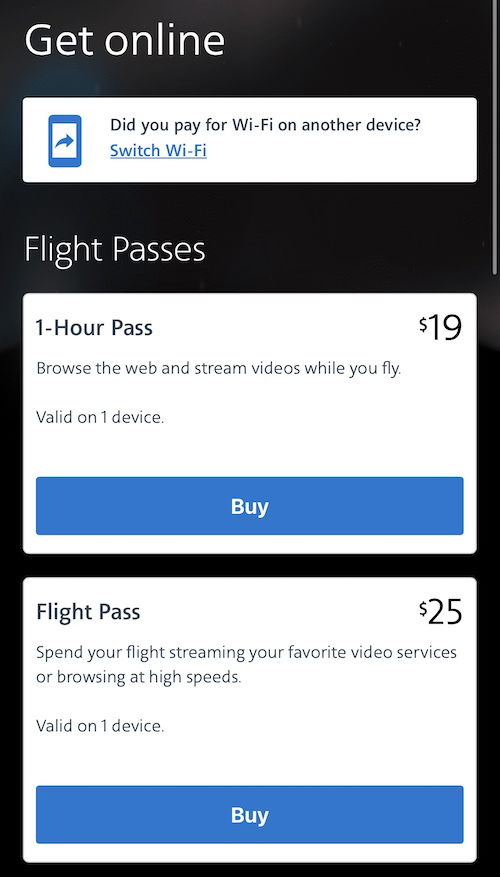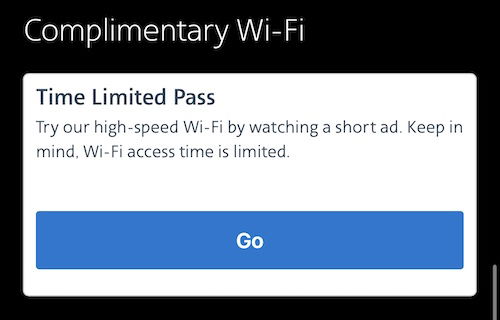 You'll then be redirected to the ad, which in my case was a 15-second video about the American AAdvantage loyalty program.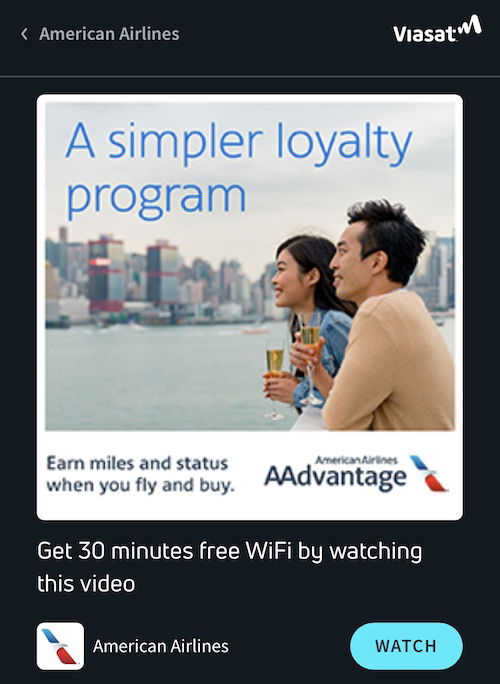 Then you'll receive confirmation that you have 30 minutes of free Wi-Fi.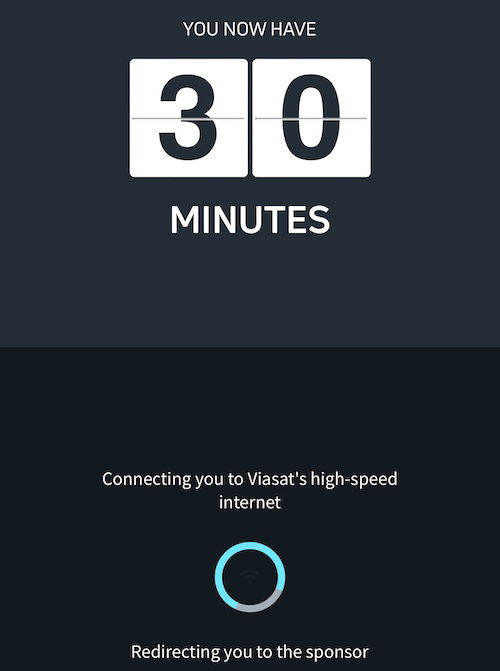 Since American doesn't have seatback entertainment on most narrow body planes, this is a nice way to pass time on American, in addition to the carrier's streaming library of movies and TV shows. However, it's probably not all that exciting for those of us who pay for a monthly Wi-Fi pass on American.
Could free Wi-Fi on American become permanent?
For years JetBlue has offered passengers free Wi-Fi — it's one of the only airlines in the world that offers this without any sort of caps on usage, and it's a fantastic point of differentiation. Other airlines have been slow to follow, though.
As of November 2022, Delta is in the process of making free Wi-Fi a reality as well, at least on Viasat-equipped aircraft. In early November, Delta started offering free Wi-Fi to SkyMiles Medallion elite members, and then as of the middle of November, the airline started offering free Wi-Fi to all SkyMiles members. There are no data caps or time restrictions on this.
With Delta now more or less rolling out its free Wi-Fi offering, there have been quite some rumors that American will eventually match. The airline offering free 30-minute Wi-Fi sessions on Viasat jets is better than nothing. However, in reality I think very few people realize this is even offered, as it's not at all promoted.
Sooner or later Wi-Fi will be a thing that we expect to no longer pay extra for when flying, as has become standard in so many other settings.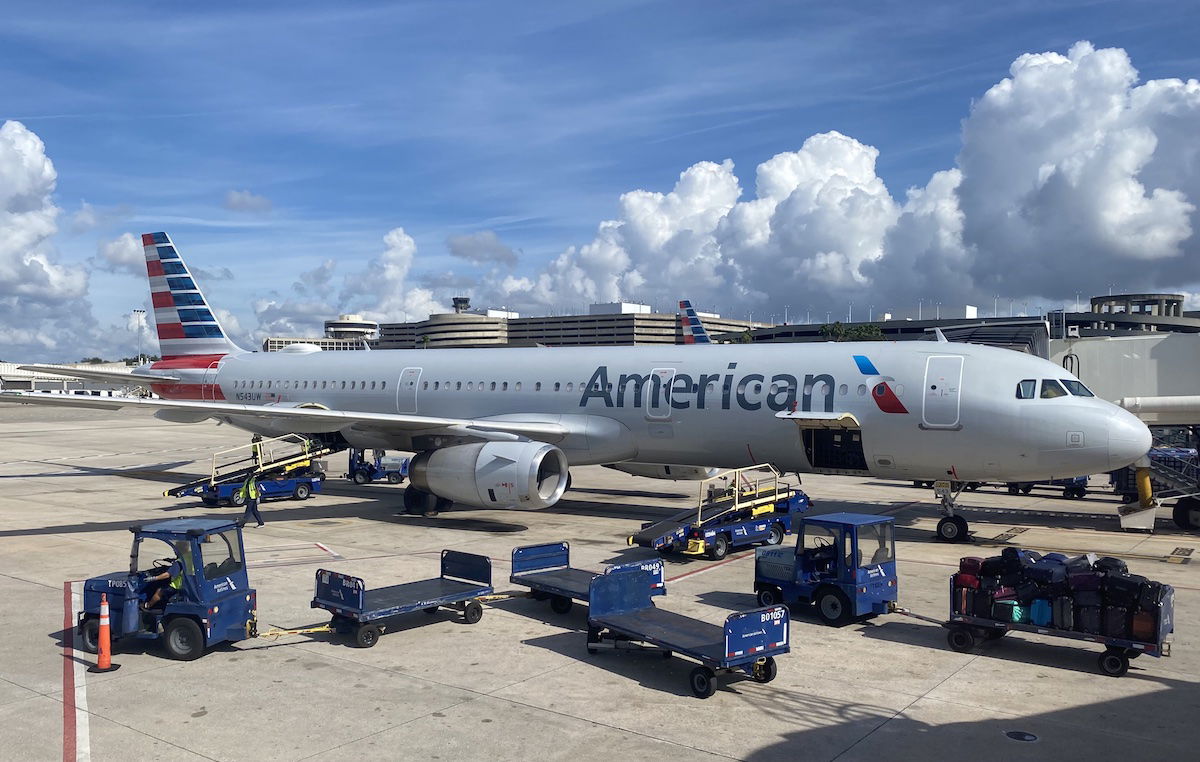 Bottom line
American Airlines is continuing to offer passengers free Wi-Fi on all Viasat-equipped mainline narrow body aircraft. Customers just have to watch a short 15-30 second ad, and can then enjoy 30 minutes of complimentary Wi-Fi.
This "trial" has been going on since this spring, though in reality hasn't been promoted at all. In fact, you really have to dig deep to find this. If you are flying with American and don't want to pay for Wi-Fi, then this is a great option, so be sure you look out for this.
I imagine that sooner or later American will roll out free Wi-Fi on a widespread basis. If I had to bet, I'd guess it happens sooner rather than later.
What do you make of American Airlines offering free inflight Wi-Fi?