I'm writing a series of posts about some of the tools and services I most use for managing, earning, and redeeming points. While I often mention these websites and services in passing, I've never written dedicated posts about them, so that's what I'm trying to do now.
In this post I wanted to talk about how and why I use point.me, which is a tool that makes booking award flights easy. In separate posts I talked about Google Flights, AwardWallet, ExpertFlyer, Seats.aero, MaxMyPoint, aeroLOPA, and more.
Let me start with a disclosure — I have a small stake in point.me, as in early 2022 my award consulting service, PointsPros, joined forces with point.me. For what it's worth, I don't have any day-to-day involvement, so I'm just sharing my impressions as a user, and as someone who books a lot of award tickets.
What is point.me?
Plain and simple, point.me is intended to make searching award availability and booking award flights easy. It offers both a self-serve option, as well as a concierge service, though I'll focus on the former.
There's a huge learning curve to redeeming points efficiently, and point.me is intended to simplify that. Think of it as a one stop shop for redeeming points — you can sync your points balances, and then point.me will search across dozens of rewards program to find the best deals with points. Once you find the best option, point.me even walks you through the process of transferring points and making the booking.
Look, if you're a total pro at redeeming points, point.me will likely only be marginally useful. I mean, I kind of get a real thrill out of opening a dozen different tabs to search award space, but I realize that a vast majority of people don't share my passion in that regard.
So, who is point.me targeted at? Let me put it this way. When I meet people socially (I'm in an introvert, so I try to minimize that, but I also enjoy staying married, so…), often the topic of points comes up. People will tell me how they redeem points, and I try to not audibly shriek when I hear how they're redeeming points for less than one cent each.
Then I'll say something like "well, you can transfer your Amex points to Air Canada Aeroplan or Avianca LifeMiles, and then redeem for Lufthansa first class…" As you'd expect, I get a blank stare.
Fortunately this is where point.me comes in handy, because it's like a website that helps you book your award flight from start to finish. It'll show you award options across airlines, and even show you how to book.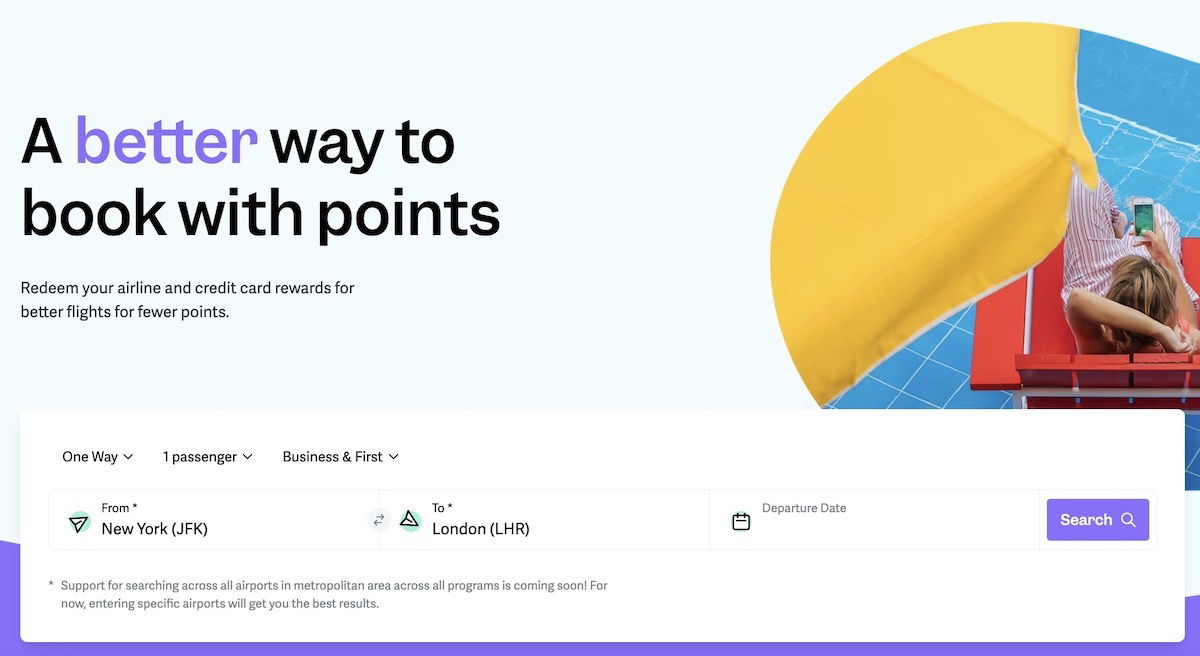 How much does point.me cost?
There's both a self-serve and concierge service available through point.me. The self-serve option is what's going to interest most, and the available plans are as follows:
Any new user can do three free searches when they sign-up for a point.me account, with no credit card required
You can buy a starter pass for $5, giving you access to unlimited searches for 24 hours
You can then buy a monthly standard plan for $12 per month or $129 per year (a 10% discount), and that gets you unlimited searches, the ability to sync your rewards balances, and step-by-step booking instructions
You can also buy a premium plan for $260 per year, which offers all of the above, plus a 10% discount on concierge services, a personalized points strategy consultation call, and five starter passes to gift to friends and family
As you can see, if you use point.me on an ongoing basis, it'll cost you $129 per year.
How do you use point.me?
Let's get into the actual logistics of using point.me. How do you use the websites, what airlines does it support, how do you actually book your travel, etc.?
Which airlines & programs does point.me support?
The point.me search tool supports searching award space with all major transferable points currencies, including Amex Membership Rewards, Bilt, Capital One, Chase Ultimate Rewards, and Citi ThankYou. Even beyond transferable points currencies, point.me provides support for 30+ loyalty programs, covering travel on 100+ airlines.
At this link you can find the full list of loyalty programs, credit card rewards programs, and airlines, that are supported by point.me.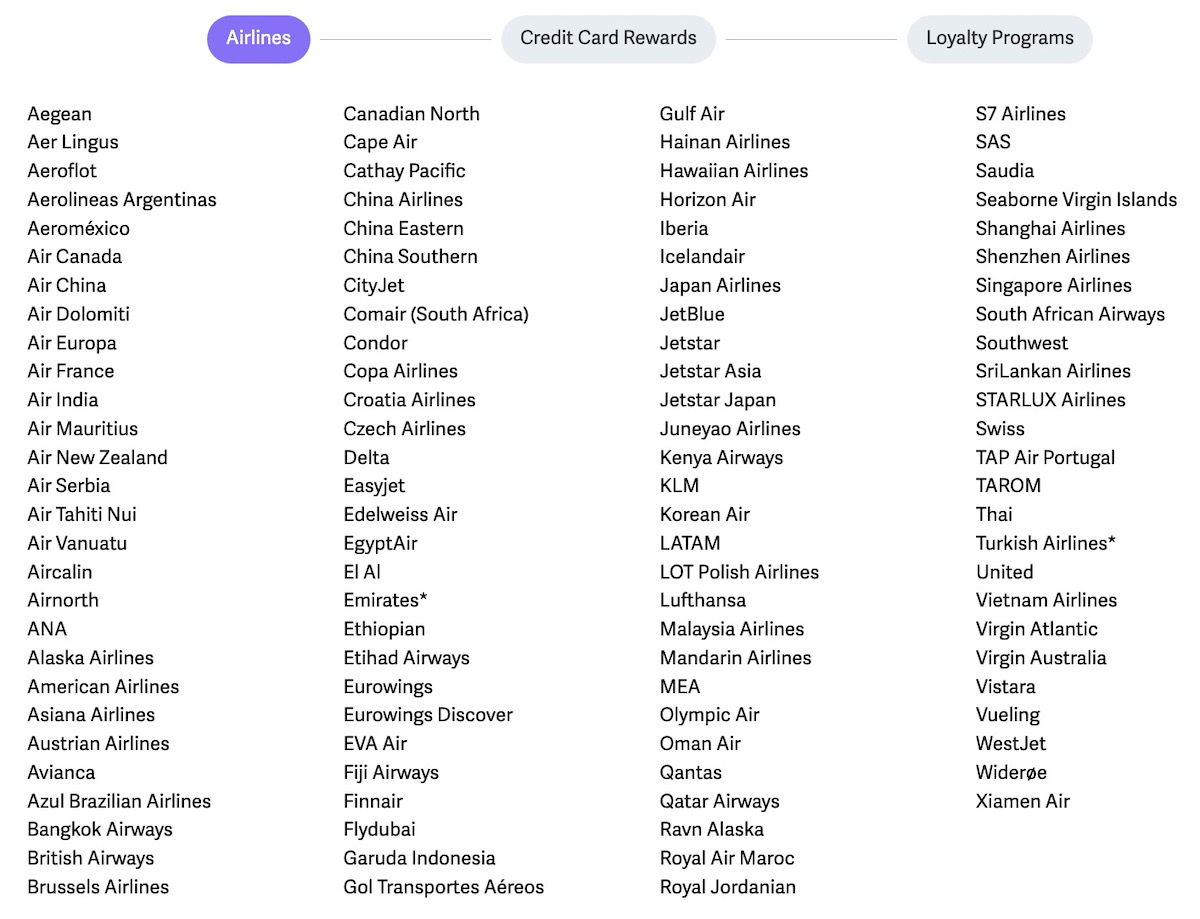 How do you sync points balances with point.me?
While it's not required, there's value to syncing your points balances with point.me. That way you'll be given flight recommendations based on your points situation, and can also be walked through the process of transferring points, if that's needed.
If you have an AwardWallet account, then the easiest option is to connect your AwardWallet account to your point.me account. This can be done directly through the point.me website. That way most of your balances will be synced — just keep in mind that AwardWallet doesn't support American AAdvantage or Delta SkyMiles.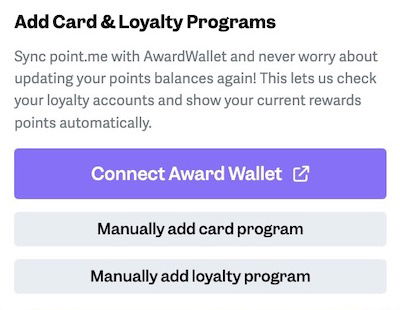 Alternatively — or additionally — you can manually link either credit card or airline loyalty program accounts, and this can be done through the "Account Settings" page of the website.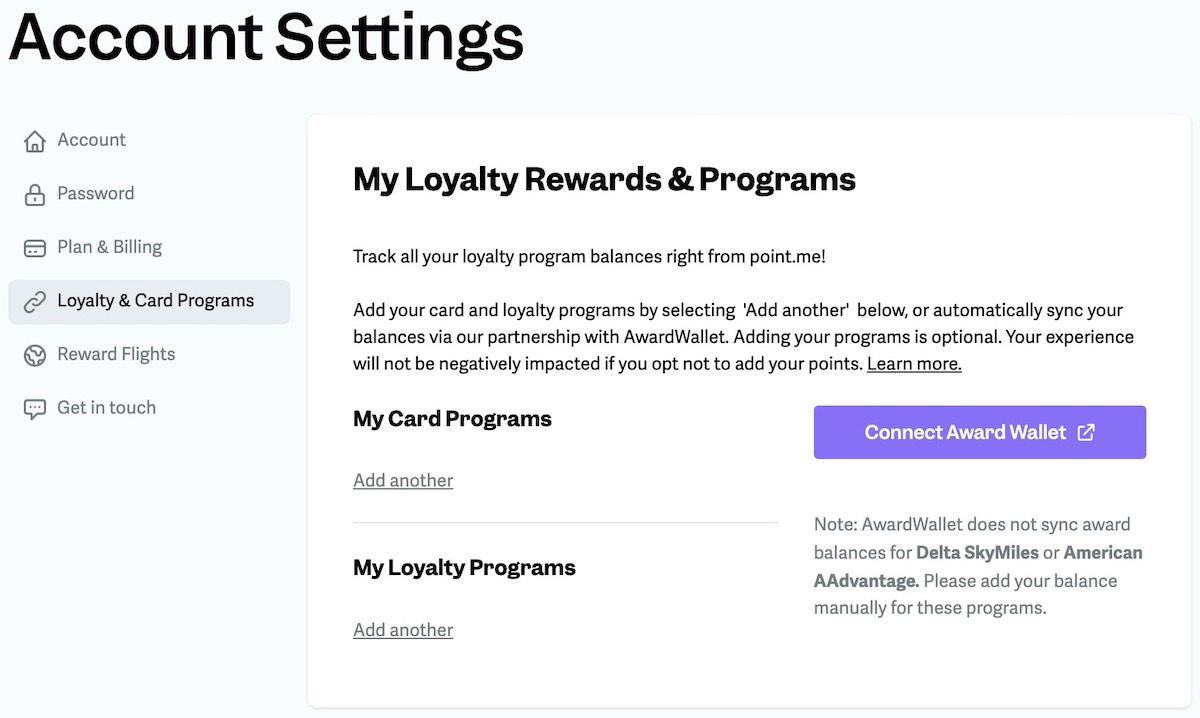 You can just enter the program name and your points balance, so that you know how realistic it is to book a particular type of award.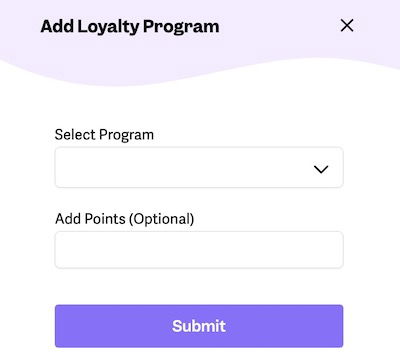 How do you find award seats with point.me?
Once your accounts are synched, the process of searching award flights through point.me is simple, and will feel just like booking a revenue flight. Let me give an example of using the point.me award search tool.
To start your search, just enter your origin, destination, date of travel, class of service, number of passengers, and whether you're traveling one-way or roundtrip. In this case, let's say that I wanted to travel from Dallas to Tokyo on September 18.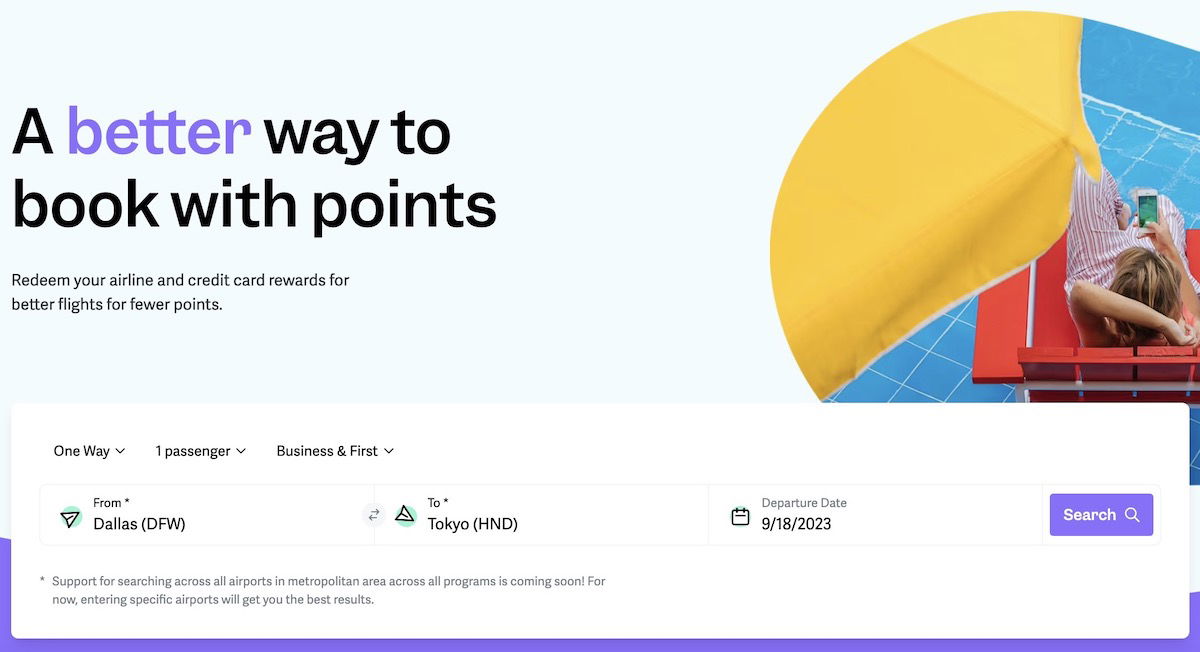 Once you click "Search," dozens of programs will be searched. The point.me search can take up to two minutes, which is obviously much longer than on most airline websites. However, keep in mind why that is — it's because availability is simultaneously being pulled from 30+ sources, and that takes time. Usually my strategy is to start a search, and then do whatever I was doing in another tab, and return a couple of minutes later.
Once the full results populate, you'll have several options for filtering your flights. You can filter them based on the airline, the number of stops, the travel time, the program, etc. For each option, you'll see the number of points and cash required for a ticket.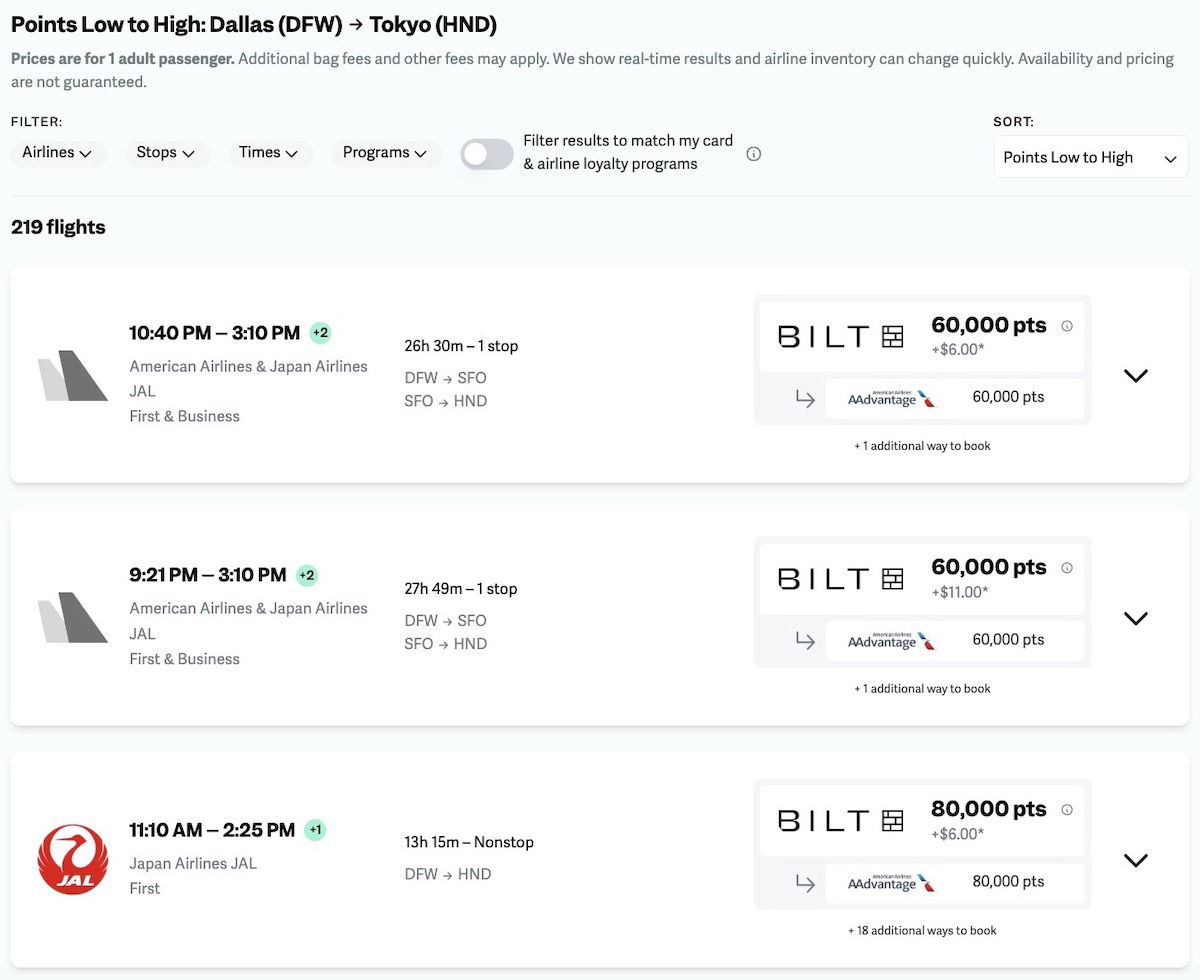 When you click on the actual option, you'll see all the programs you could book through. It'll both show programs where you have existing points that would allow you to book this, as well as options for transferring points to book this.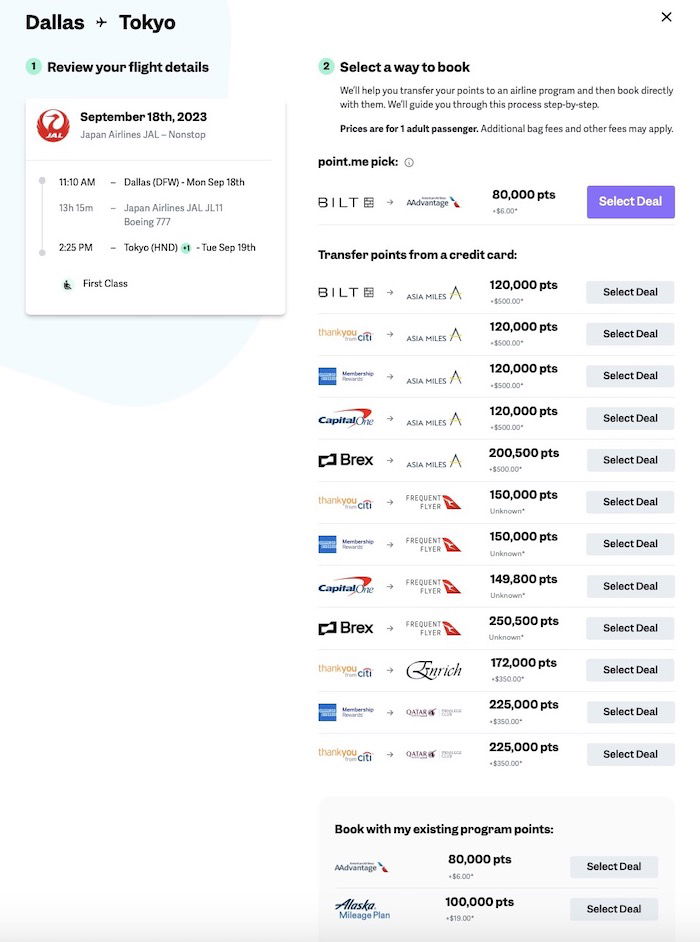 For example, if you elected to transfer Bilt points to American AAdvantage for this redemption, you could click "Select Deal" there. The next page will provide a basic rundown that gives you a sense of what the booking process will look like.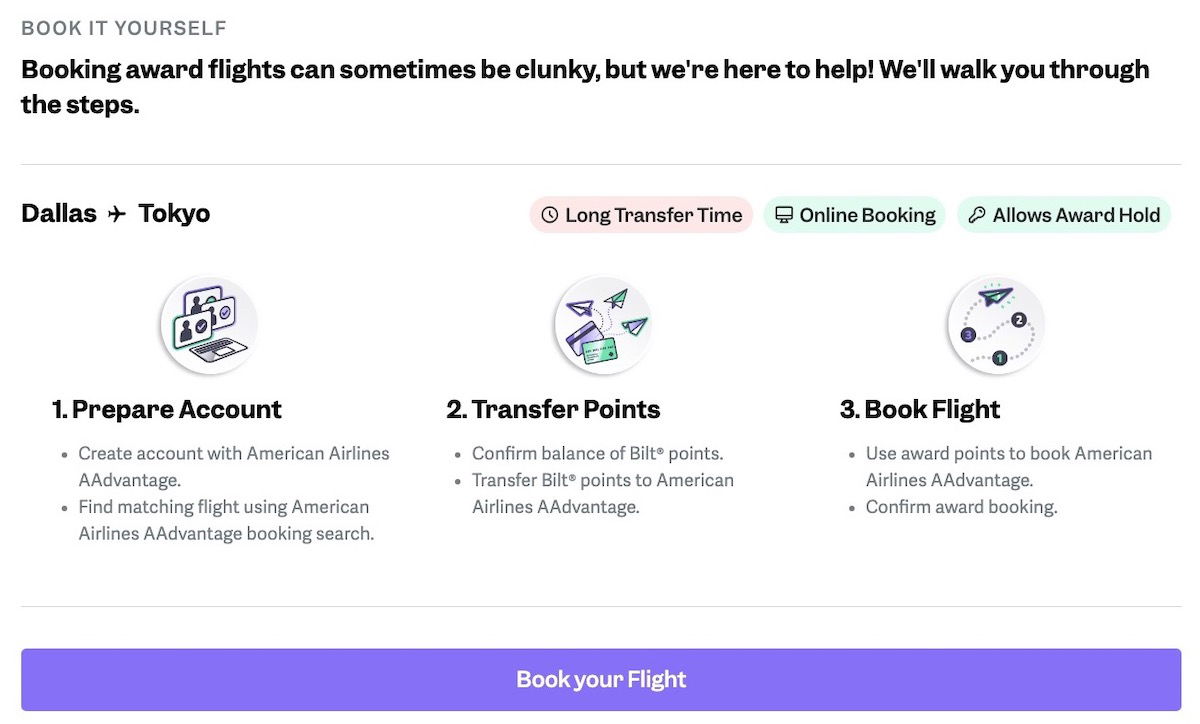 If you then click "Book your Flight," you'll get a step-by-step guide to how you'd actually book this ticket. This could start with signing up for a frequent flyer program, transferring points, etc.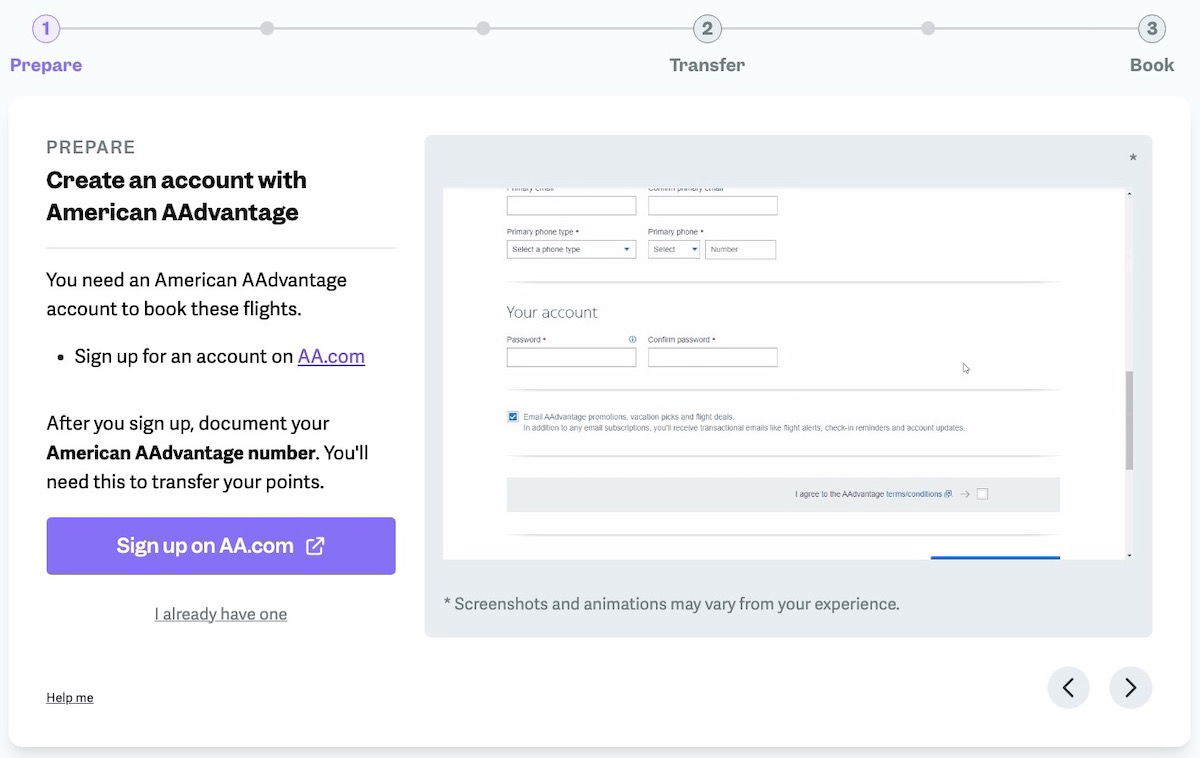 While this is something I don't personally value much, I can't emphasize enough how I think this is where there's the most value for 99% of people, who have no clue what they're doing with transferring points, etc.
Bottom line
The point.me search tool is intended to greatly simplify the process of redeeming points, especially for those with transferable points.
If you're a points ninja who has redeemed dozens of tickets for international first and business class at the saver level, then you don't necessarily need point.me. It might make your life a little easier, but that's about it.
However, if you're someone who collects transferable points but is puzzled by how people are able to redeem these for international first and business class tickets at a fraction of the cost, then point.me is probably for you. The beauty of point.me is that it doesn't just find you award seats, but also walks you through the process of transferring points, booking through the best program, etc.