Posts from me are going to be a bit lighter over the next week as I travel to the Maldives. Some of you may remember my friend Nick, who reviewed JetBlue's A321 Mint Class last August, along with his trip to South America. Nick is possibly the biggest Delta/SkyTeam apologist and funniest person I know, and I hope you find him interesting/amusing. 😉
---

There's perhaps no airline that is quite as vilified by Ben as — you guessed it — Delta Air Lines.
What he sees is an airline running a mileage program that is not as lucrative as American's, a program that requires significant spend (or use of a co-branded credit card) to reach elite levels and offers poor redemption availability on its own metal domestically.
Ben sees a program that won't let you redeem miles for travel on partner airlines in international first class.
Ben sees a program that has made some customer-unfriendly changes within the last few years.
I see it differently.
If 100% of what you value in an airline is its mileage program, Ben is probably right: Delta can't compete with American Airlines (for now – but that's only because American hasn't devalued its program… yet). But if you, like me, place more value on the in-cabin and on-the-ground experience than on your mileage bank, Delta blows away the other legacy carriers.
Even Ben will begrudgingly admit that "they run a good operation," but I don't think you can get him to admit that they're actually a great airline. That's what I'm here for: not to sugarcoat SkyMiles, but to tell you why Delta is still the best U.S. carrier, warts and all – and give you a rebuttal on why SkyMiles aren't all that bad.
Delta Runs Better
There's no question of this. Empirically, Delta has an appreciably better on-time performance rate than United and American. Delta has fewer cancellations, better turnarounds and less customer service complaints. That's all established – not conjecture. They also make a lot more money than United and American do. Next?
Delta's In-Cabin (and Lounge) Experience Is Better
"In-cabin experience" is subjective, sure. But ask around, heck, even ask Ben himself, and he'll tell you that Delta's premium cabin food is actually tasty. I don't think American Airlines' biggest supporters, even Ben, can deny that catering on AA leaves something to be desired. You'll get a good meal on Delta, and if you're flying in DeltaOne (aka BusinessElite) between JFK and LAX/SFO, you'll always get a full meal service. You'll get dinner on the 9:05pm JFK-LAX flight – whereas even in "Flagship First" on American on that same route, you'll be lucky to get a cheese plate after 8pm.
Delta was the first airline to have fleetwide Wi-Fi on its domestic planes, and it's now undergoing a plan to upgrade its Wi-Fi to a faster, better performing network. They serve Grey Goose in DeltaOne, and Woodford Reserve bourbon. All of its planes – even its regional jets – have first class cabins. In the new Comfort+ "cabin," that is, Economy Comfort, you get free drinks and dedicated overhead space.
If you fly the Delta Shuttle, you'll get free food, beer and wine, even in economy. DeltaStudio is a great IFE interface with innovative, interesting programming. And, more to the point, the service is, on the balance, more gracious and consistent than American's and United's.
And when you land, Delta will send out your checked bags within 20 minutes or credit you SkyMiles if they don't deliver on their promise.
And while you'll have read a lot of outrage on Ben's blog about how credit card lounge access (with the Platinum card or with the Delta Reserve card) no longer admits a guest, the upshot is that Sky Clubs are able to offer nicer amenities – such as a real, complimentary food spread all day long. Try finding that at an Admirals Club.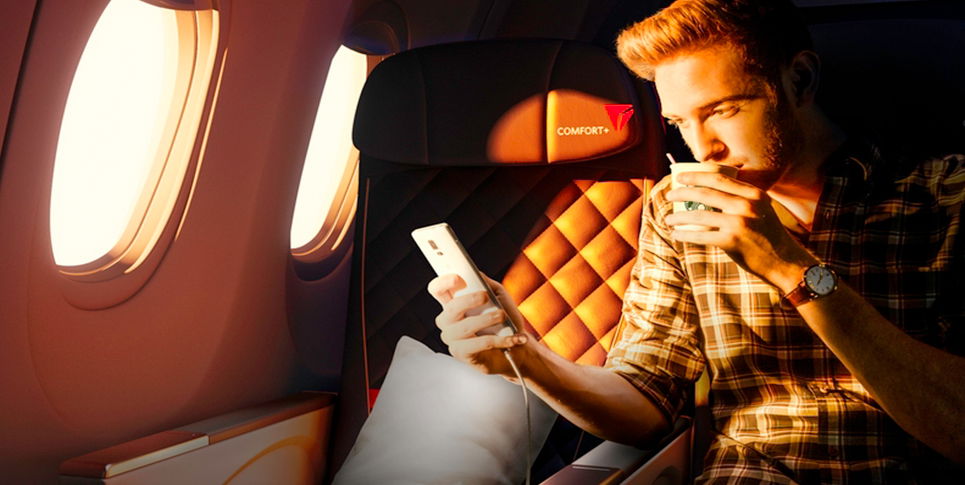 More importantly…
People LIKE Flying Delta
Those who fly regularly, and fly Delta, actually like it. Delta treats its regular flyers well (even its non-regular flyers) and people walk away happier on the whole. I live in Los Angeles, which is no fortress hub and not beholden to any one airline. And yet I have at least five or six friends I follow on social media who regularly praise Delta, Instragram their flying experiences, etc.
I know just as many, if not more, who are American and United frequent flyers… but I never see them post about it. Because there's nothing to be excited about when flying American and United. Trust me: I've tried, and American just lets me down every time, whether it's the practically nonexistent seatback entertainment, the dour service from couldn't-care-less-about-you pursers (remember Ben's purser on his recent trip to London?) or coffee that tastes like rotten dishwater. But Delta, for better or worse, is social media savvy. They know how to generate excitement, because…
Delta Is Stylish
Maybe – in fact, probably – you don't care about this. But Delta knows it can at least attract a loyal audience of followers by looking good. The Delta App is simple to use and elegant. Delta's website is beautiful – especially compared to United's or US Airways'. Delta's safety video has been great (and innovative) for years now.
Laugh at the DeltaOne branding all you want (and you should, because I will fully admit that "DeltaOne" is ridiculous), but those newly re-covered seats look great. Especially when covered in Westin Heavenly bedding. And flight attendants' uniforms are on point. Yes, yes, people will retort that it's all "style over substance," but is it really the case when the hard product, customer service and on-time performance are also all industry leaders? (That's substance for you, folks.)
I'm easily wowed by style – I also love Virgin America and Air France, each of which Ben coincidentally also hates – but it's not for nothing. Boarding an American Airlines plane can be depressing. And United? No one has accused United of being anything but dowdy. The point seems trivial, but then again, if style sets the tone for your 5 hours in the air, isn't that fairly key?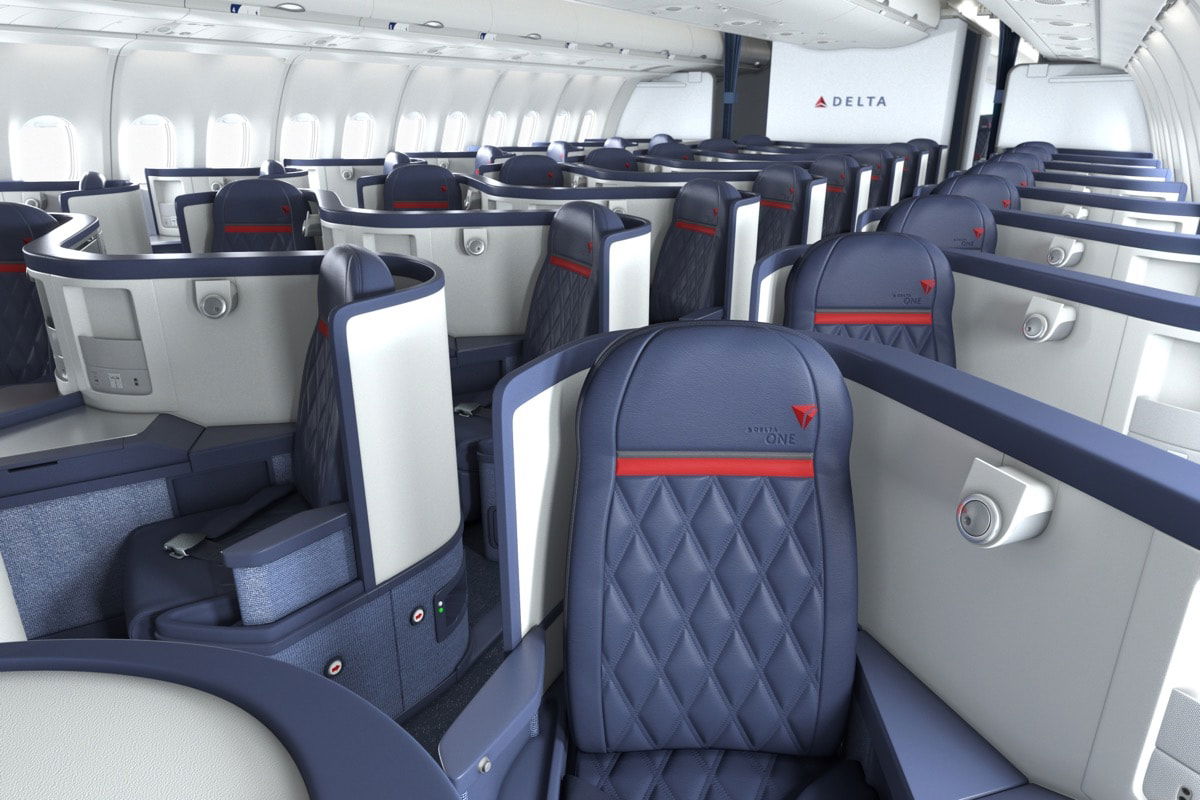 Delta Offers More Flatbeds
Try finding an angled-flat seat on Delta. You won't. American's new seats seem great, but their old international business class seats are horrid. On American and United, you may get flatbed seats but you may also have to walk over your neighbor to get to the bathroom. Delta has aisle access from all its flatbed seats on widebodies.
But what I like about Delta is not the seating configuration per se. It's that you don't have to fly JFK-LAX or SFO to find flatbeds domestically. In fact, Delta positions its internationally-configured planes on a regular basis, and Delta makes it incredibly easy for you to search for flatbed-configured flights (just tick the "flat-bed seat" box on the search form).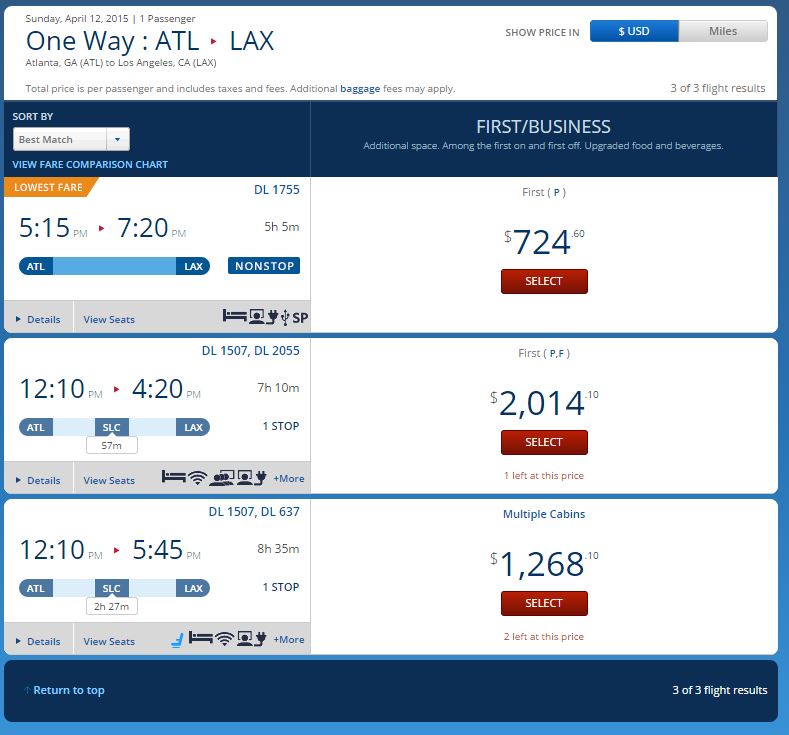 You can pretty regularly find flatbed routes from Atlanta to Los Angeles and Los Angeles to Honolulu, for example. But I've also flown in an international 767 from Orlando to Atlanta, and I've flown a 757 with a lie-flat first class cabin from LAX to Salt Lake City. All you need to do is run a search on the Delta website. And you'll stand a good chance of being upgraded on an internationally-configured cabin if you're elite.
Elite Status Is Within Reach, Even For Casual Travelers
I like flying. I love the perks that come with elite status. But I'm not a regular business traveler, and fly infrequently relative to a lot of you (and certainly relative to Ben!).
However, I do have the Delta Reserve American Express card, and put almost all of my spend on it annually. I usually hit both threshold bonuses and get 30,000 Medallion qualifying miles from the card alone – enough to keep me at Silver Medallion, at a minimum. But mixed with some healthy amount of flying and a few strategic promotions, Gold Medallion status and higher is within easy reach for the casual flyer – especially if you can bank some rollover qualifying miles from the previous year (a perk only Delta, and not United and American, offers).
This year, I've got two roundtrips to Europe on SkyTeam in business class thanks to those amazing $1,400 airfares popping up last fall, which will give me roughly 40,000 MQM's together. And Gary recently posted about some great Premium Economy fares on Air France from LAX to Istanbul (which I won't be doing this year, but is tempting) for under the $1,000 mark – and Premium Economy still earns 150% MQM's, so that's almost 21,200 MQM's for the enterprising mileage runner.
Obviously, mileage run deals abound across all the alliances, but it's quantifiably easier to reach elite status on Delta using a Delta-branded card (which, in any event, makes the whole "Medallion Qualifying Dollar" requirement moot, since credit card spend above $25,000 eliminates that requirement for all levels).
So… About Those SkyMiles
If you fly an airline solely to accrue enough miles to redeem for an aspirational first class trip on an Asian or Middle Eastern carrier, then SkyMiles is not for you. And let's say SkyMiles is not for you – that's no reason not to fly Delta if you otherwise enjoy the in-flight experience; you can fly Delta metal and bank your miles to Alaska MileagePlan for the best of both worlds. (Since Alaska, bless their hearts, is not exactly a cutting edge in-flight experience.)
And, look: I'm not being paid by Delta. I enjoy playing the devil's advocate, but I'll admit I have an AAdvantage account for a reason, and I think the redemption opportunities on American can be great.
But! SkyMiles have gotten better in 2015, and despite all the sky-is-falling ballyhooing, award availability really has improved, and one way awards have brought SkyMiles at least on par with MileagePlus. But consider this:
It's arguably the best redemption to Europe: availability on Air France, KLM, Virgin Atlantic and Alitalia is actually reasonably decent far in advance, not to mention Delta metal. American has iffy availability to Europe on its own planes – and even then, you have to eat American Airlines food, and you may get one of the old business class seats – and the only other options using AAdvantage are British Airways, which charges exorbitant fees, and Finnair, Air Berlin and Iberia, which are also-ran airlines that make Saudia and Aerolineas Argentinas look like gold-standard alliance members by comparison. And as for United, if you're not flying United metal (which is a substandard product), you'll only have access to Swiss, Lufthansa and Brussels Airways business class at a much, much higher redemption rate. Ben may disagree, but Air France, Virgin Atlantic, KLM and Alitalia are solid partners with very good food and service and an excellent (KLM, Virgin, Alitalia) to good-but-improving (c'est la vie, AF) hard product.
All those redemption tiers are actually not that bad if you're just redeeming for domestic travel. Sure, they may no longer publish an award chart (which is stupid, yes!), but it's actually pretty easy to piece together a not-exorbitant domestic itinerary on Delta, especially now.
If you have a Delta-branded credit card, the Pay With Miles option is occasionally useful in certain instances. Ben will disagree and laugh at me for saying anything valuing a SkyMile at $0.01 is worth it, but look: SkyMiles are really easy to accrue. I've found it worthwhile on more than a few occasions to pay for a first class ticket outright and "subsidize" it with 40,000 SkyMiles or so (which would bring it to the cost of economy or below), but continue to earn 150% MQM's on my ticket, which, to me, is worth it when I'm angling to reach a higher status threshold.
Anyway, I'm not blind to Delta's shenanigans this year with the SkyMiles program, but to me, I place a high amount of value on the experience of flying Delta. I like the airline, I like the personnel, I've always been treated well at check-in whether I'm flying in economy or at a dedicated SkyPriority desk.
Heck, I think as far as fortress connecting hubs go, Atlanta's pretty spectacular, easy to navigate, with great restaurants and bars. Salt Lake City is an incredibly well-run airport with very few delays, even due to weather. The airport at MSP is also great, and while I haven't flown through DTW, I've only heard fantastic things. It's an airline (or an "air line," per Delta's trademark) that has chosen its hubs strategically and very well, and is operationally magnificent.
Ben makes fun of me a lot for flying Delta, but I also feel like he wouldn't be writing hate-fiction (that's the opposite of fan-fiction, right??) about Delta if he didn't feel that it posed a threat to American Airlines, and if he didn't think that what he doesn't like about SkyMiles are precisely the things that help Delta position itself at the top of the market (and the things that AAdvantage will likely parrot next year).
I know I'm wading into the waters of a rabid AA fan base here, but I'd love to hear your thoughts about your experiences flying Delta. If Delta had the advantages (er, no pun intended) of AA's mileage program, would you switch loyalties?