---
We left the Admirals Club at around 10PM to head to our departure, gate 26. The gate was only a short walk away, and as we arrived boarding commenced, starting with BusinessElite passengers.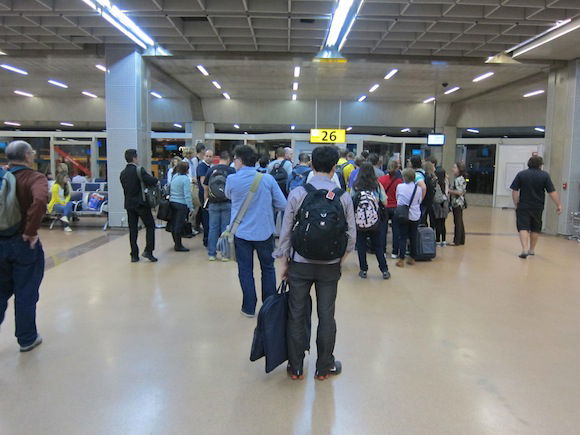 Sao Paulo Airport gate 26
Delta 48
Sao Paulo (GRU) – Detroit (DTW)
Saturday, November 23
Depart: 10:55PM
Arrive: 6:50AM (+1 day)
Duration: 10hr55min
Aircraft: Boeing 767-300
Seat: 6B (BusinessElite)
This flight was being operated by one of Delta's 767-300s with a staggered business class product. Delta has over a handful of 767 subfleets, though this seating arrangement is the most common. They also have 767s that are configured for domestic flying.
This staggered business class product is in a 1-2-1 configuration, very similar to what's offered by Austrian, Brussels, etc. Here's the seatmap of this particular aircraft, per SeatGuru: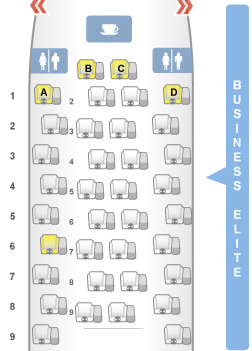 For this particular flight we selected two seats together in the center section, which of our six flights was the only one where we did that.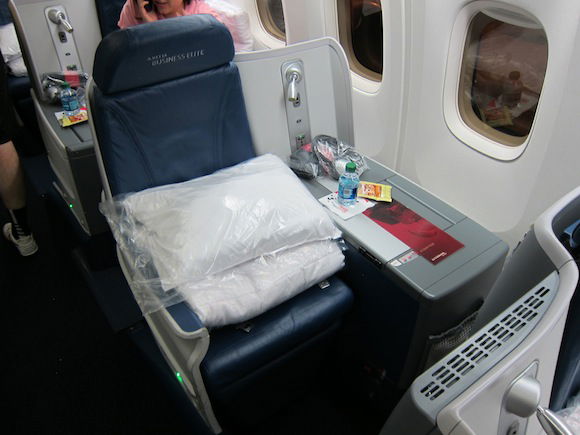 Delta BusinessElite seat
We selected seats 6B & 6C, in roughly the center of the cabin.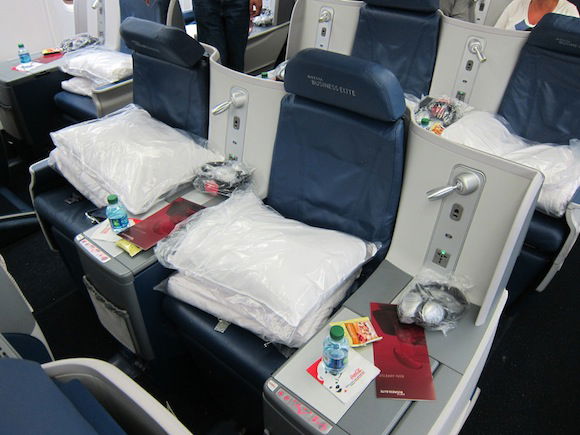 Delta BusinessElite, seat 6B
Waiting at our seats were menus, water bottles, almonds, headphones, and Westin Heavenly Bedding.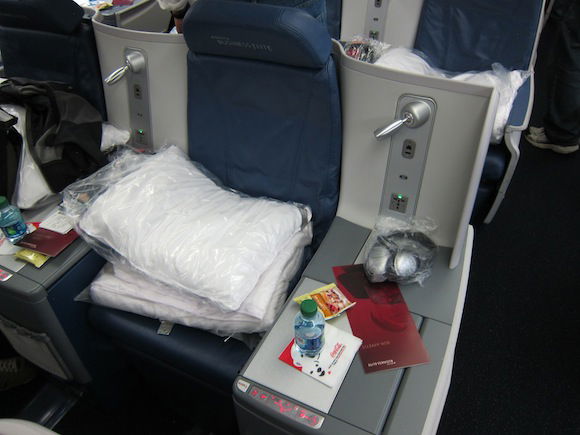 Delta BusinessElite, seat 6B
The seat itself was fairly comfortable for sitting, though had the same challenges that most staggered business class products have, which is that the foot "cubby" is extremely tight.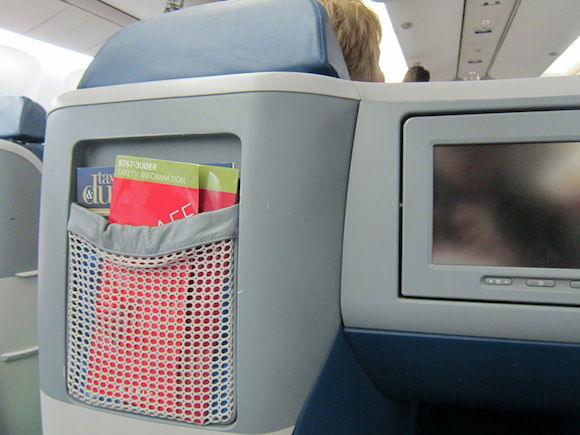 Delta BusinessElite, seat 6B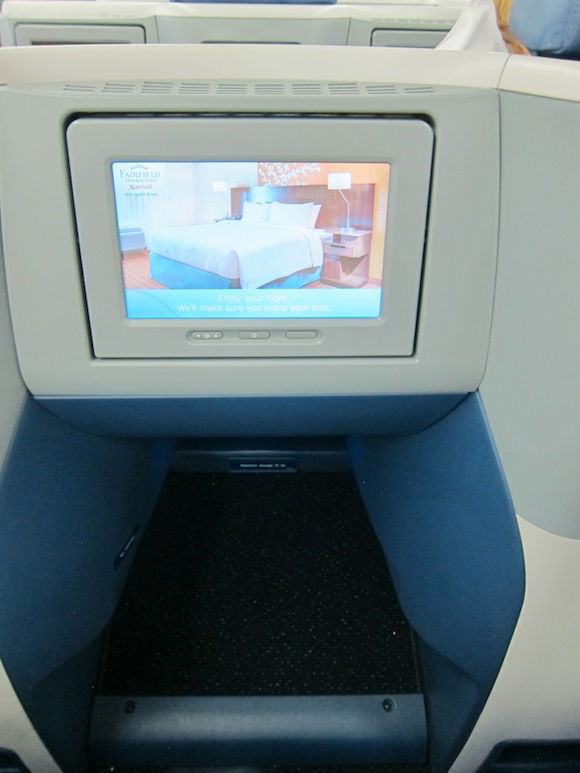 Delta BusinessElite tight foot "cubby"

To the left of my seat was the reading light, headphone jack, USB plug, and power port.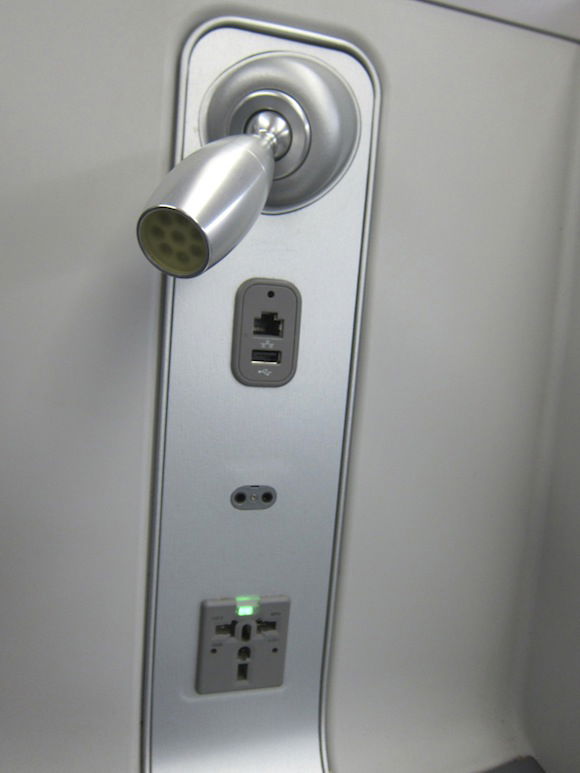 Delta BusinessElite reading light, power port, and USB port
Also to the left of my seat were the entertainment controls, though the compartment they were in was filthy (though the rest of the cabin was fairly clean).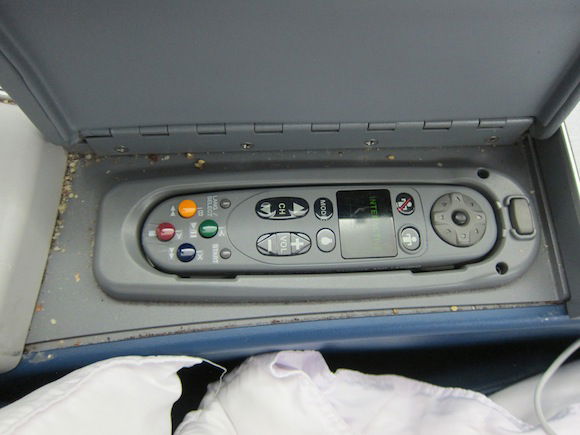 Delta BusinessElite entertainment controls
At the very top of the seat console were the seat controls, which were fairly intuitive, if not a bit limited.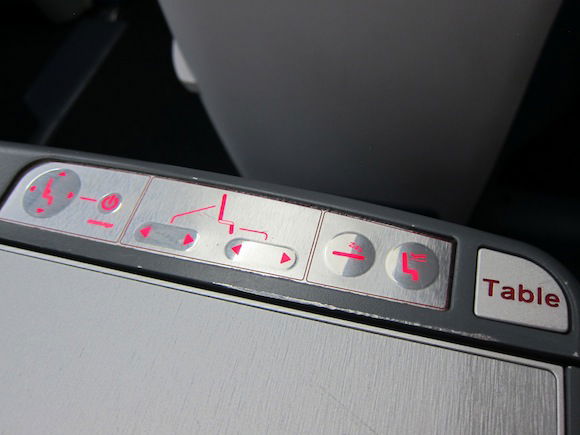 Delta BusinessElite seat controls
The tray table also pops out from the left side of the seat, and is a bit of a pain to use, in my opinion.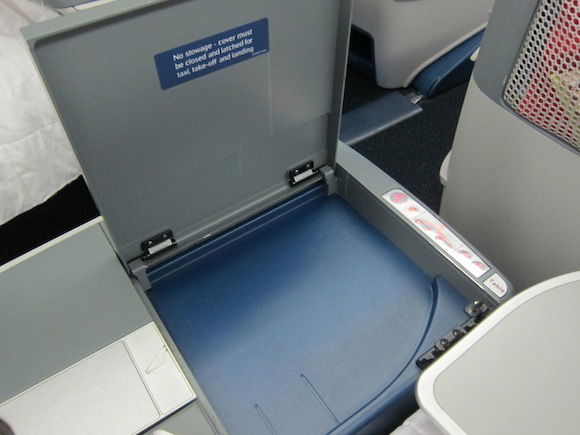 Delta BusinessElite tray table
The highlight of the hard product had to be the Westin Heavenly pillow and blanket. They were… heavenly.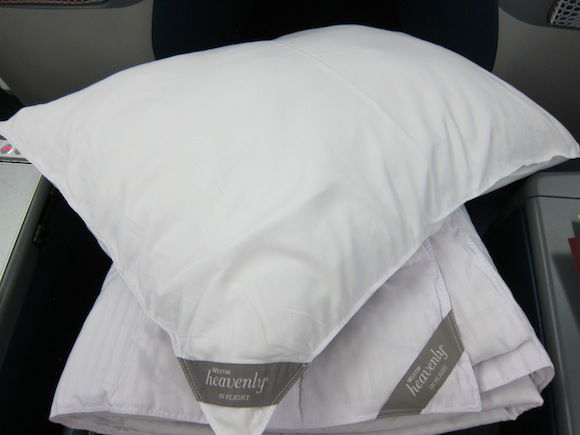 Delta BusinessElite Westin Heavenly Bedding
In addition to the bedding you've gotta love Delta's Tumi amenity kits. They're probably my second favorite business class amenity kits out there (after EVA Air's Rimowa amenity kits). The case is incredibly practical to reuse for storing toiletries, cords, etc.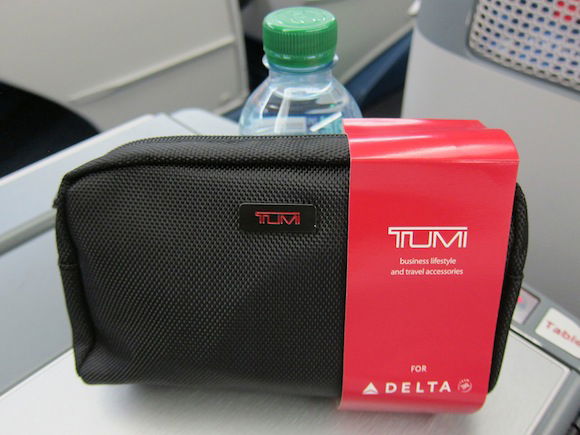 Delta BusinessElite Tumi amenity kit
It was also fairly well stocked with a toothbrush, toothpaste, comb, eyeshades, socks, tissues, a pen, etc.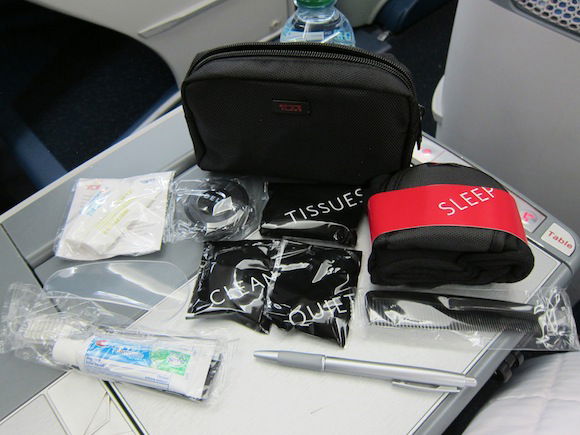 Delta BusinessElite Tumi amenity kit contents
It's interesting that Delta no longer offers warm nuts after takeoff, but instead offers packaged glazed almonds with dried cranberries upon boarding. I also appreciate that they have bottled water in addition to pre-departure beverages, which they even do on domestic flights.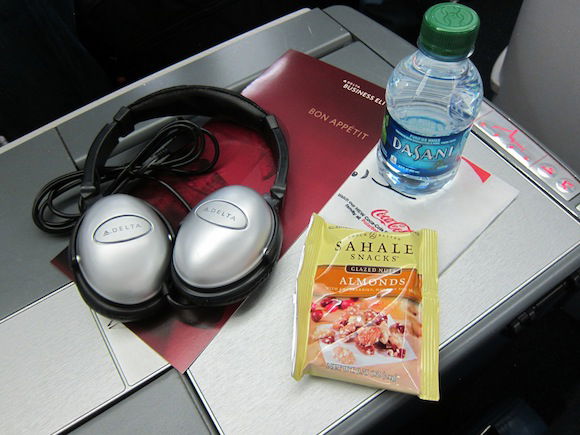 Delta BusinessElite headphones, menu, water, and almonds
The crew on this flight was extremely friendly, one of the best crews I've had for a US airlines. Even though the entire plane was boarding through the front door of the aircraft, the crew quickly did a pre-departure beverage service. I selected a glass of orange juice.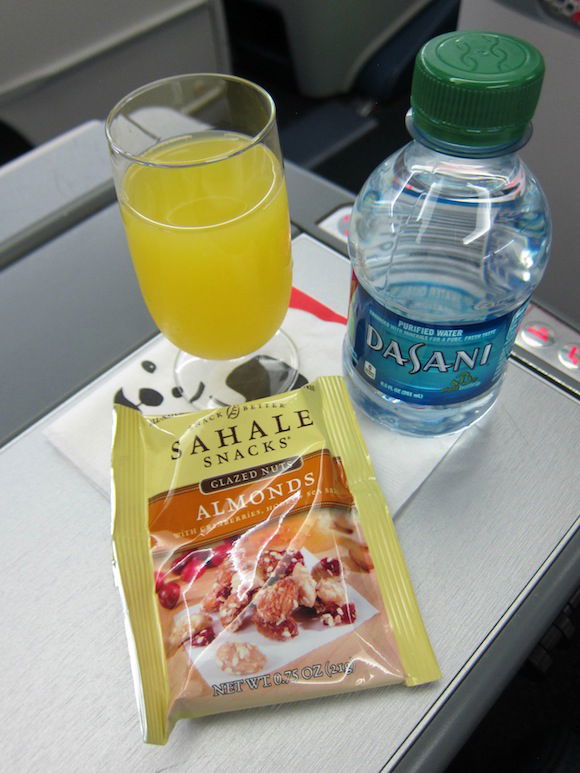 Delta BusinessElite pre-departure beverages
While we were still on the ground the purser, Dorinda, came around to introduce herself and take dinner orders. She also asked if we wanted to be woken for breakfast.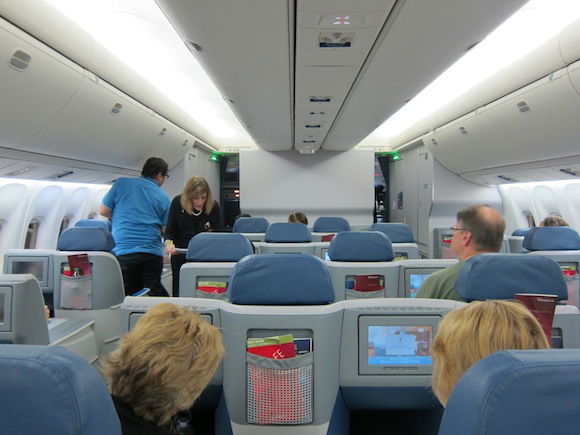 Delta 767-300 BusinessElite cabin
At around 10:45PM the cabin door closed and the captain came on the PA to inform us of our flight time of 10hr55min, which was a bit longer than usual.
We had a quick pushback, and on our taxi to the runway the awesome holiday themed safety video played (along the lines of this one):
https://www.youtube.com/watch?v=0P-fqUoHMBc
We took off from runway 9L at around 11PM.
As we climbed out I browsed the entertainment selection, though that was interrupted by a cabin-wide SkyMiles American Express advertisement that played on the entertainment screens and over the PA.
The entertainment selection was fairly impressive, and I ultimately decided to watch a few sitcoms.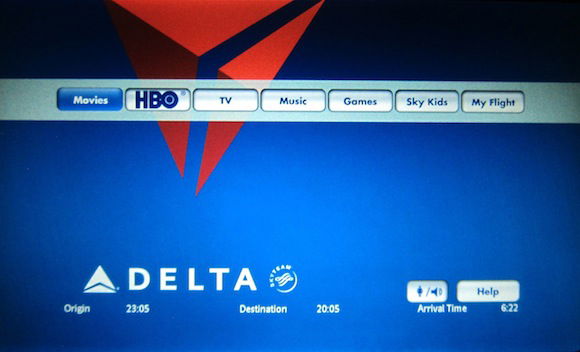 Delta BusinessElite entertainment screen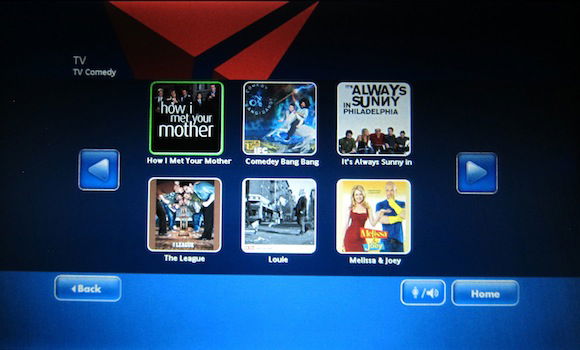 Delta BusinessElite entertainment screen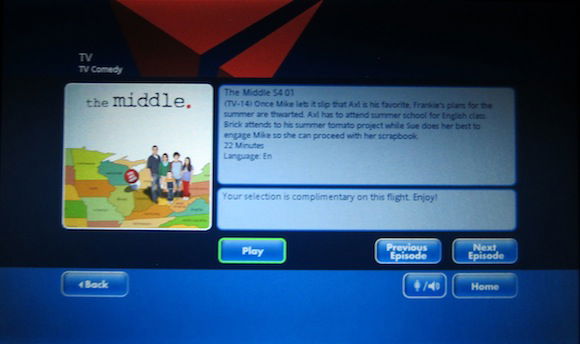 Delta BusinessElite entertainment screen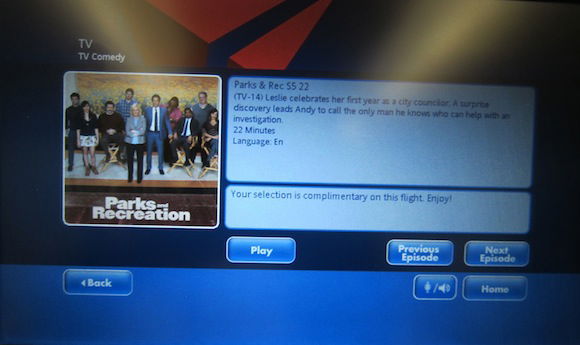 Delta BusinessElite entertainment screen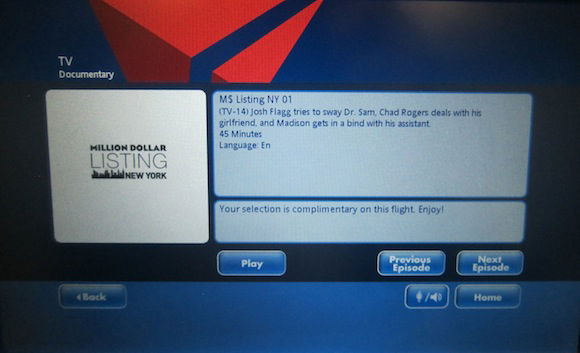 Delta BusinessElite entertainment screen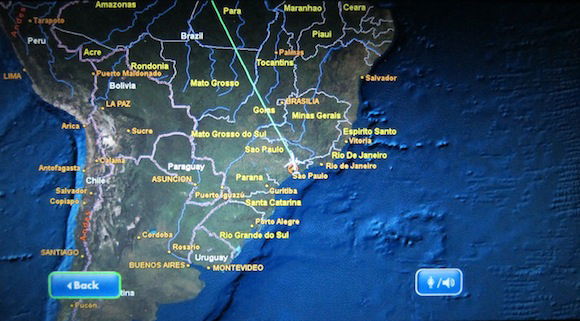 Delta BusinessElite airshow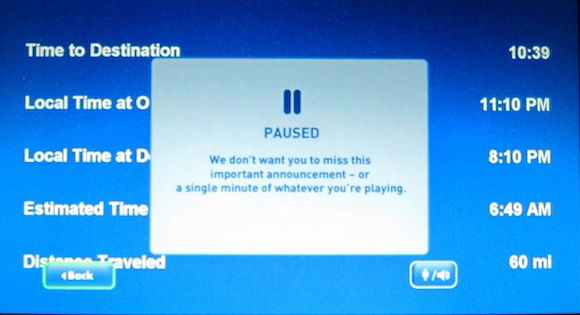 Delta BusinessElite airshow
About 30 minutes after takeoff the dinner service began. First hot towels were distributed.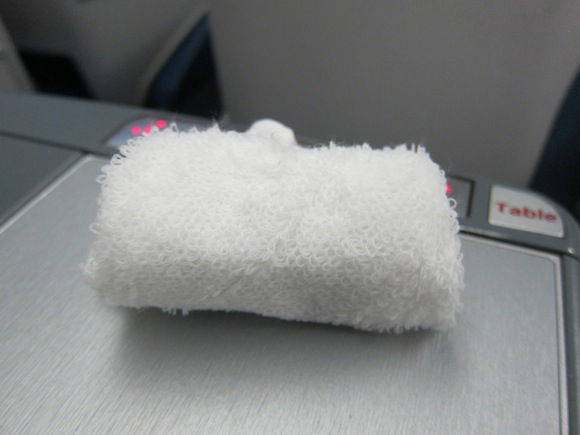 Delta BusinessElite hot towel
The dinner menu read as follows: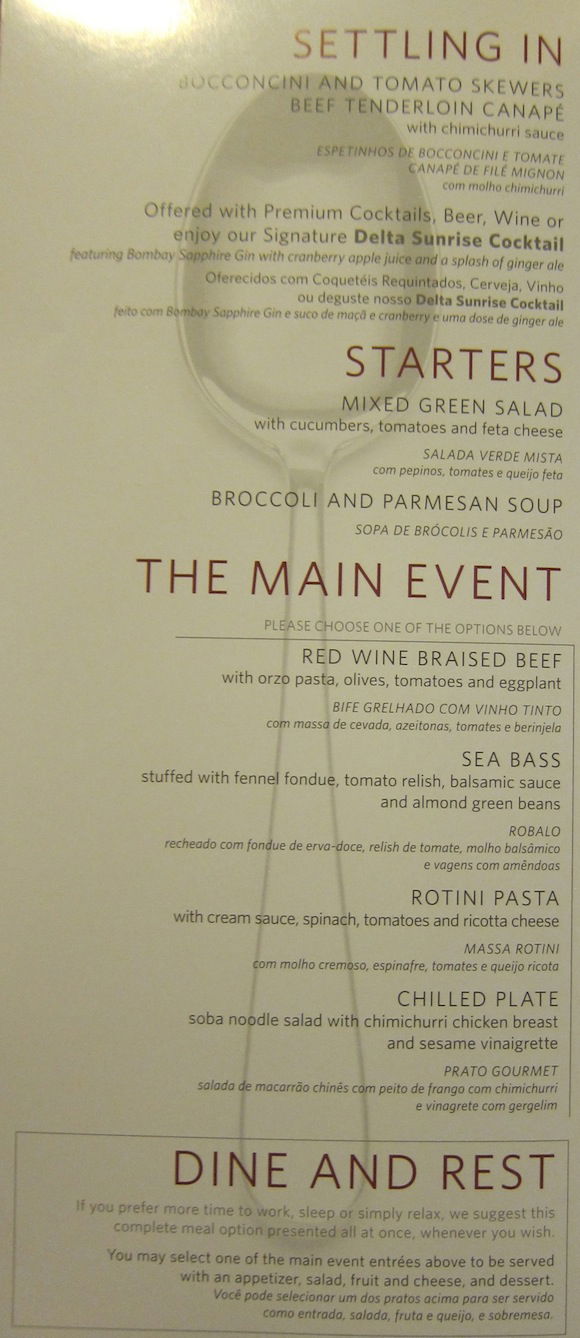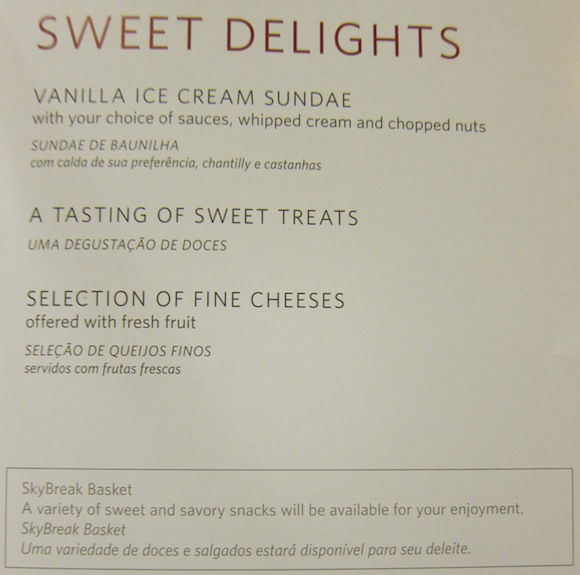 And the wine list read as follows: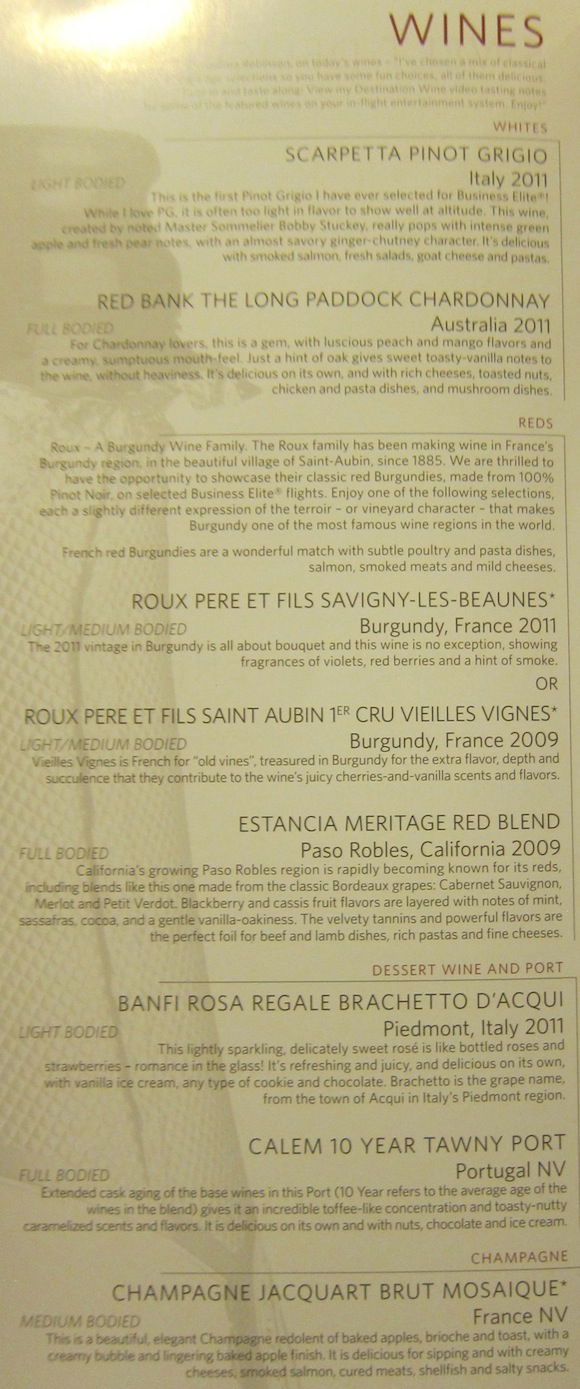 First tables were set and the appetizers were served with drinks. The starter consisted of bocconcini and tomato skewers and a beef tenderloin canape, which was simple but delicious.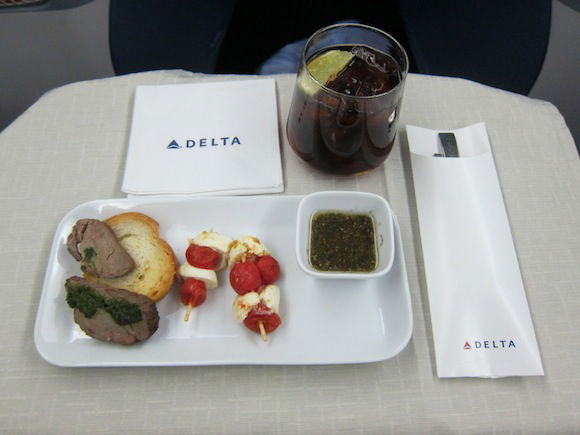 Delta BusinessElite appetizer — bocconcini and tomato skewers, beef tenderloin
Next the salad and soup were served. A huge kudos to Delta on the salad. I'm so sick of salads with just iceberg lettuce and a cherry tomato or two. The soup was quite good as well.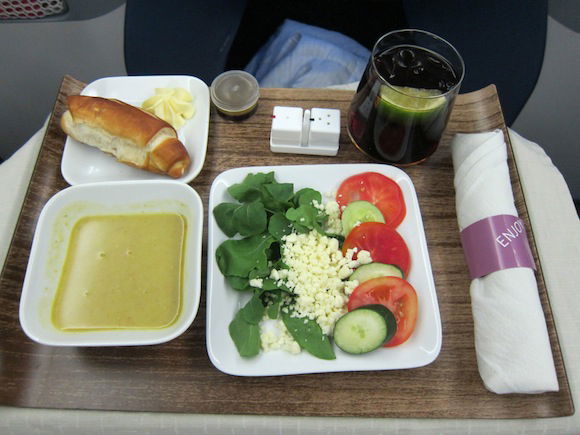 Delta BusinessElite salad and soup — mixed green salad and broccoli parmesan soup

For the main course I chose the red wine braised beef, which was served with orzo pasta, olives, tomatoes, and eggplant. It might not look great, but it was spectacular. The beef could literally be eaten with a fork — there was no knife required. I wanted to mix it up on my three subsequent flights on this route, though the beef was so good that I had it each time, and wasn't disappointed.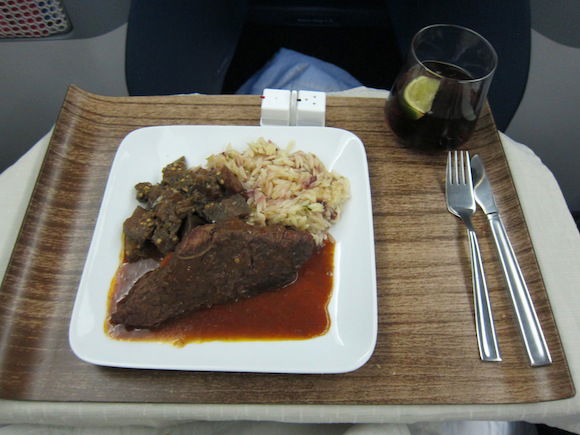 Delta BusinessElite main course — red wine braised beef
Lastly the dessert cart was rolled around. It consisted of cheese, some sweet tarts, and custom made sundaes. I of course went with the latter.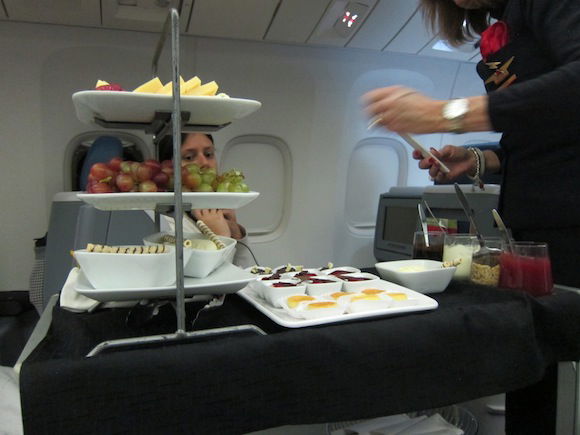 Delta BusinessElite dessert cart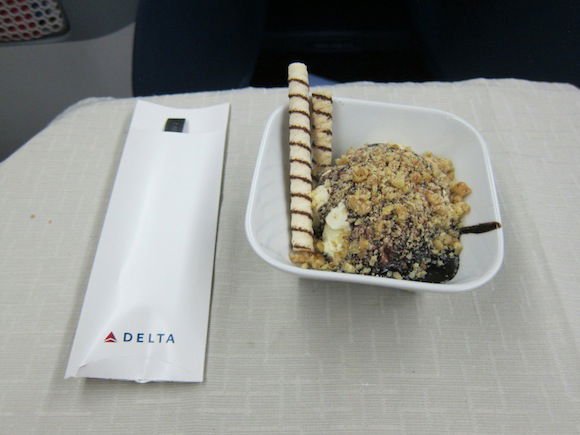 Delta BusinessElite dessert — vanilla ice cream sundae
On the whole I felt it was a really great meal for a US airline. The entire dinner service was complete about two hours after takeoff, which I felt was reasonable given that the cabin was full and that it's a fairly "involved" service. The service was also excellent across the board. No, this isn't Singapore Airlines, but as far as US crews go this one was about as good as they get.
I wasn't addressed by name aside from my initial interaction with the purser, but the flight attendants were smiling and seemed to be genuinely happy to be working. They were attentive and were always happy to fulfill any request with a smile.
After dinner I reclined my seat into the flat position and tried to sleep. I managed to snooze for a couple of hours, though because of how restrictive the foot "cubby" is I just couldn't really get comfortable. So eventually I decided to watch a few more sitcoms, then napped a bit longer, and finally woke up "for good" 90 minutes out of Detroit as the cabin lights were being turned up for the breakfast service.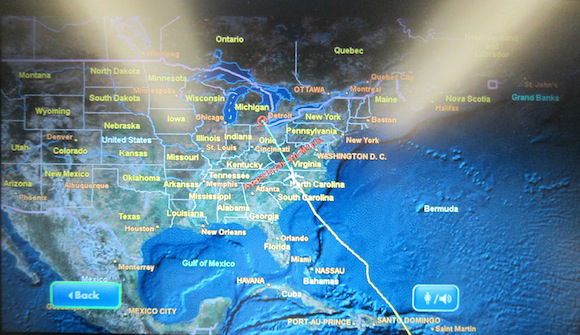 Delta BusinessElite airshow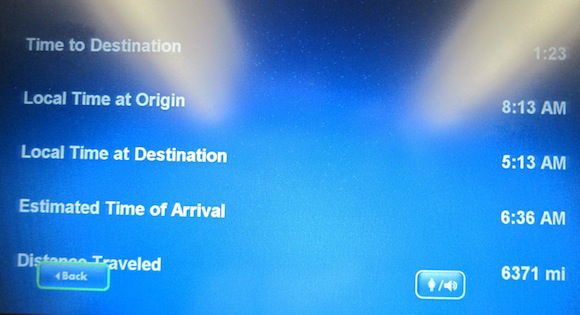 Delta BusinessElite airshow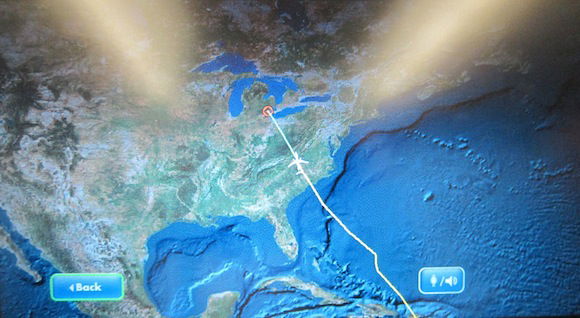 Delta BusinessElite airshow
The breakfast menu read as follows: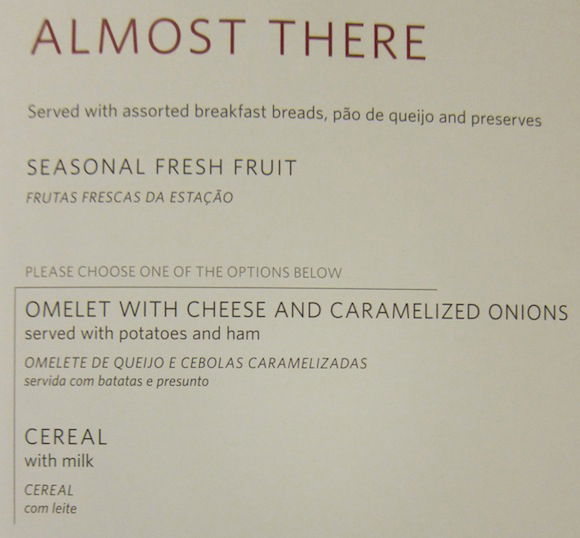 Breakfast service began with juice, coffee, fresh fruit, and bread.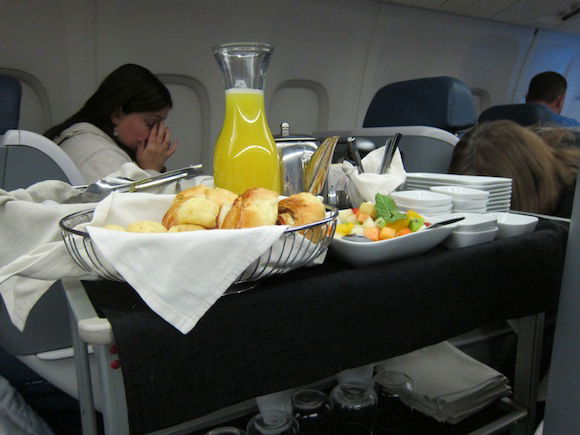 Delta BusinessElite breakfast cart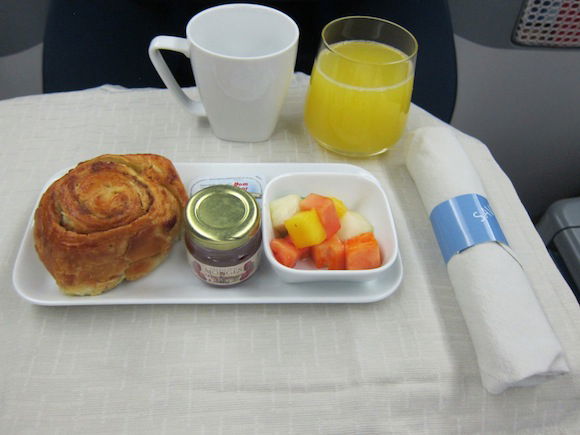 Delta BusinessElite breakfast starter — fresh fruit and bread
After that the main courses were served. My friend chose the cereal, which was pretty straightforward.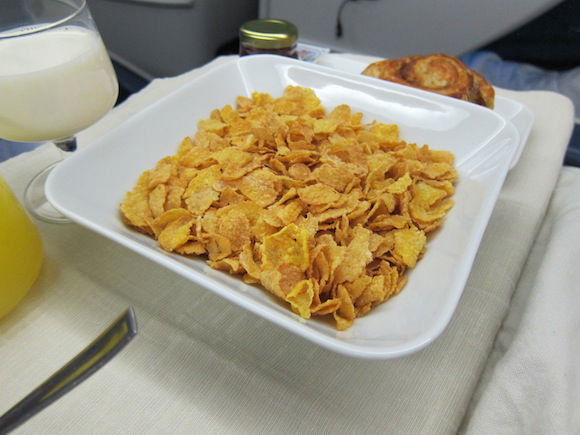 Delta BusinessElite breakfast — cereal
Meanwhile I chose the omelet, which wasn't especially good. That's not really surprising since rarely is breakfast good after a longhaul flight unless it's freshly prepared (as it is in first class on Cathay Pacific or Lufthansa, for example).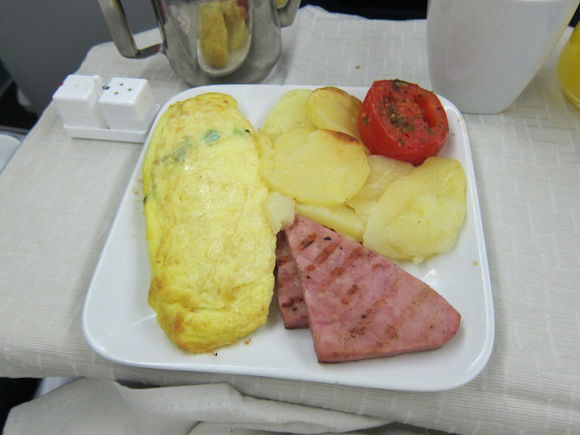 Delta BusinessElite breakfast — omelet with cheese and caramelized onions
Maybe I'm just easily impressed, but I thought it was cute that they brought a teapot along with the tea, which I find to be pretty rare in business class.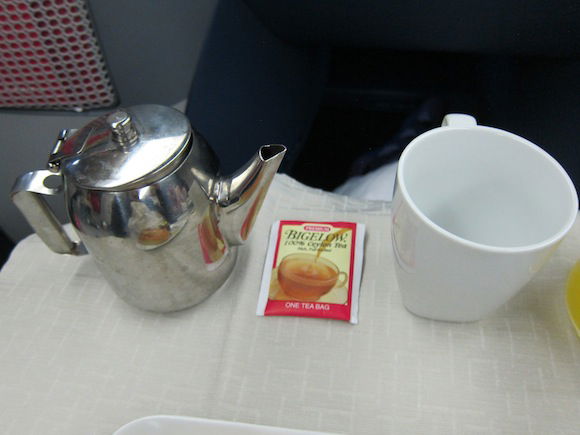 Delta BusinessElite tea
About 30 minutes out we began our descent, at which point the purser came around the cabin to thank each passenger for flying Delta and offered little chocolate boxes. It's a small gesture, but it goes a long way in making you feel welcome.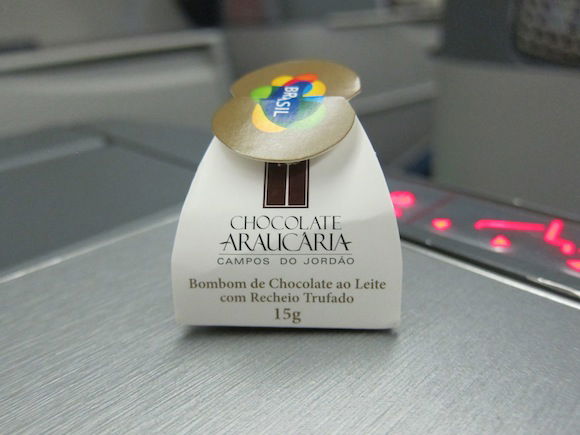 Delta BusinessElite chocolates prior to landing
We touched down in Detroit about 15 minutes behind schedule, and were the first flight of the morning. We were through immigrations and customs in no time thanks to Global Entry, and headed towards the SkyClub for our connecting flight to Atlanta.
On the whole Delta BusinessElite definitely impressed me. The crew was top notch, catering was great for business class, and the cabin felt fresh. I'm not a huge fan of the staggered business class product and far prefer a reverse herringbone configuration, like what I've flown on American, Cathay Pacific, and EVA Air. That being said, Delta's 747s and select A330s have a reverse herringbone configuration, so I'd love to try it sometime.