As you may (or may not) know, I also have a points consulting service, whereby we help people redeem their airline miles. I have several colleagues working with me, and they're some of the most knowledgeable and passionate people I know in this hobby. During my dad's round the world surprise birthday trip they offered to step in and help with some guest posts. Thanks to the positive feedback, they're back with more. This post is from my friend Tiffany, whom you've heard from before.
---
I might live and breathe miles and points, but I draw the line at memorizing award charts.
Sure, there are sweet spots to every program, and I know those from frequent use, but keeping track of how many miles American requires for award travel between Madagascar and Kazakhstan just doesn't come up very often. And if I go directly to the airline website, rather than trusting my memory, I'm less likely to make a mistake. So it's a good habit regardless.
Fortunately, airlines publish their award charts, which is great for everyone involved! Consumers can see how many miles an award should cost, that encourages loyalty and involvement, and all the rest. Ben has written about this a lot — a transparent program has more engaged members.
Delta SkyMiles definitely has tendencies towards sneakiness. In the past they've changed award prices overnight (and claimed that it was illegal to notify consumers of price changes in advance), so they're hardly on my list of trustworthy programs.
Today, however, takes the cake.
I went to verify the price of a routing (with the new 2015 award charts I'm even more careful of quoting correct prices than I would be otherwise), only to receive a nasty shock.
For years, the Delta SkyMiles award charts have been available on this page:
https://www.delta.com/content/www/en_US/skymiles/use-miles/award-travel/airlines-and-mileage-charts.html
(I know that's an ugly link, but I wanted y'all to be able to see it)
The charts look like this for Economy: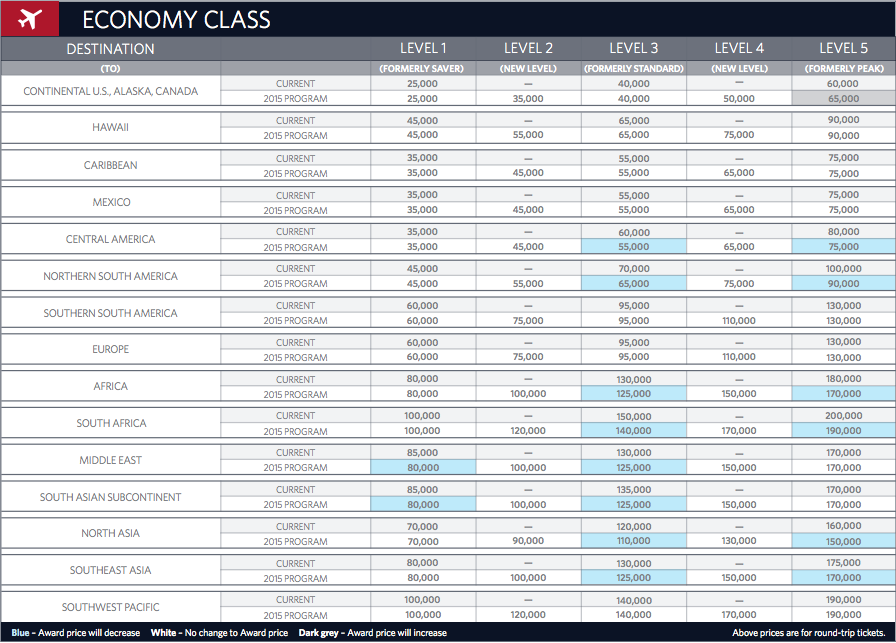 And like this for Business: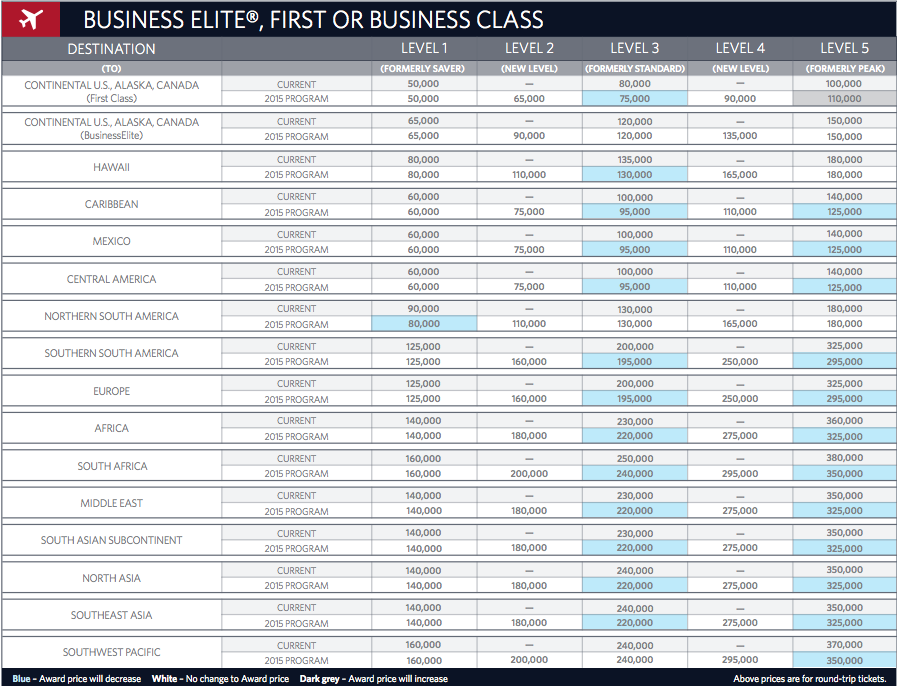 However, if you follow that link now, you are automatically redirected to this page: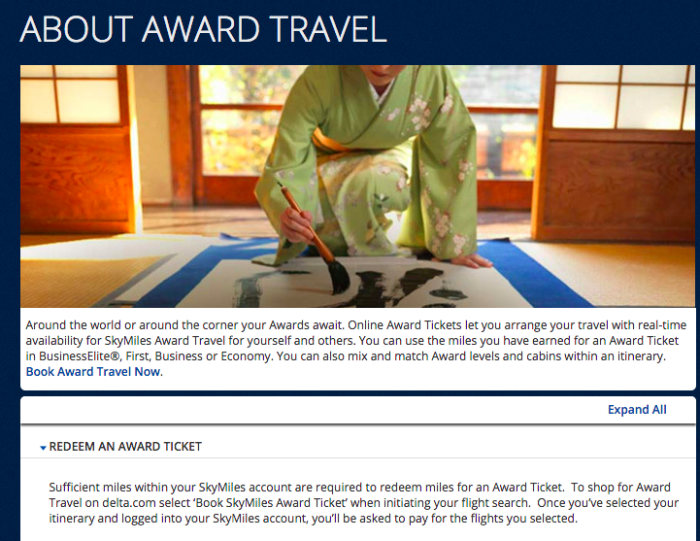 Gone are the charts telling you how many miles are required at each of the five pricing tiers.
Gone are the charts telling you which countries fall into which regions.
Gone is any indication of what the price should be.
Instead, you have this "helpful" message:
Once you've selected your itinerary and logged into your SkyMiles account, you'll be asked to pay for the flights you selected.
Wonderful.
Beyond that, the folks at Delta.com have made efforts to completely remove all traces of the award charts from the internet. I'm hardly an internet ninja, but they've at least blocked WayBackMachine from tracking changes: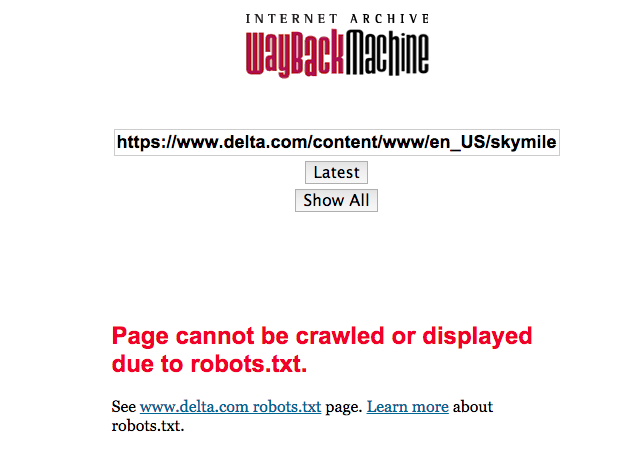 This is a program, keep in mind, that took nearly a decade to create a "functional" award calendar (which is still not really accurate), has incredibly poorly trained agents that don't know their partner airlines, and a terrible pricing engine.
There's no way I would trust Delta SkyMiles agents to accurately quote and price an award, much less Delta.com.
You probably shouldn't either.
It's the middle of the night where Ben is, but I'm sure he'll be reaching out to his contacts at SkyMiles as soon as he can. This is, in my opinion, ridiculous.
If you need to know how much a business class award should cost according to the Delta 2015 award chart, Ben has tables with the SkyMiles global award prices and country zones in this post.
In the meantime, I'd take screenshots of the United award chart 😉
What do you think? What could Delta's motivation be here?