Some of you may remember my friend Nick, who reviewed JetBlue's A321 Mint Class last August. He's back with another trip report, this time from his recent trip to South America. Nick is possibly the biggest Delta/SkyTeam apologist funniest person I know, and despite the fact that he toned it down a bit for the trip report, I hope you still find it interesting/amusing. 😉
Unfortunately due to a seat mishap his phone disappeared, so half of his pictures are gone. Or to quote Nick: "can you add an editors note that United ate my phone – to be discussed in UA post – so like half my photos were lost forever hence back off bitchy commenters?"
---
Introduction
Copa Airlines Business Class Los Angeles To Panama City To Buenos Aires
Layover In Panama City
Park Hyatt Buenos Aires
United BusinessFirst Buenos Aires To Houston
---
So you want to go to South America over the holidays like we did. Great! Lucky has plenty of reviews on getting down there… on American and LAN. But if you, dear reader, are like me and have a glut of United miles at your disposal, you don't have a lot of options to get to Latin America. And god help you if you have SkyMiles!
Ultimately, there are three Star Alliance carriers that can get you to South America: United, Copa, and Avianca. If you're aiming to go to the "Southern Cone" – that is, Argentina, Uruguay or Chile – as directly as possible, you're really only left with United and Copa, which is what we flew on our trip to Argentina and Uruguay over Christmas and New Years'.
Being a reader of Ben's blog, you may be used to trip reports about lavish turndown service on spacious first-class beds, about tins of the most exclusive Russian caviar served with free-flowing coupes of Krug or Dom.
This is not one of those trip reports.
Instead, I suspect that I, like many of you, sometimes don't have the option of flying (or the desire to fly) to Buenos Aires via Dubai on Emirates. Copa and United may not be sexy, but they get there in a relatively direct fashion.
You also have read more than a handful of trip reports focusing on the Park Hyatt Buenos Aires, where we stayed, and of course you have: it's a lovely property easily attainable on points. On this trip, we were able to stay in both the new wing (which is heavily reviewed) and the historic palace wing (which has not, to my knowledge, been reviewed before), so I thought I would share some thoughts of our time at the Park Hyatt and our experiences in Buenos Aires and Uruguay in general.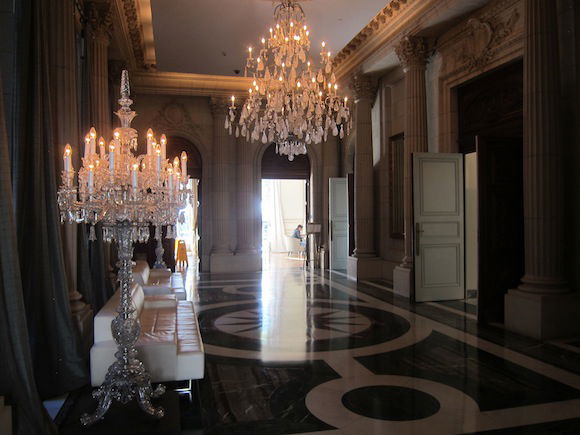 In short, Argentina and Uruguay are popular and exciting destinations and they should rightly be on anyone's "bucket list."
But this trip for us was all about managing expectations. You're not going to fly a luxurious airline down there, and your experience with customer service in South America will be… different, say, than how that experience would be in Hong Kong or in Paris. (Ben will add an editor's note here, I'm sure, to the effect of Paris?! Customer service?! But my retort would be that if you're at a fine dining restaurant or five-star hotel in Paris, the service is polished, professional and exquisite: the luxury hotel was invented there, after all.)
If you go in armed with that knowledge, there's no reason you can't have a fantastic vacation.