---
After a day running around Los Angeles with a Silvercar rental, it was off to London for the next portion of the journey. I was oddly excited about this segment in American's first class, since I'm so used to taking flights from the East Coast to London, which are so short that you can't really get any sleep.
American 136
Los Angeles (LAX) – London (LHR)
Thursday, January 8
Depart: 6:40PM
Arrive: 1:15PM
Duration: 10hr35min
Aircraft: Boeing 777-300ER
Seat: 2A (First Class)
We arrived at the airport right as boarding began, and turned left into the first class cabin. I won't talk too much about the cabin itself, as I covered that extensively in the installment for the flight between London and New York.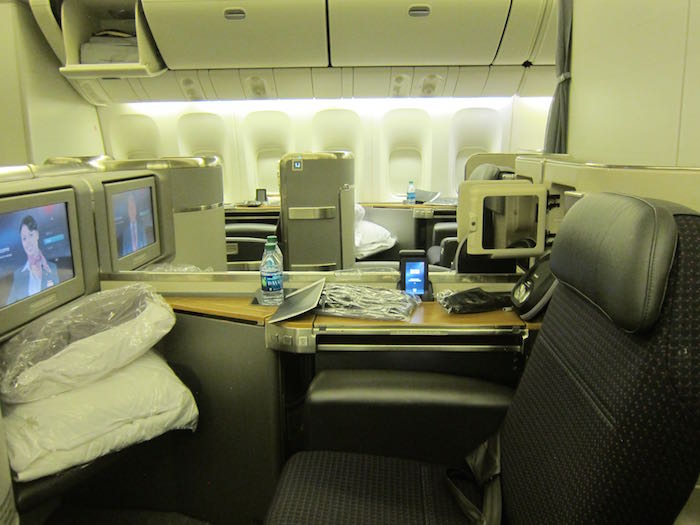 American first class cabin 777-300ER
I quickly settled into 2A, where all of the amenities for the flight were already waiting for me — Bose headphones, bottled water, the menu, the amenity kit, slippers, and even pajamas. On one hand that seemed efficient, on the other hand it quickly became clear why the service was so thorough upfront — the crew's sole goal was to limit interaction with passengers.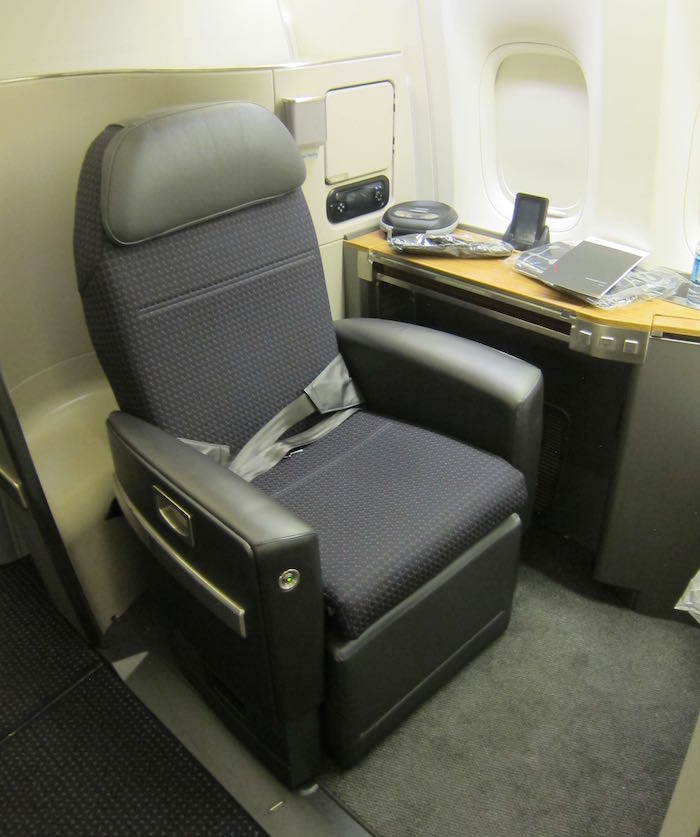 American first class 777-300ER, seat 2A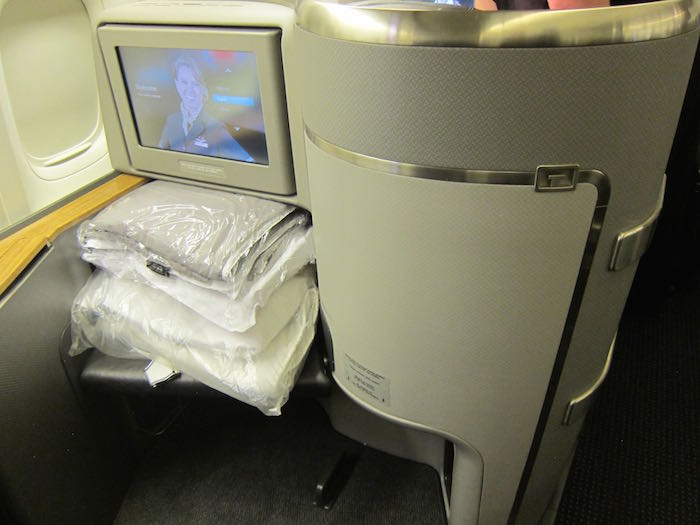 American first class 777-300ER, seat 2A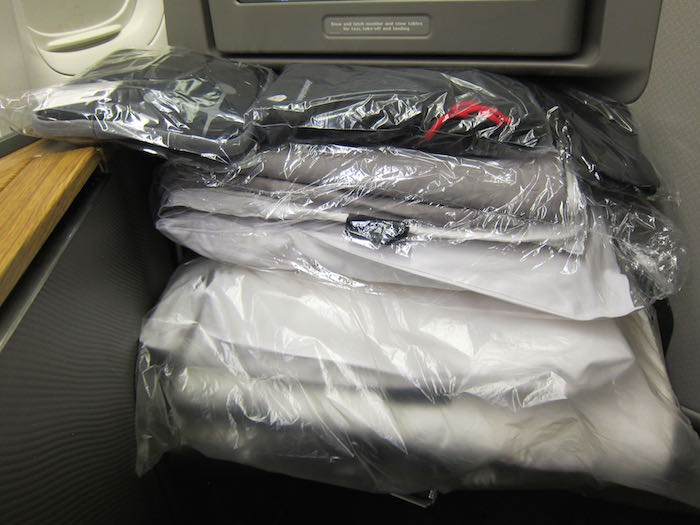 American international first class amenities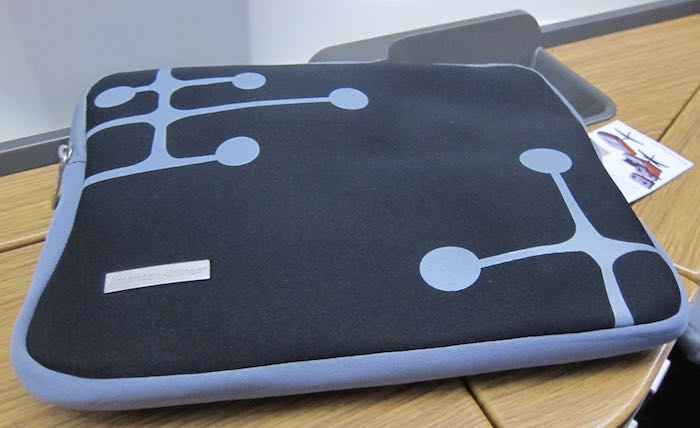 American international first class amenity kit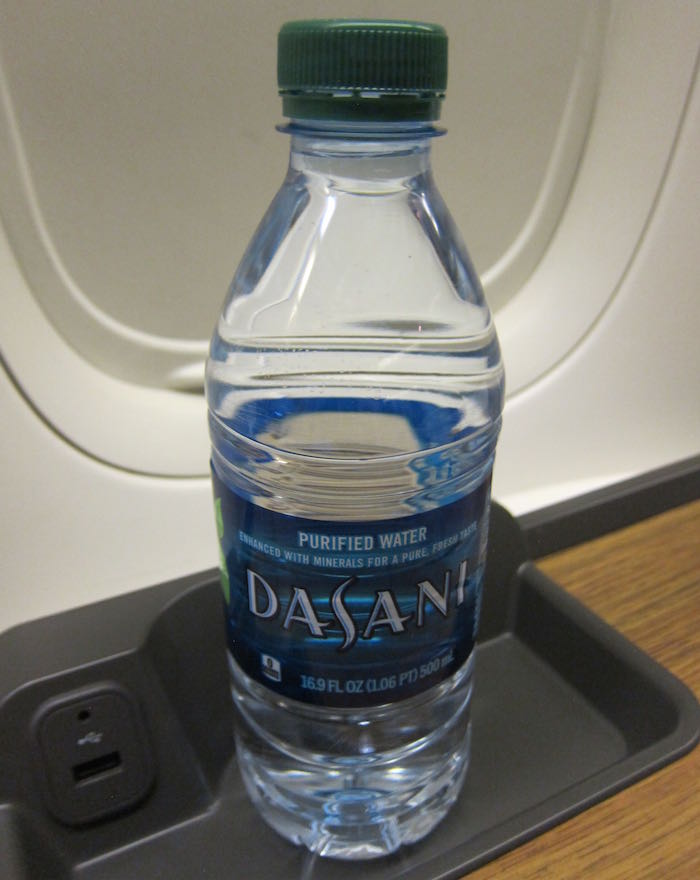 American first class bottled water

I quickly changed into pajamas, which were comfortable as always.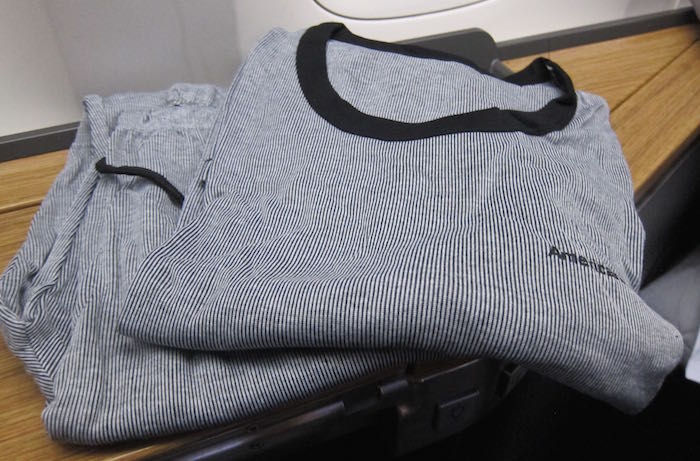 American international first class pajamas
The cabin quickly got pretty amusing, both in terms of the crew and passengers.
The purser, Rick, made an appearance. I don't think he could have been any more apathetic if he tried. He made Ben Stein sound excited by comparison.
"Water? Juice? Champagne?"
Alrighty then…
Equally amusing were the passengers. Besides the two of us, everyone else in the cabin seemed to be the Hollywood crowd yet on a budget.
"Ugh, why didn't we book British Airways, this is horrible. Can we still change?"
"Because they were $10,000 more."
"Oh…"
Rick came around to take meal orders, which he did simply by going around to each seat and saying "dinner?"
Even taking meal orders caused a bit of confrontation among passengers. One guy was apparently placing his meal order too loudly for another passenger, so the other guy said "can you keep it down, or are you placing meal orders for the whole cabin?"
Then we had a lady seated on the other side of the cabin who was a self proclaimed foodie.
"I'll have the gnocchi please."
"You mean the pasta?"
"No, I mean the gnocchi. It's generally potato based, while pasta is generally flour based. I'm a foodie. I know this stuff."
Hah!
The captain came on the PA to welcome everyone aboard and inform us of our flight time of 9hr20min, which was a bit faster than usual. Out the window, I saw one of the American Airlines Cadillacs on the tarmac, which are used for Concierge Key transfers.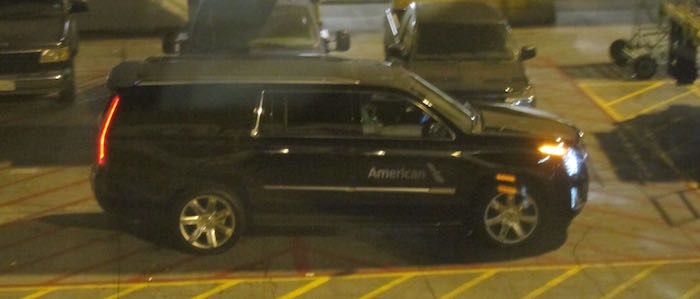 American's Concierge Key Cadillac tarmac transfer
The flight got even more interesting shortly before pushback. Another flight attendant came up to first class, and we started talking. "The purser's a real a$$hole, I'm sorry you have him up here," she said. "He's so senior he can outbid anyone."
Said flight attendant came around to each seat in first class and said "welcome aboard, do you know how to operate the Flagship first class suite? I'm happy to explain it to you."
After her doing that for a couple of minutes the purser came up to her and said "you need to go back to your cabin, I got first class." Oh man, that was only the beginning.
We were a bit late departing, as we pushed back at 6:55PM. And then it was a very slow 20 minute taxi to runway 25R, where we were cleared for takeoff at 7:15PM.
We had a quick takeoff roll and smooth climb out, as seems to be the norm for flights out of Los Angeles.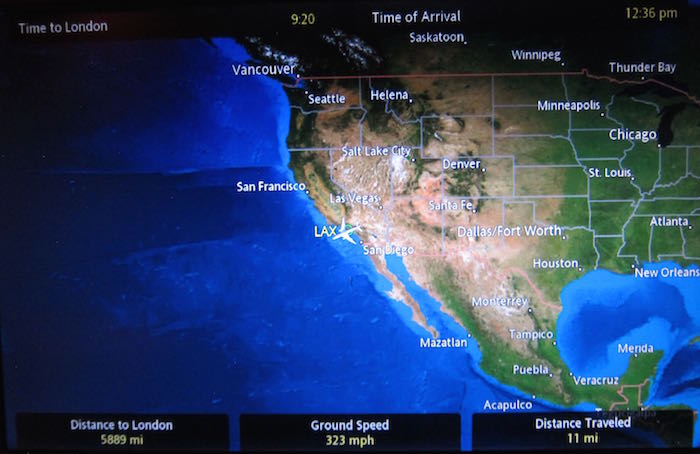 American's airshow between Los Angeles and London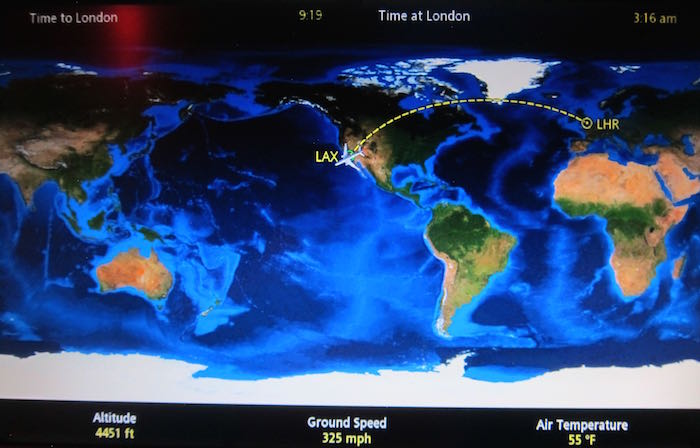 American's airshow between Los Angeles and London
The crew stayed seated until the seatbelt sign was turned off. About 30 minutes into the flight service finally began.
The dinner menu read as follows: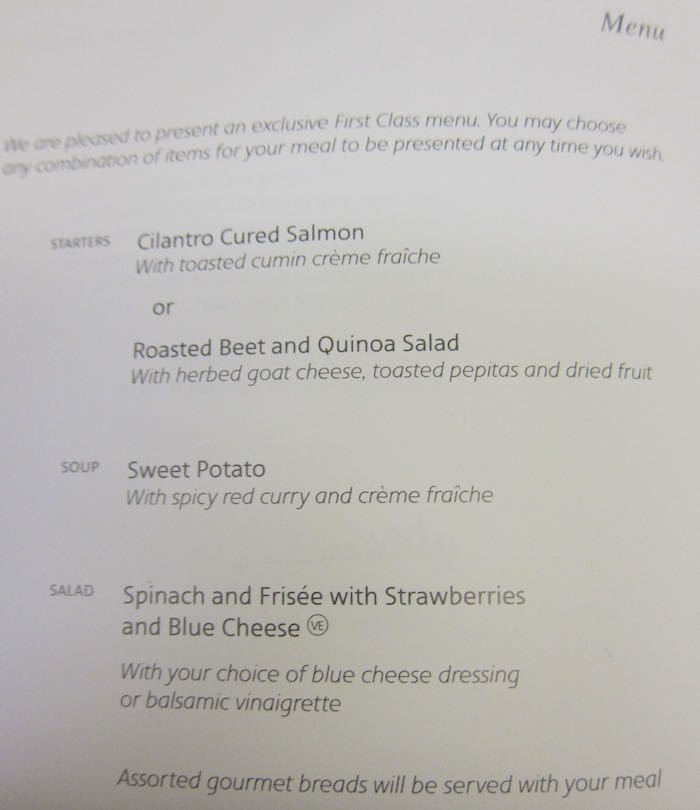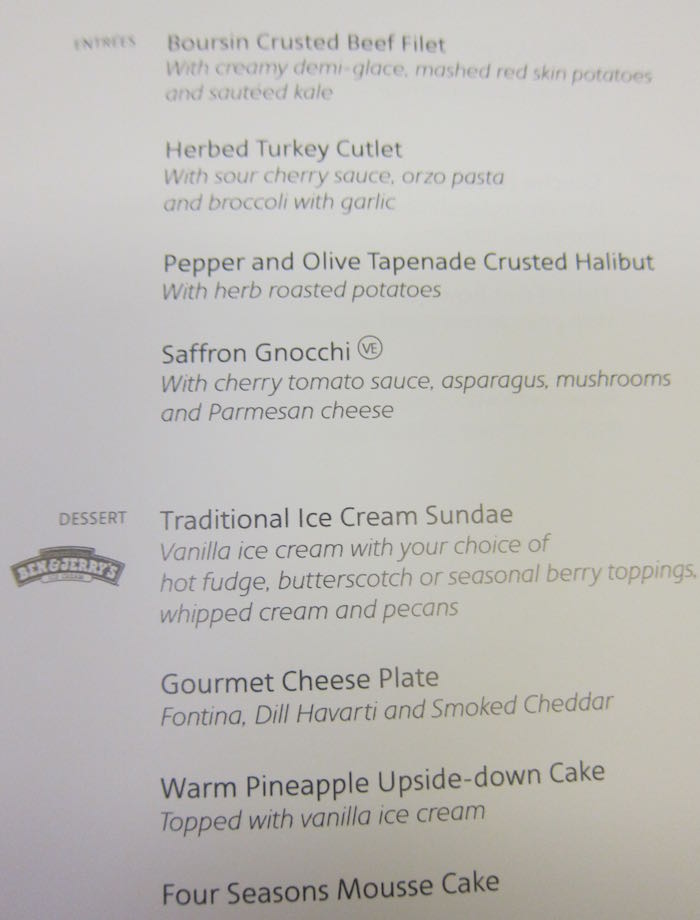 And the wine/beverage list read as follows: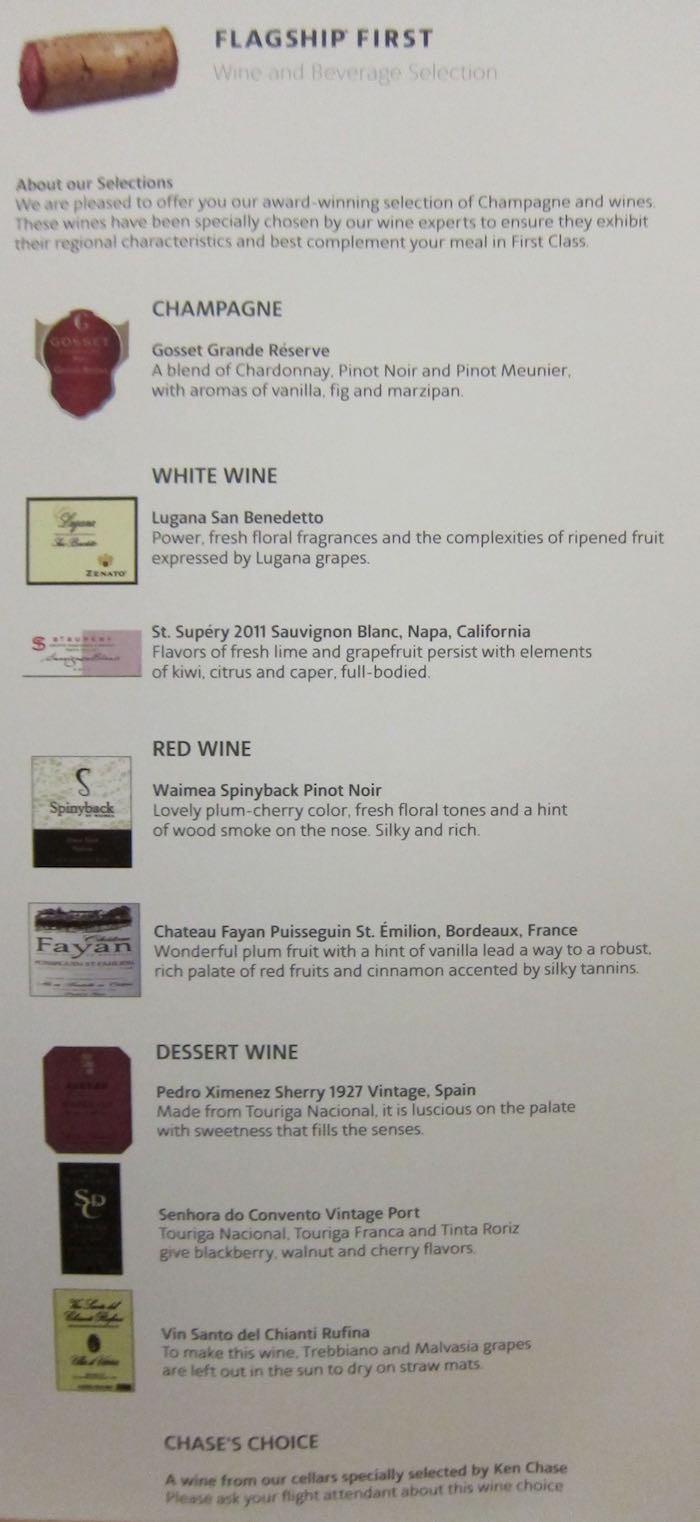 I don't want to exaggerate the service. It wasn't actively horrible, but Rick was working both aisles, and he couldn't have been more apathetic if he tried. He'd just kind of plop everything on the tray, pick it up, and bring the next course, with no real communication.
The service began with hot nuts and drinks. I ordered a gin & tonic.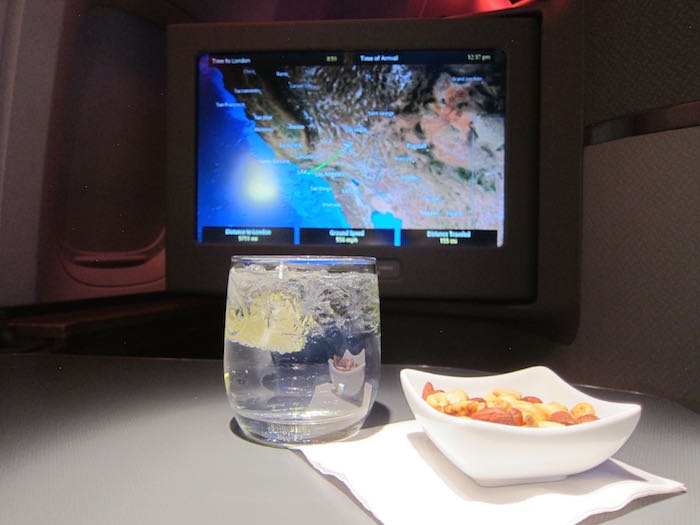 American first class hot nuts & drink
After that the table was set and food service began. The starter was cilantro cured salmon. It was edible, but just tasted really "wet," if that makes any sense.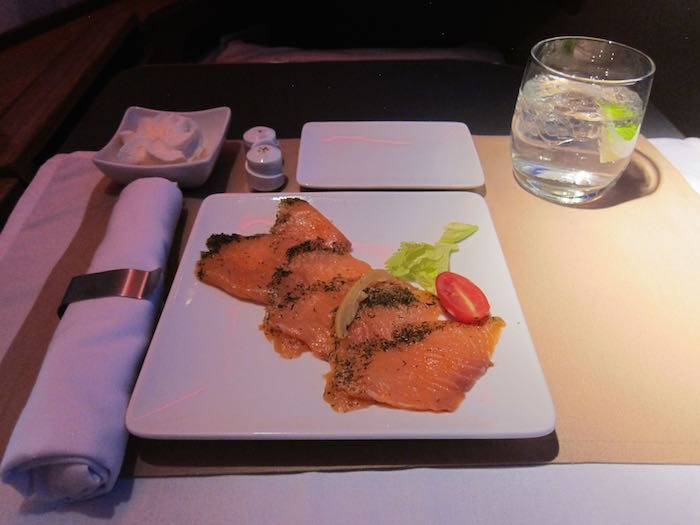 American first class appetizer — cilantro cured salmon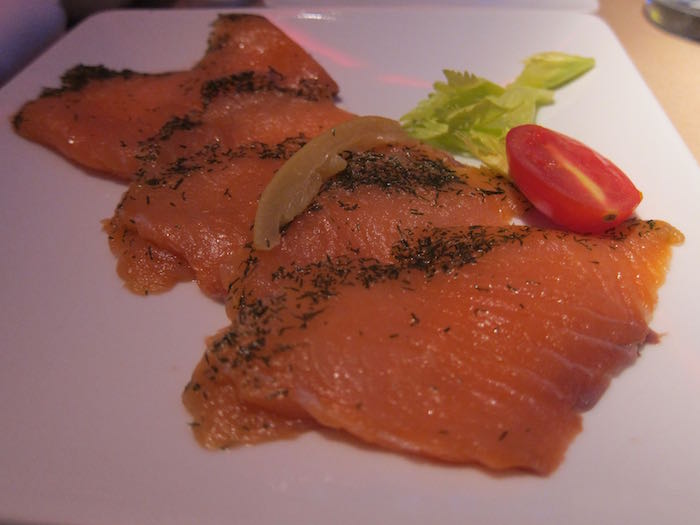 American first class appetizer — cilantro cured salmon
After that the sweet potato soup was served. Oddly the purser's only communication with the meal service was to be careful, because the sweet potato soup is really, really spicy." It wasn't… at all…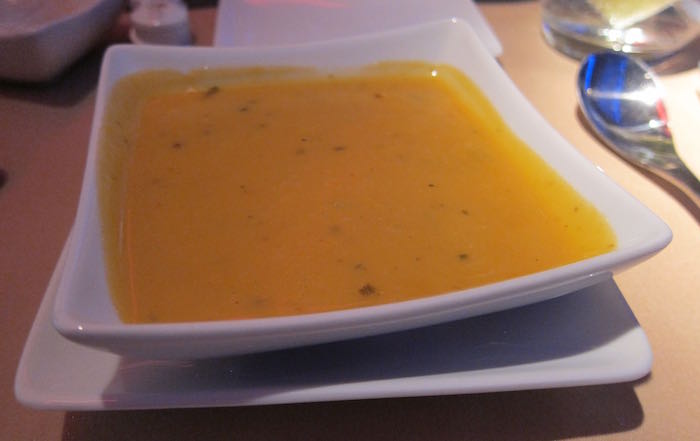 American first class soup — sweet potato soup

Next the salad was served. American couldn't be cheaper on their international first class salads if they tried. Would a bit of protein on the salad kill them?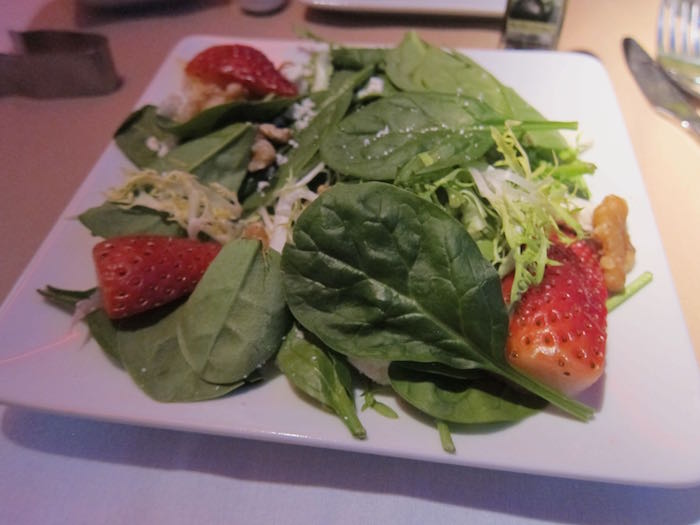 American first class salad — spinach and frisee with strawberries and blue cheese

For the main course I ordered the pepper and olive tapenade crusted halibut. It was presented more like a fish stew than anything else, based on how much sauce there was. Holy crap. I had a bite and called it quits. Rick seemed nonplussed by the catering in general, and didn't ever ask how anything was, etc.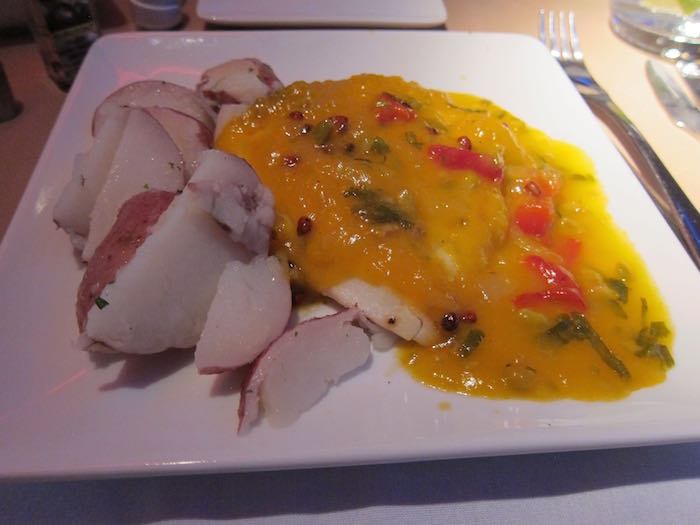 American first class main course — pepper and olive tapenade crusted halibut

My friend had the beef, which she didn't find to be very good either.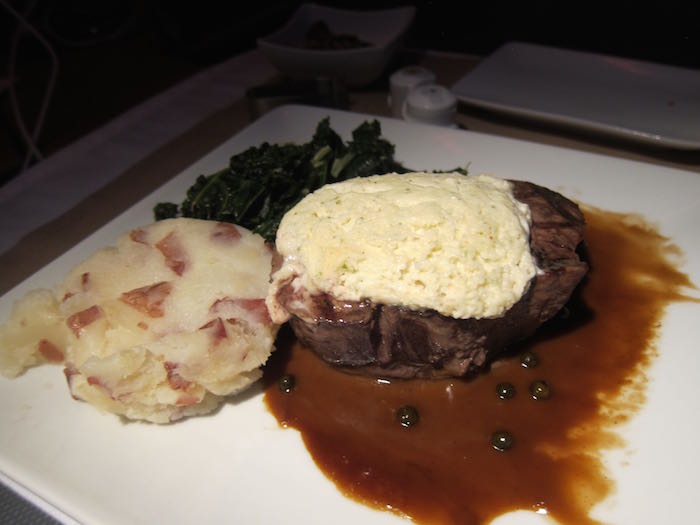 American first class main course — boursin crusted beef filet

For dessert I had the ice cream sundae with strawberry sauce and nuts.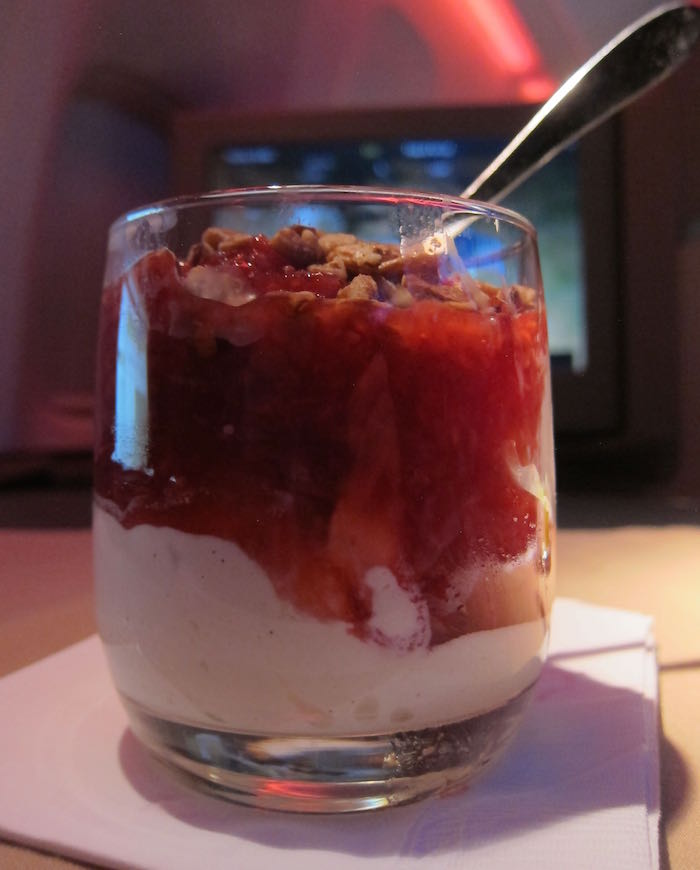 American first class dessert — ice cream sundae

I ordered a cappuccino to finish off the meal, which is usually served on a plate with a biscoff. In this case I was just served a mug.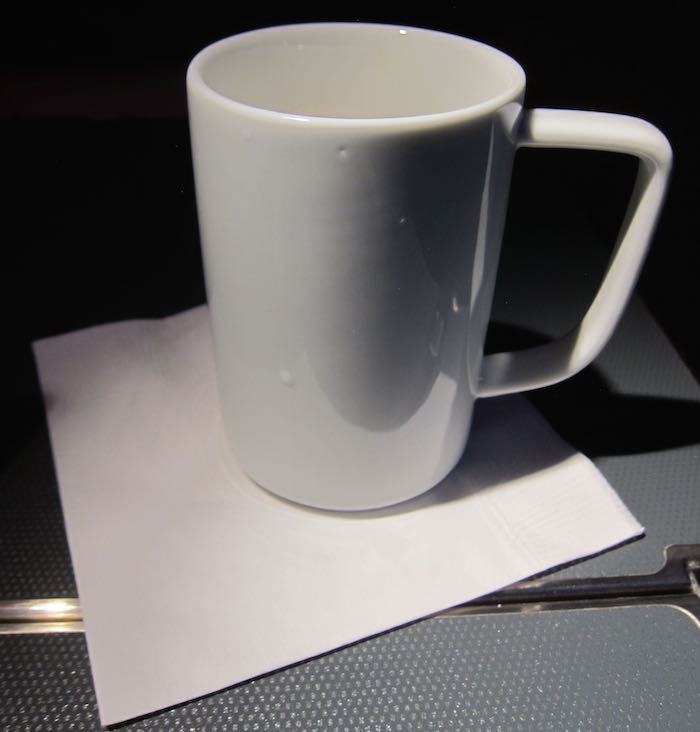 American first class (half) cappuccino

Which was less than half full… puzzling.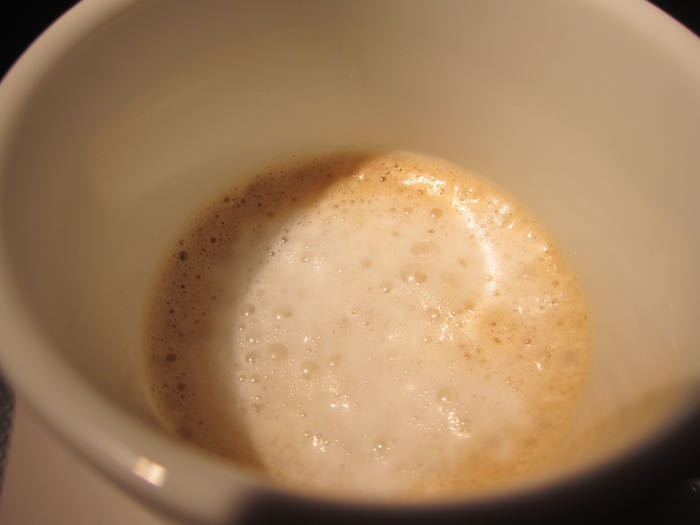 American first class cappuccino
The meal service was done about two hours into the flight, at which point I kept working on my laptop. I do love that the American 777-300ERs have Wi-Fi, which makes a huge difference for me in terms of productivity.
At this point the purser took his rest, while the other flight attendant that I had spoken to before departure came up to "guard" the first class galley while the other two first class flight attendants were resting.
I have to say she was an absolute treasure. She was senior and clearly loved her job, and was actually actively upset about how the purser did his service. She had some choice words to say about him, including how apparently a lot of the LAX crews trade trips when they see him listed as the purser.
She showed me how the cappuccino machine worked, and said I could have as many as I wanted (including biscoffs). This time around I went with an espresso.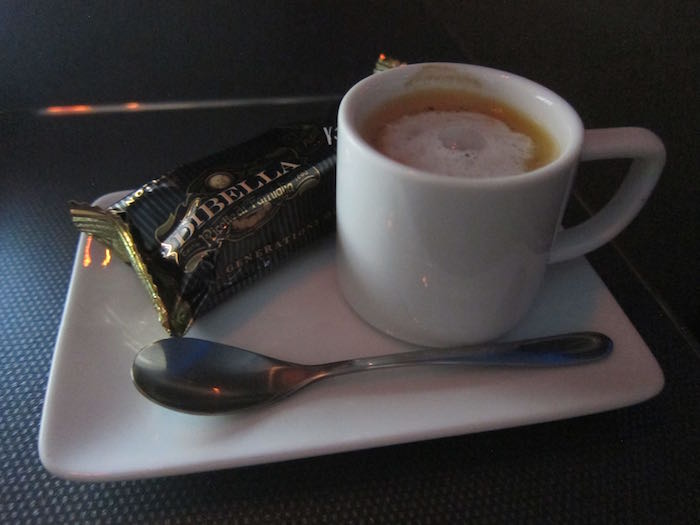 American first class espresso
Since I was getting work done I decided to just stay up the whole flight and nap upon landing. For whatever reason I seem to be tired when I board the plane, but then wide awake after dinner. I worked for a few hours, and before I knew it we were 90 minutes out of London, at which point breakfast service began.
The breakfast menu read as follows: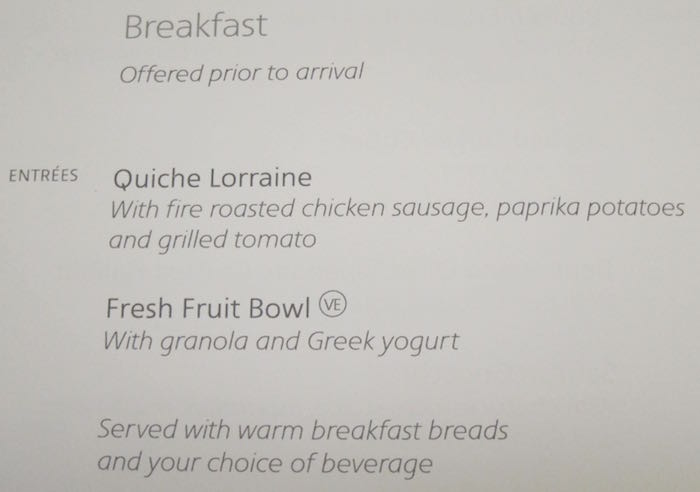 I wasn't actually hungry, so skipped, but my friend had the fresh fruit bowl, which was served with granola and strawberry Greek yogurt.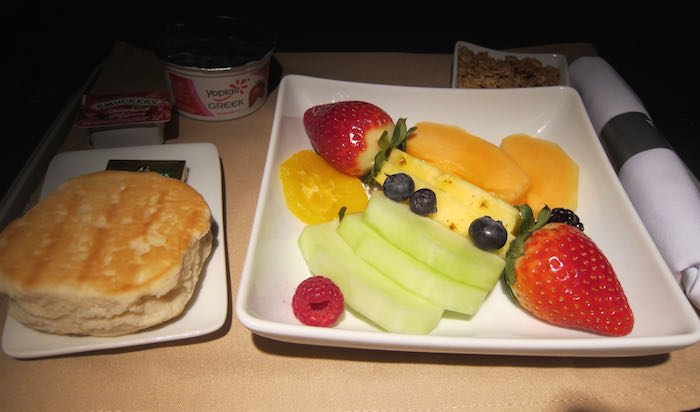 American first class breakfast — fresh fruit bowl

About 45 minutes before landing the captain came on the PA with updated arrival information, informing us of our anticipated arrival time of 12:50PM. At that point I changed out of pajamas and stowed all my carry-ons.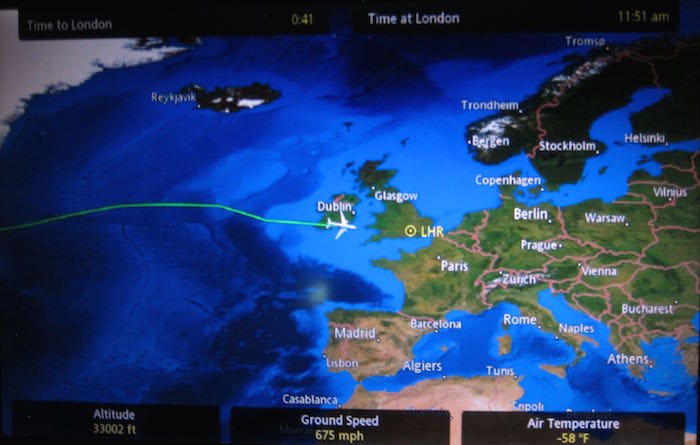 American's airshow between Los Angeles and London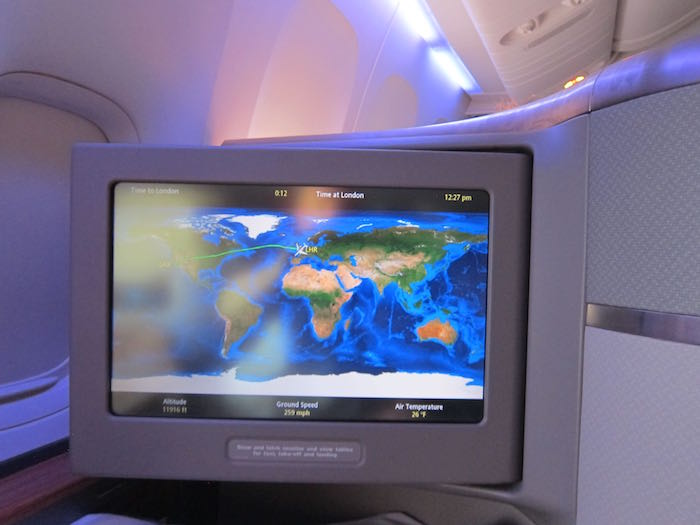 American's airshow between Los Angeles and London
It was a gorgeous day as we descended, with just a little bit of cloud coverage which made the sky look super artsy.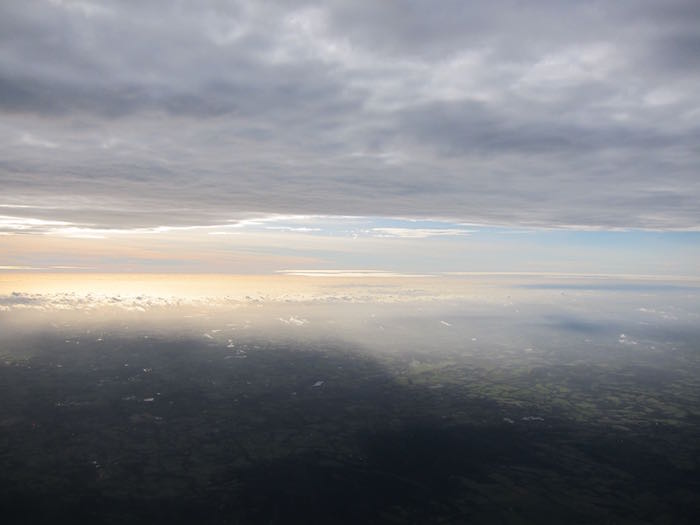 View on approach into London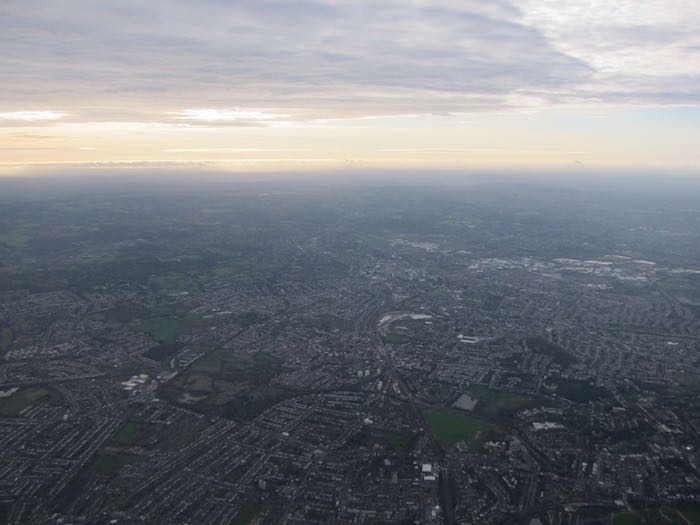 View on approach into London
Eventually we had a firm touchdown on runway 27L at around 12:50PM, and than about a 10 minute taxi to the gate from there.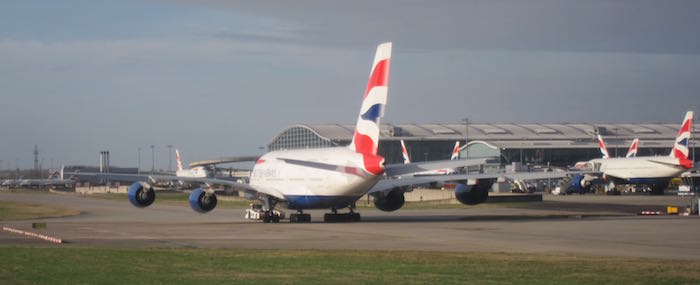 London Heathrow traffic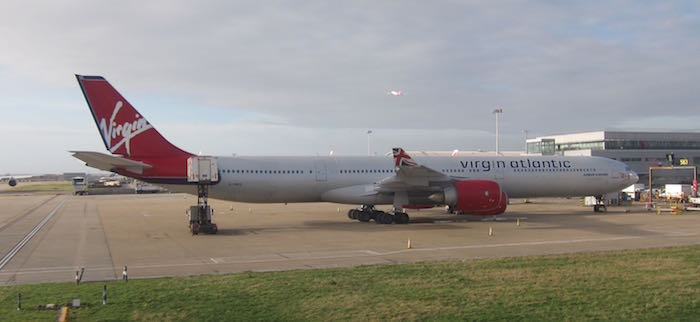 London Heathrow traffic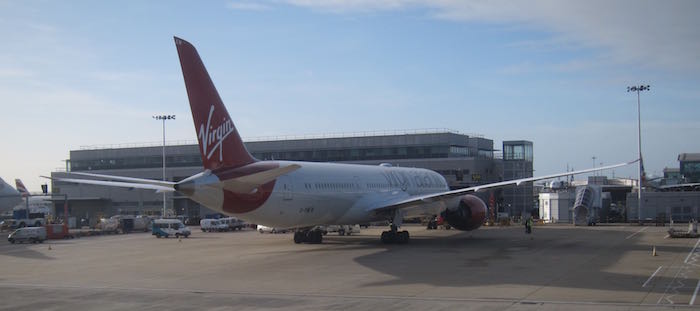 London Heathrow traffic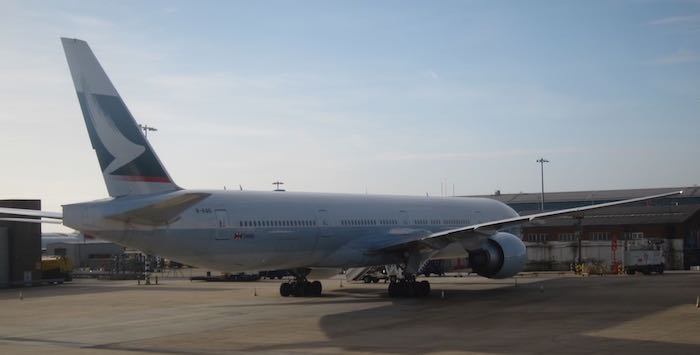 London Heathrow traffic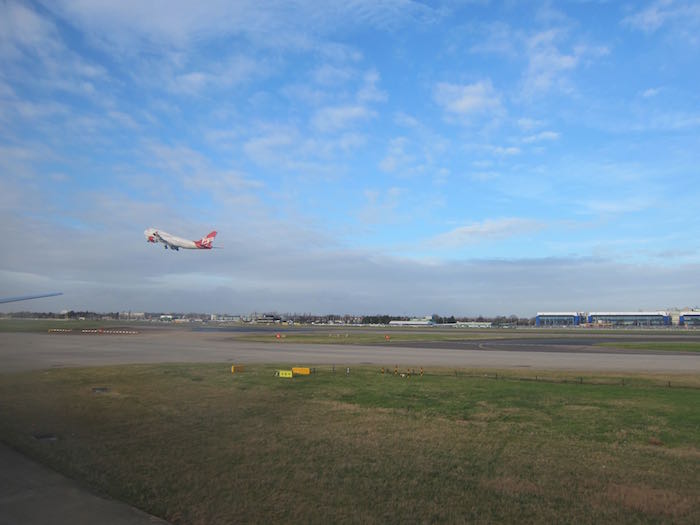 London Heathrow traffic
As luck would have it, we literally arrived at the furthest possible gate from immigration, so I'm pretty sure I managed to burn off all the hot nuts and ice cream sundae from that walk alone. 😉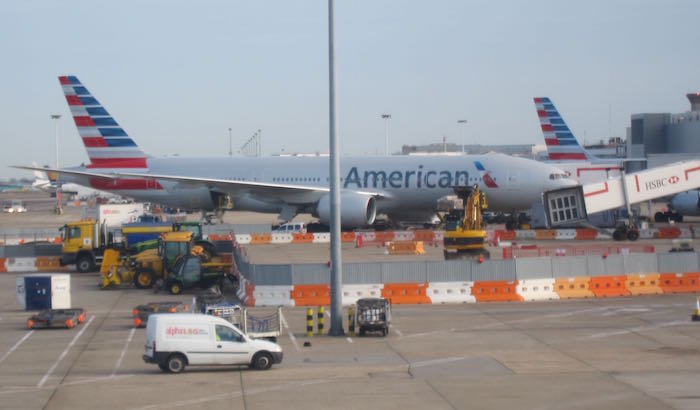 London Heathrow traffic
American first class bottom line
Seriously, I don't know why American bothers with first class. The catering is borderline inedible, and the service couldn't have been any more indifferent on this flight.
Don't get me wrong, I love the 777-300ERs given the Wi-Fi and extensive entertainment selection, but those are equally good in first class as business class. I think American's business class on the 777-300ER is the real selling point, given the excellent hard product, Wi-Fi, entertainment, and for the most part edible food. But there's simply not much of a selling point of first class over business class.
For a discounted business class fare and an easy upgrade to first class it was a great value. But could I ever imagine paying for first class on American? No way!