On December 26 of last year Delta had a massive fare glitch whereby most domestic tickets were pricing out ridiculously low, in both economy class and first class. I would have published a post on it, but it was dead before I could finish writing a post.
For example, Seattle to New York roundtrip in BusinessElite cost $43 including all taxes, so I figured I would book a few of them.

While I don't credit miles to Delta, it seemed like a great opportunity to get a head start on Alaska MVP Gold 75K requalification for the year. Alaska and Delta partner (reluctantly so, admittedly), so it's great to be able to fly Delta (which had a decent product) while earning Alaska Mileage Plan miles, which are substantially more valuable than Delta SkyMiles.
Good thing I booked this before Delta's revenue based program kicked in and wasn't crediting to SkyMiles, or else I would have earned a grand total of 100 SkyMiles for my 4800 mile roundtrip (since you earn five miles per dollar on the base fare, which was $19.92). 😉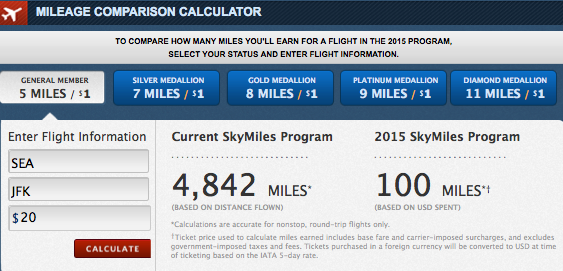 Anyway, on to the flights. I did this trip a few times, so I'll stick to overall thoughts.
For what it's worth, all my flights were operated by Delta's 757-200s equipped with BusinessElite seats. Delta uses these on a majority of their "premium" transcontinental routes (from New York to San Francisco, Los Angeles, and Seattle). In addition to that they fly 757-200s to some of their secondary European destinations.
I flew the following flights in both directions:
DL418 Seattle to New York departing 7:00AM arriving 3:11PM
DL442 New York to Seattle departing 6:40PM arriving 9:56PM
Delta 757 BusinessElite transcon seats
As I mentioned above, my flights were operated by 757-200 aircraft. They feature a total of 16 seats in business class, spread across four rows in a 2-2 configuration. Per SeatGuru, here's the business class seatmap for the plane: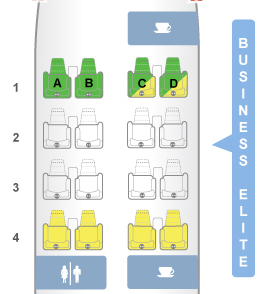 The seats have roughly 55″ of pitch, and are recliner seats. The seats are controlled electronically, and there's a screen that pops out of the side of the armrest with entertainment. These planes feature Gogo Wi-Fi, so truth be told I never actually watched anything on the entertainment system, though it's on demand and the selection was fairly extensive.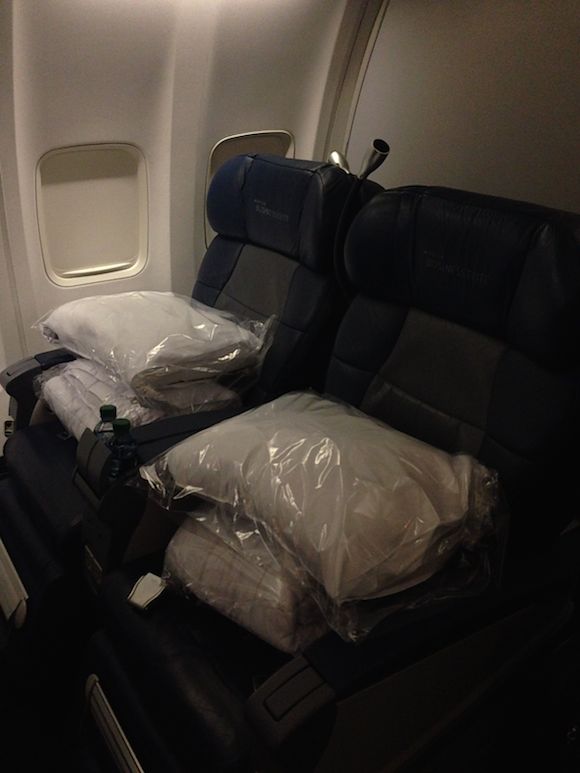 Delta 757-200 BusinessElite seats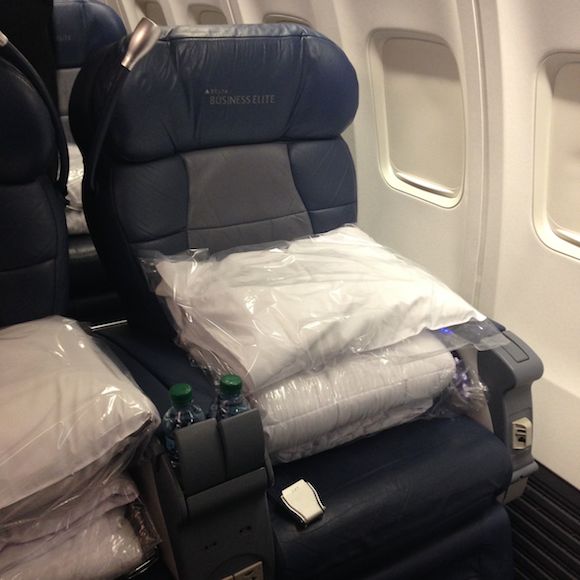 Delta 757-200 BusinessElite seats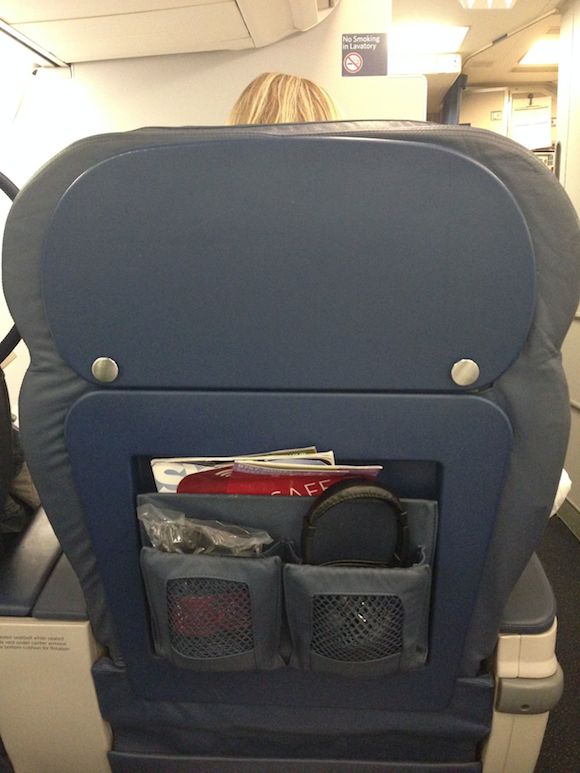 Delta 757-200 BusinessElite seats
The seat recline was good. Not amazing, but good. The seat reclined maybe 160 degrees, so I would stay away from it on a redeye, but it can't be beat for lounging, since it is a very comfortable seat.
It's worth noting that Delta will soon be installing new, fully flat seats on their 757-200 aircraft. They're a bit behind the game on this one, because United already has the same seats on their entire premium transcontinental 757-200s, while a majority of American's transcontinental flights are already operated by A321 aircraft.
What's interesting is that eventually Delta, American, and United will more or less have an identical business class hard product. The only airline with an advantage is American, which still has a three cabin configuration on their A321s with a first class cabin.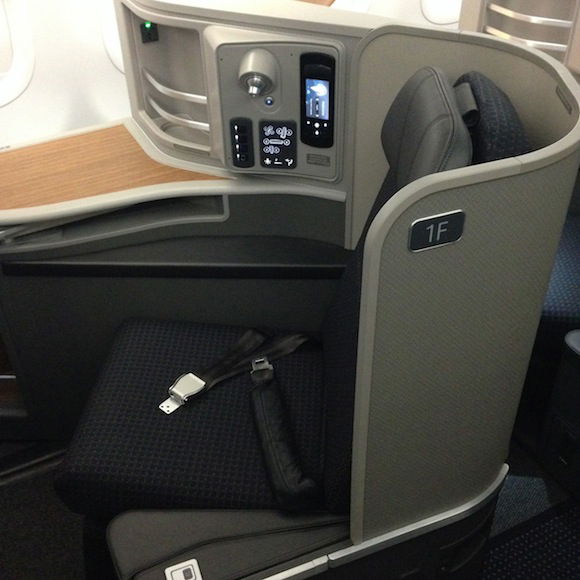 American A321T first class seat
American's first class seats are really reverse herringbone business class seats, the same found on Delta's 747s and American's 777-300ER aircraft.
Delta 757 BusinessElite transcon food
Breakfast was served on the eastbound transcontinental flights, given that they were early morning. The breakfast menu read as follows: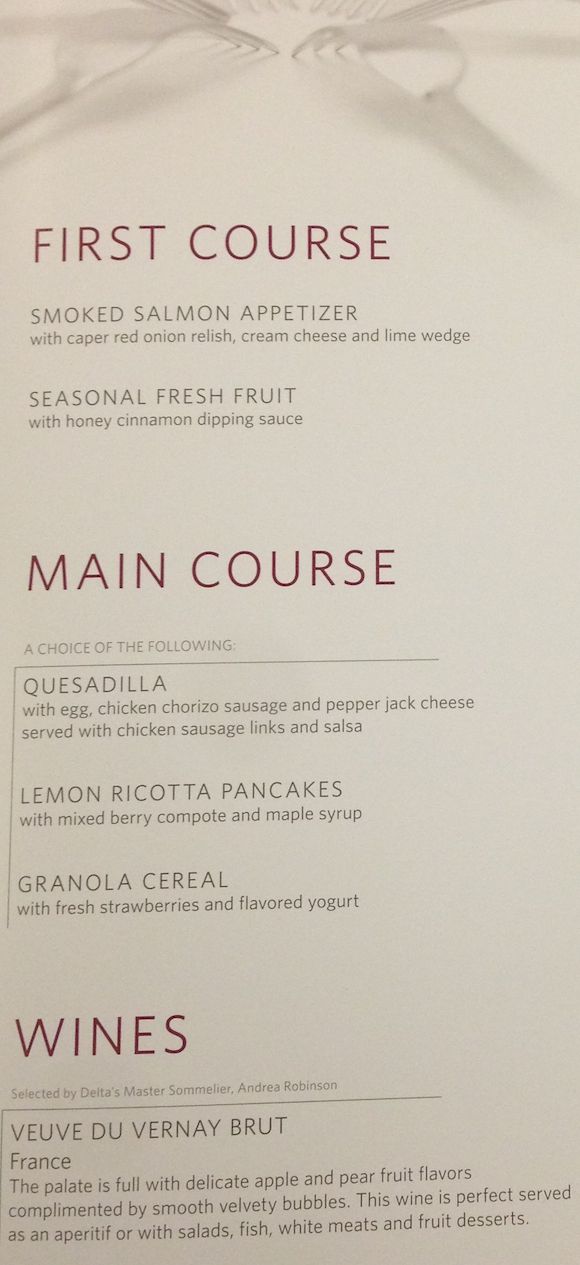 I have to say the food was top notch. Service began with drinks and almonds (which seemed odd for a morning flight, but whatever). I loved the fact that Delta not only had a selection of tea, but also had teapots. Awesome!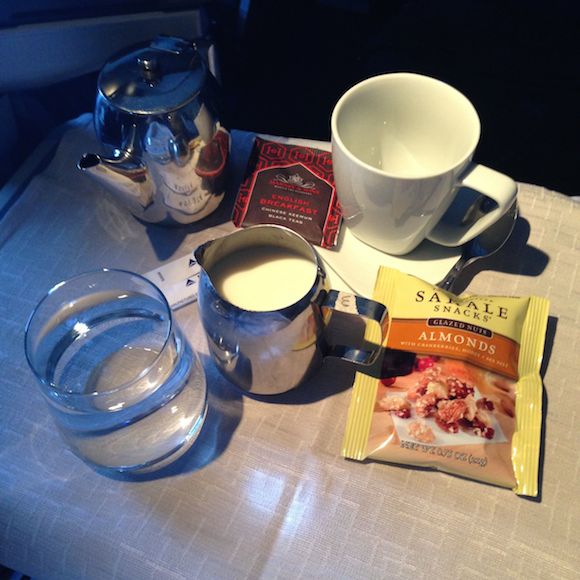 Delta BusinessElite tea
Breakfast was served in two courses. First there was the starter, which consisted of fruit with honey cinnamon dipping sauce (congrats Delta, you've managed to make fruit unhealthy!) and smoked salmon. There was also a bread basket, from which I selected a bagel.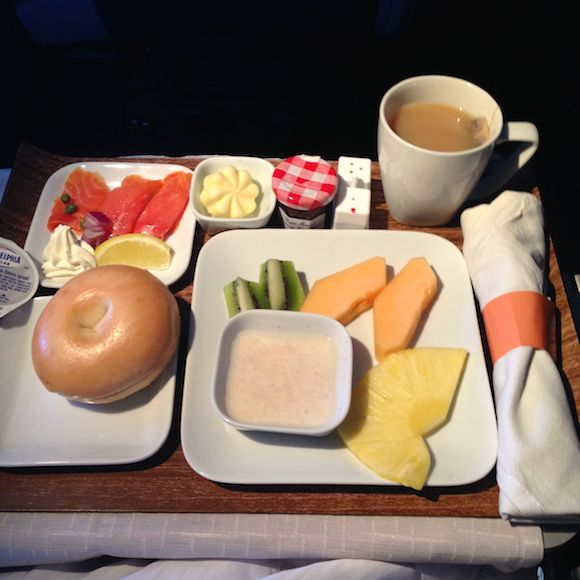 Delta BusinessElite breakfast starter
One flight I chose the quesadilla as my main for breakfast.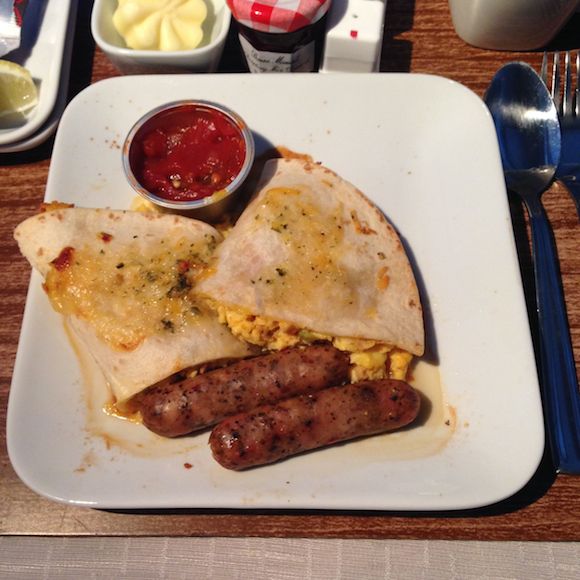 Delta BusinessElite breakfast main course
While the next flight I chose the lemon ricotta pancakes.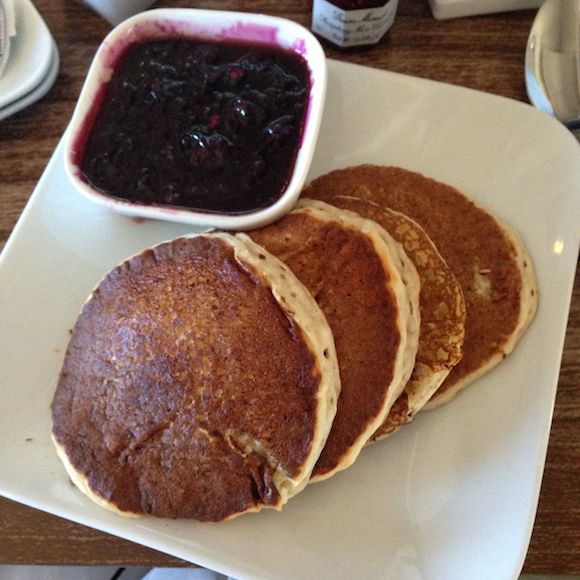 Delta BusinessElite breakfast main course
Both were phenomenal.
Prior to landing there were a selection of cookies and a cheese plate, though I was too full to partake.
On westbound flights dinner was served, and Delta's business class menu read as follows: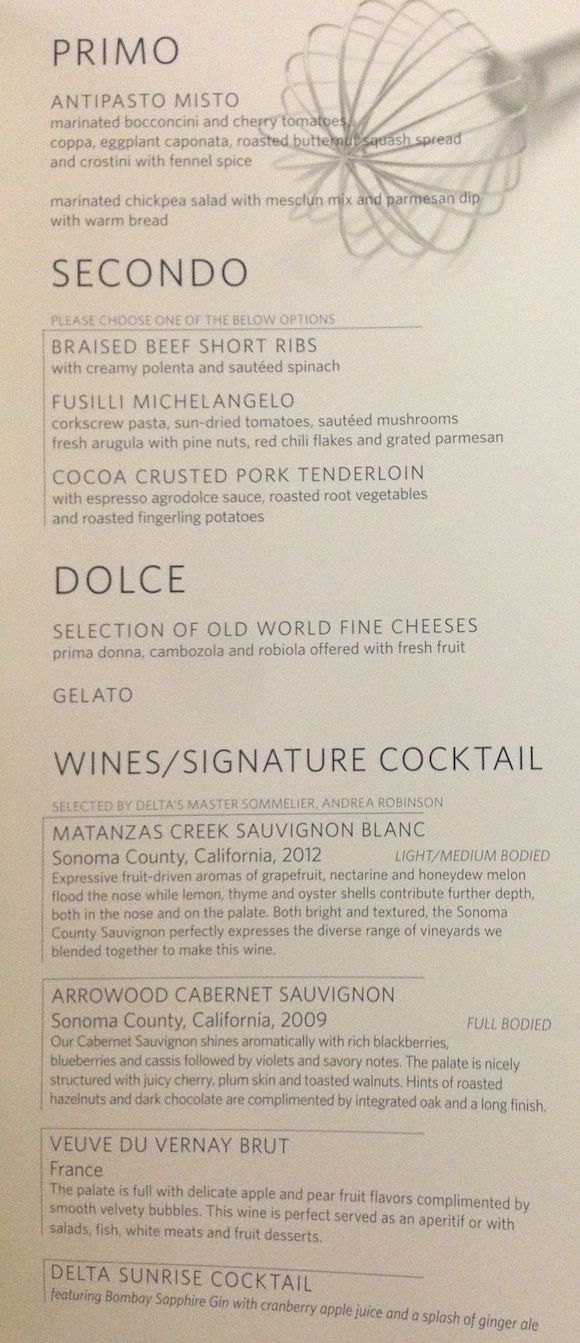 The dinner was just as good as the breakfast, if not better.
To start there was a marinated chickpea salad, along with marinated bocconcini and cherry tomatoes, coppa, eggplant caponata, and roasted butternut squash spread. It was really, really good.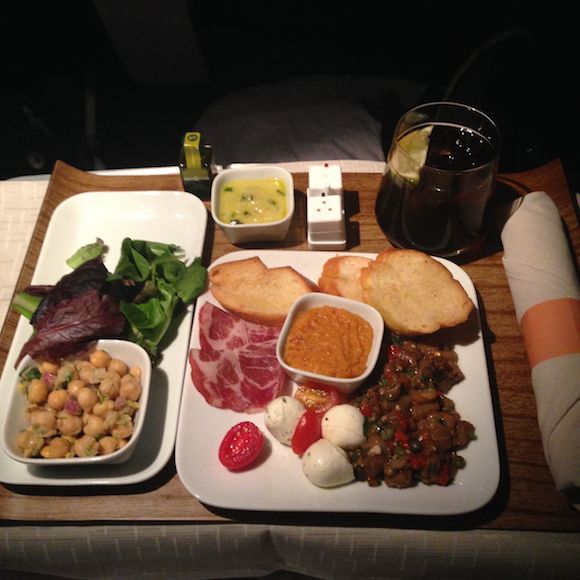 Delta BusinessElite dinner starter
For the main course I chose the braised beef short ribs. They were fairly good, though couldn't even begin to compete with the amazing braised beef I had in Delta BusinessElite from Sao Paulo to Detroit.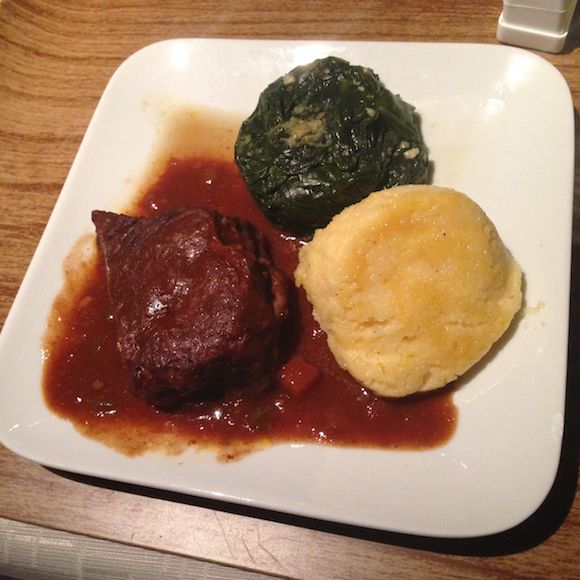 Delta BusinessElite dinner main course
Then for dessert they offered gelato. It was good, though I'll take one of American's sundaes over it any day of the week. 😉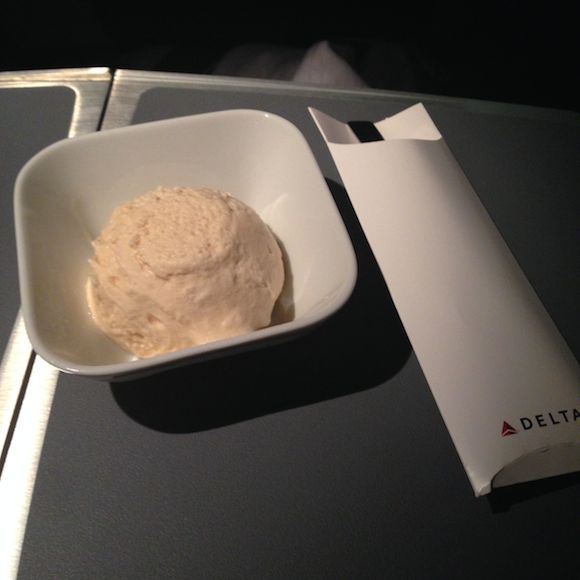 Delta BusinessElite dinner starter
On the whole the food really impressed me, though.
Delta 757 BusinessElite transcon amenities
Delta blows away both American and United when it comes to their amenity kits on domestic transcon flights. They have the same Tumi amenity kits they offer on international flights, which after Rimowa are probably my second favorite amenity kits.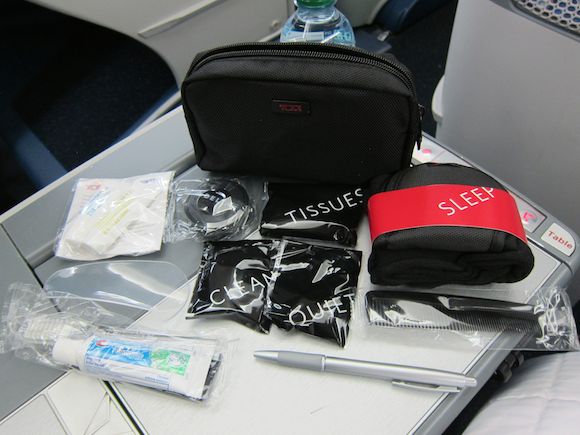 Delta BusinessElite Tumi amenity kit
Delta offers Westin Heavenly Bedding on their premium routes, which is hands down the best business class bedding in the sky, in my opinion.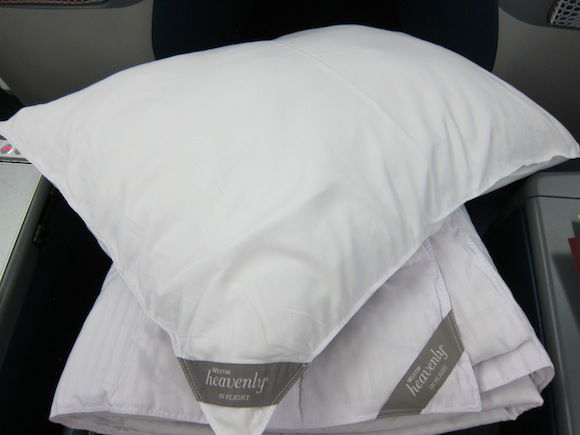 Delta BusinessElite Westin Heavenly Bedding
Delta 757 BusinessElite transcon service
The flight attendants on all my Delta segments ranged from excellent to average. I didn't have any bad crews, but definitely had one that was indifferent. Others were excellent, and I'd definitely say that on the whole Delta on average has better crews than other US legacy carriers.
Delta BusinessElite transcon bottom line
Overall I feel like I got decent value for the fare I paid, and wouldn't hesitate to fly Delta again for a similar fare. 😉
In all honesty, Delta has a solid transcontinental product with great catering and good service. Their seats are lagging the competition on the 757, though once they install their fully flat seats their hard product will be on par with American and United, and their soft product might even come out ahead.