Posts from me are going to be a bit lighter over the next week as I travel to the Maldives. As you may (or may not) know, I also have a points consulting service, whereby we help people redeem their airline miles. I have several colleagues working with me, and they're some of the most knowledgeable and passionate people I know in this hobby. They've offered to pitch in and write a few posts to give me a bit more time off while I'm traveling, so hopefully you'll enjoy the additional unique perspectives. This post is from my friend Alex, who is even more of an airline nut than I am.
---
Last week, Alaska Airlines hosted an event in Seattle to highlight their refreshed inflight experience. This included a two hour joyride on one of their new 737s from Boeing Field, so I likely would have snuck onboard had I not been invited. #AvGeekProblems
Living in Seattle, I fly on Alaska pretty regularly as an elite both upfront and in back, so I wasn't sure what I was going to learn that I didn't already know, but they touted an in-flight Seattle International Film Festival screening, food from Tom Douglas (a renowned Seattle chef and restaurateur), and wine tasting drinking.
Can't go wrong with that!
Alaska Beyond
The competition in Seattle has really heated up with Delta, so Alaska has made several changes to their main cabin product in an effort to kept flyers away from "that big bad corporate airline." It's called Alaska Beyond, and it sounds a little ridiculous, but I can appreciate that it's hard to rebrand something people call airplane food, economy seats, inflight entertainment, and airline service.
Beyond Delicious
It's clear Alaska is marketing to those in the Pacific Northwest, by sourcing from "local" businesses as Seattle's "hometown" airline. I can't imagine many flyers factor local wines or food into their decision when purchasing a flight, but I'm not complaining. The Sun Liquor products (especially the Hedge Timmer Gin) and buy-on-board food are all quite good.

Sun Liquor Hedge Trimmer Gin
Beyond Entertainment
Alaska chose not to install seatback entertainment in favor of streaming entertainment to personal devices. Once fully rolled out, some streaming content will be free, with the rest available for purchase. This is hosted by Gogo, and it actually works (unlike connecting to the internet) because the media is stored on a server on each aircraft.
Alaska also introduced new Microsoft Surface tablets in lieu of the old digEplayers for rent on midcon and transcon flights (complimentary in first class). After my experience with the tablets over the last two months, I think the digEplayers were better, as they had more content and battery life seemed to be longer. At least these look prettier, and take up less space. Form over function, right?

Alaska's Microsoft Surface tablets
Beyond Comfort
The Alaska Beyond project started with the introduction of new Recaro slimline seats on all 737-800 and 737-900/ER airplanes, with 110V and USB power at every seat. 737-400 and 737-700 variants are leaving the fleet in coming years, so Alaska chose not to upgrade those airplanes.
I will say that Alaska's new Recaro seats in first class are hardly comfortable (poor legroom, awkward seatback angle), but the seats in economy actually are. I can sit comfortably at 6-foot-3 for back-to-back transcons while on a mileage run. Definitely better than the slimline seats I've flown on American, Delta, and United.

In-seat power
Beyond Service
Nothing changed here, but that's a good thing. I would say nearly all of Alaska's employees I've interacted with are fantastic. You can tell they enjoy coming to work, and it's such a vastly different experience from flying one of the big legacy carriers.
The Event/Flight
Alaska Airlines 9668
Boeing Field (BFI) – Boeing Field (BFI)
Thursday, March 26
Depart: 12:37PM
Arrive: 2:28PM
Duration: 1hr51min
Aircraft: Boeing 737-900ER
Seat: 19D (Economy)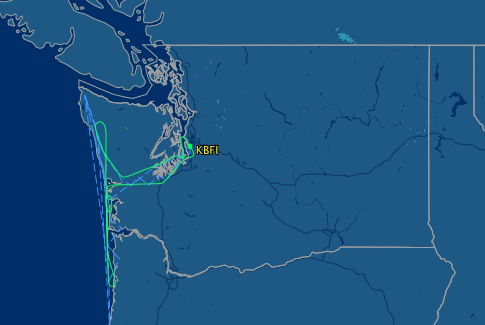 Map of flightpath from flightaware.com
It started with a reception at the Museum of Flight, and I ran into several familiar faces, including Scott from TravelCodex. I found it hilarious that they had Board Room concierges serving alcohol at the event, just like at the airport. It may have only been 11:30 in the morning, but that didn't seem to stop me people from drinking.

This really wasn't staged
After a quick welcome from Joseph Sprague, Alaska Senior Vice President, Communications and External Relations, we were invited outside into the museum's parking lot to board a nearly new 737-900ER. Those invited included elite frequent flyers, business partners, members of the media, and people from various departments at Alaska.

Alaska 737-900ER

Alaska 737-900ER
As I stepped on board the aircraft, one of the flight attendants recognized me from a Los Angeles to Seattle flight I took in December. She even remembered my drink order – a gin and tonic! This is what I mean, the people who work at Alaska are truly excellent.

Alaska 737 economy seat
There were gift bags at every seat, and the coolest item inside had to be the gift box from Sun Liquor with a mini of vodka, gin, and rum inside. I happened to sit in front of Erik, the head distiller at Sun Liquor, which was pretty cool. It sounded like Alaska works him day-and-night to produce enough minis for their operation, so I hope the partnership not only sticks around, but grows. 😉
The flight was maybe 60% full (I had the entire row to myself), which was nice given how empty flights aren't a thing anymore.

Alaska 737-900ER cabin
We were welcomed on board by two of Alaska's chief captains from the Seattle base, had the standard safety demo, and pushed back from the museum parking lot onto the taxiway. Never have I ever…
https://www.youtube.com/watch?v=vOW2-U5hiMA
After a seemingly endless takeoff roll (even with an incredibly light load, 737-900ERs are runway hogs), we were airborne, with great views of SeaTac airport shortly after takeoff.

View shortly after takeoff
Once at cruise, Joseph Sprague got on the PA to talk about how well the airline is doing financially. Alaska invited a lot of business partners and elite frequent flyers, so it seemed like a pitch to get those on board to invest. Can't blame them for trying!
Sangita Woerner, Alaska's new VP of marketing, was then invited up to the PA to talk about Alaska Beyond. I was surprised to find out she was only with the company for two months, given her passion and knowledge.
Microsoft Surface tablets were passed out during the welcome announcements, so when Seattle International Film Festival director Megan Griffiths was invited up to speak, passengers were able to access her films using the tablets. It should be noted that the films weren't actually on the tablets, but were accessible through the Gogo streaming entertainment. Honestly, there was far too much going on for me to watch a movie.
Tom Douglas himself came through with the crew distributing his next buy-on-board meal item in the menu rotation, which was an ancho molasses (BBQ) pulled chicken sandwich.

Tom Douglas playing flight attendant
It came with a side of coleslaw, and should have come with five or six extra napkins. It was really good for airplane food, but incredibly messy. I'm interested to see how well this can be executed and if it sticks around.

Tom Douglas ancho molasses pulled chicken sandwich

Tom Douglas ancho molasses pulled chicken sandwich
BBQ doesn't photograph well, so yes, I know it looks awful, but everybody agreed it was delicious.
Flight attendants then came through with wine from Canoe Ridge winery. There was a red blend or a Sauvignon Blanc available, and when asked "red or white?" I replied with "both, please." As you can see, that worked. 😛

Alaska main cabin wine
These are the current main cabin wines for sale on Alaska and both were excellent. Both tasted far better than what I've had in international business or first class. Maybe it's not the same quality on the ground, but it tasted much better at altitude.
After two glasses of wine in a short period of time, I was able to convince the flight attendant I had back in December to pose for a photo.

Alaska flight attendant
Because there was so much going on, I failed to notice that we had been sightseeing along the Oregon coast. It was truly a spectacular day for this event, and Alaska seriously lucked out with the weather.

Oregon coast
At under two hours, the flight was relatively quick given all that happened. Before I knew it I was back at Boeing Field, ready for a nap. #daydrinking
In Conclusion
While the flight was a lot of fun, I definitely didn't learn anything I didn't know about their product offerings as a frequent customer.
This event was definitely geared towards media not familiar with the Alaska experience. Instead of spending however much on advertising, Alaska just spent that money chartering an airplane, letting the passengers do the talking for them. Working smarter, not harder.
By inviting loyal customers and business partners who didn't have to be there, they also created a lot of goodwill, something airlines can't seem to do these days.
I will say that while Alaska Beyond is a lot of hype (come on, we're talking about economy seats and buy-on-board airplane food), but at the end of the day, it really is a better experience than flying the competition.
Now I'm just eagerly awaiting the improvements to their first class product. 😉