I just booked an award night at the Hyatt Olive 8 in Seattle. For a night in July. On points.
Normally I don't see why this would be of interest to anyone, but supposedly the Hyatt Olive 8 is blocking all award nights for the the entire summer. As in every single day from now until September 1.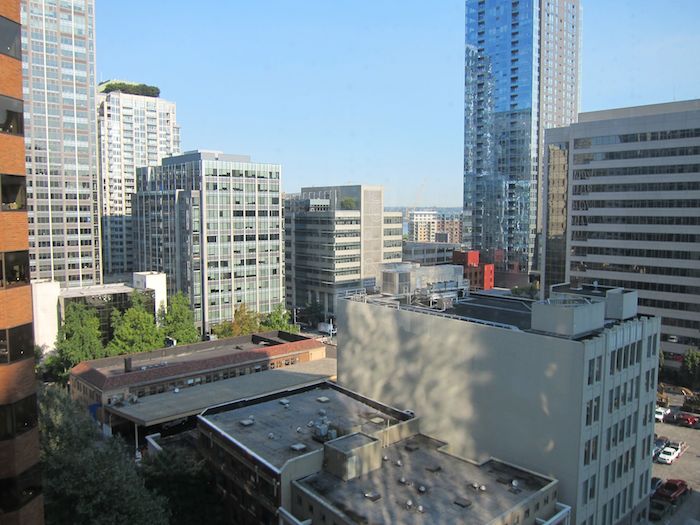 How Did I Do It?
I picked up the phone and called the Hyatt Diamond line. I told the agent that I wanted to make an award reservation. For the Hyatt Olive 8 in Seattle. For the night of July X.
He checked availability and informed that there weren't any rooms available on points that night. I feigned surprise. Then I politely told him that I have been a Diamond for many years (true) and that I had heard great things about this property (sort of true) and wanted to check it out (not really true), so could he please call over to the hotel and ask them to open up a room on points. He quickly retorted with "we don't do that here". I almost laughed, but thanked him and hung up.
Second Time's The Charm
Of course, I called again.
This time around, I got a woman who sounded like she was in a good mood. I went through the same routine and got the same answer — No room in the inn, unless you want to pay cash. As before, I told her that I had been a Hyatt Diamond for many years (still true) and ask if she call over to the hotel and request that they open up a room on points. She said "sure" without a bit of hesitation.
I waited on hold for about 5 minutes until she came back to ask "Would a king be OK, Mr. Travis?"
I thanked her and had the email confirmation within minutes. It really was that simple.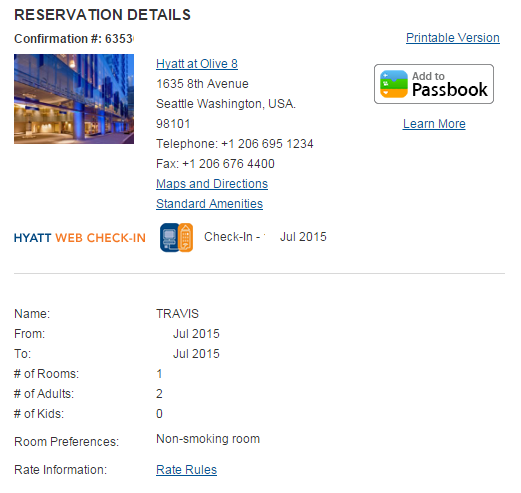 Could I have used a credit card anniversary night instead? Probably, but I didn't have one. As you might recall, I used mine in December at the Grand Hyatt Kuala Lumpur.
Would this have worked if I weren't a Diamond? I don't know. It might take a few more HUCA's, but I have a feeling it would work.
Hyatt Customer Service Is Fantastic
I can think of at least 3 ways to have booked this room on points.
Call the Diamond line.
They are pretty awesome, and I'm actually surprised that this took a HUCA!
Private message the HGP Concierge on FlyerTalk.
I've had some amazing experiences with them as well. Heck, you can even PM Jeff Zidell, the head of the program.
Call the property directly.
If you have any sort of relationship with the property (and sometimes even if you don't) they will often take care of you. In this case, I've never been to Olive 8.
The Hyatt Ambassadors on FlyerTalk can also be really helpful in pointing you in the right direction.
I'm a 1%er
In the miles and points world that is. And if you're reading OMaaT, you're probably a 1%er too. I define 1%er in terms of how many miles and points you have in your account, and the knowledge you have about how to maximize their value.
Telling me that there are no award nights at the Hyatt Olive 8 is like telling me that Dividend Miles (RIP) only allows a stopover at a hub city. Sure, that might be what the website says, but everyone who has been in this game for a few years knows how to get what they want. I literally do something like this about once a week, either for myself, a family member, or a friend.

But shouldn't we care that the common man can't get an award room at the Olive 8 this summer?
Yeah it sucks for him. And so do checked bag fees and economy seats. Frankly I see that as Chris Elliott's problem. (Spoiler alert: He's going to conclude that loyalty programs are a bum deal.)
OMaaT readers are the most sophisticated in the entire miles and points world. We know better.
When Bad Is Good
Remember the Delta award calendar which was broken for years and years? The Delta apologists (do we have any around here?) would often claim that the broken calendar was actually a glorious thing. They would argue that since only a few people knew the tricks to finding saver award inventory, there would be more available for them.
Honestly, I never really ascribed to that theory, but then again I was never really into SkyMiles. But I do see their point.
No this isn't a perfect analogy, but hopefully you see what I'm getting at here. It's important to know how to get what you want in in this world. And that goes far beyond miles and points.
---
Now if you'll excuse me, I have to go cancel an award night at the Hyatt Olive 8….