It's not often I put "Hyatt Gold Passport" and "customer unfriendly change" in the same sentence, but this will be one of those instances. In December I hinted at Hyatt changing their expiration policy on Diamond Suite Upgrade Awards going forward. And it looks like that has now been confirmed.
How Hyatt Diamond Suite Upgrades work
Each year, Hyatt Diamond members receive four confirmed suite upgrades, each of which can be used to confirm a suite upgrade at the time of booking for a stay of up to seven nights. I consider it to be the single best benefit of being a Diamond member, since it allows you to confirm a suite at the time of booking for the stays which matter most to you. After all, I don't really care about a suite on a one night stay at an airport hotel, but rather care more when I'm taking a special trip.

Park Suite at the Park Hyatt Vienna
That's a huge perk, since there aren't any capacity controls and it's not based on availability at the time of check-in, like some other programs' suite upgrades.
Historically Hyatt Diamond suite upgrades have been issued on March 1, and are valid through the end of February of the following year.
In other words, my account currently has one of the four Diamond suite upgrades remaining, which is valid through February 28, 2016. Then on March 1, 2016, I'll be issued another four Diamond suite upgrades valid through February 28, 2017.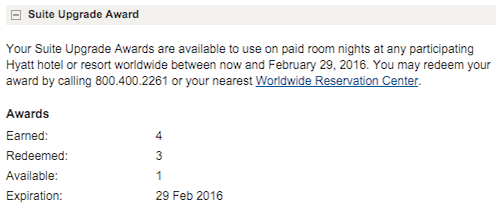 Historically Hyatt Diamond suite upgrades could be applied for a stay after the expiration date of the upgrade, assuming the upgrade could be confirmed. In other words, on February 1 you could confirm a suite for a June stay, even if the upgrade expires on February 28.
What's changing with Hyatt Diamond suite upgrades
In December Hyatt Gold Passport made some updates to their system, which has given them the technology to make a rather negative change. What we suspected last December is now official.
Hyatt has reached out to share the following details:
Diamond members enjoy many exclusive privileges including suite upgrades at the time of reservation four times annually on eligible paid nights. On March 1, 2016, Diamond members will receive four new Diamond Suite Upgrade Awards, and we want to provide clarity on an upcoming modification to the redemption period.

What's Changing? Suite awards issued on or after March 1, 2016 must be redeemed for reservations with a checkout date prior to the expiration date of the award. Suite awards not redeemed prior to the expiration date of the award will be forfeited.

What's not changing? Suite awards issued prior to March 1, 2016, must be redeemed by making a reservation no later than the last day of February 2016 for future reservations. In the event one of these Suite awards is redeemed for stay dates beyond the expiration date and the reservation is cancelled after the last day of February 2016, the Suite award will be forfeited.

These changes will be reflected on our website and within our Terms and Conditions on February 1, 2016.
This means that as of next year, Hyatt Diamond suite upgrades will only be valid for stays through the expiration date, rather than them letting you book through the expiration date, even if the stay is for a subsequent date.
That's totally fair, I don't have a problem with the policy change as such. What I take issue with is that Hyatt only deposits the Diamond Suite Upgrade Awards on March 1 of each year. This means you won't really be able to use a Diamond Suite Upgrade Award in advance for stays in March, April, etc.
If Hyatt is going to have this policy, they should begin issuing Diamond Suite Upgrade Awards when members requalify, rather than on March 1. That would solve the problem, and would be the same as what American Airlines and Starwood Preferred Guest do with their upgrades — they're issued once you requalify, and then valid through the standard expiration date.

Grand Suite at the Grand Hyatt Hong Kong
Bottom line
I'm fine with Hyatt requiring that suite upgrades be for stays by the expiration date, and not just bookings by the expiration date. But to combine that with only issuing the suite upgrades on March 1 is what I take issue with, since it creates a period where these upgrades are unusable. That's illogical, unless Hyatt has a very specific reason they don't want people upgrading in March.
What do you make of this change to Hyatt's Diamond suite upgrade expiration? Would you feel better if the upgrades were issued when you requalified rather than on March 1?
(Tip of the hat to View from the Wing)