While domestic upgrades are nice, upgrades on long haul flights are even nicer. Having a flat bed on an overnight transoceanic flight makes all the difference.
If not outright redeeming miles for an award ticket, there are sometimes opportunities to use miles or upgrade instruments to score a business class seat. In this post I wanted to provide a rundown of how American Airlines systemwide upgrades work.
American Airlines Systemwide Upgrade Basics
One of the best perks of being an American AAdvantage Executive Platinum member is the systemwide upgrades that you receive. In this post I wanted to look at just about everything you could need to know about these upgrades, including how you can earn them, how you can redeem them, and more.
How Do You Earn Systemwide Upgrades?
There are a few ways to earn American Airlines systemwide upgrades:
AAdvantage Executive Platinum members receive four systemwide upgrades per year
Executive Platinum members can receive an additional systemwide upgrade as a reward upon reaching 150,000, 200,000, and 250,000 elite qualifying miles (EQMs)
Million Miler members get four systemwide upgrades when reaching two Million Miles and for every Million Mile level thereafter
Systemwide upgrades can score you business class seats on long flights
When Are Systemwide Upgrades Deposited?
Systemwide upgrades are deposited into your account within 48 hours of being earned (which would be the point at which the miles post to your account that put you over the threshold).
When Do Systemwide Upgrades Expire?
Systemwide upgrades are valid through whenever your status expires, which is typically January 31. In other words, if you were to qualify for Executive Platinum status in 2019, then your four systemwide upgrades would be valid through January 31, 2021.
Note that technically the upgrades need to be redeemed for flights by the expiration date, though in some cases American has let members extend these as well.
Which Airlines Can Systemwide Upgrades Be Used On?
Systemwide upgrades can be used exclusively for travel on American and American Eagle. Not only that, but the flights need to both be operated and marketed by American, so a codeshare flight wouldn't be eligible.
You can't redeem systemwide upgrades on partner airlines.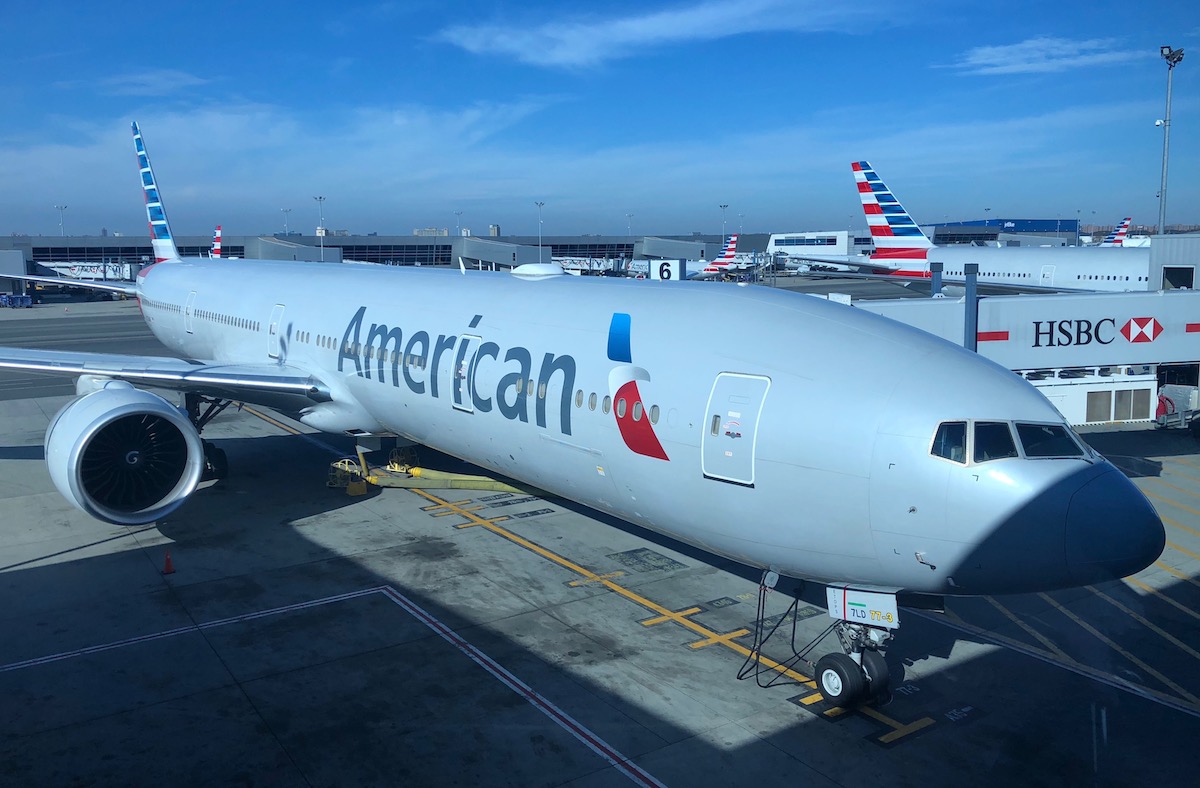 Systemwide upgrades are only valid for travel on American
Can You Gift Systemwide Upgrades To Others?
Yep, you sure can. You can gift them to friends, family members, etc. However, if they're not traveling on your flight then they'd receive lower upgrade priority, assuming you can't confirm the upgrade at the time of booking.
What Fare Classes Are Eligible For Systemwide Upgrades?
You can use a systemwide upgrade for any of the following:
To upgrade from economy or premium economy to business class
To upgrade from business class to first class
On domestic two cabin flights, you can use them to upgrade from economy to first class
All economy, premium economy, and business class fare classes are eligible for systemwide upgrade usage, with the exception of basic economy fares.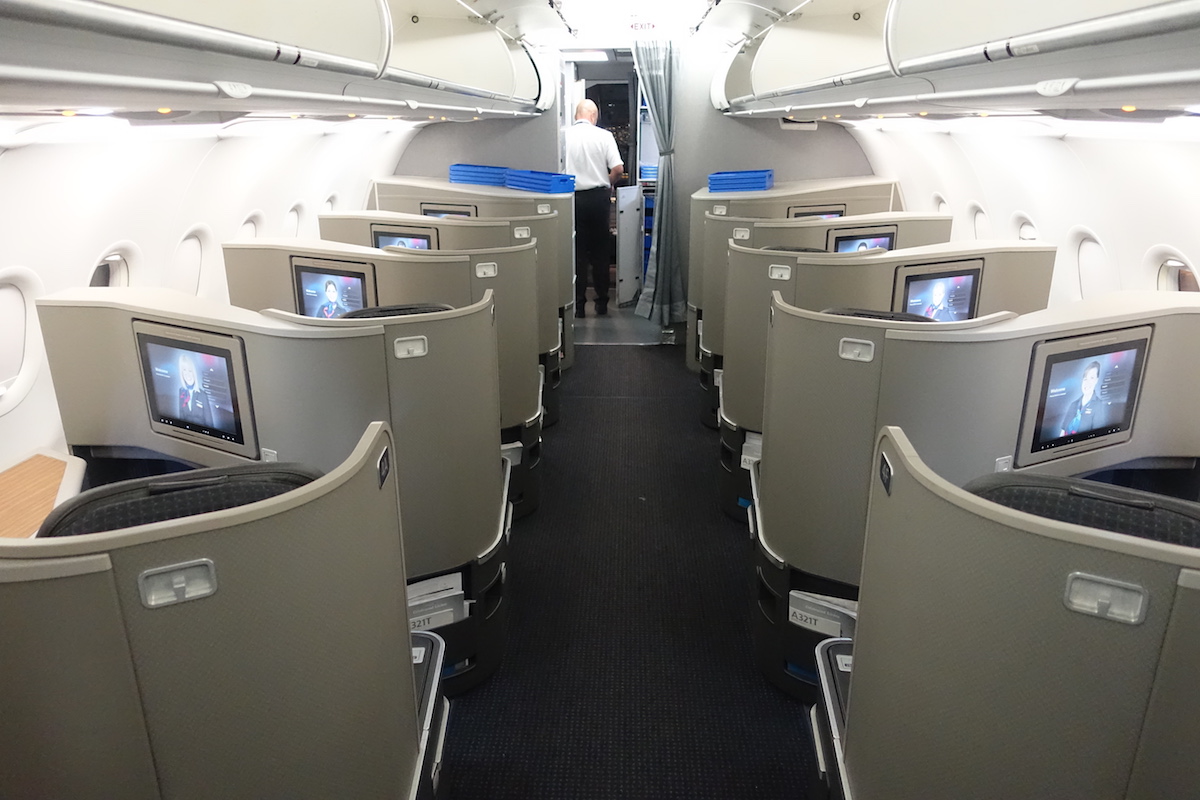 Use systemwide upgrades for American's A321T first class
How Many Segments Can Systemwide Upgrades Be Used For?
Each systemwide upgrade can be used to upgrade up to three segments on a one-way itinerary.
Can Systemwide Upgrades Be Used At Booking?
Systemwide upgrades can be used to confirm an upgrade whenever there's confirmable upgrade space, so in theory yes. The catch is that American is really stingy with making upgrade seats available in advance.
How Can You Search Systemwide Upgrade Availability?
You can search systemwide upgrade availability directly on aa.com. Just search the flight you want, and if there's any confirmable upgrade space you'll see "Systemwide upgrades" written at the bottom left of the flight details. Note that this will only show if you are logged into your Executive Platinum account.
You'll also want to click on the "Systemwide upgrades" link to see which class the upgrade is valid for. For example, on a plane with economy, business, and first, it could be that there's upgrade space from business to first, but not from economy to business.
As an alternative you can search upgrade space through ExpertFlyer, which is a subscription service.
Which Fare Classes Need To Be Available To Confirm An Upgrade?
If you want to use a systemwide upgrade then you should be looking for either the "A" or "C" fare class:
You need the "A" fare class to upgrade from business to first class on American's 777-300ERs and A321Ts
You need the "C" fare class for all other upgrades, including from economy to business class, and from economy to first class on two cabin domestic flights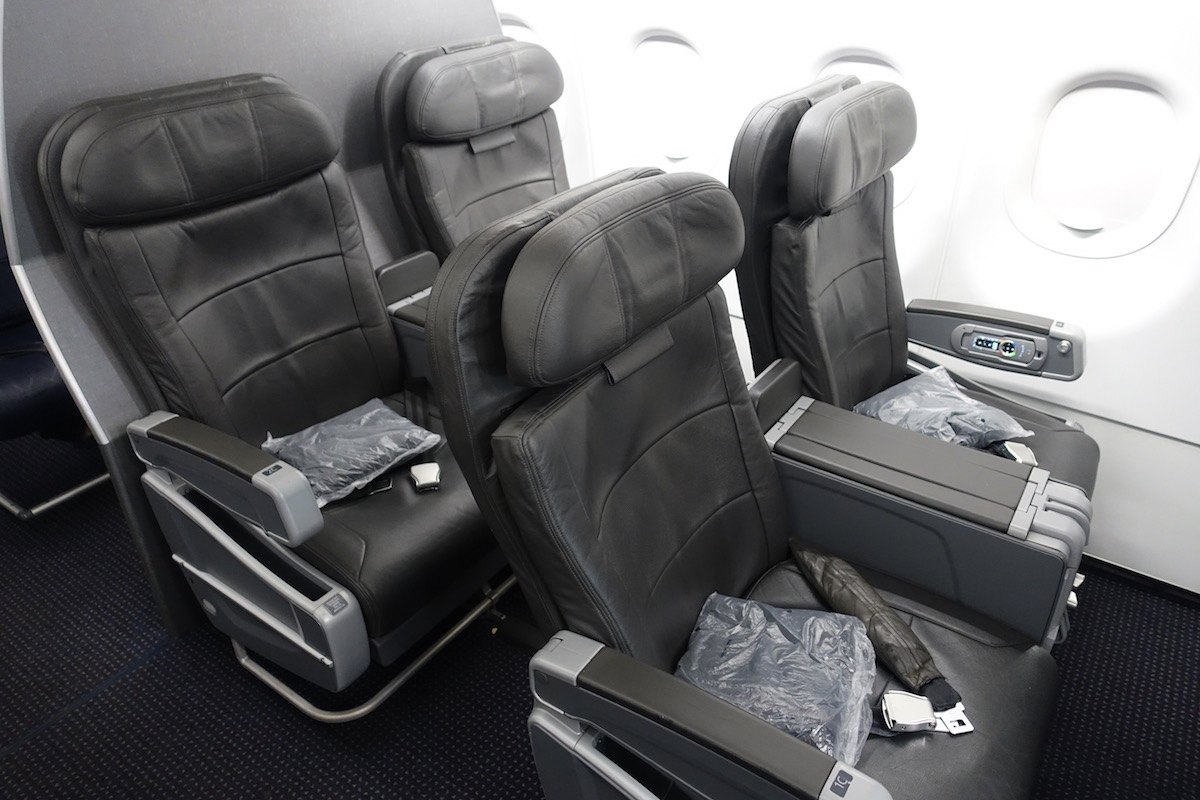 Sometimes it makes sense to use systemwide upgrades on domestic flights
How Do You Apply Systemwide Upgrades?
Stupidly systemwide upgrades can only be applied by phone. There are two ways to go about that:
Book your ticket online, and once the reservation is ticketed call American to apply the systemwide upgrade; keep in mind that the systemwide upgrade can only be applied once the ticket is issued
Book by phone and the agent can apply the systemwide upgrades directly
When Do Waitlisted Systemwide Upgrades Clear?
In the event that your upgrade doesn't clear at the time of booking, you can waitlist it. A waitlist could clear at any point, up until the gate. It could clear a day after you book, a week after you book, a month after you book, or an hour before you fly.
As you might expect, upgrades are generally clearing closer and closer to departure, as American is doing everything they can to sell premium seats before upgrading people.
How Are Upgrades Prioritized?
If an upgrade doesn't initially clear, it will be prioritized in the following order:
First by elite status level
Then by upgrade type (with systemwide upgrades and other confirmable upgrades getting highest priority)
Lastly by your rolling 12-month elite qualifying dollar (EQDs) total
How Does Upgrade Priority Work For Companions?
If a companion is traveling on the same flight as you then they can receive your higher upgrade priority, even if you're not traveling on the same reservation. This higher priority doesn't apply if you're gifting them an upgrade, and they're not traveling on the same flight as you.
Can Systemwide Upgrades Be Used For Premium Economy?
American now has premium economy throughout much of their long haul fleet (including 777s, 787s, and A330s), though you can't use systemwide upgrades to upgrade to premium economy. Rather you can still use them to upgrade from economy to business class, which is probably a good thing.
Maximizing Odds Of American Systemwide Upgrades Clearing
How do you maximize your odds of systemwide upgrades clearing with American? Let's go over a few things to consider.
Look At Seatmaps When You Book
You'll want to look at both the seatmap for the cabin you're trying to upgrade to, as well as the seatmap for the cabin you're booking. For example, say you're trying to upgrade from economy to business class on a Dallas to Hong Kong flight:
Look at the business class seatmap, to get a general sense of how many seats are available to upgrade to (though this won't always accurately reflect the number of people booked)
Look at how many seats are occupied in Main Cabin Extra, premium economy, etc., because it's possible that at least some of these people are also elites looking for an upgrade
This isn't fool proof, but the emptier the seatmaps, the better your odds.
Avoid Dallas
Every airline has a hub where they have a disproportionate number of elites, and therefore upgrades are disproportionately difficult. For Delta that's Atlanta, for United that's San Francisco, and for American that's Dallas.
In general you'll have a tougher time clearing an upgrade out of an airport like Dallas than out of an airport like Chicago or New York JFK, where there aren't as many "hub captive" flyers.
Upgrades out of Dallas are notoriously tough
The Longer The Flight, The Tougher The Upgrade
This isn't true across the board, but you can expect that upgrades are going to be toughest on the longest and most premium flights.
For example, in general flights like Dallas to Tokyo and Dallas to Hong Kong are going to be especially tough, since a lot of people are hoping to upgrade those flights.
Meanwhile Chicago and New York to London are much easier, in my experience, since there aren't as many hub captives, and because the flights aren't as long.
Pick Your Flight Times & Dates Carefully
If you want to upgrade on a long haul flight, try to travel mid-week. That's especially true to & from Asia. Those are by far the slowest days for premium travel to Asia, since few business travelers fly between the two continents in the middle of the week.
An upgrade to Spain is going to be much easier in December or January than in August or September. Similarly, an upgrade to Brazil is going to be much easier in August or September than in December or January.
Consider seasons, business travel trends, etc.
Bottom Line
Systemwide upgrades are one of the most valuable perks of American Executive Platinum status. Personally I don't actually use these upgrades much because they often have to be waitlisted, and that's just too risky for me when there are options to outright redeem miles for a premium cabin.
Anyway, for those who are trying to redeem systemwide upgrades, hopefully this is a useful rundown of how they work.
If you've used American systemwide upgrades, what was your experience like?