One of my favorite perks of being an American Executive Platinum member is that I receive eight systemwide upgrades each year just for earning the status. I'd argue American has the single most lucrative upgrade policy of any airline for their top tier elites.
I know there are lots of new AAdvantage Executive Platinum members thanks to the US Airways Dividend Miles program being merged into AAdvantage, which has led to lots of questions.
I figured I'd answer some of the most common questions I receive about American systemwide upgrades.
When are American systemwide upgrades deposited?
Systemwide upgrades are deposited within a few days of when you qualify/requalify for Executive Platinum status. All eight of them will automatically show up in your AAdvantage account.
They're valid through whenever your status expires. In other words, if you qualify for Executive Platinum status now, they would be valid through the end of February 2017 (you always get one full calendar year of status, and then status expires the February after that).

The other thing worth noting is that the systemwide upgrades have to be redeemed for travel by the expiration date. It's not just a "book by" date, but also a "travel by" date.
Which airlines can systemwide upgrade be used on?
Systemwide upgrades can be used exclusively for travel on American and US Airways. Beyond that, they can only be used for flights marketed and operated by the same airline, as is the case with all upgrades in advance. In other words, you couldn't use a systemwide upgrade in advance for an American marketed flight operated by US Airways, or vice versa.
How many segments can each systemwide upgrade be used for?
Each systemwide upgrade can be used to upgrade up to three segments on a one-way itinerary.
Can systemwide upgrades be confirmed at the time of booking?
In theory. Systemwide upgrades can be used to confirm an upgrade whenever there's confirmable upgrade space. There are two ways to search confirmable upgrade space:
Through

ExpertFlyer.com

, which is a subscription service ($99/year); that's the most accurate place to search, and you can also set availability alerts there, so that they'll let you know if/when space opens up
Which fare classes need to be available to use a systemwide upgrade?
If you want to use a systemwide upgrade from economy to business class, you need the "C" fare class.
Meanwhile if you want to use a systemwide upgrade from economy or business to first class, you need the "A" fare class. To clarify, you can't double upgrade, but the point is that on a domestic two cabin plane (with just economy and first class) you need "A," while on an international flight with three classes of service you also need the "A" fare class to upgrade from business to first class.
Interestingly the "A" fare class is the same as the discounted first class fare code. More on that later, and why that's pretty awesome.

Discounted first class equals confirmable first class upgrade space
When does my upgrade clear if I waitlist?
In the event that your upgrade doesn't clear at the time of booking, you can waitlist it. A waitlist could clear at any point, up until the gate. It could clear a day after you book. A week after you book. A month after you book. A day before you fly. Or at the gate before your flight.
As you might expect, upgrades are generally clearing closer and closer to departure, as American is doing everything they can to sell premium seats before upgrading people.

No confirmable upgrade space!
How are upgrades prioritized?
Upgrades are prioritized based first on status and then based on when you add yourself to the waitlist. In other words, as an Executive Platinum member booking way in advance, you have excellent odds of clearing. The closer to departure you book, the worse your odds get.
How often do systemwide upgrades clear?
Out of the dozens of systemwide upgrades I've redeemed, I've yet to not clear. That being said:
I've had some close calls, and a handful of times have cleared at the gate
I try to book strategically
You'll want to sort of use reverse psychology when selecting flights to upgrade. In other words, choose the flights/times where a premium cabin is most likely to be empty.
To maximize your odds of clearing an upgrade:
Book as far in advance as possible
The tiebreaker when it comes to upgrades is when you book. On many flights there may be one or two dozen Executive Platinum members trying to upgrade. So booking 11 months out vs. a day out could be the difference between being #1 and being #24 on the upgrade waitlist.
Look at seatmaps when you book.
You'll want to look at both the seatmap for the cabin you're trying to upgrade to, as well as the seatmap for the cabin you're booking. In particular, look at the exit row/Main Cabin Extra seatmap, as it will help you gauge how much competition there might be for those seats. You want to book a flight with a combination of as few Main Cabin Extra/exit row seats and business class seats taken as possible. In other words, you want to be competing with as few people as possible for as many premium seats as possible.

Not how I like Main Cabin Extra to look when booking!

That's better!
Avoid Dallas
Every airline has a hub where they have a disproportionate number of elites, and therefore upgrades are disproportionately difficult. For Delta that's Atlanta, for United that's San Francisco, and for American that's Dallas.
In general you'll have a tougher time clearing an upgrade out of an airport like Dallas than out of an airport like Chicago or New York JFK, where there aren't as many "hub captive" flyers.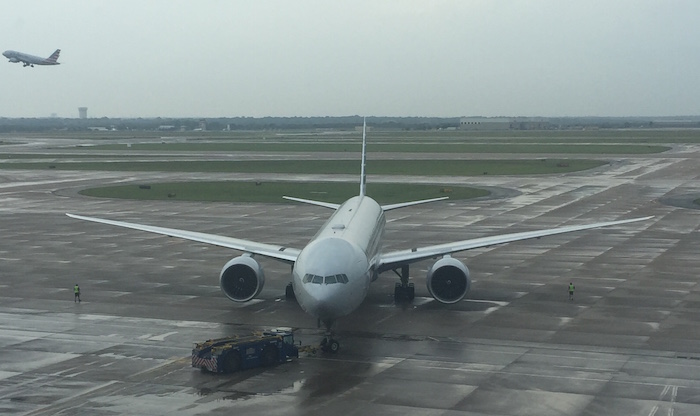 The better the product and longer the flight, the tougher the upgrade
This should be pretty intuitive, but overall the flights operated by 777-300ERs are American's "premium" markets, and also where upgrades tend to be most difficult.
For example, Los Angeles or Dallas to London or Dallas to Hong Kong are probably going to be the toughest upgrades in the system.
Chicago to London should be considerably easier, given that there aren't as many hub captives and they operate the old product on the route. In other words, who in their right mind would pay for American's business class between Chicago and London, when there are several other airlines operating flat bed products in the market?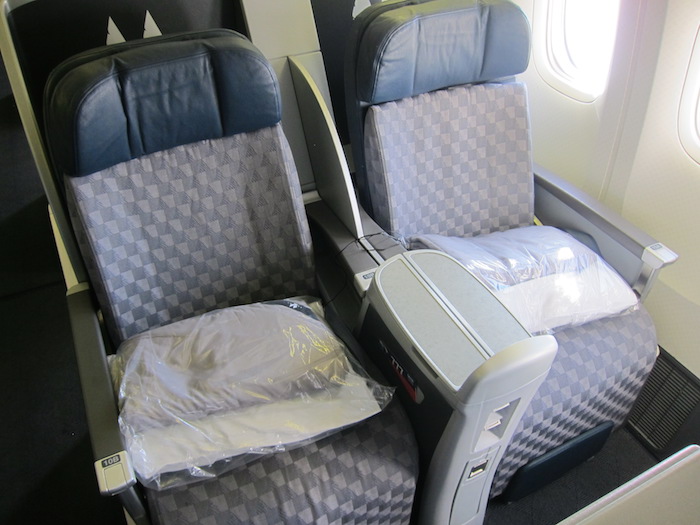 Meanwhile while New York to London features the new business class product, it's generally quite an easy upgrade. That's because it's not that long of a flight, so a lot of people "rough it" in economy, and decide not to pay for business class or upgrade on it.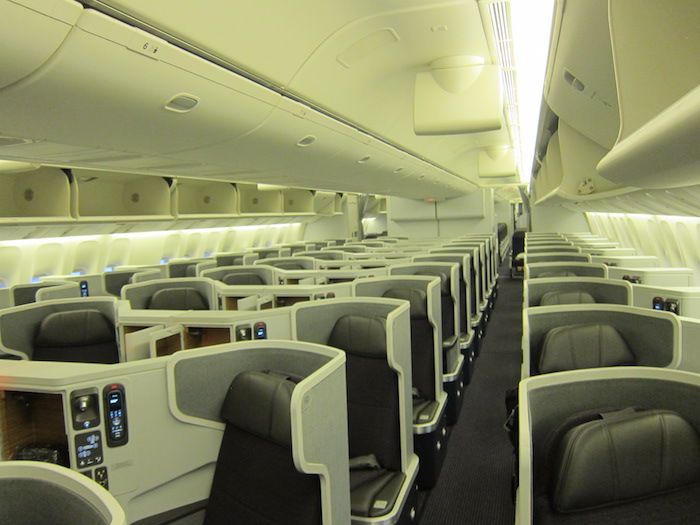 Day/time/month matters
If you want to upgrade to/from Asia, fly Tuesdays or Wednesdays. Those are by far the slowest days for premium travel to Asia, since few business travelers fly between the two continents in the middle of the week.
An upgrade to Spain is going to be much easier in December or January than in August or September.
An upgrade to Brazil is going to be much easier in August or September than in December or January.
Consider seasons, business travel trends, etc.
How do you apply systemwide upgrades?
Stupidly systemwide upgrades can only be applied by phone. There are two ways to go about that:
Book your ticket online, and once the reservation is ticketed call American to apply the systemwide upgrade; keep in mind that the systemwide upgrade can only be applied once the ticket is issued, and it can sometimes take up to 24 hours for a ticket to issue; therefore this might not be the best method if there's a very limited number of upgrade seats available.

Book by phone and the agent can apply the systemwide upgrades directly. If you book your ticket directly by phone, the agent can actually confirm the upgrades before the tickets are issued, by booking you directly in the confirmable upgrade class.
Can you use systemwide upgrades to upgrade from business to first class?
Yes, that's actually one of my favorite uses of systemwide upgrades. You can upgrade and revenue business class fare class to first class using a systemwide upgrade. Often it's a great value to book a discounted business class ticket and then use a systemwide upgrade to confirm an upgrade to first class… though in many cases first class is only marginally better than business class.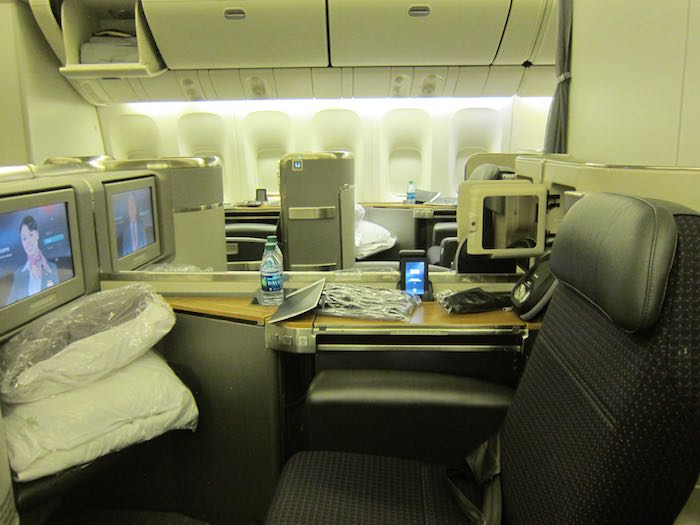 Also anecdotally I find upgrades from business to first class are easier than upgrades from economy to business class.
Can you use systemwide upgrades on domestic flights?
You sure can, and in many cases it's actually not a bad value. As I briefly explained above, American doesn't actually have a dedicated fare class for first class upgrades. Instead they use the "A" fare class, which is the same as the discounted first class fare class.
This means that as long as American is selling discounted first class, you can also confirm an upgrade. That means confirmed upgrades to American first class are exceptionally easy domestically, and also internationally on three cabin planes.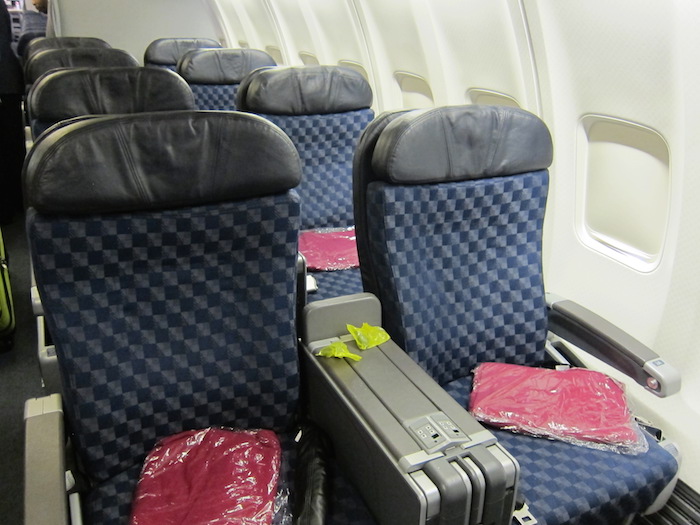 Bottom line
The eight systemwide upgrades are arguably the most valuable perk of achieving Executive Platinum status, and if you take the right approach, you should have no trouble clearing upgrades.
Here's to hoping American continues to offer systemwide upgrades as an Executive Platinum perk for years to come. While they are shrinking the size of premium cabins on some planes, with the right strategy I think upgrades should continue to clear regularly.
For the Executive Platinum members out there, what percent of the time have your upgrades cleared?