I'm writing a series about some of the services that I often use to manage my travel and points, ranging from Google Flights, to AwardWallet, to point.me, to Seats.aero, to MaxMyPoint, to aeroLOPA. In this post I wanted to take a look at ExpertFlyer, and share how I use this website.
What is ExpertFlyer?
ExpertFlyer is a subscription service that provides all kinds of valuable information for planning and managing airline flights. I'd say the site is geared more at advanced travelers, since the interface won't necessarily be intuitive for those who aren't hobbyists. For example, if you don't have a basic understanding of how airline fare classes work, aspects of ExpertFlyer may confuse you.
ExpertFlyer is useful for all kinds of things, ranging from looking at fare class availability for flights, to looking at seatmaps for flights, to setting seat and fare class availability alerts, to searching award availability on some airlines, to finding out the minimum connection time at a particular airport.
Honestly, I use ExpertFlyer on a daily basis for one thing or another, and the ability to set alerts has saved me a lot of time and money.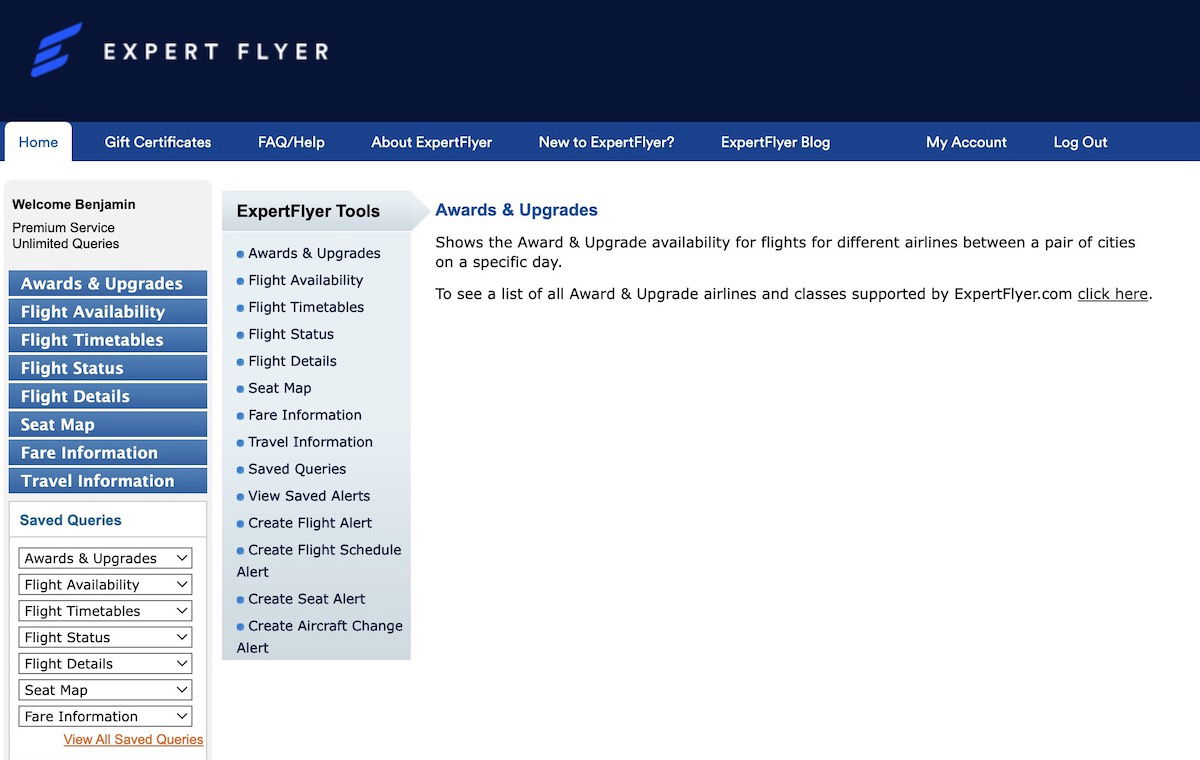 How much does ExpertFlyer cost?
ExpertFlyer is a paid subscription service, and there are two plans:
The basic plan costs $4.99 per month
The premium plan costs $9.99 per month or $99.99 per year (which comes out to $8.33 per month)
Below you can see a chart comparing the perks of the two plans. Let me simply say that if you're going to sign-up for an ExpertFlyer account, the premium account is absolutely worth the incremental cost. To me the most valuable aspect of ExpertFlyer is the ability to set alerts, and that's limited primarily to premium members.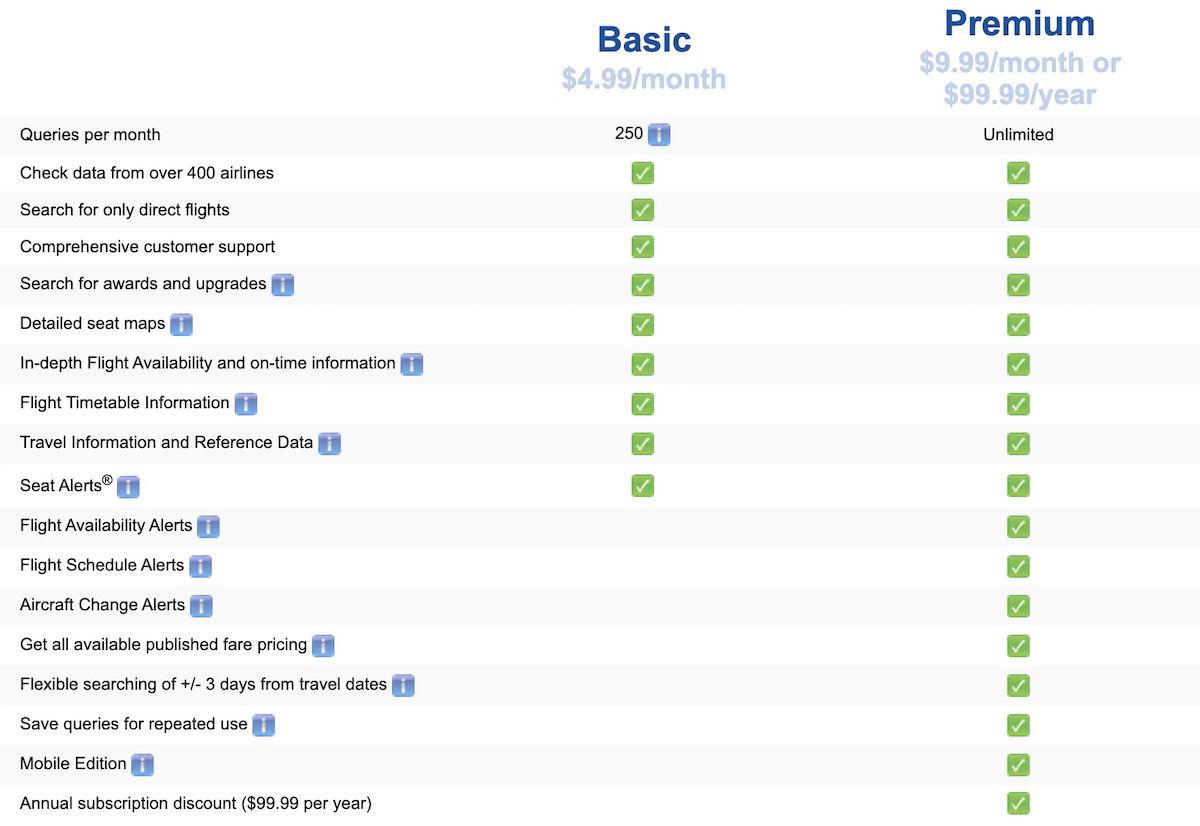 You can also sign-up for an ExpertFlyer account for free and get a single free seat alert, but that's only a tiny portion of the overall value of what ExpertFlyer offers.
What are the features of ExpertFlyer?
ExpertFlyer gives you access to a variety of useful data, involving awards and upgrades, flight availability, flight timetables, flight status, flight details, seat maps, fare information, travel information, all kinds of alerts, and more.
This is largely information you can also find elsewhere with effort, but ExpertFlyer just makes it much easier to view. I also think the single biggest benefit of ExpertFlyer is the ability to set alerts, as I'll detail below.
I figured the most interesting way to approach this would be to share where I see value in ExpertFlyer, and how I use this service. So below are some of the main ways that I use ExpertFlyer, though note that there are other features beyond that.
Look up flight availability, set availability alerts
When you go to the "Flight Availability" tab on ExpertFlyer, you can look up the available fare classes for virtually any flight. To be clear, this isn't the same as knowing how many unsold seats there are on a given flight, but it shows you which fare classes are still for sale, and generally you can see at most nine seats per fare class.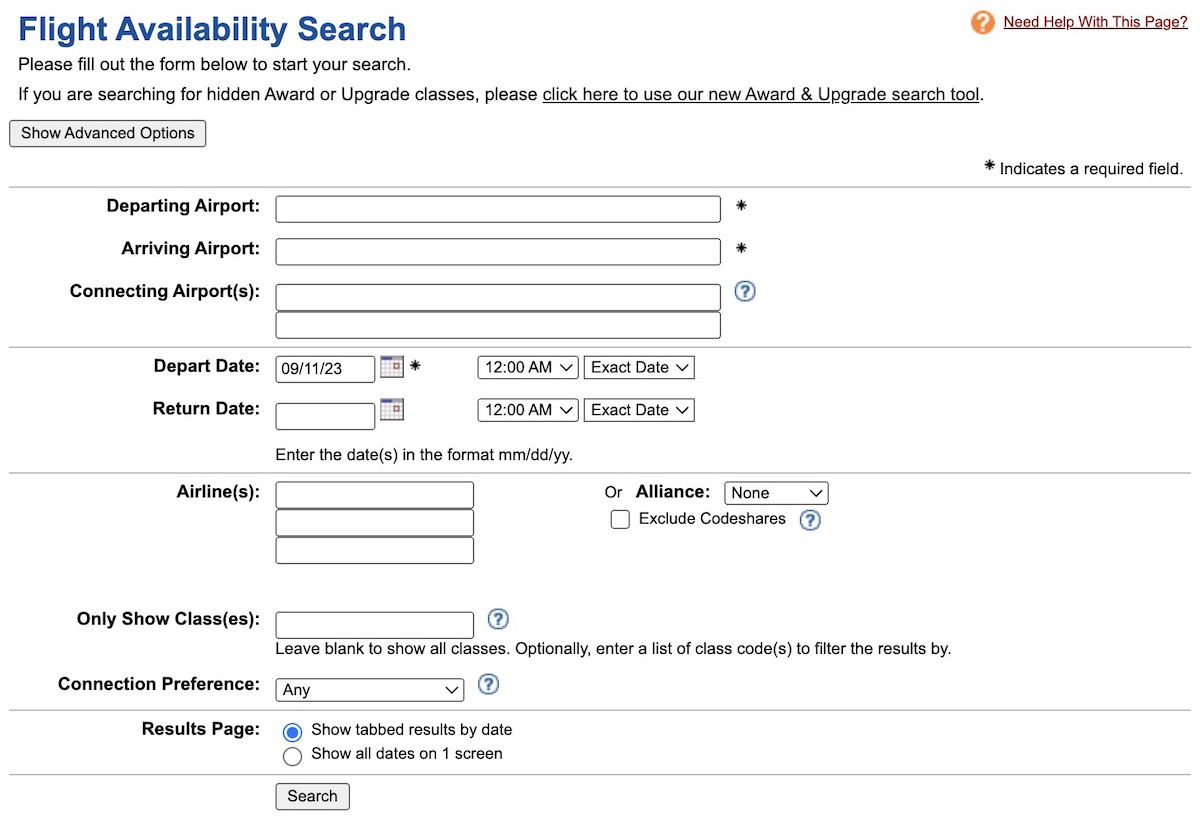 Why does flight availability even matter? Well, if I'm trying to upgrade, I often pick flights based on how many premium seats are left for sale, and looking at the number of seats available in each fare class helps with determining that.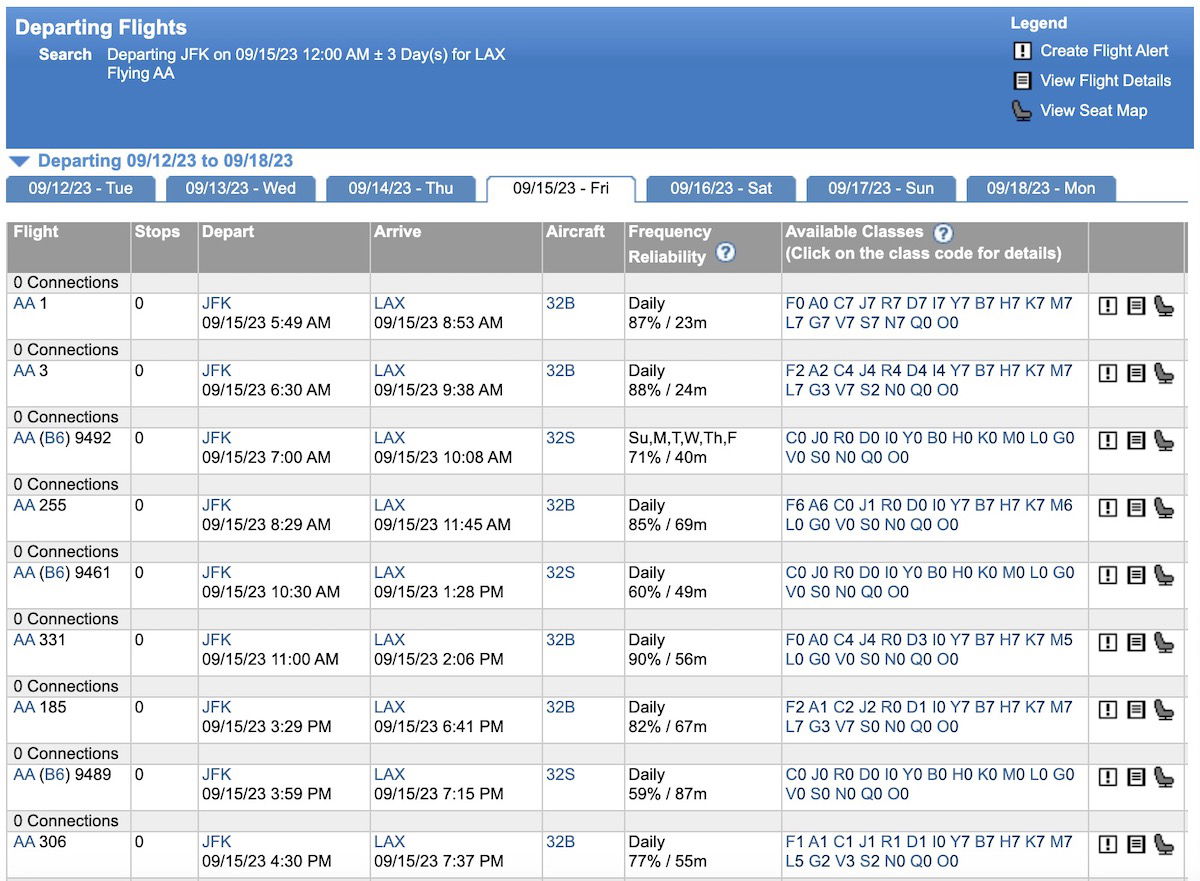 To give a further example, Lufthansa is known for making first class award seats available to partner programs at most 15 days before departure. So for me, step one of finding Lufthansa first class award availability is to go to ExpertFlyer and see how many first class seats are still for sale in various markets, so that I can then determine which flight is most likely to open up.
ExpertFlyer also lets you set availability alerts for flights, so that you can be informed if there are more than or fewer than a certain number of seats available in a specified fare class. For example, this could be useful if your flight is canceled and you're trying to get rebooked on another flight, but everything is sold out. You can set an alert, and then be made aware if a seat becomes available on a particular flight.
Look up award and upgrade space, set availability alerts
ExpertFlyer has an "Award & Upgrades" tab, where you can search award and upgrade availability on a few dozen airlines. Now, admittedly this is largely data you can also pull up on other websites, but I appreciate how ExpertFlyer lets you search availability for a week at a time (by choosing the +/- three days feature).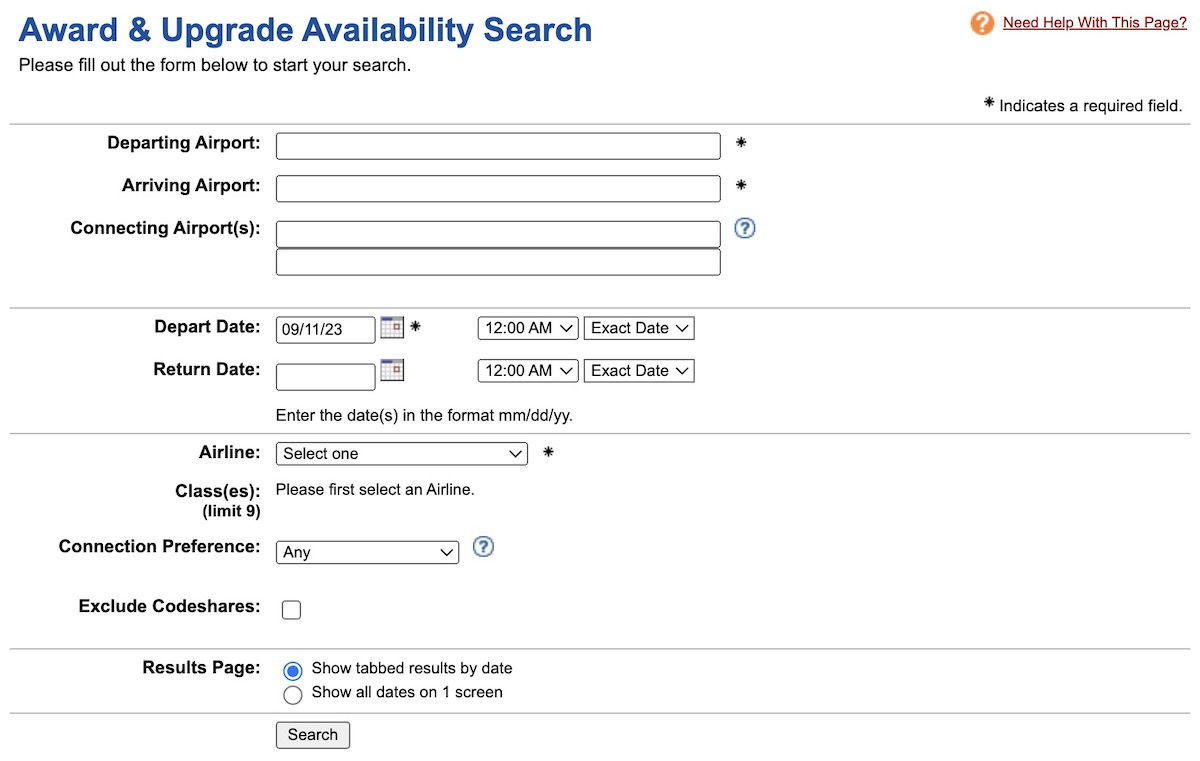 Note that ExpertFlyer is best for searching nonstop award availability in a particular market, so this isn't some award search engine that shows you complex award itineraries.
The catch here is that you won't find all award availability on all partners. For example, you can find all award availability fare classes for travel on Lufthansa, while for British Airways you can only see economy awards specifically for Gold Elite members. You'll want to play around with ExpertFlyer to see how valuable it is for you.
My favorite aspect of the award availability on ExpertFlyer is the ability to set award alerts. In other words, if a flight doesn't have award availability, you can set an alert, and then will be texted and emailed when it opens up. This has scored me a significant number of award seats over the years.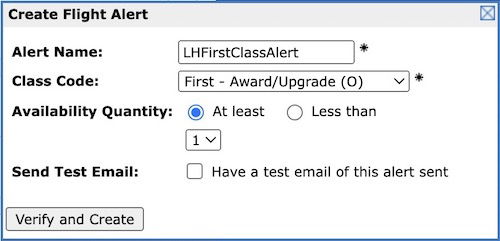 View American Airlines upgrade inventory
I know I mentioned above how ExpertFlyer lets you search upgrade space, though I specifically wanted to emphasize how ExpertFlyer shows upgrade availability on American. This is so useful, since American doesn't otherwise display confirmable upgrade space online (unless you're an Executive Platinum member with systemwide upgrades in your account and are logged in).
ExpertFlyer is more useful for American frequent flyers than anyone else due to this feature, in my opinion. So whether you're looking to confirm a mileage upgrade or use a Business Extra certificate, being able to easily search American upgrade availability online is invaluable.
When you're looking for "C" space (which is American's confirmable domestic first class or international business class upgrade space), note that availability will only display correctly when searching nonstop flights. Ignore whatever number of "C" seats you see for connecting itineraries, and only search nonstop flights.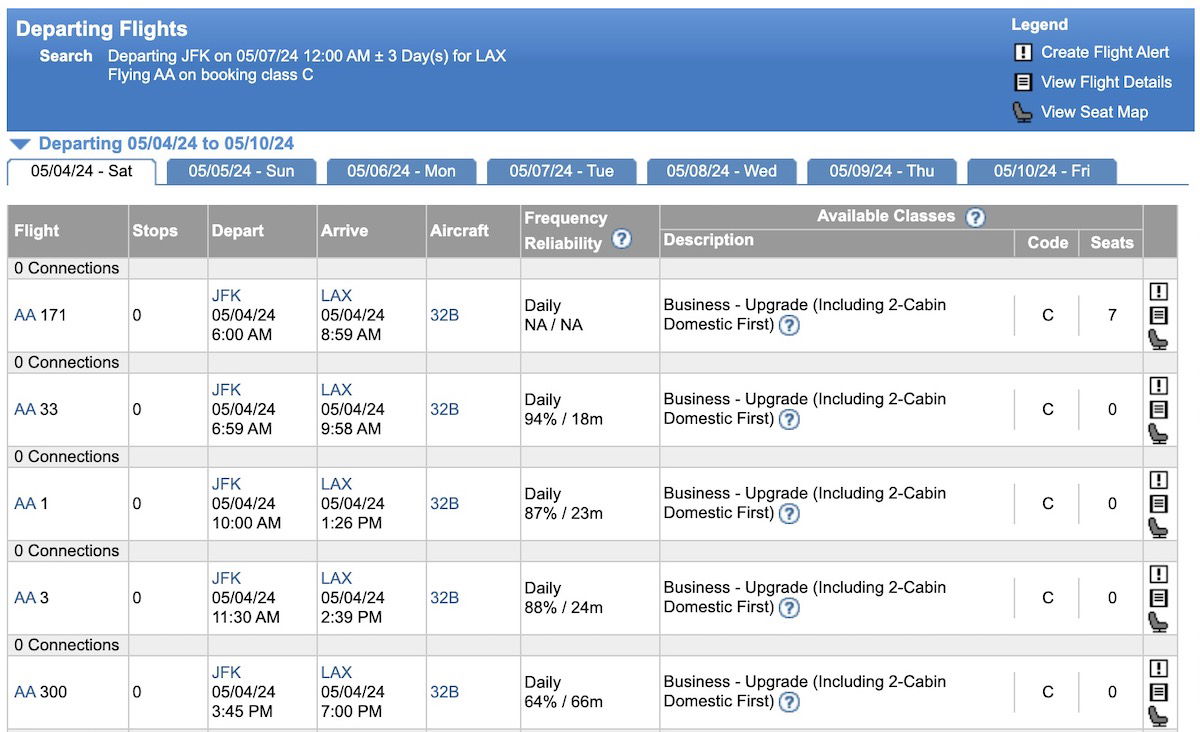 View airplane seat maps, and set seat and aircraft alerts
While most airline websites will let you view seat maps for flights, often you have to first go through the booking process. Often you just want to see the seat map for a flight to figure out what configuration the plane has, what kind of seats are still remaining, etc. On the "Seat Map" tab, ExpertFlyer lets you pull up the seat maps for a vast majority of flights.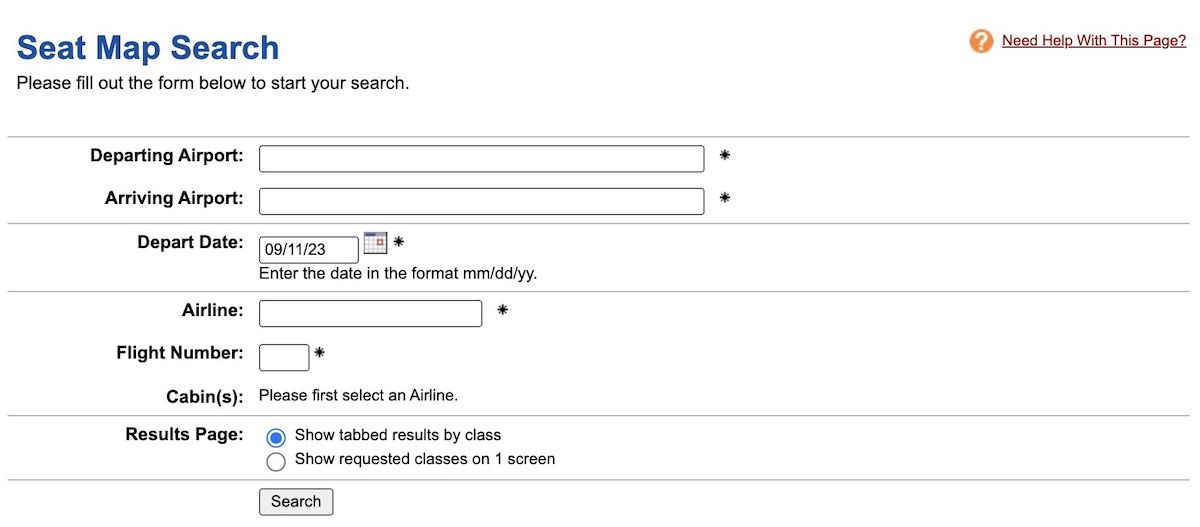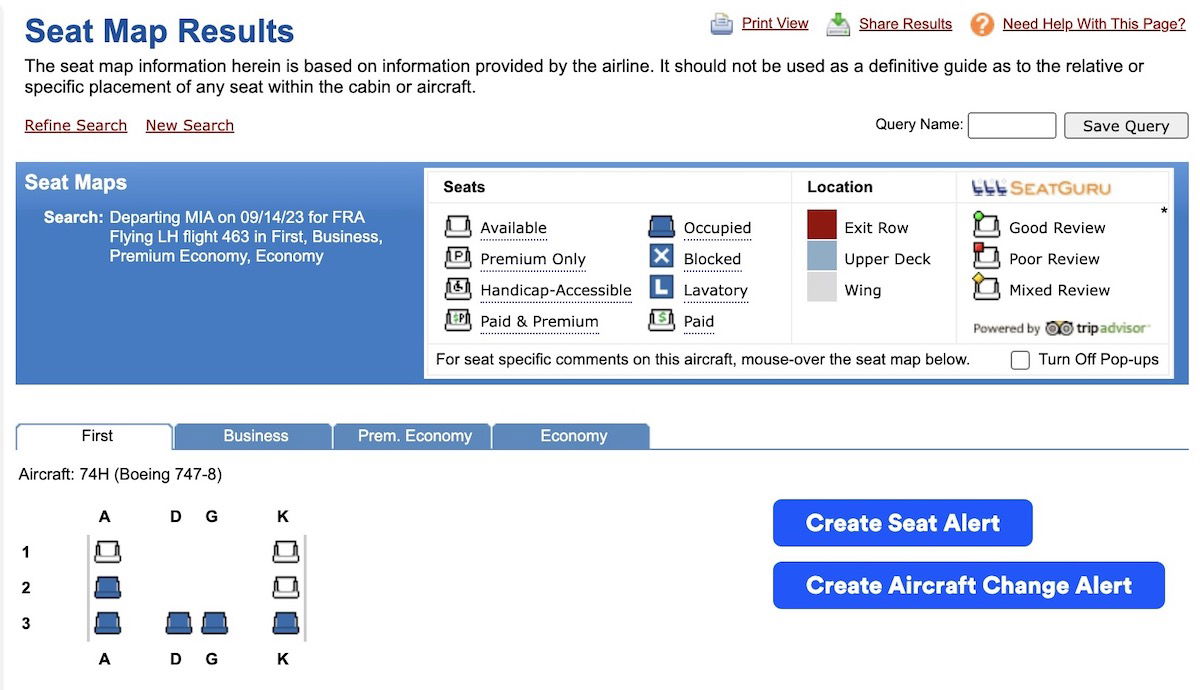 Now, there are two other very cool features involving seat maps. First of all, you can create a seat alert. We've all been in a situation where we wish we could assign a better seat, but they're just not available. Maybe you just want to get out of a middle seat, or maybe you want a specific aisle or window seat.
ExpertFlyer lets you set seat availability alerts. You can either specify if you just want two seats together, or you can specifically designate which seat you want to be alerted about. Then if any of those seats become available, you'll be texted and emailed. I can't count the number of times over the years that this has proven successful for me for securing a better seat.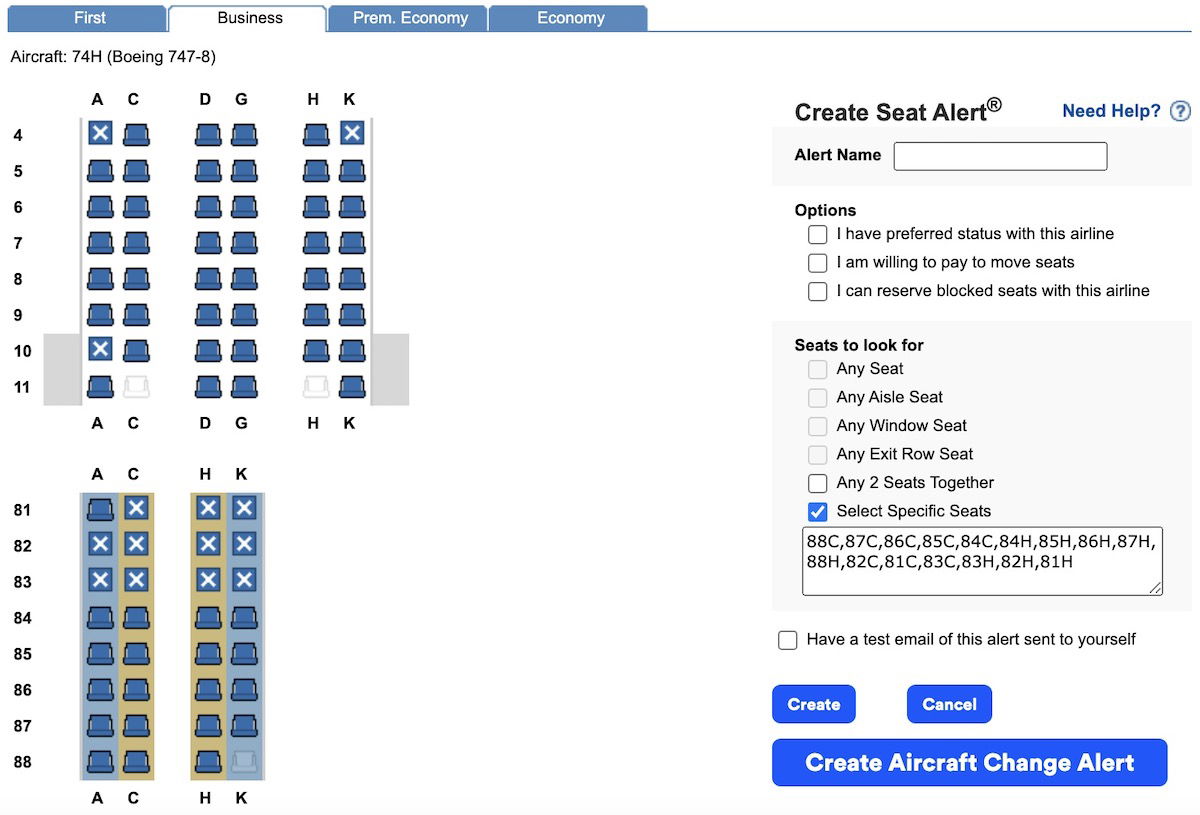 The last useful feature involving seats is that ExpertFlyer lets you set aircraft change alerts. Some airlines are notorious for swapping planes, so setting an aircraft change alert will mean you get texted and emailed in the event that your plane swaps. This could be useful if you're booked on Qatar Airways, and are worried your aircraft might swap from one with Qsuites to one without Qsuites, just as an example.
Learn the real reasons for flight delays
This is an incredibly underrated perk of ExpertFlyer, if you ask me. ExpertFlyer will display the operational notes that airlines provide in the event of a flight delay or cancelation. We know that airlines are notorious for blaming so many delays on weather, even when that's not the case, so ExpertFlyer's flight notes really empower you.
When you go to the "Flight Status" tab on ExpertFlyer, you can see the real reason for delays. For example, take the following delay explanation, where you can see that the flight's issue was a "delay due to crew availability."
This is valuable in situations where airlines claim that a delay or cancelation was due to weather, when really it was due to something within their control.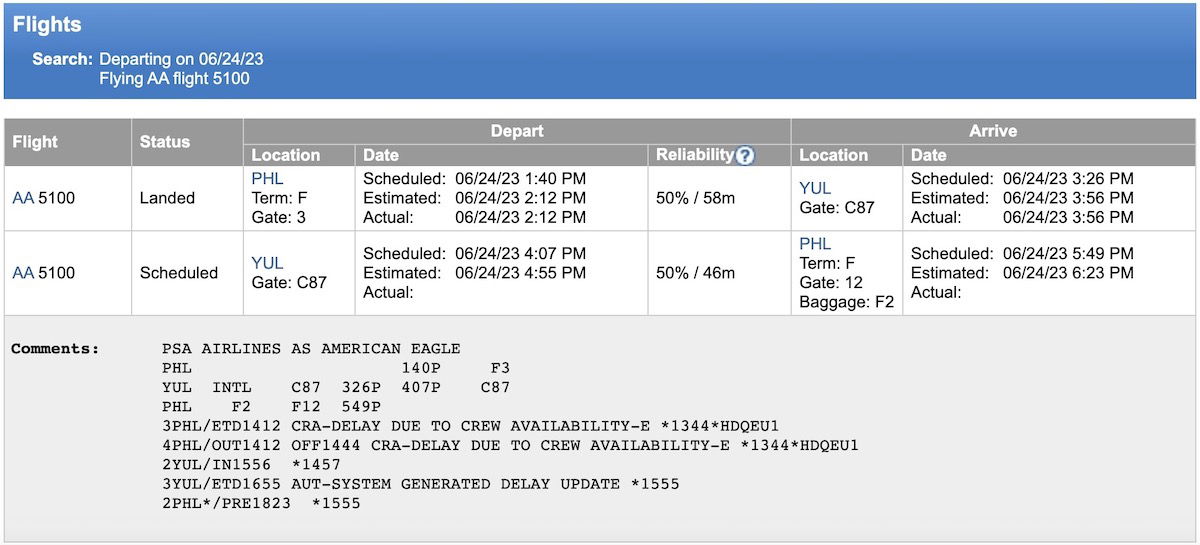 Look up minimum connection times
Every airport has a published minimum connection time, and that can vary based on whether you have a domestic to domestic connection, international to domestic connection, domestic to international connection, etc. ExpertFlyer publishes these minimum connection times for all airports, which is handy whether you're piecing together a complicated award ticket, or just want a sense of how risky your connection is.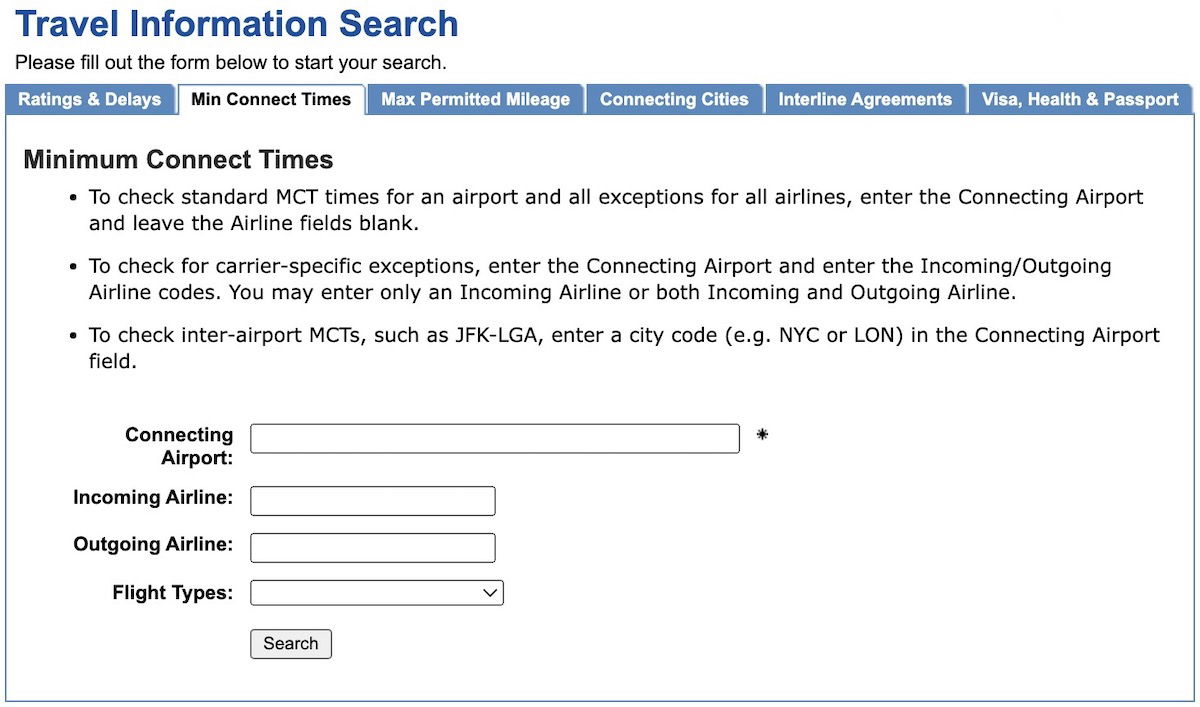 View visa and passport requirements
Keeping track of visa and passport requirements for travel can be complicated. When you go to the "Travel Information" section of ExpertFlyer and click on the "Visa, Health, & Passport" tab, you'll be able to see the entry requirements for most destinations based on your citizenship, country of residence, countries you're transiting, etc.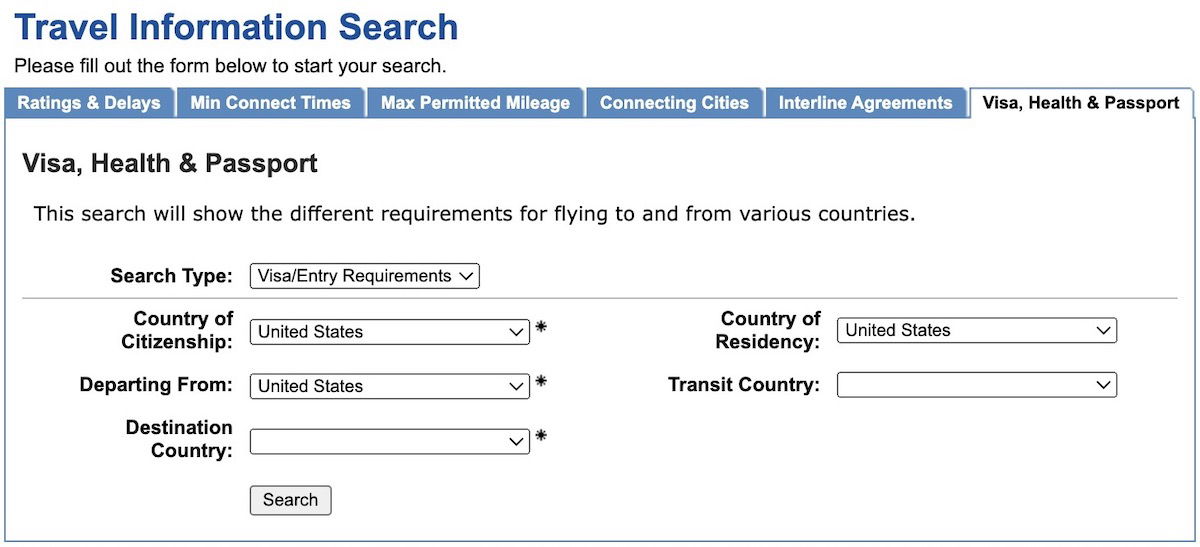 Bottom line
ExpertFlyer is a subscription service that I've been using for about 15 years now, and it's one that I use on a daily basis. If you just travel once in a while, it's probably not for you. However, if you're a frequent flyer who is active in planning your travel and managing all parts of the process, signing up for ExpertFlyer is a good investment.
ExpertFlyer shows you everything from flight availability, to award and upgrade availability on select airlines, to seat maps, to minimum connection times. My single favorite feature, though, is the ability to set alerts. This can include everything from seat alerts, to revenue fare class alerts, to award and upgrade alerts. I can't tell you how many times over the years I've found an award seat thanks to ExpertFlyer, or managed to reserve a better seat that opened up.
To those who use ExpertFlyer, what has your experience been with the site?