American AAdvantage is an easy program to accrue miles with. Their partners are among the most sought after as far as aspirational award travel, including Cathay Pacific, Japan Airlines, and Qatar Airways. 
The program is the most valuable among the big three US airlines. Both Delta and United seem to be endlessly devaluing their miles, while American maintains its program's integrity and even posts award charts. 
The rules aren't published though, which can make booking awards tricky. Once you know the rules, it's pretty easy to use American miles, so I thought I'd go through the main points of the program, at least on the redemption side.
Using miles for travel on American Airlines
Historically American Airlines hasn't released much saver level first and business class award availability on their own flights, though that's something that they've become better about.
American's Web Special awards
American has "Web Special" where they make award seats available at prices that are lower than the published costs on the award chart. Not only that, but they often have better availability with these web special awards than they may otherwise have.
They've really opened the floodgates with the introduction of "Web Special" awards, and premium cabin award pricing is much, much better than it used to be.
For example, it's not unusual to see long haul business class awards starting at just 40,000 miles one-way, or long haul first class awards starting at just 50,000 miles one-way. 
Nowadays with variable pricing it's hard to tell what's a web special and what's a cheap ticket. When you select a flight, you'll be shown the option of either booking the flights as a Web Special if it's available, or as a standard award. 
One thing that's important to note with Web Specials is that they cannot be modified. That's really a moot point, as you can just cancel the award, redeposit the miles, and start over. 
The other downside is that these Web Specials aren't available via partners, so you can only redeem American AAdvantage miles for them.
Searching for awards online
You can search and book American awards directly on aa.com. American has made lots of improvements to their website's functionality. 
Just search for an award by origin and destination on the homepage, and you'll be taken to the results. If you're searching for space on a specific flight, you can use that and see availability across a 30 day window using the calendar feature. 
Let's use Miami to Doha as an example. Put in the routing and a date in the month you'd like to search, and you'll be taken to the results page. Click the "Calendar" button, select non stop only and your cabin of service. The price will be displayed on any date with availability for the number of seats you've searched for.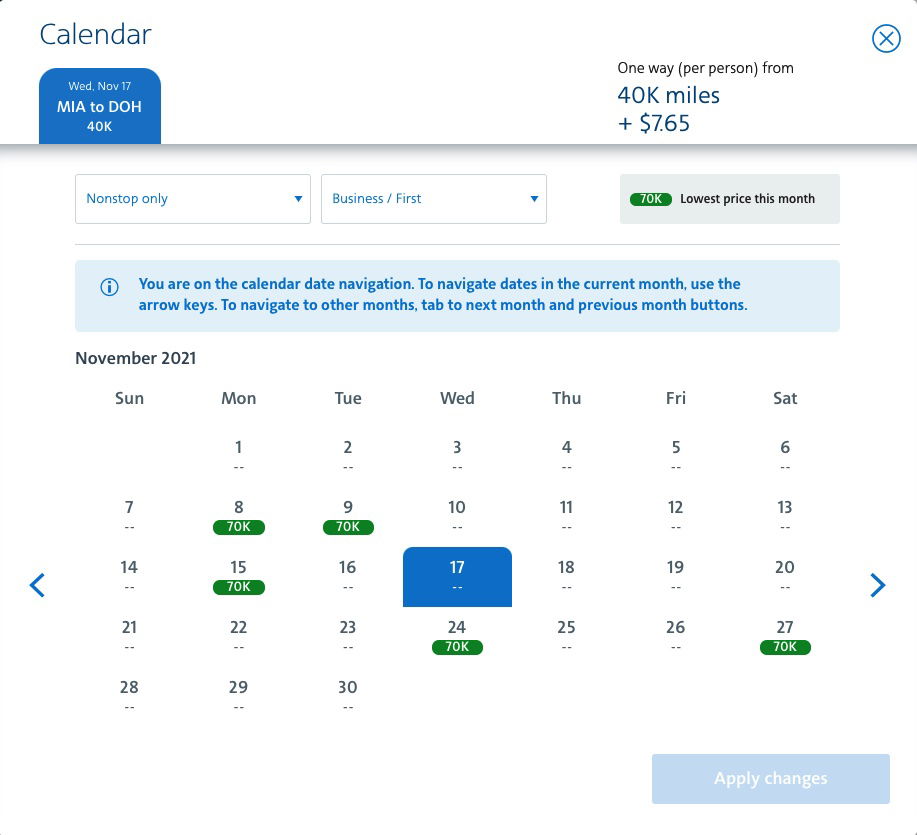 AA.com is actually my go-to place when searching for oneworld award space these days, as they make it easy to search for partner flights segment by segment.
Married segments on American flights
While it's easy to search for award space on AA.com, pricing these days is quite variable. It can be hard to tell what's saver space, what's standard space, and what can be combined with partner saver awards. 
American has done a good job of making "saver" seats available on domestic flights these days when booked in conjunction with partner awards. You can't rely on the BA tool or AlaskaAir.com to accurately show American saver space that's available when booked as part of a larger itinerary. It's always worth searching for award space on AA.com to see what's available using miles. 
This isn't a problem for most itineraries, as you can book and hold awards online.
American AAdvantage's routing rules
American partners with some luxurious carriers, including Cathay Pacific, Japan Airlines, and Qatar Airways. Before you think about flying from Los Angeles to Bangkok via Doha in Qatar Q Suites, you'll need to know how AAdvantage prices award reservations.
American's partner award regions
Programs with a "zone based" chart charge a given number of miles for awards between two regions. American defines their regions as follows: 
Contiguous 48 U.S. states & Canada
Alaska
Hawaii
Caribbean
Mexico
Central America
South America Region 1
South America Region 2
Europe
Middle East
Indian Subcontinent
Africa
Asia Region 1
Asia Region 2
South Pacific
So if you're wondering how many miles it will cost you to travel between Nashville and Shanghai, just look at the chart for flights between the US and China. These regions are important, as American has some rules when you travel between regions.
American generally doesn't allow you to transit via a third region
This is honestly the most maddening and, in my opinion, stupid rule out there.
Bar a few exceptions, you cannot transit a third region when traveling between two regions for the price for travel between those first two regions. If you transit a third region that's not an exception AAdvantage has carved out, you'll have to pay for two awards. 
For example, an award from the United States to Australia with Japan Airlines via Tokyo prices as two awards: U.S. to Asia 1 and Asia 1 to South Pacific. The good thing about having things priced that way is you can stopover as long as you'd like in the third region, as you're already paying for two awards. 
The "no third region" rule grinds my gears because it seems to mainly be based on old relationships, and doesn't take into account the current route network. Want to travel between the two oneworld hubs of Santiago and Hong Kong? You literally can't on a single award.
Routing exceptions
There are a number of routing exceptions for travel with American. There are, however, a few exceptions to the rule:
*insert AA routing exception table, which needs to be updated*
If you want to fly from the US or Europe to Africa, you can connect in Abu Dhabi or Doha without paying for two awards. These routing exceptions aren't limited to any particular carrier like they used to be, with one exception: 
If you're flying from the U.S. or Canada to the Indian Subcontinent, you can connect in Hong Kong. Your flight between Hong Kong and the Indian Subcontinent must be on either Cathay Pacific, Cathay Dragon, or SriLankan Airlines, and your flight between Hong Kong and the U.S. or Canada must be on either American Airlines or Cathay Pacific. 
Understanding segment limitations
American AAdvantage puts an upper limit on the number of segments you can include on award reservation.
If you're traveling entirely within Canada and the US (including Alaska and Hawaii, but not including the Caribbean or Pacific territories), you can include up to three segments per direction of travel. That means for a round trip award you can have six total segments: three on the outbound and three on the inbound. 
Travel across all other regions has a maximum number of four segments per direction of travel. If you're traveling from Argentina to Australia or Malaysia to Morocco, you can only have four segments. 
Stopovers aren't permitted
American no longer allows stopovers on award tickets. Period. You can have connections of less than 24 hours on international itineraries, but that's it.
However, you can have open-jaws to your heart's content, given AAdvantage prices all awards as a series of one-ways. If you want to fly from New York to Bangkok and return from Bali to Mexico City, that's no problem. You'll just pay for each award separately.
Finding award space
American AAdvantage has made huge strides in moving partner award availability online. Just a few years ago you used to have to search for the likes of Cathay Pacific, Japan Airlines, Malaysia Airlines, and Qatar Airways online. You'd have to piece things together manually, then call to find an agent who could also put things together manually like that. 
One of the downsides to this is it's now much easier to search for partner space, and much easier to book it. That seemingly makes award seats disappear more quickly. Couple that with American's free change/cancellation policies, and there's really no reason not to ticket an award if you've got the miles in your account. 
There are a few partners that still have a few quirks. 
Searching for partner award space on AA.com
You can find most of American's partners online, including:
*Need new table* List of AA partners bookable online: Air Tahiti Nui, Alaska Airlines, British Airways, Cape Air, Cathay Pacific, Fiji Airways, Finnair, Hawaiian Airlines, Iberia, Japan Airlines, Malaysia Airlines, Qantas, Qatar Airways, Royal Air Maroc, Royal Jordanian, Seabourne Virgin Airlines, S7 Airlines, SriLankan Airlines
For the most part, routings on these carriers will show up when you perform a search. There are a few nuances, including piecing together Qatar Airways awards to third regions which we'll discuss below.  
*Need new table* List of AA partners not bookable online: China Southern, Etihad*, GOL, and some S7 Airlines flights because the airports don't load on the website
If you're traveling on China Southern, Etihad, or GOL, your award travel must be booked by phone.
Booking award travel on China Southern Airlines
China Southern left SkyTeam and is now something of a free agent. American invested over $200 million in the airline, and the two have been partners since 2017. 
The best place to search for China Southern award space is on AirFrance.com or KLM.com using a Flying Blue account. China Southern still partners with both Air France and KLM, and their website is most accurate for displaying award space. 
You'll want to search from the origin and destination of your desired China Southern flights. If you find flights available, an agent at American AAdvantage can hold the flights for you and help you set them up for ticketing.
Booking award travel on Etihad
Etihad presents its set of unique challenges when redeeming AAdvantage miles. There's a lot to cover, so we've written a comprehensive guide to redeeming AAdvantages mile for travel on Etihad Airways.
Booking award travel on GOL
You can find GOL award availability on the Air France and KLM websites with a Flying Blue account. GOL partners with both Air France and KLM, and their websites display the space accurately. It's important to note the prices you see on either website do not matter when using American AAdvantage miles.
Once you've found flights you'd like to book, you can call American reservations at +1-800-843-3000 to hold the flights and set them up for ticketing. You'll need to ask the agent for your GOL record locator to call GOL and select seats after ticketing. 
Booking an award that doesn't show up online
While it's gotten easier to use American AAdvantage miles, there are still some tricks you'll need to know for certain carriers.
Mixed cabin awards on partner airlines
American's website doesn't always display mixed cabin bookings well. Sometimes there will be business class or first class availability on two or three segments of a trip, but if not all segments have premium cabin award space available the AA website will only show the routing as available in economy. 
This is particularly common with Qatar Airways. It happens on routings to the Middle East, the Indian subcontinent, and Africa. 
For example, if you search for award space from Des Moines, Iowa to Male, the Maldives, you'll only see economy class options:
However, if you search for space segment by segment you'll see you can get as far as Doha in business and first class, while it's the final segment to Male that's the problem.
That final segment, DOH-MLE, only has award space in economy, which is why you only see economy class award space when searching for the entire route.
What you can do is hold the first segments to Doha, then call to add the final segment from Doha to Male in economy class. The award will still price by origin and destination, not segment by segment (so long as all connections are under 24 hours). 
So for this example, it'd be 70,000 miles for hte mixed cabin booking (U.S. to Indian subcontinent via the Middle East).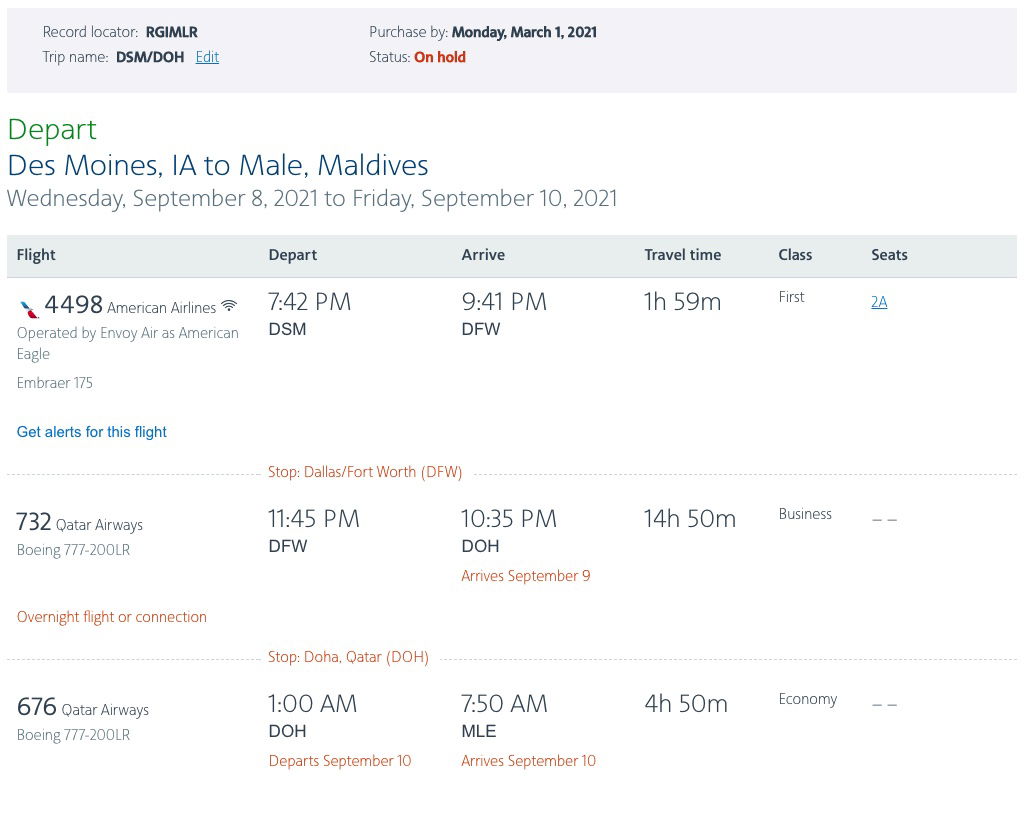 Generally speaking, you can mix partner award availability across cabins. There are a few carriers that have limits on this, like Etihad Airways and Japan Airlines. Sometimes routings on those carriers won't show business or first class award space the whole way through, and you can't mix segments together by phone. This is a case where your mileage will definitely vary. 
Upgrading to business class later on
You can keep your eye on any segments that don't have premium cabin award space, then should space open up you can give American a ring and upgrade that segment. There's no fee to do this. 
Additional tips and tricks for Qatar awards
Occassionally routings pop up with American and Qatar where business class simply doesn't show up by origin and destination. I recently noticed this on an award from Richmond to Zanzibar via Dallas and Doha. Richmond to Doha had first/business space available, and Doha to Zanzibar had business class award space, but all together it only showed economy class space. 
Here's what you see when you'd search for Richmond to Zanzibar:
But if you search for Richmond to Doha, you'll see first and business class the entire way through:
Finally, searching for Doha to Zanzibar also shows business class award space:
What I did was held the Richmond to Doha segments, then called American AAdvantage reservations to add the Doha to Zanzibar segment in business class. It priced properly, and there were no problems combining the segments that way. 
Long story short, if you don't see premium cabin award space for travel on Qatar Airways for routings via Doha en route to a third region (like Africa or the Indian subcontinent), be sure to search for space segment by segment.
How to avoid long hold times
Now especially as demand for travel picks up, at least domestically, one thing you can do to cut phone wait times is try calling one of American Airlines's foreign call centers.
Calling Germany, Singapore, Australia, or New Zealand
When there are long hold times with the US reservations line, you can try calling any of the foreign call centers to hold reservations. They can store and price things in the currency of the line of which you're calling (if you call the German line, they'll store a fare in Euros, for example). 
American's international reservation lines
You can find a list of numbers of all of American's international reservation lines here.
Some of the best ones include:
Germany: +49 69 2999 3234 (1 cent per minute on Google Voice)
Spain: +34 912 158 999 (1 cent per minute on Google Voice)
Hong Kong: +852 3057 9197 (3 cents per minute on Google Voice)
Singapore: +65 6349 8444 (1 cent per minute on Google Voice)
Australia: +61 2 9101 1948 (1 cent per minute on Google Voice)
It's trickier to ticket an award reservation when you call these reservation centers. They require a credit card issued in the country for whose number you're calling. It's best to just hold reservations via these reservations center, and call the US number later to issue a ticket.
Confirming and trimming your reservation
Once you have a reservation on hold, you will either need to pay the award taxes and fees on the website or by phone. Once you do this, you'll notice the reservation status changed to "On Request".
What does "On Request" mean?
Assuming you held your flights first, when you make payment the status of your reservation will move from "On Hold" to "On Request". Oneworld carriers typically ticket within a few hours, while non-oneworld partners like Etihad and Air Tahiti Nui can take a day or two to ticket. 
The ticketing queue is prioritized by departure date, so if your reservation isn't for a few months expect for it to take longer to ticket as well. 
It's very important to monitor your reservations to make sure the status changes from "On Request" to "Ticketed" within 48 hours or so. If you notice it's taking a while, you can call AAdvantage reservations to make sure there aren't any issues with the reservation. 
Assigning seats for travel on partners
If your reservation includes travel on any of American's partners, you will want to reconfirm seats with the operating carrier. American now displays partner codes on the website, so you can view your reservation online, make a note of the partner code, and call the operating carrier to confirm seats.
Changing or cancelling an AAdvantage award
While American's website is much better than it used to be for booking partner awards, one area where it still lags is cancelling and changing awards. If you need to make any changes or cancellations, you'll want to do so by phone.
Cancelling an award online
If you view a ticketed reservation on the website, you'll see there's a "Cancel" button. If you push that, the reservation will be cancelled, but the award won't automatically be refunded or redeposited. 
This is very, very important when cancelling award tickets. Not only do you need to cancel it online, but you must call to redeposit the miles and refund the taxes and fees by phone. You have one year from the date of ticket issuance to request the redeposit and refund, otherwise all miles are forfeited. (I think you might be able to get the taxes refunded.)
If you're cancelling anything, it's easiest to just do everything in a single phone call so as to not let it slip your mind. Now that AA has done away with cancellation and change fees, this is a cheap and easy process. 
Making changes to an award
If you need to change a ticket booked with AA miles, it is often easiest to instead start over with a new reservation. You can put the new flights on hold, then either:
Cancel and redeposit your existing award, and use those miles for the new ticket
Cancel the existing reservation, then apply the ticket number towards the new booking
Either of these options requires a phone call to American AAdvantage. Because of the challenges in spelling out what flights you want to an agent by phone, that's why we suggest instead holding what you can online. You can then sort out payment for the new award once cancelling the existing one. 
The only thing you'll need to be sure of is that the miles post right away. Usually AA miles redeposit within just a few hours.
Bottom line
American AAdvantage miles are an incredible mileage currency, with lots of value to be had for premium cabin redemptions. AA has made it much easier to book award travel online, but there are still some tricks to know that are both partner and route specific. 
What has your experience been like redeeming AAdvantage miles?