As of 2022, American Airlines is introducing the new Loyalty Points system for status qualification. What this means is that your AAdvantage status won't just be based on your flying activity, but it'll also be based on how many miles you earn through non-flying activities.
It'll be possible to earn Loyalty Points with several AAdvantage partners, including the American AAdvantage Dining program. So in this post I wanted to take a closer look at how that works, since I think quite a few people may want to take another look at the program.
Basics of American AAdvantage Dining
Several airline loyalty programs have dining programs, whereby you can earn bonus miles by registering for a dining program, linking an eligible credit card, and then dining at a participating restaurant while paying with your linked card. One of those programs is American AAdvantage Dining, where you can earn bonus AAdvantage miles (and as of 2022, Loyalty Points) when dining out at select restaurants, cafes, and bars.

How do the economics of this work? The restaurants are paying some sort of a commission on revenue earned through customers enrolled in this program. Admittedly a lot of restaurants have been struggling during the pandemic, but at least historically most of the participating restaurants have been in need of more business, and in many cases not amazing.
The beauty of the program is that you can always just take a look at what restaurants are eligible, and decide if any are worth it.
How do you register for American AAdvantage Dining?
Registering for American AAdvantage Dining is fast and free. You just have to provide your name, zip code, American AAdvantage number, and select a password. You need to be an AAdvantage member to participate, though your log-in will be separate from your AAdvantage account.
Note that at the moment new members can earn 1,000 bonus AAdvantage miles when they spend $25 or more on dining within the first 30 days.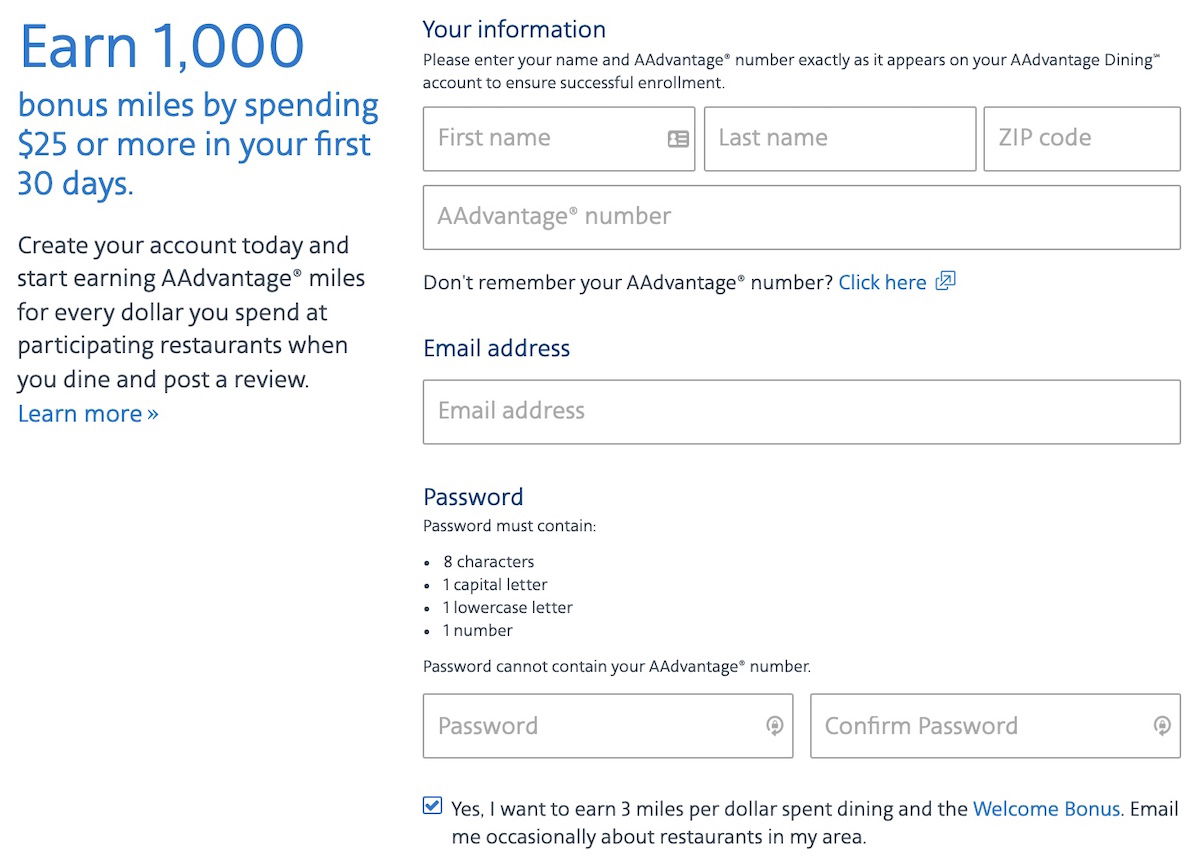 Which restaurants participate in American AAAdvantage Dining?
Thousands of restaurants throughout the United States participate in American AAdvantage Dining, and you can search them by location here. You might be surprised by just how many restaurants in your area participate.
The beauty of the program is that there's nothing that has to be "activated" every time you dine. Rather you're rewarded whenever you use a linked card at a participating restaurant. I've sometimes accidentally been rewarded for dining through the program, in the sense that I wasn't even seeking out an AAdvantage Dining restaurant, but happened to eat at one.
With each participating American AAdvantage Dining location you'll want to check about any restrictions:
Some locations only award miles certain days of the week, presumably based on how busy they are
There's generally a dollar limit as to how much spending you can be rewarded for at a particular location in a month (though it's typically in the thousands of dollars, so shouldn't be an issue for most people)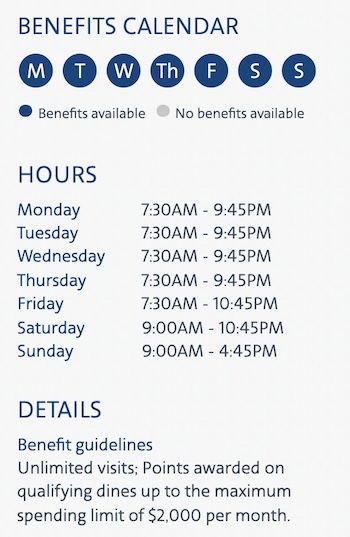 Also keep in mind that you'll only be rewarded if you make a purchase directly with that merchant. If you use a food delivery service like Uber Eats or DoorDash, you'll typically be billed by the delivery service rather than the restaurant, and therefore won't be eligible for rewards.
Which credit card can you use with American AAdvantage Dining?
American AAdvantage Dining requires you to link a debit or credit card. Virtually all cards qualifies, so I'd recommend linking one of the best cards for dining spending. The reason you need to link the card is so that you can be rewarded when you make an eligible dining purchase.
You can link an unlimited number of cards to your American AAdvantage Dining profile. The only catch is that you can't have linked the same card to another loyalty program's dining program (since they're almost all run by Rewards Network).
How many miles do you earn with American AAdvantage Dining?
The number of miles you earn through American AAdvantage Dining depends on how many purchases you make, and also whether you choose to accept email communications from the program:
Basic members earn 1x AAdvantage miles per dollar spent, if they elect not to receive email communications from AAdvantage Dining
Select members earn 3x AAdvantage miles per dollar spent, if they elect to receive email communication from AAdvantage Dining
VIP members earn 5x AAdvantage miles per dollar spent, if they elect to receive email communication from AAdvantage Dining and have already completed 11 qualified transactions in the calendar year (so VIP status kicks in starting with the 12th qualified transaction)
Personally I value AAdvantage miles at 1.5 cents each, so to me earning 5x AAdvantage miles would be the equivalent of an incremental 7.5% return on dining spending. What makes this even better, though, is that as of 2022 those miles are qualifying Loyalty Points, so will qualify towards your elite status. Then there are also credit cards offering significant rewards for dining spending, which is on top of that.
Is American AAdvantage Dining worth it?
Obviously it's not worth overpaying for a bad meal just so that you can earn bonus miles. That being said, you might be surprised by some of the restaurants in the area on your list. For example, in my area, one of my favorite restaurants and one of my favorite coffee shops are both on the list.
So not only can I earn bonus AAdvantage miles for spending with those businesses, but as of 2022 dining out will even help me earn AAdvantage elite status.
Personally I think the AAdvantage Dining program is, at a minimum, worth being aware of, and worth keeping an eye on. And if your loyalty is with another airline program, then I'd recommend checking out that program's dining portal, because most major airlines in the United States have one.
I would argue that the American AAdvantage Dining program will soon be most lucrative, given the status angle.
Bottom line
American AAdvantage Dining offers up to 5x AAdvantage miles for purchases at select restaurants with linked cards. As of 2022, miles earned through AAdvantage Dining will qualify as Loyalty Points, and will count towards elite status.
If you haven't yet taken a look at AAdvantage Dining, it's a program that's worth keeping in mind. And if you time your first purchase right, the welcome bonus of 1,000 AAdvantage miles for spending $25 could even count towards 2022's Loyalty Points.
Is the new Loyalty Points system changing whether or not you'll participate in the AAdvantage Dining program?