---
Now, this is more of a personal story than an airline or hotel review, so if that doesn't interest you, feel free to skip this post. I figured I'd share the story of how I pulled off this surprise engagement trip, even though I usually suck at surprises.
Ford and I talked about the possibility of getting engaged a while back, and at the time I jokingly said "let me surprise you." If I recall correctly he laughed out loud, because I'm the worst person imaginable at surprises. Hopefully there are a few reasons Ford loves me, but my ability to surprise isn't one of them. I'm just absolutely horrible with surprises, partly because I'm not at all creative, and partly because I have a terrible poker face.
The last big surprise I pulled off was with my dad, when I took him on a round the world trip for his birthday. But that was easy enough to do, because my dad quite doesn't have a cell phone and doesn't use the internet, so that was a secret that was super easy to keep. Furthermore, he knew we were going on a trip, just not where we were going. This was different.
While I'm not quite sure how I got myself into this, apparently I was proposing, and apparently it was going to be a surprise, because I can't turn down a challenge. Oops. However, I didn't give a timeline, and did say we had so much going on, maybe later this year, etc.
However, in this case we were in NYC for a weekend for some family commitments, and I figured this was the perfect opportunity to pull off a surprise trip.
I met Ford in NYC, and I told him before that we'd be flying back to LAX on American on Monday at 3PM. I explained that American was opening their Flagship First Dining facility that week, and I wanted to be among the first to review it. So I told him I booked us $650 business class tickets on American and managed to upgrade them to first class with Business Extra certificates.
I figured this story was believable since:
Ford knows how focused I am on reviewing things as quickly as possible
I got a deal on the flight, as far as he knew, and Ford knows I can't turn down a deal
In reality I had just booked fully refundable American first class tickets to LAX. Little did he know that I had Air Serbia tickets booked from New York to Belgrade, departing around the same time.
Sometimes I'm not great with details (to put it mildly), and this was one of those cases. I had the flights and hotels figured out, but I hadn't actually decided when I was going to tell him we weren't going to LAX.
I told him I wanted to go to the airport plenty early to review the new lounge, so we took an Uber to JFK at around 9AM, and asked for us to be dropped off at Terminal 8 (American's terminal).
We had our mobile boarding passes for our flights to LAX, and as it turned out, we were able to get a tour of the new Flagship First Dining facility. This was totally coincidental and had nothing to do with my grand plan. That's because the Flagship First Dining facility open was delayed, so we couldn't use it anyway.
We got a tour of the lounge, and probably spent about an hour in the Flagship Lounge. We had stored our luggage in the lounge, and I said "let's get our luggage."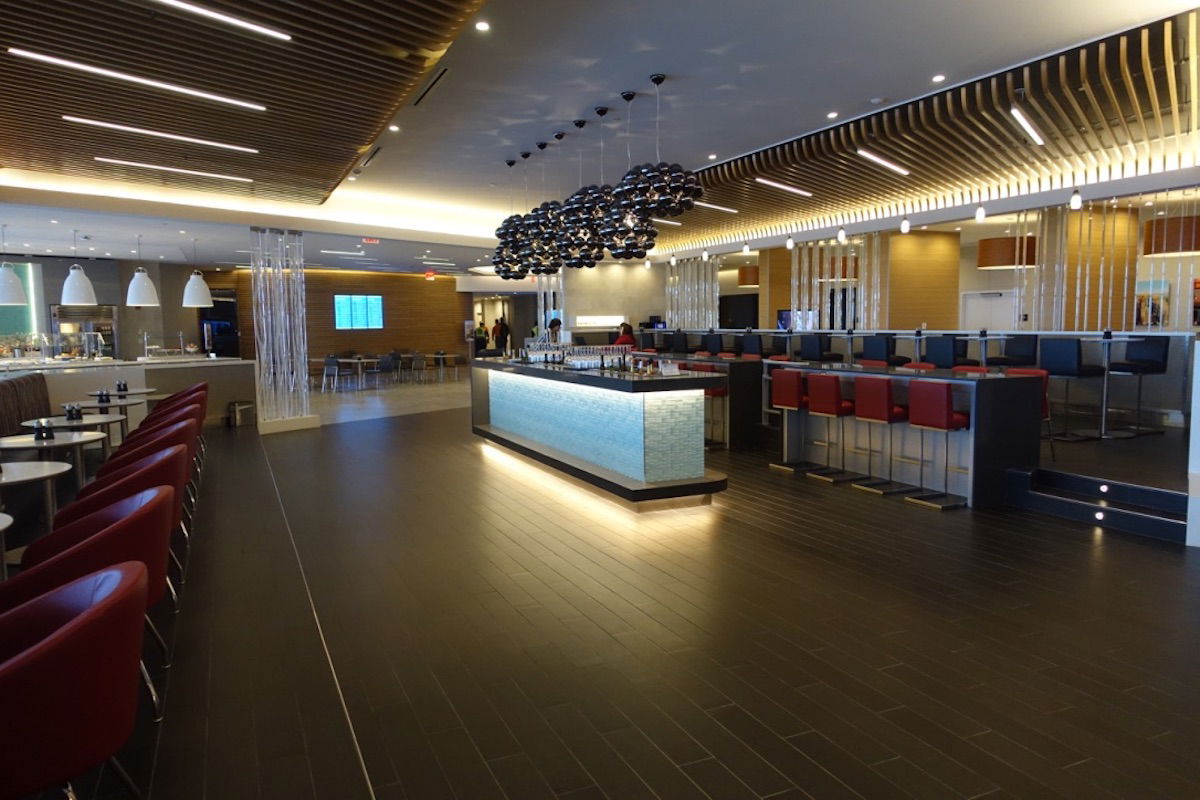 We got our bags, and at this point I walked towards the elevators and pushed the "down" button.
Ford asked "where are we going?"
Like I said above, I hadn't actually thought through how I was going to execute this, so I was kind of just going with it.
"I'm hungry, let's go eat something."
"But they have food here?"
"Meh, it doesn't look very good, let's go to that Michael Jordan's Steakhouse thing."
Ah, crap, because the food actually did look pretty good, and I think Michael Jordan's Steakhouse is at Grand Central Terminal, and not JFK Terminal 8. Oops. 😉
"Michael Jordan's Steakhouse? What are you talking about?"
"Actually… we're not going to Los Angeles."
"What do you mean?"
"We're not going to Los Angeles!"
"But… I thought you booked non-refundable American tickets and upgraded us?"
"Nah, those were just refundable tickets."
Ford had a confused look on his face for about 10 seconds, and then a big smile on his face when he realized what was going on. And if I'm being honest, I almost cried a bit, and I'm not someone who ever shows emotion.
I wasn't thinking straight at this point. While I can usually walk through a terminal with my eyes closed, I think I took about 40 wrong turns while getting us from Terminal 8 to Terminal 4.
At this point I still hadn't actually told Ford where we were going. He eventually found out we were flying to Belgrade when we got to the Air Serbia check-in counter, though I still didn't tell him where we were going from there. So all he knew at this point was that we were flying to Belgrade.
Two hours later he was happily ensconced in his Air Serbia business class seat, still trying to figure out where we were going.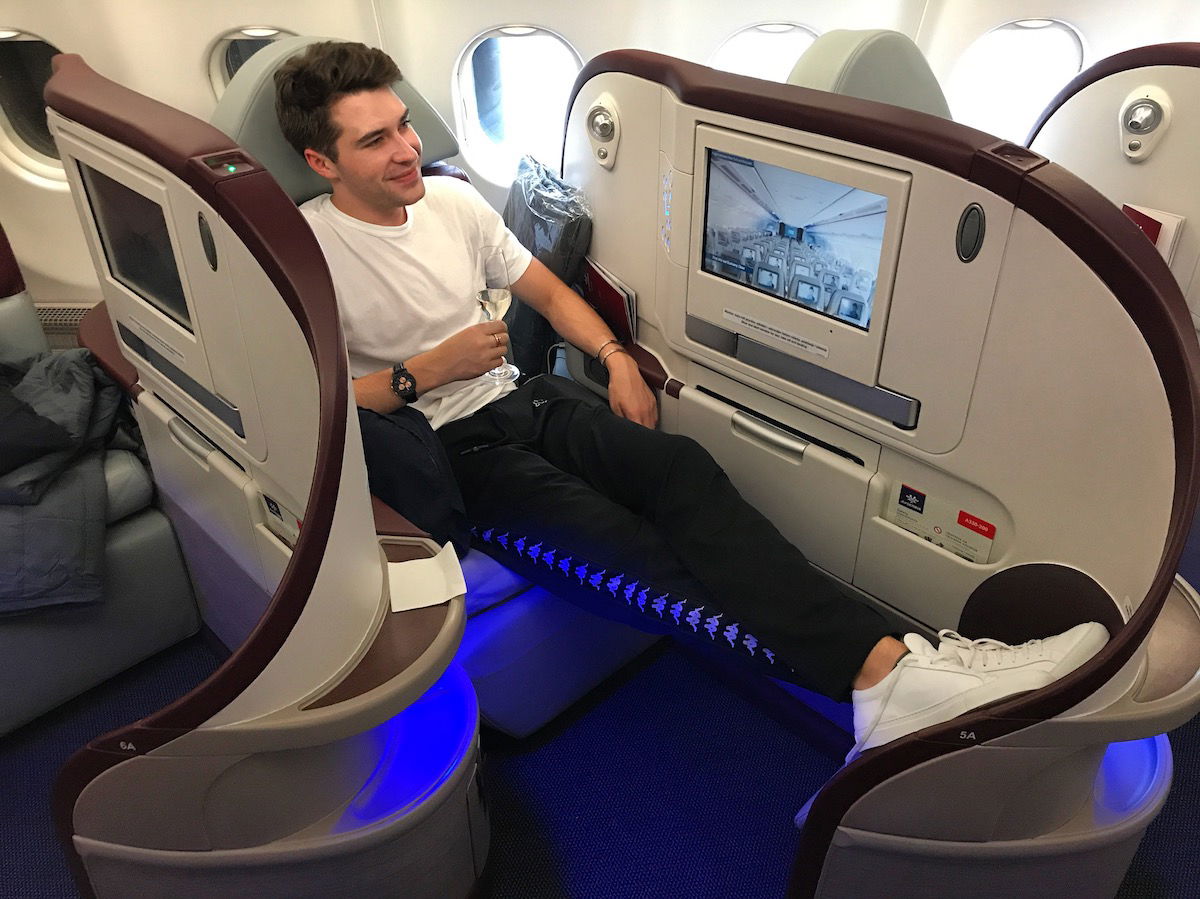 I have to be honest, I was a bit worried that Ford would see this coming. One concern was regarding his passport, which I didn't think he'd bring. So I had someone back in LA ready to overnight it to NYC if needed. When he got to NYC I checked his bag, and sure enough he had packed his passport.
I asked him about this after the fact, and he said that I'm crazy and he never quite never knows where he's going, so he always packs it. He has learned well, eh? 😉
I was relieved when I found out that he was actually caught off guard… whew.