Earlier I wrote about American's new Flagship First Dining facility at JFK, which is the first of its kind. American will be opening these in Los Angeles and Miami later this year, and in Dallas and London in the future. These are available exclusively for those traveling in three cabin first class, so this isn't available to business class passengers, oneworld Emerald members, etc.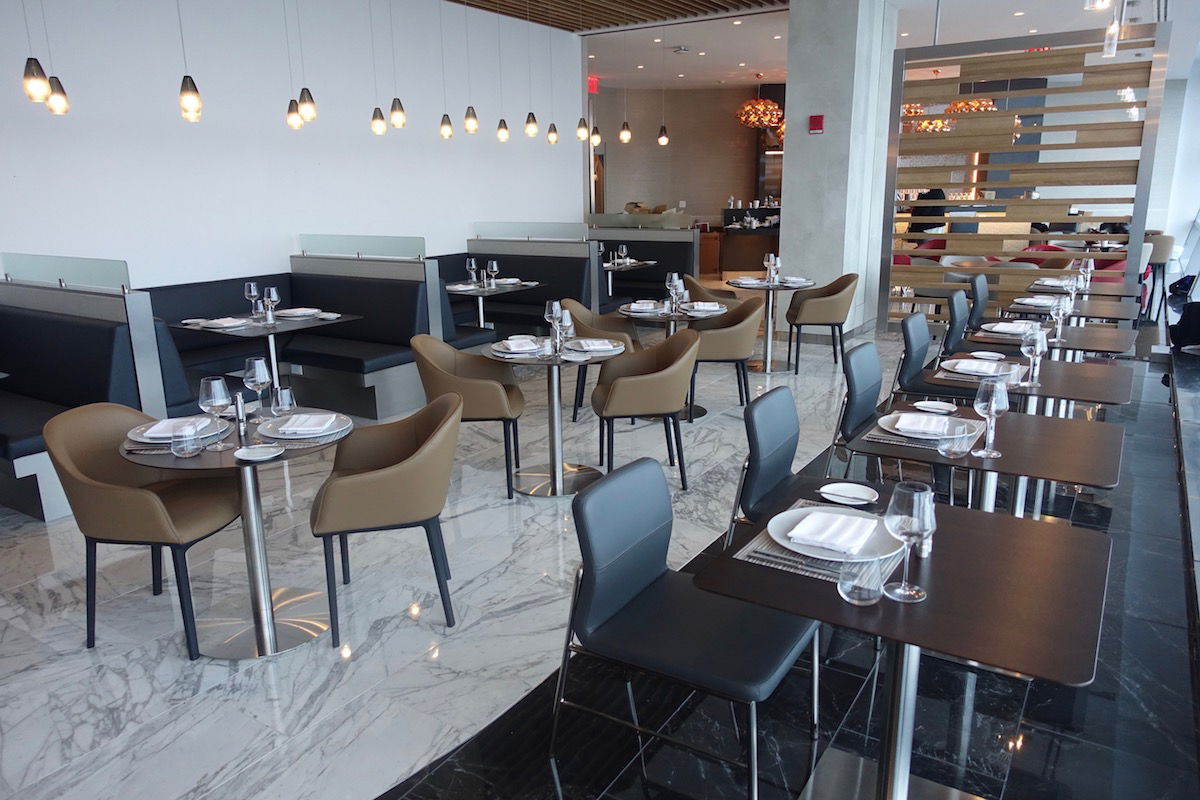 However, American has now also officially opened their new Flagship Lounge JFK, which is available to international first and business class passengers, as well as oneworld Sapphire and Emerald members (those with status through AAdvantage need to be traveling internationally to use the lounge).
As I'll explain below, this lounge features a much improved food selection, including a menu off of which you can order.
American's new Flagship Lounge JFK
Previously the Flagship Lounge was only open to international first class passengers and oneworld Emerald members, while now it's open to international business class and oneworld Sapphire members as well. As a result, the space is much bigger than it used to be.
First, for reference, here's my review of American's old JFK Flagship Lounge.
Then in March I reviewed the new Flagship Lounge JFK, though at the time it wasn't operating under the new concept yet. While the space I reviewed was the renovated space:
It didn't yet feature the new Flagship Lounge food & beverage selection
Not the entire expanded space was open yet
So this won't be a full review of the lounge, but rather a supplement to my previous review of the physical space.
Most of the lounge was already open the last time I visited…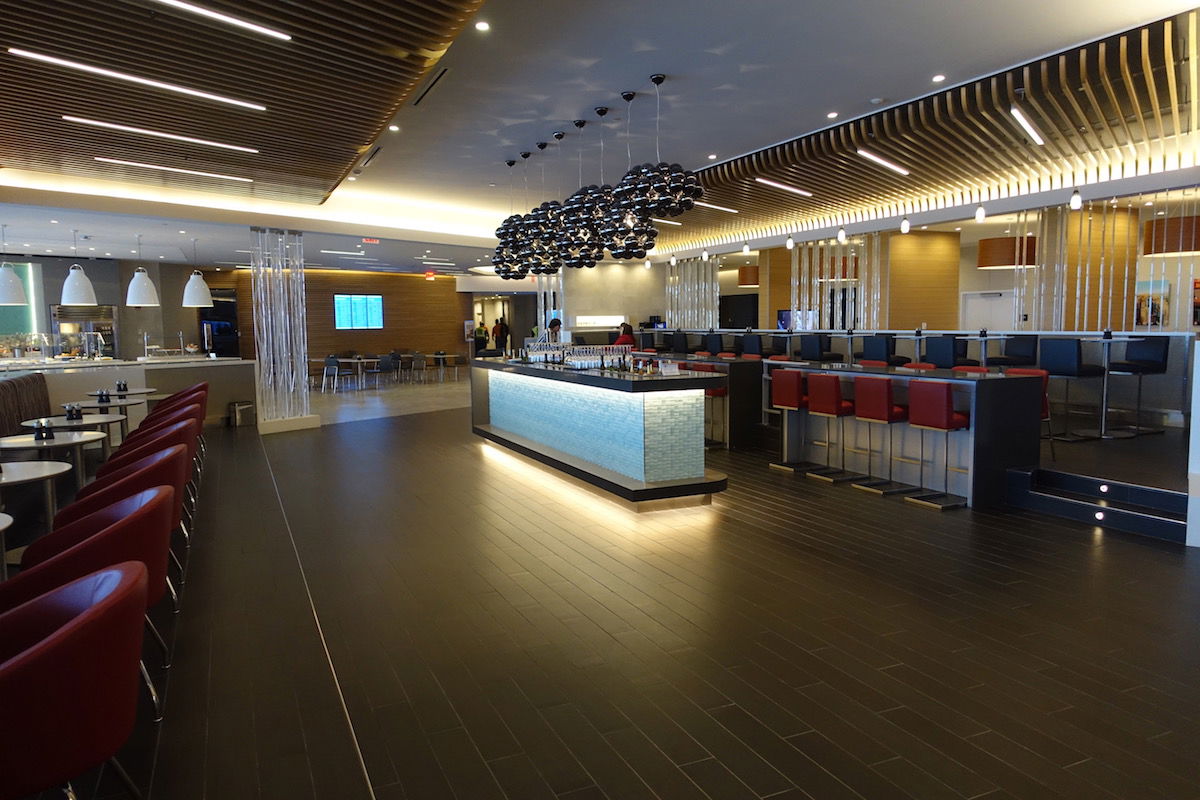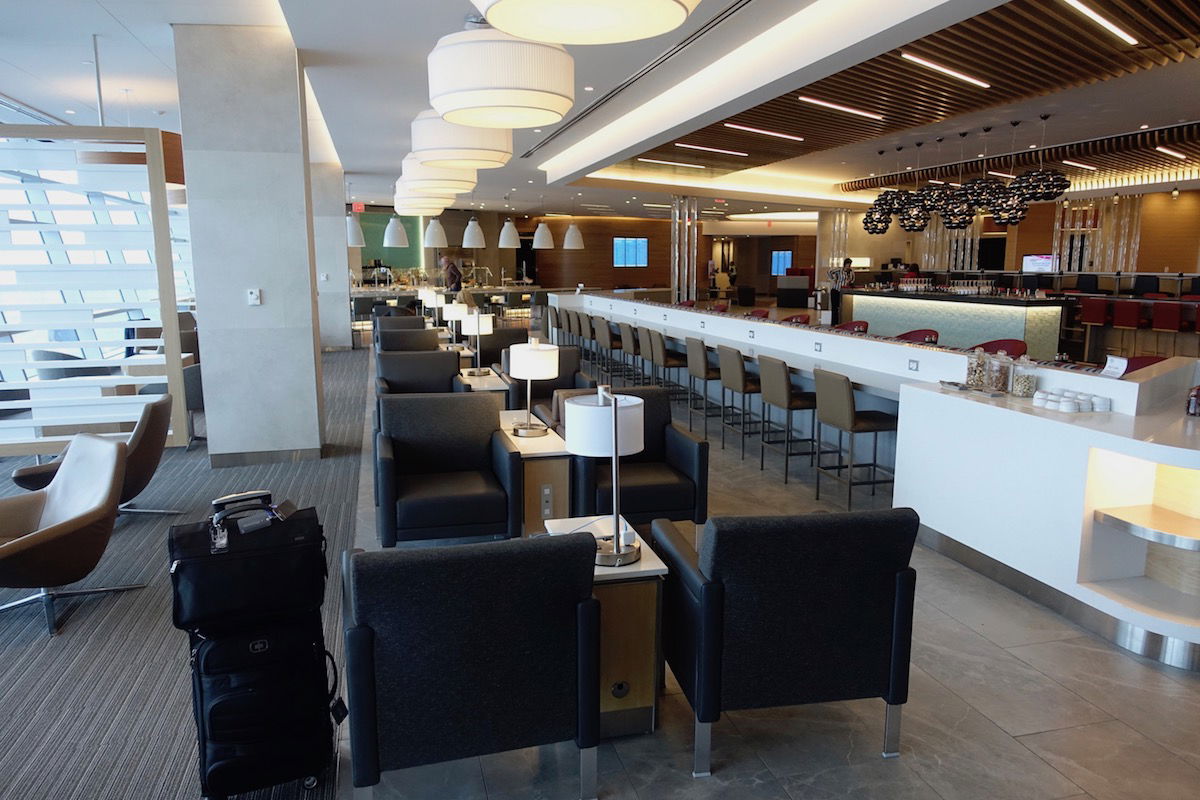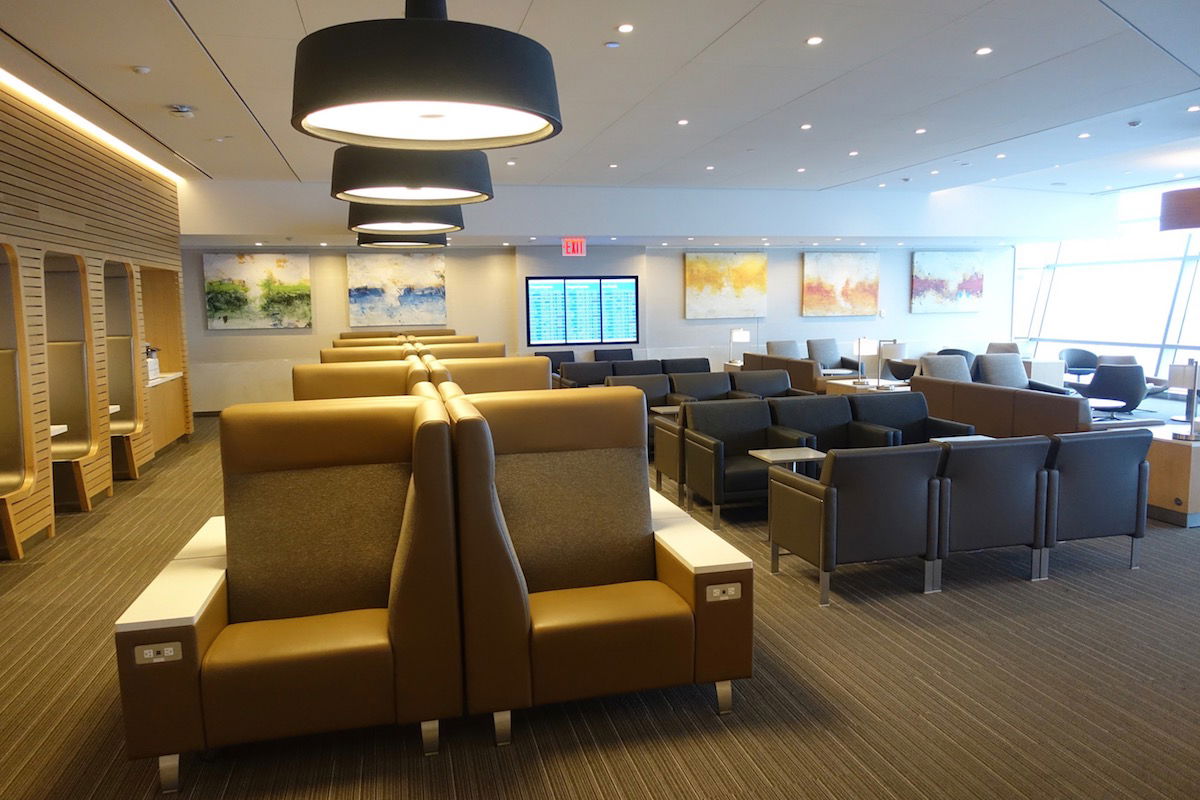 The only part that wasn't complete was the area that was walled off last time, which is located near the entrance. The expanded space is essentially the tiled area below. So this includes some dining tables, communal tables, relaxation chairs, and the nice-looking buffet. So the lounge is a bit bigger than the last time I visited, but not that much bigger.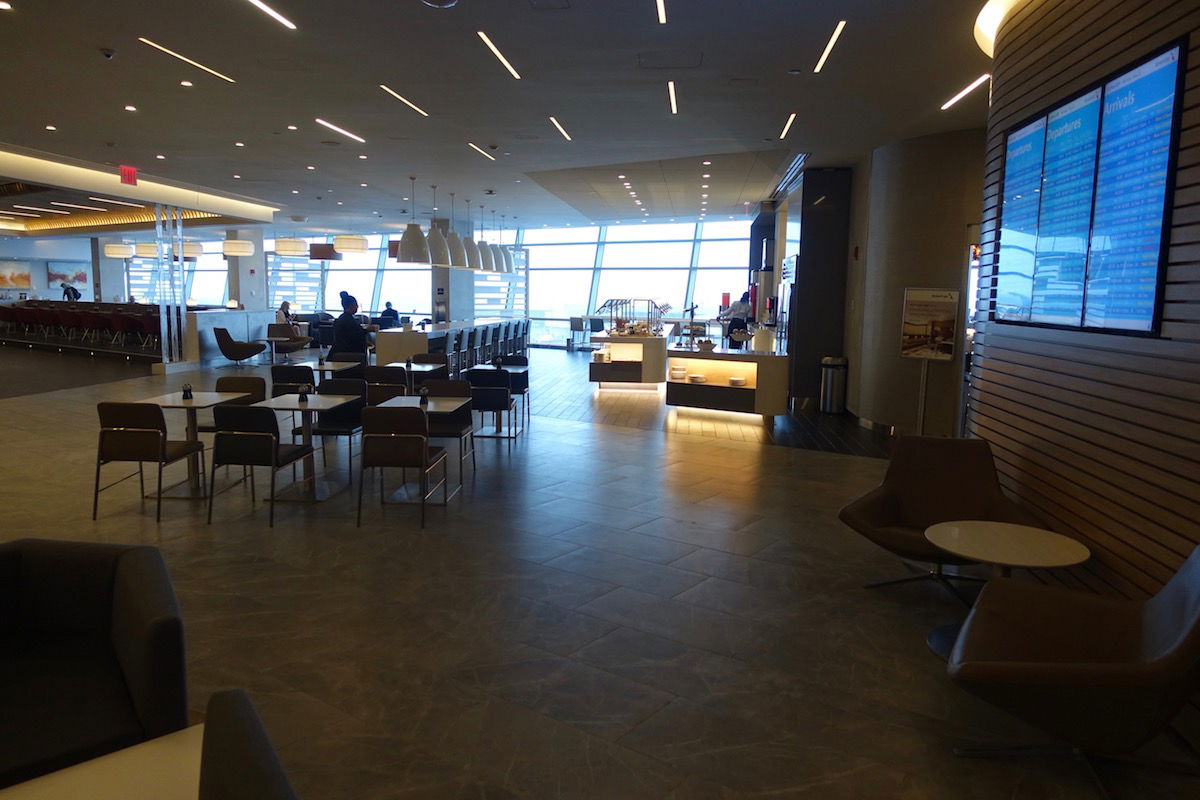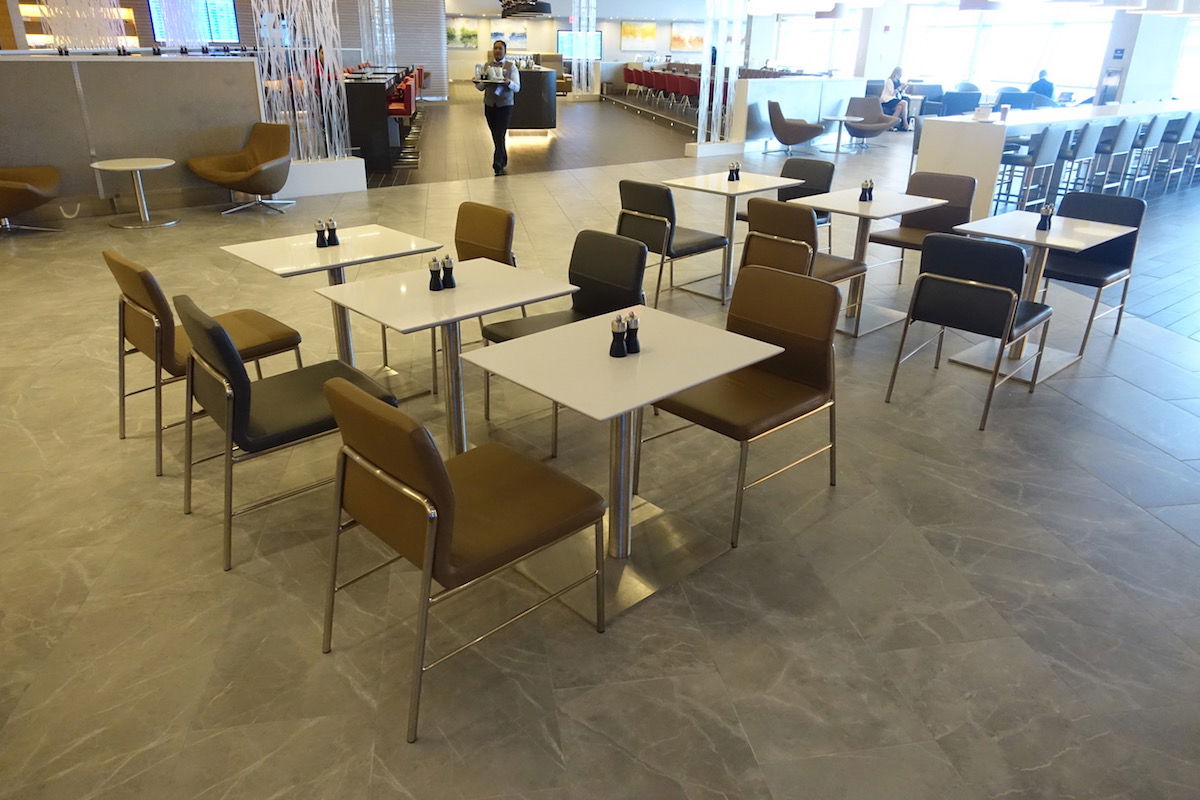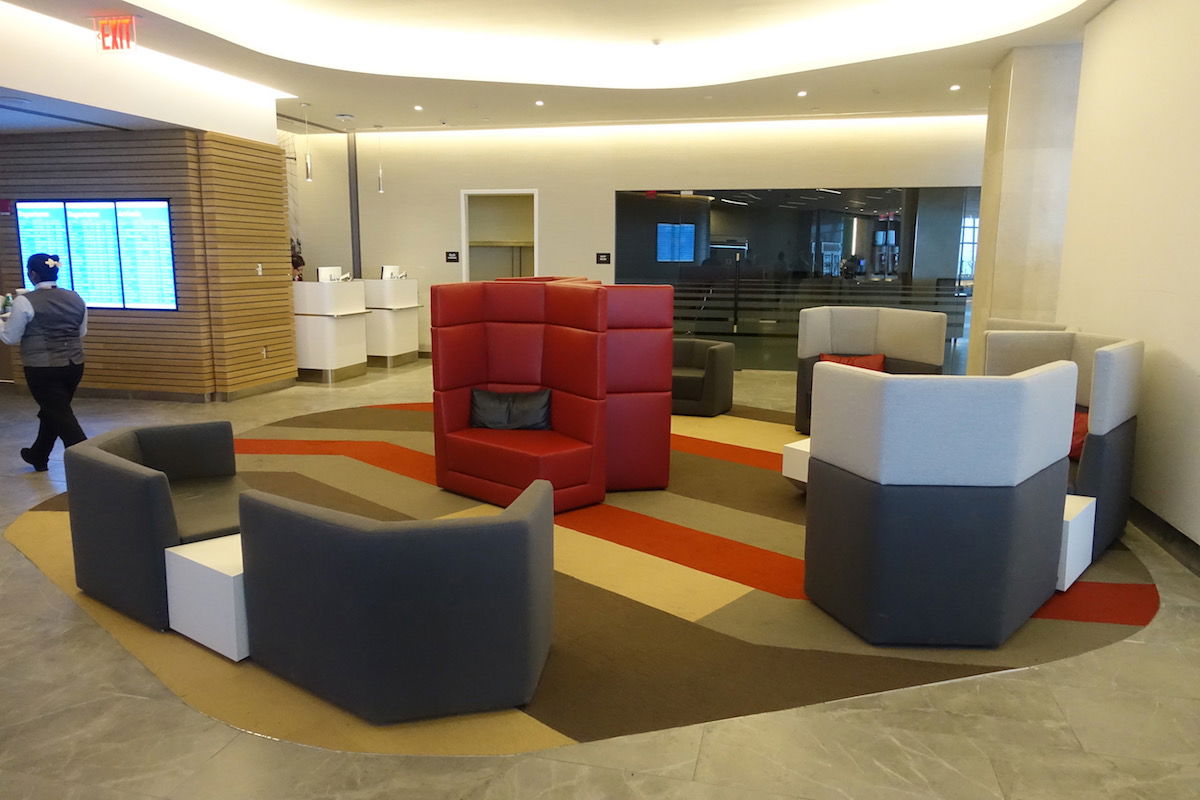 American's new Flagship Dining selection
Again, this is separate from American's Flagship First Dining area, but American has also revamped their Flagship Lounge dining selection. I have to say that I'm impressed — the selection has been very nicely improved.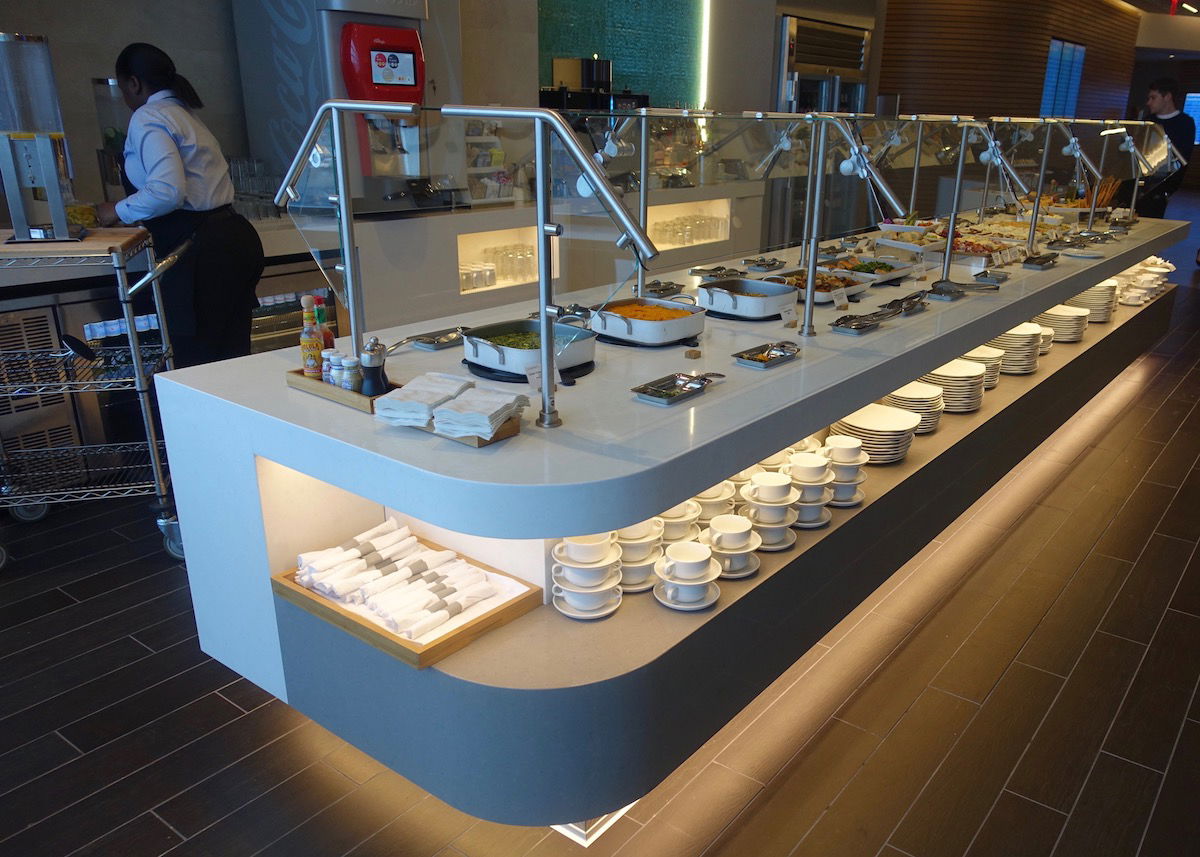 There's an improved selection of cold options, including a cheese board that actually looks appetizing, chilled tenderloin, individually plated appetizers like chilled crab and shrimp shooters, etc.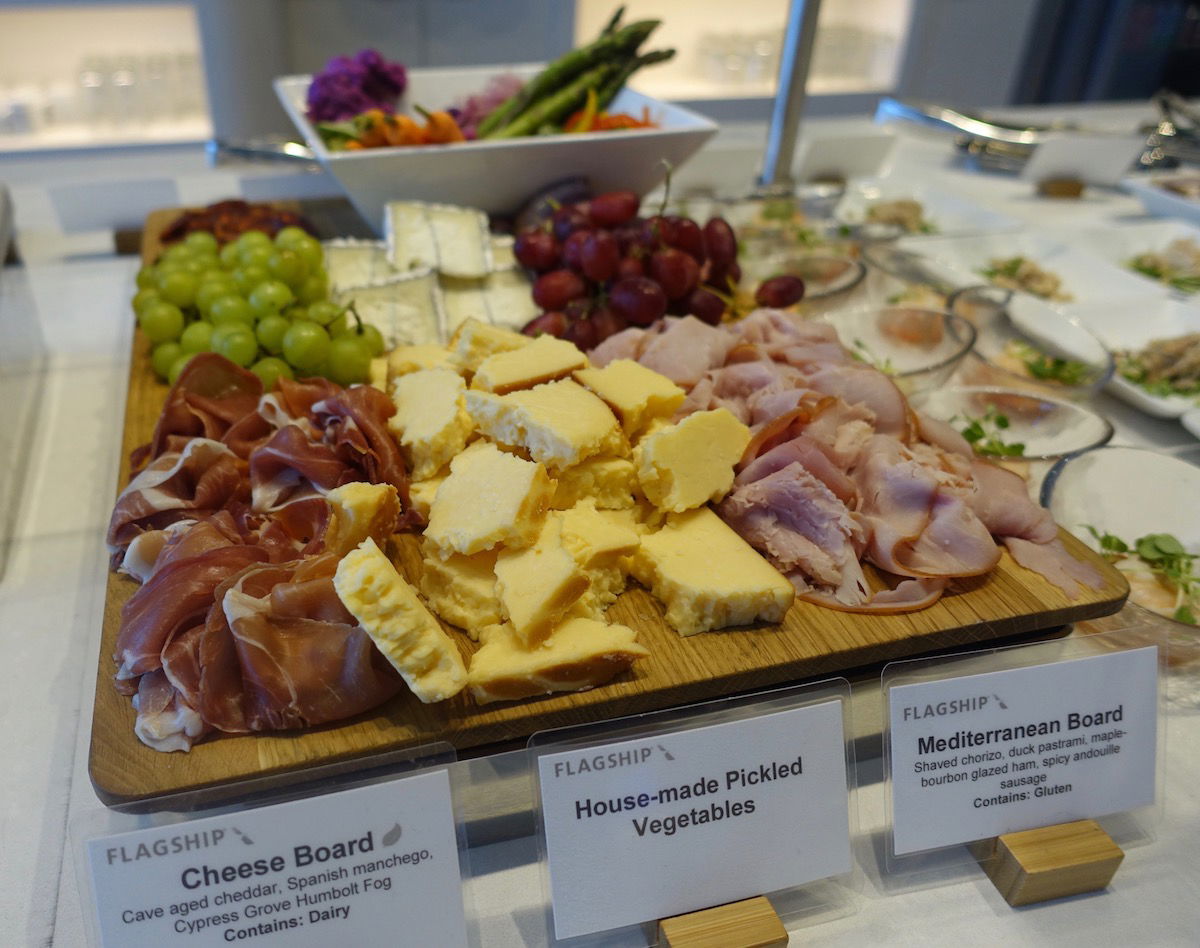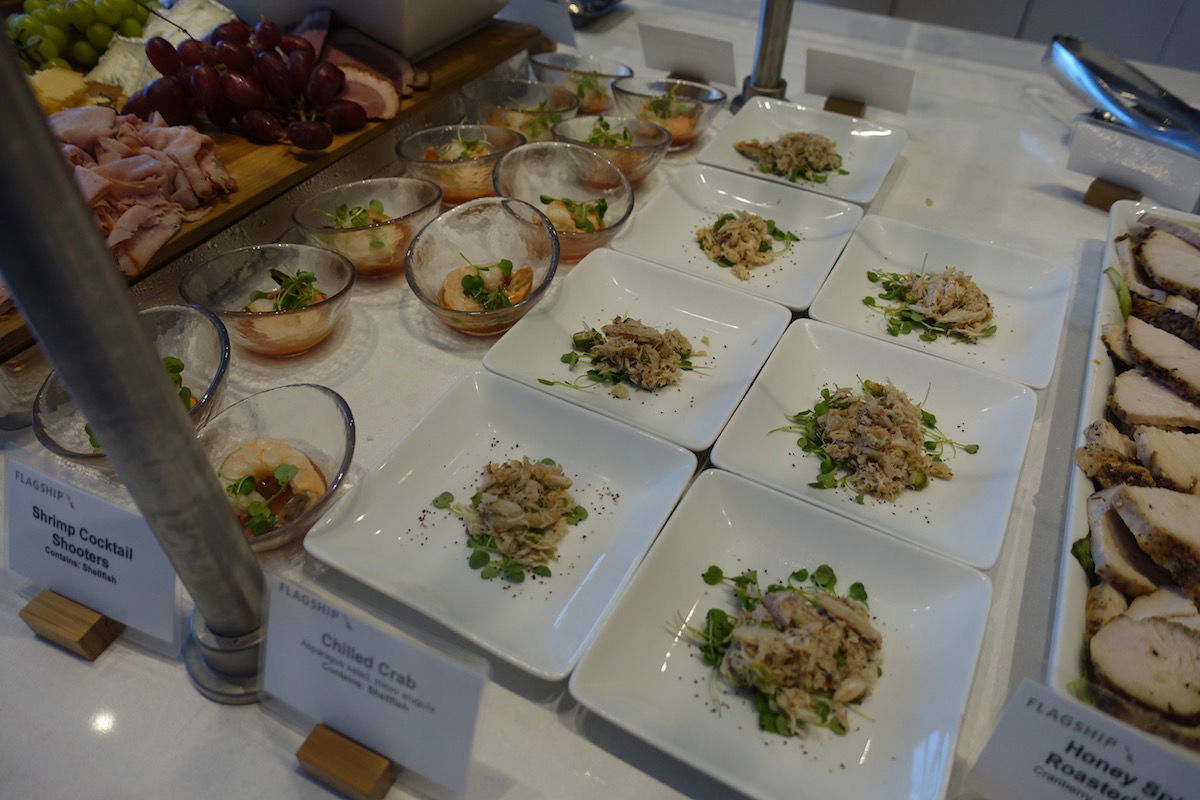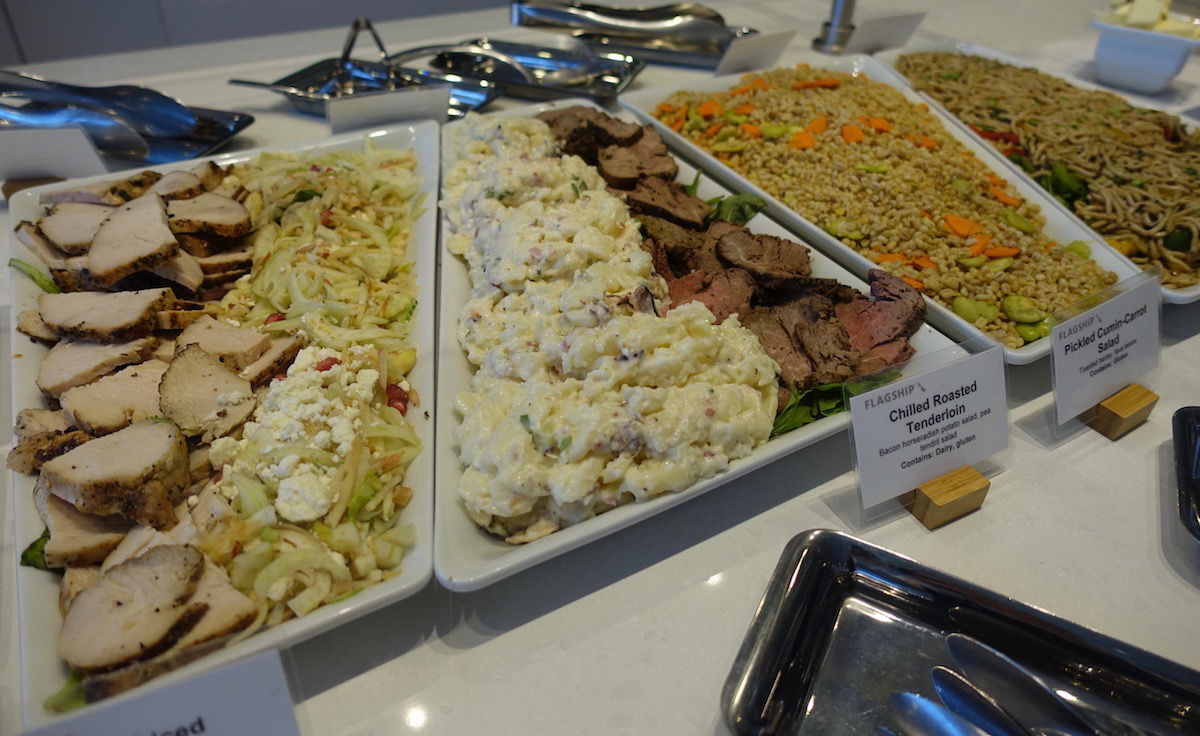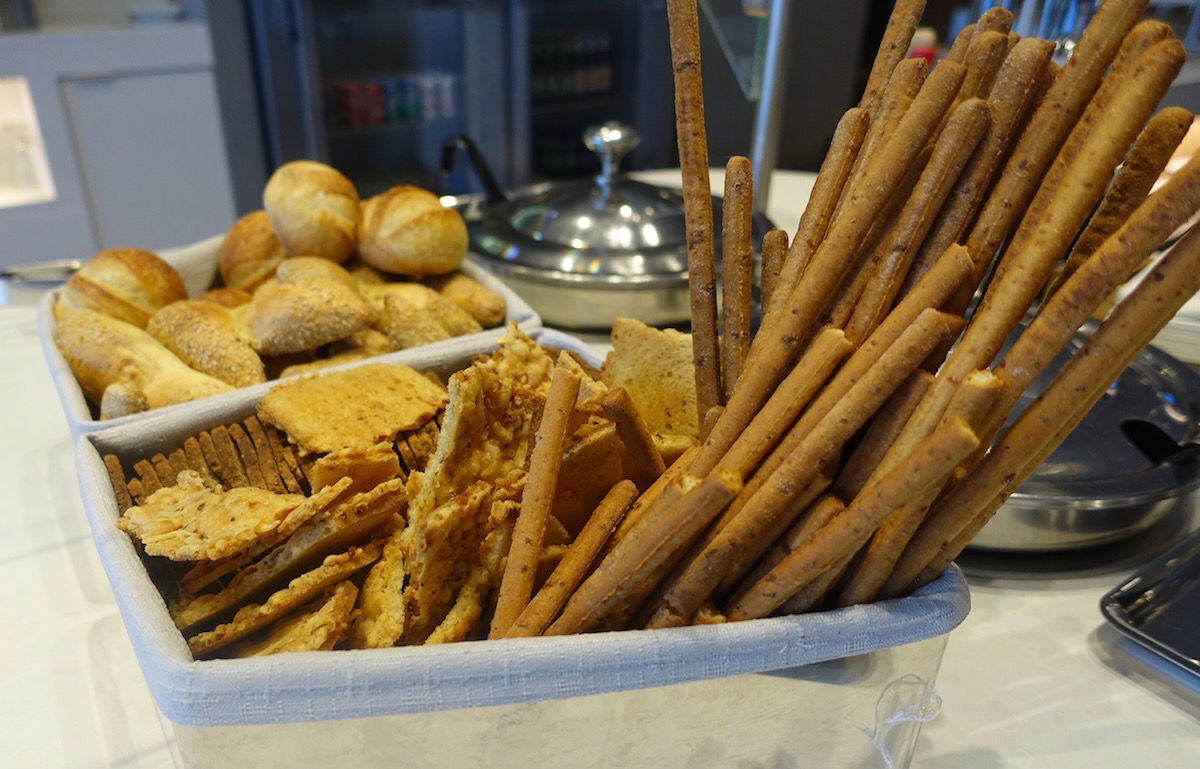 The hot options even look really good, including things like chicken and salmon.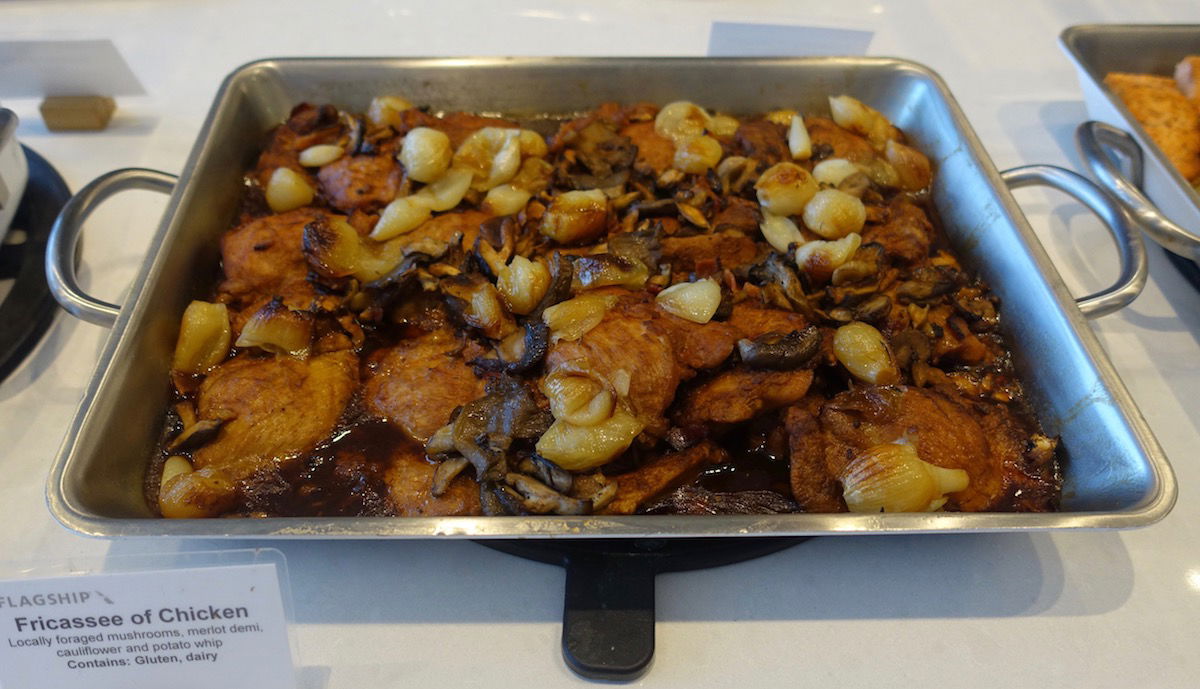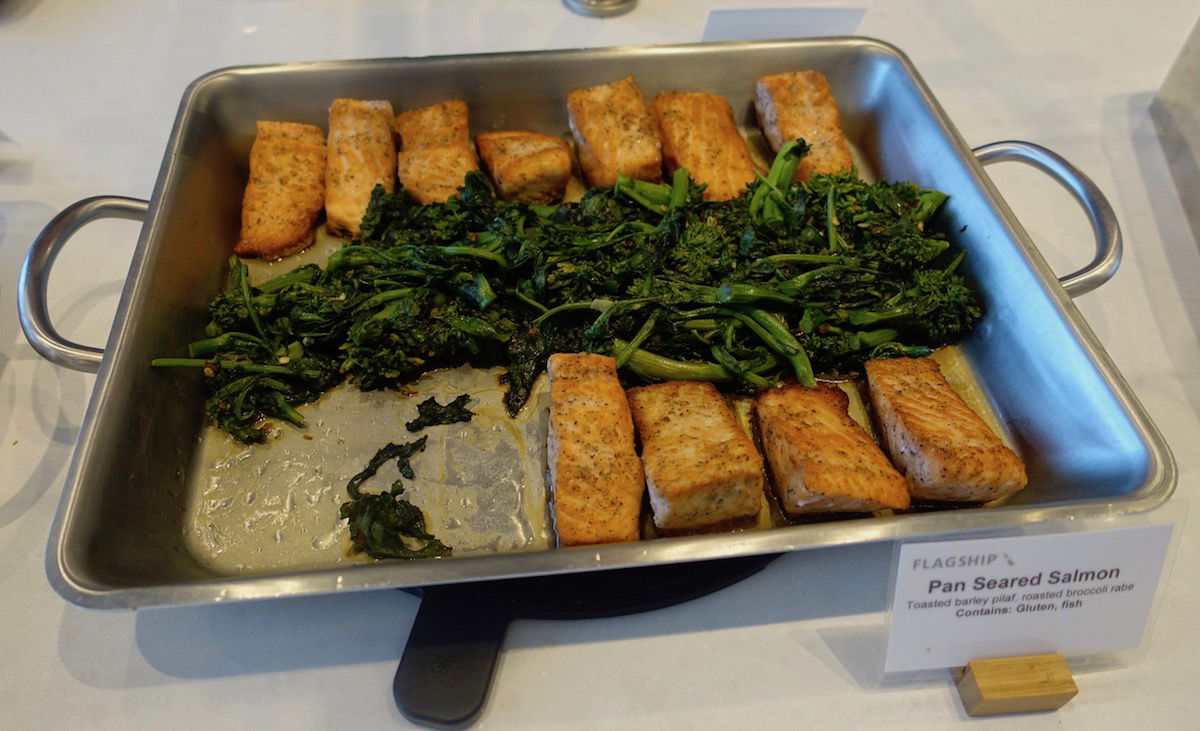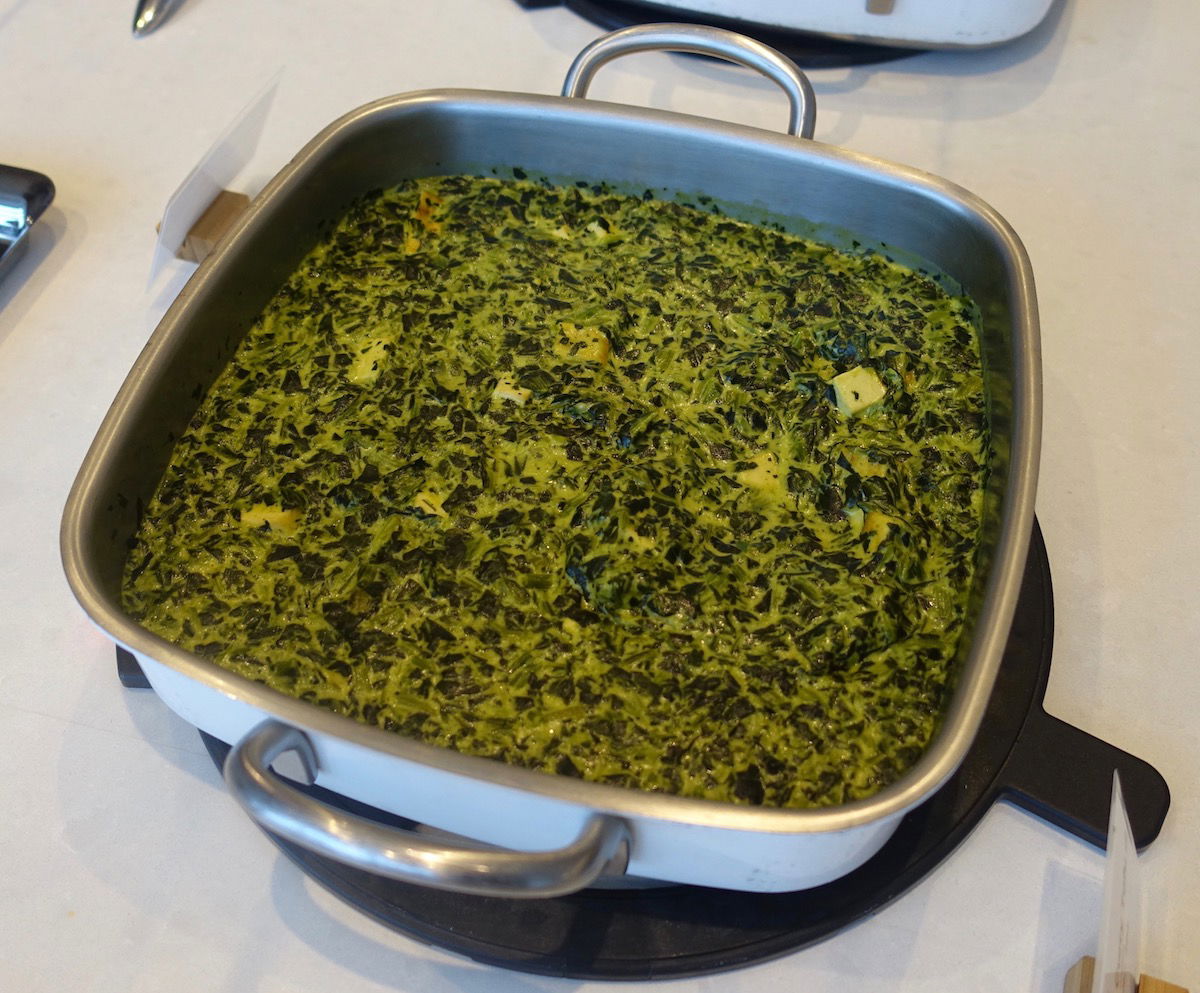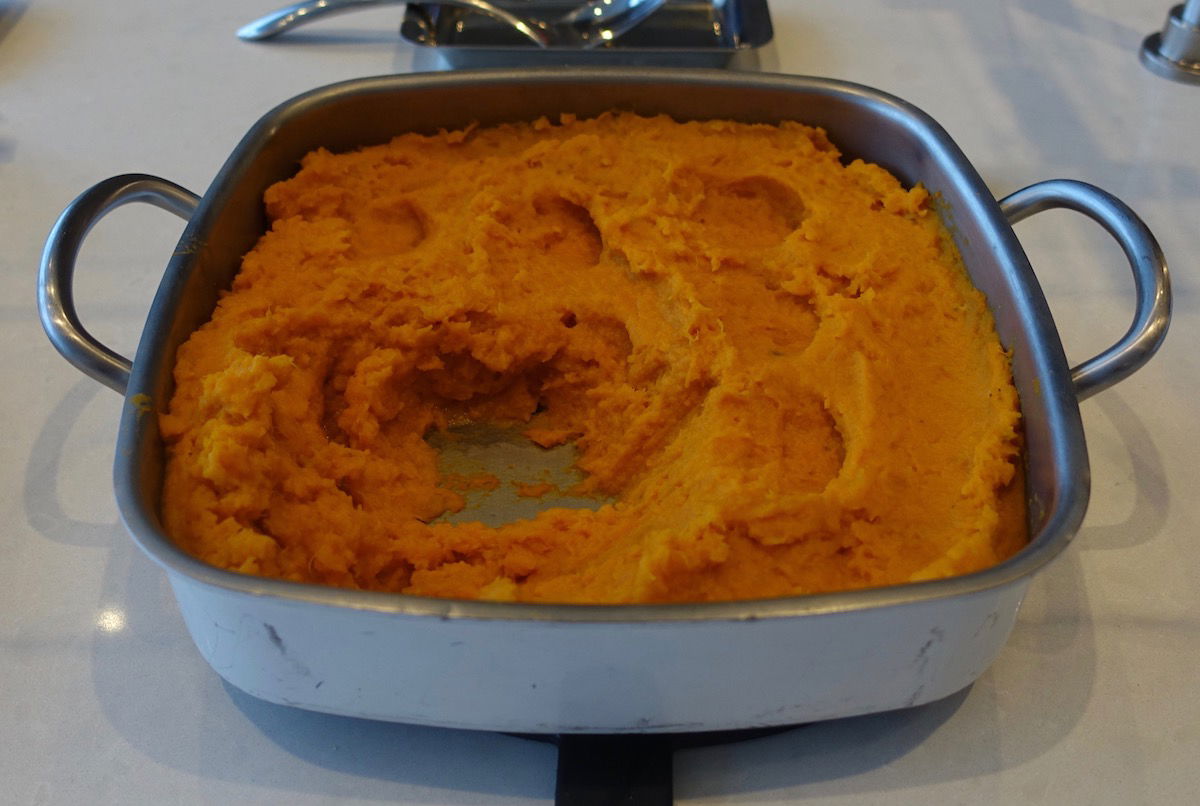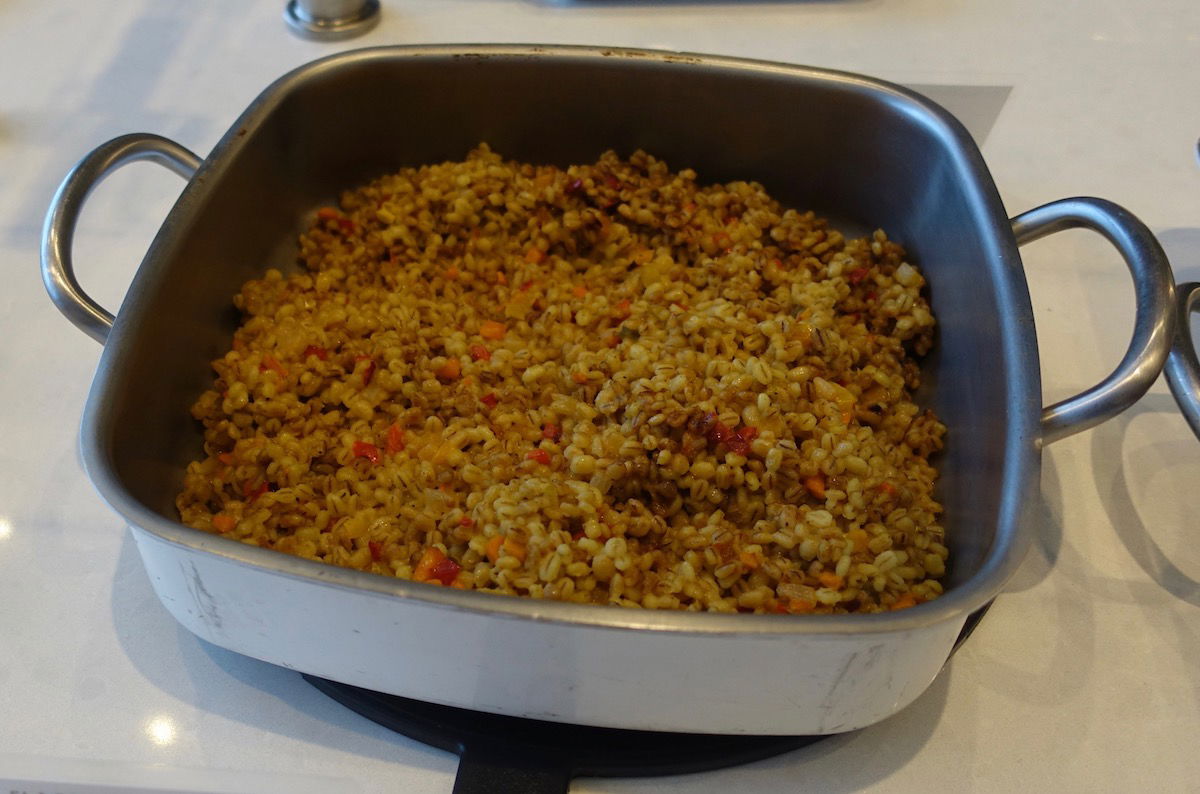 There's also a nice selection of desserts.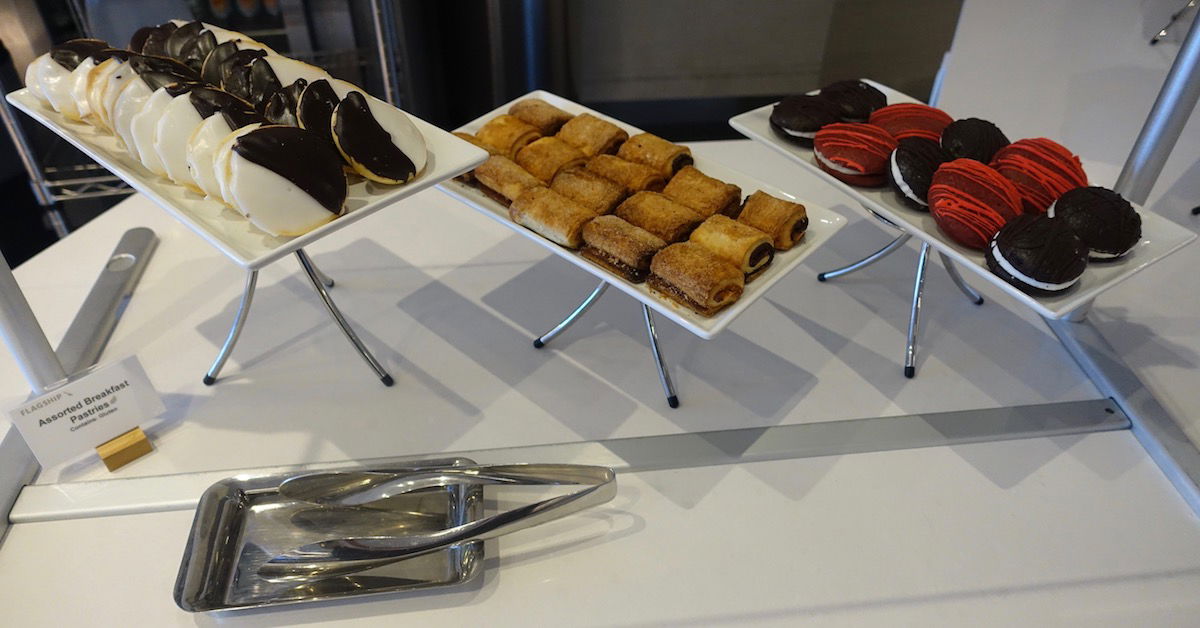 In terms of drinks, there's Bollinger champagne, and a fairly decent selection of red and white wines.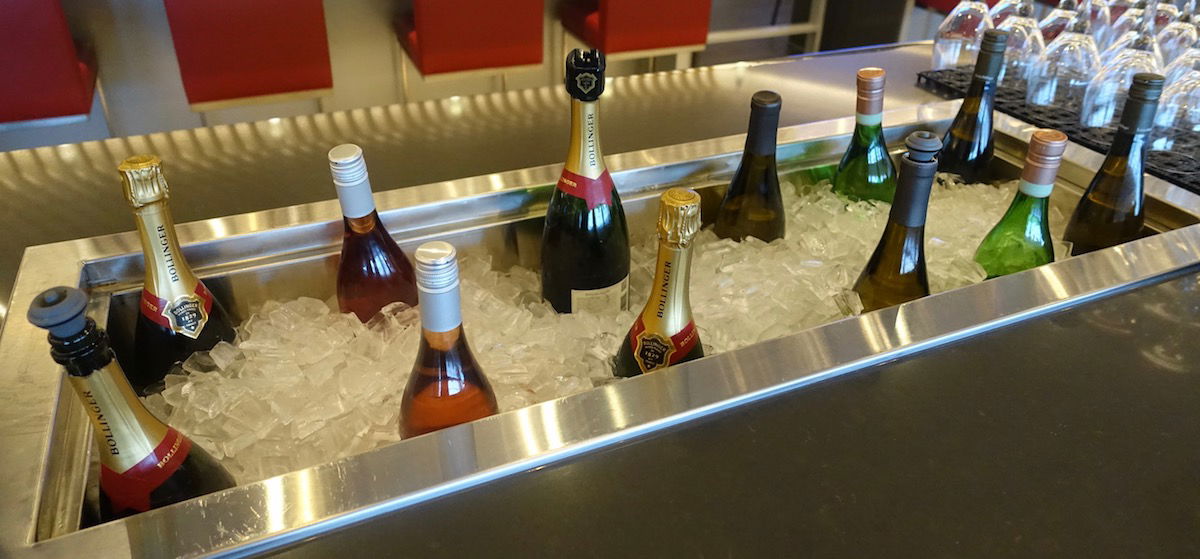 There's also a respectable selection of self serve liquor.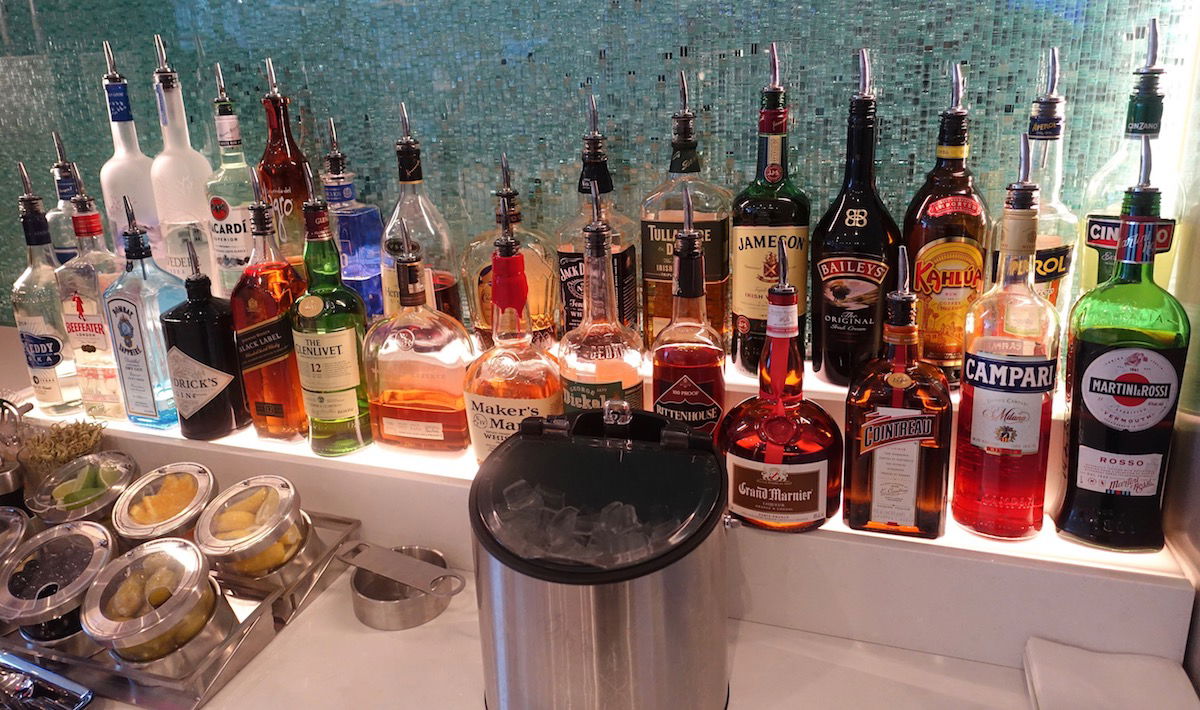 Then there's a make your own cocktail station; in this case they had bloody marys.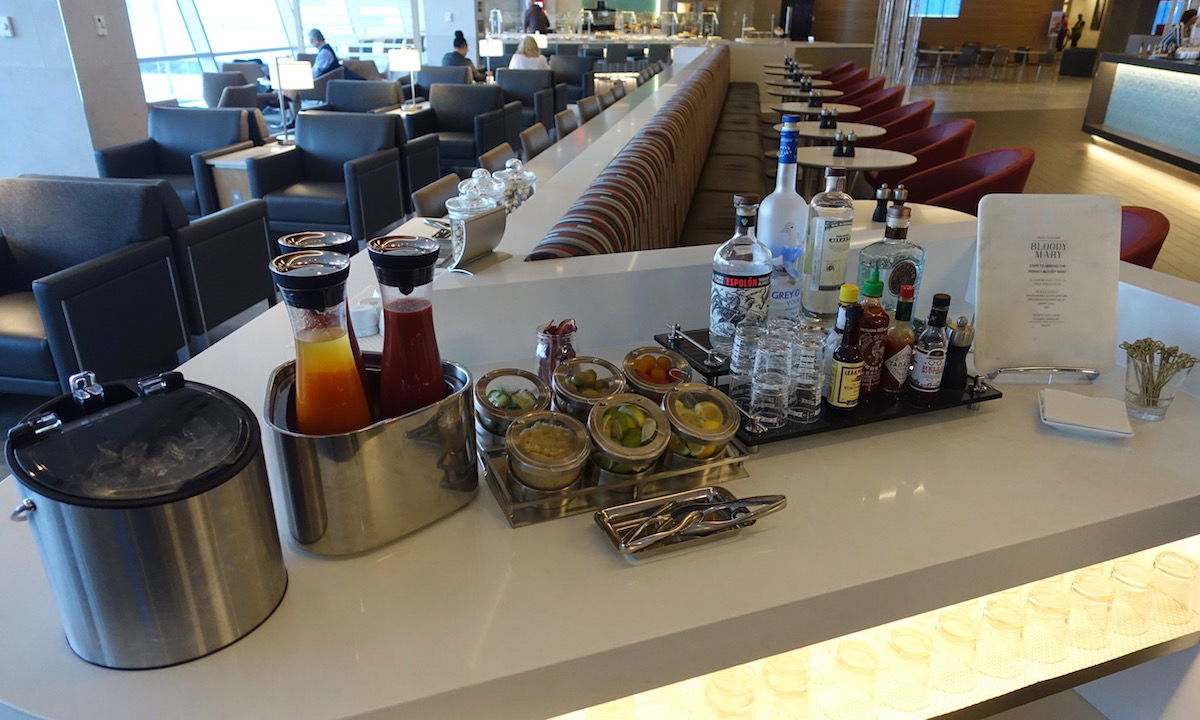 Then there's a fridge with soft drinks, beer, San Pellegrino sparkling water (yay!), etc.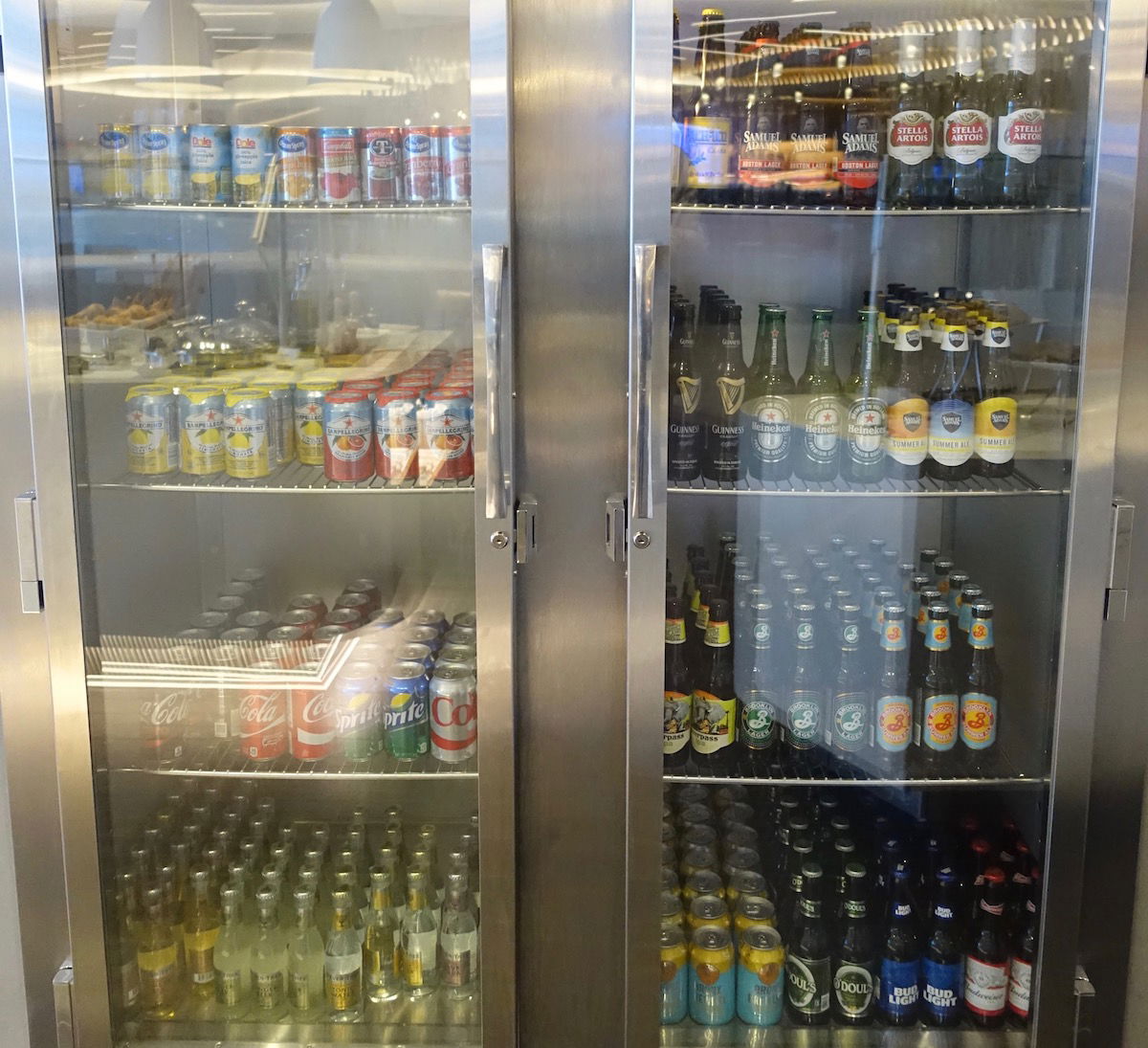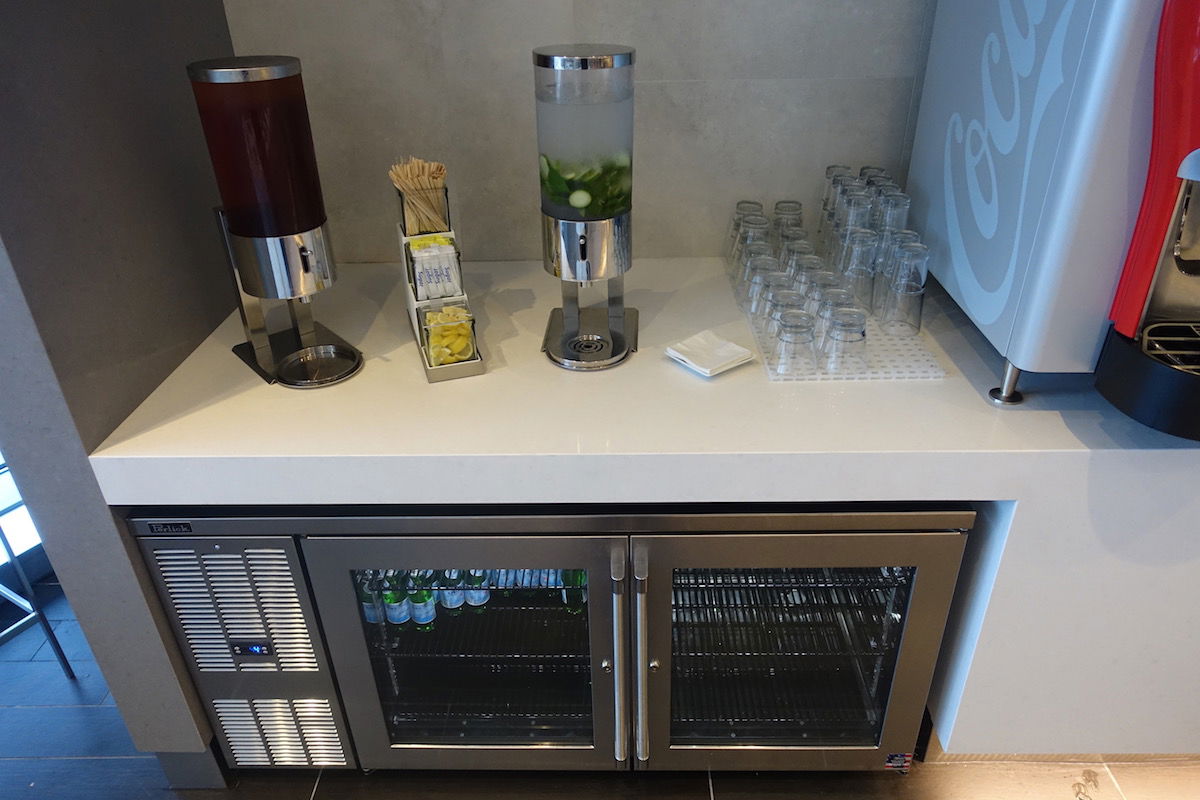 There's also one of those customizable Coca-Cola soda fountains, as well as a coffee machine.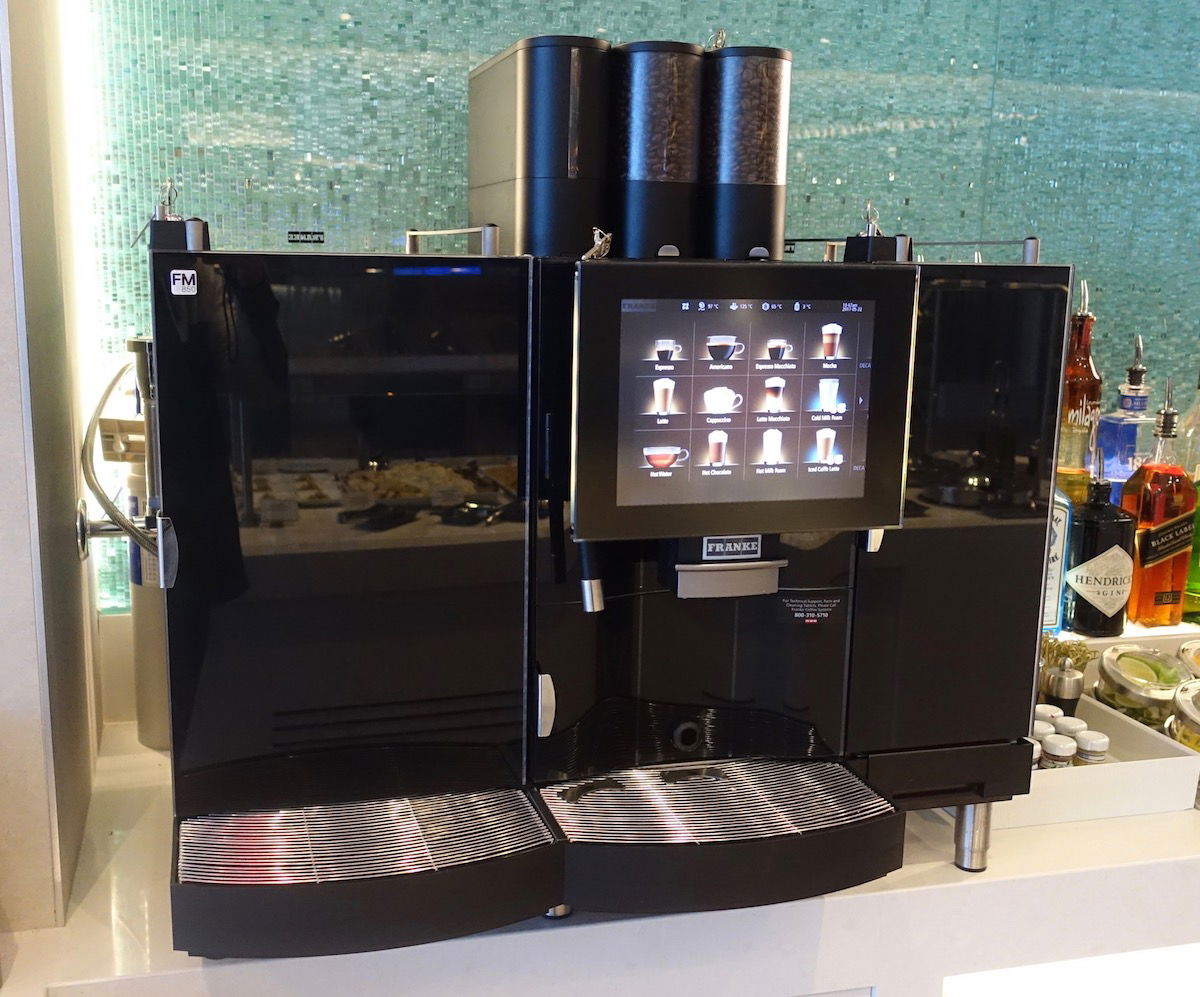 But there's also a la carte dining!
This is something I wasn't expecting, but am very pleasantly surprised by. While the best dining options will be in the Flagship First Dining area, those in the Flagship Lounge can also order things off a much smaller menu.
Here's the breakfast menu for the Flagship Lounge: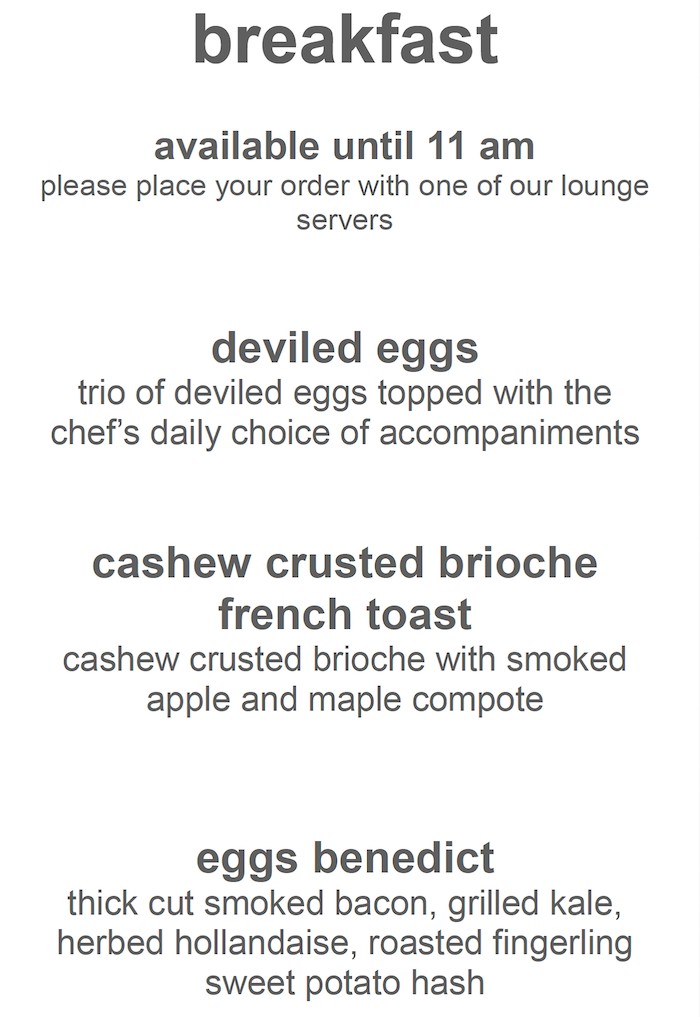 And here's the all day dining menu, which has the Flagship Burger you'll find in the Flagship First Dining area: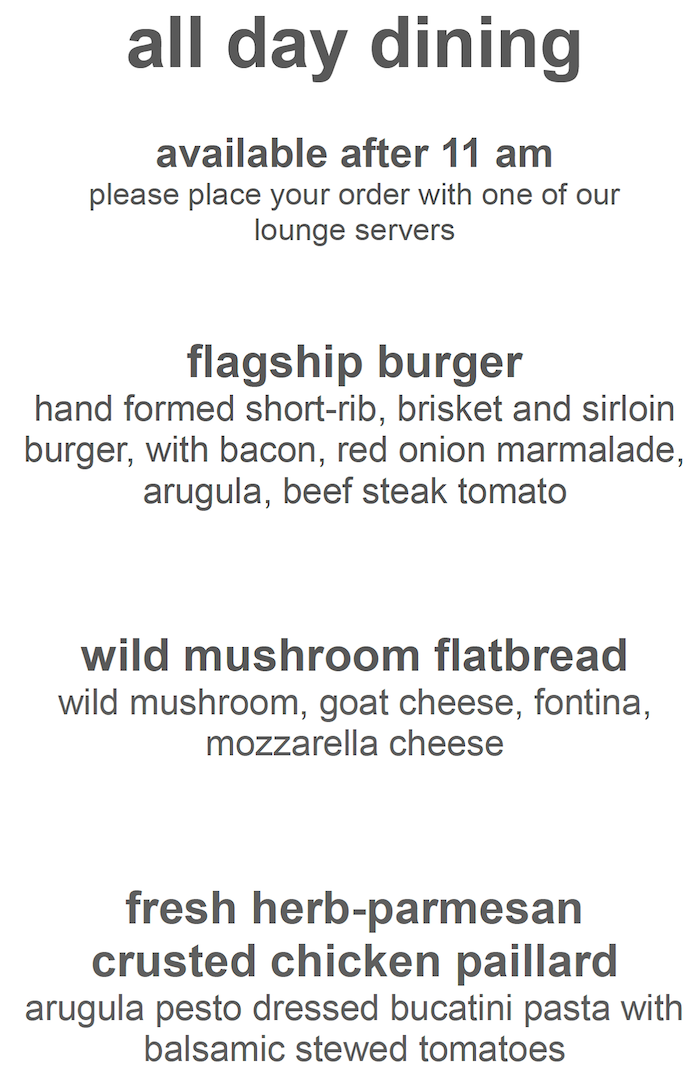 My thoughts on the new Flagship Lounge JFK
I'm actually very impressed by the food and drink selection in the new Flagship Lounge. While the Flagship First Dining area is obviously the most exciting part of the lounge, even those without access to that are getting nicely upgraded amenities. The new food selection looks like a huge improvement over the old one, and there's even a limited selection of food you can order off a menu, which is great.
This is a nice improvement for oneworld Emerald members, though a massive improvement for oneworld Sapphire members and business class passengers, as they previously only had access to the Admirals Club.
My one concern remains crowding. The lounge was nearly empty when I was there during the day, but I imagine in the evenings this lounge will get crowded, given that all international first and business class passengers, as well as many oneworld Emerald and Sapphire members, will be using this lounge. While it's a big space, it's also intended to accommodate a lot of people.
Regardless, this new setup exceeds my expectations.
What do you make of American's new JFK Flagship Lounge?