---
I reviewed Air Serbia's Belgrade to New York flight last October on the westbound sector, and had a fantastic experience. Keep in mind that Air Serbia is partly owned by Etihad Airways, so much of the service is aligned to what you'd get on them. I was curious to see how the flight in the other direction compared. This review will be fairly brief, as I'll mostly touch on the things that were different than on my previous flight.
Air Serbia premium passengers can use the Etihad Lounge JFK, which is fantastic overall. However, unfortunately there has been a lot of cost cutting in the lounge since my last big review, as they've cut signature cocktails and the substantial portion of their a la carte dining selection, which is disappointing.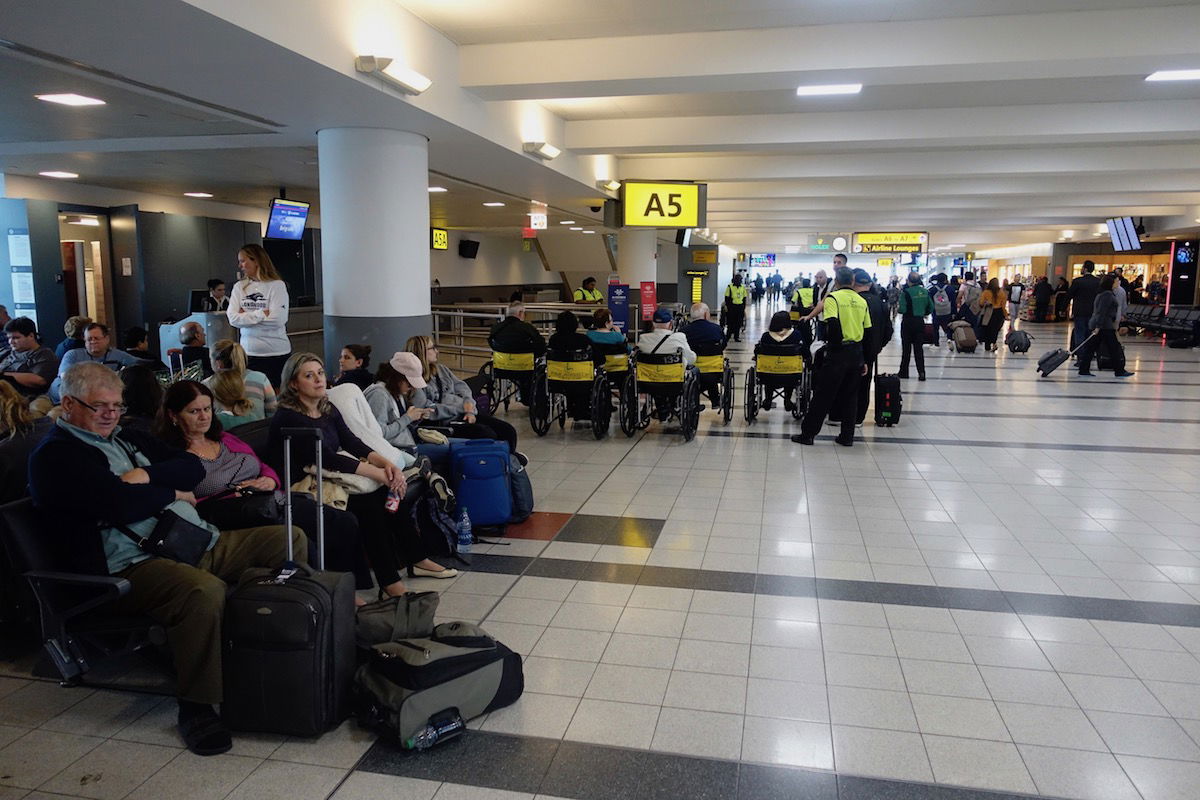 Air Serbia departure gate JFK
The flight was scheduled to depart at 2:40PM, with boarding at 1:40PM from gate A5. Sure enough, boarding began at around that time for those who needed extra time boarding, which seemed to be a majority of the plane.
Air Serbia 501
New York (JFK) – Belgrade (BEG)
Monday, May 22
Depart: 2:40PM
Arrive: 5:30AM (+1 day)
Duration: 8hr50min
Aircraft: Airbus A330
Seat: 6A (Business Class)
We boarded through door L2, where we were greeted by Milos, the cabin senior, and directed to our seats.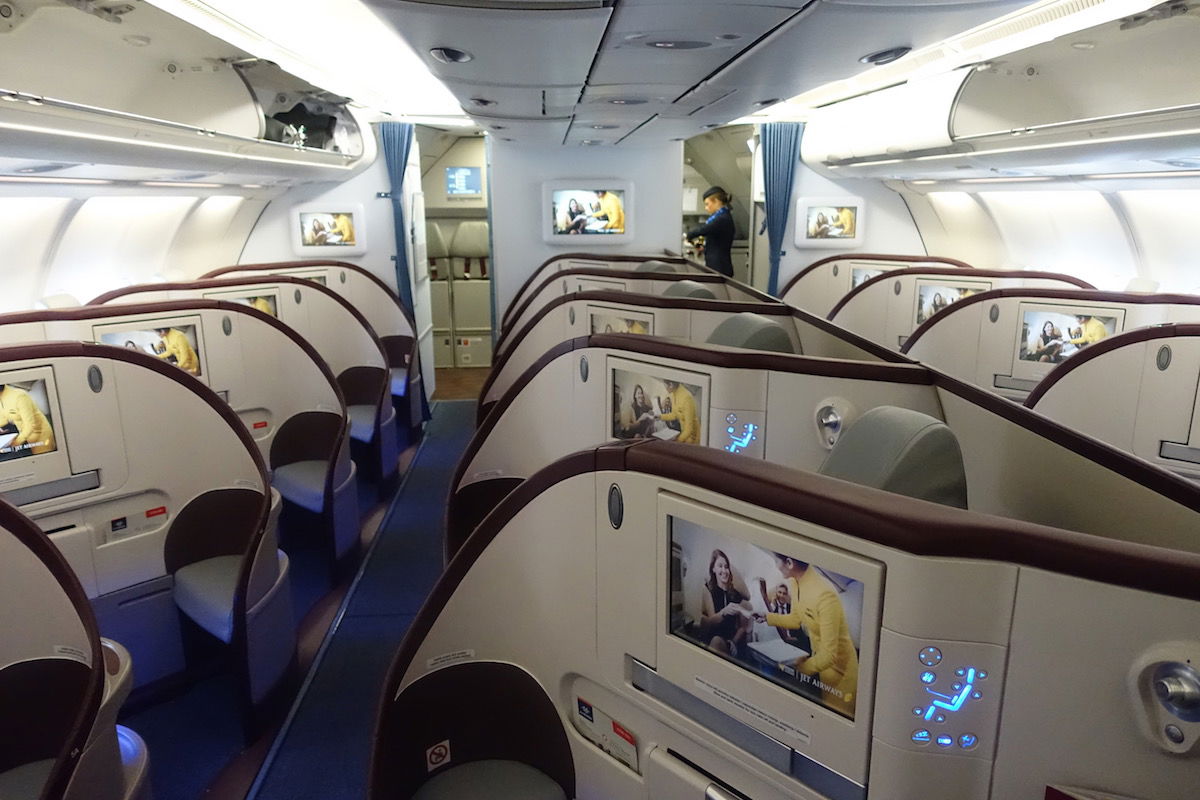 Air Serbia A330 business class cabin
Business class has a total of 18 herringbone seats, and I had assigned us seats 5A & 6A. The downside of these herringbone seats is that they're not ideal if you're traveling with someone, so my usual preference is to select two window seats behind one another.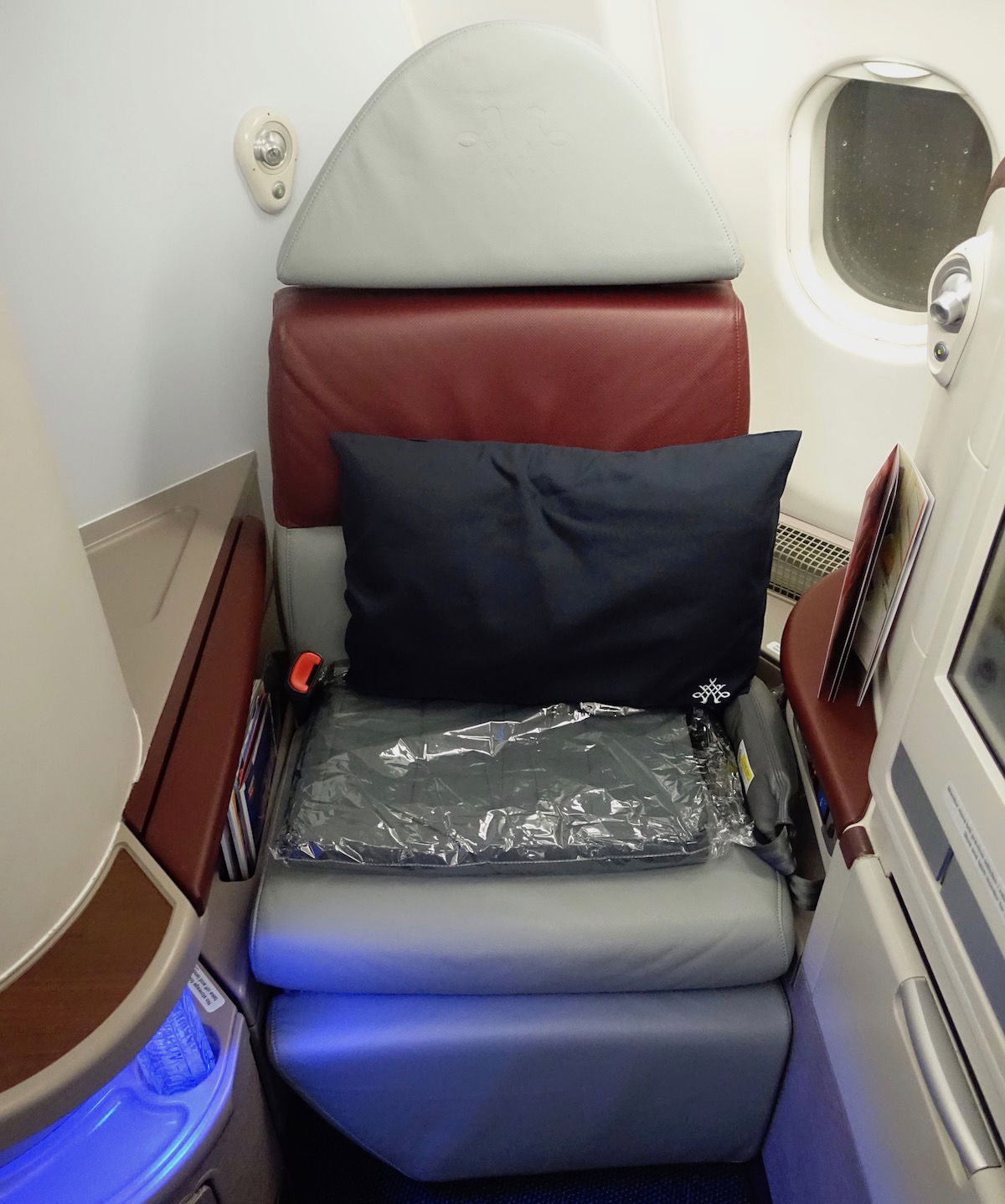 Air Serbia A330 business class seat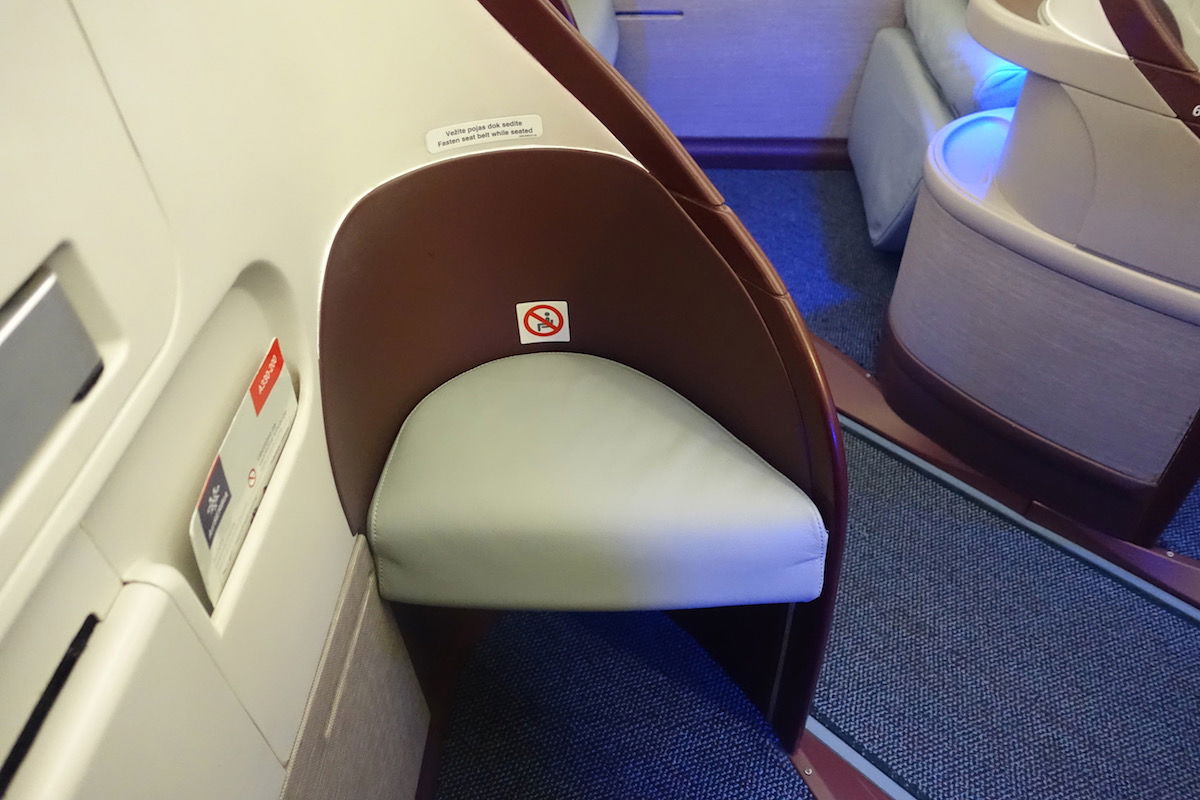 Air Serbia A330 business class seat
Waiting at my seat on boarding were a pillow & blanket, as well as a bottle of water in the bottle holder.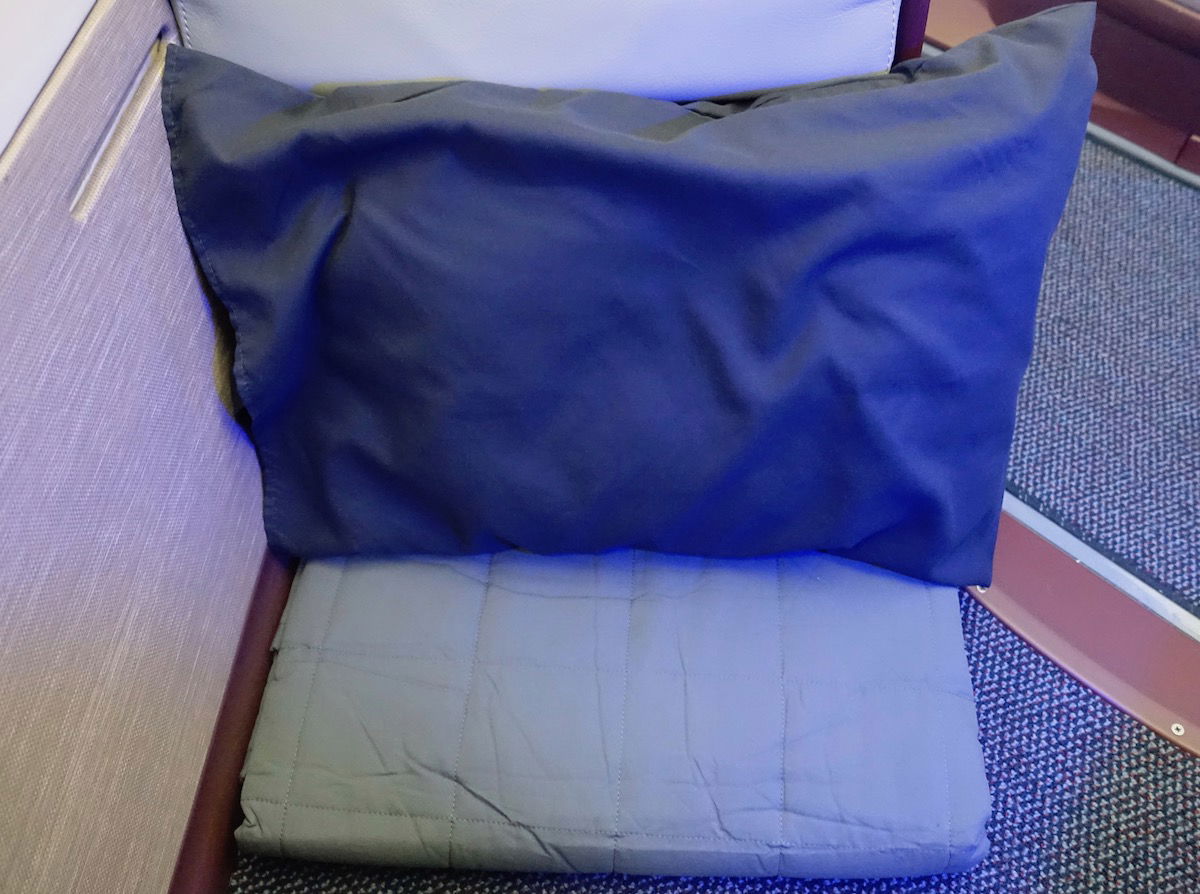 Air Serbia business class pillow & blanket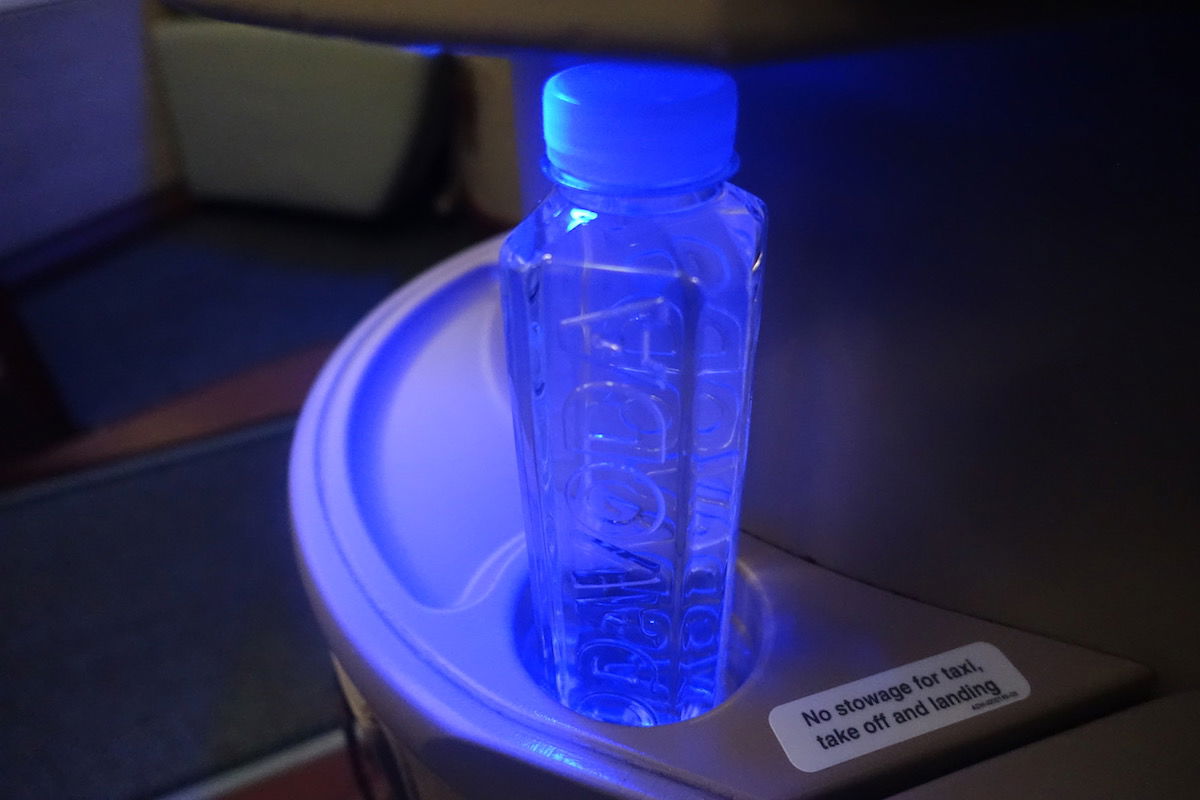 Air Serbia business class bottled water
A few minutes after settling in, the lovely Branka and Phillip came by our seats to welcome us onboard and offer us of our choice of water, apple juice, or champagne. We of course chose the champagne.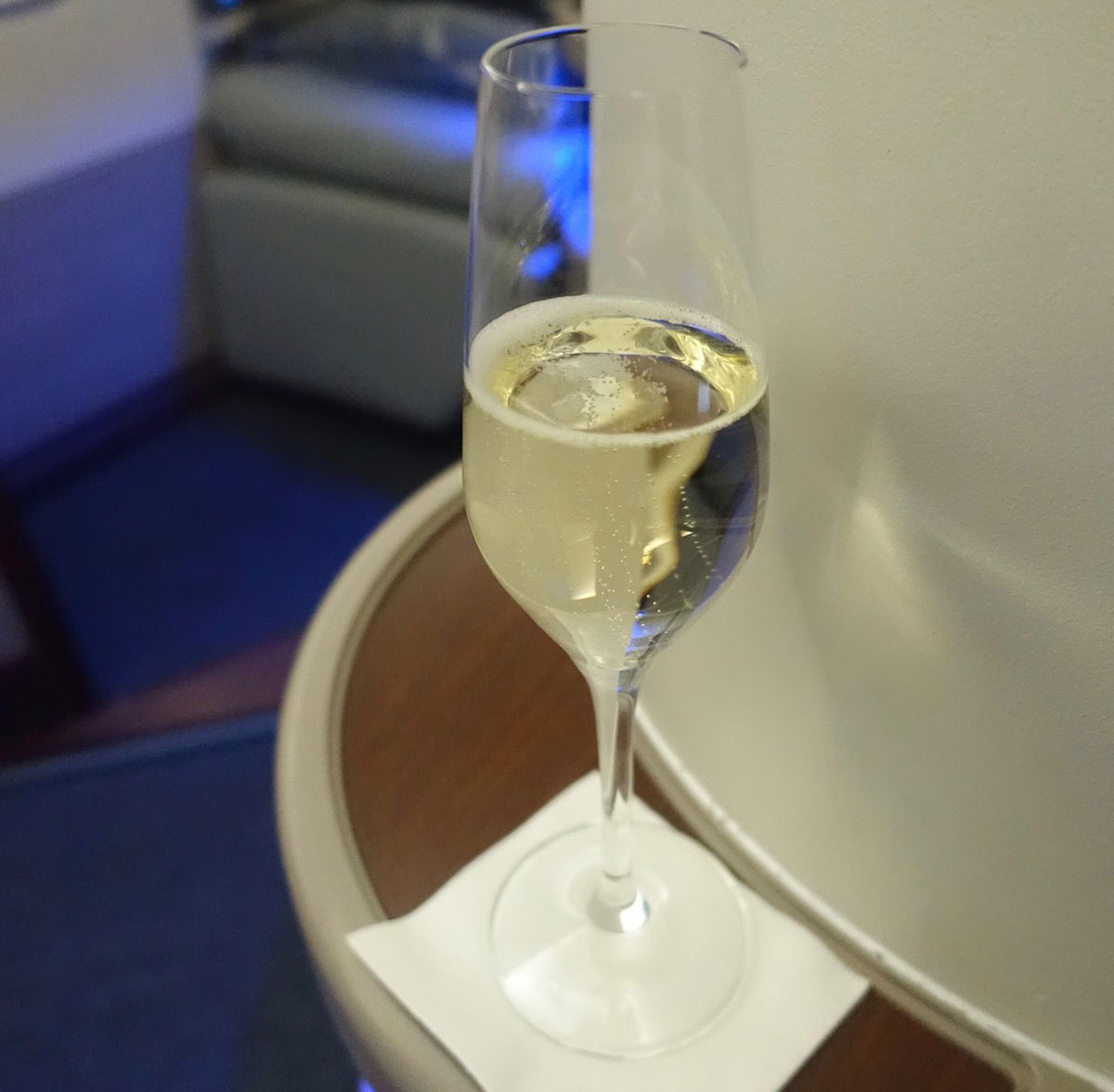 Air Serbia business class pre-departure champagne
We were also offered warm towels on cute little plates.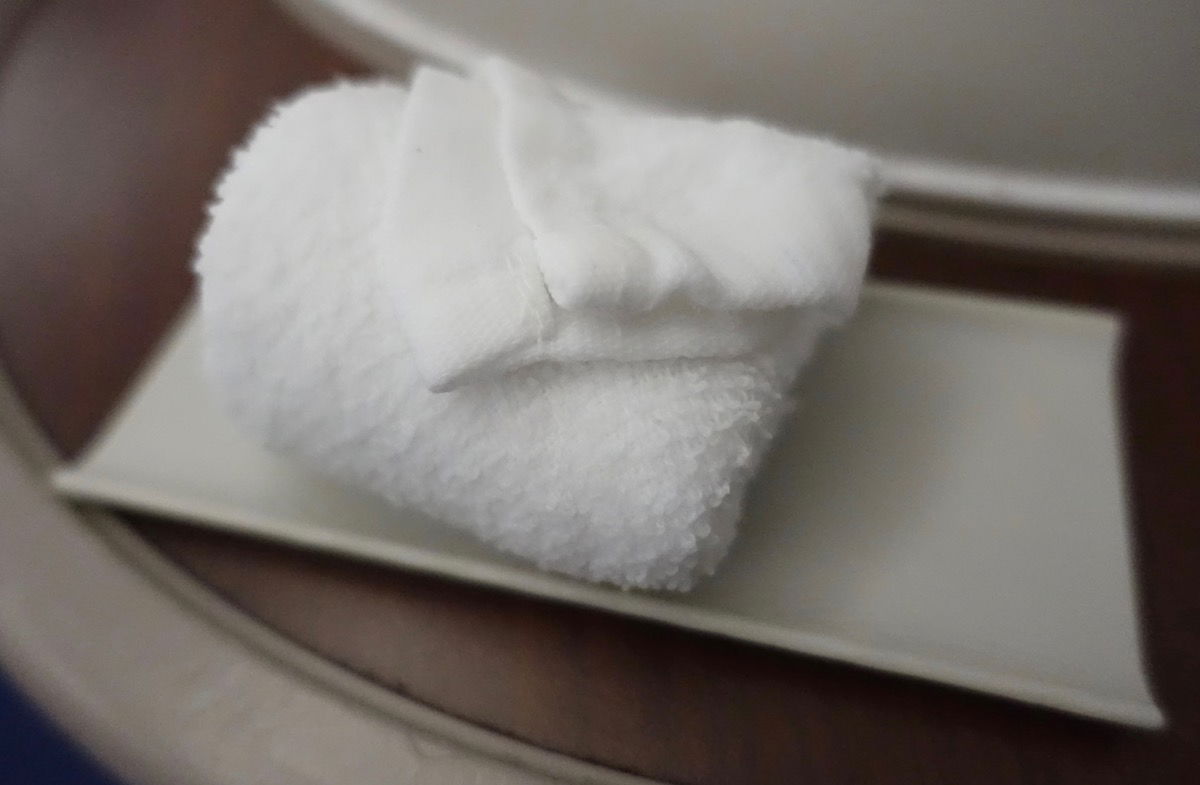 Air Serbia business class pre-departure hot towel
About 15 minutes later our meal orders were taken (our menus were at our seats when we boarded). Air Serbia offers dine on demand, so you can have what you want when you want.
Boarding took quite a while, or at least the door stayed open for a long time. Eventually seven of the 18 business class seats were occupied, so we had the entire back half of the cabin to ourselves. Based on looking at a lot of Air Serbia seatmaps for this route, it seems like this flight is never anywhere close to full in business class.
At 2:30PM Captain Vladimir informed us of our flight time of eight hours, and said we'd be pushing back fairly soon.
The door finally closed at 2:40PM sharp, and a couple minutes after that we began our taxi. As we pushed back we passed the gorgeous Etihad A380. Unfortunately it was raining outside, which made it tough to get pictures.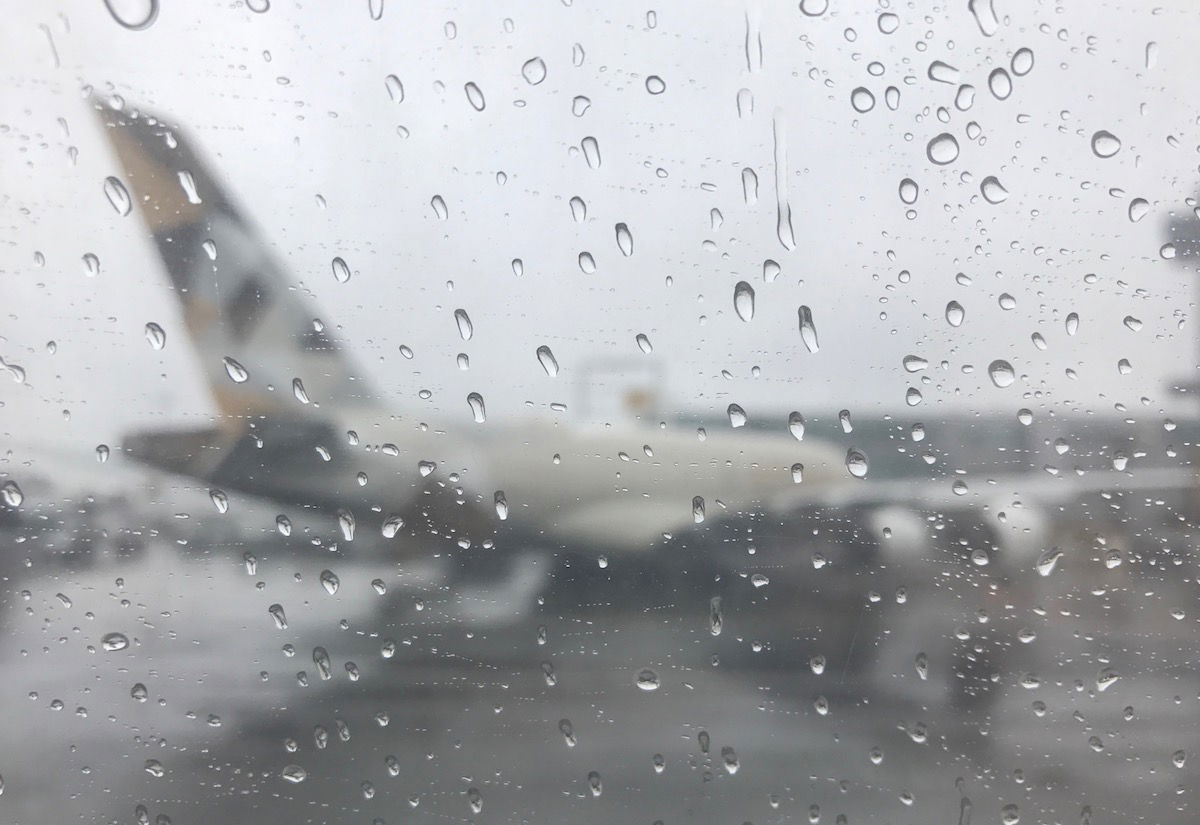 Taxiing JFK
There wasn't much of a queue for takeoff, and by 3PM we were airborne.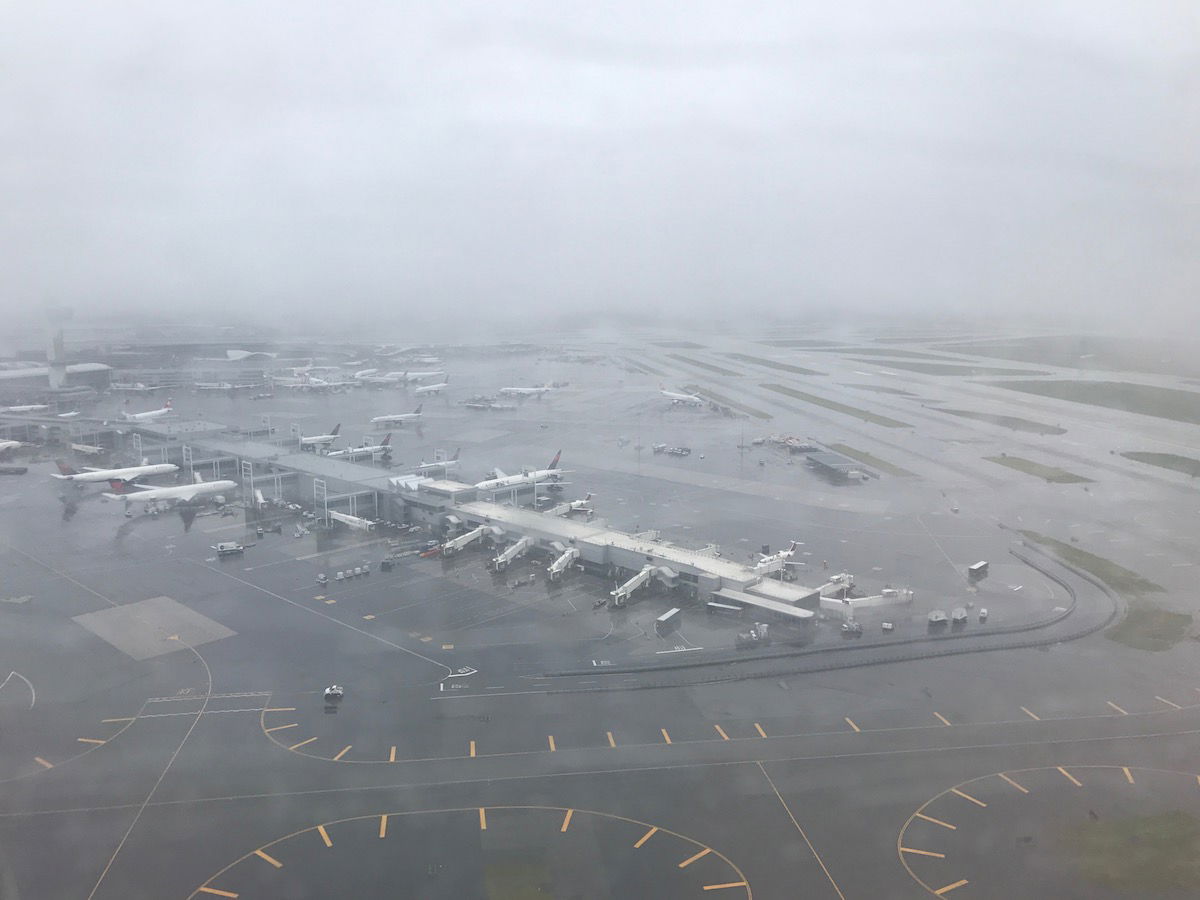 View after takeoff from JFK
The seatbelt sign was turned off about 15 minutes after takeoff, and five minutes after that the crew distributed amenity kits and pajamas for the flight. It's nice that Air Serbia offers pajamas, as the only other airline that offers pajamas in business class between the US and Europe is Virgin Atlantic.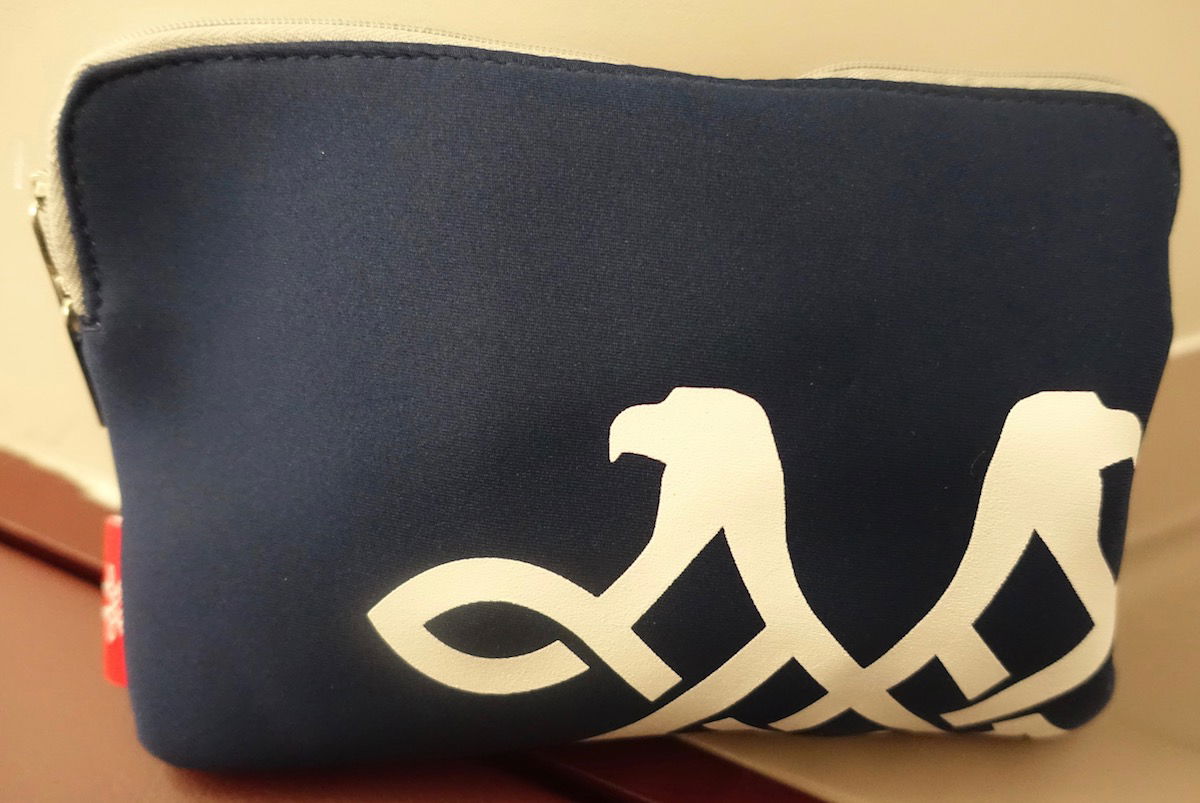 Air Serbia business class amenity kit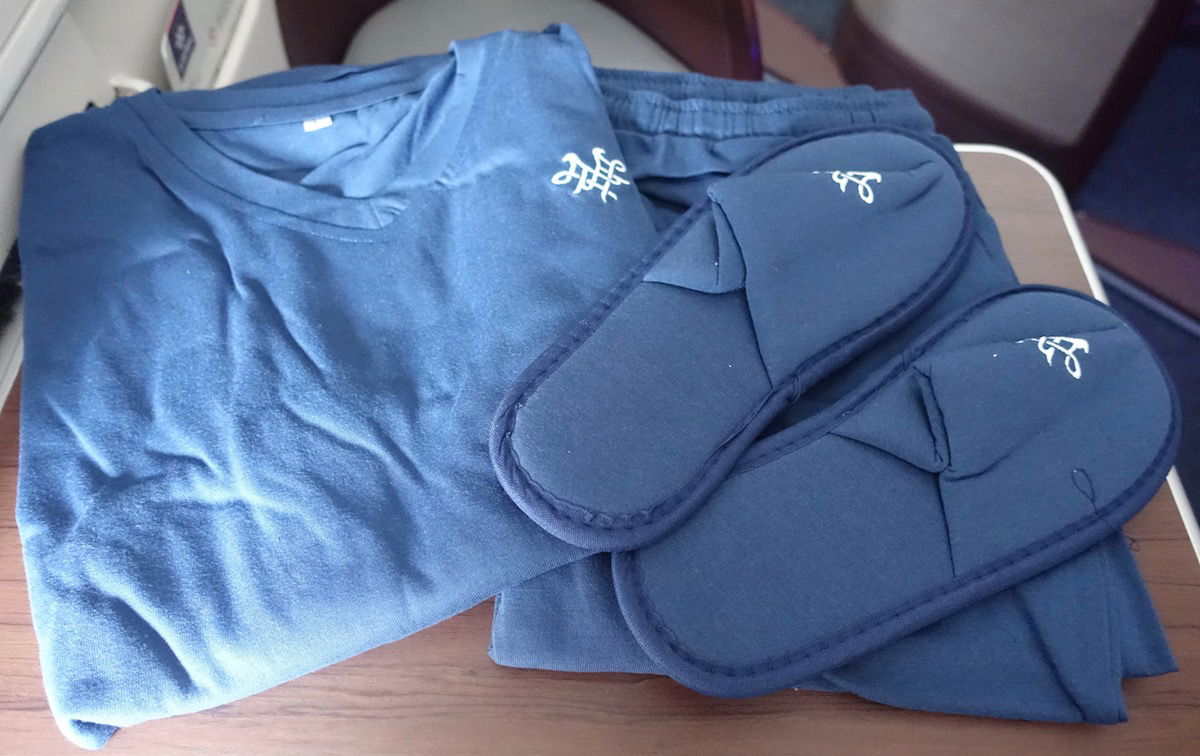 Air Serbia business class pajamas
A few minutes later the meal service began. The menu for the flight read as follows: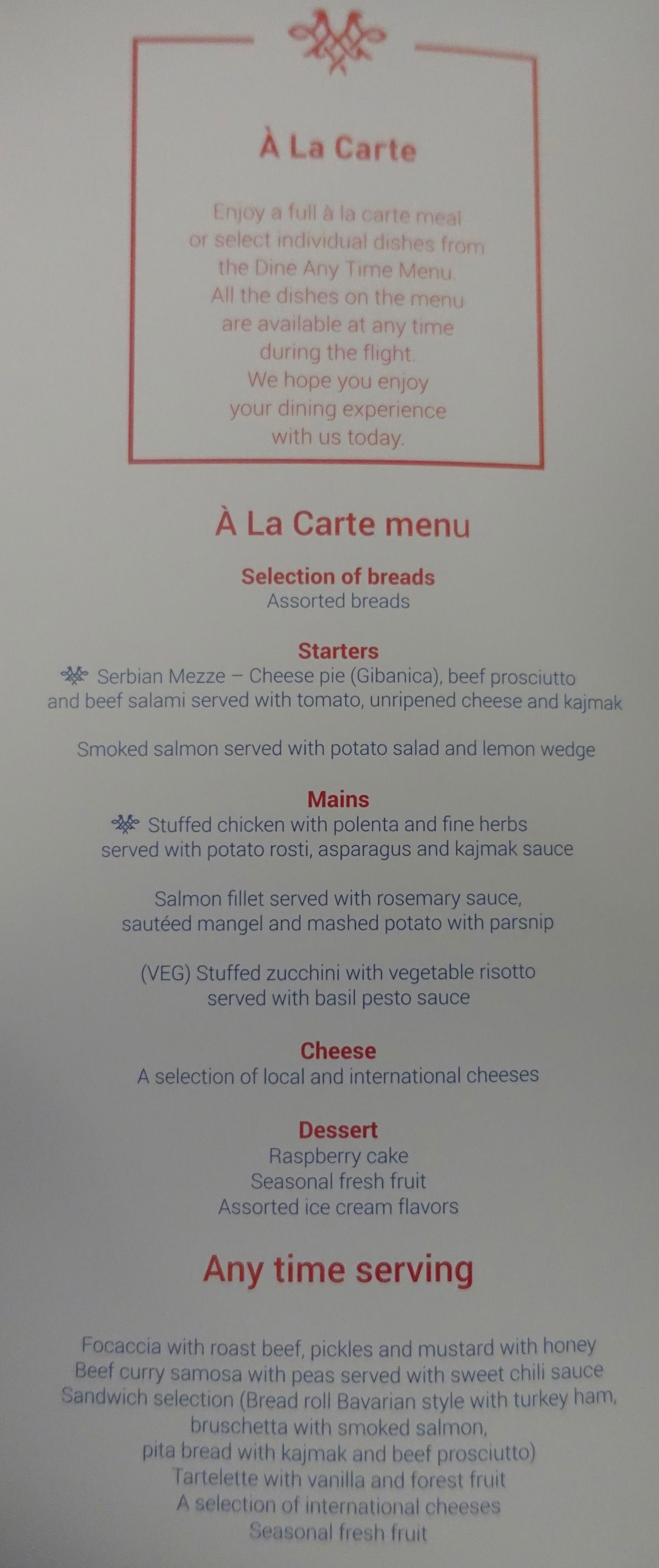 The drink list read as follows: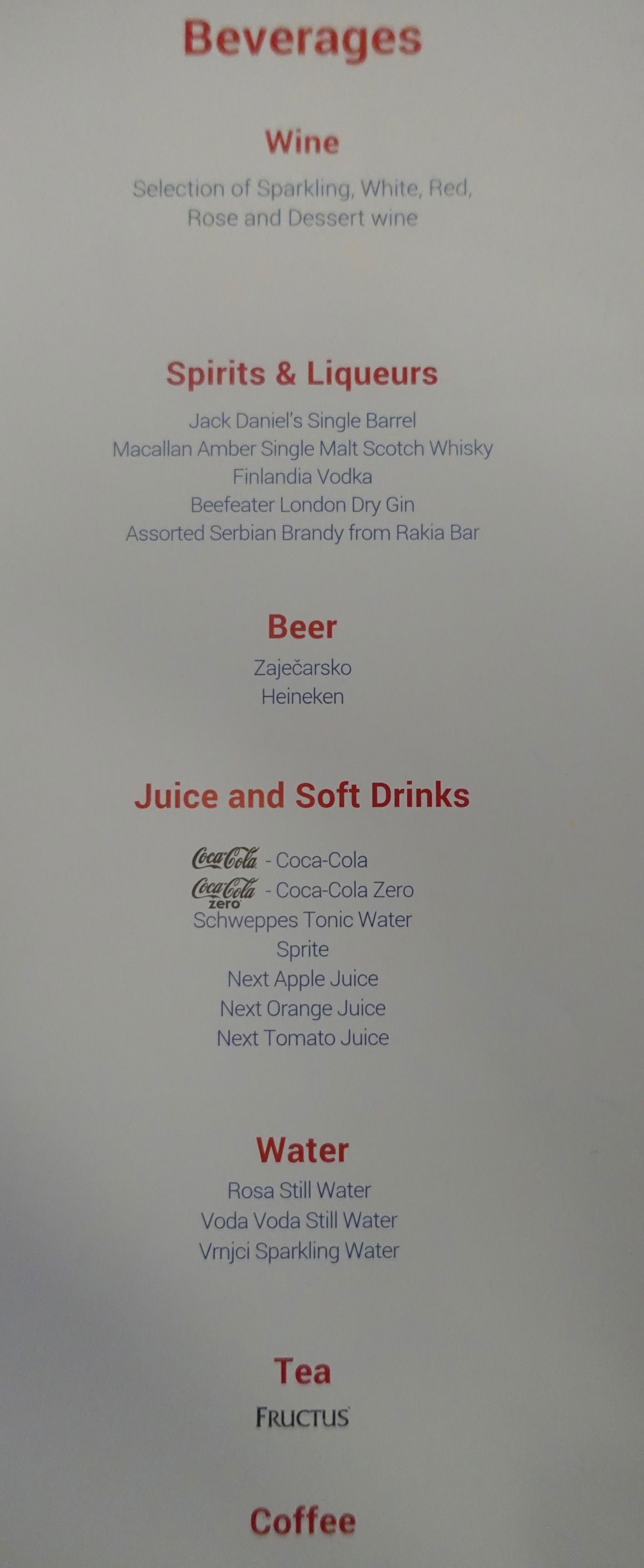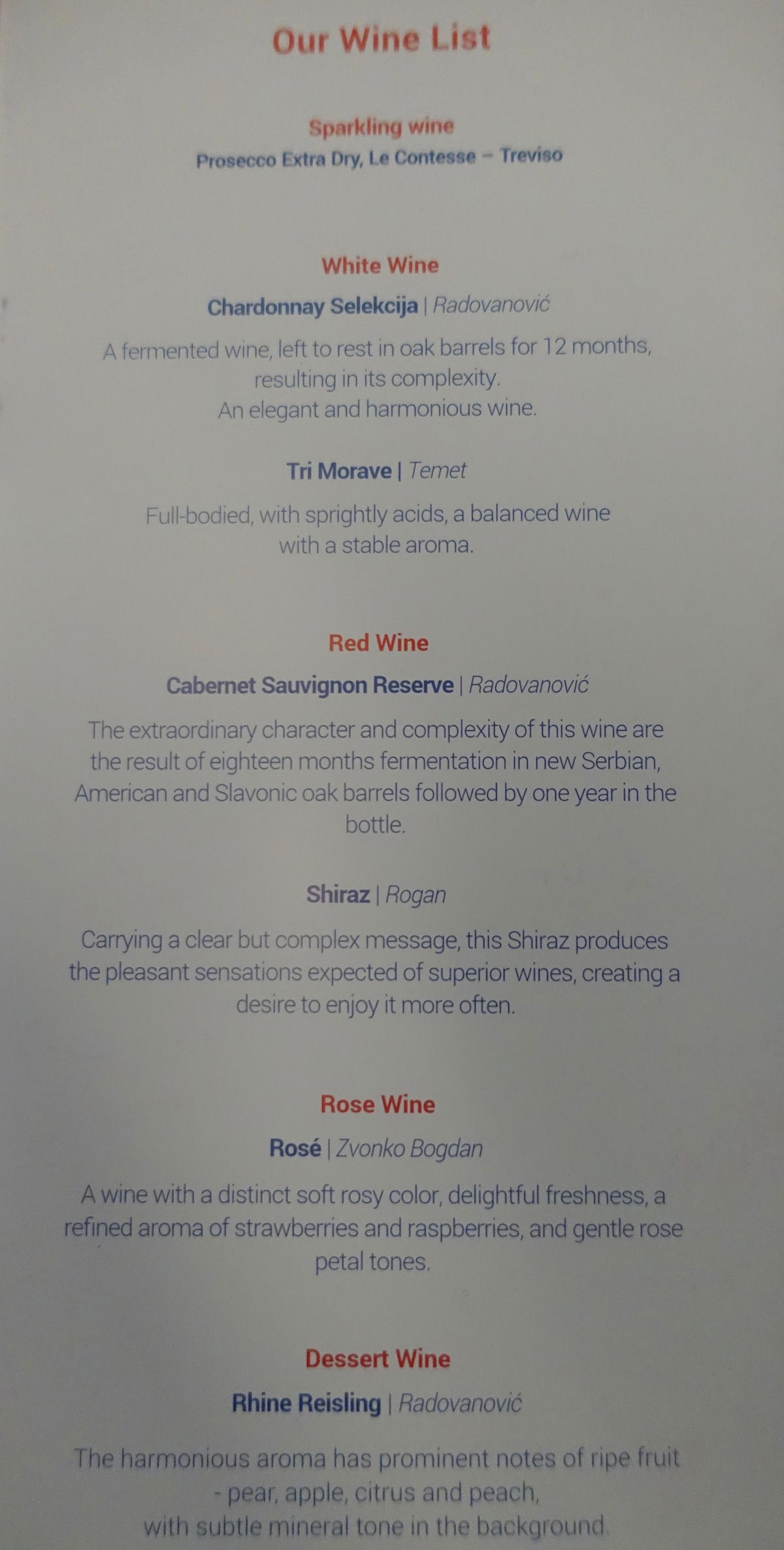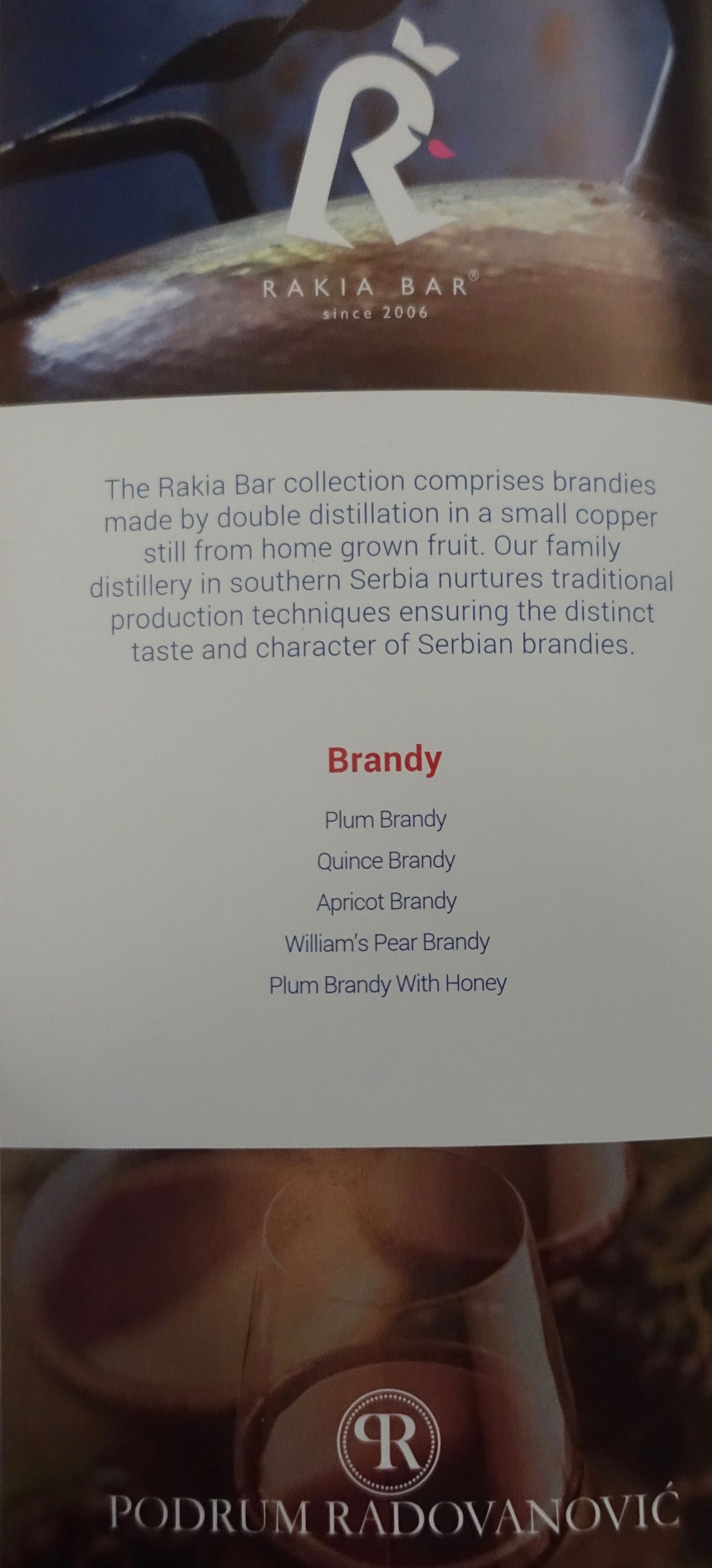 For anyone who is curious, here's what the menu looked like for the Belgrade to New York flight, which was in the same booklet: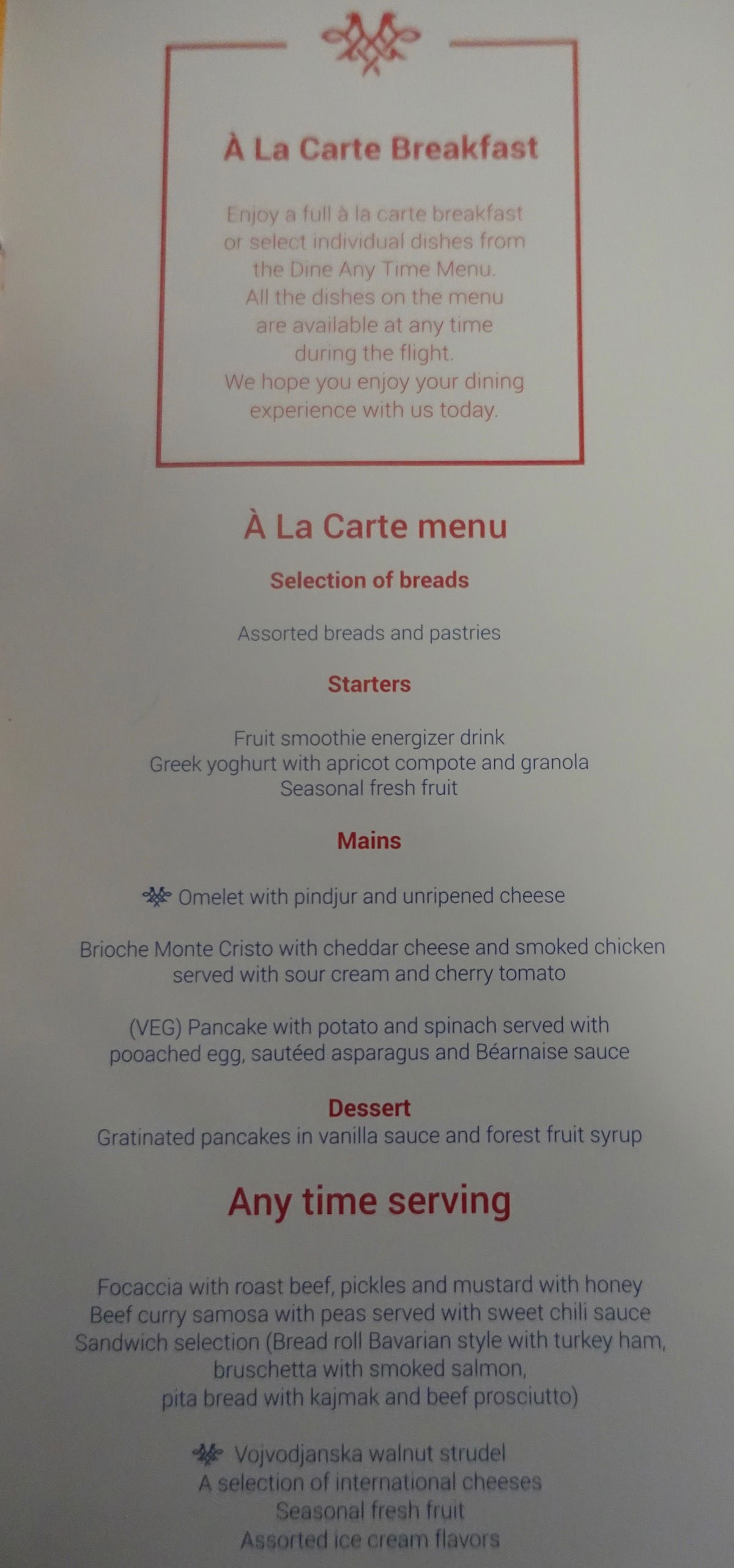 Service began with some mixed nuts and a drink of choice. I love Serbian wine, so ordered a glass of Serbian rose, which was lovely.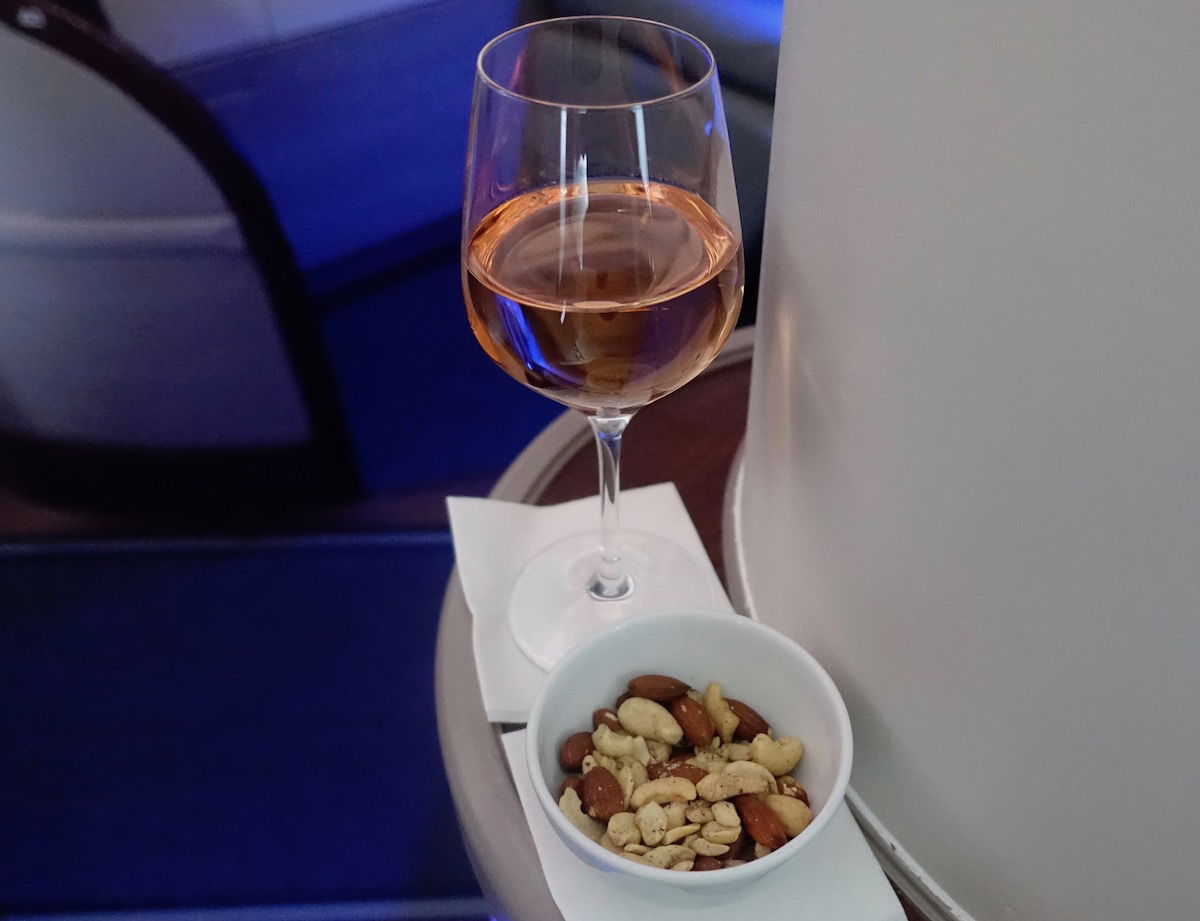 Air Serbia business class dinner — mixed nuts and rose to start
About 10 minutes later, tables were set for dinner. I appreciate that on Air Serbia they place everything directly on your table, rather than using trays.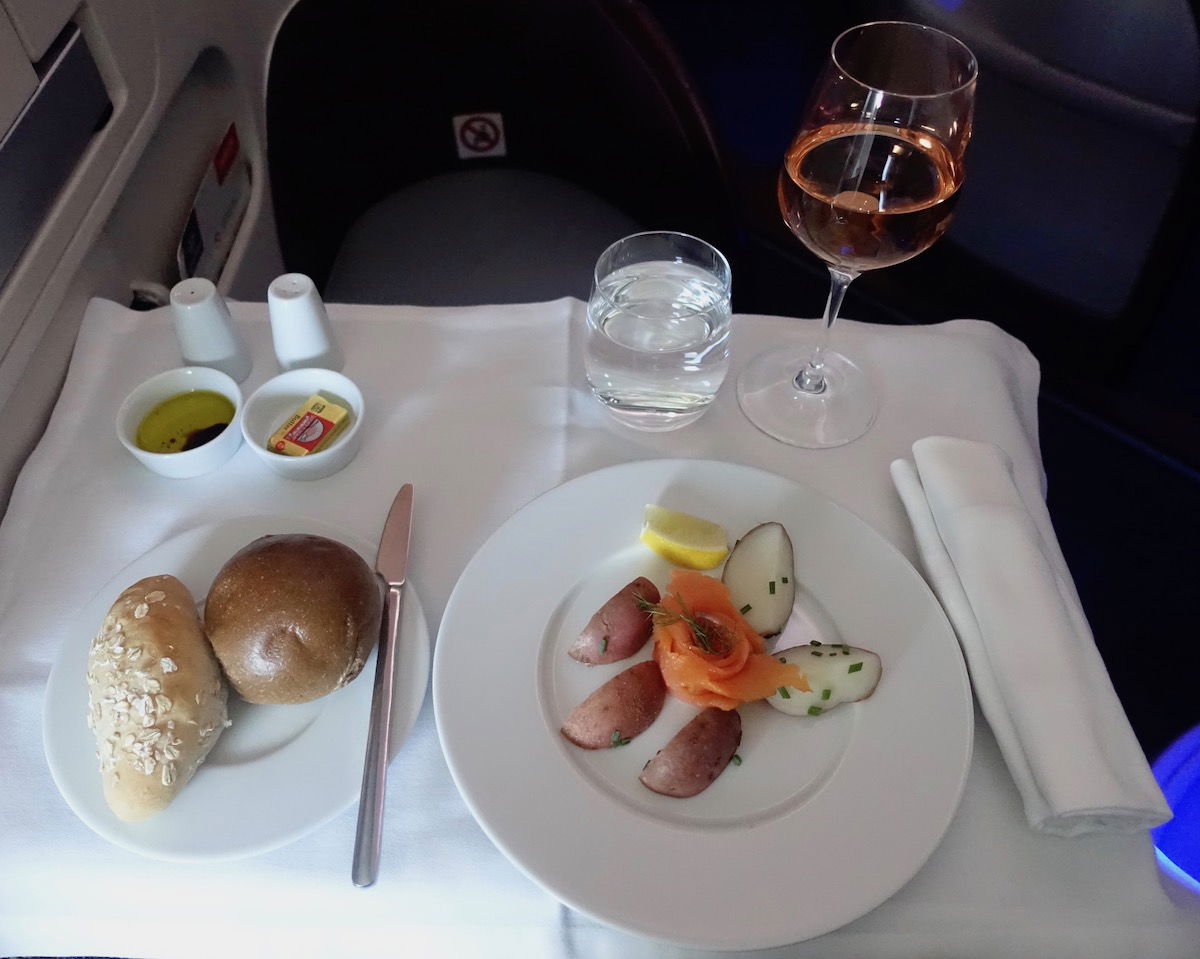 Air Serbia business class dinner — appetizer
For the appetizer I had the salmon with "potato salad," which in reality was just potato wedges. The salmon itself was good, though the dish could have used a sauce or something, in my opinion.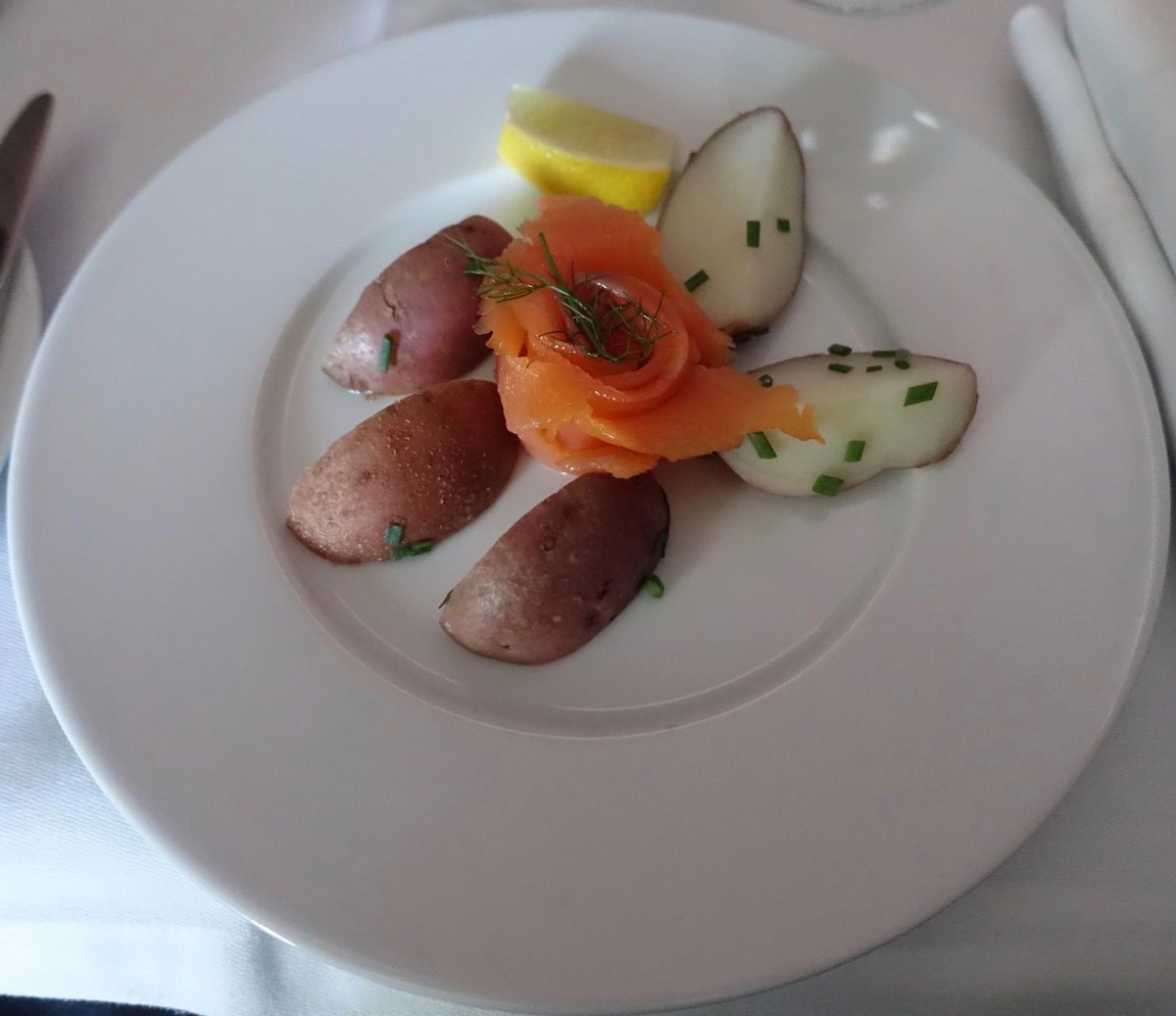 Air Serbia business class dinner appetizer — smoked salmon with potato salad
Ford ordered the Serbian mezze, which he loved.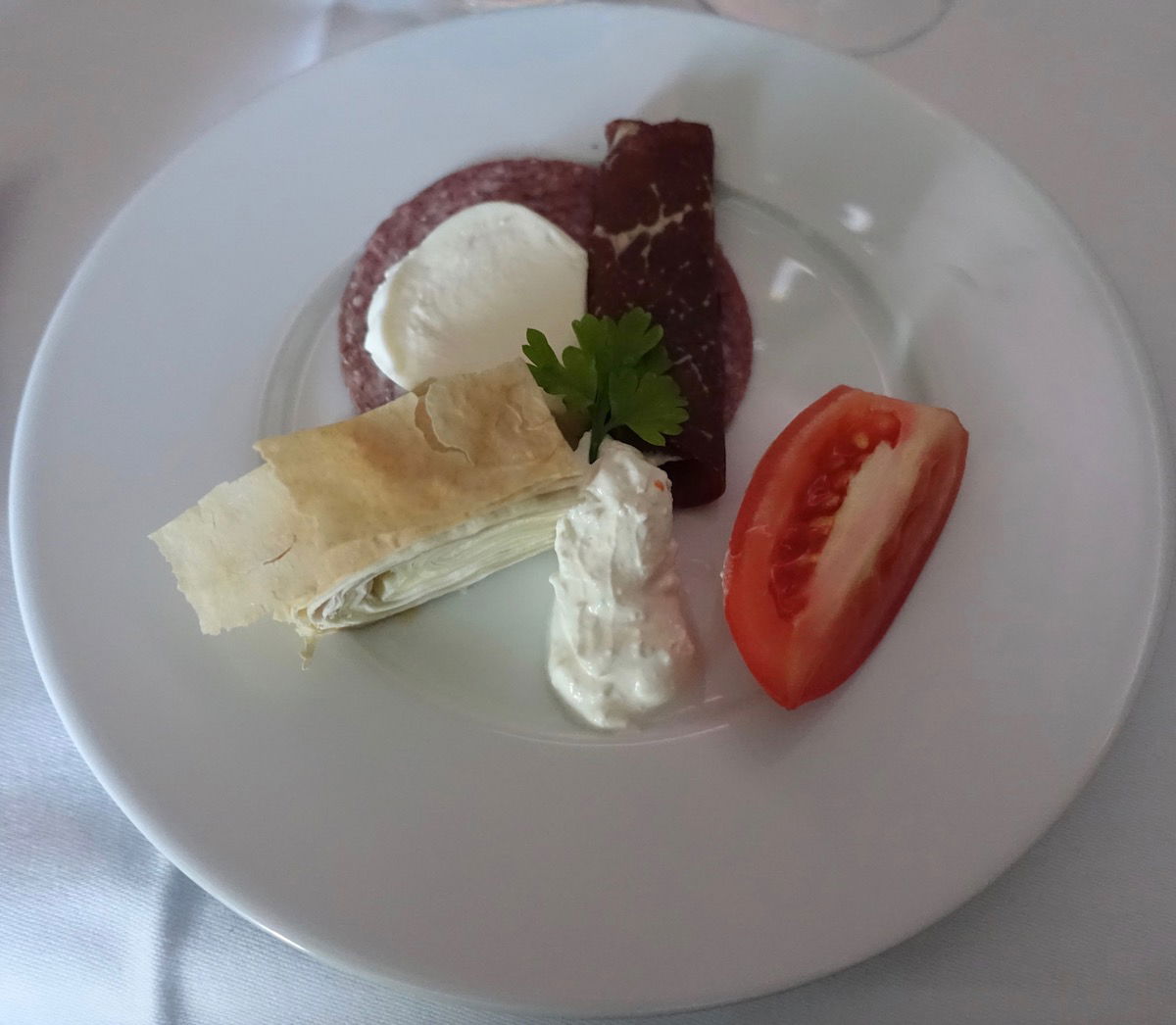 Air Serbia business class dinner appetizer — Serbian mezze
For the main course I had the salmon (again), which was excellent. The fish was light and moist, and had a great sauce.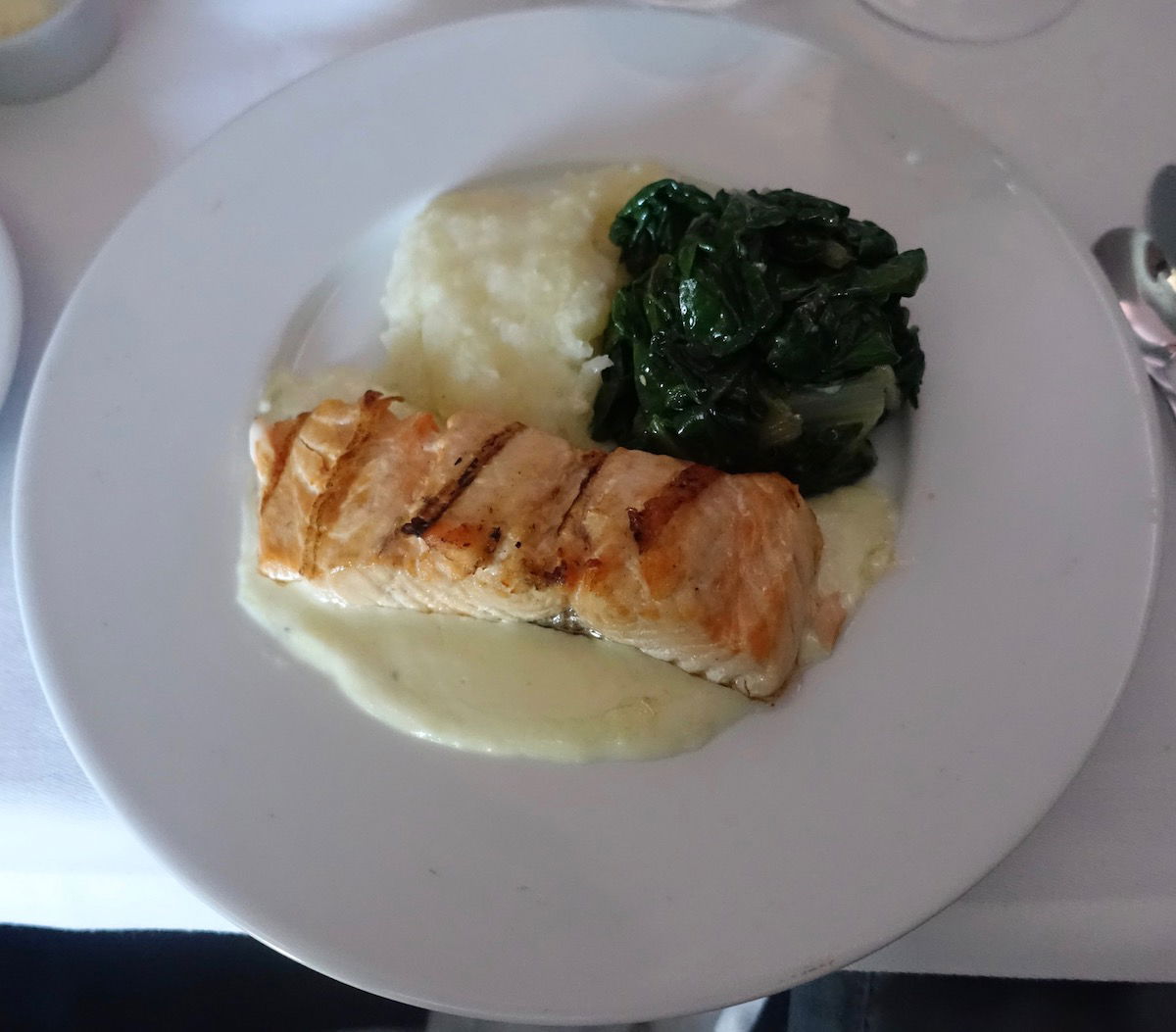 Air Serbia business class dinner main course — salmon with mashed potatoes
Ford had the stuffed chicken, which he said was excellent.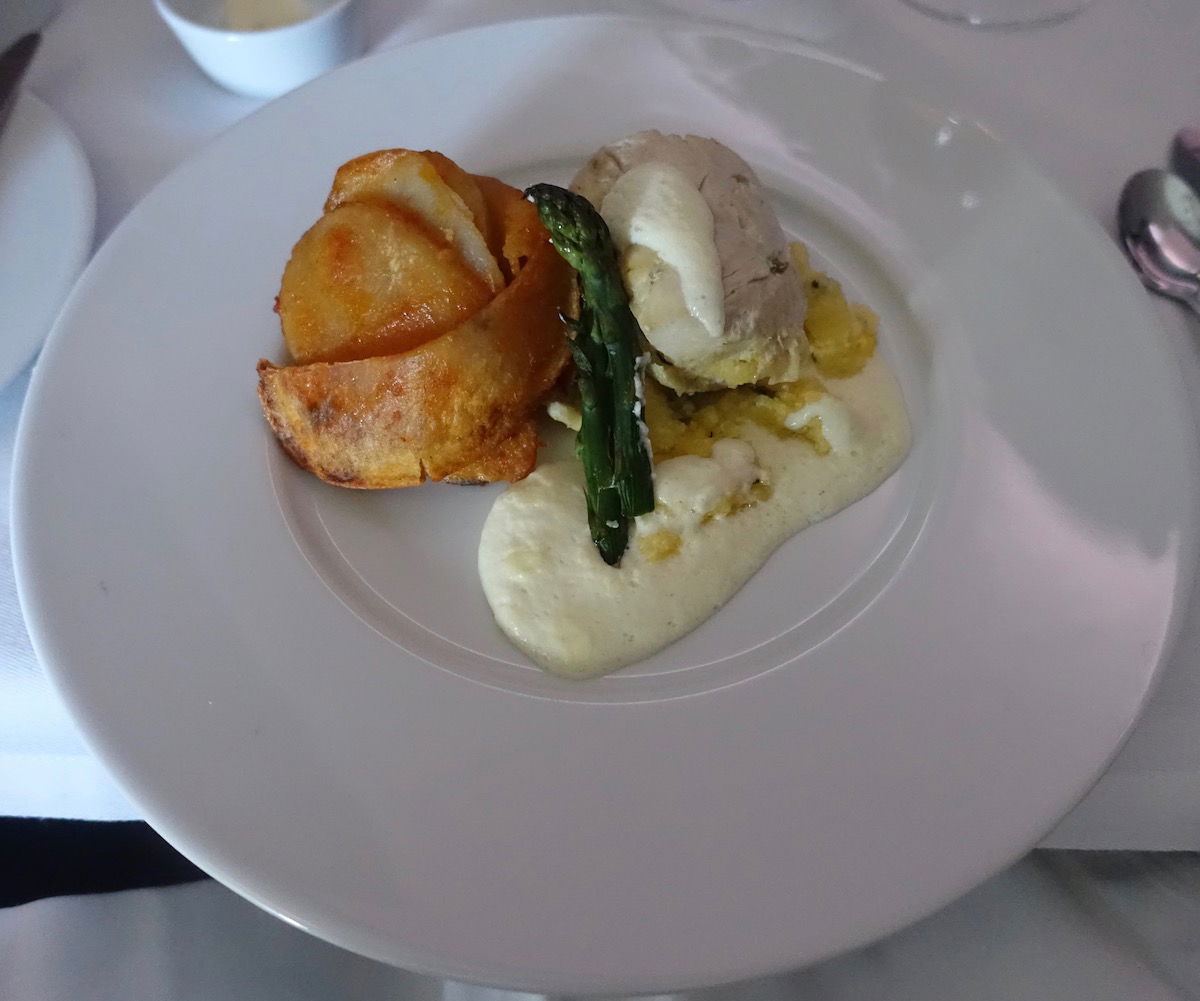 Air Serbia business class dinner main course — stuffed chicken with polenta and potato rosti

For dessert I had the raspberry cake, which was phenomenal.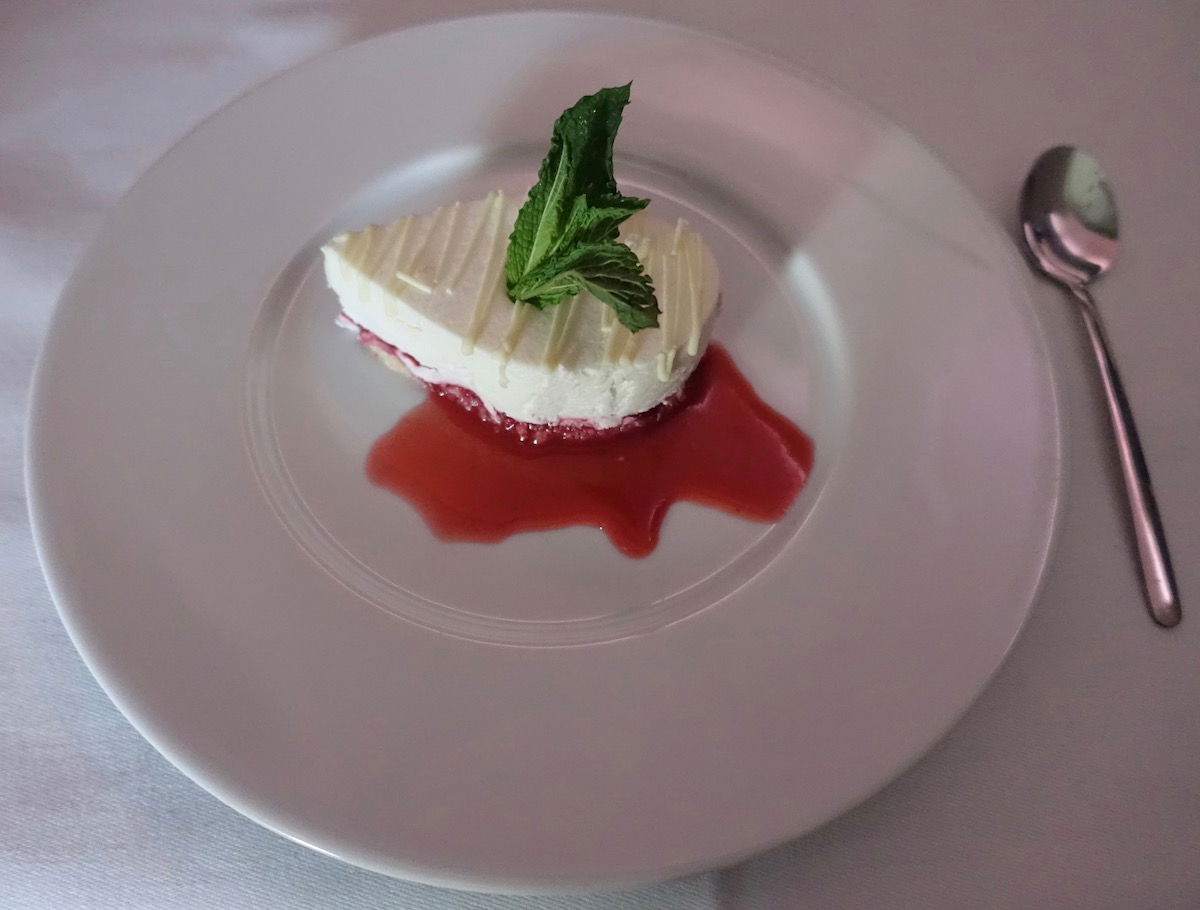 Air Serbia business class dinner dessert — raspberry cake
To finish off the meal I had a cappuccino.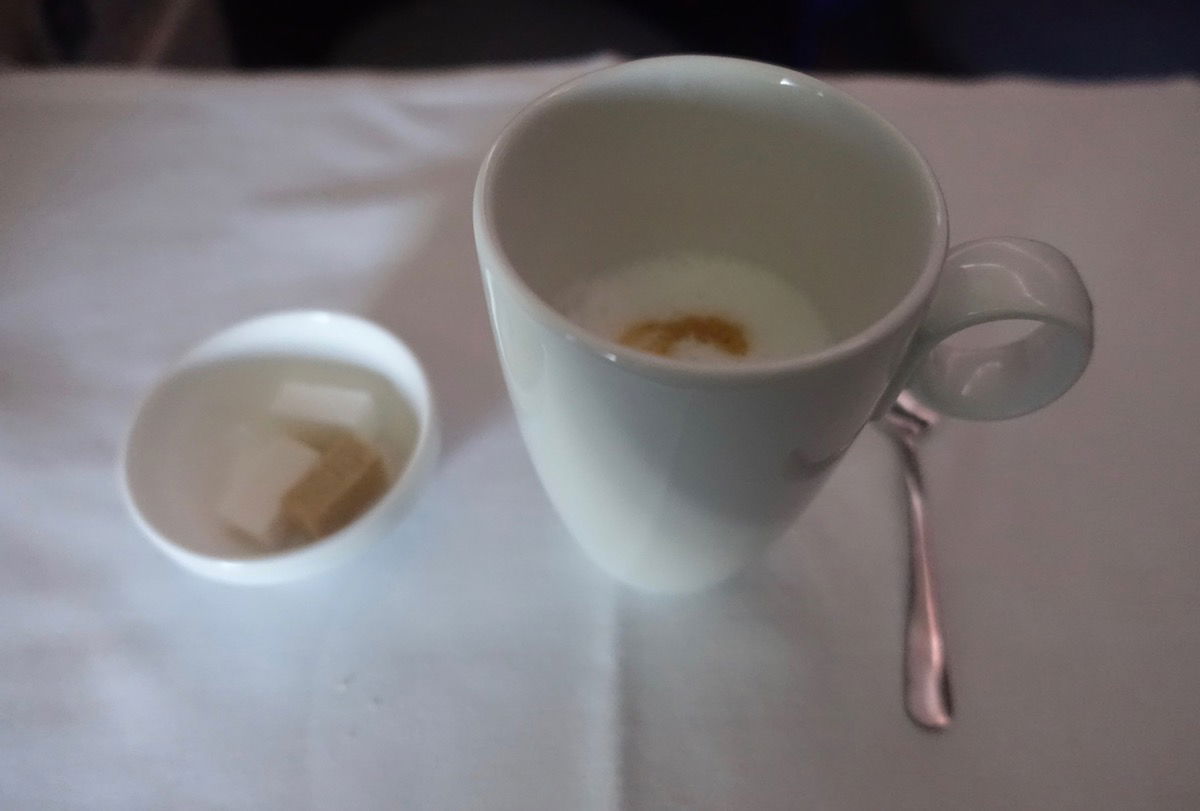 Air Serbia business class cappuccino
One thing I found funny is that the cutlery had both Air Serbia and Etihad branding. Hah.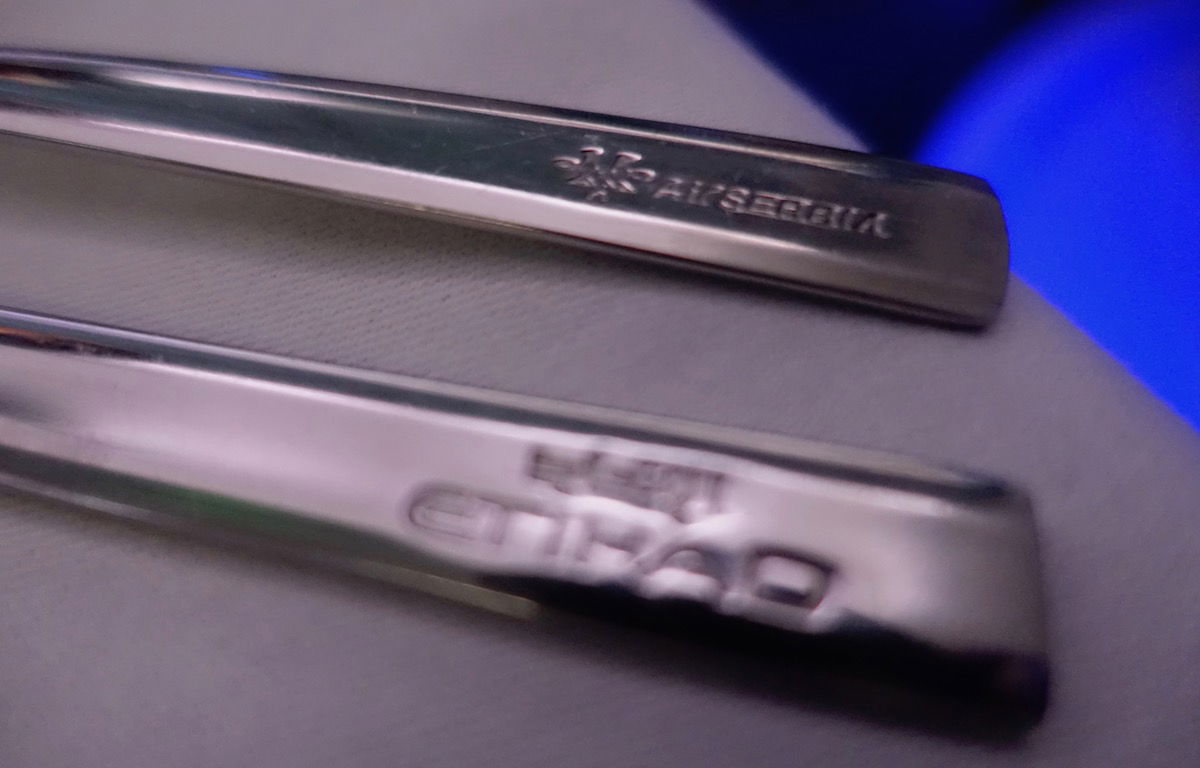 A little bit of Air Serbia, a little bit of Etihad…
Overall I thought the meal was excellent. I love the fact that Air Serbia's service style is more like first class than business class, given that it's dine on demand, they serve the food directly onto your tray, and it's clear that the food is heated and then plated, rather than heated in the dish, as you'll often find in business class.
The service throughout the meal was also excellent. The crew was friendly and attentive, but I guess we had the benefit of having three crew members taking care of just seven passengers.
After dinner I asked to have my bed made. There's a thin mattress sheet they place on your seat, in addition to the pillow and blanket. Overall it's a fairly comfortable bed, though I do wish they had better bedding.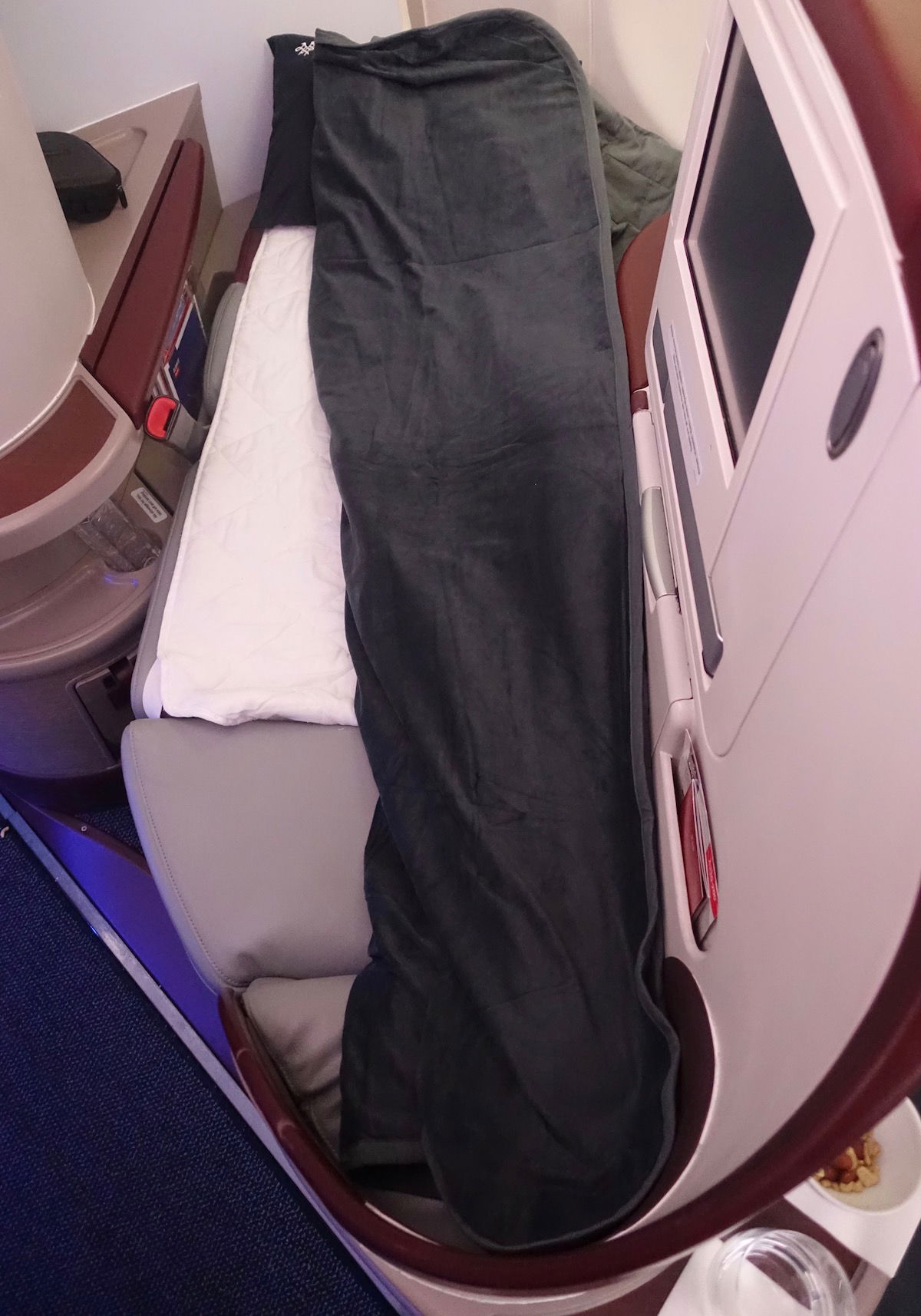 Air Serbia business class bed
One thing I found interesting when looking at the seat is that while they reupholstered the front of it, the back still had the Jet Airways upholstery. Hah.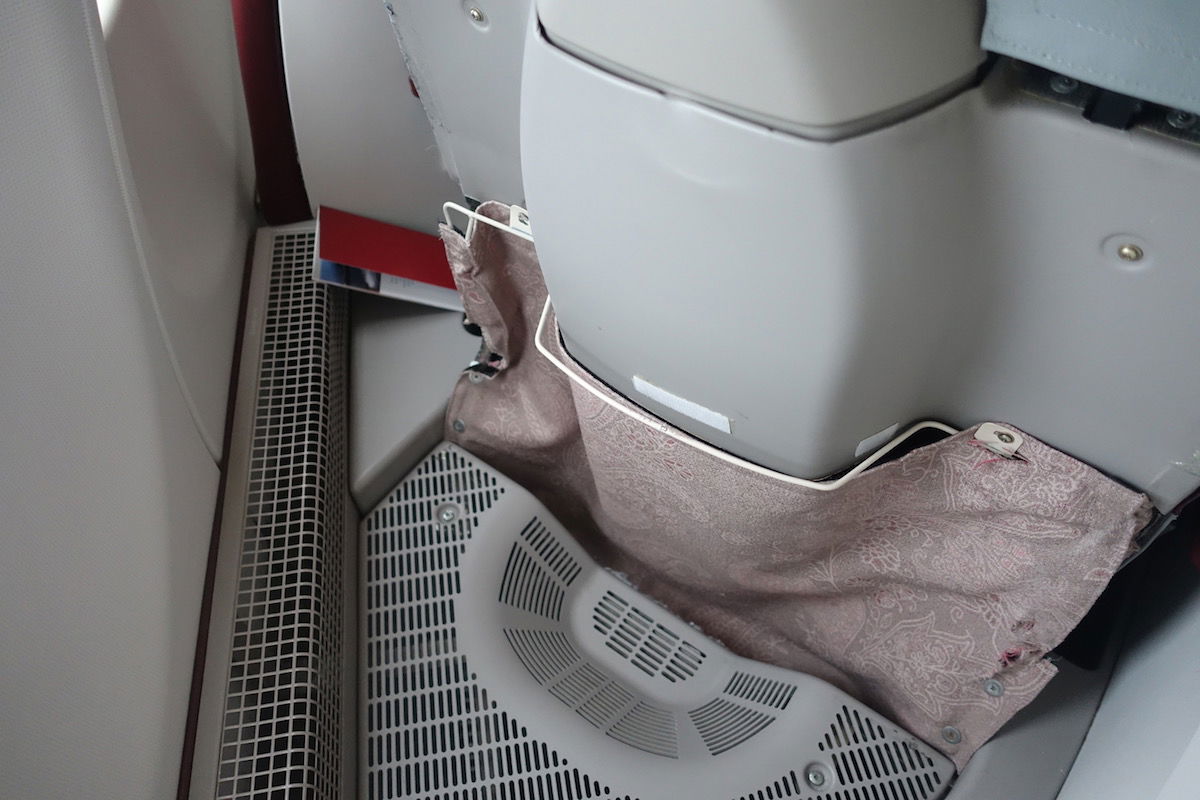 Hello Jet Airways!
By the time I was ready to try and sleep we were approaching Newfoundland, which put a big smile on my face, given the great memories I have of recently visiting the Fogo Island Inn.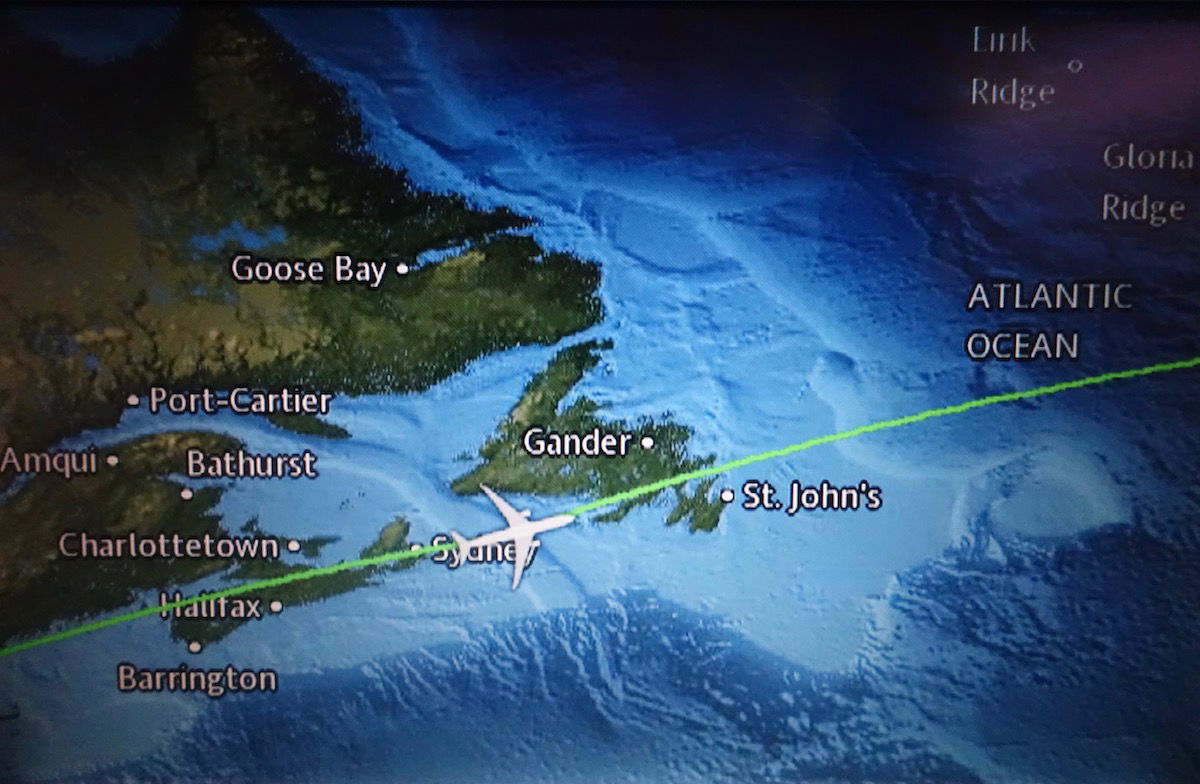 Airshow enroute to Belgrade
At this point we had about 6hr20min remaining to Belgrade.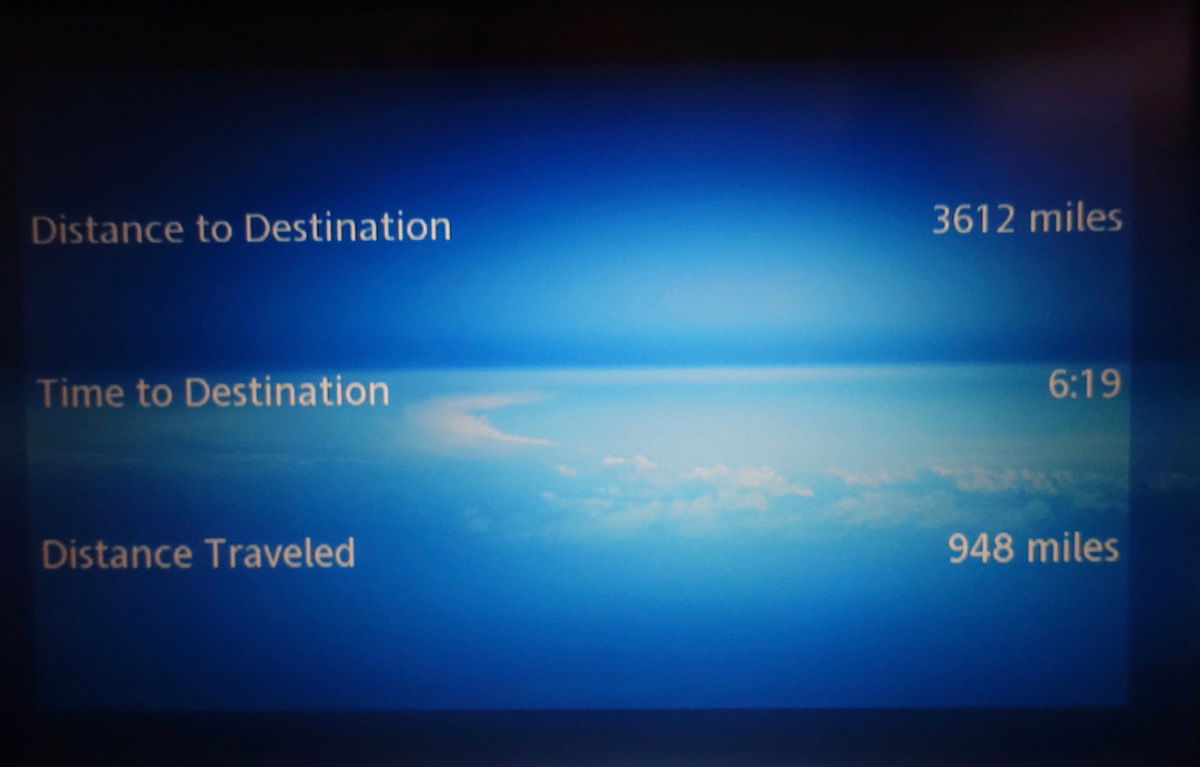 Airshow enroute to Belgrade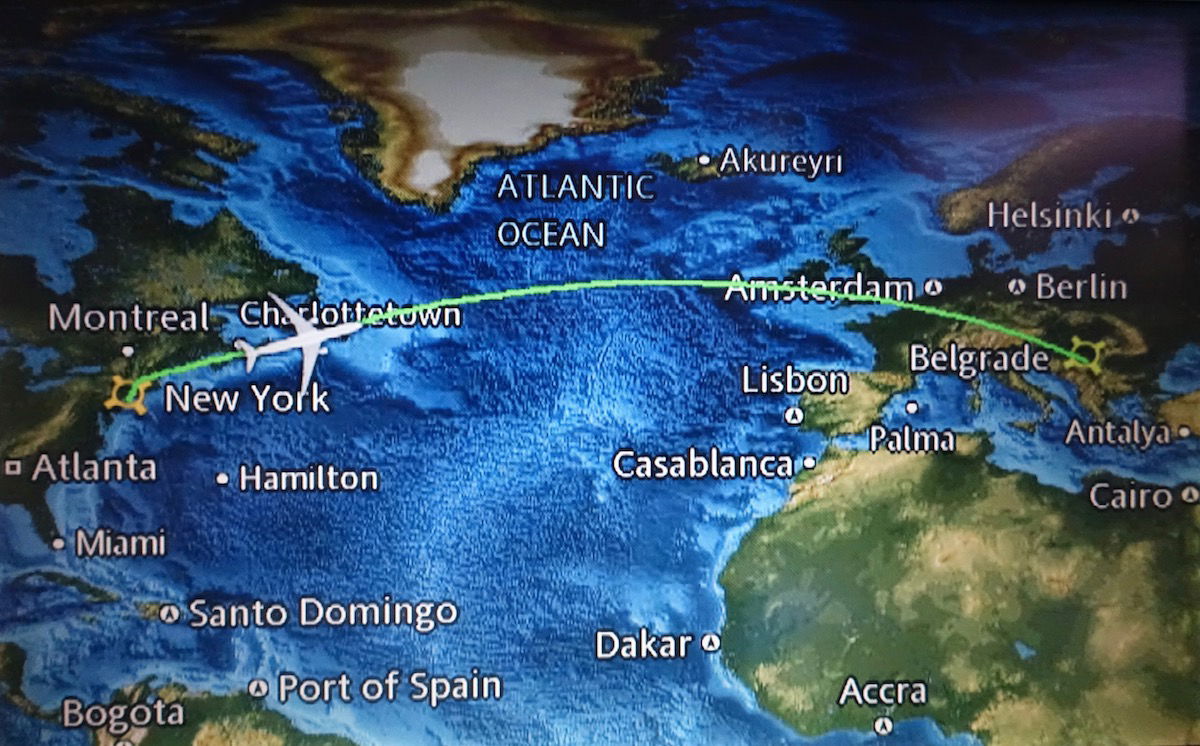 Airshow enroute to Belgrade
Unfortunately I'm afraid I may have been a bit optimistic in terms of trying to sleep. The big downside of this flight is that it departs the US before 3PM and arrives in Belgrade before midnight eastern time, so it really isn't ideal for sleeping. While I was hoping I'd be able to sleep, I ultimately failed, after tossing and turning for an hour.
For what it's worth, Air Serbia has two different schedules between Belgrade and New York — some days the flight leaves New York later in the evenings, and other days it leaves this early. Oh well.
I decided to work for a few hours. Air Serbia has onboard Wi-Fi, though it's rather slow. They charge based on data usage, and the cost for 120MB was 18.90EUR. That's not cheap, though also not terrible, at least compared to some other airlines.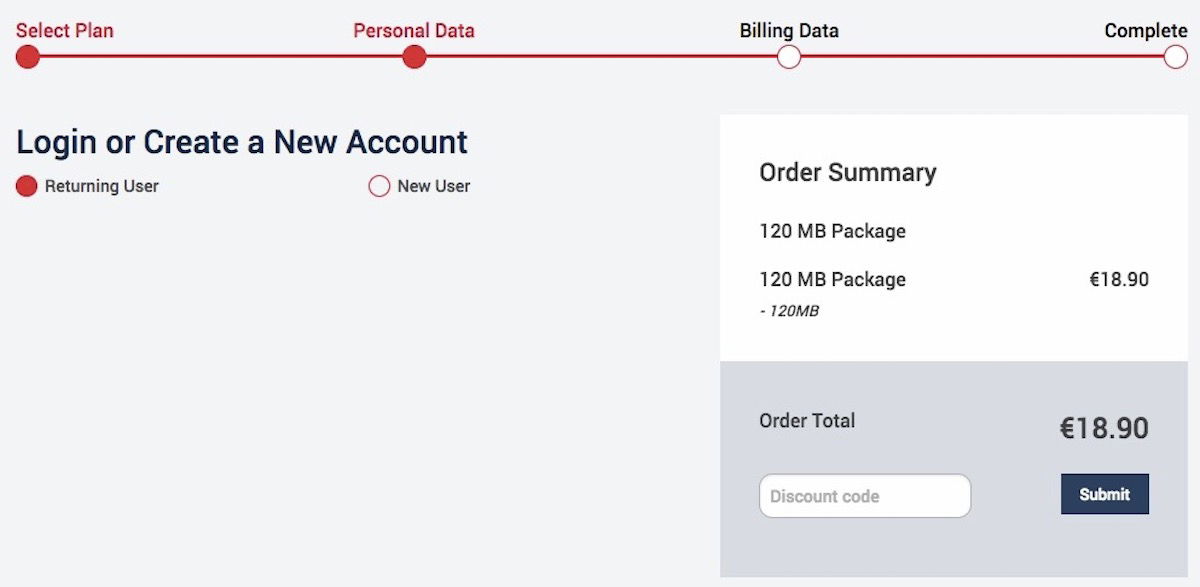 Air Serbia Wi-Fi
So I worked mostly in offline mode. Before I knew it, we were just two hours from landing in Belgrade, and approaching London.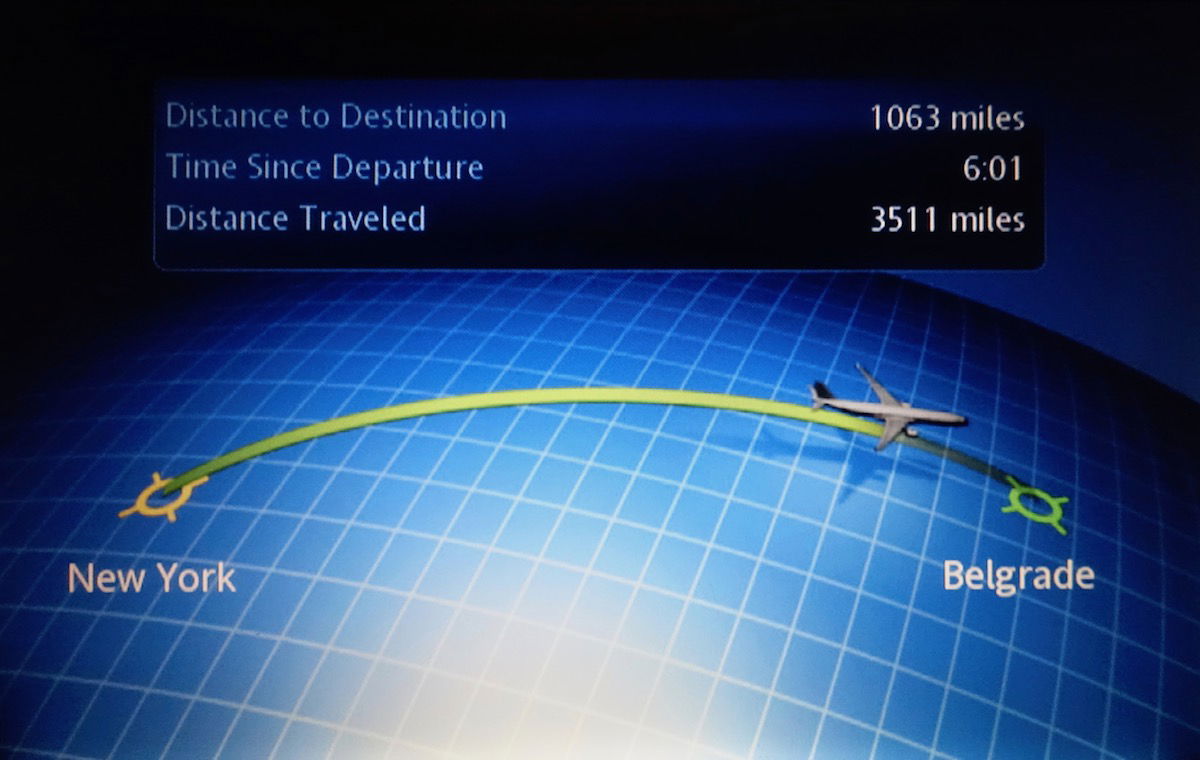 Airshow enroute to Belgrade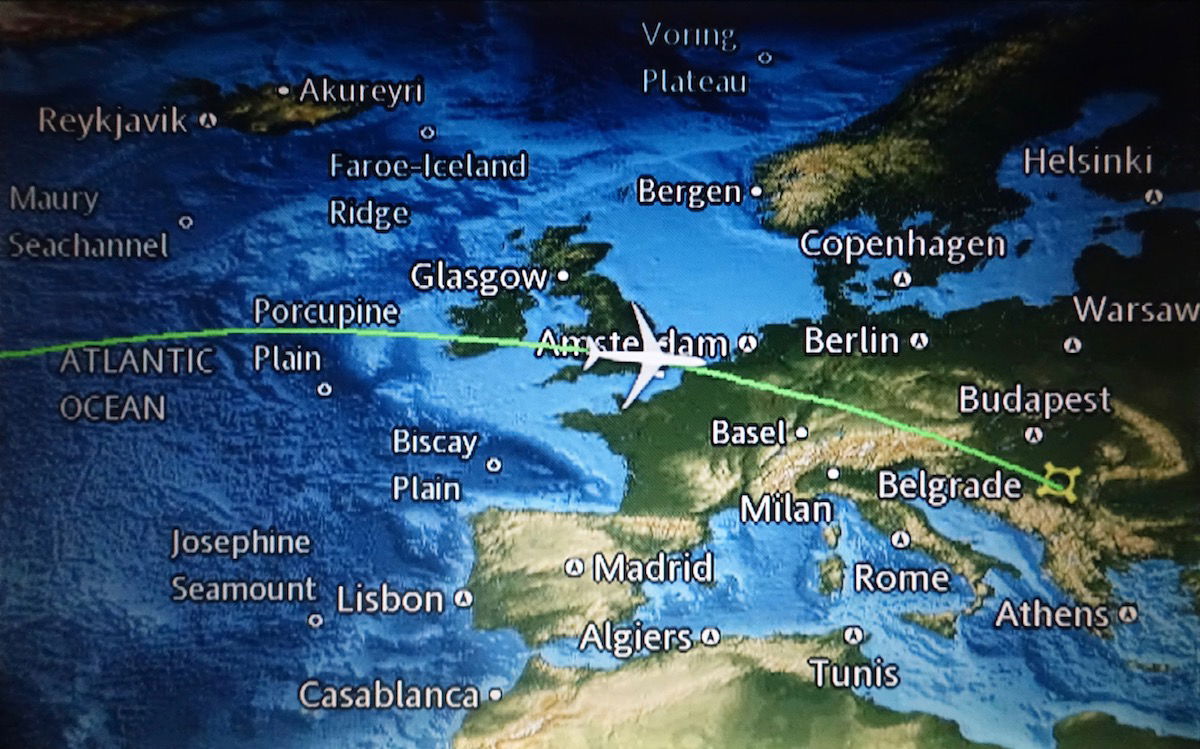 Airshow enroute to Belgrade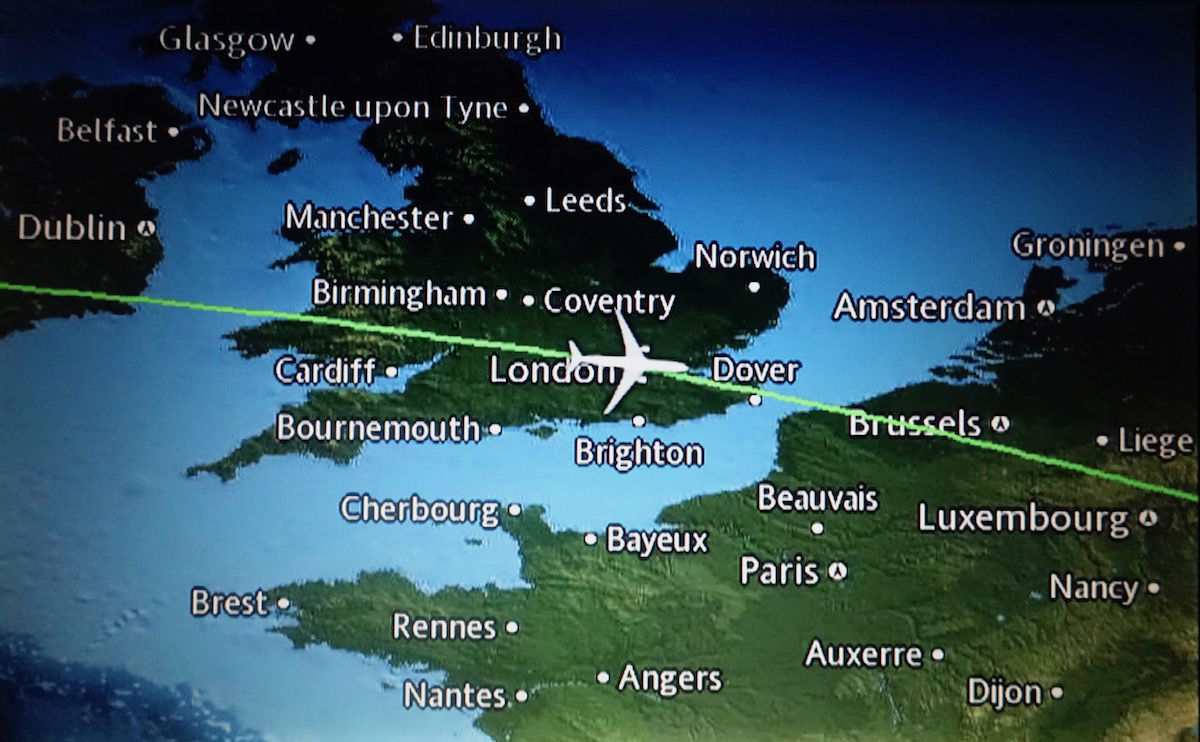 Airshow enroute to Belgrade
Here's something that's rather bizarre, that I didn't notice until I was expecting to eat breakfast. While every other overnight eastbound transatlantic flight I've taken serves breakfast before landing, Air Serbia simply serves a dinner-like snack. We're talking sandwiches, samosas, cheese plates, etc.
I guess it makes sense if you're serving meals based on the time at the origin, but that's often not how airlines operate, at least on transatlantic flights.
So I ordered some beef samosas, which were actually pretty good.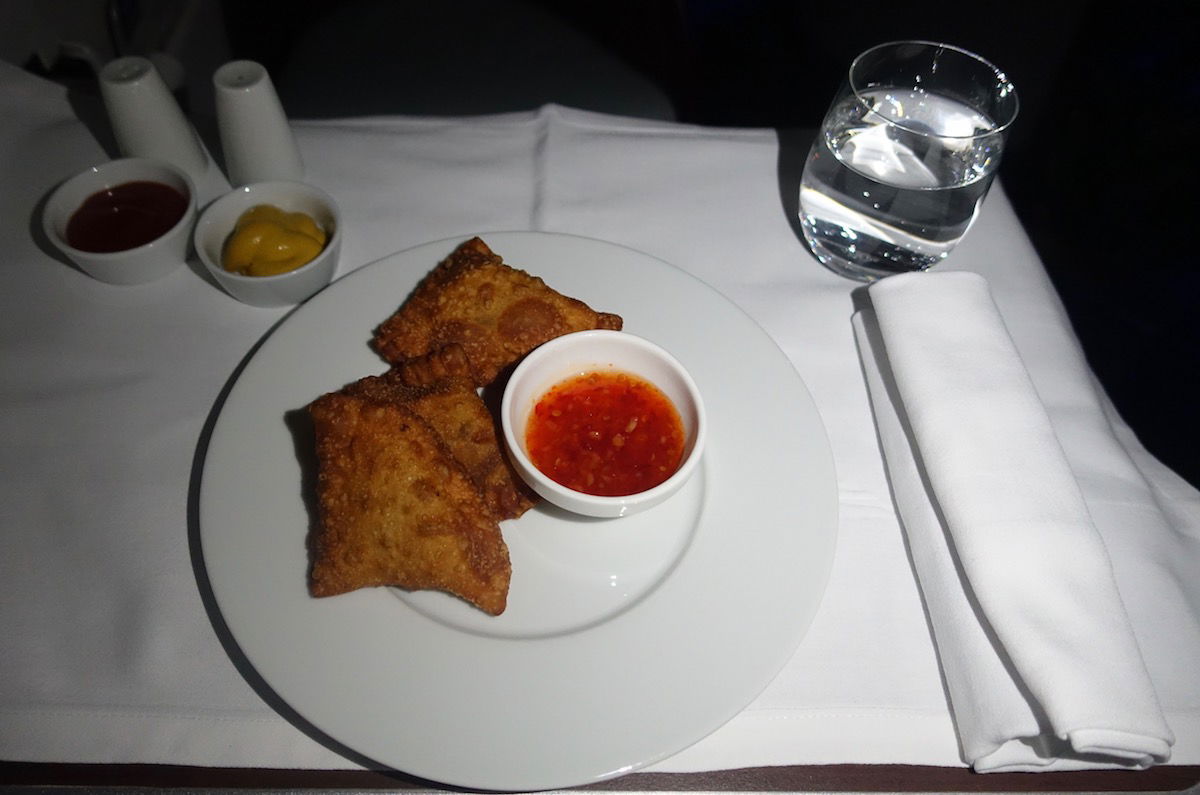 Air Serbia business class snack — beef curry samosas
Then for dessert I had a cup of coffee and a tartelette with vanilla and fruit, which was delicious.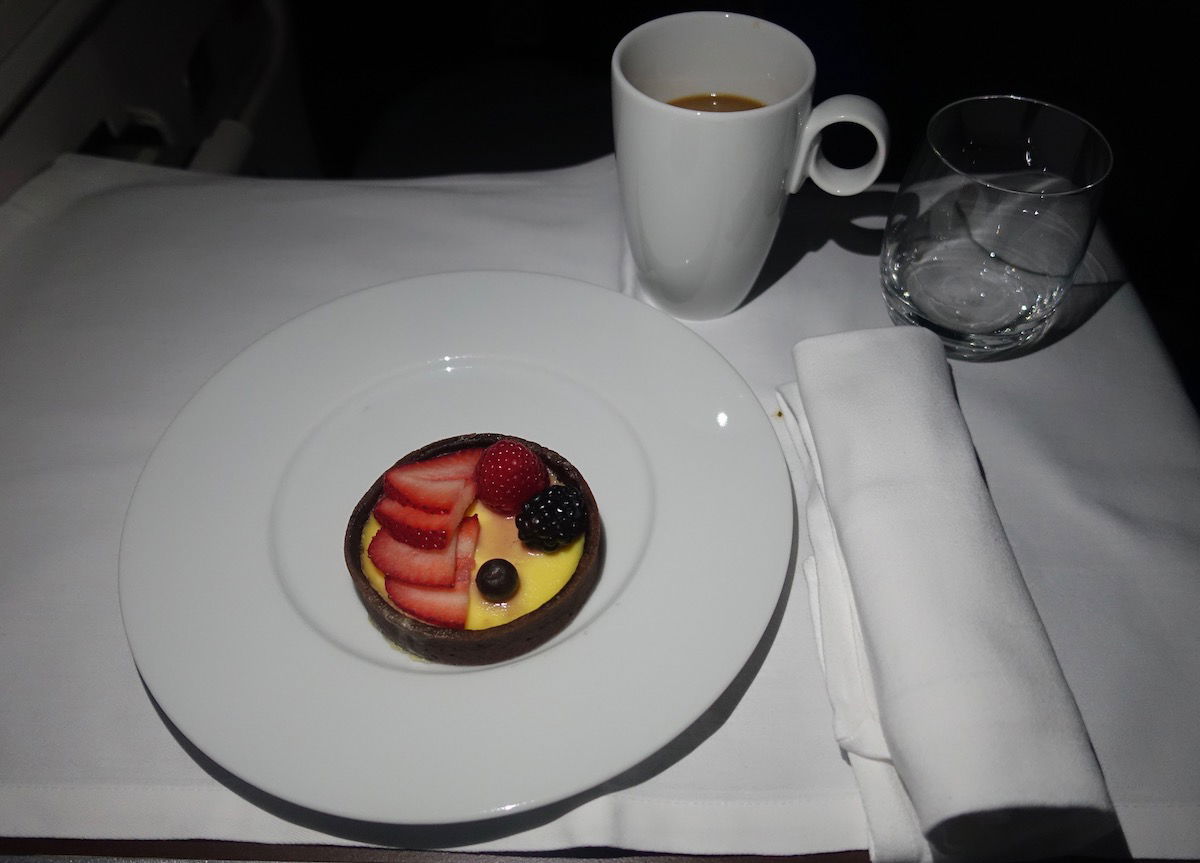 Air Serbia business class snack — tartelette with vanilla and fruit
The flight was nice and smooth, and by around 4:30AM local time we began our descent to Belgrade. As we descended we had an absolutely stunning sunrise. One downside of herringbone seats is that they face the aisle, so you have to bend you neck quite a bit to look out the window. However, the sunrise was so beautiful that I had to look out the window all the way till our arrival — the neck pain was well worth it. 😉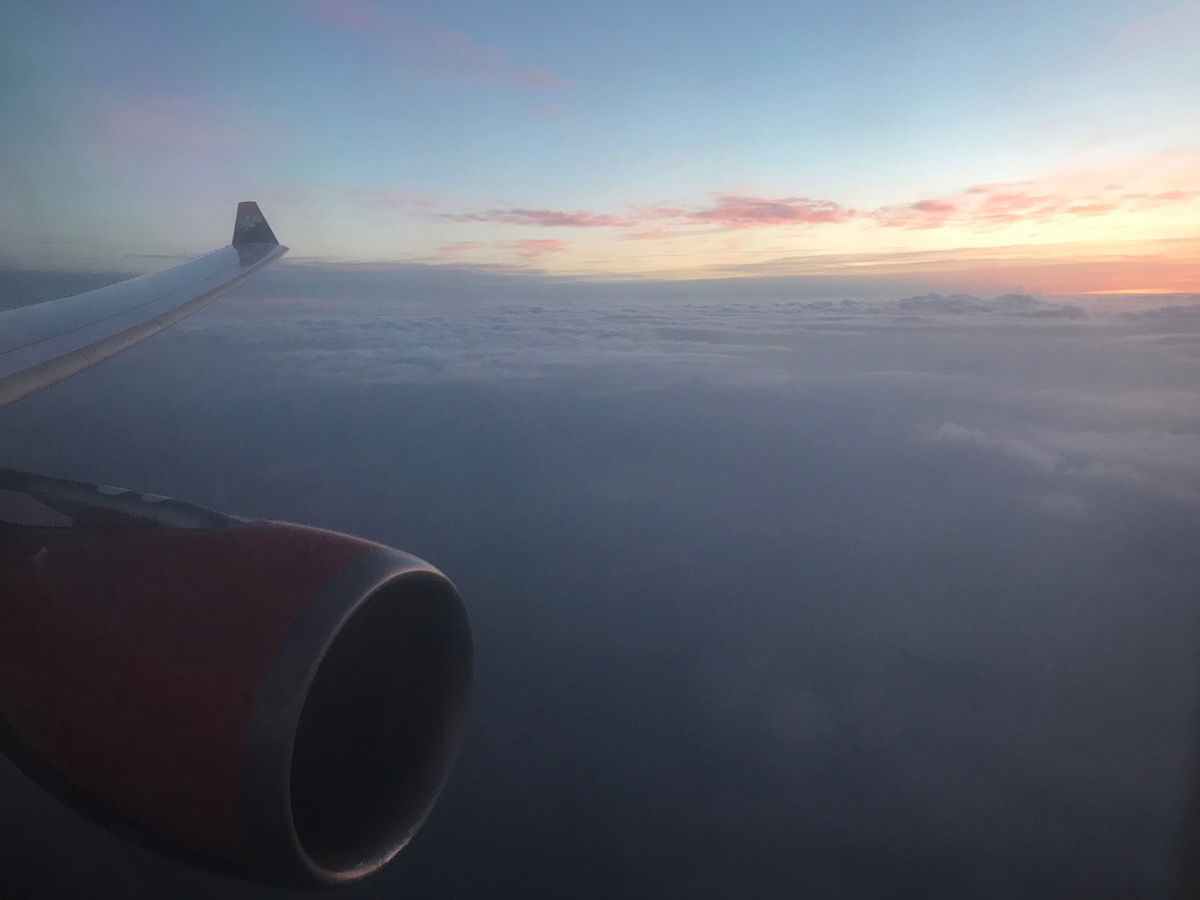 Sunrise approaching Belgrade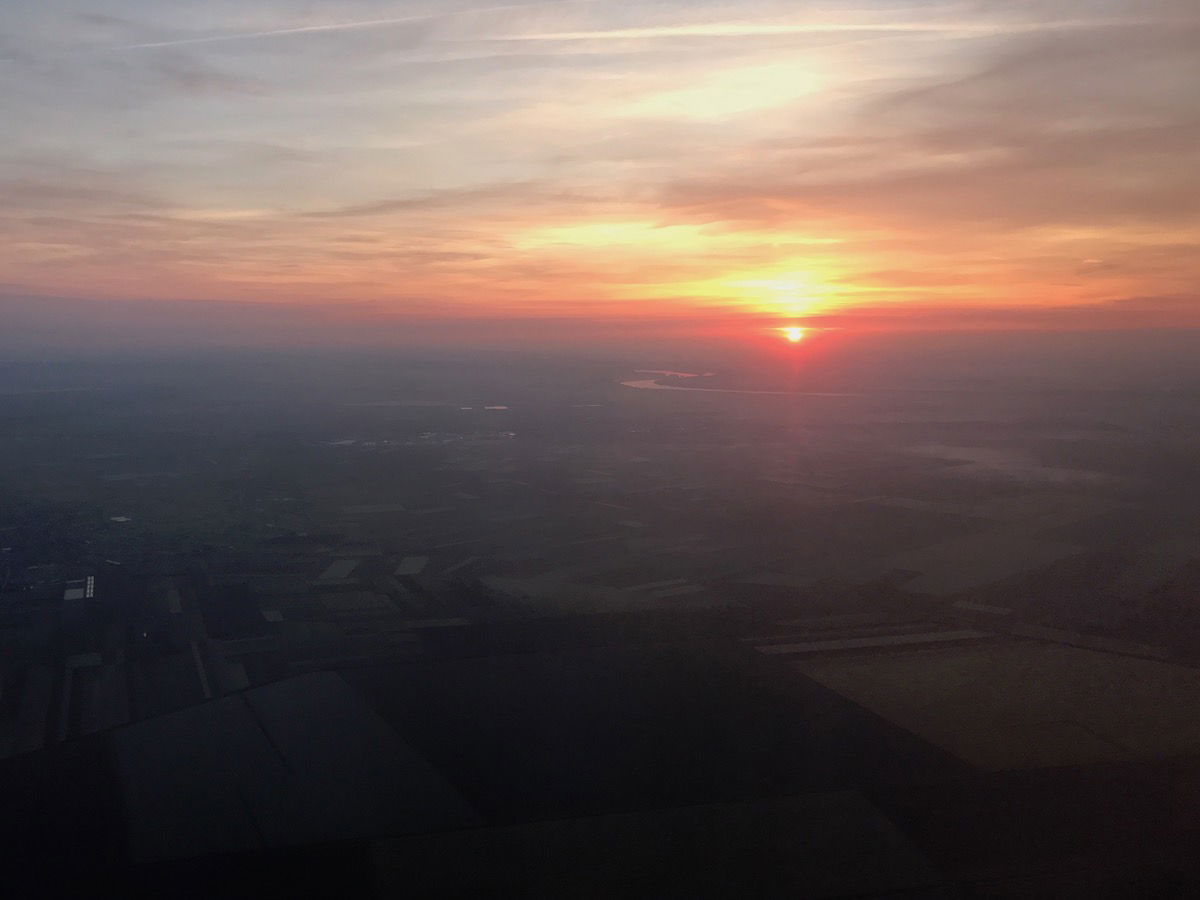 Sunrise approaching Belgrade
By 5:05AM we touched down in Belgrade, and from there had a roughly 10 minute taxi to our arrival gate.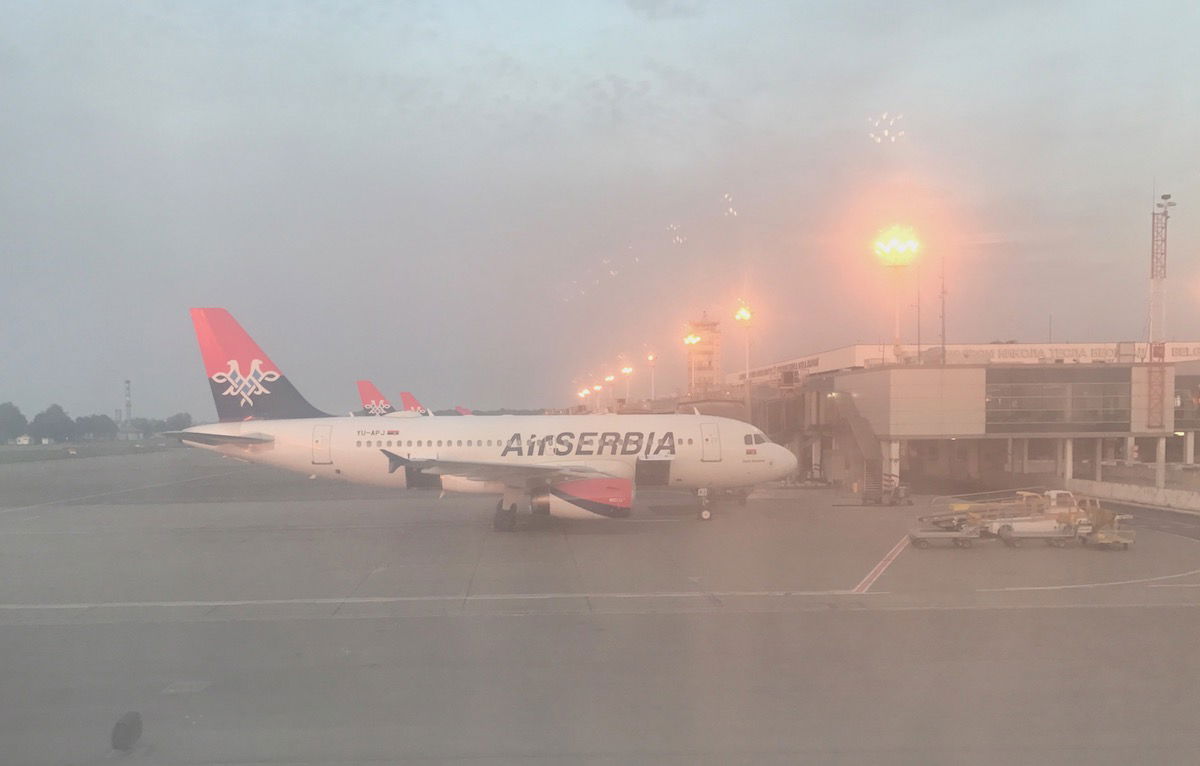 Arriving at gate in Belgrade
We arrived about 15 minutes early, bid farewell to the crew, and Ford was anxious to find out what our final destination would be.
Air Serbia business class bottom line
I have to admit that I was a bit more wowed by my first flight on Air Serbia. However, this was still an excellent flight. The crew was friendly, the service food, and Air Serbia offers great amenities. Pajamas, dine on demand, the lack of trays, etc., all set Air Serbia apart from much of their competition.
My biggest complaint about the flight is the departure time, as a 2:40PM departure is just way too early to get any sleep. However, I suspect this is a function of gate availability at JFK. Furthermore, the before landing snack is a bit strange, though I guess it's not totally crazy, given the timing of the flight.
Air Serbia continues to be a fantastic way to fly across the Atlantic, given their excellent award availability through Etihad Guest, and solid onboard product.