Introduction: Pulling Off A Very Special Surprise Trip
Review: St. Regis New York
How I Pulled Off A Surprise Trip… Sort Of
Review: Air Serbia Business Class A330 New York To Belgrade
Review: Aman Sveti Stefan Montenegro
Review: Dining At Aman Sveti Stefan
Review: Shangri-La Paris
Review: Lufthansa Lounge Paris Airport
Review: Lufthansa First Class 747-8 Frankfurt To Los Angeles
---
I reviewed the St. Regis New York back in 2014, when the hotel's public facilities were still being renovated. While I had stayed at the St. Regis before, Ford hadn't, and I knew he'd love it. This is a Category 7 SPG property, meaning that a free night redemption costs 35,000 Starpoints per night. I value those points at ~2.2 cents each, so to me that's $770 "worth" of points.
So as much as it usually pains me to do this, I figured paying cash was the best option, given the occasion. Ford booked us at the St. Regis through Starwood's Luxury Privileges program, which offers the following amenities:
Complimentary third night for stays through September 4, 2017; the promotion may be repeated during stay.  Black-out dates: May 15, 16, 17, 18, 2017. Complimentary night will be adjusted at check-out.
One 100 USD food and beverage credit per room, per stay
Daily full breakfast for two guests in the restaurant or via room service
Complimentary standard in-room internet access
Upgrade at time of booking
Early check-in and late check-out which are all subject to availability
The rate is still eligible for Starpoints accrual, etc. The Luxury Privileges rate is equal to the best available rate, which was roughly $1,000 including all taxes & fees (NYC has ~15% taxes on hotels, which really add up). So in the end my out of pocket was just under $700 per night, which I consider to be a good deal for this hotel, especially when you consider that this was a busy time where most mid-range hotels were going for almost $400 per night.
The St. Regis New York is located at 55th & 5th. Personally I find staying in midtown to be convenient for the easy access to various parts of the city, though I don't necessarily love the immediate area. However, since we had quite a few commitments on the Upper East Side, staying downtown didn't make sense.
The renovations were recently completed on the St. Regis' lobby, and they did a great job. The entire hotel feels both old world and classical without feeling run down, which can be a tough balance.
While the lobby's finishes are beautiful, the space is definitely on the small side, and there aren't really any nice sitting areas as you'd find in most other high end hotels.
We arrived early at the hotel, and were told our room would only be ready around 2PM. So we dropped off our bags and walked around the city for a bit. Sure enough, just minutes before 2PM I got a phone call saying our room was ready.
Thanks to my Platinum status we received an upgrade to a beautiful suite on the fifth floor, #516. The room had an entryway with a guest bathroom immediately to the right.

St. Regis New York suite entryway

St. Regis New York suite guest bathroom
Then there was a beautiful living room with with a couch and chair around a coffee table.

St. Regis New York suite living room

St. Regis New York suite living room
In the corner of the room was the TV, which was sort of oddly placed, but I guess it was the only space where it could really go, given the sliding doors to the bedroom.

St. Regis New York suite living room
Underneath the TV was the minibar.

St. Regis New York suite minibar
Then in the corner of the living room was a desk with a leather chair. I realize the room is supposed to have a classic design, though I wish they still had practically positioned outlets near the desk, which they didn't.

St. Regis New York suite living room desk
Waiting on the coffee table was a lovely welcome amenity, consisting of fresh berries, cheese, and macarons.

St. Regis New York welcome amenity
There was also a fruit plate next to the couch.

St. Regis New York welcome amenity
The living room was separated from the bedroom by a couple of sliding doors. What a gorgeous bedroom.
Not only do St. Regis properties consistently have great mattresses, but the sheets were high quality as well.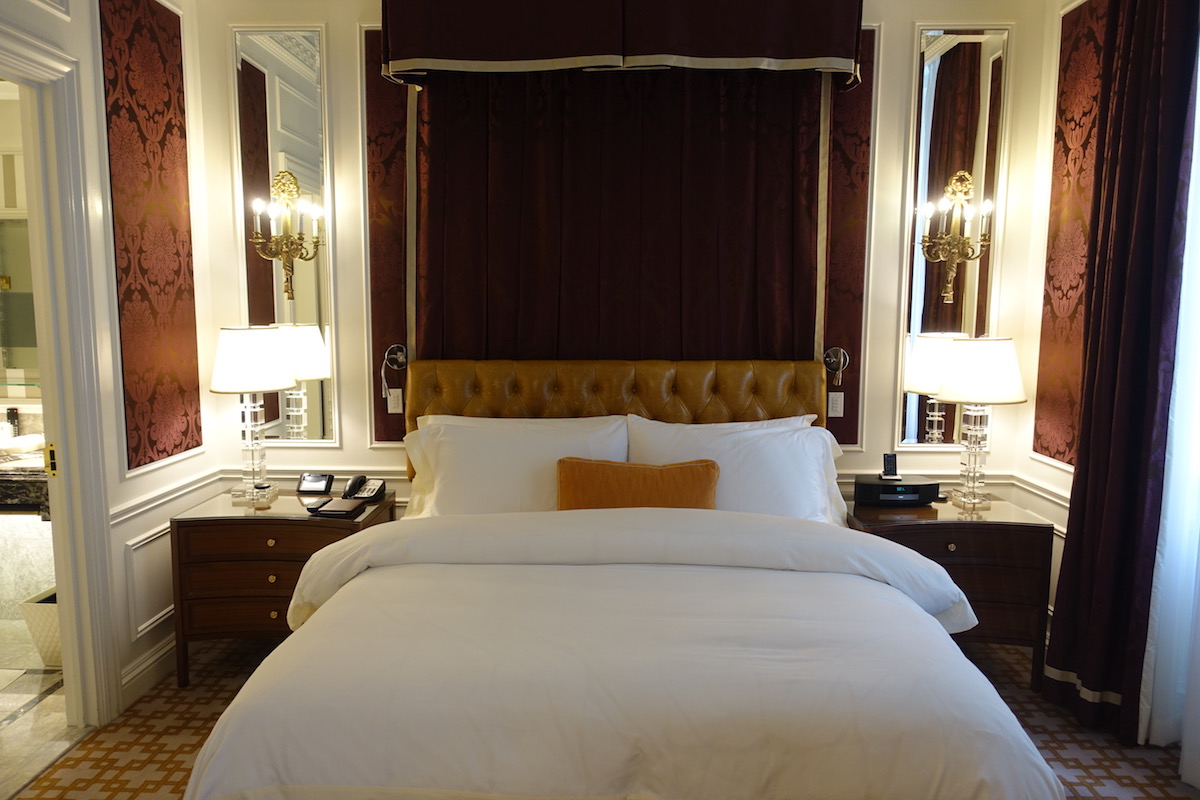 St. Regis New York suite bedroom
Our room didn't have much in the way of views. This is probably partly because we were only the fifth floor, but even higher up I don't think the views are great.
Next to the bedroom was the bathroom, which featured double sinks, a tub, a walk-in shower, and a partitioned off toilet.

St. Regis New York suite bathroom

St. Regis New York suite bathtub

St. Regis New York suite toilet
The water pressure and temperature control in the shower were excellent.

St. Regis New York suite shower
As is the norm at St. Regis properties, toiletries were Remede branded.

St. Regis New York suite Remede toiletries
Overall I thought the room was fantastic. It was spacious, well designed, and beautifully decorated. Usually I'm someone who prefers modern, minimalist decor. However, in moderation I can appreciate classic decor when a hotel is as well maintained as this one. I also loved the attention to detail in the design, like how the vents even had St. Regis branding.

St. Regis New York suite details
As is the norm at St. Regis properties, the hotel has butlers, so shortly after checking in a butler came by to introduce himself, explain the services that the butler service offers, etc. As someone who is pretty self sufficient and doesn't like other people touching my (limited) stuff, my favorite butler service feature is the complimentary coffee & tea, which we took advantage of every morning before breakfast.

St. Regis New York butler service coffee
Speaking of breakfast, for booking through Luxury Privileges we received complimentary breakfast at Astor Court, the hotel's restaurant located just off the lobby.

St. Regis New York Astor Court restaurant

St. Regis New York Astor Court restaurant
The breakfast menu read as follows (check out the titanic omelette):
The breakfast privilege at this hotel was for the American Breakfast, or otherwise a credit equivalent to that amount ($43 per person).
One morning we both had the American breakfast, which was filling.

St. Regis New York Astor Court American breakfast

St. Regis New York Astor Court American breakfast
Another morning I decided to try the shakshuka instead, which I also enjoyed.

St. Regis New York Astor Court breakfast — shakshuka
And then the last morning I had smoked salmon with bagels.

St. Regis New York Astor Court breakfast — smoked salmon with bagels
I know this is totally random, but I loved the coffee pots at breakfast.

St. Regis New York breakfast coffeepot
Right next to Astor Court is the hotel's famous King Cole Bar. This is where the bloody mary was supposedly invented, so we easily spent our $100 food & beverage credit there having drinks with family. Since the bloody mary was invented here, the St. Regis brand has a tradition where each property has their own signature bloody mary, which I enjoy trying, even though I'm not otherwise much of a bloody mary drinker.
In terms of other services, the St. Regis doesn't have a pool (it's rare for NYC hotels to have pools, though the Park Hyatt does, for example), though it does have a renovated gym. Stupidly I seem to have forgotten to taken pictures of that.
I found service throughout the hotel to be excellent. Ultimately you don't have that much interaction with staff at a city hotel compared to a secluded resort, but everyone I interacted with was friendly and accommodating.
St. Regis New York bottom line
The St. Regis New York is a fantastic hotel with great service and lovely, well maintained classic rooms. Usually I value luxury hotels more in secluded destinations than in cities, since that's where I'll typically spend the most time in a hotel. At the same time, it's rare that I get excited about staying at a hotel in NYC, since you can pay $300-400 for a perfectly mediocre hotel. The St. Regis New York, however, was a real treat, and a big step up from many of the places I usually stay in NYC. If you're visiting New York and willing to really splurge, I highly recommend it.