Introduction: Pulling Off A Very Special Surprise Trip
Review: St. Regis New York
How I Pulled Off A Surprise Trip… Sort Of
Review: Air Serbia Business Class A330 New York To Belgrade
Review: Aman Sveti Stefan Montenegro
Review: Dining At Aman Sveti Stefan
Review: Shangri-La Paris
Review: Lufthansa Lounge Paris Airport
Review: Lufthansa First Class 747-8 Frankfurt To Los Angeles
---
Aman is my favorite hotel group in the world. They have just a few dozen properties around the globe, and all the ones I've been to have been spectacular. While everyone knows about Four Seasons, Ritz-Carlton, etc., Aman is a brand that a vast majority of people haven't heard of.
Most of my favorite hospitality experiences have been at Amans, as service at Aman properties is next-level. These are all small resorts with a few dozen rooms at most, typically in secluded locations. They typically have stunning settings, and a level of service that I haven't experienced anywhere else. While the attention to detail in the service goes way beyond this, just to give an example, you'll never be asked for your room number, or be asked to sign anything, at an Aman. They just know. Always.
So far all the Aman properties I've stayed at have been in Asia (like Amandari and Amankila), though the next one I really wanted to stay at was Aman Sveti Stefan, located in Montenegro. That's partly because the setting looked stunning, and also because I've never been to Montenegro before, and was keen to visit a new country. Prior to this surprise trip, Ford and I had talked about eventually visiting this hotel, so it was on both of our radars.
While there are several types of specialty suites, the "basic" rooms at the hotel are the Village Rooms, Cottage Rooms, and Deluxe Cottage Rooms. For our nights they were priced at 770EUR, 880EUR, and 990EUR, respectively. I decided to book a Cottage Room, with hopes of being upgraded to a Deluxe Cottage Room. Since we booked through Virtuoso (if you'd like to book through Virtuoso you can email Ford at [email protected]), we received the following benefits:
Upgrade on arrival, subject to availability
Continental breakfast daily, for up to two in room guests
Complimentary luncheon for two once during stay (exclusive of beverages)
Early check-in/late check-out, subject to availability
Complimentary Wi-Fi
Breakfast and wifi are included for everyone, so the real benefits were the potential for an upgrade as well as the free lunch.
With that out of the way, let's talk about the actual stay. Did an Aman in Eastern Europe live up to the high standards set by the Asian properties I've stayed at?
We flew into Tivat Airport, located about 40 minutes from the hotel (you can also fly into Podgorica, where we flew out of on departure, which is about an hour drive). We were picked up at the airport, and it was a beautiful drive along the coast to the Aman.
I had seen pictures of the Aman, but I don't think pictures do it justice. I was speechless when I saw it — it almost doesn't look real.
The Aman is located "on" Sveti Stefan, which is the name of the island that's exclusively inhabited by the hotel. I won't go into the history of Sveti Stefan too much, but it's a 15th century fishing village. For several decades it was a resort, and then in 2007 the government decided to make it more exclusive and accepted international bids. Aman won the bid, and they have a 30 year lease on the island.
There's security before you can take the bridge to the island, as only guests can cross (I think there's also a once daily guided tour that's available to non-guests, which is the only other way to get on the island).

Walking towards Aman Sveti Stefan
I couldn't believe how beautiful the setting was.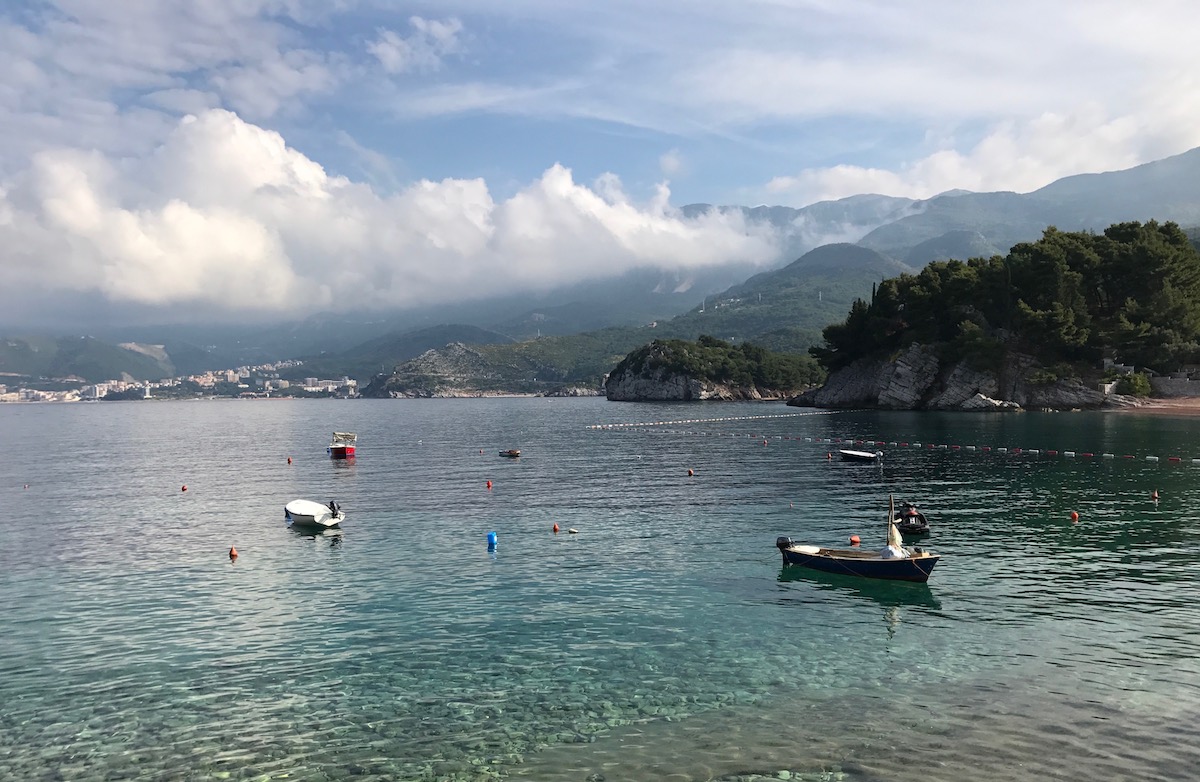 Walking towards Aman Sveti Stefan
The Aman has roughly 50 rooms. About 80% of those are on the actual island, with the balance being in a villa just on the mainland, called Villa Miločer.
I've been to a lot of stunning hotels, but being on a private island that feels like it's from a couple of centuries ago has to be the most special setting I've ever seen for a hotel. The island is full of stairs, and it's quite easy to get lost, but that's part of the charm, I suppose. The strategy is to always try and walk in the right general direction, and then eventually you'll see something you recognize and know where to go.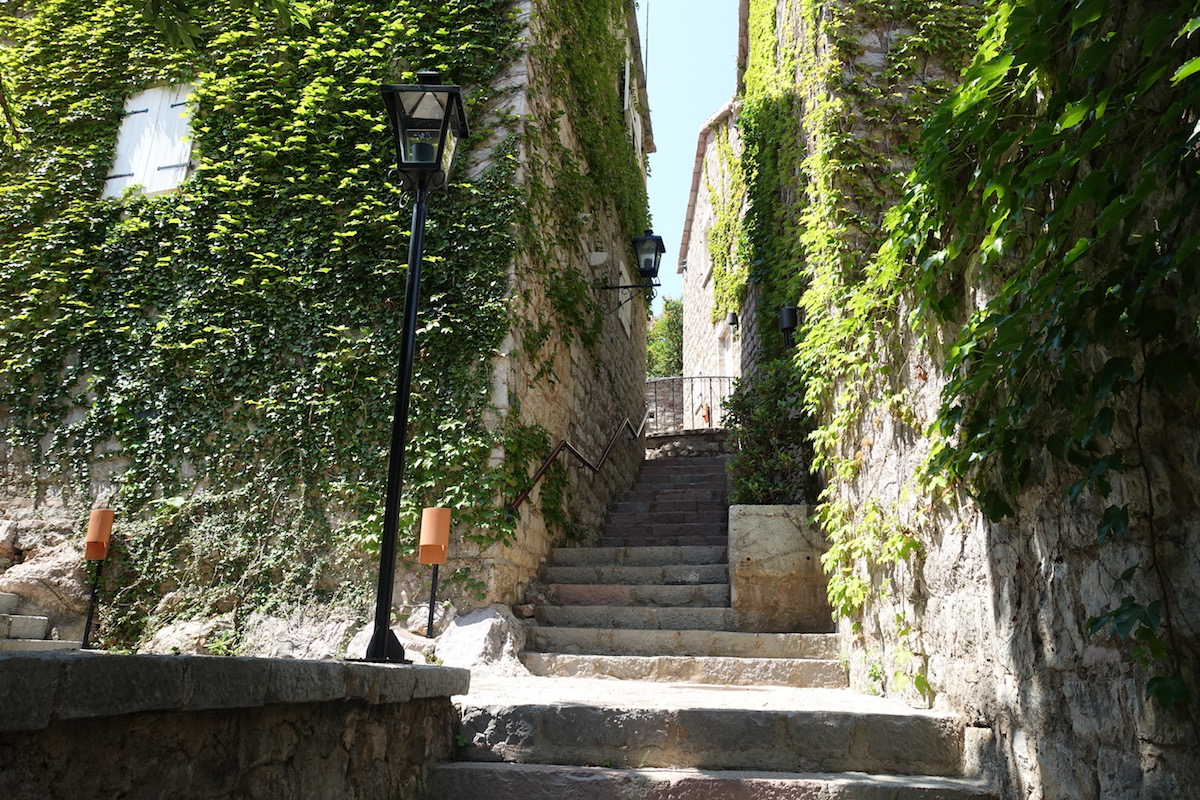 Walking around Aman Sveti Stefan

Walking around Aman Sveti Stefan
As soon as we arrived on the island we were greeted by our lovely host, who escorted us to our room, #25. Our room was located roughly in the middle of the island, so it wasn't too tough to get to.
As we were walked to our room our host explained the history of the island, and also told us that we could get an island orientation whenever we were ready. I think she sensed we were exhausted after the overnight journey, so she left us with the keys, and we said we'd contact them when we were ready.
The main entrance to our Deluxe Cottage was the center door, though the left one also led to our room.

Aman Sveti Stefan Deluxe Cottage exterior
Inside the entryway was a small foyer with a lamp and some umbrellas.

Aman Sveti Stefan Deluxe Cottage entryway
Then there was a long hallway leading into the rest of the room.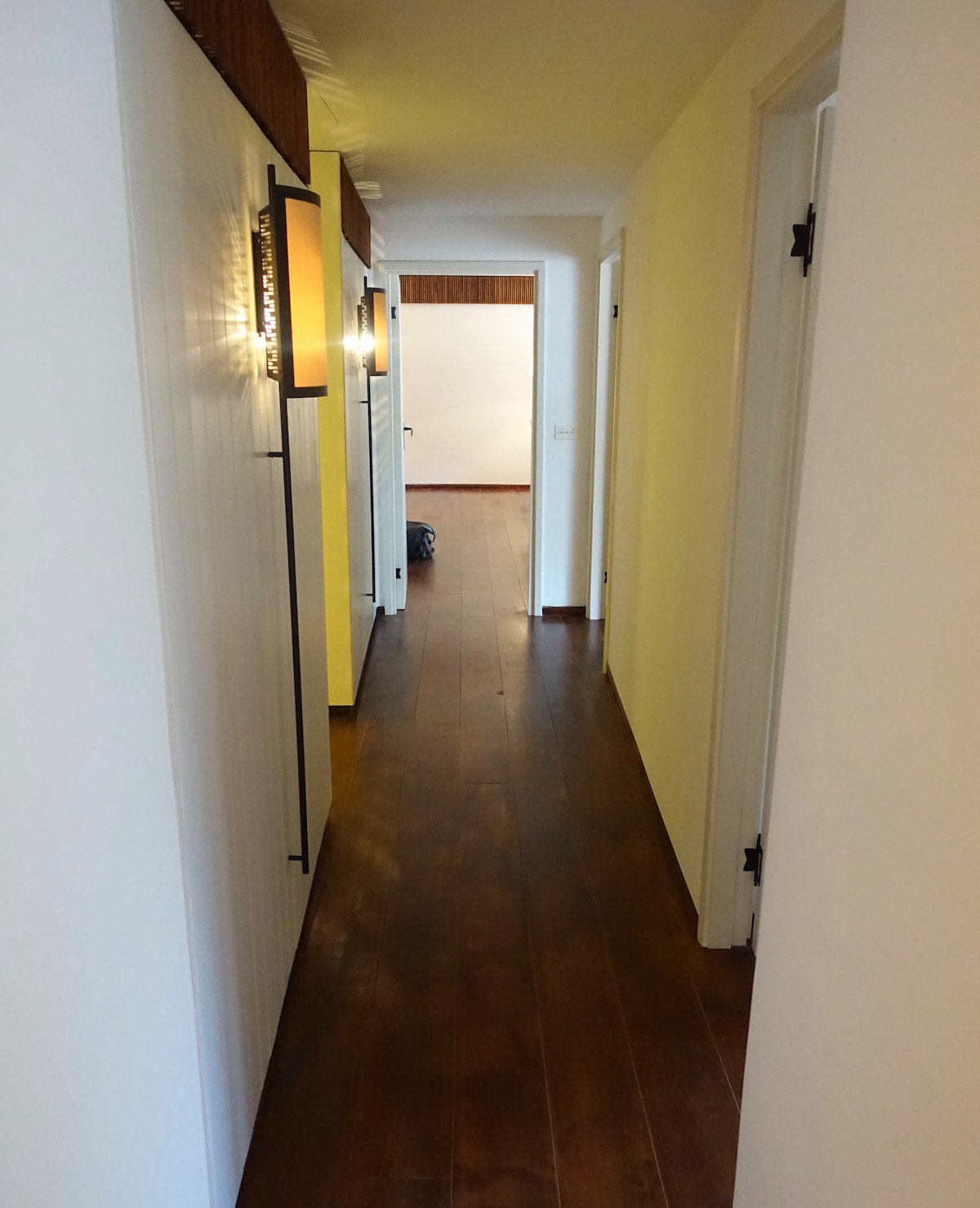 Aman Sveti Stefan Deluxe Cottage hallway
At the far end of the room was the living and sleeping area, which was a single big room. There was a king size bed up against the wall, and then two couches at the foot of it, along with a coffee table and a console with a flat screen TV.

Aman Sveti Stefan Deluxe Cottage bedroom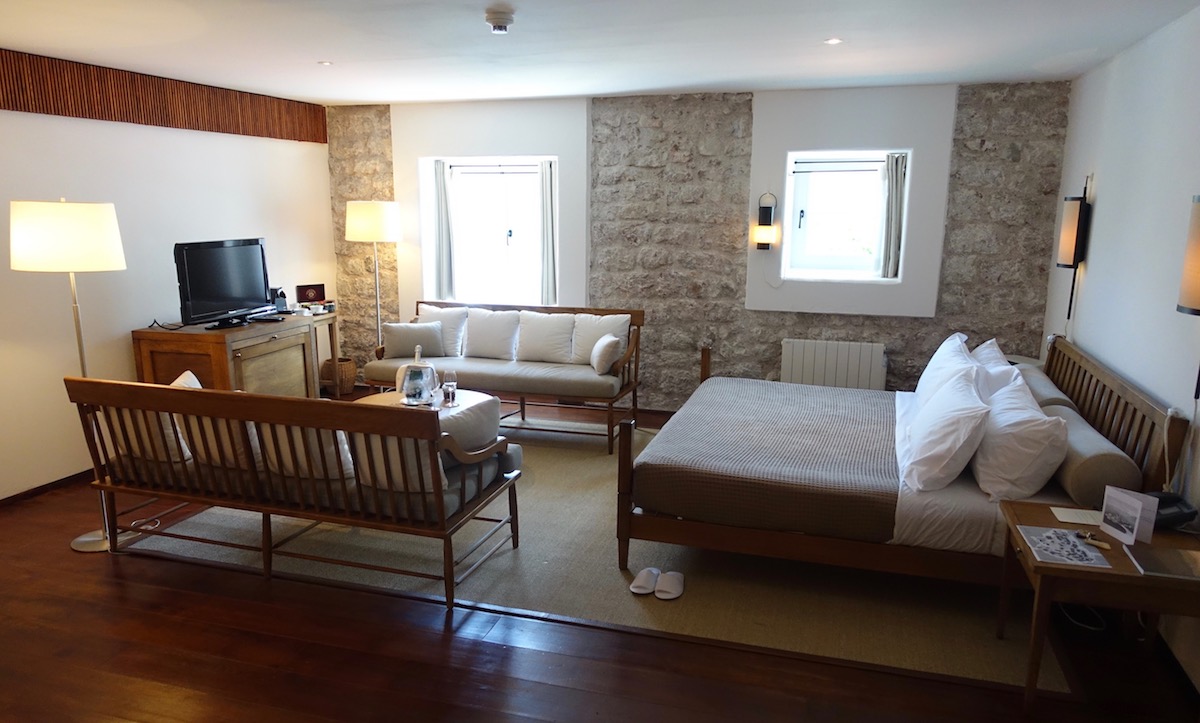 Aman Sveti Stefan Deluxe Cottage bedroom
In the opposite corner of the room was a desk as well as a lounging seat.

Aman Sveti Stefan Deluxe Cottage bedroom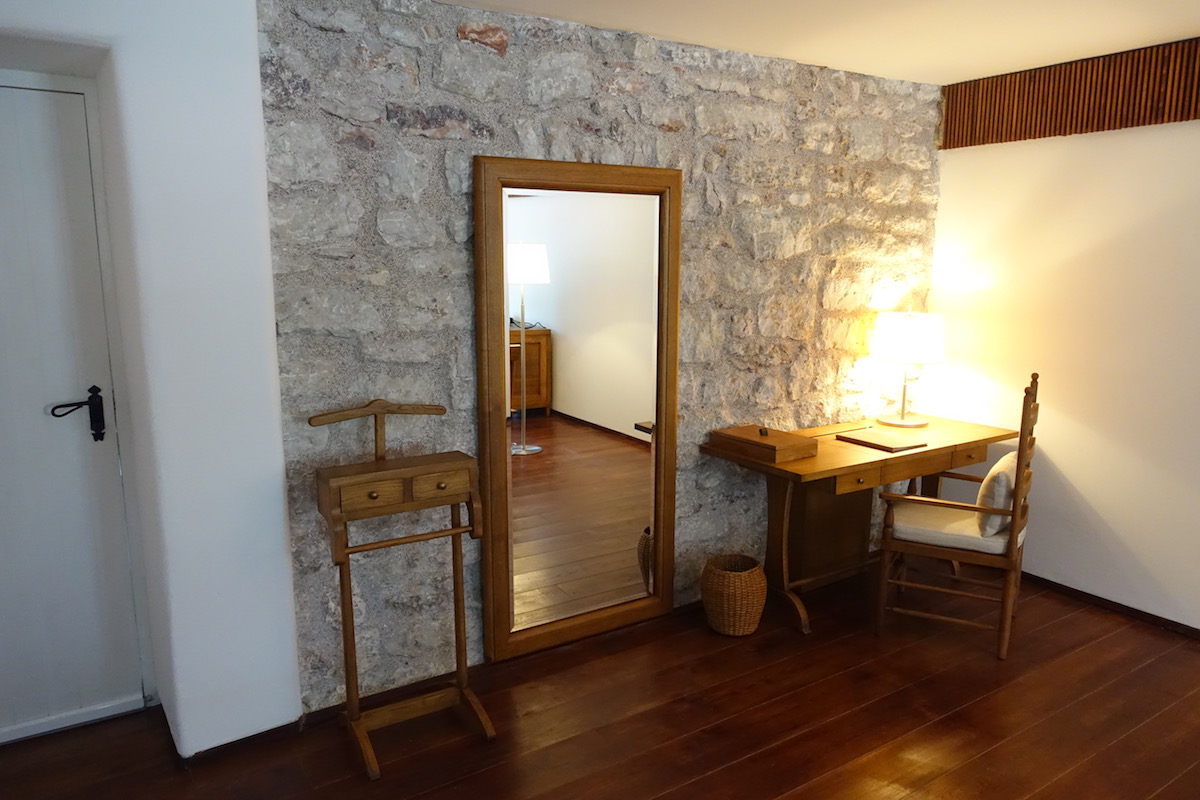 Aman Sveti Stefan Deluxe Cottage desk

Aman Sveti Stefan Deluxe Cottage sitting area
Near the TV was a Nespresso machine and the minibar.

Aman Sveti Stefan in-room espresso machine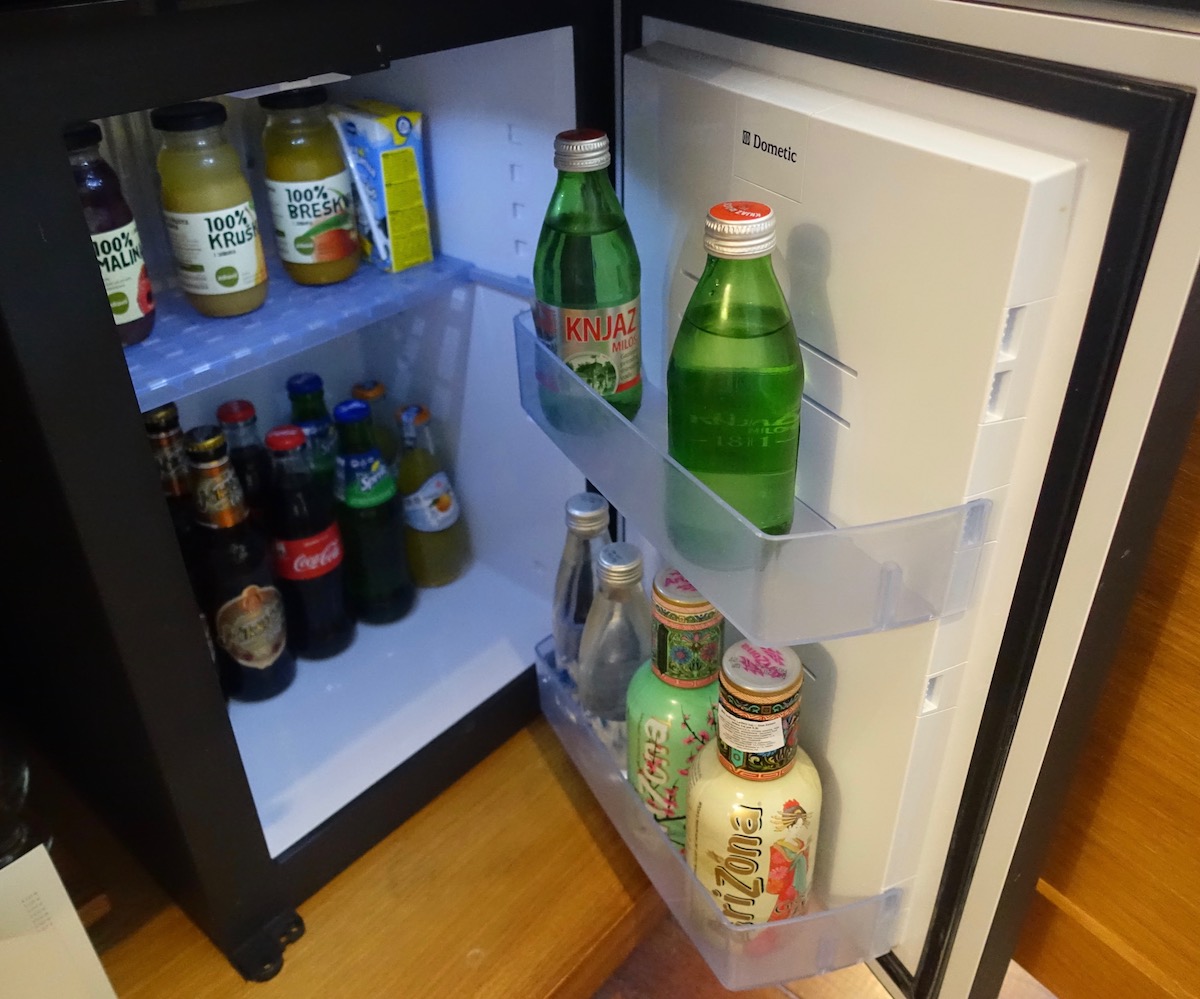 Aman Sveti Stefan Deluxe Cottage minibar
There was also a welcome amenity consisting of a bottle of sparkling wine, as well as some cookies and nuts, which were refilled daily.

Aman Sveti Stefan welcome amenity
The room had a view of the mainland, including of the bridge leading to the island and the beach.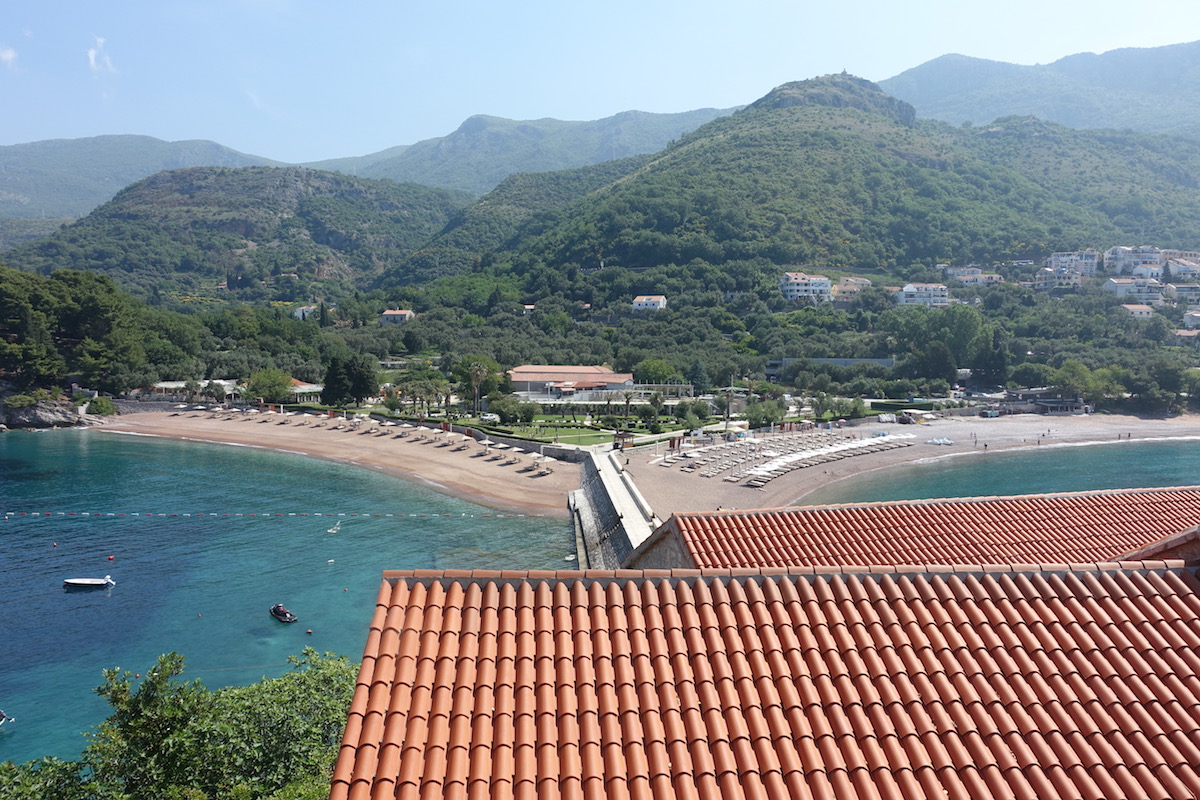 Aman Sveti Stefan Deluxe Cottage view

Aman Sveti Stefan Deluxe Cottage view
Back towards the entrance was the toilet and shower.

Aman Sveti Stefan Deluxe Cottage toilet & shower
The shower was to the right, and was a fairly simple room.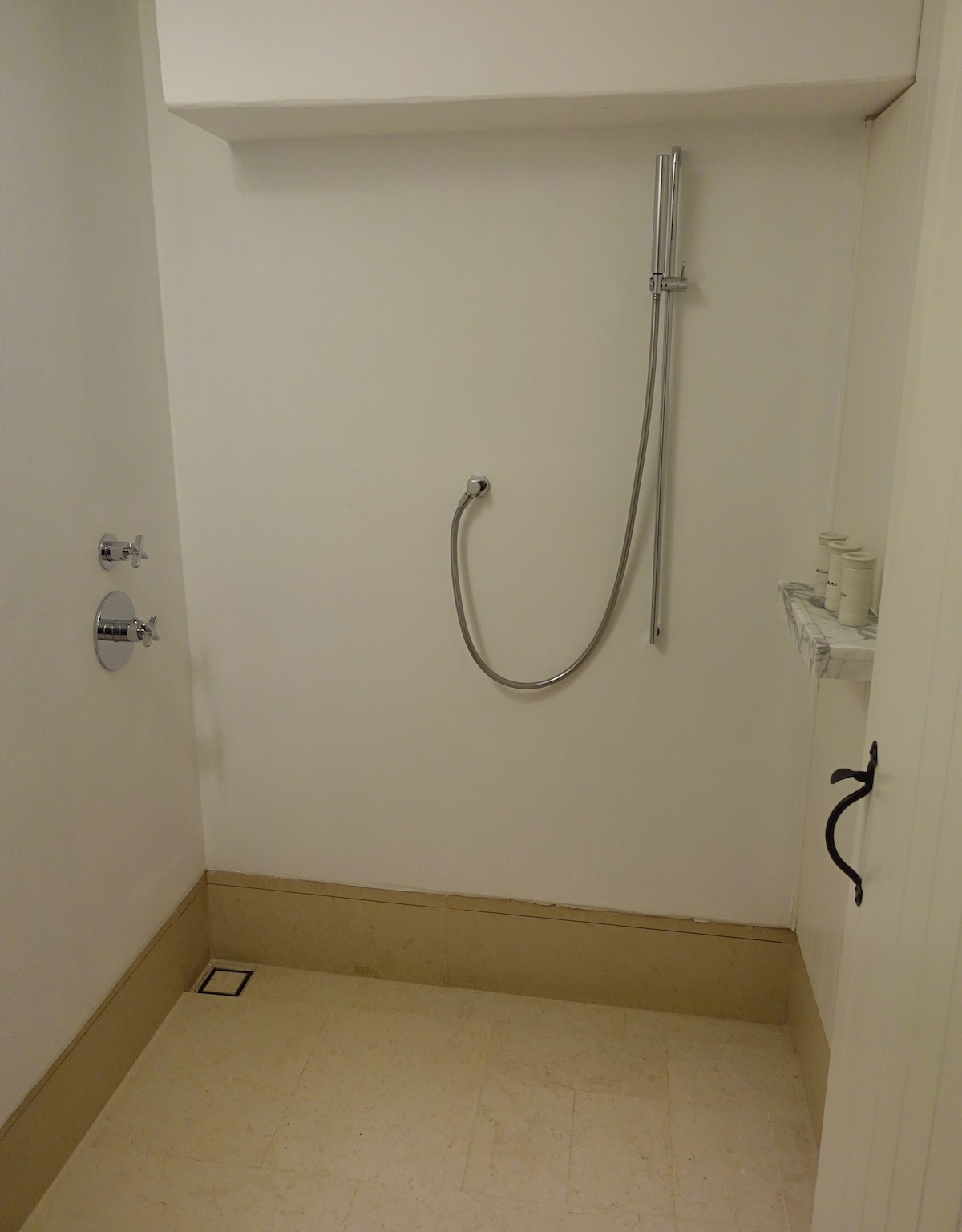 Aman Sveti Stefan Deluxe Cottage shower
As usual for Amans, the toiletries weren't in branded bottles, but were high quality.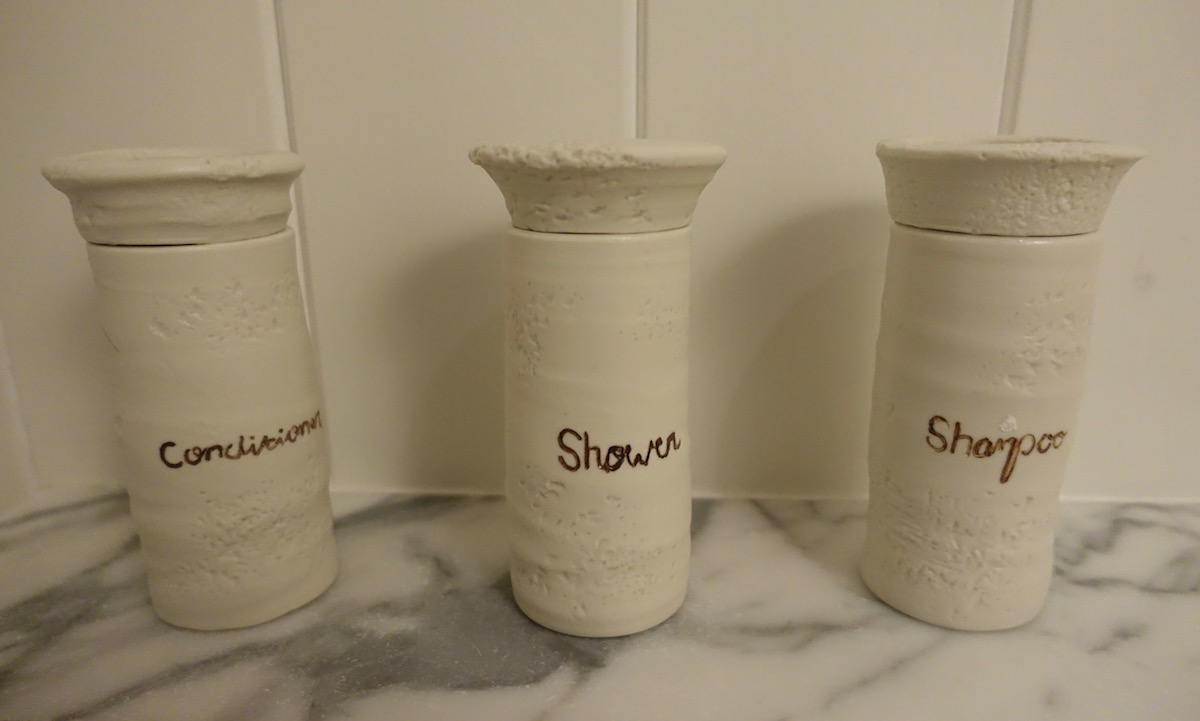 Aman Sveti Stefan Deluxe Cottage toiletries
Across from that was the toilet.

Aman Sveti Stefan Deluxe Cottage toilet
Then on the opposite side of the hall was a soaking tub, double sinks, and closets.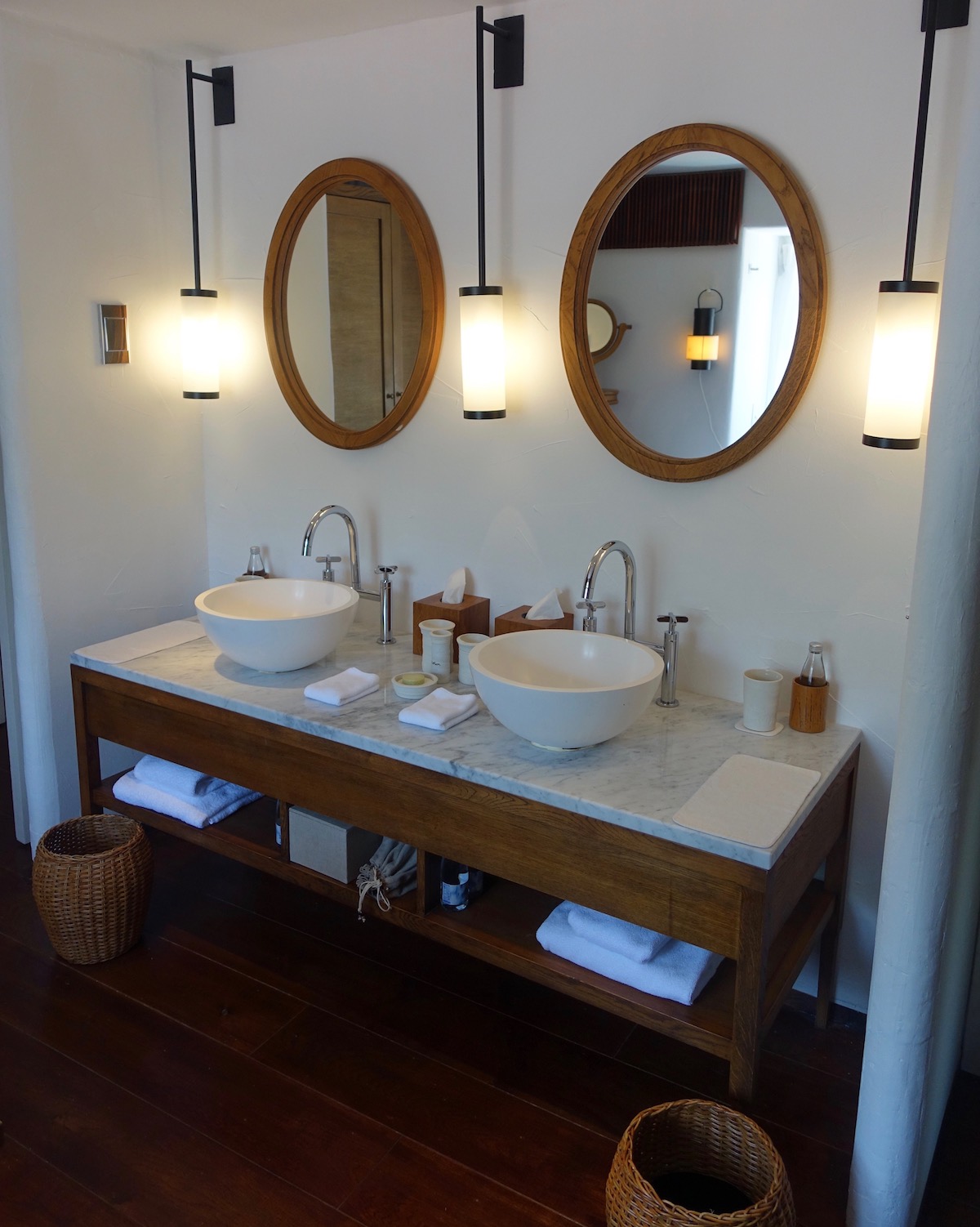 Aman Sveti Stefan Deluxe Cottage bathroom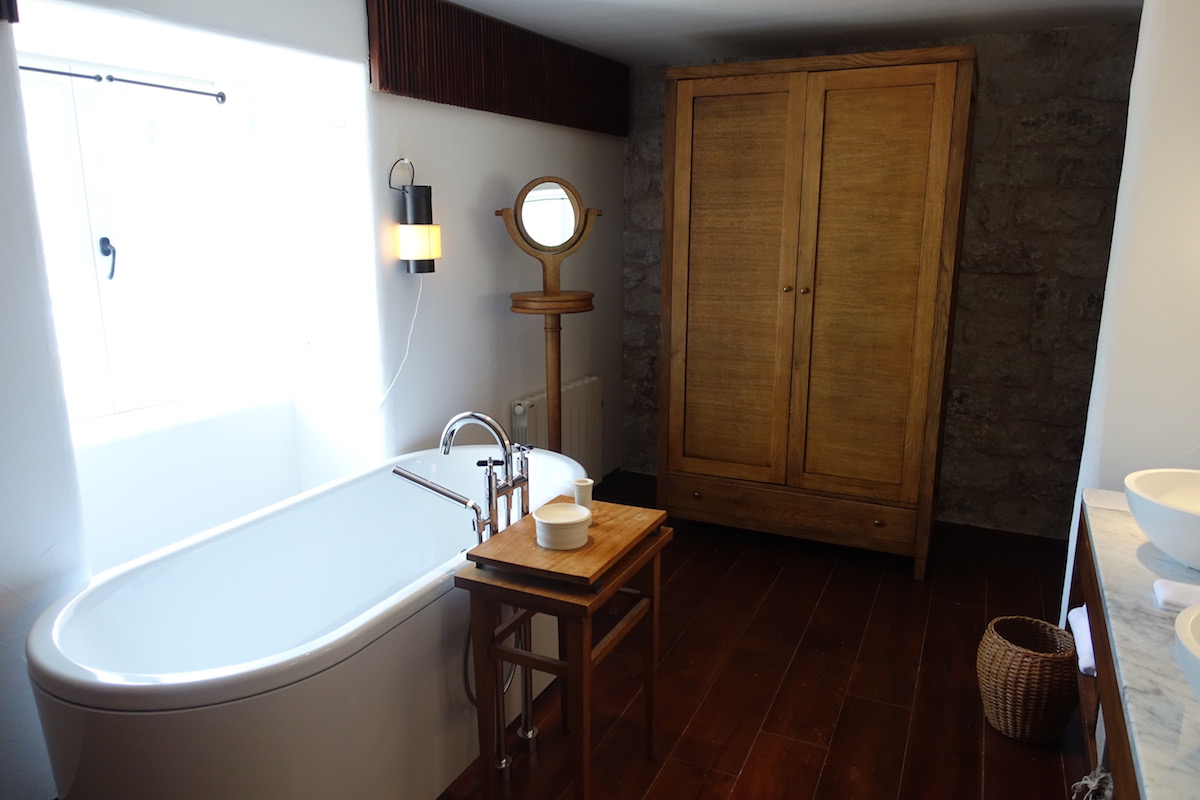 Aman Sveti Stefan Deluxe Cottage soaking tub

Overall I thought the room was lovely and spacious, and nicely reflected the setting. Amans are all about minimalist decor, and that was the case here as well. There was wifi available throughout the island, and it was fast and free.
So, what is there to do on the island? For one, you have incredible views everywhere you look.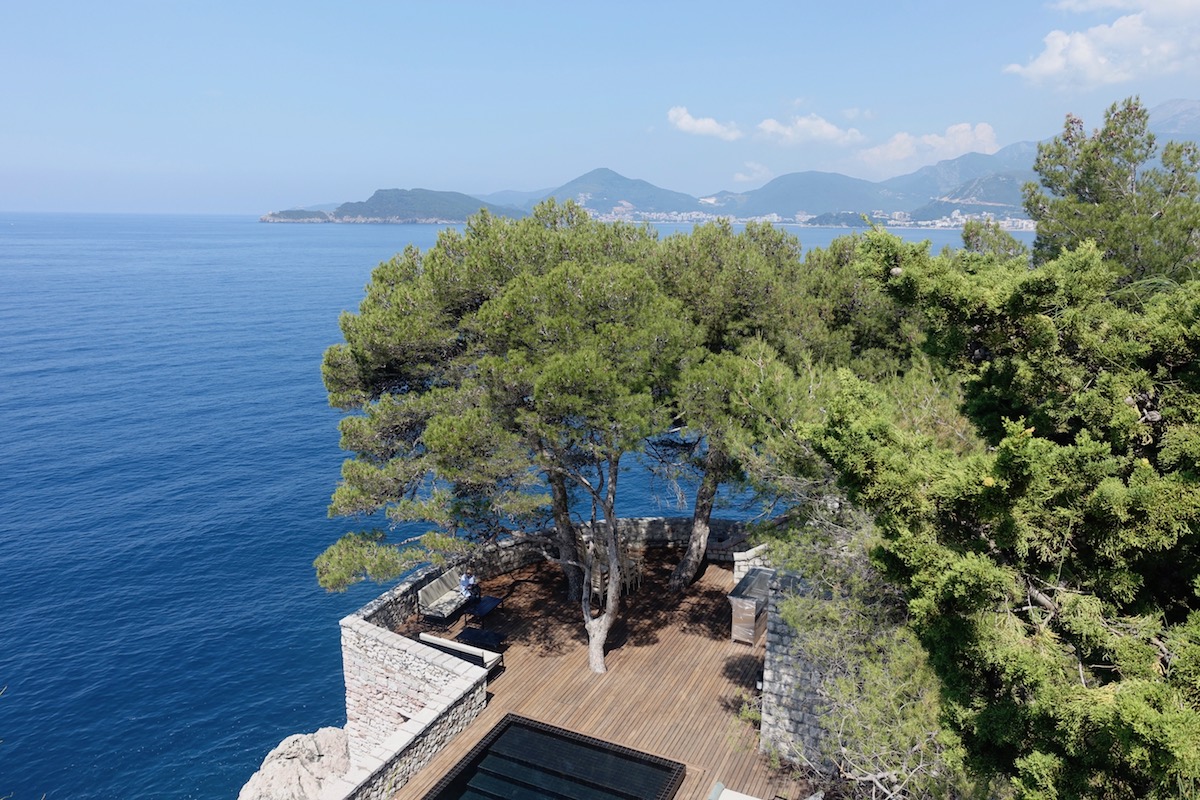 Walking around Aman Sveti Stefan
The color of the water was beautiful, and you could see down to the bottom of the sea near the resort.

Walking around Aman Sveti Stefan
Just walking around the island and looking at all the buildings is a cool experience — there are four churches on the island (they're not in use, though you can sometimes go in them, apparently).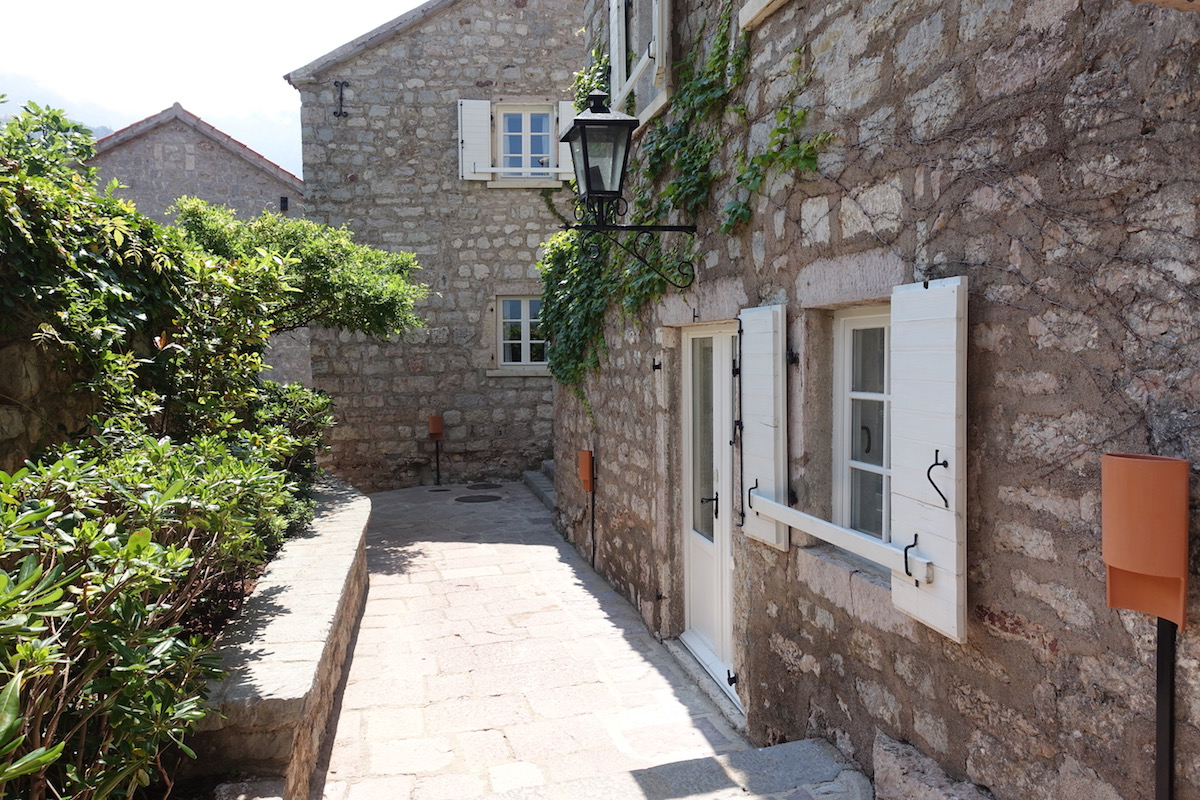 Walking around Aman Sveti Stefan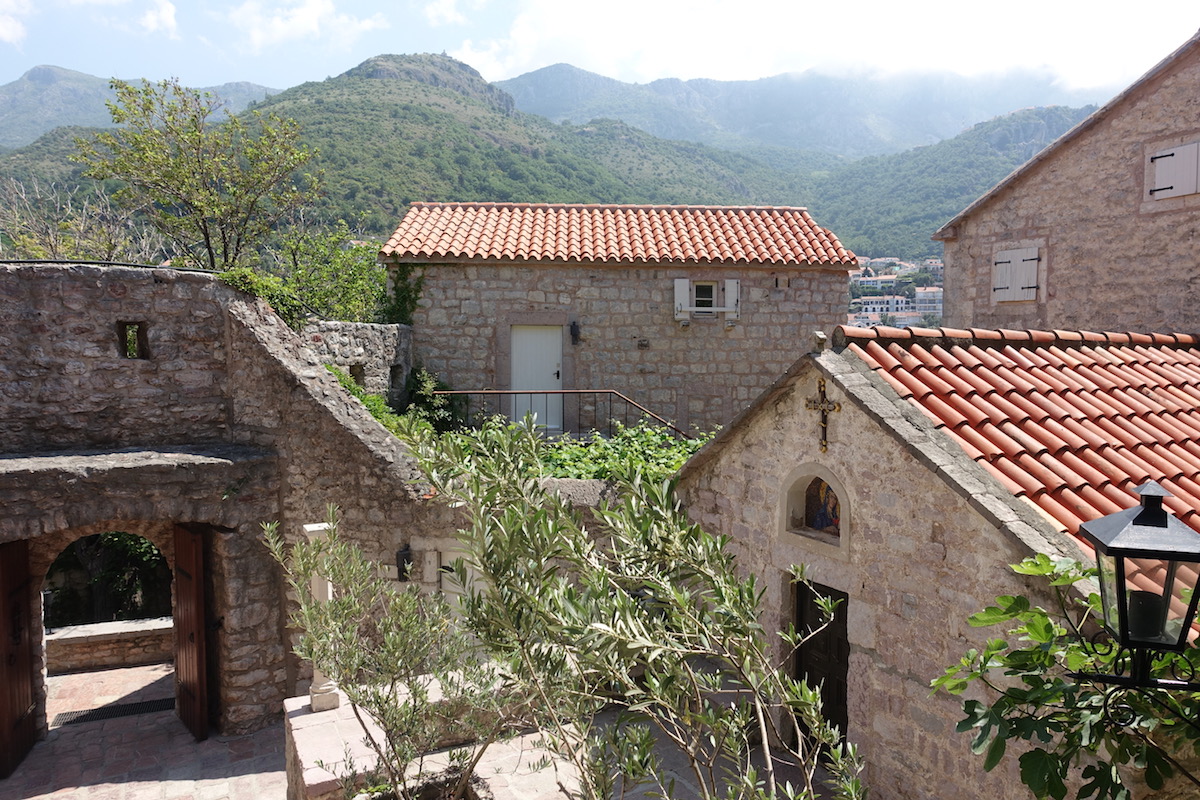 Walking around Aman Sveti Stefan
The resort has three pools, two of which are on the island, and one of which is at the spa complex, located on the mainland. There's one fairly secluded pool, which is the quieter of the two on the island.
Then there's a pool over by the dinner restaurant.
How gorgeous is that?!?
Talk about a restaurant with a view, if I've ever seen one…
The hotel also has a private beach, located across the bridge back towards the mainland. As you walk from the island to the mainland, the private beach is on the left.
Technically it's not private and non-guests can rent a chair for 100EUR, but I suspect that's due to some regulation requiring them to make it public. Since we were there in May, the water was apparently still a bit cold to go to the beach, so I never saw anyone there (the outside temperature was perfect, just not the water temperature, apparently, but I'm also not a beach person).
The hotel also has an incredible spa complex, which we visited on our second day, when it was rainy. You could easily walk here from the resort in about 20 minutes, but the hotel also has a car service, which we took advantage of since it was raining.

Aman Sveti Stefan transfer to the spa
The spa complex is so impressive, especially when you consider how few rooms the hotel has.
There's a beautiful reception area.
Outside there's a private beach, as well as a bunch of other areas where you can relax (though we didn't have a chance to use them since it was raining).
There's a stunning indoor pool.
There's also an outside portion to the pool, though it was closed off due to the rain.
Then there's a sauna, steam room, etc.
And a gym, as you'd expect.
We decided to get massages one afternoon, and while they weren't cheap, they were exceptional. It was one of the best massages I've had anywhere.
There's a lot to do at the resort — there's a lot of eating to be done, there are three great pools, there's a fantastic spa, and there are mesmerizing views. If you're interested in doing more than just relaxing, though, there's a lot to do in the area as well. I was blown away by the beauty of Montenegro. For one, there's the nearby town of Budva, which has a beautiful old town. There are lots of other towns nearby, though Budva is the one we enjoyed most.
It's either a 15 minute drive, or a boat transfer can be arranged directly from Sveti Stefan's dock.

Walking to Aman Sveti Stefan dock

View from the Aman Sveti Stefan dock

Aman Sveti Stefan boat transfer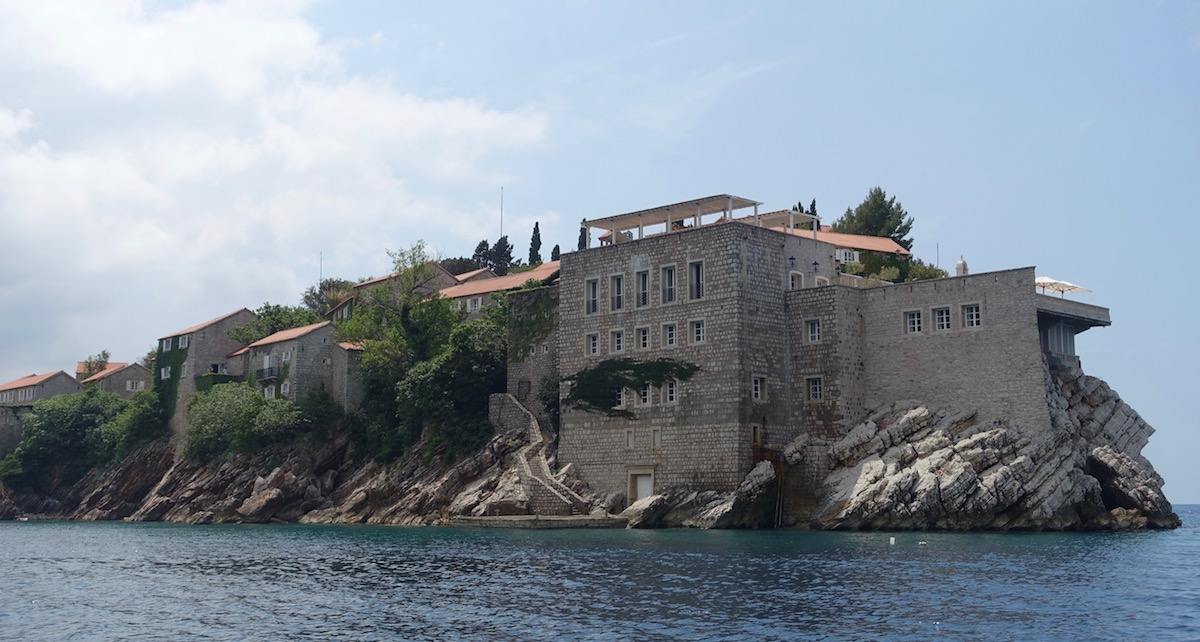 Aman Sveti Stefan from the water
There's such varied landscape in the area, so whether you're into the sea or mountains, there are lots of other activities. One day we went on an olive oil tasting about an hour from the hotel, which was fun. It was a family owned place, so didn't at all feel commercialized.

Olive oil tasting in Montenegro

Olive oil tasting in Montenegro
There's also some great hiking near the hotel. You can hike up to the church located all the way on top of the hill across from Sveti Stefan.

The top of the hill near Aman Sveti Stefan
The views from up there are breathtaking, including of the resort.

View from the top of the hill near Aman Sveti Stefan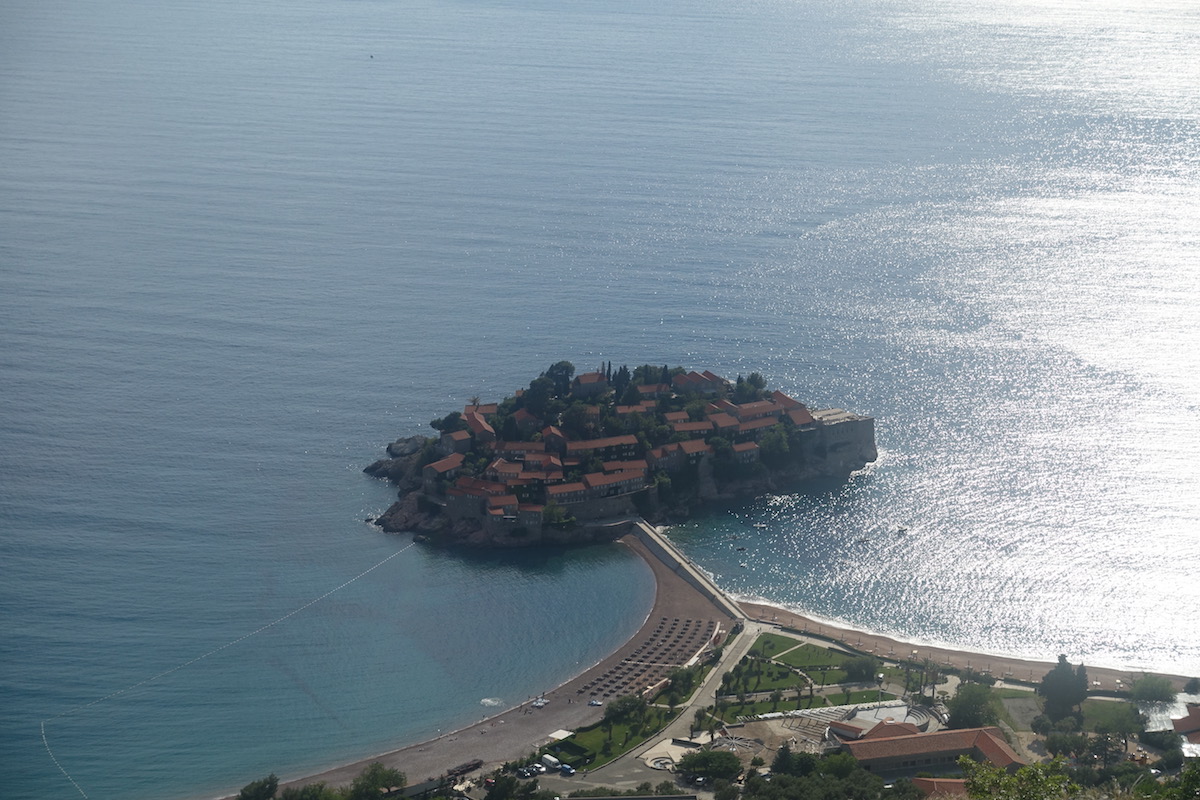 Aman Sveti Stefan from the top of the hill
There's a lot more to do in the area, but we had two days of bad weather (I loved going in May, though apparently it rains more in May than it would in July or August), and also wanted to largely relax, so those are the main things we did outside the resort.
As I mentioned at the beginning of this post, I was curious to see how service at the resort was. All the other Amans I've stayed at have been in Asia, so I had a hard time imagining they'd be able to pull off the same level of service in Eastern Europe. I've also heard some mixed reviews of service at this hotel.
Given the mixed reviews I've heard, service was much better than I was expecting. No, it wasn't quite to the level I've experienced at Aman's Asian properties, but by Eastern European standards, service was phenomenal. They got the Aman basics right — we were never asked for our room numbers or signed anything, etc.
What pleasantly surprised me is that there were several stand-out employees who really made our stay special.
Our three favorites no doubt were our tour guide Ivana, and Ljalgana and Dragan in the restaurant. They were so incredible, and really went above and beyond to make sure we had an amazing time in Montenegro.
Other than that service was a bit mixed, in the sense that I'd say service was above average across the board, but not exceptional in some cases. My service complaints are minor things, in the grand scheme of things. For example, we showed up at breakfast at 7:15AM (it starts at 7), and there was no one in sight. We stood there for five minutes before anyone appeared.
In the next installment I'll cover dining at the resort, given that we had most of our meals here.
Aman Sveti Stefan bottom line
I've yet to even be remotely disappointed by an Aman property, and this one was no exception. In terms of the setting, this was the most incredible Aman I've stayed at, and possibly the most stunning hotel I've stayed at period. It's not often you get to stay on a former 15th century fishing village island. Ultimately the service wasn't quite to the level I've experienced at other Amans, though was still very good by Eastern European standards.
Montenegro on the whole was just so beautiful, and I can't wait to return. Stay tuned for the next installment, where I'll be talking about dining at the hotel.
If you have the chance to visit this resort — or any other Aman, or Montenegro in general, for that matter — I'd highly recommend it.