---
In late May American opened their new Flagship Lounge in New York, with greatly expanded access requirements. However, the most revolutionary thing about the lounge wasn't the space as such, but rather one of the features inside the lounge. Specifically, American introduced Flagship First Dining, which is an exclusive dining facility for passengers traveling in three cabin first class on select routes. This includes:
Those traveling in American three cabin 777-300ER first class to/from Asia, Australia, Europe, or South America
Those traveling in American three cabin first class between New York and Los Angeles, New York and San Francisco, and Miami and Los Angeles
Cathay Pacific first class passengers departing JFK get access as well; ordinarily oneworld first class passengers don't get access, but American and Cathay Pacific have a special arrangement at JFK
As of now the only Flagship First Dining facility is at JFK, though by next year they should also have these facilities in Los Angeles, Miami, London, and Dallas.
I was traveling first class from New York to Los Angeles, and was excited to check out the restaurant. I had a chance to tour it just a couple of days before it opened back in May, though was much more interested to see what it was like once opened.
American's JFK Flagship First Dining is open daily between 4:15AM and 11:30PM.
After landing from Chicago I headed in the direction of the main American Airlines club at JFK, which is just near the Concourse B security checkpoint. The lounge is a level above the main concourse, so I took the elevator up.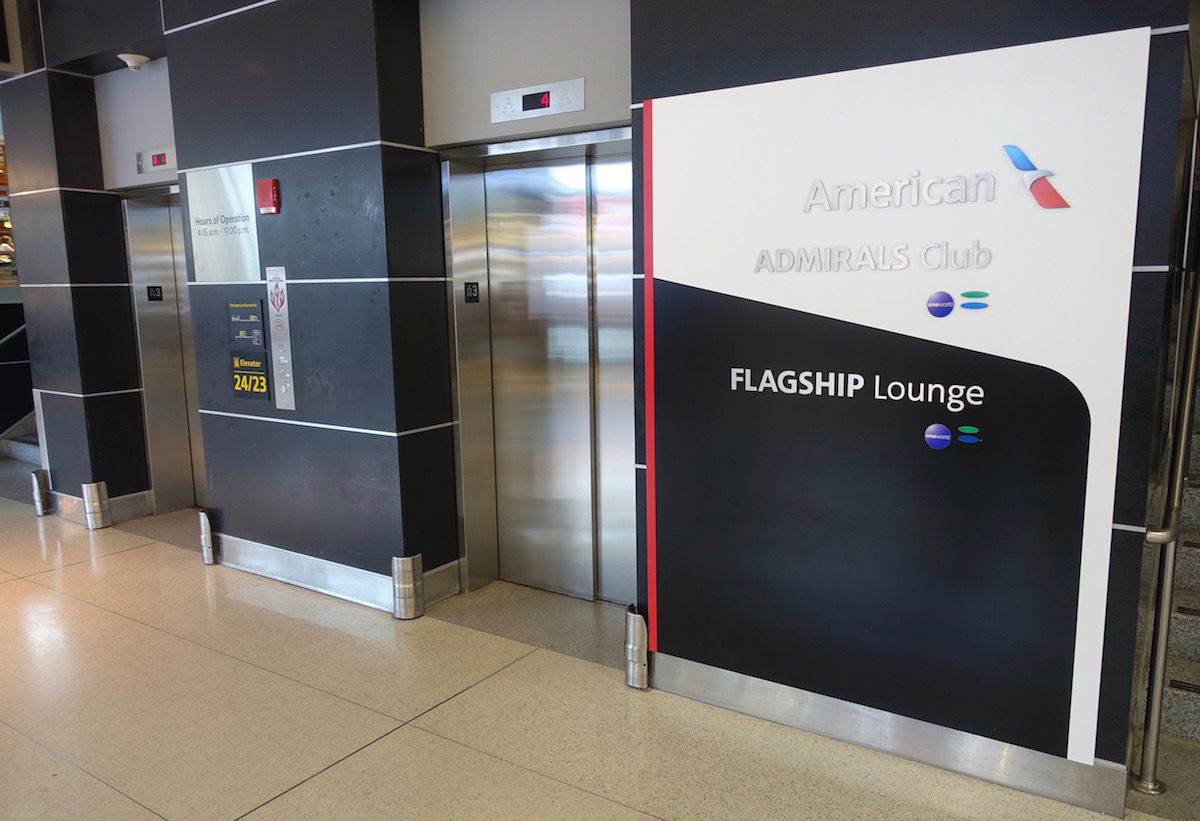 American Flagship Lounge JFK elevator
There was a reception desk with the Flagship Lounge to the left and the Admirals Club to the right. Once the agent scanned my boarding pass she told me I was eligible for Flagship First Dining, and asked if I had been before. When I explained I hadn't, she went over the basics with me.
She handed me an invitation card, which I don't think is the standard invitation, since it said "It's been our pleasure serving you." It's my understanding that they're supposed to give these to passengers after they've eaten there, so I assume they just ran out of whatever the standard invitations are.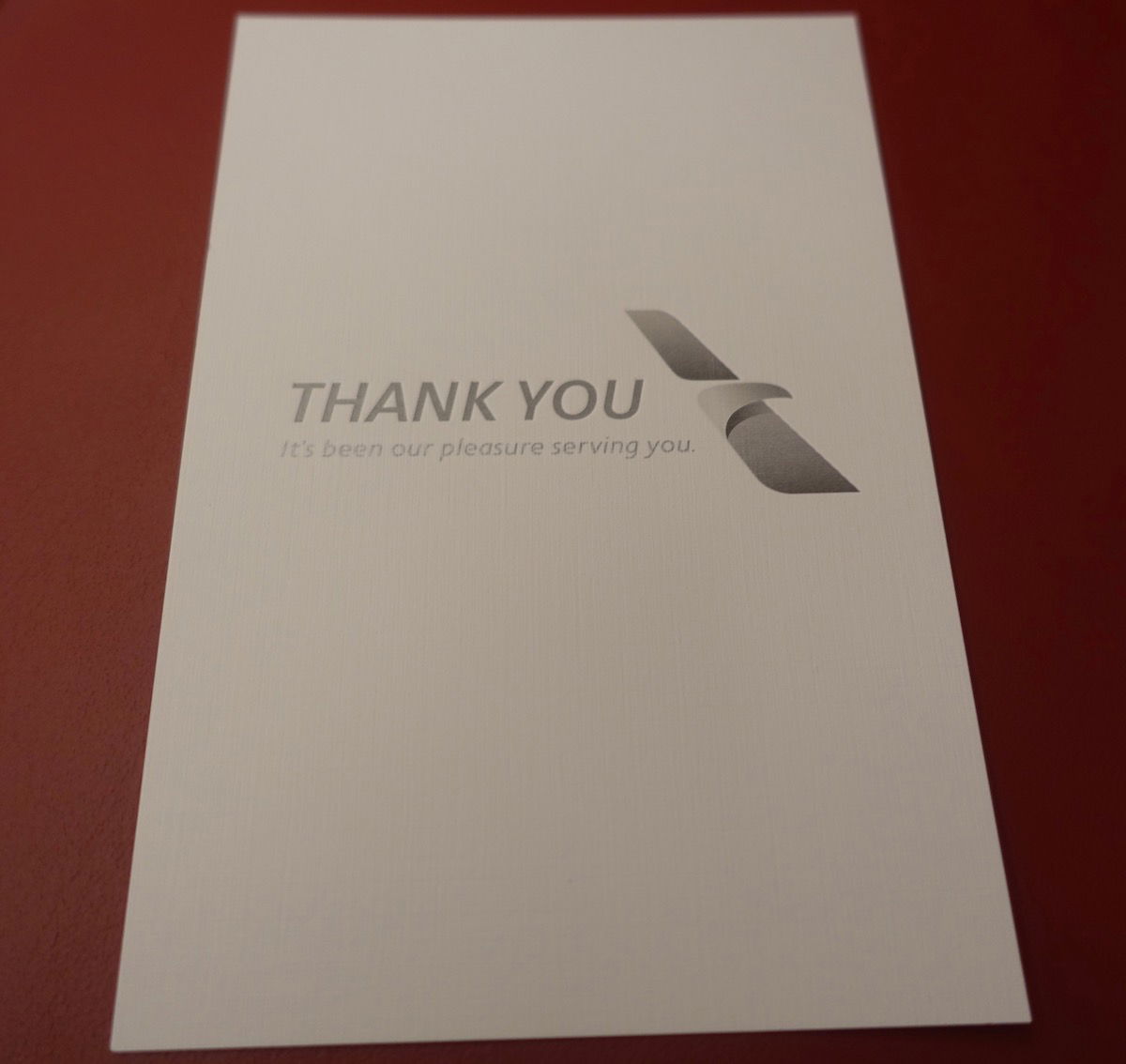 American Flagship First Dining JFK invitation
On the back of the invitation she wrote my name, flight number, and the date.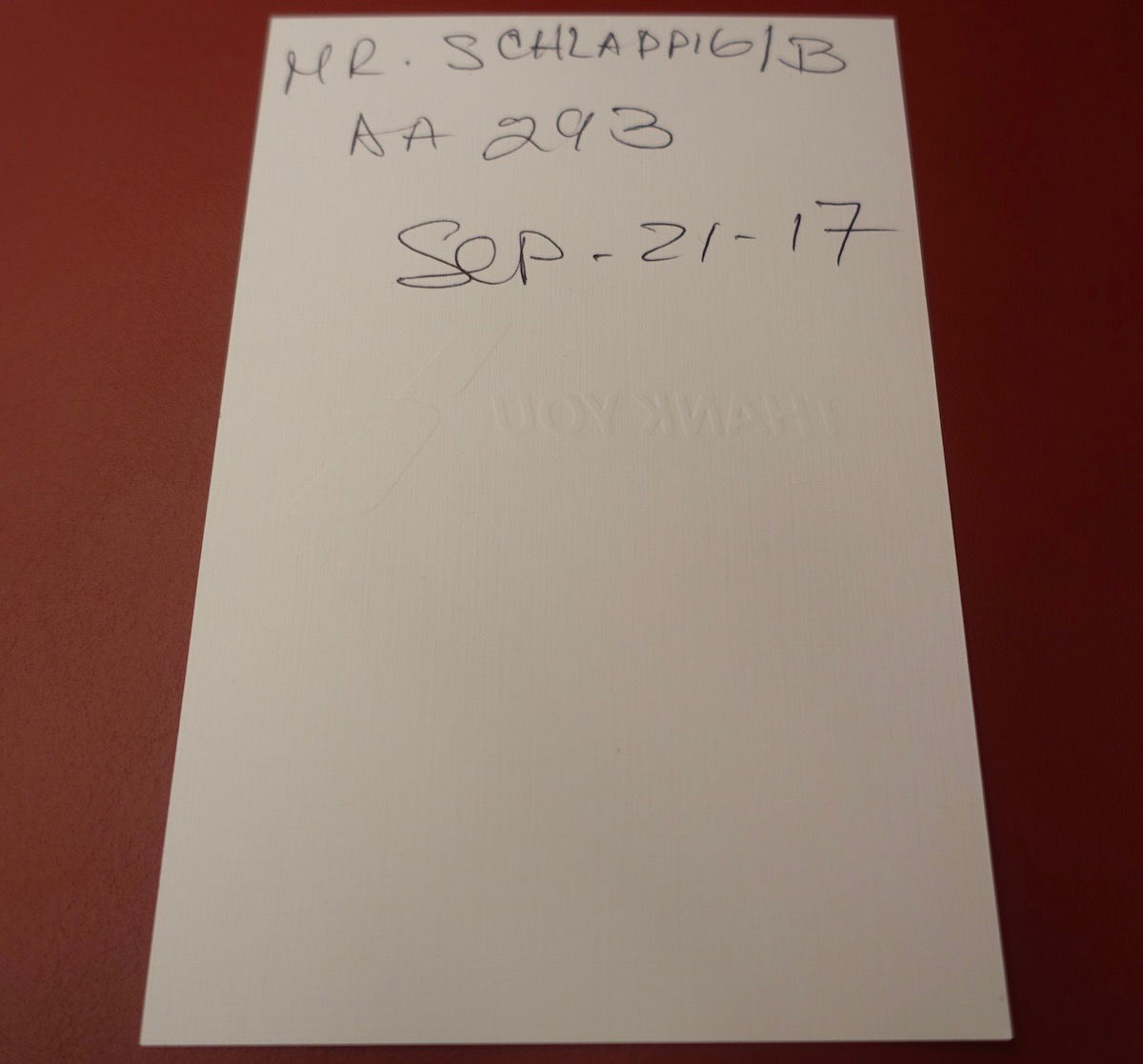 American Flagship First Dining JFK invitation
I walked down a long corridor into the Flagship Lounge, and then hung a sharp right, where I saw a sliding glass door leading into Flagship First Dining.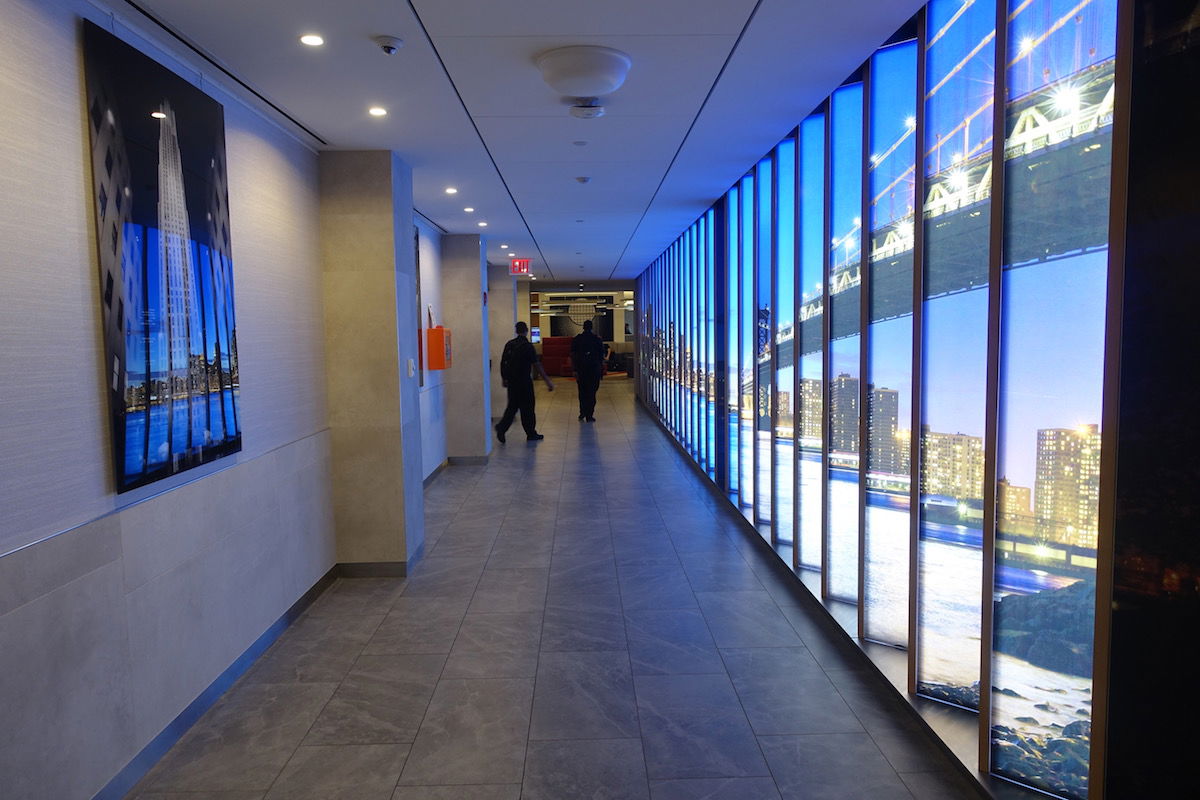 American Flagship Lounge JFK entrance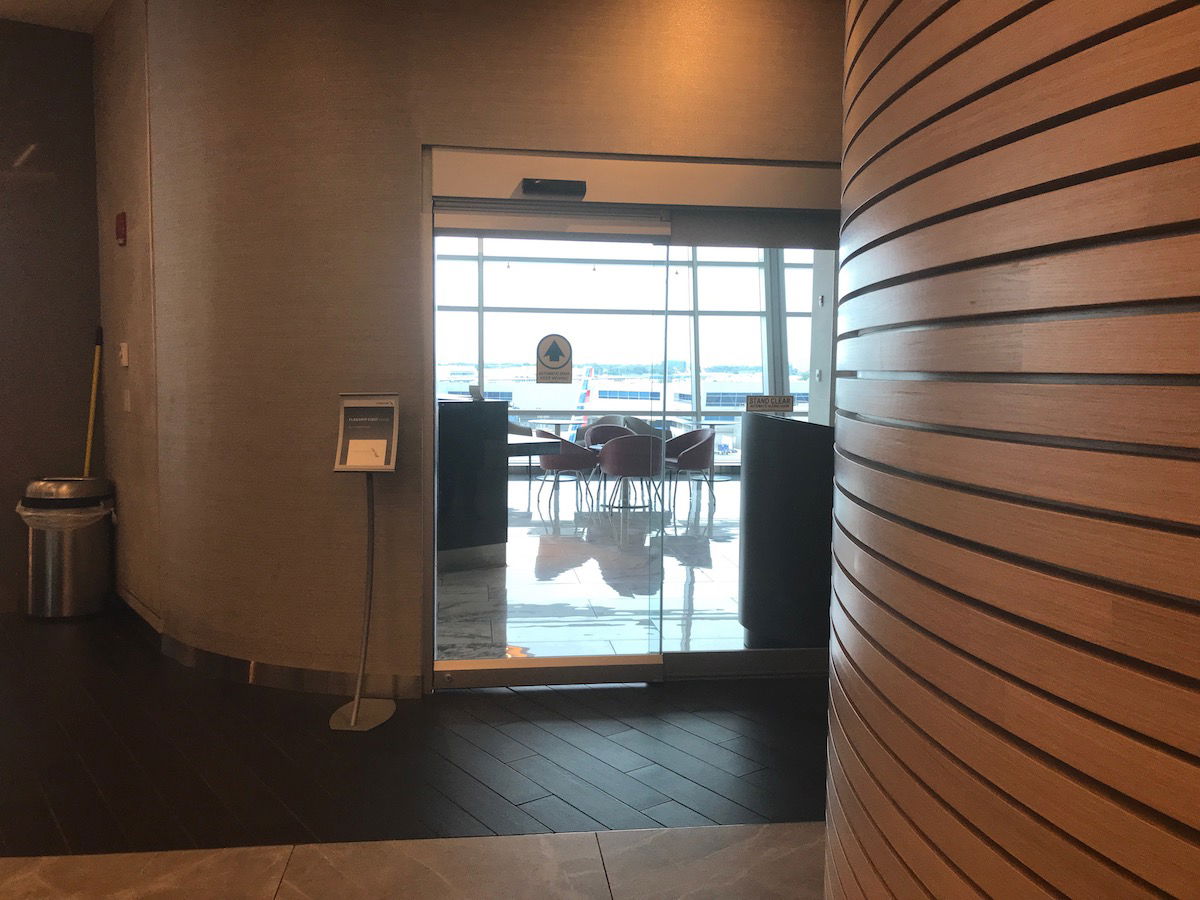 American Flagship First Dining JFK entrance
Inside the entrance I was greeted by a host (who seemed to be separate from the servers), and was invited to sit wherever I'd like. Inside the entrance is a bar area, which takes up maybe a third of the space. You can sit at the bar, or just sit in a more casual area by the window.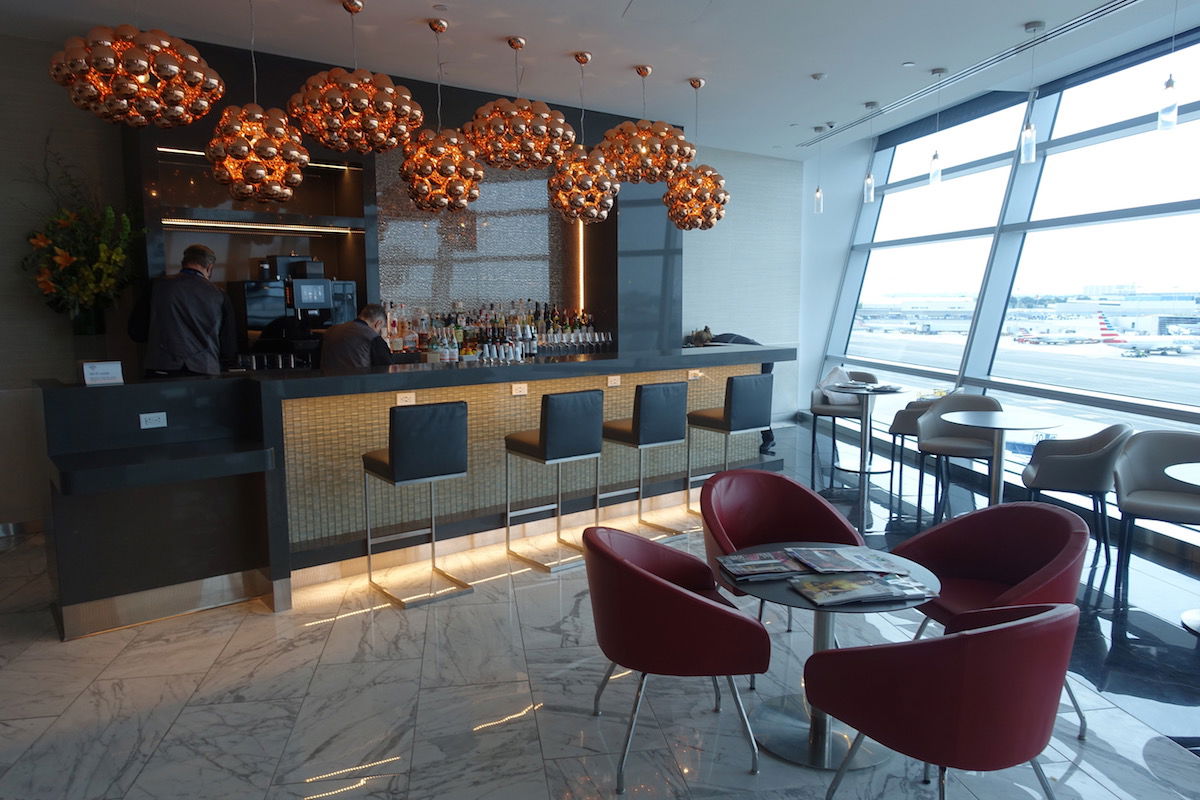 American Flagship First Dining JFK bar area
Then the rest of the space is the main dining room. The dining room has just over a dozen tables, ranging from two person tables by the floor-to-ceiling windows, to booths that could seat more people by the interior of the lounge.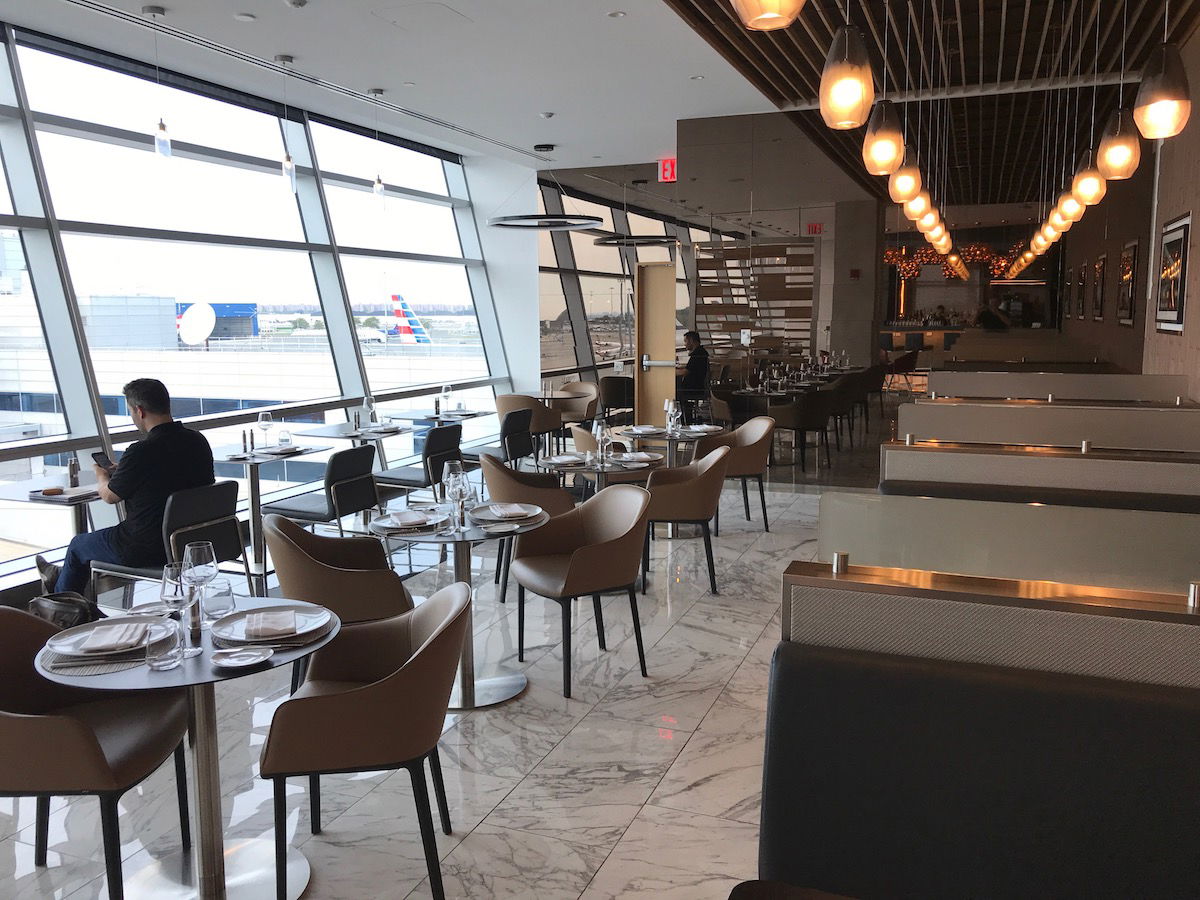 American Flagship First Dining New York JFK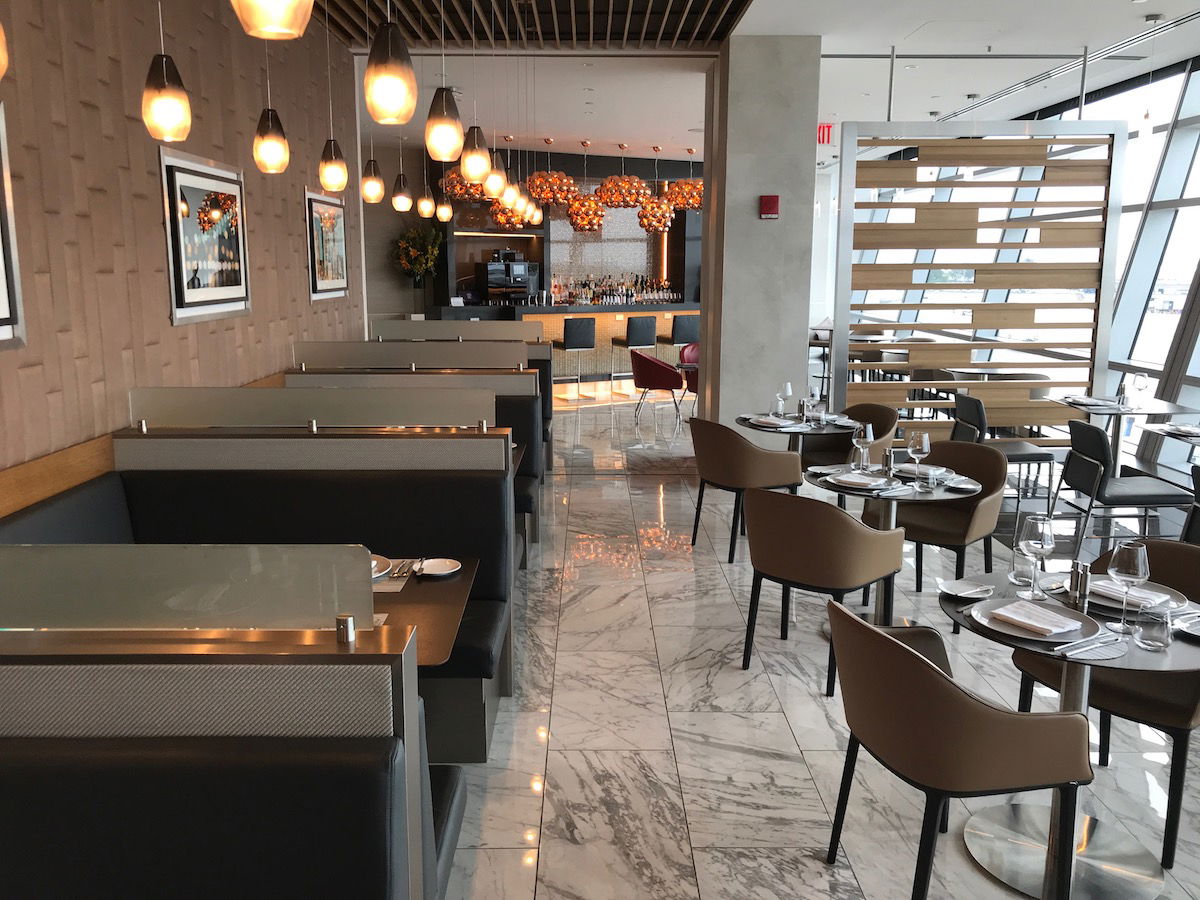 American Flagship First Dining New York JFK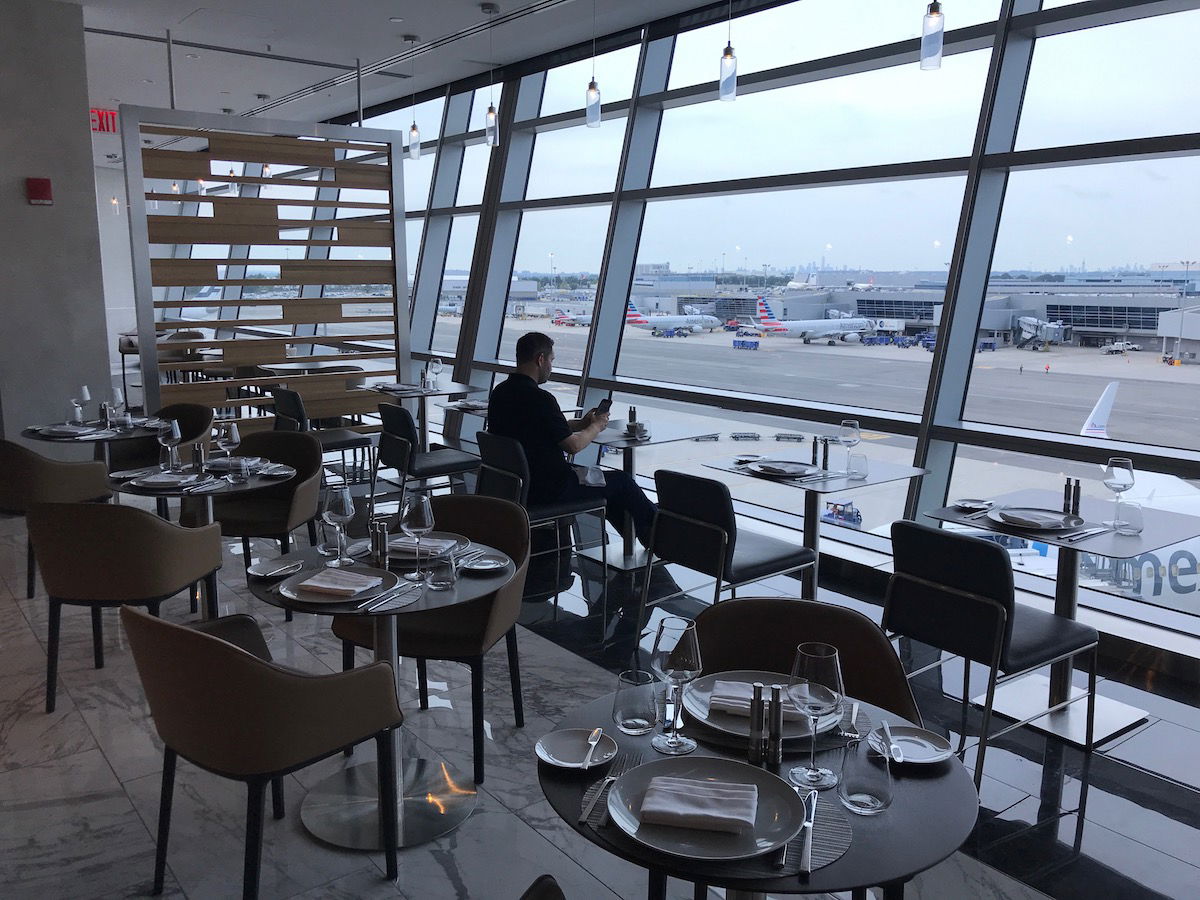 American Flagship First Dining New York JFK
The lounge has fantastic views of the American Airlines gate area — there aren't many better view for a meal, in my opinion!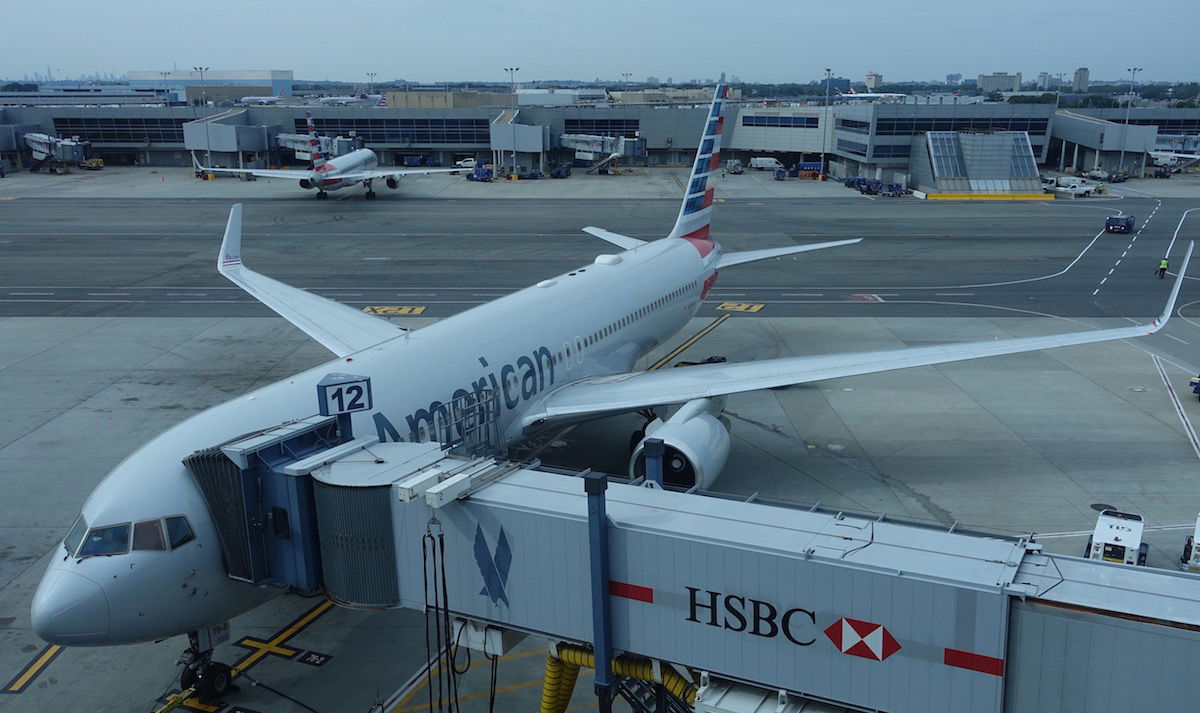 American Flagship First Dining New York JFK view
There were only two diners in the restaurant when I arrived. As much as I would have liked to sit by the window, rather annoyingly they only have outlets in the booths, so I decided to sit there, since I needed to charge up.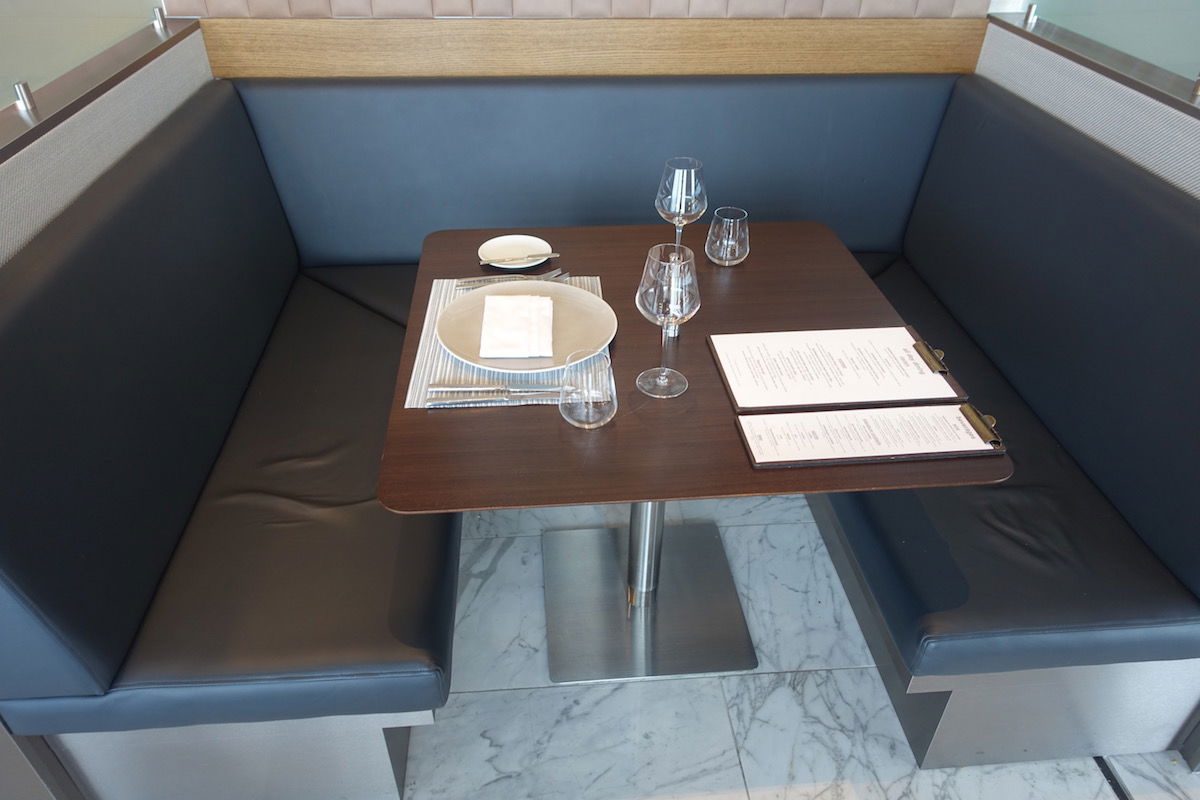 American Flagship Dining table
A moment after I settled in I was greeted by Scott, who would be serving me. He presented me with the menu and beverage list for the day.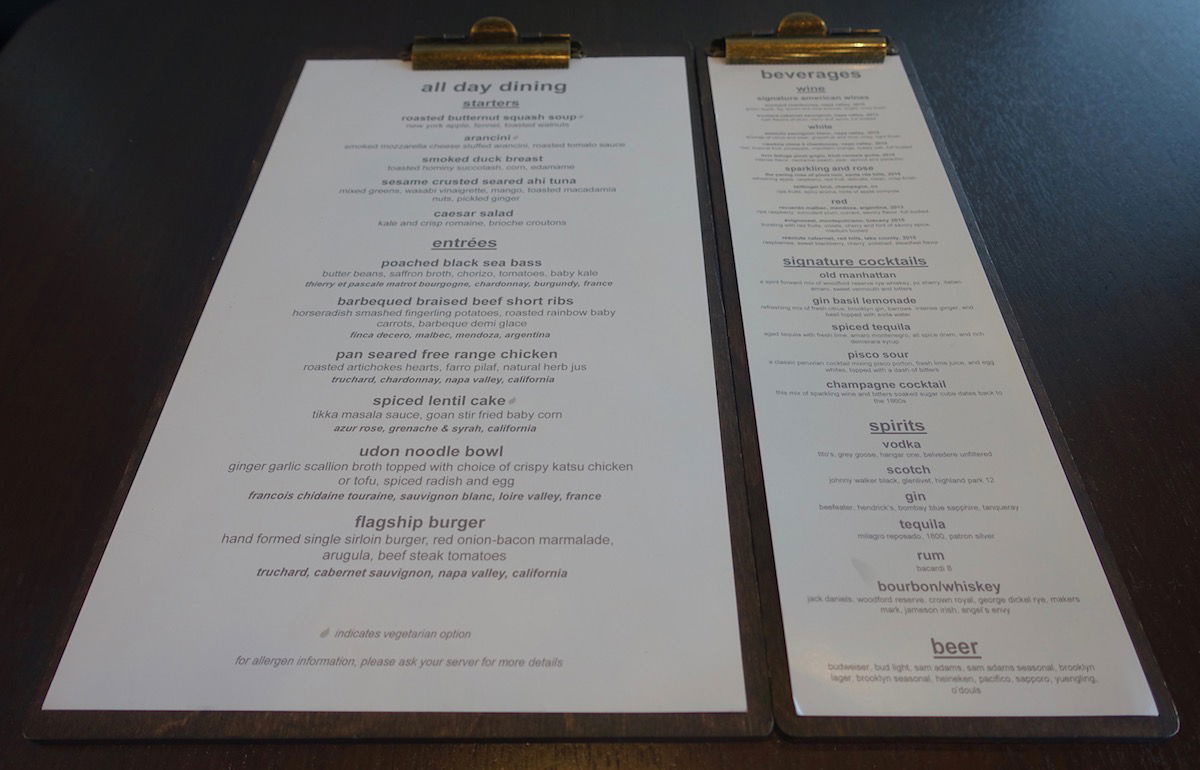 American Flagship Dining menu & wine list
The all day dining menu read as follows: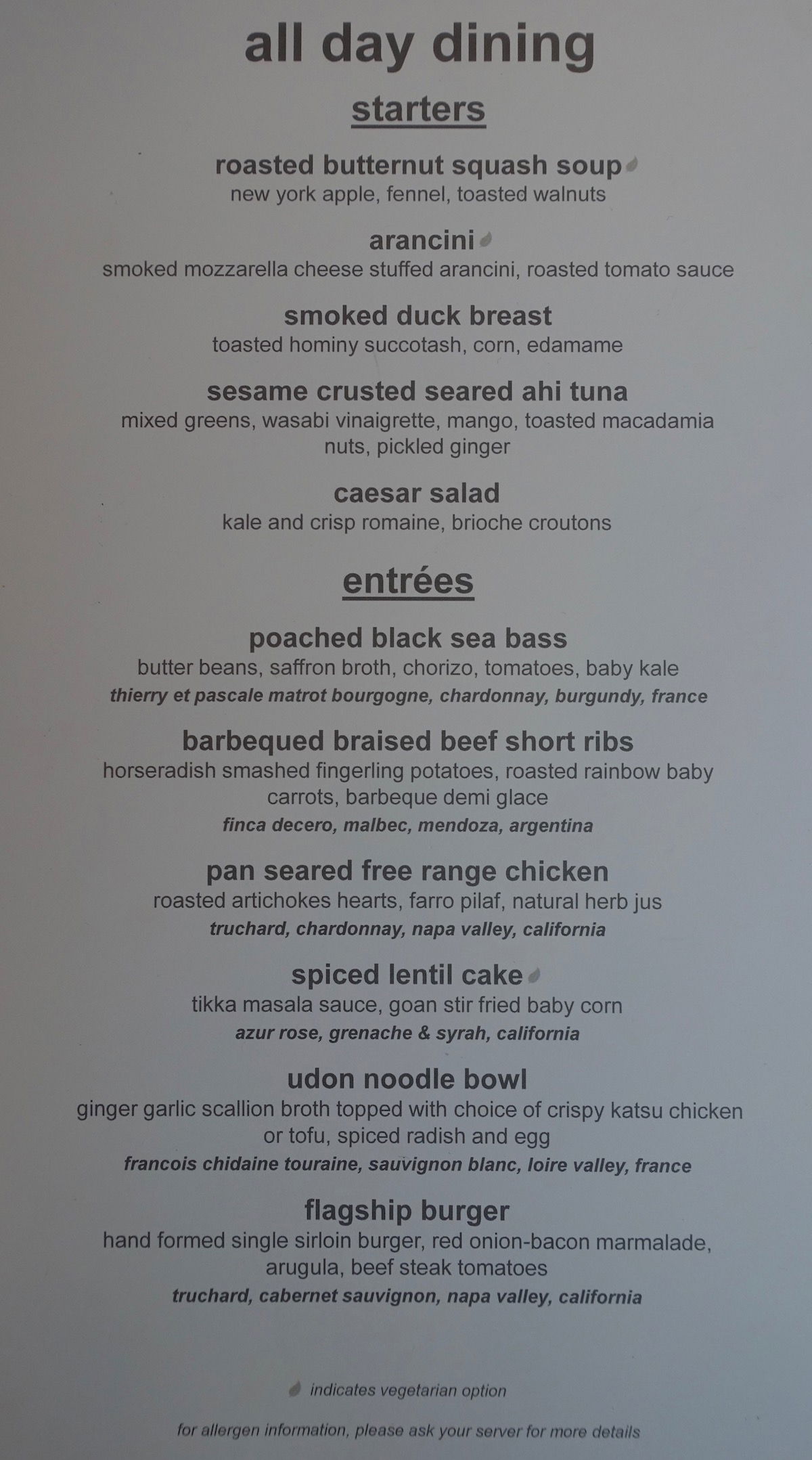 The wine list read as follows: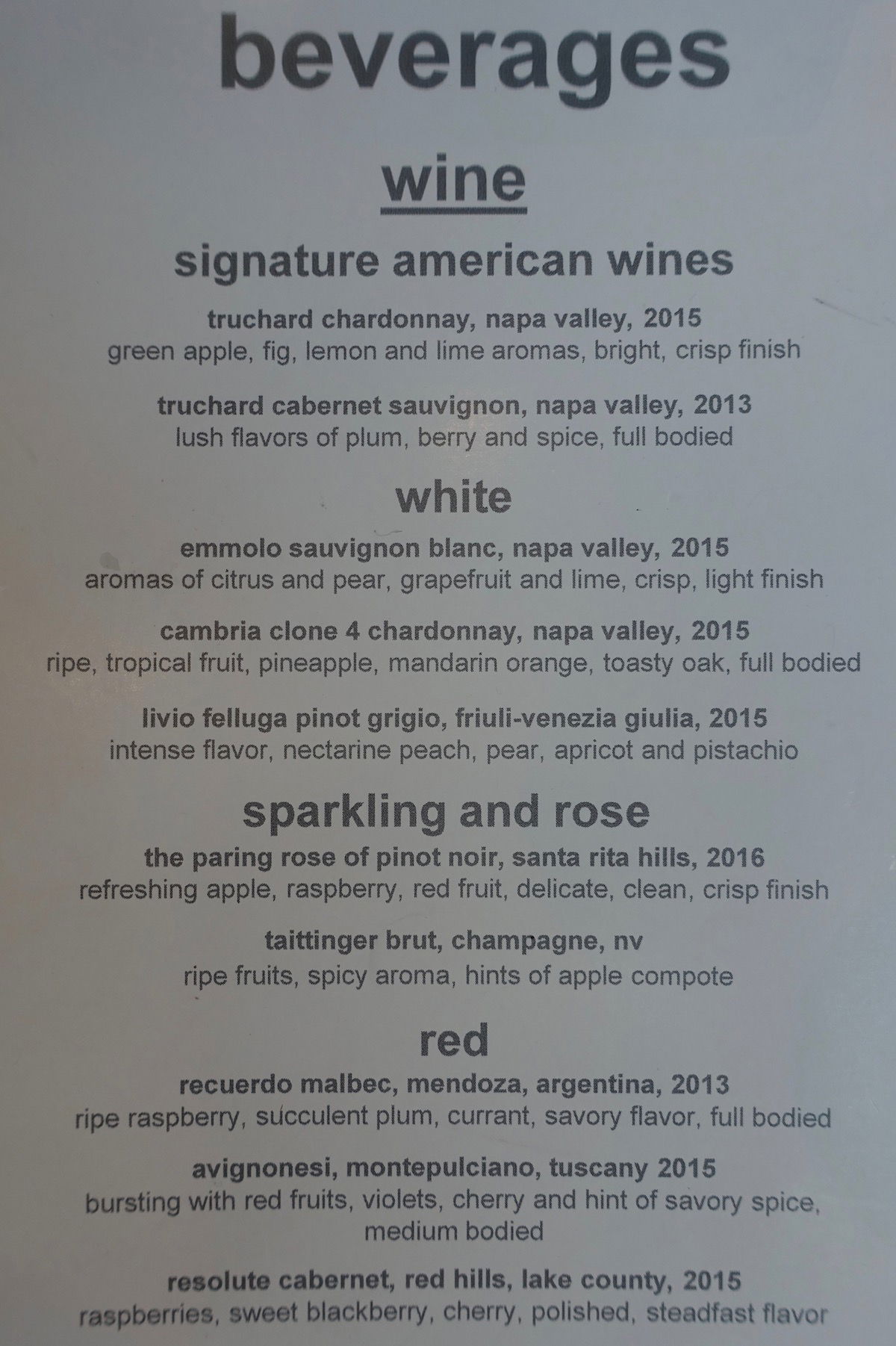 The cocktail list read as follows: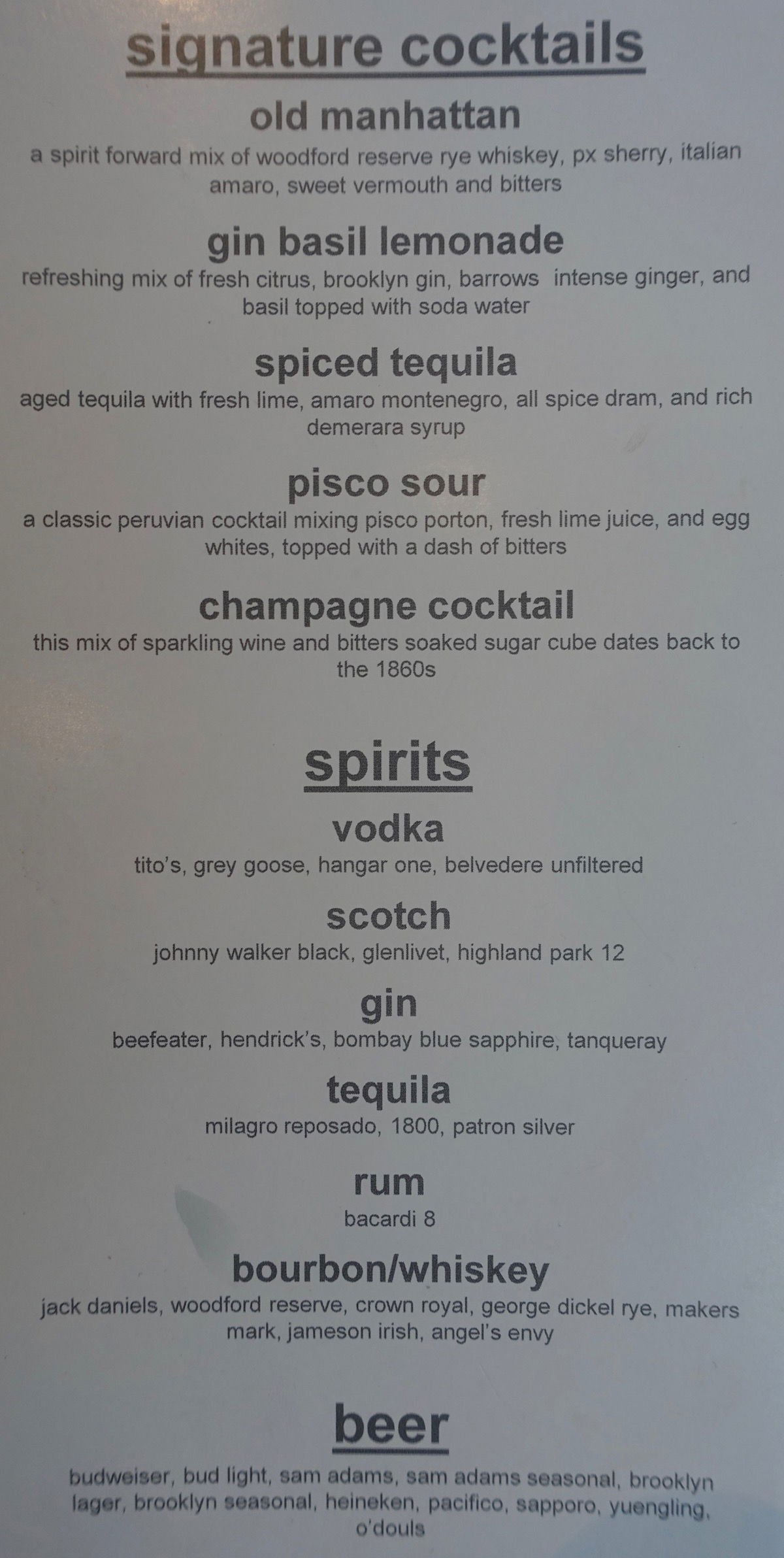 Scott explained that they had just switched to the fall menu, and as a result some changes were recently made to the menu. I was asked if I wanted still or sparkling water. I selected sparkling, and a moment later was served some San Pellegrino.
I also decided to try a few of the cocktails, starting with the gin basil lemonade. Yum!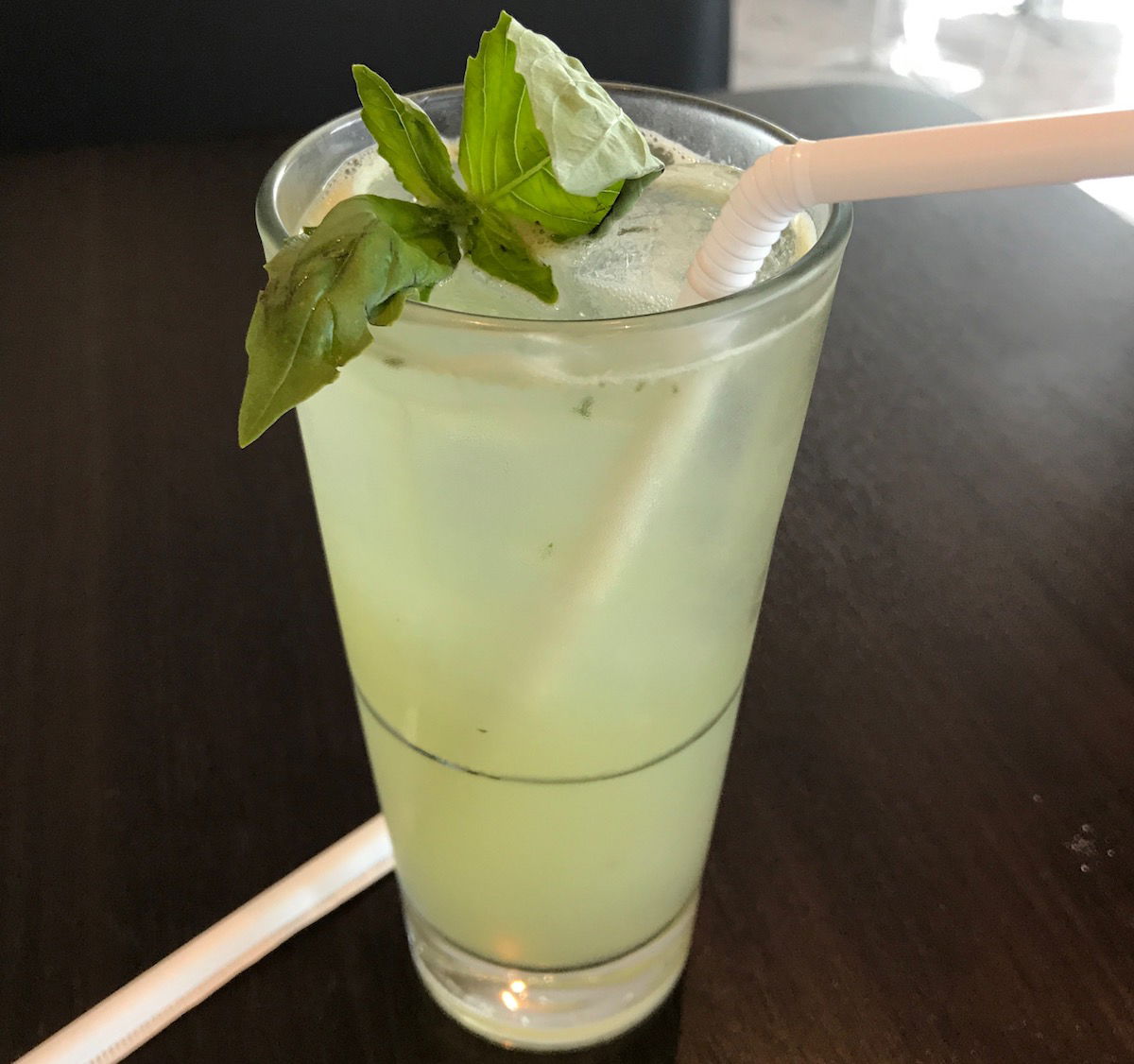 American Flagship Dining cocktail — gin basil lemonade
Later during the meal I had a champagne cocktail, which was fairly good, though very sweet. Then again, that's on me for ordering it.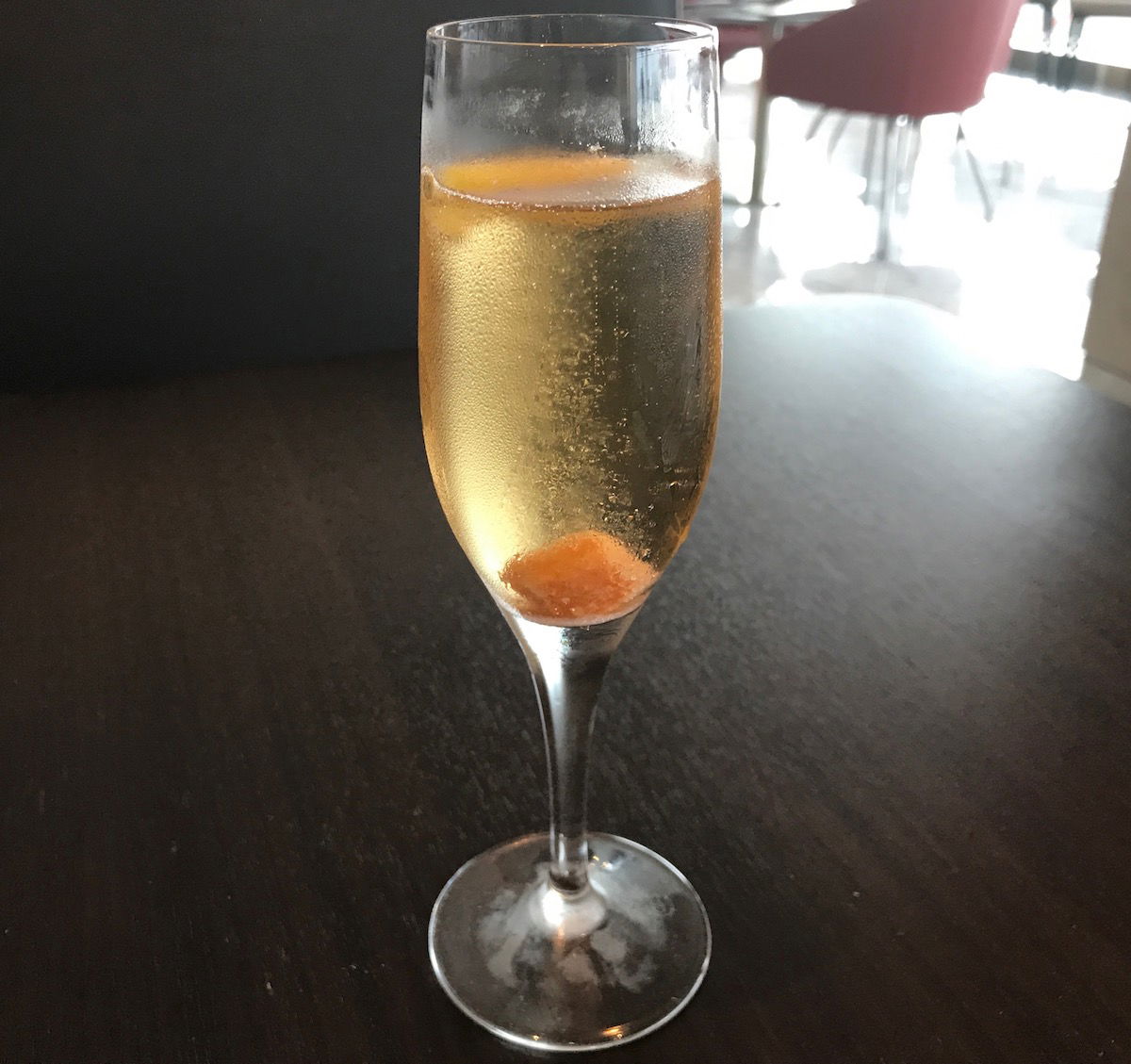 American Flagship Dining cocktail — champagne cocktail
Later on I had a pisco sour. Usually I don't love pisco sours, but I really enjoyed this one. I spaced those drinks out over the course of my roughly two hour meal, though was still feeling quite buzzed by the end of it.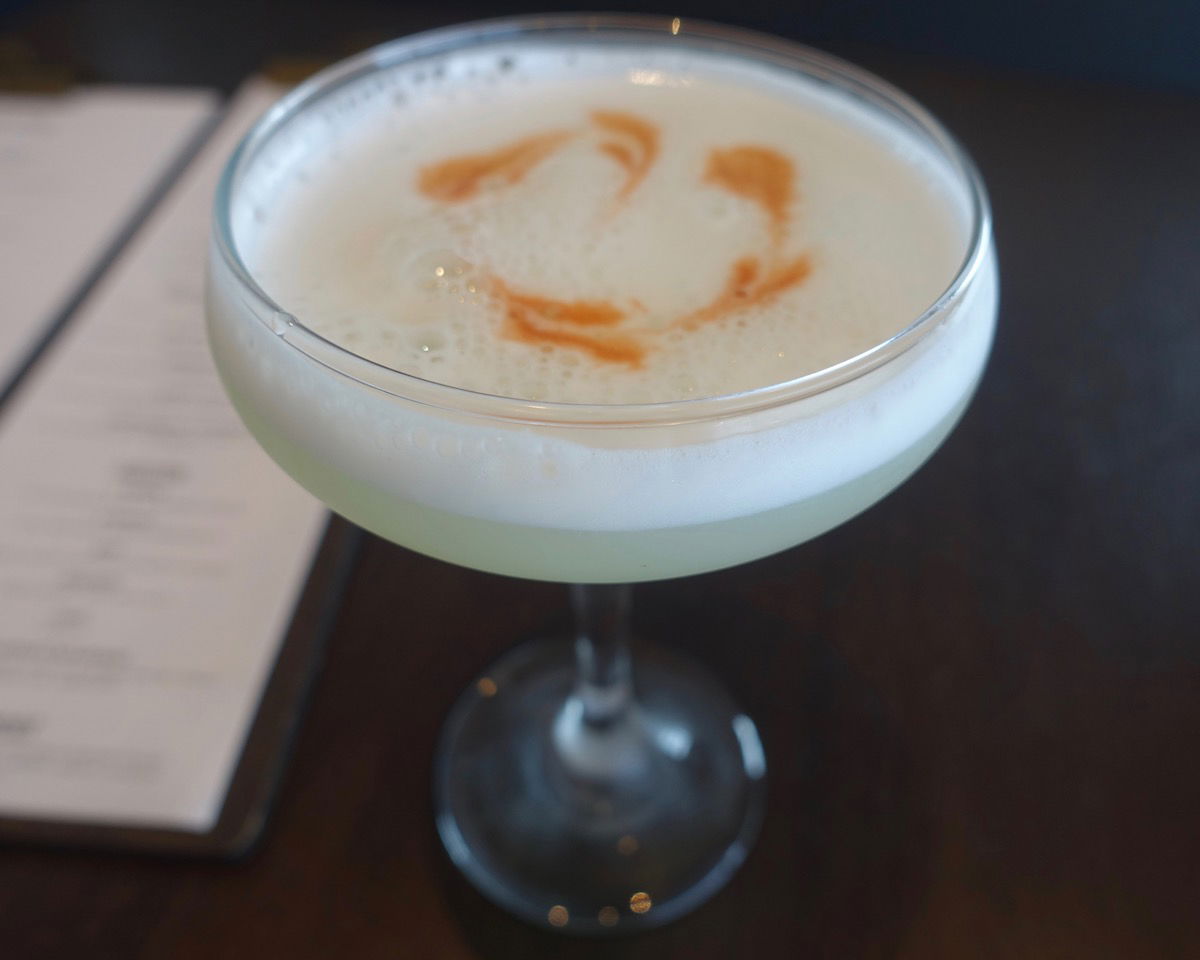 American Flagship Dining cocktail — pisco sour
I told Scott I wanted to sample as many of the dishes as possible, so ordered the sesame crusted seared ahi tuna to start, as well as the roasted butternut squash soup. Scott asked if he should just bring the dishes out as they're ready, or if I had an order in which I preferred them. I asked him to bring them out as they were ready.
First out was the sesame crusted seared ahi tuna, which was phenomenal. I'm not sure why exactly, but there's something about the way the chopsticks were presented that took away from the presentation, in my opinion.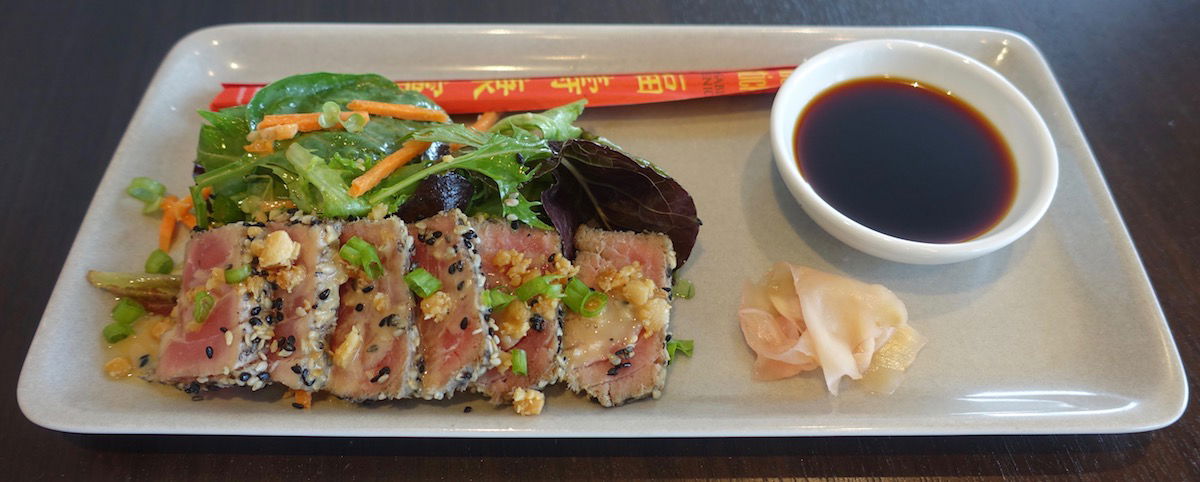 American Flagship Dining meal — sesame crusted seared ahi tuna
Next up was the soup, which was poured tableside.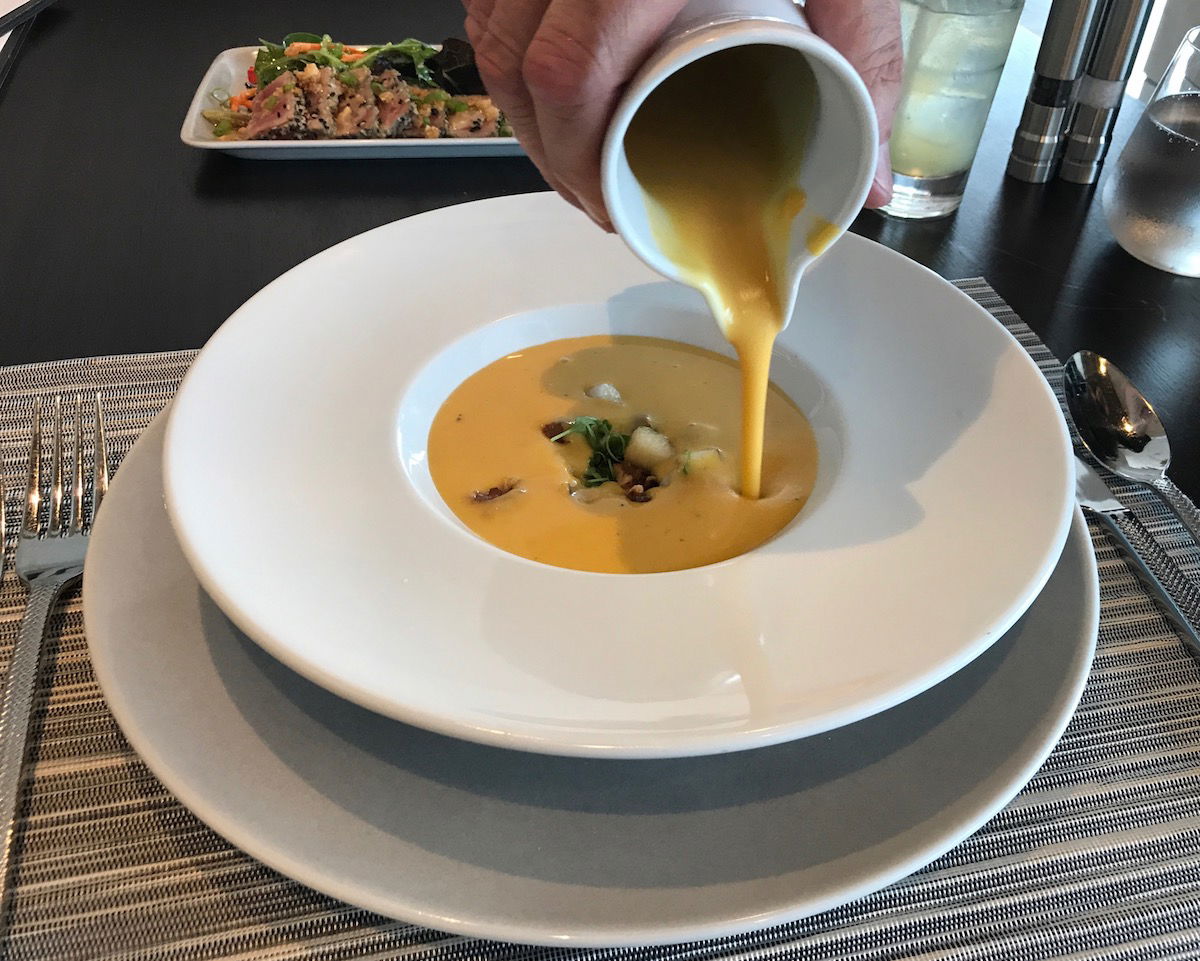 American Flagship Dining meal — roasted butternut squash soup
The soup was flavorful and unique, given that it had apple, fennel, and toasted walnuts in it.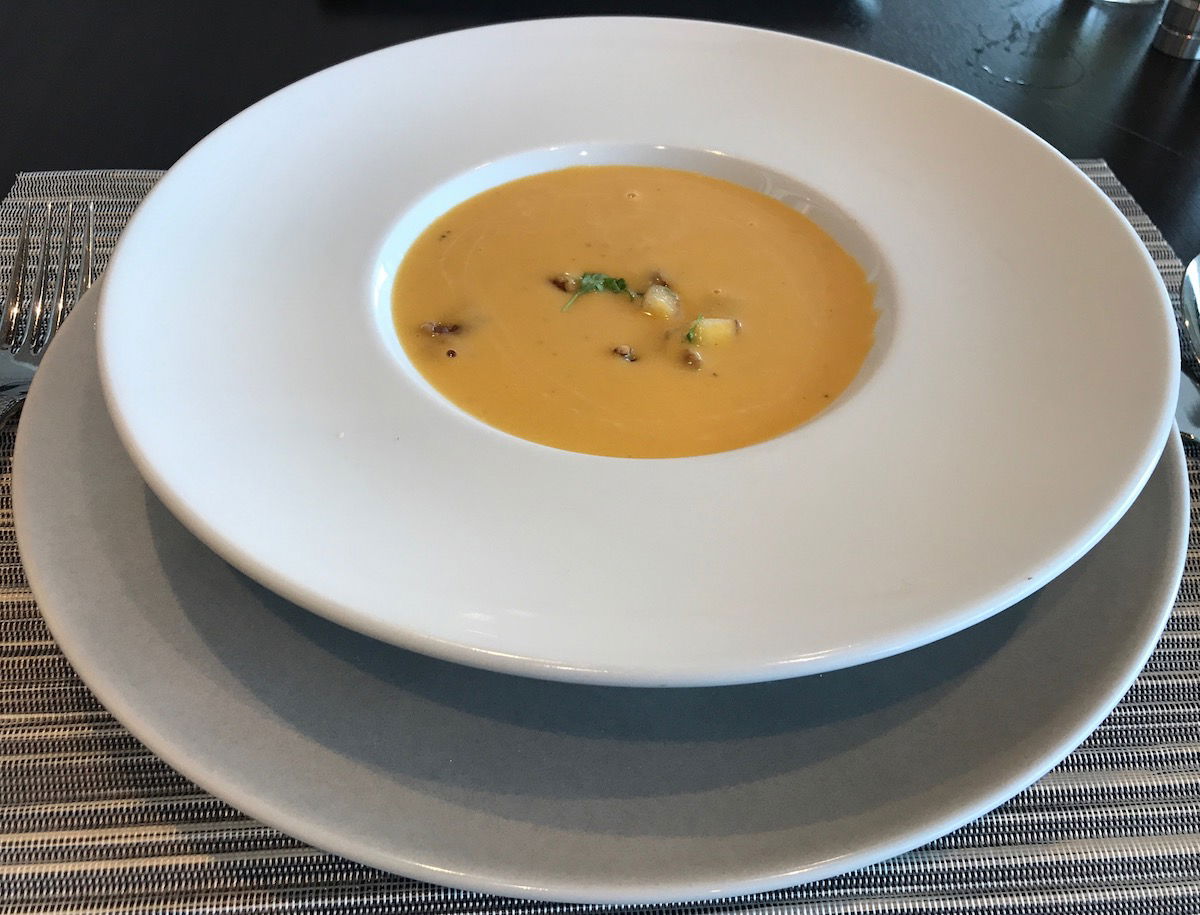 American Flagship Dining meal — roasted butternut squash soup
For the main course I was going to order the poached black sea bass, though Scott told me that the dish "isn't going over well." I appreciated his honesty. When I told him I couldn't decide between the beef and the chicken, he told me they could prepare me small portions of both.
First up was the barbecued braised beef short ribs, served with horseradish smashed fingerling potatoes, roasted rainbow baby carrots, and a demi glace. This dish was another winner, including the sides.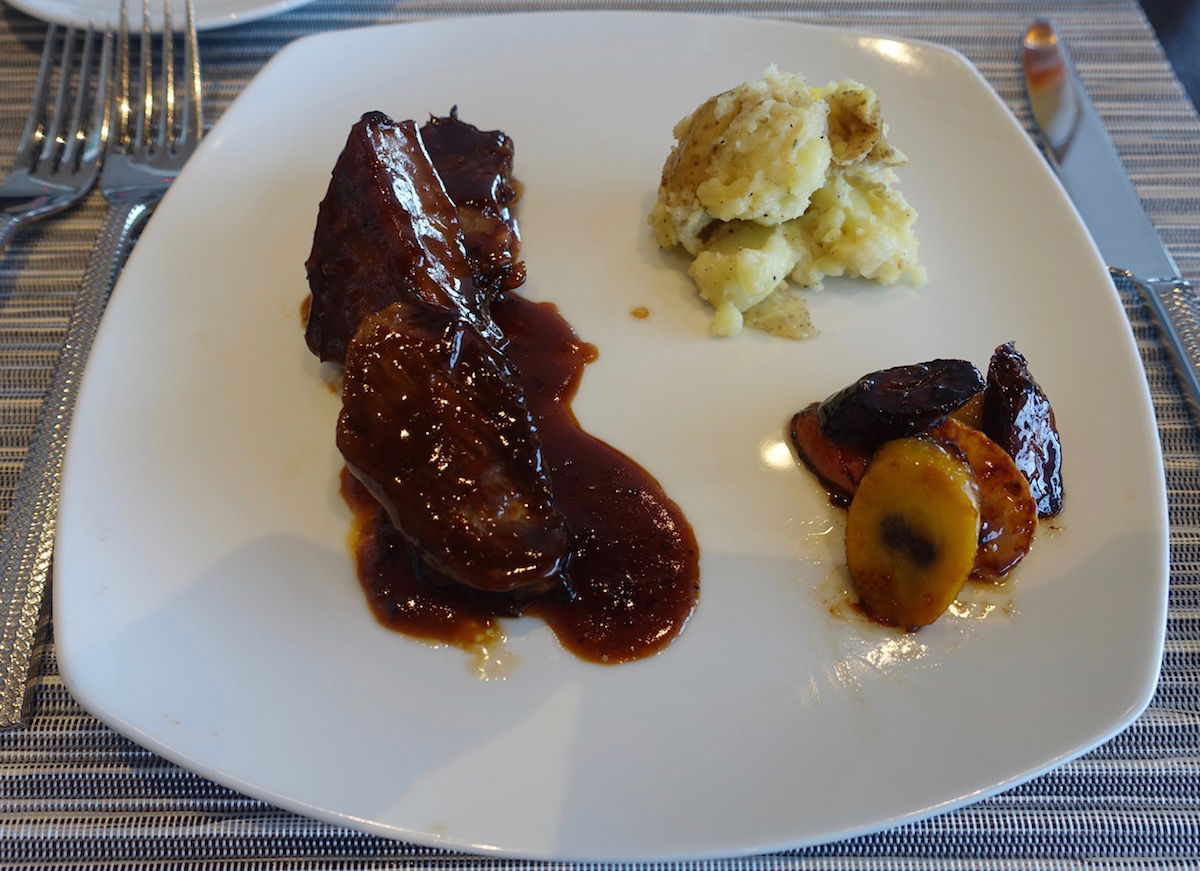 American Flagship Dining meal — barbecued braised beef short ribs
About 15 minutes later I was served the chicken with roasted artichoke hearts, farro pilaf, and natural herb jus. Seriously, I can't fault the food here one bit. It too was excellent.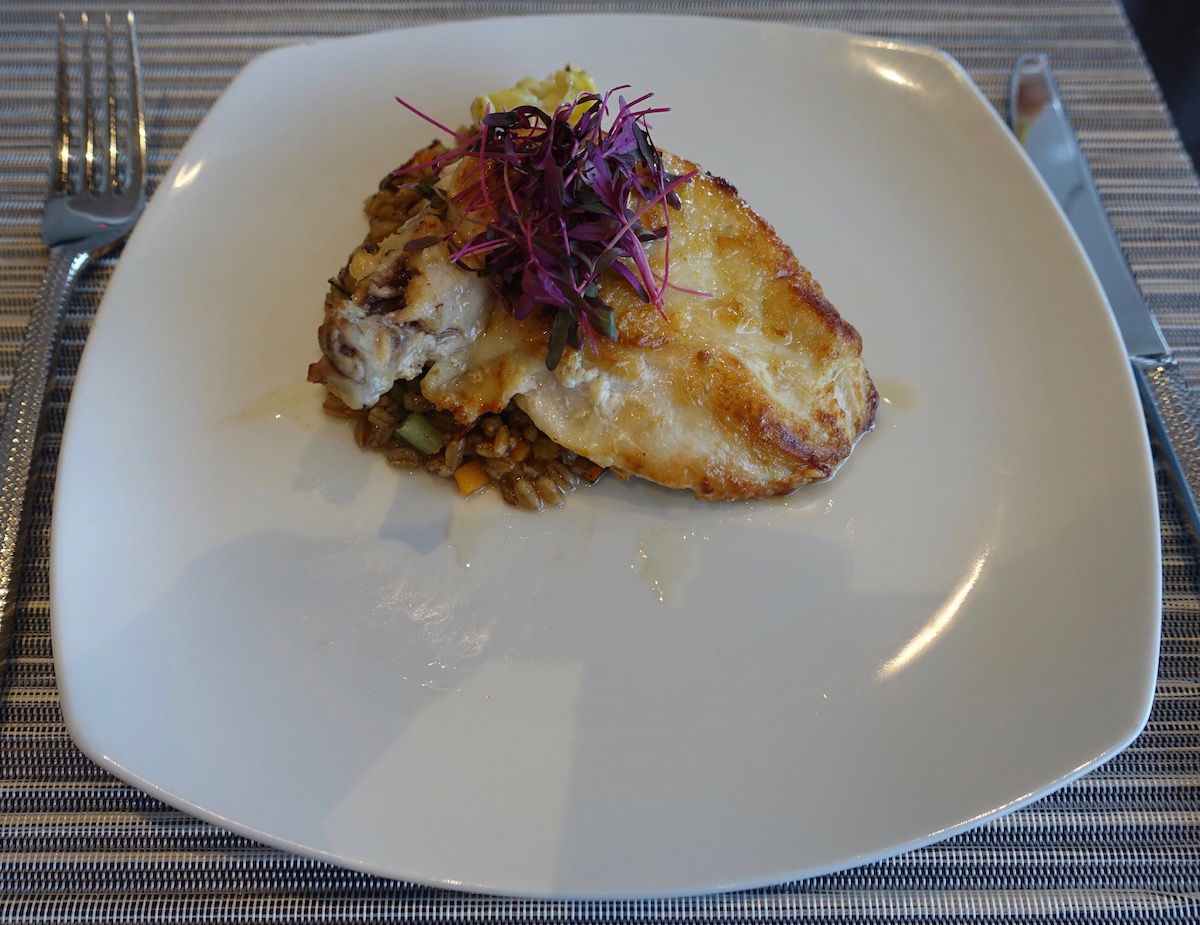 American Flagship Dining meal — pan seared free range chicken
Next up was dessert. Let me say that of course I was already ridiculous full at this point. I had eaten four courses and had three cocktails. Heck, my stomach still hurts. But I didn't want to let you guys down either, so couldn't skip dessert. 😉
The dessert menu read as follows: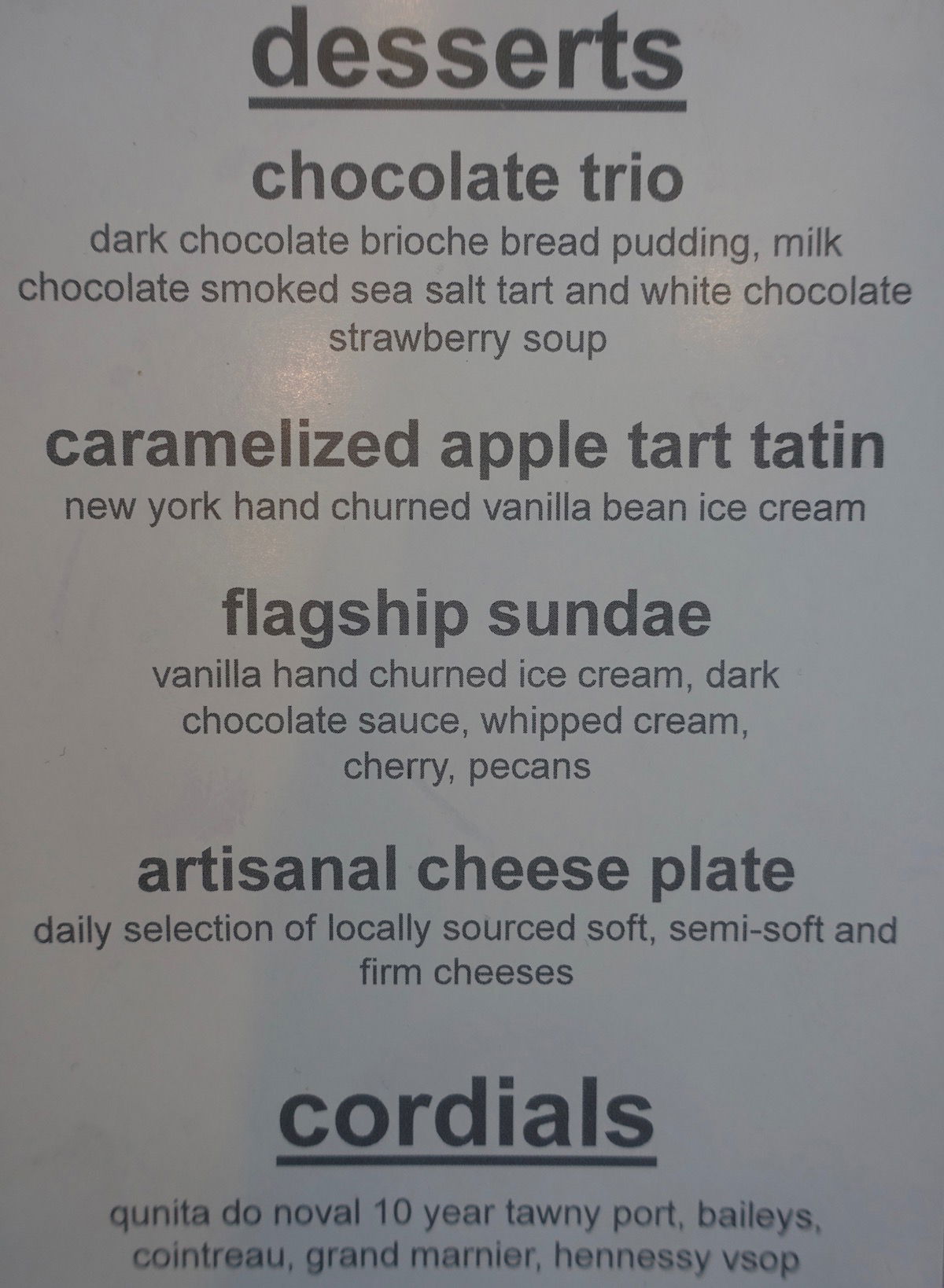 I ordered the chocolate trio. The menu claimed that this consisted of dark chocolate brioche bread pudding, a milk chocolate smoked sea salt tart, and white chocolate strawberry syrup. In reality there was more, as there was also a scoop of chocolate ice cream.
OMG THIS DESSERT WAS AMAZING. Every individual component was great, but together it was even better. Between the sweet bread pudding and the kick of the smoked sea salt tart, this was an incredible dessert that I can't recommend enough.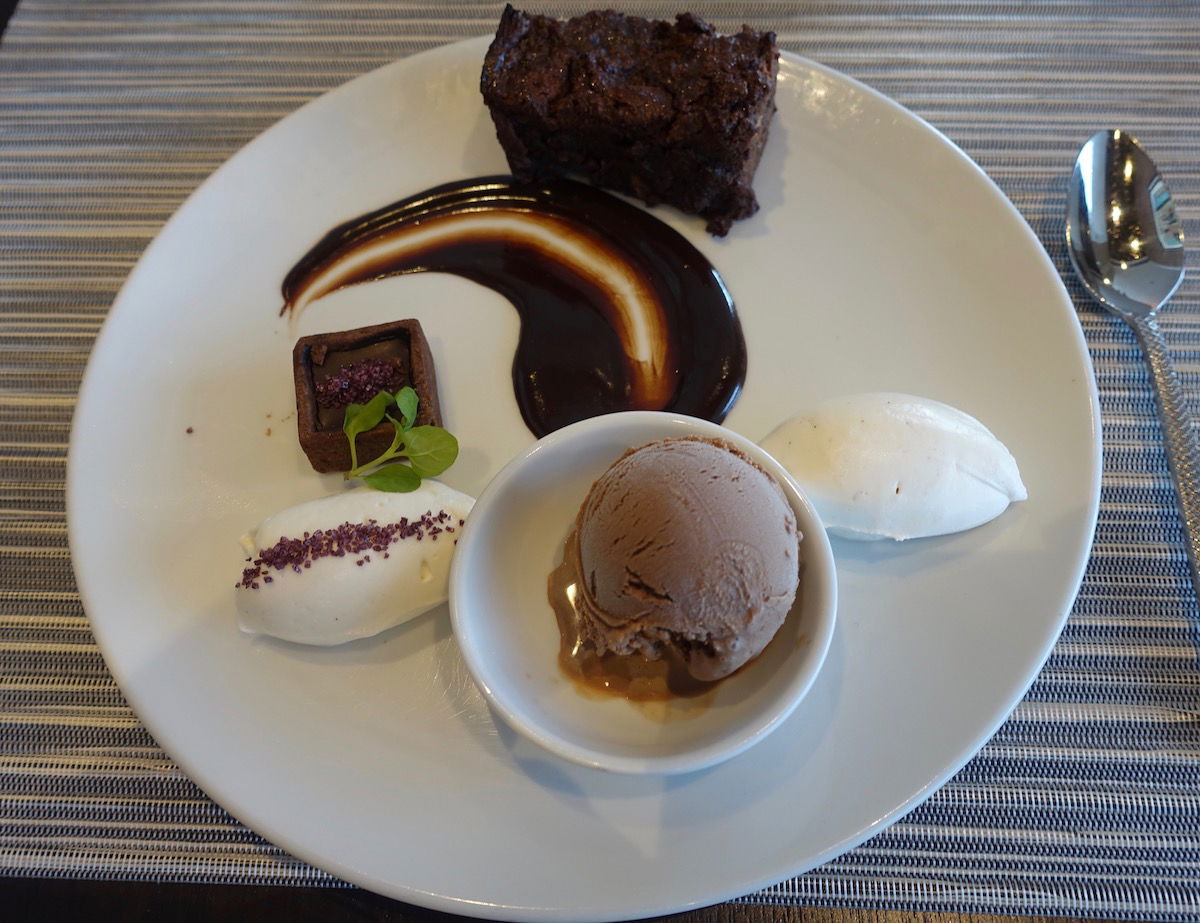 American Flagship Dining dessert — chocolate trio
To go along with dessert I had an americano.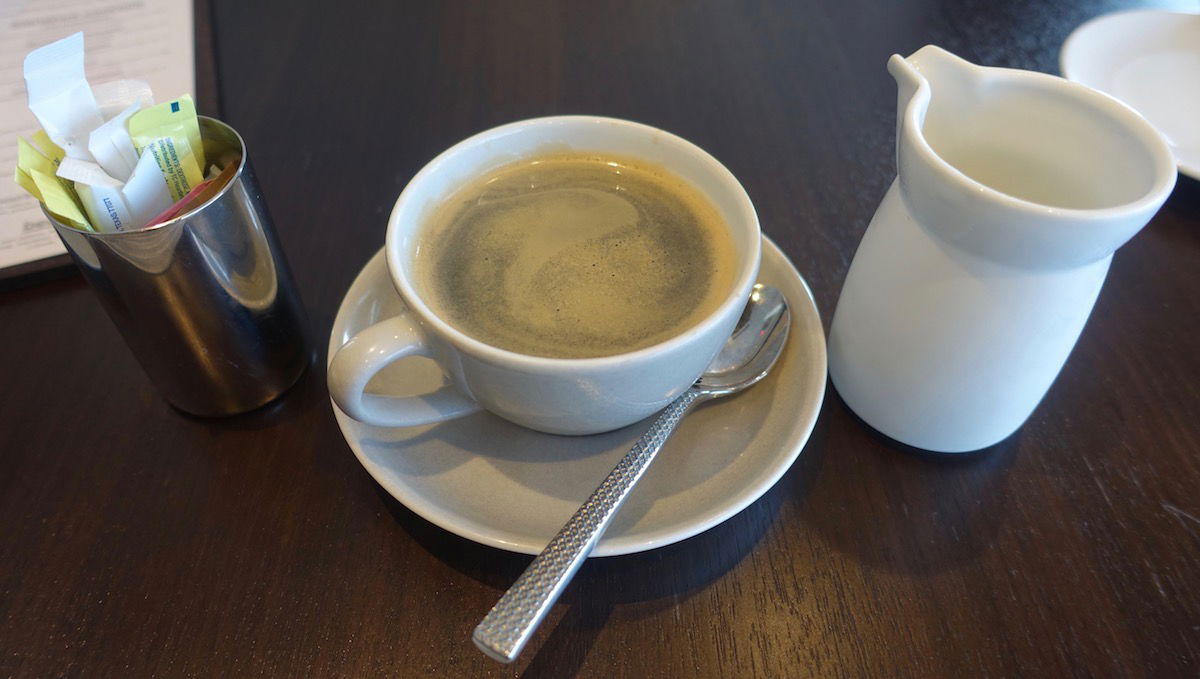 American Flagship Dining americano
The general intent is that you eat in the restaurant and then go back into the Flagship Lounge to hang out afterwards if you have a long layover, though I see no reason you couldn't stay in the restaurant area for an extended period of time. I sat at my table for about two hours. I could also see it being fun to sit at a table and then later move over to the bar area. At no point did I feel at all rushed.
In terms of how busy the restaurant was, there were consistently 2-4 tables taken, including mine. It's clear this place never gets full, though most people eating here seemed to be in a rush.
Most people seemed to be enjoying the place, though there was a British couple that wasn't happy at all. They explained they didn't have much time, the guy ordered the burger, and he kept asking on the status of it. Eventually he stormed out of the lounge saying "this is freaking ridiculous, do you need me to go in the kitchen and make it myself? It has been 40 minutes and we're leaving." Ouch.
After spending about two hours in Flagship First Dining I headed back into the Flagship Lounge, which was very crowded by comparison. Flagship First Dining really is an oasis within the lounge.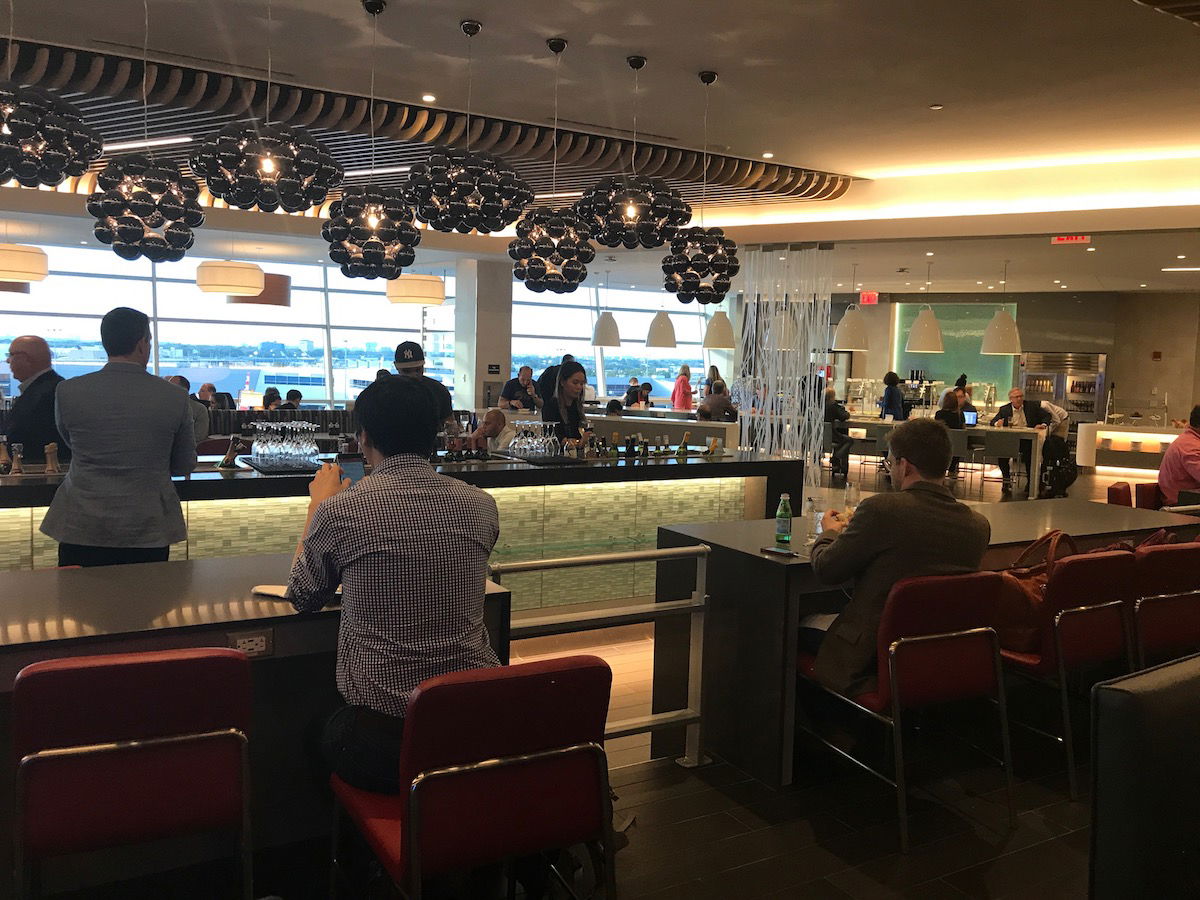 American Flagship Lounge JFK
Flagship First Dining constructive criticism
I think my review has been positive, and that's for good reason — I couldn't believe I was in a facility being operated by American Airlines. However, like everything, there's some room for improvement, so I want to share a few of those areas.
First of all, I think they need to do a better job of controlling access to the restaurant. There's a host who seats you, though the problem is that they're standing inside the door rather than outside. While I was in the restaurant, literally dozens of people walked in who didn't have access, and then I overheard them having a conversation with the host. "Can oneworld Emeralds get in?" "Can I make a reservation here?" "What is this?"
It's only natural for this to happen, though I feel like the ambiance would be better if the door weren't constantly opening and you overheard the same question over and over.
Speaking of the ambiance, I appreciated how quiet the lounge was. I hate to point this out, because the staff were so nice, but the only ambient noise in the lounge was the staff complaining about all kinds of stuff. They stood near the door in a circle talking, about 10 feet from me, and they talked about staffing issues, how one of their colleagues doesn't do a good job, etc. That's not cool to do in front of guests.
My other two issues are even more minor. First of all, I wish they had power outlets by the window tables, so you can enjoy a view of the tarmac while also recharging your electronics. So just as I praised the Flagship Lounge Chicago O'Hare for all the practically placed outlets, unfortunately this facility doesn't get similar compliments for that.
And lastly, this is exceedingly minor, but they use the same coffee machine in Flagship First Dining that they use in a Flagship Lounge. If you want to create a true top restaurant experience, I feel like barista made coffee drinks with latte art, etc., would be a nice touch. 😉
American Flagship First Dining bottom line
Despite a few minor areas for improvement, what an incredible facility. I couldn't believe this is something being run by American. The decor of the space is beautiful, it was peaceful and spacious, the food was incredible, and the cocktails were top notch. It's sort of amazing how few people have access to this — in addition to those traveling to Los Angeles and San Francisco in first class, the only other flights with three cabin first class are a once daily service to London and a once daily service to Sao Paulo.
Very, very well done, American! These Flagship First Dining spaces truly give American some of the best airport lounges available domestically.