If there's one program that doesn't get the attention it deserves, it just might be Virgin Atlantic Flying Club. Perhaps this is because of the steep surcharges added to its own award flights, or the taxes and fees imposed when flying out of London, or maybe it's because Virgin Atlantic is not a member of a major airline alliance.
Each is understandable, but it shouldn't stop us from getting a great redemption when we can.
As a transfer partner of all 4 flexible points currencies — Membership Rewards, Ultimate Rewards, ThankYou, and SPG, it's much easier to earn Flying Club miles than those of many other airlines. There's even a co-branded Bank of America Virgin Atlantic World Elite Mastercard that earns Flying Club miles directly.
Transfer points to Flying Club with these cards:
To help get you started, I'll share a few ways to use Flying Club miles that I think you should consider.
6 great Flying Club redemptions
Before we dive in, it's important to remember that Virgin Atlantic has an award chart for its own flights and different award charts for each of its partners, rather than a consolidated partner award chart like you'll find with many programs.
Some of these charts are distance-based, some provide redemption rates for specific cities, and others use a region-based chart. Additionally, some partners require round-trip awards while others allow one-way tickets. Additionally, connecting flights will increase the mileage requirement.
Finally, you can call Virgin Atlantic to hold an award booking for 48 hours while you transfer points to your account.
Now, let's get into it.
Delta transcontinental flights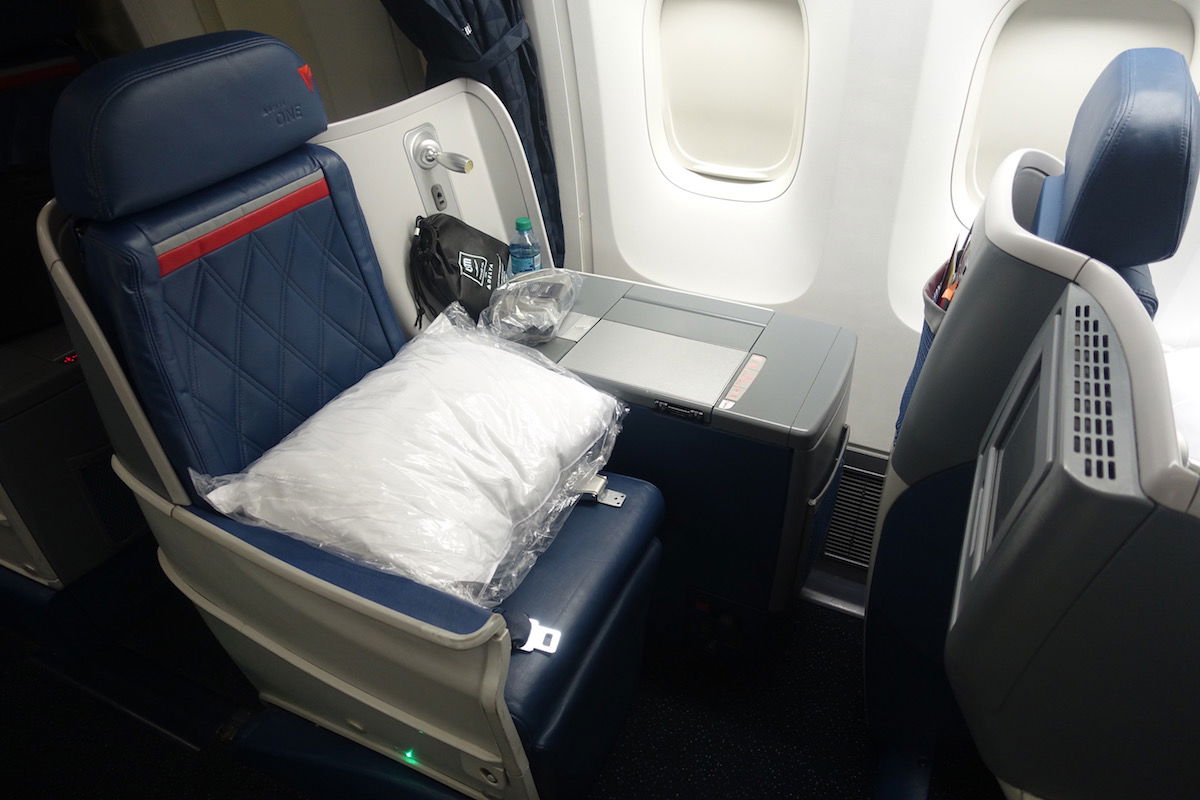 In a move that reminded me of Delta's nonsense, Virgin Atlantic removed its full award chart for flights on Delta. Now, all you will find on their website is the miles required to fly between the U.S. and the U.K.
So, while you won't see this option on their Delta award chart, you can still book one-way transcontinental Delta flights for 12,500 miles in economy and 22,500 miles in business class. Here is a copy of the full award chart that used to be available on the site: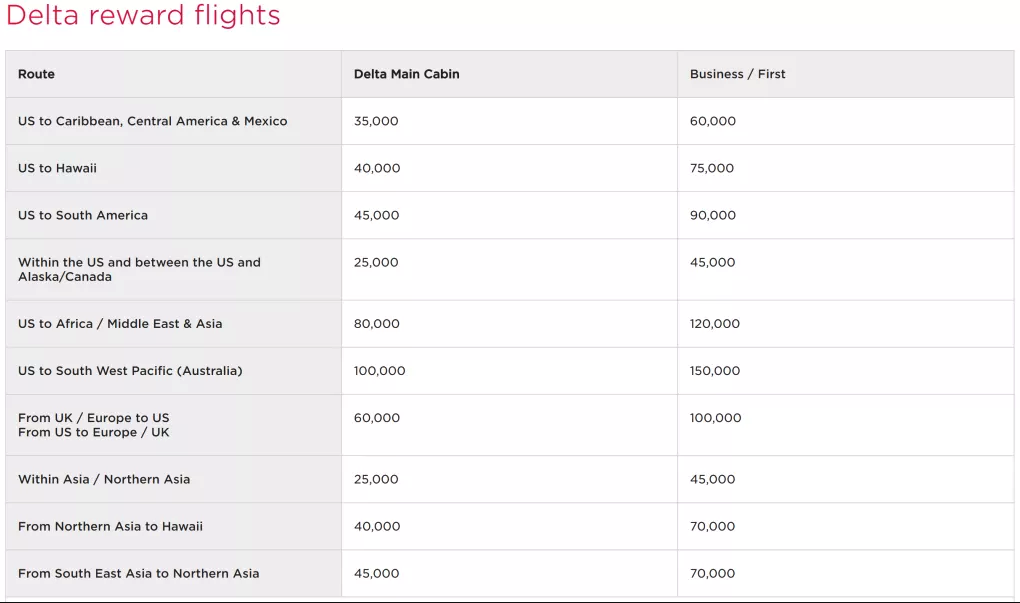 While it's not easy to find business class award space on Delta's premium transcontinental routes, such as New York (JFK) to Los Angeles (LAX), Virgin offers a much better way to book than with Delta's SkyMiles program. If you can find space on this route, you'll fly across the country with a lie-flat seat with direct aisle access on a Boeing 767.
When you're ready to search for award space, you can do so on Virgin Atlantic's site. Once there, you might notice that if you search for a flight between New York and Los Angeles, the destination won't populate and you'll see a "no matches found" message. Annoying but there's a simple way around this.
If you click the teardrop-looking pin in the destination field, you'll see a drop-down that lets you sort airports by country/region, US & Canada, or alphabetically. Simply select US & Canada, then California, then LAX, and you will be able to run your search.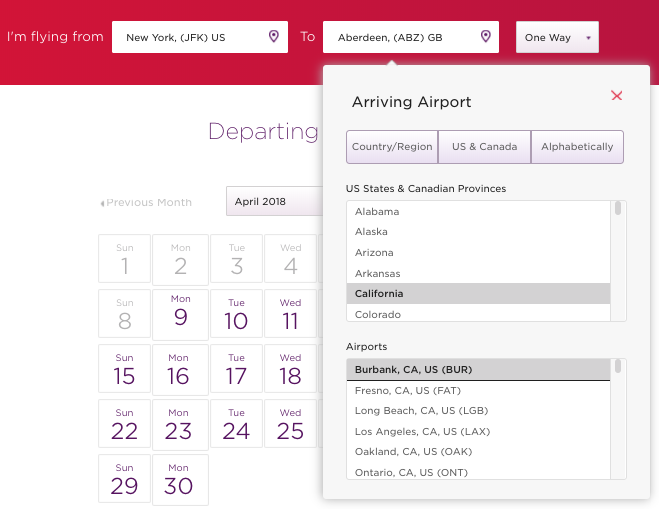 Make sure you select "Pay with miles" below the calendar. I also recommend choosing to show flights within 5 weeks to get an idea if there is any award space near your ideal travel date.
All Nippon Airways (ANA) first class to Tokyo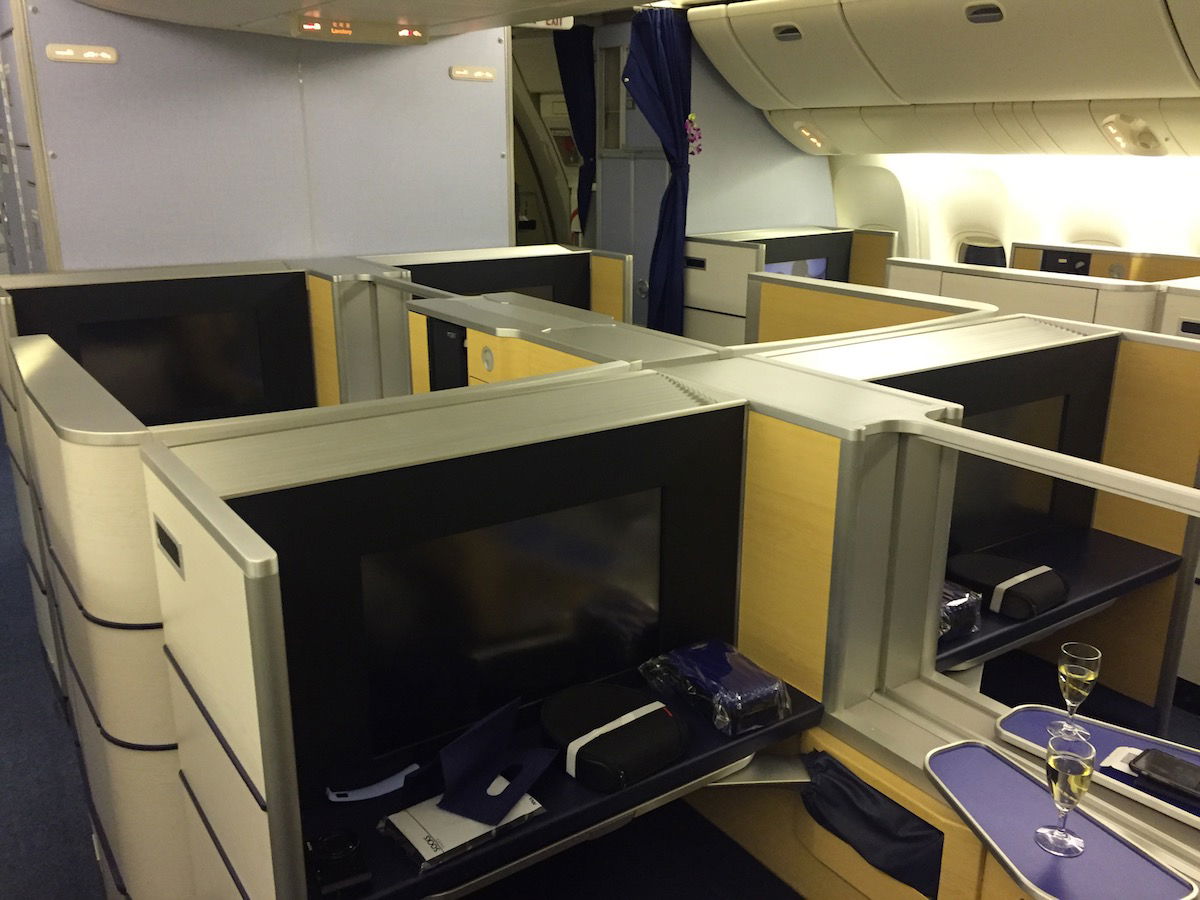 One of my favorite ways to use Flying Club miles is to book ANA first class. From LAX and San Francisco (SFO) to Tokyo, you can book a round-trip first class award for 110,000 miles, while awards from the central and eastern U.S. can be booked for 120,000 miles. If you book one of these awards, a round-trip booking is required.
You can also get respectable redemptions in economy and business class from the West Coast. While you'll find better redemptions rates in those cabins with ANA Mileage Club, it partners with 2 flexible points programs — Membership Rewards and SPG — while Flying Club partners with 4 of the flexible points programs. So, Virgin Atlantic might not be the cheapest, but the ease of earning the necessary miles still makes it a solid option.
ANA Mileage Club has low, regular and high season award prices.
| | | |
| --- | --- | --- |
|   | Virgin Atlantic Flying Club | ANA Mileage Club |
| Economy | 60K/65K (west/central & east) | 40K/50K/55K (low/regular/high) |
| Business | 90K/95K (west/central & east) | 75K/85K/90K (low/regular/high) |
The taxes and fees are roughly $260 for the round-trip booking, which isn't bad for ANA first class across the Pacific.
To find award space, you can use United's website to search, then call Virgin Atlantic to book. The agents I've spoken with have been some of the best in the industry.
Air New Zealand between Los Angeles and Auckland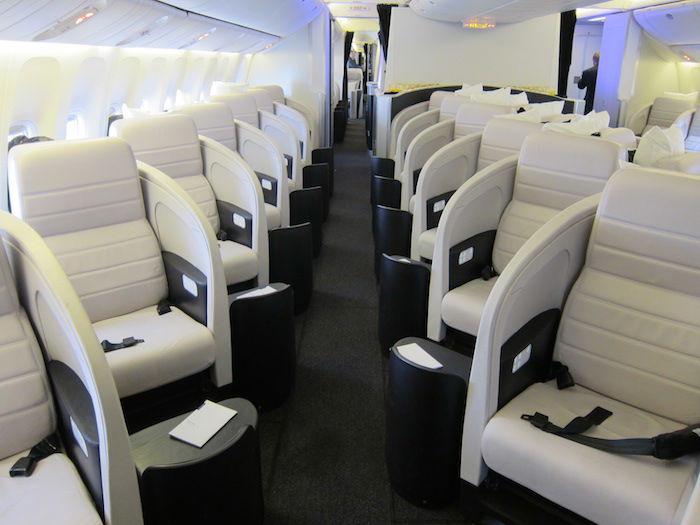 Another Star Alliance airline that can be booked with Flying Club is Air New Zealand. In fact, you won't find a better way to book a non-stop business class award between Auckland (AKL) and LAX. Even the economy rates are competitive with other programs.
One-way business class awards will cost you 62,500 miles while economy will run you 40,000 miles. I don't know about you, but that business class option sounds amazing. To top it off, taxes and fees are only about $55 for a one-way award.
Even if you need a positioning flight to or from LAX, Flying Club could be a great option when you consider that United requires 90,000 miles, while Aeroplan and LifeMiles each require 80,000 miles.
This award will get even better when Air New Zealand launches a flight to Chicago (ORD), which will make it easier for those of us on the Eastern half of the US to book shorter positioning flights.
As with awards on ANA, you can search on United and then call Virgin Atlantic to book.
Air China first class from London to Beijing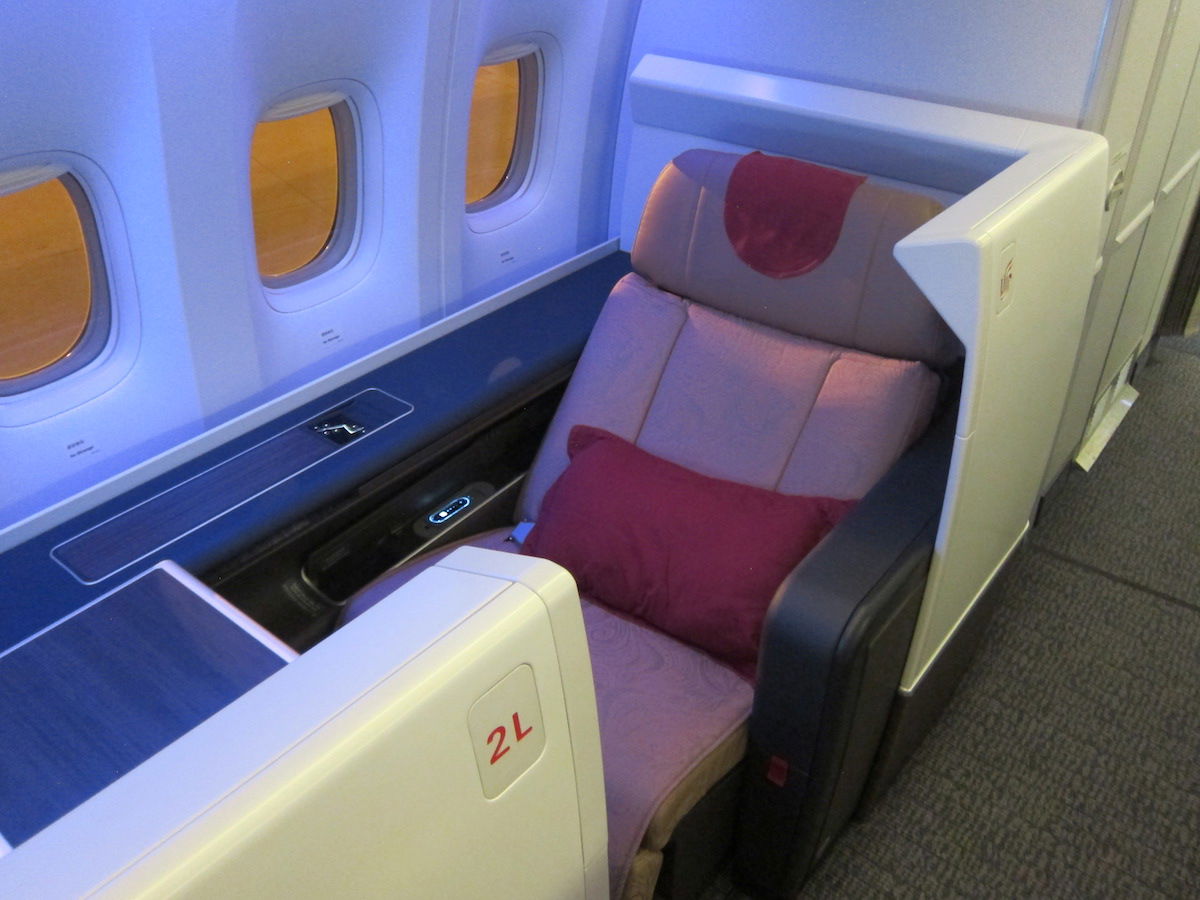 Update: Air China awards are no longer bookable with Virgin Atlantic Flying Club miles.
With taxes and fees north of $700, this is one of the awards I alluded to that will cost a nice chunk of change, but this one just might be worth it. You can book a round-trip first class trip between London (LHR) and Beijing (PEK) on Air China in first class for 75,000 Flying Club miles while business class would require 63,000 miles.
You can book a one-way award for half the round-trip mileage cost, but you will pay much more than half of the taxes and fees when flying out of the UK.
You could fly British Airways instead of Air China, but it would require 115,000 JAL Mileage Bank miles, which can only easily be acquired via SPG transfers. British Airways would require 170,000 Avios. Even your other options for booking Air China pale in comparison, with United MileagePlus requiring 160,000 miles.
Regardless of whether you book an award flight on Air China or British Airways, the taxes and fees will be high so you might as well book with as few points as possible.
You can find award space on United (notice a pattern?) and call Virgin Atlantic to book.
Fly to Australia with Delta or Virgin Australia
A question I receive almost weekly is how to book awards to Australia without connecting in Asia. That's not always easy, especially if you want to fly business class. Qantas occasionally dumps some award space, but it gets snatched up quickly. Virgin Australia often releases space closer to departure, but it's not as consistent as it used to be.
Economy, however, is another ballgame, and I've actually found quite a bit of economy space, especially when booking well in advance. With Flying Club, you can book economy flights on Delta out of LAX for 50,000 miles or on Virgin Australia for 47,000 miles. Business class awards will cost 75,000 miles on Delta and 94,000 on Virgin Australia.
Using 75,000 miles on Delta is a particularly nice redemption but you'll often have to book quite close to departure. In fact, when writing this, I saw two dates with award space within 30 days of departure and that was it.
As always, the downside is that connections will require more miles. However, the taxes and fees are more than reasonable at roughly $30 for a one-way from LAX.
Virgin Atlantic Premium Economy from the East Coast to London
While the taxes and fees on a round-trip premium economy booking are steep, the cash component of a one-way award from Boston (BOS), Newark (EWR), JFK or Washington Dulles (IAD) is reasonable at just under $180. And you'll pay just 17,500 miles for the one-way during standard season, or 27,500 over peak dates.
For those looking for more comfort than an economy seat but to not drop over $500 on taxes and fees for a flight that's less than 7 hours, premium economy on Virgin Atlantic is a happy medium.
Refreshingly, this award you can search and book online with Virgin Atlantic.
Watch for transfer bonuses
Occasionally, Amex Membership Rewards and Citi ThankYou Points will run transfer promotions to Virgin Atlantic, with bonuses as high as 30%. These are the perfect time to transfer points if you are going to book an award with Flying Club miles.
In fact, I took advantage of Amex's 30% promotion last fall to book ANA first class from IAD to Tokyo Narita (NRT). As mentioned above, the award requires 120,000 Flying Club miles but I only needed to transfer 93,000 Membership Rewards.
I was going to visit my brother in Japan anyway, but this will make the trip that little bit sweeter.
Bottom line
It's easy to forget about Virgin Atlantic Flying Club when thinking about booking an award. While many programs are part of an alliance and have simple distance-based or region-based award charts, Flying Club has a mix of everything. As a result, it takes a bit more effort on our part but, if you put in that effort, there's potential for outsized value.
On top of that, Virgin Atlantic's partnerships with the 4 flexible points programs make getting the miles you need much easier than with many airline programs.
The next time you're booking a flight to Tokyo or a transcontinental flight across the states, I'd strongly consider booking with Flying Club miles.
What's your favorite way to book with Flying Club miles?