As most OMAAT readers are aware, there's currently a huge lack of transpacific award space, which is a combination of high demand and very low supply (due primarily to mainland Chinese carriers not having slots to operate most international flights).
I've tried to highlight some of the good opportunities for redeeming miles across the Pacific. For example, in a separate post I wrote about the value in booking business class awards through the EVA Air Infinity MileageLands program. In this post I wanted to look at what's arguably a much more straightforward redemption, which still has excellent availability (thanks so much to Clem for flagging this).
Long story short, Taipei-based SkyTeam carrier China Airlines has very good transpacific business class award availability. Not only that, but you can potentially book this at a reasonable award cost, and China Airlines also has a great business class product. Let's go over those details.
Book China Airlines business class through Flying Blue or Flying Club
To start, let's talk about why this opportunity is valuable to many. The best and easiest way to book China Airlines business class awards is through Air France-KLM Flying Blue and Virgin Atlantic Flying Club.
These are both rewards currencies that are easy to earn if you have transferable points currencies, as both Air France-KLM Flying Blue and Virgin Atlantic Flying Club are partners with Amex Membership Rewards, Capital One, Chase Ultimate Rewards, and Citi ThankYou.
Furthermore, these are the two points currencies where we most often see transfer bonuses, and it's common to see 20-30% bonuses to these currencies several times per year. So be strategic about your transfers, and the below redemptions will be even more valuable for you.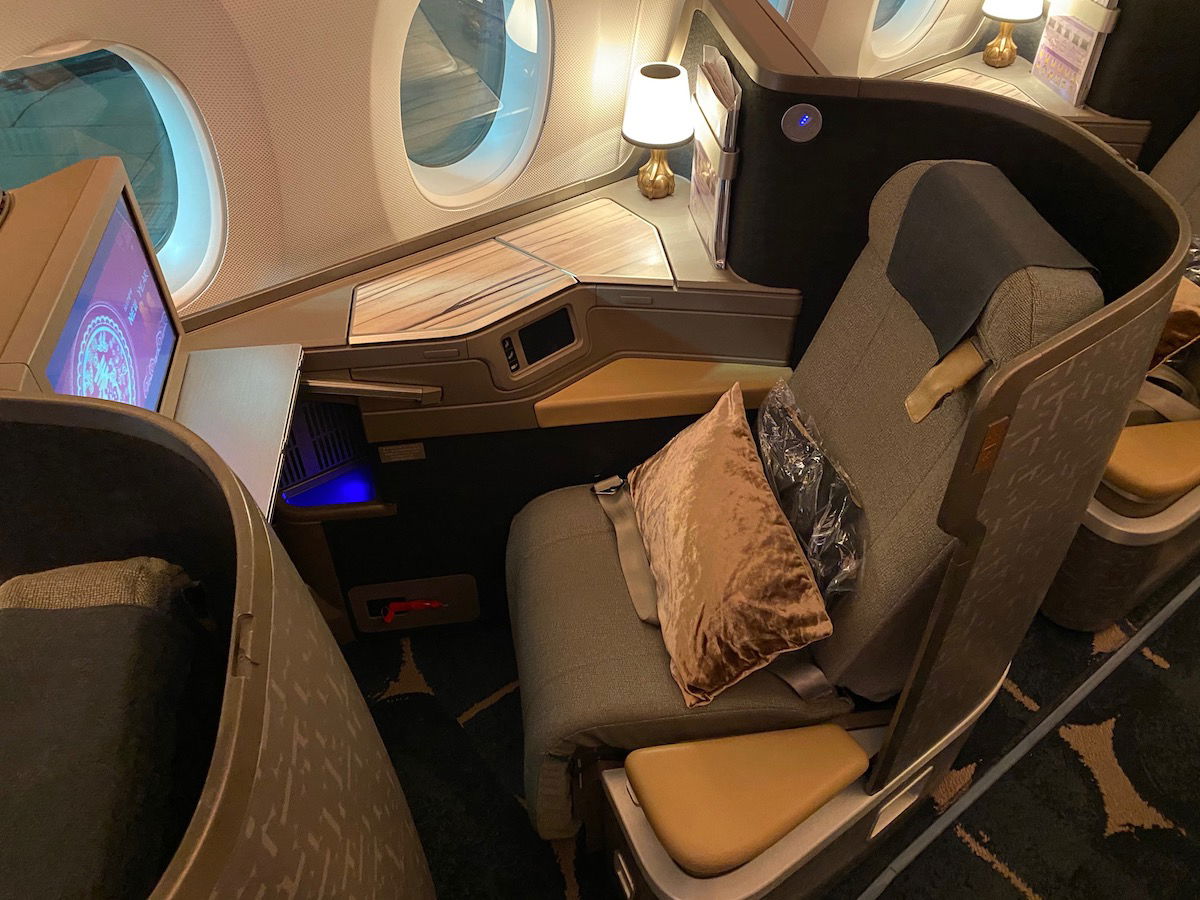 China Airlines business class award pricing & availability
China Airlines is in SkyTeam, so in theory you can redeem miles with any SkyTeam program for travel on China Airlines. As you'd expect, Delta SkyMiles isn't very useful, though, given the program's inflated award costs. For example, a one-way saver award from Los Angeles to Taipei will cost you 285,000 miles. Ouch.

Fortunately Air France-KLM Flying Blue has what I'd consider to be fair award costs. Flying Blue doesn't publish an award chart, but pricing is roughly distance based, and you can expect to pay a bit more if connecting.
For example, you'll pay 81,500 miles for a Vancouver to Taipei award. If you add in a 25% transfer bonus (which we often see from transferable points currencies), that would be just 58,000 transferable points. Taxes and fees are reasonable as well.

Meanwhile you could book a Los Angeles to Taipei award for 93,000 miles.

If you're looking to connect, you'll pay 107,000 miles for a Los Angeles to Hong Kong via Taipei award, and 128,500 miles for a Los Angeles to Bangkok via Taipei award.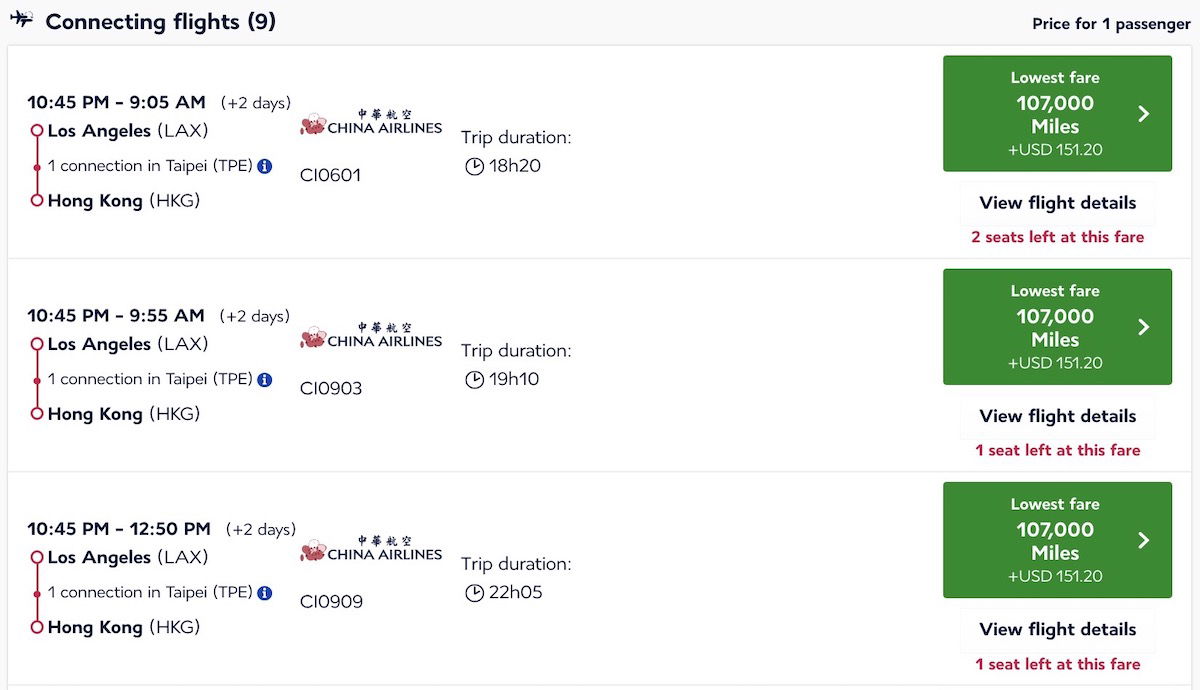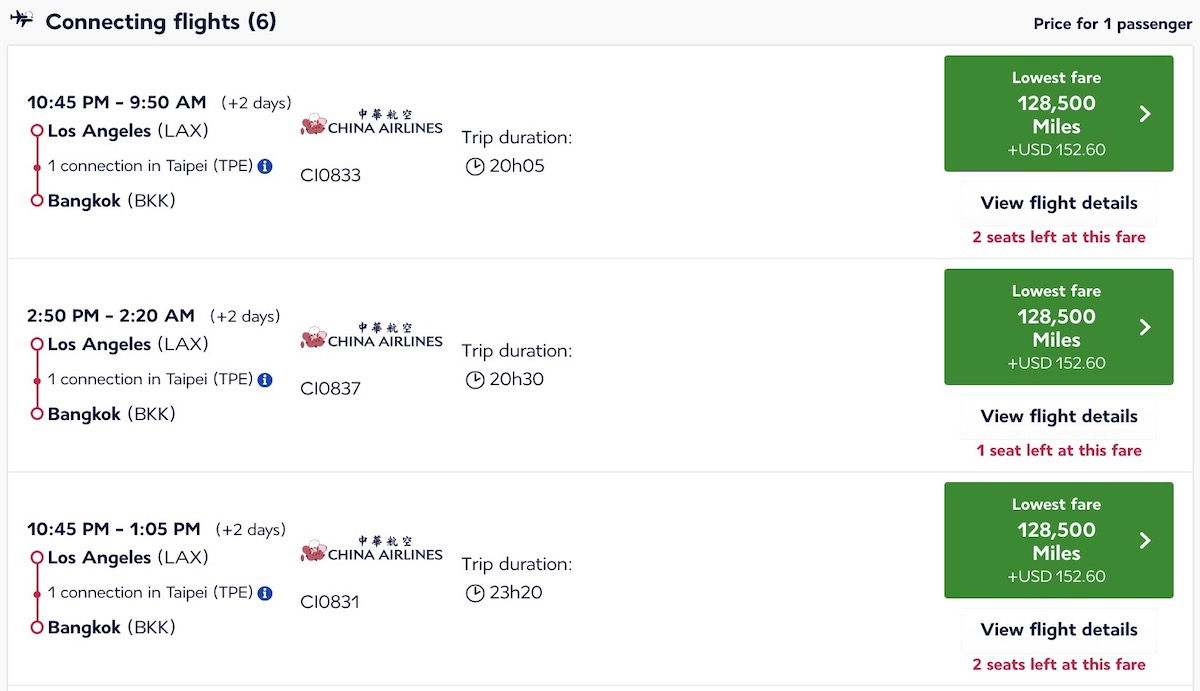 I'm not saying this is the best redemption deal on earth, but:
Award availability is quite good
There are no hoops to jump through to book (it can easily be booked online, you can book for friends and not just family members, etc.)
Virtually all transferable points currencies can be used for these awards
If you are searching award availability on China Airlines, note that the award calendar won't correctly reflect availability. So you'll have to search day-by-day to see what's available. Still, I'm finding space to be quite good.
As an alternative, you can also book through Virgin Atlantic Flying Club, now that the carrier is in SkyTeam. Flying Club has a distance based award chart, and an award covering a distance of 6,001-7,000 miles costs 100,000 points in business class, which could be a good deal.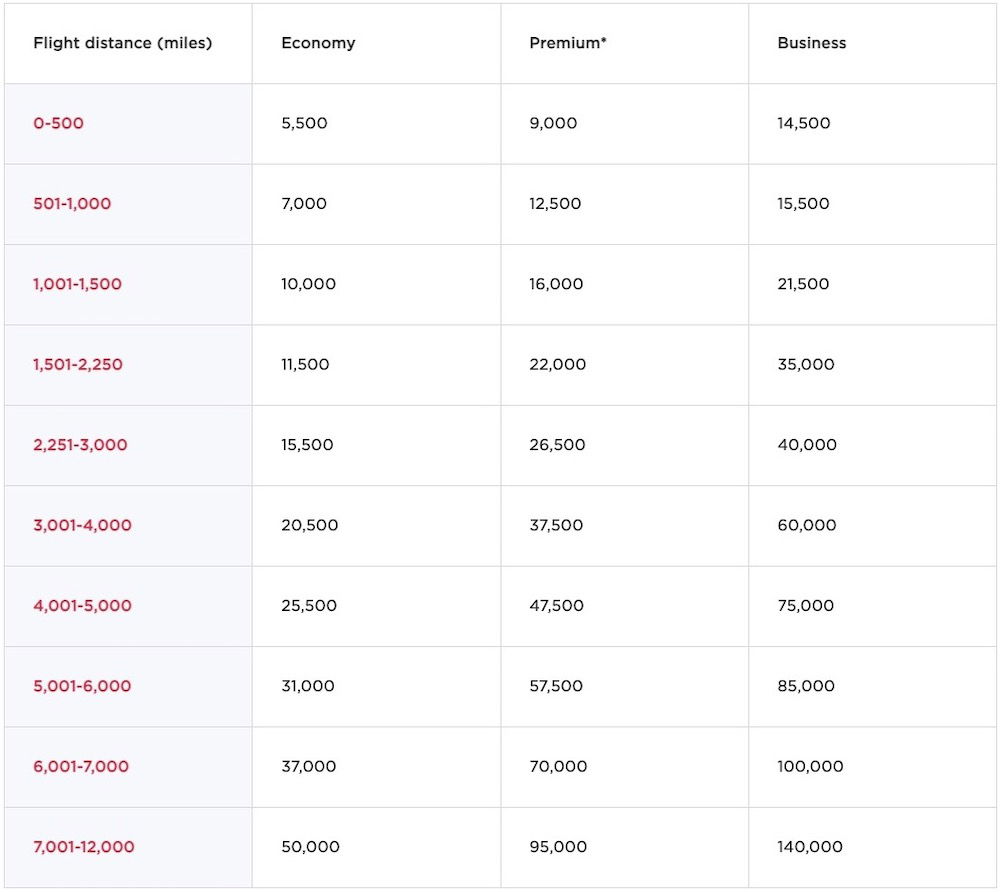 Note that if you're going to redeem Virgin Atlantic points on China Airlines, you'll have to book by phone, so it'll be a bit more time consuming. But depending on where you're traveling to, it could represent a better deal.
China Airlines' destinations in North America include Honolulu (HNL), Los Angeles (LAX), New York (JFK), Ontario (ONT), San Francisco (SFO), and Vancouver (YVR). Don't expect to find many award seats out of New York, though other markets have award availability pretty consistently.
China Airlines has a solid business class product
Taiwan is blessed with having three world class airlines, as China Airlines, EVA Air, and Starlux Airlines, are all excellent. While I'd say that China Airlines is probably the weakest of the three airlines in terms of product, it's still an excellent experience.
China Airlines flies Airbus A350s and Boeing 777s to North America, featuring comfortable reverse herringbone seats, and offering friendly service, and great food and drinks.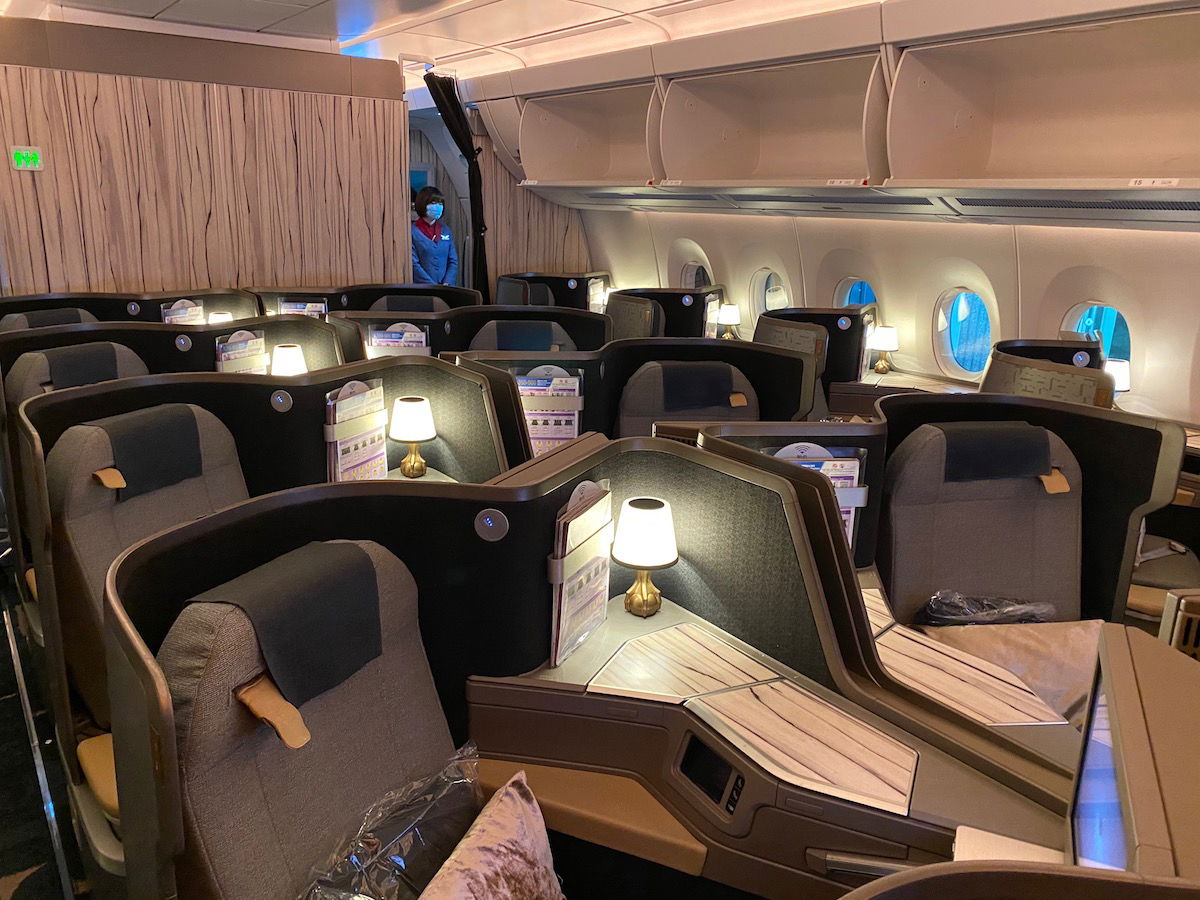 Bottom line
While carriers like All Nippon Airways, Japan Airlines, and Cathay Pacific, have very little transpacific business class award availability, China Airlines actually has a decent amount of space. Best of all, this can be booked at a good price and without any fuss through Air France-KLM Flying Blue or Virgin Atlantic Flying Club.
These rewards are really easy to earn, given that they partner with all major transferable points currencies, and we often even see additional transfer bonuses. This is much easier than booking directly through EVA Air's program, so that's one major advantage.
If you're looking to cross the Pacific in comfort, this is definitely something to be aware of.
Have any OMAAT readers redeemed miles on China Airlines? If so, what was your experience like?