Introduction: New Years In The Maldives, Summer In New Zealand
Review: Etihad Airways Lounge New York JFK
Review: Etihad First Class A380 New York To Abu Dhabi
Review: Etihad Airways Arrivals Lounge Abu Dhabi
Review: Etihad Business Class A340 Abu Dhabi To Male
Review: Returning To The Park Hyatt Maldives
This Is What A $570 Per Person New Year's Eve Hotel Gala Is Like
Review: Etihad First Class A380 Abu Dhabi To Sydney
Review: Park Hyatt Sydney
Review: Qantas Business Class 737 Sydney To Auckland
Review: Hilton Auckland
Review: Air New Zealand Lounge Auckland
Review: Hilton Queenstown
Review: American First Class 777-300ER Sydney To Los Angeles
---
I've reviewed Etihad's incredible A380 first class many times at this point, including from Abu Dhabi to London, Abu Dhabi to New York, and New York to Abu Dhabi. However, I've also always been intrigued by their Abu Dhabi to Sydney route on the A380, so figured I'd post a quick review of that flight, just to show how it compares.
We took this flight after flying Etihad economy back from Male to Abu Dhabi, and then spending two nights at the St. Regis Abu Dhabi.
The day of the flight we visited Etihad's Premium Lounge, given that the new first class lounge hadn't yet opened.
I won't be reviewing the above aspects of the trip, since I've reviewed them before, and don't have much else to add.
Etihad 454
Abu Dhabi (AUH) – Sydney (SYD)
Monday, January 4
Depart: 10:05PM
Arrive: 7:15PM (+1 day)
Duration: 14hr10min
Aircraft: Airbus A380
Seat: 1H (First Class Apartment)
We boarded at 9:30PM, and upon entering the upper deck door were pointed left towards the first class cabin. This time around we reserved seats 1H & 2H, which are connected.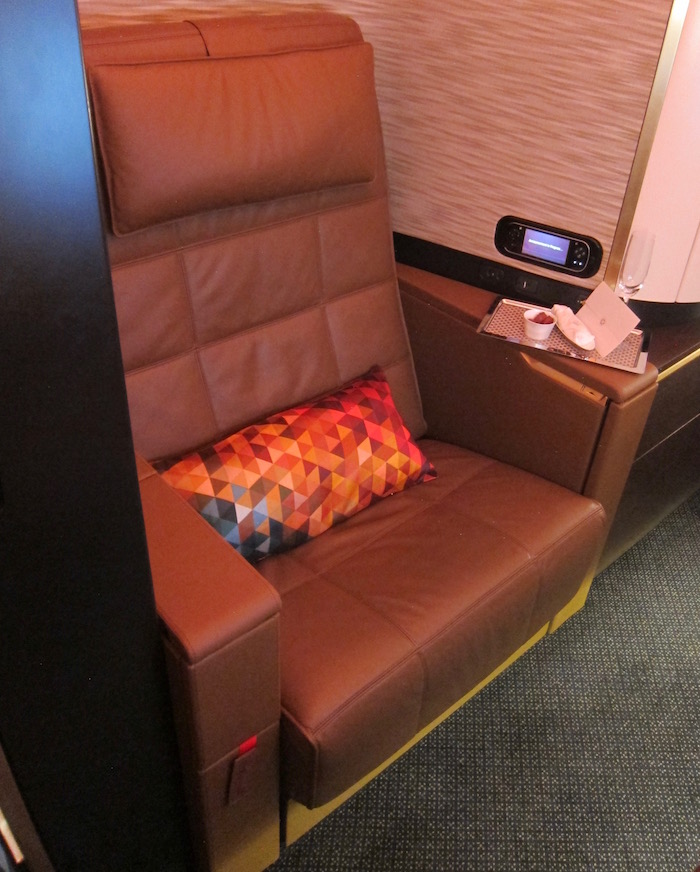 Etihad First Class Apartment, seat 1H
As I explained in my guide to Etihad's A380 first class seating, three sets of first class seats are somewhat connected.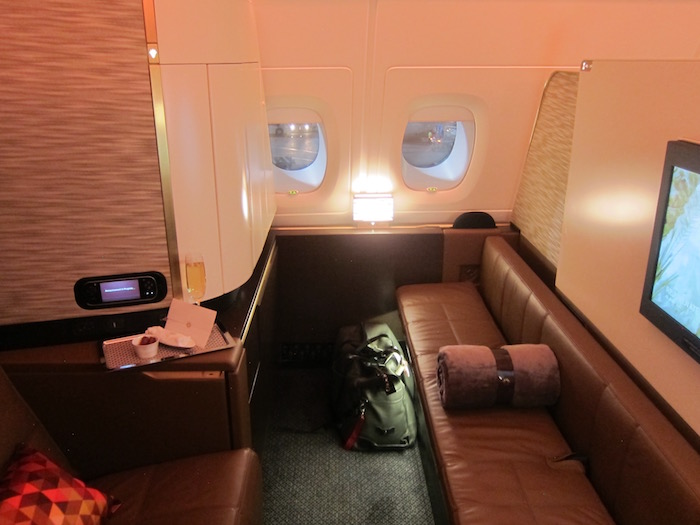 Etihad First Class Apartment, seat 1H
As you'll see below, the partition near the windows can be moved so that the suite goes from being fully private to only semi-private. So while it's not quite like the double bed in Singapore Airlines Suites Class, when you're sleeping you can at least "face" one another (if you wanted to).

Etihad First Class Apartment, seat 1H

Etihad First Class Apartment, seat 1H
Upon settling in we were welcomed aboard by a Moroccan flight attendant, who I remembered from a previous flight (and she remembered me). I knew she looked familiar but couldn't figure out why, and the same was apparently true for her. She said "you look familiar, but I don't know from where. We realized that we had been on the same flight a few months prior.
We each had some champagne before departure, which was served with a hot towel and dates.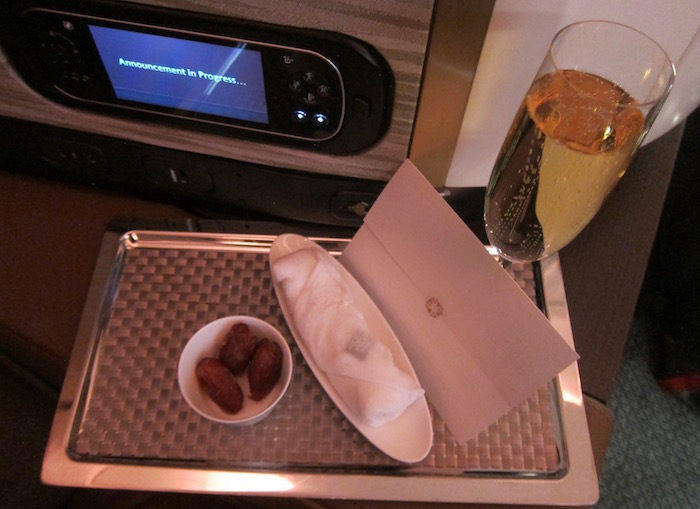 Etihad first class pre-departure champagne and dates
Shortly thereafter the onboard chef, Wei, came by to add his welcome aboard. He was from New Zealand, and was super nice. He explained the Etihad dining concept, which we were of course familiar with. We were also offered pajamas, along with slippers.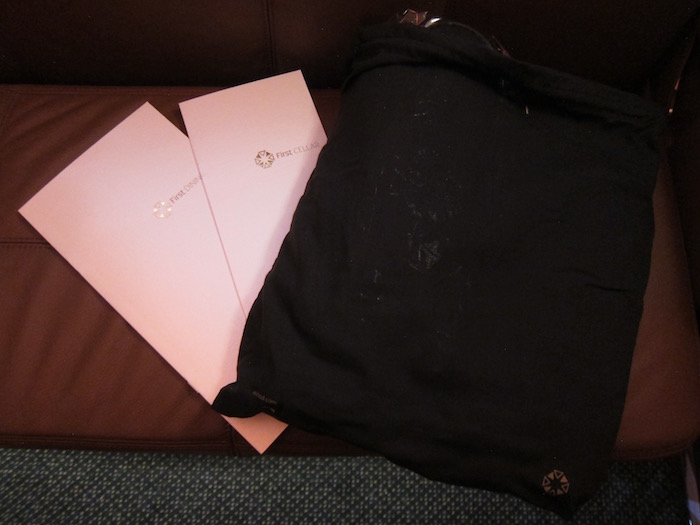 Etihad first class menu & pajamas
The Romanian food & beverage manager and cabin manager also came by to add their welcome onboard.

Etihad first class pajamas & slippers
As our departure time approached, the crew came around with Arabic coffee.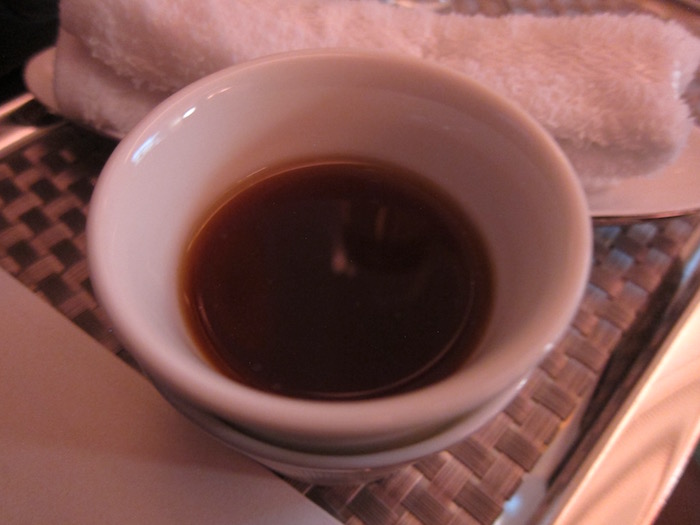 Etihad first class Arabic coffee
At 9:50PM the (French) captain came on the PA to add his welcome aboard. He informed us of our flight time of 12hr55min, and our final cruising altitude of 39,000 feet. He also explained that there was unfortunately a one hour air traffic control delay, so we'd be parked at the gate for a while. On the plus side, the flight time was a bit shorter than usual.
While I'm not usually a fan of delays (who is?) for some reason they sting less when you're seated in an Etihad First Class Apartment. 😉
I turned on the tail camera and enjoyed the action on the ramp.

Etihad A380 tail camera at gate
Finally at 11PM we began our pushback with two empty seats in first class (plus no one in The Residence), at which point the safety video began to play. Our taxi to the runway took about 20 minutes, and at 11:20PM we were cleared for takeoff.

Etihad A380 tail camera during takeoff
The takeoff roll was long, and our climb out was smooth. About 10 minutes after takeoff the seatbelt sign was turned off, so I turned to the airshow to take a look at our route.
About 15 minutes after takeoff the chef came through the cabin to take meal orders. We were hungry, so decided to have dinner right away.
The menu & beverage list read as follows: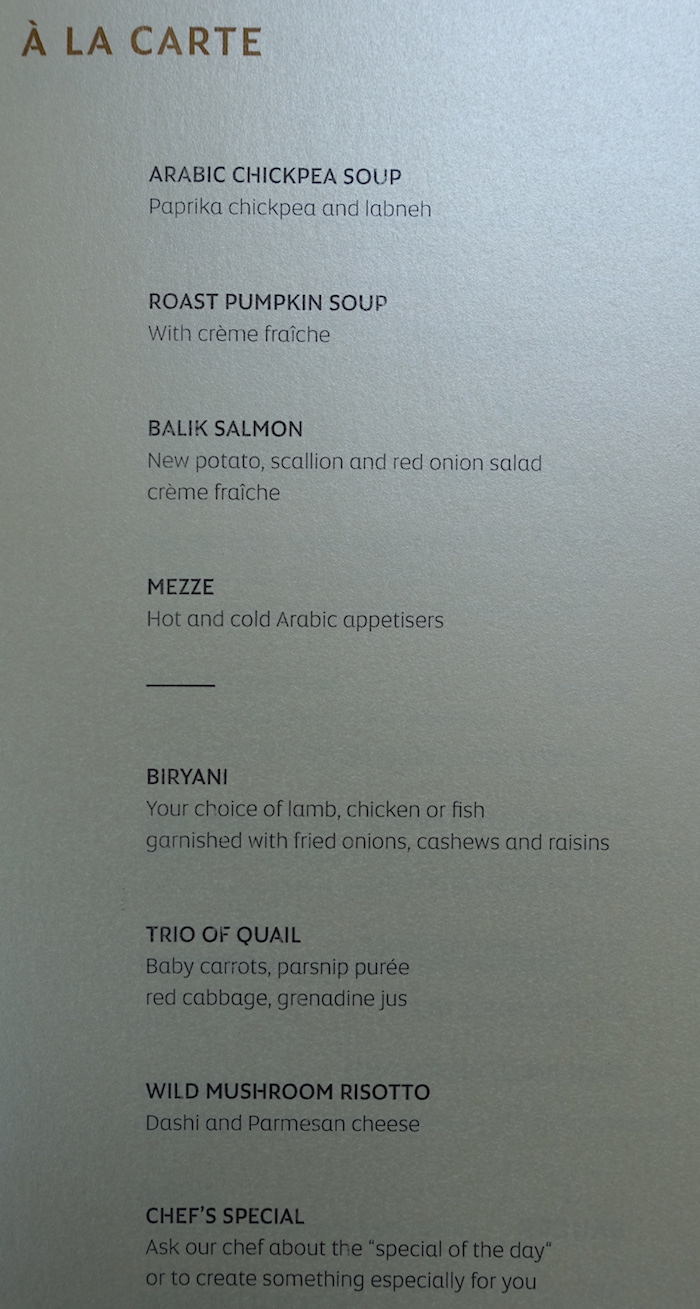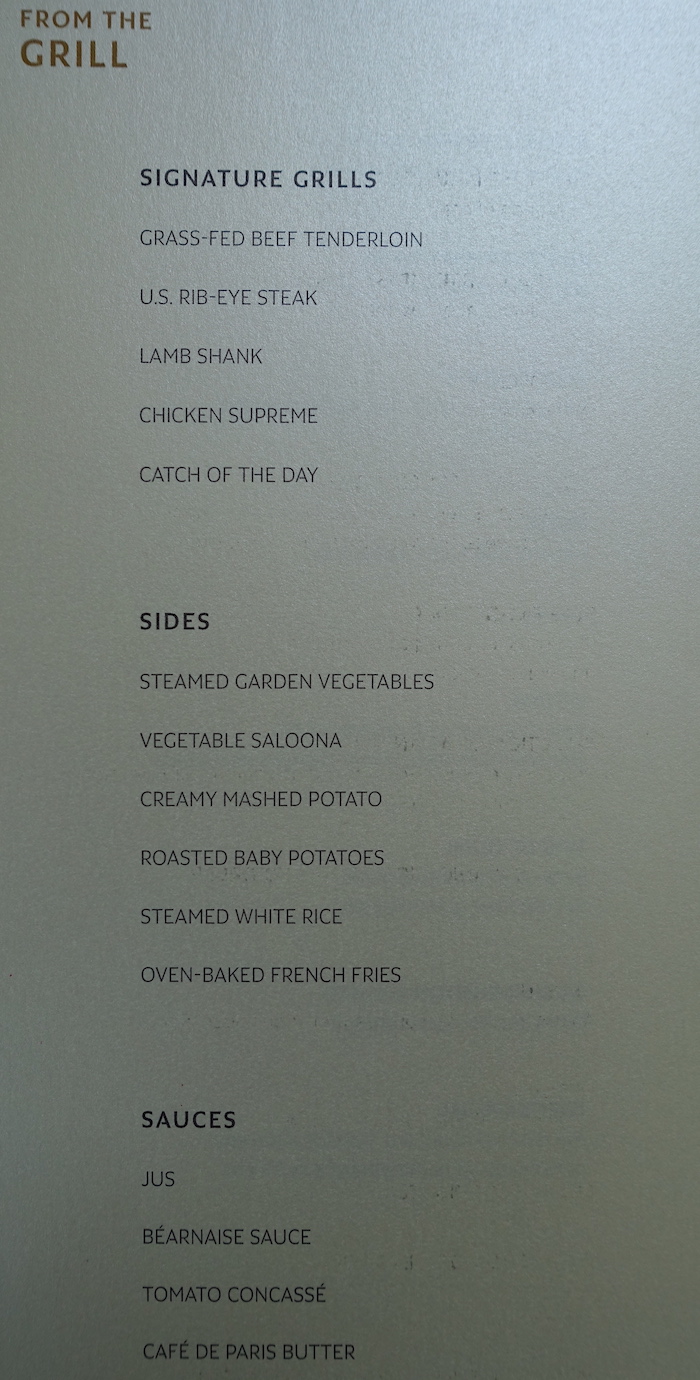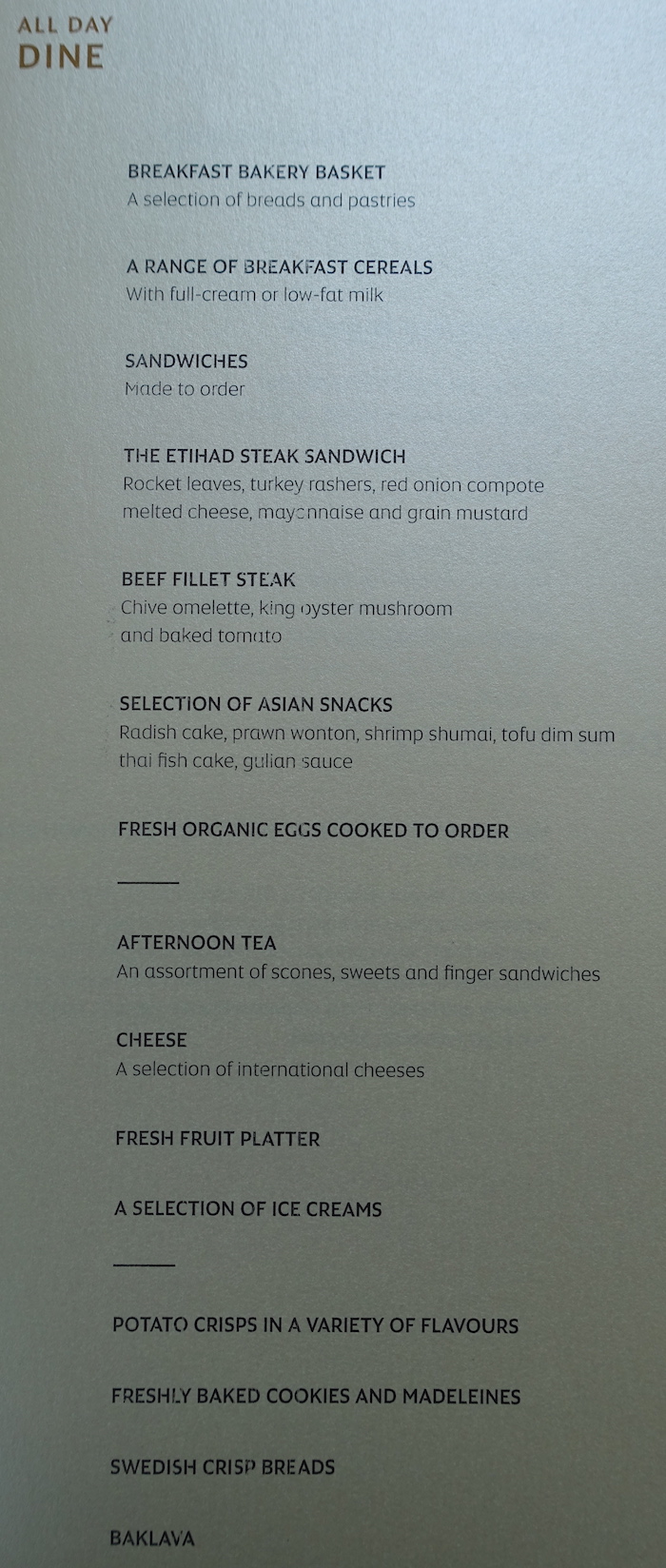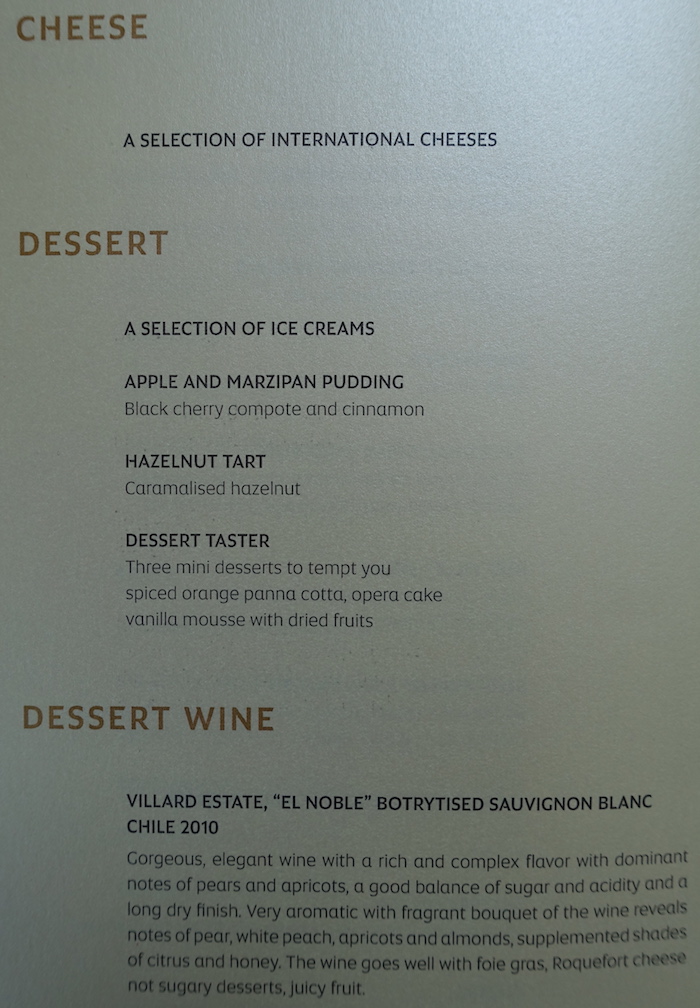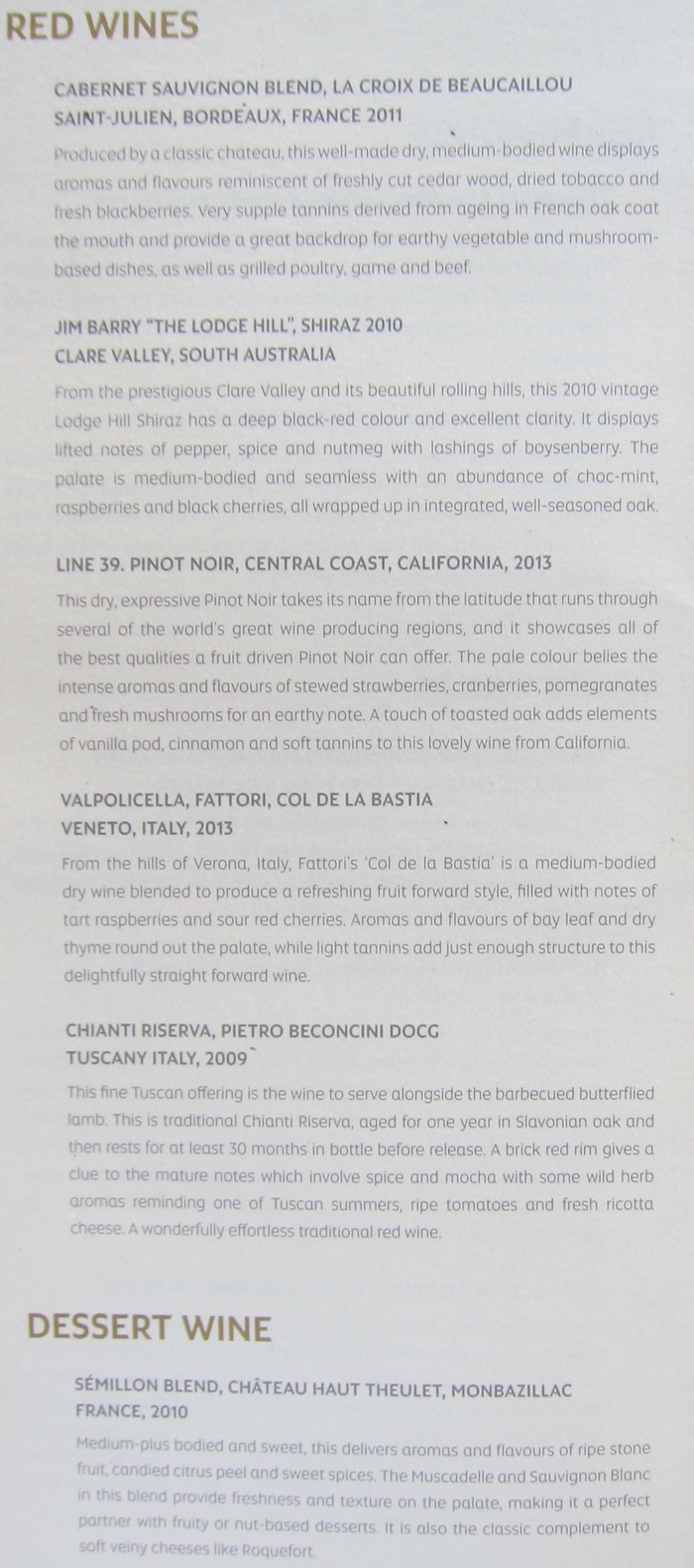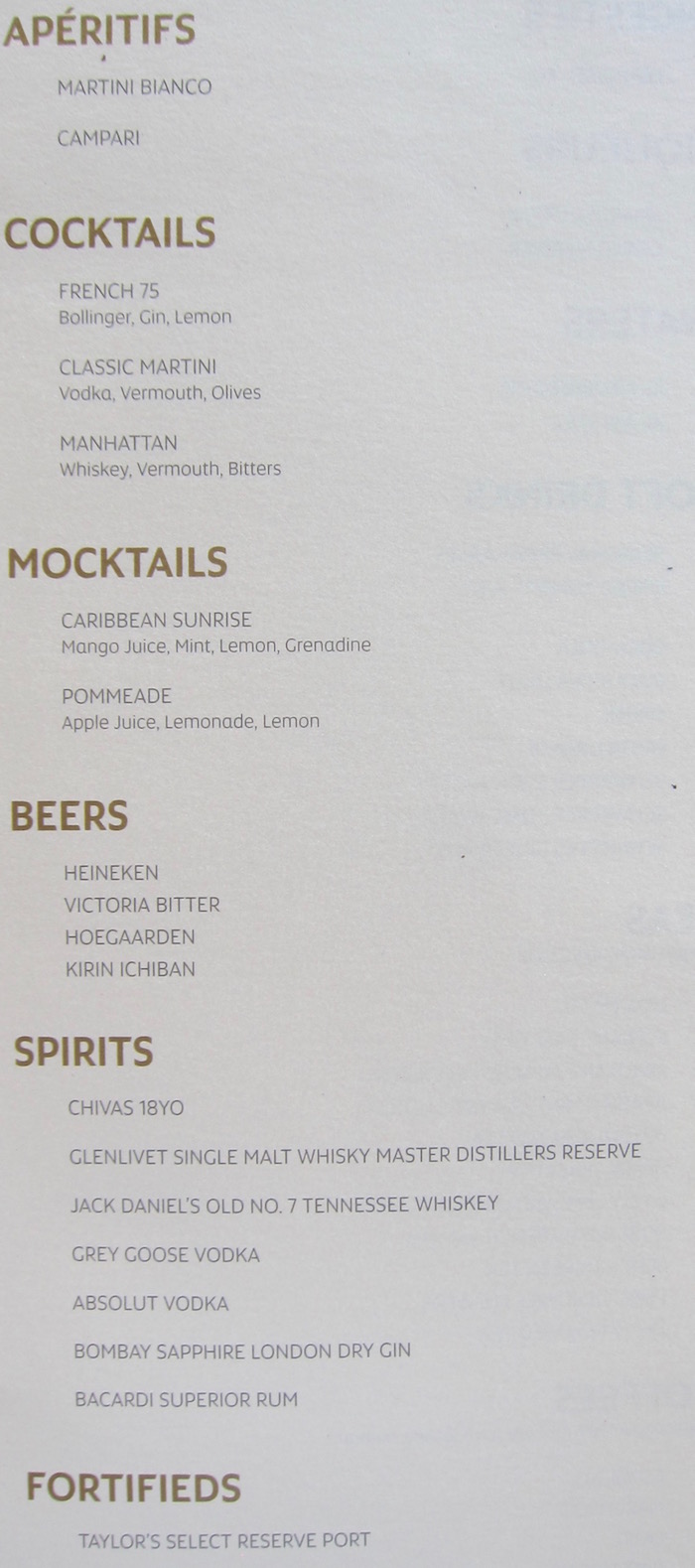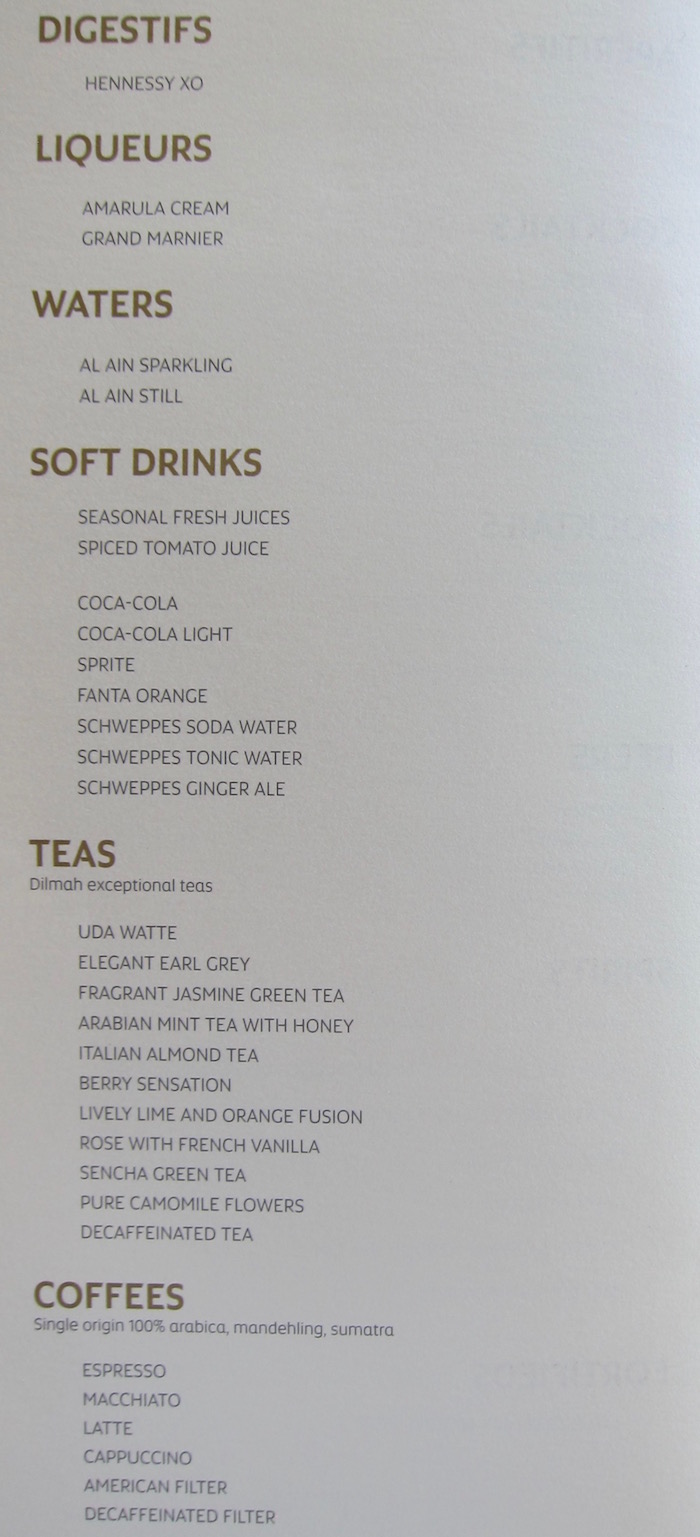 To start the meal, we were offered champagne, accompanied by the usual chips, olives, and nuts.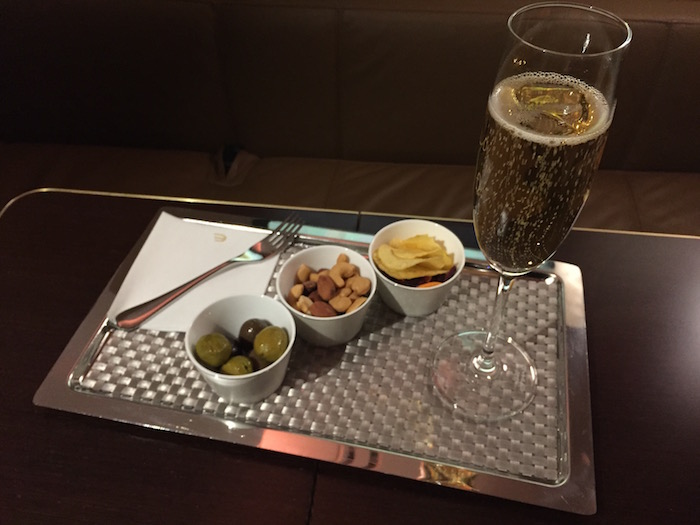 Etihad first class champagne & snacks
After that our table was set. We decided to dine together, which makes for a cozy setup. Ford had a dirty martini, while I continued with champagne.

Etihad first class dinner table setting
We were offered a fennel panna cotta amuse bouche, which was tasty.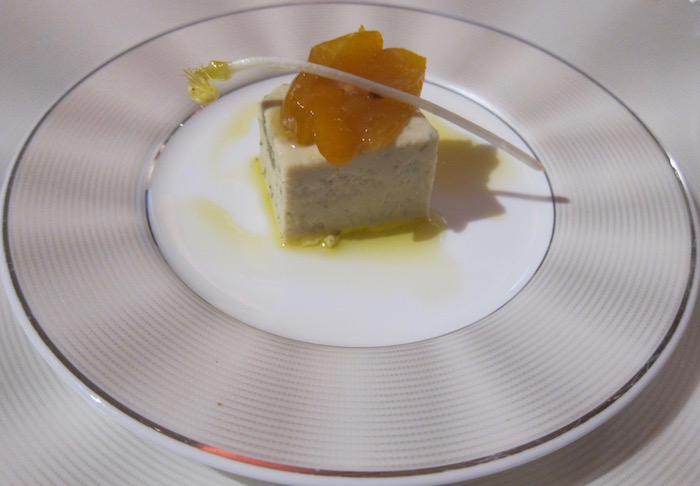 Etihad first class dinner — amuse bouche
We were also offered a selection from the breadbasket. I had some garlic bread.

Etihad first class dinner — garlic bread
To start I had the Arabic chickpea soup, which was fantastic.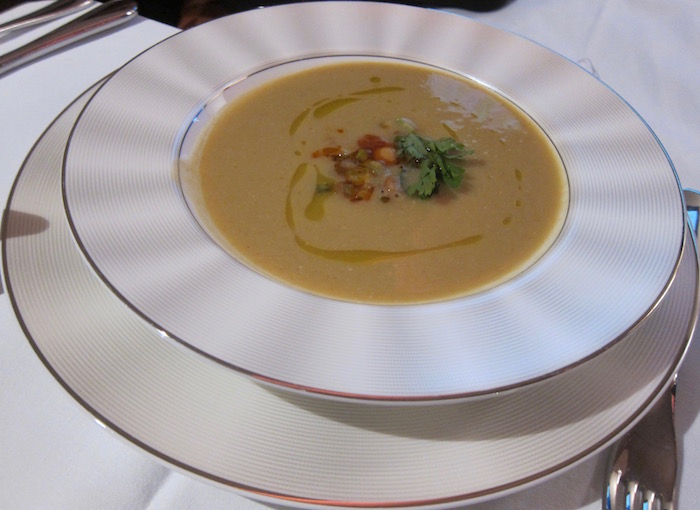 Etihad first class dinner — Arabic chickpea soup
Meanwhile Ford had the roast pumpkin soup, which he enjoyed as well.

Etihad first class dinner — roast pumpkin soup
Next we had the balik salmon, which wasn't quite as good as what Cathay Pacific served back in the day in first class, but was still fairly tasty.

Etihad first class dinner — balik salmon
After that we were offered a raspberry sorbet as a palate cleanser.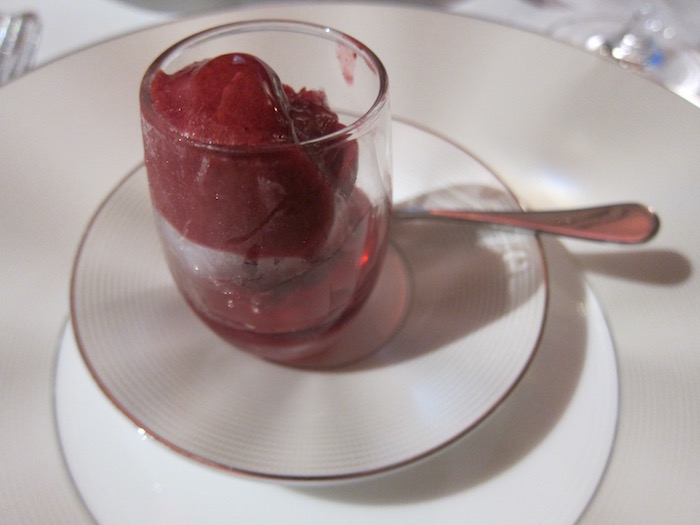 Etihad first class dinner — sorbet
For the main course I ordered the beef with green beans, which was fantastic. It was easily one of the best steaks I've had on a plane.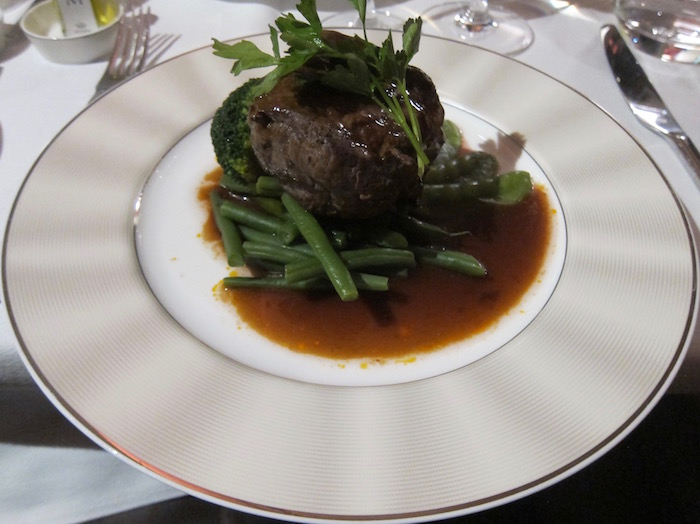 Etihad first class dinner — beef tenderloin
Ford also had beef, though with tomato sauce. I'm not sure what exactly he was thinking. 😉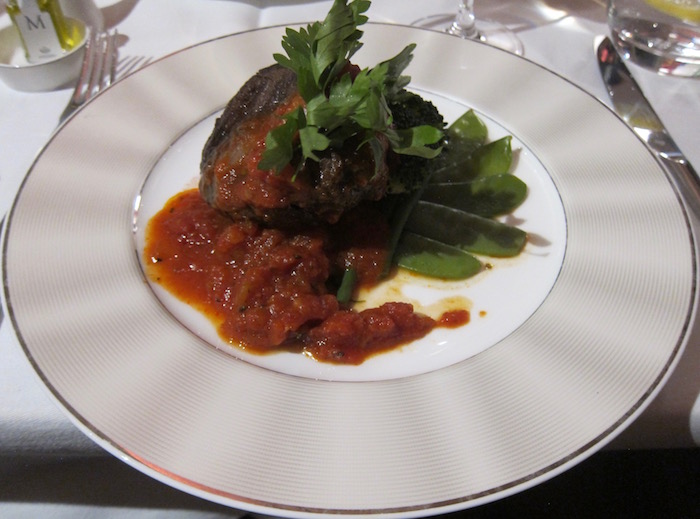 Etihad first class dinner — beef tenderloin
We shared a side of fries, because the novelty of having fries prepared on a plane hasn't worn off for me.

Etihad first class dinner — oven baked french fries
For dessert I had a cappuccino, and we split a hazelnut tart.

Etihad first class dinner — hazelnut tart and cappuccino
After dinner I fell asleep almost immediately, though only managed to sleep for about four hours.
Upon waking up I turned on the tail camera, where it was a beautiful day outside.

A380 tail camera enroute to Sydney
At this point we were a bit more than halfway through our journey, with about six hours left to Sydney.
I decided to take a shower to refresh. While the Etihad A380 shower isn't quite as great as the one offered on Emirates, showering on a plane is still beyond damn cool. 😉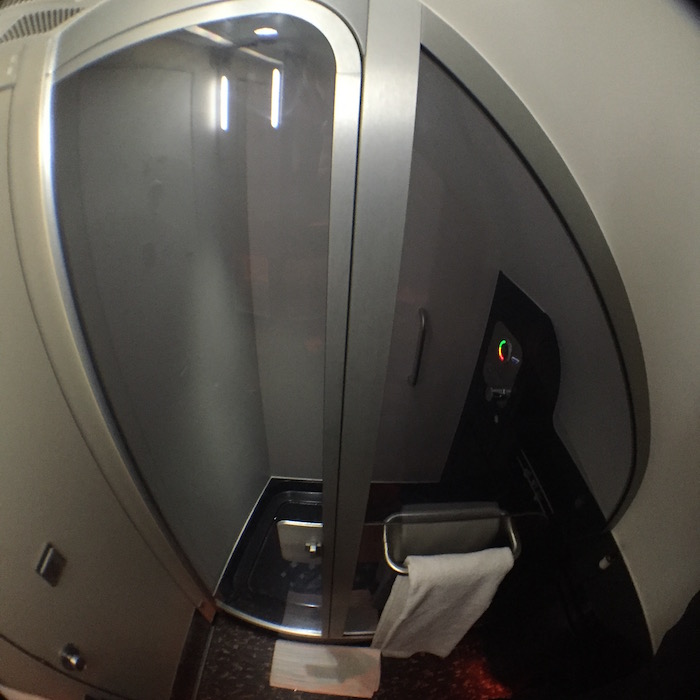 Etihad A380 first class shower

Etihad A380 first class bathroom
Ford and I decided to order some ice cream. I ordered vanilla, while Ford ordered chocolate and strawberry. The presentation was fascinating, as they made no effort to hide the fact the ice cream had just come out of little cartons (and I actually sort of liked the presentation).

Etihad first class snack — ice cream
I worked for the next several hours thanks to the reasonably priced inflight wifi, and then finally 90 minutes before landing I was asked if I wanted anything else to eat before we arrived.
I wasn't really in a breakfast mood, so requested afternoon tea. The onboard chef asked what exactly I wanted, though I suggested he surprise me.
I was offered a croissant and cinnamon roll on the side, and ordered English breakfast tea to drink.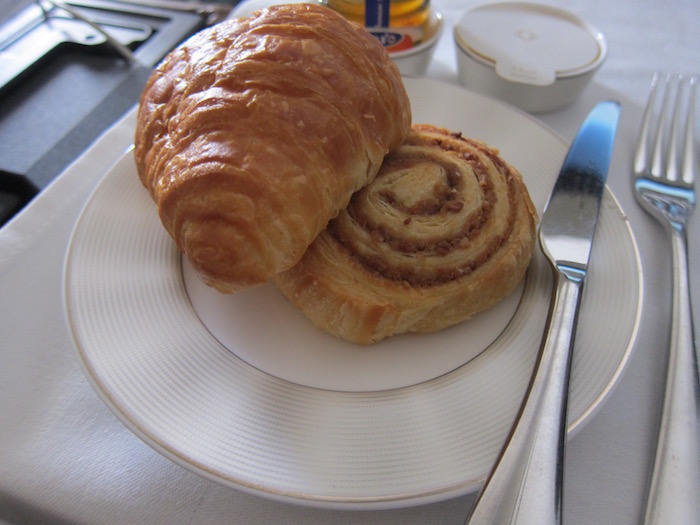 Etihad first class snack — croissant and cinnamon roll
Then he made me the most gorgeous and tasty afternoon tea imaginable. Mmmm..

Etihad first class afternoon tea
My office does not suck!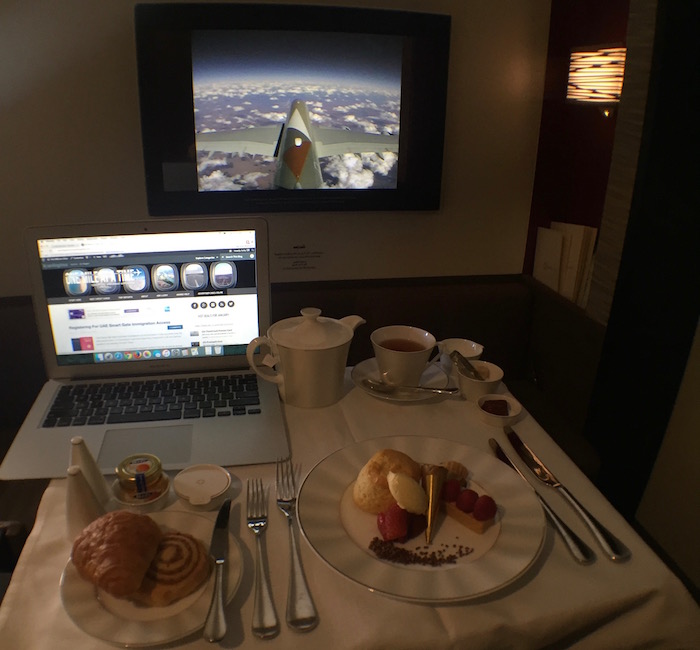 Etihad first class afternoon tea
As a surprise he also prepared me eggs royale, which were incredible. Seriously, how often do you get a custom made meal like that on a plane?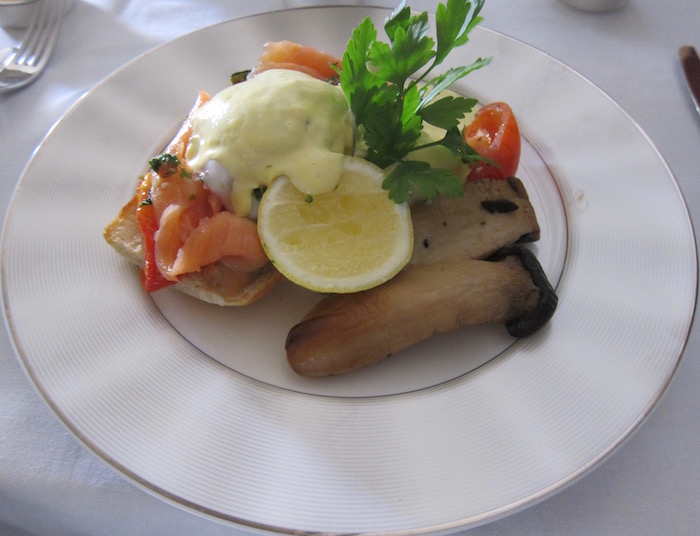 Etihad first class snack — salmon with eggs
About 30 minutes before landing the cabin manager came through the cabin to see how everything was, and to also distribute landing cards and fast track forms for immigration.

Australia arrival & fast track cards
I changed out of my pajamas and stowed all my belongings, and then turned on the tail camera for the descent.
Unfortunately "sunny Sydney" wasn't in sight, as the weather was nasty during the descent. We hit some pretty serious chop on the way down, which always feels even more exaggerated when you're seated backwards, as I was.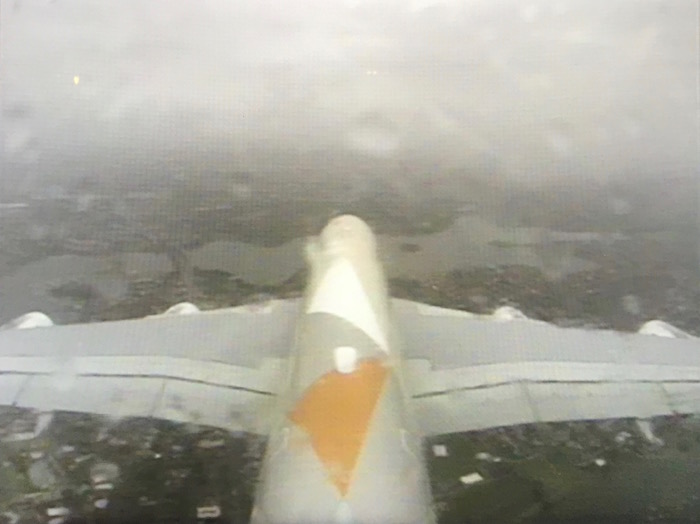 Tail camera on approach into Sydney

Tail camera on final approach into Sydney
We had a firm touchdown at 7:15PM, exactly when we were scheduled to arrive. We managed to make up some time thanks to the shorter than normal flight time.
After landing it was a 10 minute taxi to our arrival gate, where we parked in a fairly quiet area of the terminal.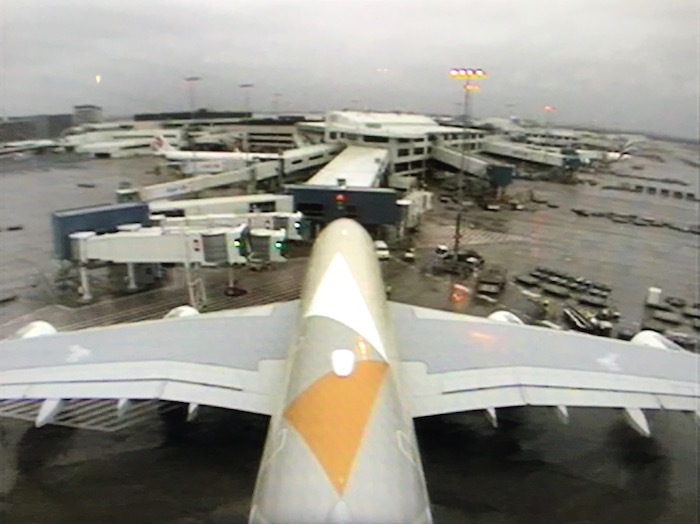 Arriving at gate Sydney Airport
We bid farewell to the crew, cleared immigration in no time, and took an Uber to the Park Hyatt.
Etihad First Class Apartment bottom line
This was another fantastic flight on Etihad. The crew was awesome, the food was delicious, and the First Class Apartments are beyond impressive. It's not a perfect product — other airlines' food offerings are more lux, and the beds aren't actually that comfortable — but all around it's one of the world's best first class products.