Introduction: New Years In The Maldives, Summer In New Zealand
Review: Etihad Airways Lounge New York JFK
Review: Etihad First Class A380 New York To Abu Dhabi
Review: Etihad Airways Arrivals Lounge Abu Dhabi
Review: Etihad Business Class A340 Abu Dhabi To Male
Review: Returning To The Park Hyatt Maldives
This Is What A $570 Per Person New Year's Eve Hotel Gala Is Like
Review: Etihad First Class A380 Abu Dhabi To Sydney
Review: Park Hyatt Sydney
Review: Qantas Business Class 737 Sydney To Auckland
Review: Hilton Auckland
Review: Air New Zealand Lounge Auckland
Review: Hilton Queenstown
Review: American First Class 777-300ER Sydney To Los Angeles
---
We had just one night in Sydney on the outbound portion of this trip, while enroute to Auckland. As may of you may recall, I took my dad to the Park Hyatt Sydney for his "round" birthday a bit over a year ago, and we had an incredible stay. It's hands down my favorite Hyatt property, and among my all around favorite hotels in the world.
While there are some Park Hyatts that are nice simply because they're a good use of points, the Park Hyatt Sydney is unarguably the best hotel in all of Sydney, so it's awesome to be able to redeem points there.
I won't be writing a super extensive review of this stay, since I've reviewed the hotel in great detail before. However, we got a different room this time around, so I figured I'd share my thoughts on it.
The Park Hyatt had both free night and Points + Cash availability for our night. Since this is a Category 7 hotel, a free night costs either 30,000 Gold Passport points or 15,000 points plus 300USD. While Points + Cash is almost always a good deal when available, Category 7 properties are an exception. You're basically saving 15,000 points for $300, meaning you're paying two cents per Gold Passport point. That's more than I value Hyatt points, since I value them at 1.5 cents each.
However, I thought it was worth booking Points + Cash so I would earn elite stay & night credits, which made this worthwhile, in my opinion.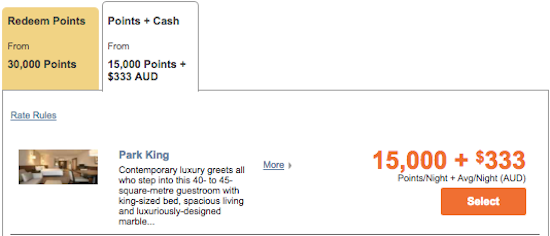 We took an Uber from the airport, which took about 20 minutes. Upon pulling up to the hotel we were welcomed by the friendly bellmen and directed into the intimate lobby. The Park Hyatt Sydney feels incredibly residential and understated, and that includes the lobby.
Upon presenting our passports we were escorted by the friendly associate to our room on the third floor, so that she could process our in-room check-in.
While I had received one of the incredible opera deluxe rooms during my last stay (which is the standard Diamond upgrade, pending availability), this time around they didn't have any available. That's perfectly understandable, given that we were staying right after New Year's in peak season, so I imagine they were almost fully committed.
I believe this was a standard room, which is still massive, if you ask me. It was gorgeously furnished, with a king size bed, full size dining table with two chairs, and a small sitting area next to it.
The king size bed was comfortable, including the pillows.
The sitting area basically featured a loveseat cut in half.

Park Hyatt Sydney king room sitting area
Waiting on the dining table was a bottle of champagne (Veuve) and a plate of fruit, which was a generous welcome amenity.

Park Hyatt Sydney champagne & fruit welcome amenity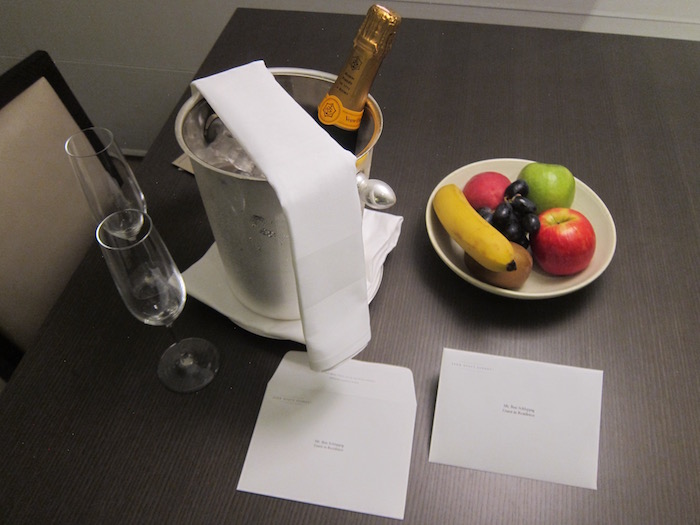 Park Hyatt Sydney champagne & fruit welcome amenity
The rooms at the Park Hyatt feature semi-private bathrooms, meaning there's a shield you can pull between the bedroom and bathroom so it's either exposed or fully private. This is my favorite type of design, since it makes the room feel larger and more spacious without compromising privacy.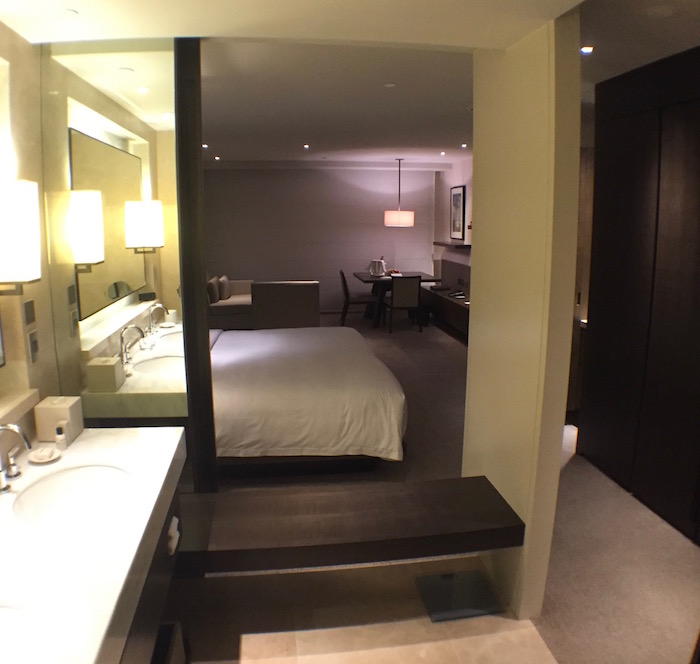 Park Hyatt Sydney king room bathroom
The room featured double sinks, a partitioned off Japanese toilet, and a beautiful shower & tub area.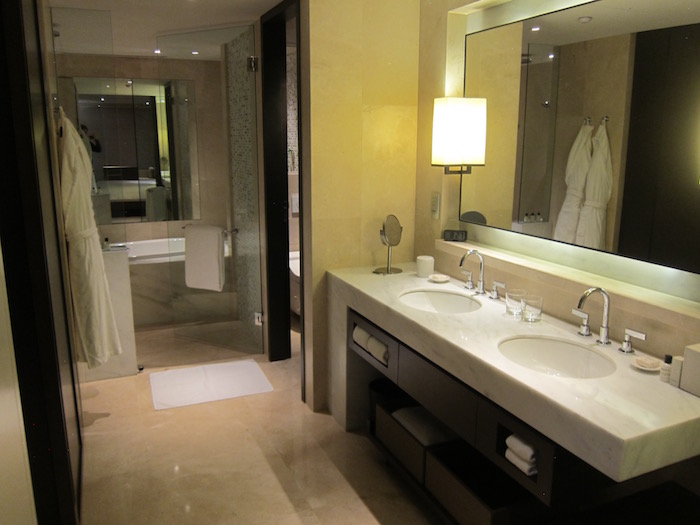 Park Hyatt Sydney king room bathroom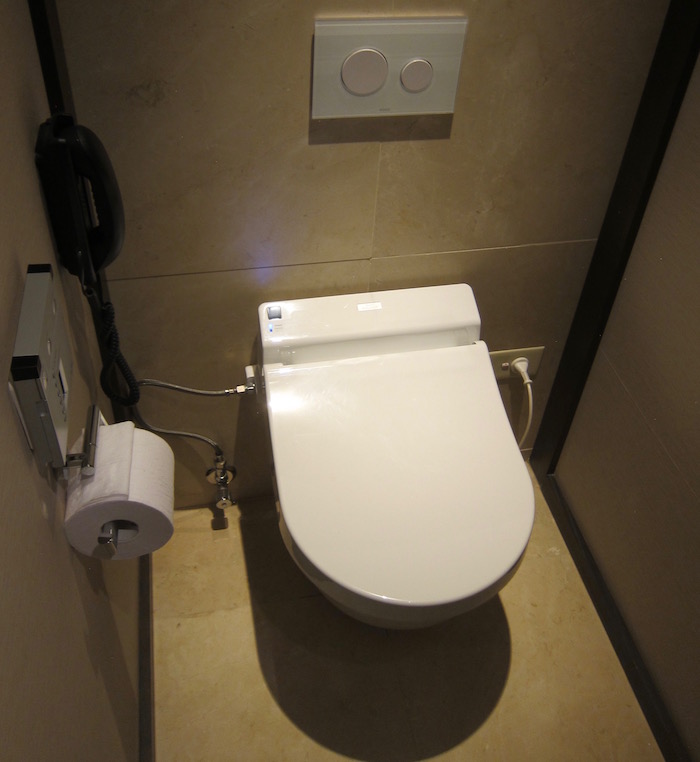 Park Hyatt Sydney king room toilet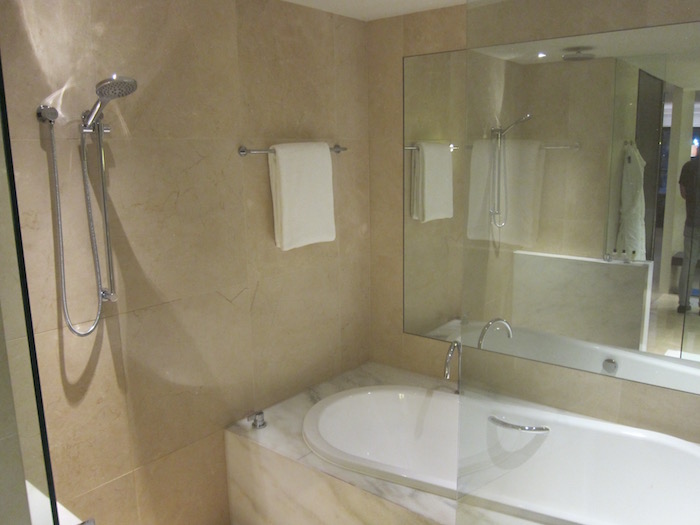 Park Hyatt Sydney king room bathroom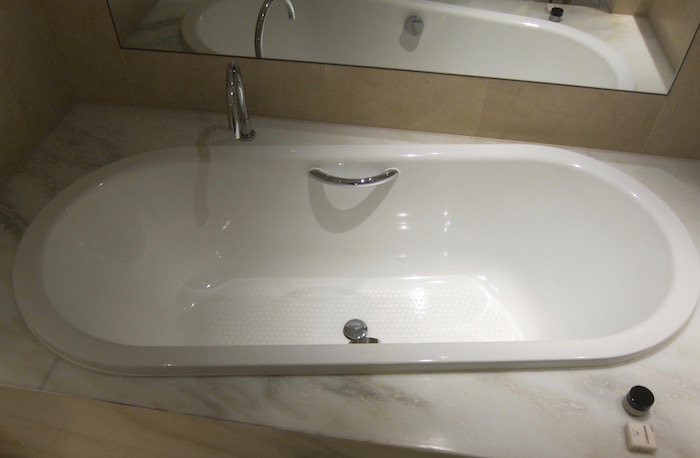 Park Hyatt Sydney king room bathtub
The lovely toiletries at this property are provided by Le Labo.

Park Hyatt Sydney Le Labo toiletries
Back near the entrance to the room and across from the bathroom were the minibar and Nespresso machine.

Park Hyatt Sydney Nespresso machine
The minibar was well stocked, both in terms of liquor and soft drinks.
Near the minibar was a tasty chocolate bar, which they seem to place in all the rooms here. They're sinfully tasty.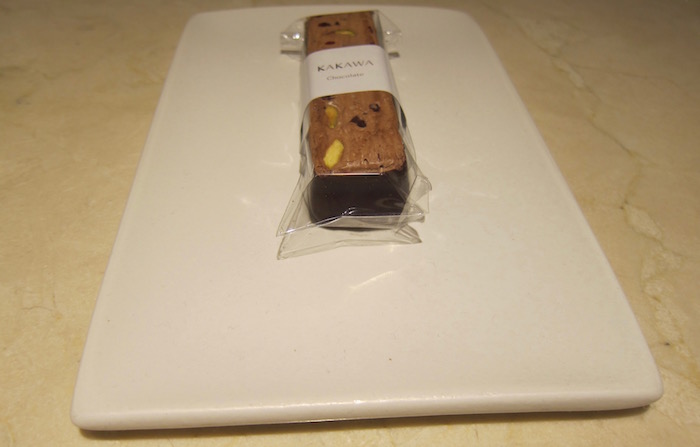 Park Hyatt Sydney chocolate welcome gift
While my previous room had a breathtaking straight-on view of the Opera House, for this room you had to turn your head to see the Opera House. It was located to the far left. Meanwhile if you looked straight ahead you'd see the cruise ships that dock in the harbor almost every day.
Then to the right is a view of the rest of the hotel, and even the Sydney Harbour Bridge.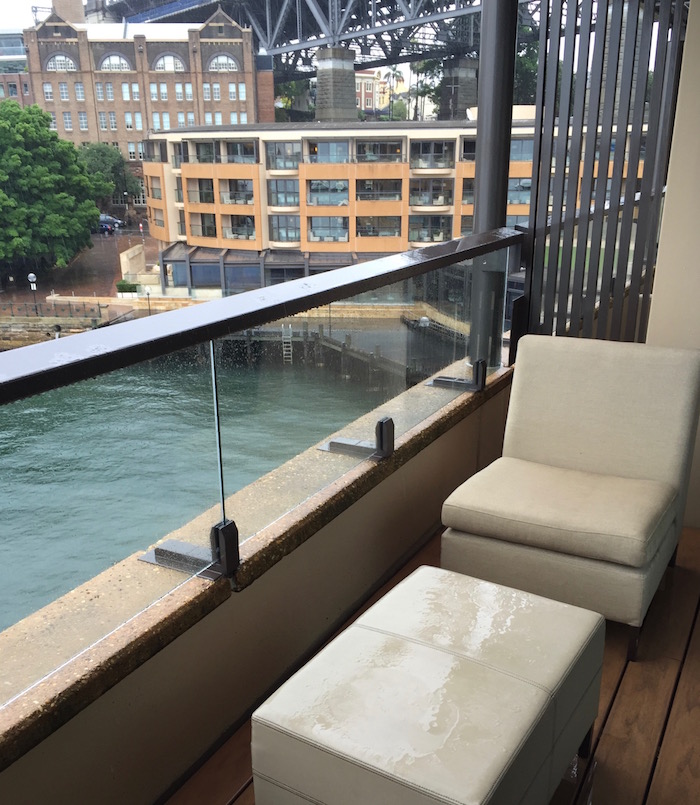 Park Hyatt Sydney room balcony
The weather in Sydney was horrible the day we were there. It didn't stop raining, but we still made the most of it. The concierge staff at this hotel are the best out there — Jonathan, Mark, and Robbie, in particular — and they made some great suggestions. We had dinner at Mr. Wong, which was one of my new favorite restaurants in Sydney.
We got a good night of sleep, and woke up early the following morning. We had breakfast in The Dining Room, which is the Park Hyatt's main restaurant. It's located right off the lobby. The restaurant features stunning views of the harbor, so even with the bad weather the views were enjoyable.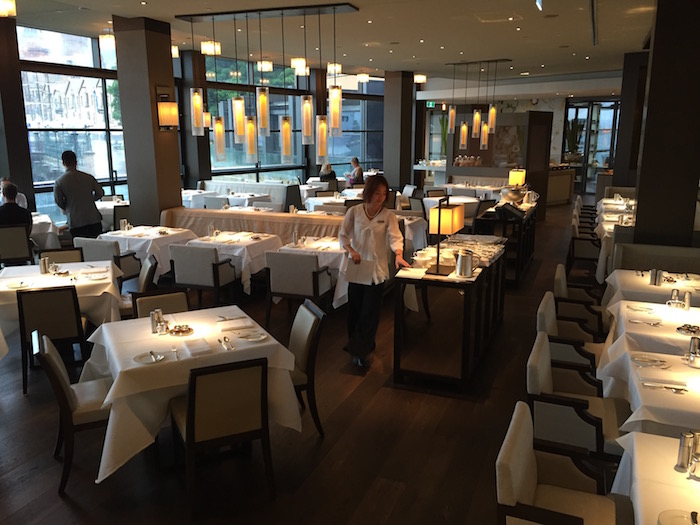 Park Hyatt Sydney The Dining Room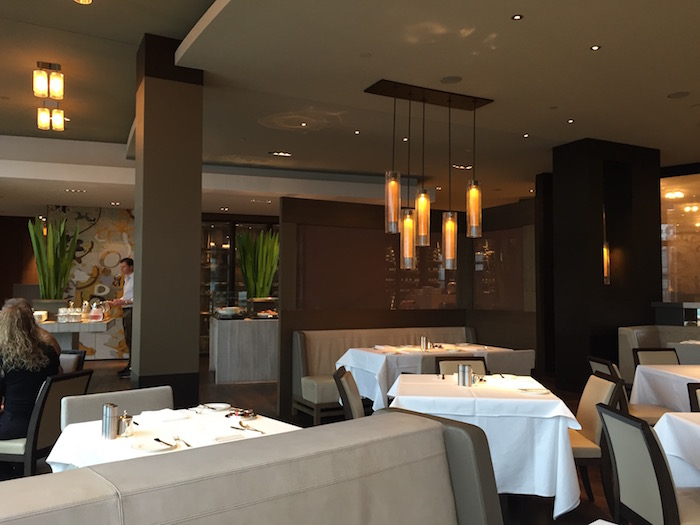 Park Hyatt Sydney The Dining Room
As a Diamond member you can basically order whatever you'd like. The easiest thing to do is The Dining Room Breakfast, which includes an item from the a la carte menu, and as much as you'd like from the buffet.
The breakfast menu read as follows: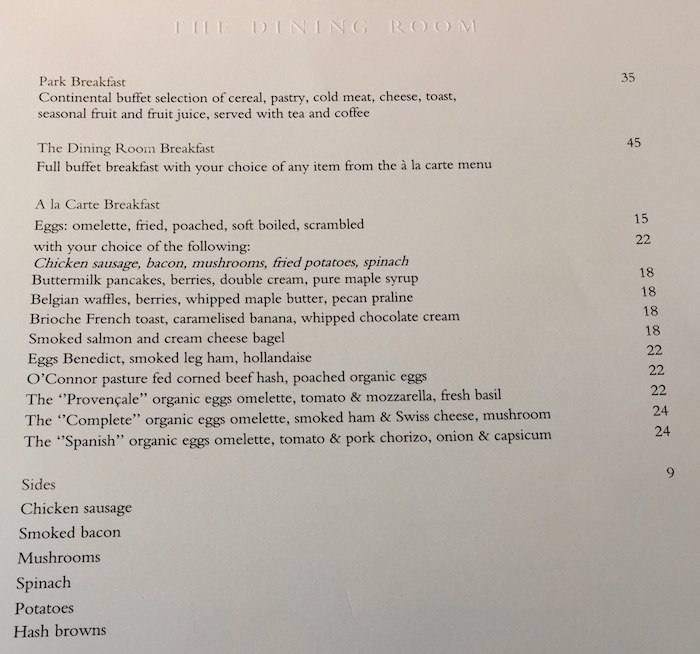 The buffet isn't the most extensive out there (in the sense that it's not some over the top buffet you'd find in Bangkok or Dubai), but the quality of everything is top notch.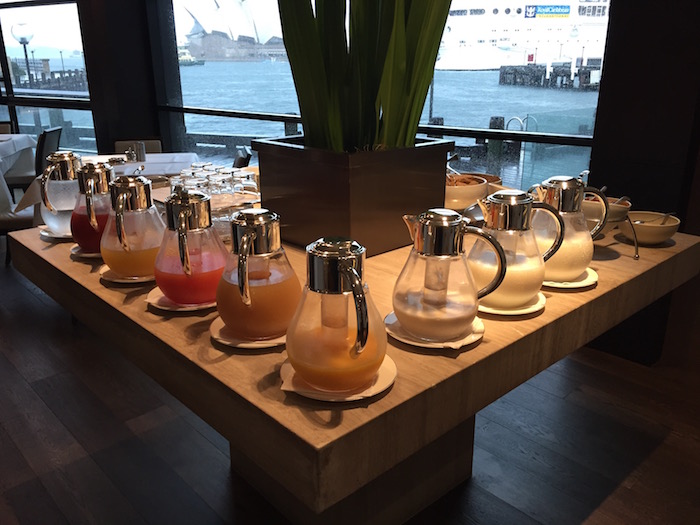 Park Hyatt Sydney breakfast buffet

Park Hyatt Sydney breakfast buffet

Park Hyatt Sydney breakfast buffet
I had a cappuccino to drink, which was tasty.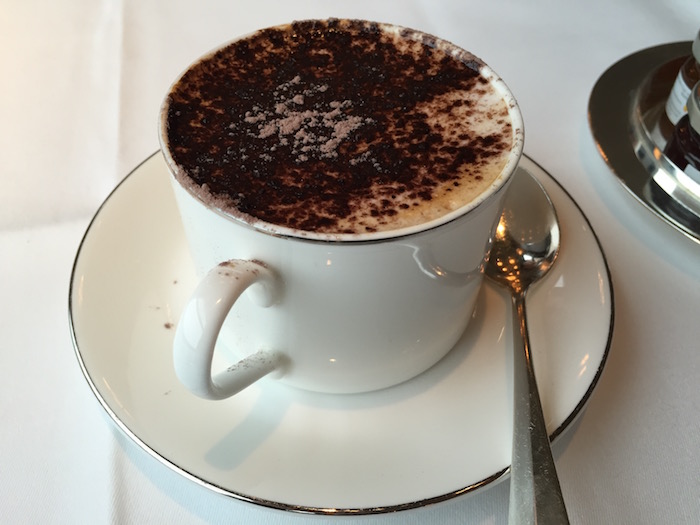 Park Hyatt Sydney cappuccino at breakfast
Ford ordered poached eggs.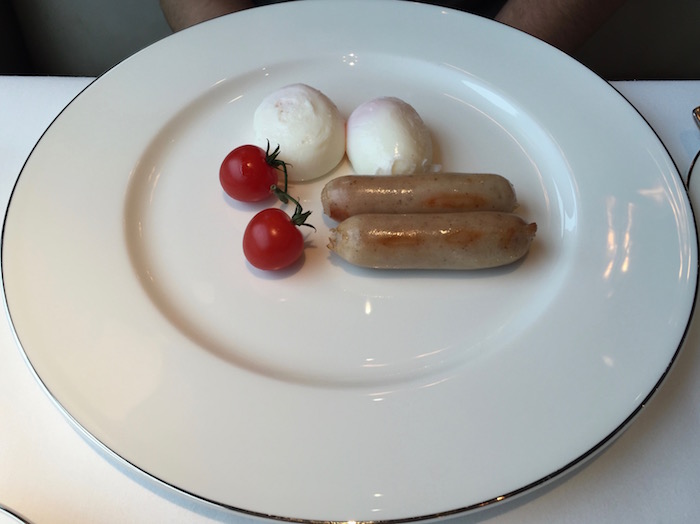 Park Hyatt Sydney breakfast — poached eggs with sausage
Meanwhile I had a bagel with smoked salmon.

Park Hyatt Sydney breakfast — smoked salmon and cream cheese bagel
Since our flight was only the following evening, we checked out of the hotel at around 3PM before heading to the airport (and enjoying the Qantas First Class Lounge, of course!).
Park Hyatt Sydney bottom line
The Park Hyatt Sydney remains my favorite Hyatt property in the world, even when not in the spectacular room I had last time. The standard rooms here are still beautiful and spacious, and the service at this hotel is impeccable. The concierge team at this hotel are the icing on the cake.
A Hyatt Regency will be opening in Sydney later this year, though to be honest I have a hard time staying anywhere other than the Park Hyatt using points.