A bit over a year ago Emirates introduced their new first class on the 777-300ER, which is the best first class product in the world, as far as I'm concerned.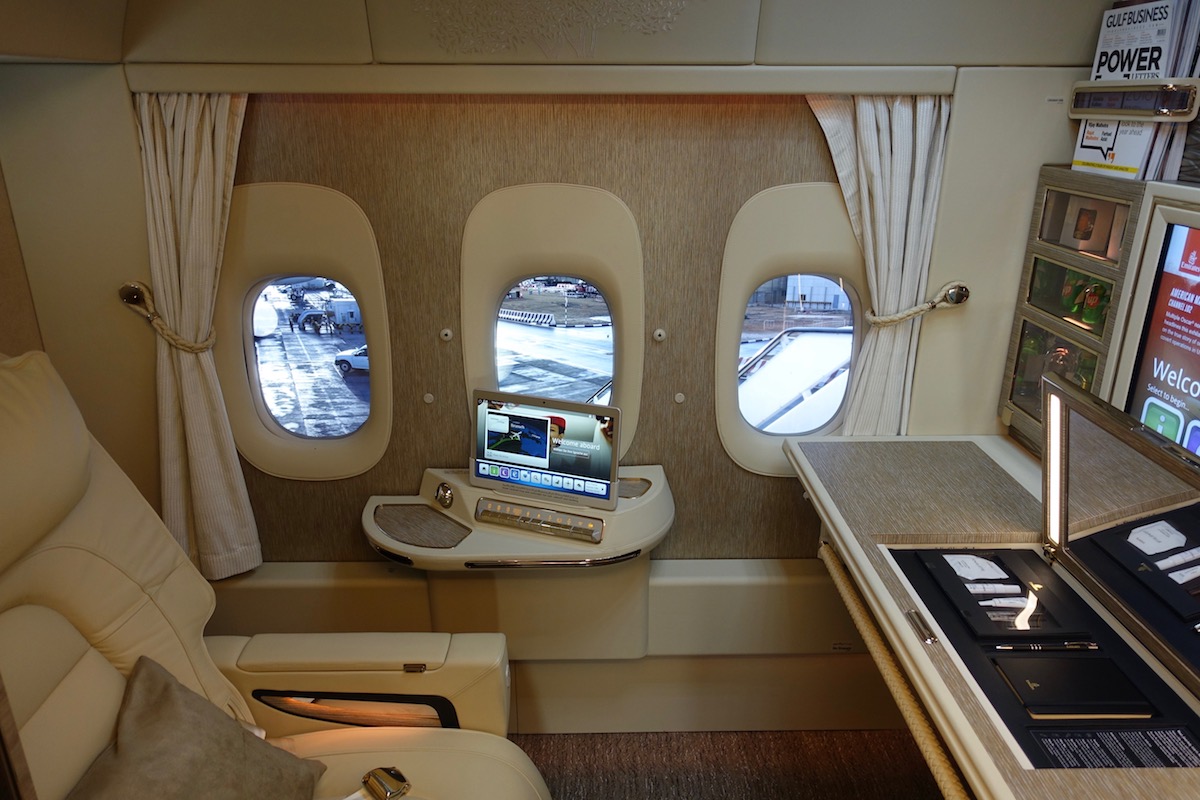 The bad news is that Emirates only has a total of nine 777-300ERs featuring their new first class, and they don't have any immediate plans to reconfigure existing planes (either 777s or A380s) with these seats. In my opinion that sort of makes the product a gimmick, since only a few percent of their fleet features these cabins.
As of now, Emirates' nine 777-300ERs with the new first class are operating select frequencies on the following routes (this is highly subject to change, and you may also find these planes sometimes operating other routes):
EK33/34 between Dubai and London Stansted
EK43/44 between Dubai and Frankfurt
EK89/90 and EK83/84 between Dubai and Geneva
EK183/184 and EK181/182 between Dubai and Brussels
EK59/60 between Dubai and Hamburg
EK312/313 between Dubai and Tokyo Haneda
I wish we'd see Emirates operate these planes on some ultra long haul routes, where the benefits of these new cabins would be most valuable. However, I also get that this would limit even more the number of people who get to try the new first class.
Well, Emirates has now added additional routes with the new first class, though they're really short ones. Emirates will begin offering their new first class on select routes within the Gulf:
Emirates will offer their new first class between Dubai and Riyadh as of April 16, 2019, on the EK819/820 frequency; this will initially operate 5x weekly, and as of June 1, 2019, will operate daily
Emirates will offer their new first class between Dubai and Kuwait City as of June 1, 2019, on the EK855/856 frequency; this will operate daily
Getting this product on an hour-long flight is of course a treat, but at the same time these routes truly aren't long enough to enjoy this amazing seat. Then again, I imagine Emirates is simply better utilizing aircraft here.
A lot of their 777-300ERs currently sit on the ground in Dubai for hours between rotations to Europe, so I imagine they're simply utilizing these planes when they'd otherwise be on the ground.
If you want to redeem miles for Emirates' new first class, your best bet is to still book within a couple of days of departure. The airline doesn't release first class awards for their new product in advance, but they do as the departure date approaches.