---
Booking EasyJet
For our journey from Milan to Santorini, booking EasyJet was a no brainer. They were the only airline operating a nonstop flight that day, and on top of that, the fare was cheap. The base fare for our ticket was ~70EUR per person.
Then we decided to pay an extra 25EUR per person to book an extra legroom seat, which also came with Speedy Boarding and an extra carry-on (everyone can take a single full size carry-on, with dimensions of up to 56x45x25cm, but only those who book premium seats or pay extra can bring on a small second bag).
All-in-all our tickets cost us under 100EUR per person, which is a heck of a deal.
EasyJet review
Our flight from Milan to Santorini was departing at 6:55AM, so we arrived at the airport at around 5:30AM, since we weren't sure how crazy the lines would be in EasyJet's terminal. EasyJet departs from Terminal 2 at Milan Malpensa Airport, and they have the terminal to themselves. So while the rest of the airport isn't especially nice, Terminal 2 is even less nice (though in fairness, it's not terrible, or anything).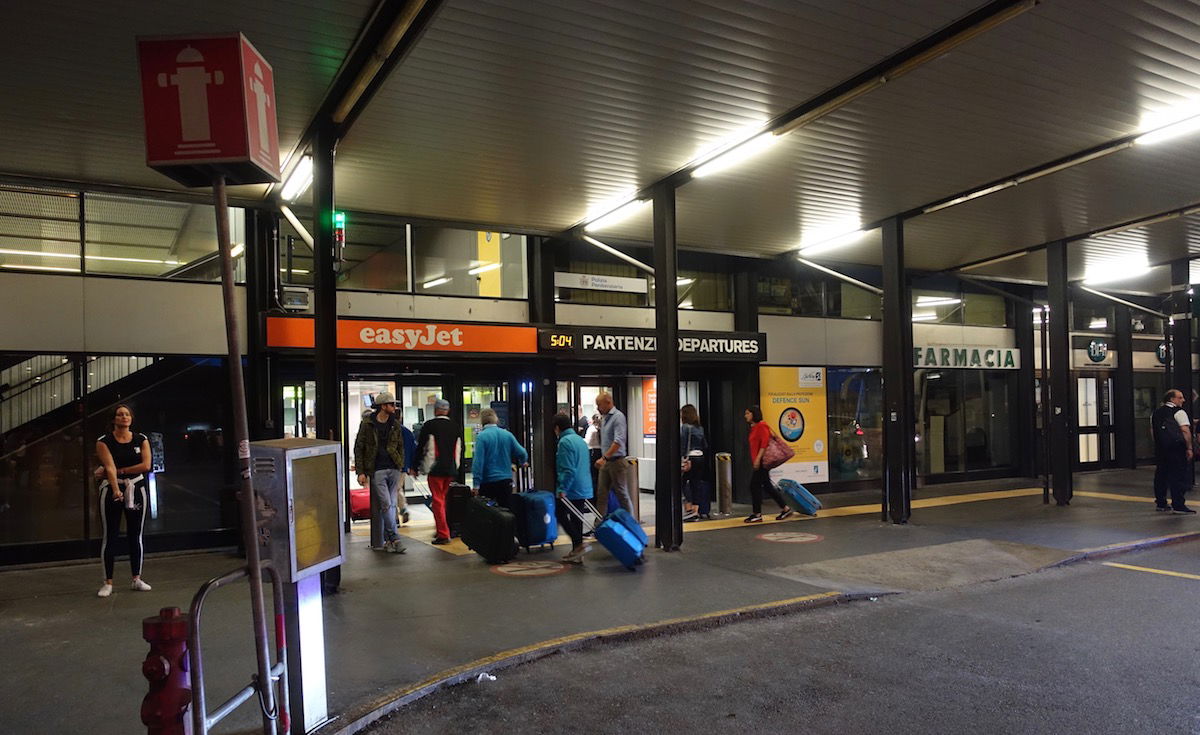 Milan Malpensa Airport Terminal 2 exterior
Fortunately we managed to check-in online, so we could skip the queues. Since we had paid extra for Speedy Boarding it looks like even if we did need to check-in, it would have been an efficient process, as there was no one in the line.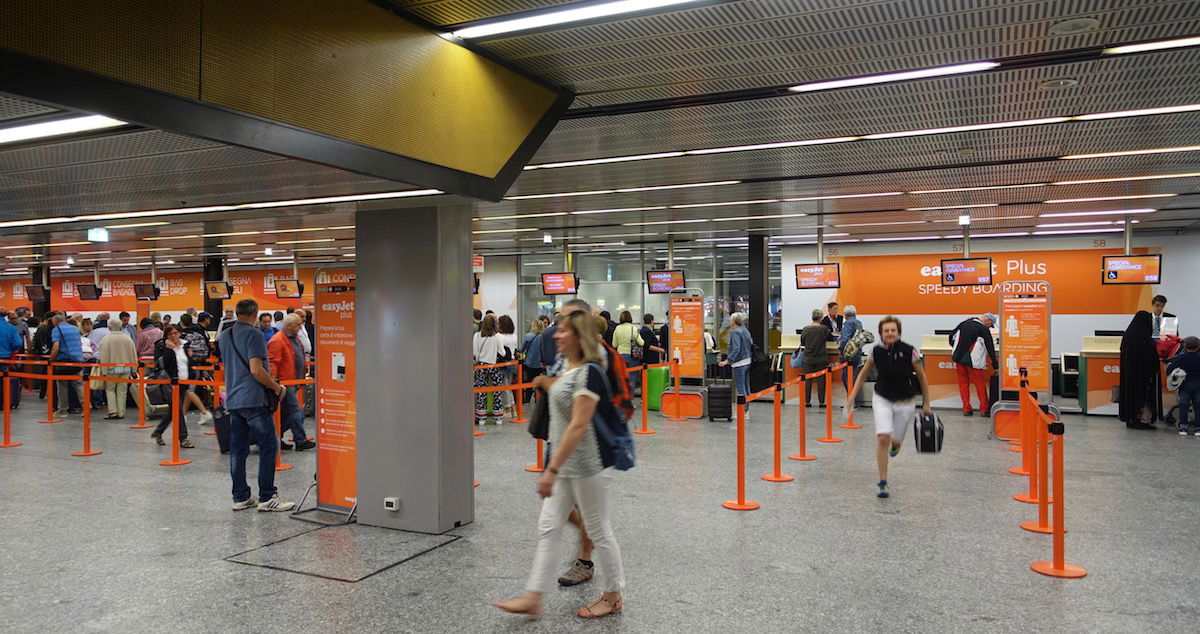 EasyJet check-in Milan Airport
The security process was civilized. While there were dozens of people there, the line moved quickly, and we were through within about 10 minutes.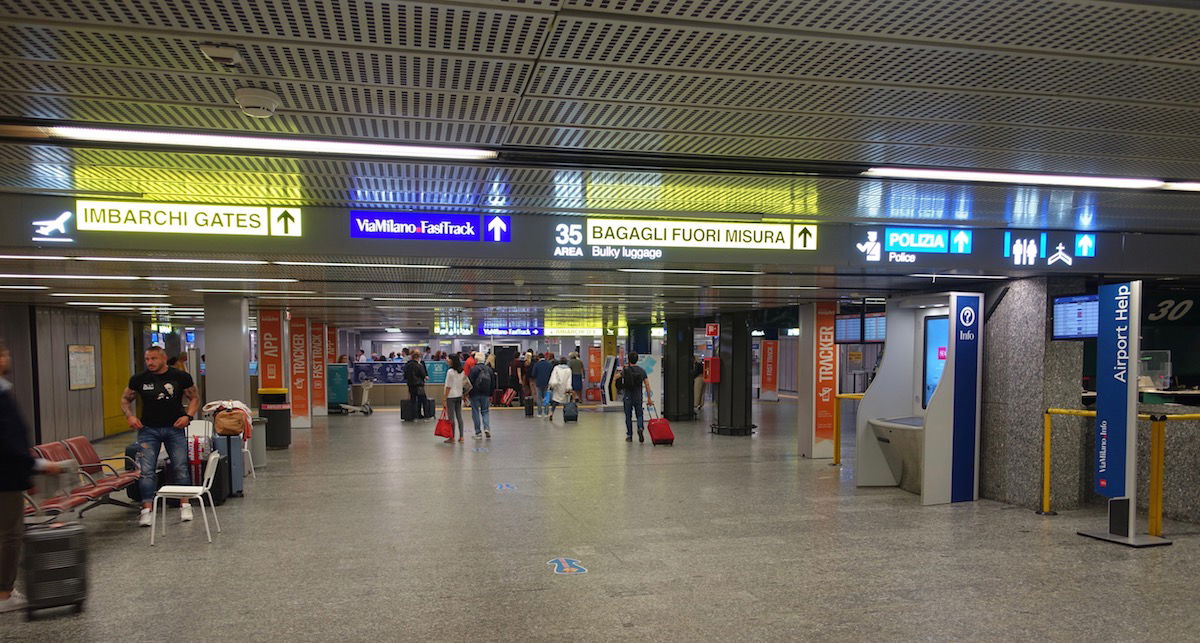 Security checkpoint Milan Malpensa Terminal 2
Terminal 2 doesn't have any sort of Priority Pass lounges and we hadn't had coffee or anything, so we stopped at the first coffee shop we saw. There was a food court with a Burger King and coffee shop, so we went there.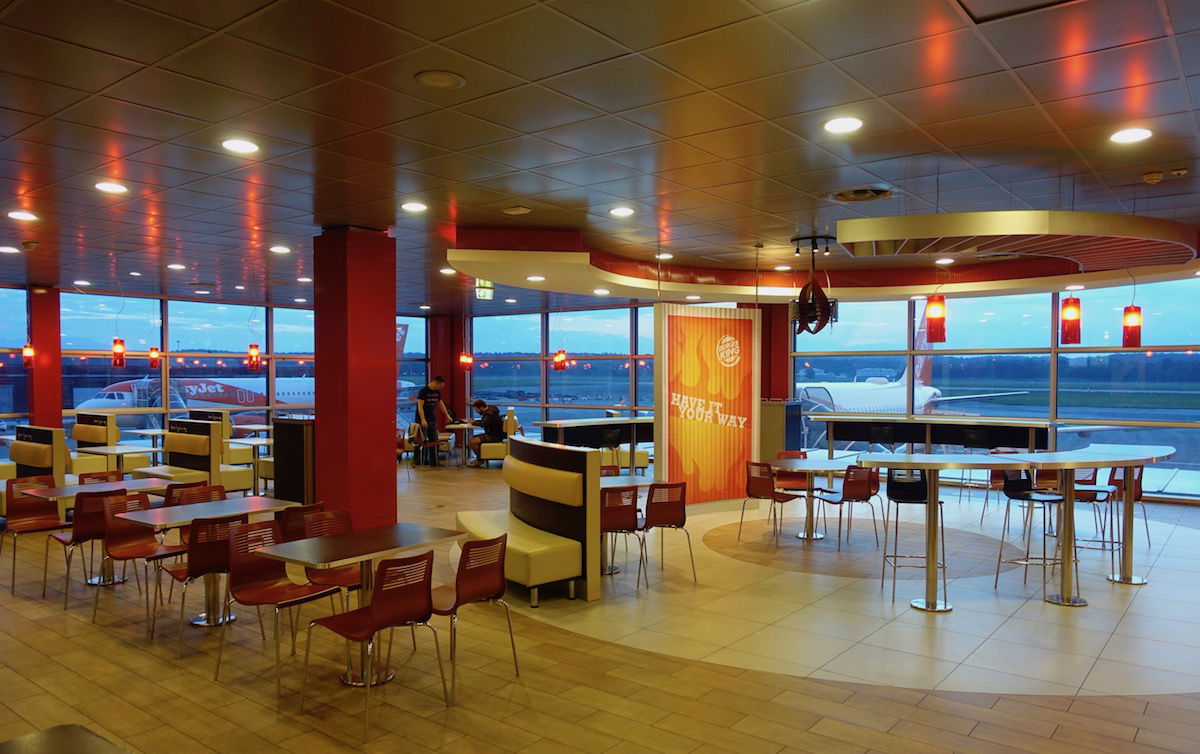 Food court MXP Airport Terminal 2
We got some croissants, bottled water, and coffee.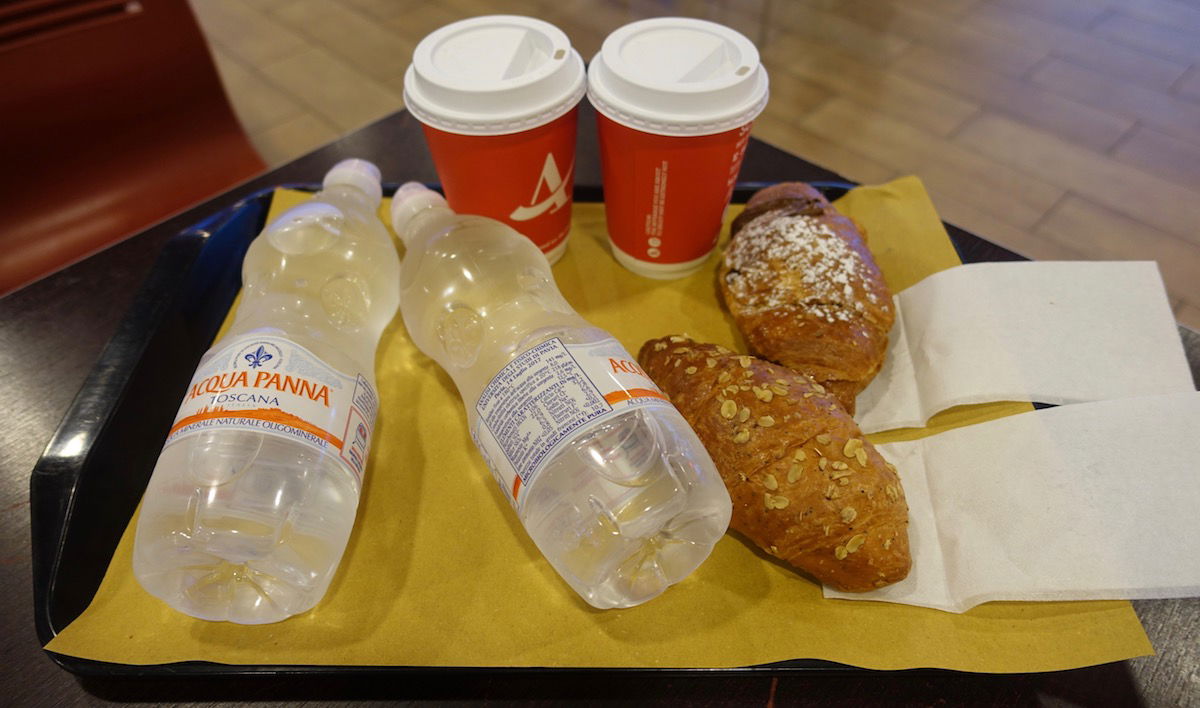 Breakfast at Milan Airport
There was some good plane spotting from this area.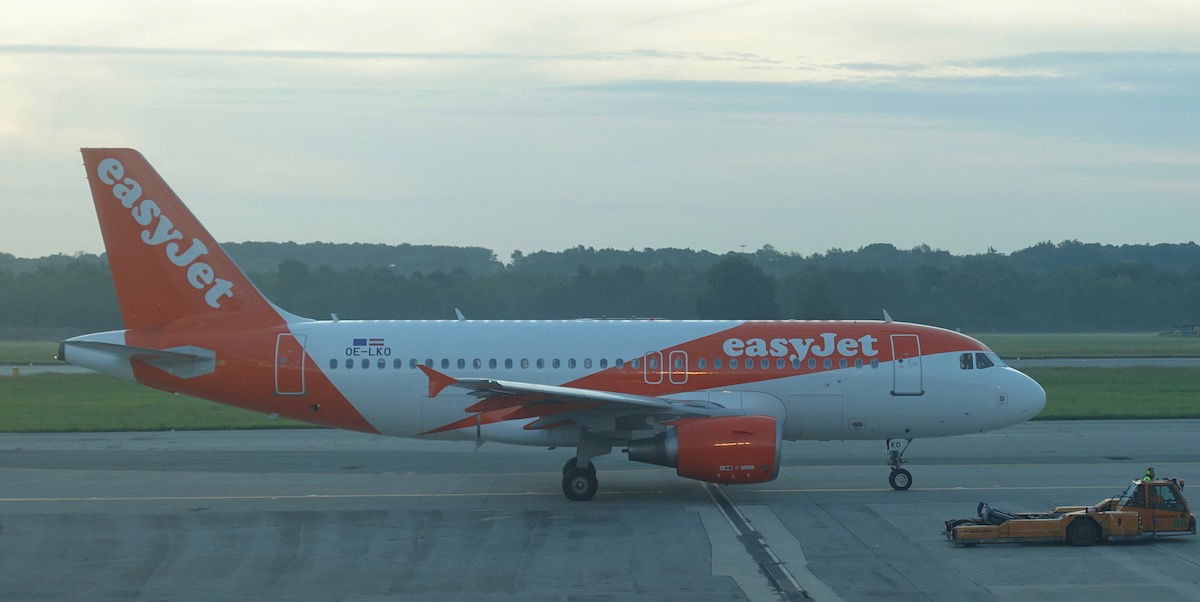 EasyJet A319 Malpensa Airport
Boarding passes indicated that boarding started at 6:25AM, and also that the gate closed at that time. So we decided to head towards the gate at around 6AM, and much to my surprise, during this time I got a push notification on my phone indicating that boarding had started. I'm not sure whether I was more surprised that EasyJet starts boarding 55 minutes in advance, or that they provide push notifications for when boarding starts.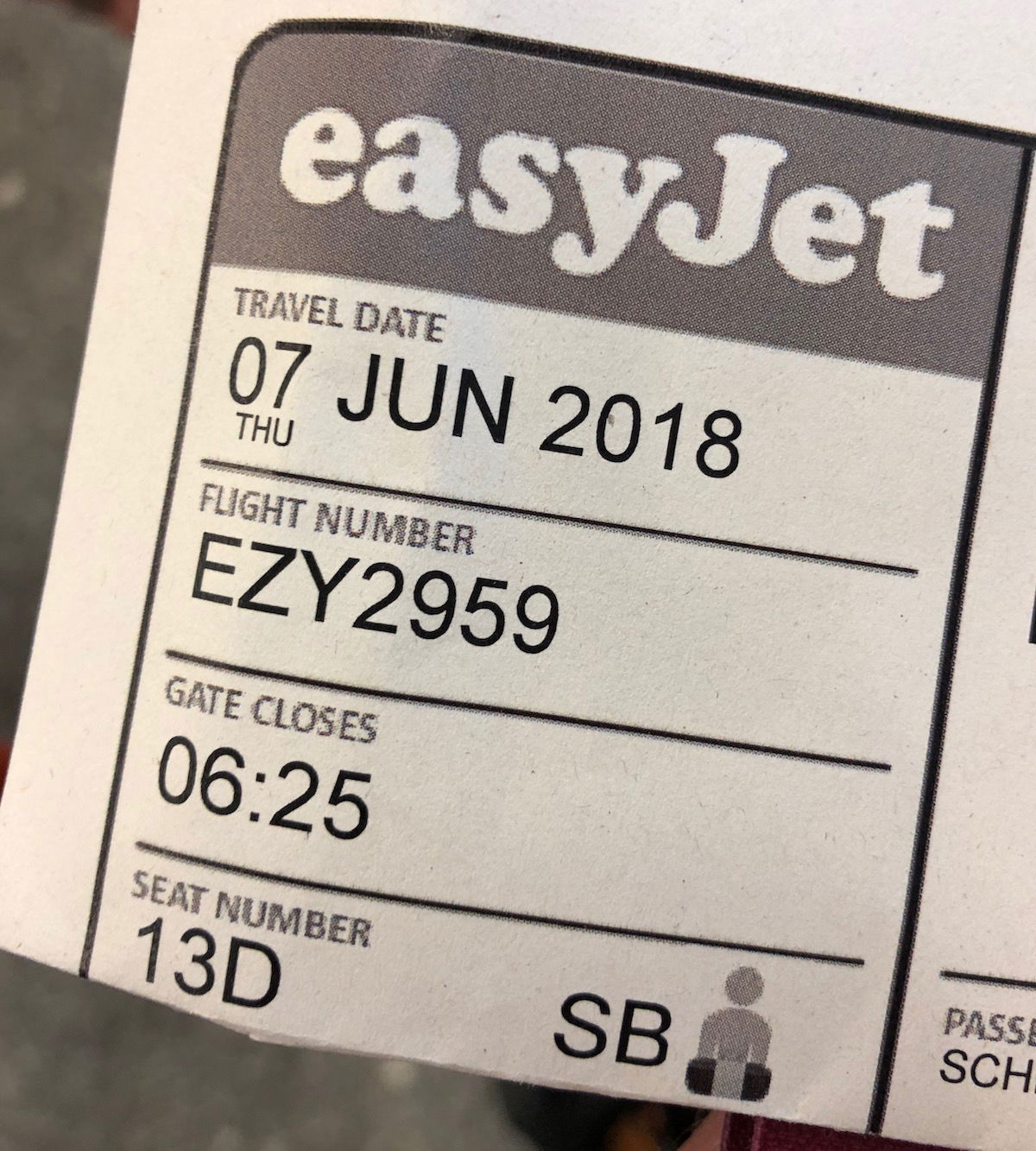 EasyJet boarding pass
Our flight was departing from gate D5, which was about a five minute walk away. When we arrived at the gate I was surprised to see that the flight was already almost completely boarded, as there were dozens of people lined up past the ticket counter, and a huge queue leading up to it.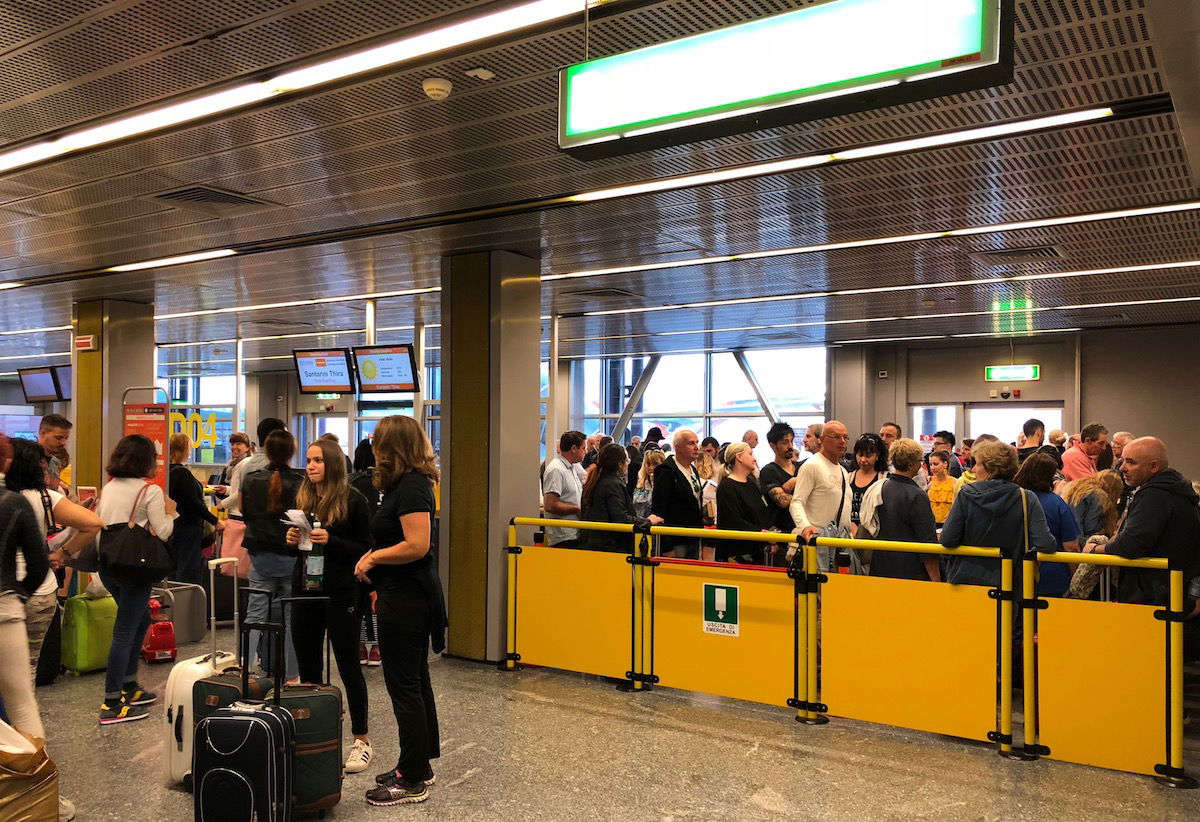 EasyJet boarding gate
On the plus side, EasyJet offers a special boarding lane for those who purchased Speedy Boarding, so we didn't have to wait in the line to enter the gate area. Are carry-on bags are quite large, though no one said anything.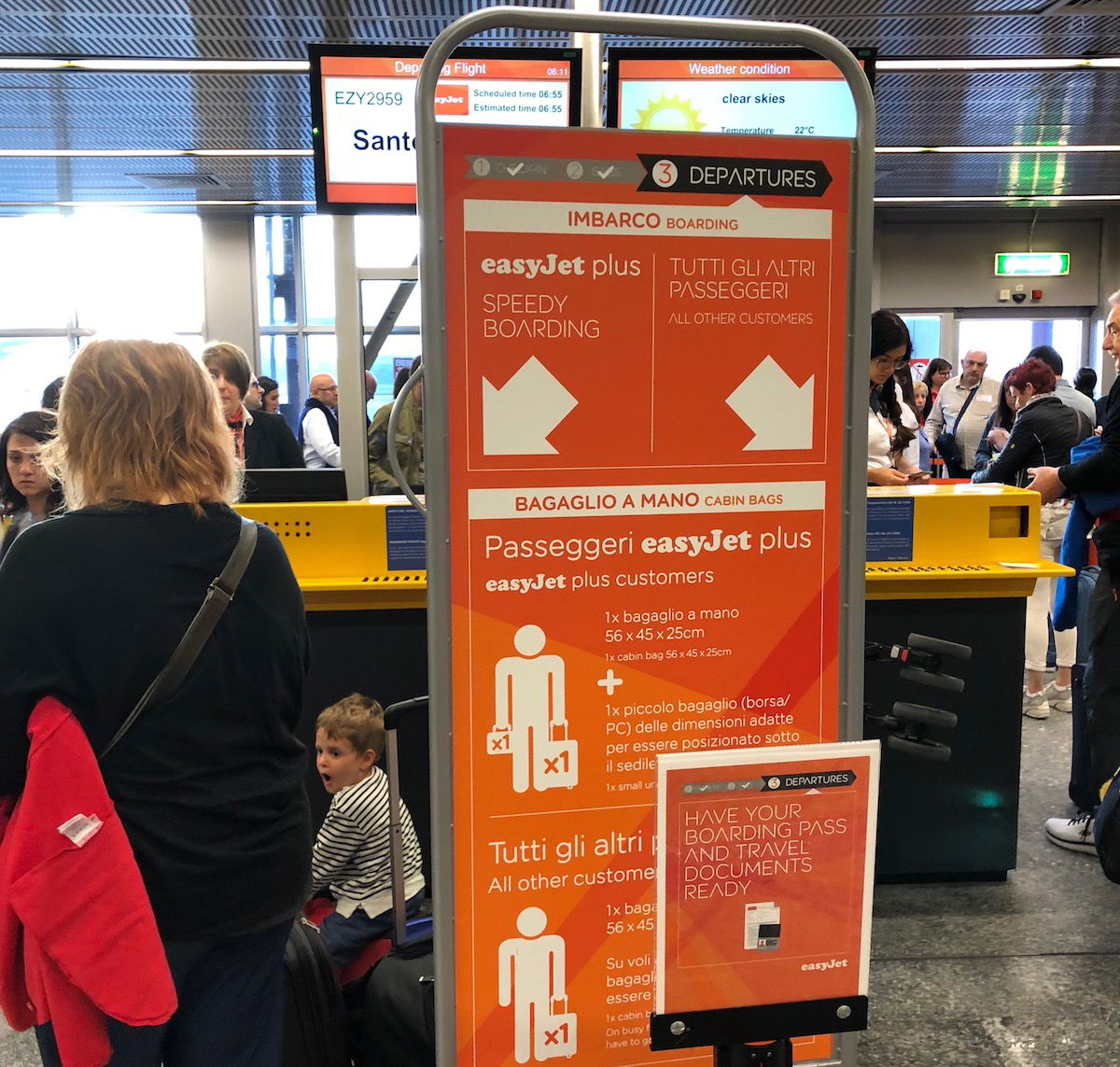 EasyJet Speedy Boarding lane
While the Speedy Boarding did get us into a separate queue, we still had to stay in a holding area for about 15 minutes. This was really the only negative aspect of the experience, since I don't get why they feel the need to line up everyone this early (I get they want to be ready once the crew is, but I feel like that could have been timed a bit better).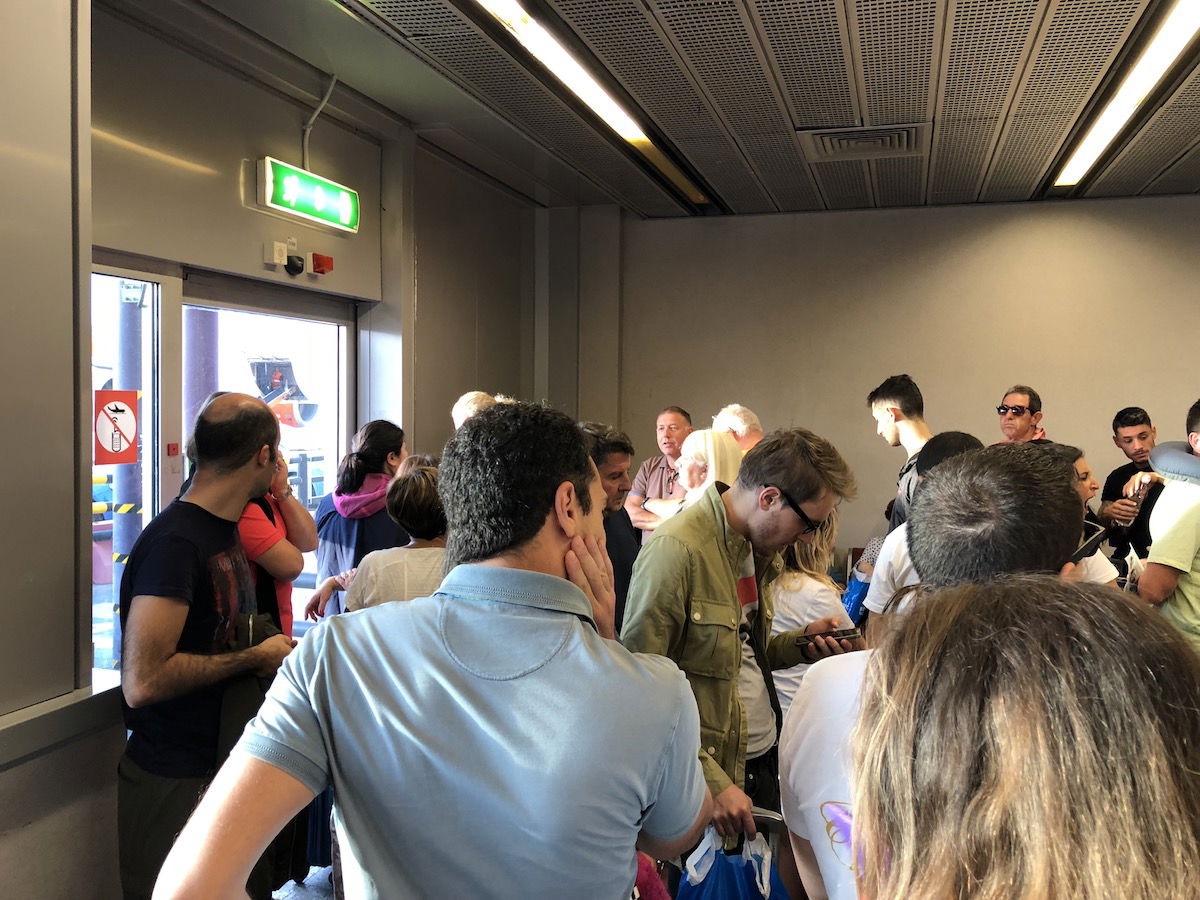 EasyJet boarding queue
This part of the airport doesn't have jet bridges, and fortunately we could walk to our plane, rather than having to take a bus. The A320 was just a short walk away, one stand over.

EasyJet A320
I've gotta say, I find EasyJet's livery to be oddly sleek, given that orange isn't typically a color most would find very soothing or appealing.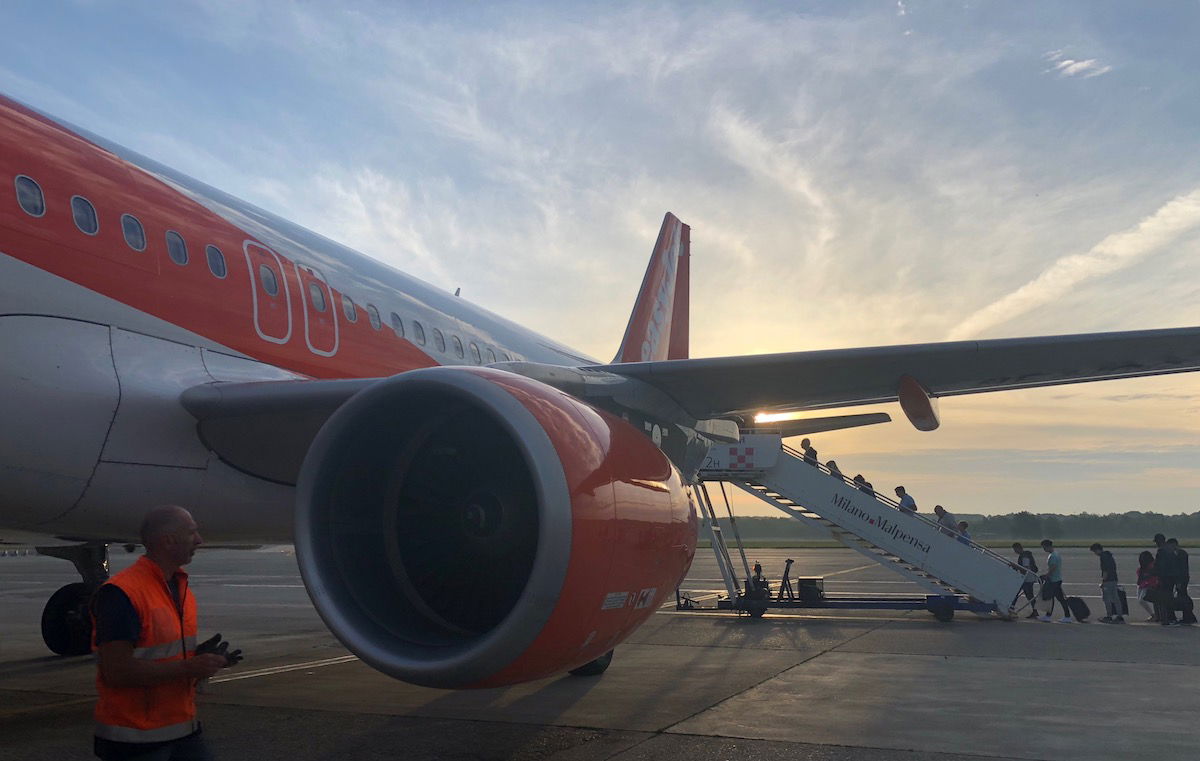 EasyJet A320
EasyJet 2959
Milan (MXP) – Santorini (JTR)
Thursday, June 7
Depart: 6:55AM
Arrive: 10:40AM
Duration: 2hr45min
Aircraft: Airbus A320
Seat: 13D (Economy Class)
Upon boarding we were greeted by a very friendly Italian crew. A smile and warm greeting costs nothing, and it's nice that even ultra low cost carriers in Europe don't lose sight of that. We had assigned ourselves seats 13D & 13F in the exit row, which had a good amount of legroom.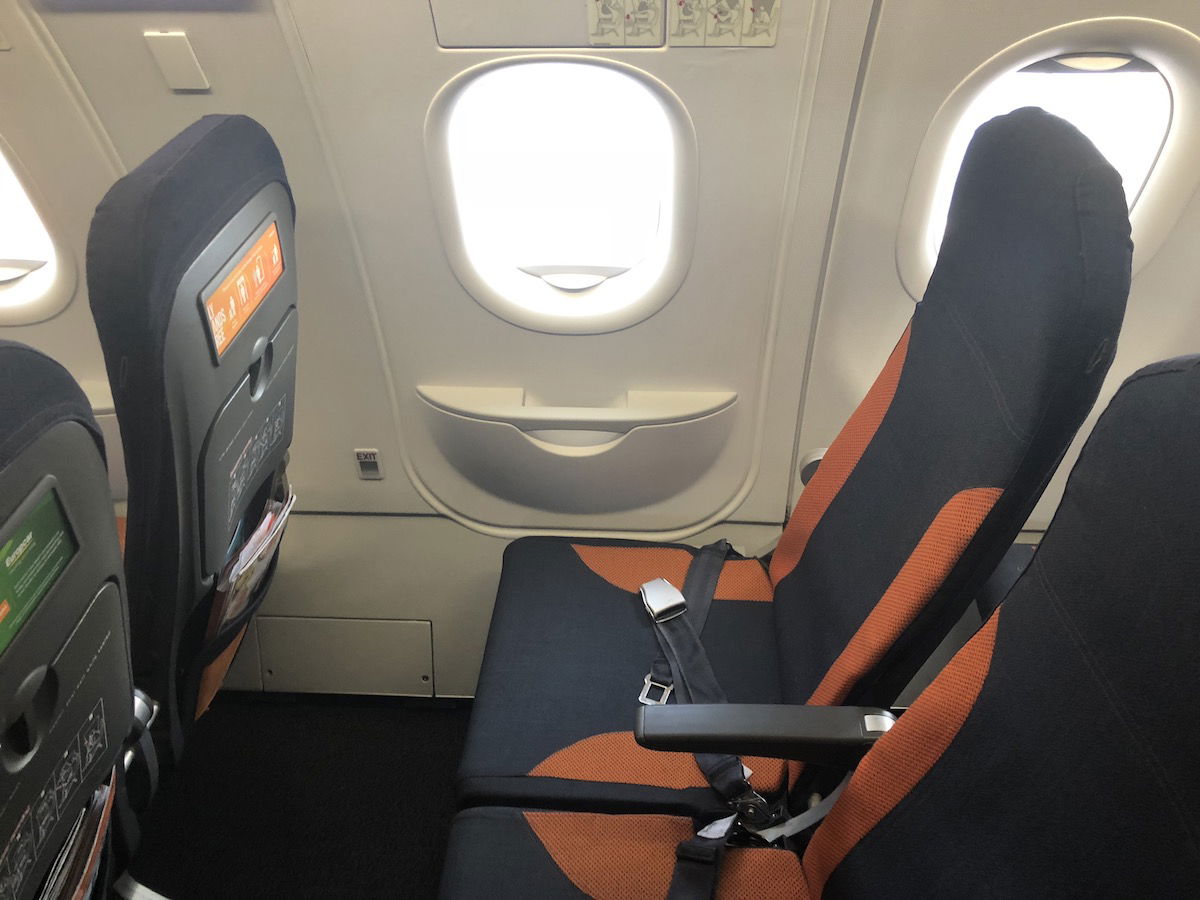 EasyJet exit row legroom
While EasyJet does have ads on the seatback, I didn't find them to be too obtrusive.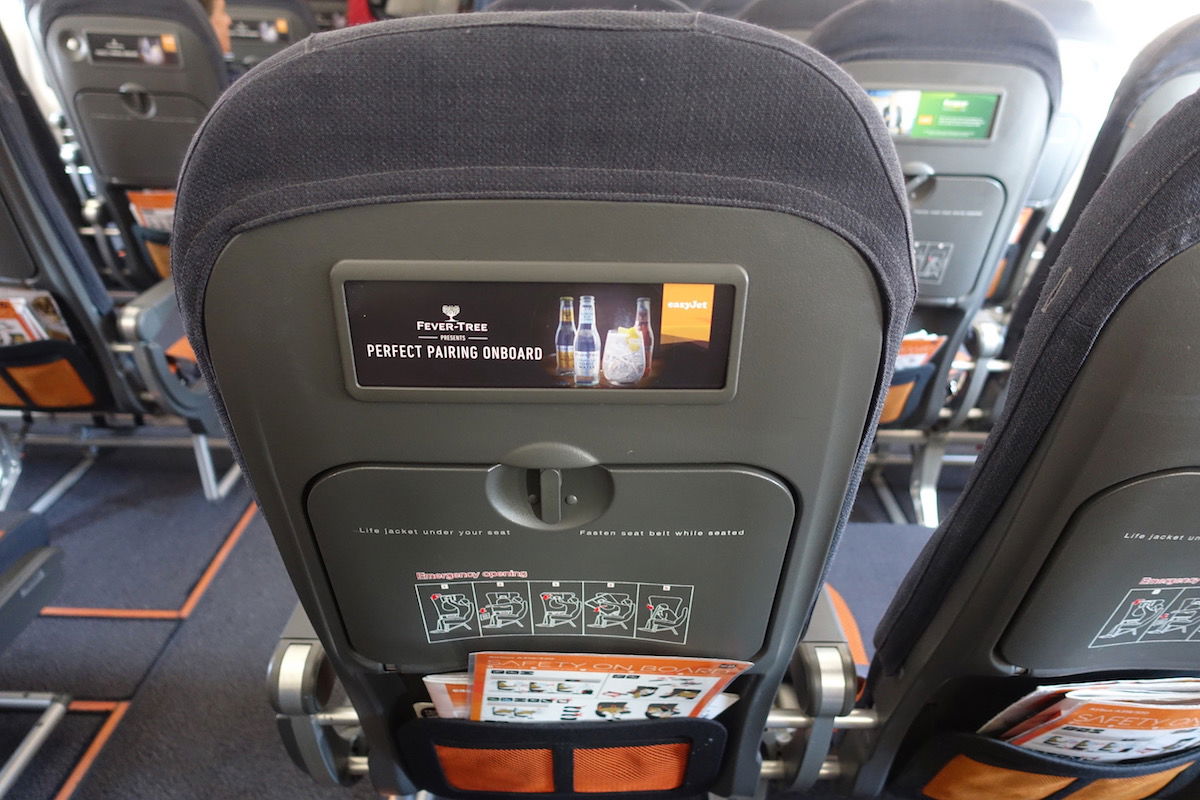 EasyJet exit row legroom
EasyJet apparently has 29″ of pitch in the regular economy seats, though I have to say that the legroom didn't actually look that bad. Is that just because I didn't have to sit in one of those seats, or…?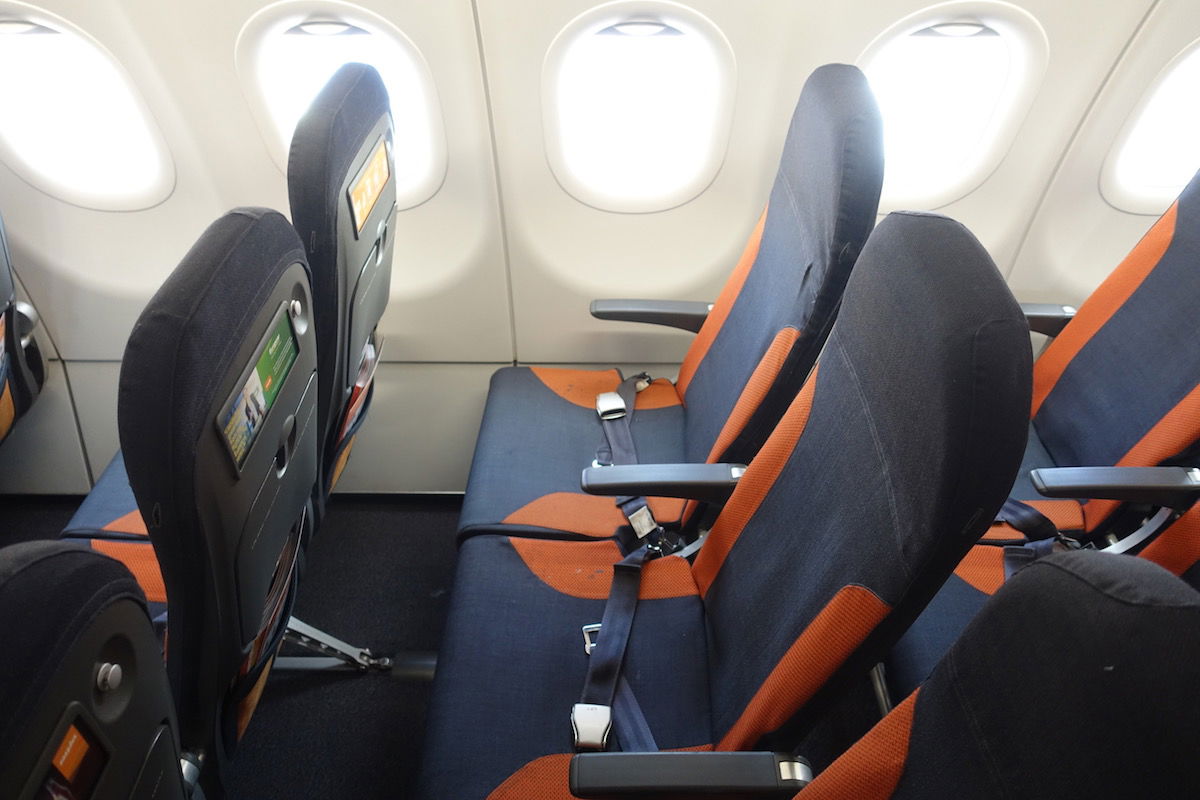 EasyJet regular legroom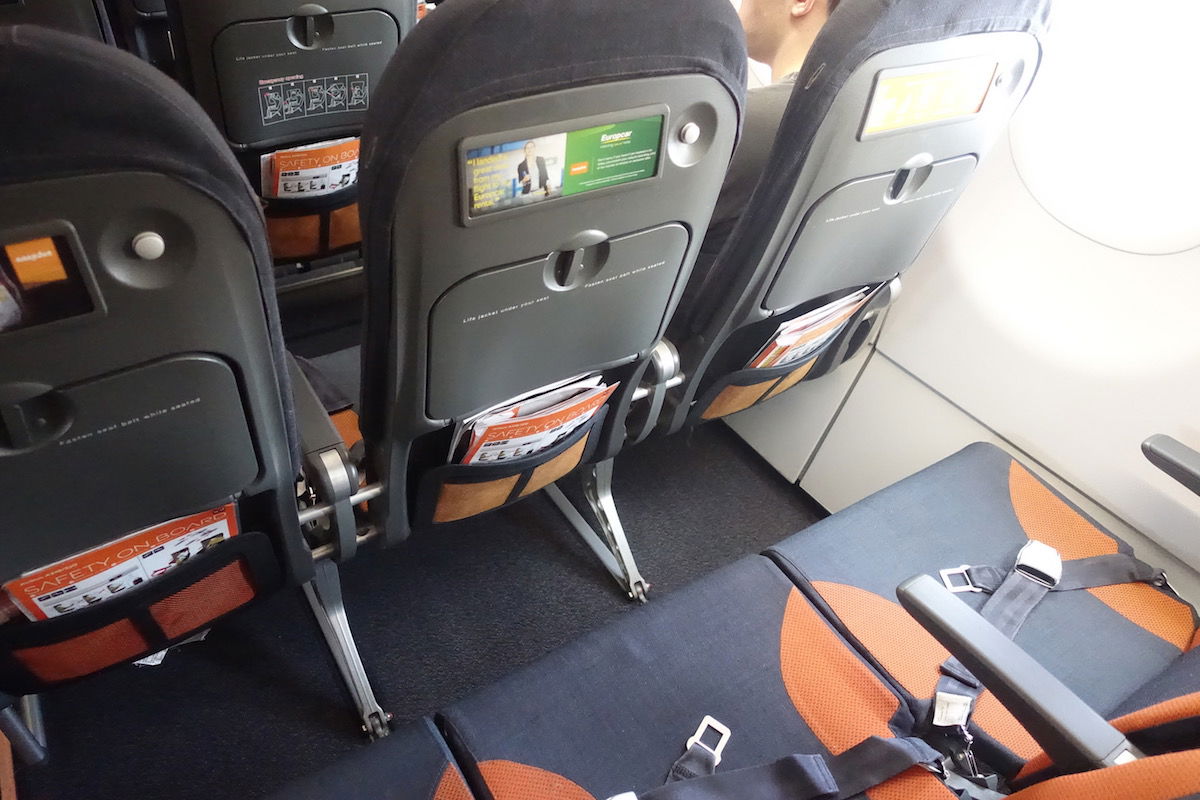 EasyJet regular legroom
Our flight was nearly full, and in the end all but a few seats were taken. Despite that the boarding process was quick, given that unlike in the US, people don't carry on a kitchen sink. We lucked out, because the seat next to us was empty. The same was true of two other center seats in the exit rows, and actually those were the only empty seats on the entire plane.
So there's something to be said for paying extra for exit row seats on EasyJet, not just in terms of legroom, but also in terms of maximizing your odds of scoring an empty seat next to you.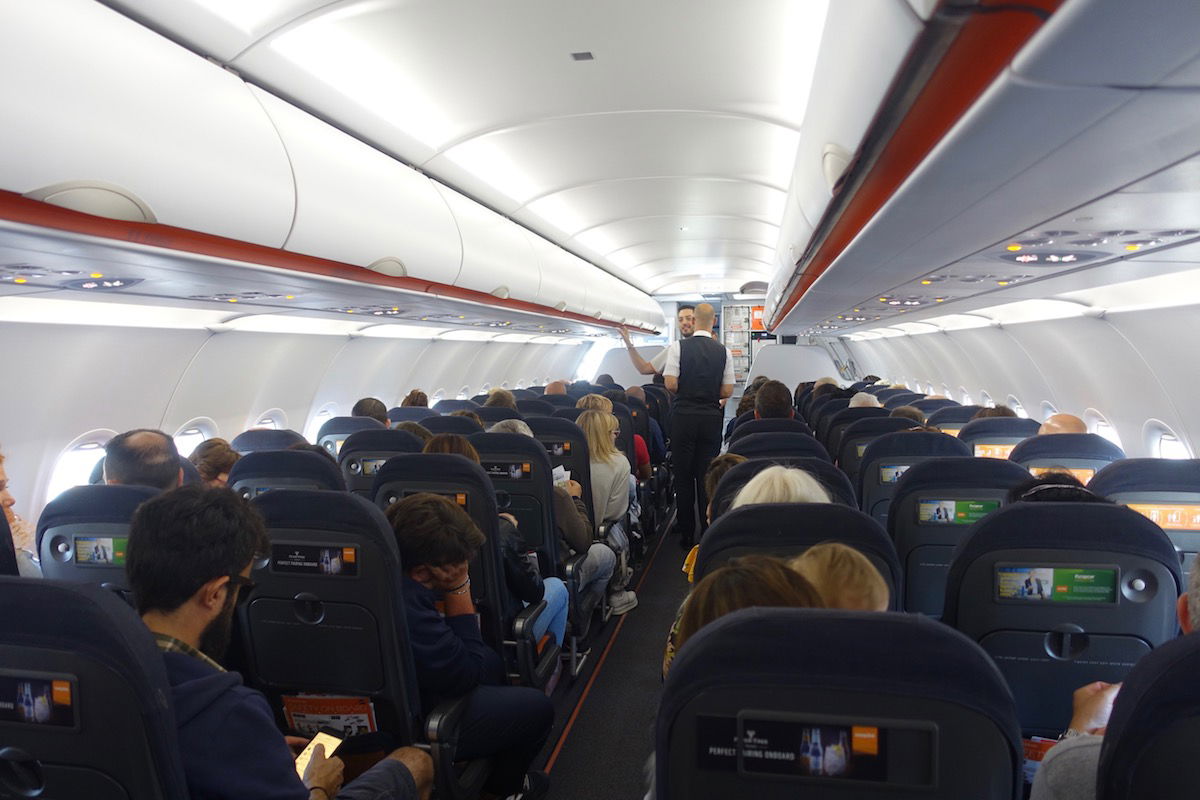 EasyJet cabin A320
I was pleased to see that there was an individual air nozzle at every seat, which is a feature I value more than most.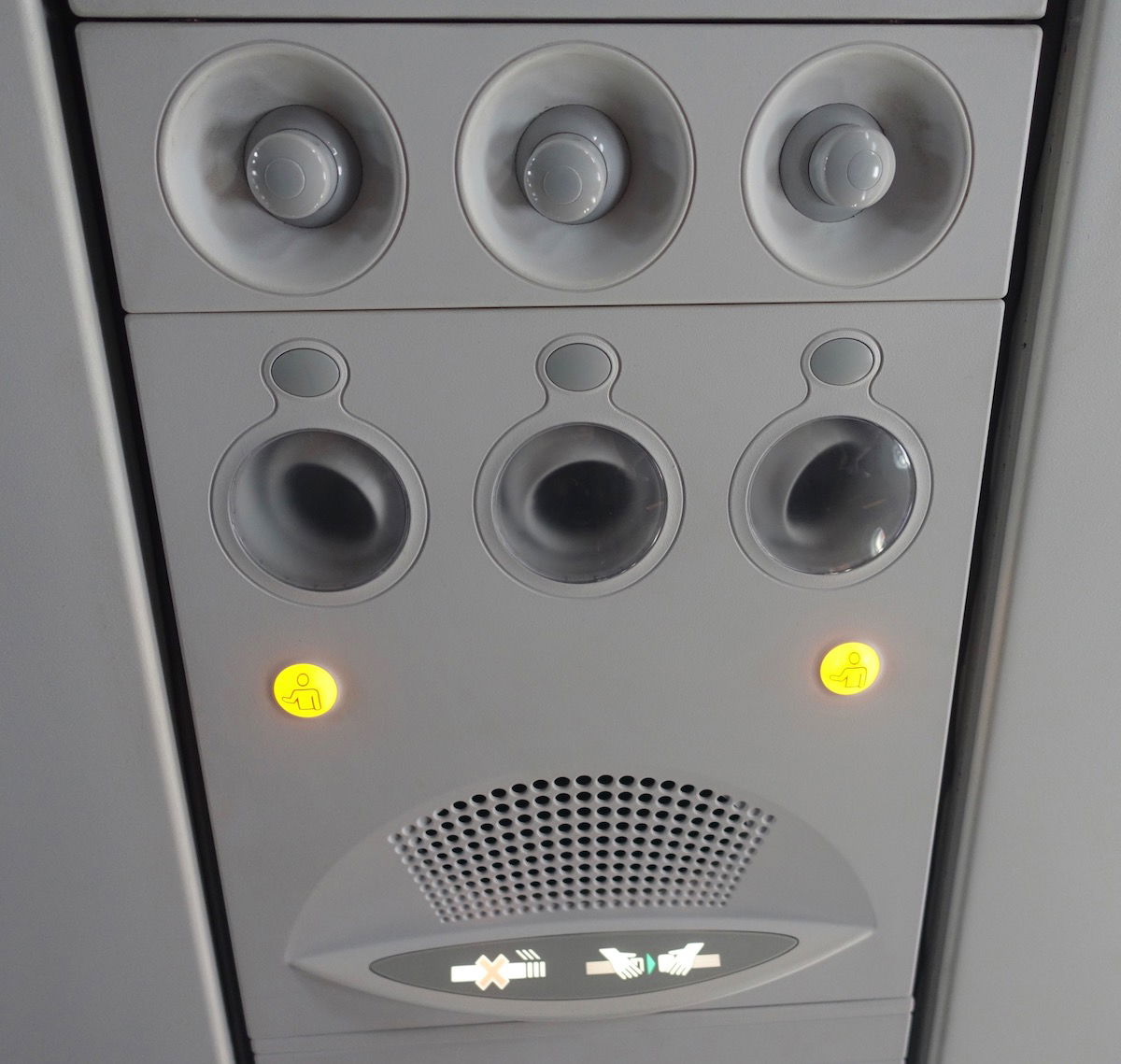 EasyJet individual air nozzles at every seat
The tray table folded out from the seat in front, and was on the small side.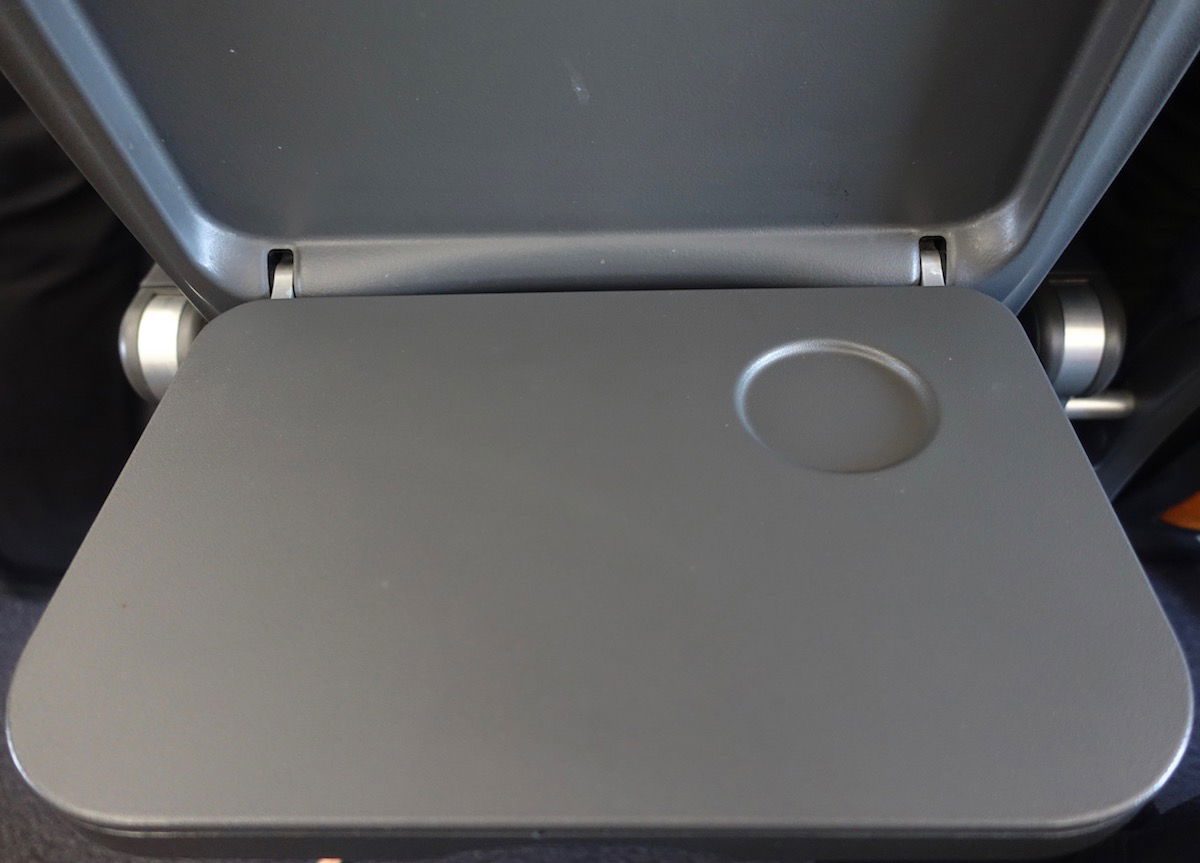 EasyJet tray table
At 6:55AM the door closed, and a moment later the cabin manager, Veronica, made her welcome onboard announcement, and informed us of our flight time of 2hr20min.
A few minutes later the captain made an announcement welcoming everyone onboard, and he informed us that we'd have a roughly 20 minute delay due to air traffic control, and he promised to keep us updated. About 15 minutes later he informed us that we should be pushing back soon.
Sure enough, at 7:25AM we began our pushback, at which point the crew did a manual safety demonstration. Just 10 minutes later we were airborne.
The cabin service got started just 15 minutes after takeoff. Like most European airlines nowadays, EasyJet operates a buy on board model.
The menu read as follows: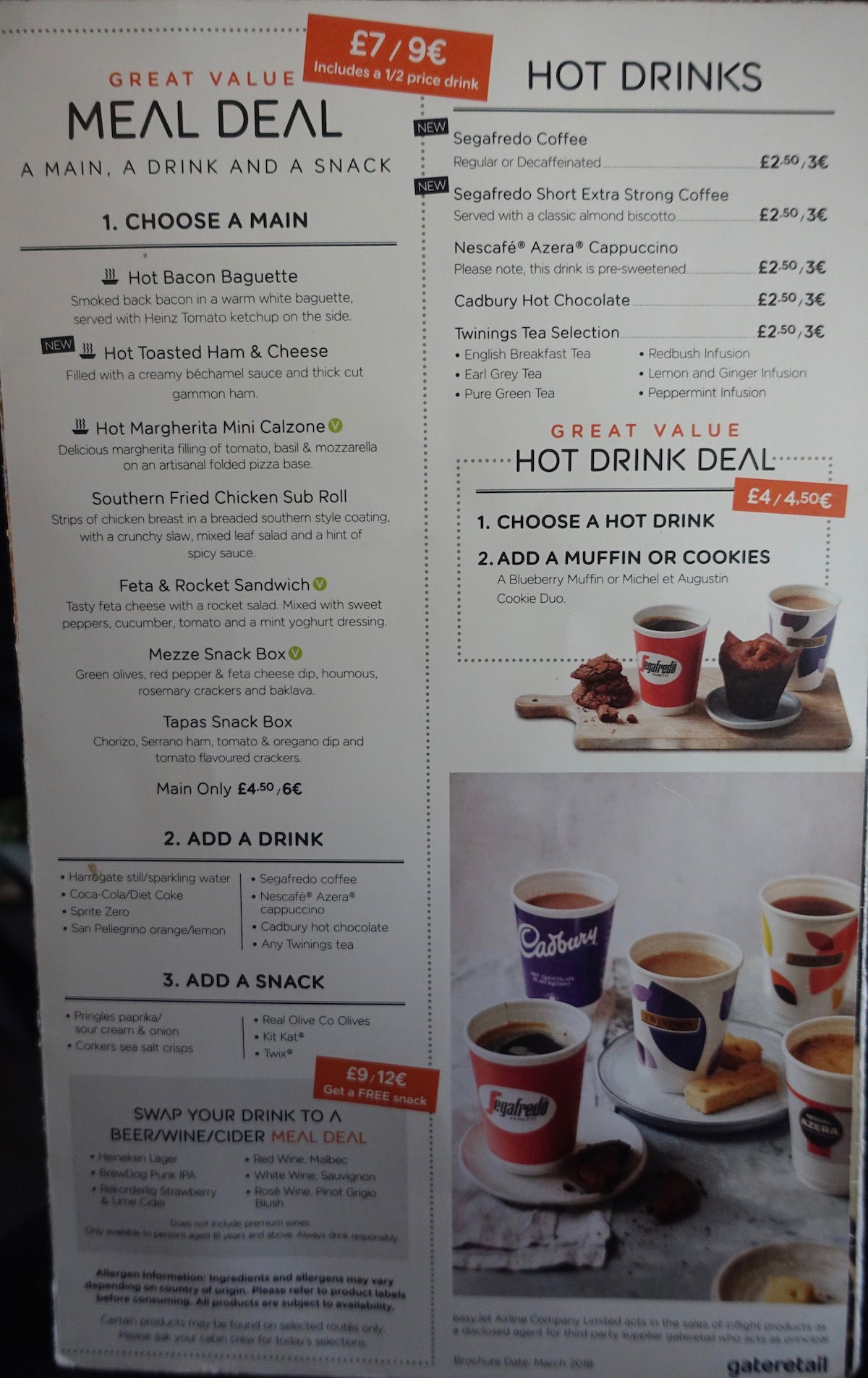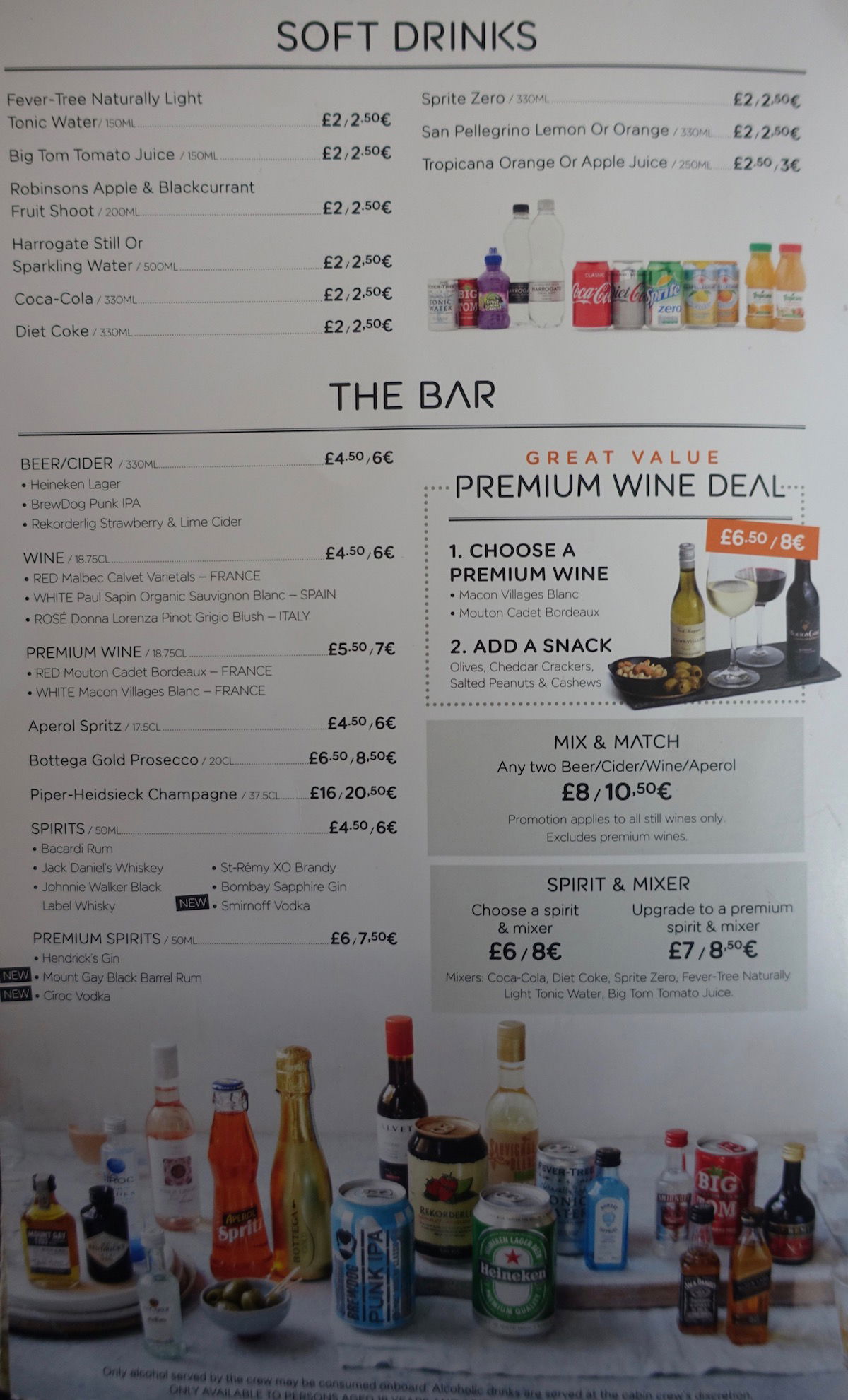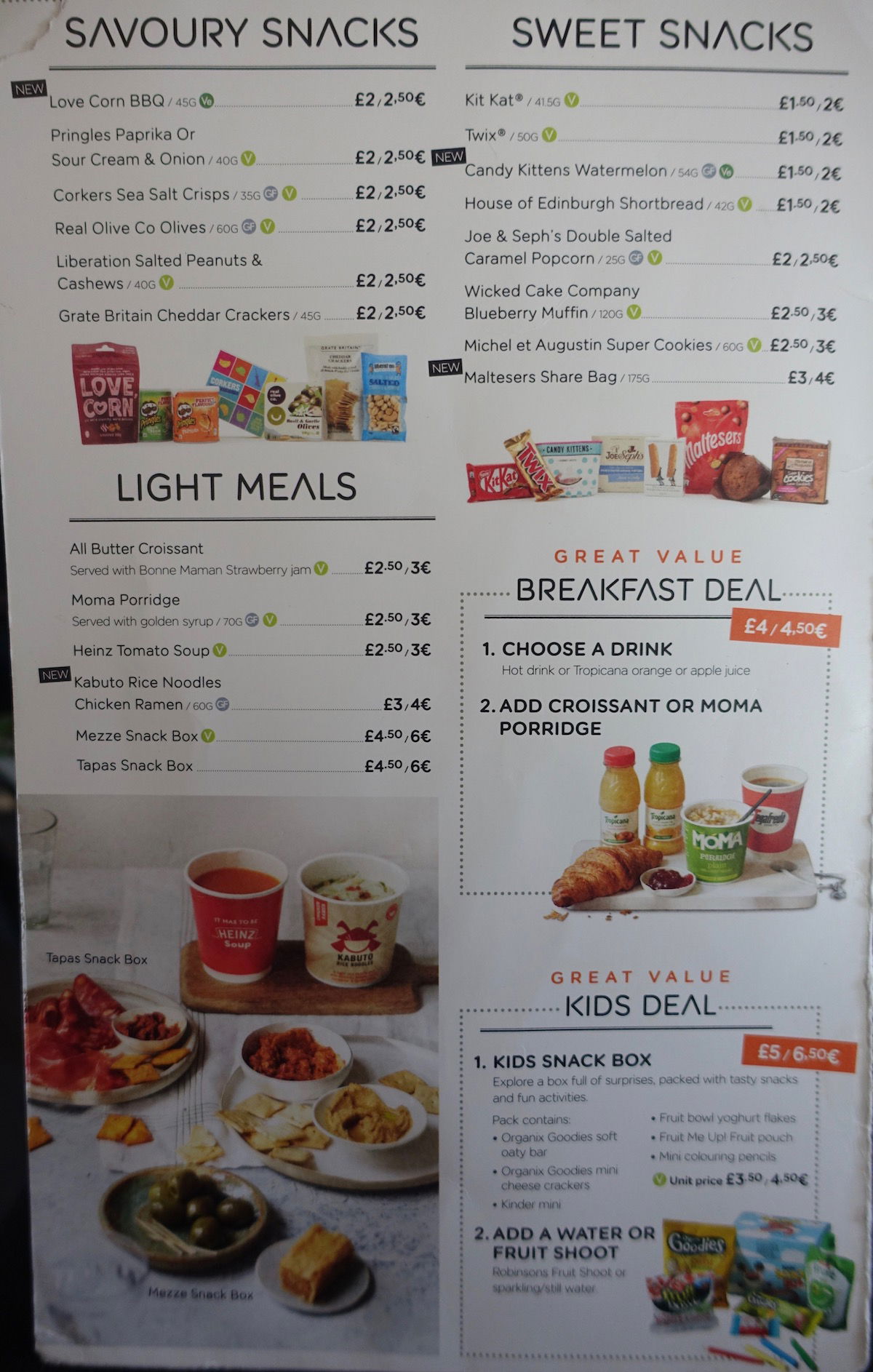 We went to town on the buy on board, for review purposes, of course. 😉 We ordered a sparkling water and a coffee.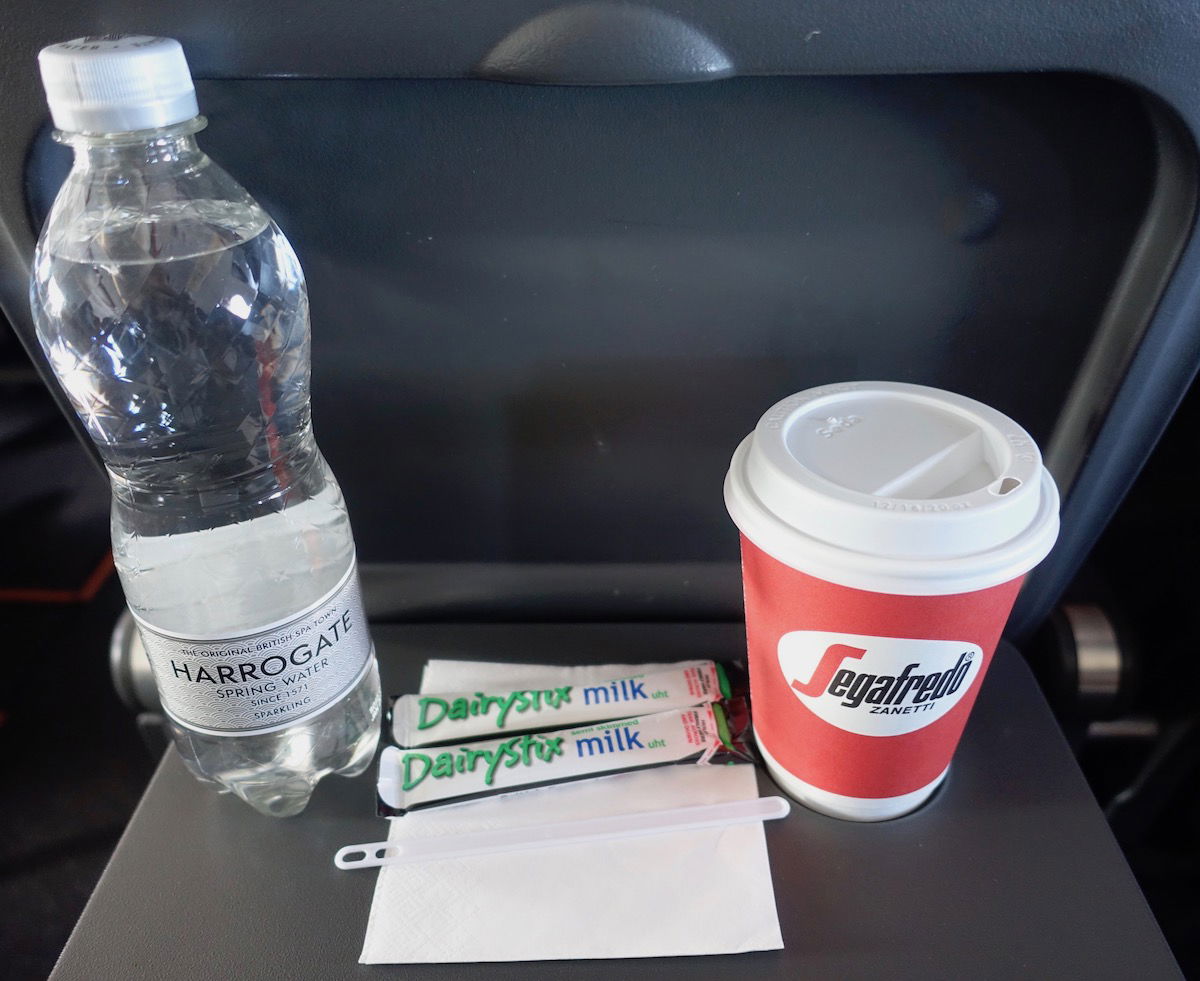 EasyJet buy on board menu — sparkling water and coffee
Then we ordered some snack boxes and packaged olives.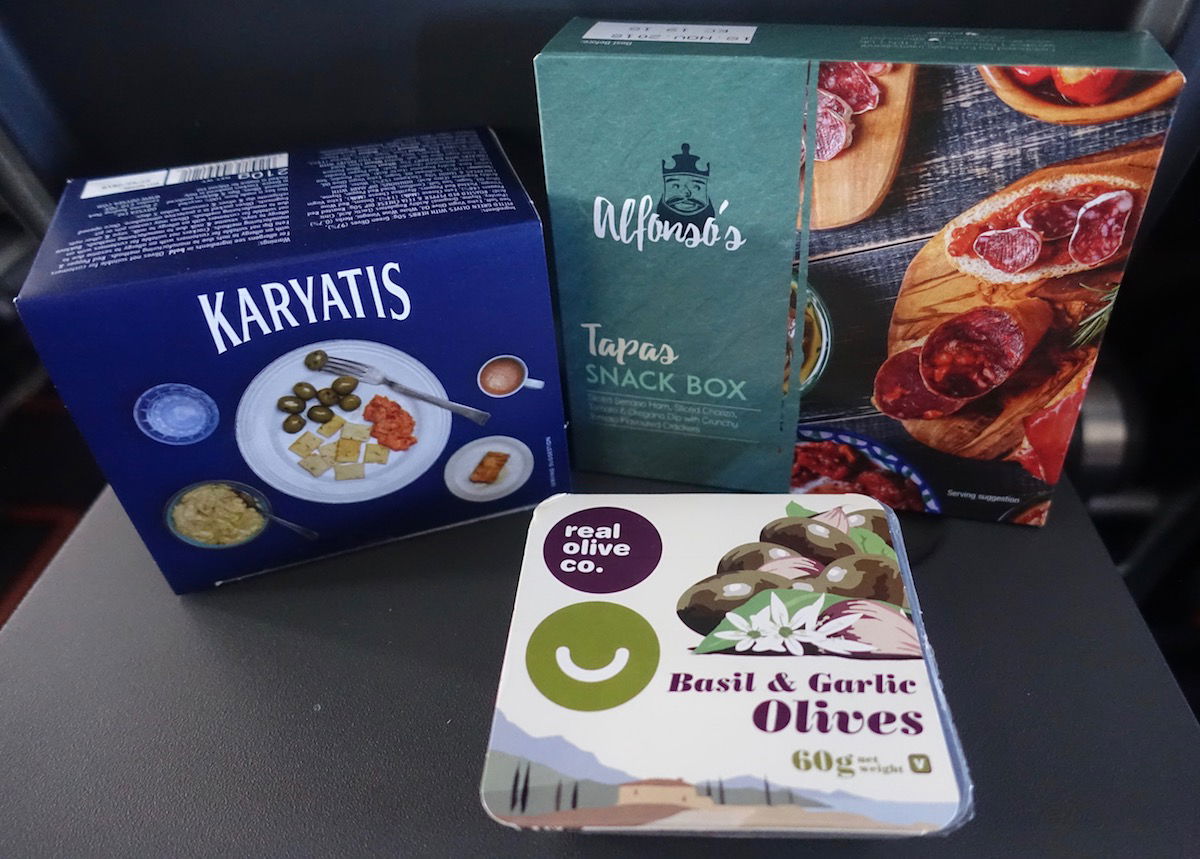 EasyJet buy on board menu — snack boxes
Ford ordered the tapas snack box with chorizo, serrano ham, tomato & oregano dip, and tomato flavored crackers.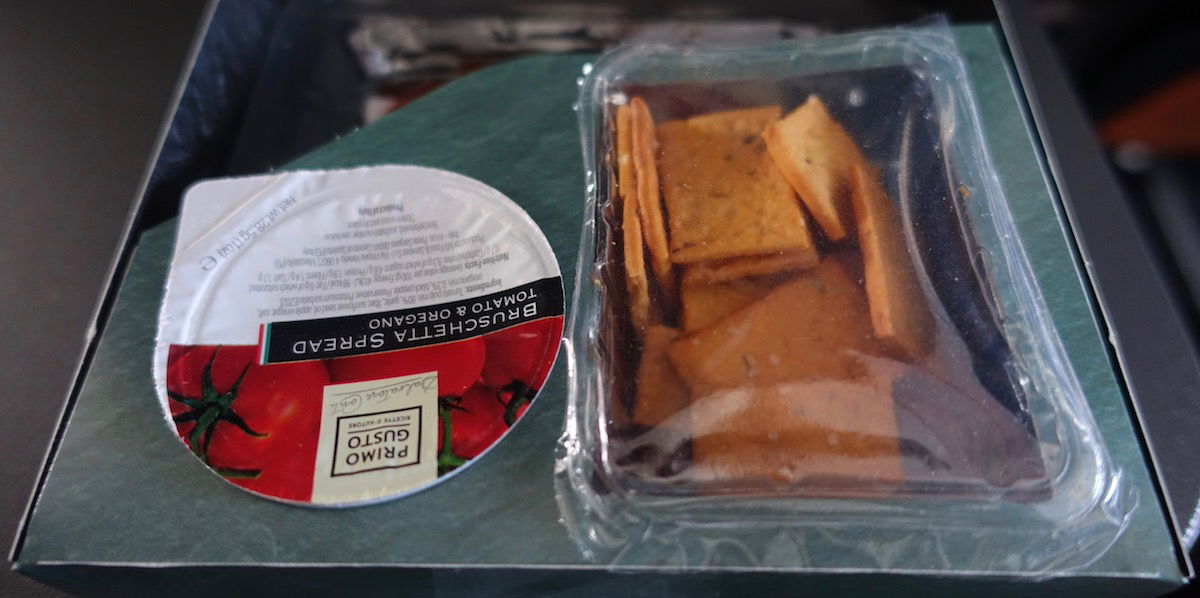 EasyJet buy on board menu — snack boxes
I ordered the mezze snack box with green olives, red pepper & feta cheese dip, hummus, rosemary crackers, and baklava.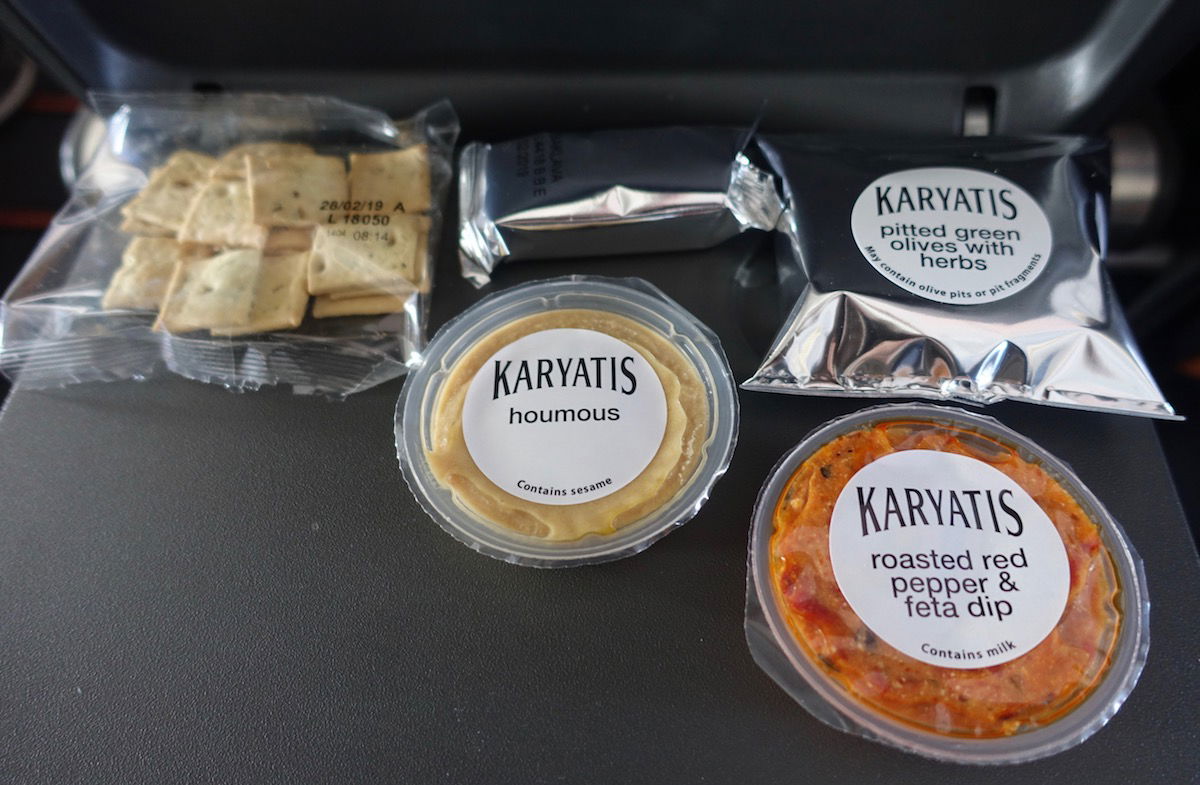 EasyJet buy on board menu — snack boxes
Both snacks were pretty good, and the total for the two drinks, two snack boxes, and olives, came to 17.50EUR.
There was also an onboard duty free sale, and while I didn't buy anything, I was very tempted by the EasyJet pilot bears.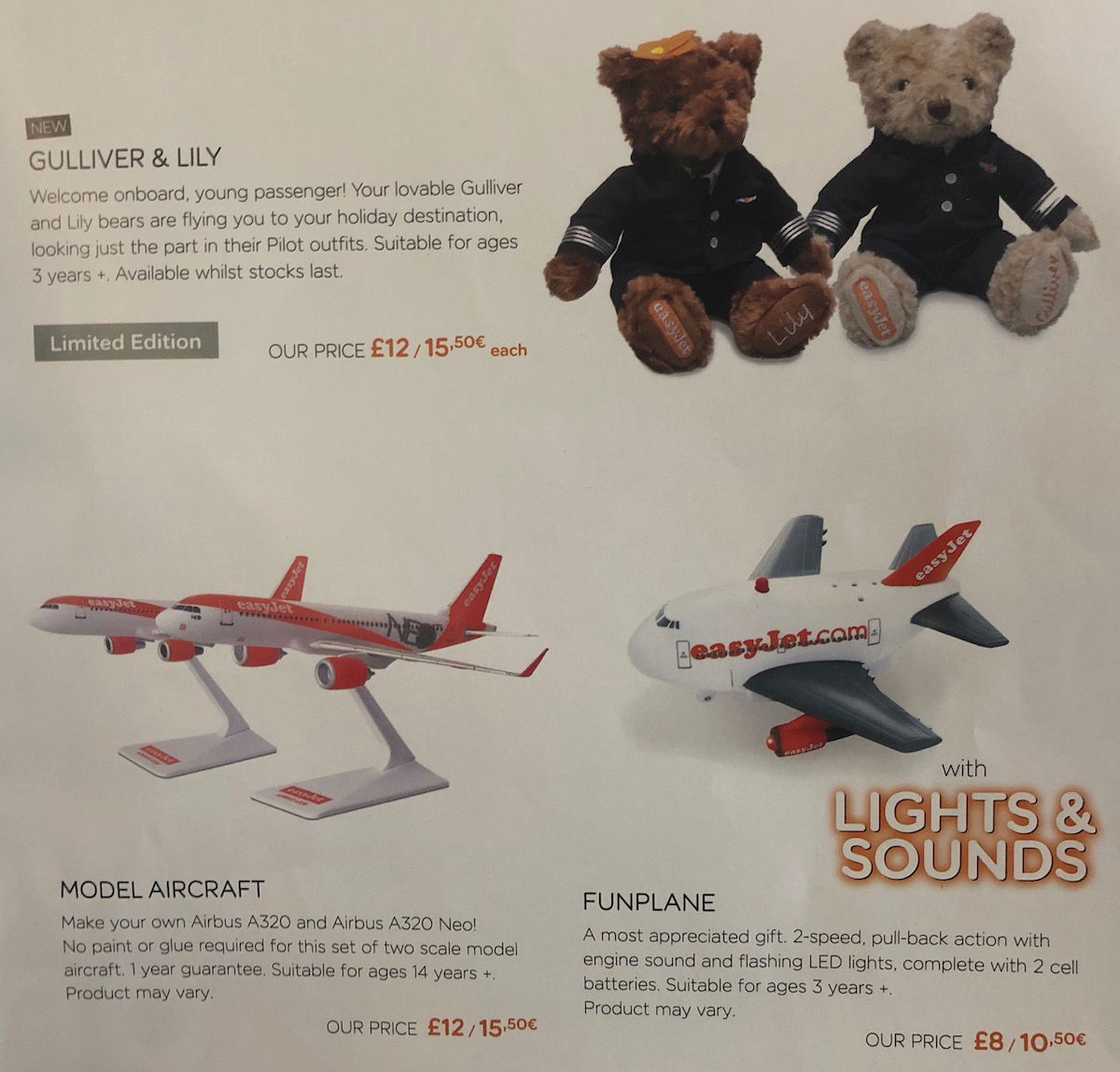 EasyJet duty free purchases
The entire crew was extremely friendly throughout the flight. They constantly passed through the cabin, and if anyone wanted to buy anything they'd gladly assist, even if it wasn't during one of the services.
About 80 minutes after takeoff the captain announced we were at an altitude of 10,700 meters, and that we were flying over Tirana, and that we'd then be flying over Thessaloniki and Athens, before landing in Santorini in about 65 minutes, at 11AM.
Shortly before arrival I visited the lavatory at the front of the cabin, which was in good condition, and complimentary to use. 😉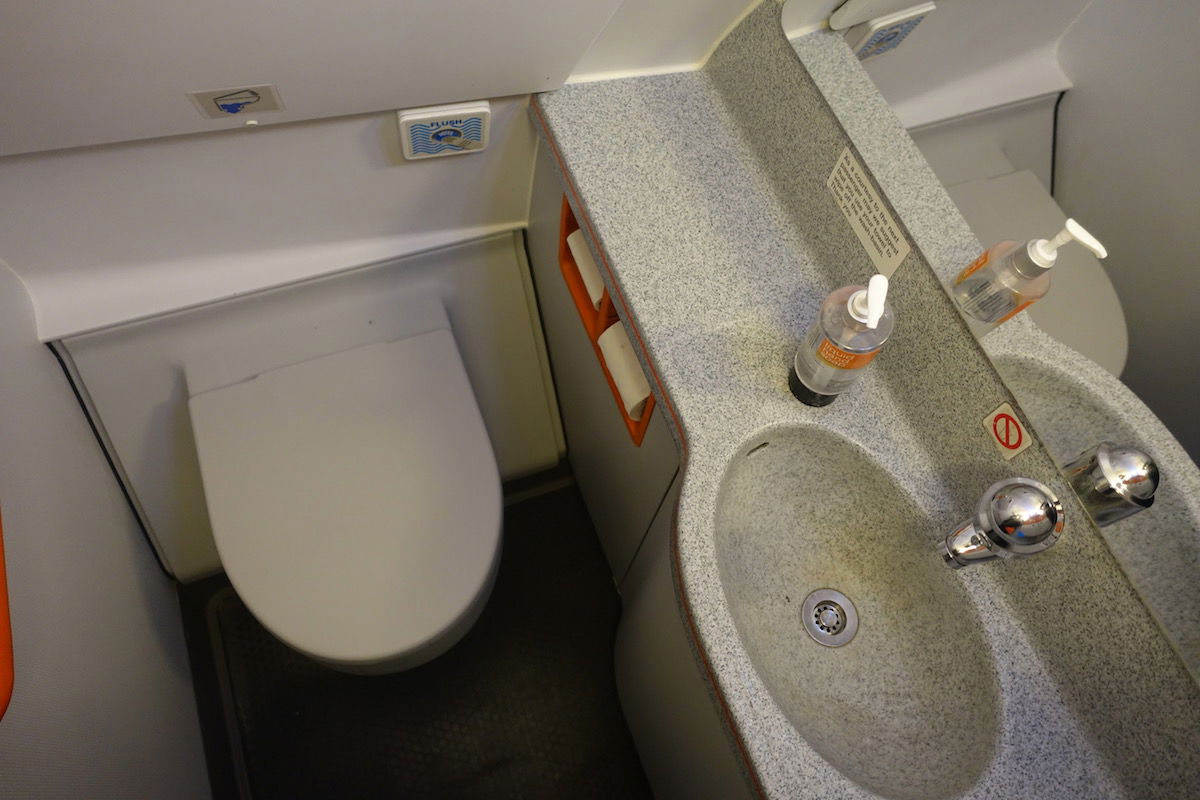 EasyJet lavatory
We hit some turbulence on the descent due to strong winds near Greek islands, and touched down in Santorini at 11AM sharp. i apologize for the lack of window pictures, but the windows were dirty, and was tough to get any good pictures.
After landing it was just a two minute taxi to our arrival stand. Once again, the crew was very friendly on the ground. They helped passengers remove items from the overhead bins, and the captain was at the door to thank everyone for flying EasyJet.
Santorini Airport is tiny and doesn't have any gates, so we just parked at a stand, and then had to get on the bus for the very short ride to the terminal (if you can even call it that).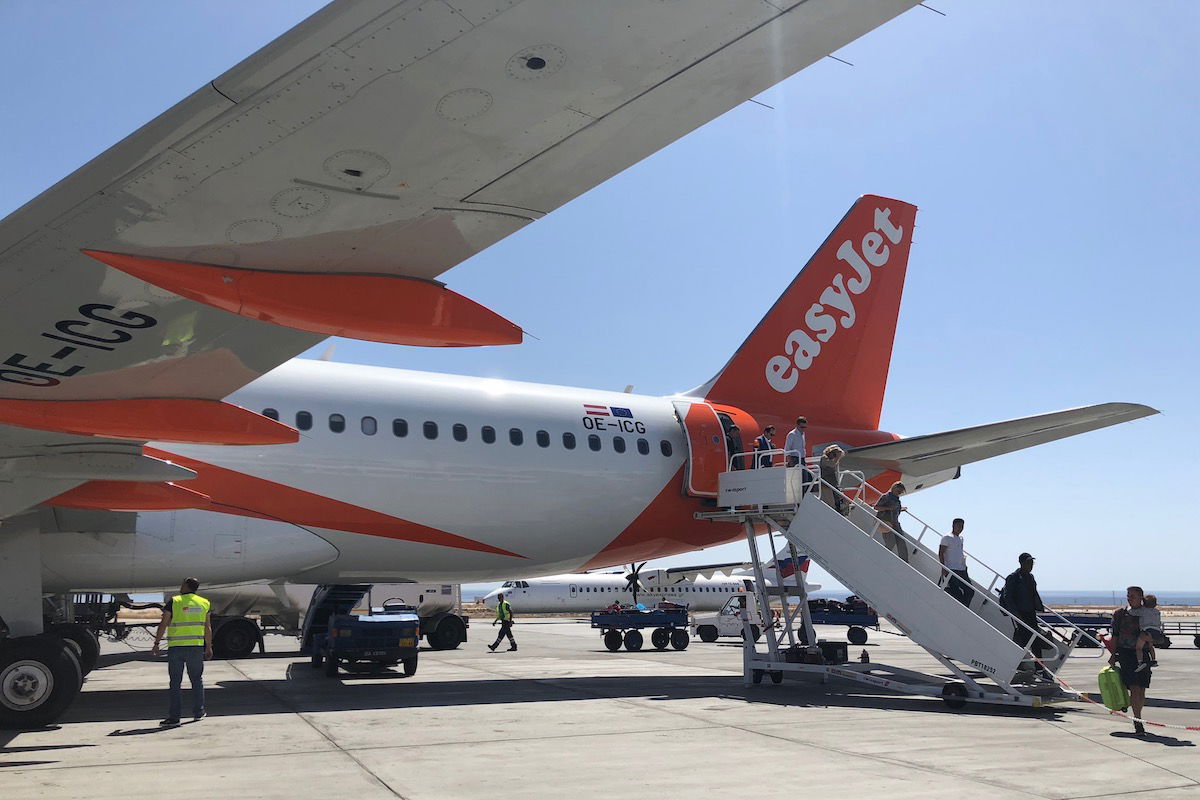 EasyJet A320 upon arrival in Santorini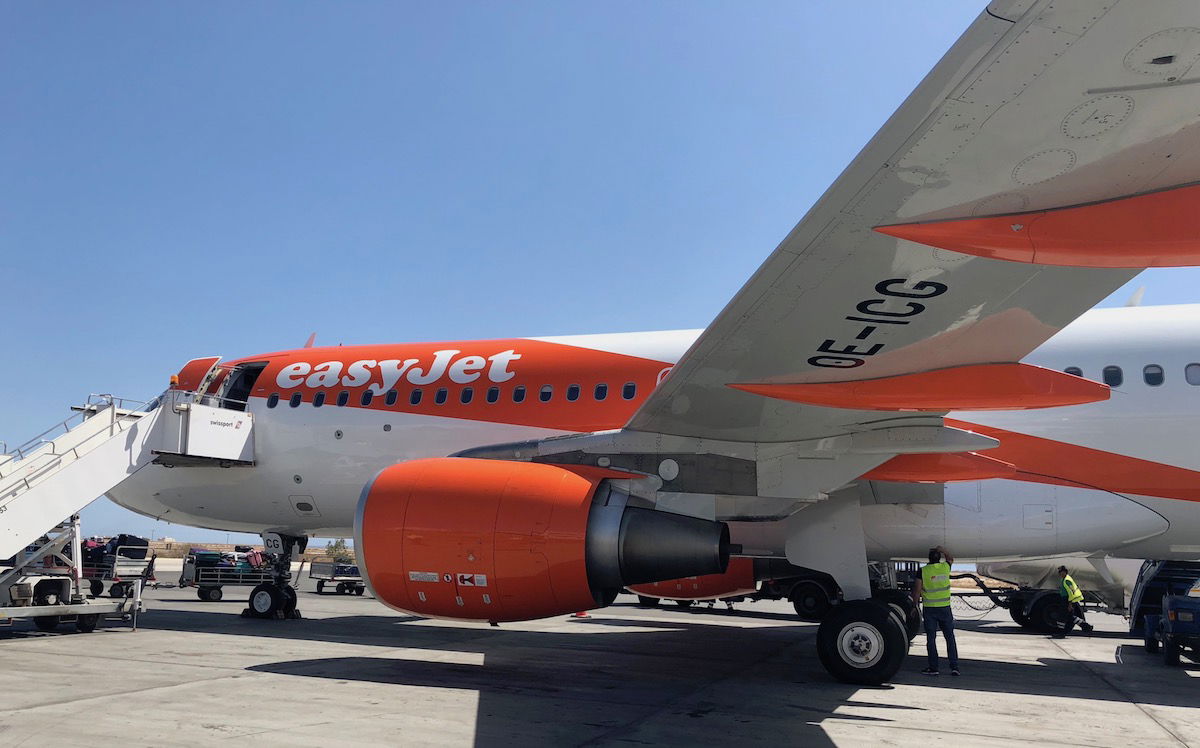 EasyJet A320 upon arrival in Santorini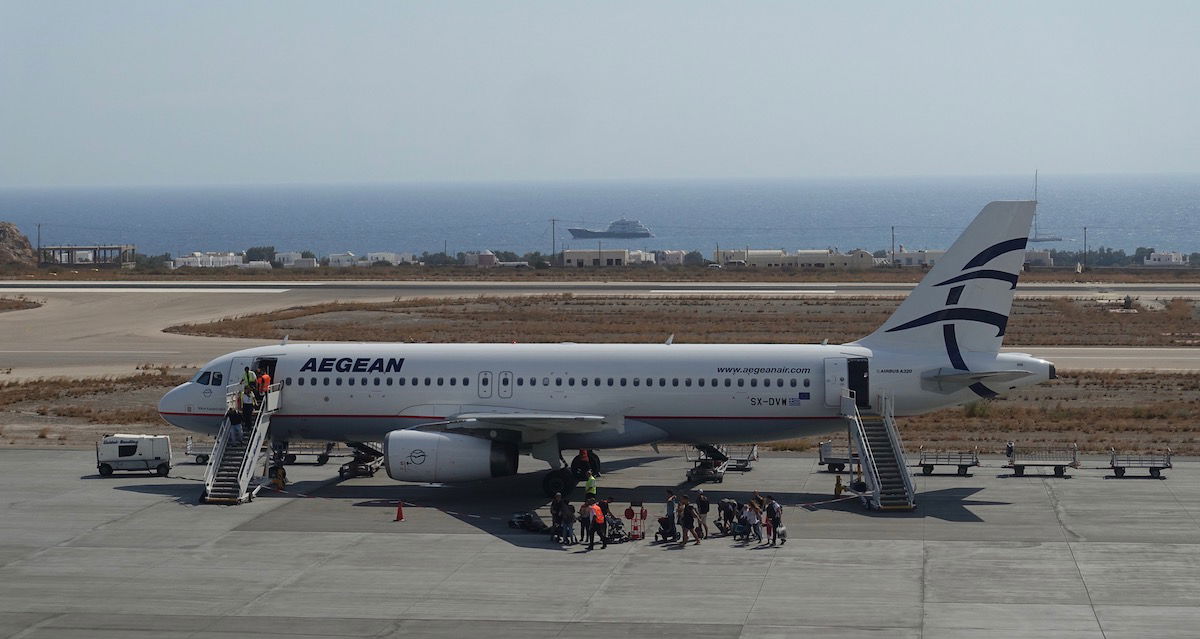 Aegean A320 Santorini Airport
In the arrivals area we were met by a representative from the hotel, and within a few minutes started the 30 minute drive to Oia.
EasyJet bottom line
The aviation industry in Europe has changed radically over the past several years, thanks largely to ultra low cost carriers. For years people seemed to avoid some of these airlines, though as airlines like British Airways have made their regional flying experience worse, the difference between the airlines is virtually non-existent.
While Malpensa Airport Terminal 2 isn't the nicest facility, otherwise the EasyJet experience greatly exceeded my expectations. Paying for an exit row and Speedy Boarding was a great value, especially as we ended up having an empty seat between us.
The legroom was great, the staff friendly, and the flight nearly on-time. I'd fly EasyJet again in a heartbeat, especially given how many nonstop routes they operate.