---
After spending a night at the Le Meridien Dubai, we headed to the airport early the next morning and had breakfast in the Emirates First Class Lounge, which I've reviewed before. One of the cool things about the A Concourse lounge is that you can board your flight directly from the lounge, as the lounge has about two dozen gates. A majority of A380 flights leave from this concourse.
Our flight was departing at 9:45AM, and boarding was scheduled to begin at 9:15AM. So around that time we headed to the departure gate within the lounge, which was A14.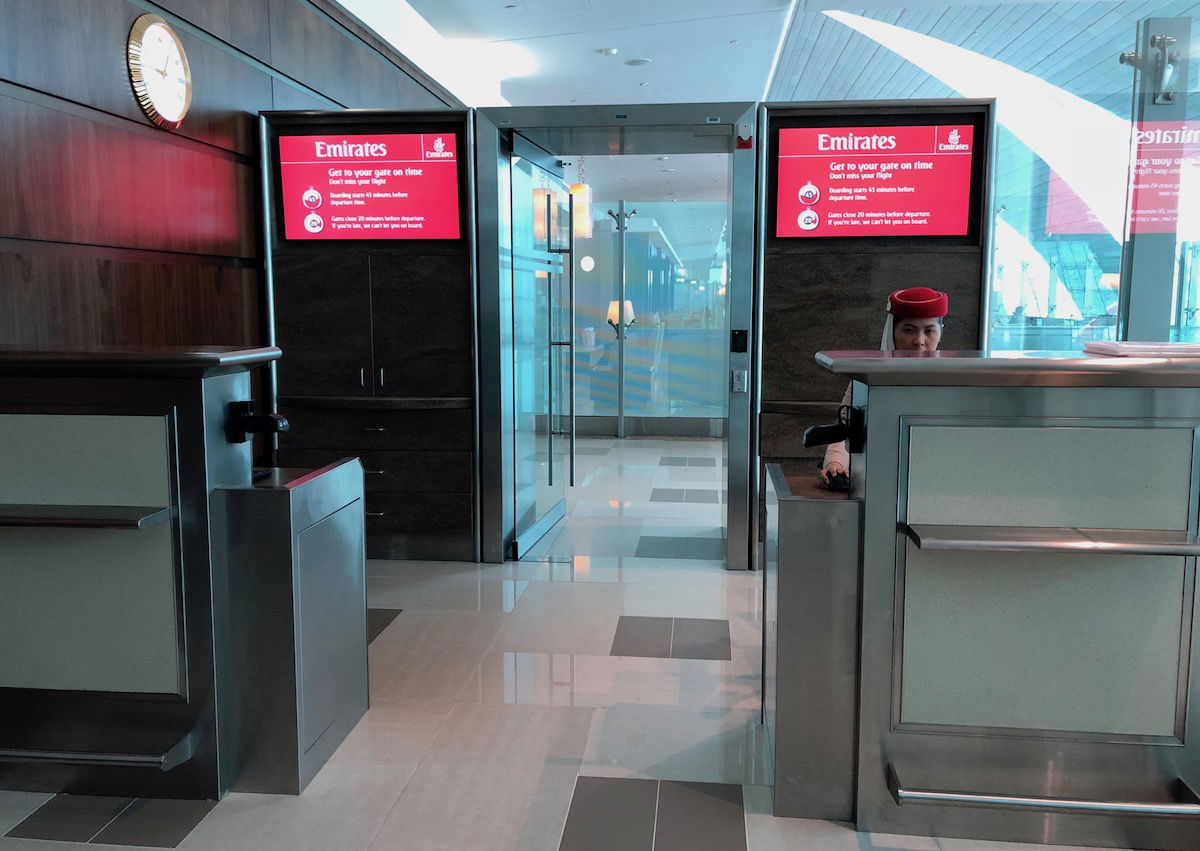 Emirates departure gate
Once your boarding pass is scanned and passport checked, you take the elevator down a couple of levels, and then you're let out in the jet bridge, so it's quite an efficient system.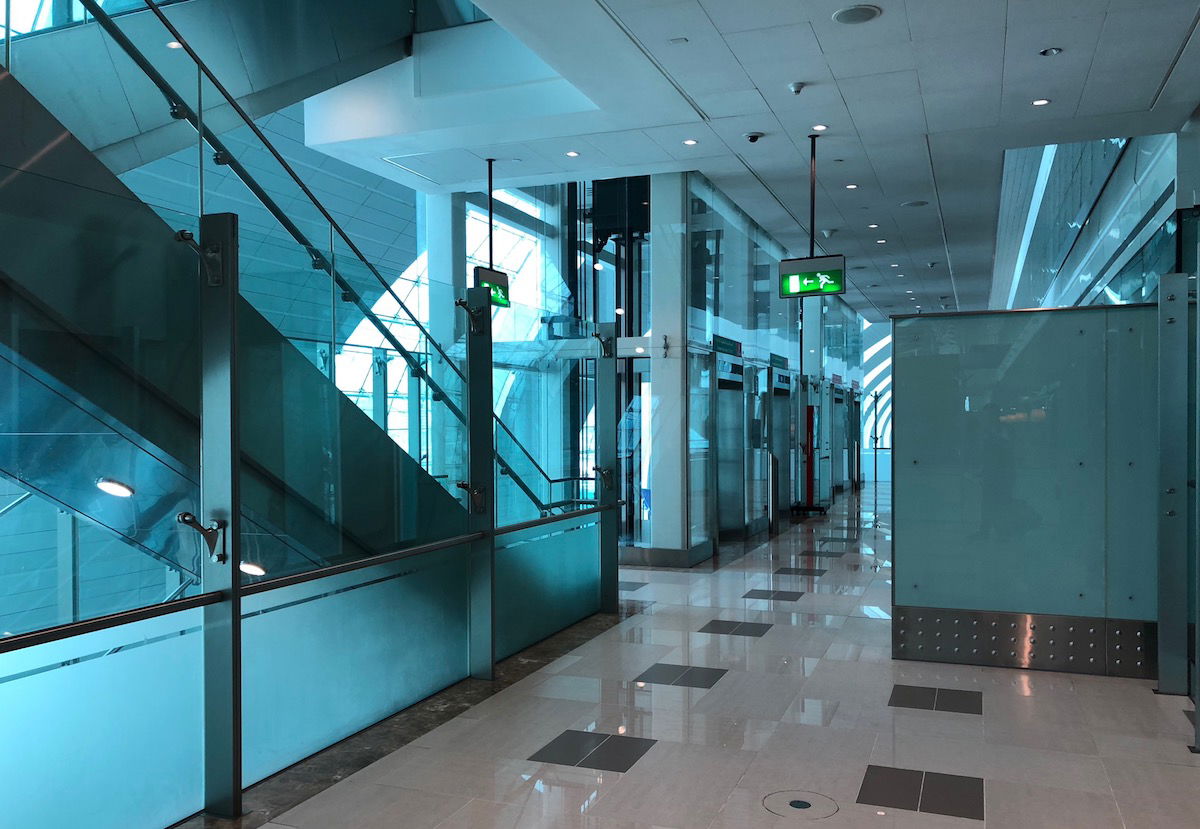 Elevator from lounge to plane
Ah, the beautiful A380!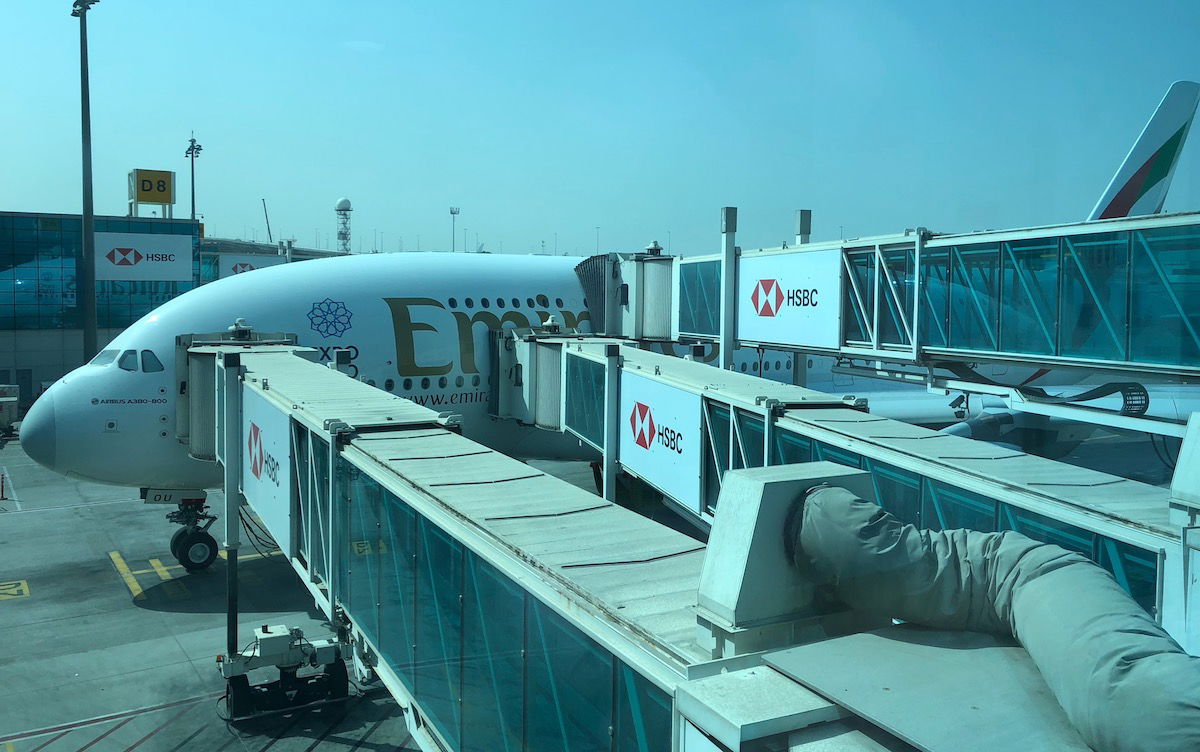 Emirates A380 Dubai International
Emirates 205
Dubai (DXB) – Milan (MXP)
Monday, June 4
Depart: 9:45AM
Arrive: 2:20PM
Duration: 6hr35min
Aircraft: Airbus A380-800
Seat: 3K (First Class)
At the door we were greeted by two flight attendants and escorted left into the first class cabin. Since I reviewed the first class hard product extensively in the previous post, I'll keep this review short, and focus on the service and food. This time around Ford and I decided to assign seats behind one another on the side of the aircraft, so we selected seats 2K and 3K.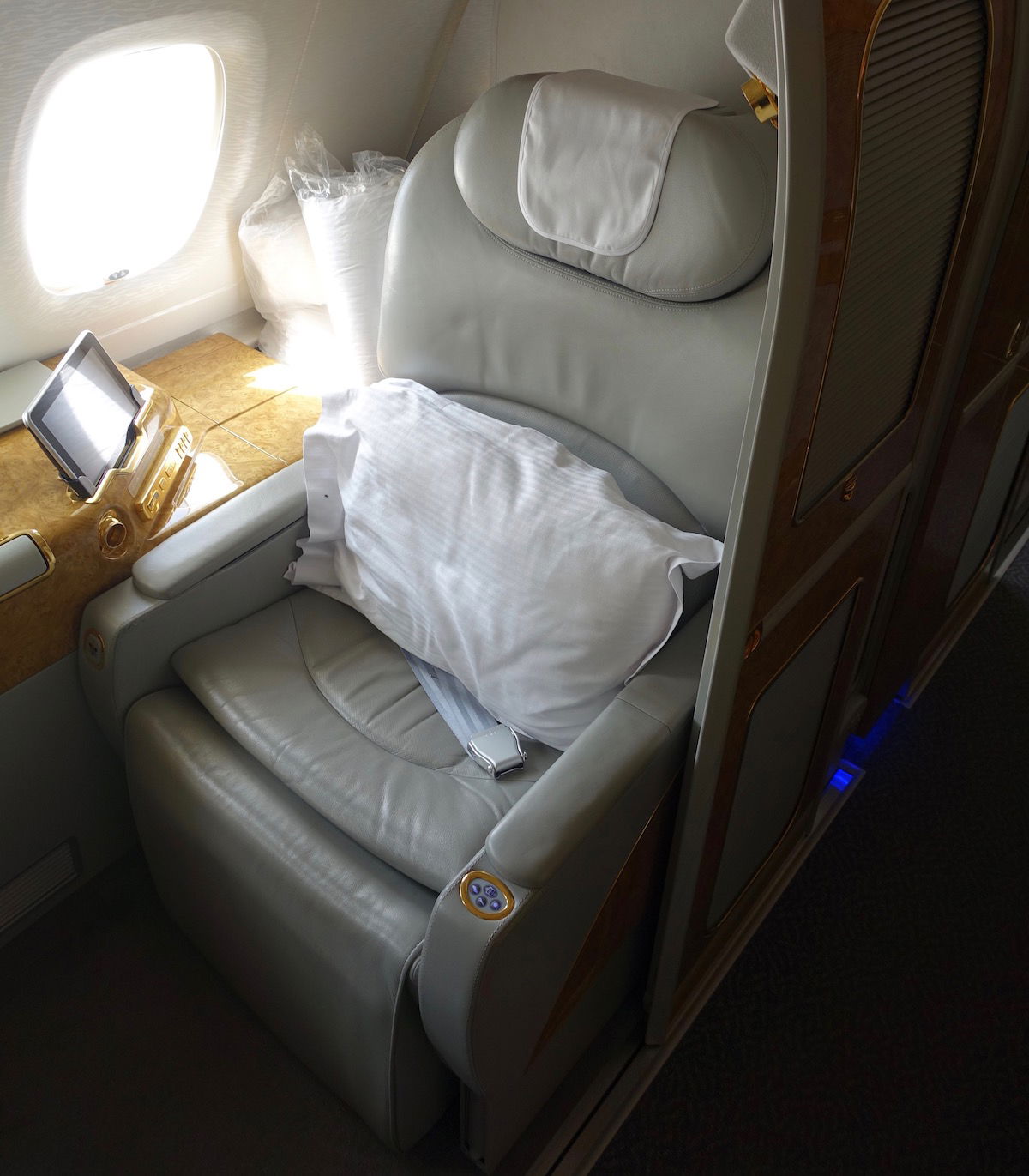 Emirates A380 first class seat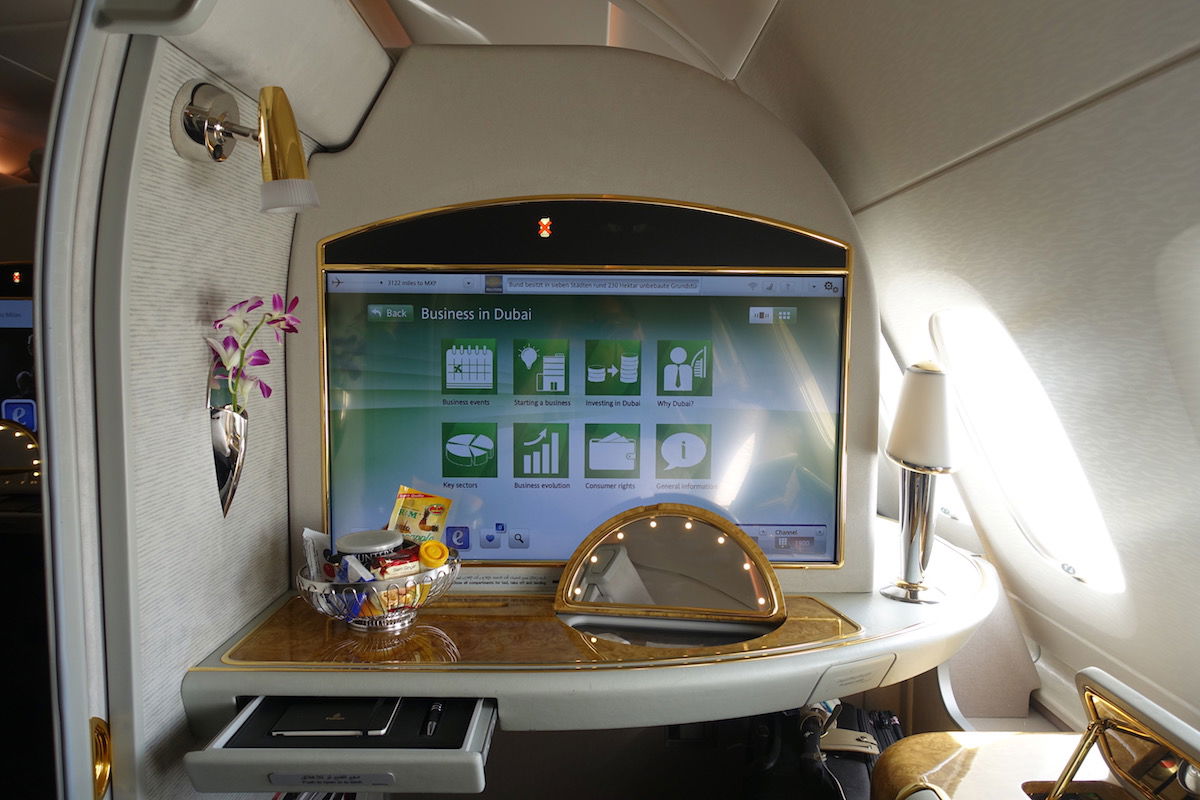 Emirates A380 first class seat
Moments after settling in we were welcomed aboard by the two ladies working the aisles in first class — there was Tessa from South Africa and Rita from Italy. These two ladies were gems. They were so sweet, charming, kind, and attentive.
A moment after settling in we were offered a full set of amenities, including slippers, amenity kits, pajamas, and eyeshades (note that you typically have to ask for these on daytime flights).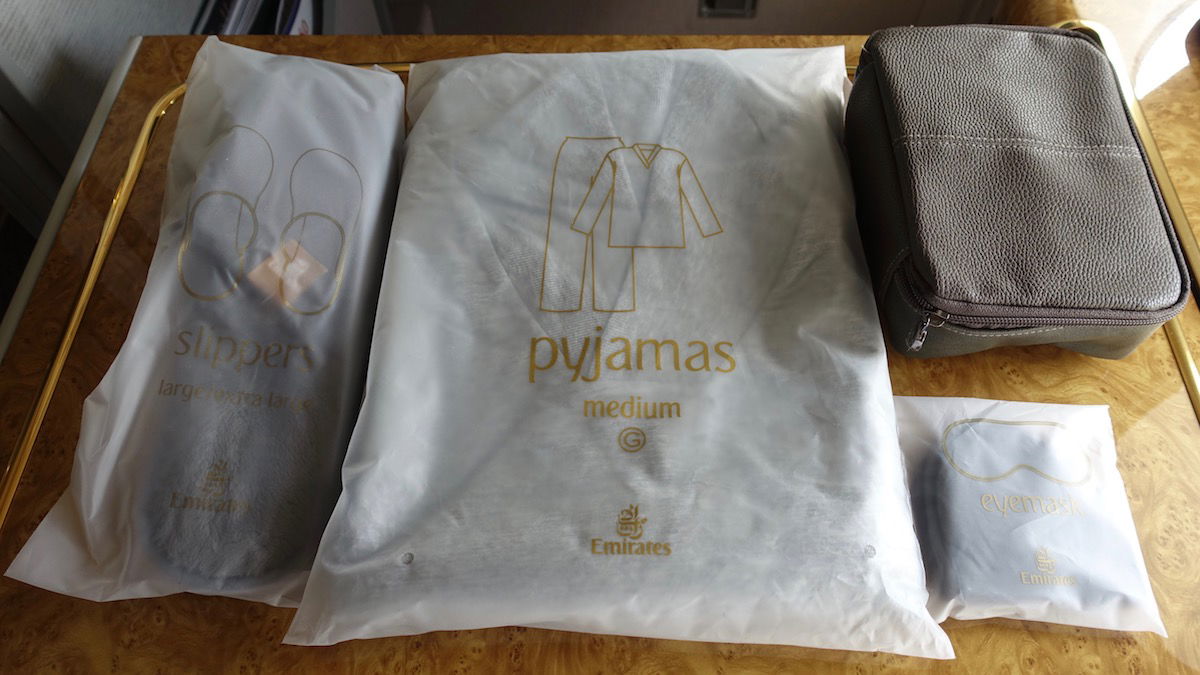 Emirates A380 first class amenities
It was still early in the morning, so I asked for a cappuccino to drink, which was stenciled with the Emirates logo.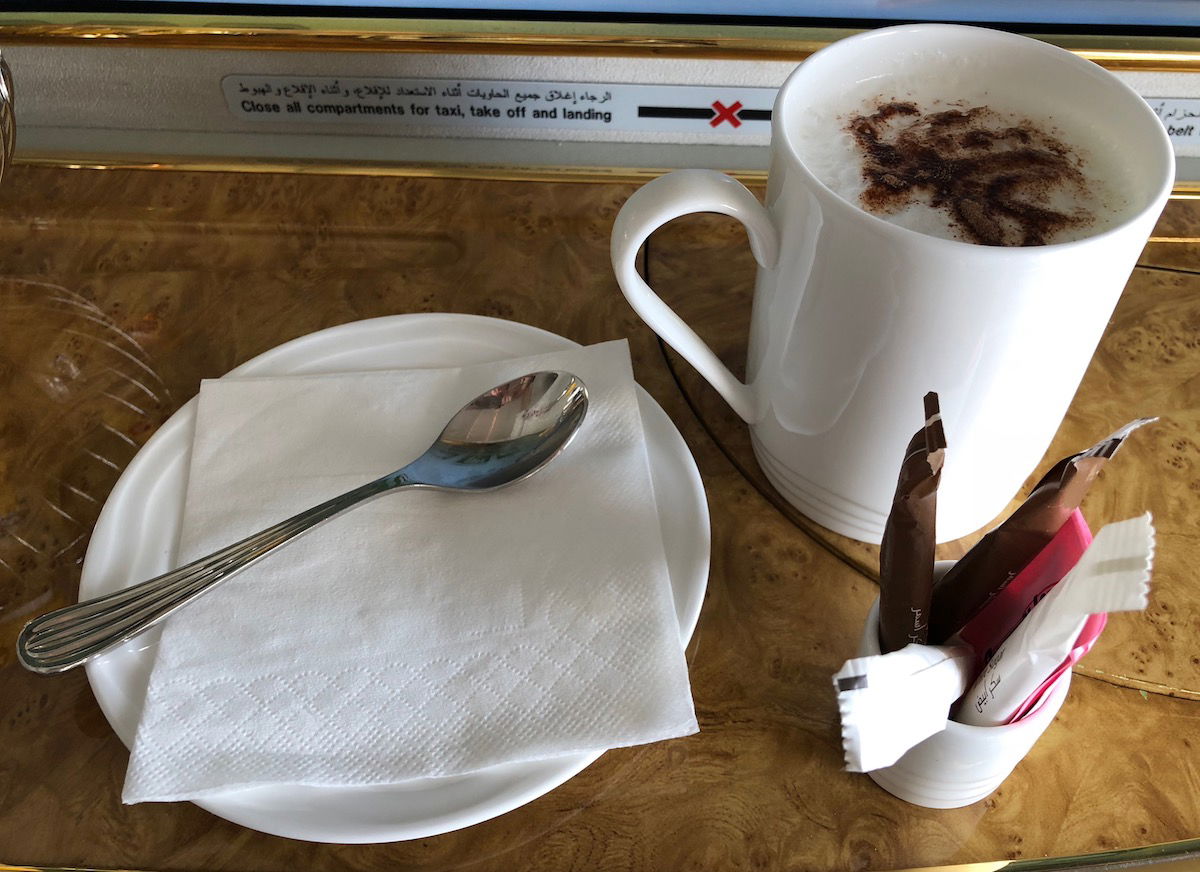 Emirates first class cappuccino
About 10 minutes later we were offered the typical Arabic coffee and dates.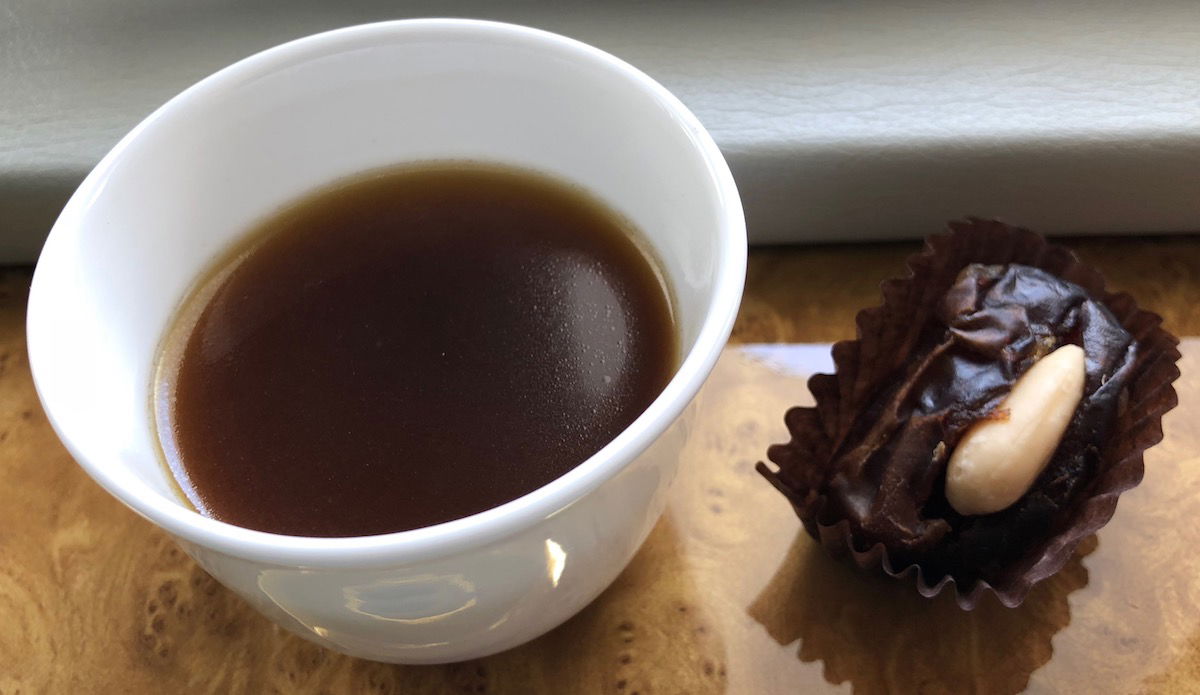 Emirates first class Arabic coffee & date
We were also asked if we wanted to make appointments for the shower spa, and we reserved them for one hour before landing.
At around 9:30AM the Australian captain added his welcome aboard, and informed us of our flight time of six hours. About 10 minutes after that the door closed, and then at 9:50AM we began our taxi. The first class cabin had six of 14 seats occupied — the four other passengers seemed to include a local couple, a very talkative and perpetually delightful Australian lady, and someone who I think was some sort of celebrity, though I have no clue who he was.
Our taxi to the departure runway was short, and by 10AM we were cleared for takeoff on runway 12R, after waiting for two other A380s to take off.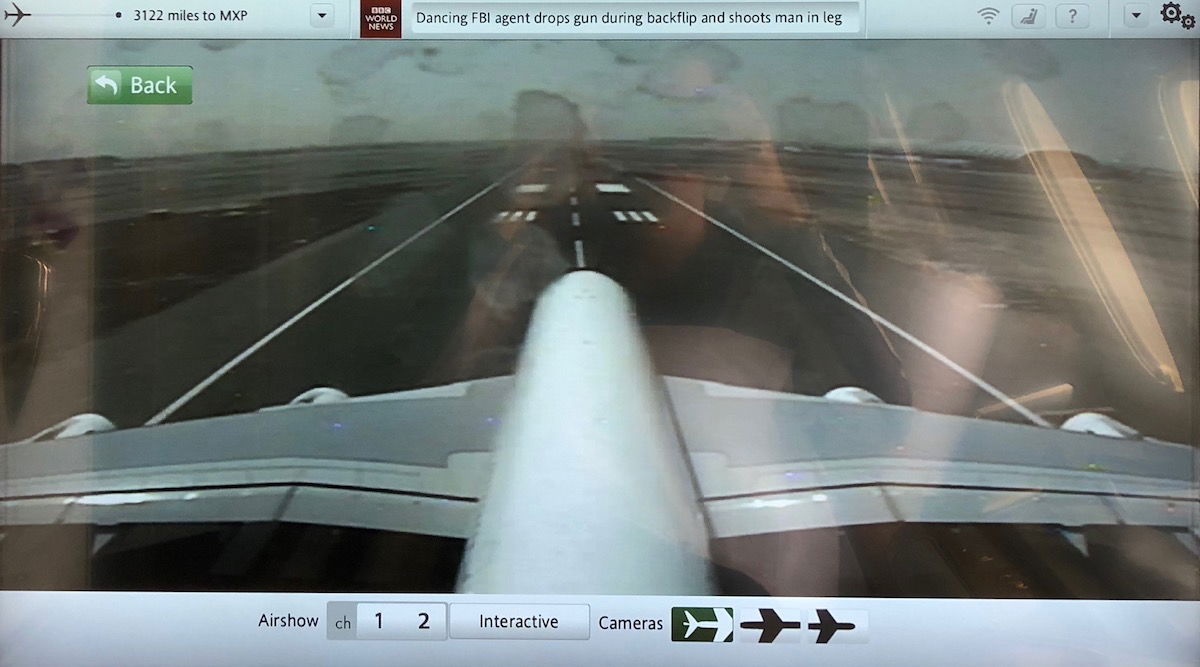 Taking off from Dubai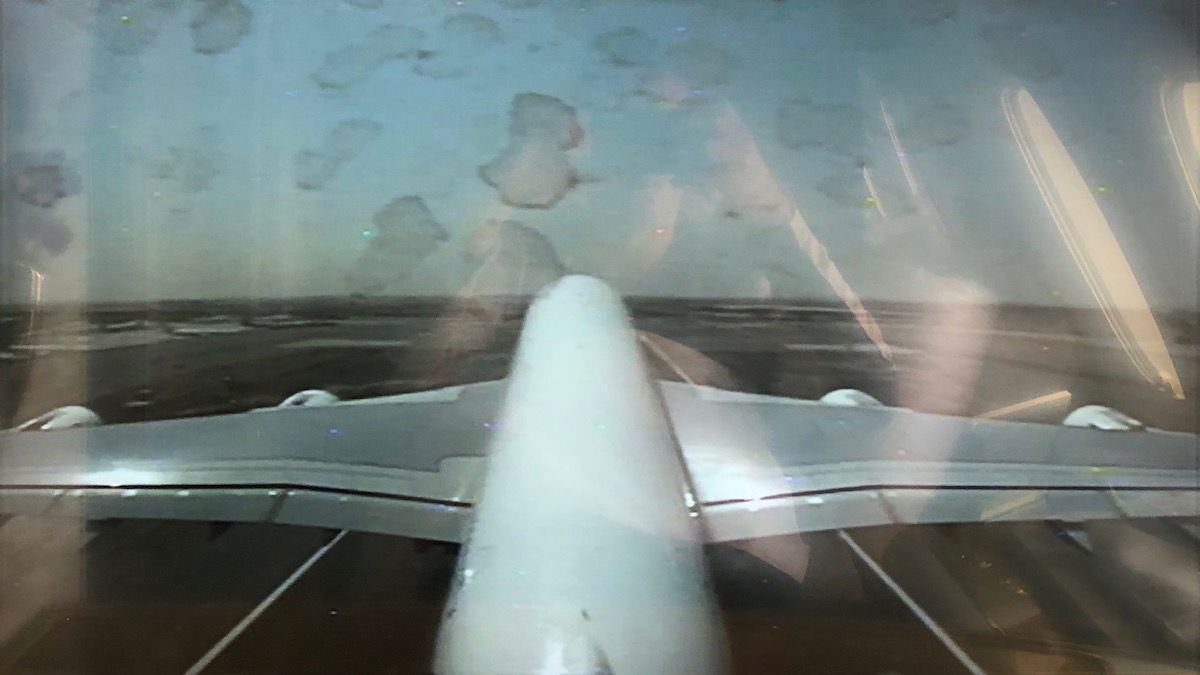 Taking off from Dubai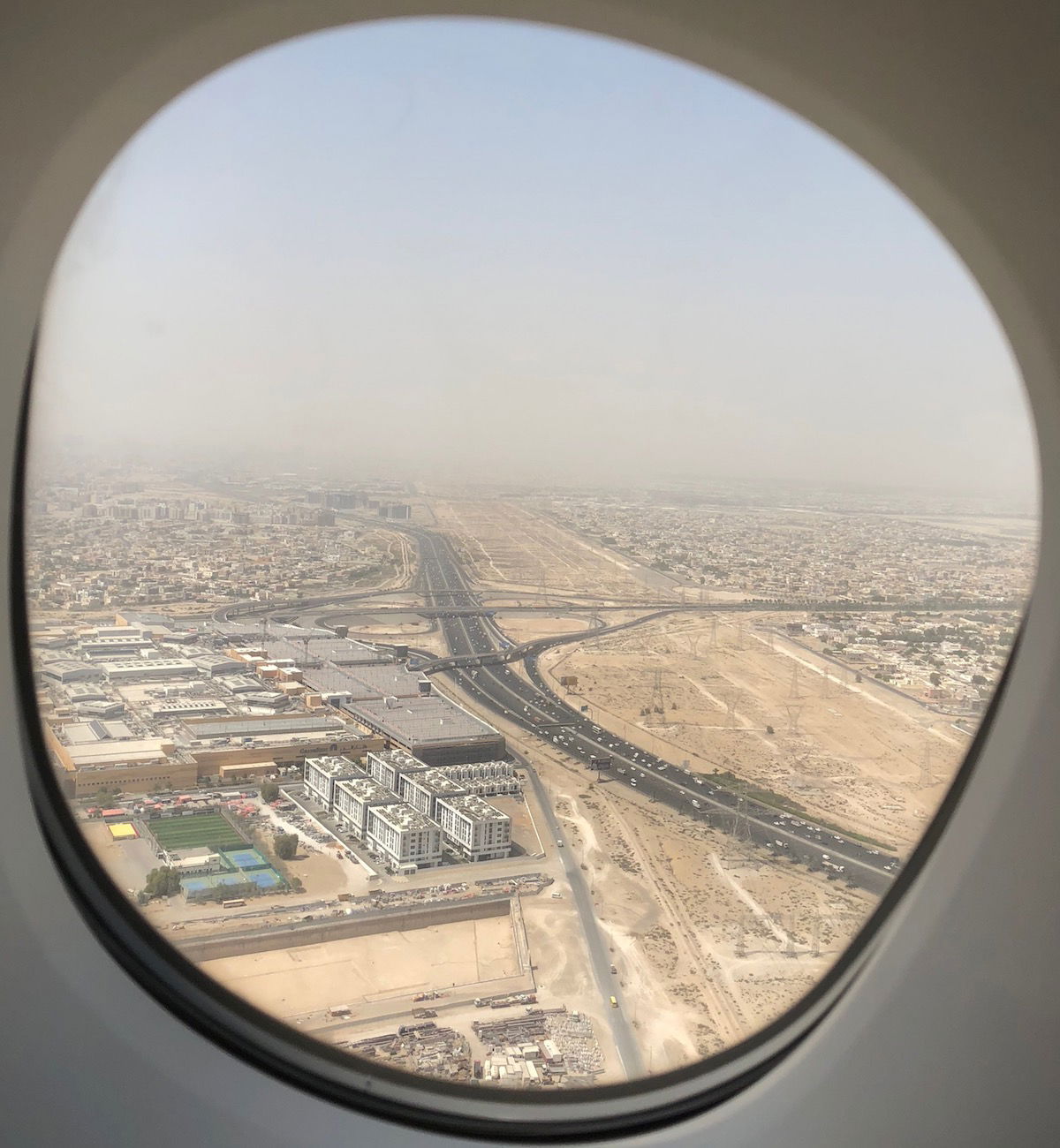 View after takeoff from Dubai
After takeoff I tuned into the flight map to look at our route to Milan.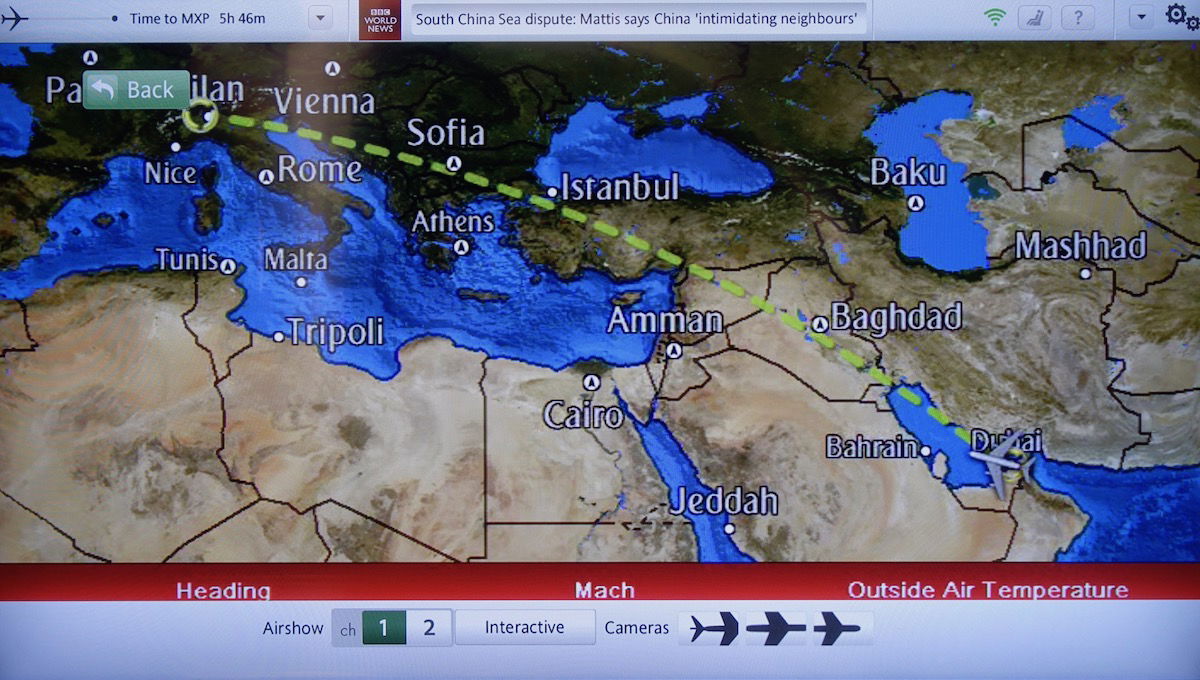 Flight map from Dubai to Milan

Flight map from Dubai to Milan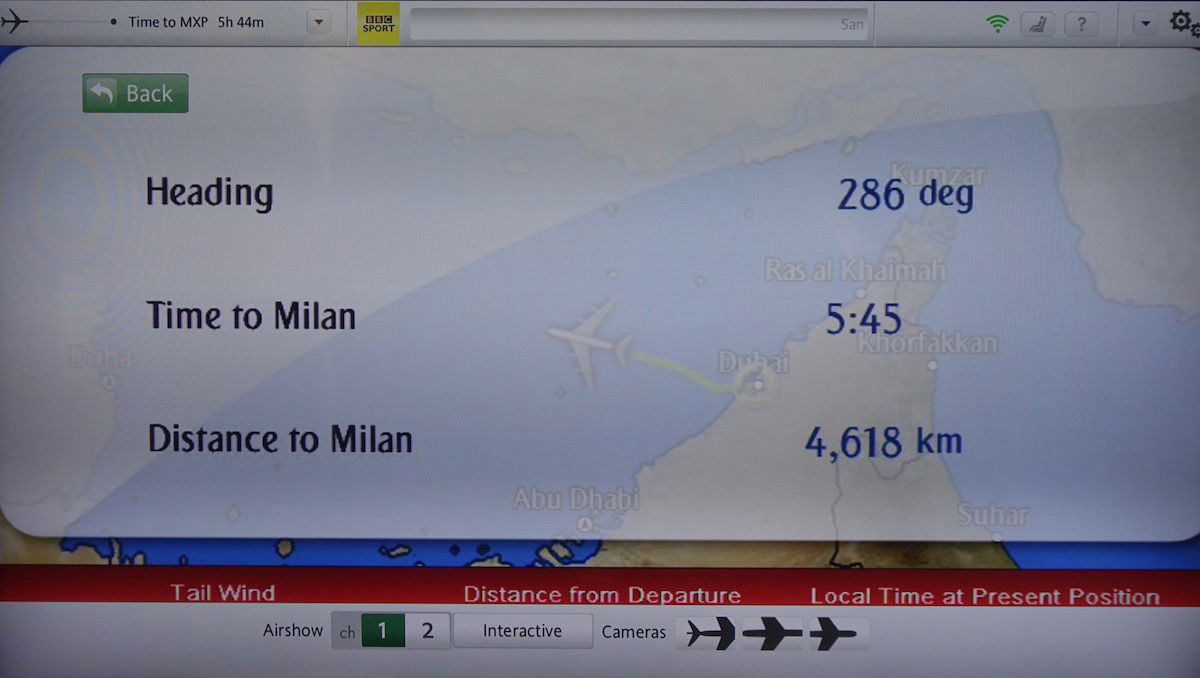 Flight map from Dubai to Milan
The seatbelt sign was turned off about 10 minutes after takeoff, and a few minutes later the purser passed through the cabin to distribute menus… and nothing more. The purser handed me the menu and didn't say a single word.
This is something that really ticks me off, because unlike at other airlines, pursers at Emirates are actually in a leadership role. They are responsible for providing performance reviews for other crew members and setting the tone for service. They (mostly) take their jobs very seriously, and overwhelmingly I've found them to be exemplary. But there seem to be quite a few Emirates pursers who have been there for decades and decades, and they couldn't care any less. They're clearly still working at Emirates not because they have a passion for the job, but because they're making way more money than they'd ever make in their home country.
Emirates pursers are supposed to greet first class passengers (and typically they'll talk to each passenger for a couple of minutes) and say bye to them, but he didn't say a word. He just held out the menu, I said "thank you," and he said nothing. He was at the door when we deplaned, and he said nothing. It's ridiculous. The crew was excellent in spite of him, but people like this shouldn't be the ones setting for the tone of service on a flight.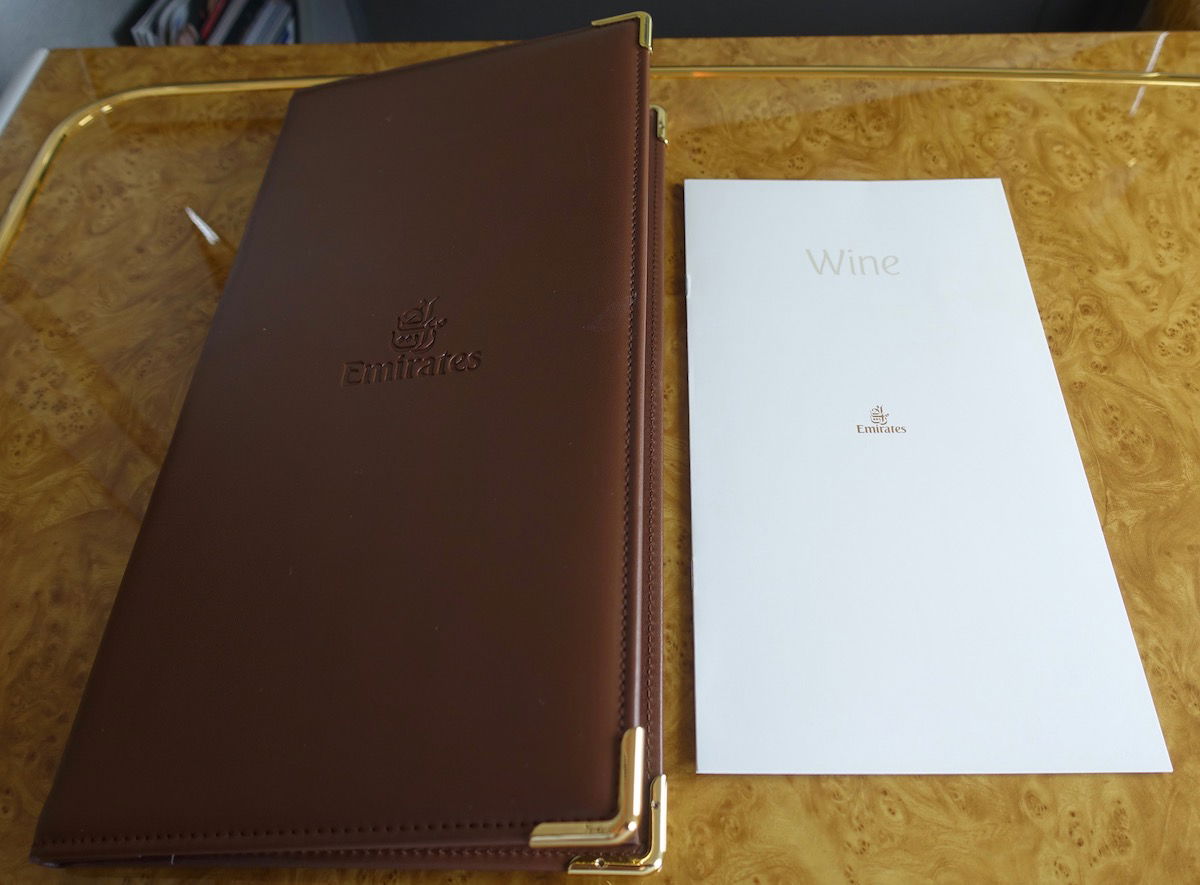 Emirates first class menu & wine list
About 20 minutes after takeoff, Rita stopped by our seat to ask what we wanted to eat and drink. On this flight most people have a light breakfast after takeoff and then lunch before landing. However, we ate breakfast in the lounge, so our plan was to just have a drink, and then have a proper lunch before landing.
The menu read as follows: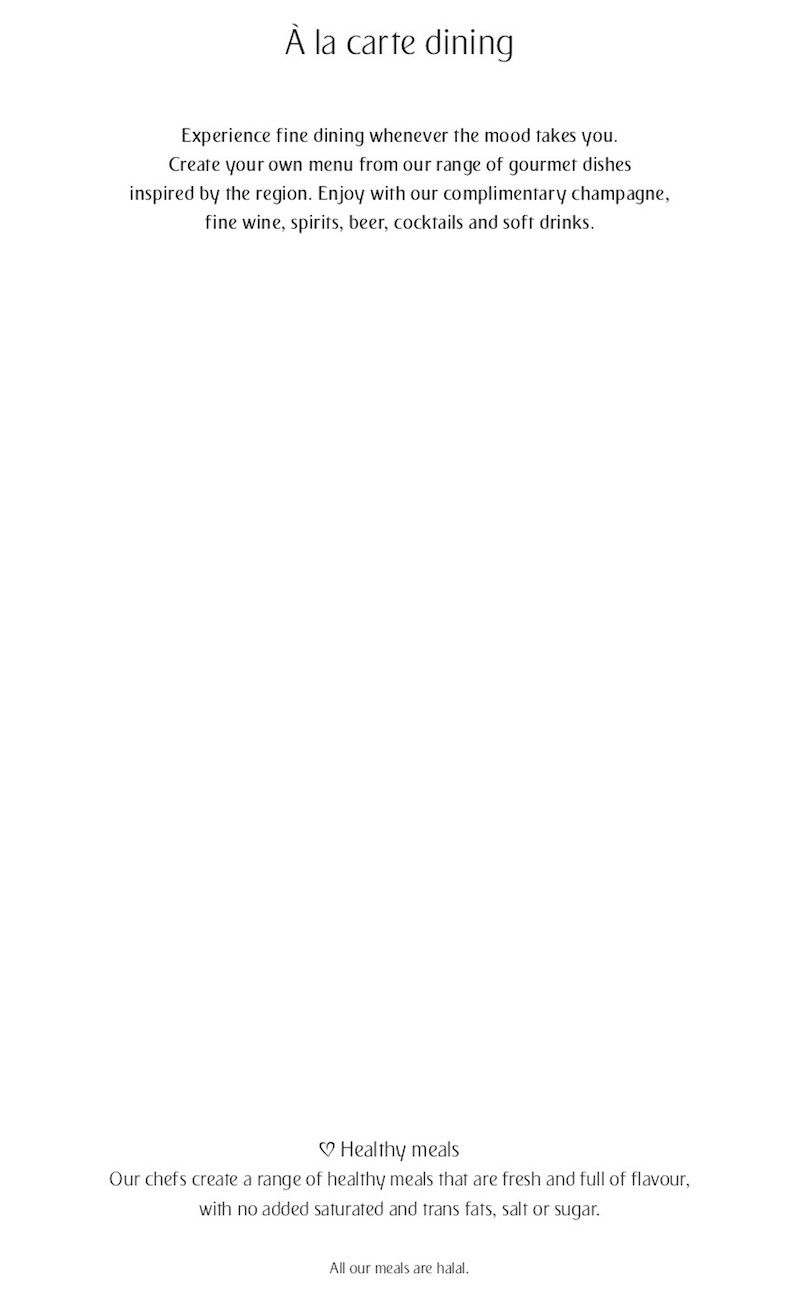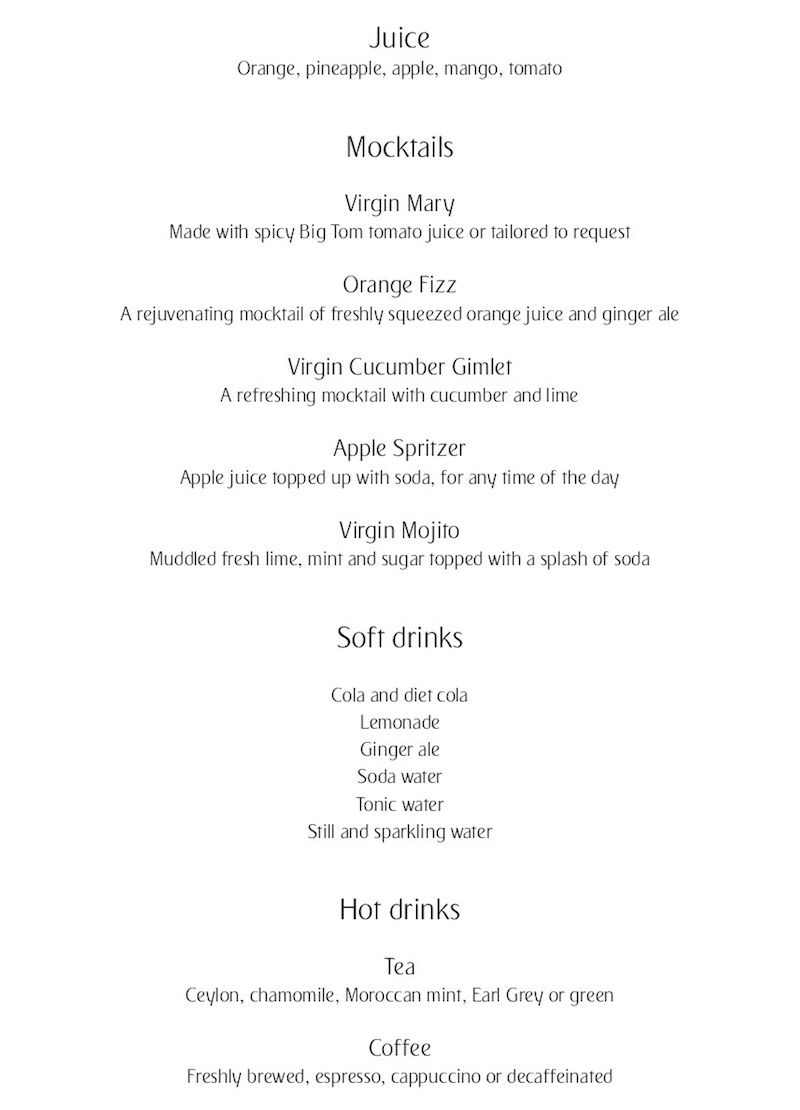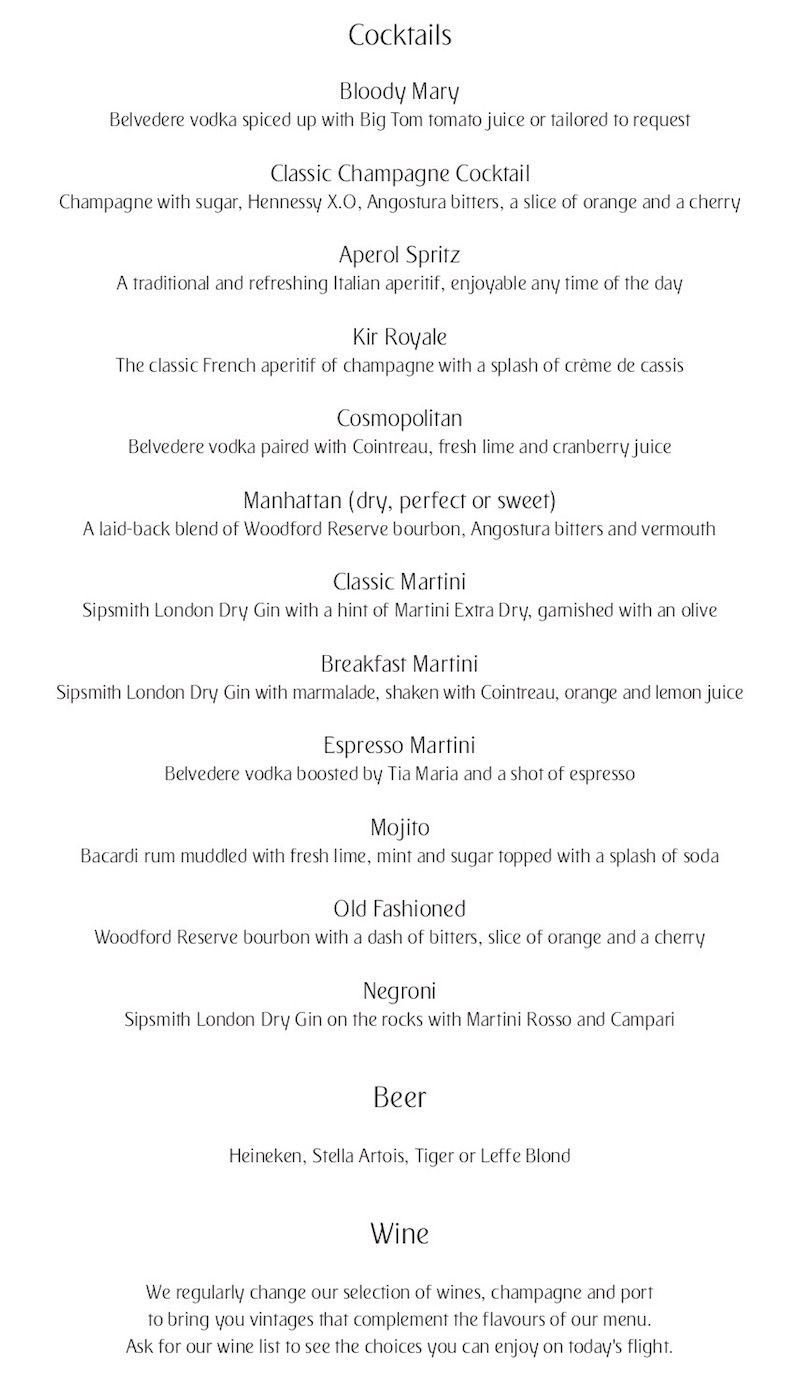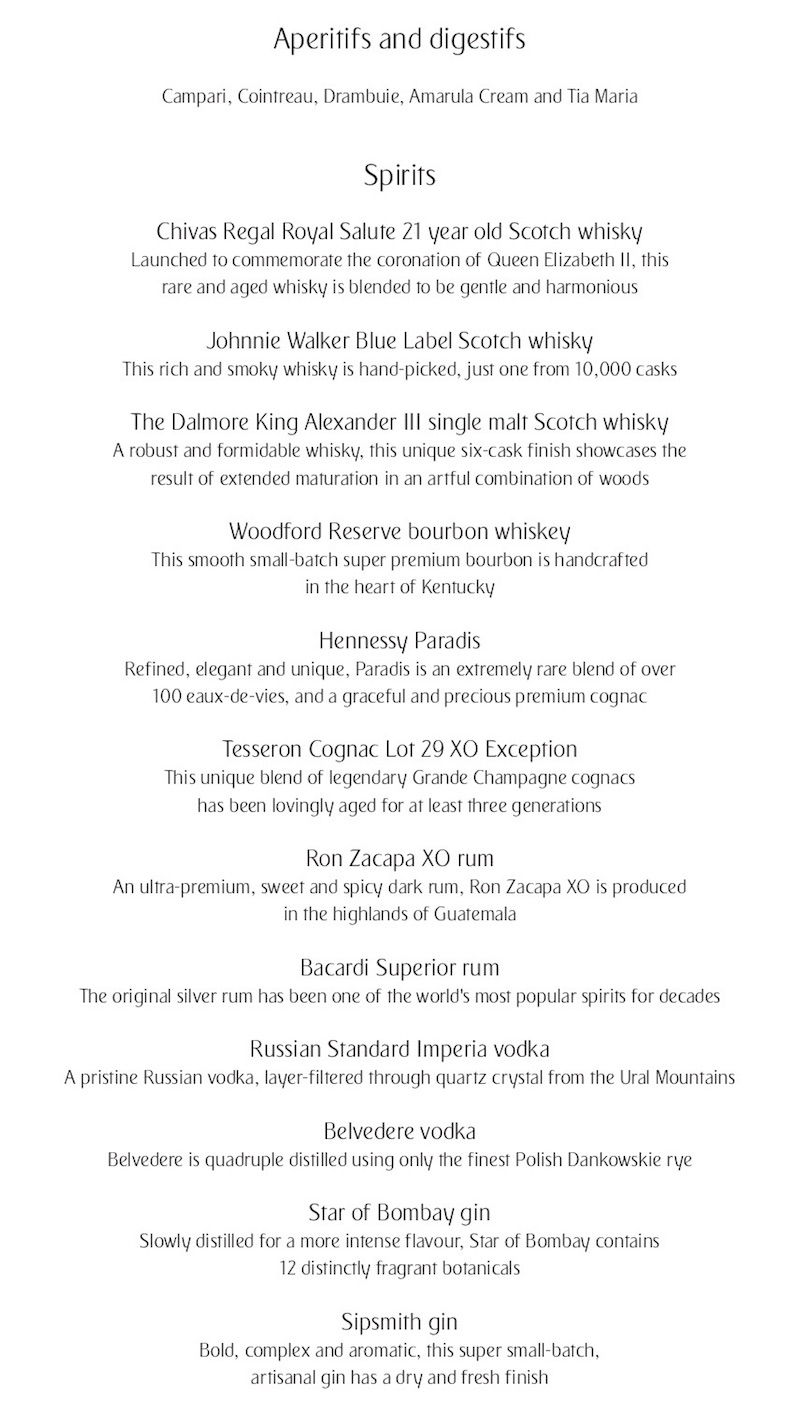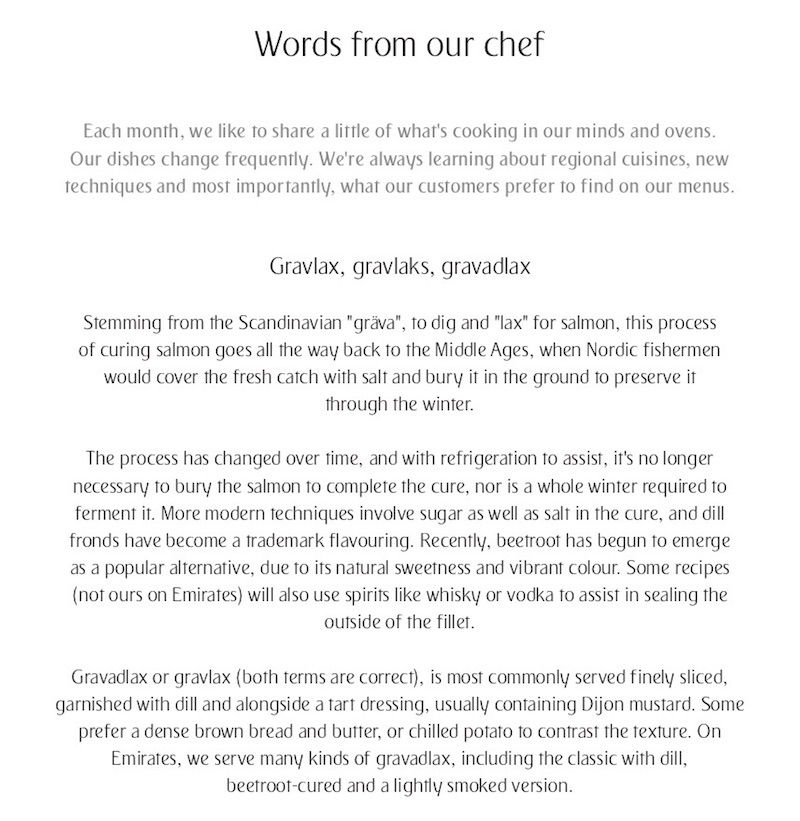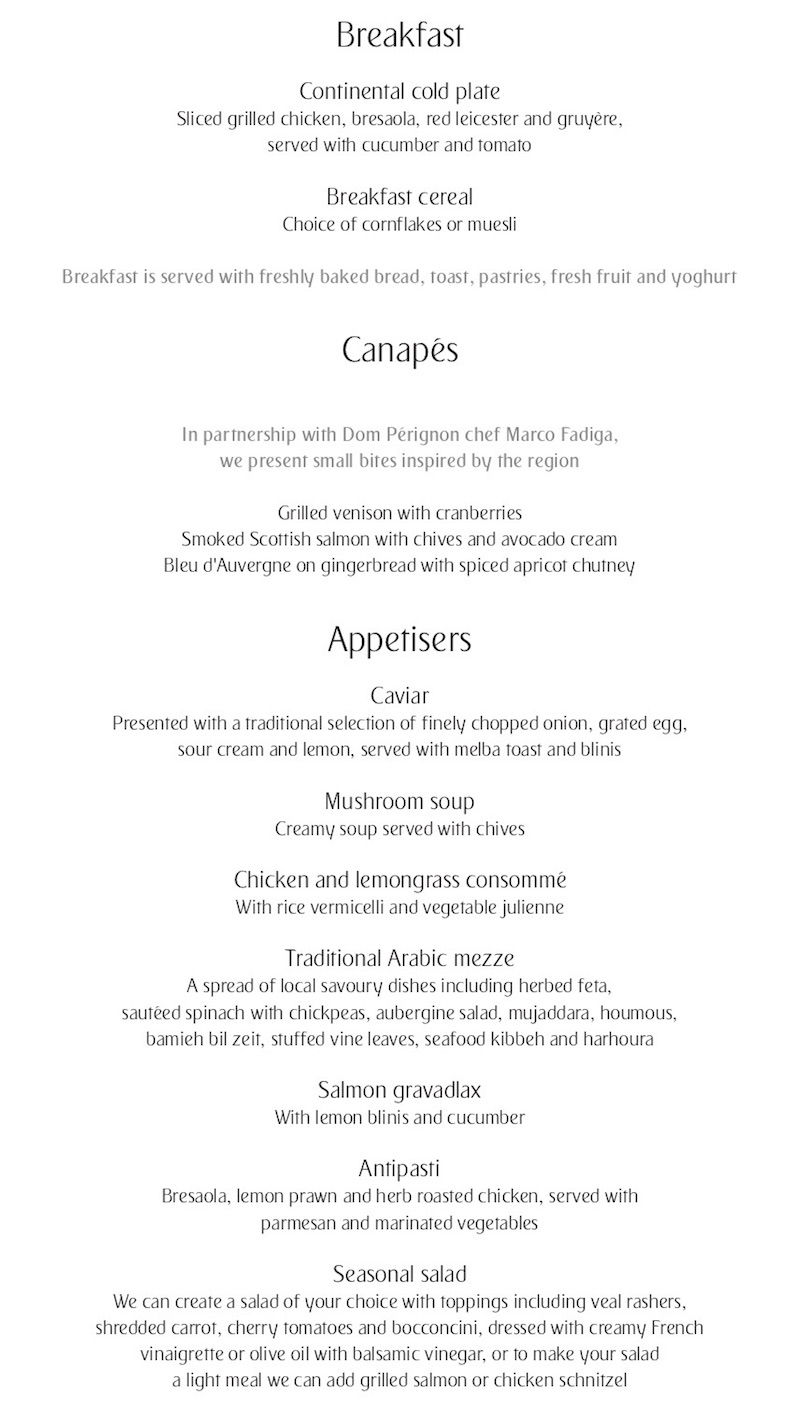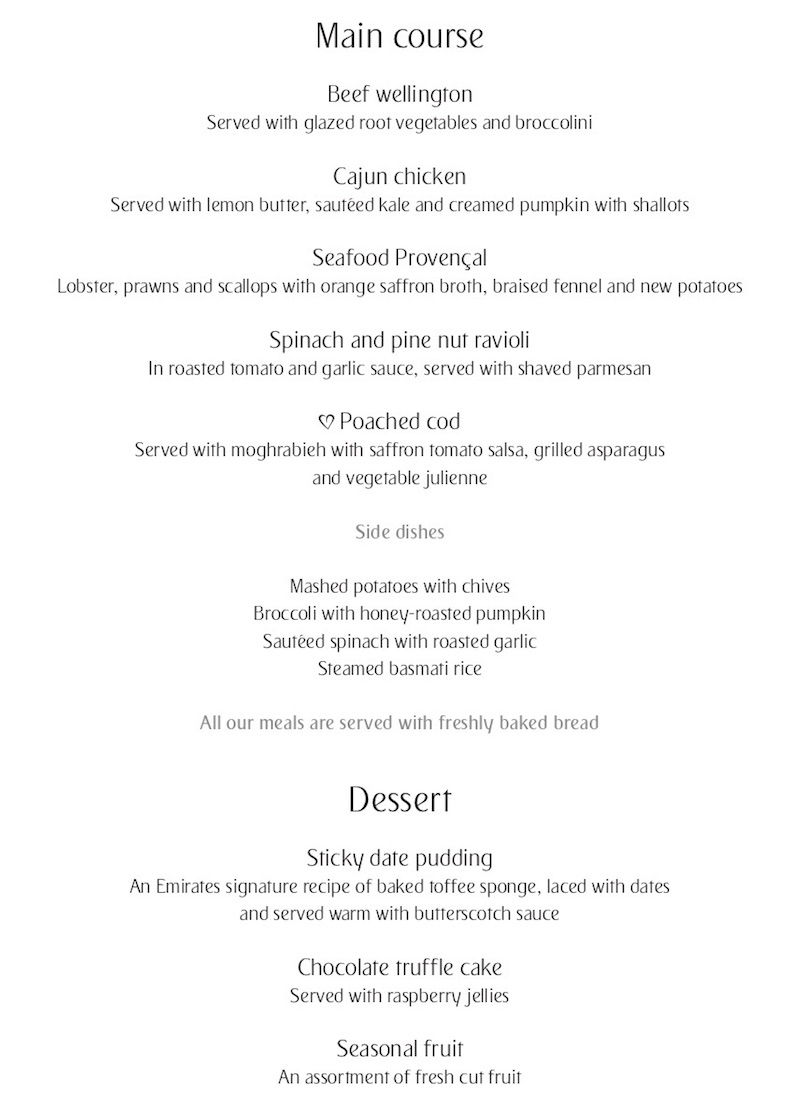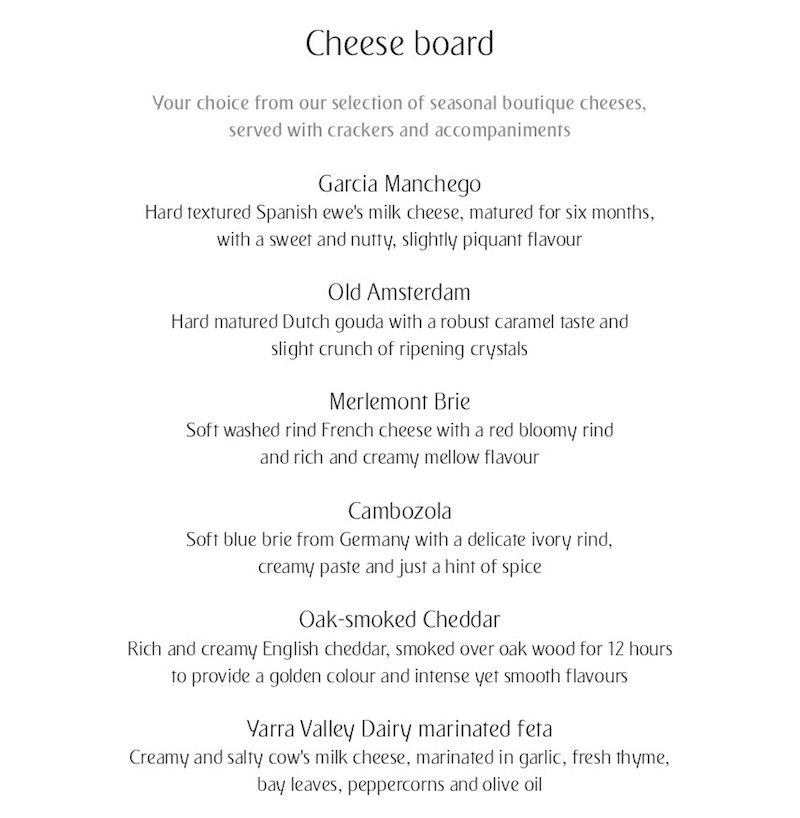 The wine list read as follows: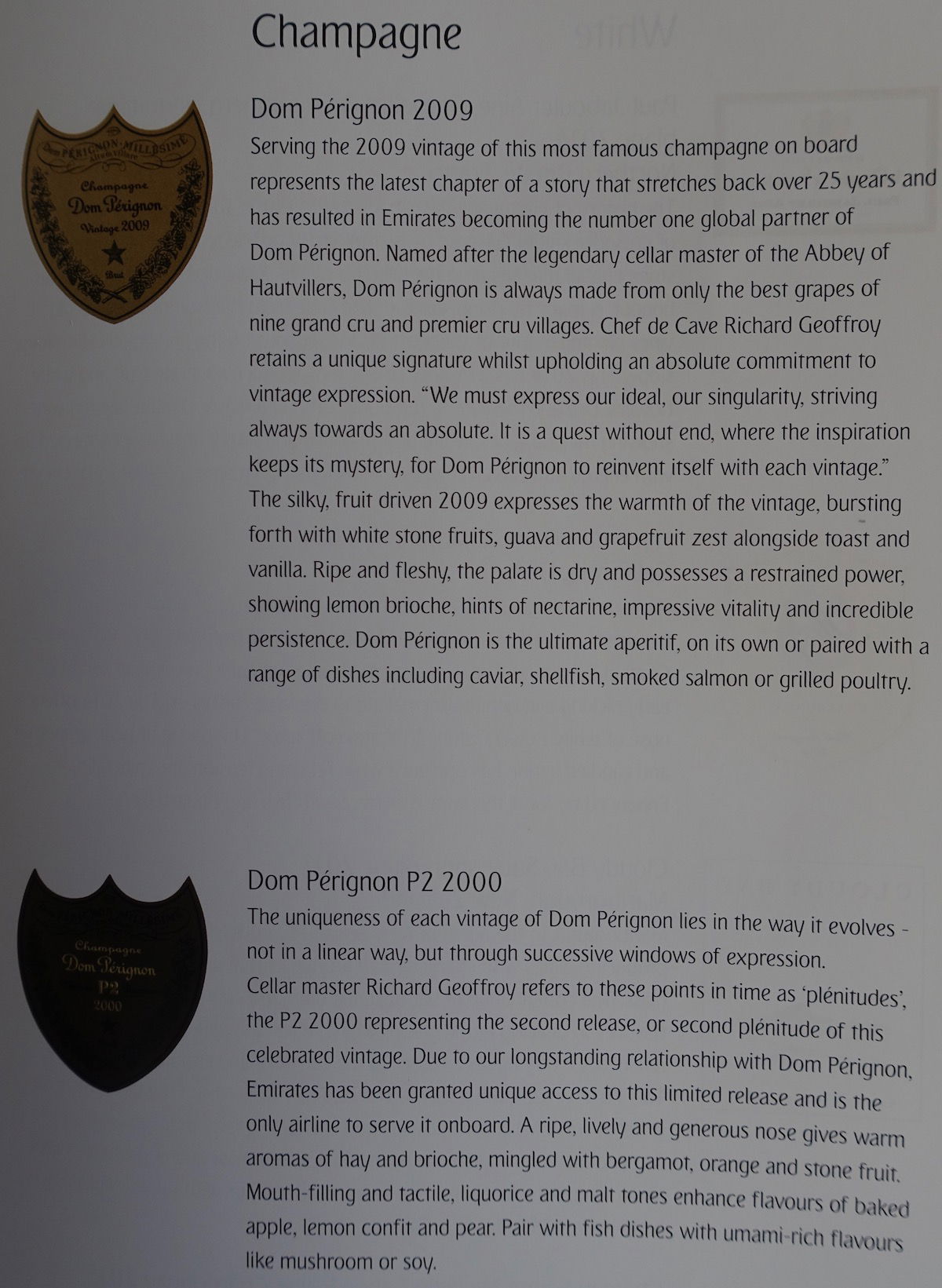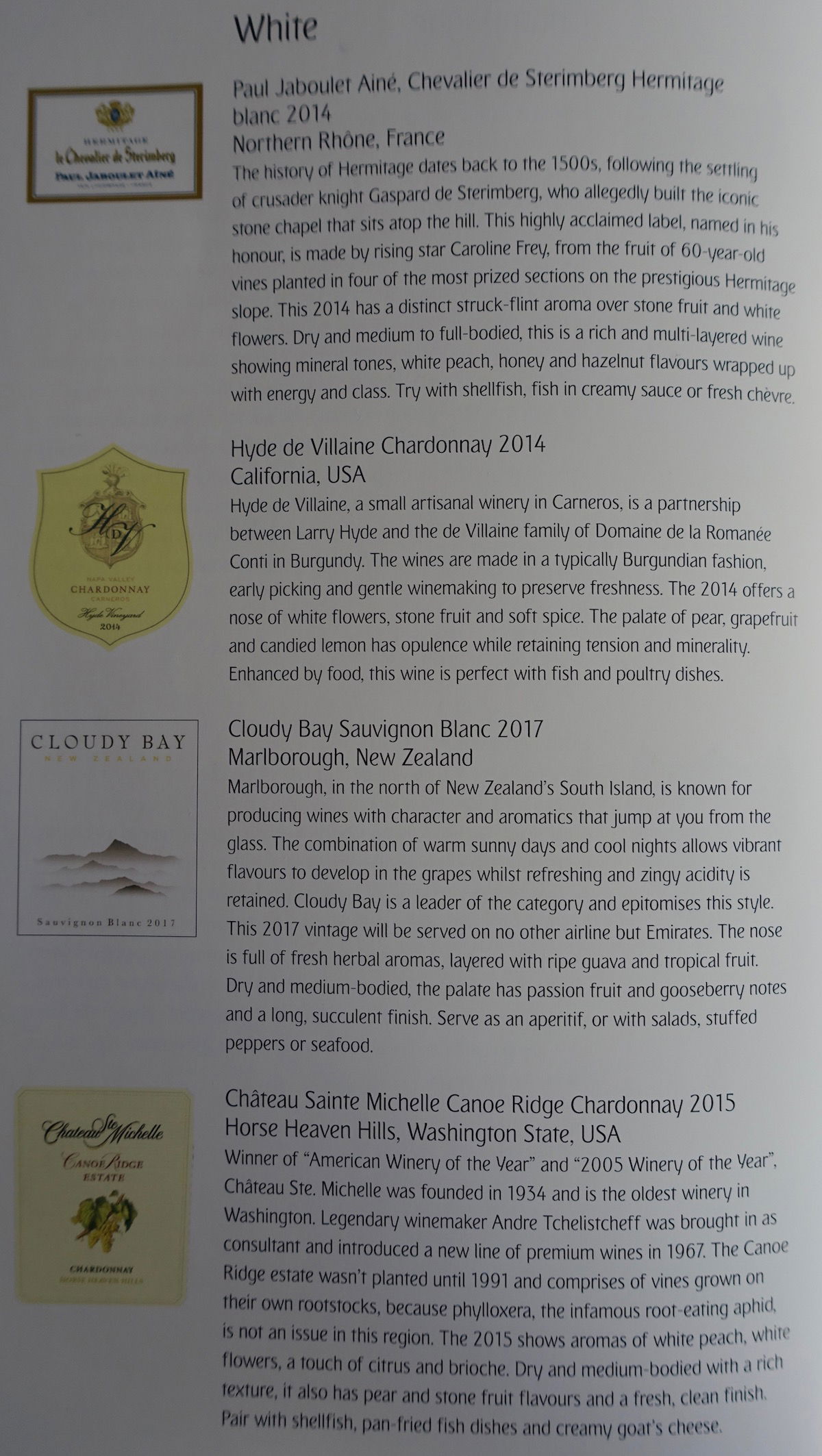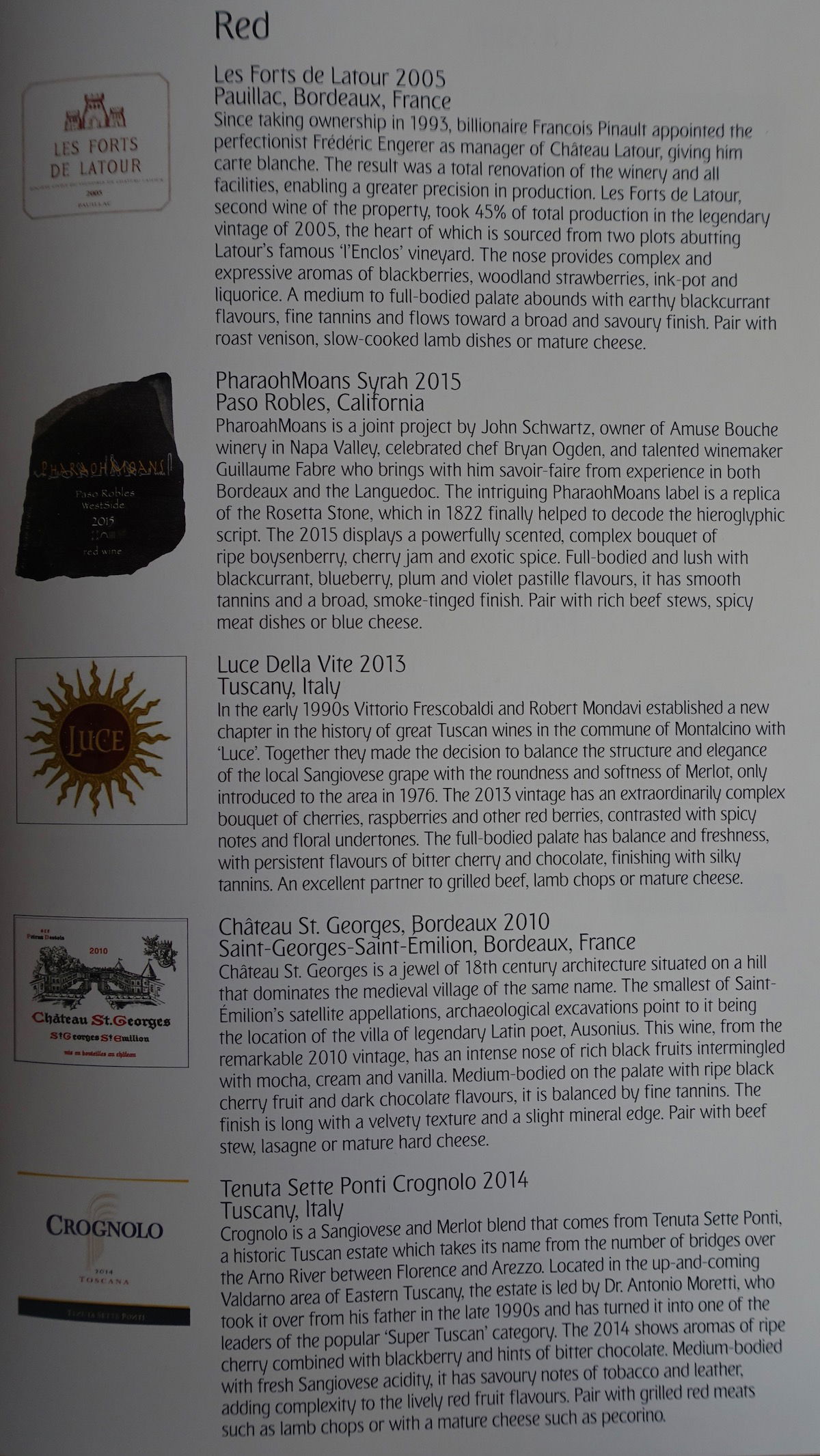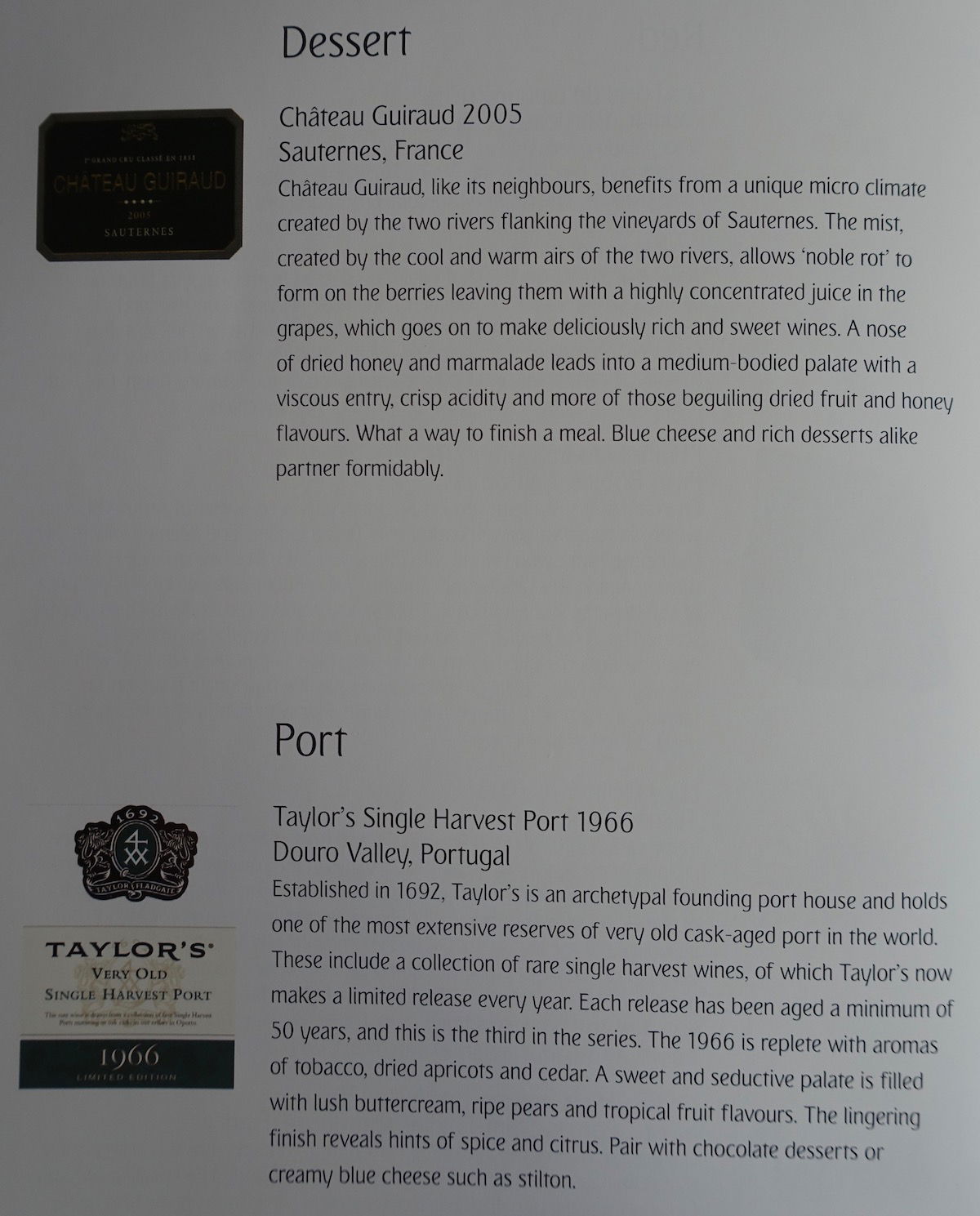 On the previous flight we had a significant amount of Dom Perignon, though we only ended up having the P2. At the moment Emirates actually has two types of Dom Perignon in first class — the 2009, and the 2000 P2.
I asked Rita if we could do a side-by-side test tasting. "Yes, of course you can." We both did a blind taste test (before I asked if I could briefly have the bottles), and Ford and I both preferred the (cheaper) 2009.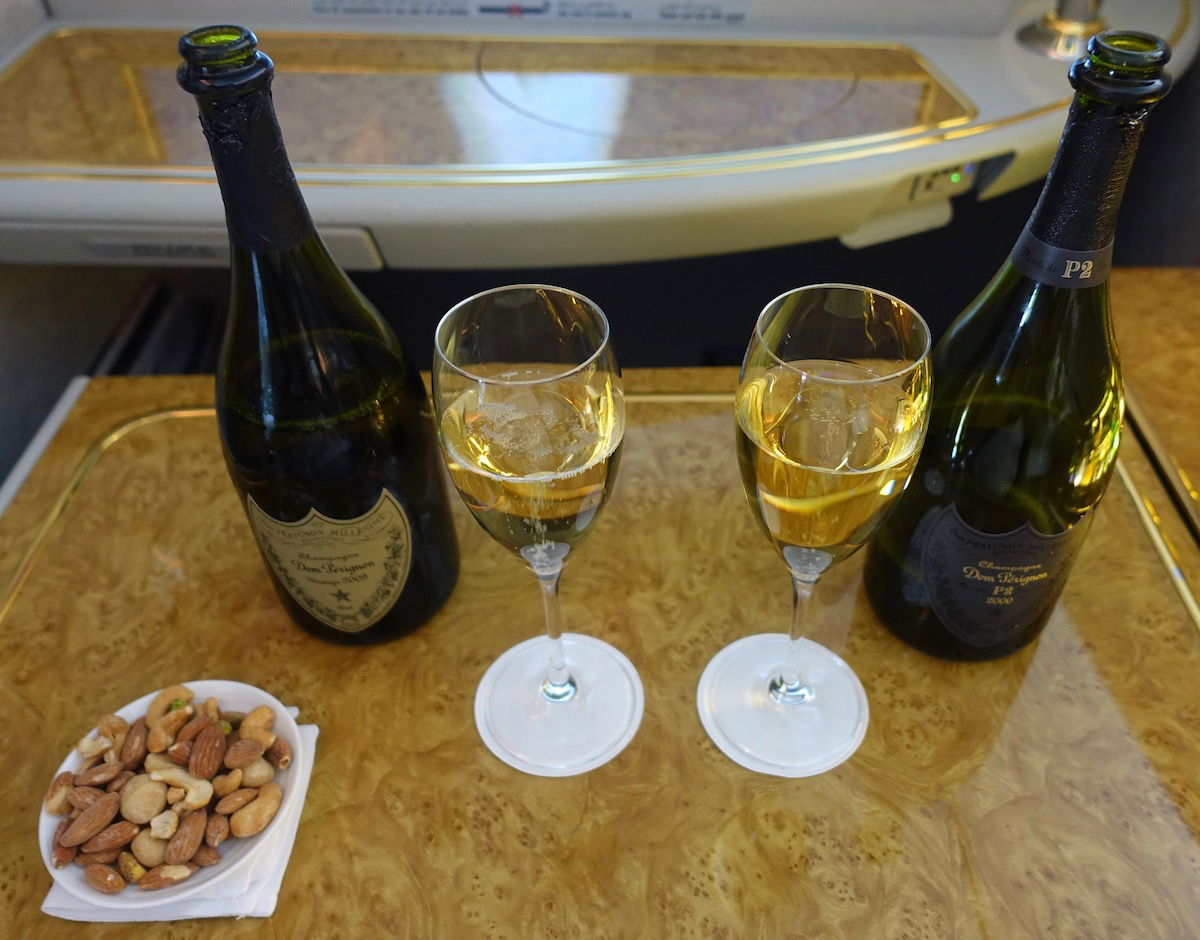 Emirates first class Dom Perignon tasting
We were offered some mixed nuts to go along with the champagne.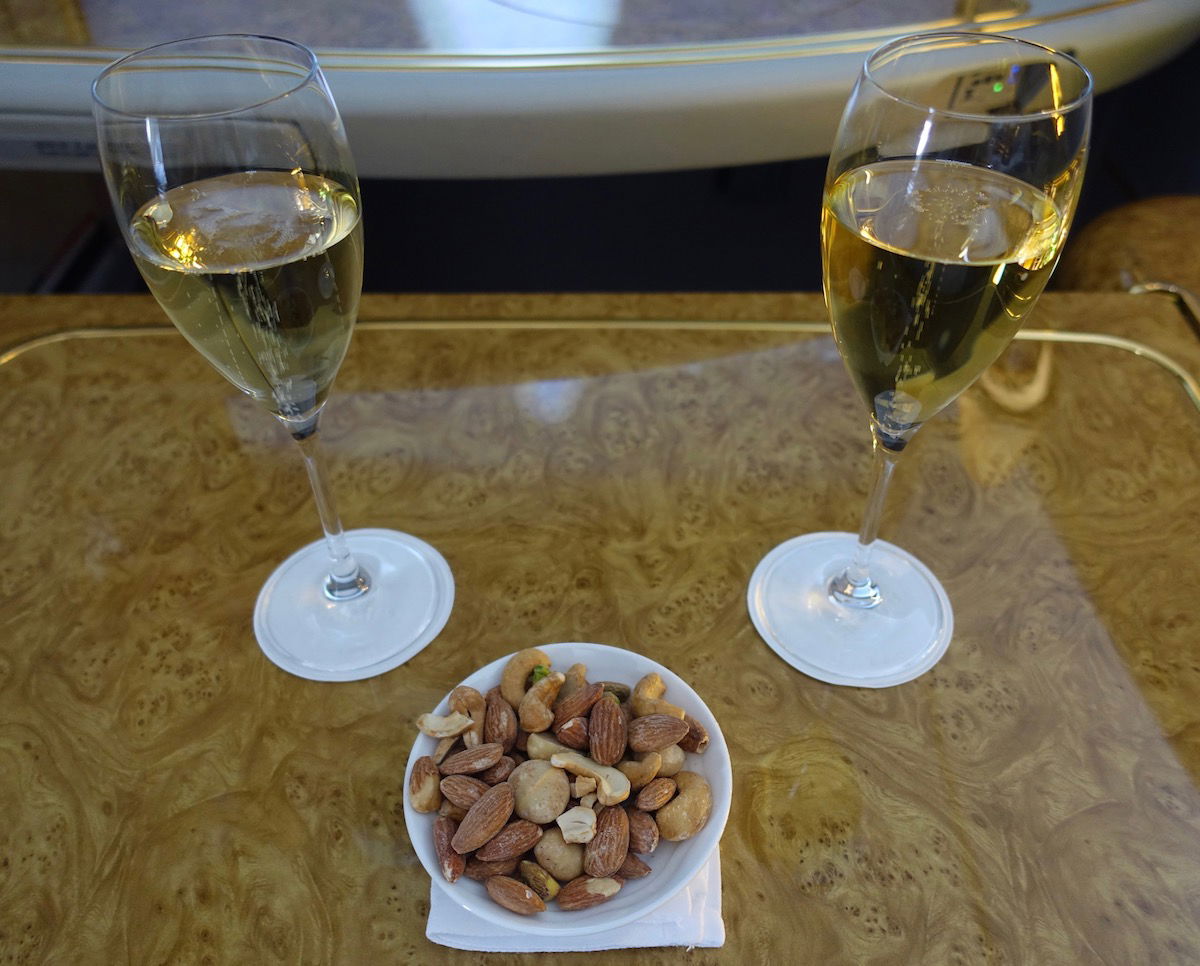 Emirates first class Dom Perignon tasting
We also had the specially paired Dom Perignon canapés, which included grilled venison with cranberries, smoked Scottish salmon with chives and avocado cream, and bleu d'auvergne on gingerbread with spiced apricot chutney.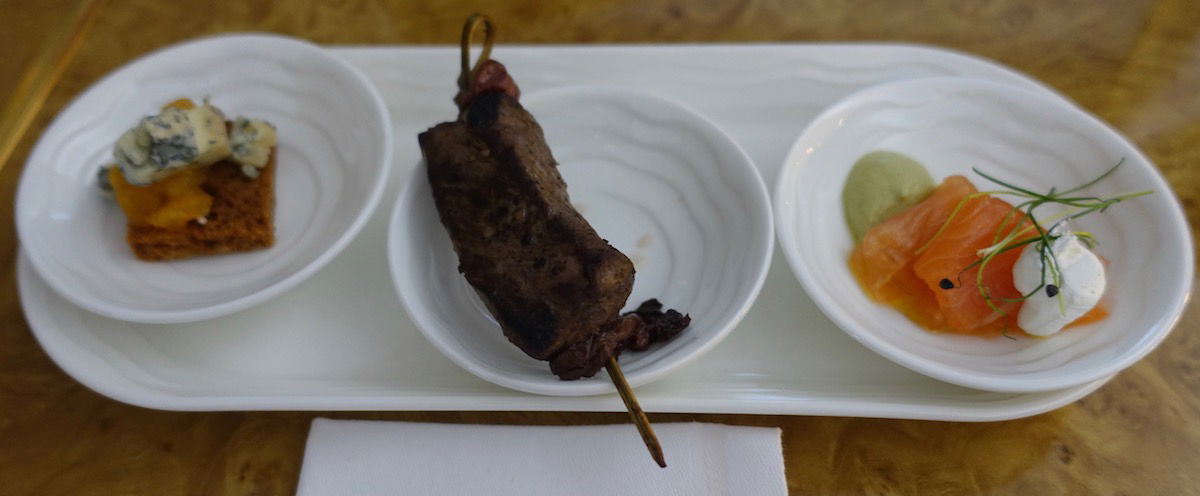 Emirates first class canapés
We didn't get much sleep the night before, so we asked if we could have our beds made so we could sleep. We asked to be woken up 1hr45min before landing, so that we could eat lunch and shower.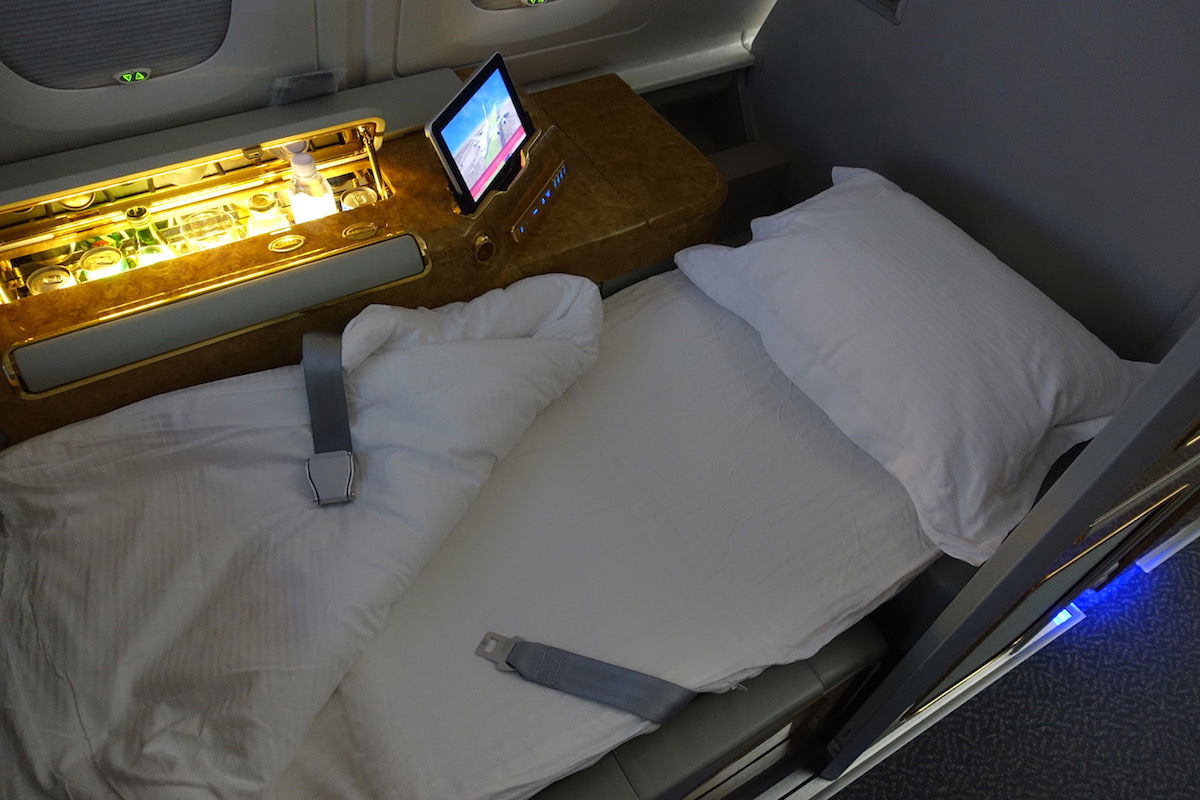 Emirates first class bed
I fell asleep just about an hour after takeoff.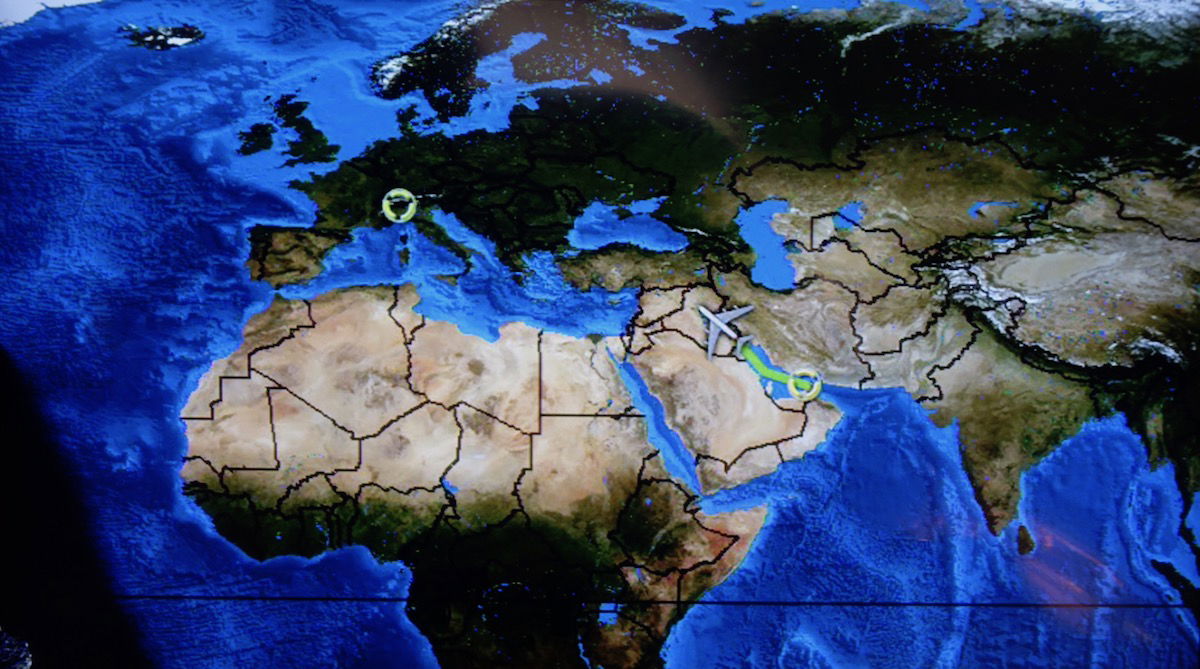 Flight map to Milan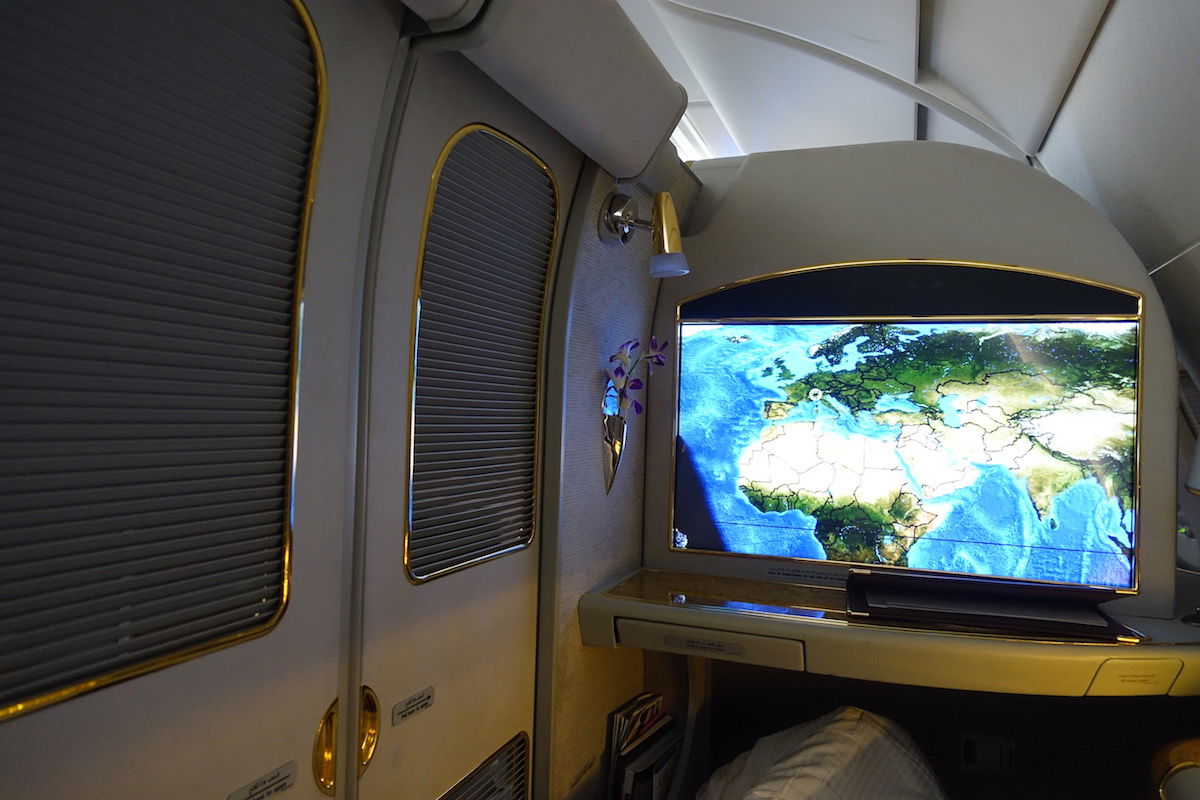 Emirates first class bed
By the time I woke up we were about 100 minutes from landing, just passing Sofia.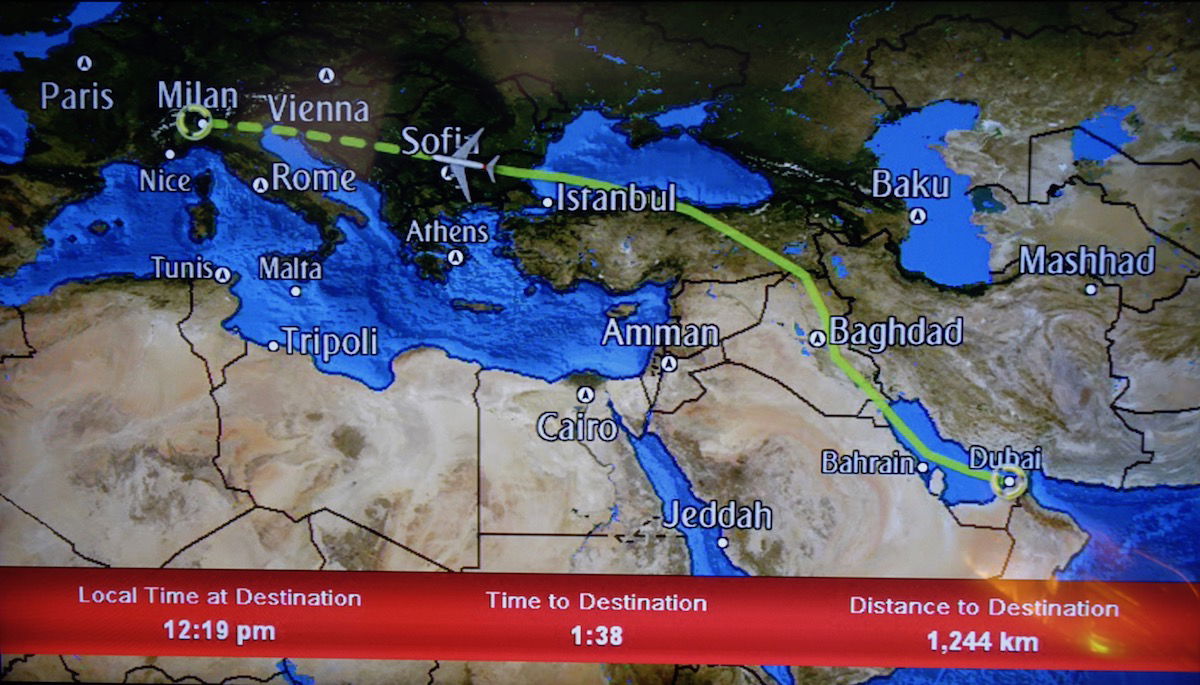 Progress towards Milan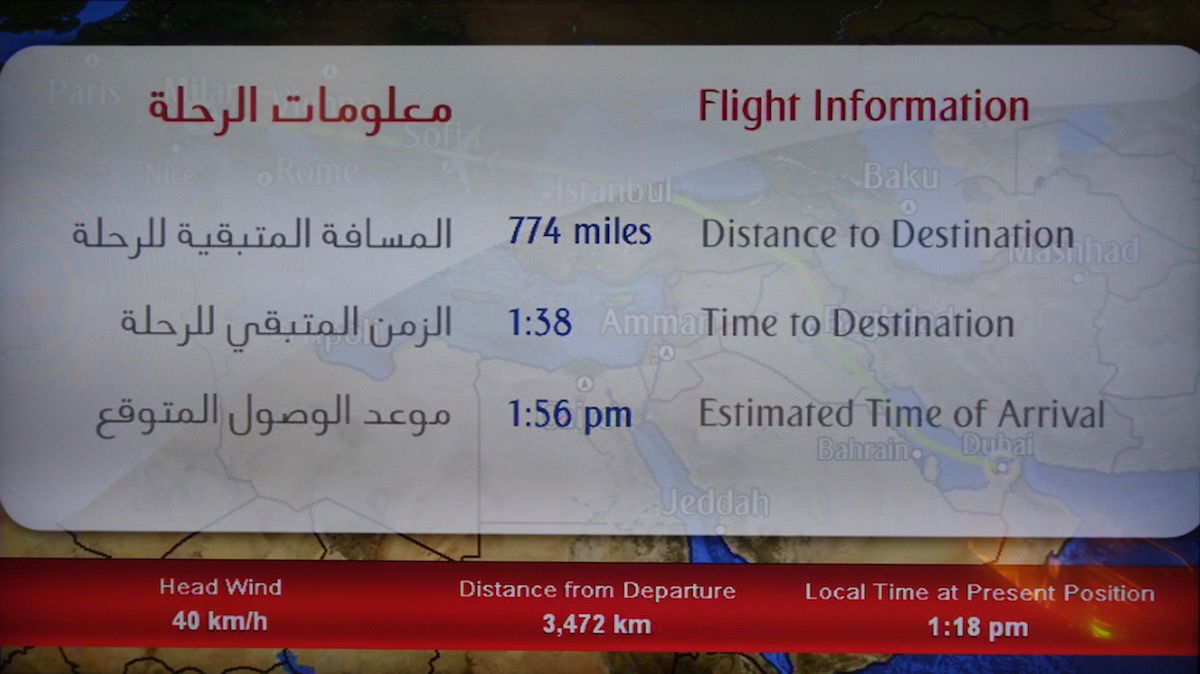 Progress towards Milan
We had placed our lunch order before going to sleep, so the meal was quickly ready to go. We both ordered caviar to start, and were offered a bread basket to go along with it.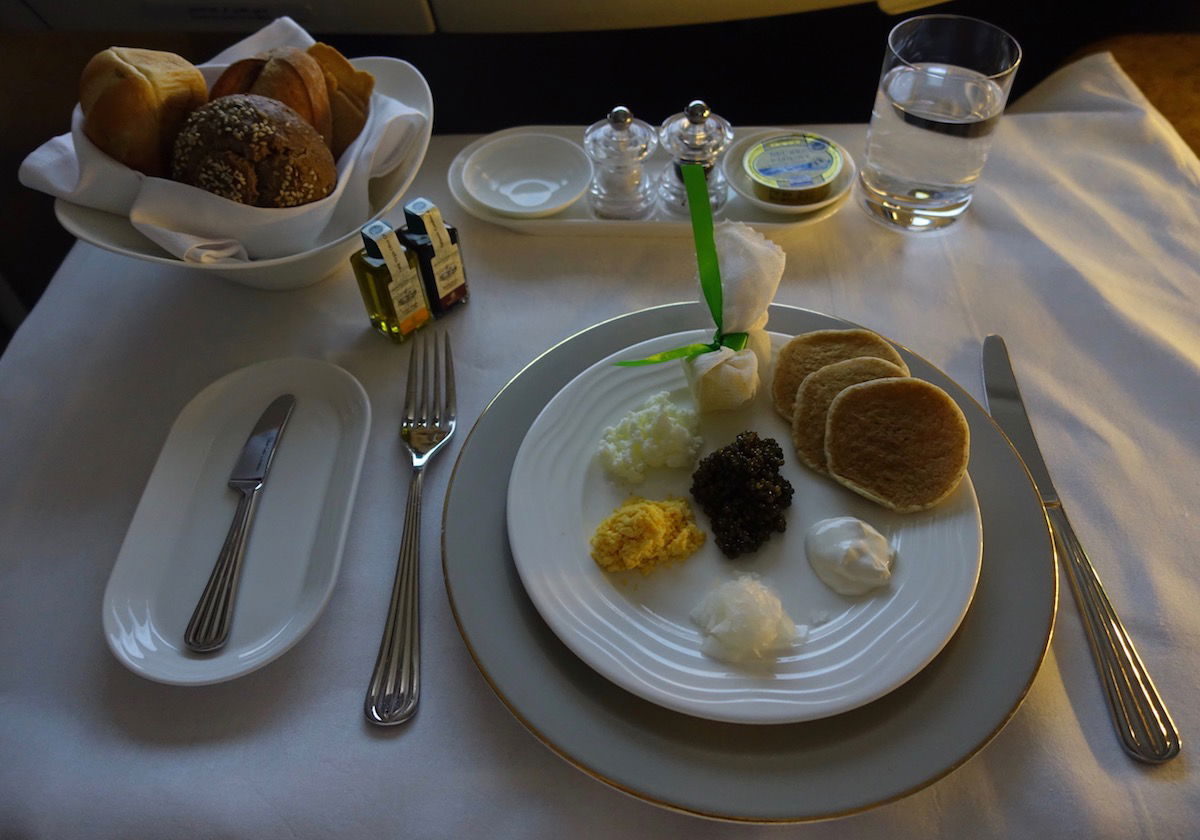 Emirates A380 first class lunch — caviar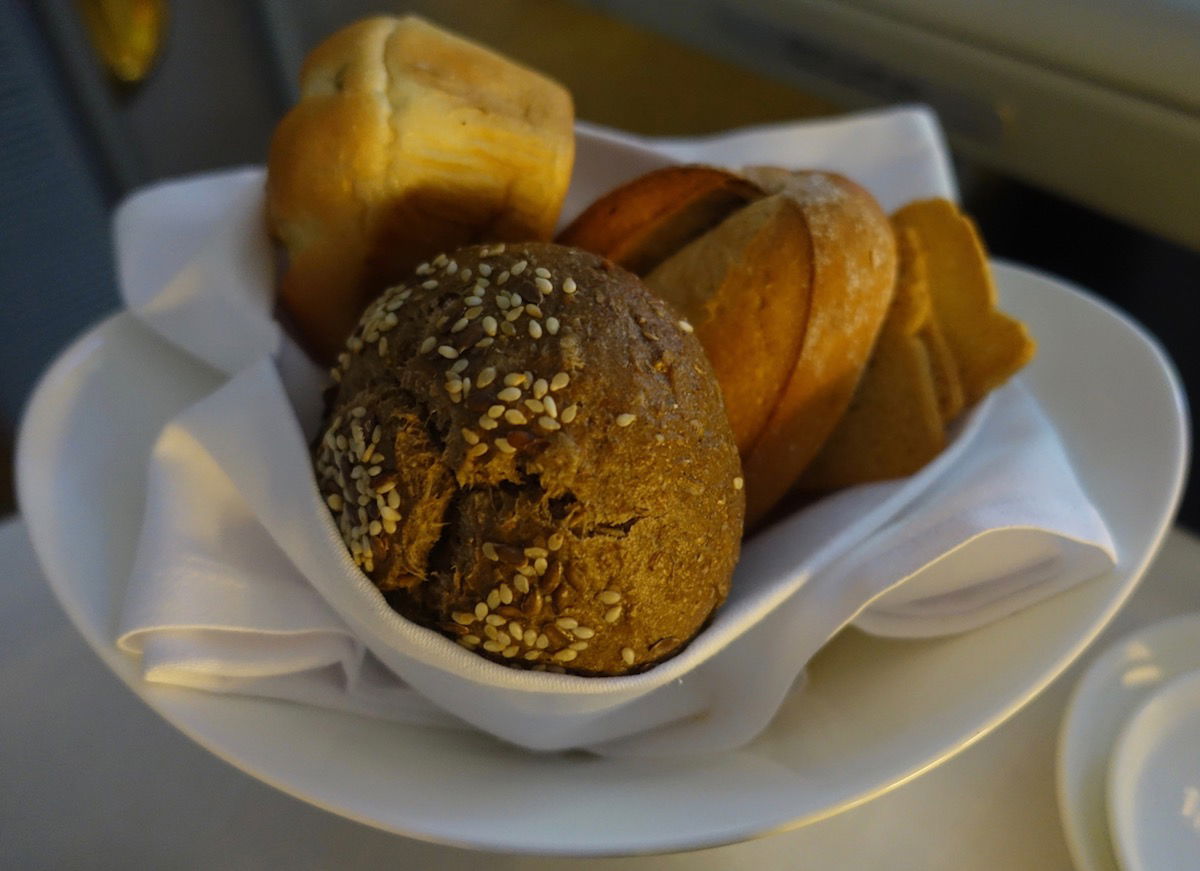 Emirates A380 first class lunch — bread basket
For the main course I ordered the poached cod, served with moghrabieh with saffron tomato salsa, grilled asparagus, and breakfast julienne. It was excellent.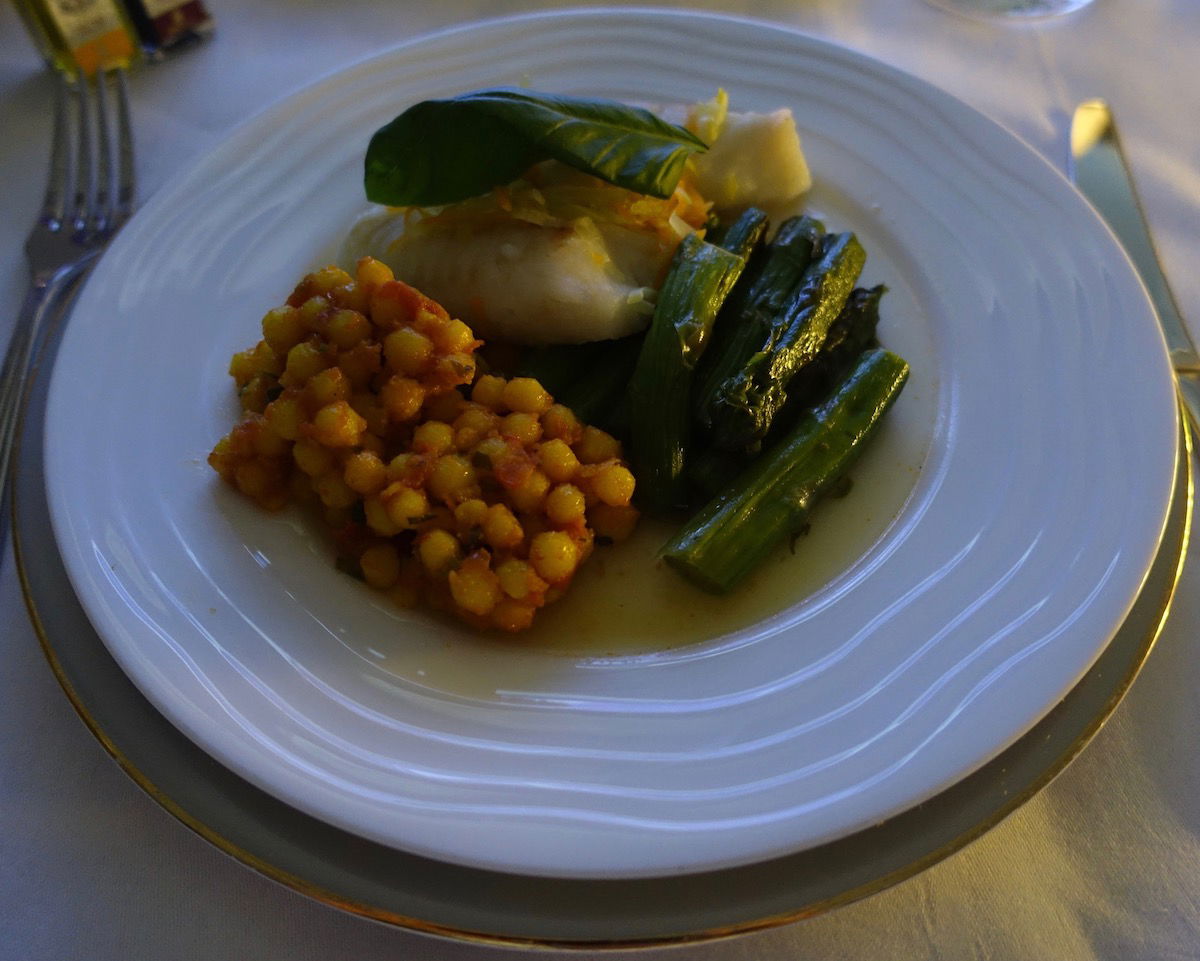 Emirates A380 first class lunch — poached cod
Ford had the cajun chicken with lemon butter, sautéed kale, and creamed pumpkin with shallots.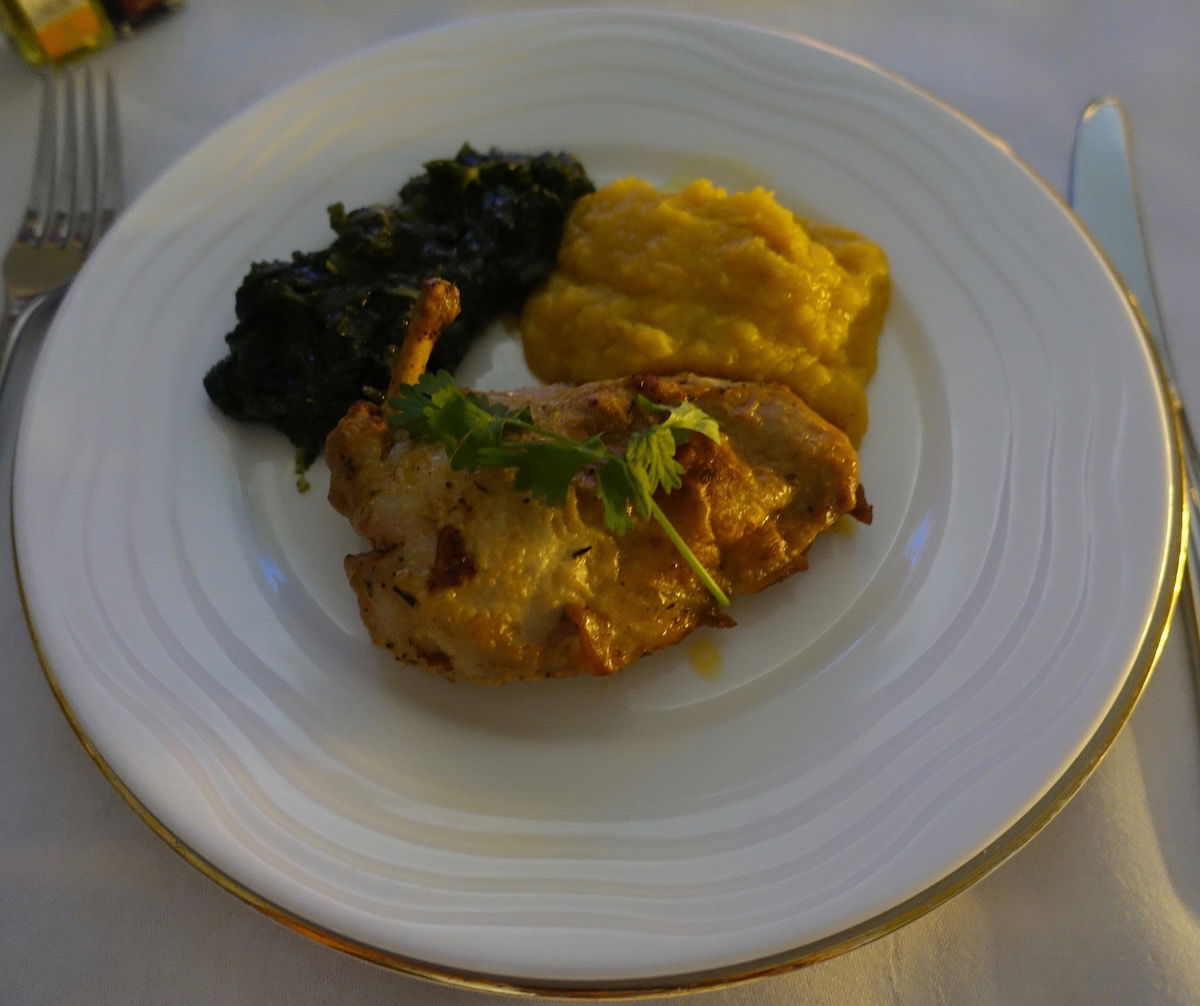 Emirates A380 first class lunch — cajun chicken
At that point it was time for a shower, though I'll spare the pics this time, given how many I posted in the last review. While in the shower the captain announced that we'd be landing in about 45 minutes, and a few minutes later we began our descent. Upon emerging from the shower, there was a fruit plate waiting at my seat.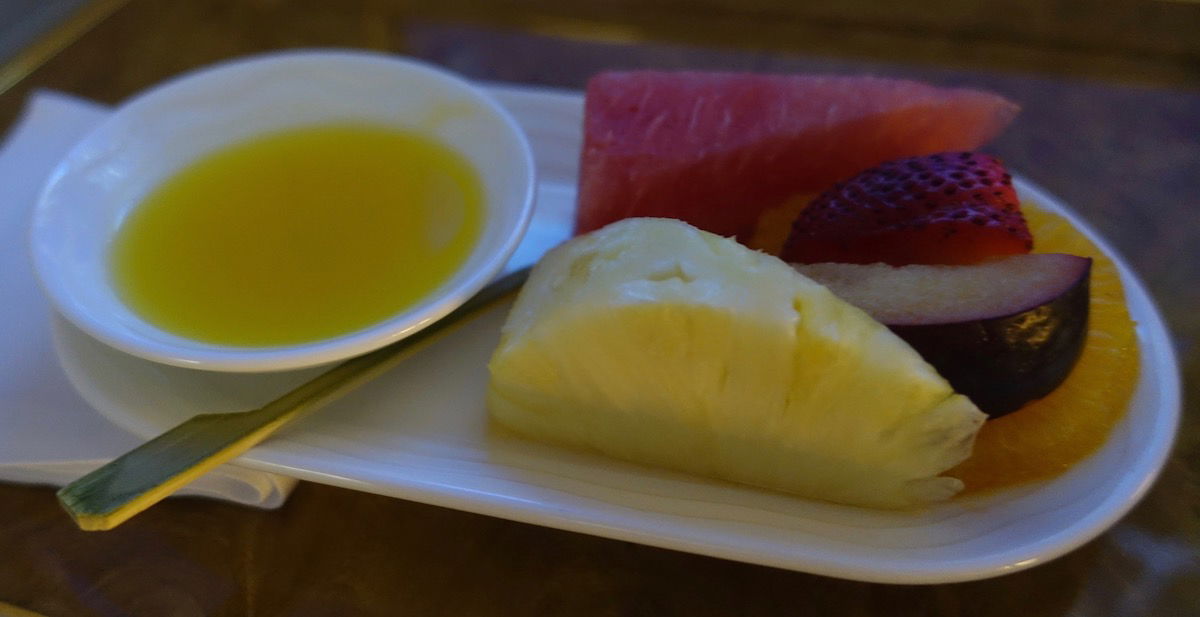 Emirates A380 first class fruit plate
Before going to the shower I asked if I could have a cappuccino and cheese plate (which in retrospect seems like a lot of dairy), so that was brought out just minutes after I emerged from the shower. I wasn't actually hungry at this point, so just nibbled at a bit of cheese. By the time I was done we were under 10 minutes from landing.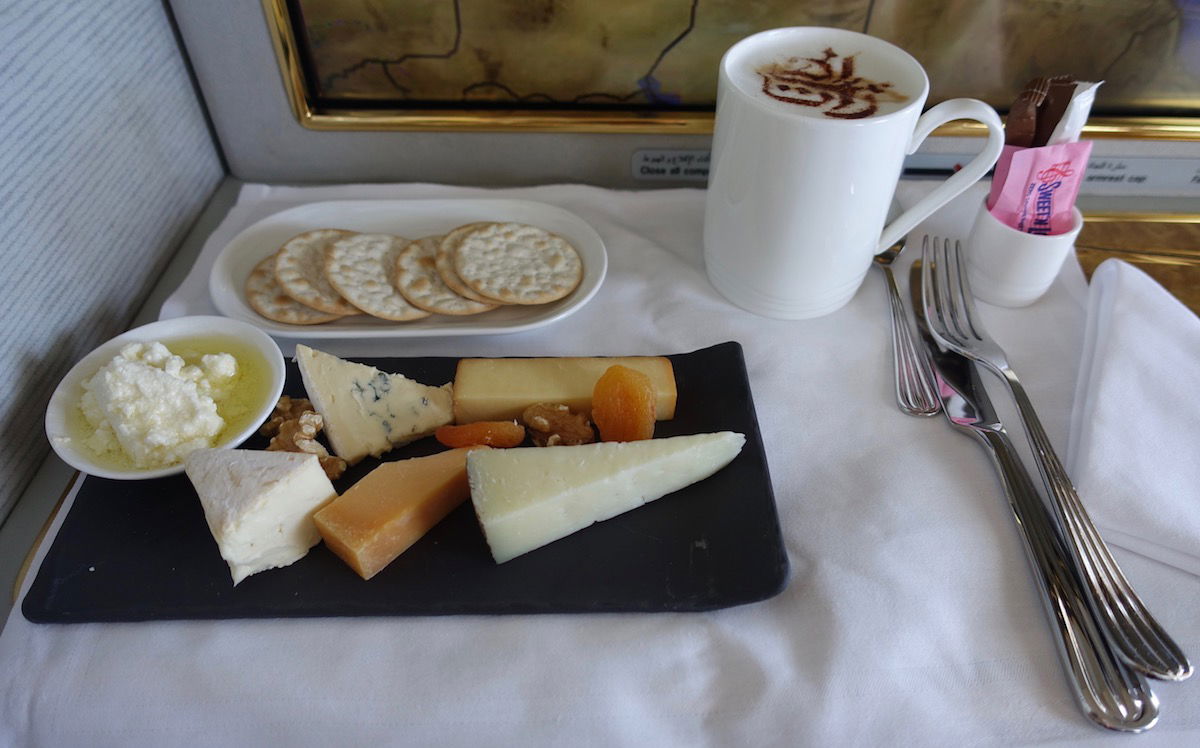 Emirates A380 first class lunch — cheese plate
The views of the countryside were beautiful on descent, and both Rita and Tessa came by our seats before landing to thank us for flying with Emirates. They were both so lovely, and such a pleasure to speak with. They also had very interesting stories — Rita used to be a wedding planner in Saudi Arabia, which was fascinating to hear about.
The purser, of course, said nothing.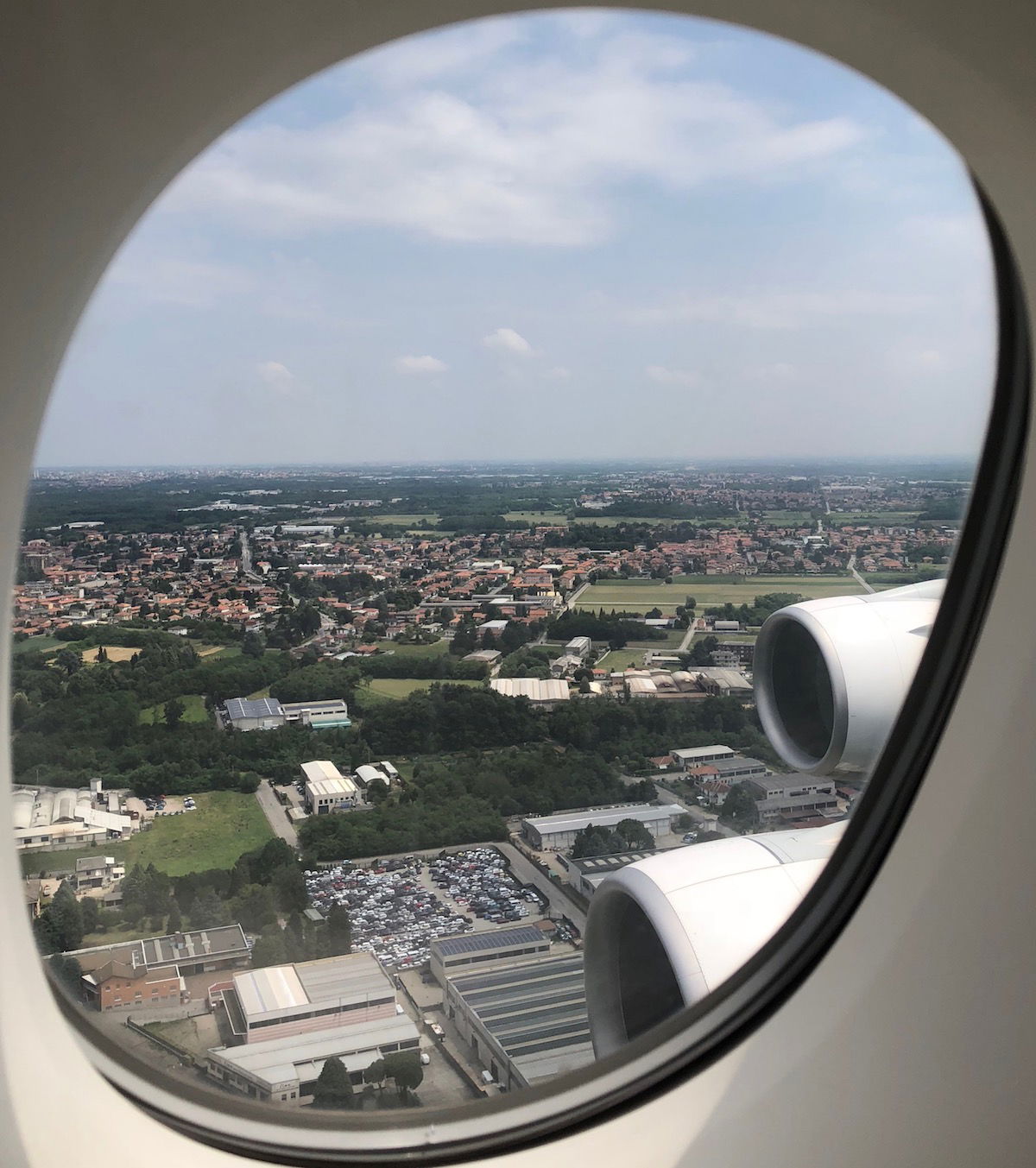 View approaching Milan
We touched down in Milan at 4PM, and had a five minute taxi to our arrival gate.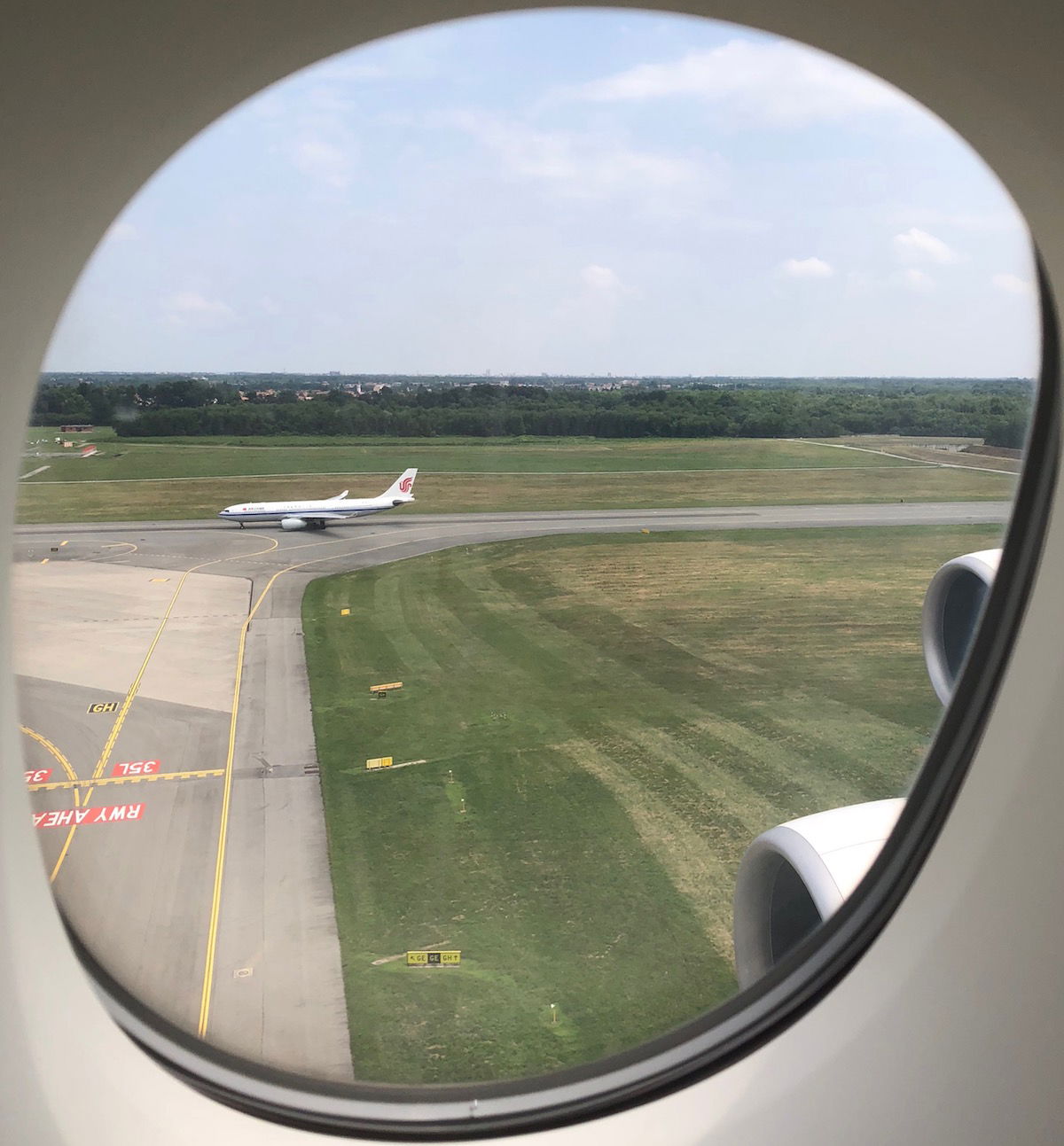 View approaching Milan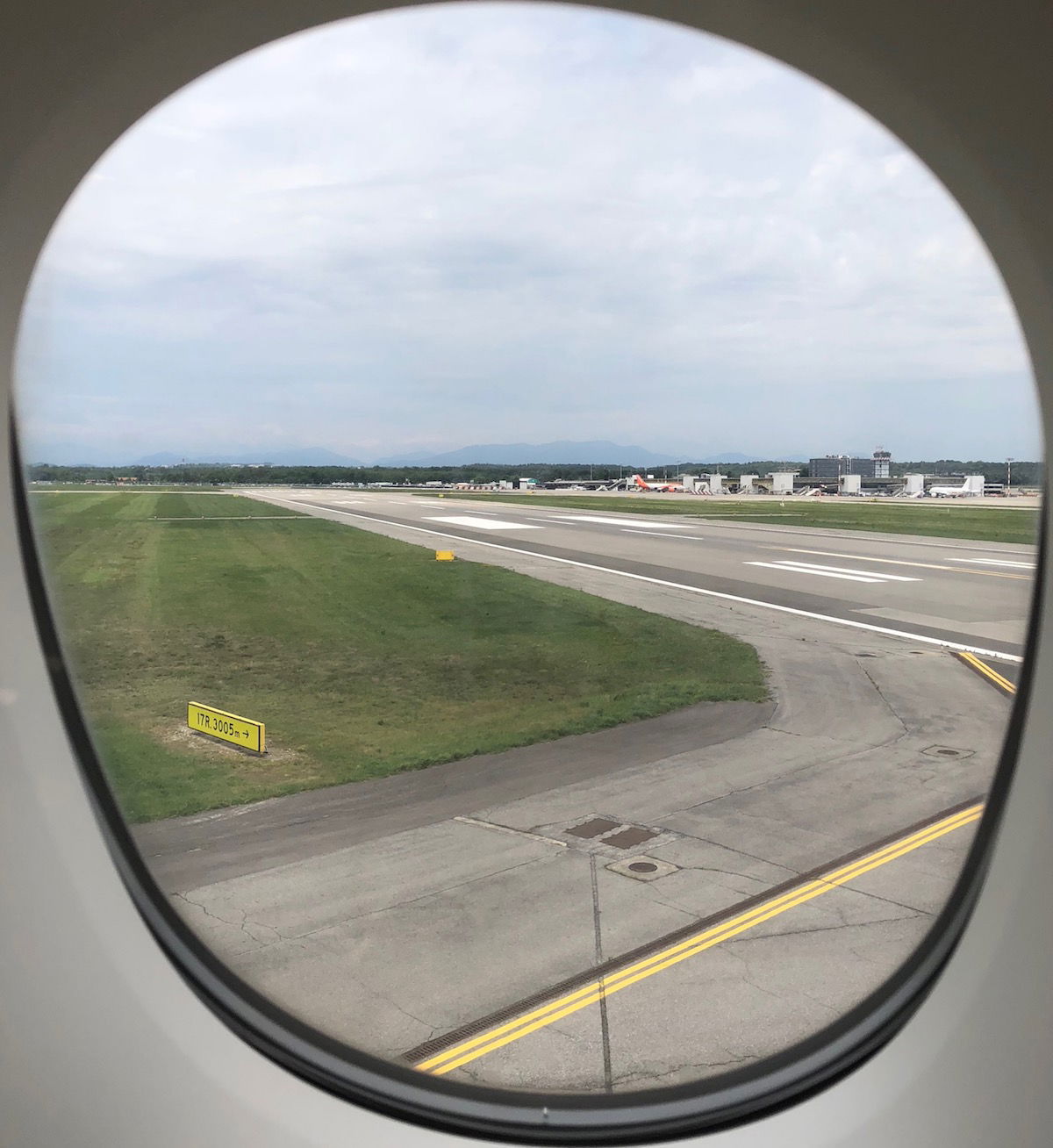 Taxiing Milan Airport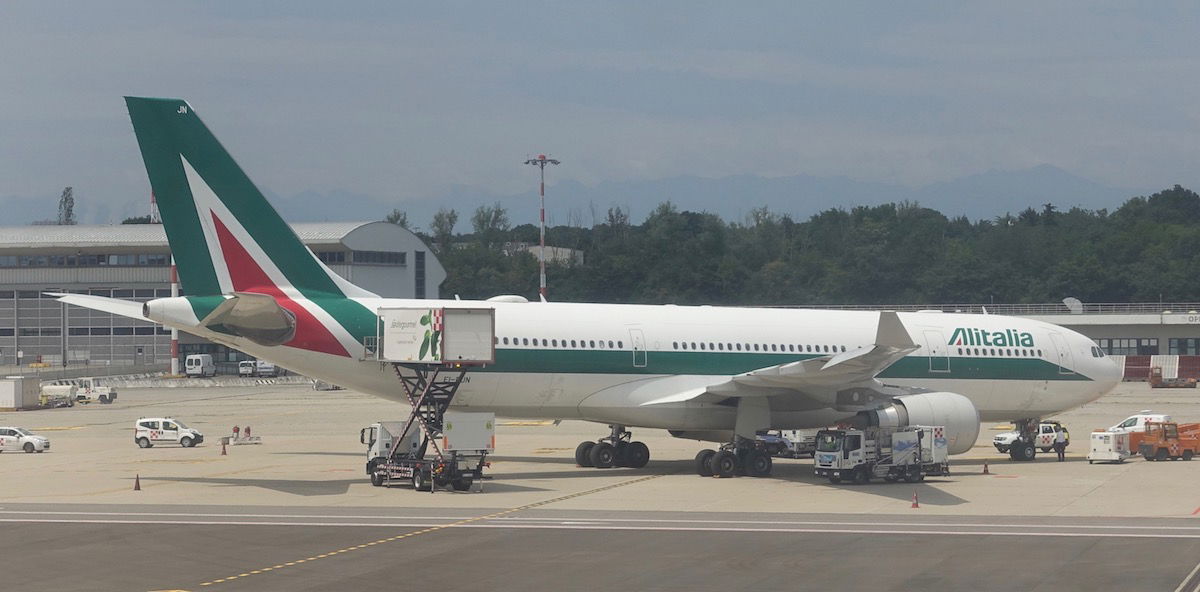 Alitalia A330 Milan Airport
There we pulled into a gate right next to an Air Italy A330.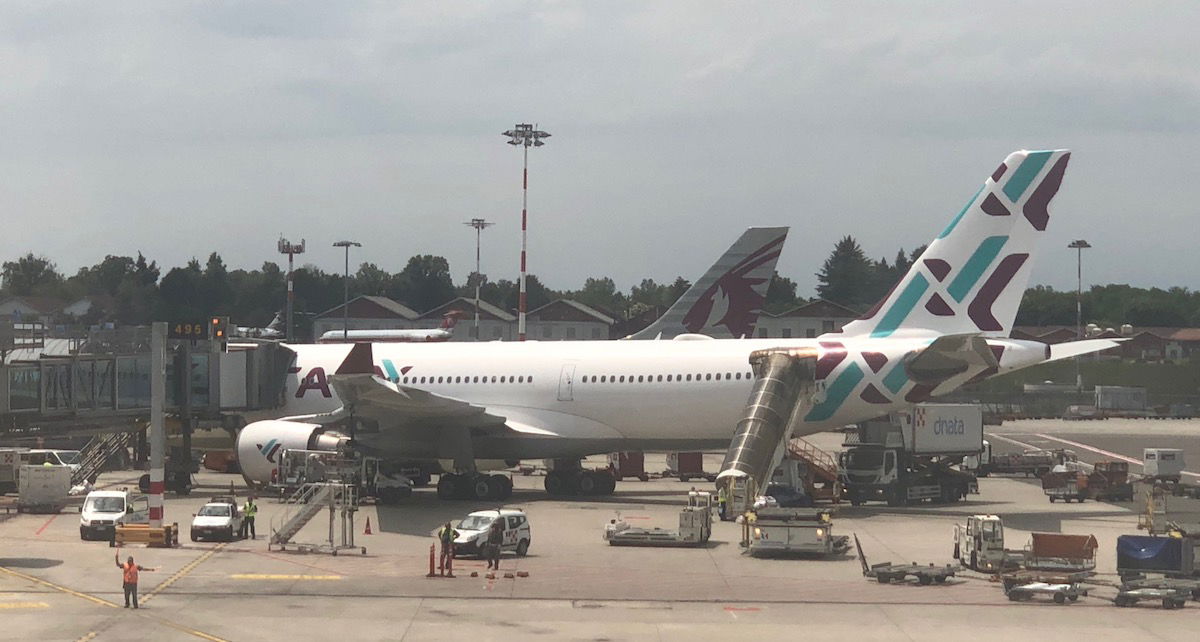 Air Italy A330 Milan Airport
I always love deplaning from the A380 when you get a view like the below.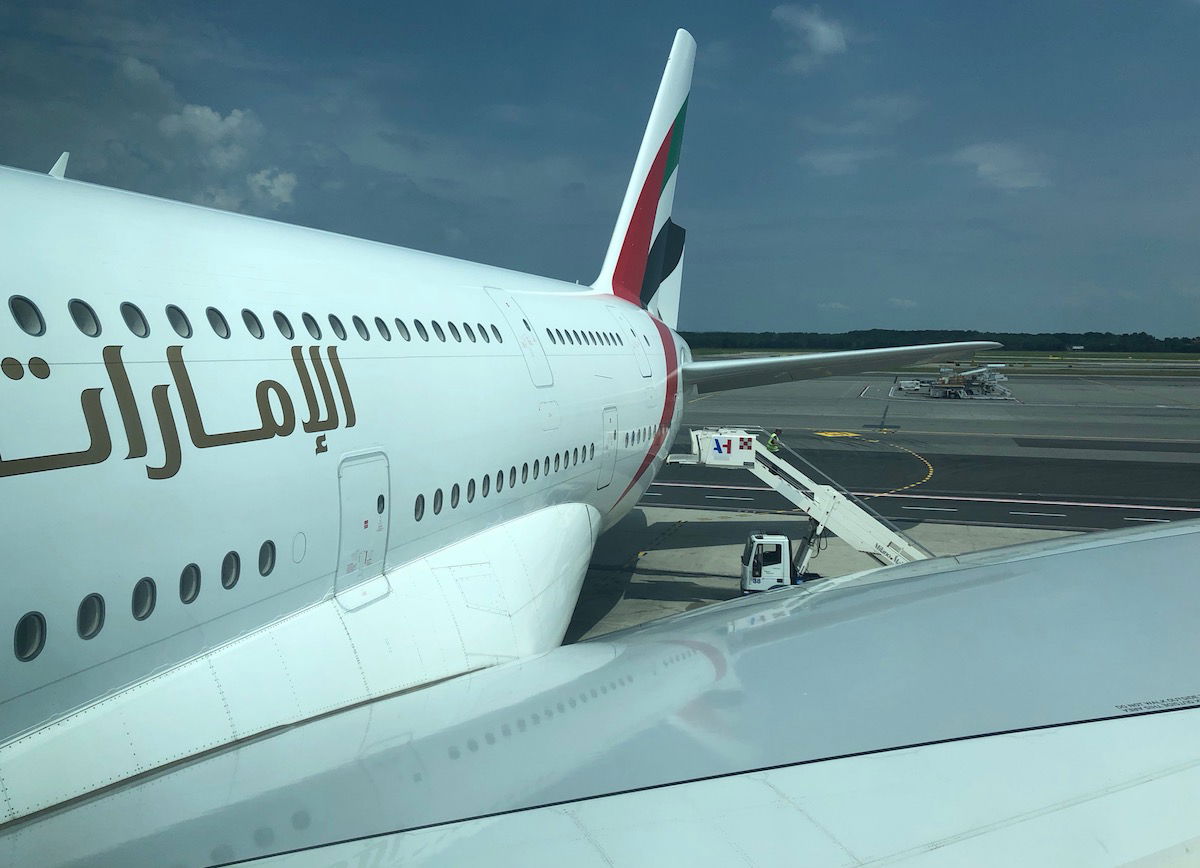 Emirates A380 Milan Airport
The walk to the arrivals area was really long, and at Milan Malpensa Airport, Emirates even has a proper chauffeur office. This is just outside the arrivals hall.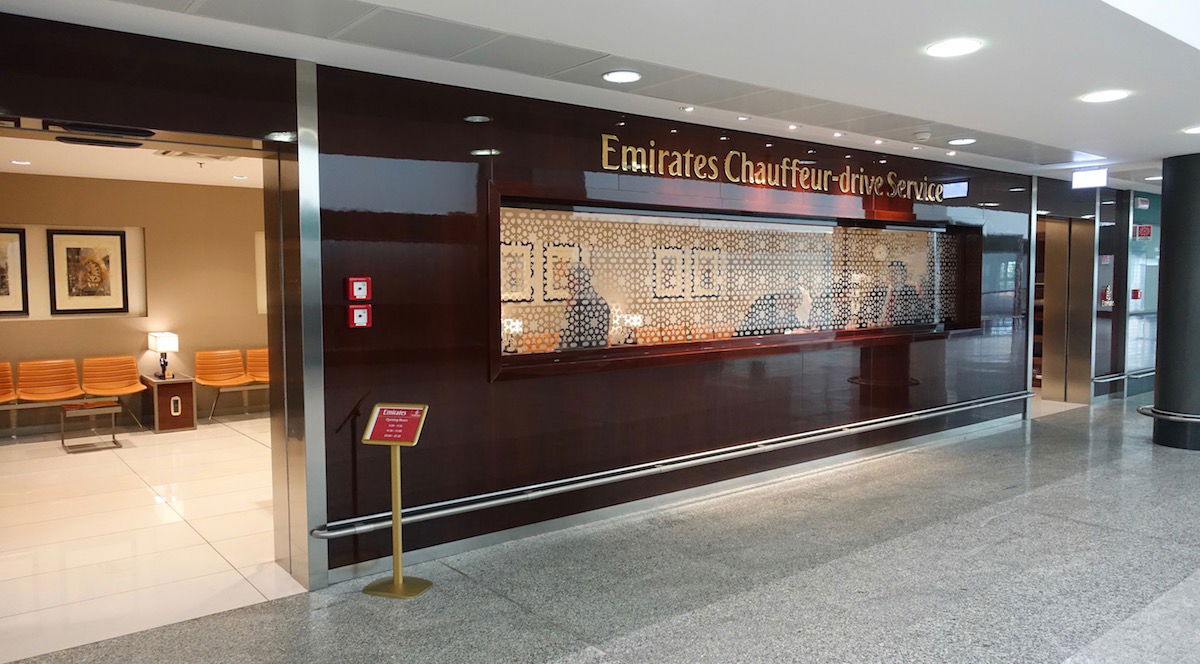 Emirates chauffeur office Milan Airport
This area had some refreshments, though we just wanted to head straight to the hotel, and our driver was ready for us.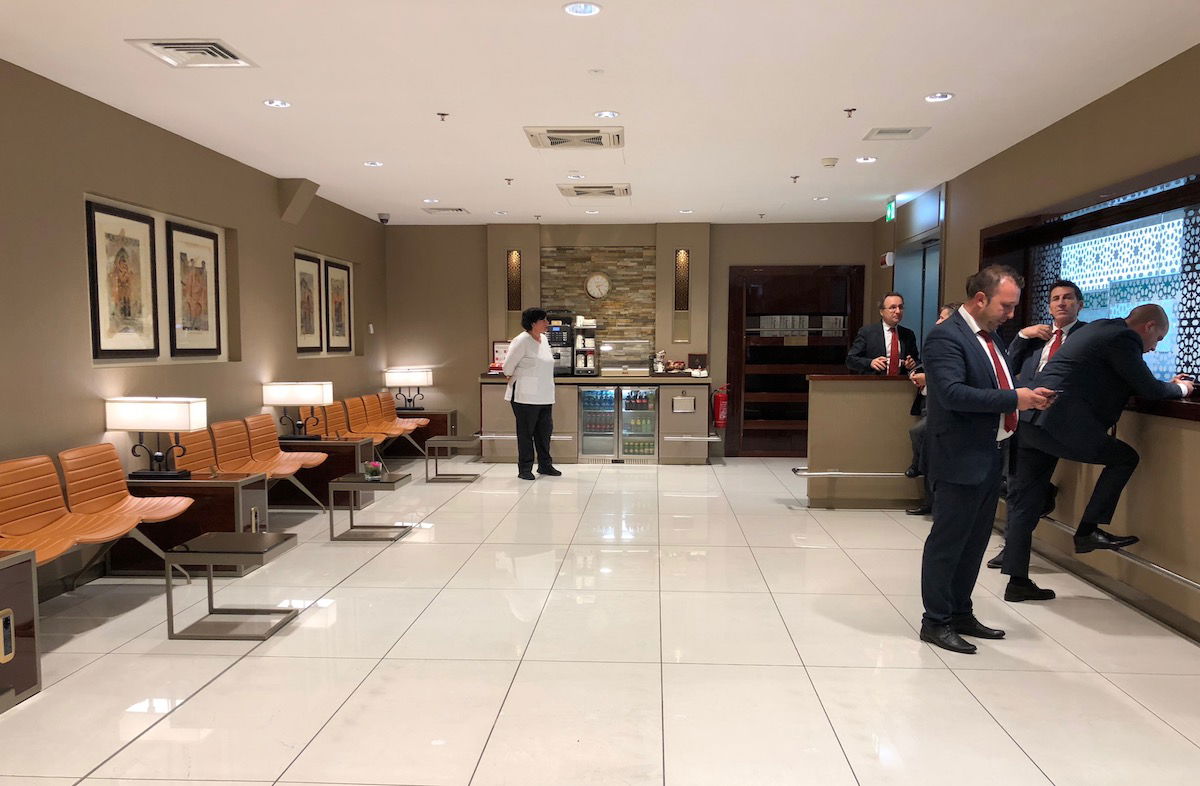 Emirates chauffeur office Milan Airport
We were driven to the Park Hyatt in an S-Class Mercedes, and the drive took about 45 minutes.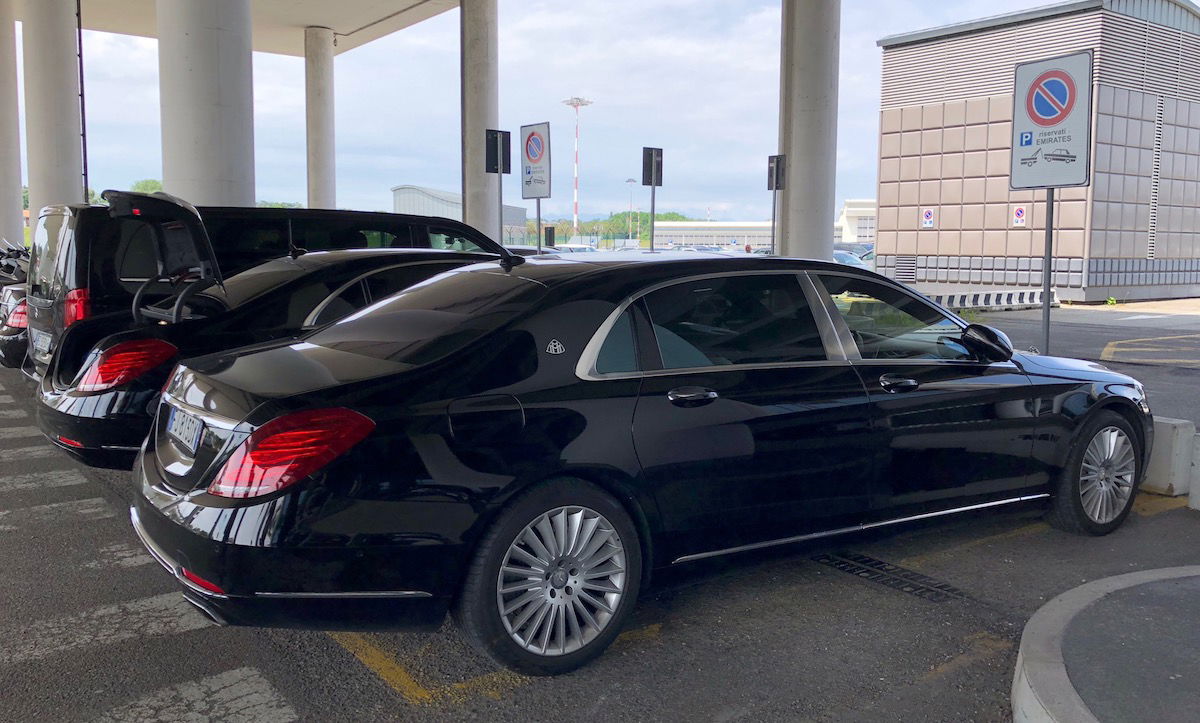 Emirates chauffeur service Milan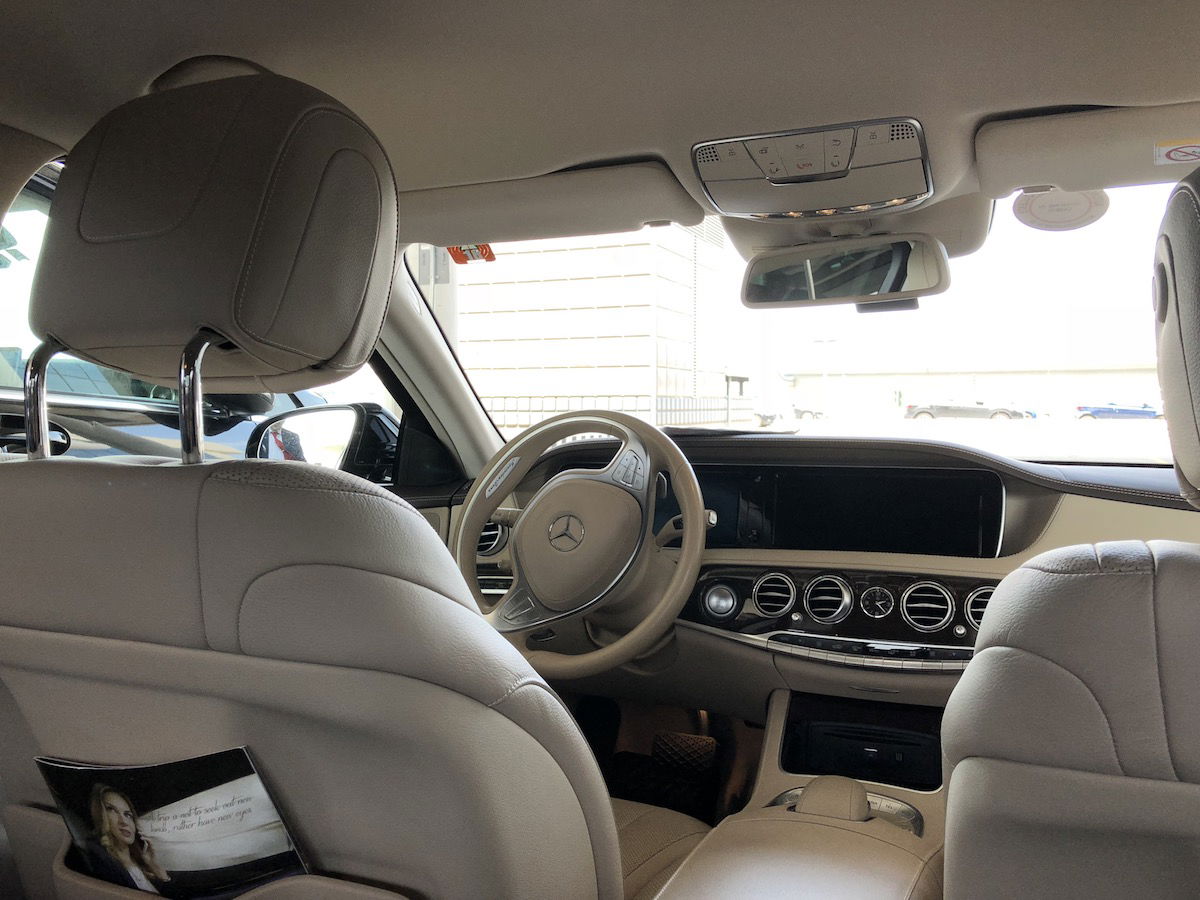 Emirates chauffeur service Milan
Emirates A380 first class bottom line
While we probably didn't "maximize" this Emirates flight as much as the past one due to being tired, it was an excellent flight nonetheless. We had a fun champagne tasting, a phenomenal crew, a good meal, and a shower. In particular I have to give Rita and Tessa a lot of credit, as they were two of the best Emirates flight attendants I've had. The same can't be said for the lazy purser.